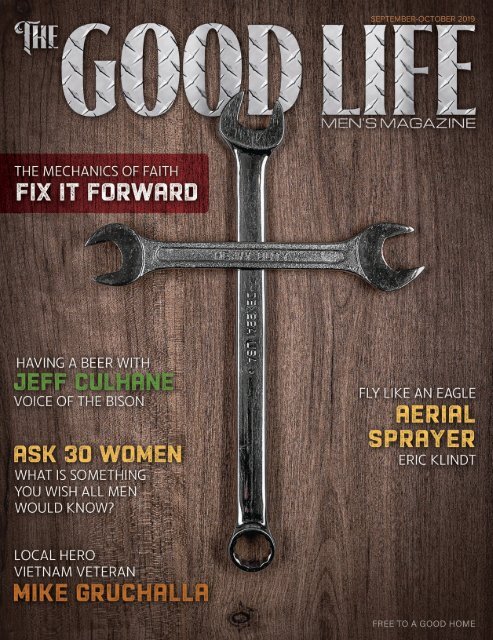 The Good Life – September-October 2019
On the cover, Fix It Forward - The Mechanics of Faith, Local Hero, Vietnam Veteran - Mike Gruchalla, Having a Beer with the "Voice of the Bison" and Program Director - Jeff Culhane and more in Fargo Moorhead's only men's magazine.
On the cover, Fix It Forward - The Mechanics of Faith, Local Hero, Vietnam Veteran - Mike Gruchalla, Having a Beer with the "Voice of the Bison" and Program Director - Jeff Culhane and more in Fargo Moorhead's only men's magazine.
SHOW MORE
SHOW LESS
You also want an ePaper? Increase the reach of your titles
YUMPU automatically turns print PDFs into web optimized ePapers that Google loves.
FATHERS | MR. FULL-TIME DAD

Five Stages of Toddler Sleep

WRITTEN BY: BEN HANSON

It's 8:02 p.m. Macklin's mama and I exchange knowing

looks, reluctantly nod our heads and announce to our

audience of one that it's time for bed. Our nightly dance is

about to begin, and we wonder, as we start the chase, what

new moves may be introduced into the well-worn routine.

it past

Three seconds later, the sounds of

three-year-old fists banging down

doors made clear we hadn't yet made

stage two.

Some nights, with naive optimism, I think back to the

days when Mack was an infant and wanted nothing more

than a quick night time bottle before being left alone to

fall quickly asleep in his crib. There wasn't much cuddling

or soothing required in those early days. If you wanted to

sneak a snuggle, you had to risk waking him up by taking

him out of his crib mid-slumber.

It was well worth it — and still is to steal those precious

moments of silent bonding — but lately, we've been getting

our fill during the hour-plus emotional extravaganza that is

toddler bedtime.

My wife, Emily, is a highly experienced and sought after

child and adolescent therapist. A real pro, in other words.

I do my best to follow her lead and pick up on the lessons

she teaches through her interactions with Mack. Her

patience rarely expires, but some nights the challenge of

getting Mack into bed (and keeping him there) can push

even her to the limit.

In the middle of one recent bout with an especially tired

boy, she walked out of Mack's room and announced, "This

is like grief therapy … hoping we hit acceptance here soon."

2 / THE GOOD LIFE / urbantoadmedia.com

Emily nailed it. Like I said, she's a pro. Mack's bedtime

has evolved into what we now call the five stages of

toddler sleep grief. Our goal is to navigate our way

through as quickly and as quietly as possible.

Denial

It's now 8:02 p.m. … and ten seconds. The proclamation

of bedtime has been made, and Mack — right on cue —

issues his retort: "No it's not." He's in full-on denial, often

going even further. "I want to wind up!' he shouts before

turning his back to make his escape. Next to acceptance,

denial is the easiest stage to get past … I simply catch

him, throw him over my shoulder and march him up to

his room.

Anger

8:05 p.m. Time for some old fashioned kicking and

screaming. It's best to just keep your distance for a few

minutes and let the little guy wear himself down on his

own. It's not a fool-proof strategy, but it's better than

catching an errant kick to the shorts. At some point,

we do have to jump in and pry him out of his clothes

before steering him into the bathroom to pee and brush

teeth … and yes, cry-brushing is a common occurrence,
---
ut we gotta get those sugar bugs out! Anger is the

least enjoyable stage for obvious reasons. Our secret

weapon is Mack's low tickle threshold. He loves it, and

uncontrollable giggles always help the transition into

stage three … my favorite of the five.

Bargaining

8:20 p.m. A slightly more tired Macklin turns on his

charm and proceeds with his attempt to disarm us with

an onslaught of surprisingly witty compromises he

hopes will score him a few more minutes of playtime.

The most common bargains are "just one more story,

please Daddy?" or "how about some nighttime music, is

that a good idea?" or "will you send Mama in?" Lately,

he's been very concerned about our new robot vacuum

and requests to double-check that it's safely "at its home"

before he can really feel settled.

Depression

8:50 p.m. After a good 20-30 minutes of stories, more

bargaining and more tickling, Macklin resigns to the fact

that there is no escaping the inevitable. He's not getting

out of his room until morning, and the revelation crushes

him. Regardless of who does the reading and the initial

tuck-in, the other parent is consistently called in to

replace the starter mid-way through stage four … and the

back-up always gets the best snuggles. A sad toddler is

sad but oh so loveable. Plus, the second parent gets the

win … ushering Mack calmly into stage five.

Acceptance

9:05 p.m. After fifteen minutes or so of soothing Mack

out of his nightly depression, he rolls over, turning his

back to me and says, "Goodnight, Daddy, you can go

now." Stage five comes and goes in an instant, and it's as

comforting to me as it is to him. Once stage five hits, we

rarely hear another sound coming from his room, aside

from perhaps one last visit to the bathroom.

Do I miss infant Mack and his astonishingly easy tuckins?

Absolutely. Do I wish Emily and I would have more

time to ourselves before we crash exhaustedly into our

own bed? Yep. Would I give up his

brilliant bargaining and adorable

acceptance stages to avoid the

other three? Nope. Some day,

not too far out, I'm sure I'll

miss our nightly sleep grief

therapy sessions every bit

as much as I miss the

other struggles that

seemed so endless

… until they were

over. •

urbantoadmedia.com / THE GOOD LIFE / 3
---
VOLUME 7 • ISSUE 2

CONTENTS

SEPTEMBER-OCTOBER 2019

2

6

10

14

FATHERS - MR. FULL-TIME DAD

FIVE STAGES OF TODDLER SLEEP

FLY LIKE AN EAGLE

AERIAL SPRAYER ERIC KLINDT REACHES

NEW HEIGHTS

RUSTICA - SIMPLICITY AT ITS FINEST

BACK IN BUSINESS: RUSTICA'S OWNERS

CARRY ON TRADITION

HAVING A BEER WITH - JEFF CULHANE

"VOICE OF THE BISON" AND PROGRAM

DIRECTOR FOR BISON 1660

4 / THE GOOD LIFE / urbantoadmedia.com

18

24

28

30

ON THE COVER - FIX IT FORWARD

THE MECHANICS OF FAITH

FIX IT FORWARD'S IMPACT ON THE

COMMUNITY

LOCAL BAND - THE HUMAN ELEMENT

BETTER TOGETHER

ASK 30 WOMEN

WHAT IS SOMETHING YOU WISH ALL

MEN WOULD KNOW?

LOCAL HERO - MIKE GRUCHALLA

FROM THE MIDWEST TO VIETNAM AND

BACK, MIKE GRUCHALLA'S FOCUS HAS

ALWAYS BEEN DOING HIS JOB WELL

AND FIERCELY SERVING OTHERS
---
PUBLISHED BY

Urban Toad Media LLP

www.urbantoadmedia.com

OWNER / PHOTOGRAPHER

Darren Losee

darren@urbantoadmedia.com

OWNER / GRAPHIC DESIGNER

Dawn Siewert

dawn@urbantoadmedia.com

CONTRIBUTING WRITERS

Meghan Feir

Ben Hanson

Jessica Kuehn

Krissy Ness

Alexis Swenson

ADVERTISING INQUIRIES

Darren Losee

darren@urbantoadmedia.com

READ A PAST ISSUE

issuu.com/thegoodlifemensmag

FOLLOW US ON FACEBOOK

facebook.com/urbantoadmedia

FOLLOW US ON TWITTER

@urbantoadmedia

FOLLOW US ON INSTAGRAM

@urbantoadmedia

The Good Life Men's Magazine is distributed six times

a year by Urban Toad Media LLP. Material may not be

reproduced without permission. The Good Life Men's

Magazine accepts no liability for reader dissatisfaction

arising from content in this publication. The opinions

expressed, or advice given, are the views of individual

writers or advertisers and do not necessarily represent

the views or policies of The Good Life Men's Magazine.

urbantoadmedia.com / THE GOOD LIFE / 5
---
FLY

LIKE AN EAGLE

Aerial Sprayer Eric Klindt Reaches New Heights

6 / THE GOOD LIFE / urbantoadmedia.com
---
"

Of all the dangers

that are in a job, with all

the training you do, it just

becomes normal work that

I don't really think of as

dangerous anymore."

WRITTEN BY: JESSICA KUEHN

PHOTOS BY: URBAN TOAD MEDIA

Even though many people head to the lakes

in the summertime, you'll often find Eric

Klindt flying in the sky. As an ag pilot with

Wilbur-Ellis Agribusiness in Wahpeton,

N.D., Klindt is putting his more than 20

years of experience in aerial spraying to

good use.

The late David Yaggie from Breckenridge,

Minn., first got Klindt involved with aerial

spraying. Klindt had always wanted to

farm, so he helped Yaggie and his son both

in a tractor on their farm and in a plane

with aerial spraying. Later, he attended

The University of Minnesota Crookston,

where he received his commercial pilot's

license and aerial applicator training.

Even though he really enjoys flying itself

and how every day is different, there's

something else he loves more than

anything.

"The best part is that you get paid to do a

job that you love to do," he said.

urbantoadmedia.com / THE GOOD LIFE / 7
---
Eric also uses his plane

to assist in putting out fires

in the community.

Aerial spraying can be dangerous

work, especially when it comes to

the first initial pass with a heavy load

or when you're taking off a shorter

strip with a full load, but Klindt said

he doesn't worry about any of that

anymore.

"Of all the dangers that are in a job,

with all the training you do, it just

becomes normal work that I don't

really think of as dangerous anymore,"

he said.

The biggest thing he wants people

to know about aerial spraying is

how much the sprayers care for the

ground, the farmer's crops and the

environment.

"Some can say that we're not very

good to the environment by spraying

pesticides, but it's those pesticides

that help the environment in

controlling weeds and bugs that can

overtake your field," he said.

One of the most memorable

experiences in his career so far

includes being honored for the

work he's done in the industry from

the National Agricultural Aviation

Association (NAAA). Another

memorable, albeit sadder, moment

includes doing flyovers at burials

after losing a pilot.

"Those are quite memorable," he

said. "I mean, that's something you'll

never forget for the rest of your life.

There's probably a lot more I could go

into, but it's just the fact that you can

do this for a job and basically have

the winters off, even though I find

a lot of stuff to do, that's rewarding

work."

According to his bio on Wilbur-Ellis'

website, his motto is "go big or go

home," which is a message he said he

can't help but live by, especially when

flying around in his Air Tractor AT-

802.

"I guess there's nothing I do that's

little," he said. "Now in this industry,

it just so happens that I'm flying the

biggest ag plane there is to spray with

in the world, basically, so I can get

a lot done with it, which ultimately

helps the customers and the farmers

that I'm working for."

With bigger equipment and planes,

more work is being accomplished

more quickly than it used to be,

making the process much more

efficient over time.

"If you go back 20 or 30 years, there

were almost twice as many airplanes

that did our work, but yet the number

of acres that were covered are about

the same, so we cut the planes in half

but we're still doing the same amount

of work," he said.

Klindt knows that some people aren't

fans of the aerial spraying industry,

but he said most of their unhappiness

could be solved with more knowledge

about what they really do.

"Usually the people who don't like

what we do are just quite ignorant

on what we do," he said. "I always

say that people claim this stuff is so

Whether it's cleaning out your toilet or cleaning the countertops, those

chemicals are way more toxic than the stuff that we put in our planes."

8 / THE GOOD LIFE / urbantoadmedia.com
---
horrible. The stuff under your kitchen sink is way more

toxic than most of the stuff we put out of our airplane, but

you don't think twice about that. Whether it's cleaning out

your toilet or cleaning the countertops, those chemicals

are way more toxic than the stuff that we put in our planes."

He said that they do use toxic chemicals at times, but that

isn't all that they do, so he wants to help educate more

people about it.

Another aspect that's important for people to know about

the industry is the importance of family support due to the

long hours that can often vary due to weather.

"If [the family] doesn't understand the roles and the

sacrifices that they have to give in the summer when

they're aerial spraying, that makes it very difficult," he said.

For example, Klindt was in Iowa during this phone

interview, and then he was going to head to Illinois next. He

said that wouldn't be possible without an understanding

family since he has to be gone often in the summertime

and work long hours, which causes him to miss family

outings and other events.

"If you don't have a supportive family, it makes it difficult,

and I'm fortunate that I have a wife and kids that

understand that," he said.

When asked what the good life means to him, he

responded: "To me, the good life is to be able to live in

a faith community, have a decent job, be able to do the

things you want to do and spend time with your family." •

urbantoadmedia.com / THE GOOD LIFE / 9
---
RUSTICA

Simplicity at Its Finest

Back to Business: Rustica's New Owners Carry on Tradition

WRITTEN BY: MEGHAN FEIR • PHOTOS BY: URBAN TOAD MEDIA

Rustica Eatery & Tavern, one of Moorhead's favorite restaurants,

closed its doors earlier this summer for two weeks. Panic ensued

in the hearts of their patrons. Once they were informed it would be

under new management, a second round of panic took place. This

time, it was concern over potential menu changes. Would people still

be able to get their "burrata fix"? Would the fried chicken and pizzas

still be available? Would those items taste just as good, if they were?

Would people's taste buds ever dance again?

These and other questions bounced in the minds of many, but

thankfully for these loyal customers, the new management team

happened to be equally loyal employees of Eric and Sara Watson,

the previous owners. Executive chef Micah Leitel has worked at the

restaurant and tavern nearly four years, and Anna Weisenburger took

on her role as front house manager in March.

A month after Weisenburger started, the Watsons approached the

two employees, encouraging them to take over the business. It didn't

take much convincing. Both Leitel and Weisenburger knew they each

wanted their own restaurant someday. "Someday" just came a lot

sooner than they had imagined.

While it's inevitable the two will gradually make their mark on the

place, they want to keep Rustica customers happy and satisfied by

keeping staples on the menu and the restaurant vibes the same. The

homey environment, comforting food and occasional twists regulars

have grown to love will continue being a fixture of Rustica.

Read on to learn more about the new owners and

their unique approach toward working in the

hospitality industry.

10 / THE GOOD LIFE / urbantoadmedia.com
---
Good Life: Are there any drastic changes you two have

in the works for this place?

Micah Leitel: Our main goal is consistency. We want to

provide the same experience to the guests they've come

to expect. For now, we already have an existing clientele

that love the place, so why mess with that? Give them

what they want in the way they want it. Will it be exactly

the same this time next year? I highly doubt it. It will

always evolve.

Anna Weisenburger: We didn't

want to rip the rug out

from anybody.

There are some things that just won't change because

they're not broken, but we definitely will slowly put

our mark on things.

GL: What's something unique about how Rustica

functions?

ML: Our kitchen team is pretty awesome. They're

very dedicated and disciplined, and that's kind of rare.

Usually, kitchens are very chaotic places, but ours is

serene. Even on a wild Saturday night, nobody's fighting

with each other. I can't recall the last argument that was

in the kitchen. That's something special.

AW: There's not a lot of drama. Everybody jives together

really well. Another unique thing about our operation

is that we don't have a specific dishwasher. Everybody

washes dishes back there. If someone isn't as busy, they

go wash dishes. It is complete teamwork all across the

board. Nobody is too good for anything.

"

We didn't want to rip the rug out from anybody.

There are some things that just won't change

because they're not broken, but we definitely will

slowly put our mark on things."

— Anna Weisenburger

urbantoadmedia.com / THE GOOD LIFE / 11
---
GL: Did circumstances or a driving passion lead you

two to where you are now?

ML: I never set out to be a chef, but I've worked toward

where I've gotten. You experience things and look for

new challenges, and I found a lot of those here. If you

can survive everything, you move on to the

next station or role. I've always found that to

be exciting. Then you just keep moving and,

eventually, we got to buy the place. That's

pretty cool.

12 / THE GOOD LIFE / urbantoadmedia.com

AW: I think for people who take this seriously

and make it their career path, the goal is to

eventually own something. It's often in the far-off

distance, and a lot of us never get to do it, but once you

reach a management role, what else is there, besides

having your own place?

GL: What makes Rustica so special in town?

AW: I think what makes it unique is that it's so sought

after. It's the best of the best. It's comfort food that's

done really well and we offer really great service.

ML: Simplicity takes a certain amount of confidence

because you don't have much to hide behind. The

technique is very apparent right away. That's the way

I go at it.

AW: I think the space we're in also contributes to how

unique we are, as well. This is the oldest bar in town.

Guests can walk in and choose if they want to be in

the tavern or the dining room. You get to pick your

experience.

ML: We occupy that odd middle ground between fastcasual

and fine dining, so guests can really choose

their own adventure when they walk in the door.

GL: What does living "the good life" mean to you?

ML: I'd say it's being satisfied with what you do.

Whatever it is you're interested in, if you can turn that

into a career, why not? You don't need to be rich, just

enjoy what you do. If you're going to spend 13 hours a
---
day doing something, you should at least like it and

be able to look back on what you did that day with a

measure of pride.

AW: In the same sense, I feel pretty good about

watching the hard work you've put into something

make a difference, like turning a negative situation

into a good one with a guest and just seeing results.

We come in here every day and work really hard. If our

guests are happy with what they get from us, that's a

day that's been done well.

ML: I think owning this place would be a very poor

idea if we didn't absolutely love what we do. I love

Rustica. I have so many good memories, and we're

making more. •

"

Simplicity takes a certain

amount of confidence

because you don't have

much to hide behind.

The technique is very

apparent right away.

That's the way I go at it."

— Micah Leitel

urbantoadmedia.com / THE GOOD LIFE / 13
---
HAVING A BEER WITH | JEFF CULHANE

"

I think I've learned that

time and place are very

important when you have

an opinion. To a certain

extent, you may be right

about something, but it

might not be the right

time to share it."

14 / THE GOOD LIFE / urbantoadmedia.com
---
HAVING A BEER WITH

JEFF CULHANE

"Voice of the Bison" and Program Director for Bison 1660

WRITTEN BY: MEGHAN FEIR • PHOTOS BY: URBAN TOAD MEDIA

Jeff Culhane's family has a history — of being in broadcasting,

I mean. His dad and uncle used their voices as announcers for

sporting events on and off the radio. That drew Culhane in.

While his friends would be playing video games, he would be

announcing play-by-plays for them as a kid.

By the time he was 14, Culhane was already working parttime

at a radio station.

After a few years in South Dakota, six years at Husker Sports

Network in Lincoln, Neb., and a stint in Morgantown, W. Va.,

he landed his current role as the official "Voice of the Bison"

for NDSU and the program director for Bison 1660, positions

he's held for three years. At Bison 1660, Culhane has daily

talk shows and covers football, men's basketball, baseball

and more. He, along with his team members, tries to cover as

many men's and women's sporting events and conferences

as possible.

As we sat in Brewhalla for — what else — a brew and a holla

(sorry), I had the privilege of learning more about the guy

behind the Bison mic.

urbantoadmedia.com / THE GOOD LIFE / 15
---
HAVING A BEER WITH | JEFF CULHANE

Good Life: Jeff, you're from Mitchell,

S.D.?

Jeff Culhane: Yes. They're famous for the

Corn Palace.

GL: Is Mitchell also famous for other corn

things, like corn hot dishes, corn drinks

and corn candy?

JC: Not really. The Corn Palace gift shop has a

lot of candy corn stuff and corncob heads and

who knows what else. My parents actually

own a sports bar right across the street from

the Corn Palace, so corn chowder is on the

menu.

GL: It better be.

GL: Did you have to do some vocal

coaching to get your radio voice, or

did all your practice in elementary school

pay off?

JC: I like to say I have a face for radio and a

voice for newspaper. Not really. I have noticed

through the years how certain things affect it,

like if I drink a sugary drink. On a football game

day, which is long and energetic, I'll stay away

from any pop and ice-cold water. That sounds

weird, but I know how it makes me feel. I can't

eat close to or during a broadcast. My wife

Sarah and I have a tradition called Game

Day Breakfast. It's usually a combination of

eggs, bacon, pancakes or waffles. But, yeah;

no schooling or coaching for the voice. I just

have a feel for what makes my voice strong

or weak.

GL: Did you ever have to work on getting rid of an accent?

Like me — I obviously have a very strong accent of sorts.

Some people think I'm Canadian. I'm not. Some people think I'm

from Alabama. I don't know. Did you have to work on getting rid

of yours?

JC: Not really. When I get into the broadcast mode, I don't have the

upper Midwest sound. It's not too over the top either way.

GL: Yeah, you have a very neutral voice.

JC: I was actually told from a southern school I applied for at one point

that I sounded too northern.

GL: Oh, my goodness. "The confederacy can't handle it."

JC: That was a legit response from the school. So it's real. Call it

whatever you want to call it, but you have to sound like the locals to a

certain degree.

GL: Vocal prejudice.

JC: There you go. In this day and age, get outraged.

GL: That's right. Get upset.

GL: What's one of your hobbies outside of work?

JC: I like to play golf. I recently told my wife that if we're ever lucky

enough to retire, a goal would be to play a golf course in every state of

the Union. That would be fun. I'm not very good, but I like to play and I

like to hang out with the guys or Sarah. We just had our first child five

weeks ago, so I would say he's my number one hobby now.

GL: Congrats! Whoa, that's a fresh baby.

JC: Thank you. Yes, he's fresh, in more ways than one. He's taken

things over, certainly for the better.

GL: What's your favorite movie?

JC: Saving Private Ryan. I was in high school when it came out, and

I went there with a friend. Of course, when you're 15 or 16 years old

16 / THE GOOD LIFE / urbantoadmedia.com
---
— or guys at any age — crying or

showing any emotion is just not

something you're quite expected

to do. I remember we sat there

after it ended and we just kind of

looked at each other like, "Who's

going to say something first?"

It was just such an amazing

account of D-Day, Normandy and

sacrifice.

GL: What's one of your

biggest personality traits

that have changed since you

were in your early 20s.

JC: I'm quieter than I was then. I

think I've learned that time and

place are very important when

you have an opinion. To a certain

extent, you may be right about

something, but it might not be

the right time to share it. I don't

think there's anything wrong

about saying what you feel, but

I definitely do think that if you're

looking to continue improving

relationships and connect with

people, or you're looking to

improve your career, it's okay

to not say something from time

to time. That doesn't mean you

can't say it at some point.

GL: What's one thing

you're really into, almost

like an obsession — besides

sports?

JC: I would probably now say,

my son. As every parent that will

read this knows, it's just different.

He and Sarah have been

constantly on my mind as she's

still on maternity leave. I've been

thinking about the future and

how to do what's best and how to

provide, protect and guide, stuff

that was as far away as you could

think it would be a year ago.

GL: What does living the

good life mean to you?

JC: What I'm doing right now. •

urbantoadmedia.com / THE GOOD LIFE / 17
---
ON THE COVER | FIX IT FORWARD

THE MECHANICS OF FAITH

FIX IT FORWARD'S IMPACT ON THE COMMUNITY

WRITTEN BY: MEGHAN FEIR • PHOTOS BY: URBAN TOAD MEDIA

Auto mechanics. They're often met with mistrust.

Women, specifically, have been told to watch out for

mechanics that take advantage of the fact that many

girls (myself included) don't know a whole lot about cars,

although, let's be honest; many guys don't either.

Throw that stereotype out the window and imagine what

a car obsession and philanthropy could accomplish

when joined forces.

Matt Carlson and Jeremy Jensen have been car hobbyists

for years. They're probably the type of guys who tried to

soup up their Hot Wheels as kids, but starting an auto

care shop was never a bucket list item — for either of

them.

Carlson and Jensen met when they attended Moorhead

High School in the '90s. Years later, they both wound up

at Microsoft and reconnected. It was there where they

creatively merged their passion for cars with their desire

to help others.

Four years ago, their dream became a humble reality

with the beginnings of what is now known as Fix It

Forward Ministry.

A Life of Service

Mark 10:45

For even the Son of Man did not come to be served, but

to serve, and to give His life as a ransom for many.

After 15 years of working a stable, well-paying job,

Carlson took the leap and began working for Jeremy's

and his brainchild, Fix It Forward Ministry.

18 / THE GOOD LIFE / urbantoadmedia.com
---
"It was a difficult leap," Carlson said, "but it was a good

time for me to move on, and things fell into place. I felt

like I was called to do this. We really felt like God led us."

Carlson and Jensen first ran the ministry on a private

property out of town, but the limitations and location

made it difficult. Their shop, while sizable for a residence,

wasn't large enough to service and store many vehicles.

They also lacked a fenced-in space that could house

donated cars. Despite these frustrations, they still knew

this was what they were supposed to do.

— the perfect spot to start their next idea — an auto care

shop to support the ministry.

"We came up with the idea of just creating the shop and

have it pay for the heat, electricity and the rent. We were

able to get this big building that has enough room for

everyone to work, and by having a regular automotive

shop, we were able to get insurance," Carlson said. "The

more we can grow the auto shop, the more we can grow

the ministry because all the equipment is used for both."

"We found out that if you give away your services,

it's going to grow quickly," Carlson said. "We started

by working with the YWCA, and then we went to the

Rape and Abuse Crisis Center. Lots of people have

transportation issues, but if you're a single mom with five

kids, transporting is really difficult, so we thought we'd

focus on that area. Then we went to the homeless shelters

and 40 other organizations in the F-M community."

As Fix It Forward swiftly grew, they acquired their 501(c)

(3) as a nonprofit and began giving away donated cars

they repaired. Soon a shop with 6,000 square feet,

private offices and a fenced-in area went on the market

urbantoadmedia.com / THE GOOD LIFE / 19
---
ON THE COVER | FIX IT FORWARD

Good Stewards

Throughout this process, God's impeccable timing and

creative way of providing for every need have reassured

and encouraged Carlson and Jensen.

"Before we changed our name and realized we needed

to start a shop, someone at Jeremy's church wanted to

help with graphic design. We said, 'That's great, but

we don't really need anything.' Two months later, we

decided to start the shop and didn't have a name, a logo

or anything," Carlson said.

"He saw what we needed before we realized we needed

it," Jensen said. "By the time we had the building, he had

everything laid out. He was like, 'Here's the logo, here's

the name, here are the colors.' God put Stephen Dorsey

in our path and knew the exact time we needed him, even

though we had no clue we would. The whole ministry

has been one thing like that after another."

The people that have stepped up to the plate to help

the Fix It Forward journey take off have a wide array of

skill sets that are necessary for the mission's success.

Carlson and Jensen stay in their lane and allow other

experts to assist them as they help those in need to gain

independence and safety. This is one reason they rely on

the organizations to provide the donees.

"It comes back to being good stewards," Jensen said.

"We want to take the resources God's given us, whether

it's financial or people's time, and apply those in the most

efficient ways possible. Part of that process is making

sure we're not trying to do those things we're not called

to do and avren't skilled to do — letting the organizations

do their work so we're efficient on our end."

"We want to give cars to people so they can get that job and

get out of the shelter or away from that abusive person —

whatever it takes so they can be self-sufficient," Carlson

said. "These case managers are great at identifying the

people who are in that spot. We're not. We fix the cars."

Sticking to their interest in fixing cars for a purpose and

allowing others to help them along the way has been

the most efficient way of growing their business and

20 / THE GOOD LIFE / urbantoadmedia.com
---
"

We attract people who are

really excited about our

mission, so it's not just that

they want to turn a wrench;

they want to give back."

— Matt Carlson, President

ministry. Both Carlson and Jensen encourage

others to use their interests to help others in

unique and practical ways.

"Take the skills God has given you and help

others," Jensen said. "Take that gift, that passion

and focus it on something bigger than you."

Finding Purpose

For too many people, work is a source of,

well, very little, besides earning income and,

hopefully, benefits. Sure, you may have a friend

or two at your job, one you can share memes

with for an occasional laugh, but it might be

hard to feel that sense of meaning.

It's for this very reason that people have

sought out work at Fix It Forward Auto Care.

Carlson and Jensen have never had to post

job advertisements because the reward of the

purpose is so palpable.

"We have six employees here now. We haven't

ever put an ad out to hire someone," Carlson

said. "God keeps dropping the right people

in place for us. That's kind of unique in this

industry."

As with many blue-collar jobs, there has been

a national shortage of auto mechanics, and the

turnover rate can be high. For Fix It Forward

employees and volunteers, the impact their

work makes in the lives of others keeps them

satisfied.

urbantoadmedia.com / THE GOOD LIFE / 21
---
"We attract people who are really excited about our

mission, so it's not just that they want to turn a wrench;

they want to give back," Carlson said.

"It's a job with a big bonus," Jensen said. "It's very hard

to find a career or a paying job in this industry that has

that purpose or mission tied to it where you can go to

work not only to achieve wages but to give back to the

community, too."

Fix It Forward Auto Care opened 16 months ago and

continues to grow alongside the ministry. They currently

have six employees and had over 75 volunteers involved

with the mission in 2018. They've also been able to fix

up and give away 178 cars to those in need. That number

continues to grow because of the generosity of others.

Many of Fix It Forward's volunteers are a part of Carlson

and Jensen's church families. It's been a well-received

opportunity, especially for the men of their congregations.

"One of the struggles of the church is to get men

involved. Statistically, if a man is involved in his faith,

the family follows, but how do you get men involved in

the churches? Most men don't want to serve cupcakes

at funerals. That's not our calling, and nobody wants

Jeremy singing in the choir," Carlson said. "So you have

to provide opportunities for these guys. For a percentage

of the population of the congregation, this gets them

involved."

Living the Good Life

When asked how they would describe what "living the

good life" means to them, the friends' answers were as

meaningful as their mission.

"I think as I grow and, hopefully, become wiser, living

the good life is following the pattern that Jesus laid out,"

Jensen said. "Living the good life is doing the best I can

to take what God has given me and do good for others on

the path he has for me. It really comes down to that —

that giving back and living a life of service."

"My thought is basically living out your faith," Carlson

said. "Jeremy and I are both doers. One of my favorite

mottos is 'Less talk. More do,' so living out the faith is

going out there and doing those things that your faith

talks about, which is serving others. It's a different way

of saying the exact same thing that Jeremy said, but that's

22 / THE GOOD LIFE / urbantoadmedia.com
---
probably why we work on so much

together. I think most of the people

working with us would answer in

the same way. They feel that need

to serve."

Get Involved

If you would like to get involved

with the ministry, here are a

number of ways you can help their

efforts grow.

1 Volunteer. Help fix cars during

the evenings or weekends, or offer

to visit with clients as they wait for

their cars.

2 Donate your car, if your car is

repairable.

3 Give a gift. Cash donations help

pay for the car parts.

4 Get your car fixed at Fix It

Forward Auto Care. This is how

they keep the heat and lights on

and how the ministry stays afloat.

In order to receive help from

Fix It Forward, each individual

must have a referral from a case

manager connected to the YWCA,

Rape and Abuse Crisis Center, or

one of the 40 organizations Fix It

Forward Ministry works with on a

case-by-case scenario. •

"

Living the good life is

doing the best I can to

take what God has given

me and do good for

others on the path he

has for me. It really comes

down to that — that

giving back and living a

life of service."

— Jeremy Jensen, Vice

President

urbantoadmedia.com / THE GOOD LIFE / 23
---
LOCAL BAND

THE HUMAN ELEMENT

Better Together

WRITTEN BY: KRISSY NESS

PHOTOS BY: URBAN TOAD MEDIA

Interviewing local Fargo-

Moorhead bands has

become the highlight of

my life these days. From

meeting new people and

listening to music I know

or I am hearing for the

first time is such a rush

and always a treat.

For this article, I had the

pleasure of interviewing

the members of The

Human Element. Seth

Holden is on drums and

is the resident comedian

(although they are all

hilarious), Matt Johnson

is their lead guitarist and

sings vocals, Brant Niemi

is their bass player and

bookkeeper, and Kari

Marie plays they keyboard

and sings vocals.

"We've been playing since

2015 as a band - Seth,

Kari, and myself and

Brant came aboard in

2018," Said Matt. With

that being said they have

been playing music for

many years, whether it's in

other bands like O'Fosho,

Sovereign Sect, Living In

Tent City, or just jamming -

these four have talent like

no other.

Before adding Brant to the

band they group can agree

there was something

missing. "Brant was like

the Ironman that put the

ship back together," said

Kari Marie. "He is our

magical unicorn," added

Matt.

Although his band mates

are singing his praise, the

love they all have for each

other is admirable. Our

interview was a mere 35

minutes, definitely one of

the shortest interviews

24 / THE GOOD LIFE / urbantoadmedia.com
---
"

When we were

talking about what

we should call

ourselves once we

decided this was

a cohesive unit,"

said Kari Marie,

"one of the things I

thought was quite

prevalent is that

regardless if we

have original music

or if we are playing

cover tunes is that

we each bring our

own element or we

each bring our own

humanity to the

songs."

urbantoadmedia.com / THE GOOD LIFE / 25
---
LOCAL BAND | THE HUMAN ELEMENT

I've ever conducted, but it was filled with so

much laughter, knowledge, and love that I felt

like I'd been friends with them for years.

What does The Human Element mean, you

might be asking yourself?

"When we were talking about what we should

call ourselves once we decided this was a

cohesive unit," said Kari Marie, "one of the

things I thought was quite prevalent is that

regardless if we have original music or if we

are playing cover tunes is that we each bring

our own element or we each bring our own

humanity to the songs."

No matter how hard you try you can never

recreate what the original artist made, but you

can bring your own element to that cover.

The Human Element describes their sound as a

mix of funk and singer-songwriter. It is definitely

music you want to get up and move to and you

really feel connected to the band when they play.

"The music is so much better when you love

who you play it with and love what you do," said

Seth. "It has got to be fun" added Matt.

26 / THE GOOD LIFE / urbantoadmedia.com
---
As a group, The Human Element doesn't take their

music lightly but they approach it with a lighthearted

attitude and correct their errors with little

to no confrontation.

"We never dwell on mistakes we've made while

were playing or after," said Seth. " We may chuckle

about it after the show, but then (that mistake) will

never happen again."

It is easy to tell by talking with one or all the

members, attending a show, or listening along in

your car that they really love what they do when

they are playing together in this band.

"We never obsess over how we played in the show,

we obsess over how fun it was to play the show,"

Matt. "There is always musicians to play with, but

there is not always musicians to play together,"

added Seth.

There is more to just music when it comes to

shows though, "The sound and light crew are just

as equally important as we are," said Kari Marie.

"It's not always just that the songs were good, it's

how does the audience look, how crisp was the

kick drum, can I hear Matt's guitar or Kari's Keys?"

added Brant.

Everyone brings their own special part to a band

whether it is songwriting, composing, or making

sure the sound quality is the best it can be.

"We've been elevated to another level of magical

playing since we've had Brant," said Kari Marie.

The Human Element is in the process of recording

a live album along with their third studio album,

the date is not set yet, but you can find their music

on iTunes, Spotify, Orange Records in downtown

Fargo or at any one of their shows.

For all upcoming shows check out their Facebook

page and check out some of their live shows on

YouTube, you won't be disappointed. •

urbantoadmedia.com / THE GOOD LIFE / 27
---
ASK 30 WOMEN

WHAT IS SOMETHING YOU WISH ALL MEN

WOULD KNOW?

"Yeah, I know." "I knew that already." "I know everything."… False! You know some things, but not

everything, about the important ladies in your life. You really don't, and we can prove it. We asked 30

women "What is something you wish all men would know?"

1. Don't try to fix it - just listen!

2. Chivalry is not dead. We

always appreciate when you

hold open doors, or offer to carry

our things.

3. Women are like cats. We

want attention when we want

attention. But too much and we

might bite/claw/scratch.

4. Reaching to hold hands in the

car or in public actually means

a lot.

5. It's not always about the

big extravagant things. Little

gestures like doing laundry and

dishes are appreciated.

6. When you leave the toilet seat

up, we fall in. It's not fun getting

wet buns!

7. It's the little

things that

mean a lot.

8. There is

nothing

wrong with

owning an

expensive

handbag.

Nothing!

11. When we are venting, a

great question to ask is, "Are

you just venting or do you want

me to help you solve this issue?"

Because sometimes we just

need to get it out but we will

handle it on our own.

12. Even strong and

independent women appreciate

hugs, hand holding, and kisses

on the forehead.

13. Women like to be told they

look nice. Everyone likes to be

complimented.

14. "You look fine" is not an

acceptable answer.

15. How lucky you are to not

have to sit on a toilet in a public

restroom.

16. They

should know

women are the

stronger sex.

19. They could avoid two

hour long conversations by

communicating well for five

minutes.

20. We always notice when you

check out another woman. No

matter how hard you try to hide

it - we know.

21. We love any romantic

gesture.

22. How much cramps hurt.

23. No matter what we say,

we always appreciate things

like unexpected flowers or

compliments or just coming up

behind us for a hug that isn't

attached to any expectations.

FLOWERS?

IT'S NOT EVEN

MY BIRTHDAY!

24. We like Star

Wars too.

25. We shave

our legs for

you, not

ourselves.

26. A man

who cooks is a

dream come true.

27. We take so long getting

ready to look good for you.

9. We know

they're not gonna

understand us, but

at least try.

10. Money

is not

impressive.

28 / THE GOOD LIFE / urbantoadmedia.com

17. How to put the lid

down.

18. We need

to hear "I love

you" even if

you are out

with your guy

friends.

28. I need to hear how you feel

about me often.

29. Stop competing and start

listening. It's a team project, not

a race.

30. My mood swings are

hormonal, not personal.
---
urbantoadmedia.com / THE GOOD LIFE / 29
---
LOCAL HERO | MIKE GRUCHALLA

WRITTEN BY: ALEXIS SWENSON

PHOTOS BY: URBAN TOAD MEDIA

When Mike Gruchalla arrived in

Saigon, Vietnam on January 11, 1970,

he hit the ground rolling - literally.

"As soon as we touched down at the

airport base ... the Viet Cong started

mortaring us. The airplane got to the

end of the runway, started taxiing

back, lowered the back ramp on

the airplane ... we exited while the

airplane was still taxiing ready to

take off. So, I hit the ground rolling,"

explained Gruchalla.

Merely seven months prior the

19-year-old had been drafted to serve

in the Vietnam War.

"I drafted and then I enlisted [in the

Army] because my older brother had

gone AWOL. I figured that if I enlisted

and volunteered to be a medic and

got sent to Vietnam, it would keep

my brother out of Vietnam," said

Gruchalla.

30 / THE GOOD LIFE / urbantoadmedia.com

Gruchalla volunteered to be a medic

simply because he knew they were

needed and assumed it would send

him to Vietnam.

In August 1969, Gruchalla left for

Fort Lewis, Washington to complete

basic training followed by Advanced

Individual Training (Gruchalla's

medic training) in Fort Sam Houston,

Texas. After the abbreviated training,

Gruchalla went home for Christmas

leave and arrived in Vietnam on

January 11, 1970.

Life in Vietnam

Gruchalla felt life at base camp was far

less appealing than getting out in the

field and often volunteered for patrol

with any group that wanted a medic.

"I didn't like being at base camp

where I had to have spit-shine shoes,

a pressed uniform; I wanted to do my

job," said Gruchalla.

This willingness to go out with anyone

— Koreans or other allies — exposed

Gruchalla to extremely dangerous

situations. In the course of nearly 2

years, Gruchalla found himself in 15

different tunnels, being shot, surviving

four helicopter crashes, and being run

over by a tank.

Earning the Combat Medical

Badge Medal

Most memorably, Gruchalla cites the

event that earned him the Combat

Medical Badge Medal, because,

"there were only 2,231 combat medic

badges awarded in Vietnam."

"On July 2nd, I was sent out to a

firebase ... The night of the 2nd, we

got attacked. When the attack started

the enemy was playing Johnny Cash,

Charlie Pride, and other country

songs over loudspeakers in the jungle.

Over a period of five or six hours, we

threw everything at them we had.
---
"

That badge says I did

my job. I think I did

it well. I wish I could

have saved more,

but there's only so

much you can do."

– Mike Gruchalla

urbantoadmedia.com / THE GOOD LIFE / 31
---
LOCAL HERO | MIKE GRUCHALLA

We even lowered the guns and fired

beehive rounds (155 howitzer with

seal darts), said Gruchalla.

"... I was dragging a wounded soldier

into the command bunker with the

help of another guy. A satchel charge

went off in front of us, blew me into

the tunnel, and as soon as I got into

that tunnel, they blew it. That sealed

the entrance.

"There were 38 of us in the bunker

and we called in an A-B52 strike on

our position. When it was all done,

63 GI's died. 38 of us got off. I was

number 38.

"When we got dug out, it was my job

to tag and bag the 63 guys. The first

guy that I tagged and bagged was

the guy that was helping me with the

wounded man. He had the flag from

that firebase inside his shirt. And, I

32 / THE GOOD LIFE / urbantoadmedia.com

have that flag today," said Gruchalla.

According to the American War

Library, the Combat Medical Badge

Medal was established to recognize

medical personnel who experienced

combat while providing medical

assistance to wounded personnel.

"That badge says I did my job. I think

I did it well. I wish I could have saved

more, but there's only so much you

can do," said Gruchalla.

Gruchalla's Medals

Gruchalla also received a Purple

Heart Medal, a Bronze Star Medal,

and a Silver Star Medal, but the only

paperwork he has is for the Combat

Medical Badge Medal.

"When I came home from Vietnam, it

took me 4 months to get my things …

They were going through and taking

things out ... because they made

references to where I was," explained

Gruchalla.

Gruchalla reasons that the paperwork

was confiscated because he carried

out some of his work in Cambodia

and Laos – a direct violation of

international law.

"We weren't supposed to be there,"

said Gruchalla.

Per military rules, an individual is

allowed to wear their medals if they

have paperwork to verify earning

them. As such, Gruchalla continues

to be denied from wearing the

medals. Initially frustrated, he has

now reached a resolve of sorts.

"It hurt at first, but it doesn't matter

now. My dad saw my medals and

that's all that counts," said Gruchalla.
---
"

It hurt at first, but it

doesn't matter now. My

dad saw my medals and

that's all that counts."

– Mike Gruchalla

Coming Home

Despite diligently doing his job to help fellow soldiers,

Specialist Spc. 4 Gruchalla's homecoming was

characterized by a negative public perception of

Vietnam veterans.

"... On the flight from Minneapolis to Fargo, the only

seat that was available was first class. There was a guy

sitting in the window seat next to me. As soon as the

plane took off, he went and sat with the stewardesses;

he didn't want to sit by a Vietnam vet. When we landed

in Fargo, nobody got off the plane until I did. They all

waited at the back of the baggage claim area until I got

my bag and walked out the door," said Gruchalla.

In the following weeks, Gruchalla determinedly

attempted to register for college.

"I dressed the part – bell-bottoms, shirt with puffy

sleeves, the beads, the whole thing. But, I went up to

the registrar's office and pretty much got chased off of

urbantoadmedia.com / THE GOOD LIFE / 33
---
LOCAL HERO | MIKE GRUCHALLA

Moorhead State. I had short hair,

I was a Vietnam vet, I was a 'baby

killer', said Gruchalla.

"I went home. I spent four months

in my folks' basement growing out

my hair. I didn't go out for anything

because I didn't know if I would be

accepted for having medium length

hair," said Gruchalla.

A Continued Medical Career

Eventually, Gruchalla acquired a

job in the medical field, continuing

to care for hurting people. For 10

years, he worked at Dakota Hospital

for orthopedic surgeons. Then,

he spent the next 27 years at the

Fargo VA Hospital working in the

operating room.

Gruchalla saw firsthand how much

of what the medics learned in

Vietnam was put into practice on

American soil.

"It was a slow process, but it went

from ambulances basically being

34 / THE GOOD LIFE / urbantoadmedia.com

a meat wagon ... to someone riding

in the ambulance able to initiate

medical treatment. And, with that,

the use of helicopters to transport

because we found out in Vietnam

that we only had basically an hour

before things would permanently

die," said Gruchalla.

"My Lives as a Medic"

At the consistent urging of a VA doctor

and Gruchalla's now-wife, Gruchalla

authored a book outlining the stories

he carries from the Vietnam War. He

was reluctant at first, in part due to

his dyslexia which made the writing

process challenging, though he's glad

now that he wrote it.

"My Lives as a Medic: A Soldier's

Journal in Vietnam" provides a

raw, honest memoir of Gruchalla's

experience in the Vietnam War.

Giving Back Today

Gruchalla wasn't always involved - or

invited - into veterans organizations.

"When I first came home, the VFWs

and the American Legions called me

... they both told me they didn't want

me. 'Vietnam was not a war ... we

don't want the Vietnam vets'," said

Gruchalla.

Many years later, prompted by the

positive change in the public's view

of Vietnam veterans, Gruchalla

joined the VFW, AM Vets, Disabled

American Veterans, and Vietnam

Veterans of America.

Gruchalla helps the Vietnam

Veterans of America with their 5K

and 10K races as a crossing guard

and is involved with the Fargo

Moorhead Vietnam Veterans Week

in May.

Furthermore, for the past four years,

Gruchalla has volunteered with

the Veterans Honor Flight of ND/

MN, a nonprofit created solely to

honor America's veterans for their

sacrifices. He assists in Honor Flight

fundraising events and has been the

cook for the past 2 years.
---
Helping with the Honor Flight is a rewarding

experience for Gruchalla, and his favorite part is "just

seeing the veterans as they see the memorials."

The Good Life

"In spite of being diagnosed with cancer and having

a stroke, I've had a good life. And, most people would

say a good life ... with friends and family. ... I have

associations and acquaintances because in Vietnam

I learned that you don't want to be friends with

anybody because when friends die, it hurts. When we

acquaintances die, it's not as bad," said Gruchalla.

Undoubtedly, the Vietnam War played a large role in

Gruchalla's life although he's not solely defined by his

years serving. Rather, his life in whole is a greater

representation of his values.

When looking at Gruchalla's experiences, it is evident

that in enlisting to protect his brother, working as a

Combat Medic, 37 years in the medical field, writing

a book, and volunteering with veterans organizations,

his primary focus has always been caring for others.

"... I wouldn't change a thing. It was meant to be. And,

like I said, it's been a good life," said Gruchalla. •

"

... I wouldn't change a thing.

It was meant to be. And, like I

said, it's been a good life."

– Mike Gruchalla

"My Lives a Medic: A Soldier's Journal in Vietnam"

can be purchased by emailing:

pmatsonr@hotmail.com

urbantoadmedia.com / THE GOOD LIFE / 35
---
DONATION

VALUE

5¢ PER BOTTLE

DONATION VALUE

for MILLER HIGH LIFE

and MILLER HIGH

LIFE LIGHT.

RECYCLE

Empty and unbroken

MILLER HIGH LIFE and

MILLER HIGH LIFE LIGHT bottles only.

Return in recyclable original carriers,

cartons or boxes.

DONATIONS

Donations go to:

Fargo/Moorhead, Detroit Lakes

CASS/CLAY VETERANS ASSISTANCE FUND

and VFW COLOR GUARD FUND

or any of the other registered organizations at:

minnkotarecycling.com

OTHER OPTIONS

You can also donate the value

of aluminum cans, magazines,

newspapers and #1 and #2

plastic bottles.

minnkotarecycling.com