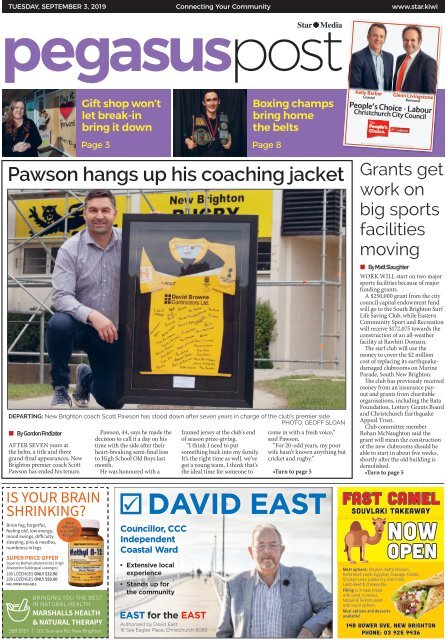 Pegasus Post: September 03, 2019
Create successful ePaper yourself
Turn your PDF publications into a flip-book with our unique Google optimized e-Paper software.
TUESDAY, SEPTEMBER 3, 2019

Connecting Your Community

www.star.kiwi

Gift shop won't

let break-in

bring it down

Page 3 Page 8

Boxing champs

bring home

the belts

Pawson hangs up his coaching jacket

DEPARTING: New Brighton coach Scott Pawson has stood down after seven years in charge of the club's premier side.

PHOTO: GEOFF SLOAN

• By Gordon Findlater

AFTER SEVEN years at

the helm, a title and three

grand-final appearances, New

Brighton premier coach Scott

Pawson has ended his tenure.

Pawson, 44, says he made the

decision to call it a day on his

time with the side after their

heart-breaking semi-final loss

to High School Old Boys last

month.

He was honoured with a

framed jersey at the club's end

of season prize-giving.

"I think I need to put

something back into my family.

It's the right time as well, we've

got a young team, I think that's

the ideal time for someone to

come in with a fresh voice,"

said Pawson.

"For 20-odd years, my poor

wife hasn't known anything but

cricket and rugby."

•Turn to page 5

Kelly Barber Glenn Livingstone

Coastal Burwood

People's Choice - Labour

Christchurch City Council

Authorised by J McLellan, 6 Braddon Street, Addington

Grants get

work on

big sports

facilities

moving

• By Matt Slaughter

WORK WILL start on two major

sports facilities because of major

funding grants.

A $250,000 grant from the city

council capital endowment fund

will go to the South Brighton Surf

Life Saving Club, while Eastern

Community Sport and Recreation

will receive $172,075 towards the

construction of an all-weather

facility at Rawhiti Domain.

The surf club will use the

money to cover the $2 million

cost of replacing its earthquakedamaged

clubrooms on Marine

Parade, South New Brighton.

The club has previously received

money from an insurance payout

and grants from charitable

organisations, including the Rata

Foundation, Lottery Grants Board

and Christchurch Earthquake

Appeal Trust.

Club committee member

Rohan McNaughton said the

grant will mean the construction

of the new clubrooms should be

able to start in about five weeks,

shortly after the old building is

demolished.

•Turn to page 5

is your brain

shrinking?

brain fog, forgetful,

feeling old, low energy,

mood swings, difficulty

sleeping, pins & needles,

numbness in legs

super price offer

Superior Methylcobalamin B12 (High

absorption sublingual Lozenges)

100 LozengeS oNLY $32.90

200 LozengeS oNLY $59.80

MAiL orDer AVAiLABLe

see a

difference

in as little as

48 hours!

Bringing You The BesT

in naTural healTh

MARSHALLS HEALTH

& NATURAL THERAPY

388 5757 | 101 seaview rd, new Brighton

DaVID East

Councillor, CCC

Independent

Coastal Ward

• Extensive local

experience

• stands up for

the community

East for the East

Authorised by David East

16 Sea Eagles Place, Christchurch 8083

FAST CAMEL

SOUVLAKI TAKEAWAY

now

open

Meat options: Chicken, Kofta Chicken,

Kofta Beef, Lamb, Egyptian Sausage, Falafel,

Chicken Liver, Lambs Fry, Fish Fillet,

Lamb Beef & Chicken Mix.

Filling is in naan bread

with salad, hummus,

tabouli & Turkish salad

with sauce options.

Meal options and desserts

available!

14b Bower Ave, New Brighton

Phone: 03 925 9436
---
2 Tuesday September 3 2019

Latest Christchurch news at www.star.kiwi

get in touch

GENERAL INQUIRIES Ph 379 7100

CLASSIFIED ADVERTISING Ph 379 1100

Star Media,

a division of Allied Press Ltd

PO box 1467, Christchurch

starmedia.kiwi

news

Online greasies reviews a hit

The popularity of a Facebook group reviewing

Christchurch fish and chips has surprised its creator.

Page 6

community events

Seed and plant sharing this Saturday

The Great Library Seed and Plant Swap will be held at

Shirley Library on Saturday from open until close.

PEGASUS POST

NEWS

Matt Slaughter

Ph: 021 910 788

matt.slaughter@starmedia.kiwi

ADVERTISING

Elaine Moon

Ph: 364 7436

elaine.moon@starmedia.kiwi

Page 12

tasty bites

Bowls of stress relief

Poke bowls (pronounced poh-kay) are based on the bite-sized

marinated fish salad famous in Hawaii and have some great

stress-relieving qualities.

Page 16

The best-read local newspaper,

delivered to 15,657 homes

every Tuesday

Linwood, Avonside, Richmond, Shirley, Burwood, Dallington,

Wainoni, Bromley, Aranui, Avondale, Bexley, New Brighton,

Northshore, Queenspark, Parklands, South Brighton.

• The Star

• North Canterbury News

• Selwyn Times

• Ashburton Courier

also publishing:

• Bay Harbour News

• Southern View

• NorWest News

• Western News

All welcome

Come play

it's free

RACQUETS SUPPLIED. BBQ.

PRIZES. GIVEAWAYS.

Tennis clubs across Christchurch are

opening their doors for a fun, FREE

event for all ages.

Find a club near you!

www.lovetennis.kiwi

Sat 7 & Sun 8 Sept 1-4pm

Times may vary by club.

Please check website for details.

YOU COULD

WIN A TRIP FOR TWO

TO THE ASB CLASSIC

IN AUCKLAND THIS JANUARY

First

receive a

200

FREE

club visitors

snack pizza
---
PEGASUS POST Latest Christchurch news at www.star.kiwi

Tuesday September 3 2019 3

News

Break-in won't bring shop down

• By Claire Booker

MAIREHAU continues to be

hit by burglaries and break-ins

– with the Pay it Forward gift

shop targeted last week. The

shop was the second business

targeted along Nancy Ave last

week after the neighbouring

fish and chip shop had its door

smashed and till stolen.

Pay it Forward has been in

the building for six years, and

co-ordinator Lee Arthur said

the dairy two shops along has

been broken into multiple times,

but this was the first time Pay it

Forward had been targeted

Luckily for the shop, nothing

was stolen, which Mrs Arthur

thinks is due to the alarm

system and the fact there was no

cash on the premises.

"They didn't take anything, I

think they were just looking for

money," she said.

A wheelie bin was used to

break the store window, the till

was opened and draws were

sifted through.

The shop is run by The

Neighbourhood Trust and is a

social enterprise where 60 of the

city's creative entrepreneurs can

sell their products.

The shop also provides

social support to budding

OPEN: Pay It Forward Mairehau co-ordinator Lee Arthur said

the recent break-in won't bring the store down.

PHOTO: GEOFF SLOAN

entrepreneurs and runs craft

classes for the community at

subsidised rates so crafts can

be accessed by a wide range of

people.

Entrepreneurs who sell their

products through the shop

make their own profits, and

a commission goes to The

Neighbourhood Trust, which

puts the money back into the

community.

Mrs Arthur said she didn't

know what would lead someone

to break into the shop.

"We definitely won't be

brought down by it," Mrs

Arthur said.

The shop has received a lot of

community feedback and online

support following the break-in.

A Facebook post from Pay it

Forward said: "Unfortunately,

the word hasn't got out to

everyone that our profits go

back into the community. So the

people that broke into our shop

this morning didn't realise that

they weren't just hurting us, but

they were also hurting the local

community."

Mrs Arthur said the

attempted burglary has done the

opposite of what the offenders

probably wanted. The shop has

since reopened and the window

has been repaired.

"It's made us feel loved, we

will prevail," she said.

In Brief

FLOATING WETLANDS

City council staff have advised

there will be no effect on Avon

River water levels as a result of

the new floating wetlands in

Shirley during normal flows.

During flood flows there will be

minimal impact. The wetlands

are designed to help reduce

the flood risk for properties

upstream in Shirley.

CLOCK TOWER REPAIRS

City council staff have

confirmed that lighting will be

reinstalled as part of the repair

work being carried out on the

New Brighton Clock Tower.

SHAW AVE TOILETS

Planting and maintenance work

to tidy up the Shaw Ave public

toilet gardens and pathways

will begin next week. This will

include the lifting of a Ngaio

tree, weed removal and planting

in the garden beds. The Coastal-

Burwood Community Board

asked for this to happen in April.

RESERVE UPGRADES

The project to replace

earthquake damaged assets in

Horseshoe Lake Reserve is in

construction. This will involve

replacing the car park, removing

an earthquake damaged

footbridge and upgrading the

track to connect the car park

and toilet.

VOTE

SOOziE Bragg

Linda Stewart

Independent

PARNWELL

Superette

Daily White Bread/Grain Toast Coke Range 1.5L

$

2 00

ea

2 for

$

3 50

Milk 2L

Bluebird Chips

Monster 500ml

Live+ / Mother

500ml

2 for

$

7 00

2 for

$

6 00

2 for

$

5 00

2 for

$

7 00

$

3 00

ea

2 for

$

5 50

Powerade

Irvines Pie

Red Bull 250ml

V Energy 250ml

f

Coastal Community Board

Independent Candidate

facebook.com/Soozie-Bragg-For-Coastal-Community-Board

Authorised by - Susan Bragg, 256 Pine Ave South Brighton

Burwood Community Board

Vote For

experienced advocacy

Centred on BUrwOOd ward'S FUtUre

Authorized by L. Stewart 168 Northbrook Rd, Rangiora

Lollie Mixture Bag

$

1 00

ea $

2 50

ea

2 for

$

6 00

2 for

$

5 00

75 Bassett Street, Burwood

Phone 03 387 0693 or Kiran (Retail Manager) 022 0748 541

2 for

$

7 00

HEAT PUMP

SALE NOW ON!

Amazin' Spring Specials!!

• We will offer you the best quality brands and

option of heat pump for your home/business

• Providing Heat Pump solutions for over 17 years to Cantabrians

• We personally guarantee all our products & installs for 5 years

(providing annual maintenance has been completed)

Phone us today for your free consultation & quote

41A SHAKESPEARE RD, WALTHAM

PHONE 03 366 0525

www.enviromaster.co.nz

"A local team for local people"
---
4 Tuesday September 3 2019

Latest Christchurch news at www.star.kiwi

PEGASUS POST

september

16th - 20th

PeRFoRming ARTs • visuAl ARTs • CRAFT

Kia ora

We are pleased to announce that Justin Fields,

Chisnallwood Principal, and Andrew Barker Waitākiri

Primary School Principal, are the new co-leads of the

Kahui Ako Ōtākaro. We would like to acknowledge the

strong leadership of John Laurenson, Shirley Boys'

High School, in the setting up of the first two years

of the Kāhui Ako. We have had a strong focus on

mathematics, writing, pedagogy, culturally responsive

practice and wellbeing over the past two years. Much

of this will guide us moving forward.

We are an innovative cluster of schools working

together to get the best social and academic outcomes

for all students from early childhood education (ECE)

to Secondary. Our next exciting initiative is the

Ōtākoro Arts Festival that will see ECE and schools

celebrating all that is good about our Kura and a sense

of belonging.

Justin Fields and Andrew Barker - Co lead Principals

Culturally Responsive Practice

With our communities becoming increasingly diverse,

it is crucial for our schools to be places where people

from all cultural backgrounds feel welcome and are

able to receive a quality education. With a specific

focus on developing capability in Māori and Pasifika

cultural competencies, our Kāhui Ako wants to be

an environment where our students can experience

success while retaining a strong connection to their

culture, language and identity.

Joseph Houghton - CPR Lead

The Ōtākaro Arts Festival

The Ōtākaro Arts Festival will take place between 16th

and 20th September this year. This inaugural event

will include a wide range of exciting and inspiring

workshops that students from across the Kahui Ako

can participate in, as well as multiple opportunities

for learners from across the Kāhui Ako to collaborate

and showcase their skills and strengths. The theme

of 'Belonging' underpins all aspects of the festival and

the overall aim is to support relationships through

building connections, to foster a sense of identity and

belonging, and to provide unique opportunities to

motivate and celebrate student success from all kura

across the Kāhui Ako.

Whānau and community members are welcome

to attend evening events. There is NO COST but

bookings need to be made through: eventbrite.co.nz

and search for Ōtākaro Arts Festival.

Victoria Shaw - Community Engagement Lead

Wellbeing/Hauora

The wellbeing of all our students (over 3500 children

across our Kāhui Ako) has been a priority over the

last two years. During this time the Kahui Ako has

allowed for greater collaboration between schools.

Work has included growing personal knowledge for

staff self-care practices, promoting shared messaging

and strengthening relationships between our schools

for staff and students to thrive and our whanau and

communities to be part of the journey towards being

happy, connected, engaged and healthy citizens.

Emma Smith - Wellbeing Lead

maths and Writing Achievement

Challenges

Our Kāhui Ako has been working towards improving

the achievement of all of our tamariki. We have

specifically targeted Maori and Pasifika Students in

writing and mathematics. Teachers have been meeting

in small and large groups across all schools, to plan,

prepare, and being trained on improving teaching and

learning in those subjects.

In addition to our Across

School Leads, we have

specialist teachers

in every school. We

have also had external

agencies such as UC

and Massey University

working with us,

providing training and in

class support. We are

seeing improvements in

skills, confidence and

achievement across the

Kāhui Ako.

The

Ōtākaro

Arts

Festival is

organised

and run

by...
---
PEGASUS POST Latest Christchurch news at www.star.kiwi

Tuesday September 3 2019 5

News

Surf club and Rawhiti Domain

projects get a boost

•From page 1

Said Mr McNaughton:

"It gives you a lot of

certainty to be able to go

to the contractor and say,

yes, we can actually pay –

so yes it's good, it's really

good."

Eastern Community

Sport and Recreation will

use its grant to upgrade

the four tennis courts

at Rawhiti Domain and

construct an open-sided

canopy building with

additional lighting over

three of the courts.

Said Eastern

Community Sport and

Recreation board member

Rob Smith: "We now have

on hand $1.2475 million

total funding, which

confirms that we can

proceed with the project,

aiming to have it ready for

use by our member clubs,

local schools and the

community early in 2020."

Meanwhile, the

Huntsbury Community

Centre has received

$50,000 from the city

council to earthquake

strengthen its building on

Huntsbury Ave.

PLANS: A concept drawing of the South Brighton Surf Life Saving

Club's new clubrooms, which has been given a $250,000 grant.

Below – Eastern Community Sport and Recreation has received

$172,075 to go towards the cost of an open-sided canopy at

Rawhiti Domain.

DESIGN: CREATIVE INTENTIONS

Pawson steps down as

New Brighton coach

•From page 1

Pawson coached the premier

team in 121 matches. Over his

seven years, the side failed to

make the semi-finals only once.

Working with the title-winning

2013 side, which he coached with

Steve Ellis – who he describes as a

"great mentor" – was a highlight.

He also has fond memories of the

2016 side which won the opening

round-robin competition.

He admits saying his final

goodbye to the team and being

presented with the framed jersey

was an emotional affair in which

more than a few tears were shed.

"I didn't know it was going

to happen. My manager Wayne

Turner started crying and he set

me off," said Pawson.

As a player, Pawson played

67 matches for New Brighton

between 2000 and 2007,

predominantly at first-five. He

didn't win a title as a player, but

says his one "claim to fame"

was slotting a match-winning

drop-goal on full-time against a

HSOB side containing the likes

of Andrew Mehrtens, Aaron

Mauger, Daryl Gibson and Ben

Hurst in 2000.

He was a player/coach for

the New Brighton reserve titlewinning

side in 2006 and coached

the team to another title in 2012

before taking up the premier

coaching role. Pawson's other

passion is cricket. He played

more than 300 games for East

Christchurch Shirley until retiring

in 2011. He then went on to

coach the side in 2012 and 2013.

He spent many years opening

the batting at club level with

Michael Papps, although in his

early playing years he was known

better as a medium-fast bowler,

which saw him make a handful of

appearances for Canterbury.

"I was actually part of a

Canterbury under-20 side, where

I was one of three pace bowling

options alongside Chris Martin

and Shane Bond . . . a couple of

those guys turned out alright," he

said.

Pawson's said he will still be

a regular sight at New Brighton

games on Saturday afternoons,

but it will definitely have a

different feel and he "won't

know what to wear" after two

decades of pulling on a playing

jersey or donning the coach's

jacket.

His future coaching ambitions

are still well and truly on the

table. Pawson has previously been

hesitant to put his name in the

hat for rep coaching duties in the

past following long seasons with

New Brighton, but with more

time on his hands it may now be

an option.

Titled Sections Available Now

03 281 7517 | sections@prof.co.nz | prestonspark.co.nz

presonspark.co.nz
---
6

Tuesday September 3 2019

News

Latest Christchurch news at www.star.kiwi

Christchurch Casino buffet is back!

Supergold card special

PEGASUS POST

Online fish and chip

$

20 PP LUNCH | WED, THU, FRI

critic has help picking his top takeaway

What group members are saying online

about Christchurch's fish and chip shops

GOLDEN:

Zac

McWally

Wilson

outside

Wainoni

Fish

Supply,

one of his

favourite

fish and

chip

shops.

PHOTO:

GEOFF

SLOAN

• By Sophie Cornish

ZAC MCWALLY Wilson has

eaten hundreds of curry rolls,

bacon and egg burgers and hot

chips in his time.

The three items are his go-to

order when he visits fish and chip

shops around the city and closely

analyses his experiences. Without

hesitation, Mr McWally Wilson

names his two favourite shops in

the city as Wainoni Fish Supply

and Seaview Fish and Chips in

New Brighton.

But to expand his search for the

best salty feed was in the city, Mr

McWally Wilson started a Facebook

group called Christchurch

Fish and Chip Reviews. And now

it has put the humble Kiwi fast

food vendors under more pressure

than ever before.

After adding a couple of

friends, the page started to heat

up.

"It was actually quite crazy I

only added about eight people.

Then another person added all

their mates and everyone just

joined the band wagon and

started posting up reviews left,

right and centre.

By the end of the first night, it

had hit 100 members. A month

later, there were 2000 members.

Mr McWally Wilson's group

has now cracked 4000 members.

Hundreds of reviews have been

posted, which analyse, examine

and evaluate the decadent art of

making the perfect chips, fish

and hot dogs.

He used to live in Bromley,

where he admits there "isn't that

many good fish and chip shops

and the ones we knew were s**t."

"Then we were over in Cashmere

and drove past a fish and

chip shop, it was absolutely

packed and we were like 'holy,

maybe we should try that place

sometime'.

"It was a 15min drive but we

went there and it was average,

wasn't that great. We were

wondering why there were so

many people in there? So we just

wanted to find out where the best

fish and chips were," he said.

Like many other Kiwis, the volunteer

worker admits a weekend

dinner of fish and chips was a big

part of his childhood. He isn't a

huge fan of cooking, so takeaways

are an easy option.

"I've only cooked at home 30

times in the past five years. I only

get it (fish and chips) once or

twice a month. When it's quite a

cold night, fish and chips go well.

It's cheap and everyone is happy,"

he said.

Mr McWally Wilson said it has

been "quite amazing" how the

page has grown.

"Some of the reviews on there

just go over the top, it's unbelievable.

One guy did a video review,

it was unreal."

The group has even honoured

Christchurch clairvoyant and

medium, Ron L. Griffiths,

whose poster is on the wall of

most highly-rated fish and chip

shops.

"It makes or breaks a

good chippy shop. I think it

was one of the very first reviews

and it said it's not a good chippy

shop if it doesn't have Ron on the

wall . . . it's now quite a known

fact if you go to any well-known

fish and chop shop, there will be

a poster of Ron Griffiths on the

wall."

• "Wouldn't go back there

unless I was drunk-as across

the road and gagging for a

feed."

• "I can't stress enough the

great environment this place

has."

• "Opening up the parcel

to much anticipation, I marvelled

at the size of the scoop

straight away."

• "I'll cut to the chase, burger

was marvellous 8/10. Fritter

was one of the best I've ever

had 10/10. Hot dog was of

the stick variety and a proper

sausage, 9/10. Dog smashed

back the squid rings and

wanted more so 10/10."

• "Worst chicken burger.

Too much onion, may

as well be an onion

burger."

• "The fish – my

god was the fish

disappointing

and frankly

quite disgusting.

The

batter

was undercooked,

the fish

was old,

slimy

and

smelly."

• "The

chips are seasoned

nicely and have a

clean taste . . . the default

fish is always a

good size, tastes fresh

and the batter has enough

crunch and structure."

• "Blue cod burger 2/10

buckle in for a roller-coaster

ride of soggy buns and fish as

old yesterdays news

. . . this disappointed harder

than my third form report card

. . . blue cod is supposed to

be light and flaky this was like

a foam mattress paired with

a soggy bun, sewage brown

lettuce and mayo that tasted

cheap."

• "Battered rig: Perfectly

succulent, much like Susan

Boyle on a hot summer's

day. Potato fritters: About as

doughy as Lewis Capaldi,

wrong spud type would prefer

white pearlers. Meat patties:

First attempt these left me

hot and sweaty knees weak

arms are heavy. Second attempt

was cool. Chips: About

as golden as Jack Goodhue's

luxurious locks, seriously how

good is his mullet? Hot

dogs: Caused some

serious wet gills.

Who doesn't stick

dogs these

days?

Wee bit

upset

about

the

amount

of batter

on the

stick personally

I like

a clean stick.

Crab sticks:

Nothing crusty

about these

crabs."

• "The place

dreams are made of.

The place families reunite

and put past terrible

shop selections aside. The

place where no matter what

you select, you will not be

judged. Tonight I went with

a chicken fillet. Tender, moist

and most importantly 100 per

cent sliced skinless chicken

breast.

• "Dog's rating was as

always, serving size too small,

woof/10."

CITY SOUTH VAN SPARES

SERVICE CENTRE & TYRES

159 MACES ROAD | PH 384 8744

• Provide Full Workshop Facilities • Full Servicing & WOF Repairs

• Towing Available • Good Hourly Rate • Same Day Clutch Replacement

• 2 Day Engine Replacement • Mechanical & Exhaust Repairs

oN sAle Now!

NUMBER ONE SUPPLIER

TO THE NZ JET BOATING

COMMUNITY FOR OVER

50 YEARS

100%

owned & operated

PLUS

CITY SOUTH VANS

We buy, sell and dismantle

vans & cars

• We pick up out of Chch

• Backpacker vehicles available

WITH Guaranteed Buy Back

166 MACES ROAD, BROMLEY

P. 384 8744 or A/H 027 222 3241

OPEN SATURDAY

9.00AM - 1.00PM

Now only

$35.80

Plus $5 P&H per copy

AvAilAble from stAr mediA:

Level One, 359 Lincoln Road

Addington, Christchurch

Phone 379 7100

• Part Boats & Hulls

• Turn Key Packages

• New Jet Units

• Custom Fabrication

• Expert Advice

SERVICING

John Connelly

03 962 0505

john.connelly@hamjet.co.nz

• Spare Parts Retailer

• Jet Unit Refurbishment

• Engine Tune-Ups

• Insurance Repairs

• Impellor Reconditioning
---
PEGASUS POST Latest Christchurch news at www.star.kiwi

Tuesday September 3 2019 7

Limited time offer: We'll beat any competitor's price

by 5%.*

We've worked on over 400 houses in

the Christchurch rebuild, as well as

relevelling, piling and foundation work

throughout New Zealand.

Why Choose CCS?

We have experienced Licensed Building

Practitioners and are able to do a wide

range of building works and construction.

Our team have been able to provide

solutions for foundations, relevelling and

retaining walls.

CCS is an accredited EQC

contractor.

CCS specialises in:

• Relevelling

• Foundation

• Piling

• Retaining Walls

Core Civil Solutions NZ

Limited

57 West Coast Road,

Yaldhurst, Christchurch

L3, 272 Parnell Road,

Parnell, Auckland

03 365 6135

www.corecivil.co.nz

Gary Soper

027 468 8859

gary.soper@corecivil.co.nz

* Terms and conditions apply.
---
8 Tuesday September 3 2019

Latest Christchurch news at www.star.kiwi

Success in the ring on both sides

of the Tasman for Woolston club

• By Jacob Page

WOOLSTON BOXERS have

had success on both sides of the

Tasman.

The Woolston Boxing Club

won five gold medals and

two silvers at the Canterbury

amateur championships at the

Cashmere Club, while a squad of

10 competing at the Australian

Golden Gloves in Brisbane

brought home two gold, five

silver and three bronze medals.

Head coach Holly Sullivan,

who also won the under-57kg

elite title in her first fight in nine

years, said she was delighted with

how her club performed at both

events.

She said the highlight was

Oliver Bristowe winning the

under-81kg elite male title at the

Cashmere Club, and earning

the Jack Grant Belt in the

process. Bristowe also earned

the McDury Belt for best senior

boxer at the tournament.

Sullivan, who has been

coaching Bristowe for six years,

said the unanimous win over

Smiling Tigers' boxer Perelini

Jeshaiah was well deserved.

"He's a very determined

20-year-old who always works

hard and has the biggest smile on

his face.

"It was only his 11th fight

and first one at the elite level, so

before I left for Aussie, I told him

that he was in for a big step up

and he'd have to leave it all in the

HAPPY DAYS: The Woolston Boxing Club came away with

10 medals at the Gold Coast Golden Gloves. Below – Oliver

Bristowe won the under-81kg elite title at the Canterbury

championships.

ring and he certainly did that."

While Bristowe was winning

his Canterbury title, Neve

Enright won the under-70kg

Australian title. The club won

four more Canterbury titles with

Blake Henderson winning the

75kg open title, Aaron Irons the

75kg novice title, Patrick Liptrott

the 75kg youth novice grade and

Lachie Armstrong the 54kg cadet

novice title. However, all four

boxers were unopposed.

Four Woolston boxers – Blake

Henderson, Trevor Swainson,

Riley Sutherland and Tegan

Clark – will also represent

Canterbury at the national

championships in late September,

with Sullivan saying more boxers

from her club will be added

before the event.

Mike Webster honoured

by Linwood Rugby

• By Jacob Page

MIKE WEBSTER'S service

behind the scenes and on the

sidelines at the Linwood Rugby

Club has been honoured with

life membership.

The long-time team manager

and committee member said he

was thrilled to get the honour at

the end of the season.

"Bit of a bolt from the blue, I

wasn't expecting it so it was nice.

"(Former All Black) Tane

Norton gave me a call and he

presented me with my pin at the

presentation dinner."

The 59-year-old came to the

club in 1978 after high school

where he had mostly played soccer.

"I never really made the ranks as

a player making it to senior B level.

"By 1986 I started managing

teams with second grade then

I managed at senior B and then

from 2000, I had 10 years with

our senior team then I did seven

years managing the Canterbury

under-18s."

In his first year with the provincial

age group team he had

Dan Carter in the squad while

one of his last had Ryan Crotty.

"Most of my friends have been

involved in the club in some way

or another and I had 20 years on

the committee through the middle

stages of my time so I met a

lot of people through that.

"The influence of guys like

Tane Norton gave you a feeling

of loyalty to the jersey and

SPORT

PEGASUS POST

HONOURED: Tane Norton,

left, presented Mike Webster

with his Linwood Rugby Club

life membership.

the club and I wanted to be

something like that.

"The fact I can call Tane a

good friend is very special."

"I didn't win any trophies with

the seniors, but we did win the

second grade competition during

our centenary year in 1986.

Mr Webster said he used

his acceptance speech to urge

players to give back to the club

in any form once their playing

days are finished.

"Volunteering is an area

where every club is struggling

and I just urged everyone to get

involved."
---
PEGASUS POST Latest Christchurch news at www.star.kiwi

Tuesday September 3 2019 9

News

Banks Ave and Waitakiri

schools receive a boost

BANKS AVENUE School

has received $3000 from

the My School Rules

campaign run by The

Palms shopping centre.

The school was one of

eight to take part in the

competition.

Every dollar spent at

The Palms in August was

converted to a point for

each shopper's chosen

school. The school with

the highest points got

$3000, second $2000 and

third $1000. The fourthand

fifth-placed schools

received $500 each.

Chisnallwood

Intermediate, Mairehau

Primary School,

Queenspark School,

Rawhiti School, Shirley

Primary, South New

Brighton School and

Waitakiri Primary School

all entered into the

competition.

Banks Avenue was first,

Waitakiri was second,

Shirley Primary was third,

Mairehau Primary was

fourth, and Queenspark

was fifth.

Said Banks Avenue

School acting principal

Tricia Carroll:

"Togetherness is one of

our school's values and

this campaign gives us a

great opportunity to work

together and be part of a

local community. It also

allows us to engage in

some friendly competition

with our local schools, in

a different context, with

the aim of benefiting our

learners. The money will

go towards an item on our

school wish list."

Said Shirley Primary's

Shelley Wilson: "We

recently put out a survey

to our students and

community – they told

us that they wanted our

playground upgraded,

BOOST:

Waitakiri

Primary

School

pupils

have

benefited

from The

Palms "My

School

Rules"

campaign.

so that is what we are

working towards. This

money would be a fantastic

help to achieve this."

Leann Apps from

Mairehau Primary School

said the money will go

towards school resources.

Said AMP Capital

asset manager Emma

Smith: "We want our

community to know that

we are so much more

than a shopping and

entertainment hub.

"We know that our

local schools are in need

of funding support, so for

the last few years, the My

School Rules campaign has

been a great way for us to

help them."

Seven retirement villages

in Canterbury

We want you

come and try us out!

summer memBershiP

earlybird special

Purchase by 29th

september 2019 and

get one extra month

free

Summer Membership starts 29 th September

2019 to 30 th April 2020.

Free month can start from the purchase date.

Two people

play for

the price

of one

CasuaL goLf

Bring in or mention this advert when booking.

One round per voucher, subject to availability.

Offer expires 31st October 2019.

$510

Was $595

$35

Was $70

TWiLighT goLf

Pristine

twilight golf

Wednesday evenings

from october 2019 to

march 2020.

open to all golfers - handicap and

non-handicap grades.

Prizes each night and flexible start times -

come and enjoy 9 holes of golf in our backyard!

$10

eaCh

• Halswell • • Rangiora •

• Mairehau •

• Beckenham • • Riccarton • • Papanui • • Hornby •

www.rymanhealthcare.co.nz • 0800 000 290

Phone Clare today to join or make a booking!

03 383 1403 | 115 Waitikiri Drive, Bottle Lake

www.bottlelakegolf.co.nz
---
10 Tuesday September 3 2019

Latest Christchurch news at www.star.kiwi

Discover

New Brighton

[Edition PEGASUS datE] POST 3

New location

for Mike Pero

Real Estate

New Brighton

Mike Pero Real Estate New Brighton is now located

at 91 Brighton Mall Road beside the Honey Pot Cafe.

"We love the community of New

Brighton and the people. We have moved

to a new location where we invite anyone

to stop by and chat about the housing

market, their home resale value or yarn

about their goal of buying or selling a

home. The market has never been better,"

says brand and territory owner, Dean

Cations.

Mike Pero Real Estate New Brighton

is now located at 91 Brighton Mall Road

beside the Honey Pot Cafe and they are

currently number three in the country

for sales which is a real testament to their

commitment to the East Side of town. This

team is passionate about the East Side and

pride themselves in being experts in their

neighbourhoods and community.

They are known for their down to

earth nature and their agents have proved

time and time again the value of their

professionalism and repour building

capabilities from the moment you walk

through the door or call on the phone.

The team at Mike Pero New Brighton

focus on providing the simplest, most

stress free transaction possible for your

home buying or selling needs.

Call the office or stop by and talk to one

of the agents consisting of Dean, Tina or

Nick. They each specialise in a specific

area so you can feel confident you are in

the best possible hands.

Want to have a yarn with the mortgage

broker? Nicola is available, or if you have

any administration questions Chantelle

will support you with all her knowledge.

"I'm very proud of our team and what

we have achieved over the last three and

a half years. We have a great office culture

and absolutely love calling New Brighton

home. We're here to stay!" Dean says.

"Plus, our results speak for themselves

and we offer a lower commission rate

than other companies and a full service

marketing strategy, where we profile your

home on TV for the whole country to view

and no other company can say that! We

are a one stop shop for all your real estate

needs including agents and a mortgage

broker."

If you're looking for an honest,

friendly, hardworking agent to have on

your team, call Mike Pero Real Estate

New Brighton at 03 4218448, website

www.newbrighton.mikepero.com or

email them at newbrighton@mikepero.

com.

Your home goals are only a phone call

away.

Cnr Keyes & Bowhill Rd

North New Brighton

Ph: 382 0867

Email: info@framencopy.co.nz

www.framencopy.co.nz

Design & Print

Business Cards

Flyers

Photocopying

Typing

Binding

Scanning

Laminating

up to A0 Plan Printing

T-Shirt Printing

Signage

Picture Framing

and so much more…….

FOR ALL YOUR PRINTING REQUIREMENTS

YOUR LOCAL GARAGE

• All vehicle repairs

• Oil changes and services

• Brakes • Loan car available

• Tyres, punctures & batteries

• W.O.F • Tune up

Your LocaL GaraGe

VERY FRIENDLY SERVICE AND ADVICE

NEW BRIGHTON AUTOMOTIVE

Phone: 03 388 3630

40 Hawke St (behind Z Petrol Station)

Crispy Crunchy Batter

2 x Cheese or 2 x Pineapple Burgers

& A Scoop of Chips

For $10.00 only

GOURMET SEAFOODS QEII

Ph: 388 2531, QEII Shopping Centre, 251 Travis Rd

* with this coupon.

Mon - Wed 11.30am - 8.30pm (Tues from 4.30pm), Thurs - Sat 11.30am - 9.00pm

Sun 12noon - 8.30pm, Daily break 3.15 - 4.30pm

SAVE

$3.80 *
---
2

PEGASUS [Edition POST datE]

Latest Christchurch news at www.star.kiwi

Tuesday September 3 2019 11

Discover

New Brighton

IT Services who make

location calls

The days of location calls are still alive

and well for ITstuff[ed], a mobile tech

company who prides themselves on their

quality services to help you use your

computer more easily and efficiently.

ITstuff[ed] had years of experience

working for other technology companies

whose business ethics of selling products

and services not needed by patrons was

the manta. Then becoming aware of all

the e-waste New Zealanders produce

their mindset was, "We can run a tech

company for the people which is honest

and ethical", says Director Daniel

Lechner-Page.

ITstuff[ed] was born. They take a

complete look at your current systems

and repair or upgrade parts where

possible and recycle when necessary.

If a piece of technology can't be

repaired, they will recommend a system

which actually meets a person's needs and

help with finding their way around it.

They often get people to write lists of

questions and goals for their technology

and work through that list with them.

ITstuff[ed] has a heart for community

service and have worked with Pregnancy

Help Canterbury, the New Brighton

Museum, Te Wero Gymnastics and

other not for profit organisations, whom

they offer special rates to help with their

community causes.

Have a small

or medium sized

business? Call

ITstuff[ed]. If you

spend time at the

keyboard frustrated

with your system

or have you been

hacked, or have a

virus, call ITstuff[ed]

and talk with the

experts.

No need to further

frustration when

ITstuff[ed] can help with Computer

& Device Support, repairs & upgrades,

WiFi Setup & Support, Web Design and

Hosting, and Data Recovery and more.

ITstuffed offers quality services at

affordable rates and their highly trained

and experienced technicians will come

to you and explain in easy-to-understand

terminology what they are doing and

how to make your computing life easier

and more efficient.

Call ITstuff[ed] today and ease your

mind 0800 487 883 or www.itstuffed.

co.nz

Computing doesn't have to be frustrating.

0800 ITSTUFFED (0800 487 883)

Computer not starting?

MacBook running slow?

Need business IT support

Need a website?

www.itstuffed.co.nz

info@itstuffed.co.nz

/ITstuffed

Mon - Fri:

8 am - 8 pm

Saturday:

10 am - 3 pm

BOOK NOW!

Computer Support

for Home Users and

Small and Medium Businesses

COLLAGEN - ThE BOdy's yOuTh PrOTEiN

hAir - sKiN - NAiLs - JOiNTs - BONEs

Collagen is the primary structural component for all tissue in the body,

providing the strength & resilience associated with youth, beauty &

wellness. The body's natural collagen production decreases with age

resulting in many signs of aging, such as flaccid skin, wrinkles, ligament &

tendon injuries & aching joints. Collagen supplementation is one of the most

fundamental things a person can do to prevent premature aging & promote

youthful vitality. NEOCELL collagen has undergone advanced enzymatic

hydrolyzation for superior results.

NEOCELL COLLAGEN SUPPORTS:

• Reduction in lines & wrinkles - improved skin elasticity

• Strong hair & nails, may help reduce hair loss

• Supports bone, ligaments, tendons & joint health

• Lean muscle & weight loss

• Youthful vitality & slowing of the aging process

NEOCELL PREMIUM COLLAGEN IS CLINICALLY

RESEARCHED FOR SUPERIOR RESULTS

Super

Prices

120 tablets only

$36.90 Save

$5.75

Bringing You the Best in Natural Health!

250 tablets only

$56.90 Save

$9.75

500 tablets only

$99.90 Save

$33.40

198 gram powder

$36.90 Save

$5.75

- WE ARE ALWAYS HAPPY TO HELP! -

MAIL ORDER AVAILABLE

MARSHALLS HEALTH & NATURAL THERAPY

CONSULTING - PRESCRIBING - DISPENSING - MANUFACTURING - MEDICAL HERBALISTS

101 SEAVIEW RD, NEW BRIGHTON • PH 03 388 5757 • Email: enquiry@marshallshealthshop.co.nz

Where

dreams

BALLET

from 3 years

jAzz & TumBLE

from 6 years

come

alive

Studio One Performing Arts

Email: info@studioone.co.nz Phone: 03 372 9191
---
​

12

Tuesday September 3 2019

Latest Christchurch news at www.star.kiwi

PEGASUS POST

Email matt.slaughter@starmedia.kiwi by

5pm each Wednesday

Senior Net New Brighton

Tuesday, Wednesday and

Thursday, 10am-noon (by appointment)

This group offers assistance

to mature people with modern

technology, including computers,

tablets, smartphones, email, Facebook,

Skype, Word, cellphones

and the internet. Phone 382 6048

for more information.

202 Marine Pde (next to the

New Brighton Club)

JP Clinic at Shirley Library

Tuesday, 10am-1pm

A justice of the peace will be

available to members of the community

to witness signatures and

documents, certify document

copies, hear oaths, declarations,

affidavits or affirmations as well

as sign citizenship, sponsorship

or rates rebates applications. No

charge.

Shirley Library

SAYGo Steady As You Go

Falls Prevention Exercise Class

Tuesday, 10am

This is a specially-designed

class to help you avoid a fall.

There is a $2 koha entry but no

booking fee. Those interested are

invited to turn up on the day and

see what it can do for them.

Parklands Community Centre

Ascot Sit and Be Fit

Wednesday, 1-2pm, and Thursday,

9.30-10.30am

Complete a class of exercises

without even leaving your chair.

The cost of the class is $4 and

you'll get a cup of tea or coffee.

Ascot Community Centre

Rocket Club

Wednesday, 3.30-4.30pm

Go along and take part in different

activities based on local

and current events in a learning

environment. Homework help is

available during this time. Free

and no bookings required.

Aranui Library

Scrabble Club

Tuesday and Wednesday, 1.30-

3.30pm and 1-2.45pm

Go along to the Scrabble

Club. No obligation, just go

along when you can and join the

friendly group. All materials are

supplied. No fee.

Parklands and Shirley libraries

CV help

Thursday, 10-11.30am

A librarian will be on hand

to assist customers who need

help with their CV or resume.

New Brighton Library

Technology Help Drop-in

Sessions

Thursday, 3.30-4.30pm

Go along to a drop-in session

The Great Library Seed and Plant Swap will be held at Shirley Library on Saturday from open

until close. Go along with your saved or leftover seeds and they will be put out for everyone to

share. Vegetable, herb, flower, native and heritage seeds welcome and you can also bring spare

seedlings you have potted up. ​

for help with email, searching

the internet, using the library

catalogue, eBooks, and general

computer queries.

Shirley Library

Cards Club

Friday, 1.30-3.30pm

This weekly club will be held

every Friday, just go along and join

the fun. Free, no bookings required.

Shirley Library

Makerspace

Friday, 3.30-4.30pm

Go along to a weekly Makerspace

session and get hands-on

with activities for all ages. Something

new every week.

Aranui Library

Culture Exchange

Friday, 3.45-4.45pm

Go along and make new

friends, practise English and

learn about New Zealand and

Christchurch.

Shirley Library

New Brighton Seaside Market

Saturday, 10am-2pm

Go and enjoy a warm and

fun atmosphere beside the

seaside. With live entertainment,

food and free face-painting.

New Brighton Pedestrian Mall

Golden Oldies Movie Screening-

The Private Life of Henry

VIII​

Monday, 1.30pm

Charles Laughton stars in this

1933 drama/ romance. King

Henry VIII marries five more

times after his divorce from his

first wife Catherine of Aragon.

$2, go early for a cuppa and a

chat.

New Brighton Museum,

8 Hardy St

Marshland Table Tennis Club

Monday, 7.30-9.30pm

Go along every Monday night

until October 14. Casual players

are welcome – $5 for adults per

night, $3 for juniors under-18.

Marshland Hall,

430 Marshland Rd

Hoon Hay House

Residential Dementia

Now Open for Service!

At Hoon Hay House, we have created

a harmonious environment to meet the

needs of all individuals.

What to expect

Relax in the comfortable open plan lounge/

dining room while reminiscing over the

culture of New Zealand's famous icons.

Sit in the garden, potter in the raised

garden bed planted with season fruits/

vegetables for your enjoyment.

Play bowls or be creative in our large

activities room, make some scones or

cookies in our fully functional Kitchen.

Feel free to be alone in your tranquil

bedroom, which you can personalise

to remind you of home.

This unique home offers

• Abilities focus

• Staffed with experienced qualified carers

• Small private units (10 beds)

• Personal ensuite

• Spacious bedrooms

• Family orientated atmosphere

Contact

Pauline Proctor

Service Manager

Mobile 021 320 860 (anytime)

Phone 03 3350 297

Email Hoonhay@goldenhealthcare.co.nz

Hoon Hay House

16 Anvers Place, Hoon Hay

Christchurch 8025

Look for us on Eldernet
---
PEGASUS POST Latest Christchurch news at www.star.kiwi

Tuesday September 3 2019 13

RicHMOND DiScOuNT

Discount Furniture and Bedding - The Best Little Furniture Shop in Town

BEDS TALLBOyS MIRRORS CABINETS cHESTS STORAgE SHElvES

BOOKCASES buffET uNiTS DINING TABLES HAll TAblES SIDE CABINETS & MORE!

Legacy Bedroom Range

Victor

Bedroom

Suite

Includes

duchess with

mirror, tallboy

and two

bedside

cabinets.

Duchess

with

Mirror

1090x410x820

NZ made.

Chest

$399

Bedside Cabinet

$129

Scotch Chest

$599

Queen Frame & Mattress

$699

$1599

ONLY

$549

Midi 7 Drawer

Scotch Chest

975x760x410. With metal runners.

Also available in Black.

Bedside Cabinet

540x460. With metal runners.

Also available in Black.

7 Drawer

Scotch Chest

1140x800x410.

Also available in black.

Ther-a-pedic Mattress & Base

Reversible pillowtop innersprung.

Single

$499

Solid

Timber

Free

Standing

Mirror

ONLY

$269

ONLY

$130

ONLY

$299

King Single/Double/3/4

$599

Queen

$699

WAS $169

ONLY

$129

Jumbo 4

Drawer Chest

1140x800x400. NZ made.

Metal runners. Also available in black.

Tallboy 4 Drawer

600x400x900.

Towerboy 6 Drawer

1260x460x410.

With metal

runners.

Also available

in Black.

Lowboy 6 Drawer

1130x410x820.

7 Drawer TV/

DVD Chest

760x1140x410. (Gap 150)

Foundry Display

Cabinet

900x1800

x420.

Timber Bookcase

600x320

x1200.

ONLY

$269

ONLY

$199

ONLY

$220

ONLY

$449

eACH

ONLY

$299

ONLY

$599

ONLY

$199

Coffee Table

Solid Timber.

Coffee Table

Solid Timber.

Coffee Table

1200x400x600.

Side Cabinet

600x600x450.

Display Cabinet

1800h

x900w

x400d.

Solid

Timber

Buffet

Units

Buffet Unit

700x

320x

1070.

ONLY

$169

1200x600

ONLY

$329

ONLY

$399

ONLY

$199

ONLY

$599

ONLY

$299

ONLY

$329

Nest of Tables

Hall Table

2 Drawers.

Hall Table

3 Drawers.

2 Drawer Hall Table

1200x810x420.

Bookcases

NZ Pine.

Corner TV Unit

1000x750x550

ONLY

$149

ONLY

$279

ONLY

$349

ONLY

$379

900x1200

$279 900x1500

$299 900x1800

$349

ONLY

$329

2 Draw

entertainment Unit

1200x600x450.

entertainment

Unit

1100x400x480.

entertainment

Unit

980x600x460. Solid Timber.

entertainment

Unit

1530x520x660. Solid Timber.

Buffet Unit

1500x800x420.

Buffet Unit

1175x430x840.

ONLY

$399

ONLY

$299

ONLY

$299

ONLY

$499

ONLY

$549

ONLY

$399

233 STANMORE ROAD • PHONE 03 389 0536

WE ACCEPT EFTPOS, VISA AND MASTERCARD... PARKING AT REAR

OPEN MON-fRi 10AM–4.30PM SAT 10–1PM
---
14

Tuesday September 3 2019

Latest Christchurch news at www.star.kiwi

PEGASUS POST

Shop

Win

& Relax

WIN

1 OF 5 FAMILY

GETAWAYS

TO HANMER

SPRINGS

more

chances

to win!

Enter every time you shop at any of these participating businesses

Your local pharmacy

for the community

60 Queenspark Drive, Christchurch Phone: (03) 383 1330

Store Hours: Mon – Fri 8.30am – 6pm, Sat 9.30am – 2pm

For all your health & wellbeing needs

• Prescription Services

• Vaccinations

• Diagnostic Health Checks

Unichem Parklands Pharmacy

60 Queenspark Drive, Christchurch

Phone: (03) 383 1330

• Medicine Management

• Travel Services

• Weight Management

Monday – Friday

Saturday

www.everybodysbutchery.co.nz

All our

products

Are mAde

in store

Store Hours

8.30am – 6pm

9.30am – 2pm

372 Selwyn St

Ph 366 4947

The Body's Youth Protein

NEOCELL COLLAGEN SUPPORTS:

- Reduction in lines & wrinkles - improved skin elasticity

- Strong hair & nails, may help reduce hair loss

- Supports bone, ligaments, tendons & joint health

MARSHALLS HEALTH & NATURAL THERAPY

CONSULTING - PRESCRIBING - DISPENSING -

MANUFACTURING - MEDICAL HERBALISTS

101 SEAVIEW RD, NEW BRIGHTON • PH 03 388 5757

Email: enquiry@marshallshealthshop.co.nz

FREE Courtesy Cars

All insurance & private

work welcome

302 Travis Road, North New Brighton

Phone: 03 388 5187

E: qe2collisionrepairs@outlook.com

NEOCELL PREMIUM COLLAGEN IS

CLINICALLY RESEARCHED

FOR SUPERIOR RESULTS

SUPER LOW PRicE!

120's only $36.90, save $5.75

250's only $56.90, save $9.75

Mail Order Available

Bringing You the Best in

Natural Health!

- WE ARE ALWAYS HAPPY

TO HELP! -

Burwood

269 Burwood Rd, Burwood Ph: 383 2114

HOURS Mon-Fri 8:30am-5:30pm, Sat 9am-4pm

Spring into

fitneSS

Home of the

$40 service

LayBy FOR

XMaS nOw

72 Brighton Mall,

New Brighton

Phone: 03 388 1809

Monday to Saturday 9:00-5:30

Sunday 10:00-4:00

www.paperplus.co.nz

PARA PARA PARA PARA PARA PARA PARA PARA PARA PARA PARA PARA PARA PARA PARA PARA

PARA PARA PARA PARA PARA PARA

MATTRESSES

FOR ALL OCCASIONS

127 Blenheim Road PHONE 343 9820

No rainchecks. Cash sales only.

PARA PARA PARA PARA PARA PARA PARA PARA PARA PARA PARA PARA PARA PARA PARA PARA

BLENHEIM

CLARENCE

MATIPO

PARA PARA PARA PARA PARA PARA

Bring in this coupon for

GIFT CARDS

BUY ONE

ONE FREE

GET

• Barrington Mall

• The Hub, Hornby

• New Brighton Mall

• South City Centre

Conditions apply, free gift card same price or less, one deal per coupon. Offer expires 20th October, 2019.

PRINTER

CARTRIDGES

New compatible toner cartridges

New compatible ink cartridges

Brand ink cartridges

Gold card discounts

HUGE SAVINGS

ON VALUE PACKS

www.cartridgerefills.co.nz

Go Karting at

Christchurch's

Premier

Indoor Track

FUN

FOR ALL

AGES

35 Woodgrove Ave, North Beach, Chch

Ph. 03 382 5858 | info@cartridgerefills.co.nz

91 Buchan Street, Sydenham

Phone 03 374 9425
---
PEGASUS POST Latest Christchurch news at www.star.kiwi

Tuesday September 3 2019 15

HEALTH & AWARENESS

Joint pain: Do I have arthritis or

could it be mainly my muscles?

The team at Physical Sense in Sydenham sees clients with

a range of symptoms but many of their middle-aged and

senior clients visit complaining of pain in one of their joints.

Physiotherapist Ietje van Stolk suggests

that a major part of the pain could be due

to muscle pain rather than simply arthritis.

"Even if an x-ray shows arthritis, the reason

for the pain may be the muscles around

the joint," she explains. The images show

how a muscle knot (the crosses) in a back

muscle can give hip pain (aches and pain

are the red areas in the drawings), a knot

in a muscle on the back of the shoulder

blade can give a deep pain in the front of

the shoulder and a muscle knot all the way

near the groin can give an ache in the knee

(especially at night in bed).

Ietje recalls one case where an 89 year

old client with severe arthritis who walked

with a stick, told her, "I will end up in

a wheelchair, I cannot put any weight

through my right leg due to pain in my hip

and buttock". "Within 4 treatments, she

was walking with her stick but without the

severe pain," says Ietje. "The arthritis was

one of the factors that made her muscles

spasm but the other was that older people

move less and the flexed position the hip

is in when we sit is particularly bad for

the hip." Ietje is happy with the fact that

although the client was 89 and could have

been "given up on" or told to live with the

pain, she made a difference to her health

and wellbeing.

The same lack of movement can be the

reason for your knee pain or your shoulder

pain and the same few treatments could

make a huge difference for you.

At Physical Sense, hands-on techniques

(massage and triggerpoint deactivation

techniques) are used to release the muscles.

The client also gets a home exercise

program designed to mobilize and stretch

the joint, strengthen the important core

muscles and increase general strength and

SHOULDER

PAIN

KNEE PAIN

(the crosses are the areas of the muscle spasms, the red areas is where the pain is felt)

balance. They teach a movement sequence

that stretches the joint in all directions

whilst the client is able to lie safely on their

bed, perfect for older or less mobile clients.

In many cases having the muscles

released and being taught how to maintain

it, is enough to stay on top of the problem.

HIP PAIN

If severe arthritis is the underlying cause,

some maintenance therapy may be

necessary, but that is often more affordable

and, for older patients, better tolerated than

surgery. In very few treatments the client

will know if it is going to work for them or

not, without financial commitment.

Physical Sense Gym and Physio is located at 300 Colombo Street, Sydenham. The Blue Line Bus stops in front of the door and there is ample

parking. To enquire about specialised exercise classes or physiotherapy treatment, phone 377-2577 or visit www.triggerpoints.co.nz

www.bigbrothersbigsisters.org.nz
---
16 Tuesday September 3 2019

Latest Christchurch news at www.star.kiwi

Tasty Bites

PEGASUS POST

Creating healthy food to reduce stress

Stress is normal and often

healthy. In everyday life,

stress plays a role in alerting

us to life's occasional

dangers and challenges, so

we can prepare ourselves for

them and find solutions to

impending problems. Poke

bowls (pronounced pohkay)

are based on the bitesized

marinated fish salad

famous in Hawaii and have

some great stress-relieving

qualities

Poke bowl

Ingredients

450g uncooked wild salmon,

skinned and cut into 2cm cubes

(or hot-roasted, if preferred)

½-1 medium ripe avocado, diced

¾ cup mango pieces, defrosted

½ cup thinly sliced capsicum

2 cups packed spicy greens, such

as watercress or mizuna, roughly

chopped

½ cup blanched broccoli florets

½ cup chopped fresh coriander

½ cup edamame beans, boiled

3 Tbsp tamari/soy sauce

2 Tsp sesame oil

1 Tbsp black sesame seeds

½ lemon, cut

Brown rice salad

2 cups cooked short-grain brown

rice, warmed

2 Tbsp rice vinegar

½ tsp turmeric

2 Tbsp extra-virgin olive oil

1 Tbsp Dijon mustard

Directions

SENIOR LIVING

Gently combine salmon, tamari

and sesame oil in a medium

bowl to let the flavours infuse.

Make brown rice salad by

combining rice and greens in a

large bowl.

Whisk vinegar, oil and mustard

in a small bowl. Add to the

rice salad and mix well. Place on

the base of a bowl.

Top with all the other individual

ingredients, placing each

thing separately around the bowl

like numbers on a clock. Top

with sesame seeds and sliced

lemon, then take an Instagramworthy

photo of it, feel grateful

for your nourishing food, and

then enjoy every mouthful.

Cabbage crisps

Ingredients

12 good-quality

cabbage leaves,

remove tough, centre

stalk

2 Tbsp good-quality

oil

1 tsp sea salt flakes

½ tsp cumin or caraway

seeds

Directions

Preheat oven to 120

deg C. Place cooling

rack over rimmed

baking trays.

Peel the outer leaves

from the cabbage, cut

out the tough centre

stalk, and tear the

larger leaves in half.

Place in a large bowl

and drizzle over the

oil, season with salt

and spices, toss gently

together and arrange in a single

layer on the trays.

Bake until the leaves go golden

and become crisp (25-40min).

Allow to cool completely

before eating. Cabbage crisps

will store in an airtight container

for up to three days.

Secure your

future lifestyle

in Geraldine

Just a handful of villas are now

available, so don't you be the one to miss

out.

From humble beginnings the 4.8ha

of farmland has grown to an impressive

modern architecturally-designed

development, offering independent living

for the over 55 across 115 villas. You can

secure your future lifestyle here. Priced

from $335,000.

2019 welcomes assisted care units close

to all the amenities of the village. Care

packages can be tailored to suit. If you

currently receive in-home assistance you

are welcome to continue those services,

to continue living independently.

Main meals are supplied to each unit

daily. Target completion is planned for

September. Feel free to inquire about

securing a single or double unit today.

If you seek a lifestyle within a small

caring community with a big heart,

Geraldine offers that and more. The town

has a long proud diverse history and

being along the gateway to the southern

lakes and Mt Cook/Aoraki, your friends

and family will be visiting regularly!

To see if McKenzie Lifestyle Village is

right for you phone today on

0800 845524 or visit mlv.org.nz

Modern Lifestyle Living

33 Connolly Street, Geraldine

P 0800 845 524 or 03 693 8340 E sales@mlv.org.nz

www.mlv.org.nz

ACCREDITED VILLAGE OF THE RVA
---
PEGASUS POST Latest Christchurch news at www.star.kiwi

Tuesday September 3 2019 17

SENIOR LIVING

How's your circulation?

Healthy blood circulation throughout

the body is vital for good health.

The circulatory system (cardiovascular

system) delivers nutrients and oxygen to

all cells in the body. It consists of the heart

and the blood vessels running through the

entire body. The arteries carry blood away

from the heart while the veins carry it back

to the heart.

Atherosclerosis is the most common

cause of poor blood circulation. It occurs

when plaque builds up in the blood

vessels. This plaque narrows and hardens

the blood vessels and restricts blood flow.

Plaque can also break off causing a stroke

or heart attack.

Some of the common symptoms

possibly indicating poor circulation are:

numbness and tingling in the hands and

feet; swelling (edema), itchiness, heaviness

in the feet, ankles and legs; pain and

aching in the legs feet, arms and hands;

cold hands and feet; memory loss and

difficulty concentrating; fatigue; digestive

issues including abdominal pain, diarrhea,

constipation and cramping; erectile

dysfunction (ED); severe baldness at the

crown of the head and grey hair.

Healthy blood circulation and

cardiovascular health can be supported

with Nature's Sunshine HSII herbal

formula. This time proven formula

helps angina pains, atherosclerosis,

edema, fatigue, heart arrhythmia, heart

weakness, varicose veins and more. HSII

contains three herbs; capsicum, garlic

and hawthorn that work synergistically

to increase circulation and cardiovascular

health, while at the same time lowering

high blood pressure and aiding in the

prevention of heart attack and stroke.

Capsicum increases fibrinolytic activity

that breaks down artery plaque and

blood clots when consumed regularly

in sufficient amounts. Capsicum also

improves blood circulation by promoting

nitric oxide release in the blood stream.

Garlic has numerous health benefits

including inhibiting platelet aggregation

while encouraging the breakdown and

production of fibrin, a clotting protein

implicated in heart disease and strokes.

Garlic also has been shown to raise good

HDL cholesterol levels as well as reducing

serum triglycerides, a cardiovascular

risk factor. Hawthorn is known as a

heart tonic. Studies confirm hawthorn to

strengthen and normalise the heartbeat,

prevent and reduce heart arrhythmias and

guard the heart against oxygen deficiency.

Hawthorn also helps improve blood flow

by improving arterial health.

HSII and further information is

available from the Medical Herbalists

and Natural Health Advisers at

Marshall's Health & Natural Therapy, 101

Seaview Road, New Brighton and Phone:

388-5757. We are always happy to help!

you can stop him

snoring with a

SNOREX

Why put up with a broken

night's sleep?

Ph 377-4318 or 027 682 1752

DENISE LIM

FOR A FREE INFO PACK

Website: www.snorex.co.nz

Would you

like to profile

and grow your

Business?

For feature advertising

please phone

Jenny Wright

03 364 7446 or 021 220 3484

jenny@starmedia.kiwi

A Leader in

Healthcare

Excellence for

the Older Person

Brookhaven

Retirement Village

29 Alport Place

Woolston

Phone 03 384 5046

Albarosa

Dementia

80 Harewood Road

Papanui

Phone 03 375 0727

Somerfield

Dementia

137 Barrington Street

Somerfield

Phone 03 332 5897

www.goldenhealthcare.co.nz

Golden Age

Retirement Village

96 Harewood Road

Papanui

Phone 03 375 0720

Camellia Court

Dementia

84 Harewood Road

Papanui

Phone 03 375 0722

Hoon Hay

Dementia

16 Anvers Place

Hoon Hay

Phone 03 379 7825

Lady Wigram

Retirement Village

Sarah Jacobson

Village Manager

210 Kittyhawk Ave,

Wigram

Phone 027 3411 464

BLOOD CIRCULATION

SUPPORT

Maintaining good blood circulation throughout the

body is vital for good health. Nature's Sunshine

HSII contains three time proven herbs Hawthorn,

Capsicum & Garlic to support a healthy circulatory

system & cardiac function. Capsicum increases

fibrinolytic activity that breaks down artery plaque

& blood clots as well as also improving blood

circulation by promoting nitric oxide release in the

blood stream. As well as supporting healthy blood

circulation the formula also helps strengthens &

normalises the heartbeat, reduce arrhythmias,

reduces high blood pressure & aids in the prevention

of heart attack & stroke.

100 Capsules only $28.90, save $4.60

200 Capsules only $54.90, save $12.10

400 Capsules only $99.80, save $34.20

Common symptoms possibly indicating poor circulation:

• Pain & aching in the legs,

feet, arms & hands

• Cold hands & feet

• Numbness & tingling in

the hands & feet

• Fatigue

• Swelling (edema),

itchiness, heaviness in

the feet, ankles & legs

• Memory loss & difficulty

concentrating

• Erectile dysfunction (ED)

• Severe baldness at the

crown of the head

• Grey hair

• Digestive issues

Bringing You the Best in Natural Health! MAIL ORDER AVAILABLE

mARShALLS heALTh & NATURAL TheRAPY

CONSULTING - PRESCRIBING - DISPENSING - MANUFACTURING - MEDICAL HERBALISTS

101 SeAVIew RD, New BRIghTON • Ph 03 388 5757 • email: enquiry@marshallshealthshop.co.nz

- kNOwLeDge mAkeS The DIffeReNCe -
---
18

Tuesday September 3 2019

Latest Christchurch news at www.star.kiwi

REAL ESTATE

Living the village life - third floor penthouse!!

3/18 Esplanade, Sumner

Auction 12 Sep 2019 Unless Sold Prior

2 bedrooms | 2 bathrooms | 1 living rooms | 1 dining room | 2 car-garage - Listing Number: PI59363

PEGASUS POST

Live the ultimate coastal lifestyle in this beautiful

modern apartment in Christchurch's most soughtafter

seaside suburb. Freshly renovated to offer cool,

contemporary living, this easy-care apartment will

leave you free to indulge in the best of village life: leave

the car at home and stroll to cafés, restaurants, movie

theatre and beach.

Timber floors offset fresh whites in the open-plan

living and dining space. With a sunny northwest

aspect and views to the beach, this is an exquisite spot

for relaxing and entertaining - push back the sliders

to your own private balcony and smell the sea air! The

chic new kitchen is well-planned for functionality,

with an island breakfast bar, gas cooktop and allnew

appliances. Two bedrooms are served by two

glamorous tiled bathrooms, the master bathroom with

twin vanities and luxurious separate bath.

Underground parking, secure intercom access and

a lift ensure comfortable and worry-free living, while

an on-site pool adds to the appeal. Don't miss the

opportunity to secure a blissful new lifestyle by the sea.

Open Homes Saturday and Sunday 11:00 a.m. -

11:30 a.m. or for more details or to arrange a

private viewing phone

Cameron Bailey on 352 6166 or mobile

0275 557 079 of Harcourts Gold Papanui

(Licensed Agent REAA 2008)

growing with you June 2018 | 100%

Plants For

winter wow

Cool Choices

For Colour

& Contrast

From swamp

to sea views

The journey

begins with sarah

the Gardener

$7.90 incl. GST

Snap it up

Enter our annual

Birdlife Photo

Competition to win

great prizes!

clear the air

Why groWing

indoor PLAnTs is

so good for you

give it a grow

from gArLic

To chinese

ArTichokes,

We hAve your

groWing TiPs

covered

the latest releases

into the rose world

+ rose care

through winter

The magazine for

gardeners who like to get

their hands dirty

SUBSCRIBE FROM

$43. 50*

*6 issues/6 months

SUBSCRIPTIONS FREEPHONE

0800 77 77 10

WWW.GARDENER.KIWI
---
2010 j ep patriot

$14,999

www.grcaudio.co.nz

S e page 5 for details

2013 TOYOTA PRIUS

HYBRID

Trave led 79, 89km's,

very economical.

LEATHER INTERIOR

$11,999 +

454 St Asaph Str et, 03 378 1818 or 021 480 201

NO dEPOSIT

$49 PEr W Ek

ORC

mazda 2

2012, 5 sp ed, 92, 0kms, NZ new,

side airbags, popular model.

$6,950

S e our ad on

the back page.

198 Yaldhurst Road,

Avonhead

Phone (03) 342 3434

2006 NISSAN FUGA

Auto, A loys, ABS,

Twin Airbags,

Half Leather.

$8,990

275 Colombo St, Christchurch.

Cnr Colombo & Milton Sts. Ph: 337 9629.

CAR AUDIO

AUDIO VISUAL

CAR SECURITY

CE LULAR

Terms, conditions & lending criteria a ply

REVERSE CAMERAS

RADAR DETECTORS

From $61,990

FU L REPAIR SERVICE

AERIALS

PLEASE TAKE ONE

Friday 2nd August 2019 | No. 609

2013 FoRd FOCUs

$13,999

TM

• Very a tractive interest rates

• Up to 5yr term available

• Very low kms

NO DEPOSIT!

Terms & conditions a ply.

Ce l 0272 424 76 Ce l 021 8 5 84

ON SALE Was $14, 90

$68 p/w

2016 Suzuki

Swift XG

G od People, G od Service, G od Cars

12 0 c, Petrol, 5 D or, Hatchback,

1,985km, 5 seats, automatic.

w.g odcars.nz

OPEN 7 DAYS

Cnr M orhouse Ave

& Lancaster St

*Terms & conditions a ply. *Finance subjec to credit and lending criteria. *On Road Costs A ply.

$112pw *

$4,995

* Terms and conditions apply

Inch Quality

European

393 Fe ry Road, Christchurch

P 03 389 6108 urbanauto.co.nz

NO dEPOSIT

$56 PEr WEEk

See page 4 for details

ONLY

Ph 08 0 421 6 1

2010 VOlVO XC60

T6 R DeSign

3000cc, Turbo, Intercooler, black leather

seats, auto/tiptronic, AWD, all electrics,

fully loaded – top spec, safety cameras,

low 55,200km.

2 06

Honda CiviC 2.0S

NZ New, leather, sunr of

1 98 c auto, VTeC, cruise, a l

electrics, a loys, spot lights,

climate control, aBS brakes, efI.

S e more from our

fOrd fIESTa 5 SPEEd

2009, 5 speed, 5 door, 92,000kms,

NZ new, side airbags, great colour!

& uNDer SeLeCTIoN

TurN The page .

IPOD INTEGRATION

GPS/TRACKING

113 Sherborne St, Edgeware Ph (03) 377 8873

$29,999

541 Moorhouse Ave

Christchurch

Ph 03 3799528 or 0274366076

$7,950

S e our ad on

the back page.

S e our ad

on page 35

198 Yaldhurst Road,

Avonhead

Phone (03) 342 3434

www.tcm4wd.co.nz

$79 PW

2017 HoldEn Barina ls HaTCH

1.6 Litre, 6 spd auto, 5 star ancap,

reverse cam, bluetooth, cruise,

alloys, choice of 2 NZ new.

from $13,995

2010 honda stream

$9,999

www.grcaudio.co.nz

S e page 5 for details

A fordable new parts available for BMW / MERCEDES BENZ / AUDI

454 St Asaph Str et, 03 378 1818 or 021 480 201

www.bestmotorbuys.co.nz

S E OUR AD ON PAGE 15

*conditions a ply

CashbaCK

bonanza!

FR E ORC

2009 lexUS IS 250

HARD TOP

no PaYMEnTs

FoR 3 MonThs!

CAR AUDIO

AUDIO VISUAL

cOnveRTIBle

91, 0kms, black leather interior.

ExcE LENT cONdITION!

$21,999 +

(12months of reg and fresh wof)

FREE Fu l Tank o fuel!

Thinking Finance for a New Car,

Boat, Caravan, Truck or Trailer?

Think Paul Kelly Finance

Phone – 0800 PAUL KELLY

www.paulkellyfinance.co.nz

Terms, conditions & lending criteria apply

www.tcm4wd.co.nz

13 Sherborne St, Edgeware Ph (03) 3 7 873

$1 2 pw

1 95 ni san safari granroad

4.2 Turbo diesel, 160,8 0kms,

winch, whole back seat.

only $21, 95

PLEASE TAKE ONE

For advertising enquiries, phone Anna Rossiter on 021 902 729

2018 Everest Titanium

From $61,990 • Very attractive interest rates

• Up to 5yr term available

• Very low kms

NO DEPOSIT!

Terms & conditions apply.

Now Available @ NZ Van Spares

location: 68 Falsgrave Street, Woolston, Christchurch

email: nzvanspares@hotmail.com | phone: 03 379 3932 / 0508 698 267

$7,995

393 Ferry Road, Christchurch

P 03 389 6108 urbanauto.co.nz

The South Island's leading motoring publication FREE

every Friday at hundreds of locations around the South Island,

and it's available online at www.bestmotorbuys.co.nz

TM

Cell 0272 424 776 Cell 021 855 884

2009

Volkswagen

Polo gTi

Sporty & fun, 1 Year Warranty

1800cc, 5 speed manual, turbo,

alloys, pioneer bluetooth stereo,

air cond, spoiler.

& uNDer SeLeCTIoN

TurN The page...

ORC

CAR SECURITY

CE LULAR

REVERSE CAMERAS

RADAR DETECTORS

Terms, conditions & lending criteria a ply

From $61,990

$7,995

393 Fe ry Road, Christchurch

P 03 389 6108 urbanauto.co.nz

FU L REPAIR SERVICE

AERIALS

IPOD INTEGRATION

GPS/TRACKING

PLEASE TAKE ONE

• Very a tractive interest rates

• Up to 5yr term available

• Very low kms

NO DEPOSIT!

Terms & conditions a ply.

Ce l 0272 424 76 Ce l 021 8 5 84

2 09

Volkswagen

Polo gTi

Sporty & fun, 1 Year Wa ranty

18 0 c, 5 sp ed manual, turbo,

a loys, pion er bluet oth stereo,

air cond, spoiler.

S e more from our

& uNDer SeLeCTIoN

TurN The page .

S e our ad

on page 35

TM

PEGASUS POST Latest Christchurch news at www.star.kiwi

Tuesday September 3 2019 19

Classifieds Contact us today Phone our local team 03 379 1100

Collision Repairs

Finance

Trades & Services

Trades & Services

Situations Vacant

QEII Collision Repairs.

Free Courtesy Cars

(conditions apply),All

Insurance work,Rust

Repairs &Private work.

Spray-painting.

Free pickup & delivery.

Ph. 03 388 5187

Community Events

ALCOHOLICS

ANONYMOUS, If you

want to have a drink that's

your business. If you want

to stop, we can help. Phone

0800 229-6757

Curtains

www.curtainfabric-outlet.com

Fashion Designs & Colours

Discontinued Designs

End of Lines Bargain Prices

Call at Our Shop

CURTAIN FABRIC OUTLET

71 Hawdon St Sydenham

Ph 366-5026

Holiday

Accommodation

Australia QLD

SUNSHINE

COAST

RESORT

ALEXANDRA HEADLAND

All Units Have Ocean Views.

Heated Pools, Spa & Sauna,

Free Wifi, Tennis

& Mini Golf.

CHECK OUR GREAT

WINTER SPECIALS

www.mandolin.com.au

0061 7 5443 5011

JUNE to AUG temps 20C

ADD SOME

COLOUR

TO YOUR ADVERT!

NEED A

QUICK CASH

LOAN NOW?

We offer a range of personal Loans

and can provide cash quickly.

Loans from $500 to $20,000

Contact Karyn or Kris

0800 695 626

or 03 379 7798

www.alternatefinance.co.nz

Trades & Services

ROOF REPAIRS

Locally owned & operated with

over 30 years experience.

• Extensions & repair • Roof coating

• Concrete & clay tiles • Butynol

• Malthoid • Asbestos Certified

• Coloursteel • Old iron • Guttering

Phone Dave 981 0278

or 021 223 4200

E: dave@beaumontroofing.co.nz

BEAUMONT ROOFING LTD

WINDOW TINTING

tintawindow

advanced film solutions

99% uv block

fade protection

heat control

reduce glare

25 Years Experience

privacy films

frosting designs

non-darkening films

Workmanship Guaranteed

Lifetime Warranties on Most Films

UV

block

Free Quotes Canterbury and Districts

03 365 3653 0800 368 468

FOR ALL YOUR

★Garden Clean-ups

★Pruning

★Lawn Mowing

★Garden Maintenance

Call us today for a FREE quote

PH 0800 4 546 546

(0800 4 JIMJIM)

HALSWELL

GLASS & GLAZING 2017 LTD

THE PET DOOR SPECIALIST

• PET DOORS

• NEW GLAZING

• FRAMELESS SHOWERS

• MIRRORS

• INSURANCE CLAIMS

• RETRO GLAZING

• BALUSTRADING

ALL SUBURBS COVERED FOR

ALL YOUR GLAZING NEEDS

PHONE GAIL OR SARAH ON

322 7999 OR 021 CAT DOOR

(228 3667)

rooF

painting

Book now for

Summer and

receive 20%

discount.

Rope and harness a

speciality.

No scaffolding

required.

30 years experience.

Also waterblasting

paths, driveways and

moss removal.

Free quotes,

call Craig

021 060 2392

Trades & Services

AAA HANDYMAN

licensed carpenter

LBP, all property and

building maintenance,

repairs, bathroom/shower

installations, with free

quotes 03 383 1927 or 027

245 5226 ciey@xtra.co.nz

BRICKLAYER

George Lockyer. Over

40 years bricklaying

experience.Uk trained.

Insurance work, EQC

repairs. Heritage

brickwork & stonework

a speciality. No job too

small. Governers Bay.

Home 329 9344. Cell

027 684 4046. E mail

georgelockyer@xtra.co.nz

BUILDER QUALIFIED

Decks, T & G Flooring,

Villa Restoring, New

Homes, Weatherboards.

Free Quotes. Bennet &

Sons Ltd Sam 027 496-

9362 or Tony 027 224-

0374

BUILDER

Qual builder, over 40 yrs

exp. Avail for all sorts

of building construction

work incl decks, fences,

carports, bthrm, kitchens &

general maintenance jobs.

For a free quote contact 03

925 0876 or 027 641 3681.

Email donaldlord626@

gmail.com

CARPET LAYING

Exp. Repairs, uplifting,

relaying, restretching.

Phone John on 0800

003181, 027 240 7416

jflattery@xtra.co.nz

FENCING

25 yrs exp. Fencing, all

styles & gates. Ph Mark

0273 313 223

LAWNMOWING

Gardening, All Lawn and

garden services. Prompt

efficient local operator.

Great rates. Ph Paul 022

620 6412 .

STUMP GRINDING

Best price guarantee Tony

0275 588 895

TILER/CARPENTER

35 years exp, no job

too small. Ph Ross 027

4311440.

T.V. SERVICE

CENTRE

Repairs, tvs, microwaves,

audio amps, soundbars.

.Aerial & satellite

installations, kitsets, 480D

Moorhouse Ave, ph 03 379

1400

VHS VIDEO TAPES

& all camera tapes

converted to DVD, video

taping special occasions,

www.grahamsvideo.co.nz

ph 03 338-1655

VHS VIDEO TAPES

& all camera tapes

converted to DVD, video

taping special occasions,

www.grahamsvideo.co.nz

ph 03 338-1655

Advertising Account

Executive

Best Motorbuys Magazine

Friday 23rd August 2019 | No. 612

• Full time position

• Help drive Christchurch's only

weekly full gloss motoring

magazine forward

• Excellent commission opportunities

A fordable new parts available for BMW / MERCEDES BENZ / AUDI

Hilux spares

Now Available @ NZ Van Spares

location: 68 Falsgrave Str et, W olston, Christchurch

email: nzvanspares@hotmail.com | phone: 03 379 3932 / 0508 698 267

Best

Thinking Finance for a New Car,

Boat, Caravan, Truck or Trailer?

Think Paul Ke ly Finance

Phone – 0800 PAUL KELLY

www.paulke lyfinance.co.nz

mobile installation service 0800 212 777

Star Media is seeking an Advertising Account

Executive to take responsibility for our weekly Best Motor Buys Magazine.

We seek a person who enjoys working as part of a team, has a can-do

attitude and who has an affinity and interest across the motoring sector.

The position encompasses the following major functions:

• Effective promotion and sales of advertising for Best Motorbuys Magazine

and Star Media's range of products

• Providing a high quality, professional sales administration service

• Ensuring the highest possible level of customer/client service

• Works proactively to ensure that clients are offered the best advertising

solution across all potential advertising platforms

If you have the above and want to be part of a progressive

media company, please email your CV to:

Shane Victor, Advertising Manager - shane@starmedia.kiwi

Wanted To Buy

AAA Buying goods

quality furniture, beds,

stoves, washing machines,

fridge freezers. Same day

service. Selwyn Dealers.

Phone 980 5812 or 027

313 8156

AAA Buying goods

quality furniture, beds,

stoves, washing machines,

fridge freezers. Same day

service. Selwyn Dealers.

Phone 980 5812 or 027

313 8156

TOOLS Garden,

garage, woodworking,

mechanical, engineering,

sawbenches, lathes, cash

buyer, ph 355-2045

Public Notices

FREE

Motorbuys

$7,990

www.bestmotorbuys.co.nz

ANYTHING WITH A MOTOR!

For advertising enquiries, phone A na Ro siter on 021 902 729

2018 Everest Titanium

Best

TM

Motorbuys

Star Media is a division of Allied Press.

ADVERTISE YOUR BUSINESS HERE

$12,990

$7,995

Friday 9th August 2019 | No. 610

FREE

Best

Motorbuys

ANYTHING WITH A MOTOR!

259 Colombo Street, Sydenham

154 Orchard Road, Harewood

WE BUY

UTES!

PHONE 027 303 0101 NOW!

547 Moorhouse Avenue

Hilux spares

Motorbuys

Best

www.bestmotorbuys.co.nz

Thinking Finance for a New Car,

Boat, Caravan, Truck or Trailer?

Think Paul Ke ly Finance

Phone – 0800 PAUL KELLY

www.paulke lyfinance.co.nz

Hilux spares

Now Available @ NZ Van Spares

location: 68 Falsgrave Str et, W olston, Christchurch

email: nzvanspares@hotmail.com | phone: 03 379 3932 / 0508 698 267

mobile installation service 0800 212 777

See more from our

$7,995

Phone for further details

(03) 379 1100

FREE

ANYTHING WITH A MOTOR!

For advertising enquiries, phone A na Ro siter on 021 902 729

2018 Everest Titanium

$7,995

Reach 168,000 readers

with just one ad placement

Call Shane Victor on 021 381 765 to find out how!
---
20 Tuesday September 3 2019

Latest Christchurch news at www.star.kiwi

PEGASUS POST

SPRING ON INTO YOUR LOCAL FOR THESE

DAYLIGHT SAVING SMASHING DEALS

Smirnoff DB guarana Jim Beam/CC 440ml 4.8% 4pk cans &

4pk 7% 250ml cans 330ml 4pk bottles/Midori 4pk bottles

$

9 .99

398 High Street, Rangiora

03 313 7207

1275 Main North Road, Bridgend

03 323 8833

585 Springs Rd, Prebbleton

03 349 6031

Tui 7% Bourbon/Vodka soda

12pk cans

$ .99 ea

$ .99 ea

19

11

Long white 10pk range

Coruba & cola 7% 12pk cans

$

24 .99 24

$ .99 ea

29

$

23 .99 ea

Cody's 18pk 7% cans/ Woodstock 7% 250ml

Jim Beam Gold/CC 7% 250ml

$ 24 Woodstock 5% bottles all 18pks

.99 ea 18pk cans

Wolf Blass yellow

12pk/DC 8pk all cans

$ 31

.99 label range

$ .99 ea

9 Riverstone

Church Road Range

Taylors estate range

Corbans white label range Range

Villa Maria Cellar Allan Scott Range(ex PN)/Grant

(ex PN/Syrah) $

15 .99 ea 2 for $

17 .00 2 for $

18 .00 Selection (ex PN/Syrah)

Burge Fifth generation Range Blackheart/

$

14 .99 ea 2 for $

30 .00 3 for $

45 .00 Woodstock 1L

$ .99 ea

34 CC (including spiced) 1L/Famous

Gordon's/

Jim Beam 1.125L/Jim Beam

Grant's 1L Grouse 1L/Russian Std 1L/Jim Baileys 1L

Jameson 1L/ Appleton Estate

Smirnoff 1L

Black 1L/Makers Mark 700ml Chivas 700ml

Jim Beam Rye 1L/Roku

$

$

37

35 .99 Beam Double Oak 700ml $

40 .99

1L

.99 ea

$

43 .99 ea $

49 .99 ea $ 700ml/ American oak

$

38 .99 ea 51 .99 Auchentoshan 700ml

$ .99 ea

53

Somersby 10pk Orchard Thieves

Tuborg 12pk/Fortune

Chivas Extra 700ml/Glenlivet

cans 12pk bottles

Hayman's Gin/Jack

Haagen 15pk bottles

Favours 6pk can range

Founders Reserve 700ml

$

19 .99 $

Daniel's 700ml ranges

$ Tiger Crystal 12pk

$

20 .99 $

19

54 .99 ea 19 .99

.99 ea 2 for $ $

80 .00 21 .99

Monteiths Batch brewed 12pk range Heineken 12pk bottles

Tui/DB Draught 15pk bottles Mac's 12pk beer/cider bottle range $ $

$ 24

23 .99 ea .99 Export gold & 33 15pk bottles

$

24 .99 ea $ .99 ea

24 .99 ea 25

Lion Red/Speights/

Carslberg 15pk

Export gold extra

Waikato/Summit/Summit

bottles

Corona 12pk

24pk

low carb 24pk bottles

$

25 .99 $

27 .99

$

34 .99

$ .99 ea

36

www.thirstyliquor.co.nz

OVER 170 STORES NATIONWIDE!

Available from 1st – 30th September. Specials while stocks last. Available at participating stores.

45 South Terrace, Darfield

03 317 9499

1147 West Coast Rd, West Melton

03 347 8460

670 Main South Rd, Islington

03 349 7337

Woodstock 330ml 7%

Smirnoff Ice Red 5%

6pk cans (incl zero)

12pk cans

$

13 .99 ea

670 Main South Rd, Islington

03 349 7337

Main Rd, Lake Tekapo

03 680 6242

42 Waimate Highway, St Andrews

RD24 03 612 6740

69 Main St, Fairlie

03 685 8061

21 Aldwins Road, Linwood

03 982 1753

9 Parnwell St, Burwood

03 383 2564

www.facebook.com/ThirstyLiquorandBlackBullLiquor

Jack Daniel's & Cola 4.8%

330ml 10pk cans

$

20 .99

$

23 .99

495 Papanui Rd, Christchurch

03 260 2380

65 Victoria St, Christchurch CBD

03 260 1155