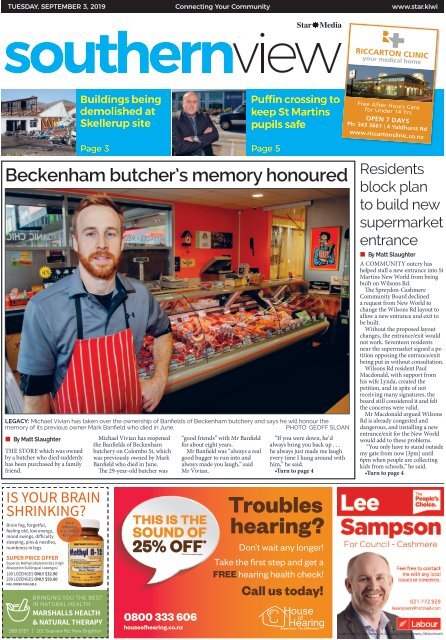 Southern View: September 03, 2019
Create successful ePaper yourself
Turn your PDF publications into a flip-book with our unique Google optimized e-Paper software.
TUESDAY, SEPTEMBER 3, 2019

Connecting Your Community

www.star.kiwi

Buildings being

demolished at

Skellerup site

Puffin crossing to

keep St Martins

pupils safe

Free After Hours Care

for Under 14 Yrs

OPEN 7 DAYS

Ph: 343 3661 | 4 Yaldhurst Rd

www.riccartonclinic.co.nz

Page 3

Page 5

Beckenham butcher's memory honoured

LEGACY: Michael Vivian has taken over the ownership of Banfields of Beckenham butchery and says he will honour the

memory of its previous owner Mark Banfield who died in June.

PHOTO: GEOFF SLOAN

• By Matt Slaughter

THE STORE which was owned

by a butcher who died suddenly

has been purchased by a family

friend.

Michael Vivian has reopened

the Banfields of Beckenham

butchery on Colombo St, which

was previously owned by Mark

Banfield who died in June.

The 29-year-old butcher was

"good friends" with Mr Banfield

for about eight years.

Mr Banfield was "always a real

good bugger to run into and

always made you laugh," said

Mr Vivian.

"If you were down, he'd

always bring you back up . . .

he always just made me laugh

every time I hung around with

him," he said.

•Turn to page 4

Residents

block plan

to build new

supermarket

entrance

• By Matt Slaughter

A COMMUNITY outcry has

helped stall a new entrance into St

Martins New World from being

built on Wilsons Rd.

The Spreydon-Cashmere

Community Board declined

a request from New World to

change the Wilsons Rd layout to

allow a new entrance and exit to

be built.

Without the proposed layout

changes, the entrance/exit would

not work. Seventeen residents

near the supermarket signed a petition

opposing the entrance/exit

being put in without consultation.

Wilsons Rd resident Paul

Macdonald, with support from

his wife Lynda, created the

petition, and in spite of not

receiving many signatures, the

board still considered it and felt

the concerns were valid.

Mr Macdonald argued Wilsons

Rd is already congested and

dangerous, and installing a new

entrance/exit for the New World

would add to these problems.

"You only have to stand outside

my gate from now [3pm] until

6pm when people are collecting

kids from schools," he said.

•Turn to page 4

is your brain

shrinking?

brain fog, forgetful,

feeling old, low energy,

mood swings, difficulty

sleeping, pins & needles,

numbness in legs

super price offer

Superior Methylcobalamin B12 (High

absorption sublingual Lozenges)

100 LozengeS oNLY $32.90

200 LozengeS oNLY $59.80

MAiL orDer AVAiLABLe

see a

difference

in as little as

48 hours!

Bringing You The BesT

in naTural healTh

MARSHALLS HEALTH

& NATURAL THERAPY

388 5757 | 101 seaview rd, new Brighton

0800 333 606

houseofhearing.co.nz

Troubles

hearing?

Don't wait any longer!

Take the first step and get a

FREE hearing health check!

Call us today!
---
2 Tuesday September 3 2019

Latest Christchurch news at www.star.kiwi

get in touch

GENERAL INQUIRIES Ph 379 7100

CLASSIFIED ADVERTISING Ph 379 1100

Star Media,

a division of Allied Press Ltd

PO box 1467, Christchurch

starmedia.kiwi

news

Historic lodge's new purpose

The Masonoc Lodge on the corner of Dyers Pass and

Hackthorne Rds has been given a new lease of life.

Page 8

community events

RoboFun for Adults

Explore robotics in a fun and engaging way at South

Library on Thursday from 10am until 11am.

SOUTHERN VIEW

NEWS

Matt Slaughter

Ph: 021 910 788

matt.slaughter@starmedia.kiwi

ADVERTISING

Mark Sinclair

Ph: 364 7461

mark.sinclair@starmedia.kiwi

The best-read local newspaper,

delivered to 21,155 homes

every Tuesday

Spreydon, Hoon Hay, Hillmorton, Cracroft, Cashmere,

St Martins, Somerfield, Sydenham, Addington, Waltham,

Opawa, Beckenham, Huntsbury, Woolston.

Page 10

tasty bites

Bowls of stress relief

Poke bowls (pronounced poh-kay) are based on the bitesized

marinated fish salad famous in Hawaii and have some

great stress-relieving qualities.

Page 14

• The Star

• North Canterbury News

• Selwyn Times

• Ashburton Courier

also publishing:

• Bay Harbour News

• Western News

• Pegasus Post

• Western News

Designer Fashion

New Zealand's Largest

Recycled Clothing Retailer

39 Battersea Street, Sydenham

Open 7 days 10am - 4pm

• Designer Brands

• Family Clothing

• Menswear

• Footwear

• Bric-a-brac

• Books

• Household Goods

• Workman Outdoor Clothing

• See the Retro Section

AND Formal Wear

See Our

HUGE

Selection!

3000

items

arriving

daily!

NUMBER ONE SUPPLIER

TO THE NZ JET BOATING

COMMUNITY FOR OVER

50 YEARS

• Part Boats & Hulls

• Turn Key Packages

• New Jet Units

• Custom Fabrication

• Expert Advice

SERVICING

John Connelly

03 962 0505

john.connelly@hamjet.co.nz

• Spare Parts Retailer

• Jet Unit Refurbishment

• Engine Tune-Ups

• Insurance Repairs

• Impellor Reconditioning

Buy pre-loved &

spread the love

Clothing | furniture | household goods

Easy Parking

17 Lillian Street, Halswell

03 322 4548

Open Mon-Fri

9.30am - 5.00pm

Saturday

10.00am - 1.00pm

Corner Gasson & Carlyle Streets,

Sydenham | ph (03) 332 3378277

2843

Open Monday–Friday 9am–4:30pm

& Saturday 9:30am–1:30pm.

Free pick up of donated goods.

familystore.org.nz

More than just a store.
---
SOUTHERN VIEW Latest Christchurch news at www.star.kiwi

Tuesday September 3 2019 3

News

Demolition of

derelict buildings

at former

Skellerup site

• By Jess Gibson

A LARGE portion of the

abandoned Skellerup factory

which remains at its former

Woolston site is being

demolished.

BL Family Trust

owns the 59,801 sq m

land on Garlands Rd

and is in the process

of clearing more

than 70 per cent of

earthquake-damaged,

asbestos-filled buildings.

Rubber goods maker

Skellerup moved out

in 2016 to new $60

million premises in

Wigram and sold the Woolston

site 'as is where is'.

BL Family Trust s representative

Vipan Garg said the demolition

is taking place in order to

clean up the "eyesore" which was

Vipan Garg

HIKING BOOTS

& SHOES

The revolution

in heat pumps

is here now!

The Fujitsu e3series

The brilliant

heat pumps from Fujitsu

e1 : efficiency

e2 : environment

e3 : economy

FREE consultation from your local

Accredited Heat Pump Expert

INSERT DEALER DETAILS HERE

For men, women

and children

From

$79.95

to $250

47c Garlands Road, Woolston

Phone 389 3431

www.thefootwearfactory.co.nz

derelict and attracting vandalism.

"It was a problem within the

community. People were getting

into the buildings as they were

left unattended."

National Steel, the

main site occupant,

processes and sorts

metal on empty land

and will continue to

use one building as a

"hub" which has been

deemed safe by an

engineer.

Fair Auto Dismantlers,

Lowe Industries

and NZ Besthome

Furniture also occupy

shed-like buildings on

the site which have been assessed

and are safe.

BL Family Trust has applied

for a proposed boundary adjustment

to three main lots on the

site and is waiting for it to be

The revolution in heat pumps is here now!

Website: www.pshc.co.nz

Finance available

Phone today: 03 381 6950

The brilliant e3 series

heat pumps from Fujitsu

e1 : efficiency

e2 : environment

e3 : economy

Email: info@pshc.co.nz

CLEANING UP: More than 70 per cent of derelict buildings at

the former Skellerup factory site on Garlands Rd are being

knocked down.

PHOTO: GEOFF SLOAN

processed by the city council.

However, demolition project

manager Jarrad Smith said there

are no plans to sell or develop the

area at this stage.

He said the purpose of the

boundary adjustment is to

square off the land into three

clear parcels.

Fujitsu's Catechin Filters are

approved by the Asthma and

Respiratory Foundation NZ's

Sensitive Choice ® programme.

"Potentially, at some point,

something will happen with the

site. What that is and when that

is hasn't been determined. There

is still a year or so of work to be

done," Mr Smith said.

Demolition could take up to

a year and all remains will be

dumped at Kate Valley landfill.

289 colombo street, sydenham

17 halswell road, hoon hay

713 ferry road, woolston

All sites open 7 DAYs, 5Am-11pm

WaSH 2 Mink

BLanketS or

DuvetS

For onLY $8

Hot Water &

extra LarGe

WaSHerS

avaiLaBLe

liquiD

SeLF Service

LaunDroMatS

Dry up to 14kg from

$4 in only 25 minutes!

Save time &

electricity

WaSH & DrY

aLL Your

LaunDrY in

unDer 1 Hour

In Brief

BUS SHELTER

Residents have raised the

idea of having soil on top

bus shelters in parts of the

Spreydon and Cashmere

wards to allow flowers to grow

and attract bees.

TRAMPOLINING GRANT

A grant of $250 has gone to

Maddison Moore towards

the cost of attending the

New Zealand Trampolining

Nationals in Auckland from

October 1 until October 6. The

grant came from the Spreydon-Cashmere

Community

Board's Youth Achievement

and Development Scheme

WORLD RIVER DAY

World River Day will be

celebrated at the Heathcote

River on September 22. The

Spreydon-Cashmere Community

Board confirmed at

its last meeting there will be

events along the river and a

photo competition will be

held.

NAME CHANGE REQUEST

A strong preference has been

expressed by the Spreydon-

Cashmere Community Board

for the Edible Garden Awards

to be renamed the Edible and

Sustainable Garden Awards so

the sustainability component

of them is recognised.

Nicky Wagner

National List MP

A

E

P

W

• Fast Dryers

• Sports Gear

• Duvets

• Mink Blankets

• Bedding

• Washers

• Domestic Laundry

from

$

4.00 WASH $ 4.00 DRY

over 75 locations

nationwide

www.liquidlaundromats.co.nz

Other Locations: Richmond • Hornby • Burwood

Aranui • Rangiora • Redwood • Ilam • Kaiapoi

922 Colombo Street

Central Christchurch

PO Box 21359

Christchurch 8143

chch.office@parliament.govt.nz

03 365 8297

nickywagner.co.nz

Funded by the Parliamentary Service and authorised by

Nicky Wagner, 922 Colombo Street, Christchurch.
---
4 Tuesday September 3 2019

Latest Christchurch news at www.star.kiwi

SOUTHERN VIEW

News

New owner

to continue

legacy

•From page 1

Mr Vivian said he wants to

continue the legacy Mr Banfield

built in his 25 years as owner of

the store.

"I've got a little caricature

of Mark, he's my logo for the

shop, so he won't be leaving

the shop that easy. In the way

I present the meat, I'll be carrying

on with his nitrate-free,

preservative-free stance and

organic meat.

"I had no intention in purchasing

my own shop, and this

came about and I just had a bit

of a chat to Patsy [Mr Banfield's

partner] and Patsy thought I was

the right man for the job and I

thought I was the right man for

the job. I knew how he ran the

ship so I thought I'd just come

in and take off where he left it."

Mr Vivian said Mr Banfield's

family was grateful he had taken

over the shop.

"Patsy's over the moon and

she said Mark would be very

proud of me and happy that it's

been left in good hands."

Since reopening a few weeks

ago, the community had rallied

around the shop to show their

support, said Mr Vivian.

Petition stalls supermarket access bid

•From page 1

Said Mr Macdonald: "Then

when everybody starts coming

home or dropping into the

supermarket . . . you'll see that it's

just not going to work."

Mrs Macdonald highlighted

safety as a main concern. "We

were just concerned about the

safety aspect because there are

already three quite busy roads

coming into Wilsons Rd within

a very short distance, as well as a

pedestrian crossing. Buses come

up and down, there are about

three or four schools quite close

by, so it's a busy road," she said.

The supermarket wants

another access point so trucks

loading and unloading stock can

have exclusive use of the Wades

Ave entrance, which is currently

also used by shoppers.

Mr Macdonald understands

why New World needs another

entrance/exit, but says putting

it on Wilsons Rd is not the best

option.

"I think there are some

other options that should be

explored that would meet the

supermarket's desire to separate

the trucking movements from

cars and pedestrians."

Foodstuffs South Island general

manager of property Roger

Davidson said resource consent

has been granted by the city

STALLED: Paul Macdonald's petition has helped temporarily

stop a new entrance to St Martins New World being installed

on Wilsons Rd.

council for a new entrance/exit

on Wilsons Rd.

However, city council head of

resource consents John Higgins

said the decision on whether road

layout changes will be made to

allow the entrance/exit to work

was the board's to make on this

occasion.

"The second approval was for

the on-road works, which was

considered and decided under

the Local Government Act. This

is a different process and has

different requirements. In this

process, the community board

didn't accept the changes."

Cashmere Ward city councillor

Tim Scandrett said the board

decided these changes would

have created too many safety

issues.

Said Mr Davidson: "Foodstuffs

are disappointed by the decision

from the community board,

as they believe that all safety

considerations were fully

investigated by independent

professionals, and that the

proposed roading improvements

were a positive improvement to

safety operations. Foodstuffs

are currently considering the

decision."

Cr Scandrett said the board has

previously seen the traffic issues

placing entrances and exits on

busy roads can create, and its

decision to decline the Wilsons

Rd layout changes was based on

these experiences.

"We've got Barrington Mall –

their entrance onto Barrington

St, which has been hideous for

years. We've got the Beckenham

shops, the new development there

. . . that entrance and exit onto

Colombo St has always been a

dog," he said.

"We just want to make sure

that we've got one area in our

ward that is actually safe."

HEAT PUMP

SALE NOW ON!

Amazin' Spring Specials!!

Woolston

Development Project

• We will offer you the best quality brands and

option of heat pump for your home/business

• Providing Heat Pump solutions for over 17 years to Cantabrians

• We personally guarantee all our products & installs for 5 years

(providing annual maintenance has been completed)

Phone us today for your free consultation & quote

41A SHAKESPEARE RD, WALTHAM

PHONE 03 366 0525

www.enviromaster.co.nz

"A local team for local people"

We are a not-for-profit community

organisation which provides opportunities

to develop the potential of all children,

young people, women and families within the

Woolston and neighbouring communities.

Family support service

After school programmes

Holiday programmes

Youth volunteer programme

Women's social support group

497 Ferry Road, Woolston

Call Bev: 03 389 4448 | Email: w.dp@xtra.co.nz

WDP497FerryRd

Ladies from $18

Men from $12

Kids from $18

282A Colombo Street, Sydenham

022 424 5624

Choosing the wrong agent to sell your home can

cost you money and cause unnecessary stress!

" I had been placed into what I thought was a very negative and stuck

situation due to experiences with another Real Estate Agent so I reached

out to Cameron Bailey with details of my situation and he did not hesitate

to offer his assistance, advice and reassurance. I appreciated his ability to

connect and relate to my situation with empathy whilst upholding extreme

professionalism and as a consequence enabled the selling of my home

to be a very peaceful and quick process. Adding to that I was offered the

services of someone to assist me purchase my next home - for me an

added bonus!" CR
---
SOUTHERN VIEW Latest Christchurch news at www.star.kiwi

Tuesday September 3 2019 5

$300k crossing to keep pupils safe in St Martins

• By Matt Slaughter

THE SOUTH Island's first

puffin crossing will be installed

in St Martins.

A puffin crossing is a

pedestrian crossing with traffic

lights, which go green for

vehicles only when no more

pedestrians are detected on the

crossing by infrared detectors

and mats.

The Spreydon-Cashmere

Community Board approved

the installation of a $300,000

puffin crossing outside Hillview

Christian School on Wilsons

Rd to keep pupils safe when

crossing between the school's

two campuses.

Hillview Christian School

principal Steve Frost said more

than 100 pupils use the crossing

throughout the day. He said the

crossing patrol operates before

and after school, but pupils have

to cross the road themselves

between these times.

Mr Frost said the only protection

available to pupils is a traffic

island and there have been near

misses in the past.

"There have been recorded

instances where there have been

near misses. I don't think anyone's

been hit in my time here,

but . . . we've even had the big

lollipops that go out, even they

have been hit at times with drivers

not driving responsibly.

"I do not want a fatality to be

the reason that we then put in a

puffin crossing . . . I want to get

in first and do it now.

"We've had speed cameras

that have been in place from

community constables and they

reported back that the speed

has increased quite significantly

down Wilsons Rd, which has

made it much more dangerous."

Spreydon-Cashmere Community

Board chairwoman Karolin

Potter admitted $300,000 was

expensive but said a puffin crossing

is the best option for ensuring

pupils' safety.

She said a pedestrian crossing

on its own would not be safe.

"Pedestrian crossings kill 11

times more people than any

other part of the road . . . kids,

they'll run to a pedestrian crossing

and storm out on it.

"Kids' lives especially just come

first, there's no question of it."

However, Ms Potter said given

the $300,000 price tag, she feels

Hillview Christian should contribute

towards this cost.

"I would have liked to have

seen the school contribute to

the funding because that school

was founded on a site and then

chose to expand over the road

. . . the kids are crossing all

SAFETY: Hillview Christian

School principal Steve

Frost says the school will

be the first in the South

Island to have a puffin

pedestrian crossing

installed. It has traffic

lights, which only go

green for vehicles when

no more pedestrians

are detected by infrared

sensors and mats.

day, back and forth."

Mr Frost said he had not been

asked yet if the school would

be putting money towards the

crossing and in spite of not being

able to say with certainty

whether this would happen, this

was not off the table.

Whether the school helped

with the cost or not, Ms Potter

said she is pleased the puffin

crossing is going ahead and

hopes it will be installed by

Christmas time.

All welcome

Come play

it's free

RACQUETS SUPPLIED. BBQ.

PRIZES. GIVEAWAYS.

Tennis clubs across Christchurch are

opening their doors for a fun, FREE

event for all ages.

Find a club near you!

www.lovetennis.kiwi

Sat 7 & Sun 8 Sept 1-4pm

Times may vary by club.

Please check website for details.

YOU COULD

WIN A TRIP FOR TWO

TO THE ASB CLASSIC

IN AUCKLAND THIS JANUARY

First

receive a

200

FREE

club visitors

snack pizza
---
6

Tuesday September 3 2019

Latest Christchurch news at www.star.kiwi

We're your local...

SOUTHERN VIEW

HIRE

EQUIPMENT

DEPOT & TRADE STORE

TRADE & DIY EQUIPMENT

Power Trowels

Concrete Vibrators

Plate Compactors

Tamping Rammers

Grout Pumps

Floor Grinders

Angle Grinders

Hammer Drills

Rotary Hammers

Power Cutters

Concrete Mixers

Power Generators

Waterblasters

Steam Cleaners

Temporary Fencing

Cones & Barriers

Air Compressors

Trash & Sub Pumps

Dust Extractors/Vacs

Wheelbarrows

Post Drivers

Core Drills

Laser Levels

Diesel Heaters

Dehumidifiers

Carpet Fans

Soff Cut Saws

Brick & Tile Saws

Hydraulic Jacks

Panel Props

Chainsaws

Tarpaulins

Nail Guns

Drywall Sanders

Airless Paint Sprayers

Wall Paper Steamers

Chemical Sprayers

Gib Lifters

Tile Chippers

Electrical Accessories

Roadsaws

...and lots more!

Screw Guns

ACCESS & HEIGHT SAFETY

Mobile Scaffolding

Roof Edge Protection

Scissor Lifts

Cherry Pickers

Safety Harnesses

Single Axle Trailers

Tandem Trailers

Roof Anchors & Connectors

Roof Ladders/Walkers

Platform & Step Ladders

Extension Ladders

Confined Space Equipment

TRAILERS

FREEPHONE

Flatdeck Trailers

Waterblaster Trailers

0508 447 348

for Quotes & Bookings!

Personal service...if we haven't got it we'll find it for you!

Hours Monday to Friday 7am - 5.00pm

72 Treffers Rd Wigram

www.totalsitesupplies.co.nz

CAN'T

COME IN?

We can bring

it to you!
---
SOUTHERN VIEW Latest Christchurch news at www.star.kiwi

Tuesday September 3 2019 7

CHALLENGE:

Students

from seven

Christchurch

schools

including

Linwood

College and

Hillmorton

High School

took part in

Takere – an

Outward

Bound course. ​

Outward Bound challenge

STUDENTS FROM south

Christchurch have tested

themselves mentally and

physically at Takere – an

Outward Bound course designed

for the region's young people.

Shara White and Jack Triggs

of Linwood College and Lachlan

Lovegrove of Hillmorton High

School were among the 14 students

from throughout Christchurch

who challenged themselves

through a variety of activities

in Queen Charlotte Sound last

month.

Outward Bound has been

changing the lives of New

Zealanders since 1962, with

more than 65,000 young Kiwis

attending courses designed to

help them to reach their full

potential through challenge in

the outdoors.

Haeata Community Campus,

Hornby High School, Catholic

Cathedral College, Mairehau

and Avonside Girls' High School

students were also selected for

the programme due to their

leadership and commitment.

Outward Bound school director

Simon Graney said it was great

to have the Takere 2019 course in

school recently.

"They were a really energetic

and positive group of young people,

who quickly became a family

supporting each other as they

learnt to build courage and resilience,

and experience success as a

member of a team," he said.

This year's Takere course was

made possible through the support

of the Ben Gough Family

Foundation.

Prospective donors and

students can email fundraising@

outwardbound.co.nz for further

information about opportunities

and upcoming courses.

Cashmere High students

on show at Ted talk event

SCHOOLS

CURRENT, FUTURE and past

Cashmere High School students

showcased their talents at the

TedXyouth@Christchurch event.

The event was held on August

24 at the Christchurch Town

Hall and the theme was turangawaewae.

Year 12 Tama Cunningham

spoke of his identity and his

turangawaewae.

Beckenham School year 8 Lucy

Gray, who is one of Cashmere

High's year 9 leadership scholarship

winners for 2020 also spoke.

Lucy is a co-convener of the

New Zealand School Strike for

Climate Change. She gave an

account of the need for youth actions

against climate change.

The key organiser of the event

was former Cashmere High

student Hannah Hudson, the

school's dux for 2018.

Anzac Gallate's, Cashmere

High's head boy last year, also

played a role in making the event

possible. Anzac and Hannah

ran a mini TedX Youth event

last year and the success of this

enabled permission for this year's

event.

A number of Cashmere High

students were in the audience.

ON SHOW: Cashmere High school's ex-head boy Anzac Gallate

and year 12 Tama Cunningham played roles in the TedXyouth@

Christchurch event.
---
8

Tuesday September 3 2019

Christchurch Casino buffet is back!

Supergold card special

$

20 PP LUNCH | WED, THU, FRI

Latest Christchurch news at www.star.kiwi

News

SOUTHERN VIEW

Historic lodge given new life

LUSH: Kevin Dean helped

plant 80 trees in the

Westmorland East Valley

Reserve.

Community

plants trees

at reserve in

Westmorland

RESIDENTS HAVE been busy

planting Westmorland East

Valley Reserve.

Fourteen people planted 80

trees at the reserve.

Said the planting event organiser

Lynette Hartley: "It was a

great turnout of local residents

who spent as much time chatting

and getting to know one another

as they did planting. The plants

are supplied by the city council

and are all grown from locallysourced

seed and are species

that would have been in the area

prior to it all being cleared.

"The reserve is unusual in

having a conservation status and

we are wanting to re-establish

the original vegetation for

the sake of the birds, insects

and environment. More and

more native birds live in the

reserve and the residents of

Westmorland really enjoy

having bellbirds in their gardens.

Bellbirds are in the reserve yearround

and nest there along with

several fantail families. Kereru

are also frequent visitors," she

said.

THE HISTORIC Masonic Lodge

on the corner of Dyers Pass and

Hackthorne Rds in Cashmere

was given a new lease of life when

it opened as a

pilates studio on

Thursday.

The lodge's

refurbishment has

been a labour of

love for Bronwyn

Beck and her

husband Andy.

In 2017,

Mrs Beck, an

experienced

pilates instructor,

began teaching

pilates reformer

classes from her

home studio on

Hackthorne Rd.

"Balanced

pilates has evolved organically

and when we saw the old Masonic

Lodge for sale in April, 100m

from home and right next to

Cashmere High team ace geography competition

A TEAM OF Cashmere High

School students have won the

Maatangi Whenua Geographic

Skills competition.

Molly Simpson, Levi Franks

and Julius Hlavac beat 125

teams of year 11 students from

Parenting Week events to bring mum and dads together

• By Claire Booker

PARENTING WEEK will be on

for the 10th year next week.

The initiative is run by The

Neighbourhood Trust and

is designed to empower and

upskill parents.

Parenting Week runs from

September 9-19, and events will

be held across the city.

The theme is 'helping whanau

flourish', which recognises

parents have a huge influence

Bronwyn Beck

Dyers Road Landscape

& Garden Supplies

• Barks • Peastraw • Composts - we supply the best available

• Aggregates - Chip, Round and Basecourse

• Pavers & Schist products • Pungas

• Decorative Stones & Landscaping Rocks

• Trailer Hire first hour free with purchase

• Bag & Bulk - pick up or delivered

David, Carol & Mike

We will deliver!

SOIL

AND

HARDFILL

DUMPING

Phone: 03 384 6540

183 Dyers Rd, Bromley • OPEN 7 DAYS

Weekdays 7.30am-5pm. Weekends 8.30am-3pm

www.dyersroadandlandscapes.co.nz

what will be our son's school, we

just had to look further into the

opportunity."

"The transformation of the

lodge has been

quite a process.

We feel incredibly

grateful for all of

the support we

have had from

clients volunteering

themselves and

their husbands,

from friends,

family, neighbours

and even strangers

who have beeped

the horn or given

us the thumbs up

while slaving away

in the garden."

The new

location will have

eight reformer machines and over

the next few months a further

class will be added to cater for

all needs.

across New Zealand. Schools

competed in a regional round

with geographical puzzles and

questions.

In one round, teams used play

dough to make different land

types and geographical concepts.

over the development of their

children, their success wellbeing

and happiness.

Parenting Week and trust coordinator

Lee Arthur said the

event is about bringing people

together.

"Recognising that all our kids

come into the world with their

own traits, personalities, and

goals is great . . . sometimes

positively managing these

can often come with its own

challenges though," she said.

CHANGED: The Masonic Lodge on the corner of Dyers Pass

and Hackthorne Rds has been transformed into a pilates

studio.

At the end of the Canterbury

regional round, the Cashmere

High team were in first place.

Once the regional rounds had

been completed, the team's score

meant they won the overall

national award, beating St

"The Neighbourhood Trust

is passionate about bringing

together a host of resources

to help parents broaden their

knowledge base, whilst gaining

the support they need on their

parenting journey." Mrs Arthur

said.

The week will have a range

of workshops and expert

speakers, which will cover

parenting topics across all ages

of children.

More than 30 events will be

oN sAle Now!

Now only

$35.80

Plus $5 P&H per copy

AvAilAble from stAr mediA:

Level One, 359 Lincoln Road

Addington, Christchurch

Phone 379 7100

Andrew's College and Takapuna

Grammar by two points. The

team's award was presented

by ex-Cashmere High School

student Aaron Giles who is

studying a masters in geography

at Canterbury University.

held over the 10 days of the

event, and Mrs Arthur said

the trust is hoping to reach

more parents this year. Many of

the events are free or require a

gold coin donation.

Some events have a small

cost for tickets, but parents are

encouraged to register to secure

their seats, as the sessions are

filling up quickly.

For a full list of events

and ticket prices, visit nht.

org.nz

Discover Christchurch's

best pet

accommodation

• Daycare - all breeds

• Long stay/short stay

Call now to

book in your

fur baby,

inspections

welcome

anytime!

ALAMEDA

KENNELS & CATTERY

271 Dyers Road | Ph 384 1297

www.alameda.nz
---
SOUTHERN VIEW Latest Christchurch news at www.star.kiwi

Tuesday September 3 2019 9

WHY CHoose

for Your next VeHICLe?

It's in our name

- Value!

A vehicle from

Value Cars will have

the best presentation,

best mileage and best

price combination.

We have been

trusted in Canterbury

for over 25 years and a

majority of our customers

are referral or repeat

customers. We stand by

every vehicle and we are

proud of our service.

One location for

every type of vehicle

and under cover makes

for a pleasant buying

experience. Our colour

and low mileage selection

is something we work

hard to provide.

CANTERBURY OWNED

& OPERATED

ESTABLIShED 1993

VALUE

REPUTATION

SELECTION

TRUSTED

plUs

reGisTraTiOn

2004 mazda demio

$4,999

Trade-in special - Highly sought after and

economical 5 door hatch, features a 1.3 litre

engine with automatic trans, looks good finished

in blue metallic, keyless entry, rear wiper, ABS and

airbags, good kms, perfect round town vehicle!

plUs

reGisTraTiOn

2014 honda civic

$18,999

NZ new facelift 5 door hatch, economical 1.8 litre

engine, automatic trans, paddleshift option, looks

sharp in silver with black front detail, driving lights,

17" alloys, cruise control, heated front seats, reverse

camera, travelled very low kms, push button start,

safety of ABS, T/C and 8 airbags, very nice example!

plUs

reGisTraTiOn

2010 fiat 500 pop

$10,999

Super cool European hatch, 4 seater, features an

economical 1.4 litre engine and a semi automatic/

tiptronic type trans, looks awesome in blue

metallic with driving lights and 17" alloys, two

tone interior, travelled low kms, keyless entry, ABS,

T/C and 6 airbags, inspection is a must!

plUs

reGisTraTiOn

2012 nissan tiida

$10,999

An innovative and spacious hatch, higher roof line,

unique sliding and reclining rear seats, low kms, 1.5

litre engine, automatic trans, 5 star fuel efficiency, looks

sharp in white with contrasting black body kit, black

16" alloys, black partial leather interior, smart keyless

ignition, ABS, Subaru Impreza airbags, great buying!

plUs

reGisTraTiOn

2007 subaru impreza

$10,999

Very low kms, popular 5 door hatch, features a 2.0

litre engine with tiptronic trans, looks great in World

Rally blue with driving lights and 16" alloys, black

interior, keyless entry, rear wiper, ABS and airbags,

won't last long so don't delay!

plUs

reGisTraTiOn

2009 toyota ist

$9,999

The Ist is a peppy 5 door hatch that seats 5

in a crossover SUV body style, features a 1.5

litre engine with automatic trans and 5 star fuel

efficiency, travelled very low kms, looks sharp in

silver with black interior, keyless entry, rear wiper,

ABS and airbags, will sell quickly!

plUs

reGisTraTiOn

2004 toyota BB

$5,999

Spacious and different, stand out from the crowd

in this mid sized hatch, taller seat access height,

seats slide and fold to create heaps of space,

spoiler kit and UV tint windows add to the style.

Great visibility and proven Toyota reliability.

plUs

reGisTraTiOn

2000 ford falcon

$3,999

Trade-in special - a sought after large family

sedan that offers reasonable performance and safe

towing capacity, features a 4.0 litre engine with

automatic trans, finished in red with rear spoiler, NZ

new, keyless entry, ABS and airbags, great vehicle if

you're after a reliable tow car or family cruiser!

plUs

reGisTraTiOn

2009 volvo s40

$8,999

A spacious, stylish, well appointed and very safe

family sedan, 2.0 litre engine with tiptronic trans,

finished in a blue/grey pearl with driving lights and

17" alloys, power memory drivers seat, keyless entry,

ABS, T/C, side impact protection, 8 airbags, luxury,

power and renowned Volvo safety all rolled into one!

plUs

reGisTraTiOn

2005 mazda mx-5 roadster

$10,999

Very cool 2 seater sports convertible, features a

2.0L engine with tiptronic trans and paddle shift

option, looks great in wine with black soft top

and 16" alloys, tan leather interior, heated seats,

keyless entry, ABS and airbags. Come and take it

for a spin today!

plUs

reGisTraTiOn

2005 nissan stagea

$6,999

Spacious 5 door wagon, features a 3.5 litre V6

engine with tiptronic trans, AWD, looks sharp in

white on 17" alloys, leather and heated/powered

front seats, keyless ignition, rear wiper, roof rails,

ABS and airbags, definitely worth a look if you're

after a powerful luxury, large family wagon!

plUs

reGisTraTiOn

2000 mazda premacy

$3,999

Trade-in special - the Premacy is a stylish

compact and versatile family wagon,

features a 1.8 litre engine with automatic trans,

room to seat 7, looks good in red metallic, rear

wiper, ABS and airbags, upgrade your family

vehicle today!

plUs

reGisTraTiOn

2000 toyota rav4

$7,999

Trade-in special - a very popular,

comfortable SUV, superb balanced ride and handling

and solid construction, 1.8 litre engine, automatic

trans and overdrive, looks great in white, factory

17" alloys, spare wheel cover, keyless entry, good

kms, ABS and airbags, hurry - this won't last long!

plUs

reGisTraTiOn

2011 honda cr-v

$17,999

Popular and luxurious SUV, 2.0 litre engine with

automatic trans and 4.5 star fuel efficiency, looks lovely

in twilight blue, factory body kit, chrome look detail,

driving lights, 17'' alloys, desirable black interior, low

kms, reverse camera, cruise control, push button start,

ABS, T/C and airbags, inspection won't disappoint!

plUs

reGisTraTiOn

2012 nissan dualis

$15,999

Stylish 5 door family crossover SUV, features a

2.0 litre engine with tiptronic trans and 4.5 star

fuel efficiency, looks sharp in white with subtle

black factory body kit, keyless entry, rear wiper,

smart keyless ignition, low kms, ABS and

6 airbags, inspection won't disappoint!

Registration for 6 months is $301

Value Cars Warehouse

4.72

32 Moorhouse Ave, P: (03) 366 7768 IMVDA

www.valuecarswarehouse.co.nz
---
10

Tuesday September 3 2019

Success in the ring on both sides

of the Tasman for Woolston club

• By Jacob Page

WOOLSTON BOXERS have

had success on both sides of the

Tasman.

The Woolston Boxing Club

won five gold medals and

two silvers at the Canterbury

amateur championships at the

Cashmere Club, while a squad of

10 competing at the Australian

Golden Gloves in Brisbane

brought home two gold, five

silver and three bronze medals.

Head coach Holly Sullivan,

who also won the under-57kg

elite title in her first fight in nine

years, said she was delighted with

how her club performed at both

events.

She said the highlight was

Oliver Bristowe winning the

under-81kg elite male title at the

Cashmere Club, and earning

the Jack Grant Belt in the

process. Bristowe also earned

the McDury Belt for best senior

boxer at the tournament.

Sullivan, who has been

coaching Bristowe for six years,

said the unanimous win over

Smiling Tigers' boxer Perelini

Jeshaiah was well deserved.

"He's a very determined

20-year-old who always works

hard and has the biggest smile on

his face.

"It was only his 11th fight

and first one at the elite level, so

before I left for Aussie, I told him

that he was in for a big step up

and he'd have to leave it all in the

HAPPY DAYS: The Woolston Boxing Club came away with

10 medals at the Gold Coast Golden Gloves. Below – Oliver

Bristowe won the under-81kg elite title at the Canterbury

championships.

ring and he certainly did that."

While Bristowe was winning

his Canterbury title, Neve

Latest Christchurch news at www.star.kiwi

Enright won the under-70kg

Australian title. The club won

four more Canterbury titles with

Blake Henderson winning the

75kg open title, Aaron Irons the

75kg novice title, Patrick Liptrott

the 75kg youth novice grade and

Lachie Armstrong the 54kg cadet

novice title. However, all four

boxers were unopposed.

Four Woolston boxers – Blake

Henderson, Trevor Swainson,

Riley Sutherland and Tegan

Clark – will also represent

Canterbury at the national

championships in late September,

with Sullivan saying more boxers

from her club will be added

before the event.

• By Jacob Page

HILLMORTON'S Ihaia

Kendrew's year has turned

out to be far different than he

expected.

The 19-year-old finished at

Hillmorton High School last

year and was not sure what

path to take next when Lincoln

University offered him a fouryear

basketball scholarship the

week classes started.

"I got offered the scholarship

a week into the uni year so I

was behind but the opportunity

came up and I thought it was a

good one."

Kendrew shot a Thomson

Trophy Canterbury secondary

school record 58 points in a

game last year while captaining

his high school.

"I finished school and didn't

have much, on," he said.

"I'd thought about trying

to go to America and try to

SPORT

SOUTHERN VIEW

HUSTLE:

Ihaia Kendrew

tries to block

a shot during

the final

round of

the 3x3.EXE

South Island

tournament at

Ara Institute.

Big future on court for Ihaia

get a college scholarship but

that hadn't happened so this

opportunity to study at Lincoln

came at the right time."

Kendrew is now studying

commerce and playing for

Lincoln University's top team.

He has also started playing

three-on-three basketball as

part of the 3x3.EXE premier

South Island conference, with

the team heading to Japan this

weekend, along with a team

from Canterbury University, for

a tournament where the winner

gets $20,000.

Kendrew, a sharp shooter

from beyond the arc, said their

long-range shooting would be

a help in Japan but the Lincoln

team's lack of size may be an

issue.

He said since leaving

Hillmorton, he believes he

shoots the ball less and he has

more vision for open teammates

on the court.

Hoon Hay House

Residential Dementia

Now Open for Service!

At Hoon Hay House, we have created

a harmonious environment to meet the

needs of all individuals.

What to expect

Relax in the comfortable open plan lounge/

dining room while reminiscing over the

culture of New Zealand's famous icons.

Sit in the garden, potter in the raised

garden bed planted with season fruits/

vegetables for your enjoyment.

Play bowls or be creative in our large

activities room, make some scones or

cookies in our fully functional Kitchen.

Feel free to be alone in your tranquil

bedroom, which you can personalise

to remind you of home.

This unique home offers

• Abilities focus

• Staffed with experienced qualified carers

• Small private units (10 beds)

• Personal ensuite

• Spacious bedrooms

• Family orientated atmosphere

Contact

Pauline Proctor

Service Manager

Mobile 021 320 860 (anytime)

Phone 03 3350 297

Email Hoonhay@goldenhealthcare.co.nz

Hoon Hay House

16 Anvers Place, Hoon Hay

Christchurch 8025

Look for us on Eldernet
---
© Paul Knight, Knight Ltd. This document and design remain the property of Knight Ltd under the

Copyright Act 1994. This document and design are for consideration and discussion and, therefore,

not for further reproduction. Any breach of Copyright protection may result in legal action.

SOUTHERN VIEW Latest Christchurch news at www.star.kiwi

Tuesday September 3 2019 11

keep it local

and support businesses in your community

Tyres, rims and even

great coffee

Word of mouth is the best recommendation

for any business, and there is a raft of

customers happy to recommend JCM Direct

Tyres in Middleton. The independent,

family-owned and operated business

supplies tyres, mags and rims and it is

clear from their feedback that they provide

'outstanding customer service,' 'really know

what they are doing,' and even provide 'tasty

coffee.'

Reviews like these are hard-won, with the

emphasis being on making sure they go the

extra mile to really meet the needs of the

client. As an independent dealer, they are

not tied to a specific brand. Instead, they will

look at your vehicle, your budget and your

driving style to provide you with what you

need instead of what the franchise wants

you to have. This can be brand new tyres

such as Pirelli, Continental, GT Radial and

Nankang, or high end, almost-new second

hand tyres in mint condition, often the

same brand names as the new options. The

JCM team wants to know their customers

are leaving them with their vehicles, from

caravans to utes, that are safe on the roads.

They will give you their honest opinion and

expertise about what you need too. It could

be more cost effective in the long run to

spend a little more a quality tyre and reduce

the risk of punctures on the Garden City's

rebuild roads, and if you do have a puncture,

they can repair it quickly and efficiently.

It is not only tyres – they supply rims from

the 1930s to the present day. If you are lucky

enough to own a classic vehicle, you will

know how difficult it can be to find authentic

parts, and the JCM team will help you source

what you need.

They also provide alloy wheels, spare

wheels plus wheel and tyre combo packages

to make their excellent products even more

affordable. They are even able to help you

with finance options.

Open six days a week, you can find them

at 8c Birmingham Drive on the corner with

Hands Road. Check them out on Facebook.

com/JCMDirect, or visit JCMDirect.co.nz

to see what their family can do to help your

family.

"Delicious and satisfying!"

Souvlaki King

Brand

Black and White

Black and Grey

Colour

C0 M0 Y0 K100

C0 M0 Y0 K100

C0 M0 Y0 K100

PANTONE PROCESS BLACK

PANTONE PROCESS BLACK

PANTONE PROCESS BLACK

C0 M0 Y0 K80

C0 M100 Y100 K0

PANTONE COOL GREY 10C

PANTONE COOL GREY 10C

C0 M100 Y100 K0

PANTONE 1795C

Your LoCAL

TYrE SPECIALIST

New & Quality Used Second-hand Tyres

Alloy Wheels

Replacement Rims

Puncture Repairs

For online orders visit:

www.souvlakiking.nz

1 Kennedys Bush Road,

Halswell

Phone 03 322 4888

Open 7 days:

Mon-Thurs 10am-8pm

Fri 10am-9pm

Sat 11am-9pm

Sun 11am-8pm

Halswell RD

Halswell JUNCTION RD

KNIGHT

signs graphics branding

sPaRKs RD

Paul Knight Manager

0272954254

paulknightnz@gmail.com

www.jcmdirect.co.nz

8c Birmingham Drive,

Middleton

Next to Addington Raceway

343 0099 or 027 22 63 805

Elite Haircuts would like to introduce...

The Glow Room

BEAUTY THERAPY

With over 12 years experience, Melissa (Former Top To Toe Beauty)

offers a range of beauty services. Check out these special offers...

MONTHLY

SPECIAL

$29 (norm $55)

1hr Deluxe Pedicure -

Footspa, scrub, mask,

cut and file, cuticle work,

massage, polish

*

$5 discount for gold card members

Book your appointment today!

238 Barrington Street, Christchurch

Phone 03 967 6056 or 022 620 1330

glowroombeauty@gmail.com

Gold Card

and Student

Discounts

Gift vouchers

available

• Massage

• Facials

• Waxing

• Spray Tanning

• Tinting

• Natural Nails

• Skincare

ELITE

HAIRCUTS

Men's $20

Women's $27

Children under 12 $15

Gold Card - Men $15

& Women $20

Introducing our new talent

stylist, Jordan

Introductory offer

½ head foils, toner, treatment,

cut & blow dry. $139

or

Balayage or full head foils, toner,

treatment, cut & blow dry. $169

*Extra charge for long/thick hair.

Valid until September 30th 2019 with Jordan.

Ph (03)9620285

Soho Hair

E info@sohohair.co.nz

@soho_hairnz

Advertising enquiries Mark Sinclair | Ph: 364 7461 | mark.sinclair@starmedia.kiwi
---
12

Tuesday September 3 2019

HEALTH & AWARENESS

Latest Christchurch news at www.star.kiwi

SOUTHERN VIEW

Joint pain: Do I have arthritis or

could it be mainly my muscles?

The team at Physical Sense in Sydenham sees clients with

a range of symptoms but many of their middle-aged and

senior clients visit complaining of pain in one of their joints.

Physiotherapist Ietje van Stolk suggests

that a major part of the pain could be due

to muscle pain rather than simply arthritis.

"Even if an x-ray shows arthritis, the reason

for the pain may be the muscles around

the joint," she explains. The images show

how a muscle knot (the crosses) in a back

muscle can give hip pain (aches and pain

are the red areas in the drawings), a knot

in a muscle on the back of the shoulder

blade can give a deep pain in the front of

the shoulder and a muscle knot all the way

near the groin can give an ache in the knee

(especially at night in bed).

Ietje recalls one case where an 89 year

old client with severe arthritis who walked

with a stick, told her, "I will end up in

a wheelchair, I cannot put any weight

through my right leg due to pain in my hip

and buttock". "Within 4 treatments, she

was walking with her stick but without the

severe pain," says Ietje. "The arthritis was

one of the factors that made her muscles

spasm but the other was that older people

move less and the flexed position the hip

is in when we sit is particularly bad for

the hip." Ietje is happy with the fact that

although the client was 89 and could have

been "given up on" or told to live with the

pain, she made a difference to her health

and wellbeing.

The same lack of movement can be the

reason for your knee pain or your shoulder

pain and the same few treatments could

make a huge difference for you.

At Physical Sense, hands-on techniques

(massage and triggerpoint deactivation

techniques) are used to release the muscles.

The client also gets a home exercise

program designed to mobilize and stretch

the joint, strengthen the important core

muscles and increase general strength and

SHOULDER

PAIN

KNEE PAIN

(the crosses are the areas of the muscle spasms, the red areas is where the pain is felt)

balance. They teach a movement sequence

that stretches the joint in all directions

whilst the client is able to lie safely on their

bed, perfect for older or less mobile clients.

In many cases having the muscles

released and being taught how to maintain

it, is enough to stay on top of the problem.

HIP PAIN

If severe arthritis is the underlying cause,

some maintenance therapy may be

necessary, but that is often more affordable

and, for older patients, better tolerated than

surgery. In very few treatments the client

will know if it is going to work for them or

not, without financial commitment.

Physical Sense Gym and Physio is located at 300 Colombo Street, Sydenham. The Blue Line Bus stops in front of the door and there is ample

parking. To enquire about specialised exercise classes or physiotherapy treatment, phone 377-2577 or visit www.triggerpoints.co.nz

www.bigbrothersbigsisters.org.nz
---
SOUTHERN VIEW Latest Christchurch news at www.star.kiwi

Tuesday September 3 2019 13

Shop

Win

& Relax

WIN

1 OF 5 FAMILY

GETAWAYS

TO HANMER

SPRINGS

more

chances

to win!

Enter every time you shop at any of these participating businesses

NATIVE PLANT NURSERY

speCialisTs in

• Groundcovers

• Ferns

Trees for CanTerbury

• Grasses

• Small to big sized shrubs

Helping our community grow

• Shelterbelts

• ALL grades

www.treesforcanterbury.org.nz

• Expert advice

• Planting now

42 Charlesworth Street | Ph/Fax (03) 982-1028 | OPEN 7 DAYS

I can see

clearly now

GREAT BUY!

$29.60

BARRINGTON, 256 Barrington Street | PH 332 1730 | www.suckling.co.nz

JEWELLERY REPAIRS

• Re-thread broken necklaces

• Re-knot pearls

• Magnetic clasps fitted

• All jewellery repairs at any level

79 Wrights Road, Middleton

Ph: (03) 338 0171

Jewellery & Giftware

HOURS: Mon-Fri 9am-5pm, Sat 9am-1pm

Email: sales@warrenagencies.co.nz

www.warrenagencies.co.nz

The Body's Youth Protein

NEOCELL COLLAGEN SUPPORTS:

- Reduction in lines & wrinkles - improved skin elasticity

- Strong hair & nails, may help reduce hair loss

- Supports bone, ligaments, tendons & joint health

MARSHALLS HEALTH & NATURAL THERAPY

CONSULTING - PRESCRIBING - DISPENSING -

MANUFACTURING - MEDICAL HERBALISTS

101 SEAVIEW RD, NEW BRIGHTON • PH 03 388 5757

Email: enquiry@marshallshealthshop.co.nz

NEOCELL PREMIUM COLLAGEN IS

CLINICALLY RESEARCHED

FOR SUPERIOR RESULTS

SUPER LOW PRicE!

120's only $36.90, save $5.75

250's only $56.90, save $9.75

Mail Order Available

Bringing You the Best in

Natural Health!

- WE ARE ALWAYS HAPPY

TO HELP! -

Bring in this coupon for

GIFT CARDS

BUY ONE

ONE FREE

GET

• Barrington Mall

• The Hub, Hornby

• New Brighton Mall

• South City Centre

Conditions apply, free gift card same price or less, one deal per coupon. Offer expires 20th October, 2019.

FREE Courtesy Cars

All insurance & private

work welcome

302 Travis Road, North New Brighton

Phone: 03 388 5187

E: qe2collisionrepairs@outlook.com

Designer Fashion

• Designer Brands

• Family Clothing

• Menswear

• Footwear

• Bric-a-brac

• Books

• Household Goods

• Workman

Outdoor Clothing

• See the Retro

Section AND

Formal Wear

New Zealand's Largest Recycled Clothing Retailer

39 Battersea Street, Sydenham. Open 7 days 10am - 4pm

See Our

HUGE

Selection!

3000

items

arriving

daily!

Authentic Thai Cuisine

Lunch Special

Tuesday - Saturday

FROm

$10

HOON HAY THAI RESTAURANT

Open 6 Days • Lunch & Dinner

9 Coppell Place. Phone 339 0320.

www.everybodysbutchery.co.nz

All our

products

Are mAde

in store

372 Selwyn St

Ph 366 4947

Go Karting at

Christchurch's

Premier

Indoor Track

FUN

FOR ALL

AGES

91 Buchan Street, Sydenham

Phone 03 374 9425
---
14 Tuesday September 3 2019

Latest Christchurch news at www.star.kiwi

Email georgia.oconnor@starmedia.kiwi

by 5pm each Wednesday

SOUTHERN VIEW

RoboFun for Adults – Drop in

sessions will be held at South Library

on Thursday from 10am until 11am.

Go along for an introduction to the

world of robotics. Explore robotics in

a fun and engaging way. No bookings

required, just drop in.

JP Clinic

Today, 10am-1pm

A justice of the peace will be

available to witness signatures,

certify documents, take oaths,

declarations, affidavits or

affirmations, applications for

citizenship or rates rebates.

South, Linwood and Te Hapua:

Halswell Centre libraries

Technology Help Drop-in

Sessions

Today, 10.30-11.30am at

Spreydon, 2-3pm at Halswell, and

tomorrow, 11am-noon at Spreydon

These free drop-in sessions are

available to help you with specific

issues, such as using email,

searching the internet, using the

library catalogue, using electronic

resources and any other general

computer-related queries. Go

along with your laptop, tablet,

smartphone or use one of the

library's desktop computers if you

need help with anything digital.

Te Hapua: Halswell Centre and

Spreydon Library

Citizens Advice Bureau

Today, 11am-2pm

The Citizens Advice Bureau

provides free and confidential

advice to everyone. It takes the

time to listen to you and equip

you with information, options

and support.

SENIOR LIVING

Linwood Library

Makerspace

Today at South, 3.30-4.30pm

and Monday, 3.30-4pm at

Spreydon

Drop-in for fun activities every

week at the Makerspace. There

will be a variety of activities for

all. Free.

South and Spreydon libraries

Art by Room 14

Linwood Avenue School

Tuesday, all-day

Go along and enjoy beautiful

art from the pupils of Room 14 at

Linwood Avenue School. Pastel

tiki art and painted winter trees

will brighten up the walls.

Linwood Library

Mainly Music

Wednesday, 10-11.30am

Go along for fun and learning

with music for mums with

children aged up to five. The first

visit is free and $4 per family

after this. Held each Wednesday,

10-11.30am, in school terms.

Morning tea provided.

St Johns Anglican Church,

Woolston, cnr St Johns St and

Ferry Rd

South Library Book

Discussion Group

Wednesday, 7.15pm-8.15pm

Go along for a group for those

who love reading and want to

share in discussion with other

book lovers. This group is free.

South Library

Knit 'n' Yarn

Wednesday, 10.30am-1pm at

Linwood, Thursday, 1pm-3pm

at Halswell, and 1.30-3.30pm

at South, Saturday, 1pm-3pm at

Halswell

Head along for a craft corner

session. Take your knitting,

crochet or other craft projects.

Free and beginners are welcome.

Linwood, Halswell and South

libraries

Creative Writing on Sundays

Sunday, 1pm-3pm

Group leaders work with

members to craft, create and

develop their own work. Take

along pens, paper and ideas.

Bring with you to the group some

pens or pencils, (even a laptop),

paper, and any of your wonderful

ideas, story-telling, or art.

Linwood Library

Linwood Library Book Club

Monday, 10.45am-12pm

Go along for a relaxed and

friendly group, which meets to

chat informally about any books

they have read over the past

month, fiction or non-fiction.

Linwood Library

Scrabble Club

Wednesday, 1.30-3.30pm at

Halswell, and Friday, 10.30am-

12.30pm at Linwood

No obligation to go, just

head along to join in on the

friendly games.

Te Hapua: Halswell Centre and

Linwood Library

Rummikub Club

Thursday, 10am-noon

Go and join in a game of

Rummikub, a tile-based game for

two to four players, which combines

elements of the card game

rummy and Mahjong.

Linwood Library

Game Zone

Thursday, 3.30-4.30pm

Go along and play Minecraft,

charades, Connect Four,

Pictionary and more. Take

our friends or meet some new

ones. All children aged eight

to 13 welcome, no bookings or

payment needed.

Linwood Library

Secure your

future lifestyle

in Geraldine

Just a handful of villas are now

available, so don't you be the one to miss

out.

From humble beginnings the 4.8ha

of farmland has grown to an impressive

modern architecturally-designed

development, offering independent living

for the over 55 across 115 villas. You can

secure your future lifestyle here. Priced

from $335,000.

2019 welcomes assisted care units close

to all the amenities of the village. Care

packages can be tailored to suit. If you

currently receive in-home assistance you

are welcome to continue those services,

to continue living independently.

Main meals are supplied to each unit

daily. Target completion is planned for

September. Feel free to inquire about

securing a single or double unit today.

If you seek a lifestyle within a small

caring community with a big heart,

Geraldine offers that and more. The town

has a long proud diverse history and

being along the gateway to the southern

lakes and Mt Cook/Aoraki, your friends

and family will be visiting regularly!

To see if McKenzie Lifestyle Village is

right for you phone today on

0800 845524 or visit mlv.org.nz

Modern Lifestyle Living

33 Connolly Street, Geraldine

P 0800 845 524 or 03 693 8340 E sales@mlv.org.nz

www.mlv.org.nz

ACCREDITED VILLAGE OF THE RVA
---
SOUTHERN VIEW Latest Christchurch news at www.star.kiwi

Tuesday September 3 2019 15

SENIOR LIVING

How's your circulation?

Healthy blood circulation throughout

the body is vital for good health.

The circulatory system (cardiovascular

system) delivers nutrients and oxygen to

all cells in the body. It consists of the heart

and the blood vessels running through the

entire body. The arteries carry blood away

from the heart while the veins carry it back

to the heart.

Atherosclerosis is the most common

cause of poor blood circulation. It occurs

when plaque builds up in the blood

vessels. This plaque narrows and hardens

the blood vessels and restricts blood flow.

Plaque can also break off causing a stroke

or heart attack.

Some of the common symptoms

possibly indicating poor circulation are:

numbness and tingling in the hands and

feet; swelling (edema), itchiness, heaviness

in the feet, ankles and legs; pain and

aching in the legs feet, arms and hands;

cold hands and feet; memory loss and

difficulty concentrating; fatigue; digestive

issues including abdominal pain, diarrhea,

constipation and cramping; erectile

dysfunction (ED); severe baldness at the

crown of the head and grey hair.

Healthy blood circulation and

cardiovascular health can be supported

with Nature's Sunshine HSII herbal

formula. This time proven formula

helps angina pains, atherosclerosis,

edema, fatigue, heart arrhythmia, heart

weakness, varicose veins and more. HSII

contains three herbs; capsicum, garlic

and hawthorn that work synergistically

to increase circulation and cardiovascular

health, while at the same time lowering

high blood pressure and aiding in the

prevention of heart attack and stroke.

Capsicum increases fibrinolytic activity

that breaks down artery plaque and

blood clots when consumed regularly

in sufficient amounts. Capsicum also

improves blood circulation by promoting

nitric oxide release in the blood stream.

Garlic has numerous health benefits

including inhibiting platelet aggregation

while encouraging the breakdown and

production of fibrin, a clotting protein

implicated in heart disease and strokes.

Garlic also has been shown to raise good

HDL cholesterol levels as well as reducing

serum triglycerides, a cardiovascular

risk factor. Hawthorn is known as a

heart tonic. Studies confirm hawthorn to

strengthen and normalise the heartbeat,

prevent and reduce heart arrhythmias and

guard the heart against oxygen deficiency.

Hawthorn also helps improve blood flow

by improving arterial health.

HSII and further information is

available from the Medical Herbalists

and Natural Health Advisers at

Marshall's Health & Natural Therapy, 101

Seaview Road, New Brighton and Phone:

388-5757. We are always happy to help!

you can stop him

snoring with a

SNOREX

Why put up with a broken

night's sleep?

Ph 377-4318 or 027 682 1752

DENISE LIM

FOR A FREE INFO PACK

Website: www.snorex.co.nz

Would you

like to profile

and grow your

Business?

For feature advertising

please phone

Jenny Wright

03 364 7446 or 021 220 3484

jenny@starmedia.kiwi

A Leader in

Healthcare

Excellence for

the Older Person

Brookhaven

Retirement Village

29 Alport Place

Woolston

Phone 03 384 5046

Albarosa

Dementia

80 Harewood Road

Papanui

Phone 03 375 0727

Somerfield

Dementia

137 Barrington Street

Somerfield

Phone 03 332 5897

www.goldenhealthcare.co.nz

Golden Age

Retirement Village

96 Harewood Road

Papanui

Phone 03 375 0720

Camellia Court

Dementia

84 Harewood Road

Papanui

Phone 03 375 0722

Hoon Hay

Dementia

16 Anvers Place

Hoon Hay

Phone 03 379 7825

Lady Wigram

Retirement Village

Sarah Jacobson

Village Manager

210 Kittyhawk Ave,

Wigram

Phone 027 3411 464

BLOOD CIRCULATION

SUPPORT

Maintaining good blood circulation throughout the

body is vital for good health. Nature's Sunshine

HSII contains three time proven herbs Hawthorn,

Capsicum & Garlic to support a healthy circulatory

system & cardiac function. Capsicum increases

fibrinolytic activity that breaks down artery plaque

& blood clots as well as also improving blood

circulation by promoting nitric oxide release in the

blood stream. As well as supporting healthy blood

circulation the formula also helps strengthens &

normalises the heartbeat, reduce arrhythmias,

reduces high blood pressure & aids in the prevention

of heart attack & stroke.

100 Capsules only $28.90, save $4.60

200 Capsules only $54.90, save $12.10

400 Capsules only $99.80, save $34.20

Common symptoms possibly indicating poor circulation:

• Pain & aching in the legs,

feet, arms & hands

• Cold hands & feet

• Numbness & tingling in

the hands & feet

• Fatigue

• Swelling (edema),

itchiness, heaviness in

the feet, ankles & legs

• Memory loss & difficulty

concentrating

• Erectile dysfunction (ED)

• Severe baldness at the

crown of the head

• Grey hair

• Digestive issues

Bringing You the Best in Natural Health! MAIL ORDER AVAILABLE

mARShALLS heALTh & NATURAL TheRAPY

CONSULTING - PRESCRIBING - DISPENSING - MANUFACTURING - MEDICAL HERBALISTS

101 SeAVIew RD, New BRIghTON • Ph 03 388 5757 • email: enquiry@marshallshealthshop.co.nz

- kNOwLeDge mAkeS The DIffeReNCe -
---
16

Tuesday September 3 2019

Latest Christchurch news at www.star.kiwi

SOUTHERN VIEW

Ready for a good night's sleep?

ALL BEDROOM ON SALE.

Tailor & Co

Queen Mattress – Firm

NOW $2799

All Bedroom ranges on sale + select items across Lounge and Dining.

ALL MATTRESSES

ON SALE

Atlantic

LIVING & BEDROOM

ON SALE

Industrial

LIVING & BEDROOM

ON SALE

Dining Table – W200

NOW $649

Dining Chair

Queen Mattresses

FROM $

269

Hall Table NOW $ 459

NOW $135

Bedside

NOW $299

Tallboy

NOW $799

Tallboy

NOW $749

Bedside

NOW $279

Shop

Online

Nationwide

Delivery

Finance

Options

targetfurniture.co.nz

SLEEP BETTER SALE ENDS 09.09.19. You snooze, you lose!

Cnr Blenheim & Curletts Rds, Christchurch

Ph: 0800 TARGET (0800 827438)

Offers and product prices advertised here expire 09/09/19.

Sale excludes Manchester and Accessories.
---
SOUTHERN VIEW Latest Christchurch news at www.star.kiwi

Tuesday September 3 2019 17

REAL ESTATE

Living the village life - third floor penthouse!!

3/18 Esplanade, Sumner

Auction 12 Sep 2019 Unless Sold Prior

2 bedrooms | 2 bathrooms | 1 living rooms | 1 dining room | 2 car-garage - Listing Number: PI59363

Live the ultimate coastal lifestyle in this beautiful

modern apartment in Christchurch's most soughtafter

seaside suburb. Freshly renovated to offer cool,

contemporary living, this easy-care apartment will

leave you free to indulge in the best of village life: leave

the car at home and stroll to cafés, restaurants, movie

theatre and beach.

Timber floors offset fresh whites in the open-plan

living and dining space. With a sunny northwest

aspect and views to the beach, this is an exquisite spot

for relaxing and entertaining - push back the sliders

to your own private balcony and smell the sea air! The

chic new kitchen is well-planned for functionality,

with an island breakfast bar, gas cooktop and allnew

appliances. Two bedrooms are served by two

glamorous tiled bathrooms, the master bathroom with

twin vanities and luxurious separate bath.

Underground parking, secure intercom access and

a lift ensure comfortable and worry-free living, while

an on-site pool adds to the appeal. Don't miss the

opportunity to secure a blissful new lifestyle by the sea.

Open Homes Saturday and Sunday 11:00 a.m. -

11:30 a.m. or for more details or to arrange a

private viewing phone

Cameron Bailey on 352 6166 or mobile

0275 557 079 of Harcourts Gold Papanui

(Licensed Agent REAA 2008)

growing with you June 2018 | 100%

Plants For

winter wow

Cool Choices

For Colour

& Contrast

From swamp

to sea views

The journey

begins with sarah

the Gardener

$7.90 incl. GST

Snap it up

Enter our annual

Birdlife Photo

Competition to win

great prizes!

clear the air

Why groWing

indoor PLAnTs is

so good for you

give it a grow

from gArLic

To chinese

ArTichokes,

We hAve your

groWing TiPs

covered

the latest releases

into the rose world

+ rose care

through winter

The magazine for

gardeners who like to get

their hands dirty

SUBSCRIBE FROM

$43. 50*

*6 issues/6 months

SUBSCRIPTIONS FREEPHONE

0800 77 77 10

WWW.GARDENER.KIWI
---
18

Tuesday September 3 2019

Latest Christchurch news at www.star.kiwi

SOUTHERN VIEW

If you want more information about an item or to contact a

seller, visit www.postanote.co.nz and search the ID#

Nissan Navara

Suzuki DRZ400E

Suzuki Carry

Extendable Large Glass Table

Tasman 20 Trailer Sailer

Mitsubishi Pajero

$4,250

ID 30707

$3,500

ID 30588

$2,700

ID 30240

$200

ID 30613

$4,500

ID 27076

$6,000 ONO

ID 30286

Mitsubishi Grandis

Mitsubishi Airtrek

Honda Odyssey Camper Van

Honda TRX 300

Outdoor Dining Set

Ford 4600 4x4

$6,995

ID 26882

$2,300

ID 30234

$1,500

ID 30220

$3,500

ID 26895

$125

ID 30547

$12,000

ID 30695

1999 Mitsubishi Galant

Pine Cones

Whitebait Net

2006 Holden Astra CD H/back

Audi A4 1.8 Turbo

Outdoor Cast Iron Bench

$1,995

ID 30434

$8 per bag

ID 30601

$950

ID 29773

$6,200

ID 30687

$7,000

ID 30254

$220

ID 30352

4WD SUV BMW Tiptronic

Cyclone Pup Trailer

SSV Commodore

2 Reclining Chairs

4-stroke Petrol Lawn Mower

Wooden Glory Box c 1950s

$4,000

ID 30591

$400

ID 30661

$25,000

ID 30653

$200

ID 30590

$75

ID 30640

$60

ID 30652

1993 Toyota Windom Radio Control Model Aircraft

Horse Cover

Toyota corolla 1.8 NZ New

FREE: Upright Piano

Garmin DriveSmart 50LMT GPS

$1,900

ID 26961

$295

ID 30638

$60

ID 30650

$6,700

ID 30618

FREE!

ID 30651

$60

ID 30630

Fiat 1000 Super

Antique French Mirror Door

Audi Sedan

Tannoy Fusion1 Loudspeaker

Extendable Dining Table

Subaru Legacy B4 RSK

$9,500

ID 30600

$300

ID 30610

$2,750

ID 30637

$199

ID 26918

$200

ID 30586

$5,000

ID 30232

Vintage Petanque Set

Commuter/Shopping Bike

2000 Ford Modeo GLX 2.5 V6

Seagull Outboard Motor

2010 Holden Commodore SV6

2003 Honda Accord

$60

ID 30326

$225

ID 30574

$2,200

ID 30439

$400

ID 30576

$13,000

ID 30486

$2,600

ID 30189

0819h06chch
---
2010 j ep patriot

$14,999

location: 68 Falsgrave Str et, W olston, Christchurch

www.grcaudio.co.nz

S e page 5 for details

2013 TOYOTA PRIUS

HYBRID

Trave led 79, 89km's,

very economical.

LEATHER INTERIOR

$11,999 +

454 St Asaph Str et, 03 378 1818 or 021 480 201

NO dEPOSIT

$49 PEr W Ek

ORC

mazda 2

2012, 5 sp ed, 92, 0kms, NZ new,

side airbags, popular model.

$6,950

S e our ad on

the back page.

198 Yaldhurst Road,

Avonhead

Phone (03) 342 3434

2006 NISSAN FUGA

Auto, A loys, ABS,

Twin Airbags,

Half Leather.

$8,990

Cnr Colombo & Milton Sts. Ph: 337 9629.

CAR AUDIO

AUDIO VISUAL

CAR SECURITY

CE LULAR

Terms, conditions & lending criteria a ply

REVERSE CAMERAS

RADAR DETECTORS

From $61,990

FU L REPAIR SERVICE

AERIALS

PLEASE TAKE ONE

Friday 2nd August 2019 | No. 609

2013 FoRd FOCUs

$13,999

TM

• Very a tractive interest rates

• Up to 5yr term available

• Very low kms

NO DEPOSIT!

Terms & conditions a ply.

Ce l 0272 424 76 Ce l 021 8 5 84

ON SALE Was $14, 90

$68 p/w

2016 Suzuki

Swift XG

G od People, G od Service, G od Cars

12 0 c, Petrol, 5 D or, Hatchback,

1,985km, 5 seats, automatic.

Ph 08 0 421 6 1

w.g odcars.nz

OPEN 7 DAYS

Cnr M orhouse Ave

& Lancaster St

*Terms & conditions a ply. *Finance subjec to credit and lending criteria. *On Road Costs A ply.

$112pw *

$4,995

* Terms and conditions apply

Inch Quality

European

393 Fe ry Road, Christchurch

P 03 389 6108 urbanauto.co.nz

NO dEPOSIT

$56 PEr WEEk

See page 4 for details

2010 VOlVO XC60

T6 R DeSign

3000cc, Turbo, Intercooler, black leather

seats, auto/tiptronic, AWD, all electrics,

fully loaded – top spec, safety cameras,

low 55,200km.

2 06

Honda CiviC 2.0S

NZ New, leather, sunr of

1 98 c auto, VTeC, cruise, a l

electrics, a loys, spot lights,

climate control, aBS brakes, efI.

S e more from our

fOrd fIESTa 5 SPEEd

2009, 5 speed, 5 door, 92,000kms,

NZ new, side airbags, great colour!

& uNDer SeLeCTIoN

TurN The page .

IPOD INTEGRATION

GPS/TRACKING

S e our ad

on page 35

198 Yaldhurst Road,

Avonhead

Phone (03) 342 3434

www.tcm4wd.co.nz

113 Sherborne St, Edgeware Ph (03) 377 8873

$29,999

541 Moorhouse Ave

Christchurch

Ph 03 3799528 or 0274366076

$7,950

S e our ad on

the back page.

$79 PW

2017 HoldEn Barina ls HaTCH

1.6 Litre, 6 spd auto, 5 star ancap,

reverse cam, bluetooth, cruise,

alloys, choice of 2 NZ new.

from $13,995

2010 honda stream

$9,999

www.grcaudio.co.nz

S e page 5 for details

454 St Asaph Str et, 03 378 1818 or 021 480 201

www.bestmotorbuys.co.nz

S E OUR AD ON PAGE 15

*conditions a ply

CashbaCK

bonanza!

FR E ORC

2009 lexUS IS 250

HARD TOP

no PaYMEnTs

FoR 3 MonThs!

CAR AUDIO

AUDIO VISUAL

cOnveRTIBle

91, 0kms, black leather interior.

ExcE LENT cONdITION!

$21,999 +

(12months of reg and fresh wof)

FREE Fu l Tank o fuel!

Thinking Finance for a New Car,

Boat, Caravan, Truck or Trailer?

Think Paul Kelly Finance

Phone – 0800 PAUL KELLY

www.paulkellyfinance.co.nz

Terms, conditions & lending criteria apply

www.tcm4wd.co.nz

$1 2 pw

1 95 ni san safari granroad

4.2 Turbo diesel, 160,8 0kms,

winch, whole back seat.

only $21, 95

PLEASE TAKE ONE

For advertising enquiries, phone Anna Rossiter on 021 902 729

2018 Everest Titanium

From $61,990 • Very attractive interest rates

• Up to 5yr term available

• Very low kms

NO DEPOSIT!

Terms & conditions apply.

location: 68 Falsgrave Street, Woolston, Christchurch

email: nzvanspares@hotmail.com | phone: 03 379 3932 / 0508 698 267

$7,995

393 Ferry Road, Christchurch

P 03 389 6108 urbanauto.co.nz

The South Island's leading motoring publication FREE

every Friday at hundreds of locations around the South Island,

and it's available online at www.bestmotorbuys.co.nz

TM

Cell 0272 424 776 Cell 021 855 884

2009

Volkswagen

Polo gTi

Sporty & fun, 1 Year Warranty

1800cc, 5 speed manual, turbo,

alloys, pioneer bluetooth stereo,

air cond, spoiler.

& uNDer SeLeCTIoN

TurN The page...

ORC

CAR SECURITY

CE LULAR

REVERSE CAMERAS

RADAR DETECTORS

Terms, conditions & lending criteria a ply

From $61,990

$7,995

393 Fe ry Road, Christchurch

P 03 389 6108 urbanauto.co.nz

FU L REPAIR SERVICE

AERIALS

IPOD INTEGRATION

GPS/TRACKING

PLEASE TAKE ONE

• Very a tractive interest rates

• Up to 5yr term available

• Very low kms

NO DEPOSIT!

Terms & conditions a ply.

Ce l 0272 424 76 Cell 021 8 5 84

2 09

Volkswagen

Polo gTi

Sporty & fun, 1 Year Warranty

18 0 c, 5 sp ed manual, turbo,

a loys, pion er bluet oth stereo,

air cond, spoiler.

S e more from our

& uNDer SeLeCTIoN

TurN The page .

S e our ad

on page 35

TM

SOUTHERN VIEW Latest Christchurch news at www.star.kiwi

Tuesday September 3 2019 19

Classifieds Contact us today Phone our local team 03 379 1100

Car Parts

TYRES Secondhand,

most szs from $30 - $70

fitted, Also batteries, 217

Waltham Road, 027 476

2404

Curtains

www.curtainfabric-outlet.com

Fashion Designs & Colours

Discontinued Designs

End of Lines Bargain Prices

Call at Our Shop

CURTAIN FABRIC OUTLET

71 Hawdon St Sydenham

Ph 366-5026

Gardening

& Supplies

A GARDEN OR

LANDSCAPING TIDY

UP? Shrub, hedge &

tree pruning, Lawns,

Gardening, consistently

reliable general property

upkeep, Dip. Hort. 10

yrs experience, One off

tidy ups or on-going

service. Nick's Garden

Maintenance. Keeping

your garden beautiful.

Free Quote. Ph. 942-4440

& 022 264 7452

Australia QLD

SUNSHINE

COAST

RESORT

• New homes

• Extensions

• Renovations

Trades & Services

Builder

• Light Commercial

• Repairs and

Maintenance

Brandon Taw

Phone 027 370 2572

enquiries@tawbuilders.co.nz

www.tawbuilders.co.nz

DRIVEWAYS

Exposed Aggregate

Stamped Concrete Plain

Concrete Resurfacing

Things we offer...

Competitive/affordable pricing

Attention to detail

Professional service

free quotes/insurance scopes

Trades & Services

ROOF

PAINTING

Rope & harness

a speciality,

no scaffolding

required,

30 years of

breathtaking

experience.

FREE QUOTES

Exterior staining,

exterior painting,

moss and mould

treatment and

waterblasting

Phone Kevin

027 561 4629

rooF

painting

Book now for

Summer and

receive 20%

discount.

Rope and harness a

speciality.

No scaffolding

required.

30 years experience.

Also waterblasting

paths, driveways and

moss removal.

Free quotes,

call Craig

021 060 2392

Trades & Services

TILER/CARPENTER

35 years exp, no job

too small. Ph Ross 027

4311440.

T.V. SERVICE

CENTRE

Repairs, tvs, microwaves,

audio amps, soundbars.

.Aerial & satellite

installations, kitsets, 480D

Moorhouse Ave, ph 03 379

1400

VHS VIDEO TAPES

& all camera tapes

converted to DVD, video

taping special occasions,

www.grahamsvideo.co.nz

ph 03 338-1655

Wanted To Buy

AAA Buying goods

quality furniture,

Beds, Stoves, Washing

machines, Fridge Freezers.

Same day service. Selwyn

Dealers. Phone 980 5812

or 027 313 8156

CASH/CASH for any

unwanted vehicles, ph

347 9354 or 027 476 2404

TOOLS Garden,

garage, woodworking,

mechanical, engineering,

sawbenches, lathes, cash

buyer, ph 355-2045

Situations Vacant

Advertising Account

Executive

Best Motorbuys Magazine

Friday 23rd August 2019 | No. 612

• Full time position

• Help drive Christchurch's only

weekly full gloss motoring

magazine forward

• Excellent commission opportunities

A fordable new parts available for BMW / MERCEDES BENZ / AUDI

Hilux spares

Now Available @ NZ Van Spares

email: nzvanspares@hotmail.com | phone: 03 379 3932 / 0508 698 267

Best

Thinking Finance for a New Car,

Boat, Caravan, Truck or Trailer?

Think Paul Ke ly Finance

Phone – 0800 PAUL KELLY

www.paulke lyfinance.co.nz

mobile installation service 0800 212 777

Star Media is seeking an Advertising Account

Executive to take responsibility for our weekly Best Motor Buys Magazine.

We seek a person who enjoys working as part of a team, has a can-do

attitude and who has an affinity and interest across the motoring sector.

The position encompasses the following major functions:

• Effective promotion and sales of advertising for Best Motorbuys Magazine

and Star Media's range of products

• Providing a high quality, professional sales administration service

• Ensuring the highest possible level of customer/client service

• Works proactively to ensure that clients are offered the best advertising

solution across all potential advertising platforms

If you have the above and want to be part of a progressive

media company, please email your CV to:

Shane Victor, Advertising Manager - shane@starmedia.kiwi

Public Notice

FREE

Motorbuys

$7,990

275 Colombo St, Christchurch.

www.bestmotorbuys.co.nz

ANYTHING WITH A MOTOR!

For advertising enquiries, phone A na Ro siter on 021 902 729

2018 Everest Titanium

Best

TM

Motorbuys

Star Media is a division of Allied Press.

$12,990

ONLY

$7,995

Friday 9th August 2019 | No. 610

FREE

Best

Motorbuys

A fordable new parts available for BMW / MERCEDES BENZ / AUDI

ANYTHING WITH A MOTOR!

259 Colombo Street, Sydenham

154 Orchard Road, Harewood

WE BUY

UTES!

PHONE 027 303 0101 NOW!

547 Moorhouse Avenue

Hilux spares

13 Sherborne St, Edgeware Ph (03) 3 7 873

Now Available @ NZ Van Spares

Motorbuys

Best

www.bestmotorbuys.co.nz

Thinking Finance for a New Car,

Boat, Caravan, Truck or Trailer?

Think Paul Ke ly Finance

Phone – 0800 PAUL KELLY

www.paulke lyfinance.co.nz

Hilux spares

Now Available @ NZ Van Spares

location: 68 Falsgrave Str et, W olston, Christchurch

email: nzvanspares@hotmail.com | phone: 03 379 3932 / 0508 698 267

mobile installation service 0800 212 777

See more from our

$7,995

FREE

ANYTHING WITH A MOTOR!

For advertising enquiries, phone A na Ro siter on 021 902 729

2018 Everest Titanium

$7,995

ALEXANDRA HEADLAND

All Units Have Ocean Views.

Heated Pools, Spa & Sauna,

Free Wifi, Tennis

& Mini Golf.

CHECK OUR GREAT

WINTER SPECIALS

www.mandolin.com.au

0061 7 5443 5011

JUNE to AUG temps 20C

Trades & Services

PAINTER

Houses Interior/

Exterior

27 years exp.

Tidy workmanship

On the spot

written quotes

Phone:

0274 360 298

FOR ALL YOUR

★Garden Clean-ups

★Pruning

★Lawn Mowing

★Garden Maintenance

Call us today for a FREE quote

PH 0800 4 546 546

(0800 4 JIMJIM)

Cell 0278 145 848

www.drivecrete.co.nz

PAINTING & TILING

• PAINTING • TILING

• PLASTERING

• WALLPAPERING

Phone Kevin Steel

• Interior/Exterior

• New Homes & Repaints

• Quality workmanship assured

• Correct preparation always undertaken

• 20+ years experience

• Earthquake repairs

(Painting/Plastering/Wallpapering/Tiling)

Ph 381 7417 or 027 216 8946

www.facebook.com/kevinsteelpainters&decorators

YOU COULD

BE HERE

Let us help take

your business to

new heights

Advertise your business in our

Trades and Services column.

For assistance contact Vicky

Phone 03 364 7419 or email

vicky.sayers@starmedia.kiwi

AAA HANDYMAN

licensed carpenter

LBP, all property and

building maintenance,

repairs, bathroom/shower

installations, with free

quotes 03 383 1927 or 027

245 5226 ciey@xtra.co.nz

BRICKLAYER

George Lockyer. Over

40 years bricklaying

experience.Uk trained.

Insurance work, EQC

repairs. Heritage

brickwork & stonework

a speciality. No job too

small. Governers Bay.

Home 329 9344. Cell

027 684 4046. E mail

georgelockyer@xtra.co.nz

CARPET LAYING

Exp. Repairs, uplifting,

relaying, restretching.

Phone John on 0800

003181, 027 240 7416

jflattery@xtra.co.nz

CARPETLAYER

35yrs experience. Special

rates for seniors. Prompt

service. Ph 021 046 0231

PAINTING

Indoor / Outdoor, over 30

yrs exp, same day quotes,

ph Steve 021 255 7968

PAINTERS

DECORATORS

Qualified and experienced

painters and plasterers

available to undertake

any size job. Member

of Master Painters NZ.

Ph Chris 0800 438 152.

New Image Painters &

Decorators

PLUMBER

A Top Plumbing job

completed at a fair price,

prompt service, all work

guaranteed, Ph Brian 960-

7673 or 021 112-3492

STUMP GRINDING

Best price guarantee Tony

0275 588 895

PICK IT UP AND DRIVE AWAY

Available from hundreds of pick up points around

Christchurch, Canterbury and the West Coast

each Friday including:

Selected Fresh Choice, New World stores and

hundreds of takeaway shops

Bringing buyers and sellers

together every week

For advertising enquiries

please call Anna on 021 902 729
---
Advert: fcsv0309

Newspaper: Southern View

20 Tuesday September 3 2019

Latest Christchurch news at www.star.kiwi

SOUTHERN VIEW

Country Fresh

Carrots or Brown

Onions 1.2kg

Ingham's

Frozen Chicken

2.3kg

$

9 90

kg

Fresh NZ Skinless Chicken

Breast Fillets

$

2 00

bag

$

9 50

ea

Robert Harris

Roast & Ground

Coffee 200g or

Coffee Capsules

10 Pack

$

5 00

EA

$

19 00

pk

Eta Ripple

Cut Chips

150g

4 for

$

5 00

Speight's Gold

Medal Ale,

Summit Ultra

or carlsberg

12 x 330ml Bottles

$ 10 90

Fresh NZ Skinless

Chicken Thigh cutlets kg

Selaks Reserve or

Stoneleigh 750ml

(Excludes Rapaura, Latitude

& Wild Valley)

$

12 00

ea

$

7 00

kg

USA Green

Seedless

Grapes

Shop online now at

FreshChoiceYourWay.co.nz

Barrington

Open 7am – 11pm, 7 days a week.

City Market

Open 7am – 9pm, 7 days a week.

FreshChoiceNZ

OWNED &

OPERATED BY

LOCALS

fcsv0309

Prices apply from Monday 2nd to Sunday 8th September 2019, or while stocks last at FreshChoice City Market & Barrington only. Limits may apply.
---
SOUTHERN VIEW Latest Christchurch news at www.star.kiwi

Tuesday September 3 2019 21

GRAND

reopening sale

SELWYN ROAD

SHANDS ROAD

SHANDS ROAD

913 SHANDS ROAD

WE'VE

MOVED!

913 SHANDS ROAD

Located on the same

site as Readylawn

The original same day lawn

SAVE UP TO

50%

AND MORE

NEW LOCATION:

913 Shands Road

Just south of the Selwyn Road / Shands Road intersection

T: 03 349 9240 | E: info@allwood.co.nz

Keep up to date on what is happening around the nursery

through our Facebook page and at www.allwood.co.nz

www.allwood.co.nz
---
22 Tuesday September 3 2019

Latest Christchurch news at www.star.kiwi

SOUTHERN VIEW

GrAND reopening sale

Large Trees

suitable for farms, lifestyle

properties, large sections.

• Flowering Cherry Trees

• Hornbeam

• Oaks

• Lime Trees

• Elms

• Tulip Trees

• Canadian Maples

• Claret Ash

• Magnolia, deciduous

and evergreen

Trees up

to 5.0m in

height

smaller Growing Trees

suitable for residential sections,

townhouses, over 60s units.

• Japanese Maples

• Cornus Eddies White

Wonder

• Weeping Silver Pear

• Magnolia Little Gem

• Japanese

Snowdrop Tree

• Cercis Forest

Pansy

• Flowering Cherry Trees

Trees up

to 2.5m in

height

HuGE rANGE

AT GREAT SALE PRICES

Liquidamber

Upright Oak

Evergreen Magnolia

Japanese Maple

Golden Elm

Canadian Maple

Cercis Forest Pansy

Flowering Cherry

NEW LOCATION:

913 Shands Road, Christchurch | T: 03 349 9240 | E: info@allwood.co.nz

OpEN TuEs TO FrI - 9.00Am TO 4.30pm | sAT & suN - 10.00Am TO 4.00pm
---
SOUTHERN VIEW Latest Christchurch news at www.star.kiwi

Tuesday September 3 2019 23

SAVE

UP TO

50% MORE

AND

Daphne

Large Grade Topiary standards Hedging plants

Pink and white scented

flowers. $89.50 grade

NOW $65

• Portuguese Laurels

• Bay Laurels

• Robinia Mop Top

• Liquidamber

Gumball

• Griselinia

• Pittosporum

• Photinia Red Robin

• Euonymus

20% OFF Or mOrE! GrEAT sAVINGs!

• Mexican Orange

Blossom

• Bay Laurel

• Portuguese Laurel

• Plus many more

Griselinia

michelia

pyrus salicifolia

pendula

Evergreen

magnolia Tree

(Weeping silver

pear Trees)

Several varieties.

GrEAT

sALE prICEs

Several varieties.

GrEAT

sALE prICEs

Tough ornamental tree for

exposed sites. Were $145

NOW $80

• St Mary

• Little Gem

• Grandiflora

• Blanchard

• Jade Emperor

GrEAT sALE prICEs

www.allwood.co.nz

View our sale catalogue online now:

www.allwood.co.nz/sale
---
24 Tuesday September 3 2019

Latest Christchurch news at www.star.kiwi

SOUTHERN VIEW

GrAND reopening sale

Pittosporum

Wrinkle Blue

rhododendron

Varieties

Shrubs

Large grade, great for instant

hedge. Were $39.50

NOW $30

Big chunky plants. $59.50 grade

NOW $45

20% Off OTHer GrADeS

• Camellia

• Thuja Smaragd

• Pieris

• Cranberry

• Pittosporum Golf Ball

Plus many more

plant varieties. Ideal

for all gardens.

20% Off Or mOre!

Good, honest gardening advice is our hallmark. Our services include:

Consultations

Experienced, knowledgeable

staff will give information and

advice via email, phone or in

person at Allwood Trees. Send

us your landscape plan and we

can advise on plant selection.

Soft Landscape Plans

This is a plan with detailed

specifications related to

your property. Showing both

botanical and common names

of trees and shrubs, as well as

quantites and other relevant

comments (eg spacing).

Delivery & Planting

We can deliver and plant

trees purchased from Allwood

Trees. We do everything from

digging the hole to staking

the tree and adding slow

release fertiliser.

Quotations

Send us your plant list and

we will quote as quickly as

possible. We are able to

provide different tree and

shrub size options and suggest

alternatives if particular trees

or shrubs are not available.

Garden maintenance

We have a great garden

maintenance service. We

liaise with you regarding any

changes required with your

garden and can implement a

great maintenance programme

to keep your garden looking

pristine all year.

NeW LOCATION:

913 Shands Road, Christchurch | T: 03 349 9240 | E: info@allwood.co.nz

OPeN TueS TO frI - 9.00Am TO 4.30Pm | SAT & SuN - 10.00Am TO 4.00Pm