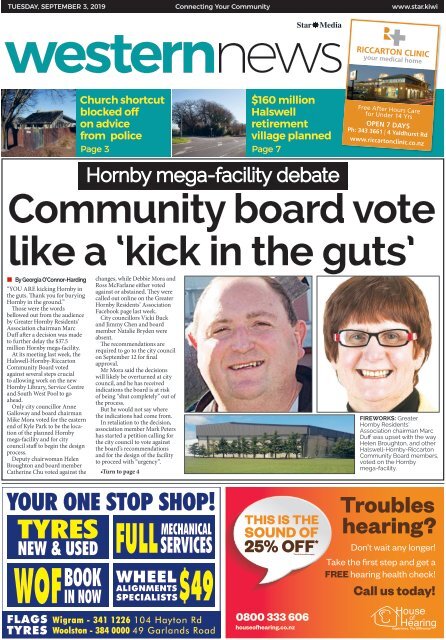 Western News: September 03, 2019
Create successful ePaper yourself
Turn your PDF publications into a flip-book with our unique Google optimized e-Paper software.
TUESDAY, SEPTEMBER 3, 2019

Connecting Your Community

www.star.kiwi

Church shortcut

blocked off

on advice

from police

Page 3 Page 7

$160 million

Halswell

retirement

village planned

Free After Hours Care

for Under 14 Yrs

OPEN 7 DAYS

Ph: 343 3661 | 4 Yaldhurst Rd

www.riccartonclinic.co.nz

Hornby mega-facility debate

Community board vote

like a 'kick in the guts'

• By Georgia O'Connor-Harding

"YOU ARE kicking Hornby in

the guts. Thank you for burying

Hornby in the ground."

Those were the words

bellowed out from the audience

by Greater Hornby Residents'

Association chairman Marc

Duff after a decision was made

to further delay the $37.5

million Hornby mega-facility.

At its meeting last week, the

Halswell-Hornby-Riccarton

Community Board voted

against several steps crucial

to allowing work on the new

Hornby Library, Service Centre

and South West Pool to go

ahead.

Only city councillor Anne

Galloway and board chairman

Mike Mora voted for the eastern

end of Kyle Park to be the location

of the planned Hornby

mega-facility and for city

council staff to begin the design

process.

Deputy chairwoman Helen

Broughton and board member

Catherine Chu voted against the

changes, while Debbie Mora and

Ross McFarlane either voted

against or abstained. They were

called out online on the Greater

Hornby Residents' Association

Facebook page last week.

City councillors Vicki Buck

and Jimmy Chen and board

member Natalie Bryden were

absent.

The recommendations are

required to go to the city council

on September 12 for final

approval.

Mr Mora said the decisions

will likely be overturned at city

council, and he has received

indications the board is at risk

of being "shut completely" out of

the process.

But he would not say where

the indications had come from.

In retaliation to the decision,

association member Mark Peters

has started a petition calling for

the city council to vote against

the board's recommendations

and for the design of the facility

to proceed with "urgency".

•Turn to page 4

FIREWORKS: Greater

Hornby Residents'

Association chairman Marc

Duff was upset with the way

Helen Broughton, and other

Halswell-Hornby-Riccarton

Community Board members,

voted on the Hornby

mega-facility.

YOUR ONE STOP SHOP!

TYRES

NEW & USEd

WoF

FLAGS

TYRES

bOOk

IN NOW

FULL MECHANICAL

SERVICES

WHEEL

ALIGNMENTS

SPECIALISTS$49

Wigram - 341 1226 104 Hayton Rd

Woolston - 384 0000 49 Garlands Road

0800 333 606

houseofhearing.co.nz

Troubles

hearing?

Don't wait any longer!

Take the first step and get a

FREE hearing health check!

Call us today!
---
2 Tuesday September 3 2019

Latest Christchurch news at www.star.kiwi

get in touch

GENERAL INQUIRIES Ph 379 7100

CLASSIFIED ADVERTISING Ph 379 1100

Star Media,

a division of Allied Press Ltd

PO box 1467, Christchurch

starmedia.kiwi

sport

Page 8

community events

WESTERN NEWS

Middleton Grange triumphs

Trophy win fills team with confidence as they head to the

South Island basketball tournament in Nelson this week

Bookbuddies

Do you enjoy reading? Check out Bookbuddies on Saturday,

10.30-11.30am, at the Te Hapua: Halswell Centre.

NEWS

Georgia O'Connor-Harding

Ph: 021 910 730

georgia.oconnor@starmedia.kiwi

ADVERTISING

Alana Powell

Ph: 962 8753

alana.powell@starmedia.kiwi

Page 11

tasty bites

Bowls of stress relief

Poke bowls (pronounced poh-kay) are based on the bitesized

marinated fish salad famous in Hawaii and have some

great stress-relieving qualities.

Page 14

The best-read local newspaper,

delivered to 15,905 homes

every Tuesday

Templeton, Islington, Hei Hei, Broomfield, Halswell, Oaklands,

Westlake, Hornby, Wigram, Sockburn, Church Corner, Ilam,

Russley, Hyde Park, Avonhead, Riccarton Park, Riccarton.

• The Star

• North Canterbury News

• Selwyn Times

• Ashburton Courier

also publishing:

• Bay Harbour News

• Southern View

• NorWest News

• Pegasus Post

New Frankie 4 Stock

A new active flat range with Slip Resistant Soles. Prefect

for nurses, teachers, hospitality, retail and or anyone on

their feet for long periods of time.

Introducing the Frankie 4 Tambo, Winnie, Billie and Addie.

Shoes are only available at 37 Main South Road clinic

RiccaRtoN

37 Main South Road

RedcliFFS

2 augusta Street

MaRSHlaNdS

427 Marshland Road

daRField

darfield Pharmacy

PH 348 7910 | www.feetfirst.co.nz

Now servicing

oXFoRd

413 MAIN SOUTH RD, HORNBY (JUST BEFORE CALTEX STATION) | WWW.SHOSHA.NZ

List for Spring!

Call us for an appraisal.

Lindsay & Marilyn Welch | Licensed Sales Consultants

0275 770 216 lindsay.welch@harcourts.co.nz | 0275 770 214 marilyn.welch@harcourts.co.nz

'We live in Halswell - we sell in Canterbury'

Grenadier Real Estate Ltd | Licensed Agent REAA 2008

f

in
---
WESTERN NEWS Latest Christchurch news at www.star.kiwi

Tuesday September 3 2019 3

News

Hornby shortcut blocked off

• By Georgia O'Connor-Harding

A SHORTCUT for walkers

through a church property can

no longer be used following

advice from police in the

aftermath of the March 15

attacks.

Some Hornby residents are

"annoyed" an alternative route

through the St Columba's Anglican

Church in Hornby has been

blocked off.

On the recommendation of

police, the church has sealed up

a hole in its fence which allowed

walkers to cut through Denton

Park through to Kathleen Cres.

The church was visited by police

as part of Operation Whakahaumanu,

which was rolled out

across the country following the

March 15 events.

Police visited each school and

about 80-90 per cent of religious

centres city-wide for about 15

weeks.

The idea of the operation was

for officers to give advice on

safety and check over lockdown

procedures.

Senior sergeant Toni Carroll

said she suspected the hole in the

fence had been an issue for quite

some time and it was suggested

by police it was mended.

She said the operation was

BLOCKED: The back fence of St Columba's Anglican Church has

been blocked off on the recommendation of police .

about providing reassurance and

getting churches to turn their

minds to security as opposed to

telling them about what security

they should have.

"It was just being mindful about

someone coming into the church

who is not friendly and what that

might look like because that is

essentially what happened to the

mosque," she said.

The blocked off route was

raised at the Greater Hornby

Residents' Association meeting

recently.

Association chairman Marc

Duff said some residents at the

meeting were upset it was shut

but at the end of the day the

church can decide what to do

because it is their property.

"It is good to have people

walking through your property

for security to keep an eye on it

but what they choose to do on it

is their call".

But Vicar Les Memory said

instead of residents walking

across the park, they can still use

the church's private driveway

and walk through the churches'

grounds onto Main South Rd.

He said the church did not

mind if people walked across its

property.

But he did say: "In terms

of the people raising the issue

my question would be if this was

your private property

would you have a hole in the

back of your fence so people can

tramp through your property? I

suspect the answer would be no,"

he said.

Vicar Memory said it

was about being wise and

was grateful for the police's

recommendation.

He said it would be naive

to say there wouldn't be other

people around who wouldn't do

something similar to the March

15 attacks.

"We don't have fears of an

attack, but did anybody have

a fear of an attack before the

mosque attack? I don't think they

did," Vicar Memory said.

In Brief

PEACE GARDEN

Further information has been

received on plans to create a

Riccarton Peace Garden at

Harrington Park. The Halswell-

Hornby-Riccarton Community

Board received a memorandum

from city council staff receiving

additional information on

the concept at its meeting on

Tuesday. The next step is for a

city council land architect to

work through design and costs

with the residents.

TEMPLETON CEMETERY

City council land will be

retained in Templeton to be used

as a cemetery and sports park.

The Halswell-Hornby-Riccarton

Community Board approved

retaining 173 Maddisons Rd.

In May, Western News reported

the city council was considering

using about two-thirds of

the land for a cemetery and

zoning the balance of it for the

development of a sports hub.

PLAY EQUIPMENT

An investigation is under way

to add play equipment to the

Halswell Domain to cater for

children with disabilities. City

councillor Anne Galloway said

a local business has indicated

they are willing to pay for a

swing which will have a special

frame for children who are in

wheelchairs.

HORNBY SOUTH

FAMILY STORE

Te Ope Whakaora

pRELOVEd qUALiTy cLOTHiNG,

FURNiTURE & HOUSEHOLd iTEmS

We can arrange

pick-up of

donations simply

by phoning us.

VOLUNTEERS REqUiREd

wOULd yOU LikE TO SUppORT yOUR cOmmUNiTy?

Cnr Columbia Ave & Halswell Junction Rd

Ph 344 2530

Hours Mon - Fri 9am - 4.30pm

Sat 9.30am - 1.30pm

tree trouble?

call us 384 9630

www.fourseasonstreecare.co.nz

t h e t r e e p e o p l e

f o u r s e a s o n s t r e e C a r e

Catherine

CHU

Council

Community Board

The revolution

in heat pumps

is here now!

The revolution in heat pumps is here now!

The Fujitsu e3series

The brilliant

heat pumps from Fujitsu

e1 : efficiency

e2 : environment

e3 : economy

The brilliant e3 series

heat pumps from Fujitsu

e1 : efficiency

e2 : environment

e3 : economy

Website: www.pshc.co.nz

Finance available

FREE consultation from your local

Accredited Heat Pump Expert

Phone today: 03 381 6950

INSERT DEALER DETAILS HERE

Fujitsu's Catechin Filters are

approved by the Asthma and

Respiratory Foundation NZ's

Sensitive Choice ® programme.

Email: info@pshc.co.nz
---
4

Tuesday September 3 2019

News

Latest Christchurch news at www.star.kiwi

WESTERN NEWS

Criticism over decision to further

•From page 1

A large Hornby contingent is

likely to be present at the city

council meeting next month.

Mr Peters told Western News

last week the association is

planning to march on the city

council to show its "support" and

"dismay" at the process going offtrack

on Tuesday.

"I certainly believe council will

see the error of their actions and I

am pretty sure they

will put them back

on track. We are

rallying to reassure

that happens," he

said.

Association

Ross

Houliston

treasurer Ross

Houliston said

voting against

the changes

was expressing "no vote of

confidence" in city council staff

and engineers.

The delays come down to the

ongoing debate over whether the

facility should be built on Kyle

Park, a former landfill.

However, the board recently

approved the reclassification and

changes to be made to the Kyle

Park management plan to allow

for the facility to be built on the

land.

City council staff began landfill

FIERY DEBATE: Anne Galloway (left) and Mike Mora voted for a number of key steps to allow the development of the Hornby

mega-facility to go ahead, while Debbie Mora and Catherine Chu voted against several changes.

gas testing in April to provide the

information needed to mitigate

any issues with gas in the design

of the facility. The testing will go

for 12 months.

It means the report will not be

available until April next year

when the construction of the

facility was proposed to start.

But extensive geotechnical and

contamination testing in 2018

confirmed Kyle Park could be

built on safely.

Mr Mora said the results of the

gas testing will only determine

what membrane should be put

under the building to stop any

gas issues.

"There is no need, in my

opinion, to hold the project

up for a year just to get the gas

results."

At the meeting, Mrs Broughton

said she is concerned she has

not had any written assurance

from city council engineers that

the testing is "reasonable" and

there is confidence it could begin

building in April.

"I hope I am wrong. I do hope

this works and it doesn't have the

problems I foresee," she said.

Ms Mora said she is concerned

the board is short of information.

She said the community should

not have to compromise on what

it wants because the facility is

being built on a landfill.

The board did agree to

recommend that if additional

funding becomes available,

facilities desired by the

community within the building

will be prioritised in the design.

Want to be

elected?

• Local Council

• Community Board

• Ecan

• CDHB

Star Media can help you.

Talk to us today about your campaign.

Contact: Alana Powell

03 962 8753

027 535 6583

alana.powell@starmedia.kiwi

HEAT PUMP

SALE NOW ON!

Amazin' Spring Specials!!

• We will offer you the best quality brands and

option of heat pump for your home/business

• Providing Heat Pump solutions for over 17 years to Cantabrians

• We personally guarantee all our products & installs for 5 years

(providing annual maintenance has been completed)

Phone us today for your free consultation & quote

41A SHAKESPEARE RD, WALTHAM

PHONE 03 366 0525

www.enviromaster.co.nz

"A local team for local people"

Choosing the wrong agent to sell your home can

cost you money and cause unnecessary stress!

" I had been placed into what I thought was a very negative and stuck

situation due to experiences with another Real Estate Agent so I reached

out to Cameron Bailey with details of my situation and he did not hesitate

to offer his assistance, advice and reassurance. I appreciated his ability to

connect and relate to my situation with empathy whilst upholding extreme

professionalism and as a consequence enabled the selling of my home

to be a very peaceful and quick process. Adding to that I was offered the

services of someone to assist me purchase my next home - for me an

added bonus!" CR
---
WESTERN NEWS Latest Christchurch news at www.star.kiwi

Tuesday September 3 2019 5

delay $37.5m Hornby mega-facility

The board also approved city

council staff report on options

the disposal of the current

Hornby Library.

Miss Chu said she would like

to see the gas testing reports

first before construction starts.

"You do your due diligence

first before you build, you

wouldn't build and do your

due diligence at the same

time," she said.

Miss Chu said if she

knew the true extent of the

contamination she would

be happy to consider the

recommendations.

"It is a $37.5 million

project so we have got to get

everything right. The last

thing we would want for us

to build on that site and have

issues come up we hadn't

realised before."

Mr McFarlane said his

decision was made based on

the proposed features for the

facility being "suboptimal".

He previously voted against

the reclassification alongside

Ms Mora.

At the meeting, Cr Galloway

also argued many facilities

have been built on landfills

and it would be unhelpful to

suggest the correct work had

not been done.

Chen and Bryden not there in 'hour of need'

• By Georgia O'Connor-Harding

TWO HORNBY representatives

have come under fire for not

being present during the

suburb's "hour of need".

City councillor Jimmy Chen

and Halswell-Hornby-Riccarton

Community Board member

Natalie Bryden were unable

to cast their vote at last week's

board meeting

on the future

of the planned

Hornby Library,

Service Centre

and South

West Pool. City

councillor Vicki

Mark Peters

Buck was also

absent from the

UNDER FIRE: Hornby city councillor Jimmy Chen and

community board member Natalie Bryden were absent during

a vote on the Hornby mega-facility last week.

meeting as she had a meeting in

Wellington.

But Mark Peters, who is running

for the Hornby city council

seat in the October local body

elections, said "it was a tragedy"

to see two Hornby members

not present in the community's

"hour of need".

"The fact this pivotal vote

is going through (means) the

process derailed," he said.

But both Hornby representatives

have defended their absences.

Cr Chen declared before

the meeting he could only stay

until 5.50pm.

He was then required as city

council multicultural committee

chairman to attend a ceremony

welcoming 180 new New Zealand

citizens.

"It is part of my job, my responsibility.

I welcome the new

citizens. My job is to introduce

the mayor. It has been my job

for many years . . . I am the local

councillor but as you are aware

I am also the city-wide councillor,"

Cr Chen said.

He said he was very "disappointed"

with the decision, especially

after Kyle Park had already

been approved as the location for

the facility.

Ms Bryden was on jury duty

and then went to a public speaking

event at St John Cadets in

Hornby at 6.30pm. She had made

board chairman Mike Mora

aware she wouldn't be there.

"You have to get from town at

5pm to Halswell. The meeting

would have been well and truly

over." She said she was disappointed

in the decision as ratepayers

have paid a huge amount

of money for Kyle Park to be

tested and 84 per cent of Hornby

want the facility.

She was "shocked" deputy

chairwoman Helen Broughton

and member Catherine Chu had

gone back on their decision after

approving the Kyle Park reclassification.

But both Miss Chu and Mrs

Broughton said they expected to

get more information about the

gas testing before last Tuesday's

meeting. They were only made

aware the gas testing would take

until April after they had approved

the reclassification.

Greater Hornby Residents'

Association treasurer Ross

Houliston said the re-election

campaigns for the Hornby representatives

who were absent from

the meeting may be affected, but

he understood they were both at

legitimate engagements.

Both Cr Chen and Ms Bryden

did not know if their campaigns

would be impacted. Ms Buck

said she was "appalled" at the

board's decision.

WEEKLY

SPECIALS

Whole Sirloin

Steak

SLICED FREE

Product of NZ

Fresh

Chicken Legs

only

$

15 .99

only

per kg

$

5 .99

per kg

Valid 2nd to 8th September 2019

RICCARTON, 227 BLENHEIM ROAD | PHONE 348 7766

www.MADBuTCHERRICCARTON.CO.Nz
---
6 Tuesday September 3 2019

Latest Christchurch news at www.star.kiwi

WESTERN NEWS

SPRING ON INTO YOUR LOCAL FOR THESE

DAYLIGHT SAVING SMASHING DEALS

Smirnoff DB guarana Jim Beam/CC 440ml 4.8% 4pk cans &

4pk 7% 250ml cans 330ml 4pk bottles/Midori 4pk bottles

$

9 .99

398 High Street, Rangiora

03 313 7207

1275 Main North Road, Bridgend

03 323 8833

585 Springs Rd, Prebbleton

03 349 6031

Tui 7% Bourbon/Vodka soda

12pk cans

$ .99 ea

$ .99 ea

19

11

Long white 10pk range

Coruba & cola 7% 12pk cans

$

24 .99 24

$ .99 ea

29

$

23 .99 ea

Cody's 18pk 7% cans/ Woodstock 7% 250ml

Jim Beam Gold/CC 7% 250ml

$ 24 Woodstock 5% bottles all 18pks

.99 ea 18pk cans

Wolf Blass yellow

12pk/DC 8pk all cans

$ 31

.99 label range

$ .99 ea

9 Riverstone

Church Road Range

Taylors estate range

Corbans white label range Range

Villa Maria Cellar Allan Scott Range(ex PN)/Grant

(ex PN/Syrah) $

15 .99 ea 2 for $

17 .00 2 for $

18 .00 Selection (ex PN/Syrah)

Burge Fifth generation Range Blackheart/

$

14 .99 ea 2 for $

30 .00 3 for $

45 .00 Woodstock 1L

$ .99 ea

34 CC (including spiced) 1L/Famous

Gordon's/

Jim Beam 1.125L/Jim Beam

Grant's 1L Grouse 1L/Russian Std 1L/Jim Baileys 1L

Jameson 1L/ Appleton Estate

Smirnoff 1L

Black 1L/Makers Mark 700ml Chivas 700ml

Jim Beam Rye 1L/Roku

$

$

37

35 .99 Beam Double Oak 700ml $

40 .99

1L

.99 ea

$

43 .99 ea $

49 .99 ea $ 700ml/ American oak

$

38 .99 ea 51 .99 Auchentoshan 700ml

$ .99 ea

53

Somersby 10pk Orchard Thieves

Tuborg 12pk/Fortune

Chivas Extra 700ml/Glenlivet

cans 12pk bottles

Hayman's Gin/Jack

Haagen 15pk bottles

Favours 6pk can range

Founders Reserve 700ml

$

19 .99 $

Daniel's 700ml ranges

$ Tiger Crystal 12pk

$

20 .99 $

19

54 .99 ea 19 .99

.99 ea 2 for $ $

80 .00 21 .99

Monteiths Batch brewed 12pk range Heineken 12pk bottles

Tui/DB Draught 15pk bottles Mac's 12pk beer/cider bottle range $ $

$ 24

23 .99 ea .99 Export gold & 33 15pk bottles

$

24 .99 ea $ .99 ea

24 .99 ea 25

Lion Red/Speights/

Carslberg 15pk

Export gold extra

Waikato/Summit/Summit

bottles

Corona 12pk

24pk

low carb 24pk bottles

$

25 .99 $

27 .99

$

34 .99

$ .99 ea

36

www.thirstyliquor.co.nz

OVER 170 STORES NATIONWIDE!

Available from 1st – 30th September. Specials while stocks last. Available at participating stores.

45 South Terrace, Darfield

03 317 9499

1147 West Coast Rd, West Melton

03 347 8460

670 Main South Rd, Islington

03 349 7337

Woodstock 330ml 7%

Smirnoff Ice Red 5%

6pk cans (incl zero)

12pk cans

$

13 .99 ea

670 Main South Rd, Islington

03 349 7337

Main Rd, Lake Tekapo

03 680 6242

42 Waimate Highway, St Andrews

RD24 03 612 6740

69 Main St, Fairlie

03 685 8061

21 Aldwins Road, Linwood

03 982 1753

9 Parnwell St, Burwood

03 383 2564

www.facebook.com/ThirstyLiquorandBlackBullLiquor

Jack Daniel's & Cola 4.8%

330ml 10pk cans

$

20 .99

$

23 .99

495 Papanui Rd, Christchurch

03 260 2380

65 Victoria St, Christchurch CBD

03 260 1155
---
WESTERN NEWS Latest Christchurch news at www.star.kiwi

Tuesday September 3 2019 7

News

$160m Halswell

retirement village

A NEW retirement village will

be built to match Halswell's

rapidly expanding population.

City-based retirement village

developer and operator Qestral

Corporation is buying 12

hectares of land in Halswell, between

Milns and Sparks Rds, to

develop a new retirement village

called Banbury Park.

Banbury Park will have 60

large rest home and hospital

suites, 20 dementia suites, 40

serviced apartments and 200

independent and serviced houses

with a range of architectural

designs.

"This will be an exciting and

expansive concept, well suited

to the rural surroundings of the

area. The houses and common facilities

will be attractively designed

by award-winning architect Kerry

Mason with good spaces between

the units and no building more

than two storeys," executive chairman

John Ryder said.

CEO Simon O'Dowd said

Halswell was rapidly expanding

and the retirement village would

fulfil a need for older residents

wanting to stay in the area or

GROWTH: A new $160 million retirment village will be built

between Milns and Sparks Rds to match Halswell's expanding

population. ​

move there.

Between 2013 and 2018, the

Halswell ward's population

increased by about 7000 people -

from 20,400 to 27,400.

"Increasing government funding

constraints are leading to

elderly people looking at extra

services in the private village

market," Mr O'Dowd said.

Qestral owns Alpine View

Village in Burwood and is developing

the Burlington Village in

Redwood, with "new generation

concepts," including electronic

healthcare monitoring and more

connectivity between residents.

Qestral is also developing

retirement villages in Nelson,

Hamilton and Northland.

Christchurch Casino buffet is back!

Supergold card special

$

20 PP LUNCH | WED, THU, FRI

Oaklands School's

rubbish-free goal

• By Kim Thomas

NEW PUPILS at Oaklands

School are being given rubbishfree

lunchboxes and information

about the importance of

minimising plastic waste in one

of the school's eco-initiatives.

The 'Eco-Warriors' – the

school's problem-solving group

has devised a range of initiatives

to encourage and educate

students how to be more environmentally-friendly

and, specifically,

to cut down on the plastic

waste at school.

Oaklands School deputy principal

Caroline Martin said all

students enrolling at the school

would now be given a rubbishfree

lunchbox.

The lunchboxes were paid for

by the Rotary Club of Cashmere

and subsidised by the Countdown

store at Hornby. They normally

cost more than $10 to buy.

The school has an aim to become

rubbish-free and the Eco-

Warriors plans were important in

working towards this, she said.

"We can't expect people to

make a change unless they understand

the importance of what

they are doing and they have help

to do so," Mrs Martin said.

She said if children were given

a rubbish-free lunchbox when

they started school, and given

information on how to keep them

free of rubbish, it would hopefully

make it easier for them and

their parents to form good habits.

The Eco-Warriors also ran

regular 'rubbish-free lunchbox'

weeks where they record the

number of pupils with no plastic

waste in their lunchboxes. If the

percentage of students is more

than the last rubbish-free week's

tally, all pupils get the opportunity

to wear mufti.

Mrs Martin said to be rubbishfree

the lunchboxes need to

contain only packaging that is

either reusable or recyclable, such

as beeswax wraps and reusable

plastic containers.

The last time the school had a

rubbish-free lunchbox week, in

term 2, more than 40 per cent of

the school left their plastic waste

at home.

03 349 5050

free

CONSULTS

New Dentures > Relines > Repairs >

6 Brynley Street, Hornby, Christchurch

www.betterdenture.co.nz

powered by

people

Tania Anderton

Registered Legal Executive

Your local expert in Residential

Property, Wills, Powers of

Attorney and Estate Planning

E: tania.anderton@saunders.co.nz

5 Warning Signs of Spinal Stress!

André Grob,

Dr of Chiropractic,

has had over

15 years

experience of

specialty spinal

care in Australia

and New Zealand.

A healthy spine is vital to

your wellbeing.

Specialist spinal therapy

at Southern Chiropractic

consists of:

• Manual manipulative therapy

• Soft tissue Massage

• Low level Laser therapy

• Exercise and postural

education

SCIATIC PAIN

Southern Chiropractic Ltd

NEW PREMISES

Unit 4, 3 Kennedys Bush Road, Halswell

(Down the drive beside Pringle Homes offices)

Telephone 322 1432

www.southernchiropractic.co.nz

Email dre.nik@xtra.co.nz

HEADACHES

NECK PAIN

AND TENSION

MID BACK PAIN

AND TENSION

LOW BACK PAIN

FOR BETTER SPINAL HEALTH

ACT NOW… RING 322-1432

Halswell Jct Road

Halswell

Road

Kennedys

Bush Road

3 Kennedys

Bush Road

Sparks Road
---
8

Tuesday September 3 2019

Latest Christchurch news at www.star.kiwi

WESTERN NEWS

Middleton Grange get big confidence

boost before South Island tournament

SPORT

Noddy

train for

Hornby

• By Georgia O'Connor-Harding

A NODDY train is likely to be a

popular new edition to Hornby

community events in the future.

The Greater Hornby Residents'

Association is planning to purchase

a land train in a bid to keep

children entertained.

Treasurer Ross Houliston said

there is just not enough at the

moment for small children to do

at events.

"Unless they employ someone

with a merry-go-round there is

just nothing," he said.

The plans have been in the pipeline

for about six weeks with the

association confirming on Sunday

it would purchase the train, subject

to the funding it can get.

Mr Houliston said he is hoping

the train will be up and running

by late October.

But he said the train has to go

through a significant process,

including being signed off by an

amusement park certifier and approved

by WorkSafe New Zealand.

The association also has to get

permission from the city council

each time it wishes to use the train.

He said it will make a welcome

addition to the Fun Day on the

Park to be held on November 24

(or the rain date of December 1) at

Denton Park.

The association is planning to

team up with Joyrides Entertainment

and Carnival to get a merrygo-round

and flying zebra for the

event. The day will also include

old-fashioned games including

gumboot throwing, egg and

spoon and sack races.

• By Jacob Page

MIDDLETON Grange will

be full of confidence as they

head to the South Island

tournament in Nelson this week

after claiming the Canterbury

secondary school Thomson

Trophy with a 85-65 win over

Cashmere High.

The result proved Middleton

Grange's win over the defending

champions a month earlier

in pool-play was no fluke and

ensured they will be genuine

contenders to take the South

Island crown as well.

Co-coach Jack Williamson

said his team wanted to play an

up-tempo style of game and run

Cashmere around the court.

It proved an effective

approach. "We wanted to put

them under as much pressure as

possible and I felt we did that on

both sides of the ball.

"There was an element of

satisfaction in proving that our

win against them earlier in the

season wasn't a fluke."

Middleton also had to contend

with returning Cashmere centre

Tom Webley, who was out

injured the last time the two

teams met.

"I thought we controlled Tom

well at times, but in saying that,

sometimes we left Ben (Carlile-

Smith) alone on an island trying

Parenting Week to bring mums and dads together

• By Claire Booker

PARENTING WEEK will be on

for the 10th year next week.

The initiative is run by The

Neighbourhood Trust and

is designed to empower and

upskill parents.

Parenting Week runs from

September 9-19, and events will

be held across the city.

The theme is 'helping whanau

flourish', which recognises

parents have a huge influence

CHAMPIONS: Middleton Grange took out the Thomson Trophy basketball final 85-65 against

Cashmere High School.

to defend him.

Carlile-Smith still managed

22 points in the final, while

Ah-Li Fenika also added 16 for

Middleton.

Webley added 14 for

Cashmere while Fin Barclay

added 15. Williamson said the

team enjoyed the achievement

over the development of their

children, their success wellbeing

and happiness.

Parenting Week and trust coordinator

Lee Arthur said the

event is about bringing people

together.

"Recognising that all our kids

come into the world with their

own traits, personalities, and

goals is great . . . sometimes

positively managing these

can often come with its own

challenges though," she said.

but were quick to recognise what

was still ahead of them.

"The goal this season has

always been to try to win the

(South Island tournament)

so we let the boys enjoy the

achievement for a couple of

days, but they understand that

winning a Canterbury title was

"The Neighbourhood Trust

is passionate about bringing

together a host of resources

to help parents broaden their

knowledge base, whilst gaining

the support they need on their

parenting journey." Mrs Arthur

said.

The week will have a range

of workshops and expert

speakers, which will cover

parenting topics across all ages

of children.

More than 30 events will be

just a stepping-stone to bigger

goals."

Williamson said the team

will continue their up-tempo

style of play at the South Island

tournament but their depth

will be utilised during some of

the earlier pool games to try to

avoid fatigue.

held over the 10 days of the

event, and Mrs Arthur said

the trust is hoping to reach

more parents this year. Many of

the events are free or require a

gold coin donation.

Some events have a small

cost for tickets, but parents are

encouraged to register to secure

their seats, as the sessions are

filling up quickly.

For a full list of events

and ticket prices, visit nht.

org.nz

Reach

168,000

readers

with just one ad placement

Call Shane Victor on 021 381 765 to find out how!

oN sAle Now!

Now only

$35.80

Plus $5 P&H per copy

AvAilAble from stAr mediA:

Level One, 359 Lincoln Road

Addington, Christchurch

Phone 379 7100

For Everything

AUTO ELECTRIC

CARS • BOATS • TRUCKS • CARAVANS • TRAILERS

• 4WDS • ELECTRIC & HYBRID VEHICLES

• Starter Motors

• Alternators

• Central Locking

• Electric Windows

• ABS & Airbags

• Stereos/Alarms

• Batteries

• Tuneups

• Engine Management

YOU NAME IT WE FIX IT

AAE

Amazing

Auto

Electric

USUALLY

SAME DAY

SERVICE

WE ARE HERE

65 Coleridge St, Sydenham 65 Coleridge St

Coleridge St

Ph. 379 4250

www.amazingautoelectric.co.nz

Gasson St

Wordsworth St

Brisbane St
---
WESTERN NEWS Latest Christchurch news at www.star.kiwi

Tuesday September 3 2019 9

ANTHONY WILDING RETIREMENT VILLAGE

Townhouse Showhome

Open Afternoons

Tues 10, Wed 11 & Thurs 12 September, 1-3pm

Come along to view our townhouse showhomes

and find out what sets a Ryman village apart

from the rest.

The village is located in Aidanfield, Halswell

and enjoys stunning views of the Port Hills

and Southern Alps.

Our vibrant community offers security,

companionship and a full range of living and

care options including; independent and assisted

living, resthome, hospital and dementia care.

Two-bedroom

townhouses available now!

These beautiful homes are spacious and

feature a large kitchen and living area.

Step out onto your own patio and enjoy lovely

and professionally maintained gardens.

Priced from $495,000

To find out more phone

Susie on 338 7696

5 Corbett Crescent, Halswell
---
10 Tuesday September 3 2019

Latest Christchurch news at www.star.kiwi

WESTERN NEWS

Shopping is easy at...

wonderful new

books now instore

The Shearers

by Ruth Entwistle Low

Get up close and personal with

New Zealand shearers, from

now and decades gone by.

Weber's Ultimate

Barbecue

by Jamie Purviance

Everything you need to know for

barbecue greatness

Funny As

by Paul Horan and Philp Matthews

The story of New Zealand Comedy

The Meaning Of Trees

by Robert Vennell

Shop 1, Avonhead Mall

Corner of Merrin Street & Withells Road, Avonhead

Ph: 358 4835 | www.piccadillybooks.co.nz

Spring is in the air

If you suffer from springtime allergies…

the team at Avonhead Pharmacy can suggest

some of the options to help relieve your suffering

Summer

arriving

inStore Soon

token.

Cnr Withells Road & Merrin Street,Christchurch 8042

Phone 03 358 3663 | Email eliza@giftsattoken.co.nz

Avonhead Mall, Withells Rd/Merrin St, Christchurch, Phone (03) 358-5449

AVONHEAD

YOUR PLACE YOUR LOCAL
---
WESTERN NEWS Latest Christchurch news at www.star.kiwi

Tuesday September 3 2019 11

Do you enjoy reading?

Do you fancy trying

something new? Would

you like to share your

thoughts about books?

Email georgia.oconnor@starmedia.kiwi

Do you want to read

by 5pm each Wednesday

more? Are you unsure

what to read next?

help with your family history

Bookbuddies is a book

questions.

group for 8-11 year olds.

Upper Riccarton Library

Each week's session is

themed with different

activities and books. The

event will be held on

Saturday, 10.30-11.30am

at the Te Hapua: Halswell

Centre. ​

JP Clinics

Tuesday, 10am-1pm

A justice of the peace will

be on-site to take declarations,

affidavits and affirmations,

witness signatures on documents

and certify document copies.

They can also witness citizenship

applications and rates rebate

applications.

Te Hāpua: Halswell Centre and

Upper Riccarton Library

Citizens Advice Bureau

Monday, Wednesday,

Thursday, Friday, 11-5pm, and

Tuesday, 2-5pm, at Papanui, and

Wednesday, Thursday, Friday

and Monday, 11am-5pm, at

Hornby and on weekdays, 9am-

5pm.

The Citizens Advice Bureau

provides free and confidential

advice to everyone. It takes the

time to listen to you and equip

you with information, options

and support.

The Village Presbyterian

Church and Community Centre,

cnr of Papanui Rd and Franks St,

and the Hornby Library

Family History Help

Wednesday, 11am-1pm

Are you interested in family

history (genealogy)? A volunteer

from the Canterbury branch

of the New Zealand Society

of Genealogists is available to

Mahjong Group

Wednesday, 1-3pm

Interested in playing mahjong?

Learn to play at the library. For

beginners and advanced players

alike. If you have your own set

take it along.

Upper Riccarton Library

Scrabble Club

Wednesday, 1.30-3.30pm

Have a way with words? Go

along when you can and join the

library's friendly Scrabble Club.

Some boards provided, but feel

free to take your own.

Te Hāpua: Halswell Centre

UR Club

Wednesday, 3.30-4.30pm

Go and join the fun at an

after-school club. Open to all

school-aged children. There will

be stories, crafts, games and

more.

Upper Riccarton Library

Chinese Technology Help

Book-in Sessions

Wednesday, 2-3pm

These free book-in sessions

are available to help you with

specific issues, such as using

email, searching the internet,

using the library catalogue,

using electronic resources and

any other general computerrelated

queries. Take your

laptop, tablet, smartphone or use

one of the desktop computers.

Registration required.

Upper Riccarton Library

Culture Exchange

Thursday, 11am-noon

Upper Riccarton Library's

Culture Exchange is a friendly,

relaxed group, where you can

make new friends, practice

English and learn about New

Zealand and the city. Free

weekly meetings.

Upper Riccarton Library

GenConnect

Thursday, 1-2pm

Connecting generations by

sharing knowledge. Do you

have questions about your iPad,

smartphone or tablet? Want

to know how to use Skype,

Facebook and apps or share your

photos with family or friends?

Ask an expert.

Upper Riccarton Library

Spark Jump – help for

families to get online at

home

Friday, 2-3pm

The library is teaming up

with Digital Inclusion Alliance

Aotearoa to offer Spark Jump.

Spark Jump is designed

for families in low income

communities with the care of

children (aged 0 to 18) who don't

have a current fixed broadband

connection at home, and whose

household is in the 4G coverage

area. Workshop participants

receive a free Wi-Fi modem

and 30gb of data for $10 on the

pre-pay service with no fixed

contract. Register online for a

workshop, or phone the library

at 941 7923.

Hornby Library

Super Saturday Storytimes

Saturday, 11am-noon

Encourage learning through

a love for stories. Storytimes

is an interactive programme

including stories, rhymes, craft

and play. This is a free session

run during school term

times.

Upper Riccarton Library

Family Makerspace

Saturday, 1.30–3pm

Join in for fun activities

every week in the Makerspace.

Every week there will be a

creative and/or tech activity to

try. Fun to be had for kids of all

ages.

Te Hāpua: Halswell Centre

Drop-in Chinese Art Club

Sunday, 10.30am-noon

Take your own brushes, ink,

paint, and paper. Join the club

and work on calligraphy and

brush painting. For ages 10 and

up. Only during term time.

Te Hāpua: Halswell Centre

Wā Kōrero/Storytimes

Monday, 10-10.30am

Encourage learning through

a love for stories. Storytimes is

an interactive programme of

stories, songs, rhymes and play.

Upper Riccarton Library

All welcome

Come play

it's free

RACQUETS SUPPLIED. BBQ.

PRIZES. GIVEAWAYS.

Tennis clubs across Christchurch are

opening their doors for a fun, FREE

event for all ages.

Find a club near you!

www.lovetennis.kiwi

Sat 7 & Sun 8 Sept 1-4pm

Times may vary by club.

Please check website for details.

YOU COULD

WIN A TRIP FOR TWO

TO THE ASB CLASSIC

IN AUCKLAND THIS JANUARY

First

receive a

200

FREE

club visitors

snack pizza
---
12

Tuesday September 3 2019

Latest Christchurch news at www.star.kiwi

WESTERN NEWS

Shop

Win

& Relax

WIN

1 OF 5 FAMILY

GETAWAYS

TO HANMER

SPRINGS

more

chances

to win!

Enter every time you shop at any of these participating businesses

WATCH REPAIRS

• Replacement batteries

fitted from $10

• Strap replacement

Jewellery

& Giftware

HOURS: Mon-Fri 9am-5pm, Sat 9am-1pm

79 Wrights Road, Middleton.

Ph: (03) 338 0171

Email: sales@warrenagencies.co.nz

www.warrenagencies.co.nz

2019-2020 SEASON

StArtiNg SOON!

SEASON pASSES

AvAilAblE At thE

wOOdfOrd glEN ShOp

129 North Avon Road, ChCh | Ph (03) 385-1515

Check out www.woodfordglen.co.nz for meeting dates |

Enjoy your journey with Caltex Hornby

gas up witH us today!

dog wasH

NEw!

iNstoRE

Now

atM | CoFFEE | Lpg swappa BottLE | MiNi supERMaRKEt | FiREwood

tRaiLER HiRE | FoRECouRt sERViCE | touCH FREE CaRwasH

LoCaLLy owNEd & opERatEd

427 MaiN soutH Rd - pH 349 2407

www.CaLtExHoRNBy.Co.Nz

WIGRAM

CORONA 18pk

$

40 99

Super Liquor Wigram

187 Wigram Rd (next to Culture Fitness)

Ph (03) 322 4000

Convenient

location

to Wigram

Skies

Chill-ahh hire

GlaSS hire

The Body's Youth Protein

NEOCELL COLLAGEN SUPPORTS:

- Reduction in lines & wrinkles - improved skin elasticity

- Strong hair & nails, may help reduce hair loss

- Supports bone, ligaments, tendons & joint health

MARSHALLS HEALTH & NATURAL THERAPY

CONSULTING - PRESCRIBING - DISPENSING -

MANUFACTURING - MEDICAL HERBALISTS

101 SEAVIEW RD, NEW BRIGHTON • PH 03 388 5757

Email: enquiry@marshallshealthshop.co.nz

NEOCELL PREMIUM COLLAGEN IS

CLINICALLY RESEARCHED

FOR SUPERIOR RESULTS

SUPER LOW PRicE!

120's only $36.90, save $5.75

250's only $56.90, save $9.75

Mail Order Available

Bringing You the Best in

Natural Health!

- WE ARE ALWAYS HAPPY

TO HELP! -

Designer Fashion

• Designer Brands

• Family Clothing

• Menswear

• Footwear

• Bric-a-brac

• Books

• Household Goods

• Workman

Outdoor Clothing

• See the Retro

Section AND

Formal Wear

New Zealand's Largest Recycled Clothing Retailer

94 Shands Road, Hornby. Open 7 days 10am - 4pm

See Our

HUGE

Selection!

3000

items

arriving

daily!

Your Outdoor Specialists

At Least

30% OFF

Storewide

• Footwear

• Clothing

• Skiwear

• Camping

Open 7 dayS

dreSSmart HOrnby, main SOutH rd pH 03 344 5304

Hanleys Essential

Dog Roll

• Pure meat

• No chemicals

• No fillers

• Contains 18% protein

Formulated for dogs

Available from The Feed Shack - Shop 33, Bishopdale Mall

Phone 359 5118 or visit www.animalessentials co.nz

Bring in this coupon for

GIFT CARDS

BUY ONE

ONE FREE

GET

Conditions apply, free gift card same price or less, one deal per coupon. Offer expires 20th October, 2019.

Indulge in...

• Barrington Mall

• The Hub, Hornby

• New Brighton Mall

• South City Centre

Our gorgeous range of.. sandwiches, paninis,

bagels, scones, slices, muffins, quiches, sausage rolls

& pies, coffee and more! CATERING AVAILABLE!

Gorgeous Food

66-68 Springs Rd Ph: 344 6044 Email: gorgeousfood@xtra.co.nz

Open Monday-Friday 6am-3.30pm www.gorgeousfood.co.nz

OPEN SATURDAY

7am - 1.30pm

specialist bakery

Thinking

Luggage?

Think

Just

Bagz!

PARA PARA PARA PARA PARA PARA

Samsonite Range

DressSmart Mall | 417 Main South Rd, Hornby | 03 349 7887

So-Lite 3 Range

PARA PARA PARA PARA PARA PARA PARA PARA PARA PARA PARA PARA PARA PARA PARA PARA

MATTRESSES

FOR ALL OCCASIONS

127 Blenheim Road PHONE 343 9820

No rainchecks. Cash sales only.

PARA PARA PARA PARA PARA PARA PARA PARA PARA PARA PARA PARA PARA PARA PARA PARA

BLENHEIM

CLARENCE

MATIPO

just

bagZ

PARA PARA PARA PARA PARA PARA
---
WESTERN NEWS Latest Christchurch news at www.star.kiwi

Tuesday September 3 2019 13

HEALTH & AWARENESS

Joint pain: Do I have arthritis or

could it be mainly my muscles?

The team at Physical Sense in Sydenham sees clients with

a range of symptoms but many of their middle-aged and

senior clients visit complaining of pain in one of their joints.

Physiotherapist Ietje van Stolk suggests

that a major part of the pain could be due

to muscle pain rather than simply arthritis.

"Even if an x-ray shows arthritis, the reason

for the pain may be the muscles around

the joint," she explains. The images show

how a muscle knot (the crosses) in a back

muscle can give hip pain (aches and pain

are the red areas in the drawings), a knot

in a muscle on the back of the shoulder

blade can give a deep pain in the front of

the shoulder and a muscle knot all the way

near the groin can give an ache in the knee

(especially at night in bed).

Ietje recalls one case where an 89 year

old client with severe arthritis who walked

with a stick, told her, "I will end up in

a wheelchair, I cannot put any weight

through my right leg due to pain in my hip

and buttock". "Within 4 treatments, she

was walking with her stick but without the

severe pain," says Ietje. "The arthritis was

one of the factors that made her muscles

spasm but the other was that older people

move less and the flexed position the hip

is in when we sit is particularly bad for

the hip." Ietje is happy with the fact that

although the client was 89 and could have

been "given up on" or told to live with the

pain, she made a difference to her health

and wellbeing.

The same lack of movement can be the

reason for your knee pain or your shoulder

pain and the same few treatments could

make a huge difference for you.

At Physical Sense, hands-on techniques

(massage and triggerpoint deactivation

techniques) are used to release the muscles.

The client also gets a home exercise

program designed to mobilize and stretch

the joint, strengthen the important core

muscles and increase general strength and

SHOULDER

PAIN

KNEE PAIN

(the crosses are the areas of the muscle spasms, the red areas is where the pain is felt)

balance. They teach a movement sequence

that stretches the joint in all directions

whilst the client is able to lie safely on their

bed, perfect for older or less mobile clients.

In many cases having the muscles

released and being taught how to maintain

it, is enough to stay on top of the problem.

HIP PAIN

If severe arthritis is the underlying cause,

some maintenance therapy may be

necessary, but that is often more affordable

and, for older patients, better tolerated than

surgery. In very few treatments the client

will know if it is going to work for them or

not, without financial commitment.

Physical Sense Gym and Physio is located at 300 Colombo Street, Sydenham. The Blue Line Bus stops in front of the door and there is ample

parking. To enquire about specialised exercise classes or physiotherapy treatment, phone 377-2577 or visit www.triggerpoints.co.nz
---
14 Tuesday September 3 2019

Latest Christchurch news at www.star.kiwi

Tasty Bites

WESTERN NEWS

Creating healthy food to reduce stress

Stress is normal and often

healthy. In everyday life,

stress plays a role in alerting

us to life's occasional

dangers and challenges, so

we can prepare ourselves for

them and find solutions to

impending problems. Poke

bowls (pronounced pohkay)

are based on the bitesized

marinated fish salad

famous in Hawaii and have

some great stress-relieving

qualities

Poke bowl

Ingredients

450g uncooked wild salmon,

skinned and cut into 2cm cubes

(or hot-roasted, if preferred)

½-1 medium ripe avocado, diced

¾ cup mango pieces, defrosted

½ cup thinly sliced capsicum

2 cups packed spicy greens, such

as watercress or mizuna, roughly

chopped

½ cup blanched broccoli florets

½ cup chopped fresh coriander

½ cup edamame beans, boiled

3 Tbsp tamari/soy sauce

2 Tsp sesame oil

1 Tbsp black sesame seeds

½ lemon, cut

Brown rice salad

2 cups cooked short-grain brown

rice, warmed

2 Tbsp rice vinegar

½ tsp turmeric

2 Tbsp extra-virgin olive oil

1 Tbsp Dijon mustard

Directions

SENIOR LIVING

Gently combine salmon, tamari

and sesame oil in a medium

bowl to let the flavours infuse.

Make brown rice salad by

combining rice and greens in a

large bowl.

Whisk vinegar, oil and mustard

in a small bowl. Add to the

rice salad and mix well. Place on

the base of a bowl.

Top with all the other individual

ingredients, placing each

thing separately around the bowl

like numbers on a clock. Top

with sesame seeds and sliced

lemon, then take an Instagramworthy

photo of it, feel grateful

for your nourishing food, and

then enjoy every mouthful.

Cabbage crisps

Ingredients

12 good-quality

cabbage leaves,

remove tough, centre

stalk

2 Tbsp good-quality

oil

1 tsp sea salt flakes

½ tsp cumin or caraway

seeds

Directions

Preheat oven to 120

deg C. Place cooling

rack over rimmed

baking trays.

Peel the outer leaves

from the cabbage, cut

out the tough centre

stalk, and tear the

larger leaves in half.

Place in a large bowl

and drizzle over the

oil, season with salt

and spices, toss gently

together and arrange in a single

layer on the trays.

Bake until the leaves go golden

and become crisp (25-40min).

Allow to cool completely

before eating. Cabbage crisps

will store in an airtight container

for up to three days.

Secure your

future lifestyle

in Geraldine

Just a handful of villas are now

available, so don't you be the one to miss

out.

From humble beginnings the 4.8ha

of farmland has grown to an impressive

modern architecturally-designed

development, offering independent living

for the over 55 across 115 villas. You can

secure your future lifestyle here. Priced

from $335,000.

2019 welcomes assisted care units close

to all the amenities of the village. Care

packages can be tailored to suit. If you

currently receive in-home assistance you

are welcome to continue those services,

to continue living independently.

Main meals are supplied to each unit

daily. Target completion is planned for

September. Feel free to inquire about

securing a single or double unit today.

If you seek a lifestyle within a small

caring community with a big heart,

Geraldine offers that and more. The town

has a long proud diverse history and

being along the gateway to the southern

lakes and Mt Cook/Aoraki, your friends

and family will be visiting regularly!

To see if McKenzie Lifestyle Village is

right for you phone today on

0800 845524 or visit mlv.org.nz

Modern Lifestyle Living

33 Connolly Street, Geraldine

P 0800 845 524 or 03 693 8340 E sales@mlv.org.nz

www.mlv.org.nz

ACCREDITED VILLAGE OF THE RVA
---
WESTERN NEWS Latest Christchurch news at www.star.kiwi

Tuesday September 3 2019 15

SENIOR LIVING

How's your circulation?

Healthy blood circulation throughout

the body is vital for good health.

The circulatory system (cardiovascular

system) delivers nutrients and oxygen to

all cells in the body. It consists of the heart

and the blood vessels running through the

entire body. The arteries carry blood away

from the heart while the veins carry it back

to the heart.

Atherosclerosis is the most common

cause of poor blood circulation. It occurs

when plaque builds up in the blood

vessels. This plaque narrows and hardens

the blood vessels and restricts blood flow.

Plaque can also break off causing a stroke

or heart attack.

Some of the common symptoms

possibly indicating poor circulation are:

numbness and tingling in the hands and

feet; swelling (edema), itchiness, heaviness

in the feet, ankles and legs; pain and

aching in the legs feet, arms and hands;

cold hands and feet; memory loss and

difficulty concentrating; fatigue; digestive

issues including abdominal pain, diarrhea,

constipation and cramping; erectile

dysfunction (ED); severe baldness at the

crown of the head and grey hair.

Healthy blood circulation and

cardiovascular health can be supported

with Nature's Sunshine HSII herbal

formula. This time proven formula

helps angina pains, atherosclerosis,

edema, fatigue, heart arrhythmia, heart

weakness, varicose veins and more. HSII

contains three herbs; capsicum, garlic

and hawthorn that work synergistically

to increase circulation and cardiovascular

health, while at the same time lowering

high blood pressure and aiding in the

prevention of heart attack and stroke.

Capsicum increases fibrinolytic activity

that breaks down artery plaque and

blood clots when consumed regularly

in sufficient amounts. Capsicum also

improves blood circulation by promoting

nitric oxide release in the blood stream.

Garlic has numerous health benefits

including inhibiting platelet aggregation

while encouraging the breakdown and

production of fibrin, a clotting protein

implicated in heart disease and strokes.

Garlic also has been shown to raise good

HDL cholesterol levels as well as reducing

serum triglycerides, a cardiovascular

risk factor. Hawthorn is known as a

heart tonic. Studies confirm hawthorn to

strengthen and normalise the heartbeat,

prevent and reduce heart arrhythmias and

guard the heart against oxygen deficiency.

Hawthorn also helps improve blood flow

by improving arterial health.

HSII and further information is

available from the Medical Herbalists

and Natural Health Advisers at

Marshall's Health & Natural Therapy, 101

Seaview Road, New Brighton and Phone:

388-5757. We are always happy to help!

you can stop him

snoring with a

SNOREX

Why put up with a broken

night's sleep?

Ph 377-4318 or 027 682 1752

DENISE LIM

FOR A FREE INFO PACK

Website: www.snorex.co.nz

Would you

like to profile

and grow your

Business?

For feature advertising

please phone

Jenny Wright

03 364 7446 or 021 220 3484

jenny@starmedia.kiwi

A Leader in

Healthcare

Excellence for

the Older Person

Brookhaven

Retirement Village

29 Alport Place

Woolston

Phone 03 384 5046

Albarosa

Dementia

80 Harewood Road

Papanui

Phone 03 375 0727

Somerfield

Dementia

137 Barrington Street

Somerfield

Phone 03 332 5897

www.goldenhealthcare.co.nz

Golden Age

Retirement Village

96 Harewood Road

Papanui

Phone 03 375 0720

Camellia Court

Dementia

84 Harewood Road

Papanui

Phone 03 375 0722

Hoon Hay

Dementia

16 Anvers Place

Hoon Hay

Phone 03 379 7825

Lady Wigram

Retirement Village

Sarah Jacobson

Village Manager

210 Kittyhawk Ave,

Wigram

Phone 027 3411 464

BLOOD CIRCULATION

SUPPORT

Maintaining good blood circulation throughout the

body is vital for good health. Nature's Sunshine

HSII contains three time proven herbs Hawthorn,

Capsicum & Garlic to support a healthy circulatory

system & cardiac function. Capsicum increases

fibrinolytic activity that breaks down artery plaque

& blood clots as well as also improving blood

circulation by promoting nitric oxide release in the

blood stream. As well as supporting healthy blood

circulation the formula also helps strengthens &

normalises the heartbeat, reduce arrhythmias,

reduces high blood pressure & aids in the prevention

of heart attack & stroke.

100 Capsules only $28.90, save $4.60

200 Capsules only $54.90, save $12.10

400 Capsules only $99.80, save $34.20

Common symptoms possibly indicating poor circulation:

• Pain & aching in the legs,

feet, arms & hands

• Cold hands & feet

• Numbness & tingling in

the hands & feet

• Fatigue

• Swelling (edema),

itchiness, heaviness in

the feet, ankles & legs

• Memory loss & difficulty

concentrating

• Erectile dysfunction (ED)

• Severe baldness at the

crown of the head

• Grey hair

• Digestive issues

Bringing You the Best in Natural Health! MAIL ORDER AVAILABLE

mARShALLS heALTh & NATURAL TheRAPY

CONSULTING - PRESCRIBING - DISPENSING - MANUFACTURING - MEDICAL HERBALISTS

101 SeAVIew RD, New BRIghTON • Ph 03 388 5757 • email: enquiry@marshallshealthshop.co.nz

- kNOwLeDge mAkeS The DIffeReNCe -
---
16

Tuesday September 3 2019

Latest Christchurch news at www.star.kiwi

WESTERN NEWS

Ready for a good night's sleep?

ALL BEDROOM ON SALE.

Tailor & Co

Queen Mattress – Firm

NOW $2799

All Bedroom ranges on sale + select items across Lounge and Dining.

ALL MATTRESSES

ON SALE

Atlantic

LIVING & BEDROOM

ON SALE

Industrial

LIVING & BEDROOM

ON SALE

Dining Table – W200

NOW $649

Dining Chair

Queen Mattresses

FROM $

269

Hall Table NOW $ 459

NOW $135

Bedside

NOW $299

Tallboy

NOW $799

Tallboy

NOW $749

Bedside

NOW $279

Shop

Online

Nationwide

Delivery

Finance

Options

targetfurniture.co.nz

SLEEP BETTER SALE ENDS 09.09.19. You snooze, you lose!

Cnr Blenheim & Curletts Rds, Christchurch

Ph: 0800 TARGET (0800 827438)

Offers and product prices advertised here expire 09/09/19.

Sale excludes Manchester and Accessories.
---
WESTERN NEWS Latest Christchurch news at www.star.kiwi

Tuesday September 3 2019 17

REAL ESTATE

Living the village life - third floor penthouse!!

3/18 Esplanade, Sumner

Auction 12 Sep 2019 Unless Sold Prior

2 bedrooms | 2 bathrooms | 1 living rooms | 1 dining room | 2 car-garage - Listing Number: PI59363

Live the ultimate coastal lifestyle in this beautiful

modern apartment in Christchurch's most soughtafter

seaside suburb. Freshly renovated to offer cool,

contemporary living, this easy-care apartment will

leave you free to indulge in the best of village life: leave

the car at home and stroll to cafés, restaurants, movie

theatre and beach.

Timber floors offset fresh whites in the open-plan

living and dining space. With a sunny northwest

aspect and views to the beach, this is an exquisite spot

for relaxing and entertaining - push back the sliders

to your own private balcony and smell the sea air! The

chic new kitchen is well-planned for functionality,

with an island breakfast bar, gas cooktop and allnew

appliances. Two bedrooms are served by two

glamorous tiled bathrooms, the master bathroom with

twin vanities and luxurious separate bath.

Underground parking, secure intercom access and

a lift ensure comfortable and worry-free living, while

an on-site pool adds to the appeal. Don't miss the

opportunity to secure a blissful new lifestyle by the sea.

Open Homes Saturday and Sunday 11:00 a.m. -

11:30 a.m. or for more details or to arrange a

private viewing phone

Cameron Bailey on 352 6166 or mobile

0275 557 079 of Harcourts Gold Papanui

(Licensed Agent REAA 2008)

growing with you June 2018 | 100%

Plants For

winter wow

Cool Choices

For Colour

& Contrast

From swamp

to sea views

The journey

begins with sarah

the Gardener

$7.90 incl. GST

Snap it up

Enter our annual

Birdlife Photo

Competition to win

great prizes!

clear the air

Why groWing

indoor PLAnTs is

so good for you

give it a grow

from gArLic

To chinese

ArTichokes,

We hAve your

groWing TiPs

covered

the latest releases

into the rose world

+ rose care

through winter

The magazine for

gardeners who like to get

their hands dirty

SUBSCRIBE FROM

$43. 50*

*6 issues/6 months

SUBSCRIPTIONS FREEPHONE

0800 77 77 10

WWW.GARDENER.KIWI
---
18

Tuesday September 3 2019

Latest Christchurch news at www.star.kiwi

WESTERN NEWS

If you want more information about an item or to contact a

seller, visit www.postanote.co.nz and search the ID#

Nissan Navara

Suzuki DRZ400E

Suzuki Carry

Extendable Large Glass Table

Tasman 20 Trailer Sailer

Mitsubishi Pajero

$4,250

ID 30707

$3,500

ID 30588

$2,700

ID 30240

$200

ID 30613

$4,500

ID 27076

$6,000 ONO

ID 30286

Mitsubishi Grandis

Mitsubishi Airtrek

Honda Odyssey Camper Van

Honda TRX 300

Outdoor Dining Set

Ford 4600 4x4

$6,995

ID 26882

$2,300

ID 30234

$1,500

ID 30220

$3,500

ID 26895

$125

ID 30547

$12,000

ID 30695

1999 Mitsubishi Galant

Pine Cones

Whitebait Net

2006 Holden Astra CD H/back

Audi A4 1.8 Turbo

Outdoor Cast Iron Bench

$1,995

ID 30434

$8 per bag

ID 30601

$950

ID 29773

$6,200

ID 30687

$7,000

ID 30254

$220

ID 30352

4WD SUV BMW Tiptronic

Cyclone Pup Trailer

SSV Commodore

2 Reclining Chairs

4-stroke Petrol Lawn Mower

Wooden Glory Box c 1950s

$4,000

ID 30591

$400

ID 30661

$25,000

ID 30653

$200

ID 30590

$75

ID 30640

$60

ID 30652

1993 Toyota Windom Radio Control Model Aircraft

Horse Cover

Toyota corolla 1.8 NZ New

FREE: Upright Piano

Garmin DriveSmart 50LMT GPS

$1,900

ID 26961

$295

ID 30638

$60

ID 30650

$6,700

ID 30618

FREE!

ID 30651

$60

ID 30630

Fiat 1000 Super

Antique French Mirror Door

Audi Sedan

Tannoy Fusion1 Loudspeaker

Extendable Dining Table

Subaru Legacy B4 RSK

$9,500

ID 30600

$300

ID 30610

$2,750

ID 30637

$199

ID 26918

$200

ID 30586

$5,000

ID 30232

Vintage Petanque Set

Commuter/Shopping Bike

2000 Ford Modeo GLX 2.5 V6

Seagull Outboard Motor

2010 Holden Commodore SV6

2003 Honda Accord

$60

ID 30326

$225

ID 30574

$2,200

ID 30439

$400

ID 30576

$13,000

ID 30486

$2,600

ID 30189

0819h06chch
---
2010 j ep patriot

$14,999

www.grcaudio.co.nz

S e page 5 for details

2013 TOYOTA PRIUS

HYBRID

Trave led 79, 89km's,

very economical.

LEATHER INTERIOR

$11,999 +

454 St Asaph Str et, 03 378 1818 or 021 480 201

NO dEPOSIT

$49 PEr W Ek

ORC

mazda 2

2012, 5 sp ed, 92, 0kms, NZ new,

side airbags, popular model.

$6,950

S e our ad on

the back page.

198 Yaldhurst Road,

Avonhead

Phone (03) 342 3434

2006 NISSAN FUGA

Auto, A loys, ABS,

Twin Airbags,

Half Leather.

$8,990

275 Colombo St, Christchurch.

Cnr Colombo & Milton Sts. Ph: 337 9629.

CAR AUDIO

AUDIO VISUAL

CAR SECURITY

CE LULAR

Terms, conditions & lending criteria a ply

REVERSE CAMERAS

RADAR DETECTORS

From $61,990

FU L REPAIR SERVICE

AERIALS

PLEASE TAKE ONE

Friday 2nd August 2019 | No. 609

2013 FoRd FOCUs

$13,999

TM

• Very a tractive interest rates

• Up to 5yr term available

• Very low kms

NO DEPOSIT!

Terms & conditions a ply.

Ce l 0272 424 76 Ce l 021 8 5 84

ON SALE Was $14, 90

$68 p/w

2016 Suzuki

Swift XG

G od People, G od Service, G od Cars

12 0 c, Petrol, 5 D or, Hatchback,

1,985km, 5 seats, automatic.

w.g odcars.nz

OPEN 7 DAYS

Cnr M orhouse Ave

& Lancaster St

*Terms & conditions a ply. *Finance subjec to credit and lending criteria. *On Road Costs A ply.

$112pw *

$4,995

* Terms and conditions apply

Inch Quality

European

393 Fe ry Road, Christchurch

P 03 389 6108 urbanauto.co.nz

NO dEPOSIT

$56 PEr WEEk

See page 4 for details

ONLY

Ph 08 0 421 6 1

2010 VOlVO XC60

T6 R DeSign

3000cc, Turbo, Intercooler, black leather

seats, auto/tiptronic, AWD, all electrics,

fully loaded – top spec, safety cameras,

low 55,200km.

2 06

Honda CiviC 2.0S

NZ New, leather, sunr of

1 98 c auto, VTeC, cruise, a l

electrics, a loys, spot lights,

climate control, aBS brakes, efI.

S e more from our

fOrd fIESTa 5 SPEEd

2009, 5 speed, 5 door, 92,000kms,

NZ new, side airbags, great colour!

& uNDer SeLeCTIoN

TurN The page .

IPOD INTEGRATION

GPS/TRACKING

113 Sherborne St, Edgeware Ph (03) 377 8873

$29,999

541 Moorhouse Ave

Christchurch

Ph 03 3799528 or 0274366076

$7,950

S e our ad on

the back page.

S e our ad

on page 35

198 Yaldhurst Road,

Avonhead

Phone (03) 342 3434

www.tcm4wd.co.nz

$79 PW

2017 HoldEn Barina ls HaTCH

1.6 Litre, 6 spd auto, 5 star ancap,

reverse cam, bluetooth, cruise,

alloys, choice of 2 NZ new.

from $13,995

2010 honda stream

$9,999

www.grcaudio.co.nz

S e page 5 for details

A fordable new parts available for BMW / MERCEDES BENZ / AUDI

454 St Asaph Str et, 03 378 1818 or 021 480 201

www.bestmotorbuys.co.nz

S E OUR AD ON PAGE 15

*conditions a ply

CashbaCK

bonanza!

FR E ORC

no PaYMEnTs

FoR 3 MonThs!

CAR AUDIO

AUDIO VISUAL

(12months of reg and fresh wof)

FREE Fu l Tank o fuel!

www.tcm4wd.co.nz

13 Sherborne St, Edgeware Ph (03) 3 7 873

2009 lexUS IS 250

HARD TOP

cOnveRTIBle

91, 0kms, black leather interior.

ExcE LENT cONdITION!

$21,999 +

$1 2 pw

1 95 ni san safari granroad

4.2 Turbo diesel, 160,8 0kms,

winch, whole back seat.

only $21, 95

PLEASE TAKE ONE

For advertising enquiries, phone Anna Rossiter on 021 902 729

Thinking Finance for a New Car,

Boat, Caravan, Truck or Trailer?

Think Paul Kelly Finance

Phone – 0800 PAUL KELLY

www.paulkellyfinance.co.nz

Terms, conditions & lending criteria apply

2018 Everest Titanium

From $61,990 • Very attractive interest rates

• Up to 5yr term available

• Very low kms

NO DEPOSIT!

Terms & conditions apply.

Now Available @ NZ Van Spares

location: 68 Falsgrave Street, Woolston, Christchurch

email: nzvanspares@hotmail.com | phone: 03 379 3932 / 0508 698 267

$7,995

393 Ferry Road, Christchurch

P 03 389 6108 urbanauto.co.nz

The South Island's leading motoring publication FREE

every Friday at hundreds of locations around the South Island,

and it's available online at www.bestmotorbuys.co.nz

TM

Cell 0272 424 776 Cell 021 855 884

2009

Volkswagen

Polo gTi

Sporty & fun, 1 Year Warranty

1800cc, 5 speed manual, turbo,

alloys, pioneer bluetooth stereo,

air cond, spoiler.

& uNDer SeLeCTIoN

TurN The page...

ORC

CAR SECURITY

CE LULAR

REVERSE CAMERAS

RADAR DETECTORS

Terms, conditions & lending criteria a ply

From $61,990

$7,995

393 Fe ry Road, Christchurch

P 03 389 6108 urbanauto.co.nz

FU L REPAIR SERVICE

AERIALS

IPOD INTEGRATION

GPS/TRACKING

PLEASE TAKE ONE

• Very a tractive interest rates

• Up to 5yr term available

• Very low kms

NO DEPOSIT!

Terms & conditions a ply.

Ce l 0272 424 76 Ce l 021 8 5 84

2 09

Volkswagen

Polo gTi

Sporty & fun, 1 Year Wa ranty

18 0 c, 5 sp ed manual, turbo,

a loys, pion er bluet oth stereo,

air cond, spoiler.

S e more from our

& uNDer SeLeCTIoN

TurN The page .

S e our ad

on page 35

TM

WESTERN NEWS Latest Christchurch news at www.star.kiwi

Tuesday September 3 2019 19

Classifieds Contact us today Phone our local team 03 379 1100

Curtains

www.curtainfabric-outlet.com

Fashion Designs & Colours

Discontinued Designs

End of Lines Bargain Prices

Call at Our Shop

CURTAIN FABRIC OUTLET

71 Hawdon St Sydenham

Ph 366-5026

Gardening

& Supplies

A GARDEN OR

LANDSCAPING TIDY

UP? Shrub, hedge &

tree pruning, Lawns,

Gardening, consistently

reliable general property

upkeep, Dip. Hort. 10

yrs experience, One off

tidy ups or on-going

service. Nick's Garden

Maintenance. Keeping

your garden beautiful.

Free Quote. Ph. 942-4440

& 022 264 7452

Health & Beauty

Qualified Hairdresser and

reg home hair studio in

Avonhead. Cuts, colours,

kids, families, weddings,

group bookings. Call Soni

022 434 1055

Holiday

Accommodation

Australia QLD

SUNSHINE

COAST

RESORT

ALEXANDRA HEADLAND

All Units Have Ocean Views.

Heated Pools, Spa & Sauna,

Free Wifi, Tennis

& Mini Golf.

CHECK OUR GREAT

WINTER SPECIALS

www.mandolin.com.au

0061 7 5443 5011

JUNE to AUG temps 20C

Trades & Services

BLOCKED

DRAINS?

• Video inspection

• Waterblasting

• liquid Waste

pH: 03 365 7960

24 hours // 7 days

info@h20jet.co.nz

www.h20jet.co.nz

UPHOLSTERER

dyers upholstery services

(Ex Leacroft St, Bishopdale)

We specialise in

re-upholstering all types of

household furniture

inc squabs.

Trusted craftsman for over

30 years. Fabric samples,

Free quotes, pick up &

delivery.

All work guaranteed.

Ph. 359 5033 or

022 106 0108

Health & Beauty Health & Beauty Health & Beauty

DANCE

FITNESS

Halswell Community Hall

Tuesday 6pm

All enquiries to Jen:

021 255 9761

jenatdotcom@hotmail.com

all ages - all levels - all welcome

Trades & Services

ROOF

PAINTING

Rope & harness

a speciality,

no scaffolding

required,

30 years of

breathtaking

experience.

FREE QUOTES

Exterior staining,

exterior painting,

moss and mould

treatment and

waterblasting

Phone Kevin

027 561 4629

ADD SOME

COLOUR

TO YOUR ADVERT!

Trades & Services

rooF

painting

Book now for

Summer and

receive 20%

discount.

Rope and harness a

speciality.

No scaffolding

required.

30 years experience.

Also waterblasting

paths, driveways and

moss removal.

Free quotes,

call Craig

021 060 2392

AAA HANDYMAN

licensed carpenter

LBP, all property and

building maintenance,

repairs, bathroom/shower

installations, with free

quotes 03 383 1927 or 027

245 5226 ciey@xtra.co.nz

BATHROOM

ReNOvATiONs

complete service from

start to finish, free quotes,

ph Dave 027 334 4125

Trades & Services

BRiCKLAYeR

George Lockyer. Over

40 years bricklaying

experience.Uk trained.

Insurance work, EQC

repairs. Heritage

brickwork & stonework

a speciality. No job too

small. Governers Bay.

Home 329 9344. Cell

027 684 4046. E mail

georgelockyer@xtra.co.nz

BUiLDeR

DeveLOPeR

35 yrs exp. 3 x Council

approved jobs. Specialist

in small jobs. See Cole

Property Development on

Facebook. Call 0204 173

6433 colepdltd@gmail.

com

CARPeT LAYiNG

Exp. Repairs, uplifting,

relaying, restretching.

Phone John on 0800

003181, 027 240 7416

jflattery@xtra.co.nz

WINDOW TINTING

tintawindow

advanced film solutions

99% uv block

fade protection

heat control

reduce glare

25 Years Experience

Trades & Services

BUILDING

Creed Building

Contractors

New homes

Additions and Alterations

Repairs and Maintenance

027 439-5520 03 322-8541

Trusted in Canterbury

for over 40 years

kitchen renovation

Kitchen looking tired?

Revitalize with new colour at a

fraction of replacement cost

• Alterations & Hardware available

• Laminated Kitchens no problem

• 'On Site' finishing available

• Over 20 years experience

• Free Quotes with no obligation

• All Joinery & Furniture repair & Spraycoatings

PABLO'S PAINTWORKS

27 Birmingham Drive, Middleton

03 338 6280 | 021 541 323

pablospaints@xtra.co.nz

www.pablospaintworks.co.nz

Painters and Decorators Ltd

Canterbury Owned and Operated

A husband and wife team

Specializing in:

• Roof Painting

• Interior/exterior

residential

• Small commercial

painting

PAINTERS

Noel 027-411-3596

kemp.painters@gmail.com

kemp painters and decorators

privacy films

frosting designs

non-darkening films

Workmanship Guaranteed

Lifetime Warranties on Most Films

UV

block

We offer

free quotes

Quality not

Quantity

Free Quotes Canterbury and Districts

03 365 3653 0800 368 468

Situations Vacant

Advertising Account

Executive

Best Motorbuys Magazine

• Full time position

• Help drive Christchurch's only

weekly full gloss motoring

magazine forward

• Excellent commission opportunities

Star Media is seeking an Advertising Account

Executive to take responsibility for our weekly Best Motor Buys Magazine.

We seek a person who enjoys working as part of a team, has a can-do

attitude and who has an affinity and interest across the motoring sector.

The position encompasses the following major functions:

• Effective promotion and sales of advertising for Best Motorbuys Magazine

and Star Media's range of products

• Providing a high quality, professional sales administration service

• Ensuring the highest possible level of customer/client service

• Works proactively to ensure that clients are offered the best advertising

solution across all potential advertising platforms

If you have the above and want to be part of a progressive

media company, please email your CV to:

Shane Victor, Advertising Manager - shane@starmedia.kiwi

Trades & Services

eLeCTRiCiAN

Prompt & reliable

registered electrician

with 24 years experience

for all residential and

commercial work, new

housing and switch board

replacements. Phone Chris

027 516 0669

ELECTRICIAN

Registered, electrical

installation and repairs,

Gorbie Electrical, ph 021

026 73375 or 03 322 4209

PAINTING

Indoor / Outdoor, over 30

yrs exp, same day quotes,

ph Steve 021 255 7968

sTUMP GRiNDiNG

Best price guarantee Tony

0275 588 895

TiLeR/CARPeNTeR

35 years exp, no job

too small. Ph Ross 027

4311440.

TiLiNG

Flooring - Splashbacks -

Wall incl tile removal, reg

master tiler, ph Dave 027

334 4125

T.v. seRviCe

CeNTRe

Repairs, tvs, microwaves,

audio amps, soundbars.

.Aerial & satellite

installations, kitsets, 480D

Moorhouse Ave, ph 03 379

1400

vHs viDeO TAPes

& all camera tapes

converted to DVD, video

taping special occasions,

www.grahamsvideo.co.nz

ph 03 338-1655

Wanted To Buy

AAA Buying goods

quality furniture,

Beds, Stoves, Washing

machines, Fridge Freezers.

Same day service. Selwyn

Dealers. Phone 980

5812 or 027 313 8156

TOOLS Garden,

garage, woodworking,

mechanical, engineering,

sawbenches, lathes,

cash buyer, ph 355-2045

TOOLS Garden,

garage, woodworking,

mechanical, engineering,

sawbenches, lathes, cash

buyer, ph 355-2045

ADVERTISE YOUR BUSINESS HERE

Friday 23rd August 2019 | No. 612

A fordable new parts available for BMW / MERCEDES BENZ / AUDI

Hilux spares

Now Available @ NZ Van Spares

location: 68 Falsgrave Str et, W olston, Christchurch

email: nzvanspares@hotmail.com | phone: 03 379 3932 / 0508 698 267

Best

Thinking Finance for a New Car,

Boat, Caravan, Truck or Trailer?

Think Paul Ke ly Finance

Phone – 0800 PAUL KELLY

www.paulke lyfinance.co.nz

mobile installation service 0800 212 777

Star Media is a division of Allied Press.

Phone for further details

FREE

Motorbuys

$7,990

www.bestmotorbuys.co.nz

ANYTHING WITH A MOTOR!

For advertising enquiries, phone A na Ro siter on 021 902 729

2018 Everest Titanium

Best

TM

Motorbuys

$12,990

$7,995

Friday 9th August 2019 | No. 610

FREE

Best

Motorbuys

ANYTHING WITH A MOTOR!

259 Colombo Street, Sydenham

154 Orchard Road, Harewood

WE BUY

UTES!

PHONE 027 303 0101 NOW!

547 Moorhouse Avenue

Hilux spares

Motorbuys

Best

www.bestmotorbuys.co.nz

Thinking Finance for a New Car,

Boat, Caravan, Truck or Trailer?

Think Paul Ke ly Finance

Phone – 0800 PAUL KELLY

www.paulke lyfinance.co.nz

Hilux spares

Now Available @ NZ Van Spares

location: 68 Falsgrave Str et, W olston, Christchurch

email: nzvanspares@hotmail.com | phone: 03 379 3932 / 0508 698 267

mobile installation service 0800 212 777

See more from our

$7,995

(03) 379 1100

FREE

ANYTHING WITH A MOTOR!

For advertising enquiries, phone A na Ro siter on 021 902 729

2018 Everest Titanium

$7,995
---
20 Tuesday September 3 2019

Latest Christchurch news at www.star.kiwi

We're your local...

WESTERN NEWS

HIRE

EQUIPMENT

DEPOT & TRADE STORE

TRADE & DIY EQUIPMENT

Power Trowels

Concrete Vibrators

Plate Compactors

Tamping Rammers

Grout Pumps

Floor Grinders

Angle Grinders

Hammer Drills

Rotary Hammers

Power Cutters

Concrete Mixers

Power Generators

Waterblasters

Steam Cleaners

Temporary Fencing

Cones & Barriers

Air Compressors

Trash & Sub Pumps

Dust Extractors/Vacs

Wheelbarrows

Post Drivers

Core Drills

Laser Levels

Diesel Heaters

Dehumidifiers

Carpet Fans

Soff Cut Saws

Brick & Tile Saws

Hydraulic Jacks

Panel Props

Chainsaws

Tarpaulins

Nail Guns

Drywall Sanders

Airless Paint Sprayers

Wall Paper Steamers

Chemical Sprayers

Gib Lifters

Tile Chippers

Electrical Accessories

Roadsaws

...and lots more!

Screw Guns

ACCESS & HEIGHT SAFETY

Mobile Scaffolding

Roof Edge Protection

Scissor Lifts

Cherry Pickers

Safety Harnesses

Single Axle Trailers

Tandem Trailers

Roof Anchors & Connectors

Roof Ladders/Walkers

Platform & Step Ladders

Extension Ladders

Confined Space Equipment

TRAILERS

FREEPHONE

Flatdeck Trailers

Waterblaster Trailers

0508 447 348

for Quotes & Bookings!

Personal service...if we haven't got it we'll find it for you!

Hours Monday to Friday 7am - 5.00pm

72 Treffers Rd Wigram

www.totalsitesupplies.co.nz

CAN'T

COME IN?

We can bring

it to you!
---
WESTERN NEWS Latest Christchurch news at www.star.kiwi

Tuesday September 3 2019 21

GRAND

reopening sale

SELWYN ROAD

SHANDS ROAD

SHANDS ROAD

913 SHANDS ROAD

WE'VE

MOVED!

913 SHANDS ROAD

Located on the same

site as Readylawn

The original same day lawn

SAVE UP TO

50%

AND MORE

NEW LOCATION:

913 Shands Road

Just south of the Selwyn Road / Shands Road intersection

T: 03 349 9240 | E: info@allwood.co.nz

Keep up to date on what is happening around the nursery

through our Facebook page and at www.allwood.co.nz

www.allwood.co.nz
---
22 Tuesday September 3 2019

Latest Christchurch news at www.star.kiwi

WESTERN NEWS

GrAND reopening sale

Large Trees

suitable for farms, lifestyle

properties, large sections.

• Flowering Cherry Trees

• Hornbeam

• Oaks

• Lime Trees

• Elms

• Tulip Trees

• Canadian Maples

• Claret Ash

• Magnolia, deciduous

and evergreen

Trees up

to 5.0m in

height

smaller Growing Trees

suitable for residential sections,

townhouses, over 60s units.

• Japanese Maples

• Cornus Eddies White

Wonder

• Weeping Silver Pear

• Magnolia Little Gem

• Japanese

Snowdrop Tree

• Cercis Forest

Pansy

• Flowering Cherry Trees

Trees up

to 2.5m in

height

HuGE rANGE

AT GREAT SALE PRICES

Liquidamber

Upright Oak

Evergreen Magnolia

Japanese Maple

Golden Elm

Canadian Maple

Cercis Forest Pansy

Flowering Cherry

NEW LOCATION:

913 Shands Road, Christchurch | T: 03 349 9240 | E: info@allwood.co.nz

OpEN TuEs TO FrI - 9.00Am TO 4.30pm | sAT & suN - 10.00Am TO 4.00pm
---
WESTERN NEWS Latest Christchurch news at www.star.kiwi

Tuesday September 3 2019 23

SAVE

UP TO

50% MORE

AND

Daphne

Large Grade Topiary standards Hedging plants

Pink and white scented

flowers. $89.50 grade

NOW $65

• Portuguese Laurels

• Bay Laurels

• Robinia Mop Top

• Liquidamber

Gumball

• Griselinia

• Pittosporum

• Photinia Red Robin

• Euonymus

20% OFF Or mOrE! GrEAT sAVINGs!

• Mexican Orange

Blossom

• Bay Laurel

• Portuguese Laurel

• Plus many more

Griselinia

michelia

pyrus salicifolia

pendula

Evergreen

magnolia Tree

(Weeping silver

pear Trees)

Several varieties.

GrEAT

sALE prICEs

Several varieties.

GrEAT

sALE prICEs

Tough ornamental tree for

exposed sites. Were $145

NOW $80

• St Mary

• Little Gem

• Grandiflora

• Blanchard

• Jade Emperor

GrEAT sALE prICEs

www.allwood.co.nz

View our sale catalogue online now:

www.allwood.co.nz/sale
---
24 Tuesday September 3 2019

Latest Christchurch news at www.star.kiwi

WESTERN NEWS

GrAND reopening sale

Pittosporum

Wrinkle Blue

rhododendron

Varieties

Shrubs

Large grade, great for instant

hedge. Were $39.50

NOW $30

Big chunky plants. $59.50 grade

NOW $45

20% Off OTHer GrADeS

• Camellia

• Thuja Smaragd

• Pieris

• Cranberry

• Pittosporum Golf Ball

Plus many more

plant varieties. Ideal

for all gardens.

20% Off Or mOre!

Good, honest gardening advice is our hallmark. Our services include:

Consultations

Experienced, knowledgeable

staff will give information and

advice via email, phone or in

person at Allwood Trees. Send

us your landscape plan and we

can advise on plant selection.

Soft Landscape Plans

This is a plan with detailed

specifications related to

your property. Showing both

botanical and common names

of trees and shrubs, as well as

quantites and other relevant

comments (eg spacing).

Delivery & Planting

We can deliver and plant

trees purchased from Allwood

Trees. We do everything from

digging the hole to staking

the tree and adding slow

release fertiliser.

Quotations

Send us your plant list and

we will quote as quickly as

possible. We are able to

provide different tree and

shrub size options and suggest

alternatives if particular trees

or shrubs are not available.

Garden maintenance

We have a great garden

maintenance service. We

liaise with you regarding any

changes required with your

garden and can implement a

great maintenance programme

to keep your garden looking

pristine all year.

NeW LOCATION:

913 Shands Road, Christchurch | T: 03 349 9240 | E: info@allwood.co.nz

OPeN TueS TO frI - 9.00Am TO 4.30Pm | SAT & SuN - 10.00Am TO 4.00Pm