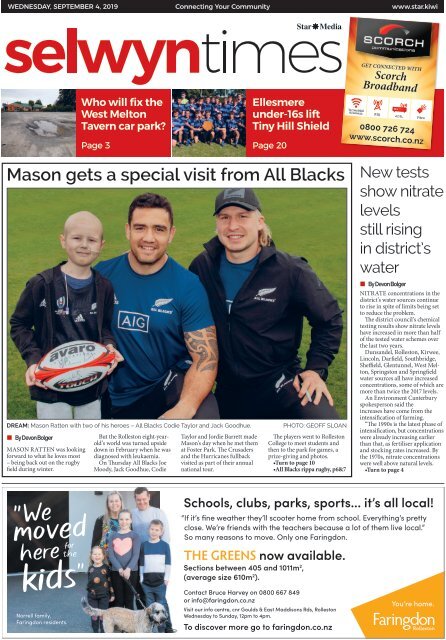 Selwyn Times: September 04, 2019
Do you know the secret to free website traffic?
Use this trick to increase the number of new potential customers.
WEDNESDAY, SEPTEMBER 4, 2019

Connecting Your Community

www.star.kiwi

Who will fix the

West Melton

Tavern car park?

Page 3

Ellesmere

under-16s lift

Tiny Hill Shield

Page 20

GET CONNECTED WITH

Scorch

Broadband

0800 726 724

www.scorch.co.nz

Mason gets a special visit from All Blacks

DREAM: Mason Ratten with two of his heroes – All Blacks Codie Taylor and Jack Goodhue.

• By Devon Bolger

MASON RATTEN was looking

forward to what he loves most

– being back out on the rugby

field during winter.

But the Rolleston eight-yearold's

world was turned upside

down in February when he was

diagnosed with leukaemia.

On Thursday All Blacks Joe

Moody, Jack Goodhue, Codie

Taylor and Jordie Barrett made

Mason's day when he met them

at Foster Park. The Crusaders

and the Hurricanes fullback

visited as part of their annual

national tour.

PHOTO: GEOFF SLOAN

The players went to Rolleston

College to meet students and

then to the park for games, a

prize-giving and photos.

•Turn to page 10

•All Blacks rippa rugby, p6&7

New tests

show nitrate

levels

still rising

in district's

water

• By Devon Bolger

NITRATE concentrations in the

district's water sources continue

to rise in spite of limits being set

to reduce the problem.

The district council's chemical

testing results show nitrate levels

have increased in more than half

of the tested water schemes over

the last two years.

Dunsandel, Rolleston, Kirwee,

Lincoln, Darfield, Southbridge,

Sheffield, Glentunnel, West Melton,

Springston and Springfield

water sources all have increased

concentrations, some of which are

more than twice the 2017 levels.

An Environment Canterbury

spokesperson said the

increases have come from the

intensification of farming.

"The 1990s is the latest phase of

intensification, but concentrations

were already increasing earlier

than that, as fertiliser application

and stocking rates increased. By

the 1970s, nitrate concentrations

were well above natural levels.

•Turn to page 4

We

moved

here f or

Norrell family,

Faringdon residents.

the

kids

Schools, clubs, parks, sports… it's all local!

" If it's fine weather they'll scooter home from school. Everything's pretty

close. We're friends with the teachers because a lot of them live local."

So many reasons to move. Only one Faringdon.

THE GREENS now available.

Sections between 405 and 1011m 2 ,

(average size 610m 2 ).

Contact Bruce Harvey on 0800 667 849

or info@faringdon.co.nz

Visit our info centre, cnr Goulds & East Maddisons Rds, Rolleston

Wednesday to Sunday, 12pm to 4pm.

To discover more go to faringdon.co.nz

You're home.
---
2 Wednesday September 4 2019

Latest Christchurch news at www.star.kiwi

from the editor's desk

our people

SELWYN TIMES

THEY SAY a picture is worth 1000 words.

On page 1 today we report on Mason

Ratten, one of many youngsters who

turned out to meet All Blacks at Foster

Park on Thursday.

Mason and his family are going through

some very tough times.

The youngster was diagnosed with leukaemia in February and

life since has been very traumatic.

But plucky Mason and his family have kept their chins up

throughout. A keen rugby player before the big C struck, he met

some of his idols at Foster Park, making a great day even better.

And the better news is, the outlook for Mason is promising.

He might even grow up to be an All Black one day. Wouldn't

that be something.

– Barry Clarke

get in touch

GENERAL INQUIRIES Ph 379 7100

CLASSIFIED ADVERTISING Ph 379 1100

Star Media, a division of Allied Press Ltd

PO Box 1467, Christchurch

starmedia.kiwi

NEWS

Devon Bolger

Ph: 021 914 742

devon.bolger@starmedia.kiwi

ADVERTISING

Lynette Evans

Ph: 364 7434

lynette.evans@starmedia.kiwi

Life among the birds

Award-winning Rolleston ornithologist Andrew Crossland has

made a career out of studying exotic birds.

Pages 12-13

sport

Road to the semi-finals

With Broadfield A, Greenpark B and Greenpark A already in the

semis, the final spot will be up for grabs this weekend.

Page 23

community events

Gardens on display

Follow the signposts from the Hororata roundabout to take a walk

around the Terrace Station's open garden on Sunday, 11am to 3pm,

Page 26

The best-read local newspaper, delivered to

20,335 homes, RDs and farms every Wednesday

Ladbrooks, Tai Tapu, Leeston, Lincoln, Southbridge, Prebbleton,

Halswell, Rolleston, Templeton, Burnham, West Melton, Darfield,

Kirwee, Arthur's Pass.

New

Seasons

fashion arriving

in store now!

2 McMillan St, Darfield

Ph. 03 318 8734

Open Mon-Fri 9am-5pm

Sat 9.30am-12.30pm

Find

us on

NEW ULTRA LOW EMISSION BURNER

CAN BE INSTALLED INTO ANY HOME

Rosa wood

pellet fire

472 Blenheim Road, Sockburn Phone: 03 343 1651

Open: 8:30am – 5pm | Saturday 10am – 1pm

www.heatstore.co.nz
---
SELWYN TIMES Latest Christchurch news at www.star.kiwi

Wednesday September 4 2019 3

News

Dispute over who pays

to repair pot holes in tavern car park

• By Devon Bolger

WHO FIXES potholes in a

tavern car park has turned into a

dispute between the leasees and

landlord.

Carol and

Richard Hansen,

who lease the

West Melton

Tavern from

businessman

Alan Edge, say

he is responsible

Alan Edge for filling them

in.

But Mr Edge says under the

terms of the lease it is Mr and Mrs

Hansen's problem – and cost.

"The lease says they're responsible.

They use it, I don't so I

won't be fixing it," he said,

The Hansen's reject that claim

and say they only lease one-sixth

of the property from Mr Edge,

which covers the building and

one car space, and he is responsible

for the rest of the car park.

"We are now just hoping he will

come to the table and fix the holes

but if not, we may consider taking

legal action," Mrs Hansen said.

The lease began in 2007 and

ends in 2021.

The issue came to light on the

West Melton Community facebook

page when the Hansens

made a post saying the potholes

were out of their control.

Mrs Hansen said they wanted

to share their side of the story as

they have been criticised for the

car park by customers.

"It's not our fault and we're

the ones who have become the

laughing stocks and we are the

ones people are criticising."

"We have fixed the damage in

the past but this now is way out

of hand. We aren't looking at a

quick fix and we're not liable for

the type of maintenance that is

required."

The Hansens think the potholes

are being made worse by

drivers using the car park as a

thoroughfare to avoid the State

Highway 73 and Weedons Ross

Rd intersection.

More and more motorists have

started doing it after the West

Melton Village Retail Centre

opened in 2016, Mrs Hansen said.

"The problem is huge now.

You really have to pull in here so

slowly because it's just that bad."

"Even if we fixed it ourselves,

in a month it's going to be back

to where it was because of all of

the usage."

She said they think the New

Zealand Transport Agency

Tickets

7 MARCH

On Sale

LINCOLN

Now

www.selwynsounds.co.nz

ROUGH: Potholes

in the West

Melton Tavern

car park have

caused a dispute

between the

leasees and

landlord.

PHOTO: GEOFF

SLOAN

should step in and stop it from

happening.

"NZTA should be putting

their hand up and saying we will

help you guys because they have

created this problem with that

intersection."

An NZTA spokesperson said

the car park is private property

so it is over to the owners to

manage it for their purposes.

"We advise all drivers to take

care around busy intersections,

slow down and obey the road rules.

Avoid distractions like cell phones

and get home to their destination

safely without endangering other

road users or pedestrians."

In Brief

THIEVES, VANDALS HIT CLUBS

The West Melton Rugby Club

had a second gas bottle stolen

from its shed last week. Club

president Ants Calder said it

was disappointing and a burden

to have to keep replacing them.

Another bottle was stolen from

the same shed in May. The

Rolleston Warriors Rugby

League Club has had its storage

container vandalised after its

prize-giving last weekend. The

container was at Brookside Park

and was found covered in graffiti.

Anyone with information is asked

to phone Rolleston Police on 347

9208.

PROJECT CONTRACTORS

The contractors for four major

projects in Rolleston are expected

to be chosen at a district council

meeting next Wednesday. District

council group manager property

Douglas Marshall said they are

hoping to make a decision on

the construction tender for the

proposed Health Hub, Selwyn

Aquatic Centre extension, Te Ara

Ātea and the wider Rolleston

Town Centre upgrade then. It

comes after Apollo Projects was

chosen to build the Foster Park

indoor courts.

WE HAVE

MOVED

Visit our exciting new premises at

40 Rolleston Square, 9 Masefield Drive.

Servicing all makes

and models of

hearing aids

Price match

GUARANTEE!

Talk to Brenna

about the latest

rechargeable

hearing aids,

with long lasting

Lithium-ion

batteries!

Why go elsewhere when you can:

• See the same experienced audiologist for each visit

• Get flexibility with appointments including after hours

• Get a mobile service for those who can't come to us

• ACC appointments – Free consultation to determine eligibility

for ACC funding

Enrol now!

New and existing hearing

aid clients welcome.

Easy to switch

Just give us a call! 03 390 2332

NEW LOCATION: 40 Rolleston Square,

9 Masefield Drive, Rolleston

Call 03 390 2332 | www.sincockhearing.nz

Clinics in Lincoln | Leeston | Darfield
---
4 Wednesday September 4 2019

Latest Christchurch news at www.star.kiwi

News

SELWYN TIMES

High nitrate concentrations concerning

•From page 1

"The increases have been

greatest in areas where

the groundwater comes

predominantly from rainfall

that percolates through soil. This

includes the Selwyn-Waihora

zone. The rainwater leaches

nitrate from the soil and carries

it from the land surface into

groundwater," said the ECan

spokesperson

Federated Farmers was

approached for comment but

was unable to

respond.

Selwyn-

Waihora zone

committee

chairwoman

Megan Hands

said the nitrate

Megan

Hands

levels in the

district are not

a direct result of

farming practice now.

"We talk about nitrate being

in the post which is from land

use that's occurred over a

number of years, and we are only

starting to see it come through in

those concentrations now," she

said.

ECan chief scientist Tim Davie

said we will continue to see

increases for potentially up to 20

years until they start to taper off.

He said there is a nitrate issue

in the district compared to the

rest of Canterbury.

"Are there high nitrate

concentrations in Selwyn?

Definitely. What we are

concerned about is two things,

biodiversity and public health,"

Dr Davie said.

"There is a health risk

associated with high nitrate

concentration. The main one is

when you get above a certain

amount, you are at risk of blue

baby syndrome, which affects

newborn babies that are bottlefed

and it can cause health

problems for them."

Dr Davie said there is a lot

of contention around what

concentration of nitrate we

should be concerned about.

"A recent Danish study says

when you get above 0.88mg/L

there is an increased risk of

colorectal cancer. It hasn't been

proven so it hasn't changed our

ACTION PLAN:

Dairy farms

will need to

make a 30 per

cent reduction

in nitrogen

loss by 2022

in a bid to

reduce rising

concentrations

in the district's

water.

drinking standards but it does

suggest that high nitrate levels

in drinking water are not a good

thing."

The current maximum

acceptable level of nitrate in

drinking water is 11.3mg/L

As of February, the water

source on Illinois Drive in

Rolleston has a concentration of

6.98. In Dunsandel it is 6.54 and

in Darfield it is 5.02.

Waterways Centre for

Freshwater Management director

Jenny Webster-Brown said those

numbers are relatively high.

"Any time something is getting

up to half of the recommended

drinking water standard, it's time

to pay attention, especially if it's

increasing," she said.

It is likely things will get a lot

worse before they get better, Ms

Webster-Brown said.

"We won't know whether the

systems we have put in place are

working for many years to come

because of this lag time."

In 2016 ECan

set nitrate limits

for farmers across

the region as part

of the Canterbury

Land and Water

Regional Plan

In Selwyn,

the limits were

set specifically

at a point

where nitrate

Jenny

Webster-

Brown

concentrations would be reduced.

Farmers now need to monitor

the amount of nitrogen being lost

in the soil and ensure they don't

exceed their baseline nitrogen

loss rates from 2009-2013.

By 2022, high emitters need to

significantly reduce nitrogen loss

rates – dairy farms, for example,

will need to make a 30 per cent

reduction.

Fun and exercise

all year round

Mature drivers course

Build confidence by refreshing your knowledge of the road rules.

Upcoming courses:

Wednesday 11 September

West Melton Community and Recreation Centre

Tuesday 24 September

Lincoln Event Centre

Morning tea and lunch provided.

To book a course or register your interest

for future courses in your area, contact

Age Concern on (03) 366 0903.

Proudly supported by the Road Safety Team

www.selwyn.govt.nz

FREE

Lagoon Pools import and install quality fibreglass swimming pools. To compliment the pools

they supply good quality equipment including salt water chlorinators, heat pumps, pool lights,

fountains and water features, swim turbines, spa jets, robotic pool cleaners and a range of covers

and roller systems including hidden and automated.

Imported from Leisure Pools in Australia, their Vinyl Ester pools are strong with six layers including

protective armour. Each pool is strength tested and has a lifetime structural and osmosis warranty.

Lagoon Pools owners Julie and Warren are dealers for Leisure Pools in the North Canterbury to

Southland area, and agents for the Elite Hideaway Roller system.

Call Lagoon Pools on 0800 927 282 or 349 2160, email info@lagoonpools.co.nz or visit:

www.lagoonpools.co.nz They are open by appointment only.

www.lagoonpools.co.nz

03 349 2160

0800 92 72 82
---
SELWYN TIMES Latest Christchurch news at www.star.kiwi

Wednesday September 4 2019 5

•HAVE YOUR SAY: Do you find it difficult to catch the new Leeston bus

because of the service times? Email your views to devon.bolger@starmedia.

kiwi

Survey under way to gauge bus use

• By Devon Bolger

A COMMUNITY group is

doing its own public transport

survey because it fears usage

numbers for the Leeston bus

trial might be incorrect.

Enviro Ellesmere says an

Environment Canterbury bus

trial could be skewed because

the time the

trial is being

conducted is

at low patronage

times.

The bus

leaves Leeston

each weekday

Jade Arnold

for Christchurch

at 7am,

and returns

from Christchurch at 4.37pm

and averages 27 passengers a day.

Enviro Ellesmere member Jade

Arnold said the group has had

about 60 responses so far to its

online survey asking people why

they use the bus and how often

they would ideally like to.

The survey is more about looking

into the type of bus people

would use and do need rather

than what they are using currently,

Mrs Arnold said.

"The way the ECan trial works

SKEWED: Enviro Ellesmere is conducting a survey on public

transport needs in the area because it is concerned the

Leeston bus trial isn't getting accurate user numbers.

is that they only count the

number of people who actually

use the service. It concerns me

because that completely misses

the needs of people who can't

catch that specific bus.

"I'm worried it makes it look

as though the bus isn't wanted or

needed here as much as it really

is,'' Mrs Arnold said.

ECan manager of public transport

strategy Edward Wright

said the times were set after a

survey showed that was when

people would use the bus most.

"The funding available for the

trial only allows for one service

each way per day, and the survey

results indicated that the greatest

number of people wanted to

travel at the times the trial bus is

operating."

The trial began in January this

year and will run until October.

In July the service was also

extended to include Southbridge.

Mr Wright said the extension

increased the cost of the bus, so

without any increase in patronage,

the viability of the service is

declining.

"For the service to become viable,

usage needs to increase and

we are considering ways that this

might be possible."

Once Enviro Ellesmere survey

has ended the results will be

averaged and graphed so it's

important to get a high number

of responses, Mrs Arnold said.

"After that, I want to make it

publicly available so anyone can

see the results. I'll also present

the results to bus operators, the

district council and ECan."

You can fill out the Enviro Ellesmere independent bus survey at all

district libraries or online at https://www.surveymonkey.com/r/93

HMRTF?fbclid=IwAR2n3IXiAzM2R6SRgsY5cHrNf1_So5h9

mA71m34Z4gUkMtzZdxFhRO1HtFg

Selwyn leads

economic

growth in NZ

SELWYN'S ECONOMY has

grown more than any district in

New Zealand over the last year.

Latest figures show gross

domestic product in the district

grew by 4.5 per cent, compared to

2.5 per cent growth nationally and

1.7 per cent across Canterbury.

Tourist spend increased by 10.5

per cent for the year – $117 million

in the district compared to a

4.5 per cent increase in spending

across the rest of Canterbury.

The amount spent on electronic

card transactions rose 11.7 per

cent to $90.1 million.

Unemployment also dropped

to 2.1 per cent, down from 2.2 per

cent in the previous quarter and

almost half of the national unemployment

rate of 4.1 per cent.

District council chief executive

David Ward said the figures are

an encouraging sign of the continued

desirability of the district.

"The diversity of our economy

in Selwyn is a strength and

the figures show a continued

confidence that this is a great

district to live and do businesses

in."

No Payne – No Gain

Open

Considerate

Objective

Safer Rural Roads

Water Supply

Recycling Facilities

Climate Change

021 024 048 69

www.selwynlife.nz

Please use your vote

Have your say in our community

VOTE CALVIN PAYNE

Selwyn Central Ward

District Councillor Candidate 2019

Authorised by Calvin Payne 159 Knights Road, RD5 Weedons

RE-ELECT

JOHN

SUNCKELL

ECAN 2019

'Working together,

taking us forward'

Facebook: John4ecan Phone: 027 424 3006

Website: https://john4ecan.wixsite.com/ecan2019

Authorised by John Sunckell, 100 Caldwells Road, Leeston

Allen Lim for Ecan 2019

"A practical approach

to sustainability"

* Proven - Leader in local water issues

* Ability - Extensive governance experience

* Balanced - Working collaboratively for

best outcome

Email: Allen4Ecan@gmail.com

Phone 027 282 8567

Facebook Allen Lim for Ecan 2019

Need a private investigator?

We can help…

At Levey & Associates, we

offer a full range of services:

• Infidelity – Is your

partner cheating on

you? Address your

suspicions.

• CatFish – People

misrepresenting

themselves, which often

occurs on the internet.

• Missing person enquiries

Authorised by Allen Lim, 31 Lincoln Rolleston Road, RD8, Christchurch

• Domestic matters

• Pre-employment vetting

• Document service

• Dishonesty matters

• Lie detector tests

• Investigating scams

• Surveys - Information

gathering and reporting

There when you need us

Phone Kerry or Amanda on 027 531 5317 or email amanda@levey.co.nz

CONFIDENTIAL | DISCRETE | RESULTS FOCUSED
---
6 Wednesday September 4 2019

Latest Christchurch news at www.star.kiwi

SELWYN TIMES

News

All Blacks join in for a game of

FOUR ALL Blacks made an

appearance in Rolleston last week

as part of their annual national

tour.

Joe Moody, Codie Taylor, Jack

Goodhue and Jordie Barrett met

with Rolleston College students

on Thursday before heading to

Foster Park for a game of rippa

rugby.

Pupils from primary schools in

Rolleston took part in the game

as well.

Then the players spent some

time signing autographs and

taking photos.

POPULAR: Joe Moody signs the shirt of a

young fan.

THANKFUL: Tyler Burnett, 11, of West Rolleston Primary School,

gets the autograph of Jack Goodhue.

DETERMINED: Marcus McLeod, 6, of Rolleston

School, heads upfield on a burst.

FANCY FOOTWEAR: Ethan Dunsmore, 11, of

Clearview Primary holds up his shoe signed

by Jordie Barrett.

run out sale

nZ's best-selling heat pump ever!

$2,499 inStaLLed *

Ge50 5.8kW hiGh WaLL heat pump

*Basic back to back installation

New Frankie 4 Stock

A new active flat range with Slip Resistant Soles. Prefect

for nurses, teachers, hospitality, retail and or anyone on

their feet for long periods of time.

Introducing the Frankie 4 Tambo, Winnie, Billie and Addie.

book your free appointment today!

0800 324 678

www.dcis.co.nz

RiccaRtoN

37 Main South Road

RedcliFFS

2 augusta Street

Shoes are only available at 37 Main South Road clinic

MaRSHlaNdS

427 Marshland Road

daRField

darfield Pharmacy

PH 348 7910 | www.feetfirst.co.nz

Now servicing

oXFoRd
---
SELWYN TIMES Latest Christchurch news at www.star.kiwi

Wednesday September 4 2019 7

rippa rugby

EAGER FANS:

Jordie Barrett

busy with the

marker pen, he is

signing a rock for

Max Malloy.

Left: Jack

Goodhue sends

a pass to a young

player.

Half leg

sizes

for greater

convenience

PHOTOS: GEOFF

SLOAN

Fresh NZ Skinless

Chicken Breast

Fillets

$

12 99 kg

Fresh NZ Quality

Mark Half Lamb

Leg Roast

$

14 99 kg

Montessori & Early

Childhood Preschool

• We offer a friendly, fun and

supportive environment – only 5

minutes from Rolleston.

• We believe that Tamariki thrive in

a peaceful, structured and caring

environment, full of fun

and challenges.

• We offer focused, balanced curriculums

that prepare Tamariki for the next step

in their learning journey.

• We value diversity within our Tamariki

and their whānau and this is reflected in

our whānau focused philosophy.

• We have 3 well resourced classrooms,

caring for Tamariki from 6 weeks to

6 years of age. We are proud of our

large, natural playgrounds that offer

challenges for all ages.

Call in to visit us today, meet the teachers and have a look around our school

Fresh Beef Corned

Silverside

$

9 99 kg

WIN WITH

SEE IN STORE

Tegel Quick

Cook Chicken

300-400g Varieties

$

6 99 ea

New enrolments in the months of July and

August will receive one month FREE*

Pams Finest Cookies

300g

$

3 49 ea

Pams Fries 1kg

$

2 99 ea

SEE

INSTORE

FOR DETAILS

LimitEd

spACEs

AvAiLAbLE

iN ouR

NuRsERy!

*Fees on confirmation of enrolment (with terms & conditions).

Offer limited to 2-3 year old enrolments only.

www.foursquare.co.nz

facebook.com/FourSquareNZ

For enrolments please contact Jasmine or Kylie on 347-6161

visit us at 643 burnham school Road

Download forms from www.burnham-montessori.co.nz

Specials available South Island only from Monday 2nd September until Sunday 8th

September 2019 or while stocks last. Wine and beer available at stores with an off

licence. Wine and beer purchases restricted to persons aged 18 years old and over.
---
8 Wednesday September 4 2019

Latest Christchurch news at www.star.kiwi

What's new

Unit 4

For Lease

at 3 Vernon Drive, Lincoln

Aged SteAk

FridAy & SAturdAy

See Facebook for special

$5 VAlue

eVerydAy

Open public holidays

No surcharge

114m² for lease.

last unit available. Suitable

health related tenant - dentist,

optometrist, audiology, travel

agency or real estate agent.

Call Mike – 027 570 7674

AdViCe yOu

CAN truSt

Open Mon-Fri 9am-6pm,

Sat 9am-2pm

Ph: (03) 321 7325

SAMe dAy CAre

guArANteed

if contacted before 3pm

Open Mon-Fri 9am-6pm

www.wecarehealth.co.nz

Call: (03) 325 2446

PhySiO ANd MOre

Ph 03 325 2039

BOOk ONliNe:

MOtuSheAlth.CO.Nz

News

Fire brigade gets ute

THE LINCOLN Volunteer

Fire Brigade has a new

emergency response

vehicle thanks to the help

of a local business.

The new Ford Ranger ute

will provide the brigade

with more flexibility and

capability to respond to

emergencies, chief fire

officer Jeremy Greenwood

said.

The vehicle was

purchased with a grant

from Pub Charity and with

the support of The Famous

Grouse Hotel.

It has been fitted with

more equipment and

configured in a way

to make it easier for

firefighters to access. It

has also been fixed with a

front-mounted winch to

assist with stabilisation

and recovery.

"The ute will be used

in a support role for

operational incidents and

will also assist members

with the delivery of fire

risk reduction activities

and education within the

community and local

schools," Mr Greenwood

said.

He said recently they

have seen how valuable

the ability to use a high

VALUABLE: The Famous Grouse Hotel manager

Will Stock (left), and chief fire officer Jeremy

Greenwood with the new Lincoln Volunteer Fire

Brigade emergency response vehicle.

PHOTO: GAVIN LACK ​

capability four-wheel drive

is.

"When our crews were

involved with significant

events such as the

Christchurch earthquakes,

Selwyn Rd fire in 2012 and

Port Hills fire in 2018 we

used a ute extensively to

ferry additional people and

equipment in challenging

environments.

"Any volunteer fire

brigade is only as good as

its local community and

we're incredibly fortunate

to have such wonderful

SELWYN TIMES

support from residents

in Lincoln and further

afield and local businesses

like The Famous Grouse

Hotel."

Famous Grouse Hotel

manager Will Stock said

he was thrilled to be able to

assist local firefighters.

"The hotel has a long

history of supporting

Lincoln firefighters and

we're delighted to be able

to continue to support

them in the incredible

work they do throughout

our community."

2019 NEW ZEALAND

IPMS COMPETITION &

SPriNg iNtO ACtiON

Start working on that summer body now!

Join Plus Fitness Lincoln in September and

save 75% off the Joining fee.

Join Now at: PLUSFITNESS.CO.NZ/GYMS/

LINCOLN or call 03 3217006

OPeN 7 dAyS 9AM-6PM

+ lAte NightS

thurSdAy & FridAy

By appointment or walk in

Phone 03 321 7979

PrOudly SerViNg

liNCOlN lOCAlS

Open 7 days: Mon-Fri 7am-4pm

& Sat/Sun 8am-4pm

SPriNg hAS ArriVed

Come check out our Super

Spring Wine deals, plus

heaps of Beer, Spirits and

rtds at hOt prices.

So much more on offer at 3 Vernon Drive

EXPO

THE AIRFORCE MUSEUM OF NEW ZEALAND

WIGRAM

7TH & 8TH SEPTEMBER

sATURDAY 10AM-5PM sUN 10AM-4PM

Displays of: Scale Models, Meccano, Military Displays,

Radio Controlled Boats & Planes, Model Trains, Die Case Vehicles,

Wargames, Kids build your own model kit and much more

www.ipmschch.co.nz

2019 New Zealand IPMS

National Competition and Model Expo
---
SELWYN TIMES Latest Christchurch news at www.star.kiwi

Wednesday September 4 2019 9

ANTHONY WILDING RETIREMENT VILLAGE

Townhouse Showhome

Open Afternoons

Tues 10, Wed 11 & Thurs 12 September, 1-3pm

Come along to view our townhouse showhomes

and find out what sets a Ryman village apart

from the rest.

The village is located in Aidanfield, Halswell

and enjoys stunning views of the Port Hills

and Southern Alps.

Our vibrant community offers security,

companionship and a full range of living and

care options including; independent and assisted

living, resthome, hospital and dementia care.

Two-bedroom

townhouses available now!

These beautiful homes are spacious and

feature a large kitchen and living area.

Step out onto your own patio and enjoy lovely

and professionally maintained gardens.

Priced from $495,000

To find out more phone

Susie on 338 7696

5 Corbett Crescent, Halswell
---
10 Wednesday September 4 2019

Latest Christchurch news at www.star.kiwi

aclandpark.co.nz

0800 ACLAND

Choir sings

crowd-pleasing

•From page 1

favourites

THE LINCOLN Women's

Insitute's annual concert opened

with a bracket of songs by one

of United States' most popular

musical theatre composers.

The songs Can't Help Singing, A

Fine Romance, and The Last Time

I Saw Paris by Jerome Kern were

some of the crowd favourites,

institute member Beth Keoghan

said.

A piano solo by Mrs Keoghan,

who is the group's accompanist,

was then performed.

"Variations of the Scottish

tune Ye Banks and Braes o' Bonnie

Doon was extremely well

received by the audience. It is a

favourite air arranged for piano

by Miss Lavinia E Hawley," she

said.

The final bracket of songs

had an Irish theme with songs

such as When Irish Eyes Are

Smiling, Galway Bay and Rose of

Tralee.

"The audience enjoyed joining

in the chorus of Gypsy Rover.

Several solo items throughout

the concert added to its variety.

The whole programme was

greatly appreciated by all," Mrs

Keoghan said.

Canterbury's fastest selling

new subdivision

Said Mason's mother Jamie

Kuru: "He was very happy to

meet them, he is a huge All

Blacks fan. He's going through

a lot at the moment so to get a

chance to talk to them really

boosted his confidence.

"He was smiling for the rest

of the day. As his mother, it was

really amazing to see."

Mason was a happy and active

kid before he was diagnosed, and

played rugby for Rolleston.

His cancer meant he couldn't

play this year but he can't wait

to be out on the field again, Ms

Kuru said.

It was Mason's after school

care, Selwyn Kids, which first

noticed something was wrong.

"They said they had noticed he

was more tired than usual. He

was really weak and just had no

energy at all. I looked at him and

thought he really isn't himself,"

said Ms Kuru.

Mason's teacher at Rolleston

Primary School also mentioned

his tiredness and he soon began

to break out in bruises all over

his body.

Said Ms Kuru: "At that point,

we had already gone to the

doctor a couple of times and

News

•A GoFundMe campaign has been started to help with Mason's treatment. If

you want to donate, visit www.gofundme.com/f/mason-ratten-is-kickingleukemia

'Huge All Blacks fan' fighting leukaemia

FIGHTER: Mason Ratten was diagnosed with leukaemia

in February and is about to start his final chemotherapy

treatment.

they had just put it down to him

being a busy kid and getting

tired.

"Then the third time we went

back, we were going to demand

a blood test, but as soon as the

doctor saw him he knew straight

away that it was more serious."

The results came back and

the family got a call that same

SELWYN TIMES

night telling them to bring him

straight to the hospital.

"I remember being in shock.

It's truly a mother's worst

nightmare."

Mason spent the next 10 days

in hospital. It has been a terrible

time for the family.

"In September last year I lost

my father to cancer as well, so

when this happened to Mason it

was really hard, it's been quite a

tough year," said Ms Kuru.

She is incredibly proud of

Mason. "He's never complained,

he just gets on and does it. He's

in the mindset that he just wants

to hurry up and get it over and

done with so he can get back

to playing rugby and running

around with his friends."

Mason is about to begin his

final round of chemotherapy and

his prognosis is positive.

"We're feeling relieved that

it's coming to the end, but

even though we are finishing

treatment, there is still another

couple of years afterward where

he will go in for monthly visits

for monitoring and things.

"There's still a long way ahead

but he will be going back to

school and starting to go back to

a normal life."

advertorial

Selwyn Business

Awards Fast

Approaching

LincolnEnvirotown.org.nz

Selwyn businesses are being urged to

enter the Selwyn Responsible Business

Awards which will culminate in a

Presentation Evening on 24th October at

which their achievements and initiatives

will be celebrated.

Entry is by an easily completed survey

taken online. Once this has been

submitted a Coordinator will pay a short

visit to the business to talk about their

practices in regards to Sustainability and

Community engagement. The process has

been streamlined greatly since previous

awards and those businesses which have

already entered this year, are reporting an

enjoyable exercise. The aim is to have

surveys completed before the end of

September.

Achievements are recognised, awards are

made and prizes are given, but previous

participants have highlighted many other

good reasons for being involved in this

project. These include such things as:

• The benefits of discussing practices and

receiving free advice

• Free publicity for their efforts

• Determining "where they are at" as

regards their impact

• Feeling that they are part of Selwyn's

efforts to maintain healthy communities

and environment

Each business receives a Certificate, A

positive Feedback letter, and a Digital

"Badge" for media publicity.

In an age when the public are becoming

more aware of the need for environment

friendly practices and strong communities,

Lincoln Envrirotown Trust sees this

project as important and beneficial to all.

Many businesses have received a survey

by email but in our growing district,

new businesses are frequently opening

therefore businesses that have not

received anything, but wish to

involve themselves in this exciting

project should contact Dave at

projectmanagerlet@gmail.com or

phone 03 423 0445.
---
SELWYN TIMES Latest Christchurch news at www.star.kiwi

Wednesday September 4 2019 11

Ski club celebrates 90 years

MT CHEESEMAN ski

club is celebrating its

90th birthday and being

the oldest in the South

Island.

The club held a birthday

party and retro ski day

to mark the occasion last

week.

Club member Bruce

Alexander, 87, said he remembers

starting out at Mt

Cheeseman.

"The first time I came

up to Cheeseman the club

was 16-years-old and I was

13-years-old. I came with

the Britten family. Mrs

Britten was the sister of Allen

Giles."

Allen Giles, a Hokianga

farmer, on holiday at Castle

Hill in the winter of 1929,

explored the area which is

now the Mt Cheeseman Ski

Area.

This led to the formation

of the Canterbury Winter

SKILLS:

A group

of skiers

in 1984

on the

top ridge

Poma

which

was later

converted

to a t-bar.

CELEBRATING: The oldest and youngest members

of Mt Cheeseman Ski Club Bruce Alexander, 87,

and Theodore Hinman, 5, cut the cake at the 90th

birthday party.

Sports Club in 1929, now

known as Mt Cheeseman

Ski Club.

To mark the occasion a

cake was cut by the oldest

and youngest members

of the club present on the

day, Bruce Alexander and

Theodore Hinman, 5.

The ski area is open

to the public and offers

both groomed slopes and

off-piste terrain. It is located

on Mt Cockayne, it is

named after Mt Cheeseman

which is slightly further

along the range.

The club is selling a

range of 90th anniversary

memorabilia including

its book 75 years on

Cockayne.

favourite fashion store

FASHION QUARTERLY SEPTEMBER 2019

Spring is in the air at Viva La Moda

With the cooler months starting to

disappear our Spring range is in store

with a selection of, Tops, Dresses,

Tee's, shorts and so much more to

come.

Colours are fab with pinks, corals,

pastels, patterns…there is something

for everyone dots, stripes, florals,

animal print and plain.

Animal Print whether it be Leopard,

Tiger or Python has made a strong

come back this Spring and it is not

going away anytime soon. Our picks

are the Gorgeous Push Back Slit Skirt

from Fate+Becker and Ketz Ke's

Sprout Dress.

Price ranges to suit all budgets, styles

and figures. For the more curvier

figure we have a flattering range

of Stella Royal by Augustine in store

along with a selection of other labels.

Many styles are great for trans

seasonal and can be dressed up for

evening wear with ankle boots, or a

casual look at the weekend teamed

up with sneakers and a cute denim

jacket, or the Uptown cape blazer

from Fate+Becker this is worth a look.

All our favourite labels have arrived in

Ketz Ke, Libertine, Vassalli, Elm, Charlo,

Random, Seduce, Zafina and Soya

Concept to name a few.

Pictured is the Ketz Ke Jasmine dress,

Libertine Coco Jacket and Seduce

Nahla top.

New labels for us are Ministry of Style

and Jump pictured is the Ministry of

Style Savannah slip dress with the Day

break Blazer.

Augustine summer pre orders

Wednesday 4 September at 7.00pm

and instore Friday 13 September,

lots of stunning pieces for summer

weddings or Cup day.

All of the styles shown are available

now at Viva La Moda so come on in

and have a try on.

All our lovely ladies have a great

talent for styling and will always be

honest, we want you to be in love

with your purchase.

We have a great range of

accessories, footwear, jewellery,

bags etc and of course the beautiful

candle range from The Red Shed.

Don't forget to look at our sale page

there is always a good buy there.

Don't forget you can shop online vivalamoda.co.nz and we

accept PartPay, buy now and pay over 6 weeks.

FREE SHIPPING NZ WIDE!

www.vivalamoda.co.nz

Like us on

Facebook

Shop 12, Rolleston Square, Rolleston. Phone 347 1151
---
12 Wednesday September 4 2019

Latest Christchurch news at www.star.kiwi

Our People

SELWYN TIMES

Andrew Crossland

Life among the birds helps Rolleston

Andrew Crossland has

been recognised by Birds

New Zealand with a Robert

Falla memorial award. The

Rolleston resident and

Christchurch City Council

park ranger talks to

Louis Day about how birds

have shaped his life and

career

What exactly does your role

consist of?

A big part of what I do is

habitat development – I don't

just look at birdlife. The default

is birdlife because we don't have

lions, tigers and giraffes around

the landscape. But in New

Zealand by default a person who

is a wildlife manager, which is

what I am, goes into birdlife. My

interest is how to develop habitats

or how to recognise habitats that

are of value to wildlife and how

to enhance them and protect

them, and how to manage the

behaviour and activity of people.

So I look at Christchurch as a big

national park and it has layers. It

has got street layers, the factory,

housing, it has also got the parks

and it's about facilitating wildlife

across the city without annoying

people and without people

annoying them.

Would you say birdlife is one

of your biggest passions in life?

The revolution

in heat pumps

is here now!

KEEPING WATCH: Andrew Crossland has been studying birds

since he as a teenager.

Oh yes, absolutely. It's a calling.

It has given me a really good

career and has taken me around

different parts of the world. I

am probably better known in

Indonesia than what I am in New

Zealand because I have done a lot

of exploration over there, and in

some cases, I was the first person

to visit since Marco Polo. Down

in Sumatra, I have identified

The revolution in heat pumps is here now!

The Fujitsu e3series

The brilliant

heat pumps from Fujitsu

e1 : efficiency

e2 : environment

e3 : economy

Website: www.pshc.co.nz

Finance available

FREE consultation from your local

Accredited Heat Pump Expert

Phone today: 03 381 6950

INSERT DEALER DETAILS HERE

The brilliant e3 series

heat pumps from Fujitsu

e1 : efficiency

e2 : environment

e3 : economy

huge bird populations people did

not know existed anymore. That

all happened because in 1985 I

found a bird on the estuary in

Christchurch called the asian

dowitcher and, at that time, it

was one of the rarest birds in the

world and it wasn't really known

where they wintered. They breed

in the Arctic and no one knew

where they went to. I was very

Fujitsu's Catechin Filters are

approved by the Asthma and

Respiratory Foundation NZ's

Sensitive Choice ® programme.

Email: info@pshc.co.nz

interested in this particular

species and two years later some

scientists surveyed the southern

part of Sumatra and found quite

a few thousand of these birds.

I finished university in 93 and

I found some old World War 2

military maps of the northern

part of Sumatra, about a 1000km

north of where the birds had

been found. So I went to Sumatra

in 94, 96 and 97 and many years

since, and I doubled the world

population of this bird. While I

was doing that I found thousands

of other species of bird that

migrate from northern Asia

down to Indonesia and Malaysia

and also Australia. Some made it

to New Zealand. I found that first

record for New Zealand when

I was 15, and that bird really

changed my life in terms of me

exploring that part of the world. I

speak the language and I met my

wife there and my kids are half

Kiwi and half Sumatra and we

spend a lot of time over there.

Where did you grow up?

I was born in Motueka, but I

grew up in Christchurch. I went

to Linwood Avenue Primary,

Linwood Intermediate, Linwood

High and then Canterbury

University.

How long have you been

involved with birdlife?

I have done it in a few phases.

I started doing this work in

MEARES WILLIAMS

LAWYERS

LINCOLN OFFICE

43 Gerald Street, Lincoln

1984 when I was 14-years-old, I

think, and became a consultant

for the city council and then I

worked as an ornithologist for

the water services unit from 1997

to 1999, then I went overseas and

I changed careers and was an

embassy officer. I worked for the

New Zealand High Commission

Singapore and then I returned

and I have been a park ranger

since the end of 2002 till now. So

I have been monitoring wildlife

in Christchurch for 35 years.

What is it you love the most

about your job?

It is great to get paid to do

what I love. It is great to start

on something when you're a

teenager and get paid to do what

you love to do – not many people

have that privilege. I cruise

around the peninsula all the time

doing wildlife stuff, that's way

better than working in a factory.

I have worked in a factory, I have

worked in a big flash office and

worn the big expensive shoes,

and now it is great to wear a pair

of shorts and go down to the

bush and the swamp.

Why should people care about

birds?

We should care about all of our

indigenous wildlife. They have an

inherent right to live and it is also

a major part of our culture and

birdlife is one of the most visible

parts of our native wildlife.

Kieran Heenan

kph@meareswilliams.co.nz

Richard Gray

rcg@meareswilliams.co.nz

W: www.meareswilliams.co.nz

T: (03) 374 2547

ROLLESTON OFFICE

78 Rolleston Drive, Rolleston

Office also located at 225 Papanui Road, Christchurch

FG1441

WIN $1000

TOWARDS YOUR NEW

HOMEPLUS

INSECT OR SECURITY

SOLUTION

PREPARE FOR

SUMMER

Request a free measure

and quote from HomePlus

and go into the draw to

win $1000 towards your

Insect Screen or Security

Solution.

Make the most of the warm

weather while still being

secure.

*Promotion finishes 31st Oct.

Measured, made

and installed by our

team of experts.

5 year warranty.

88 Gasson St, Sydenham | 03 379 3740 | www.homeplus.co.nz
---
SELWYN TIMES Latest Christchurch news at www.star.kiwi

Wednesday September 4 2019 13

conservationist spread his wings

I believe all wildlife should be

looked after. Birds also represent

connection throughout the

country with the migration

networks throughout New

Zealand and overseas. Basically,

we have a responsibility to look

after wildlife here and it makes

complete sense to keep an eye

out for it. There is no greater

attraction than looking at

colourful birds in the tree. We

share the planet with these other

life forms and we need to be not

solely focused on our 'you're

born, consume and die cycle'.

Has local birdlife deteriorated

or improved since you started in

your role?

I really started getting involved

in major conservation efforts in

1993. That's when the wetlands

began to get built and there was a

period of mass innovation and a

lot of investment in the city from

then into the quakes.

There was an incredible

increase of birdlife and pretty

much every species of bird

was increasing until the

quakes. When the quakes hit.

Unfortunately there were some

outbreaks of avian botulism and

thousands of birds died over

several years, but we now have

managed to stop that. We have

been very active in combating

that, and last year for the first

time, we had no avian botulism.

What do you see as the biggest

threat to birdlife?

I think it is human

disturbance. I think that predator

control is important and the

provision of habitat is also

important. But what we are doing

is we are trying to put people

in every space where wildlife

is. Humans have occupied big

chunks of the world but they left

a bit around the fringes, like the

edges of wetlands. But now we

have got adventure sports and

other stuff and we are occupying

them for wilderness cycleways

and other activities and now

we are occupying places where

wildlife has been consigned to,

and we are displacing wildlife. In

Christchurch, there is this sort of

thing where people need to enjoy

the wildlife and the environment,

and that is true, but we need to be

very clever in the way that we are

planning our reserve networks

to make sure every important

site has a sanctuary corner that

is not disturbed. We aren't doing

enough and so there are some

significant threats to wildlife,

which are almost all to do with

too many people in the wrong

place.

BIRD'S-EYE VIEW: Andrew

Crossland surveying birds,

including the asian dowitcher,

on the Indonesian island of

Sumatra.

How long did it take you to

learn how to spot a flock of

hundreds of birds and within

seconds identify their species

and accurately estimate their

numbers?

I guess it took a couple of

years to learn the skills. I'm not

the only person who can do

that obviously. When I began

to get into wildlife as a young

guy, before the Department of

Conversation was formed, there

was an organisation called the

New Zealand Wildlife Service

and also the Ornithological

Society, which is now called

Birds New Zealand. There were

a couple of people there that

acted as mentors and gave me the

opportunity to learn the skills

from them and then you quickly

learn stuff yourself, so I'm sort of

self-trained, but certainly rubbed

shoulders with some highlyskilled

people and a lot of that

knowledge has rubbed off on me.

How did you train yourself?

People say to me 'you know

the name of a whole load of

bird and animal species', so I

say to them name 50 types of

cars or dogs and they can do it.

Anyone who is interested in a

certain field and wants to gain

skills in that field quickly learns

through motivation and by using

resources. In the wildlife field, we

have field guides and books with

all the species on them and you

learn the field characteristics of

these species and you learn the

calls by simply being out in the

environment. It's no different to

a car dealer who can name lots of

different types of cars.

What was your reaction

to winning the Robert Falla

memorial award?

It is quite a prestigious award

and normally you get it for a

lifetime achievement. It came

out of the blue and I wouldn't

have given it to myself until 30

years time if I even deserved it.

It is a great privilege to get it. It

is kind of just a bit early. Totally

unexpected and I'm kind of

overwhelmed by it. I am sure

there are a lot of people out there

who have done more than me who

should have got it before I got it.

QUICKSCREEN FENCING

VERSATILE SCREENING SOLUTION

Quickscreen Fencing is an innovative, easy-to-install,

aluminium slat screening system that offers the

latest in architectural style. Quickscreen Fencing is

tough, long lasting, low maintenance and can be

adapted to suit a wide variety of applications.

• Available in Woodland Grey or Black

• Blades do not warp, crack, or splinter

• Non-weld assembly for easy installation

• Low maintenance"Stylish & easy to install"

QUALITY GARDEN SHEDS

"Stronger & sturdier storage sheds"

CHRISTCHURCH

Ph: (03) 338 9063 55 Hands Rd, Christchurch NZ 8024

www.stratco.co.nz

STRONG, HIGH QUALITY STORAGE SHEDS

Crisp, clean and uncluttered lines are a feature of

this attractive and economical storage shed.

The Stratco Garden Shed is a simple, strong and

secure, well designed storage unit that comes in a

size to suit every lifestyle and backyard requirement.

Quality construction means your Stratco Garden Shed

will be a lasting investment. Stratco Garden Sheds are

made in Christchurch to withstand New Zealand

conditions. Strong, durable and made to last, the

Stratco Garden Shed can be installed yourself, or

Stratco can organise installation for you.

WWW.

Your fresh food people.

OUR weekly specials

australian strawberries

250g ............................................................................................. 3

prepacked carrots 1kg .......................... 1

loose afourer mandarins .............. 3

loose braeburn apples ...................... 1

washed agria potatoes 5kg ........ 5

loose brussel sprouts ......................... 2

plain or crumbed

beef schnitzel ................................................... 14

plain or crumbed

chicken tenderloins ............................... 12

lamb loin chops ............................................. 19

havoc pork leg roasts ......................

All our fresh meat is 100% NZ FARMED. specials VAlid 2nd september - 8th september 2019.

ONLY AVAILABLE AT RAEWARD FRESH HAREWOOD RD, TOWER JUNCTION

.CO.NZ

.49

each

.49

each

.99

kg

.49

kg

.99

each

.99

kg

.99

kg

.99

kg

.99

8 .99 kg

kg
---
14 Wednesday September 4 2019

Latest Christchurch news at www.star.kiwi

SELWYN TIMES
---
SELWYN TIMES Latest Christchurch news at www.star.kiwi

Wednesday September 4 2019 15

LINCOLN UNIVERSITY

High-profile former politician to

present on state of the environment

Lincoln University looks forward to hosting

Dr Marilyn Waring as this year's presenter of

the annual State of the Nation's Environment

Address.

The event is free to the public and all are

welcome.

Dr Waring is an author, academic, and activist

who became New Zealand's youngest Member

of Parliament when she was elected as a National

Party MP in 1975 at the tender age of 23.

Nine years later, she provoked the 1984 Snap

Election after informing Prime Minister Robert

Muldoon that she would be voting for the

Labour Opposition's nuclear-free New Zealand

legislation.

Muldoon publicly decried her for her

"feminist anti-nuclear stance", which he said

was threatening to bring down his one-seat

majority government.

Leaving parliament that year after the fourth

Labour Government came to power, she

attended Waikato University and gained a PhD

in political economy.

Dr Waring is well known for helping to

found feminist economics, which argues that

gender equality, sustainable development, and

women's rights should be included in economic

modelling and performance.

In 1988, she wrote If Women Counted: A New

Feminist Economics, a book that is still cited

by researchers, policymakers and economists

worldwide.

It includes a critique of the concept of GDP,

which she says disregards the unpaid care work

performed mainly by women, yet counts "oil

spills and wars as contributors to economic

growth".

For the past 13 years, Dr Waring has been a

professor of Public Policy at AUT in Auckland,

focusing on governance, political economy,

gender analysis and human rights.

Her work has had a significant influence

on other academics, United Nations policies

and government accounting in a number of

countries.

For her presentation at the State of the Nation's

Environment Address, Dr Waring will discuss

the current Government's wellbeing budget

and its likely impact on the

wellbeing of the environment.

The university is celebrating

the 20th anniversary of its

annual event, which focuses

on an aspect of the current

condition of the environment

in New Zealand.

Since its inception in 1999,

the address has attracted

a number of notable New

Zealand speakers, including

the Rt. Hon. Helen Clark,

the Hon. Nick Smith, and Tā

Mark Solomon.
---
16 Wednesday September 4 2019

Latest Christchurch news at www.star.kiwi

SELWYN TIMES

News

International

students

welcomed by

Lincoln Rotary

ROTARIANS MET with

international Lincoln University

students to welcome them to the

community.

Rotary Club of Lincoln member

Ravi Gooneratne said the

project celebrates culture in the

district.

"Lincoln is now a multi-cultural

township. This is reflected in

the club membership with 10 of

the 48 Lincoln Rotary members

originally from another country,"

he said.

The club invited 15 postgraduate

students and their partners

from Ghana, Argentina, Fiji,

Switzerland, Philippines, Nepal,

South Korea, Vietnam, Cambodia,

Jordan, Myanmar, Costa Rica

and Sri Lanka.

"This was an excellent

opportunity for us to learn about

different cultures and students

also felt they are so welcome in

New Zealand," Mr Gooneratne

said.

•Rotary Club of Lincoln

meets Tuesday evenings

at Lincoln University and

welcomes visitors and new

members. If you are interested

phone Farhad Dastgheib

on 027 454 9317 or email

farhad@inet.net.nz

Work on show from young artists

Art students from Creative Sparks in Darfield have been given the chance to have their work displayed publicly at Selwyn Gallery.

Tutor Vicky Peacock said they were thrilled to be offered the opportunity.

"It is such a great way to build confidence in children and the students are certainly proud to show their beautiful work to parents

and family," she said.

"It is one of the proudest moments of my teaching career to see all their hard work displayed in a gallery."

Clockwise: Holly Wilson, 11, Tessa Bamford, 9,

Melissa Watson, 9, Meg Wilson, 9, Ruby Peacock,

8, and Vicky Peacock with their collaboration piece.

Tessa Bamford, 9, and her tui. Lu Wengler and her

daughter Jess Stewart, 8, with her painting of Jess.

Final Sections

Premium Reserve Frontage

Lots in Rolleston

Register your interest today!

03 281 7517 | sections@prof.co.nz | presonspark.co.nz
---
SELWYN TIMES Latest Christchurch news at www.star.kiwi

Wednesday September 4 2019 17

PERFORMANCE bY HUSQVARNA

105 AUTOMOWER ®

Working Area: 600m2

Cutting capacity: up to 43m2/h

Max. incline 25% (14°)

$2,499

315X AUTOMOWER ®

Working Area: 1500m2

Cutting capacity: up to 68m2/h

Max. incline 40% (22°)

$3,799

430X AUTOMOWER ®

Working Area: 3200m2

Cutting capacity: up to 133m2/h

Max. incline 45% (24.5°)

$4,499

450X AUTOMOWER ®

Working Area: 5000m2

Cutting capacity: up to 210m2/h

Max. incline 45% (24.5°)

$5,499

120i CHAINSAW

36V - 12" bar - 83dB(A)

- 4.2kg with battery

- Includes battery charger

$699

LC141Li LAWN MOWER

36V - 41cm Steel deck

- 50L Collector capacity

- Includes battery charger

$979

536LiB BLOWER

36V - 48m/s - 3.7kg

with battery

- Includes battery charger

$1,167

115iHD45 HEDGE TRIMMER

36V - 86dB(A) - 45cm bar

- 25mm Teeth opening

- Includes battery charger

$499

115iL BATTERY TRIMMER

36V - 83dB(A) - 4.25kg

with battery

- Includes battery charger

$499

R216 RIDER

Briggs & Stratton Intek

9.6kW @ 2900rpm

94cm cutting width

$7,699

R316T RIDER

Kawasaki FS Series V-Twin

9.6kW @ 2900rpm

103cm cutting width

$10,198

R316TSAWD RIDER

Kawasaki FS Series V-Twin

9.6kW @ 2900rpm

112cm cutting width

$13,898

Z248F ZTR ® ZERO TURN

Kawasaki FR Series V-Twin 22.0hp

48" cutting width - ClearCut

Fabricated deck

$7,949

Z246 ZTR ® ZERO TURN

Kawasaki FR Series V-Twin

- 18.0hp 46" cutting width

$5,899

Z242E ZTR ® ZERO TURN

Kawasaki FR Series V-Twin

- 21.0hp 42" cutting width

- ClearCut fabricated deck

$6,499

Z254 ZTR ® ZERO TURN

Kawasaki FR Series V-Twin

- 23.0hp 54" cutting width

$8,499

Z242F ZTR ® ZERO TURN

Kawasaki FR Series V-Twin

- 21.5hp 42" cutting width

- ClearCut fabricated deck

$7,349

MZ48 ZTR ® ZERO TURN

Kawasaki FR Series V-Twin

- 23.0hp 48" cutting width

- ClearCut fabricated deck

$9,999

SHANDS HuSqvArna

706 Main South Road

Phone 03 349 8955

www.shands.co.nz
---
18

Wednesday September 4 2019

Latest Christchurch news at www.star.kiwi

Selwyn Times

CultureFest bringing the

world to Selwyn

CultureFest is back for 2019 bringing the world to Selwyn.

Now in its fourth year, the popular festival will be celebrating the diversity of Selwyn through food,

art, sport and performance, and have a go activities.

CultureFest will take place on Sunday 29 September, 10am–4pm, at the Lincoln Domain.

Visitors can enjoy more than 25 different stage performances by groups from 16 different

countries ranging from Ireland to Indonesia and here in Aotearoa. There will also be workshops

allowing people to experience different cultures from Iran to China and beyond, plus a culinary

world tour with food from more than a dozen different countries including Nigeria, Egypt, Ukraine,

Spain and Iran.

Council Sport Recreation and Wellbeing manager Dave Tippett says CultureFest is part of the

Council's work to help people from all cultures feel welcome in Selwyn.

"We want to celebrate people from all cultures and ethnicities who have made Selwyn their home

because of the positive enriching impact that diversity has on our community. CultureFest is a

real celebration of that – it's an experience for the senses, for people listening to and seeing some

amazing performances, arts and crafts, tasting and smelling exceptional, authentic ethnic food

and having a go."

This year Lincoln University Student's Association (LUSA) has joined the Council and the

Christchurch Multicultural Council on the organising committee. Taking part in CultureFest will

replace its similar International Night event that was held around the same time, LUSA general

manager Fiona Kay says.

Lincoln has the highest proportion of international students for a New Zealand university and

students and some staff will be taking part as volunteers, stall holders and performers, she says.

"Our students and staff are very much part of the community, they live in the community, work in

the community and some have families with children going to school here. It's just great engaging

with the community and showcasing the diversity of our student population."

Strong growth in economy continues

Selwyn residents and visitors continue to back the steady economic growth in the district, according to

latest economic data.

Quarterly economic monitor figures from analysts Infometrics showed Gross Domestic Product (GDP) in

Selwyn grew by 4.5% in the year to June 2019, compared to 2.5% growth nationally and 1.7% growth

across Canterbury. Selwyn recorded the largest annual growth in GDP of any district in New Zealand.

The figures were supported by continuing growth in tourism spending and in electronic card

transactions as a whole across the district.

The amount spent by tourists grew by 10.5% for the year with tourists spending $117 million in the

district compared to a 4.5% increase in spending across the rest of Canterbury. The amount spent in

electronic card transactions rose 11.7% to $90.1 million.

Unemployment dropped slightly to 2.1%, down from 2.2% in the previous quarter and almost half of the

national unemployment rate of 4.1%.

House sales remained steady according to the report along with house building, with the Council

issuing 334 consents for new houses – almost unchanged from 339 in the previous quarter.

Council Chief Executive David Ward says the figures are an encouraging sign of the continued

desirability of the district.

"The diversity of our economy in Selwyn is a strength and the figures show a continued confidence that

this is a great district to live and do business in. It's encouraging to see that backed up by continued

tourism growth that shows other people are recognising what a great place this is."

ON THE

ROADS

On the roads this week

Repairs are being carried out on Harper Road. Drainage works are being carried out on

Malvern Hills Road and bridge repairs are being carried out at Mt White. Please stop on

request at these sites. Zig Zag Road will be closed for maintenance from 6.30am–6pm

Monday 2 September until Friday 20 September. A detour will be in place.

Footpath construction is taking place in Darfield on North Terrace, McIlraith Street, Kimberley Road and

Holmes Road. These footpaths will be closed during the construction.

Selwyn Civil Defence

volunteers needed

We're recruiting more volunteers to build on the district's ability to

respond to a Civil Defence emergency.

The Selwyn Emergency Management Team is hosting a

recruitment evening at the West Melton Community and

Recreation Centre on Tuesday 8 October at 7pm. Civil Defence

Manager Al Lawn says the Council is looking to fill roles in all three

of its volunteer teams including Response Team, Welfare Team and

Community Response Team.

"This latest round of volunteer recruitment will complement the strong

base of Civil Defence volunteers who live in the district," Mr Lawn says.

"We're looking for people to help ensure we can manage a long

duration event, such as an earthquake generated by the Alpine

Fault, and to help the Selwyn community get through."

Do you have the skills and time to help your community?

Across Selwyn there are more than 30 Community Response Teams

ready to respond in an emergency to support their local area and

provide information to the Emergency Operations Centre. Volunteers

are required to attend one training session per year.

The Selwyn Response Team, specialised and highly trained in

communications, light search and rescue, urban search and rescue,

first aid, and cordon control, requires up to another eight members.

The response team trains weekly.

The Selwyn Emergency Welfare Team, trained to open and

operate a Civil Defence Centre, and support people who have to

evacuate their homes, needs another four volunteers. The Welfare

Team trains fortnightly.

Volunteer members from each team will be available on the night to

answer any questions.

To register your interest in attending the information night please

email civildefence@selwyn.govt.nz by 5pm Friday 4 October.

Making waste-free achievable

Tips for reducing the rubbish in your life will be available this month as

waste-free expert Kate Meads returns with her popular workshops.

During the two workshops, sponsored by the Council, the Kiwi mum

will take people through tips on waste-free parenting and reducing

food waste.

The Waste-Free Parenting workshop takes people through inspiring

ways to minimise waste, while introducing sustainable products for

use in the home. The Food Lovers Masterclass is focusing on ways to

reduce food waste when cooking and preparing meals.

The workshops will be held on Thursday 26 September at the Lincoln

Event Centre with the Food Lovers Masterclass from 10am–12pm

and the Waste-Free Parenting Workshop from 6.30–9pm. Tickets are

$25 each or for a couple. Every ticket comes with a $100 goodie bag.

Bookings are required – to book visit wastefreeparenting.co.nz.

RATES REMINDER

By now you should have received your rates invoice for the first

quarter of the 2019/20 rating year.

This invoice covers the period from 1 July 2019 to 30 September

2019, and is due for payment by 15 September 2019.

If you have not yet received your invoice, please contact

our Rates Department on 347 2776, or email us at

rates@selwyn.govt.nz.

If you have recently moved into a new dwelling in Selwyn, please

phone or email us to update your address and contact details.

Council Call

Selwyn District Council

Norman Kirk Drive, Rolleston

Ph 347 2800 or 318 8338

Rolleston Library

Rolleston Drive, Rolleston

Ph 347 2880

Darfield Library & Service Centre

1 South Terrace, Darfield

Ph 318 8338 or 347 2780

CC040919
---
Selwyn Times Latest Christchurch news at www.star.kiwi

Wednesday September 4 2019

19

Notices

WATER RACE TEMPORARY

SHUT DOWNS

Water supply to the Lower

Ellesmere Stock Water Race

Scheme will be temporarily

shut down for scheduled

intake maintenance from 9–13

September. The outage will

affect all races downstream

of intake. Supply to Ellesmere

Stock Water Race Scheme

will be affected for this time.

It may take some days for

supply to be fully restored.

Glenroy Community Irrigation

Co. Ltd is shutting off the

Upper Ellesmere Water Race

Intake and Scheme to allow

for intake maintenance. From

3–7 September. Races affected

include Rakaia Tce, Sharlands,

Waikimihia, Rakaia, Selwyn

and Illingworth Roads and

all offshoots. Flow may take

time to reach all downstream

users. An affected area map is

available at selwyn.govt.nz. Any

questions please contact the

Surface Water Department (03)

347 2800 or email waterraces@

selwyn.govt.nz

DOG MICROCHIPPING

This free monthly service is

available on Friday 6 September

at the following places:

· Leeston 9–9.30am

· Darfield 10.15–10.45am

· Rolleston 11.30am–12pm

· Lincoln 12.45–1.15pm

If your dog was first registered

after 30 June 2006 and is not a

working dog, the law requires

him or her to be microchipped.

Please note:

· All clinics last for only half an

hour.

· The Rolleston venue is

in Norman Kirk Drive (off

Rolleston Drive).

· Microchipping will not take

place if wet.

If you have any questions

regarding microchipping, please

contract Tracey Wheeler on 347

2800 or 318 8338.

Selwyn Events

SATURDAY

7

SEPTEMBER

Daddy Daughter Time

Rolleston Library, 1–3pm

A great time for dads and daughters

to enjoy together and get creative

decorating cupcakes. We have

everything you need, just bring along

your imaginations. $10 per family.

Bookings essential at Eventbrite.co.nz

Meetings

Public Forums: Council,

Community Board and local

committee meetings are open

to the public. Time is available at

the start of meetings for people

to speak on matters of concern.

Please notify Therese Davel or

Bernadette Ryan if you wish to

speak at Council at least five

days before the meeting.

Township, Hall and Reserve

Committees: To list or make

changes to meeting details, email

meeting.changes@selwyn.govt.

nz or phone 347 2800 or 318

8338 by 9am Wednesday the

week before publication.

COUNCIL & COMMUNITY

BOARD

Selwyn Waihora Zone

Committee

Tue 3 Sept 4pm

Lincoln Event Centre

Property Committee

Wed 4 Sept 10am

West Melton Community and

Recreation Centre

Audit & Risk Subcommittee

Wed 4 Sept 11.30am

West Melton Community and

Recreation Centre

Council

Wed 11 Sept 1pm

Tai Tapu Community Centre

Road Safety Committee

Thus 19 Sept 9.30am

Venue TBC

DISTRICT COMMITTEE

MEETINGS

Darfield Township Committee

Thus 19 Sept 7.30pm

Darfield Library

Doyleston Community

Committee

Wed 4 Sept 7.30pm

Doyleston Hall, Osborne Park

Dunsandel Community

Committee

Mon 16 Sept 7.30pm

Dunsandel Community Centre

Glenroy Community Hall

Committee

Tue 17 Sept 7.30pm

Glenroy Community Hall

Glentunnel Community

Centre Committee

Tue 17 Sept 7.30pm

Glentunnel Community Centre

Greendale Recreation

Reserve Committee

Tue 3 Sept 8pm

Greendale Sports Pavilion

Kirwee Recreation Reserve

Management Committee

Mon 9 Sept 7.30pm

Kirwee Recreation Reserve

Sports Pavilion

Kirwee Township Committee

Mon 16 Sept 7.30pm

Kirwee Community Hall

Lake Coleridge Community

Celebrating Te Wiki O Te

Reo Māori with story time

Nau mai, haere mai, ki te whakanui i Te Wiki o

te Reo Māori. He pūrākau kei te haere! (Help us

celebrate Te Wiki o te Reo Māori with a storytime!)

As part of our Māori Language Week celebrations

next week each Selwyn Library will be hosting a

special te reo storytime. Join us for waiata (songs)

and to hear some of our favourite stories in te reo.

Storytimes will be held at:

· Darfield, Monday 9 September 9.30–10am

· Rolleston, Monday 9 September 10.30–11am

· Leeston, Friday 13 September 9.30–10am

· Lincoln, Friday 13 September 10.30–11am

Committee

Fri 13 Sept 7.30pm

Lake Coleridge Hall

Lincoln Community Committee

Mon 9 Sept 7pm

Fitzgerald Room,

Lincoln Event Centre

Southbridge Advisory

Committee

Mon 9 Sept 7pm

Southbridge Hall

Springston Community

Committee & Springston

Recreation Reserve Committee

Wed 18 Sept 7.30pm

Errol Tweedy Pavilion,

Springston Reserve

Tawera Memorial Hall

Committee

Wed 4 Sept 7pm

Tawera Memorial Hall

Waihora Park Reserve

Committee

Tue 3 Sept 7.30pm

Waihora Bowling Club

Weedons Reserve Committee

Mon 9 Sept 7pm

Weedons Reserve

Weedons Residents Association

Tue 10 Sept

Weedons Reserve

Whitecliffs Township &

Domain Committee

Mon 9 Sept 7.30pm

Glentunnel Hall

Selwyn Business Directory – register your business now!

Be in to win a team morning tea shout.*

selwyn.govt.nz/directory-register

*Terms and conditions apply

MONDAY

9

SEPTEMBER

MON–SUN

9–15

SEPTEMBER

WED 11 &

TUE 24

SEPTEMBER

THURSDAY

12

SEPTEMBER

THURSDAY

12

SEPTEMBER

Farm Recycling Day

Ellesmere

A one-stop-shop to drop off farm waste

including chemical containers, silage

and bale wrap, fertiliser and feedbags,

waste oil and unwanted chemicals for

recycling, or safe disposal. Register

at agrecovery.co.nz to book a time.

Location will be provided to registered

attendees, no unregistered attendees

will be accepted on the day.

Keep New Zealand

Beautiful Week

Join hundreds of organisations,

businesses and communities around

New Zealand in community clean-ups.

During the clean-up week all official

KNZB rubbish and recycling bags

can be taken to the Council's Pines

Resource Recovery Park (183 Burnham

School Road) free of charge. You can

register your interest at knzb.org.nz

Confident Drivers Course

11 September: West Melton,

9.30am–2.30pm, 24 September:

Lincoln, 9.30–2.30pm

Are you over 60 years or know

someone who is? Mature drivers

can attend a free confident driving

course run by Age Concern. The

course includes a refresher of the road

rules and new changes. For more

information visit selwyn.govt.nz/events.

Fun with Makeup

Leeston Library, 6.30–9.30pm

Informative, interactive group makeup

session by a professional makeup

artist. Learn makeup basics as well

as techniques, tips and tricks so you

can look and feel your best anytime.

$20 per person. Bookings essential at

Eventbrite.co.nz

Murder Mystery

Darfield Library, 7–9pm, free

Adults, come along to celebrate

Agatha Christie's birthday by solving

a murder mystery at Darfield library!

Use your best detective skills to solve

the crime.

For information on listing a community event visit

www.selwyn.govt.nz/councilcall

Leeston Library & Service Centre

19 Messines Street, Leeston

Ph 347 2871

Lincoln Library & Service Centre

Gerald Street, Lincoln

Ph 347 2876

(03) 347 2800

Darfield call free 318 8338

www.selwyn.govt.nz

SelwynDistrictCouncil
---
F

20 Wednesday September 4 2019

Latest Christchurch news at www.star.kiwi

SELWYN TIMES

Under-16s run away with Tiny Hill Shield

SPACE: Utility back Adam Gualter was a standout for the

Ellesmere under-16s. PHOTO: ANGELA JONES PHOTOGRAPHY

VICTORIOUS: The Ellesmere under-16s with the Tiny Hill Shield after their 41-5 win over North

Canterbury at Oxford on Saturday. ​

• By Jacob Page

THE ELLESMERE under-16s

were able to use their speed

on a dry track to beat North

Canterbury 41-5 and win the

Tiny Hill Shield at the Oxford

Oval on Saturday.

Coach Derek Smith said the

players' mobility around the field

was high on his mind when the

team was picked – and it paid

dividends on a sunny day.

"I felt we built well during

the week, had two very good

trainings on Tuesday and

Thursday, and at the captain's

run on Friday I thought the team

was on fire.

"We wanted to play a faster

game, a wider game, and keep

them running around, which is

SPORT

how the game panned out.

"We wanted a mobile tight five

that could keep it going for the

full 70min and I thought we had

the best team possible for a dry

track."

North Canterbury scored first

but Ellesmere replied with two

tries to take the lead into halftime.

"The first half team wore them

down and then in the second

half we scored a lot of points very

quickly.

"Defence was really crucial

for us. North Canterbury got

a try from a pick-and-go early,

but they got close plenty of other

times, but each time we stepped

up and repelled them."

Smith said Adam Gualter was

a standout playing the first half

at fullback and the second 35min

at No 10.

"It was a gamble for me to

move him because I hadn't seen

him play first-five, but I was told

he'd go well and, yes, he carved

up there."

Smith said Lachie Hlaca

impressed at hooker, playing

tight head prop for the first time.

"He gave us tremendous

mobility and was relentless

in defence. I thought he was

outstanding."

BED 2

2.9 x 3.0

BED 1

3.6 x 3.4

BATH

3.6 x 2.0

KITCHEN

2.7 x 3.5

WC

1.9 x 1.0

STUDY

NOOK

BED 3

2.9 x 3.3

DINING

3.7 x 2.9

L'DRY

DOUBLE GARAGE

5.8 x 5.8

LOUNGE

5.2 x 4.7

ENTRY

1.7 x 1.5

ENS

1.5 x 4.7

BED 2

3.0 x 3.2

BATH

3.0 x 2.3

WC

1.9 x 1.2

BED 3

3.0 x 3.2

DOUBLE GARAGE

5.8 x 6.0

W'ROBE

2.1 x 1.8

L'DRY

BED 1

4.2 x 3.2

KITCHEN

2.8 x 4.0

P'TRY

2.0 x 1.4

ENTRY

1.5 x 2.0

DINING

4.5 x 3.0

FAMILY

4.5 x 4.5

LOUNGE

4.5 x 4.5

N
---
SELWYN TIMES Latest Christchurch news at www.star.kiwi

Wednesday September 4 2019 21

Slow start cost Ellesmere

the McGiffert Trophy

• By Jacob Page

A SLUGGISH start cost the

Ellesmere under-18s in their 35-

24 defeat to North Canterbury

at Oxford on Saturday.

Ellesmere trailed 28-0 at

half-time before mounting a

comeback to be four points

down with 10min to play. But

North Canterbury scored a

final try to put the game out of

reach and lift

the McGiffert

Trophy.

Co-coach

Mike Wilson

said his team

were their

own worst

enemy in the

Mike Wilson

first half.

"We just leaked too

many points. We had a few

opportunities but it took us a

long time to get into the game.

"We lacked a little bit of

penetration and punch

and tried to go wide too

quickly.

"North Canterbury were

more effective and a lot of their

points came from turnover ball

and they showed good support

play to make us pay.

"We had dropped balls and

missed passes, a lot of little

things.

"The start highlighted the

fact we'd only had a week with

WATCHFUL: Ellesmere under-18 defender Connor O'Neill

waits for the right moment to make a tackle.

PHOTO: ANGELA JONES PHOTOGRAPHY

them and it's hard to form those

combinations and trust in

that time."

Wilson said he was thrilled

with the character the team

showed to get back into the

game in the second half.

"We constructed points well,

there was more penetration,

there was more accuracy and

patience to go with it.

"We had some boys come on

and do some good things. Liam

Pratt came on at prop and gave

us some good carries.

"Brandon Boyle came on and

was really physical and gave us

what we knew he would with

ball in hand so that was good

to see.

"For the guys to make a game

of it like they did late in the

piece was a really good sign for

the group."

LEAP: Georgia

Allison is

preparing

to compete

at events in

Morocco and

Australia.

Darfield High show-jumper

off to Morocco and Sydney

• By Jacob Page

IT PROMISES to be a busy

couple of weeks for Darfield High

School show-jumper Georgia

Allison.

The 18-year-old will fly out to

Morocco at the end of the week

for the Global Amateur Tour

where she will ride local

horses and try to clear

1.20m jumps.

Georgia (right) will then

represent New Zealand

at the Marcus Oldham

Australian inter-school

championships in Sydney.

The event at the Sydney

International Equestrian Centre

runs from September 29 to

October 2.

Allison, who lives in Oxford,

will be part of an eight-strong

all women's team to compete in

the dressage and show-jumping.

However, she will compete solely

in the show-jumping.

Allison said show-jumping has

always been part of her life.

"I've been riding since I was

born it feels like – I did my first

competition when I was two.

"International opportunities

are what I've been working

towards for a while and I've been

short-listed for things but to get

these opportunities is exciting.

"It will be good to test

myself against international

competitors."

Allison is a selfdescribed

perfectionist.

"I think I'm mildly

OCD, everything has to

be perfect, but I think

that's why I did a lot of

show-hunting to win

in that grade. In showjumping

you go against the clock

and as long as you jump well

that's what matters.

"I'm hoping for clear rounds

at both competitions, given I

don't know the horses I'll be

riding.

"In Sydney we'll only be

jumping 1.05m, which will be

different to Morocco, but if I

can be consistent then I'll be

happy."

All welcome

Come play

it's free

RACQUETS SUPPLIED. BBQ.

PRIZES. GIVEAWAYS.

Tennis clubs across Selwyn are opening their

doors for a fun, FREE event for all ages.

• Hornby Tennis Club

• Irwell Tennis Club

• Prebbleton Tennis Club

• Rolleston Tennis Club

• Southbridge Tennis Club

• Tai Tapu Tennis Club

Find a club near you!

www.lovetennis.kiwi

Sat 7 & Sun 8 Sept 1-4pm

Times may vary by club.

Please check website for details.

YOU COULD

WIN A TRIP FOR TWO

TO THE ASB CLASSIC

IN AUCKLAND THIS JANUARY

First

receive a

200

FREE

club visitors

snack pizza
---
22 Wednesday September 4 2019

Latest Christchurch news at www.star.kiwi

SELWYN TIMES

SPRING ON INTO YOUR LOCAL FOR THESE

DAYLIGHT SAVING SMASHING DEALS

Smirnoff DB guarana Jim Beam/CC 440ml 4.8% 4pk cans &

4pk 7% 250ml cans 330ml 4pk bottles/Midori 4pk bottles

$

9 .99

398 High Street, Rangiora

03 313 7207

1275 Main North Road, Bridgend

03 323 8833

585 Springs Rd, Prebbleton

03 349 6031

Tui 7% Bourbon/Vodka soda

12pk cans

$ .99 ea

$ .99 ea

19

11

Long white 10pk range

Coruba & cola 7% 12pk cans

$

24 .99 24

$ .99 ea

29

$

23 .99 ea

Cody's 18pk 7% cans/ Woodstock 7% 250ml

Jim Beam Gold/CC 7% 250ml

$ 24 Woodstock 5% bottles all 18pks

.99 ea 18pk cans

Wolf Blass yellow

12pk/DC 8pk all cans

$ 31

.99 label range

$ .99 ea

9 Riverstone

Church Road Range

Taylors estate range

Corbans white label range Range

Villa Maria Cellar Allan Scott Range(ex PN)/Grant

(ex PN/Syrah) $

15 .99 ea 2 for $

17 .00 2 for $

18 .00 Selection (ex PN/Syrah)

Burge Fifth generation Range Blackheart/

$

14 .99 ea 2 for $

30 .00 3 for $

45 .00 Woodstock 1L

$ .99 ea

34 CC (including spiced) 1L/Famous

Gordon's/

Jim Beam 1.125L/Jim Beam

Grant's 1L Grouse 1L/Russian Std 1L/Jim Baileys 1L

Jameson 1L/ Appleton Estate

Smirnoff 1L

Black 1L/Makers Mark 700ml Chivas 700ml

Jim Beam Rye 1L/Roku

$

$

37

35 .99 Beam Double Oak 700ml $

40 .99

1L

.99 ea

$

43 .99 ea $

49 .99 ea $ 700ml/ American oak

$

38 .99 ea 51 .99 Auchentoshan 700ml

$ .99 ea

53

Somersby 10pk Orchard Thieves

Tuborg 12pk/Fortune

Chivas Extra 700ml/Glenlivet

cans 12pk bottles

Hayman's Gin/Jack

Haagen 15pk bottles

Favours 6pk can range

Founders Reserve 700ml

$

19 .99 $

Daniel's 700ml ranges

$ Tiger Crystal 12pk

$

20 .99 $

19

54 .99 ea 19 .99

.99 ea 2 for $ $

80 .00 21 .99

Monteiths Batch brewed 12pk range Heineken 12pk bottles

Tui/DB Draught 15pk bottles Mac's 12pk beer/cider bottle range $ $

$ 24

23 .99 ea .99 Export gold & 33 15pk bottles

$

24 .99 ea $ .99 ea

24 .99 ea 25

Lion Red/Speights/

Carslberg 15pk

Export gold extra

Waikato/Summit/Summit

bottles

Corona 12pk

24pk

low carb 24pk bottles

$

25 .99 $

27 .99

$

34 .99

$ .99 ea

36

www.thirstyliquor.co.nz

OVER 170 STORES NATIONWIDE!

Available from 1st – 30th September. Specials while stocks last. Available at participating stores.

45 South Terrace, Darfield

03 317 9499

1147 West Coast Rd, West Melton

03 347 8460

670 Main South Rd, Islington

03 349 7337

Woodstock 330ml 7%

Smirnoff Ice Red 5%

6pk cans (incl zero)

12pk cans

$

13 .99 ea

670 Main South Rd, Islington

03 349 7337

Main Rd, Lake Tekapo

03 680 6242

42 Waimate Highway, St Andrews

RD24 03 612 6740

69 Main St, Fairlie

03 685 8061

21 Aldwins Road, Linwood

03 982 1753

9 Parnwell St, Burwood

03 383 2564

www.facebook.com/ThirstyLiquorandBlackBullLiquor

Jack Daniel's & Cola 4.8%

330ml 10pk cans

$

20 .99

$

23 .99

495 Papanui Rd, Christchurch

03 260 2380

65 Victoria St, Christchurch CBD

03 260 1155
---
SELWYN TIMES Latest Christchurch news at www.star.kiwi

Wednesday September 4 2019 23

Fourth semi-final

spot still on the line

• By Jacob Page

LINCOLN A and Southbridge

will play for the last semi-final

spot in Selwyn premier netball

on Saturday at the Lincoln Event

Centre.

With Broadfield A, Greenpark

B and Greenpark A already

assured of a place in the top

four, it is a must-win game for

Lincoln A, while Southbridge A

could earn a draw and progress

through.

Week five results went

according to form, with

Southbridge beating winless

Prebbleton A 53-51 in an

unconvincing performance.

Broadfield A continued to

look like the team with the most

momentum as they cruised past

fellow semi-finalists Greenpark B

52-32 on the back of a dominant

second half, and Greenpark A

kept their slim hopes of finishing

top-of-the-table alive with a 62-

42 win over Lincoln A.

Lincoln A coach Dawn Dalley

felt her squad of eight deserved

to make the top four after the

level of commitment the team

had shown throughout the long

season.

"We had trials back in the

SPORT

middle of February, so it makes

for a long season, but they've

stuck to their guns all year and it

is a big game for us," she said.

"I look at this game against

Southbridge as quite important

because it may determine

which ones from our

team come back next

season as we build for the

future."

Broadfield A coach

Yvonne Crichton-Hill

said she was "very

satisfied with the win over

Greenpark B.

"We were only up by

one at the end of the first quarter

and four by half-time.

"It wasn't good enough to have

a lead and let it whittle away so

we did well to limit our errors

in the second half and build the

lead.

"We got more turnovers but

treasured the ball while being

more patient."

A win over Prebbleton A

on Saturday will earn Broadfield

Yvonne

Crichton-Hill

A top spot.

Greenpark A coach Zaylie

Sullivan said her team's win felt

closer than the eventual 20-goal

margin.

"Lincoln had their moments

and we felt like we weren't all

that far ahead at times," she said.

"We had a slow start, we'd let

Lincoln get on a run but what

was good is that we were able to

pull it back when we needed to

do so. We slowed things

down and eventually

limited our mistakes."

The two Greenpark

teams will meet in the

final week of the roundrobin

with the prospect of

playing each other again

seven days later in a semifinal.

Results: Southbridge A 53,

Prebbleton A 51, Greenpark

A 62, Lincoln A 42, Broadfield

A 52, Greenpark B 32.

Points; Broadfield A 14,

Greenpark B 12, Greenpark A

12, Southbridge A 6, Lincoln

A 4, Prebbleton A 1.

Saturday draw: Lincoln A v

Southbridge A; Broadfield A

v Prebbleton A; Greenpark A

v Greenpark B.

LEAP: Broadfield A goal defence Kayla Williams showed her

skills in the air as they cruised past Greenpark B 52-32 on

Saturday.

PHOTO: KAREN CASEY

ATTACK: Maia Hill gets ready to take a pass. Kirsty Jones and Brittany Brown leap for possession. Mechelle Barltrop eyes up a counter-attack. Harriet French looks

for support.

100%

CAPITAL gAIN

TO THE RESIDENT

$1,000 fULLY

REfUNDAbLE

DEPOSIT

E S T A T E

Phone. 03 421 7796 | Email. sales@woodcroftestate.co.nz

WOODCROFT WAY, 32 KENDON DRIVE, ROLLESTON, CANTERBURY

INVESTMENT IN YOUR RETIREMENT AND

REAP THE REWARDS IN ROLLESTON

Now

offering free

standing villas:

$560,000

3 Beds, 2 Baths,

double garage,

173m2.

ROLLESTON'S NEW REgISTERED RETIREMENT VILLAgE

• Initial weekly fee of $75 includes rates, insurance, grounds maintenance and

window washing

• Gated community and emergency call button in each villa

• Two & three bedroom villas with single/double garage from $415,000

• There will be an on site manager and a pavilion and bowling green

• Show Home now open Monday to Friday 10am to 2pm

• After hours viewing by appointment call Corinne 021 292 1141

www.manorgroup.co.nz
---
24 Wednesday September 4 2019

Latest Christchurch news at www.star.kiwi

SELWYN TIMES

No matter where

you're sleeping.

Kate Sofa Bed

FROM $399

ALL BEDROOM RANGES ON SALE

+ select items across Lounge and Dining.

Lift Up Storage

Mattress Base

FROM $

550

Chia

BEDROOM RANGE

ON SALE

Single Trundler

Bunk Bed

NOW $1099

Paris

LIVING & BEDROOM

ON SALE

Queen Bed

NOW $899

ON SALE

Bedside

NOW $279

Caribbean

MATTRESSES

ON SALE

Single NOW $ 299

King Single NOW $ 349

Double NOW $ 379

Queen NOW $ 399

King NOW $ 459

Buffet

NOW $999

Coffee Table

NOW $499

Kit Set Bases

FROM $200

Shop

Online

Nationwide

Delivery

Finance

Options

targetfurniture.co.nz

SLEEP BETTER SALE ENDS 09.09.19. You snooze, you lose!

Cnr Blenheim & Curletts Rds, Christchurch

Ph: 0800 TARGET (0800 827438)

Offers and product prices advertised here expire 09/09/19.

Sale excludes Manchester and Accessories.
---
SELWYN TIMES Latest Christchurch news at www.star.kiwi

Wednesday September 4 2019 25

Tasty Bites

Creating healthy food to reduce stress

Stress is normal and often

healthy. In everyday life, stress

plays a role in alerting us

to life's occasional dangers

and challenges so we

can prepare ourselves for

them and find solutions to

impending problems. Poke

bowls (pronounced poh-kay)

are based on the bite-sized

marinated fish salad famous in

Hawaii and have some great

stress-relieving qualities

Poke bowl

Cabbage crisps

Ingredients

12 good-quality

cabbage leaves,

remove tough, centre

stalk

2 Tbsp good-quality

oil

1 tsp sea salt flakes

½ tsp cumin or caraway

seeds

Directions

Ingredients

450g uncooked wild salmon,

skinned and cut into 2cm cubes

(or hot-roasted, if preferred)

½-1 medium ripe avocado, diced

¾ cup mango pieces, defrosted

½ cup thinly sliced capsicum

2 cups packed spicy greens, such

as watercress or mizuna, roughly

chopped

½ cup blanched broccoli florets

½ cup chopped fresh coriander

½ cup edamame beans, boiled

3 Tbsp tamari/soy sauce

2 Tsp sesame oil

1 Tbsp black sesame seeds

½ lemon, cut

Brown rice salad

2 cups cooked short-grain brown

rice, warmed

2 Tbsp rice vinegar

½ tsp turmeric

2 Tbsp extra-virgin olive oil

1 Tbsp Dijon mustard

Directions

Gently combine salmon, tamari

and sesame oil in a medium

'Famous for their roasts!'

SENIORS SPECIAL

Two courses: $

22

Soup/Roast or Roast/Dessert

Special available lunch only

Monday - Saturday 12pm - 2.30pm

Conditions apply

FAMILY FRIENDLY

Kid's Special

Two courses

Great Kids menu plus

designated play area.

$

13

RESTAURANT & CAFÉ

Open daily from 6.30am - Breakfast, Lunch & Dinner

The

RACECOURSE HOTEL

www.racecoursehotel.co.nz

& Motorlodge

118 Racecourse Rd, Sockburn,

Christchurch. Ph 03 342 7150

HEAT PUMP

SALE NOW ON!

Amazin' Spring Specials!!

bowl to let the flavours infuse.

Make brown rice salad by

combining rice and greens in a

large bowl.

Whisk vinegar, oil and mustard

in a small bowl. Add to the

rice salad and mix well. Place on

the base of a bowl.

Top with all the other individual

ingredients, placing

each thing separately around

the bowl like numbers on a

clock. Top with sesame seeds

and sliced lemon, then take an

Instagram-worthy photo of it,

feel grateful for your nourishing

food, and then enjoy every

mouthful.

Preheat oven to 120

deg C. Place cooling

rack over rimmed

baking trays.

Peel the outer leaves

from the cabbage, cut

out the tough centre

stalk, and tear the

larger leaves in half.

Place in a large

bowl and drizzle over

the oil, season with

salt and spices, toss

gently together and arrange in a

single layer on the trays.

Bake until the leaves go golden

and become crisp (25-40min).

Allow to cool completely

before eating. Cabbage crisps

will store in an airtight container

for up to three days.

This Week at the Hornby Club

THIS FRIDAY 7PM

in the Main Bar Tue, Wed, Thu Friday

Jo's

Karaoke

COMING UP

SATURDAY 14 SEPT, 7.30PM

Pre-sale tickets $20, Door sales $25

Saturday

let's

eat

Check Out These Club Café Dining Specials!

Midday to 2pm

Roast of the Day

with veges

or

Fish of the Day

with chips &

salad

Add a dessert for just $5

The Club Café

is open daily for

Lunch & Dinner

Bring the whole family!

Sunday

• We will offer you the best quality brands and

option of heat pump for your home/business

• Providing Heat Pump solutions for over 17 years to Cantabrians

• We personally guarantee all our products & installs for 5 years

(providing annual maintenance has been completed)

Phone us today for your free consultation & quote

41A SHAKESPEARE RD, WALTHAM

PHONE 03 366 0525

www.enviromaster.co.nz

"A local team for local people"

Eddie Low & Friends

'A Song For Bunny'

Kevin

Greaves

COMPERE

Noel Burns

Eddie Low

M.N.Z.M.

From Australia

Paul Costa

SUNDAY 15 SEPT, 7.30PM

Tickets $25

HWMC | ph 03 349 9026 | 17 Carmen Rd, Hornby

www.hornbywmc.co.nz | Members, guests & affiliates welcome
---
26 Wednesday September 4 2019

Latest Christchurch news at www.star.kiwi

SeniorNet

Lincoln on Wednesday, 10amnoon,

Leeston on Thursday,

10am-noon and Rolleston on

Fiday 10am-noon

SeniorNet brings older adults

and technology together in a

friendly, fun and stress-free way.

It's for people over the age of 50

who'd like to learn more about

technology and what it can do

for them. To join in Rolleston or

Lincoln phone Tui Heighway 027

765 5194 and for Leeston phone

Terry Pierson 324 2300.

Lincoln Event Centre, Leeston

Library and Rolleston Men's Shed

Daddy Daughter Time

Rolleston on Saturday,

1-3pm

Head along to this familyfriendly

event to get creative

decorating cupcakes. Everything

you need will be available, just

take along your imagination. $10

per family. Bookings essential.

Rolleston Library

Babytimes

Lincoln on Wednesday, 9.30-

10am, and Rolleston on Thursday,

9.30-10am

Share rhymes, stories and

songs to support your baby's

early language development,

communication and social skills.

Take a blanket. Aimed at those

Email devon.bolger@starmedia.kiwi by

5pm each Wednesday

aged up to one, but older siblings

are welcome. Free, weekly sessions,

term-time only.

Lincoln and Rolleston libraries

Rhymetimes

Rolleston on Wednesday,

9.30-10am, Lincoln on

Tuesday and Friday,

9.30-10am,Leeston on Tuesday,

10-10.30am, Darfield on Tuesday,

10.30-11am

Stories, songs, rhymes and

bubbles make up this Rhymetimes

session, which is designed

to assist with early language

development. Aimed

at children aged one to three.

Free, weekly sessions, term-time

only.

Rolleston, Lincoln, Leeston and

Darfield libraries

Peka and Koro: Friends of the

Forest Book Launch

Tai Tapu on Sunday, 10-

11.30am

A fun morning for young

children, with story time,

face painting, craft activities,

colouring competition, spot

prizes and of course, a book

signing by Karyn the author

and Jessica the illustrator. The

first 20 books sold will receive a

gift.

Tai Tapu Playcentre , 815 Old

Tai Tapu Rd.

JP Clinics

Rolleston on Monday, noon-

1pm, Lincoln on Tuesday, 10am-

1pm, Darfield on Wednesday,

11.30am-12.30pm

A justice of the peace will

be available to members of

the community to witness

signatures and documents,

certify document copies, hear

oaths, declarations, affidavits

or affirmations, as well as sign

citizenship, sponsorship or rates

rebates applications.

Darfield, Lincoln and Rolleston

libraries

'Recycle-Reclaim-Rebuild'

Lincoln on Wednesday-

Thursday, 11.30am-2.30pm and

Friday-Sunday, 10am-4pm

A new exhibition by Juergen

Esperscheutz and Isabelle Pattis.

head along and be inspired by

this eclectic collection of art and

photography that celebrates recycled

materials and the rebuild of

Christchurch.

​Down by the Liffey Gallery

Markets

Darfield Market: Saturday,

9am-noon, opposite Challenge

Darfield, South Tce.

Market@254: Saturday,

9.30am-1pm, rain or shine, 254

Lawford Rd, West Melton.

Lincoln Farmers and Craft

Market: Saturday, 10am-1pm,

Gerald St.

West Melton Market:

Saturday, 9am-noon, 600 West

Melton Rd.

Leeston Farmers Market:

Saturday, 9.30am-12.30pm, 75

High St, Leeston.

Running groups

Rolleston Road Runners:

Thursday registration from

SELWYN TIMES

Go along to the Terrace Station

open garden on Sunday from

11am to 3pm. Violets and

primroses will abound in the

woodland and the gardens,

which are an oasis for birds,

butterflies and other insects. The

walkway highlights 150-year-old

sequoias and oaks. Children will

be given printed suggestions

for self-guided activities. Take a

picnic to enjoy on the lawns of

the historic home. Woodland

plants will be for sale. The $5

entry fee goes to the Terrace

Station Charitable Trust, children

free. No Eftpos available.

Signposts from Hororata

roundabout. Please leave dogs

at home. Milnes Rd, Hororata. ​

6.15pm for a 6.30pm start.

3km, 6km and 9km options in

Foster Park, next to the gravel

car park.

Lincoln Road Runners:

Tuesday registration from

5.40pm for a 6pm start. 3km

or 6km options. Starts outside

Coffee Culture on Gerald St.

Malvern Road Runners:

Tuesday registration from

5.45pm for a 6pm start. 1.8km,

3km and 6km options. Meet at

McHughs Plantation.

Ellesmere Road Runners:

Wednesday registration from

5.45pm, starts at 6pm. 3km or

6km walk or run. Starts from

Leeston Physiotherapy.

Foster Park Run: Saturday

from 7.50am. Free weekly timed

5km run, jog or walk. Register at

www.parkrun.co.nz/foster and

don't forget your barcode. Foster

Park, Rolleston.

powered by

people

Lynne Wilson

Registered Legal Executive

Your local expert in Residential

Property, Wills, Powers of

Attorney and Estate Planning

E: lynne.wilson@saunders.co.nz

DD: 03 265 0918

NEW

LOCATION

95 Gasson St

The Automotive Lamp Specialists

New and Used Lamps for Cars, Trucks,

Vans, 4WD and Motorhomes

PH 0800 225 483 | 95 Gasson Street, CHRISTCHURCH
---
SELWYN TIMES Latest Christchurch news at www.star.kiwi

Wednesday September 4 2019 27

SELWYN RURAL LIFE

Native forest saved for future generations

A remnant of native forest placed under

covenant will support native species and

help protect a stream that flows into Lake

Ellesmere/Te Waihora.

Landowners Brent and Anna Fisher

are preserving the native bush on

their property, with support from the

Banks Peninsula Conservation Trust,

and funding from the World Wildlife

Fund, Environment Canterbury and

Christchurch City Council.

Only around one percent of the original

forest area of Banks Peninsula remains,

supporting a wealth of plant and animal

biodiversity.

The Fishers bought the land at Ataahua,

near the eastern end of Lake Ellesmere/Te

Waihora, seven years ago to expand their

farming operation.

"We were always aware of the bush and

Brent and

Anna Fisher

it's beautiful," says Brent. "The previous

owner had an ecological survey done by

botanist Hugh Wilson and there's a tōtara

in there that apparently could be the

biggest tōtara tree on Banks Peninsula."

When the Fishers bought the land, the

bush block was unfenced and stock could

wander in, damage vegetation, disturb the

waterway and sometimes be a challenge to

muster.

They approached the Banks Peninsula

Conservation Trust for help in fencing the

important remnant off and a conservation

covenant in perpetuity has been placed

over the land, now known as Sally's Bay,

so it will be preserved and protected for all

time.

"It was a lot bigger than we anticipated

but once we got in there looking to see

where you could fence and what was most

Lower second growth regenerating

bush gully section Te Waihora Lake

Ellesmere in background

PHOTO: MARIE NEAL

practical, what we would gain from a

farming point of view by grabbing some

more, wasn't very much at all so we went

with it," Brent says.

The trust managed the process, securing

funding, contracting fencers, engaging

land and ecological surveyors and

providing the necessary legal support.

The now fenced-off block contains

extraordinary original remnant forest and

expansive regenerating second-growth

bush, with gorse acting as a nurse crop on

the margins for native seedling to flourish

under, says trust covenants officer Marie

Neal.

"The rate of native species regrowth

in this favourable south-facing gully has

been rapid and will be even faster now

that stock have been excluded," Marie

says. "Protecting the spring-fed waterway

which runs through it will in turn reduce

sediment reaching Lake Ellesmere/Te

Waihora below it."

"This covenant is an important

biodiversity oasis and stepping stone in a

vast surrounding pastoral landscape which

will help to accommodate the increasing

abundance and spread of native flora and

fauna from other areas," says Marie.

"It will provide food and shelter to

encourage birds, invertebrates and lizards

who will in turn facilitate the spread of

valuable seeds to further areas."

"There's some beautiful species in

there and it's always nice just wandering

amongst it – it's like a different world

under that canopy," says Anna, who adds

that she and Brent are now fencing off and

planting other waterways on the farm at

their own expense.

"We're trying to protect the water that

goes off this farm and into the lake."

3 TRUCKS

3 CARS

3 LUBES

3 SERVICING

3 FLEET WORK

3 BOATS

3 DIESEL INJECTOR

3 & PUMP SERVICING

3 ENGINE TUNING

Mon-Fri 7am-5pm

Sat 8am-12pm (WOFs only)

Diesel Blower Heaters

• An industrial diesel powered blower heater, which is

ideal for warming a large area.

• Clean burning technology and diesel economy allow it

to operate for up to 14 hours on a single tank.

• Designed especially to keep operation noise to an

absolute minimum.

• Plug the heater into a standard three

pin plug power point and turn the

thermostat to the desired heat setting

and the burner starts automatically

and will continue operation until

it reaches the preset heat setting,

automatically turning itself off

and on as required to maintain the

temperature.

• A truly powerful, versatile and

economical heater

3 BRAKES

3 MAXXIS TYRES

3 WHEEL ALIGNMENTS

3 BATTERIES

3 WOFs

3 CAMBELTS

AND MUCH

MORE!

839 Jones Road, Rolleston P.O. Box 16 Rolleston

Phone Simon on 347 7110 or Mobile 027 272 9213

special

offer

$100 off

OR Buy 2 & GeT

$150 off

each heateR

30 kW - $795.00 GST incl

50 kW - $895.00 GST incl

Tuatara Machinery Ltd • 291 Weedons Ross Road

Tel. 03 347 4956 • Mob. 0274 770 070

www.tuataramachinery.co.nz

Multi-Purpose

Storage Shed

10.5m x 8m x 3.6m

with 3 Doors &

Awning

Heritage Barn with

Woodshed

10.5m x 11m x 2.7m

Awning & 2 Roller

Doors

Lifestyle Combo

18m x 7.5m x 3m with

2 Sectional Doors, 2

Partition Walls, Awning

& 2 PA Doors

FROM CONCEPT

TO COMPLETION

Visit us at: Cnr Main South Rd & Barters

Rd, Templeton | Ph 344 0331
---
28 Wednesday September 4 2019

Latest Christchurch news at www.star.kiwi

Canterbury Ltd

• Quotations for water system designs and water testing

• Pipes, valves, fittings sales

• Filtration supply and installation

• Pump service, repairs and maintenance

• Bore flush and development

• Bore pump sales, servicing and maintenance

• We also sell, service and repair most

pump brands including sewage pumps

NEW LOCATION

551 Halswell Junction Road

0800 GRUNDFOS / 0800 478 633

For sales and service or

after hours service call

Jason 021 649 944

or Mike 021 560 044

www.pumps-filters.co.nz

Firewood & Coal

Direct to the public

OuR PRODuCtS

• Coal – 20 kg bags or 500kg bulk bags

• Firewood - pick up or deliver

(delivery charges apply)

• Paparoa Red Rock available in

three grades:

-4mm, 12.25mm and 25mm plus

• Railway Sleepers - 2.1m lengths

• WINZ Quotes available

• EFTPOS available

417 Creyke Road, Darfield | Phone 03 975 4502

Open Monday to Friday 6am-6pm, Saturday 8am-1pm

or after hours by appointment

NOW

OPEN

SELWYN RURAL LIFE

Young farmers sought

for annual event

Entries for the 52nd season of FMG

Young Farmer of the Year open on 2

September 2019. The event is the flagship

for New Zealand Young Farmers and is

held in high esteem in rural communities

with up to 300 contestants, who compete

for the top spot.

Contestants begin with the District

Contest and Skills Day, and must be a

registered Young Farmers member to

enter. Twenty district finals are held

throughout the country between October

and December. Top contestants from each

final go through to their local Regional

Final held from February to April. The

seven top Regional finalists become the

Grand finalists and battle it out in July for

the title of FMG Young Farmer of the Year.

Contestants are put through a diverse

range of practical, theoretical and

technical farming challenges. Each level

of the competition combines practical

hands on agriculture skills and general

knowledge. The level of complexity and

difficulty increases as the contestants

progress from districts to regionals and

finally at the Grand Final.

The Grand Final is a full-on two-day

event including the practical day, which

includes the hands on competition plus

technical elements such as a project,

interview and an HR challenge. The

contestants must also deliver a convincing

speech on a topic given to them prior. The

SELWYN TIMES

last challenge is a fast paced quiz, where

the contestants battle it out in six rounds

of agricultural and general knowledge

questions.

For more information on

membership and entering the FMG

Young Farmers of the Year, visit www.

fmgyoungfarmercontest.co.nz

Peter McCorkindale joins palaMountains

Welcome to Peter

McCorkindale

who has recently

joined the

PalaMOUNTAINS

Animal Nutrition

Sales team. Based

in Christchurch

Pete will provide

a local presence in

the Canterbury/

South region for our

Whanganui based business, opening up

new opportunities for farmers around

increased animal health and productivity.

Peter has a sound understanding

of farm business and practice having

worked as both a Dairy farmer and a

consultant along with many years in rural

retail through Fonterra Co-op and PGG

Wrightson.

Pete lives in Christchurch with his wife

Julie and his three teenage children. He

is actively involved with coaching their

sporting endeavours along with being

recently elected onto the school board

of trustees. Peter is looking forward to

introducing South Island farmers to

the PalaMOUNTAINS Agricultural

range of supplements as he believes they

are unique, well researched products

that have the potential to make a real

difference to stock health and bottom line

profits.

The palaMOUNTAINS Agri products

are a scientifically proven range of

nutritional supplements that assist with

improving the health and productivity of

sheep, beef, deer, bees and the dairy herd.

PalaMOUNTAINS products contain

a comprehensive range of nutrients

including Omegas, B group vitamins, A,

D, E vitamins and minerals suspended

in a patented oil solution. This allows the

animal to absorb up to 99.5 percent of

the nutrients, (Massey University, 2004).

These products can also be customised

to contain key trace elements; Selenium,

Iodine, Cobalt and Copper along with

Vitamin B12 for lambs and Milk thistle

for liver health as per your specific on

farm requirements.

The palaMOUNTAINS product range

includes Revive (sheep, beef, deer &

goats) Calf Boost, Max Plus (Dairy),

VitaBee (Apiary) and Exceed (for

working dogs). All of these products offer

unique nutritional benefits at key times in

the farming calendar and are sold direct

to the farmer.

To find out more about our product

range, scientific trials and testimonials

please visit www.palamountians.info or

call Peter McCorkindale on 0275 945

190 to discuss a feeding programme to

suit your farm requirements.

Peter McCorkindale | 0275 945 190 | www.palamountains.co.nz
---
SELWYN TIMES Latest Christchurch news at www.star.kiwi

Wednesday September 4 2019 29

SELWYN RURAL LIFE

Research aims to assist

M. bovis eradication

New research will determine if there is

a better way of prioritising investigation

of farms potentially infected with

Mycoplasma bovis. This would enable

the M. bovis programme to more quickly

identify infected farms and take action to

accelerate eradication of the disease from

New Zealand.

The Ministry for Primary Industries

and its M. bovis programme partners

DairyNZ and Beef+Lamb New Zealand

have issued a request for proposals

from organisations to undertake

the Epidemiology Research on Risk

Prioritisation project.

"Farms potentially infected with M.

bovis are currently prioritised for follow

up (casing) using several criteria. This

research aims to determine if there

is anything we can do to improve the

current system, to enable the programme

to more effectively prioritise farms at

high-risk of infection for urgent casing,"

explains Dr John Roche, Chair of the M.

bovis Strategic Science Advisory Group

(SSAG) and MPI's Chief Science Adviser.

Dr Roche says these high-risk farms

are more likely to need animal movement

controls applied to help slow the spread of

the disease and speed up the eradication.

New Zealand is the first country in the

world to attempt to eradicate M. bovis, a

bacterial disease that can cause significant

animal welfare and productivity issues,

particularly in dairy cattle, including

mastitis that doesn't respond to treatment,

severe lameness and late term abortions.

"This research has been identified

as a priority in the Mycoplasma bovis

Science Plan, developed by the SSAG

to ensure research projects are directed

where they will have the most impact to

accelerate eradication. It also supports

recommendations made in two recent

reviews into the M. bovis programme,"

says Dr Roche.

This will be a short-term project based

on analysis of existing data.

The M. bovis programme has allocated

up to $30 million over two years for M.

bovis research projects, guided by the

science plan as part of the $870 million

in funding allocated to eradicating M.

bovis.

The risk prioritisation research is the

third science plan project to go out to

market. A large number of proposals for

a major diagnostic research programme

are currently being evaluated, submitted

from researchers based in New Zealand

and overseas. Quotes to undertake a

study into the direct impact of M. bovis

on animals and herds are also being

evaluated.

The M. bovis Epidemiology Risk

Prioritisation request for proposals

has been issued on the Government

Electronic Tender Services (GETS).

Applications must be received by 2pm on

18 September 2019.

Selwyn Auto

ALL YOUR MOTORING NEEDS

› WOF's › Diagnostics › Repairs

› Servicing › Batteries › Tyres

› Motorbike WOF's & Repairs

› Courtesy Cars Available

Phone 329 5841 | 132 Leeston Road, Springston

www.selwynauto.com | office@selwynauto.com

SELWYN

The Right Fence at the Right Price

Roundwood

Farm Posts

Deer Fencing

Post and Rail Fencing

Yarding Timber

Oregon Rails

Oregon Gates

Sheep & Deer

Netting

Gallagher

Strainrite Fencing

Systems

YOUR LOCAL TIMBE R M E RCHANT

O PEN

Mon-Fri 7.00am - 5.00pm

Saturday 8.00am - 12.00pm

C O N TACT: JASON PESTER

P 03 347 7465 F 03 347 7032 jason@cthl.co.nz 167 MANION ROAD, WEEDONS 8441, CHRISTCHURCH

Visit us via our

New

Entrance on

167 Manion

Road

167
---
30 Wednesday September 4 2019

Latest Christchurch news at www.star.kiwi

Gardening

SELWYN TIMES

Plant potatoes now for Christmas dinner

• By Henri Ham

I'VE ALWAYS thought there's

nothing more satisfying than

growing and eating your own

veges.

And new potatoes are at the top

of my list over summer. If you're

like me and want to ensure your

crop is ready for Christmas lunch,

you need to get onto it right now.

Depending on which variety of

potato you choose, you'll harvest

your spuds in 90 to 160 days. If

you want to do all your planting

at once, I suggest using a combination

of potato varieties to gain a

staggered harvest over summer.

Planting certified seed potatoes

are your best chance at growing

a healthy abundant crop. I

don't recommend supermarket

potatoes – these are often treated

with sprout inhibitors, and prone

to disease.

If you're new to growing seed

potatoes, the number of varieties

out there can be a bit daunting.

Here are four kiwi favourites I've

picked to help get you started.

Cliff Kidney is a fast-growing

variety (three months) and great

for containers. It has a slightly

pink skin, with a firm and waxy

feel – so good for boiling. Agria

and Ilam Hardy varieties both

take around four months to grow

and again, are both suitable for

HARVEST: Vary the location you grow potatoes year by year.

container growing or planting in if you've had problems with rot in

your garden. Agria is a yellow, the past.

oval-shaped potato – also ideal Whichever variety you plant,

for boiling. And Ilam Hardy is a try to vary your potato locations

rounder and white-fleshed, allpurpose

spud.

And to further reduce the risk of

in the garden from year to year.

Lastly, Summer Delight is a disease, don't plant them where

creamy yellow spud that takes you grew your tomatoes last year

around five months to mature. either. This is because they are

You can use it for most types of both susceptible to the same types

cooking. And it's got a high rot of fungus and diseases – which

resistance, so a good option to try can linger in the soil.

Now you've selected your

varieties, you need to make sure

they've spouted before you can

plant them.

Take the seed potatoes out of

their bag, and place in a light and

airy space to sprout – but not

in direct sun. Try placing in an

open egg carton and wait for the

sprouts to reach 2-4cm high. This

takes a few weeks, leaving you

plenty of time to get your vege

plots or containers sorted.

To prepare your garden, turn

over old soil and remove any

old clumpy vege roots, then dig

through manure or compost if

needed. Scatter some potato food,

really mixing it through the soil.

This will help you grow high yielding,

quality potatoes. Next, dig

your potato trench (furrow), about

10cm deep and 45 cm apart, if

you're planting a second row.

Place the sprouted seed potatoes

25cm apart, shoots facing

upwards and cover with 5cm of

soil. Give an initial watering, but

after this, they should be fine with

a little bit of rain. Then each week

add a bit more soil to cover over

any new shoots until you've got a

mound around 20cm high.

If you're short on ground

space, try growing your spuds in

containers. You can grab a potato

planter bag with a side harvesting

window, from most garden

CARE: Stagger varieties so you

have an ongoing supply of

potatoes.

centres. But really any old bucket

will do just fine, as long as it has

adequate drainage holes. Simply

add a base layer of soil (10cm)

and a sprinkling of potato food.

Place two to three potatoes per

container and cover with another

layer of soil (5cm). Similarly, to

your garden crop, keep mounding

up the soil as shoots come

through. Continue with this right

until you reach the top of your

container.

In three to five months, depending

on variety, it'll be time to

harvest. You can look for signs of

the plant flowers dying off, but I

like to just get in and have a gentle

dig around to see what's there.

If they're too small for your

liking, re-cover for another few

weeks – and re-brand them as

new year potatoes instead.

Spring in

the

Garden

SAFER ACCESS TO

INTELLIGRO

Heading north on Main South Road you will use the

Weedons Ross Road off ramp. Manion Road is just before

the railway lines on the right-hand side.

Curraghs Road

N

Dawsons

Road

We are now entering in to the

most fabulous time of year

gardening wise. Spring is a time

for new growth, a buzz of activity

around the garden and warmer

weather. Gardens will start to

thrive and you will have plenty of

tasks to do. Although we have had

some milder weather, there is still a

chance of some nasty weather and

late frosts so patience will be key

when it comes to planting out.

Head to our website and

follow us on Facebook

to keep up to date with

all our gardening and

landscaping tips and tricks.

www.igro.co.nz

@igro.co.nz

IntellIgro's top tasks

» Freshen up existing gardens and raised beds with Organic

Compost, Sheep Pellets and Blood & Bone.

» Establish garden plots and raised beds. Our Garden Soil

Mix and Veggie Garden Mix are excellent products for

growing in.

» Plan what you want to plant. Remember not to plant

everything at once. Staggering your planting will ensure

you have a continuous supply of produce.

» Sprout seed potatoes ready to plant out. We have Agria,

Jersey Benne and Haylo in store. They come in a pack of

6 potatoes or a 2kg option.

» Raise seedlings. Use Intellipots and Seed Raising Mix

to grow some plants from seed. This way you can get

started indoors now so you are ready to plant out later

this month once the weather warms up.

Main South Road (SH1)

Weedons Ross Road

261

Proposed Christchurch Southern Motorway Stage 2 (CSM2) alignment

New local road

Manion Road

Berketts Road

Jones Road

Larcombs Road

Justine Drive

261 Manion Road, Weedons

Access to Intelligro from Manion Road is now available from both the

Weedons Ross Road end, and Curraghs Road entrances.

Alston Road

Railway Line

For more information, check out our website:

www.igro.co.nz

or visit our facebook page:

www.facebook.com/igro.co.nz

Robinsons Road

www.igro.co.nz | Phone 03 347 9415
---
SELWYN TIMES Latest Christchurch news at www.star.kiwi

Wednesday September 4 2019 31

Add colour to your garden this spring

• By Henri Ham

NEW LAMBS and daffodils are

one of the first signs that spring

is here.

I always get excited when my

garden shoots away and erupts

into colour.

Now is a great time to pop in

some spring colour seedlings. At

this time of year, I'm all about

planting sweet peas and poppies

– two 'no-fuss' bright annuals,

that will inject some fun colour in

flower beds.

Sweet peas are a classic favourite

in the garden. I love them because

they're easy to grow and the

scented variety smells amazing.

Sweet peas are prolific climbers

– trailing their way 2.5m high in

the right conditions. They're ideal

to climb up stakes and fences, or

enhance (or disguise) a garden

feature.

So what are the right conditions

for planting sweet peas? They like

a well-drained and sunny spot

in your garden. Perhaps along a

fence line, or a trellis to climb up.

Once you've got your seedlings,

simply dig small holes 3cm deep,

around 15cm apart. And here's

my best advice – don't hold back.

When it comes to sweet peas,

a thick crop looks fantastic, so

plant on all sides of your garden

feature, a couple rows deep if possible.

Come two to three months

you'll have a wall of spectacular

colour.

When they do start flowering,

pick regularly to encourage more

blooms. They make great cut

flowers, either in a posy on their

own or as part of a spring flower

arrangement. If you keep up your

watering, your sweet peas will

continue to impress right through

summer.

Once you've sorted your sweet

peas, I recommend planting some

poppies in front for a cottage

garden feel.

Poppies look great in many

garden settings – I love them in

vast spaces where they can really

run wild. And they self-seed from

year to year, always keeping your

garden interesting.

California ballerina mix poppies

come in an array of pinks,

reds, yellows and oranges. They

grow to around 40cm and look

best planted in mass – creating a

wild look with their double fluted

flowers.

If you're after a more organised

colour scheme, Anzac poppies

also grow to 40cm but in a lovely,

deep red. Shirley mix produces

pink and red flowers with multiple

fluffy layers of flowering petals

and reaches around 60cm tall.

Lastly, our peony mixed poppies

are taller still – around 90cm, and

flower in pink, red, and white.

Also, the peony poppies are great

for people whose climate is too

warm to grow peony tubers.

Once you've got your seedlings,

plant them in a sunny spot,

around 30cm apart. Give them

a good initial watering, to help

them get established. After that,

just light watering is fine, and try

not to apply too much pressure

when watering, as you can squash

your poppies.

In around six to eight weeks

a wave of colour should start

blooming in your flower beds.

VIVID: Sweet

peas and

poppies

(below) will

brighten

your garden

throughout

spring.

Remember to dead-head the

flowers when they die, and

they'll keep on popping spring

colour into your garden for many

months.

Use your outdoor living areas

all year round

• Warm & dry in winter

• UV protection for summer

• Stylish & permanent

• 5 year warranty

"AS SEEN ON TV"

Chris Thorndycroft

15 months

INTEREST FREE

Phone 0274 211 079 | www.archgola.co.nz

Normal lending criteria apply

Needing Landscaping?

• Landscape Design

• Decks/Pergolas/Paving

• Irrigation Systems

• Plant Supply & Planting

• Ready/Hydro/Artificial Lawn

• Digger & Truck Hire

The Landscape Specialists

Prompt and professional service by experienced staff

Phone: 03 349 4363

Email: greenscapes@xtra.co.nz

www.greenscapes.co.nz
---
32

Wednesday September 4 2019

Latest Christchurch news at www.star.kiwi

SELWYN TIMES

PICK IT UP AND DRIVE AWAY

Available from hundreds of pick up points around

Christchurch, Canterbury and the West Coast

each Friday including:

Selected Fresh Choice, New World stores and

hundreds of takeaway shops

Bringing buyers and sellers

together every week

For advertising enquiries

please call Anna on 021 902 729
---
WH

SELWYN TIMES Latest Christchurch news at www.star.kiwi

Wednesday September 4 2019 33

Come on in to our new Show Home."

Show

home

Guide

15 Falcon Road, Rolleston

Open Wednesday to Sunday 12 – 4

Promote your

Showhome

throughout

Christchurch

to over

93,000 homes

www.touchstonehomes.co.nz

Two New Display Homes Now Open...

Jennian Homes Canterbury North have two new Display Homes that are now open.

With their outstanding features and functional design, they are sure to impress.

7 Lemonwood Drive, Faringdon, Rolleston

Open: Wednesday - Sunday, 12pm - 4pm

Jennian Homes Canterbury North

212 Main South Road, Sockburn

P 03 741 1436 E canterburynorth@jennian.co.nz

jennian.co.nz

9 Westpark Boulevard, Rangiora

Open: Wednesday - Sunday, 12pm - 4pm

At Jennian Homes Canterbury North we pride ourselves on delivering the home you've

always wanted. So, what are you waiting for? Come on over and see for yourself what life

could be like in a Jennian Home.

Touchstone Homes

Falcons Landing Rolleston

15 Falcon Road, Rolleston

Open Wednesday to Sunday

10pm - 4pm

03 961 6046

www.touchstonehomes.co.nz

Jennian Homes

Canterbury

Rangiora

9 Westpark Boulevard

Open Wednesday to Sunday

12pm - 4pm

www.jennian.co.nz

kitset

Call or email for inclusions

3 bed 2 bathroom 16 200 (o/frame) 106m2

Bed. 3

3 020 x 2 720

Bed. 2

3 020 x 2 920

W.C

Entry

Bath

2 000 x 3 020

Laun.

1 650 x 3 020

Lounge

6 260 x 3 810

Kitchen

3 500 x 2 500

Dining

3 300 x 3 920

Ens.

2 000 x 2 000

W/R

2 410 x 1 530

Master

Bedroom

3 260 x 4 000

7 100 (o/frame)

$99,500.00 inc GST

P.O. Box 2309

Tauranga

david.fishing@xtra.co.nz

ph. 021 742 734

© Firsthomes 2015

Notes:

First Homes - Christchurch

St Albans

39 Sherborne Street

Open Tuesday to Saturday

10am - 4pm

021 575 545

chchsales@firsthomes.co.nz

www.firsthomes.co.nz

Contact Elaine Moon:

Phone 03 364 7436

elaine.moon@starmedia.kiwi

LOOKING FOR DESIGN INSPIRATION?

Visit one of our three stunning showhomes to gather ideas for your dream home

97 Ledbury Drive, Faringdon 37 Prestons Park Drive, Marshland

39 Prestons Park Drive, Marshland

SHOWHOMES:

All three showhomes

Open Wed-Sun 12pm-4pm

L:\First Homes Standard Plans\FH106.plan

TOTAL FLOOR AREA (o/frame) = 106.0sqM

ROOF PLAN AREA

= 146.7sqM

2 bed options available

APPROXIMATE Exterior wall perimeter = 48.1m

APPROXIMATE Interior wall perimeter = 46.5m

APPROXIMATE Fascia / Gutter lineal meters = 46.0m

APPROXIMATE Barge lineal meters = 7.2m

Showhome open

39 Sherborne St

St Albans

SHOWROOM / OFFICE:

31 Watts Road, Sockburn

Open Mon-Fri 8am-5pm

0800 844 488

signature.co.nz

Permit for:

First Homes

Standard Plans

FH106

TERRITORIAL AUTHORITY:

Christchurch

GEOGRAPHICAL ZONES:

Suitable for Geographical Zones upto & including

Wind Zone:

?? (NZS:3604)

Earthquake Zone: ?? (NZS:3604)

Exposure Zone: ?? (NZS:3604)

Snowload:

?? kPa (NZS:3604)

DRAWING TITLE:

Phone: 021 575 545

SCHEME PLAN

www.firsthomes.nz

DESIGN:

DRAWN:

JOB No.

SCALE:

1:100

THE DESIGNER 004

CHECKED:

001

DATE:

10/09/2015

SHEET No.

27 OF 33

Signature Homes

Rolleston

97 Ledbury Drive, Faringdon

Open Wednesday to Sunday

12pm - 4pm

Prestons Park

37 & 39 Prestons Park Drive

Marshland, Christchurch

Both open Wednesday to

Sunday 12pm - 4pm

Show Room/Office:

31 Watts Road, Sockburn

0800 8444 88 or 03 3427788

www.signature.co.nz

To advertise in

The Showhome Guide

Contact Elaine: (03) 364 7436

elaine.moon@starmedia.kiwi
---
34 Wednesday September 4 2019

Latest Christchurch news at www.star.kiwi

Caravans, Motorhomes

& Traliers

CARAVAN Wanted to

buy. Up to $5000 cash

today 027 488-5284.

Church Notices

Prayers with

Neighbours

"The earth is but one

country and mankind

its citizens"

You are invited to a

harmonious, spiritual

evening aimed at providing

an atmosphere for elevated

conversation, celebrating

unity in diversity, fellowship

and tolerance inspired by the

principals of the Bahai Faith.

OPeN TO all faiThS

aNd walkS Of life

Starting 7 September and

every Saturday at

Rolleston Community

Centre from 7pm-8pm

For general information visit

www.bahai.org

For evening information

contact Ivan 027 484 9940

SHELTERBELT TRIMMING

Boundary

Trimming

Call Tony Dempsey

Phone 03 325 3256

Mobile 0274 323 943

Bellamy's

Furniture

Furniture made to

order and restoration

by tradesman with

35yrs experience.

PH Stephen

021 073 2624

Select Services

Need a hand?

✤ Lawns & Edges

✤ Landscaping

✤ Gardening

✤ Hedge Trimming

✤ Handyman Jobs

✤ Casual or One Off

Phone Mike Lineton

022 341 8848

Your local

Selwyn District

GARDENER/

HANDYMAN

Select Services

Specialising in:

Driveways

Outdoor Areas

Patios, Pathways,

Residential

& Commercial Floors

Professional Advice

Free Quotes

Frank McWatt

03 423 9344

027 274 0342

allwaysconcrete@gmail.com

www.allwaysconcrete.nz

Select Services

GLAZING

TWISTY GLASS &

GLAZING LTD

Formally Stephen Thom Glazing 2012 Ltd

• Mirrors • Pet Door Specialists

• Splashbacks • All Broken Windows

THE CAT DOOR MAN

Phone Cushla or Darren Twist

027 352 6225

STOP BIRDS

hail, leaves, snow & vermin from

blocking & damaging your spouting

Quality materials: BHP Colorbond steel mesh with

unique patented louvre will even keep out pine needles.

Will not rust or sag with age or load. 10 year warranty,

range of colours.

Proven in Australia & New Zealand over the last 15 years.

FOR SAFE, PURE DRINKING

WATER FROM YOUR ROOF.

NOW AVAILABLE: STAINLESS STEEL

MICO MESH

Call Rohan anytime Mon-Sat for a

no-obligation assessment & quote

03 982 8850 0800 486532

www.gumleaf.co.nz

Hedge tRimming

& gaRden

maintenance

• Hedge Trimming

• Small Trees and Shrubs Topped,

Shaped or Removed

• Trenching and Digging Buckets

• Garden Maintenance

• Landscaping

• Cleanups Available

• Wood Splitter for Hire

JuSt Small

HedgeS

Stu Reid OWNER OPERATOR

Phone: (03) 325-4664 | Mobile: 021-500-519

hedgesandmore.co.nz

Trades & Services

No job to big or small.

Supply carpet, underlay and garage carpet.

Experienced in installing second hand carpet.

Carpet samples.

Free measure and quote!

Call David 0272319931

www.davidfarmercarpetlayer.co.nz

SELWYN TIMES

Classifieds Contact us today Phone our local team 03 379 1100

Gardening & Supplies

Macrocarpa Sleepers

200x100

Ideal for

landscaping

1-5m

We cut to

length

SUPPLIES LIMITED

Phone

021 325 661

653 Ellesmere Road, Lincoln

www.macrocarpasupplies.co.nz

COMPOST and

FERTILISERS SALE

NEXT SATURDAY 9am to 12 noon

817 Springs Rd (approx 1km south of Prebbleton)

MUSHROOM

COMPOST $25

per half cubic metre, loaded into your trailer

also by the bag, plus Fertilisers

at Town Centres Rolleston & Lincoln

Or phone 03 421 2026 or 03 03 366 7264

for free delivery in Rolleston & Lincoln

Rotary Club of Lincoln

Supporting Local Communities

Gardening

& Supplies

ellesmere

lions

Pea straw

now available

We deliver:

Small bales $6

Medium squares

(equivalent of

10 small bales)

$50

Contact

alex Hayward

03 324 4094

Heating

Log Fires

Pellet Fires

Heat Pumps

Sales

Service

Installations

Free Quotes

03 343 1651

472 Blenheim Rd

www.heatstore.co.nz

Select Services

Full Site and

Lawn Preparation

Landscaping

Roll Out Lawn

Irrigation

Free QuoteS

Contact Scott

0800 4 GRASS or

03 347 5555

sprayongrass.co.nz

ADD SOME

COLOUR

TO YOUR ADVERT!

Trades & Services

DECORATORS

New Paint • Repaints

Wallpapering • Fences

Repairs • Feature Walls

Floor & Roof Painting

Spray Painting

Light Commercial

Restoring Timber

Selwyn based but service the whole of Canterbury

www.andertondecorators.co.nz

www.facebook.com/andertondecorators

027 724 6846 027 PAINTIN

Trades & Services

LifestyLe

BLock

fencing

new fencing, post driving,

repairs, maintenence.

Quality workmanship

& advice.

Phone Allan 021 049 6151

allan@agrifencenz.com

Facebook: agrifencenz

DiscounteD

Flooring

carpet + Vinyl

Mobile service

Phone

Ben Wilson

Flooring

For a Free

measure & quote

027 343 3260

yourfloors.nz@gmail.com

UDI PAINTING &

DECORATING

For all painting and

decorating services.

Fully Qualified

• Interior &

Exterior Painting

• Wallpapering

• Plastering

• Roof Painting

All work guaranteed

FREE QUOTES

Contact Udi Aale

Ph. 021 074 2075

BUILDING REPAIRS

GIB STOPPING | FENCING

YARD CLEARING / CLEAN UP

SMALL DIGGER WORK

DRIVEWAYS & CONCRETE REPAIRS

RC MAINTENANCE

no job too small

Trades & Services

LTD

ROSS CHESTNUT

ROSS Owner CHESTNUT

/ Operator

Owner / Operator

021 969 654

021 969 654

ross@rcmaintenance.co.nz

ross@rcmaintenance.co.nz

PO Box 92010

PO Box 92010

Farringdon, Rolleston

Rolleston 7650

BUILDING REPAIRS | GIBB STOPPING | YARD CLEARING / CLEAN UP

SMALL DIGGER WORK | FENCING | DRIVEWAYS & CONCRETE REPAIRS

• Irrigation • Drainage • Driveways

• Auger Hole Drilling

• Land Clearing & Development

• Culvert Installation • Construction Site Works

• Tree & Hedge Removal • Concrete Breaker

Phone Mike: 027 272 8058 OR 03 324 4323 A/H

g.m.contracting@xtra.co.nz

www.gmcontracting.co.nz

TAI TAPU TYRES

53 Main Rd Tai Tapu

Ph. 03 329 6767

Will better any

other quoted price

Stockists of Kumho, Goodride and

Petlas Tyres, for all cars, 4WD, bikes,

tractors and trucks.

Driveways

SWAINS

KIWI KERB

(Since 2005)

Over 22 Years Experience

Quality

Workmanship

• Driveways

• Kerb &

Channel

• Garden Edging

Freephone: 0800 081 400

swainskiwikerb@gmail.com

YOU COULD

BE HERE

Let us help take

your business to

new heights

Advertise your business in our

Trades and Services column.

For assistance contact Vicky

Phone 03 364 7419 or email

vicky.sayers@starmedia.kiwi
---
2010 j ep patriot

$14,999

www.grcaudio.co.nz

S e page 5 for details

2013 TOYOTA PRIUS

HYBRID

Trave led 79, 89km's,

very economical.

LEATHER INTERIOR

$11,999 +

454 St Asaph Str et, 03 378 1818 or 021 480 201

NO dEPOSIT

$49 PEr W Ek

ORC

mazda 2

2012, 5 sp ed, 92, 0kms, NZ new,

side airbags, popular model.

$6,950

S e our ad on

the back page.

198 Yaldhurst Road,

Avonhead

Phone (03) 342 3434

2006 NISSAN FUGA

Auto, A loys, ABS,

Twin Airbags,

Half Leather.

$8,990

275 Colombo St, Christchurch.

Cnr Colombo & Milton Sts. Ph: 337 9629.

CAR AUDIO

AUDIO VISUAL

CAR SECURITY

CE LULAR

Terms, conditions & lending criteria a ply

REVERSE CAMERAS

RADAR DETECTORS

From $61,990

FU L REPAIR SERVICE

AERIALS

PLEASE TAKE ONE

Friday 2nd August 2019 | No. 609

2013 FoRd FOCUs

$13,999

TM

• Very a tractive interest rates

• Up to 5yr term available

• Very low kms

NO DEPOSIT!

Terms & conditions a ply.

Ce l 0272 424 76 Ce l 021 8 5 84

ON SALE Was $14, 90

$68 p/w

2016 Suzuki

Swift XG

G od People, G od Service, G od Cars

12 0 c, Petrol, 5 D or, Hatchback,

1,985km, 5 seats, automatic.

w.g odcars.nz

OPEN 7 DAYS

Cnr M orhouse Ave

& Lancaster St

*Terms & conditions a ply. *Finance subjec to credit and lending criteria. *On Road Costs A ply.

$112pw *

$4,995

* Terms and conditions apply

Inch Quality

European

393 Fe ry Road, Christchurch

P 03 389 6108 urbanauto.co.nz

NO dEPOSIT

$56 PEr WEEk

See page 4 for details

ONLY

Ph 08 0 421 6 1

2010 VOlVO XC60

T6 R DeSign

3000cc, Turbo, Intercooler, black leather

seats, auto/tiptronic, AWD, all electrics,

fully loaded – top spec, safety cameras,

low 55,200km.

2 06

Honda CiviC 2.0S

NZ New, leather, sunr of

1 98 c auto, VTeC, cruise, a l

electrics, a loys, spot lights,

climate control, aBS brakes, efI.

S e more from our

fOrd fIESTa 5 SPEEd

2009, 5 speed, 5 door, 92,000kms,

NZ new, side airbags, great colour!

& uNDer SeLeCTIoN

TurN The page .

IPOD INTEGRATION

GPS/TRACKING

113 Sherborne St, Edgeware Ph (03) 377 8873

$29,999

541 Moorhouse Ave

Christchurch

Ph 03 3799528 or 0274366076

$7,950

S e our ad on

the back page.

S e our ad

on page 35

198 Yaldhurst Road,

Avonhead

Phone (03) 342 3434

www.tcm4wd.co.nz

$79 PW

2017 HoldEn Barina ls HaTCH

1.6 Litre, 6 spd auto, 5 star ancap,

reverse cam, bluetooth, cruise,

alloys, choice of 2 NZ new.

from $13,995

2010 honda stream

$9,999

www.grcaudio.co.nz

S e page 5 for details

A fordable new parts available for BMW / MERCEDES BENZ / AUDI

454 St Asaph Str et, 03 378 1818 or 021 480 201

www.bestmotorbuys.co.nz

S E OUR AD ON PAGE 15

*conditions a ply

CashbaCK

bonanza!

FR E ORC

no PaYMEnTs

FoR 3 MonThs!

CAR AUDIO

AUDIO VISUAL

(12months of reg and fresh wof)

FREE Fu l Tank o fuel!

www.tcm4wd.co.nz

13 Sherborne St, Edgeware Ph (03) 3 7 873

2009 lexUS IS 250

HARD TOP

cOnveRTIBle

91, 0kms, black leather interior.

ExcE LENT cONdITION!

$21,999 +

$1 2 pw

1 95 ni san safari granroad

4.2 Turbo diesel, 160,8 0kms,

winch, whole back seat.

only $21, 95

PLEASE TAKE ONE

For advertising enquiries, phone Anna Rossiter on 021 902 729

Thinking Finance for a New Car,

Boat, Caravan, Truck or Trailer?

Think Paul Kelly Finance

Phone – 0800 PAUL KELLY

www.paulkellyfinance.co.nz

Terms, conditions & lending criteria apply

2018 Everest Titanium

From $61,990 • Very attractive interest rates

• Up to 5yr term available

• Very low kms

NO DEPOSIT!

Terms & conditions apply.

Now Available @ NZ Van Spares

location: 68 Falsgrave Street, Woolston, Christchurch

email: nzvanspares@hotmail.com | phone: 03 379 3932 / 0508 698 267

$7,995

393 Ferry Road, Christchurch

P 03 389 6108 urbanauto.co.nz

The South Island's leading motoring publication FREE

every Friday at hundreds of locations around the South Island,

and it's available online at www.bestmotorbuys.co.nz

TM

Cell 0272 424 776 Cell 021 855 884

2009

Volkswagen

Polo gTi

Sporty & fun, 1 Year Warranty

1800cc, 5 speed manual, turbo,

alloys, pioneer bluetooth stereo,

air cond, spoiler.

& uNDer SeLeCTIoN

TurN The page...

ORC

CAR SECURITY

CE LULAR

REVERSE CAMERAS

RADAR DETECTORS

Terms, conditions & lending criteria a ply

From $61,990

$7,995

393 Fe ry Road, Christchurch

P 03 389 6108 urbanauto.co.nz

FU L REPAIR SERVICE

AERIALS

IPOD INTEGRATION

GPS/TRACKING

PLEASE TAKE ONE

• Very a tractive interest rates

• Up to 5yr term available

• Very low kms

NO DEPOSIT!

Terms & conditions a ply.

Ce l 0272 424 76 Ce l 021 8 5 84

2 09

Volkswagen

Polo gTi

Sporty & fun, 1 Year Wa ranty

18 0 c, 5 sp ed manual, turbo,

a loys, pion er bluet oth stereo,

air cond, spoiler.

S e more from our

& uNDer SeLeCTIoN

TurN The page .

S e our ad

on page 35

TM

SELWYN TIMES Latest Christchurch news at www.star.kiwi

Wednesday September 4 2019 35

Classifieds Contact us today Phone our local team 03 379 1100

Excavations

• Driveways

• Car Parks

• Site Cleaning

• Demolition

• Farm Tracks

• Drain Cleaning

• Stump & Hedge

Removal

• Ashpalt Concrete

Trades & Services

Wide range

oF TruckS

• Tennis Courts &

Swimming Pools

• Chip Seal Driveways

• Diggers – 2 Ton

up to 20 Ton

• Excavators

• Bobcat & Drilling

• For Posthole &

Fence hole

For a Free Quote

on your next project

Phone Steve on 021 338 247

or 325 7922

Free

QuoTe

Non-Service Cremation $1,745

Commital service with cremation $3,950

Chapel service with cremation $6,500

Family burial service from $3,400

Just Funerals, a family owned and

operated company with qualified,

registered and experienced staff.

Phone 0800 804 663 - 24 Hour Availability

Email: info@justfunerals.co.nz

christchurch.justfunerals.co.nz

GARAGE DOORS

The Genuine

Custom Made Garage

Door Professionals

0800 661 366

info@custommade.co.nz

Auckland, Christchurch, Wanaka

www.custommade.co.nz

Trades & Services

ACE HIGH

PLUMBING

All Plumbing

Gasfitting

Drainlaying

Blocked Drains

Log Fires,

Wetbacks

Gas Hotwater

Phone

021 454 864

Trades & Services

BuILDER

QuALIFIED

Decks, T & G Flooring,

Villa Restoring, New

Homes, Weatherboards.

Free

Quotes.

Bennet & Sons Ltd

Sam 027 496-9362 or

Tony 027 224-0374

BuILDER

Local builder with 35

years exp in all types of

building - from concrete

work to finishing. Also

some gib stopping and

painting. Selwyn based.

High quality work with

careful attention to

detail. Happy to quote.

Phone/Txt Bruce 027 274

2792. Licensed Building

Practitioner (LBP).

Trades & Services

LANDSCAPING

Call Aaron &

the team today!

For the Outdoor

Space of your

Dreams...

Paving, Irrigation,

Lawns, Planting,

Fences, Pergolas,

Water-features,

Outdoor fires,

Raised Vege beds,

Decks, Artificial

grass & more...

Phone: 03 347 4422

or 021 542 402

Email: Aaron@theoutdoorspace.co.nz

www.theoutdoorspace.co.nz

PLUMBER

New housing

Renovations

General maintenance

Hot water cylinders

Gas hot water conversions

Competitive rates

Free quotes

Phone: 021 403 470

Email: scott@scottsplumbing.nz

Trades & Services

CARPENTER

HANDYMAN

Small Job Specialists,

Carpentry, Repairs,

Decking & Maintenance,

40 years experience, no

job too small, Ph Warren

03 322-1103 or 027 697-

8541

CARPET LAYING

Exp. Repairs, uplifting,

relaying, restretching.

Phone John on 0800

003181, 027 240 7416

jflattery@xtra.co.nz

CARRS CHIMNEY

CLEANING

18 yrs exp. $60 a chimney.

Ph Rodney on 03 324 2999

and leave a message

CHECK YouR SHoES

and backpacks for stitchin,

patching and zip repairs.

Kitchens

For Prompt attention, drop

Upgrades,

them into Cobbler Glenn's

Agent: Magnitude Sports

55 Faringdon Boulevard,

Rolleston

CoNCRETE CuTTING

Affordable Concrete

Cutting with Quality, and

removal work. Free quote.

No job to small. Phone 027

442-2219, Fax 359-6052

a/h 359- 4605

FENCING

Quality timber fencing -

gates & repairs, ph Ryan

027 951 8892

Trades & Services

Bellamy's

Furniture

Furniture made to

order and restoration

by tradesman with

35yrs experience.

PH Stephen

021 073 2624

Trades & Services

LANDSCAPING

Paving, Lawns, Irrigation,

Decking, Fencing.

Kanga & small digger

services. Check out Squire

Landscaping on facebook.

FREE QUOTES. Ph

Arthur 347-8796, 027

220-7014 Edwin 027 220-

7154

MASoNRY

DAMAGED

MASONRY?? Rock and

Blocks Work Ltd for all

your brick, block and tile

laying needs. Friendly

service Licensed Building

Practitioner phone Devon

on 021 375-888 or 03 329-

5511

RJB PLuMBING

Renovations, New Houses,

Hot Water Cylinders,

Bathroom

Laundries,

General Maintenance ,

Water Filters. Phone Mark

0278690026

STuMP GRINDING

Best price guarantee Tony

0275 588 895

TILING

Flooring - Splashbacks

-Wall incl tile removal, reg

master tiler, ph Dave 027

334 4125

WINDoW CLEANING

Brown & White Ltd.

Family owned since 2001.

Ph Paul 027 229 3534

WINDoW CLEANING

Brown & White Ltd.

Family owned since 2001.

Ph Paul 027 229 3534

Wanted To Buy

TOOLS Garden,

garage, woodworking,

mechanical, engineering,

sawbenches, lathes, cash

buyer, ph 355-2045

Trades & Services

ROOF

PAINTING

Rope & harness

a speciality,

no scaffolding

required,

30 years of

breathtaking

experience.

FREE QUOTES

Exterior staining,

exterior painting,

moss and mould

treatment and

waterblasting

Phone Kevin

027 561 4629

Barry

McKay

Builders

LBP 35 years building

in the Selwyn area

• Extensions/alterations

• Kitchens Bathroom

• Joinery shopfitting

• Farm buildings

maintenance

• Decks and pergolas

Contact Barry:

027 2626 867

or 03 329 5506

BUTCHER

SERVICE

Watkins Home Kill

Processing Beef, Pigs,

Sheep, Deer & Fish.

Smoking Bacon, Ham

and small goods.

Mobile slaughter service.

124 Burdons Road

Burnham

Phone Tim 347 6693

EST.

1979

ARTHUR'S

Roof & Property

Moss Kill & Proof

Silicone Sealing

Roof Repairs

40% off

03-347-2635

arthursroofandproperty.co.nz

Situations Vacant

Advertising Account

Executive

Best Motorbuys Magazine

Friday 23rd August 2019 | No. 612

• Full time position

• Help drive Christchurch's only

weekly full gloss motoring

magazine forward

• Excellent commission opportunities

A fordable new parts available for BMW / MERCEDES BENZ / AUDI

Hilux spares

Now Available @ NZ Van Spares

location: 68 Falsgrave Str et, W olston, Christchurch

email: nzvanspares@hotmail.com | phone: 03 379 3932 / 0508 698 267

Best

Thinking Finance for a New Car,

Boat, Caravan, Truck or Trailer?

Think Paul Ke ly Finance

Phone – 0800 PAUL KELLY

www.paulke lyfinance.co.nz

mobile installation service 0800 212 777

Star Media is seeking an Advertising Account

Executive to take responsibility for our weekly Best Motor Buys Magazine.

We seek a person who enjoys working as part of a team, has a can-do

attitude and who has an affinity and interest across the motoring sector.

The position encompasses the following major functions:

• Effective promotion and sales of advertising for Best Motorbuys Magazine

and Star Media's range of products

• Providing a high quality, professional sales administration service

• Ensuring the highest possible level of customer/client service

• Works proactively to ensure that clients are offered the best advertising

solution across all potential advertising platforms

If you have the above and want to be part of a progressive

media company, please email your CV to:

Shane Victor, Advertising Manager - shane@starmedia.kiwi

Public Notices

DOWN BY THE

LIFFEY GALLERY

ANNUAL

GENERAL

MEETING

Thursday

26 September,

7.30-9.00pm

Lincoln

Community Care,

16 Lyttelton St,

Lincoln

ALL MEMBERS

WELCOME

Sporting Notices

SpringSton

tenniS

Club

opening Day

Saturday 7th

September

11am to 4pm

Continuous BBQ

ALL WELCOME

Enquiries:

Tania Howson

347 6083

Alison Langdon

347 6111

FREE

Motorbuys

$7,990

www.bestmotorbuys.co.nz

ANYTHING WITH A MOTOR!

For advertising enquiries, phone A na Ro siter on 021 902 729

2018 Everest Titanium

Best

TM

Motorbuys

Star Media is a division of Allied Press.

To Let

$12,990

$7,995

RENT ME!

Ideal as an extra

bedroom or office.

no bond required

Friday 9th August 2019 | No. 610

FREE

Best

Motorbuys

ANYTHING WITH A MOTOR!

259 Colombo Street, Sydenham

154 Orchard Road, Harewood

WE BUY

UTES!

PHONE 027 303 0101 NOW!

547 Moorhouse Avenue

Hilux spares

Motorbuys

Best

www.bestmotorbuys.co.nz

Thinking Finance for a New Car,

Boat, Caravan, Truck or Trailer?

Think Paul Ke ly Finance

Phone – 0800 PAUL KELLY

www.paulke lyfinance.co.nz

Hilux spares

Now Available @ NZ Van Spares

location: 68 Falsgrave Str et, W olston, Christchurch

email: nzvanspares@hotmail.com | phone: 03 379 3932 / 0508 698 267

mobile installation service 0800 212 777

See more from our

$7,995

FREE

ANYTHING WITH A MOTOR!

For advertising enquiries, phone A na Ro siter on 021 902 729

Fully insulated and double glazed for warmth.

2018 Everest Titanium

Three convenient sizes from $70 a week:

Standard 3.6m x 2.4m

Large 4.2m x 2.4m | Xtra-large 4.8m x 2.4m

$7,995

Visit our website

www.justcabins.co.nz

for display cabin locations

www.justcabins.co.nz

Vehicles Wanted

CAR REMOVALS

$$CASH PAID$$

CARS, VANS, UTES

& 4X4 WANTED

NZ OWNED

AND

OPERATED

FOR

24 YEARS

We use world class vehicle

depollution systems

0800 8200 600

www.pickapart.co.nz
---
36 Wednesday September 4 2019

Latest Christchurch news at www.star.kiwi

SELWYN TIMES

PHARMACY

PHARMACY

FITNESS

FITNESS

GIFTS &

GIFTS HOMEWARE

HOMEWARE

HEALTH &

HEALTH &

BEAUTY

BEAUTY

FOOD SERVICES FASHION

EXCITING NEW

RETAILERS

OPENING SOON

YourLocal

LUXURY

NEW NEW BUSINESSES ADD ADD MORE VARIETY AT AT ROLLESTON SQUARE. SQUARE.

In

In

the

the

heart

heart

of

of

Rolleston,

Rolleston,

there

there are

are

more

more

than

than

30

30

specialty

specialty

stores

stores

& more

more

exciting

exciting retailers

retailers

opening

opening

soon!

soon!

9Round | ANZ | ASB ATM | BNZ | Brenna Sincock Hearing | Caci Clinic | Coffee Culture | Corianders

Couplands | Countdown | Fascino Shoes | Hachi Hachi | Harcourt's | helloworld | Hell Pizza

Highgate Hair | Industria | Lazeez Mediterranean | The Nail Bar | Noel Leeming | Pita Pit

Postie | Ray White Rolleston | Robert Harris | Rolleston Bakery | Rolleston Central Health

Rolleston Drycleaners | Rolleston Eye Optometrist | Rolleston Florist and Gifts | Rolleston Haircuts

Snap Fitness | St Pierre's Sushi | Subway | Unichem | Viva La Moda | The Warehouse | Westpac

70-76 Rolleston Drive, Rolleston

70-76 Rolleston 9 Masefield Drive, Drive Rolleston

9 Masefield Drive

Find Us On

Find Us On

Find out more:

rollestonsquare.co.nz

Find out more:

rollestonsquare.co.nz

03 347 9192

03 347 9192
---
SELWYN TIMES Latest Christchurch news at www.star.kiwi

Wednesday September 4 2019 37

GRAND

reopening sale

SELWYN ROAD

SHANDS ROAD

SHANDS ROAD

913 SHANDS ROAD

WE'VE

MOVED!

913 SHANDS ROAD

Located on the same

site as Readylawn

The original same day lawn

SAVE UP TO

50%

AND MORE

NEW LOCATION:

913 Shands Road

Just south of the Selwyn Road / Shands Road intersection

T: 03 349 9240 | E: info@allwood.co.nz

Keep up to date on what is happening around the nursery

through our Facebook page and at www.allwood.co.nz

www.allwood.co.nz
---
38 Wednesday September 4 2019

Latest Christchurch news at www.star.kiwi

SELWYN TIMES

GrAND reopening sale

Large Trees

suitable for farms, lifestyle

properties, large sections.

• Flowering Cherry Trees

• Hornbeam

• Oaks

• Lime Trees

• Elms

• Tulip Trees

• Canadian Maples

• Claret Ash

• Magnolia, deciduous

and evergreen

Trees up

to 5.0m in

height

smaller Growing Trees

suitable for residential sections,

townhouses, over 60s units.

• Japanese Maples

• Cornus Eddies White

Wonder

• Weeping Silver Pear

• Magnolia Little Gem

• Japanese

Snowdrop Tree

• Cercis Forest

Pansy

• Flowering Cherry Trees

Trees up

to 2.5m in

height

HuGE rANGE

AT GREAT SALE PRICES

Liquidamber

Upright Oak

Evergreen Magnolia

Japanese Maple

Golden Elm

Canadian Maple

Cercis Forest Pansy

Flowering Cherry

NEW LOCATION:

913 Shands Road, Christchurch | T: 03 349 9240 | E: info@allwood.co.nz

OpEN TuEs TO FrI - 9.00Am TO 4.30pm | sAT & suN - 10.00Am TO 4.00pm
---
SELWYN TIMES Latest Christchurch news at www.star.kiwi

Wednesday September 4 2019 39

SAVE

UP TO

50% MORE

AND

Daphne

Large Grade Topiary standards Hedging plants

Pink and white scented

flowers. $89.50 grade

NOW $65

• Portuguese Laurels

• Bay Laurels

• Robinia Mop Top

• Liquidamber

Gumball

• Griselinia

• Pittosporum

• Photinia Red Robin

• Euonymus

20% OFF Or mOrE! GrEAT sAVINGs!

• Mexican Orange

Blossom

• Bay Laurel

• Portuguese Laurel

• Plus many more

Griselinia

michelia

pyrus salicifolia

pendula

Evergreen

magnolia Tree

(Weeping silver

pear Trees)

Several varieties.

GrEAT

sALE prICEs

Several varieties.

GrEAT

sALE prICEs

Tough ornamental tree for

exposed sites. Were $145

NOW $80

• St Mary

• Little Gem

• Grandiflora

• Blanchard

• Jade Emperor

GrEAT sALE prICEs

www.allwood.co.nz

View our sale catalogue online now:

www.allwood.co.nz/sale
---
40 Wednesday September 4 2019

Latest Christchurch news at www.star.kiwi

SELWYN TIMES

GrAND reopening sale

Pittosporum

Wrinkle Blue

rhododendron

Varieties

Shrubs

Large grade, great for instant

hedge. Were $39.50

NOW $30

Big chunky plants. $59.50 grade

NOW $45

20% Off OTHer GrADeS

• Camellia

• Thuja Smaragd

• Pieris

• Cranberry

• Pittosporum Golf Ball

Plus many more

plant varieties. Ideal

for all gardens.

20% Off Or mOre!

Good, honest gardening advice is our hallmark. Our services include:

Consultations

Experienced, knowledgeable

staff will give information and

advice via email, phone or in

person at Allwood Trees. Send

us your landscape plan and we

can advise on plant selection.

Soft Landscape Plans

This is a plan with detailed

specifications related to

your property. Showing both

botanical and common names

of trees and shrubs, as well as

quantites and other relevant

comments (eg spacing).

Delivery & Planting

We can deliver and plant

trees purchased from Allwood

Trees. We do everything from

digging the hole to staking

the tree and adding slow

release fertiliser.

Quotations

Send us your plant list and

we will quote as quickly as

possible. We are able to

provide different tree and

shrub size options and suggest

alternatives if particular trees

or shrubs are not available.

Garden maintenance

We have a great garden

maintenance service. We

liaise with you regarding any

changes required with your

garden and can implement a

great maintenance programme

to keep your garden looking

pristine all year.

NeW LOCATION:

913 Shands Road, Christchurch | T: 03 349 9240 | E: info@allwood.co.nz

OPeN TueS TO frI - 9.00Am TO 4.30Pm | SAT & SuN - 10.00Am TO 4.00Pm
---
the BeSt PRoPeRtieS AcRoSS

the SeLWYn DiStRict

INSIDE

PUBLiSheD eVeRY WeDneSDAY

Week commencing WeDneSDAY, 4th SePtemBeR , 2019

The time is right

Our vendors are changing direction and have

decided to relinquish this welcoming, modern four

bedroom family home from their portfolio. Open

plan living with good indoor/outdoor flow. Large

master bedroom with walk-in wardrobe and en

suite. A further three bedrooms, ample storage.

Double internal access garage and separate

laundry. Easy care, fully fenced section.

Situated in the sought after Longhurst

subdivision, with easy access to the southern

motorway.

New primary school, local shops and medical

facilities within easy walking distance.

An opportunity for astute buyers to realise quickly

that this appealing home will tick all their boxes.

Price: Negotiable Over $639,000

www.farmlandsrealestate.co.nz

Property ID: RX2014087

Tracy Stevenson

Contact:

Phone: 027 543 9029

email: tracy.stevenson@farmlands.co.nz

11 Ashboult Street, Halswell

Find your

perfect match

ADVERTISEMENT

NEW SECTIONS JUST RELEASED. Match your section and start building your nest today.

Find out more, visit us at the corner of Lincoln-Rolleston Road and Falcon Road, open 12-4pm,

Wednesdays-Sundays. Email enquiries@yoursection.nz or call 03 741 1340.
---
2
---
3
---
4
---
5
---
6
---
7
---
8

Four Seasons Realty 2017 Ltd | Licensed Agent REAA 2008

Contributor to realestate.co.nz

harcourts.co.nz

Your home for local property
---
9

Four Seasons Realty 2017 Ltd | Licensed Agent REAA 2008

Contributor to realestate.co.nz

harcourts.co.nz

Your home for local property
---
10

Hastings McLeod Limited Licensed under the Real Estate Agents Act 2008 6 Tennyson Street ROLLESTON rolleston@pb.co.nz 03 929 0306

A home of your own

BUYERS $295,000+

WEB ID DFU69797

SPRINGFIELD

7 Pall Mall Street

The time is right for saying goodbye to the landlord and

hello to owning your very own piece of the Monopoly

Board.

7 Pall Mall Street is waiting for you.

• 3 Bedrooms, 1 Bathroom

• Functional kitchen with dishwasher

• 2/3rds double glazed

• Log Burner and Heat Transfer system

• Single garage

• Well established garden

• Breath taking views

VIEW Sunday 8 Sep 2.00 - 2.30pm

Near new and unique too!

BUYERS $365,000+

WEB ID DFU70074

WADDINGTON

13 Waddington Road

This recently extended, three bedroom, I bathroom

family home has what you need for comfortable and

cosy living.

•Double glazed

•Log Burner

•Heat Pump

•Neutral décor

•Entertainers North facing deck

•Swimming Pool

•Two-story implement shed and hobby room

•Ample off-street parking

Vendors are motivated and have priced this property to

sell.

VIEW 8 & 15 Sep 1.00 - 1.30pm

3

3

NEW LISTING

Jannetta Thomas

Mobile 021 256 6295

jannetta@pb.co.nz

1

1

NEW LISTING

Jannetta Thomas

Mobile 021 256 6295

jannetta@pb.co.nz

1

1

Central location!

$579,000

WEB ID ROU69791

ROLLESTON

81A Renoir Drive

An affordable and well presented 4 bedroom home

which enjoys a very private setting great indoor/outdoor

flow to the large sunny wooded deck, which is going to

be a winner on the upcoming summer evenings! Add to

this, the great off street parking for the camper or boat,

it's sure to be a winning combination. Inside, the home

features spacious open plan living with bi fold doors out

to the sheltered patio & a spacious formal lounge.

This affordable home is sure to tick the boxes for those

looking for a family sized home on a family sized section

with extra off street parking.

VIEW Sunday 8 Sep 2.30 - 3.00pm

Location and Style!

BUYERS $625,000+

WEB ID ROU69205

ROLLESTON

19 Delorean Drive

All set in the new Urban Estates sub division with its

close proximity to the College, Foster park and the

Aquatic centre, you are going to love this location! Built

by Que Homes, the home boasts a mix of cedar and

brick cladding giving a striking street appeal and is

surrounded by other quality properties. The large open

plan kitchen dining living area is light and bright and

captures lots of sun. There is great bench space and a

large walk in pantry with plenty of storage. The separate

lounge is another great room to host guests, or use for

the kids to spread out in.

VIEW By Appointment

4

4

NEW LISTING

Angela Hunt

Mobile 021 548 777

angela.hunt@pb.co.nz

2

2

NEW LISTING

Angela Hunt

Mobile 021 548 777

angela.hunt@pb.co.nz

2

2

Sunny, and private, Private perfect location

BUYERS $685,000+

WEB ID DFL70043

DARFIELD

15 Piako Drive

Positioned in on a a quiet 5000m2 cul-de-sac site in on a the quiet edge cul-de-sac of Darfield on the

edge is this of well Darfield presented is this home well set presented in established home easy set in care

established gardens. easy care gardens.

This Sheltered, sunny private, warm home and enjoying is ideal for all-day the sun, larger this family home with has

ample a flow and bedrooms feel that (4 suits double, either plus families 1 single), or couples plus of any

additional

age, featuring

separate

four bedrooms

office. The

plus

home

additional

offers an

office/study,

excellent

two living areas and central kitchen with easy access to the

layout with two living areas and central kitchen with

garden. The master bedroom enjoys a walk in robe, ensuite

easy

and doors

access

opening

to the garden.

to private

The

sheltered

master

patio

bedroom

and garden.

enjoys a

walk Separate in robe, laundry ensuite and internal and doors access opening double to garage private

sheltered completes patio the package. and garden. Separate laundry and

internal A quiet peaceful access double location garage within completes walking distance the package. of

VIEW Darfield Sunday amenities 8 Sep including 11.30 primary - 12.00pm and high schools and

within commuting distance of Christchurch.

Vendor invites all offers on or before

Wednesday the 18th September, 4pm.

VIEW Sunday 8 Sep 11.30 - 12.00pm

54

Family Lifestyle

BUYERS $699,000+

WEB ID LEU69824

LEESTON

494 Lake Road South

This much-loved property includes a 3-bedroom family

home with a renovated modern kitchen which is the hub

of the home. A spacious dining area/ family room and,

large lounge with heat-pump and log burner envelop

the kitchen which, also has fabulous indoor/outdoor

flow to the veranda, BBQ area, private lawn, garden and

beautiful fish pond.

The bedrooms are spacious and, the master allows for

lots of natural light and has great wardrobe space. The

utility/laundry room is ideally situated within the home

adding extra space and lending itself to the practicalities

of family living.

VIEW By Appointment

3

NEW LISTING

Gareth Cox

Mobile 021 250 9714

gareth@pb.co.nz

2

2

NEW LISTING

Penny Dadson-Clausen

Mobile 027 895 5943

Office 03 929 0306

pennyd@pb.co.nz

1

1

A Wee Gem

$375,000

WEB ID DFU69800

DARFIELD

178 Horndon Street

Drenched in sun and presented to perfection!

• Spacious open plan kitchen & dining

• Lounge flowing to sunny outdoor patio area

• Bathroom with shower, tub & vanity

• Heat pump, double glazed & insulated

• 804m2 fully fenced, easy-care section

• Walking distance to local amenities

VIEW By Appointment

Central location!

$579,000

WEB ID ROU69791

ROLLESTON

81A Renoir Drive

An affordable and well presented 4 bedroom home

which enjoys a very private setting great indoor/outdoor

flow to the large sunny wooded deck, which is going to

be a winner on the upcoming summer evenings! Add to

this, the great off street parking for the camper or boat,

it's sure to be a winning combination. Inside, the home

features spacious open plan living with bi fold doors out

to the sheltered patio & a spacious formal lounge.

This affordable home is sure to tick the boxes for those

looking for a family sized home on a family sized section

with extra off street parking.

VIEW Sunday 8 Sep 2.30 - 3.00pm

2

4

NEW LISTING

Amy Jones

Mobile 021 077 9945

amy.jones@pb.co.nz

1

1

NEW LISTING

Angela Hunt

Mobile 021 548 777

angela.hunt@pb.co.nz

2

2

pb.co.nz
---
M-A

MATSON & ALLAN

REAL ESTATE LIMITED

'The

Selwyn

Experts'

11

Residential

Lifestyle

Rural Property

Licensed REAA2008

ROLLESTON - 18 gracia Avenue

SPACIOUS LIVING PRIVATE SUN TRAP

• 213m 2 home positioned on private 733m 2

(approx.) section

• Four large bedrooms, ensuite, WIR, bathroom,

separate toilet

• Modern kitchen, premium benchtops, double

cavity fridge space

• Sunny spacious open plan living + separate

lounge

• Heat pump, quality window treatments and floor

coverings

• Double internal access garage with laundry

• Excellent outdoor living, ample off street parking

and turning areas, electric gate

• Zoned Clearview Primary School, nearby to

Rolleston Township and access to motorways

Viewing: Sun 2.00 – 2.30pm

Price: Neg over $597,000

View: www.marealestate.co.nz/MA0595

Jo Barrett Mb 021 859 006

jo@marealestate.co.nz

OPEN HOME

SPRINgSTON - 452A Ellesmere

Junction Road

STUNNING LINEA HOME PACKED

WITH FEATURES

• Just completed 2019

• Three double bedrooms

• Spacious master bedroom with WIR and ensuite

• Two large separate living areas

• Study nook

• Sensational well-appointed kitchen and WIP

• Wine fridge and security system

• Underfloor tile heating in bathroom and ensuite

• Quality fixtures and fittings

• Fantastic orientation for the sun

• Larger than most 956m 2 section,

• Superb location

OPEN HOME

Viewing: Sun 1.15 – 1.45pm

Price: Neg Over $639,000

View: www.marealestate.co.nz/MA0590

Jackie Derrick Mb 027 636 3576

jackie@marealestate.co.nz

ROLLESTON - 14 New Creek Mews

PROMISES TO IMPRESS

• 266m 2 bespoke built home on 1109m 2

• Four bedroom, master with ensuite and WIR

• Spacious open plan kitchen/dining/living

• Butler's scullery, bathroom, separate laundry

• Quality appliances, floor coverings and window

treatments

• Log burner and wetback, heat transfer, underfloor

heating

• Interior and exterior ceiling speakers

• Internal access triple car garage with drive through

• Impressive design, build quality and style

• Located in sought after Levi Park

• Zoned Rolleston Primary School and Rolleston

College

Price: Neg Over $757,000

View: www.marealestate.co.nz/MA0601

Jo barrett Mb 021 859 006

jo@marealestate.co.nz

ROLLESTON - 29 Amur Crescent

SIMPLY STRIKING WITH TRIPLE CAR

GARAGE

• Currently under construction in Falcon's Landing

• Brick and cedar home with triple car garage

• Due for completion in August 2019

• Architecturally designed 241m 2

• Tw o large separate living areas

• Substantial kitchen with walk in pantry

• Stone bench tops and reputable appliances

• Four double bedrooms with superb master suite

• Three further generous bedrooms

• Stylish family bathroom with free standing bath

• Separate laundry and fabulous internal storage

• Exposed aggregate driveway, patios and lawn

Price: Neg Over $655,000

View: www.marealestate.co.nz/MA0561

Jackie Derrick Mb 027 636 3576

jackie@marealestate.co.nz

ROLLESTON - 9 Thames Drive

AN OPPORTUNITY NOT TO BE MISSED

• Built in 2018

• Stunning home

• Four double bedrooms

• Two living areas

• Stunning kitchen/walk in pantry

• Master bedroom with WIR and ensuite

• Ample internal storage

• Fabulous orientation for the sun

• Wonderful outdoor entertaining area

• Private and secure easy care section

OPEN HOME

Viewing: Sun 12.30 – 1.00pm

Price: Neg Over $599,000

View: www.marealestate.co.nz/MA0596

ROLLESTON - 18 Riverstone Drive

1019M 2 SECTION - FABULOUS

LOCATION

• Title is out

• Sought after Riverstone Subdivision

• North facing orientation

• Services to the boundary

• Surrounded by quality homes

• West Rolleston School Zone

Price: Neg Over $250,000

View: www.marealestate.co.nz/MA0593

Jackie Derrick Mb 027 636 3576

jackie@marealestate.co.nz

Jackie Derrick Mb 027 636 3576

jackie@marealestate.co.nz

DARFIELD - 20A Telegraph Road

OWNERS HAVE PURCHASED, LET'S

TALK NOW!

• Three good sized bedrooms

• Extention in 2007 provides good functional space

• Quality living and dining

• Wonderful outdoor flow

• Multiple outdoor entertaining areas

• Palliside maintenance free cladded home

• Fully fenced section 863m 2 section

• Established planting and fruit trees

• On the fringe of Darfield

OPEN HOME

Viewing: Sun 1.30 – 2.00pm

Price: Neg Over $349,000

View: www.marealestate.co.nz/MA0514

DARFIELD - Creyke Road

TORLESSE ESTATE

• 1 1 x 1 Hectare blocks

• Power, telephone, fibre and town water to

boundary

• Close to all Darfield amenities

• Titles issued

Price: $250,000 per block

View: www.marealestate.co.nz/MA0542

Paul Robinson Mb 021 277 2690

paul@marealestate.co.nz

Chris Flanagan Mb 027 433 4657

chris@marealestate.co.nz

ROLLESTON PH: 03 347 9949 LEESTON PH: 03 324 3704 DARFIELD PH: 03 318 8204 www.marealestate.co.nz

Chris Flanagan

027 433 4657

Andrew Taylor

027 435 5930

Jackie Derrick

027 636 3576

Jo Barrett

021 859 006

Stephan Knowler

027 229 9522

Cameron McRae

027 769 6696

Paul Robinson

021 277 2690

Juliet Flanagan

027 490 8019

Connie van der Klei

021 449 174
---
12

A large, quality home sited in a private and established

5021m 2 park-like se ting in the sought after Claremont

Estate on the boundary of Christchurch City.

The home features four bedr oms (master with

en suite and walk-in robe), open-plan kitchen, dining

and living along with formal dining, lounge and

conservatory. Great ind or outd or flow to a large

sheltered deck set in sprawling lawns and easy care

gardens with automated watering. Triple car garaging,

security gates, ducted heating, solar energy and

security system are just a few of the many extras on

offer with this property. There is a separate standalone

spacious office/studio that gives options for

those who require a dedicated work from home space

or alternatively, r om for a dependant relative.

Set amongst other quality homes on larger sections,

this property maintains a semi-rural f el whilst being

a short, easy commute into the city or ou to Ro leston.

Selwyn Times

Auction (unless sold prior)

Thursday 19 October, 2pm

411 Blenheim Road

www.pggwre.co.nz/DAR26164

Karen Hennessy

Contact:

Phone: 03 341 4301

Mobile: 027 967 0186

karen.he ne sy@p gwrightson.co.nz

W ek commencing Tuesday, 3Rd ocToBeR 2017

Brand new 'show stopper' with 4 car garaging

As always, this builder has finished his latest new build to

perfection, incorporating a l the 'must haves' and more for

the discerning buyer. Situated on a 12 0m 2 section, with

an established backdrop, the substantial 315m 2 fl or plan

provides the ultimate in family living options. The su ny &

spacious open plan living r om boasts a designer kitchen

with 90cms oven, stone bench tops & a walk in pantry,

together with define dining, living & study spaces that

The formal lounge als opens to the landscaped garden

& has a boxed high stud ceiling with sound speakers. A l 4

bedr oms are fabulously proportioned qu en sized r oms,

with the master suite providing the perfect parents' retreat

featuring an amazing dre sing r om with fu l wardrobe

system, a ditional storage & a beautiful tiled ensuite with

double tiled shower, fr estanding bath & twin vanities. The

family bathr om is equa ly elegant with a tiled shower &

twin vanities. Cosy up in front of the log burner, k ep your

toes warm with the under tile heating in the bathr oms &

k ep c ol or warm, as required, a the push of a bu ton with

2 heat pumps.

The home's practical layout also includes a walk-in linen

r om, a substantial separate laundry, a tic storage with

la der a ce s and last, but certainly not least, hugely sought

after 4 car garaging. From the moment you a proach this

premium property, you wi l a preciate what a privilege it

would be to be able to ca l it 'home'.

www.flemington.co.nz

DeaDline Sale:

Closing 4pm on Monday

11th June 2018

(unless sold prior)

rwro leston.co.nz/RLL23148

Town & Lifestyle Real Estate Ltd

Licensed (REAA 2 08) - West Melton

Sarah Booth

Contact:

Mobile: 027 527 8258

Brendan 'Big Red' Shefford

Contact:

Mobile: 027 224 4733

Lincoln - 03 325 7299

Ro leston - 03 347 9988

West Melton - 03 347 9933

THe BeST PRoPeRTieS AcRo S

W ek commencing WeDneSDAY, 23RD mAY 2018

Town & Lifestyle Real Estate Ltd

Licensed (REAA 2 08)

Property Market Update

with Harcourts

Market favours

first home sellers

Usually quieter over winter, the

property market has been active in the

lower price bracket.

"Properties in the first home price

range are likely to receive considerable

interest," says Glenys French, Branch

Manager, Harcourts Four Seasons Realty

2017 Ltd.

Glenys expects more movement after

the Reserve Bank Governor, Adrian Orr

slashed the official cash rate to a record

low of 1% in early August, putting

pressure on the banks to lower mortgage

rates even further. While this is unlikely

to 'kick start' the New Zealand's housing

market, it will benefit people starting

on the property ladder. Lower interest

payments may also lead to more

property investment given lower returns

from banks. World events such as the

trade embargoes between the United

States and China can also affect market

activity. When there is uncertainty people

tend to do nothing.

"It's a good time to sell. I haven't seen

a market like this for a while. Selwyn

property prices are holding up. If you're

thinking to move on, do it now rather

than wait until the rush of spring," says

Glenys French.

Buyers are coming from other regions

such as Auckland or returning after

living overseas. Emigrants and people

involved in the earthquake rebuild who

have become permanent residents are

also looking to purchase, while the new

motorway is attracting people to Selwyn,

who would have been town buyers.

With more buyers than sellers at the

lower end, it is definitely a sellers' market

and a shortage of properties priced

under $550,000 has led to multiple offers.

Glenys says this might change in spring

with potentially more people listing their

homes.

"Many buyers are making educated offers,

especially if they have been working with a

buyer's agent. While there may be a standout

offer, vendors are often receiving similar

bids with just $10,000 to $15,000 difference.

This gives a seller a true indication of what

their property is worth," says Glenys.

"There's some resistance at the higher

end but there'll always be less market

demand for higher priced properties."

Glenys says many first home buyers

have been looking in outer areas like

Templeton where there are solid homes

on TC1 land, constructed around the

1970s and priced in the lower bracket.

These homes allow buyers who have

insufficient funds for a new build, to get

onto the property ladder.

While Rolleston is mostly attracting

the second home buyer, smaller section

sizes are leading to higher density

housing, a larger number of new builds,

and a tighter market. New smaller

homes priced at the higher end of

$400,000 to the early $500,000s, are

attracting first home buyers and people

downsizing.

With a large number of Harcourts

agents on the ground and working

together to assist clients, and an auction

system currently favouring vendors, there

is a wealth of experience and resources

available to Harcourts Four Seasons Realty

2017 Ltd's Lincoln, Rolleston and Hornby

agents. In addition, three agents now offer

commercial experience in the Selwyn

district.

PUBLiSHeD eVeRY WeDneSDAY

THe SeLWYn DiSTRicT

INSIDE

Quality Home, Private Setting, Sought After Location

extend through sliding d ors to a large deck & covered 'al

fresco' entertaining area.

63 Rossington Drive, West Melton Open Home: Sunday 2.00pm - 2.30pm

EVERY WEDNESDAY inside Selwyn Times

Address: 19 Devine Drive, Templeton Open Home: Sunday 8 & 15 October, 1pm - 1.45pm

Get the power

of three offices

working for you

Your section hunt

starts here

New Falcon's Landing sales office open, 17 Branthwaite Drive, Ro leston,

Ray White Rolleston,

Lincoln & West Melton

Sales - Property Management - Loan Market

Residential - Lifestyle - Commercial

Thursdays, Fridays and Sundays from 1-3pm. Come, visit and share in our vision

for Ro leston. Or ca l us anytime 03 741 1340. Email enquiries@yoursection.nz

Get your messages into homes throughout

the Selwyn District.

Delivered to every home & rural letterbox

(also available at selected pick up points).

For full information on placing your

advertising call:

Lynette Evans

Ph 021 222 7831 | email: lynette.evans@starmedia.kiwi

Printed on

high impact

Gloss!

Selwyn Times dedicated to getting you outstanding results & making our district a better place to live.
---
Tai Tapu 184 Gilmours Road

"A new project means this

property must be sold!"

With new projects in the pipeline, the owner's

instructions are very clear - "sell this magnificent

property asap!" The vendors are inviting all offers for

this stunning 490sqm (which includes the four-car

garage and 50sqm outdoor entertaining area) home

near Tai Tapu. A complete overhaul was undertaken

on this property by the builder-owners, and the result

is an outstanding six-bedroom residence

reinterpreted for modern living.

bayleys.co.nz/558769

6 3 2 4

Deadline Sale (unless sold prior)

1pm, Tue 17 Sep 2019

3 Deans Ave, Chch

View by appointment

Tim Dyer 027 495 0979

tim.dyer@bayleys.co.nz

Chris Jones 027 220 5043

chris.jones@bayleys.co.nz

WHALAN AND PARTNERS LTD, BAYLEYS, LICENSED REAA 2008

Knowing what could happen

if you can't complete a sale

Life can sometimes take

an unexpected turn

when you're buying a

house. Knowing what

could happen to your

deposit and sale and

purchase agreement

if your circumstances

suddenly change and

you are unable to complete

the deal will leave

you in a much stronger

position.

"There are many

"what-ifs" to consider when buying a home and I

urge you to talk through your concerns with your

lawyer or conveyancer as soon as your circumstances

change," says Real Estate Authority (REA)

chief executive, Kevin Lampen-Smith.

"A sale and purchase agreement is a legally

binding contract between you and the seller, which

becomes unconditional once the allocated time for

meeting your conditions has been reached," says

Lampen-Smith.

"Once the agreement for sale and purchase becomes

unconditional, then you not only don't get

your deposit back, but also face the likelihood of

having to purchase the property – even if you can't

afford to – or having to cancel the agreement and

be sued for any loss the seller suffers as a result of

you failing to settle the sale. So, if your circumstances

suddenly change, you'll need to speak to

your lawyer as soon as possible."

Getting finances sorted to buy a property isn't

easy, but understanding the different deposits

when you buy a house can help. There are two

different kinds of deposits – the deposit you pay

when you make an offer and your bank deposit.

A buyer will usually be required to pay a deposit

when the sale and purchase agreement is signed

by both parties. The deposit paid is often about 10

per cent of the total price you are offering – you

can negotiate a different rate if you need to – and

is usually held in a trust account by the real estate

agent. The real estate agent takes their commission

fee out of this amount when the agreement

becomes unconditional and the remaining balance

goes to the seller.

When you arrange a home loan with a bank, you

must have a certain amount of funds to use as a deposit

– your bank deposit. This deposit will more

13

than likely be different from the

amount your sale and purchase

agreement states that you must

pay the seller. For example, your

bank may need you to have 20

per cent of the purchase price

available as a bank deposit in

order to secure your mortgage,

even if you only have to pay the

seller a 10 per cent deposit.

"When drawing up a sale and

purchase agreement, you can

include conditions of the sale,

such as a title search, valuation,

LIM report, obtaining finance, obtaining insurance

and builder's inspection," Lampen-Smith says.

"Including conditions can really help – you can

even negotiate your sale and purchase deposit."

"If you find that you need extra time to complete

any conditions of the purchase, you must speak to

your lawyer or conveyancer immediately. They will

negotiate with the seller through their real estate

agent or lawyer or conveyancer," Lampen-Smith

says.

"Any changes to the conditions will need to be

added to the sale and purchase agreement and

signed off by you and the seller. If your conditions

are not able to be met, eg, the building fails

the property inspection, then you may be able to

cancel the agreement and then your deposit will be

refunded to you."

"It's very important that you speak to a lawyer

before finalising your offer conditions so that they

adequately protect you if something that you find

out about the property during the conditional

period is not to your satisfaction," Lampen-Smith

says.

"There is potential that defaulting on a sale,

because of finances, could affect future borrowing.

Talk this through with your lawyer and it would

also be wise to seek advice from a qualified financial

adviser. A financial adviser may also be able to

talk you through the pros and cons of income protection

insurance for situations such as sickness,

disability, unemployment and death."

"In life, there are so many things we cannot be

sure of, but it's always worth doing your homework

and seeking solid professional advice when

purchasing a home."

For independent guidance and information on

buying or selling, check out settled.govt.nz.

RURAL | LIFESTYLE | RESIDENTIAL

PRICE REDUCED

HORORATA 828 Downs Road

Sheep, Cropping and Cattle Potential

• 167.7398 hectares of flat to rolling hill in three titles

• Fenced into 36 paddocks of permanent pasture

• 13 units of water off the Hororata Acheron scheme

• Renovated three-bedroom cottage

• Sheep and cattle yards, sundry sheds

$2.8M

Plus GST (if any)

VIEW By Appointment Only

Min Cookson | M 027 249 5417

Sam Davidson | M 027 488 8269

pggwre.co.nz/DAR29945

DARFIELD 21 Torlesse Crescent

Ticks All The Boxes Including The Hot Tub

ENQUIRIES OVER $449,000

GST Inclusive

Permanent material, double-glazed, fully updated

family home set on an easy care section. The home

features a modern kitchen which is open-plan with the

spacious dining and living areas. Three generous

double bedrooms with built-in robes, a well-appointed

family bathroom, separate toilet, and laundry

complete the picture. Double garage, established

lawns and gardens are supported by wood sheds,

garden shed, tunnel house and a private outdoor

entertaining area, and picture yourself soaking in the

wood-fired hot tub after a days work, heaven!

Karen Hennessy

M 027 967 0186

B 03 341 4301

E karen.hennessy@pggwrightson.co.nz

DARFIELD 212 Horndon Street

First Home or Investment

Permanent material home on a large section, west facing to

capture the afternoon sun. Large lounge with heat pump

and log fire, modern kitchen and dining area. Two bedrooms,

laundry, family bathroom, and separate toilet. Single

garage, garden shed and well fenced for children or pets.

$390,000

GST Inclusive

VIEW By Appointment Only

Min Cookson

M 027 249 5417

E min.cookson@pggwrightson.co.nz

pggwre.co.nz/DAR30521

pggwre.co.nz/DAR30791

PGG Wrightson Real Estate Limited, licensed under REAA 2008

Helping grow the country
---
14

Your guide to Show Homes & New Sections

in the Selwyn District

A natural

partnership

Attracted by increasing facilities and services,

people are choosing Rolleston as a place to retire.

The effect is a change in the town's

demographics and urban landscape as

retirement villages are constructed.

Located in the eastern frame of

Rolleston, Woodcroft Estate has been

an early player in bringing retirement

complexes to the town. On completion, it

will comprise 78, two or three bedroom

units (62 duplexes and 16 standalone

villas).

The beauty of Woodcroft Estate is the

independence and flexibility it offers

residents who will ultimately own and

manage their village.

Woodcroft Estate offers two and three

bedroom duplex units and villas, which

are larger and more spacious than is

typical in many retirement villages. Also of

particular appeal is the idea of a hassle and

maintenance free lifestyle, in a safe and

supportive community.

"Woodcroft Estate has recently gained

momentum with around a third of the

planned duplex and standalone villas

already sold," advises Manor Group

representative, Corinne Blackie.

The construction of Woodcroft Estate

has been a natural partnership between

the Manor Group as owners, and

Generation Homes Christchurch who

are recognised builders in Rolleston, and

the company behind the Devon Green

development.

"The Manor Group is a great company

offering a quality product," says Evan

Beker, Joint Venture Partner of Generation

Homes Christchurch.

"They're well organised, ethically based

and very committed to this project, going

out of their way to assist clients."

Corinne replies that as clients are buying

a home they will live in for the rest of their

lives, she likes to accommodate their needs

wherever able to do so.

"Generation Homes have been

wonderful and really easy to work with. If

you need something done, they come and

sort it straight away," advises Corinne.

Plans for a pavilion complex at

Woodcroft Estate are currently underway

with Generation Homes due to start

construction in early 2020. There will be

lounge, kitchen and bathroom facilities,

a barbecue area and a bowling green

for residents and their guests to enjoy.

Currently, residents come together for

monthly morning teas, with prospective

residents welcome to attend. Future plans

are for a resident manager, a role Corinne

currently fills.

Woodcroft Estate offers a choice of

five different unit designs. Prices begin

at $420,000 for a standard two bedroom

116sqm duplex with a single garage.

The largest standalone villa is 173sqm

and has a starting price of $560,000. The

actual cost of a unit or villa will however,

depend on its individual specifications and

features. While ownership is on a Licence

to Occupy basis, the full capital value

passes to the owner when a unit is sold.

This means owners benefit from capital

gains on their units or villas.

The Woodcroft Estate show

home is open 10am until

2pm from Monday to Friday,

at 34 Kendon Avenue. All

viewing is by appointment.

Evan Beker and Corinne Blackie.

Woodcroft Estate, 34 Kendon Ave, Rolleston.

Woodcroft Estate duplex units.

GUARANTEED MOVE IN DATE

FULLY FIXED PRICE CONTRACT

10 YEAR RESIDENTIAL BUILD GUARANTEE

Lot 23 Branthwaite, Rolleston home and

land package $529,000

Three bedroom exceptional home and land

package. North facing home with all day sun; stylish

and architecturally designed; master bedroom with

walk in robe and ensuite. Large kitchen with modern

appliances and open plan living and dining.

Lot 24 Branthwaite, Rolleston home and

land package $490,000

Three bedroom stunning home and land package.

Architecturally designed and built for the sun; master

bedroom with walk in robe and ensuite. Large

kitchen with modern appliances and open plan

family and living.

ShOw hOMES AT:

19 Holmes Hanover Lane, Halswell

P 03 335 0734

2 Reuben Avenue,

Branthwaite, Rolleston

P 03 347 0098

www.generation.co.nz/christchurch

Like us on Facebook:

Generation homes Christchurch

www.generation.co.nz/christchurch

MAKING BUILDING easy
---
15

this Week's

1.00pm - 1.30pm

thursday 5th september

24 Othello Drive, Rolleston

Harcourts Rolleston

saturday 7th september

12.00pm -12.30pm

12.00pm - 12.30pm

12.00pm - 2.00pm

12.15pm - 12.45pm

14 Blunden Road, Lincoln

Harcourts Lincoln

4 Haymakers Crescent, Rolleston

Harcourts Rolleston

1472 Springs Road, Verdeco Park, Lincoln

Harcourts Lincoln

34 Burnham School Road, Rolleston

Ray White Rolleston

1.45pm - 2.15pm

1.45pm - 2.15pm

2.00pm - 2.30pm

2.00pm - 2.30pm

3 Stern Crescent, Rolleston

Ray White West Melton

45 Stanford Way, Rolleston

Ray White Rolleston

18 Gracia Avenue, Rolleston

Matson & Allan Rolleston

48 Woodville Street, Leeston

Bayleys Canterbury

12.00pm - 12.30pm

12.00pm - 12.30pm

12.00pm - 12.30pm

1.00pm - 1.30pm

1.00pm - 1.45pm

1.30pm - 2.00pm

1.30pm - 2.00pm

1.30pm - 2.00pm

2.00pm - 2.30pm

2.30pm - 3.00pm

2.45pm - 3.15pm

3.00pm - 3.30pm

58 Shadbolt Lane, Rolleston

Harcourts Hornby

1 Showground Place, Leeston

Property Brokers

14 Blunden Road, Lincoln

Harcourts Lincoln

1 Pultney Street, Leeston

Property Brokers

23 Millstream Drive, Lincoln

Harcourts Lincoln

24 Crowder Street, Lincoln

Harcourts Lincoln

3 De Renzie Place, Kirwee

Ray White West Melton

5A Murfitt Place, Sockburn

Ray White Rolleston

13 Greenan Place, Doyleston

Property Brokers

1/174 Clarence Street, Riccarton

Ray White Lincoln

253 Blakes Road, Prebbleton

Ray White Rolleston

670 Springston Rolleston Rd, Rolleston

Harcourts Lincoln

sunday 8th september

12.30pm - 1.00pm

12.30pm - 1.00pm

12.30pm - 1.00pm

12.30pm - 1.00pm

12.30pm - 1.00pm

12.30pm - 1.00pm

12.30pm - 1.00pm

12.45pm - 1.15pm

12.45pm - 1.15pm

1.00pm - 1.30pm

1.00pm - 1.30pm

1.00pm - 1.30pm

1.00pm - 1.30pm

1.00pm - 1.30pm

9 Bronte Way, Rolleston

Ray White Rolleston

9 Thames Drive, Rolleston

Matson & Allan Rolleston

16 St James Street, Southbridge

Matson & Allan Leeston

20A Telegraph Road, Darfield

Matson & Allan Darfield

4/3 Steveley Street, Avonhead

Ray White West Melton

23 Lowes Road, Rolleston

Ray White Rolleston

9 Lloyds Close, Rolleston

Property Brokers

50 Burnham School Road, Rolleston

Ray White Rolleston

32 Navy Loop, Rolleston

Harcourts Rolleston

48 High Street, Leeston

Bayleys Canterbury

244 Horndon Street, Darfield

Bayleys Canterbury

9 Charlbury Drive, Rolleston

Ray White Rolleston

27 Delamare Way, Rolleston

Ray White Rolleston

33 Hasendene Drive, Lincoln

Ray White Lincoln

2.00pm - 2.30pm

2.00pm - 2.30pm

2.00pm - 2.30pm

2.00pm - 2.30pm

2.00pm - 2.30pm

2.00pm - 2.30pm

2.00pm - 2.30pm

2.00pm - 2.30pm

2.00pm - 2.45pm

2.30pm - 3.00pm

2.30pm - 3.00pm

2.30pm - 3.00pm

2.30pm - 3.00pm

2.45pm - 3.15pm

8 Frame Crescent, Rolleston

Matson & Allan Rolleston

15 Maitland Crescent, Rolleston

Ray White Rolleston

22 Navy Loop, Rolleston

Ray White Rolleston

14 Beaumont Drive, Rolleston

Ray White Rolleston

7 PallMall Street, Springfield

Property Brokers

39 Stanford Way, Rolleston

Property Brokers

52 Bells Road, West Melton

Harcourts Rolleston

10 Beak Street, Rolleston

Harcourts Rolleston

21 Lindsay Drive, Prebbleton

Harcourts Hornby

18 Silver Peaks Driove, West Melton

Ray White West Melton

29 Campion Place, Rolleston

Ray White Rolleston

30A Oak Tree Lane, Rolleston

Ray White Rolleston

81 Renoir Drive, Rolleston

Property Brokers

4 Fairford Street, Rolleston

Matson & Allan Leeston

10.30am - 11.00am

10.45am - 11.30am

11.00am - 11.30am

11.00am - 11.30am

11.00am - 11.30am

11.00am - 11.30am

11.00am - 11.30am

11.00am - 11.30am

11.30am - 12.00pm

11.30am - 12.00pm

11.30am - 12.00pm

11.30am - 12.00pm

11.45am - 12.15pm

12.00pm - 12.30pm

12.00pm - 12.30pm

12.00pm - 12.30pm

12.00pm - 12.30pm

12.00pm - 12.30pm

12.00pm - 12.30pm

12.00pm - 12.30pm

12.00pm - 12.30pm

7 Nettleship Way, Rolleston

Bayleys Canterbury

Avonie Place, Broadfield

Harcourts Rolleston

26 Flint Road, Rolleston

Ray White Rolleston

29 Villa Grove, Ilam

Ray White Lincoln

4/31 Grantley Street, New Brighton

Ray White Rolleston

17 Bradbury Avenue, Rolleston

Ray White Rolleston

9 Goh Street, Lincoln

Ray White Lincoln

5 Verona Court, Rolleston

Ray White Rolleston

3/1253 Courtenay Road, Kirwee

Matson & Allan Darfield

19 Bradbury Avenue, Rolleston

Ray White Rolleston

69 Fairfield Way, Rolleston

Ray White Rolleston

15 Piako Drive, Darfield

Property Brokers

5 Fountain Place, Rolleston

Ray White Rolleston

40 Homebush Road, Glentunnel

Bayleys Canterbury

12 Payne Court, Lincoln

Ray White Lincoln

28 Heathridge Place, Lincoln

Ray White Lincoln

10 Seymour Drive, Rolleston

Ray White Rolleston

71 Overbury Crescent, Rolleston

Ray White Rolleston

58 Shadbolt Lane, Rolleston

Harcourts Hornby

5 Melville Crescent, Rolleston

Harcourts Rolleston

714 East Maddisons Road, Rolleston

Harcourts Rolleston

1.00pm - 1.30pm

1.00pm - 1.30pm

1.00pm - 1.30pm

1.00pm - 1.30pm

1.00pm - 1.40pm

1.00pm - 1.45pm

1.00pm -1.45pm

1.15pm - 1.45pm

1.15pm - 1.45pm

1.15pm - 1.45pm

1.15pm - 1.45pm

1.30pm - 2.00pm

1.30pm - 2.00pm

1.30pm - 2.00pm

1.30pm - 2.00pm

1.30pm - 2.00pm

1.30pm - 2.00pm

1.30pm - 2.00pm

1.45pm - 2.15pm

1.45pm - 2.15pm

1.45pm - 2.15pm

8 Genoa Avenue, Rolleston

Ray White Rolleston

13 Waddington Road, Waddington

Property Brokers

24 Othello Drive, Rolleston

Harcourts Rolleston

8 Cloverlea Court, Rolleston

Harcourts Rolleston

43 Glendene Court (off Mary Brittan Drive) Rolleston

Harcourts Hornby

23 Millstream Drive, Lincoln

Harcourts Lincoln

103b Lowes Road, Rolleston

Harcourts Rolleston

11 Caracara Place, Rolleston

Ray White Rolleston

45 School Road, Tai Tapu

Ray White Rolleston

452A Ellesmere Junction Rd, Springston

Matson & Allan Rolleston

27 High Street, Leeston

Matson & Allan Leeston

3028 Coaltrack Road, Coalgate

Matson & Allan Darfield

24 Crowder Street, Lincoln

Harcourts Lincoln

9 Kinglear Drive, Rolleston

Ray White Rolleston

19 Durrells Crescent, Kaiapoi

Ray White Lincoln

18 Lynley Drive, West Melton

Ray White West Melton

16A Brookside Road, Rolleston

Ray White Rolleston

38 Bradbury Avenue, Rolleston

Property Brokers

11 Palladio Avenue, Leeston

Matson & Allan Leeston

4/545 Maddisons Road, Rolleston

Harcourts Rolleston

23 Faith Place, West Melton

Bayleys Canterbury

2.45pm - 3.15pm

2.45pm - 3.15pm

2.45pm - 3.15pm

2.45pm - 3.15pm

3.00pm - 3.30pm

3.00pm - 3.30pm

3.00pm - 3.30pm

3.00pm - 3.30pm

3.00pm - 4.00pm

3.15pm - 3.45pm

3.15pm - 3.45pm

3.30pm - 4.00pm

3.30pm - 4.00pm

3.30pm - 4.00pm

16 Barnsley Crescent, West Melton

Ray White West Melton

34 Charlbury Drive, Rolleston

Ray White Rolleston

112 Aplineview, West Melton

Bayleys Canterbury

95 Lowes Road, Rolleston

Ray White Rolleston

31 Kingdowne Drive, West Melton

Matson & Allan Rolleston

9 Ledbury Drive, Rolleston

Ray White Rolleston

18 Jean Archie Drive, Rolleston

Harcourts Rolleston

670 Springston Rolleston Rd, Rolleston

Harcourts Lincoln

61 Cornwall Lane, Kirwee

Harcourts Rolleston

63 Patterson Terrace, Halswell

Ray White Rolleston

7 Corriedale Lane, West Melton

Ray White West Melton

59 Thames Drive, Rolleston

Ray White Rolleston

7 Northmoor Boulevard

Ray White Rolleston

238 Brookside Road, Rolleston

Ray White Rolleston

CHECK OUT THE SELWYN

TIMES PROPERTY

DIRECTORY EVERY

WEDNESDAY FOR THE

BEST OF PROPERTY IN

THE SELWYN DISTRICT

FOR FULL

DETAILS OF ALL

OPEN HOMES,

PLEASE CONTACT

THE REAL ESTATE

COMPANIES

RAY WHITE

ROLLESTON 03 347 9988

www.rwrolleston.co.nz

WEST MELTON 03 347 9933

www.rwwestmelton.co.nz

LINCOLN 03 325 7299

www.rwlincoln.co.nz

FARMLANDS www.farmlands.co.nz

FARMLANDS LINCOLN 03 325 2889

FARMLANDS LEESTON 03 324 3189

FARMLANDS DARFIELD 03 317 9070

PROPERTY BROKERS ROLLESTON

www.propertybrokers.co.nz

ROLLESTON 03 929 0306

HARCOURTS

www.fourseasons.harcourts.co.nz

HARCOURTS HORNBY 03 349 9919

HARCOURTS ROLLESTON 03 347 4711

HARCOURTS LINCOLN 03 662 9933

PGG WRIGHTSON CANTERBURY

03 318 7850, www.pggwre.co.nz

MATSON & ALLAN

www.marealestate.co.nz

ROLLESTON 03 347 9949

DARFIELD 03 318 8204

LEESTON 03 324 3704

MIKE PERO ROLLESTON

03 347 1111, www.mikepero.com

BAYLEYS

CANTERBURY 03 375 4700

www.bayleys.co.nz

GLASS MILES

CHRISTCHURCH 03 343 5178

www.glassmiles.co.nz
---
16