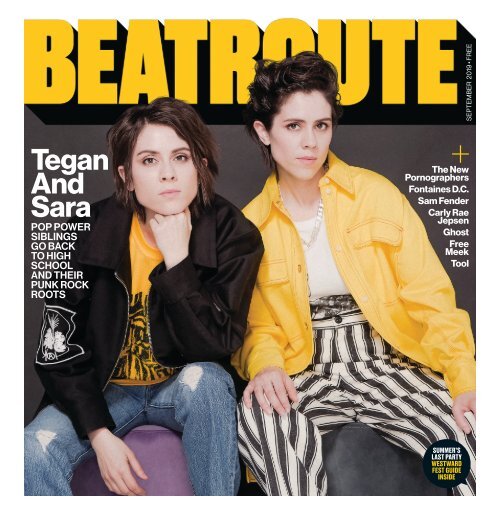 BeatRoute Magazine BC Edition September 2019
BeatRoute Magazine is a music monthly and website that also covers: fashion, film, travel, liquor and cannabis all through the lens of a music fan. Distributed in British Columbia and Alberta, Ontario edition coming Thursday, September 5, 2019. BeatRoute's Alberta edition is distributed in Calgary, Edmonton, Banff and Canmore. The BC edition is distributed in Vancouver, Victoria and Nanaimo. BeatRoute (AB) Mission PO 23045 Calgary, AB T2S 3A8 E. editor@beatroute.ca BeatRoute (BC) #202 – 2405 E Hastings Vancouver, BC V5K 1Y8 P. 778-888-1120
BeatRoute Magazine is a music monthly and website that also covers: fashion, film, travel, liquor and cannabis all through the lens of a music fan. Distributed in British Columbia and Alberta, Ontario edition coming Thursday, September 5, 2019. BeatRoute's Alberta edition is distributed in Calgary, Edmonton, Banff and Canmore. The BC edition is distributed in Vancouver, Victoria and Nanaimo. BeatRoute (AB) Mission PO 23045 Calgary, AB T2S 3A8 E. editor@beatroute.ca BeatRoute (BC) #202 – 2405 E Hastings Vancouver, BC V5K 1Y8 P. 778-888-1120
SHOW MORE
SHOW LESS
Create successful ePaper yourself
Turn your PDF publications into a flip-book with our unique Google optimized e-Paper software.
SEPTEMBER 2019 • FREE

Tegan

And

Sara

POP POWER

SIBLINGS

GO BACK

TO HIGH

SCHOOL

AND THEIR

PUNK ROCK

ROOTS

The New

Pornographers

Fontaines D.C.

Sam Fender

Carly Rae

Jepsen

Ghost

Free

Meek

Tool

SUMMER'S

LAST PARTY

WESTWARD

FEST GUIDE

INSIDE
---
B E

DEEPLY

FUNKY

FLU E VO G X G EO RGE

CLI NTO N THE MOTH ER S H I P

JOHNFLUEVOGSHOESGRANVILLEST··WATERST··FLUEVOGCOM
---
Contents

BEATROUTE

BEATROUTE

BEAT

ROUTE

BR

BRLIVE

BRYYZ

Up Front

4

6

8

The Guide

Shapeshifting rapper

Junglepussy refuses to be

pinned down.

Drink

The Espresso Martini is

your answer to last call's

last drink.

Style

Tyler, the Creator closes

out the tennis season with

his boldest statement yet.

Music

13

23

33

38

Concert Previews

Fontaines D.C., Sinzere,

Ghost, Black Mountain,

Pigs, Lissie, Carly Rae

Jepsen.

The Playlist

All the singles we can't stop

listening to this month.

Album Reviews

TOOL, BROCKHAMPTON,

Alex Cameron, The Lumineers,

Vivan Girls, Chron

Goblin, Pixies, Sam Fender,

Whitney, Rick Ross

Live Reviews

Rob Zombie, Nathaniel

Rateliff and The Nightsweats,

King Gizzard and the

Lizard Wizard

Tegan

And

Sara

POP POWER

SIBLINGS

GO BACK

TO HIGH

SCHOOL

AND THEIR

PUNK ROCK

ROOTS

Cover Story

22

Tegan and Sara

Pop twins' tell-all High School

memoir relives everybody's

most anxious, life defining

times.

SEPTEMBER 2019 • FREE

THE NEW

PORNOGRAPHERS

FONTAINES D.C.

SAM FENDER

CARLY RAE

JEPSEN

GHOST

TOOL

FREE

MEEK

SUMMER'S

LAST PARTY

WESTWARD

FEST GUIDE

INSIDE

Screen Time

40

42

43

Punk: four-part

documentary

traces the roots of the seminal

rise of music's most confrontational

genre.

Free Meek

Criminal justice is exposed in

docuseries highlighting the

struggles of rapper Meek Mill's

incarceration.

Vancouver International

Film Festival

Music and comedy reign supreme

at VIFF 2019 events with

Tim Heidecker's On Cinema At

The Cinema.

YVR

45

46

47

48

Orville Peck, August 27, 2019 at

the Commodore Ballroom. Check

out our review of this show and

more online at beatroute.ca

YVR Agenda

International funnyman Tom

Green just wants to be friends

with Drake.

Vancouver Fringe Festival

puts music centre stage as a

frequent co-star in their 2019

programming. Check out BeatRoute's

picks of the Fringe and

Fringe Bar highlights!

YVR Music

Roots duo Old Soul Rebel land

a television gig while Vancouver

metalheads Waingro look for

inspiration in 90s cinema.

New Forms Festival

puts inclusivity at the top of their

electronic music agenda while

Vancouver collectives band

together and fight to keep their

creative spaces wide open.

JOSHUA GRAFSTEIN

Plus The BeatRoute

Cheat Sheet brings you the

essential shows for September

in Vancouver.

SEPTEMBER 2019 BEATROUTE 3
---
The Guide

SEPTEMBER

BEATROUTE

Publisher

Julia Rambeau Smith

Senior Editor

Glenn Alderson

Creative Director

Troy Beyer

Contributing Editors

Sebastian Buzzalino

Josephine Cruz

Dayna Mahannah

Melissa Vincent

Shape-shifting rapper

Junglepussy refuses

to be pinned down

W

ith a stage name like Junglepussy,

it should come as no

surprise that Brooklyn native

Shayna McHayle holds nothing

back when it comes to expressing

her sexuality, her Blackness and her

feminism. But the name and larger-thanlife

personality that comes with it isn't

just a case of sex for shock value. The

multihyphenate rapper is forging her own

unique path as an independent artist, and

the eye-catching stage name is just the

tip of the iceberg.

In the past five years she's released a

mixtape and two studio albums, the most

recent of which, 2018's JP3, received

widespread critical praise. While many

artists might be content to collect their

W and continue to focus on music, JP

has further evolved her portfolio and

branched off into other creative outlets.

She made her acting debut in last

year's comedy Support the Girls, and

also writes, produces, and stars in her

own short films including "I'm In Love,"

released earlier this year on her YouTube

channel.

Another area which showcases JP's

creativity and quirkiness is her merchandise,

which is emblazoned with such

phrases as "This Pussy Don't Pop For

You" and includes everything from standard

T-shirts, hoodies and calendars, to

mugs and "Pussy Portable" USB drives.

If there's one theme across her creative

output, be it music, merch or live

shows, it's unapologetic authenticity. In a

saturated music industry where originality

is the golden nut that everyone wants

to crack, Junglepussy does it with ease,

and the best part is it seems she's only

just getting started.

Junglepussy performs Friday, Sept. 13 at the

Imperial (Vancouver) as part of Westward

Music Festival.

By JOSEPHINE CRUZ

More

Westward Fest,

page 16

Contributors

Max Asper • Ben Boddez

Morgan Cairns • Jonathan Crane

Jesse Gillett • Kathryn Helmore

Jeevin Johal • Brendan Lee

Christine Leonard

Dave MacIntyre • Dayna Mahannah

James Olson • Jennie Orton

Johnny Papan • Tory Rosso

Yasmine Shemesh •

Graeme Wiggins • Helena Zhang

Contributing Photographers

Lindsey Blane

Sebastian Buzzalino

Kira Clavell • Bev Davies

Michaela DeCiantis-Wong

Jesse Gillett • Joshua Grafstein

Preet Hundal • Olivia Jaffe

Amanda Leigh Smith

Céline Pinget • Kezia Nathe

Darrole Palmer • Travis Shinn

Dave Today • Daniel Topete

Coordinator (live music)

Darrole Palmer

Advertising Inquiries

Glenn Alderson

glenn@beatroute.ca

778-888-1120

Distribution

BeatRoute is distributed in

Vancouver, Victoria, Calgary,

Edmonton, Winnipeg and

Saskatoon

Contact us

2405 East Hastings St.

Vancouver, BC

V5K 1Y8

e-mail:

editor@beatroute.ca

@beatrouteBC

@beatroutemedia

beatrouteBC

beatroute.ca
---
UPCOMING SHOWS

SEPTEMBER 12 -15

DOWNTOWN VANCOUVER

JOJI • THE PAPER KITES • EMOTIONAL ORANGES • MORMOR • PHUM VIPHURIT • BLACK MOUNTAIN

BUSTY AND THE BASS • LISSIE • MT. JOY • LEIKELI47 • JUNGLEPUSSY • LE1F • THE WONDER YEARS • JOSEPH

OWEN PALLETT • ZIGGY ALBERTS • YUKON BLONDE • JON BRYANT • THE DEEP DARK WOODS • TITUS ANDRONICUS • WHY? • ELDER ISLAND

+ MANY MORE ARTISTS! • TICKETS AT: WESTWARDFEST.COM • EVENTBRITE.CA • RED CAT RECORDS

SUN KIL MOON SEPT 2

DOORS 7PM 19+

THE MOUNTAIN

GOATS

DOORS 7PM 19+

SEPT 6

JOSEPH SEPT 12

DOORS 6PM 19+

YUKON WEYES BLOOD BLONDE SEPT AUG 12 14

DOORS 10PM 7PM 19+

SEPT 12-15 TICKETS ON SALE NOW AT WESTWARDFEST.COM JAY SOM SEPT 17

JUNGLEPUSSY SEPT 13 PHUM VIPHURIT SEPT 13 OWEN PALLETT SEPT 14

DOORS APRIL 11 6PM 19+

APRIL DOORS 1110PM 19+ APRIL DOORS 116PM 19+

WHY? SEPT 14 6

DOORS APRIL 11 10PM 19+

TITUS

ANDRONICUS

APRIL DOORS 1110PM 19+

SEPT 15

DOORS 7PM 19+

TICKETS ARE AVAILABLE AT IMPERIALVANCOUVER.COM
---
Drink

PEP UP

THE PARTY

The Espresso Martini

is the sophistocated

alternative for a late-night

pick-me-up. No Bull.

By JENNIE ORTON

T

hose seasoned in the ways

of oblivion know that the

trick to longevity in an

action-packed night on

the town is a well curated

mix of liquid courage and

high octane pep. Or as the

mysterious woman who, in

1980, entered Fred's Club

in London to grab a nightcap

put it: something that will "wake

me up, then fuck me up." The resulting

cocktail was the Espresso Martini

and for those who feel they may

have outgrown the Jagerbomb, this

is your key to a good time — and a

long time — while still looking classy.

Though credited to the aforementioned

Fred's Club bartender Dick

Bradsell, the cocktail has enjoyed

several bouts of popularity as we

have gone through ebbs and flows of

admitting to ourselves that it's one of

our collective guilty pleasures.

Through the years experts on both

coffee and mixology have weighed in

on the perfect way to pull and pour

this dark master of a mixed drink,

but the consensus seems to be 1.5

ounces of vodka, 3/4 ounce of hot

espresso coffee (a "short" for those

fond of third-wave coffee terminology),

3/4 ounce of Kahlua, and 1/3

ounce of sugar syrup. We decided

to reach out to experts across the

nation to find out why this turbo treat

has such staying power and how

they go about making it their own.

GORD HANNAH

Head Bartender and Cocktail

Ambassador / Drake Hotel Properties

Toronto, ON

"The Espresso Martini is fun, it

always has been and it always

will be. Dick Bradsell knew how

to throw a party. A little booze, a

little sweetness, a little bitter and

a kick of caffeine. Put all of that in

an elegant glass, served quickly

with a smile and your guests are

on their way to a great night. It is

every bartenders' guilty pleasure

and an easy way to impress any

guest. Our current spec is based

on simplicity and history."

Recipe:

1 oz Absolut Vodka

1 oz Kahlua

1 shot Espresso

Garnished with espresso beans.

REECE SOUTHERN

Bar Manager / Proof

Calgary, AB

"The Espresso Martini is a cocktail

I hold close to me. I watched the

drinks popularity steadily rise to

the point that venues were all

trying to put their crazy spin on this

modern classic. I've seen Espresso

Martinis batched into nitro kegs

for high volumes and almost every

high volume venue in Perth had

them on tap. I personally find the

classic recipe a tad too sweet and I

wanted to elevate my touch on this

cocktail giving the guest a version

that imparts part of me and my love

for this cocktail and the travels I

have been on."

Recipe:

1.5 oz Vodka

.5 oz Amaro

.25 oz Coffee Liqueurs

1 oz Freshly Brewed Coffee

1 spoon 2:1 Simple Syrup

1 Pinch Salt

SHOIN FUJITA

Bar Manager / CinCin Ristorante + Bar

Vancouver, BC

"The Espresso Martini is such a

versatile classic cocktail because

you can enjoy it at any point of

your day. Breakfast, lunch, dinner,

nightcap - it really doesn't matter. I

really believe that the cocktail has

a really big fan base that consists

of all sorts of people who like the

various recipes they have been

exposed to. Our recipe is meant

to be simple, executable during a

rush, and delicious."

Recipe:

0.5 oz simple syrup

0.5 oz Kahlua

1.5 oz Van Gogh

Espresso Vodka

2 shots Espresso

Garnish with 3 espresso beans

6 BEATROUTE SEPTEMBER 2019
---
INTRODUCING

Simply Canadian Craft

Whisky and Soda.

No carbs

No sugar

No preservatives

No sodium

@drinkhighball

drinkhighball.com
---
Style

Tyler's

TYLER, THE

CREATOR AND

LACOSTE TURN

NOSTALGIA

INTO STYLE

By DAYNA MAHANNAH

I

t wasn't

enough for

Tyler, the Creator

to release his

sixth album, IGOR, to

critical acclaim earlier

this year — BeatRoute

called it a "compelling and complicated

reinvention." Now the master collaborator

and music lion has teamed up with Lacoste to

bring his fashion game to the street.

GOLF le Fleur is his 16-piece collection

ranging from two-toned socks to fuzzy pink

sweaters and retro tracksuits, all softened with

a dreamy, 80s courtside vibe. In these pastel

pieces, comfort is at a lounging-in-sweatpantson-a-Sunday

level, while swag reaches heights

of front-row-at-the-French-Open.

Tyler's beats and style have become intertwined

— he communicates articulately through

both phonics and visuals. Scrapping hyper-masculinity

for ungendered designs with simple lines

and fresh colour, "Fleur is for the busy and the

bold. Creamy Neapolitan tones are revamped:

pale pink, beige, and off-white become 'litchi,'

'geode,' and 'mascarpone."

If the retro and diverse campaign doesn't

convince you, Tyler's instagram videos might.

Watch him rap the rap — in a green and cream

GOLF le Fleur letterman jacket — to 12,000

people at Versailles Electro music event outside

Paris. He looks more than just comfortable.

Bucket hats off to you, Tyler.

Find GOLF le Fleur online at Lacoste's physical and online

stores. Catch Tyler, the Creator live at Scotiabank Arena in

Toronto September 6, Place Bell in Laval September 11, and at

the Pacific Coliseum in Vancouver October 15.

Tri-tone T

If a platinum bowl cut can

be enviable, bubblegum

blue can be classy. These

vertical colour blocks are

simple yet standout.

8 BEATROUTE SEPTEMBER 2019
---
Tennis

SEPTEMBER 2019 BEATROUTE 9
---
Style

Double-Dip Collared Sweater

All retro prep, this thick cotton sweatshirt is cozy and

streamlined. The iconic Lacoste croc has been reworked with

stylized GOLF text.

Floccose Button-Down Cardigan

The warm-fuzzies have never felt so cool. Pull over a

T-shirt or wrap around your head to hide from envious gazes,

á la the Creator, courtside.

The Classic Polo—or is it?

It doesn't take much to not be boring. A little asymmetry,

a rose in a croc's mouth — this polo upends

expectations just enough.

Varsity Reminisci

Oh nostalgia. Bottle green wool, white leather.

A wardrobe staple that punches up any outfit with

sportswear chic and palpable street cred.

Slash Track Jacket

Inject bold slabs of colour into your morning

jog or slip a sleek 80s slant to your

Friday night outfit MO.

Not-Your-Fisherman's Bucket Hat

True to old-school rap style, the bucket hat has powered

through decades of trends. Classic shape, fresh colour, and

the tell-tale GOLF Le Fleur ribbon? Absolute choice.

Bubblegum Bum

Remember the blonde bowl cut? These are the

matching shorts — straight lines, poppy colour,

good for warm weather.

Goede and Litchi Legs

Stretch and cotton let you move. Tuck your phone

in the back pocket, pop in your headphones, and

groove to IGOR all across town

What's Good? Dem Socks

Feet cred turns heads. Coveted toes are no problem

here — pull up your socks and walk tall. Also available

in blue and mascarpone.

10 BEATROUTE SEPTEMBER 2019
---
UPCOMING SHOWS

SLEEP SEPT 1

DOORS 8PM 19+

ZIGGY ALBERTS

DOORS 8PM 19+

SEPT 14

BAD CHILD SEPT 3

DOORS 7PM 19+

DREZO SEPT 6

DOORS 10PM 19+

MORGAN HERTIAGE SEPT 8

DOORS 8PM 19+

GRIEVES SEPT 9

DOORS 8PM 19+

COTIS SEPT 12

DOORS 9PM 19+

NEON STEVE &

FRIENDS VOL. 7

DOORS 10PM 19+

SEPT 13

BOMBARGO SEPT 15

DOORS 8PM 19+

TOKYO POLICE CLUB SEPT 18

DOORS 8PM 19+

RHYE SEPT 24

DOORS 8PM 19+

TICKETS ARE AVAILABLE AT THECAPITALBALLROOM.COM

858 YATES ST, VICTORIA, BC

@CAPITALBALLRM
---
UPCOMING SHOWS

JOJI • THE PAPER KITES • EMOTIONAL

BUSTY AND THE BASS • LISSIE • MT.

OWEN PALLETT • ZIGGY ALBERTS • YUKON

+ MANY MORE ARTISTS! • TICKETS AT: WESTWARDFEST.COM

SEPT 12-15

SEPTEMBER 12 -15

DOWNTOWN VANCOUVER

ORANGES • MORMOR • PHUM VIPHURIT • BLACK MOUNTAIN

LEIKELI47 • JUNGLEPUSSY • LE1F • THE WONDER YEARS • JOSEPH

• JON BRYANT • THE DEEP DARK WOODS • TITUS ANDRONICUS • WHY? • ELDER ISLAND

EVENTBRITE.CA • RED CAT RECORDS

MARC MARON

JOY •

BLONDE

•

HEY, THERE'S MORE TOUR

DOORS 7:30PM 19+

SEPT 6

YUNGBLUD SEPT 11

DOORS 6PM ALL AGES

THE WONDER YEARS SEPT 12

DOORS 7PM ALL AGES

LEIKELI47 SEPT 12

DOORS 10PM ALL AGES

ZIGGY ALBERTS SEPT 13

DOORS 6PM ALL AGES

BUSTY AND THE BASS SEPT 13

DOORS 10PM ALL AGES

EMOTIONAL ORANGES

W/ CHIIILD

DOORS 6PM ALL AGES

SEPT 14

BLACK MOUNTAIN SEPT 14

DOORS 10PM ALL AGES

THE PAPER KITES SEPT 15

DOORS 6PM ALL AGES

MT. JOY

W/ JEREMIE ALBINO

DOORS 10PM ALL AGES

SEPT 15

TICKETS ARE AVAILABLE AT VOGUETHEATRE.COM
---
MUSiC

The most

important thing is

to take yourself out,

and to serve the

song and not serve

the musician.

Carlos O'Connell,

Fontaines' guitarist

Fontaines D.C.

Dublin post-punkers'

quest to become the

biggest band in the

world

By MELISSA VINCENT

It's 7:30 pm in Dublin when Carlos

O'Connell, one of two guitarists in the

universally buzzed about Dublin post

punk band, Fontaines D.C, answers the

phone from the aptly named Garage Bar

in the city's East End. It's a familiar spot

for the band, one that they would meet at

frequently when their early poetry chapbooks

were in the genesis stage, and

now has become a familiar reprieve in

between their lengthy international tour.

"We found all our music tastes in here,"

O'Connell says over the clink of a pint in

the background.

It's far from a surprise that the band

would select this location to chat with

writers the world over. When it comes

to memorializing the reality of life in

contemporary Dublin, few bands have

become such ardent archivists of time

and place like Fontaines D.C. Since rising

to attention in 2017 with their single

"Liberty Bell," they've been in direct

opposition to the failure to launch myth

that's populated contemporary rock. Now

with a late night performance on Jimmy

Fallon under their belt and a nomination

for the esteemed Mercury Award in tow,

Fontaines D.C. are part of the newest

group of artists, alongside bands like

London's Shame and Bristol's Idles,

tasked with revitalizing the newest era of

rock erupting out of the United Kingdom.

"One of the things we said from the

start is that we want to be the biggest

band in the world. I think that's the thing

that we still want to be," he says. When

asked why, O'Connell's answer is an even

mix of depreciation and ambition. "Probably

we're just deluded to be honest," he

laughs. "But I think there's nothing wrong

with that. I think I'll probably hate it. But I

want to know if I will."

Ambitions of grandeur aside, what

makes Fontaines D.C. stand out is their

devotion to a sonic approach that yields

to clarity. Through cutting their teeth on

a blend of asphyxiating social commentary

with a smart ear for sprawling,

scrappy melodies, perhaps unintentionally,

there's a ragtag elegance to their seismic

debut Dogrel. Album opener "Big"

is a turbulent and unnervingly catchy

declaration of ownership that demands

rapt attention, and "Too Real" toys with

galactic off-kilter galactic synths, before

a precise, metallic bass line serves as

a necessary form of ground control.

"Checkless Reckless" adds its spin on a

parched and swampy kind of grindhouse,

and "Dublin City Sky" is a cerebral ballad

CONTINUED ON PG. 14 k

SEPTEMBER 2019 BEATROUTE 13

DANIEL TOPETE
---
DANIEL TOPETE

MUSiC CONCERT PREVIEWS

FONTAINES D.C.

k CONTINUED FROM PG. 13

that resolutely pins the city's heart to to

the arch of the band's sleeve.

At nearly every corner, they debunk

the reductive description that they're

a post-punk band. Task delegation and

discipline is something the band think

about often. Their ability to prevent

their flair for experimentation from careening

off a cliff is a calculated effort.

FONTAINES D.C.

Friday, Sept. 13

"It's important for us that every element, even if

it's a very simple element, is all necessary. The most

important thing is to take yourself out, and to serve

the song and not serve the musician," he continues.

While much of their music has been described as

a clear-headed portrait of a specific moment in Dublin's

cultural history, Fontaines D.C. consider their

method far less rigid. By relying on the mechanics of

poetry to examine themes of frustration and disillusionment,

gusto and joy, rather than crafting a love

letter to their city, they're more invested in writing

an unedited state of the union signed off by those

at the bottom.

"We didn't want to ignore any aspect of the place

we lived in, and just tried to see the honesty in the

place. A lot of the times those feelings weren't necessarily

unpleasant, but we didn't want to brush it

off. We wanted to understand them."

To illustrate this point, O'Connell recites the following

line from Leonard Cohen's "Famous Blue

Phoenix Concert Theatre

(Toronto)

Tix: $16, ticketfly.com

Friday, Sept. 20

Fox Cabaret (Vancouver)

Tix: $18, ticketweb.ca

Raincoat" from memory, and without

missing a beat: "And thanks, for

the trouble you took from her eyes / I

thought it was there for good so I never

tried."

"Those lyrics just speak to the value

of ambiguity. The listener can place

whoever they want in the role of the

subject," he says. "I think speaking of

lyrics too much can be damaging to the song. The

most important thing we have is our own interpretation

of things."

In an era of cultural hyperspecificity, perhaps offering

listeners the agency to define the contents of

a song is more than a rejection of ego; it provides

an opportunity to dismantle the long-held assumptions

of who gets to be the protagonist in rock's

most legendary stories. In an interview with The

Guardian, lead singer Grian Chatteren explained

that one reading of "Boys in the Better Land" could

be from the perspective of an ambiguous, multicultural

taxi driver asserting his Irishness.

"Most places more or less have the same broad,

political backbone. It has its flaws, and there's good

things," he finishes. "I suppose that's part of the

reason why it resonates with people: because even

though they're not from the same place that we got

all that inspiration from, there's a mirror image in

all these different cities." ,

34TH VANCOUVER

AIDS WALK

SUNDAY SEP 22ND 2019

SUNSET BEACH

OPENING CEREMONIES AT 11:30AM

SIGN UP TODAY AT

VANCOUVERAIDSWALK.CA

#AidsWalkYVR

#VancouverAIDSWALK

14 BEATROUTE SEPTEMBER 2019
---
N

ashlyn Lloyd confidently struts into

49th Parallel Coffee House on Main

Street in Vancouver wearing black

pants, ballet flats and a blue business-casual

blouse that accentuates

her long, brunette mermaid locks.

The lead keyboardist and songwriter for

the Vancouver-based dream rock band,

Frankiie, Lloyd has just come from her full

time job at the art grant organization, Creative

BC. It's a job she's just as passionate

about as her music but it's the juxtaposition

of her professional working life with her

budding music career that has the young

musician's head spinning as she prepares

herself for the release of her band's fantastic

debut LP, Forget Your Head.

"I have an existential crisis on the daily,"

says Lloyd. "When you're growing up and

becoming an adult, there's this systematic

world you must fit into, but as an artist there's

also this passionate world calling you and

sometimes I wonder — could I do 100 per

cent passion or would I just end up starving?"

Frankiie is far from starving, at least success-wise.

Since their first show at Vancouver's

Biltmore Cabaret six years ago, they

have edged into the big leagues with international

tours under their belt, a contract with

Tiny Kingdom management and now a new

album set for release this month on Paper

Bag Records. The album, which fuses their

signature reverb drenched post-punk with

Artist to Watch

FRANKIIE

VANCOUVER DREAM

ROCKERS KEEP A FRESH

PERSPECTIVE ON SUCCESS

By KATHRYN HELMORE

their folk background,

marks a new chapter

for the band.

"Fran (Carbonneau,

co-vocalist/co-songwriter

and guitarist)

FRANKIIE

Thursday, Sept. 19

The Clubhouse (Van)

Tix: $12, eventbrite.ca

used to play with a 75-dollar electric guitar

that somebody won at a bar mitzvah and

gave to her but now she's got a good guitar

and actually invested in guitar pedals," says

Lloyd. "I've upgraded from a basic keyboard I

stole from my little brother to a Prophet Six.

Oh and Zoe (Fuhr, drummer) finally brought a

drum kit."

Frankiie's got the contract, the gigs, the album

and the new swag, but to swing over the

details and cue the all too familiar success

montage would be reductive. Working with

Creative BC, Lloyd offers a different perspective

on success.

"Over the past few years I've been separating

my ability in music from my business

success," she says. "The longer you play

music, the more you realize there's a certain

amount of luck going on. I've stopped seeing

success and failure as business achievements

and more so as my creative output and

how closely can I express myself to what I

feel is most honest about me."

In other words, Frankiie is focusing on the

sound and integrity of the record's songwriting,

not its material, whether that is platinum,

gold or simply vinyl

AMANDA LEIGH SMITH

SEPTEMBER 2019 BEATROUTE 15
---
©Westward Music Festival Preview

BLACK

MOUNTAIN

Psychrock masterminds break barriers and burn rubber on high octane

space age highway chase By CHRISTINE LEONARD

OLIVIA JAFFE

H

overing over your metropolis

like a sleek black

leviathan, Destroyer is but

the latest vehicle of deliverance

for Vancouver space

rockers Black Mountain.

Armed with digitized pop

tentacles and pulsating

with vintage video game

vibes, the time-travelling album harvests

riffs and rhythms from across decades

and devices. Customarily nonchalant

about their earth-quaking creations,

founding guitarist/lead vocalist Stephen

McBean and lynchpin/keyboardist

Jeremy Schmidt, have always gravitated

towards generating deadly sonic vortexes

that defy chronological classification.

"We're definitely in tune with our

aesthetic pasts. I guess that's pretty evident,

just from what our preoccupations

are," says Schmidt of the new album's

retro-tronic soundscape. "I feel like the

past is something that's always revealing

itself. Even though it seems like it's

all behind us, variations of it seem to

be revealing themselves in the present

and continuing to do so in the future all

the time. So, to me it's like the past is an

ongoing project."

Crashing into mid-life with phasing

synths set to stun, Schmidt and McBean

hit the virtual reset button following

the appearance of the band's previous

full-length release, IV (2016), leaving

them alone in the cockpit for the first

time in years. Approaching an age when

a man's thoughts might run to HRT and

hot rods, the duo fixed upon the title

Destroyer, a nod to the discontinued

single-run 1985 Dodge testosterone

factory on wheels.

"Steve is actually a new driver. He

recently learned how to drive, so that

kind of informed a couple of the ideas in

an off-handed, casual way."

The "Boogie Lover" persona that

flows from McBean's newfound sense of

freedom comes through loud and clear

on new tracks such as the easy ridin'

"Future Shade," the power mongering

"Horns Arising" and the Manson-child

recruitment anthem "Pretty Little

Lazies." Pieced together between their

coastal outposts in LA and Vancouver,

the resulting production carries the

weight of Black Mountain's ample experience

and a burning thirst for untested

waters.

"To me the results sound like a progression,"

Schmidt says. "The record fits

well within the canon of everything else

we've done. It seems similar enough to

what we've done in the past to sound

like a Black

Mountain record

and different

enough that it

sounds new."

Determined

to repopulate

their psychedelic

utopia with

a fresh crew

of supporting

players,

the long-time

friends opened

the studio pod

BLACK MOUNTAIN

Saturday, Sept. 14

Vogue Theatre (Vancouver)

Sunday, Sept. 15

Distrikt (Victoria))

Tix: $25, eventbrite.ca

Tuesday, Sept. 17

The Starlite Room

(Edmonton)

Tix: $18, ticketweb.ca

Wednesday, Sept. 18

Commonwealth (Calgary)

Tix:$25, ticketweb.ca

bay doors to a brave new world of artistic

possibilities on Destroyer.

"We've always liked the balance of

female and male vocals. It adds a different

kind of narrative and it creates a

dynamic which I think is very appealing

and very much a part of the band," he

continues. "One could say our 'happy

place' is where the organic meets the

electronic. It's kind of like this yin and

yang thing where the two sort of egg

each other on. Blending artifice and

things that people regard as being more

organic has always been something of

interest to me and the band. In a lot of

ways, it's the nucleus of our sound."

Atomic poet/vocalist/keyboardist
---
WESTWARD MUSIC FESTIVAL

September 12 - 15, 2019

Various Locations

Tix: $99–$139.99, eventbrite.ca

Vancouver's largest multi-venue music festival

takes over the downtown core for four days.

Performances by the likes of Joji, Lissie, Black

Mountain, Leikeli47, Junglepussy, Joseph, Le1f

and others.

Rachel Fannan (Only You, Sleepy Sun),

alt-metal drummer Adam Bulgasem

(Almost is Nothing, Dommengang,

Soft Kill) and bassist Arjan Miranda

complete Black Mountain's live invasion

force. After a decade and a half as an

insular entity, the influx of new contributors

to their recording sessions has

brought vital energy to Black Mountain's

monolithic stage presence.

"Stepping back and looking at the

album, it's obviously different than you

imagined it might have been from the

beginning," Schmidt says. "Live we're

pretty true to the album, but we leave

room in the recording, so we have the

freedom to change things up. There's

always some headroom to interpret

things as they start to take on a different

life on stage. When we approach

performing stuff it's almost like we just

listened to the record and thought

'Okay, let's be the best Black Mountain

cover band we can be!' Just kidding."

The refueled Black Mountain will cut

a modest swath of destruction through

Canada and the US this September.

Keep your eyes on the skies as they

make contact with Black Mountain

Army converts at sightings scheduled

for touchdown from British Columbia

to Manitoba. ,

SEPTEMBER 2019 BEATROUTE 17
---
©Westward Music Festival Preview

wwwww

AVAILABLE SEPTEMBER 20th FROM PAPER BAG RECORDS

INCLUDES SINGLES "DREAM READER" "COMPARE" & "FUNNY FEELINGS"

Sep 19 - Vancouver, BC @ The Clubhouse

Sep 20 - Seattle WA @ Central Saloon

Oct 31 - Toronto ON @ The Horseshoe

Nov 4 - NYC @ Berlin

Nov 14 - Seattle WA @ Freakout Fest 7

FOLLOW @FRANKIIETHEBAND

FOR MORE DATES

ORDER YOUR LIMITED EDITION VINYL

AT PAPERBAGRECORDS.COM

50+ Bands

8 Venues

3 Nights of Music

1 Wristband

ON SALE NOW!

BREAKOUTWEST.CA

KICK OFF CONCERT FEATURING…

SARAH MACDOUGALL

This project is funded in part by FACTOR, the Government of Canada and Canada's private radio broadcasters.

This Ce project projet is est funded financé in part en partie by FACTOR, par FACTOR, Musicaction le gouvernement and the Governent du Canada of Canada et and les Canada's radiodiffuseurs private privés radio broadcasters.

du Canada.

Ce projet est financé en partie par FACTOR, Musicaction et le gouvernement du Canada et les radiodiffuseurs privés du Canada.

DAKHKÁ KHWÁAN

DANCERS AND DJ DASH

DEL BARBER

BreakOut West 2019 is funded in part by the government of Yukon

Lissie

Soulful singer-songwriter channels country-living and her inner

Stevie Nicks for stripped down new album By YASMINE SHEMESH

E

lisabeth Maurus was in

LISSIE

high school, growing

up in Rock City, Illinois,

the first time she heard

"Cowboy Take Me Away"

by the Dixie Chicks. Maurus,

best known as singer-songwriter

Lissie, came across a 10-second

clip of the country ballad on

the internet. She thought it was

beautiful and listened to the little

preview over and over again, until, finally,

she went out and bought the CD.

"It just really represented this ideal love,

of being able to be strong and certain of

what you want, and finding a partner that's

your equal — someone you could build this

beautiful, authentic life with," Maurus says

speaking with BeatRoute. "It stirred something

up in me and this sense of longing for

that."

Maurus's own rendition of "Cowboy Take

Me Away" appears on her latest album,

When I'm Alone: The Piano Retrospective,

which features stripped-down re-imaginings

of her catalog, as well as a cover of

Friday, Sept. 13

Commonwealth Bar & Stage

(Calgary)

Tix: $13.50, eventbrite.ca

Friday, Sept. 14

Rickshaw Theatre

(Vancouver)

Tix: $22.50, westwardfest.com

Fleetwood Mac's "Dreams."

With the record recalling where

things all began for Maurus in

her career — her striking voice

— it felt right to pay homage to

two of her favourite vocalists,

Stevie Nicks (Fleetwood Mac)

and Natalie Maines (Dixie

Chicks). And now, as an adult,

living on a sprawling 47-acre

farm in rural Iowa where she

harvests hay, "Cowboy" holds even deeper

significance for the artist.

"I mean, I couldn't really warm more to

that idea of, 'I want to touch the earth, I

want to break it in my hands, I want to grow

something wild and unruly,'" Maurus adds,

referencing the song's lyrics. "It's wanting to

live this sort of pastoral, nature-based life.

The place that I feel most happy is when

I'm out in nature. So, that song just took

on even more meaning for me. And, you

know, I do have a partner and he's actually

a farmer and I always joke with him, 'This

song, 'Cowboy Take Me Away,' this song is

for you.'"

18 BEATROUTE SEPTEMBER 2019
---
BEATROUTE X

THE IMPERIAL

SEPTEMBER 12 - 15, 2019

Westward Music Festival returns

this month, taking over multiple

downtown Vancouver music venues

over the course of four days,

showcasing more than 100 artists

across a plethora of genres.

Just how we like it, BeatRoute

will be in the middle of all the

action at the Imperial with some

of the biggest names in pop, rock,

R&B and beyond. Avoid catching a

case of FOMO and check yourself

into some of these top-tier shows

while you can.

By JOSEPHINE CRUZ

Joseph

Thursday, September 12

Named for their grandfather and a small

town in their native Oregon, Joseph is

made up of sisters Natalie, Allison and

Meegan Closner. After a three-year hiatus,

the trio is back with a slightly more

vigorous sound that still retains their

blissful folk-pop foundations.

Yukon Blonde

Thursday, September 12

Phum Viphurit

Friday, September 13

Born in Thailand and raised in New Zealand since the age of nine, Phum Viphurit first found fame by

uploading Frank Ocean covers to YouTube and has since parlayed his viral success into a legitimate

career. His smooth vocals and acoustic guitar have drawn comparisons to Mac Demarco, who

happens to be one of Viphurit's biggest inspirations.

Owen Pallett

Saturday, September 14

There is no better place for

multi-instrumentalist Owen Pallett

to showcase his talent than in a live

performance setting. His virtuosity

on the violin and keyboard take

centerstage when combined with a

loop pedal and his ethereal voice.

Since forming in Kelowna in the late 2000s, Yukon Blonde has undergone a

number of transformations. In between losing and gaining members, they've

shifted away from their original folk-rock sound and found their footing with a

harder-hitting, synth-pop-psych melange.

WHY?

Saturday, September 14

Yoni Wolf has been evolving his art form since his backpacker

hip-hop days spent in the experimental group

Clouddead. WHY? have built their foundation on a quirky

history that includes internet-stalking their own fans in order

to create songs about them. Their latest, AOKOHIO, is a

visual album that tackles subjects such as family and social

anxiety with avant-pop and hip-hop sensibilities.

Titus Andronicus

Sunday, September 15

While they've been around since 2008, this Brooklyn-based

sextet has hit their stride with the release of their latest

album, An Obelisk. Expect a rousing show to go with their

refreshed, more aggressive punk style.

Little Destroyer

THE FEST

WITHIN THE FEST

Yaletown Westward Street

Festival hits town with two

days of free live music

By DAYNA MAHANNAH

There's no such thing as too much music.

If you can't wait until the sun sits low in

the sky to start jamming at Westward,

then pack your sunglasses and head

to Yaletown for the festival within the

festival.

The main event has teamed up with

Yaletown BIA and MRG Concerts to

bring you the Yaletown Westward Street

Party. Two days, three stages, 27 performances

— all for free and open to the

masses.

With performances from 4pm to 10pm

on Friday Sept. 13 and noon to 10pm on

Saturday, Sept. 14, you can give your

weekend the proper live music dedication

it deserves. The Music BC stage

will run both days and hosts a loaded

lineup, including electronic R&B trio I M

U R, rock and soul powerhouse Old Soul

Rebel, indie crooners Sam the Astronaut,

atmospheric pop collective Glass

Forest, glam-garage duo Phono Pony

and more.

Come Saturday, the Kater stage and

the Electronic stage will get fired up to

create a triptych of performances taking

over Yaletown at any given time throughout

the day. Hear the rebellious pop and

thudding electronic sounds of Little

Destroyer, watch Booty EP get synthy,

and rave with master DJs Jay Tripwire

and Joel West. The lineup rounds out

with commanding artists like Sam Lynch,

Fionn, Parlour Panther, and Esette. Dj

dood, Which Nancy, and Kevin Shiu will

get you sufficiently amped and ready to

take on the rest of Westward and all of

the night.

The Yaletown Westward Street Party takes place on

September 13 from 4-10pm and September 14 from

12-10pm. Westward Music Festival happens September

12 to 15 in downtown Vancouver. Find more info at

westwardfest.com.

SEPTEMBER 2019 BEATROUTE 19
---
RIO

THEATRE

1660 EAST BROADWAY

SEPTEMBER

SEPTEMBER

6

SEPTEMBER

7

SEPTEMBER

8

SEPTEMBER

11

SEPTEMBER

13

SEPTEMBER

14

SEPTEMBER

16

SEPTEMBER

17 ONE CUT

OF THE DEAD

SEPTEMBER

18

SEPTEMBER

21

SEPTEMBER

22

SEPTEMBER

24

SEPTEMBER

25

Patrick Maliha's

BIG BIRTHDAY BASH

Jim Jarmusch's

THE DEAD DON'T DIE

Friday Late Night Movie

April O'Peel's

DYSFUNCTIONAL DISNEY

CABARET

WILLOW SMITH

With Guests

FREAKS

Filmmakers in Attendance!

The Gentlemen Hecklers Present

PREDATOR

THE HAPPIEST DISNEY

BIG BAND ON EARTH

17-Piece Big Band Jazz Ensemble

FRIDAY THE 13 TH

Part V

Friday Late Night Movie

WIZARDS UNDRESS

A Harry Potter Burlesque Fantasy

ANIME!

UTA NO

PRINCE-SAMA:

Maji Love Kingdom Movie

TOM GREEN

Live!

Japanese Horror-Comedy

The Fictionals Comedy Co. Presents

IMPROV

AGAINST HUMANITY

Back to Class Special

THE ROLLING STONES

LIVE BAND BURLESQUE

PIGS

Canada's Pink Floyd

Canadian Premiere

Sam Raimi's

EVIL DEAD

4K Remaster with New Score!

THE CRITICAL

HIT SHOW

A #DNDLive Improvised Epic Adventure

SEPTEMBER 26 - OCTOBER 12

The Vancouver International Film Festival

See www.viff.org for details

*www.riotheatre.ca for additional times

COMPLETE LISTINGS AT WWW.RIOTHEATRE.CA

S

20 BEATROUTE SEPTEMBER 2019

MUSiC CONCERT PREVIEWS

RHYE:

INSIDE THE

SUREAL MIND

OF MICHAEL

MILOSH

By JOEY LOPEZ

M

ichael Milosh, the driving

force behind silky smooth,

melancholic alternative R&B

outfit Rhye, knows a thing or

two about "do it yourself."

"I direct the music videos

myself. Sometimes I edit.

I find editing is a lot like

making music, but it's easier since you're

not dealing with a hundred tracks," says

Milosh, who not only writes, produces and

performs all of Rhye's music, but is also in

charge of creative direction.

Rhye's music videos in particular are

known for their arthouse cinema flair; and

usually come in the form of three-to-four

minute short films with a moody, surrealist

take on love and relationships. The

dark aesthetics go hand-in-hand with the

atmospheric soundscapes and androgynous

vocals that feel like the soundtrack

to reoccuring dreams of lost love, or an

alternative score for Eternal Sunshine of

the Spotless Mind.

Before Rhye, Milosh worked as a

professional photographer—a career that

began as a teenager developing photos

with his father in his own

break-up record. Milosh sees it

RHYE

darkroom. Every album cover

differently: "If you listen to a lot

for Rhye's albums have been

shot by himself except for the

first, Woman.

Monday, Sept. 23

Vogue Theatre (Van)

Tix: $26.50, eventbrite.ca

of the lyrics they're actually not

that sad. It's a lot more charged

than that. There's a lot being

"That was something that

said in there and you either

has always bothered me,"

have to know me more or really

Milosh shares. "I had some disagreements

try to decode stuff to figure out what's

with the label I was on at the time, really going on."

Polydor, and they ended up choosing a With Rhye, Milosh wants us to listen

different photographer. That's not something

closely and understand him on a deeper

I like and it's something that really level. For the next record, Milosh is taking

irks me. I felt like a phony because that inspiration from the state of his family, in

was one aspect of the album that wasn't particular his parents' illnesses, getting

completely me."

older, and not taking life for granted.

The birth of Rhye was the result of Milosh's

Instead of taking the opportunity to speak

frustrations with Berlin's electronic on the woes of life, Milosh chooses to

music scene. As iconic as it may be to see things more optimistically and aims

others looking in, Milosh felt the scene to make a groovier, dancier record to

never expanded outward and stayed interpret life's beauty, rather than the

within a very confined box. His desire to inevitable toll time takes on everybody.

break out of electronic music and sing "I'm just realizing the importance of

his heart out is what brought about the experiencing joy and happiness with the

incredibly unique album Woman. Loved people you love. I also think that my role

for its heartfelt and sultry sounds, many in my family is to bring smiles to everyone.

listeners associated it with their own I really try to bring humor and something

heartbreak, often interpreting it as a positive to everyone around me." ,

DARROLE PALMER
---
CARLY RAE

JEPSEN

A POP STAR FOR THE PEOPLE

By BEN BODDEZ

A

near-decade and two critically

acclaimed albums about the type of pop music

was really nice to start thinking

after the hit single, "Call I wanted to make. E•MO•-

Me Maybe," there are TION was my first step into

still a surprising number that, and I've learned even

of people who view British

Columbia's Carly Rae For all the talk of pic-

more with Dedicated."

Jepsen as a pop-culture ture-perfect romance

punchline. But take a look at any in Jepsen's music, it's

online pop music forum and Jepsen easy to miss that she

stands tall as the reigning monarch, exists in many of her

complete with tongue-in-cheek adulations

proclaiming her as the genre's er wishing for the euphoric fantasies

narratives as more of a lonely outsid-

holy saviour.

she sings about to come true. This

Jepsen is still taken aback by the message of escape that Jepsen presents

is universally appealing. Mem-

shift her career's taken from massive

overnight sensation to the cult-like bers of the LGBTQ community hail

figure she is now. "I felt a different her as an icon, describing her jubilant

kind of good, to be embraced finally live shows as a place to fully step into

for something that was a lot more their identity — something Jepsen

real and a lot more of myself," the has noticed.

singer admits. Through more personal,

heartfelt and emotional mate-

opener "Run Away With Me" as her

See points to her E•MO•TION

rial, she has made a deeper connection

with her fans. "'Call Me Maybe' reason.

favourite track to perform for that

was the gift of my life in so many "I'm trying to say to the audience,

ways, but I think the main thing was let's forget everything tonight and

I saw it as a platform to show other escape into this feeling. And it feels

sides of who I am as an artist." like I surrender myself too," she says.

The song's massive success was "I'm always amazed at the beautiful

what prompted her to take a step back crowd that we have. People are just

and reconsider what she really wanted.

"Chasing after the same thing crowds so full of love. How did we

nice to each other. I've never seen

didn't even really seem possible, so it get so lucky?"

To emphasize just how

much you can discover when

looking below the surface level

of Jepsen's music, a viral 150-page

essay titled A Scar No One Else

Can See attempted to showcase

how profoundly sad her music can

be, highlighting how Jepsen almost

always returns to the same themes

of obsession and longing. In fact,

"longing" is how she would describe

her album in a single word. "When

I listen to Billie Holiday, she makes

'My Man' sound so beautiful, and

yet it's the saddest song in the

world. I think I like the contradictions

of those things sometimes

— really milking melancholy in

a way where it becomes poetic."

While writing, Jepsen plans

for her music to be much more

somber — "very Lykke Li, Cat

Power type stuff" that reflects

her real-life romantic

experiences — before everything

changes in the recording

studio. "When I go into the

room, I naturally want to find

joy. And I don't know why

that happens, but I stopped

questioning it too much."

Still, she values every

moment in the studio and

on stage that she gets

choked up, reliving her

lowest points through

her songs. "'Real Love'

hits me every night

that I play it now.

It's good because

it reconnects

you." The emotion

that comes

up reminds her

she is creating

art that comes

from a real

place. "Oth-

erwise you become like a Broadway

show where you go through the motions

of it and it's like, 'hit this spot

at this point.' Anytime you're kind of

shaken out of that on stage, it gets

across better to the audience," she

says. "So I always treasure those moments,

even though sometimes it's

like," — here, Jepsen mimes a tearful

voice — "'alright, I'm going to say it

again, all I want is real, real love!'"

To balance out those tearful moments,

Jepsen indulges in a little

bit of laughter. She emphasizes how

lucky she is to have found a kindred

sense of humour in both her fans

and her romantic partners. Despite

seeming confused and slightly embarrassed

whenever one of the many

memes comparing her to a pop music

heroine is brought up in conversation,

Jepsen appreciates the nonsensical

viral movement to give her

a (blow-up, non-dangerous) sword,

a weapon she now receives nightly

at her concerts. "I still don't understand

it, but it's adorable," she says.

"I think it's what I love about our

community, it feels like everyone has

a good sense of humour and wants to

have a joke together."

While debuting her breakup song

"For Sure" for an ex-partner just before

they were separated by distance,

Jepsen says their eventual falling out

became something of a joke. "We

could laugh at anything. His hands

were up doing the happy dance, and

then he did a joking, slow sad dance

as he realized the words. But it was

meant to be funny, and we both

chuckled."

Perhaps it is the perfect balance

between the two — the "happy

dance" and the "sad dance" — that

lifted Jepsen beyond "Call Me Maybe"

and landed her, "For Sure," at the

top of pop music today. ,

SEPTEMBER 2019 BEATROUTE 21
---
22 BEATROUTE SEPTEMBER 2019

BR

BR

BR

BR

BR

BR

BR

BR

BR

BR

BR

BR

BR

BR

BR

BR

BR

BR

BR

BR

BR

BR

BR

BR

BR

BR

BR

BR

BR

BR

BR

BR

BR

BR

BR

BR

BR

BR

BR

BR

BR

BR

BR

BR

BR

BR

BR

BR

BR

BR

BR

BR

BR

BR

BR

BR

BR

BR

BR

BR

BR

BR

BRYYZ

YYZ

YYZ

YYZ

YYZ

YYZ

YYZ

YYZ

YYZ

YYZ

YYZ

YYZ

YYZ

YYZ

YYZ

YYZ

YYZ

YYZ

YYZ

YYZ

YYZ

YYZ

YYZ

YYZ

YYZ

YYZ

YYZ

YYZ

YYZ

YYZ

YYZ

YYZ

YYZ

YYZ

YYZ

YYZ

YYZ

YYZ

YYZ

YYZ

YYZ

YYZ

YYZ

YYZ

YYZ

YYZ

YYZ

YYZ

YYZ

YYZ

YYZ

YYZ

YYZ

YYZ

YYZ

YYZ

YYZ

YYZ

YYZ

YYZ

YYZ

YYZ

YYZ

BR

BR

BR

BR

BR

BR

BR

BR

BR

BR

BR

BR

BR

BR

BR

BR

BR

BR

BR

BR

BR

BR

BR

BR

BR

BR

BR

BR

BR

BR

BR

BR

BR

BR

BR

BR

BR

BR

BR

BR

BR

BR

BR

BR

BR

BR

BR

BR

BR

BR

BR

BR

BR

BR

BR

BR

BR

BR

BR

BR

BR

BR

BRCOVERSTORY

COVERSTORY

COVERSTORY

COVERSTORY

COVERSTORY

COVERSTORY

COVERSTORY

COVERSTORY

COVERSTORY

COVERSTORY

COVERSTORY

COVERSTORY

COVERSTORY

COVERSTORY

COVERSTORY

COVERSTORY

COVERSTORY

COVERSTORY

COVERSTORY

COVERSTORY

COVERSTORY

COVERSTORY

COVERSTORY

COVERSTORY

COVERSTORY

COVERSTORY

COVERSTORY

COVERSTORY

COVERSTORY

COVERSTORY

COVERSTORY

COVERSTORY

COVERSTORY

COVERSTORY

COVERSTORY

COVERSTORY

COVERSTORY

COVERSTORY

COVERSTORY

COVERSTORY

COVERSTORY

COVERSTORY

COVERSTORY

COVERSTORY

COVERSTORY

COVERSTORY

COVERSTORY

COVERSTORY

COVERSTORY

COVERSTORY

COVERSTORY

COVERSTORY

COVERSTORY

COVERSTORY

COVERSTORY

COVERSTORY

COVERSTORY

COVERSTORY

COVERSTORY

COVERSTORY

COVERSTORY

COVERSTORY

COVERSTORY

T E G

A N &

S

A R

A

THEN&NOW
---
We had grown up in

the punk and alternative

scene of the 9 0s, if

you made a dollar,

you were a sell-out.

And your music sucked.

And you were shit. -SARA

BACK FROM THE PAST, ONE

SOLITARY SISTER TALKS THE 90s,

FIRSTS OF ALL SORTS, AND REVILED

'CLASSIC TWIN QUESTIONS'

By DAYNA MAHANNAH

For most people, high school is among the atrocities

they'd like to never think about again. For Calgary-born

indie-pop twins Tegan and Sara Quin,

those memories are the bedrock of their first memoir,

appropriately dubbed High School, and ninth

studio album, Hey, You're Just Like Me.

While prepping for a near sold-out North American

tour, Sara hopped on a call with BeatRoute

from her Vancouver home, where she recently

landed after bouncing between cities, countries,

and coasts for the last decade. She had moved

there as a broke artist at 20, but couldn't "eat or

drink or live," and headed east. "Now I've come

back as an adult! With disposable income!"

With most family and industry connections on

the west coast, the move makes for a happier work/

life balance. It's also the first time Sara and Tegan

have lived in the same Canadian city since 2002.

Though the twins' tumultuous relationship is

no secret, writing a memoir together has been a

long-talked about project. The crux of the book's

narrative crystallized while reminiscing about

high school. Not only were those years their most

formative, but Sara and Tegan, who turn 39 this

month, realized it was an opportunity to share

their origin story in more detail than interviews

allowed for.

"We're forced to give really short answers because

we know there's not time to dig into that

history," Sara says. "We didn't feel like there was

space or time to share it."

Why bring up an LSD-laced, emotionally turbulent

"boiling point" of being queer teen girls in

the nineties? "Those years are seminal," Sara says

with a deep breath. At 15, Tegan and Sara had never

touched a guitar, and by 17 they were being offered

a record deal. It's a story of firsts—stepping onto

a stage, using a microphone, receiving applause—

profound moments burned into their memories.

"It's the same with love," Sara adds, who is now

best friends with the first girl she had a romantic

relationship with.

CONTINUED ON PG. 24 k

SEPTEMBER 2019 BEATROUTE 23
---
BRCOVERSTORY

BRYYZ

Once I discovered I

could write songs, it

really replaced a lot of my

other bad habits. I was

less interested in drugs and

drinking. In a weird way,

it was a good addiction.

-SARA

k CONTINUED FROM PG. 23

Digging into their past led to the discovery

of the first songs they wrote at 15. "Once I

discovered I could write songs, it replaced

my other bad habits. I was less interested in

drugs and drinking," Sara says. "In a weird

way, it was a good addiction."

When others took notice of their music,

Tegan was brazen with confidence, while

Sara wanted to weigh the options. "Tegan

was like, 'If they don't get it, fuck 'em.'

And I was like, 'Hm. If they don't get it,

I want to understand why. Are there vulnerabilities

and weaknesses in what we're

doing, should we consider that?'" But she

admits that it was her sister's enthusiasm

and entrepreneurial spirit that won her

over. "We had grown up in the punk and

alternative scene of the 1990s — if you

made a dollar, you were a sell-out; your

music sucked; and you were shit." Her

voice is lighthearted. "And Tegan was like,

'let's just make some money. We gotta pay

the bills.' She sort of recognized the privilege

of even being able to decide that your

art shouldn't have value."

The twins wrote more than 40 songs in three

years, 12 of which made the album. Hey, I'm Just

Like You is a time capsule of teen angst, emotion,

and defiance—a real-life soundtrack to their High

School memoir. Lies, love, and broken hearts

run the course with satisfying melodrama and

head-bobbing nostalgia. "Hold My Breath Until I

Die" captures the life-or-death stakes that youth

injects into relationships, while the title track is

a colourful celebration of friendship. Held up to

Tegan and Sara's present-day selves, the songs

retain their punk heart while the album's pop

production is a testament to the twins' musical

evolution.

Now idols of entrepreneurial savvy and queer

resistance, the duo are still trying to reconcile

individual identities with an award-winning career

built heavily on their twin image. "There

are strong parallels between being a twin and being

famous," Sara says. Even in strollers, people

would swarm the Quins. Their parents started

taking the toddlers out separately to avoid attention.

"Sharing a face" had its upsides, though, like

when they transferred to a new school in third

grade. "I knew we could use each other as power.

We could go to this new

school and if we were

together, people were

gonna be interested. We

wouldn't be invisible."

That superpower became

"claustrophobic"

over the years — a "trap"

that oppressed individuality,

yet made the pair

distinct. Does Sara still

struggle with it? "Absolutely.

It almost intensifies

with age,"

she says. The infan-

TEGAN AND SARA

Saturday, Oct. 5

The Vogue Theatre (Van.)

Wednesday, Oct. 9

Myer Horowitz

Theatre (Edmonton)

Thursday, Oct. 10

Bella Concert Hall

(Calgary)

Thursday, Oct. 11

Bella Concert Hall

(Calgary)

Friday, Oct. 12

The Garrick (Winnipeg)

Tix: Sold out

tilization that a "fluke of science" invites is a

point of contention for her. "People will ask

in interviews, 'Do you still live together?'

And I'm like, 'Do you live with your 40 year

old sibling?'" Her voice has spiked an octave.

"People try to ask us the 'classic twin

questions.' Like, I'm not gonna give you

pull quotes about whether we can read each

other's thoughts. Give me a break. If I could

read Tegan's mind, we'd be in Vegas doing card

tricks." Her tone drops. "Why are there certain

rules for non-twins we don't allow for twins?

Or why do we treat famous people like they

don't get the same privacy and respect that

you want?"

While writing both book and album, Sara

rediscovered poignant confessions sprinkled

among "asshole adolescent" notes. She was

failing classes, but afraid to admit she didn't

want to go to post-secondary. "I was a deeply

closeted, suffering, confused teenager."

She scribbled notes about living up to the

expectations of my parents. "Especially my

mother, who was risking it all, going back to

school and working a job full-time and raising

us. I can barely deal with my life and

my cats." Her mother isn't so sure, and

worries the memoir doesn't showcase her

well. "I think that's her own self criticism

because most people read the book and

think she was fantastic. And she was."

For their birthday on September 19,

Tegan and Sara will be working. Maybe

indulge in a "nip of scotch" before bed.

It's a far cry from the experimental days

of their youth, but Sara doesn't mind. "I

just wanna stare at a bird and tree, and

sleep really well." That giggle again. "I

feel like it's a nice period of my life to

be creative and quiet." Funny, since

Tegan and Sara will be playing to sold

out venues across the continent

this fall. On second thought, the

kids turned out alright. Sara's

smiles into the phone; "I

think my mom's really

proud of us." ,

24 BEATROUTE SEPTEMBER 2019
---
The Last Outdoor Event of the Summer.

Ocean Art Works 1531 Johnston Street, Granville Island

VANCOUVER

September 5 - 15, 2019

Phillips Fringe Bar

JOIN US FOR OUR STORE'S BIGGEST

MUSICAL INSTRUMENT EVENT OF THE YEAR!

JACK'S

BARGAIN

ATTIC

SALE

DAYS ONLY LOCATION ONLY

2} 1}

Long & McQuade Vancouver

September 20 th (10am-6pm)

September 21 st (10am-6pm)

368 Terminal Ave. • (604) 734-4886

vancouver@long-mcquade.com

$3.50 GUINNESS SLEEVES

AND $5.00 PINTS

PLUS TAX

900 GRANVILLE ST, VANCOUVER

WWW.DUBLINCALLING.COM/VANCOUVER

@DUBLINCALLINGVAN

SEPTEMBER 2019 BEATROUTE 25
---
MUSiC CONCERT PREVIEWS

GHOST

F

or nearly a decade, Ghost

frontman Tobias Forge

successfully obscured his

real identity from the limelight.

As Papa Emeritus' I,

II, and III, pope-like entities

from the same fictional

bloodline, Forge found

conduits in which he could

angelically sing grim lyrics

over his band's signature

style of metal.

Ghost then teamed up with pop-music

producer Klahs Ahlund, who previously

worked with the likes of Madonna,

Katy Perry and Britney Spears, and

unleashed the pseudo-gothic heavy

metal opera, Meliora, in 2015. Meliora

jolted the band into a new echelon

within their genre, misting a crisp,

catchy aura into their sound. They

band grew in popularity, and Forge's

character at the time, the illustrious

Papa Emeritus III, became somewhat

of a sex symbol in the dark-alternative

community.

"I think people are attracted to

my characters for the same reasons

I got attracted to the cats in the musical

Cats when I was 12," Forge says

while walking down a busy road in

his home-country of Sweden. "The

character could be whoever you'd like

them to be; all I saw was the shape of

a woman. Anytime there's something

hidden, everything else is left to interpretation.

I think that serves the

excitement for anyone seeing Ghost.

You don't have to think too much

about our hair color or how we smell.

You can imagine whatever qualities

you'd like."

Unfortunately, fame's complications

led to a lawsuit filed by Ghost's

instrumentalists, previously only

known as the band's 'Nameless

Ghouls.' Although the lawsuit was dismissed

by courts, Forge's

anonymity as the singer of GHOST

Ghost was relinquished to Friday, Sept. 20

the public in 2017.

Pacific Coliseum (Vancouver)

Forge released a new Monday, Sept. 23

Ghost album, Prequelle, Rogers Place (Edmonton)

with new members in Tuesday, Sept. 24

2018. Musically, the album

continues the catchy,

Scotiabank Saddledome

(Calgary)

Tix: $39.50, ticketmaster.ca

arena-rock direction explored

in their previous

album. Again, Forge collaborated with

pop artists, a decision Forge says "mixes

things up." Thematically, the album

touches on grim themes like the

Plague and Black Death, which Forge

The nine lives

of the unmasked

metal mastermind

Tobias Forge

By JOHNNY PAPAN

says are metaphors for the end of the

world—in a physical, emotional and

personal sense.

"The end of the world happens

to different people and societies all

the time," Forge says. "When we talk

about the end of the world, I think

we have a tendency to forget that it's

already happened, and will happen in

the future. It's frightening, but morbidly

fascinating. Having my identity

revealed, that alone was not painful.

The process that led to it was painful

because I hadn't done anything

wrong."

Prior to Prequelle, Forge would introduce

a new Papa Emeritus character

every time Ghost would release

an album, each 'Papa' more evolved

than the last. For this album, Forge

decided to kill off the Papa Emeritus

lineage, introducing a new character—the

vampiristic and flawed Cardinal

Copia.

"We needed to see something

new," Forge says about the demise

of Papa Emeritus. "Papa Emeritus

already reached maximum exaltation;

there was no trajectory. Now we

can see someone who has not risen

yet. Someone who is not perfected

yet. My characters are as much me

as they are others. Characters that I

don't want to be, or wish I could have

been. Cardinal Copia has an amplified

coolness and slickness that you

can't really have in real life, especially

not in a person like myself. I wouldn't

be comfortable enough to behave as

ridiculous as Cardinal Copia. I can't

really explain it, but he is a lot of

things that I am not."

Despite his true identity being

outed by the public, Forge managed

to keep the bands mystique in tact.

Ghost's fanbase is fully on board with

the act and their underworldly characters.

Their popularity continues

to grow and their shows and overall

aesthetic are becoming more theatrical

in nature. On separating himself

from his beloved characters, Forge

concludes:

"Let's be real, I think Ghost is still

way more known than I will ever be.

I'm very happy that is the case. (For)

most artists, the difference between

them and the person on stage isn't

visually clear. People expect them to

be that person all the time. No one

is really expecting me to be like my

character. I can actually step out of

him." ,

28 BEATROUTE AUGUST 2019
---
The Playlist:

BEATROUTE

3

5

BEATROUTE

BEAT

ROUTE

BR

BRLIVE

BRYYZ

10 songs in heavy rotation at the BR offices right now

4

6

8

1

Jorja Smith

Be Honest (Ft. Burna Boy)

The rising UK R&B artist teams up

with Nigeria's biggest star, diving

fully into the Afrobeat sound after

exploring it on the Black Panther

soundtrack. Smith's versatile vocals

sound good over almost anything

and she sounds almost like a young

Rihanna here, but Burna Boy's

authentic sound sells the track.

3

Noble Oak

Evaporate

The Vancouver chillwave multi-instrumentalist's

new track sounds

just like its artwork, depicting

someone looking off a mountain

into a cloud-filled sky. Producing

something that sounds this lush

and vibrant is impressive, and the

vocal layering at the end is dreampop

magic.

4 Katy

Perry

Small Talk

Bon Iver

5 Naeem

Bon Iver's Justin Vernon compared

this track to the dramatics of

something from Les Miserables.

With and raspy, angry vocals, the

politically-tinged track ultimately

explodes into driving percussion

as Vernon nervously stresses

the need to make some changes

before we're all extinct.

Katy Perry

continues her

redemption arc

with another solid

single addressing

the awkwardness

of having a regular

conversation

2 BROCKHAMPTON

If You Pray Right

Everything BROCKHAMPTON with someone

does is an absolute breath of fresh who once knew

air in the world of hip-hop, and this everything about

track is no exception. They keep you. It's produced

things a little more structurally to its full bouncy

straightforward here, but there's synthpop potential

something about each member by the classically-trained

Charlie

bringing their own unique sound to

that dark and intoxicating looping Puth, who actually

tuba beat makes us want to jump beatboxes most of

1

on the furniture. the percussion.

7 9 10

6

Half Moon Run

Then Again

The Montreal indie-rock quartet

finally release a song they've

been performing in different

versions for the last five years,

adding an eerie orchestral

string section up front in the

mix. A slow build that sees

them team up with Jack

White's producer, the track

goes just about everywhere

before climaxing with a frantic

garage-rock section.

7 SiR

Hair Down

(Ft. Kendrick Lamar)

Top Dawg Entertainment's

most underrated

member teams up with

its figurehead, trading

in his deeper vocals

and old-soul delivery

for a smooth, dreamy

track that fits in with a

more modern sound.

As usual, Lamar

completely takes over

the track with a verse

that's uncharacteristically

subdued, but as

dynamic and charismatic

as ever.

8

Lana Del Rey

Looking For America

A track that won't appear on Del

Rey's upcoming album, she wrote

and released it quickly in response to

the four catastrophic mass shootings

in the United States in the first week

of August. Her voice is hauntingly

beautiful, delivering some harrowing

lyrics as she softly sings of her

dream of a peaceful future.

9 Phantogram

Mister Impossible

One of the alt-pop group's most

experimental tracks yet, this percussion-heavy

track sounds like they're

auditioning to land the theme song of

the next big superhero movie. Industrial

synths drone and a muted horn

section infuses the track with energy

as the two vocalists trade cryptic

lyrics about a decidedly badass dude.

10 Bazzi

Fallin (Ft. 6lack)

The young singer-songwriter brings a

more somber spin to the trap-pop formulas

dominating the radio, teaming

up with one of R&B's most passionate

crooners, 6lack, while emoting over a

sparse piano instrumental and deep,

choral backing vocals.

SEPTEMBER 2019 BEATROUTE 29
---
Expand the Frame Edition 38

Vancouver

International

Film Festival

September 26 – October 11 2019

Ash

Andrew Huculiak – Canada

MON. SEP 30 8:30 PM PLAYHOUSE

WED. OCT 2 8:30 PM SFU-GCA

Reporting from the frontlines of the Okanagan wildfires, hard-luck Stan

(Tim Guinee) documents uncommon heroism while hoping for a big

break that'll make him a household name beyond Peachland. But when

he's unexpectedly charged with a shocking crime, he must salvage his

reputation and marriage. In this psychologically complex and sensoryrich

drama, Andrew Huculiak (Violent) employs an apocalyptic backdrop

to chart Stan's spiralling descent into a personal hell and his subsequent

struggle for redemption.

Boyz in the Wood

Ninian Doff – UK

FRI. SEP 27 7:00 PM RIO

THU. OCT 3 9:30 PM RIO

Four teenage ne'er-do-wells embark on a forced march through the

Scottish countryside in the misguided hope that it will prove rehabilitative.

Instead, the trek leaves them easy targets for upper-class predators intent

on stalking the most foul-mouthed, ADHD game. As shots are fired and

f-bombs are dropped, Ninian Doff lets fly with a barrage of set pieces and

visual flourishes, ratcheting up the stakes and antic comedy in unison.

Bad behaviour might just be these reprobates' only hope of survival.

The Death of Dick Long

Daniel Scheinert – USA

SAT. SEP 28 9:45 PM RIO

SAT. OCT 5 7:00 PM RIO

"Wanna get weird?" So begins a night of redneck revelry that results

in one man meeting a grisly end and his bandmates (Michael Abbott Jr.

and Andre Hyland) haplessly covering up the depraved details of his fatal

"misadventure" from the feckless authorities. Initially a deadpan farce

that plays like a southern-fried Fargo, Daniel Scheinert's Swiss Army Man

follow-up slowly assumes the form of an oddly affecting ballad that leaves

us convinced that "people sure are inscrutable on their insides."

Deerskin

Quentin Dupieux – France

Fourteen

Dan Sallitt – USA

Other Music

Puloma Basu, Rob Hatch-Miller – USA

Proudly presented by

THU. SEP 26 9:00 PM RIO

MON. SEP 30 7:30 PM INTERNATIONAL VILLAGE 10

Iconoclast Quentin Dupieux (remember Rubber's avenging tire at VIFF

10?) teams up with French megastars Jean Dujardin and Adèle Haenel for

this blackly comic look at one man's love affair with… his fringed buckskin

jacket? The purchase of said vintage jacket leads Georges (Dujardin) to

throw his previous life in the bin, declare himself a filmmaker, and begin

a descent into obsession that has had critics invoking everything from

Henry: Portrait of a Serial Killer to Barton Fink to Peeping Tom. Singular.

FRI. OCT 4 9:15 PM INTERNATIONAL VILLAGE 9

SAT. OCT 5 3:30 PM INTERNATIONAL VILLAGE 8

How rare and delightful to see a film follow the gentle rhythms of a female

friendship as it warps, shifts, and transforms over time. Dan Sallitt's

subtle and poignant Fourteen brilliantly captures the lives of two longtime

friends, introspective Mara (Tallie Medel) and extroverted Jo (Norma

Kuhling), as they switch partners, change jobs, and weather crises—most

of them pertaining to Jo, whose addictive personality and adventurous

spirit are often cause for Mara's concern...

SAT. SEP 28 2:15 PM RIO

TUE. OCT 1 6:00 PM VAN CITY

Much more than a beautiful lament for the passing of New York's beloved

East Village indie record store Other Music, Puloma Basu and Rob

Hatch-Miller's special film is movingly emblematic of the factors destroying

what many of us care about deeply: affordable, culturally enriched

urban civilization and actual encounters with human beings who share

our interests. Featuring the thoughts of (and some performances from)

great artists like Yo La Tengo, Bill Callahan, Vampire Weekend, The Strokes,

and more.
---
Discover viff.org

Box Office

VIFF PASSES +

TICKET PACKS

Online: viff.org

SINGLE TICKETS

Online: viff.org

In-person: from Sept. 12

Vancity Theatre – 1181 Seymour Street, at Davie

(Mon-Sat: Noon - 7pm, Sun: 2pm – 7pm)

Premier Partner

Premier Supportners

Raf

Harry Cepka – Canada/USA

THU. OCT 3 6:30 PM CINEMATHEQUE

SUN. OCT 6 1:00 PM VANCITY

Facing eviction from her bunker-like basement suite, perpetually

underemployed Raf (Grace Glowicki) anesthetizes herself by treating

the world as her own absurd sketch-comedy show. But when Tal (Jesse

Stanley) takes Raf under her privileged wing, the guileless outcast sees

how the other half lives and is left to question precisely what her new

BFF/benefactor's true motives might be. Harry Cepka crafts a jet-black

(with pink accent wall) comedy that sets its skewed sights on Vancouver's

class divide.

Song Exploder Live with Chuck D

OCT 7, 7:00 PM, PLAYHOUSE

MON. OCT 7 7:00 PM PLAYHOUSE

It's the 30th anniversary of Spike Lee's Do the Right Thing,

and in this exclusive show VIFF pays tribute by celebrating its

theme song —and the main man behind it. Chuck D of Public

Enemy is in the house for a live episode of the hit podcast

Song Exploder; with guest host Thao Nguyen, he'll break

down "Fight the Power" for audiences. Militant, strident and

funky as hell, this street anthem was commissioned by Lee

for his movie. This is your chance for an in-depth look at the

making of a classic.

On Cinema at the Cinema Live!

OCT 6, 8:00 PM, PLAYHOUSE

SUN. OCT 6 8:00 PM PLAYHOUSE

This multi-media stage show provides a mega-dose of the

movie expertise and colourful disagreements you've come to

expect from hosts Tim Heidecker and Gregg Turkington. The

show features special guest appearances from beloved cast

members of the On Cinema/Decker Universe.

Twentieth Century

Matthew Rankin – Canada

SAT. SEP 28 9:30 PM INTERNATIONAL VILLAGE 9

MON. SEP 30 6:30 PM RIO

An incendiary send-up of Canadian identity, history, and politics, Winnipeg-born

Matthew Rankin's insanely brilliant feature debut is a hilariously

irreverent, visually stunning retelling of how William Lyon Mackenzie King

became Prime Minister—and all the seals he had to club and shoes he

had to sniff along the way. King seems destined to earn Canada's crown,

but just how much debasement and degradation must an ambitious young

politician endure in such a noble pursuit? Quite a lot, it seems.

White Lie

Yonah Lewis, Calvin Thomas – Canada

SUN. SEP 29 9:30 PM INTERNATIONAL VILLAGE 9

TUE. OCT 1 4:00 PM INTERNATIONAL VILLAGE 9

A dancer born for the stage, Katie (Kacey Rohl) proves equally agile

in perpetuating a charade that has everyone—including scores of

crowdfunders—convinced that she's bravely battling cancer. But when

a bursary demands medical records, she risks everything to secure

forged documents. In turn, directors Yonah Lewis and Calvin Thomas

choreograph a succession of stunning scenes that call on pitch-perfect

performances and technical precision to escalate the stakes in this

dizzying psychological drama.

The Wild Goose Lake

Diao Yinan – China/France

THU. OCT 10 9:15 PM PLAYHOUSE

FRI. OCT 11 1:30 PM SFU-GCA

After tensions between rival gangsters boil over in violence, Zhou Zenong

(Hu Ge) finds himself taking the blame and being hunted for ransom by

seemingly every cop and criminal in town. His boss sends Liu Aiai (Gwei

Lun Mei) to help him escape in what becomes an epic pursuit through

Wuhan. Complete with a gangster, femme fatale, and a moody urban

setting, The Wild Goose Lake is a dazzling contemporary take on the film

noir from award-winning Chinese writer-director Diao Yinan (Black Coal,

Thin Ice).
---
TEGAN AND SARA

HEY, I'M JUST LIKE YOU

THE NEW ALBUM

OUT 9.27.19

THE BOOK OUT 9.24.19
---
Reviews

ALBUM

Album Review

TOOL

Fear Inoculum

Sony Music

TOOL taught everyone a lesson in patience

with a 13-year wait for new material. This

skill comes in handy when listening to Fear

Inoculum, a challenging album that finds the

band leading the listener through long hallways

of hard truths and elusive catharsis. Release

comes, but they make you work for it.

From the first familiar cymbal tings of the

title track, to the sketchy paranoia in the Danny

Carey drum solo track, "Chocolate Chip Trip,"

you're left feeling like you've stumbled into a

funhouse full of warped mirrors and memories

— jarring but oddly satisfying.

It's in "Descending," when Justin Chanellor's

churning bass line and Carey's driving war

cry drums, you hear singer Maynard James

Keenan bellow, «Stir us from our wanton

slumber. Mitigate our ruin. Call us all to

arms and order" that the work reveals its

fruit. This slightly resentful, slightly menacing,

slightly jaded growl is the voice of a band back

from a long time in the abyss. You can see the

claw marks on them; years of speculation and

demands, years of watching their country become

a circus of entitlement and division, years

of fending off the ghosts of their own relevance.

The last two minutes of this song breathes fire,

a chest bursting delivery from the beast that

rode the spiral to the end and led us all where

no one's been before.

Tempestuous as always, TOOL prove

that absence breeds breathless longing

and makes escapists of us all. True to

form, they do not allow us to escape, but

instead put us right in front, face first with

a snarl. And all we can do it smile and ask

for more.

Best Song: Descending

Jennie Orton

SEPTEMBER 2019 BEATROUTE 33
---
MUSiC ALBUM REVIEWS

Interview

THE NEW

PORNOGRAPHERS'

THROWBACK

TO SIMPLER

TIMES

BROCKHAMPTON

Ginger

Question Everything/RCA

THE NEW

PORNOGRAPHERS

In the Morse Code of

Brake Lights

Collected Work Records

Carl Newman is sitting on a chic

couch in a vacant corner of Toronto's

Chelsea Hotel, basking in confident

tranquility. He's calm, cool,

collected, and sipping on a latte as

he meets with the press, mentally

preparing to lead his band, The

New Pornographers, on yet another

tour, this time in support of their

eighth studio album, In the Morse

Code of Brake Lights.

Since their inception in 2000,

the Canadian indie rockers have

amassed fandom all around the

world due to their penchant for

catchy power pop tunes and

relatable songwriting. Their last album,

Whiteout Conditions (2017),

received favourable reviews, and

was followed by a successful tour.

Now, two years later, armed with

a new collection of songs, Newman

is ready to ramp things up

again. You might wonder where his

head is at, but his head is where it's

always been – in the music.

"I feel like I never really get

away from the music. I get away

from playing gigs, but I'm always

at home trying to write," says

Newman. "Like even right now, this

record hasn't even come out yet

and I'm already looking at what

I've been working on most recently

and saying, 'I've got the guts of

another record here.'"

Home for Newman is in the

small upstate New York town of

Woodstock, where he lives with

his wife and seven-year-old son.

There are only about 6000 residents

in the offseason, with it doubling

during the summer months.

He enjoys the peace and quiet of

the place but is very aware of the

larger national community and political

atmosphere he is now a part

of, and it seeps into his writing. "I

just can't avoid it," says Newman,

but at the same time, he doubts

his own perspective.

"Well for me it's ultimately just

personal. Like I'm not trying to

write any statement about what

it means to be here right now, but

I can try to communicate what I

feel like and maybe somebody

else feels the same way," says

Newman. "In a lot of ways, I don't

think it's my place to be the person

who tries to make a political

statement about what's going on

because I'm the privileged one. I'm

a middle aged straight white guy.

Not that we don't have anything to

say, but nobody needs us to step

in and say, 'Hey guys, I've figured

this out!'"

While Brake Lights' political

themes are a more latent effect

of Newman's surroundings, the

album's throwback sound is much

more purposeful. He notes that,

as he's gotten older, he's become

less self-conscious about repeating

himself.

"Halfway through the record,

I think I was in Vancouver, I said,

'Let's do it differently. Let's speed

it up by 10 or 15 BPM and give it

more of a DOO DOO DOO DOO,

that driving four-on-the-floor thing

we used to do more of.'"

The result is a sound that new

and long-time fans can easily

enjoy, throwing things back to

simpler times, when things were

less chaotic and everyone was

more or less on the same driving

beat.

Best track: The Surprise Knock

Max Asper

It's only been three years since

BROCKHAMPTON released their

first mixtape, but the "boy band"

that famously formed through a

Kanye West fan forum has lived a

lifetime since. Among their biggest

wins was securing a $15-million

record deal with RCA; an achievement

offset by the departure of

popular member (and possibly best

rapper), Ameer Vann, amid sexual

misconduct allegations.

They've made it through hell,

and their latest effort Ginger is

the story of what it's like adjusting

to the other side. This quip from

de facto leader Kevin Abstract on

"Dearly Departed" describes the

overall vibe: "No lies, 'bout how me

and my brothers been traumatized

/ And I must keep creating truths

and hooks to get up outta this hell

for myself." While it's not exactly

triumphant or jubilant, it's honest,

and articulates more complicated

and mature emotions than we've

seen in the past from the group.

The album starts off swinging

with the four best tracks in

succession—with an appearance

from buzzy British rapper slowthai

in there for good measure. The

vocal styles and themes feel a bit

disjointed at times, which seems

inevitable in a group so large, but

the stellar production of Romil

Hemnani and Jabari Manwa holds

everything together nicely.

Some producers may struggle to

create canvases that can accomodate

so many contrasting styles,

but these guys navigate the group's

performance needs with ease to

create the emotionally fun ride that

is Ginger.

Best Track: Boy Bye

Josephine Cruz

34 BEATROUTE SEPTEMBER 2019
---
ALEX CAMERON

Miami Memory

Secretly Canadian

THE LUMINEERS

III

Dualtone

VIVIAN GIRLS

Memory

Polyvinyl Record Co

CHRON GOBLIN

Here Before

Grand Hand Records

PIXIES

Beneath the Eyrie

BMG

A master of the caricature, Alex

Cameron's previous work delightfully

presented a tongue-in-cheek

portrait of a hypermasculine,

verile, and seedy middle-aged man

struggling to find meaning in a

progressive and feminist age. With

Miami Memory, Cameron takes a

surprising turn. Placing the femme

fetale in the centre, Cameron's new

album bids his colour characterizations

adieu and embodies a new

character: himself.

The glistening Miami Memory is

a candid and vulnerable love letter

to his girlfriend, actress Jemima

Kirke (of Girls fame). The first

single, "Miami Memory," captures

the tenderness and honesty of

long-term commitment with a track

shimmering in nostalgic synth and

Cameron's trademark sax. Yet,

Cameron hasn't gone soft. Far from

just silly love songs, the track is

unapologetically sexual and complex

with recollections of cellulite

massages and "eating ass" in a city

condemned by rising sea levels.

Shedding the masciline parody in

celebration of the female perspective

and empowerment, "Far From

Born Again" explores the hypocrisy

and and flips the script on sex

work.

Still rife with Cameron's deliciously

nostalgic dad rock sound,

driven by bass, guitar, sax and layers

of organ, Miami Memory is nevertheless

an unexpected turn. Yet,

true to Cameron's form, his love

letter to womanhood is refreshing,

insightful, and meaningful.

Best Track: Far From Born Again

The dulcet tone of Denver's favorite

indie crooners takes a ride on

the concept album train with III, a

Catskill Mountain inspired threepart

family tale full of sentiment

and swell.

The reach of III is larger than that

of previous entries with production

that allows for larger kicks, churning

reverb, and an insistence upon

the grandiose.

Still present are the wistful lyrics

and the camaraderie of the vocals,

but new is the sense that this is

a larger story, one that doesn't

bank on the ambiguity of familiar

experience to gain emotional

buy-in. These are stories told with

a stomping earnestness, much like

Tom Petty's coziest numbers.

Broken into three parts, the

album tells the story of Gloria,

Junior, and Jimmy Sparks, three

generations of a family grappling

with addiction. "Salt And The Sea"

is particularly touching in its incredible

loneliness and regret, with

piano keys that mainline straight to

the part of your heart that knows

those feelings all too well.

The Lumineers have moved

away from sweet and harmless

wedding songs towards the lovely

pain of poetry about normal people

weathering the storm of regular life

and it looks good on them.

Best Track: Jimmy Sparks

Jennie Orton

Vivian Girls rip the covers off Memory

with "Most of All," a two-minute

psych-pop banger that crashes into

its hazy, urgent chorus as soon as

it starts.

It's a fitting reintroduction to

Vivian Girls on their reunion album,

a clear statement from the trio that

they're back after more than five

years spent living apart.

Amidst swirling vocals and a

frenetic, driving rhythm section,

Cassie Ramone's chants compel

the band forward into the depths

of a psychic poetry reading in the

back of some ephemeral DIY art

space. It's a dream world built from

the perfect blend of nostalgia and

three-too-many beers and Vivian

Girls set the ideal soundtrack to the

madness.

There's a romantic urgency that

drives Memory forward, like a stolen

kiss at the end of the night. "This

memory is all I need to feel all right,"

sings Ramone on the title track and

you get the sense that Vivial Girls

feel reinvigorated by their reunion,

looking only forward.

Vivian Girls are back with Memory,

but it mysteriously sounds like

they never split up in the first place.

Best Track: Something To Do

Sebastian Buzzalino

Ascending from their role as

local skatepark punks to that of

Canadian psych-rock tastemakers,

Calgary's legendary curb-grinding

garage band Chron Goblin isn't the

same old thrash 'n' grab outfit they

once were.

Here Before, marks a deliberate

recalibration from the hard-rolling

crew as they crank the production

values to eleven on volatile numbers

like "Giving in to Fun," "Slipping

Under," and "Out of My Mind."

Singer Josh Sandulak's raucous

vocals and poetic lyrics are thrust

into the spotlight as never before

and his confident, yet bitter, mouthfuls

come washed down with an

unerring supply of acidic guitar riffs

and dexterous rhythms. Haunted

by a shared history and infectious

back catalogue, the group

navigates a jagged path through

the dank underbrush on "Oblivion"

before diving into the lazy river of

the lumbering "Giant."

Intricate, intentional and gritty to

the bone, Here Before challenges

the maturing quartet to supersede

their former selves with dangerously

divergent compositions; including

eerie banshee ballad "Ghost" and

pugnacious ripper "War." The defining

wallet-chain swagger, bluesy

breakdowns and ballsy bravado

that set them apart from day one

may remain the same, but Chron

Goblin's best just got a whole lot

better.

Best Track: Giant

Christine Leonard

The Pixies have always sounded

like they were from a faraway

place, somewhere beyond the

stratosphere. And that Frank Black

believed in UFOs and was an avid

sci-fi fan only accented their outer-worldliness.

By complying to a "no blues rule,"

the throbbing bass lines, Black's

primordial wail and Joey Santiago's

angular Latino riffs made them

undeniably weird.

While Black still steers the craft

along the extraterrestrial plane,

on Beneath the Eyrie, their third

post-reunion album since 2004,

the territory they traverse dips into

some very earthly portals. "Graveyard

Hill," with its touch of 60s psychedelia

and B-movie spook theme

exhumes Vincent Price from the

crypt. There's a direct dissension

into vaudeville with the medicine

show strut of "This is My Fate" and

a full-out psychobilly romp rips

through "St. Nazaire." Hollywood's

creep scene is only part of the tour

package.

Santiago's guitar playing has

always been the Pixies' secret

weapon, while Black wears his

atomic beach pop heart on his

sleeve. No one will ever grasp who

the strange little characters in his

songs actually are, but that too is

part of the Pixies' charm — weirdos

in a weird land, which Beneath the

Eyrie is all about.

Best Track: Ready for Love

Brad Simm

Kathryn Helmore

SEPTEMBER 2019 BEATROUTE 35
---
MUSiC ALBUM REVIEWS

Interview

WHITNEY

Forever Turned Around

Secretly Canadian

RICK ROSS

Port of Miami 2

MMG/Epic Records

SAM FENDER'S

MESSAGE TO

THE COMMON

PEOPLE

SAM FENDER

Hypersonic Missiles

Interscope Records

To divorce Sam Fender's music

from his Northern England roots

is near impossible.

The colour of industrial, impoverished

and often forgotten

North Shields, England saturates

the 24-year-old's guitar-fuelled

indie rock, creating a repertoire

that is gritty, unflinching and starkly

different from the plethora of softcore

romantics like Ed Sheeran or

Sam Smith.

"Where I'm from definitely plays

a part in my music because it is

intrinsically part of who I am," says

Fender. "When my parents divorced

at 10 I moved from a terrace house

into a small flat. We could only work

a certain number of hours a week

and the majority of our money was

coming from benefits. We were on

the bones of our arse. There was

no such thing as savings."

Growing up on the precipice

of poverty has given Fender a

curiosity and compassion for those

surviving in the chasm below. His

debut album, Hypersonic Missiles,

tackles subjects such as young

male suicide rates on the track

"Dead Boys." In addition to gritty

and grounded lyrics, the album,

produced in Fender's self-made

warehouse, is loud, occasionally

bombastic post-punk with hollering

Buckley-esque vocals layered on

top. It packs the heat and meaning

of Brit-rock with a soulful

modern twist.

Nevertheless, Fender is humble

and refuses the mantle of working

class hero.

"I'm not on some crusade,"

says Fender. "I don't like to say

I'm working class but I am from

a working class family and I'm

from a working class town. I've

experienced many different

financial situations throughout my

life. I would say that what I am is a

common person and I can stand

for that."

With venues like New York

and LA already sold out on his

upcoming North American tour,

Fender is clearly finding international

resonance. Perhaps this

is because, while North Shields

might be in a frozen corner of

an island an entire ocean away,

the stuff he writes about and the

common people he speaks to are

found in every corner.

Best Track: Dead Boys

Kathryn Helmore

Three years after their acclaimed

debut, Light Upon the Lake, the

Chicago-based Whitney return

with Forever Turned Around, a

sophomore effort that expands on

their signature duality of bluesy,

cozy indie folk.

Acoustic guitars, trumpets,

pianos and subtle electric guitars

are central to the mix, paired with

wistful, melancholic lyrics often

discussing themes of lost love.

Evoking traces of Bon Iver, soul,

Americana, and fellow Chi-Town

dad rockers, Wilco, Whitney show

once again how adept they are at

tugging at heartstrings both lyrically

and musically, even if the results

as a whole sound almost identical

to their debut.

Regardless, Forever Turned

Around has some truly gorgeous

moments. Warm, enfolding lead

single "Giving Up," as well as "Valleys

(My Love)," the breezy "Friend

of Mine," and its sweeping closing

title track are clear standouts,

while drummer/vocalist Julien

Ehrlich's delicate falsetto remains

the group's calling card.

Though the album itself may not

be a gigantic leap forward musically

for Whitney, their collection of

tender folk songs will fit the mood

nicely as summer turns to autumn.

Best Track: Valleys (My Love)

Dave MacIntyre

With his long-awaited sequel, Port

of Miami 2, rap-veteran Rick Ross

reasserts his prowess for bassheavy

bangers, strong collaborations,

and music that makes you

feel invincible.

It's been two years since we've

heard an album from the Teflon

Don. His 2017 offering, Rather You

Than Me, received decent reviews

but didn't bring any new relevance

to the Florida rapper. Whether this

album can accomplish that remains

to be seen, but Ross has more to

say this time around, speaking on

the widely publicized legal troubles

of his own label's signee, Meek Mill,

a scary health episode with a heart

attack, and the passing of friend

and collaborator, Nipsey Hussle.

Port of Miami 2 delivers as a

quintessential Rick Ross album.

From its full-flex opener, "Act

a Fool (feat. Wale)," to its most

banging track, "BIG TYME (feat.

Swizz Beatz)," to the more heartfelt

moments like "Fascinated," this is

a solid rap album with excellent

production and features.

While it likely won't bring Ross

back to the heights he saw circa

2012, it's a worthwhile offering for

new and long-time fans.

Best Track: BIG TYME

(feat. Swizz Beatz)

Max Asper

36 BEATROUTE SEPTEMBER 2019
---
Local Album Spotlight

EX-SOFTESS

Hollow Ritual

Independent

Creeking up the stairs from the depths of a moldy

East Van rehearsal suite, the sounds of Ex-SOFTESS

are here to remind you that the future is bleak and

everything sucks. That is, everything except these four

surging noise-punk tracks. Guitarist Don L'Orange (The

Doers, SOFTESS) is a modest antihero in the Vancouver

music scene and his work here with April Johnson

(Passive) and Bill Batt (In Mirrors) forges down a path of

punishing, noisey riffs, pushing the boundaries from the

inside with an outsider aesthetic. With roots tied to the

infamous Fake Jazz no-wave underground, this new trio

peeks its head out of their cave just long enough for us

to know we want more

Best Track: Your Eyes

SLOW TIDE

Slow Tide

Independent

Slow Tide's debut starts with a sleepy surf rock instrumental

but quickly rock-steps to driving power punk

with the anthemic "Deprivation." Fronted by the classically

retro but refreshingly modern vocal stylings of

Ashleigh Said, this leather jacket-clad five-piece are a

breath of fresh west coast air. Their reverb-drenched

melodies mixed with punk rock sensibilities make for

a quick and catchy collection of songs that will have

you twisting and shouting along in the mosh pit at

their next show. Make sure you catch Slow Tide Sept.

28 at SBC with Crystal Eyes.

Best Track: Parker

HARLEQUIN GOLD

Baby Blue EP

Independent

Sisters Elle and Avery O'Brien serve up a crisp,

clear and polished introduction to their immaculate

indie-folk sound. Brought together by a family tragedy

after years spent apart, the two have have been

working with Vancouver's Justice McLellan (Blue J,

Mesa Luna) to bring their driving musical creations

to life. Built on a foundation of singles with pop and

rock sensibilities, the four tracks on Baby Blue are

near-perfect, each one more enticing than the last

until the EP climaxes all-too-quickly with the stunning

"Want You More." Baby Blue leaves the future wide

open for these Kelowna transplants to soar internationally.

Harlequin Gold performs Sept. 13 at the

Vogue Theatre during Westward Festival.

Best Track: Want You More

Glenn Alderson

THE NEW ALBUM

AVAILABLE 2019.09.27

STEELPANTHERROCKS.COM

/STEELPANTHER /STEELPANTHERROCKS /STEEL_PANTHER

SEPTEMBER 2019 BEATROUTE 37
---
Live

MUSiC

ROB ZOMBIE

August 4, 2019

Rogers Arena

KIRA CLAVELL

The floor at Rogers Arena was left

open for moshing, which, as anticipated,

raged for the length of Marilyn Manson

and Rob Zombie's co-headlining Twins

of Evil show.

Manson had a chilled swagger while

performing favourites like "Sweet

Dreams" and "The Nobodies." He

introduced the latter while holding a

bouquet of giant balloons, standing amid

strategically-timed strobe lights.

Theatrics are a cornerstone of

Manson shows, but think artful substance

over shock value. For "Say10,"

from 2017's Heaven Upside Down, he

draped dramatically over a railing with

a dagger-shaped microphone. Another

highlight was "The Beautiful People"

that saw Manson, wearing a conductor's

hat, playfully drum his guitarists' strings

before singing with the crowd, falling

into their reaching hands.

Where Manson was all theatrical macabre,

Zombie was cinematic flash. His

visually spectacular stage was framed

by giant screens—fitting for the horror

filmmaker.

Wearing tasseled bell-bottoms,

Zombie leaped from one platform to another

as hot flames ("Superbeast") and

vintage horror clips ("Living Dead Girl")

flashed around him. The crowd was wild

and, as Zombie promised, fueled him

just as he did them.

A delightful cover of The Ramones'

"Blitzkrieg Bop" had the room swirling,

as did an extended solo from guitarist

John 5 during "More Human Than

Human," which Zombie used as an opportunity

to run into the stands. Manson

didn't join their "Helter Skelter" duet, but

Zombie did his best to quell disappointment

by delivering an electric rendition

on his own, and also sharing a preview

from his upcoming film, Three From Hell.

Yasmine Shemesh

38 BEATROUTE SEPTEMBER 2019
---
NATHANIEL RATELIFF &

THE NIGHT SWEATS

Tuesday, July 30

PNE Amphitheatre

MICHAEL ADECIANTIS-WONG LINDSEY BLANE

As the sun was setting, streaking rays across the PNE's

packed open-air amphitheater, a mezmorized crowd found

themselves thinking an unexpected thing: please God, give

us just one more organ solo.

Nathaniel Rateliff and The Nightsweats' purely electrical

performance ignited the enthusiastic crowd on this warm

summer evening. The Denver-based band, comprised of

frontman Nathaniel Rateliff, a bassist, drummer, threepiece

horn section and an organist, was remarkable.

The soulful, upbeat music rippled throughout a diverse

crowd of young and old music fans. A band that genuinely

loves performing, their enthusiasm even reached those in

the box seats who swung each other around in a high-energy

dance-party.

The tight-knit set flowed without interruption from

soulful, alluring hits to old-school, foot-stomping rock and

roll. Opening with the hit track "You Worry Me," Rateliff's

massive voice was as commanding as his stage-presence.

While the vocals were superb, organist Mark Shusterman

was mesmerizing.

His energetic presence, which switched between nimble

fingered keyboarding fit for the halls of Notre Dame to

aggressive tambourine playing, captured the essence of

the performance. This is a band on fire and, in words taken

from one of their own tracks, there sure wasn't enough

water to put them out.

Kathryn Helmore

KING GIZZARD

& THE LIZARD

WIZARD

August 17, 2019

Harbour Convention Centre

Just a day after their latest album release, 7 piece Australian

psychedelic band King Gizzard & The Wizard Lizard

came full force with new songs, a new show, and new

visuals for a sold out crowd.

Held at the Harbour Convention Centre - a carpeted,

gum strictly prohibited, casino like venue - ORB kicked off

the night with a brief but energetic set to an audience still

trickling in from a line halfway around False Creek.

Next up was Stonefield, who came ready to dazzle in

varying shades of head to toe corduroy and songs from

their latest dreamy release, "BENT". With Amy and Sarah's

rousing vocals soaring over Hannah and Holly's steady riffs

the audience was ready to move.

Finally, following chants of "KING GIZZ" a huge screen

behind the stage lit up with a sequence of technicolour

skulls. King Gizz played effortlessly through their set while

the crowd moshed with vigour. Drummers Michael and Eric

moved on the same wavelength while the rest of the band

held it down through vocals, keys, guitar, and bass. After a

near hour and a half set, one thing remained clear - when

it comes to performing live, King Gizzard & The Wizard

Lizard reign supreme.

Helena Zhang

SEPTEMBER 2019 BEATROUTE 39
---
Essential Film and TV for music lovers

Screen

Time

John Lydon of Public

Image Limited, Oct 14,

1984 at UBC

BEV DAVIES

BEV DAVIES

Iggy Pop performing at the

Sub Ballroom, Nov 23, 1979

LYNN WERNER

DOA's

Randy

Rampage with

Joey Ramone

Crave's Punk: A Movement In Four-Parts elevates the early roots of punk and its long-lasting legacy By BRENDAN LEE

W

hoever Iggy Pop

you are, wherever you hail

from, we all at the very least, have

a vague understanding of Punk music

as both a genre and an evolving

movement. But when viewed from

afar, the screeching skinny kids with mohawks

may seem nothing more than unpalatable

noise. The latest Crave documentary series,

PUNK: A Movement in Four Parts, peels back

the genre's crusty skin, revealing an intricate

heart still beating with vigour.

"We kind of equate punk music with being

a room full of boneheads," says director, Jesse

James Miller, "but it's actually completely the

opposite."

Miller joins consulting producer, Susanne

Tabata, on a phone call with BeatRoute on a

sleepy Saturday morning. Tabata has deep

roots in the Vancouver punk scene, and was

part of the series' core creative team based

out of Vancouver.

Each instalment of the four-part series

(produced by Derik Murray and Network Entertainment,

exec produced by Iggy Pop and

John Varvatos) focuses on a particular era

in the punk chronology, featuring interviews

with the likes of Johnny Rotten, Iggy Pop,

Dave Grohl and many more.

The city of Vancouver plays an integral part

in the whole story, and, particularly, the third

episode — a part that both Miller and Tabata

fought for.

"Vancouver was a really big part of that

west-coast express going up and down the I-5

highway," reflects Tabata, who also produced

and directed the Vancouver punk-scene 1977-

81 documentary, Bloodied but Unbowed.

"And then D.O.A., they were the biggest touring

band, exceeding Black Flag at that time."

Close friends with Randy Rampage (D.O.A),

who sadly passed just as the project was getting

off the ground, Tabata says she "worked

on [PUNK] in his honour silently."

When asked what it was like to sit across

from so many legends, Miller seems humbled.

"It was an honour," he says. "They're all

very sophisticated, very layered, very deep

people and heavy thinkers."

Punk music, at its core, has always been

about more than drugs, sex and anarchy — although

there's a lot of that too. Above all else,

PUNK showcases the menagerie of personalities

who unknowingly became leaders of a

movement that truly celebrates individuality.

"I keep learning about punk as I go through

life now," says Miller. "It's more of a mindset,

and when I first started working on the series

I didn't realize that."

"It reinforces, in four episodes, thinking for

yourself," says Tabata, with a last blast of enthusiasm.

"Being an individual, going against

the grain, being your own boss, taking risks."

Punk: A Movement in Four Parts is now

streaming on Crave.

Jayne County

40 BEATROUTE AUGUST 2019
---
DOA's Randy Rampage

performing at O'Hares

DID YOU

KNOW?

BLOODIED

BUT

UNBOWED

It might be hard to imagine

now, but in the late

1970s, Vancouver was

home to one of the wildest,

most influential punk

scenes in the world. Director,

Susanne Tabata,

lived through each out-ofcontrol

house party and

sweat-soaked basement

show, time-capsulizing

the era in the documentary,

Bloodied but Unbowed.

It's a nutty nostalgia-trip

chocked full of crazy

stories, old Vancouver

footage, and interviews

with surviving members of

local bands such as The

Young Sticks, the Modernettes,

and, of course,

the almighty D.O.A. This

all went down in our own

backyard, and some of

the crazy shit those kids

got up to is peak punk

rock.

BEV DAVIES

Ramones at the

Commodore Ballroom,

April 22, 1980

BEV DAVIES

AUGUST 2019 BEATROUTE 41
---
Screen Time

FREAKS

AND

MEEK

THERE'S

MILLIONS

OF PEOPLE

LIKE MEEK.

Jay Z

Free Meek docuseries

shines light on hardships

within the criminal justice

system By JOSEPHINE CRUZ

D

espite being released from

jail in April 2018 and subsequently

dropping the most

successful project of his career,

Meek Mill isn't free. The

Philly based rapper remains trapped

by a criminal justice system designed

to victimize people in all of its stages,

from arrest to incarceration to parole.

The five-part Free Meek docuse-

ries traces Meek's case and career in

stunning and granular detail, while at

the same time highlighting the broader

epidemic at hand.

The interview segments range from

emotional testimonies from Meek's

family; reflections from his team

at Roc Nation including Jay Z; and

thorough analyses from legal experts,

offering a 360-degree view of a case

built on shaky evidence and the word

of corrupt law enforcement. While

the docuseries intersperses interviews

with real-life archival footage,

reenactments of events not caught

on camera really bring the frustrating

narrative to life.

In addition to exposing the paper-thin

case brought against Meek

in his original 2008 conviction, Free

Meek is full of baffling moments that

are maddening to watch. There's the

allegation that Justice Genece Brinkley,

the chief antagonist in Meek's

story, called a private meeting with

the rapper and asked him to record a

remix of the Boyz II Men ballad, "On

Bended Knee," that included a shoutout

to her. There's also an unforgettable

moment where the lawyer who

represents Brinkley gets caught on a

hot mic saying what he really thinks

of the judge.

Free Meek also provides context to

some of the moments that became

favourite fodder for social media

over the last few years, including

Meek's relationship with Nicki MInaj

and his feud with Drake.

While there's no happy ending, there

is a glimmer of hope in Meek's story.

The Pennsylvania Supreme Court

recently overturned his 2008 conviction

and also his 2017 probation

violation ruling, which means he will

be getting a new trial on all charges

after pleading guilty to a misdemeanour

gun charge, ending the 12-year

long case.

But despite these small wins, a sobering

reality prevails: "There's millions

of people like Meek," Jay Z says at one

point in the doc. The only difference

being that those millions don't have

Meek's fame, money and resources.

Freek Meek is streaming now on

Amazon Prime.

42 BEATROUTE SEPTEMBER 2019
---
Vancouver International Film Fest

ARE YOU

A TIMHEAD

OR A

GREGGHEAD?

Satirical multimedia

movie review show On

Cinema at the Cinema

Live! is the perfect first

date litmus test

By GRAEME WIGGINS

From its humble beginnings as a

short, satirical movie review podcast,

Tim Heidecker (Tim and Eric Awesome

Show, Great Job!) and Gregg

Turkington's (Neil Hamburger) On

Cinema at the Cinema has evolved

into something much bigger. There

are now 100 episodes of its video series,

Oscar specials, a spin-off action

series (Decker), musical acts (Dekkar),

a book, and more.

As it's grown, it's evolved. The lives

of its hosts — the insufferable, aggressive,

right-wing crank Tim and

unknowledgeable film nerd Gregg —

have taken twists and turns in ways

the original podcast couldn't have

possibly foretold.

Given its breadth and multimedia nature,

it's not the easiest thing to explain

to the uninitiated, but Heidecker's

attempt comes close.

"I say it's a satirical movie review

show about two disturbed individuals

that has transformed into a sort of

psychodrama soap opera that is funny

and dry and exists in various media.

I also say it's not for everyone."

That soap opera storyline has seen

Heidecker charged with manslaughter

(in a lengthy courtroom drama

series called "The Trial"), set fire to

Turkington's VHS collection, and go

through multiple health problems

and marriages. It's been a journey of

world-building.

As Turkington explains, "That's why

I think the people at Marvel are really

into this, because that's what they

specialize in too, creating these multifaceted

worlds. I know we didn't set

out to do this but once we got rolling

it's the direction it went."

Heidecker notes that despite the

hours of back story and in-jokes the

live show manages to make regular

converts of first-time viewers. Part

of that is the high level energy of the

show.

"In a lot of ways it's like a professional

wrestling event because it's very

interactive with the fans. You have

people coming in who are Greggheads

and people who are Timheads

and then the Dakkar set happens and

you have people booing and people

cheering."

Heidecker suggests it could also be

used as a barometer on a first date.

"If you've got a fan, you've got a winner,"

says Heidecker. "And if someone

recoils it's good to know that at

that point."

Whether you're a Timhead or a

Gregghead, it's almost guaranteed

that the live experience of On Cinema

at the Cinema will be a "five bags

of popcorn" rated experience.

On Cinema at the Cinema Live! takes

place on Sunday, Oct. 6 at the Playhouse

(Vancouver)

VIFF LIVE

Explores the

Intersection

of Music and

Cinema

Music plays a crucial role in cinema,

navigating emotion, setting

tone, and providing cultural commentary.

VIFF Live explores the

symbiotic relationships between

cinema and other artistic genres,

including music.

From an in-depth dialogue with

Public Enemy's Chuck D to a

female-fronted live score for This

is Spinal Tap, the excellent lineup is

at once current and nostalgic, examining

how music and cinema can

jointly represent specific moments

in time and rally for social justice.

By YASMINE SHEMESH

Song Exploder Live

with Chuck D

Monday, Oct. 7, 7 pm, Playhouse

One of the most pivotal characters

in Spike Lee's Do the Right Thing

(1989) is Radio Raheem, a neighbourhood

fixture who blasts Public

Enemy's "Fight the Power" from his

boombox. Celebrating the influential

film's 30th anniversary, Chuck D

of Public Enemy will discuss the

enduring, Lee-commissioned street

anthem for a live episode of the

podcast, Song Exploder.

Claudio Simonetti's Goblin

Plays Deep Red Live

Thursday, Oct. 3, 6 pm, Rio Theatre

Frequent collaborators Dario

Argento and Claudio Simonetti are

like the Lennon and McCartney of

Italian horror cinema, with Simonetti's

haunting compositions bringing

Argento's brilliantly deranged visions

to life. For VIFF, Simonetti will

perform a live score to Argento's

macabre masterpiece, Deep Red

(1975), with his prog-rock band,

Goblin.

This is Spinal Tap:

Anniversary Live Score

Sunday, Sept. 29, 7 pm, Rio Theatre

The funniest mock-rock-doc ever

was released 35 years ago (1984)

and, to celebrate, Vancouver musicians

Louise Burns, Jody Glenham,

Catherine Hiltz (Tegan & Sara),

Ayla Tesler-Mabe (Calpurnia), and

Adam Fink (ACTORS) will perform

a special live score in accompaniment

to the film screening. The

evening promises to be a good

time, all the time.

Feminist Live Reads present

Some Like It Hot

Tues, Oct. 1, 6:30 pm, Rio Theatre

Some Like it Hot, the beloved 1959

comedy-musical starring Jack

Lemmon, Tony Curtis, and Marilyn

Monroe, is all about flipping norms

on its head: gender identity, film

genre, censorship. Feminist Live

Reads takes that theme even

further, with a live reading where

women play men playing women.

SEPTEMBER 2019 BEATROUTE 43
---
Nachos,

bbq wings &

indie bands.

What's on your table starting September 26th?

Bring together friends, neighbours or colleagues to share some food and

talk about what matters most to you.

Sign up to be a host at onthetableBC.com

MEDIA SPONSOR
---
YVR

09.19

Tom Green

just wants

to be friends

with Drake

By YASMINE SHEMESH

I

nternational funnyman Tom

Green first started messing

around with music when

he was a kid, growing up in

Ottawa. With a secondhand

drum machine and an Akai sampler,

he'd loop 70s funk, R&B, and

jazz cuts on his Atari computer,

making beats and rapping over

them.

Of course, Green was also

slowly carving out a name for

himself as a comedian, performing

stand-up at local clubs like Yuk

Yuk's. But, before the Tom Green

Show was picked up by MTV in

1999 and his prankster-absurdist

comedy entered the mainstream,

Green was in a hip-hop group

called Organized Rhyme. Their

first and only album, Huh!? Stiffenin

Against the Wall, produced a

cheeky hit called "Check the O.R."

— MuchMusic loyalists might remember

the video which saw the

fresh-faced trio running around

Toronto's Jane and Finch neighbourhood

in caps and oversized

bombers. The song was nominated

for Best Rap Recording at the

1993 Juno Awards and even won

the MuchVibe award for Best Rap

Video in 1992.

Green has celebrated many

achievements since then. He

became one of the most popular

comedians of the 90s, writing and

starring in the movie, Freddy Got

Fingered, which was originally

panned by critics for its gross-out

shticks, but has since enjoyed a

cult following. Green also had his

own late-night talk show, he beat

testicular cancer and he's continued

to keep his personal brand

alive, touring the world.

Earlier this year, Green released

The Tom Green Show: a limited

edition and vinyl-only album that

recalls the name of the series

that made him a household name.

It's his first issue since 92, and

combines comedy and cultural

commentary with hip-hop, punk,

electronic, and samples from his

TV shows and stand-up routines.

The track "I Wanna Be Friends

With Drake" is a spot-on pastiche

of Drake, complete with autotune

and synth, where Green half-raps,

"I know you said 'No new friends,'

homie, but that's exactly who I

am." "Far 2 Young 2 Die," on the

other hand, is no joke — it's a

post-punk banger that would

fit right into Depeche Mode's

catalog.

The album closes with "The

Bum Bum Song (Lonely Swedish),"

a novelty tune from the original

Tom Green Show. Its inclusion,

as the rest of the album does, displays

an expertly executed dance

between the sincere and the

silly designed to make you smile

— sort of like Green, himself.

Tom Green performs Tuesday,

Sept. 17 at the Rio Theatre

VANCOUVER'S ESSENTIAL SEPTEMBER HAPPENINGSk

AUGUST 2019 BEATROUTE 45

SEPTEMBER 2019 BEATROUTE 45
---
09.19YVRAGENDA

Fringe

Fest

Guide

Sept 5-15

Various Locations

Tix: vancouverfringe.com

Music is a frequent co-star to

theatrical performances at the

Vancouver Fringe Festival, and

this year is no exception. In

keeping with the boundary-pushing

energy of the festival, musical

accompaniment takes centre

stage in an eclectic variety, from

punctuated outbursts to a complete

rendition of one of rock

music's most important albums.

Here are BeatRoute's picks of

the Fringe.

by YASMINE SHEMESH

Tommy's

Amazing

Journey

Sept 6-14,

Red Gate

Revue Stage

English mod pioneers

The Who released

their seminal

rock opera, Tommy,

in 1969, giving way

to classics like "Pinball

Wizard." Now,

50 years on, Kevin

Armstrong takes

audiences on an

"Amazing Journey"

with his criticallyacclaimed

oneman-show,

where

he brilliantly portrays

all the characters

in the album

while channelling

his best Pete Townshend

on guitar.

Lift

Sept 5-15, Firehall Arts Centre

Making its Canadian debut at the Vancouver

Fringe, this musical is set entirely in an elevator

at London's Covent Garden Tube Station. While

the ride is only a minute long, it moves through

eight different lifetimes and examines the many

connections and miscommunications that so

often take place in our daily interactions with

one another.

Tomatoes

Tried to Kill

Me but Banjos

Saved My Life

Sept 5-14, Carousel

Theatre

When a major event

changes the course of a

high-level CEO's life he

re-evaluates everything.

In his award-winning

show, Keith Alessi recounts

his inspirational

true story with banjo-picking

that plucks at

the heartstrings.

Carey, OK!:

Timeless Timely

Tunes Volume. 1

Sept 7-15, Red Gate

Revue Stage

Being compared to

Robin Williams and

Reggie Watts is a tall

order of expectation,

but in his mash-up of

animated spoken word,

singing, and beatboxing,

Carey Wass delivers an

energetic performance

that stands up.

Operatic

Panic

Attack

Sept 6-15,

Firehall Arts Centre

Through bursts of opera,

Fringe mainstay

TJ Dawe takes us

back into his formative

years as a theatre

student, where he

discovers his passion

for Verdi and begins

combating an anxiety

disorder.

Fringe Bar Highlights

CÉLINE PINGET

PREET HUNDAL

DAVE TODON

KEZIA NATHE

Buckman Coe

Thurs, Sept 5, 8:00pm

Vancouver's Buckman Coe weaves

a socially conscious narrative into

harmony-fuelled rhythms through a

unique blend of soul, world music,

and Americana.

Ings

Fri, Sept 6, 8:00pm

With rich vocals and sweet melodies,

the lullaby rock of Seattle-based

Ings will send you off

into a happy dream state.

Sleepy Gonzales

Sat, Sept 6, 8:00pm

Whether they're churning out

dreamy pop jams, playing with ambient

textures, or flirting with punk,

this eclectic outfit always has one

constant: they're damn good.

Rae Spoon

Thu, Sept 12, 8:00pm

Touting two Polaris Prize nominations,

a Lambda Literary Award,

and a Western Canadian Music

Award, the creative mind of this

talented musician and author is a

force to be reckoned with.

DJ Shanique

Sun, Sept 16, 7:00pm-2:00am

DJ Shawnique heads the Vancouver

chapter of Intersessions — an

organization dedicated to bridging

inequality gaps facing female-identifying

DJs. Vibrant rap sets and

hip-hop nights have made her a

local favourite.

46 BEATROUTE SEPTEMBER 2019
---
09.19YVRMUSIC

Local Band

Spotlight

Old

Soul

Rebel

By JAMES OLSON

Old Soul Rebel stand out in

Vancouver's music scene in

more ways than one.

In a city crowded with folk

singer/songwriters, indie

rockers, and metalheads, this

dynamic duo of vocalist/

guitarist Chelsea D.E.

Johnson and vocal ist/

banjo player Lola Whyte

set themselves apart

as a powerhouse soul

rock act known for

their high-energy live

show and larger than life

personalities.

Combining Johnson's

experience as touring

musician with Whyte's

past life as a cabaret

owner and performer,

Old Soul Rebel is a partnership

in every sense of

the word

"When people ask me

any question about the

band, my first response

is that 'I'm gonna have to

talk to the wife,'" Whyte says

half-joking. "There's not a lot at

this point that I can do in my life

without having to run it by Chelsea,

and I'm saying that in a really

fun way."

The connection between

these two women runs far

deeper than a musical

bond or shared business

acumen. As queer people

of colour, Johnson and

Whyte represent and

celebrate their African,

German and First

Nations heritages and

identities through their

music and connections

they've been able to make

as performers.

2019 is proving to be a

defining year for the group

with Johnson and Whyte

facing one of their biggest

challenges on a personal

and professional level, participating

in season two of CTV's

talent competition, The Launch.

Whyte's father passed away

during the competition but is

immortalized in the band's next

upcoming single, "Don't You Worry

'Bout Me." This song was a favorite

of Whyte's father with lyrics

touching on topics such as overcoming

adversity and continuing

to move forward, themes Whyte

feels are especially poignant for

Old Soul Rebel.

"I think Chelsea and I have

shared experiences in overcoming

adversity, going into our past and

upbringing as people of minority

groups," says Whyte. "I'm excited

to share that with the world."

Old Soul Rebel play the Westward

Street Party September 13 at

Yaletown Park

Local Band

Spotlight

Waingro

By JEEVIN JOHAL

It was Michael Mann's 1995 crime

thriller Heat that Waingro guitarist

Brain Sepanzyk heralds as one of

the few masterpieces in a mostly

diluted decade of 90s cinema. He

even named his Vancouver-based

stoner metal trio after one of the

film's most menacing characters.

"I watched it relentlessly and

fell in love with the character, but

as a kid, I didn't realize the gravity

of his actions," says Sepanzyk of

the bank-robbing lowlife played

by actor Kevin Gage.

Sepanzyk's lust to examine

society's perverse desire to delve

into the psyches of the most

deviant minds was brought to

screen in his 2017 award-winning

short film, Compulsion. Though

the violence, however gratuitous,

remained a relic of eras past.

In Waingro, this level of ferocity

also exists, as his love of childhood

camp remains prevalent. With their

aptly titled third album, III, the trio

have created immediate buzz by

caricaturing another staple of their

adolescence in the form of an 80s

style beer commercial dubbed, "Go

for the 'Gro."

But don't get it twisted, despite

an insatiable thirst for all things

past, the new album ain't your

uncle's beer rock band.

"In Waingro the lyrics are not

quite tongue in cheek, but I don't

think I could write from a place

that's super emotional. This isn't

the project for that."

Waingro perform Friday, Sept. 13

at the Astoria (Vancouver)

SEPTEMBER 2019 BEATROUTE 47
---
09.19YVRMUSIC

I

n response to a lack of

diversity in Vancouver's

electronic music scene,

Betty Mulat and Samira

Warsame (also known

as Zam Zam) decided to take

matters into their own hands. So,

in 2017, the friends created NuZi

Collective to ensure their community

was both seen and heard.

"Things were pretty unwelcoming

a few years back and isolating,

if you were a queer person of

colour going out to these events,"

Warsame says. It was especially

infuriating considering the Black

history of house music — the genre

was pioneered by late Chicago

DJ, Frankie Knuckles. "I was like,

'I need to do something with this'

because I was super frustrated

by how I was being treated in the

scene," adds Mulat. "I was thinking

about representation and the fact

that I hadn't seen very many Black

techno and house producers in

Vancouver, so I figured, yeah, we

have to change that."

Spinning acid, techno, and hiphop,

NuZi's parties represent inclusivity

and, more broadly, provide

Vancouver's Black community with

an individual platform. "Every Black

person who walks through the door

knows that this space is for them,"

Mulat explains. "What we do is that,

first and foremost. We're looking at

NuZi like a tool that could engage

the wider, larger Black community

and help in various levels of

change."

It's working. Warsame has felt

a significant shift in change in

terms of representation. "It's not as

segregated. A lot of the scenes intersect.

I feel like it was due to a lot

of communities coming up at the

same time, pushing for experimental

sound and all having the same

ethos revolving around inclusivity

and merging the gaps between

scenes — not just music, but also

with people attending events."

Sacred Sound Club also saw

a hole that needed to be filled in

Vancouver's music scene. The artist

collective formed in early 2015

when a group of friends from postpunk

backgrounds were attending

electronic events but feeling unfulfilled

with their experience.

"We wanted to hear industrial

music," says Morgan Trista Young.

"We wanted to hear much harder

sounds. There really wasn't a lot of

that happening in Vancouver. The

only way to get what you want in

that situation is to take the initiative

NEW

FORMS

FESTIVAL

NuZi Collective and Sacred Sound Club

fill in the gaps and reclaim their city

By YASMINE SHEMESH

NuZi Collective

co-founders Betty

Mulat and Samira

Warsame

minimal violence

yourself. That's what we did."

The group, which includes Young,

Josh Rose (also known as Derivatives),

Ashlee Lúk, Lida Pawliuk,

Spencer Davis, and Meagan Auger,

began organizing and curating

events that champion darker noise

and experimental electronic sounds.

Also releasing compilation tapes

as a label, they've gained a large

underground following for how

they blur the lines between dance

parties and punk shows.

Now, SSC's members are scattered

across the world: Young is

in Berlin, both Lúk and Pawliuk are

soon moving there too, and Davis

and Auger are in Chicago. It's not

entirely for economic reasons, but

some of it is.

"Meagan has a career outside

of music that has taken her to the

United States," Rose explains. "But

certainly, for Ashlee and Lida, it's

because of their music career. It

makes sense for them because

the lion's share of their shows

and paying gigs are in Europe. If

Vancouver was a more affordable

place to be, it might be possible to

maintain a transcontinental work

relationship."

Real estate development has not

only made Vancouver an expensive

Nervous Operator

place to live, it's also a major cause

of why the city is rapidly losing its

music venues. In fact, just before

publication, New Forms Festival,

the forward-thinking electronic

festival at which both NuZi

Collective and Sacred Sound Club

are presenting showcases this

month, announced the loss of their

longstanding venue at the Centre

for Digital Media. It's not surprising,

unfortunately, and perpetuates

the complicated relationship many

creatives have with the city.

"It really sucks, because seeing

the reaction being like, 'You have

to work hard for your money' and

such — it's beyond that," Bulat

says. "When you shut these spaces

down, you're literally silencing

multiple communities."

"People are getting fed up,"

Young adds, "and it's really a labor

of love to do any of this, to run any

kinds of spaces and to be throwing

these kinds of events."

But with destruction comes

beauty, maintains Warsame. "We're

all working so hard together to

keep culture and art alive — because

what are you going to do

when all the artists leave? We're

doing what we can and putting ourselves

forward to reclaim the city."

New Forms Festival / Sept 25-29, 2019

Tix: residentadvisor.net

48 BEATROUTE SEPTEMBER 2019
---
LOCAL SPOTLIGHT

Meagan Auger

Morgan Trista Young

New Forms

Festival Highlights

By LAUREN GOSHINSKI, CCL and JS AURELIUS

PURPLE TAPE PEDIGREE (PTP)

Thursday, Sept. 26 at Deep Blue

The NYC-based label and weaponized

media imprint deploys artists Dis

Fig, Dreamcrusher, King Vision Ultra,

Jeremy Toussaint-Baptiste, Lana

Del Rabies, Via APP, and YATTA for

a showcase, panel, and site-specific

installation that asks: How does noise

work as a healer? How do you destroy

White space?

GIANT SWAN

Friday, Sept. 27 at Japanese Hall

Across a table of machines and pedals,

abused guitar and liberal vocal manipulation,

Bristol's Giant Swan ignite

a cross-breed of hypnotic bass and

frenzied improvisation. No two performances

are alike, as the duo re-build

and destroy their twisted vision of techno-not-techno

with each performance.

LAFAWNDAH

Friday, Sept. 27 at Japanese Hall

The Egyptian-Iranian artist and

devotional pop polymath crafted her

latest release, Ancestor Boy, between

Los Angeles, Mexico City, New York,

London and Paris, with the aid of

fellow travellers Nick Weiss, Aaron

David Ross, and L-Vis 1990, with guest

appearances by GAIKA, Kelsey Lu,

Bonnie Banane, and Julie Byrne.

DJ MARCELLE

Saturday, Sept 28 at

Japanese Hall

DJ Marcelle has been collecting music

longer than most of us have been

alive and has gained legendary status

as The Netherlands' sweetheart.

Well known for her three-turntable

setup, her mischievous, rule-bending

approach to DJing, producing and

radio hosting is inventive, euphoric, and

above all powerful.

KAMPIRE

Saturday, Sept. 28 at

Japanese Hall

One of East Africa's most exciting

young DJs, Kampire is a core member

of the Nyege Nyege collective and

founding member behind Boutique

Electronique in Kampala, Uganda. Her

bass-heavy sets are inspired by her

upbringing in a mining town along Zambia's

copper belt, where she listened to

Congolese music and African pop.

Dis Fig

Mob Bounce

Mob Bounce's Craig Frank Edes on his personal

and professional transformation By YASMINE SHEMESH

C

raig Frank Edes, one

half of the Indigenous

hip-hop duo Mob

Bounce, has spent his

morning basking in

the joys of newfound

fatherhood. His daughter, K'san, which

means "river" in Gitxsan, is six months old

and teething.

"One thing it's taught me is redirecting

when you're getting mad," Edes says

about the impact his new role has made

on him. "Babies have their own way of

communicating, too. It's a big part of my

transformation, just feeling like there's a

lot more meaning in my life."

Fatherhood is just one evolution that

Edes has gone through in the last four

years, leading up to Mob Bounce's aptly

named new EP and first studio release,

Transformation. Physically completing

the album itself was a journey in itself —

experiencing what often felt like signs

that things just weren't going to work out,

Edes and Mob Bounce counterpart Travis

Hebert had to re-record it four times due

multiple computer crashes that wiped out

their tracks. The project fizzled out and

came back, then fizzled out and came

back again.

"There's lots of determination," Edes

says. "I've been doing music full time

since 2015, so it's kind of an odd time

in my life where I felt like all of my eggs

were in one basket. I don't feel that way

as much, but you have your moments, especially

when you're starting to become a

father. 'I better start working harder.'"

Perhaps the most significant transformation,

though, has been the Mob

Bounce's increased commitment to youth

work. Working with young people in a

therapeutic capacity has always been an

important part of Mob Bounce's mission.

Many of the songs on Transformation

are directly related to the kids that Edes

and Hebert work with. The uplifting

synth-clapper "Gather Your Feathers"

is a perfect example. "It really made its

completion as a song when we did some

youth work in Haida Gwaii," Edes says.

"There was lots of people going for walks

around the beautiful land, finding eagle

feathers and things like that. Just the

meaning behind those types of things."

"Keys to the Forest," a beautiful track

with a stomping beat and chanting, is

another standout. There's a line that calls

it "protest music" to the "newer generation"

— but Mob Bounce is not making

traditional protest music. Edes firmly

maintains they're not rooted in any kind

of rebellion. He was raised as a healer,

not a rebel. As such, the music's intention,

much like group's youth work, is an

imparting of wisdom and the sharing of

knowledge, finding hope, encouragement,

and strength within those things.

SEPTEMBER 2019 BEATROUTE 49
---
09.19YVRMUSIC

The Cheat Sheet BR PICKS THE 5 ESSENTIAL LIVE MUSIC SHOWS

INDIE

METAL

R&B

EDM

ROCK

1 YUNGBLUD

Tues, Sept 10 at Vogue Theatre

Mixing elements of alternative rock,

hip-hop, and pop-punk, Yungblud's

diverse array of song-styles makes

sure his shows have a little something

for everyone.

BLACK MOUNTAIN

Sat, Sept 14 at Vogue Theatre

2

Vancouver-based psychedelic

fuzz-rockers look to trip you out as

part of Westward Music Festival.

(Interview on Pg.16)

3

MARK KNOPFLER

Mon, Sept 16 at Orpheum Theatre

The original "Sultan of Swing," this

legendary Dire Straits frontman

brings rock and roll nostalgia to

one of Vancouver's most beautiful

venues.

4 mxmtoon

Fri, Sept 20 at Rio Theatre

An indie-music minimalist on the

brink of breaking out. Keep an eye

out for this young uprising star.

5

DARK STONE

Thur, Sept 26 at Roxy

From gritty blues to heavy metal,

these Vancity rockers leave no

stone unturned.

1 ENFORCER &

WARBRINGER

Fri, Sept 13 at Rickshaw Theatre

Combinations of thrash, speed, and

heavy, this show has one thing in

mind — Metal annihilation.

2

CANCER BATS

Fri, Sept 20 at the Rickshaw Theatre

Canadian hardcore at its finest.

Expect an eruption of chaos when

Cancer Bats blast you with downtuned

audio frequencies.

3

DESPISED ICON

Mon, Sept 23 at the Biltmore Cabaret

World renowned kings of deathcore,

hailing straight from Montreal.

They are guaranteed to pulverize

the Biltmore.

4 PERIPHERY

Thur, Sept 26 at Rickshaw Theatre

These forefathers of "djent" will

attack you with heart-pounding,

progressive riffage

5

AMON AMARTH AND

ARCH ENEMY

Thur, Sept 26 at PNE Forum

A massive bill featuring female-fronted

melodic death-metal

and heavy-metal Vikings influenced

by Norse mythology.

HIPHOP

1 GRIEVES

Tues, Sept 10 at Portside Pub

Hip-hop with a trippy twist. No

short of melody, this self-described

"nice guy" is ready to drop his

smooth flows over downtempo

club-grooves.

2 BLACKALICIOUS

Thurs, Sept 12 at Fortune Sound Club

These hip-hop O.G's are ready to

"Make You Feel That Way" with

their old-skool vibes.

3 JOJI

Fri, Sept 13 at Queen Elizabeth Theatre

YouTube star turned R&B phenomenon,

this multi-talented musical

chameleon was also on the cover

of our August issue and will play

with your emotions in unexpected

ways.

4

BJ THE CHICAGO KID

Sat, Sept 21 at Fortune Sound Club

Soulful and intimate, this Kendrick

Lamar and Chance the Rapper

collaborator will make you want

to "drink, do drugs and have sex

tonight."

5

RICK ROSS

Mon, Sept 23 at Harbour Events Centre

Rapper, entrepreneur, and record

exec Rick Ross has been hustlin'

since the early 2000s and

continues to be one of the most

respected figures in modern rap.

1 VOLAC

Fri, Sept 13 at M.I.A.

Deep-house up-and-comer will

surely have you bouncing all night

long to their funky jives.

2

KEYS N KRATES

Fri, Sept 20 at Fortune Sound Club

This Canadian electronic dance

music trio are famous for producing

top-40 style tunes with a

hip-hop flare.

3 KSHMR

Sat, Sept 14 at Harbour Events Centre

Kshmr has a big-party feel. Grind

your teeth to hypnotic psytrance

all night long.

4 NERVO

Sat, Sept 21 at Harbour Events Centre

At 18 years of age, this sisterly

Australian duo made waves in the

dance music community. They've

already won a Grammy and are

continuing to grow as time progresses.

5 QUIX

Fri, Sept 27 at Celebrities Nightclub

Signed to Steve Aoki's Dim Mak

records, Quix's explosive sound

will wash over you like an oceanwave

of euphoria

PUNK

1

NO FUN AT ALL

Thur, Sept 12 at Venue

No Fun At All is a bit of an understatement...

these Swedish

punk-rockers are lots of fun!

2

LOSER POINTS

Fri, Sept 13 at SBC

Early millenia sounding punk rock

seemingly inspired by bands like

Green Day, Blink-182, Sum 41.

Check this show out for a nostalgia

fix.

3 MILLENCOLIN

Sat, Sept 21 at Imperial

With fast tunes and catchy

melodies, it's no surprise these

skate-punk veterans are playing a

completely sold-out show.

4 D.O.A.

Sat, Sept 21 at Wise Hall

"Mayor Shithead" Joe Keithley and

company are set to remind us why

D.O.A. is Vancouver's most notorious

punk band at this BeatRoute

sponsored get-out-and-vote

showcase

5

FACE TO FACE &

LAGWAGON

Thur, Sept 26 at Rickshaw Theatre

Two extremely recognizable figures

in modern-punk join forces to play

a show. This will be a blast.

50 BEATROUTE SEPTEMBER 2019