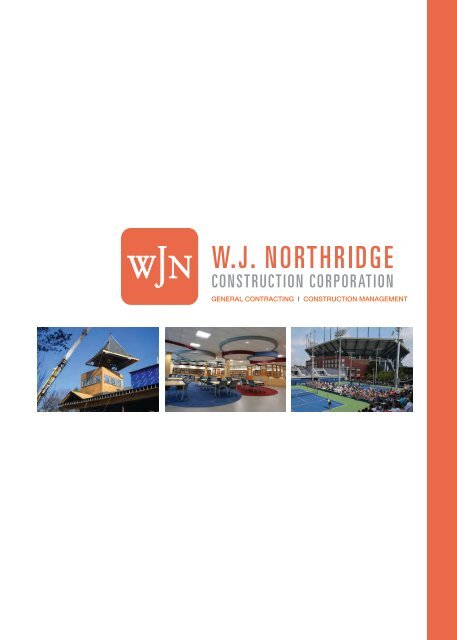 WJNorthridge_Construction_Corp_Brochure
Create successful ePaper yourself
Turn your PDF publications into a flip-book with our unique Google optimized e-Paper software.
GENERAL CONTRACTING I CONSTRUCTION MANAGEMENT
---
Integrity is our cornerstone.

And then we build from there.

Not everyone has the fortitude and tenacity to take on

a construction project – but you do. You're a rare breed

who, while knowing all the potential risks, does it

anyway. And whether you're tackling your first construction

project or your fiftieth, your only hope is that the space will be

built as specified, that the occupants will be happy, and that

your investment will be worth it in the time frame you expect.

Meanwhile, if you're able to garner some peace of mind along

the way, all the better. The peace of mind that comes from

hiring a construction firm where transparency is a given,

communication is key, and budget and time constraints get

the respect they deserve.

W.J. Northridge is in the business of providing comprehensive

project management and peace of mind. Since 1984, we have

successfully completed ground-up and renovation projects for

owners, developers, and facilities managers from both the private

and public sector throughout Long Island and the New York

metropolitan area. We accomplish this through a customizable

array of pre-construction and construction phase services that

are distinguished by a high level of involvement from senior

management every step of the way.

P2

Company Heritage

P4

Northridge Know-How

P6-P9

Services

P10

A Commitment to Safety

P12–P31

Project Highlights

P32

Contact Us

So, how can we help you?

1
---
22
---
A Bridge to Our Company Heritage

W.J. Northridge Construction Corp. was named for the owner's

great-great grandfather, William James Northridge, who was

awarded a painting contract for the newly built Brooklyn

Bridge. He espoused the values of trust, leadership and integrity,

the very same values that, more than 100 years later, define

how we work with our clients and subcontractors today.

• Established 1984

• Founded in

Huntington Station, NY

3
---
4 4
---
Services Underscored by Northridge Know-How

The true mettle of the Northridge team goes beyond brick

and mortar to our Northridge Know-How, a higher level

of solution-oriented expertise that's driven by proactive

problem-solving and a steadfast commitment to reducing

your risks while staying on time and on budget.

• General Contracting

• Construction Management

Kings Park High School Media Center – Kings Park, NY

5
---
6 6
---
Taking Your Project to New Heights

From site selection to ground-up construction, a project's

success is ultimately measured by the quality of the work

and the service behind it. At W.J. Northridge, we believe that

this can only be accomplished by maintaining a seamless

partnership with you and our longstanding trades. Our ability

to self-perform a number of subcontractor tasks further

ensures you the utmost in quality and service.

• 360° oversight of trades

• Market-savvy

value engineering

Shelter Rock Church – Syosset, NY

7
---
8 8
---
Mastering the Realm of Interior Renovation

Occupied places. Tight timeframes. Even tighter spaces.

The unique challenges presented by interior renovations

and fit-outs demand an experienced team built on nimbleness

and flexibility. And that's where our expertise comes in. Our

access to quality commercial carpentry specialists and the

latest time-saving fabrication tools keeps your project on

schedule without compromising the desired result – great

spaces that honor an architect's vision and the occupants' intent.

• Office fit-out experts

• Time-saving

specialty tools

Nassau University Medical Center – East Meadow, NY

9
---
10 10
---
A Commitment to Safety

Health and safety protocols are part of the very fabric of our

company culture. All field and related employees are required

to successfully complete any necessary coursework in order to

attain their safety and specialty certifications. Plus, company tools

and equipment undergo rigorous safety checks and inspections.

• OSHA compliant

• Weekly safety meetings

11

11
---
12 12
---
Verizon

The ground-up construction of this

8,000 square foot store featured the

installation of specialty solar shades on

the façade.

Northridge Know-How

Reconciling three sets of disparate plans.

W.J. Northridge identified key elements

from each of the plans provided by the

landlord, architect, and engineer and

facilitated their incorporation into

one final, approved document.

Services:

General Contractor –

private/ground-up

Location:

Port Jefferson

Station, NY

Architect:

Gruskin Group

13

13
---
14 14
---
Starbucks

A sprawling New York City mall parking

lot, situated on the old Freedomland USA

site, became home to a 2,000 square foot

store for the international coffee shop chain.

Northridge Know-How

Digging deep for a solid foundation.

Before the foundation could be poured,

steel piles were driven down to the bedrock

and filled with concrete in order to create

the proper support for the new building.

Services:

General Contractor –

private/ground up

Location:

Bay Plaza, Bronx, NY

Architect:

Studio 5 Architects/Planners, LLC

15

15
---
USTA National Tennis Center

Services:

Construction

Management –

private/ground-up

and renovation

Location:

Queens County,

New York, NY

Architect:

Rossetti Architects

W.J. Northridge served as a Construction Manager during the USTA's multi-phase,

multi-year endeavor to replace and renovate various facilities and infrastructures.

Projects included renovations to the West Campus tennis courts, the re-creation

of the transportation building in a new location, renovation of all luxury suites in

Arthur Ashe stadium, and boiler plant alterations.

Northridge Know-How

Real-time troubleshooting with the architect's design team.

The foremost challenge was completing the West Campus/Transportation

Building in time for the U.S. Open. To accommodate the tight schedule,

W.J. Northridge worked closely with the architect's design team to problem-solve

and implement immediate solutions.

16

16
---
17 17
---
18 18
---
Northwell Health/Cure Urgent Care

The existing one-story building underwent an extensive

interior and exterior renovation, including the addition of a

second story, to ready the space for various satellite offices of

Northwell Health and a walk-in center for Cure Urgent Care.

Additional Northwell Health locations were also renovated.

Northridge Know-How

Scheduling trades for the utmost efficiency.

To accommodate the project's tight schedule, W.J. Northridge

strategically staggered the interior and exterior work for

the site so that every trade could work without interruption.

Services:

Construction

Management –

private/interior and

exterior renovation

Location:

Huntington, NY

Architect:

Hoffman Grayson

Architects LLP

19

19
---
20 20
---
Teachers Federal Credit Union

This interior renovation project

encompassed more than 5,000 square

feet, including an entrance lobby,

open-floor-plan workstation space,

office space, conference rooms, and

an employee cafeteria.

Northridge Know-How

Delivering Class A workmanship.

By successfully completing a number

of the credit union's branches, TFCU

entrusted W.J. Northridge with the

interior renovations needed for its

new headquarters in Class A building,

as well as office fit-outs for other

corporate tenants.

Services:

Construction

Management –

private/interior fit-outs

Location:

Hauppauge, NY

Architect:

JRS Architect

21

21
---
Photo by Meryl Spiegel

22 22
---
The Woolworth Apartments

with street-level retail

The single old storefront (circa 1970s

image) was renovated to provide 4,500

square feet of retail space for four new

stores at street level, and 19 residential

units were added to second floor.

Northridge Know-How

Successfully repurposing a local landmark.

W.J. Northridge created living space

in this former retail setting, including

drainage, sanitary, and utility operations,

and carefully restored the building's

beautifully ornate Art Deco lobby to its

original splendor.

Services:

Construction Management –

private/interior and

exterior renovation

Location:

Riverhead, NY

Architect:

Martin F. Sendlewski, AIA,

Architects & Planners

23

23
---
Plainview-Old Bethpage High School

Science Laboratories

W.J. Northridge completely gutted and

refurbished the science labs, which included

removing concrete slabs to make way for the

trenching needed to lay plumbing and gas

services for the new student workstations.

Northridge Know-How

Maintaining long-standing relationships

with various trades.

Knowing your subcontractors well not only

makes for a quality job – it promotes a willingness

on their part to adapt to any unforeseen

changes in schedule and scope of work.

Even with unexpected delays, W.J. Northridge

made sure that the trades were able to work

simultaneously as needed and still finish on time.

Services:

General Contractor –

public/interior renovation

Location:

Plainview, NY

Architect:

BBS Architects, PC

24

24
---
25 25
---
26 26
---
Locust Valley High School Security Center

The high-impact rated security center houses an integrated

state-of-the art monitoring station and limited access vestibule.

Northridge Know-How

Incorporating the latest security technologies.

As enhanced security protection has become a primary focus

for many public schools, W.J. Northridge understands the stringent

specifications and exacting installation requirements that must

be met. In addition, this project called for high energy efficiency

elements in lighting, roofing, and tinted, hurricane-rated glazing.

Services:

Construction

Management –

public/ground-up

addition

Location:

Locust Valley, NY

Architect:

H2M Architects

& Engineers

27

27
---
Envious Lashes

W.J. Northridge was entrusted with the salon's first

Long Island location, a 1,200 square foot interior fit-out

featuring a host of high-end finishes.

Northridge Know-How

Providing quality craftsmanship every step of the way.

The design called for LED track lighting throughout the

space, so the drywall ceiling was formed with recessed

pockets, and as finishing touches were made, specialty

millworkers created a custom LED lighted reception desk

as well as individual workstations.

Services:

General Contractor –

private/interior fit-out

Location:

Commack, NY

Architect:

Mojo-Stumer Architects

28

28
---
29 29
---
Central Presbyterian Church

The nearly century old wing of the

church was in need of major renovations,

including Fellowship Hall, the gymnasium,

kitchen pantry, and rear lobby.

Northridge Know-How

Renovating a church while in use.

The congregation did not relocate

during the project, which presented

W.J. Northridge with the added

challenge of continuing work while

church services and functions remained.

Services:

General Contractor –

private/interior and

exterior renovations

Location:

Huntington, NY

Architect:

Hoffman Grayson

Architects LLP

30

30
---
31 31
---
Contact Information

How can we help you?

W.J. Northridge Construction Corp.

175 Kennedy Drive

Hauppauge, NY 11788

Phone:

631.421.1168

Website:

wjnorthridge.com

Linkedin:

W.J. Northridge Construction Corp.

32

32
---
175 Kennedy Drive • Hauppauge, NY 11788

Phone: 631.421.1168 • wjnorthridge.com