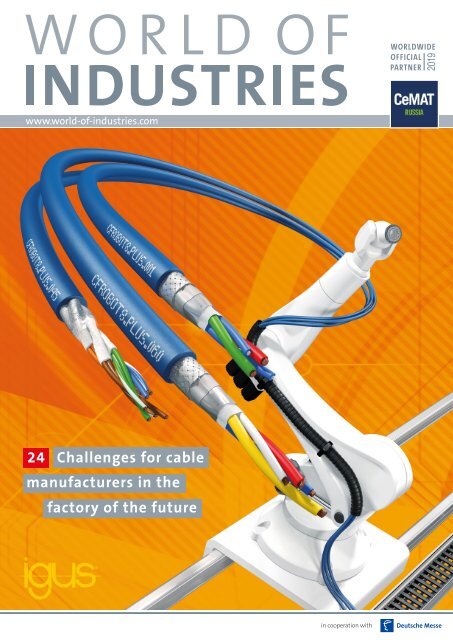 WORLD OF INDUSTRIES 04/2019 (EN)
WORLD OF INDUSTRIES 04/2019 (EN)
WORLD OF INDUSTRIES 04/2019 (EN)
SHOW MORE
SHOW LESS
You also want an ePaper? Increase the reach of your titles
YUMPU automatically turns print PDFs into web optimized ePapers that Google loves.
www.world-of-industries.com

24 Challenges for cable

manufacturers in the

factory of the future

in cooperation with
---
SOME THINK

SORTATION

TECHNOLOGY

IS COMPLICATED.

WE THINK DIFFERENT.

We know the challenges of handling a broad variety of items. With our

new BG Sorter family, we have once again redefined innovative and

highly efficient sortation. Our systems are tailor-made to meet your

business' specific needs while still providing the expected ease of

operation and maintenance. Leave the business-critical sortation of

items in reliable hands with high throughputs and capacities that meet

the demands of tomorrow's material handling world.

For further information visit beumer.com.

2 WORLD OF INDUSTRIES 3/2019
---
EDITORIAL

The digital future has

long since arrived

Dear readers,

The world of industry is digital now, from production through to

logistics. This is what you will find out when you read this issue: You

will encounter terms such as smart condition monitoring, automated

factory, or smart sensors and predictive maintenance. These words

describe technologies and technical processes in the context of the

digitization of industrial processes or Industry 4.0, which have now

become commonplace. However, it was not so long ago that almost

nobody was able to describe the fourth industrial revolution, as it is

called, clearly and comprehensibly. Motivated by this

unfortunate state of affairs, the experienced editorial

staff of World of Industries worked from the

beginning to clarify the situation. Instead of writing

theoretical treatises, we have given a "face" to

digitalization by using concrete user examples. We

show the technical methods and concepts with

which digitalization can be profitably implemented

in industrial and logistical practice.

We are therefore equipped with a network

that has grown over the years between us

and the leading representatives of the

industrial and logistics sector. On the

editorial side we are always very close to

the innovations and visions. We

are convinced that the fourth

industrial revolution is in full

swing, but that it will probably

never really be completed, so we will

not run out of exciting content concerning

this subject. We will keep you

up to date.

Confocal sensor systems

for displacement,

distance and thickness

confocalDT

Highest precision and dynamics

for all surface types

High precision displacement and

distance measurements

Thickness measurement of glass

and transparent objects

Unrivalled sensor portfolio

Extremely small measurement spot

to detect smallest objects

Highest measuring rate in the world:

70 kHz

Ease of use via web browser

Manfred Weber

-Editorm.weber@vfmz.de

Great prices are waiting for you!

For the bulk materials segment, premium gear manufacturer

Flender has three standard series in its portfolio based on

helical and bevel-helical gear units. Would you like more

information about the Flender innovation and at the same

time win great prices? Nothing easier than that! Scan the following QR code or

enter www.flender-gewinnspiel.de in your browser - and you will be ready to

start our lottery - good luck!

Tel. +49 8542 1680

www.micro-epsilon.com/confocal
---
TABLE OF CONTENT

22

28

16

35

NEWS AND MARKETS

03 EDITORIAL

06 WORLDWIDE NEWS

08 IS CHINA LOOSING STEAM OR IS IT

GEARING UP FOR THE NEXT ROUND

OF DOUBLE DIGIT GROWTH ?

10 MODEST GROWTH OUTLOOK FOR

RUSSIA, BUT OPPORTUNITIES TO GAIN

MARKET SHARE IN VARIOUS

UNORGANIZED INDUSTRY SECTORS

12 CEMAT RUSSIA: FUELLING GROWTH

IN RUSSIA'S LOGISTICS AND

TRANSPORT SECTOR

LOGISTICS

14 "READY TO TAKE OFF"

16 AT THE RIGHT PLACE AT

THE RIGHT TIME

MOTION AND DRIVES

20 COOL SOLUTION TO A

HOT ISSUE

22 GEARED MOTORS: TEST AREA

EXAMINES DRIVE UNITS

THOROUGHLY

AUTOMATION

24 CHALLENGES FOR CABLE

MANUFACTURERS IN THE

FACTORY OF THE FUTURE

27 BARLEY MALT PRODUCER

INCREASES PRODUCTIVITY

WITH SMART CONDITION

MONITORING

28 THE DNA OF THE INDUSTRIAL

INTERNET OF THINGS

18 PRODUCT NEWS

4 WORLD OF INDUSTRIES 2019
---
10

AUTOMATION

30 A BRIDGE BETWEEN

TWO WORLDS

32 A TASTE OF THE FUTURE

OF INDUSTRY

34 PRODUCT NEWS

10 TH ANNIVERSARY

35 DIGITAL FUTURE MUST BE

ACTIVELY SHAPED

DER ANTRIEB

Reliable. Versatile. Global.

NORD

4.0

READY!

THE GEAR UNIT

Strong bearings

Quiet running

THE MOTOR

High efficiency

Global standards

THE DRIVE ELECTRONIC

Field distribution system

Easy implementation

Getriebebau NORD GmbH & Co. KG | Fon +49 4532 289-0 | info@nord.com

nord.com
---
W RLDWIDE NEWS

SSI Schaefer is investing in the future

In Giebelstadt, at the SSI Schaefer competence center for automated logistics solutions, the groundbreaking

ceremony for a 5-story office building took place in September of last year. The building will

provide space for 400 workplaces on almost 7,000 square meters in 2020. At the Friesach location in

Austria, heart of the proprietary Wamas logistics software, an additional office complex is being built

that reflects the company's strength in IT. After its grand opening, which is scheduled for November

2019, about 170 employees will be moving into the 1,000 square meter IT powerhouse.

www.ssi-schaefer.com

Pepperl+Fuchs to become an SE

Pepperl+Fuchs GmbH has decided to undertake an incremental conversion

into a European Company (Societas Europaea) by 2020 to ensure its growth

strategy in the long term, and to be able to face future challenges on a global

scale with flexibility and agility—in particular the challenges of Industry 4.0.

"The legal regulations associated with an SE will facilitate trade and possible

expansion activities in the EU area," says Werner Guthier, CFO of the

Pepperl+Fuchs Group (foto). "At the same time, the SE legal form also offers us

new options on the capital markets in contrast to the GmbH legal form.

Overall, we consider this to be an important step toward

ensuring sustainable success for the Group in the future."

www.pepperl-fuchs.com

Stemmer Imaging continues its

international expansion strategy

Stemmer Imaging confirms it

has successfully concluded

the acquisition of the

Spanish group Infaimon

S.L. today and is

acquiring 100 % of the

shares in the supplier of

software and hardware

for machine vision and

robotics after approval of the

transaction by all the relevant

antitrust authorities. The machine vision specialist is

now represented in all key European markets with

local branch offices. With the acquisition, Stemmer

Imaging is also underscoring the strategic importance

of state-of-the-art bin-picking solutions, an

important capability in the context of Industry 4.0

applications which will further stengthen the

company's product and service portfolio.

www.stemmer-imaging.com

NEWS AND MARKETS

Always on

Kjellberg.indd 1 08.08.2019 15:47:33

6 WORLD OF INDUSTRIES 2019
---
Rittal, Atos and Siemens form a global

strategic partnership

Logistics area

doubled

Paul Vahle has opened one of

the most modern material flow

systems of its kind in Kamen.

The system provider for mobile

industrial applications supplies

the connected production

facility with individual components

from this site. Effective

immediately, order picking

takes place automatically with

the latest warehousing

equipment made by Jungheinrich.

The heart of the new

system is an automated

miniload warehouse with 7,314

storage locations. Boxes

measuring 600 × 400 and 300 ×

Rittal announced a new global strategic partnership with Atos

and Siemens to develop intelligent edge datacenter solutions

for smart industries, smart cities, smart retail, energy &

utilities, and public sectors. The new 'Intelligent Edge Data

Center' (IEDC) is a highly configurable datacenter solution

that enables companies to process IoT data in real-time using

solutions such as MindSphere, the cloud-based, open IoT

operating system from Siemens, the new BullSequana Edge computing

server and the BullSequana S server from Atos, Atos Codex Cloud Industrial

Supervision (CIS) and thus optimize their entire value chain with an

advanced data-, analytics solution.

www.rittal.com

400 millimeters are stored

double-deep or quadrupledeep

and crosswise. These are

serviced by what Jungheinrich

views as the most powerful

stacker crane of its class, which

moves at a speed of six meters

per second. A wide-aisle

warehouse, cantilever racks for

the storage of long goods and

drive-through racking were also

built. The logistics area nearly

doubled through the modernization,

to around 3,500 square

meters. With the Go Live of the

miniload warehouse, Vahle is

the first company in the world

to utilise the Miniload STC

which was introduced by

Jungheinrich in 2018. It has

energy storage devices called

SuperCaps which are specially

adaptedto the stacker crane's

driving characteristics.

We facilitate reliable deliveries and highly flexible technical handling thanks to our

intermodal network – from production to the end customer.

See more good reasons for BLG LOGISTICS at

www.blg-logistics.com/5reasons

www.jungheinrich.com

www.vahle.com

BLG.indd 1 12.08.2019 13:12:59

WORLD OF INDUSTRIES 2019 7
---
Author: Sushen Doshi,

International Correspondent,

World of Industries

Is China loosing steam or is it gearing up

for the next round of double digit growth?

NEWS AND MARKETS

The "Made in China 2025" plan, technology

upgradation, slowing down of GDP, trade war with

the U.S, Belt and road initiative; China has a lot on its

plate, and all this has immense implications on the

global economy. China's growth in the coming years

will be much different than that of the of 90s. Xi's

China is strategically prepared, smart and ready to

compete on any technological front.

In the recent years, economists and experts have been buzzing

about the slowdown of China's economy. Official statistics placed

real GDP growth at 6.6 % in 2018, the lowest rate since 1990. Various

economic indicators, which track the performance of the economy

by taking into consideration parameters ranging from industrial activity,

purchasing indices, employment figures, sales numbers and

investments in various sectors, all are a proof of dipping trend line in

China's GDP numbers. Yet, despite the doom and gloom China continues

to rack up one of the most enviable growth rates in the world,

adding more than a trillion dollars each year. The economy is expected

to continue its softening in 2020 as well, with GDP growth forecasted

to be somewhere between 6.0 and 6.2 %. Many companies will

be facing the challenge of quickly adapting or changing their strategies

to slower growth, as it will become extremely harder for corporations

that require higher growth to thrive, or even survive. Survival

will also be difficult for companies that took the growth rates for

granted, and in turn created unsustainable amounts of debts.

Consumption story now, and planning for the future

A series of news reports of multinational as well as domestic companies

reporting drastic drop in sales have created a wave of concern

over the potential of China's consumption power. But despite

these concerns China still continues to be the best consumer market.

Over the next decade as the per capita income of average Chinese

individuals rise, China's market will add more than $ 5 trillion,

that's way more than any other country. Beneath the slowdown lie

changes in the patterns of consumption. Also sharper drops in sales

of individual companies, or even of sales in categories like autos or

cosmetics, does not tell the whole story.

A lot of recent news reports have led many to believe that the

trade spat between the US and China is leading to the current economic

slowdown; this narrative is also convenient for the politicians.

But the truth is China's slowdown has been consistent since

2015. In 2013, Chinese President Xi Jingping announced the long

term economic reform to shift from a investment driven economy

to consumer driven one. If you understand this blueprint for economic

reform, all the warnings about China's slowdown or collapse

will be less alarming. China's reform will shift the economy from

one based on government spending, state-run companies, and

low-cost exports. It moves it toward private investment, entrepreneurial

innovation, and domestic consumption. In order to achieve

this, China has decided to reduce overcapacity in factories, mostly

in steel, cement and other state-owned manufacturing companies.

These companies have been the pillars of its economic growth. But

now many are bloated, ineffective, and unprofitable. The reforms

were aimed to modernize them in order to attract private investors,

but they ended up creating an oversupply of commodities, which

caused the prices to plummet and consequently sabotaged the

privatization efforts. Now China has decided to allow the market to

absorb the stockpile, as a result, China is willing to accept a slower

rate of growth of around 6.5 %. The government will also loosen

price controls on water, electricity and natural resources. So that

these industries can consolidate, grow and become profitable. In

return, they will pay 30 % of earnings as dividends to the government.

Proceeds will be used to fund social security programs by

2020. Which will allow the Chinese people to save less, spend more,

and boost consumption and demand.

Always in focus "Made in China 2025"

Launched in 2015, the "Made in China 2025" strategy aims to modernize

and digitize country's industrial set up with innovative technologies.

With this strategy China seeks to create innovation-driven development,

smart technologies, pursue green development and increase efforts

to upgrade China from a manufacturer of quantity to one also of

quality. The strategy focuses of 10 key industry sectors: Next-generation

8 WORLD OF INDUSTRIES 2019
---
IT, including cyber-security; High-end numerical control tools and robotics,

which are of high importance for China as they help in improving

the manufacturing efficiency as labor costs rise; Aerospace and

aviation equipment, which reflects China's ambition to be a world leader

in aviation and outer space exploration; hi-tech marine engineering

equipment, as shipping plays a vital role in China's export driven economy

and also maritime security implications of China's territorial

claims in South and the East China Sea; Advanced railway equipment,

as China is rapidly connecting regions not only within its territories but

also in the Central Asia; Electric vehicles technology, which highlights

China's goal to replace traditional fuel vehicles; New generation electrical

power equipment, which are part of China's implementation of

clean and green power; Agricultural machinery; New materials like

graphene and nano materials; Biomedicine and high-performance

medical devices, which includes China's development of advanced

chemicals and medical equipment. The Chinese government has so far

invested vast resources, including subsidies and low interest loans to

support domestic hi-tech enterprises and encourage more Chinese

firms to expand overseas and acquire foreign firms with cutting-edge

technologies. The government has also established 5 national manufacturing

innovation centers and 48 provincial manufacturing innovation

centers. By 2025, the number of national manufacturing innovation

centers is set to reach 40. Initial results in some of the sectors have

been positive. Huge advances have been made in large aircraft and engine

manufacturing, semiconductor technologies, new material, and

gas turbine, 5G mobile network equipment and electric vehicles.

Trigger point

One of the factors in the Made in China 2025 policy that has irked

the western industrialized countries is China's goal to reduce imports

of high-end technologies from the EU and the U.S and replace

it with home grown ones. This initiative has not gone down well

with leaders in the west, as they fear that Beijing's state-subsidized

industries would get an unfair advantage over foreign firms and

could lead to market distortions. This issue has become one of reasons

for escalation of the trade and tariff war between the US and

China. US President Donald Trump has imposed tariffs on goods

worth $ 300 billion that are imported from the mainland. Tariffs will

especially be levied on products in the 10 key areas identified in the

"Made in China 2025" initiative. Despite advances it has made in

hi-tech industries, China still depends on foreign technology transfer

to push forward its own innovation agenda and next-generation

manufacturing goals. These US tariff measures are hurting the implementation

of China's 2025 goals, production of industrial robots

in mainland has seen a drop, production of integrated circuits, the

semiconductors that power smartphones, computers and other

electronic devices, as well as high-end industrial and military products,

also fell. Meanwhile, growth in the new-energy car sector,

which has been heavily subsidized by the government, slowed

down from more than 20 to 15 %. Except a few specific industry sectors,

the effect of trade war on the overall Chinese economy has

been more indirect, as it impacts the consumer confidence and

causes private sector companies to rethink before making any decisions

on investing in adding manufacturing capacity in China.

Some manufacturers are considering to shift their production bases

at locations that less politically sensitive. For example, some robotics

makers, have been considering Vietnam and India as a stable

option, hence they have already reduced the capital investment in

China.

Photographs: Lead Photo Fotolia

Double the strength and

the service life

P4.1 e-chain ® : for travel life up to 450.000 km!

P4.1is a world first: new low-abrasion and lubrication-free iglidur ®

pin/bore

connection, with optional intelligent wear monitoring for double the service

life, travels of up to 1.000 m, speeds of up to 10 m/s and fill weights of

up to 50 kg/m. Find more information at: igus.eu/P4.1

igus ® Tel. +49-2203-9649-800 info@igus.eu

motion plastics ® ... for longer life

The terms "igus, e-chain, iglidur, motion plastics" are legally protected trademarks in the Federal Republic of Germany and, where applicable, in some foreign countries.

Please visit us: IAS, Shanghai – Booth 8.1H-A213

igus-eng.indd 1 07.08.2019 11:21:08

WORLD OF INDUSTRIES 2019 9
---
Modest growth outlook for Russia,

but opportunities to gain market share

in various unorganized industry sectors

Year on year, Russian economy is getting robust, as

they find out ways to tackle external issues like

sanctions, drop in oil prices or currency crisis. As the

economy prepares itself with significant fiscal buffers,

the internal demand, consumption and exports

increases, thus boosting the demand for services like

transportation, warehousing, and complete logistics

solutions.

Russia's real GDP growth in 2018, reached nearly 2.5 %, surpassing

the general expectations, mostly due to the one-off effects of

energy sector. Growth forecasts for 2019-21 is between 1.2-1.8 %,

this reflects a more modest outlook in line with Russia's current potential

growth of about 1.5 %. In the first quarter of 2019, GDP growth

slowed for several reasons, mainly due to Russia agreeing on cutting

down oil production along with other OPEC members, a tighter

monetary policy and an increase in VAT rate from 18 % to 20 %.

Instead of annual growth rates, let's take a look at Russia's potential

growth rate, as this depicts a more accurate picture about the economy.

In the last 10 years, potential growth all over the world has

slowed, so Russia experiencing this slow down is nothing out of the

normal. In the last 5 years, potential growth was below its longerterm

average in most of advanced as well as emerging economies.

However, the slowdown had a more serious impact in Russia, as it

highlighted a weak productivity related growth and worsening demographics.

Based on data from world bank, Russia's potential

growth is set to gradually decline from 1.5 % in 2017 to 1.3 % by

2024. Russia seems to have undertaken certain reforms in-order to

reverse this declining trend. Reforms that are focused on bringing

more inward migration, higher investment, and increasing productivity,

increasing in retirement age etc. If Russia succeeds in executing

these reforms then it could bring about an increase of 1.5 % in

potential growth within the next 10 years. Of all the factors men-

Author: Sushen Doshi, International

Correspondent for World of Industries

NEWS AND MARKETS
---
tioned above, increase in productivity is the key driving factor, which has maximum impact

on Russia's potential growth. In order to increase productivity in such short span,

Russia needs to heavily invest on innovation, skills and competition.

Downside and Upside

Downside risks to Russia's medium-term growth outlook arise from the risk of deepening

of economic sanctions, financial crisis in emerging markets, a deteriorating global trade

environment due to trade war between US and China, and a dramatic drop in oil prices.

Russia also suffers due to its limited portfolio of exports. For more than 30 years, oil, natural

gas and energy products have been Russia's largest exports. Through continued efforts

from the government since 2014, growth in non-energy export volumes has been outpacing

that of energy and contributing to export diversification. But despite this, Russia's

export portfolio is shallow, with the share of oil/gas products still totaling close to 60 %.

In the last few years, Russia has prepared itself quite well for reducing the impact of

external shocks and volatility of the commodity prices on it's economy. Another area

where Russian macro-economic strengths lie is the low public and external debts, no

fiscal deficits, in-fact significant fiscal surpluses. On the upside, government has

launched multiple national projects aimed at strengthening human capital and increasing

productivity, if well-implemented, could positively affect Russia's potential growth

in the medium-term. Also, changes in labor legislation, with focus more on formalization

of workforce is a strong step as it could benefit the economy by 2.5 % of the GDP. The

share of informal labor is quite high in Russia, it is estimated to range between 15-20 %.

Russia continued its efforts to improve the business and regulatory environment for

SME sector by carrying out reforms in the areas such as getting faster permits for construction,

electricity connections, paying taxes became less costly by allowing a higher

tax depreciation rate for immovable assets, and cross border trading was improved with

less bureaucracy and online customs clearance facility. As a result of this, Russia advanced

to 31st place in the global ease of doing business ranking, representing an improvement

from the 35th place last year and ranked 120th seven years ago.

Russia' logistics sector overview

After struggling for years, growth and optimism has finally returned to the nation's

transport and logistics sector. From 2018 the industry saw a return to the high levels of

freight entering and exiting Russia. Russia is stepping up both its exports and imports it

receives from non-sanctioned trade partners. China, which is Russia's second largest

trading partner after the European Union, is keen to bump up Russia bound exports,

and Russia is ready to reciprocate. And this brings with it enhanced opportunities for

foreign companies, not just in terms of pure investment, but also as a market to sell

transport services and technologies.

With the rise of e-commerce industry, the market for 3pl service is expected to witness

significant growth. As competition amongst manufacturers increases, they aim to focus

more of their resources on their core competencies and outsource the logistics part of

the operation to professional third party service providers. This is set to escalate the demand

for 3pl service. Moreover, the 3pl services have a larger role to play as gains in

productivity, reliability, and significant reductions in cost can be derived.

Let's take a look at the market situation of logistics service providers in the country.

Revenues generated by the sector reached around $ 17 billion in 2015 and $ 19 billion in

2017. Russia's third party market is by far the largest in the CIS region, which is collectively

valued more than $ 25 billion. Outsourcing of transportation services takes roughly

of a fifth of market share in Russia. Comparatively, 3pl service providers cover more

than two thirds of the European and almost half of China's market. There are roughly

4000-6000 logistics companies in Russia. Out of these, only 100 can really be considered

true third party logistics service providers. Some of the big names include Eurosib, Nienshants

Logistics, STS Logistics and a subsidiary of Russia's railway, RZD Logistics. The

unsaturated nature of the market means international firms are well positioned to progress

in Russia. Firstly due to the fact that 3pl as an industry is a fairly new phenomenon

in post-Soviet Russia, many Russian companies handle transportation in-house. Most

of domestic firms also struggle to meet international service standards, this gives foreign

firms a competitive edge. The fact that the Russian outsourced transport sector is relatively

unorganized creates space for international companies to expand. So, third party

logistics sector in Russia is currently underdeveloped, ready to expand and fertile

ground for international companies to grow their Russian operations.

Photographs: Lead Photo Fotolia

WORLD OF INDUSTRIES 2019 11

Turkish Machinery.indd 1 14.08.2019 11:01:35
---
CeMAT Russia: fuelling growth in

Russia's logistics and transport sector

NEWS AND MARKETS

Russia's transport and logistics sector is fertile ground

for foreign companies. Opportunities are plentiful

across the length and breadth of the country. Investors

and companies should certainly look to the world's

biggest nation as their next market for investment or

expansion.

S

tretching across 17 million sq. kilometers, Russia is world's largest

country by size. It's so huge that it's geography is both a blessing

and curse. It's very size demands an extensive transport and logistics

network. In order to cater to its 145 million inhabitants with

all the goods and services, air, sea, road and rail logistics are in high

demand. With over 86,000 kilometers in rail track, a road network

over 1.4 million kilometers, plus numerous airports and seaports,

Russia has a well-established intermodal network hub.

Despite existing transport links, Russia ranks 85 out of 167 countries

in the world bank's logistics performance index. One of the

reasons for this lackluster performance has been the bleeding of

Russian economy mainly due to sanctions imposed by western

countries and declining oil prices. But since 2016, Russian economy

has been recovering at a steady pace so has been the transport and

logistics sector. Country's current logistics performance, however,

Author: Sushen Doshi, International Correspondent for World of Industries

points towards major opportunities for investment, as Russia is in

need of modern technologies and scientific attitude when it comes

to logistics. Domestic suppliers are competing with international

companies to provide comprehensive services, but increasing participation

from international companies will truly help this sector

overcome its challenges.

Considering the infrastructure and logistics competence there is

room for Russia to improve and expand. The Russian transport and

logistics market potential is estimated to be around $ 150 billion.

Warehouses equipped with new technologies, modernized cargo

handling facilities at ports, new airports, railway hubs and logistics

centers are needed to satisfy the country's rising demand. Foreign

firms are positioned better than domestic ones to play a major role

in development of Russia's logistics sector. Due to a lack of competitiveness

in domestic operators, foreign logistics businesses

have already been invited for investment – often in the form of tieups,

joint ventures or operational co-operation. Overseas investors

and companies with interest, experience and skills are injecting

large amounts into transport and logistics sector. For example,

Dubai's DP World, global port infrastructure and management specialists,

inked a deal with the Russia Direct Investment Fund. The

$ 2 billion investment is mainly targeted at enhancing Russia's port

infrastructure networks. Other foreign firms, such as DHL or Finnish

company Itella Russia, are already well established in the market.

Technological advantages, plus efficient operations and experience,

puts international brands at a significant advantage. Russian

government has welcomed these dynamic, cost-effective transport

and logistics solutions, so international operators should look at the

bigger opportunities present in Russia.

12 WORLD OF INDUSTRIES 2019
---
01 At Cemat, visitors can find latest products and technologies,

exchange ideas and get clarity in-order to make sound decisions

Moscow's prestigious Crocus Expo hosts the 10th edition of CeMAT

Russia - the international exhibition for materials handling, warehousing

equipment and logistic. This 3 day event is set be held from

24th to 26th September 2019, and is an ideal platform to interact

and engage with leading companies from Russia's logistics sector.

CeMAT Russia provides a exceptional prospect to create new potential

customers as industry professionals and managers from

small and medium-sized enterprises to large corporations attend

this event. CeMAT also assists in cultivating new relationships, creating

new networks and catching up existing customers to gain insight

and stay updated with the latest developments and requirements

of end users. Interest in the event among Russian

organizations has been steadily increasing with number of visitors

increasing from 4,500 to 5,500 within two years. A large chunk of

visitors were from the retail and wholesale segment, followed by

cargo transportation and warehousing services, warehousing

equipment, industrial goods production, consumer goods production

including food, beverages, pharmaceuticals etc. Taking a look

at the numbers of past years, most of the visitors placed their interest

in lifting and handling equipment, rack and storage systems,

warehouse management and automation equipment, packaging

and order picking equipment, conveyors, lifting and handling

equipment etc.

The event, organized by one of the world leaders in exhibition industry

– Germany's Deutsche Messe RUS, is supported by various

industry associations and the state as well as federal government of

Russia. Deutsche Messe's extensive market and industry knowledge

along with international experience makes this business event

of a truly global standard. Every year at the fairgrounds, organizers

host a series interactive sessions which involves exchange of ideas,

in depth discussions on important issues faced by the industry and

understanding the upcoming trends in the market. Just like the

manufacturing industry, the future of transportation and logistics

also has new driving forces like digitalization, tectonic shifts in international

trade, emergence of software driven and machine driven

processes etc. Many decision makers and managers are concerned

about how exactly will these changes affect them, what will

be level of investment and which products and systems to choose

for their operations, queries about integration of new systems with

existing ones, all these questions will be answered on the floor of

CeMAT, by interacting with experts, professionals, and manufacturers

in Moscow. In 2017 and 2018, the forum discussions included

topics like digital transformation of logistics; hardware or software?,

rise of big data, drones, IoT, cloud technologies, AI, AR in logistics

and intralogistics, developing successful strategies in the e-commerce

era, warehouses of the future: design or reconstruction? etc.

Product categories at CeMAT Russia

CeMAT Russia 2019

At CeMAT Russia, you can find the products with emphasis on functionality

and innovative technologies in the movement and lifting

of goods area, products that offer the right combination of cost-effectiveness,

maximum usability and smooth movement and handling

of materials. The Move & Lift section of the trade fair has on

display industrial trucks, forklifts and its accessories, vertical lifting

equipment and platforms, scissor lifts, escalators, cranes, hoists,

mechanical handling equipment, monorails, remotely operated

transportation systems, shelf storage & retrieval equipment, power

and drive technology components, hydraulics, pneumatics and

conveyor systems, complete supply chain management solutions,

complete robotic handling systems and port related logistics equipment.

The Store & Load section of the trade fair features automated

systems designed to increase productivity, and reach maximum capacity.

Visitors can find automated guided vehicles, conveyor systems

that require extremely low drive energy, apps for storage planning,

storage shelf systems, factory and workshop equipments,

pallets, bins and containers, industrial doors & gates, cleaning facilities

for warehouses, loading bridges and ramps, transfer bridges,

loading systems for bulk goods and containers, and complete logistics

service packages. The Manage & Service section of the trade fair

will give you an excellent overview of all the logistics services now

available for managing today's challenges. This includes transport

financing models, logistics planning, traffic control systems, integrated

traffic systems, real estate & sites for logistics operations. Logistics

IT is the technology zone dedicated to professional logistics

software and systems. The focus here is on innovative IT solutions

for production logistics, commercial logistics, cloud computing and

mobile logistics applications in the warehouse. This section of Ce-

MAT Russia features e-logistics services, intralogistics systems &

software, computer & control systems, control technology & sensors,

identification technology, Auto ID/RFID etc. In 2017, Russian

e-commerce sector was valued at $ 16 billion and is set reach $ 25

billion in the coming few years. E-commerce in Russia is only set to

keep expanding. At CeMAT Russia, the Pick & Pack exhibition area

focuses on latest packaging technology for warehouses, packaging

and order picking systems, labelling and identification systems,

measuring and dispensing units, and various kinds of packaging

materials.

Photographs: Lead Photo Fotolia, Deutsche Messe AG

www.cemat-russia.ru/en

WORLD OF INDUSTRIES 2019 13
---
"Ready to take off"

LOGISTICS

GE Aviation, a division of the American conglomerate

General Electrics, manufactures jet engines for aircraft.

For maintenance of the highly specialized engines, a

new plant with a state-of-the-art test laboratory was

built in Três Rios, Brazil, in 2018, using intelligent

technology from Stahl Cranesystems. Stahl Talhas, the

Brazilian partner of Stahl Cranesystems, developed a

sophisticated, highly automated solution for

transporting the engines through the halls and the

testing area.

The GEnx engines of a Boeing 787 Dreamliner accelerate the

245-tonne aircraft to up to 945 km/h during take-off. To ensure

the safety of the engines despite the extreme stresses, they have to be

serviced and overhauled regularly after 2,500 to 15,000 take-offs and

landings. GE Aviation maintains various service locations worldwide

for maintenance of its engines, including the company GE Celma in

Brazil. More than 300 aircraft turbines are serviced at GE Celma's

main complex in Petropolis every year. The engines are dismantled

completely, inspected, cleaned, repaired if necessary and then reassembled

– a procedure that can take up to 65 days and involve over

12,000 parts. Every jet engine is tested under simulated flight conditions

(e.g. take-off, landing, cruise mode) in a special test cell before

it is put back into service. The Dreamliner's new large GEnx engines

require larger maintenance areas and more efficient test cells. For

this reason, a new plant was built in Três Rios with one of the largest

and most modern test bays in the world. The plant is equipped with

comprehensive control technology for fast data processing, automatic

fault diagnosis and real-time display of test results.

The intelligent crane and lifting technology in the facility comes

from Stahl Cranesystems and was installed by the company's cer-

14 WORLD OF INDUSTRIES 2019
---
01 A 10-tonne auxiliary crane

is responsible for handling of

turbine parts and components

01 02

02 The engines are

dismantled, inspected, cleaned,

repaired and reassembled in

the maintenance bays

tified partner in Brazil, Stahl Talhas. The engineers and technicians

from Stahl Talhas developed and built a highly automated

custom transport system to manage the complete handling of the

turbines − from unloading on arrival to transport to the maintenance

stands and safe suspension in the turbine testing room.

"The complexity of the facility called for a high degree of technical

sophistication," explains Sandro Galtieri, Managing Director of

Stahl Talhas. "On the one hand, the low overall height of the plant

posed a particular challenge for the development of the structural

and mechanical design. On the other, the entire operating logic,

including electrical design and software, placed high demands on

our engineers. The hoists and cranes communicate with each other

permanently to ensure that everything runs smoothly in the

plant."

Intelligent crane concept

The material handling system erected by Stahl Talhas consists of a

central aisle, eight maintenance areas and a testing area. The engines

must be transported safely from the central aisle to the eight

maintenance bays on the right and left and into the testing area. The

turbines in the central aisle are handled by a double girder overhead

travelling crane with a lifting capacity of 40 t. In addition to

this, Stahl Talhas installed a single girder overhead travelling crane

with a lifting capacity of 10 t to transport turbine parts and components.

The eight maintenance areas are equipped with monorails.

The crane runways are connected by an interlock system for crane

locking: a modern camera-based system detects the current position

of the runways with the help of bar codes and automatically

aligns them with a positioning accuracy of ± 1 mm. This ensures a

smooth transition between the crane runways. The cranes and

hoists are operated independently via radio remote control. "A special

crane design was required to transport the turbines into the test

cell," says Sandro Galtieri. A monorail runway with a curved section

was installed here.

In all, four frequency-controlled SHF 60 wire rope hoists, each

with a lifting capacity of 20 t, and two frequency-controlled SHF 50

wire rope hoists, each with a lifting capacity of 5 t, from Stahl Cranesystems

are used. A selector switch on the radio control can be used

to switch between tandem operation and normal operation of the

hoists. All hoists are equipped with articulated trolleys for entry into

the test cell. Since the height of the monorail runway in the turbine

testing room drops from 400 to 245 mm and the internal ceiling

height is only 201 mm, a special low articulated trolley had to be

designed for the SHF 60 wire rope hoists.

Communication ensures safety

When entering the test cell, communication between the hoists and

the locking system of the test cell is particularly important. In the passage

to the testing room the monorail runway has a section that can

rotate 90 °. This section is motorized and has its own operator panel.

The hoists can only enter the section if this section of the monorail is

not rotated. The track section is released by means of specially developed

sensors which communicate with the programmable logic controller

(PLC) of the control panels. "The door of the testing room can

only be closed when the rotatable section of the monorail is in rotated

position. Here our system can also communicate with the customer's

own operator panel," explains Sandro Galtieri.

During testing, the engine must be held by the integrated holding

fixture of the test cell and not by the hoists. Using the slack rope

monitoring function of the Stahl Cranesystems hoists, the control

system recognizes the correct placement of the engines in the holding

frame. Only when this is ensured are the support pins between the

hoist and the suspension device released. The entire weight of the

engine then rests on the support structure and the test can be carried

out correctly.

Equipped for the future

Following two years of construction, the new plant in Três Rios was

inaugurated on 17 October 2018. On an area of 61.8 hectares, an average

of 700 engines will be tested per year and up to 12 engines prepared

for testing in parallel. In order for the new plant to be able to

perform at full capacity, a further step is necessary. "The engines must

be moved into the maintenance stations rear side first. For entry into

the maintenance stations on the left, this makes it necessary to rotate

the engines 180 ° in the central aisle. So far, only the maintenance stations

on the right side can be used, so a rotating crab will soon be installed

on the double girder overhead travelling crane to complete the

system," explains Sandro Galtieri. The Brazilian is visibly enthusiastic

and delighted about the project: "The communication and coordination

with GE Celma was very good and per fectly coordinated despite

the many companies involved in the construction of the plant. With

expertise and components from Stahl Cranesystems, we have developed

and built a state-of-the-art system for one of the world's leading

aviation companies. We are really proud of this."

Photographs: Stahl Cranesystems

www.stahlcranes.com

WORLD OF INDUSTRIES 2019 15
---
At the right place

at the right time

LOGISTICS

The system integrator Beumer Group installed its

flexible and modular warehouse control system (WCS)

at the new European Logistics Centre (ELC) of the

Polish automotive parts supplier Inter Cars S. A. near

Warsaw. This system controls the complete material

flow from inbound to outbound in real time: picking,

packaging and shipment are coordinated, throughput

is optimized and costs are reduced. The products reach

the right place in the desired time within the

distribution center.

Inter Cars is a leading distributor of spare parts for cars, vans and

trucks in Central and Eastern Europe. The company, headquartered

in Poland, has several hundred subsidiaries and branches

spread all across the Baltic states and the Balkans. In addition, there

is a nationwide network of approximately a thousand workshops.

Until the end of 2016, the logistics center was located in Czosnów.

From here, the goods were distributed to the smaller distribution

centers in Europe, which on their side supplied the workshops and

the customers. However, the quantity of spare parts to be stored and

dispatched exceeded the capacities of the logistics center. The managers

decided on a new automated European Logistics Centre in

Zakroczym, approx. 30 km from Warsaw. The in-house logistics

provider ILS was commissioned as general contractor − "and this is

how we got involved as system supplier of intralogistics solutions",

says Sandra Lückmann. Sandra Lückmann is business development

manager at Beumer Group in Beckum, Germany, and was

responsible for the successful handling of this order. "As a system

integrator, we not only designed and installed the entire conveyor,

picking and sorting technology, but also our flexible WCS." It integrates

and controls the material flows including inbound, quality

assurance, picking and shipping.

Adaptable WCS

In May 2017, the ELC went into operation. There, the Beumer WCS

serves as link between the warehouse management system (WMS)

of the owner and the entire material flow equipment. "While developing

this software solution we did not focus on adapting the processes

of the customer to our WCS, but we adapted our system

project-related to the respective customer requirements", explains

Lückmann. Therefore it has a modular design. It controls the packing

sorter and the shipping sorter as well as the pick-to-light system

in the inbound area, coordinates the automatic supply and application

of the shipping labels and supports the routing of the individual

items on the conveyor lines. "This route planning optimizes the

performance of the system and controls the distribution of the different

types of spare parts, depending on the requirements", says

Lückmann. "The WCS ensures the optimal route of the goods."

The new European Logistics Centre currently stores around 7

million pieces like spark plugs, brake disks, V-belts, batteries, but

also more bulky parts, like exhausts and hoods. The complex is

comprised of four buildings, the largest one with 30,000 square meters,

ten meters in height. It is equipped with a four-story shelving

rack. The other warehouses have a surface of 5,000 square meters

each. They store tyres and hazardous material, such as oils and varnishes,

that must be kept separate for reasons of fire safety.

The employees use their hand-held scanner, where the company's

warehouse management system indicates which goods have to

be commissioned in batches. The products are divided into different

clusters, similar to clothing sizes into S, M, XL and XXL, depending

on dimension and weight. The totes filled with S and M

parts are placed on a roller conveyor which forwards them automatically

to the packing sorter, the Beumer BS7 Belt Tray Sorter.

16 WORLD OF INDUSTRIES 2019
---
There are currently stores around 7 million of pieces in Zakroczym like

spark plugs, brake disks, V-belts, batteries, but also exhausts and hoods

interface to the machine control", describes Lückmann. "BG Fusion

combines machine and system data, enabling the responsible employee

to trace the order status in real time."

Task fulfilled, project successfully completed

"This system achieves a throughput of approximately 14,000 parts

per hour", says Lückmann. "However, with presorting, it manages a

throughput of approx. 27,500, almost twice as much." Depending

on the content, the WCS also distributes the incoming totes to one

of three induction areas where the employees take the items out of

the tote, identify them using matrix camera and place them on the

sorter.

"The WCS plays a crucial role in this project. After all, exactly this

solution ensures that all spare parts within the European Logistics

Centre are in the right place at the right time", Lückmann explains.

Beumer Group has completely fulfilled the targets requested by the

customer. In addition, to be able to concentrate fully on its core

business, ILS has also transferred the maintenance and servicing of

the system to Beumer Group. Employees of Beumer Group are on

site around the clock. As part of the residential service they take

over responsibility for availability of machines and systems. The

Beumer Group employees also perform preventive maintenance

work. The team carries out maintenance and inspection work on

the systems at defined intervals, checks the safety devices, electrical

and control components as well as automation technology. And

they can perform repairs that might be necessary in case of an unscheduled

failure of components.

Photographs: Beumer Group

www.beumergroup.com

WCS distinguishes between "light" and "heavy"

In order to ensure a gentle handling of the goods and prevent packaging

from getting damaged, the engineers of Beumer Group have

divided the destinations of the packing sorter in two parts. If the

spare part weighs up to 1.4 kilogram, the WCS classifies it as "light",

up to six kilogram as "heavy". According to this classification, the

software assigns the goods to the left or to the right side of the destination

when picking the order, enabling the employee to place the

heavy goods in the tote or the cardboard box first, then the light

ones.

The XL goods from the main storage however are so large that

only one item fits in one totes. Therefore the WCS does not forward

them to the packing sorter but directly to the consolidation area via

the roller conveyors. Together with the goods from the other buildings,

such as tyres and hazardous materials, as well as the products

coming from the packing sorter, the orders are combined into shipping

units. These are weighed in the Quality Assurance and compared

with the target weight, closed, labelled and then strapped.

Now, the WCS guides them over the roller conveyors to the connected

shipping sorter that distributes the consolidated orders

according to delivery routes at a capacity of 2,500 totes per hour.

If spare parts are returned, they are checked by the employees. If

the spare parts are ok, the employee enters them in the system and

sends them back to the warehouse.

Tel.: Tel.: +49 (0)4743/2769 27690 · · www.astro-motoren.de

Zu Land, On land, im Wasser, at sea, under unterwater, Wasser, in in theder airLuft andund in space im Weltall -

Small Elektrokleinmotoren electric motors according bis 200 Watt to customer nach Kundenwunsch requirements.

Clear overview of all processes

Fortschritt hat unser Tempo

Besides the modules which control the material flow, Beumer's

own BG Fusion tool is also in use. This visual display system offers

the user a web-enabled user interface for configuration, control

and reporting. It displays system data as alarms in a uniform and

centralized way and shows status messages, fault messages and all

relevant data. "The entire system status can be supervised via the

Unsere modularen Elektro-Kleinmotoren und Getriebe ASTRO bauen Motoren wir GmbH in Millionen & Co. KG

Debstedt · Große Beek 7 · 27607 Geestland

Kombinationen – passgenau zu den AnforderungenTel.: jedes (0)47 43 Kunden.

/ 27 69 · astro@astro-motoren.de

2017

Debstedt · Große Beek 7 · D-27607 Geestland · Germany

Tel.: +49 (0) 4743 27690 · astro@astro-motoren.de

www.astro-motoren.de

WORLD OF INDUSTRIES 2019 17

ASTRO.indd 1 25.03.2019 13:05:23
---
AKL-Power also for pallet storage

and retrieval machines

www.fotolia.de

High-resolution camera simplifies

work steps

The Cubiscan 125 from AKL-tec is now available with

a high-resolution 20-megapixel camera with optical

zoom. The camera allows the user to directly take a

high-resolution top view photo in a fully automated

process. In

addition, the software

offers the

possibility of

"cropping", where

the object is

picked out of the

image. Furthermore,

the high

resolution can be used for the recognition of plain text.

For measurement, small parts and non-cubic objects

are measured by infrared scanning and larger, cubic

objects such as cardboard boxes by ultrasonic sensors

with a precision of up to 0.1 cm. Cubiscan 125 is

designed for interfacing to a warehouse management

system. This simplifies the picking and transportation

planning on the one hand, and the choice of packagings

and storage locations on the other. It is also

suitable for checkweighing and compatible with

programs for loading optimization. The touch screen

display ensures easy operation. A trolley and further

accessories enable installation of a mobile workstation.

www.akl-tec.de

With 45 years of experience in warehousing technology and

warehousing systems, Dambach Lagersysteme is a reliable

partner for system integrators and general contractors. As a

technology driver, the company is continuously expanding its

product range to include its own load handling devices, shuttles

and conveyor technology. One of these developments in the

field of pallet storage and retrieval machines will be presented

at the Logimat.

With the aid of linear motors as travel drives, pallet storage and

retrieval machines are now reaching driving performances that

are usually only seen in automated small parts warehouses. The

running wheels no longer have to transmit drive forces. This also

reduces wear in the drive system. True to the motto "Dynamics

warehousing", the performance gap between conventional

storage and retrieval machines and shuttle systems is now being

closed. The manufacturer offers storage and retrieval machines

with linear drive across the entire product range: From small

parts storage and retrieval machines to rack conveyors in the

low temperature sector.

www.dambach-lagersysteme.de

Third Generation Kanban

Moving all-rounder

PRODUCTS

The Stocksaver system from Werma Signaltechnik is a

simple retrofit solution for all FiFo roller racks and

realizes the third generation Kanban in production

logistics. With the third generation Kanban, intelligent

reporting points on the FiFo rack ensure transparency

of the material stock. For example, at the automotive

supplier Auto-Kabel, where the solution is used to

prevent machines from stopping. The clever system for

process optimization protects the FiFo racks from idling

and successively reduces the safety stocks previously

required. In addition, the machine operator no longer

has to leave his workstation to order replenishment

from the logistics provider, as the Stocksaver software

informs the warehouse personnel automatically and in

time about the need for and priority of replenishment.

www.werma.com

Habasync high-performance toothed belts from Habasit are

used as all-rounders in numerous intralogistics applications –

and that with low operating costs thanks to durable materials

and simple maintenance

processes. Belt widths from 10

to 600 mm are available. The

600 mm variant that is made of

thermoplastic polyurethane

with an aramid tensile member,

has a pitch of T10 or H.

Individual configurations are

also possible, depending on the

application. At the same time, the thermoplastic polyurethane

with hardnesses from 88 to 92 Shore A (depending on the type of

base material) is also resistant to oil, grease or chemical agents

on the one hand, and to hydrolysis on the other. In order to

minimize abrasion during operation, the high-performance

toothed belts are also available with a polyamide coating.

www.habasit.com

18 WORLD OF INDUSTRIES 2019
---
Connectivity

for all dimensions

Robust connectors from the FINEPITCH series

With FINEPITCH board-to-board connectors, Phoenix Contact provides shielded and

unshielded solutions for signal and data transmission for the first time. This allows you

to realize individual PCB orientations with different designs, stack heights, and numbers

of positions in compact 0.8 and 1.27 mm pitches.

For additional information call +49 5235 3-00 or visit phoenixcontact.com

DC 05-18.000.L1

© PHOENIX CONTACT 2018
---
Cool solution

to a hot issue

MOTION AND DRIVES

The transport of bulk materials makes heavy demands

of the drive system, because belts and drives are

mostly subjected to rough ambient conditions. The

premium gear unit manufacturer Flender has in its

portfolio three standard gear unit series based on

helical- and bevel-helical gear units. In particular it

succeeded in ramping up the increasingly important

thermal rating by something like a further 20 per cent.

The world's population is growing – and with it the need to be able

to produce valuable minerals and other resources as efficiently as

possible. Against this background bulk-material conveyor technology

is further gaining in importance, so that an unmistakable trend

towards higher transport performances is becoming apparent. The

big challenge is to develop economical drive solutions to this problem.

Anyone manufacturing conveyor belts for worldwide operation

in partly inhospitable environments knows what heavy demands

Mother Nature makes. As well as efficiency and quality, the thermal

rating is decisive. Flender is therefore applying its decades of Knowhow

to developing gear unit solutions that, firstly, deliver lower power

losses and, secondly, can transmit high power outputs. B3SE gear

units meet this requirement without the need for external cooling.

These come in ten standard unit sizes and can be used for drive tasks

with very high power requirements – including as multiple drives.

Up to 3,000 kW without external cooling

The latest generation of these helical- and bevel-helical gear units

whose market launch Flender is pressing ahead with on a broad

scale in 2019 shows what is at all possible. Up to a range of between

2,500 kW and 3,000 kW, depending on ambient conditions and gear

unit design, external cooling systems can be dispensed with. The

reason for the unusually high thermal rating of these gear units is a

further increase in efficiency and heat dissipation.

Just the extension of the housing surface in conjunction with the

redesign of the air guide cover featuring a fan that is independent of

the direction of rotation ensures something like 20 per cent more

heat dissipation. On top of this come optimizations of gear unit design

for reduction of power loss, so enabling torques of up to 490,000

Nm to be standardly transmitted with the B3SEs. The result is that in

practice there are situations where because of the high thermal rating

of the new gear units one unit size smaller than before can be

selected. If the mechanical system permits, users also profit from

this technically and economically improved solution.

Test rig confirms theory and practice

Simple as the result sounds, the development of the new B3SE gear

units is still pragmatic in detail. For this purpose Flender has invested

in a high-performance test rig that intensively supports its

own research and development department. It enables gear unit

solutions with a rated mechanical output of up to 2,000 kW to be

tested under actual practical conditions. Gear units are analyzed on

it thermally, resulting in real detailed improvements in the case of

the new B3SE gear units.

At the same time a test rig of this kind provides the basis for testing

calculation and simulation programs used in gear unit and

drive solutions for consistency of theory and practice. In this respect,

too, users profit from the gear unit manufacturer's decades of

experience. Because the huge standard modular gear unit system

enables gear unit experts to carry out application-specific adaptations,

so offering users the big advantage of short delivery times.

The high level of standardization further underscores the servicefriendliness

of Flender's gear unit solutions.

02 The compact gear units of

the A series constructed can, as

plug & play solutions, be operated

flexibly and conveniently.

01 Flender's new B3SE helical- and

bevel-gear gear units have been

further-optimized to enable an up

to 22 per cent higher thermal rating.

20 WORLD OF INDUSTRIES 2019 Advertisement
---
Easy gear unit selection thanks to

electronic assistance

An example of further benefit in combination with software is

Flender's new swing-base configurator by which complete drive

trains can be configured in the same way as integrated drive systems.

The gear unit manufacturer is thus underscoring its core expertise

as a gear unit constructor and drive specialist. Electric motor,

coupling, gear unit, cooling systems, supports – all must be

perfectly coordinated. Starting theoretically from the conveyor belt

project, users can with the help of the software select from Flender's

different modular product kits or standard portfolio and so use the

German gear unit manufacturer's Know-how to realize their own

ideas. The decisive advantage: total technical drive solutions can be

developed fast and be incorporated into users' own engineering designs

with the help of 3D data and dimensioned drawings.

B3SE gear units described here form just one of many solutions

in the Flender repertoire, which is extremely extensive, standardized

and optimized to meet specific applications. Basically three

series are distinguished for equipping bulk-material conveyor belts

with drives. Alongside the new conveyor belt drives of the E series,

which operate satisfactorily without external cooling, even in especially

hostile environmental conditions, there is the extremely compact

A series as well as the high-performance gear unit solutions of

the H series generating torques of up to 1.4 million Nm and outputs

of up to 4,500 kW. Common to all of these is that users profit qualitatively

from decades of experience and because of this premium

manufacturer's high level of in-house production even project-specific

designs are also rapidly possible.

From compact plug & play through to

high-performance system solutions

Wherever space is tight, that is where the A series, with its biggest

feature, its compact overall design, really comes into play. After all,

not every mine offers enough space for complicated measuring,

alignment and fitting work. This gear unit solution, comprising a

motor, a coupling and a gear unit, is delivered ready to fit and need

not be laboriously aligned on site. The reason for a plug & play of this

kind is the patented self-aligning system thanks to which the gear

unit is very easy to handle. It need only be plugged in and the torque

then be absorbed by a torque arm. In short: flexibility with regard to

location, fitting, available space and commissioning is the common

denominator that had priority during development of the A series.

By comparison, the H gear unit series for highest possible outputs

and torques is being developed very application-specifically on the

basis of standard component parts. 28 unit sizes here offer the economic

and technical flexibility for putting together the total package

04 As a specialist in

gear unit construction

and drive technology,

Flender concentrates

intensively on developing

the latest high-performance

solutions.

03 The standard drive solution of

the H series was developed for maximum

outputs of up to 1.4 mill. Nm or

5,000 kW.

Great prices are waiting

for you!

For the bulk materials segment, premium

gear manufacturer Flender has three standard

series in its portfolio based on helical and

bevel-helical gear units. Would you like more information

about the Flender innovation and at the same time win great

prices? Nothing easier than that! Scan the following QR code

or enter www.flender-gewinnspiel.de in your browser - and

you will be ready to start our lottery - good luck!

project-specifically. Here, too, the wide standard range in conjunction

with Flender's great experience gives valuable support. Because,

as well as the gear units and couplings, the company also

builds the cooling systems itself. This has the advantage for users

that during the project-specific design of a total solution not only in

the area of gear units and gear teeth and during torque transmission

but also during thermal adaptation further optimizations can be undertaken.

Conveyor belts function not infrequently in tropical heat

or Siberian cold, so perfectly coordinated total solutions are one of

the most important prerequisites for the necessarily high availability

of bulk-material conveyor belts. On top of this air- or water-type oil

cooling systems open up the possibility of individual pressure lubrication

for high-speed rolling bearings or for heavily loaded gear

teeth and/or of a cleverly designed oil management system.

Plug & play also plays an important role in the H series, so enabling

the complete drive solutions to be fitted on base frames, designed

by Flender project-specifically and delivered ready to fit. The

standard portfolio for application-specific drive solutions that

Flender can deliver anywhere in the world is extremely comprehensive

and so one of the company's important unique selling propositions:

Cooling and heating systems, add-on flywheel masses, braking

systems, special air filters, auxiliary drives, backstops, couplings

with and without torque limitation, special shaft sealing systems to

prevent abrasion damage in dust-laden ambiences, measuring systems,

condition monitoring – and much, much more.

Conveyor systems profit from experience, qualityconsciousness,

in-house production level

The German Bocholt-based gear unit manufacturer Flender's aim is

to bring its decades of experience in gear unit construction into line

with users' industry knowledge. Continuous detail improvements

and continuous optimization of the standard modular gear unit

system form the framework which users all over the world profit

from. It is precisely in the case of bulk-material conveyor systems

that are mostly exposed to harsh ambient conditions that highquality

and perfectly designed drive solutions show positive effects

in the area of performance capability, availability and servicefriendliness.

The new E series of conveyor belt drives fitted with high-efficiency

cooling systems and so improved thermal characteristics shows

yet again what is possible. Complementarily to this conveyor technology

profits from the compact standard gear units of the A series

and H series for maximum drive outputs of up to 4,500 kW. This

means in practice that users can choose from a huge range of standard

solutions and so plan their projects conveniently. More still,

for requirements that go beyond the normal there are specialists in

Bocholt that also supply project-specific answers.

Photographs: Flender

www.flender.com/conveyorbeltdrives

Advertisement WORLD OF INDUSTRIES 2019 21
---
Geared motors: Test area

examines drive units thoroughly

Conveyors in large intralogistics

applications or baggage handling

systems often have lengths of several

kilometres. Such complex systems are

powered by hundreds of geared motors. Experts

from Nord Drivesystems gather precise knowledge

about the behaviour and control of drive technology

in an application test area in Bargteheide, Germany.

There, new products and technologies are also tested.

MOTION AND DRIVES

How do geared motors behave in practice? What conclusions

about the service life and maintenance of a drive unit can be

drawn from the operating data of a frequency inverter? Where does

further optimisation need to be made to a new drive concept? To

provide customers with optimally tailored products and innovative

service concepts Nord Drivesystems seeks the answers to these

questions in its own test area. The test system consists of an oval

conveyor belt with rising and falling sections, as well as a bypass

section with input and discharge points from the main route. The

individual conveyor belts are driven by various types of Nord geared

motors and frequency inverters. The fifteen drive units are networked

with standard interfaces and can be monitored through the

web. The frequency inverters and motor starters are controlled via a

Profinet bus, but the Nord Drivesystems drive technology can also

handle all other common bus systems.

Industry 4.0: Drive data in the cloud

As with all Nord drive units, the drive units in the application test

area are fully Industry 4.0 ready. They regularly transmit their status

data such as current consumption, speed and voltage via the bus

cable using the UDP communication protocol, without affecting

the control communication. To keep the data volume as low as

possible only the values which have changed since the last transmission

are sent. The status data are transmitted via an Internet

gateway to a secure cloud, where they are available for further

analysis and evaluation. Fault conditions and drive overload can be

visualised and detected. In addition, status data can be evaluated

for energy management and remote maintenance.

Another important aim is to develop and provide economical

concepts for web-based condition monitoring and predictive maintenance

for smaller geared motors which are used in large numbers

in intralogistics applications. For these systems, additional physical

real sensors, such as those which are used for condition monitoring

in industrial gear units are often too expensive. Virtual sensors i.e.

pre-processing of internal status data enable determination of oil

temperature and oil ageing for predictive maintenance without the

use of physical sensors. NORD is currently working intensively on

solutions for status monitoring with the aid of virtual sensors. For

this, we use all of the facilities of our own application test area.

22 WORLD OF INDUSTRIES 2019
---
01 02 03

Obtaining qualified insights

Further application data such as the data from connected sensors

and actuators can be saved in the cloud at any time. Among other

things, Nord Drivesystems has equipped the drives in the test area

with encoders, in order to obtain deeper insights into the actual

behaviour of the drives. By inserting a heavy object onto the running

belt, dynamic properties are required in order to achieve the required

torque. By means of the encoder, it can for example be determined

whether the geared motors can provide the planned acceleration in

reality with larger loads on the conveyor belt and actually meet the

customer's requirements. At the same time, Nord determines

relationships and dependencies on ambient conditions in real use,

which cannot be obtained with purely test bed operation under

standardised conditions – valuable know-how for providing advice,

troubleshooting and maintenance on the customer's premises.

Target and actual comparison with algorithms

By means of light barriers on the conveyor belts in the application

test area, the frequency inverter detects whether there is a load on its

conveyor belt. If no load is present, it measures the electrical data

and compares these values with a reference value. If this is exceeded,

the inverter detects that something has changed in the mechanical

system. This can be caused by increased friction, wear, a damaged

bearing or gear unit or a trapped foreign body. By comparing

the virtually determined status data with real measurements,

mathematical relationships can be derived for the system and data

evaluation algorithms can be validated and improved. Stresses to

the system due to continuous operation or frequent starting and

braking can be determined. The question of what information can

be derived from the measured values with the aid of algorithms and

how this can be utilised for predictive maintenance is tested in

practice by Nord Drivesystems together with pilot customers.

01 Intralogistics solutions such as the Nordac Link field distributor are

fully Industry 4.0 ready and can transmit important drive status data for

predictive maintenance concepts into the cloud

02 In the application test area, drive experts from Nord Drivesystems

obtain deeper insights into the actual behaviour of drive units in practical

use via encoders and light barriers

03 The status and operating data of the example system can be

analysed and evaluated in the cloud and clearly visualised in a

web-based browser view

Realistic simulation of conveyor applications

The objective is to be able to determine the normal current and load

values for the customer's installation during a learning phase. In

future operation, algorithms will monitor whether all operating

parameters are within the normal range. Calculation models which

are produced with the aid of the application test area also help Nord

Drivesystems in the planning of customers' projects: The characteristics

of a conveyor belt can be simulated on the basis of a mathematical

model. Parameters such as belt friction or the inertia of the

belt are known. Together with the values from practical tests in the

application test area, a conveyor system can be simulated with

adequate precision in order to provide the customer with more

precise design recommendations than would be possible with

merely the planned performance parameters. This avoids expensive

over-engineering. Of course, the test area is also used as an illustrative

demonstration to customers for the topic of Industry 4.0. Thanks

to the link to the cloud, the application test area can also be demonstrated

at exhibitions and on-site visits throughout the world.

www.nord.com

Everyone needs one

Servocouplings for all

drive constellations

–inexpensive price

–wide product range

–short lead time

www.mayr.com

your reliable partner

MAYR_EN.indd 1 12.03.2019 13:31:02

WORLD OF INDUSTRIES 2019 23
---
Challenges for cable manufacturers

in the factory of the future

AUTOMATION

Today, manufacturing is hardly conceivable without

industrial robots and their areas of use are increasing

continuously. But due to the permanent

three-dimensional movements in the automated

factory, the cables that supply the robot are

subjected to extreme levels of stress. A special

challenge for manufacturers of cables and

connecting components.

24 WORLD OF INDUSTRIES 2019

The International Federation of Robotics (IFR) predicts that

by 2020 more than 1.7 million industrial robots will be working

in factories worldwide. A huge worldwide market for robot

manufacturers. To ensure that robots are supplied with data

and energy without any interruption, it is worth taking a look at

the cables that have to "go along with" the 3D movement of

robots, which are on the move continuously. Robot cables for

applications where the cables are subjected to torsional stress

have to be constructed and manufactured in a completely

different way to cables for linear motion. They must be as compact

and as closely braided as possible and have an outer jacket

extruded at high pressure. The reason that this is important is

because this special "hardness" enables the cable to follow the

motion pattern of the energy chain.
---
Robot cables have to withstand several million

movements

Robot cables, in contrast, need force-compensating elements, loose

braiding elements, different slip planes and completely different

shield concepts in order to ensure they continue to function

correctly even after several million movements involving torsional

stress. This is because the cables used in robot technology have to

repeatedly change the directions in which they move. For example,

the diameter of the braid structure can actually change with torsion

angle. Cable specialist igus incorporates damping elements and

torsional-force absorbing felt into the core groups, which are

specially designed for use in applications involving continuous

changes in torsional stress, in order to offset the forces acting on the

cores. The requirements for the shielded cable types are especially

high. In order to ensure that the forces acting on the shield wires are

not too large, the motion plastics specialist places gliding elements

above and below the shields. These elements ensure that the shield

can move freely in relation to the overall braiding as well as the outer

jacket. The shield structure is designed for force redistribution

and has damping elements in the direction of that force redistribution.

This "soft" mode of construction gives the entire cable the necessary

freedom of movement, reduces tensile and compressive

forces, and preventing shutdown of a machine due to a premature

conductor breakage.

Optimum protection with the energy chain

On the basis of know-how gained over more than 50-years of experience

in this area, the jacket materials have been optimally

matched to the plastic of the triflex R robot energy chain, reducing

abrasion and wear to a minimum. The triflex R TRCF is a closed

energy tube based on the three-chamber principle: all three chambers

of the TRCF can be opened and closed independently of each

other. The supply hose is placed in one of the three chambers of the

energy tube and is therefore protected against deformation. This

makes the energy supply process reliable whatever the axial

position of the robot is.

The main feature that ensures reliable and operationally safe

guidance of robot cables and hoses is compliance with the minimum

bending radii. If the latter are not adhered to, there is a risk of

cost-intensive plant failures. The technical design of the igus triflex

R ensures that the prescribed minimum bending radius is adhered

to whatever may be the working position of the robot - a circumfer-

02

01 The technical design of the igus triflex R ensures that the

prescribed minimum bending radius is adhered to whatever

may be the working position of the robot

02 In the 3,800 square metre test laboratory, cables are

tested extensively with 2 billion test cycles per year

03 The jacket materials have been optimally matched to the

plastic of the triflex R robot energy chain, reducing abrasion

and wear to a minimum

01

03

WORLD OF INDUSTRIES 2019 25
---
AUTOMATION

ential outer stop prevents bending

below the minimum bending radius.

Moreover, the modular design of the

igus triflex R ensures that a torsion

angle of approx. +-10° per chain link is

not exceeded. This has the advantage

that the torsional stress on the cables is

distributed along their whole length and

not only at one end, which is the case with

other systems. The defined minimum bending

radius of the triflex R robot energy supply

system guarantees process reliability especially in robot applications

with supply hoses as well as in the case of flow punch bolting.

This is because a kink in the supply hose interrupts the power

supplied to the screws on the tool and the process is disrupted.

Tests offer plannable reliability and reduce costs

"Chainflex Ethernet cable CFRobot8.Plus tackles

15 million torsional movements up to 360 degrees

and offers fast data transmission to 6-axis robots."

Igus has been repeatedly setting new standards for more than

25 years with its range of "chainflex" moving cables in the areas of

automation and robot technology. It is regarded in the industry as a

leading company for special cables, available from stock, for

continuous motion in applications involving energy chains and

torsional stress. igus has a 3,800 square metre test laboratory, the

world's largest lab for dynamic cables. Here, igus twists the chainflex

CFRobot cables millions of times while continuously measuring

core resistance in different test set-ups. The undoubtedly greatest

challenge in the tests is that it is difficult to reproduce every

conceivable application that involves torsion over the service life of

the product. Whereas the service life limits can be dependably

predicted in the case of linear travel in energy chains due to fixed

parameters and known ambient-influences, robot applications are

usually much more complex. In particular, the sequence of movements

per se is often not completely clear during the planning

phase. For the cable supplier, it is therefore of prime importance to

test, test and test again.

Mechanical engineering processes

can be precisely planned

All the results of the tests are recorded in a database at igus. This –

together with a decades-long experience in the area of plastics

technology – enables igus to give a 36-month guarantee on the

mechanical specifications of the chainflex cables. As a result, the

mechanical engineering processes can be precisely planned. If a

CFRobot cable failed when used for the purpose described in the

catalogue, igus would supply a new cable immediately and free of

charge. Users can order cables of one metre and longer and the

goods will then be delivered within 24 hours. The great advantage of

the CFRobot series for robot manufacturers and users is that they do

not have to depend on expensive, special cables with long delivery

times but can simply select from a standard range of products which

has been specially developed for torsion applications and includes

over 100 types of robot cables all available from stock.

Industry 4.0 gets trouble-free motion

The "smart plastics" from igus provide a glimpse into the near future

of robotic cables. Under the name isense, igus carries sensors of

various kinds that detect the condition of igus components such as

cables or energy chains. They measure among other things the wear

during the operation and alert the user early enough to plan repair

or replacement. By networking with the icom communication module,

the data is transmitted to an intelligent system. The module

can be connected to all igus specific sensors. Once the measured

values from a sensor have been transferred to the icom module,

they have to be "interpreted", i.e. understood in order to generate

instructions from the same. So far, this has been possible via the

connection to the igus cloud.

Due to the increasing importance of IT security, however, many

companies are increasingly relying on the development of their

own Scada-systems, which is why igus has now advanced its data

concentrator into icom.plus. With the new module, the customer

can integrate the data in the way that best suits their equipment.

With the online connection of the icom.plus, a continuous matching

of the service life statement with the igus cloud takes place in

order to enable maximum system runtimes with minimal failure

risk. The data in the cloud draws on the 10 billion test cycles of

energy chains and cables performed in the company's own

3,800 square metre test laboratory, and thanks to machine learning

and AI, igus can provide precise information on the durability of the

solutions used and inform the user about a necessary replacement

beforehand.

Photographs: igus

www.igus.com

04 Robot cables for applications

where the cables are subjected to

torsional stress need force-compensating

elements, loose braiding

elements, different slip planes

26 WORLD OF INDUSTRIES 2019
---
Barley malt producer increases productivity

with smart condition monitoring

Muntons, one of the UK's largest producers of malted

barley protect vital parts of their production process

against unscheduled downtime by using the Smart

Condition Monitoring (SCM) system from Mitsubishi

Electric.

Used to make beer, spirits and a range of popular foodstuffs,

malted barley is produced in large batches where environmental

conditions are critical to a consistent product. Each batch is very

valuable, not just in monetary terms but also to the customer, so

Muntons is extremely pro-active when it comes to the servicing and

maintenance of its equipment.

As in many food industries, the principles of the barley malting

process are quite traditional, but Muntons relies heavily on automation,

electro-mechanical equipment and sensors to provide fine

control over air flow, heat and moisture. Fans and motors are critical

to the operation: the Muntons processes many tonnes of product

at a time, with key operations relying on a steady supply of

blown air. The chosen SCM installation provides condition monitoring

for two large 315 kW fan sets and a single 90 kW fan set. Sensors

monitor the electric motor, power transmission coupling and

main fan shaft bearing on each fan set.

"The investment in automation and

predictive maintenance pays off very quickly

by avoiding unscheduled downtime."

Plant Engineer Michael Plawecki says: "We now have a clear picture

of the health of the fan sets and advance warning of any required

maintenance. Remote monitoring and fast diagnosis of any issues

has also made us very responsive should the limits on operating parameters

that we have set be approached. As promised the system

was easy to install and relatively simple to commission."

Early diagnosis avoids machine failures

The impetus for the SCM installation came from issues previously

experienced with difficult-to-reach bearings inside a large fan

housing. A bearing failure inside a fan assembly caught the Muntons

engineering team unawares, and proved significant in terms of

downtime. "We only realised we had problems when it was too late,

and we had to make an unscheduled stop on one of the lines to

make repairs," says Plawecki. Determined to learn from that lesson,

Muntons looked for a monitoring solution with predictive maintenance

technology that could be linked into the company's existing

Scada system.

Concept of smart condition monitoring

The SCM solution provided by Mitsubishi Electric comprises smart

sensors that can be attached to bearing housings, gearboxes, pumps

and motors to detect when equipment starts to operate outside its

normal envelope due to wear. It provides a sophisticated early

warning system for critical pieces of rotating plant equipment.

Vibration frequencies and temperature readouts are monitored

continuously and fed back to an L Series Mitsubishi Electric PLC via

an industrial Ethernet network cable. The PLC offers simple integration

to other network system hardware and software platforms,

in this case integrating seamlessly with the Scada system at Muntons

Malt.

Sensors monitor changes in the complex vibration

patterns

The sensors, developed by bearing expert FAG, monitor for changes

in the complex vibration patterns specific to the type of equipment

it is attached to. The software compares that data with highly developed

data models from thousands of previous installations, providing

an effective analysis and alert system for the user.

Live information and any alarms are displayed on a Mitsubishi

Electric GOT Series HMI mounted to the control enclosure. The system

can work autonomously of any other automation, with multiple

sensors located and recognised by unique IP addresses. At Muntons,

the visual information and the alarms being generated were easily

connected into the existing automation software platform.

Photographs: Mitsubishi Electric Europe B.V.

eu3a.mitsubishielectric.com/fa

WORLD OF INDUSTRIES 2019 27
---
The DNA of the Industrial

Internet of Things

Single Pair Ethernet - or SPE for short - is currently one

of the mega-trends in industrial data transmission.

If you want to understand the applications and

advantages of reducing data cabling to a single wire

pair, you must learn about the history of Ethernet

and industrial automation.

AUTOMATION

As a non-standardized software protocol, Ethernet was developed

in the 1970s for the internal and locally limited transmission

of data packets in wired computer networks (LAN - Local Area

Network). The Institute of Electrical and Electronics Engineers

(IEEE) defined the software protocol and the physical layer - including

physical interfaces such as connectors and cables - in the

following two decades and laid the foundation for the modern Internet

with the introduction of various protocols such as 802.4 (Token

Bus), 802.5 (Token Ring) and finally 802.11 (WLAN).

Common language

Parallel to this, fieldbus technology developed in the 1980s, driven

by the increased use of electrical automation technology. The basic

idea was the same: Different communication participants should

communicate with each other in an orderly manner and in a common

system. However, the various fieldbus protocols, such as Interbus,

DeviceNet and Profibus, were not used for networking computers

at company level, but for serial or parallel connection of

sensors and actuators to the control and management level.

Ultimately, the parallel development of the two transmission

protocols established the form of the automation pyramid that is

still valid today. The highest levels represent locally limited computer

networks which are used for rough and detailed production

planning. The lower levels comprise the signal, data and power

transmission for recording, controlling and regulating the physical

production process (Fig. 1).

The shape of the pyramid resulted primarily from the hierarchical-logical

arrangement of the different levels. However, it also rep-

Author: Dipl.-Wirt.-Ing. Verena Neuhaus, Manager Product Marketing

Data Connectors, Phoenix Contact GmbH & Co. KG, Blomberg, Germany

resents the previously valid framework conditions for industrial

data transmission: High transmission rates and short distances via

Ethernet, low transmission rates and long distances via fieldbus.

Turned upside down

So why this digression? Industrial Ethernet and especially Single

Pair Ethernet are turning this automation pyramid upside down.

With the development of Ethernet-based protocols such as Ether-

Net/IP, Profinet or EtherCAT, real-time data transmission from the

company level to the field level was introduced.

The physical interfaces became more powerful, but also more

complex in electrical terms, since data transmission had to be protected

from interference such as dirt, vibrations and electromagnetic

radiation. Manufacturers of connection technology therefore

developed special, IP6x-protected Ethernet interfaces to meet these

increased requirements at the field level. For the top of the automation

pyramid - the enterprise and operational level - IP20 solutions

were still sufficient.

Data transmission to the second power

So far, standardization efforts have been limited to ever higher data

rates and higher demands on cabling technology. These requirements

were defined by ever higher performance classes in copperbased

cabling - the Categories.

The Single Pair Ethernet does not again define higher bandwidths

or transmission distances, but forms the normative framework for

reduced cabling to suit the application. The IEC 63171-2 (IP20) and

IEC 63171-5 (IP67) standards focus on lower transmission rates of

10 to 100 Mbps. The data cabling with only one pair of wires nevertheless

enables transmission distances of up to 1000 meters. Thus,

for the first time, SPE allows areas of application and applications

that conventional Ethernet has not allowed to date, for example in

28 WORLD OF INDUSTRIES 2019
---
02 Efficiently wired: Single-pair and

four-pair MICE interfaces are used for

cabling IP20 and IP6x applications

01 Paradigm shift: SPE turns the conventional

automation pyramid upside down

From the sensor up to the cloud

Single Pair Ethernet (SPE) connects the IP20 world of the

enterprise and operating level with the IP6x world of the

control and field level – and thus opens up new areas of

application. The goal is the seamless connection of all

communication participants on the basis of the same

protocol language and uniform interfaces. Thanks to the

reduced cabling with only one or four individual wire pairs,

users can build efficient network and cabling structures

from the sensor to the control and company level right

up to the cloud. And in addition to data rates of up to

1000 Mbps, the SPE cabling also allows the end devices

to be supplied with power of up to 60 watts.

process technology. The advantage for plant operators: data cabling

can be carried out continuously on the basis of the Ethernet protocol,

i.e. identical interfaces and pin connector patterns can be used

in different environments.

Another advantage is that single-pair interfaces are considerably

more compact than two- or four-pair device and cable connectors.

SPE thus supports the continuing trend towards compact, decentralized

devices in industrial automation, process technology,

building automation and in telecommunications and infrastructure

applications. SPE can thus turn application-neutral into the

DNA of the Industrial Internet of Things (IIoT).

New pin connector pattern, well-known reliability

In order to ensure the consistent compatibility of all interfaces, the

IEEE has formed working groups for the normative description of

different applications with transmission rates of 10, 100 and 1000

Mbps. Standards for 100-Base-T1 and 1000-Base-T1 have already

been adopted, with 10-Base-T1 standards expected to follow by the

third quarter of 2019.

Phoenix Contact is a major driving force behind the standardization

of the corresponding interfaces. Together with market partners

Reichle & De-Massari, Weidmüller, Fluke Networks and Belden, the

connection technology specialist develops protected and unprotected

pin connector patterns for single-pair and four-pair cables.

The MICE model describes their mechanical robustness (M1 or

M2/3), IP protection (I1 or I2/3), chemical and climatic resistance

(C1 or C2/3), and electromagnetic safety (E1 or E2/3) (Fig. 2).

The compact pin connector patterns are ideally suited for efficient

cabling of numerous communication participants - either via

a single wire pair or via four wire pairs for four participants sharing

a common line and interface. Thanks to the common interface,

single- and four-pair cabling concepts can be mixed as well as IP20

and IP6x solutions. Possible applications are the splitting of eightwire

cabling concepts into four individual SPE strings for four different

communication participants, or the dimensioning of individual

pairs within the eight-wire device interfaces. The two-wire

technology also permits the application-specific supply of terminal

devices with outputs of up to 60 watts via the same pair of wires

(Power over Data Line - PoDL).

The future of communication technology

SPE cannot be seen as a mega-trend in industrial data transmission

independent of other standardization efforts. The basic framework

for the future of industrial communication technology is being created

in parallel in various committees and projects. New communication

standards such as the Open Platform Communications Unified

Architecture (OPC UA), Time-Sensitive Networking (TSN) and

5G form the basis for continuous networking from the sensor via

the machine and higher-level systems into the cloud.

The new standards will outperform existing protocols and interfaces

in terms of cost, data throughput, latency and deterministics.

As a technology leader with more than 30 years of experience in industrial

communication, Phoenix Contact is thus active in all the

relevant standardization committees. The goal: nothing less than a

new, manufacturer-independent communication standard for automation.

Today, OPC UA already serves as a superimposed communication

standard in plants. OPC UA is now being expanded by standardized

application profiles in the field - for I/O, safety or drive

applications, for example. In addition, standardized device models

are defined for uniform configuration and diagnostics of the devices

in the network.

Photographs: Phoenix Contact

www.phoenixcontact.com

WORLD OF INDUSTRIES 2019 29
---
A bridge

between two worlds

More and more industrial processes are going digital.

It is now also the turn of level measurement with float

switches. A float switch for this purpose features a

semiconductor sensor. This form of limit level monitoring

represents a decisive step towards Industry 4.0.

AUTOMATION

Virtually no machine or plant manages without them: millions of

float switches are employed to monitor liquid levels every single

year. They are reliable, simple and robust. Float switches consist of

only a few components, which is partly why they are the most economical

measuring principle for this type of task. They are mainly

used to monitor limit levels and respond if a critical level is reached.

Float switches protect against overflow or dry running. This functionality

is stipulated for certain tank plants, for example by the

German Water Resources Act, to prevent overfilling or leakage of

the medium into the groundwater. In industrial applications, float

switches monitor limit levels as a precautionary measure: pumps as

well as hydraulic or lubrication systems are supplied with the right

media on demand or switched off in good time if they run dry, so

that no damage can occur, e.g. due to overheating.

As effective as necessary, as easy as possible

The float switch principle is as simple as it is effective: a float with a builtin

magnet moves on a guide tube according to the liquid level in a vessel

or tank. At defined measuring points it operates hermetically sealed

reed contacts with a normally open, normally closed or change-over

function. These mechanical switch contacts are energised by the float's

magnetic field. The switching operation is contact-free and hence also

potential-free. Another advantage of this type of measuring instrument

is that the float switch can be adapted to the density of the medium in

the tank, so that there is no influence on measuring accuracy.

The design and operating principle of conventional float switches –

including all their positive features – have now been incorporated

into the digital version. The new GLS-1000 switch type from Wika replaces

the classic reed contact with a semiconductor sensor which,

once again, is activated by the magnetic field of the float magnet. This

results in a measurable resistance change, which is detected and processed

by the electronics, so that an electrical switching signal is

tripped in the same way as with a conventional float switch.

The digital signal via the PNP / NPN switching output offers an

unlimited number of switching cycles. Since no mechanical switching

contact is used, the sensor is free from wear and thus extremely

durable within its operating limits.

Like their conventional equivalents, digital float switches represent

a reliable and economical solution. Similar to a classic float

switch, the GLS-1000 can be provided with up to four switch points.

It has an optional temperature output which can be used, for instance,

as a Pt100 / Pt1000 resistance thermometer for monitoring

the temperature of the medium. Since the external design and

geometry of the device are identical, mechanical float switches are

very easy to replace with digital ones.

Automating the manufacturing processes

of tomorrow

The extremely reliable switching function and built-in long service

life are not the only arguments for choosing the new switch. Thanks

30 WORLD OF INDUSTRIES 2019
---
to its digital signal processing capabilities,

02 Float switch for industrial applications with

the GLS-1000 is an ideal component for circular connector M12 x 1 and cylindrical float

automating the manufacturing processes

of tomorrow. Depending on the model, it 03 GLS-1000 float switch in a tank

can in future be integrated into appropriately

automated machine and plant controls,

for example using IO-Link 1.1. This is currently

only possible with much more expensive level

measuring technologies like guided microwave,

ultrasound or vibration limit switches. Moreover, the

advanced electronics open the door for additional functionalities such as

internal diagnostic capabilities, sensor parameterising options or an

operational status display.

Conclusion

01 Float switch for industrial applications

with cable outlet and float from Buna

02

03

With their PNP / NPN switching output signals, long service life and excellent

resistance to shock and vibration, float switches with semiconductor

sensors provide access to new applications in the field of limit level monitoring.

Smarter sensors capable of collecting additional diagnostic and

measured data will ensure that in the future, too, float switches are the

solution of choice for integration into highly automated processes. At the

same time, semiconductor float switches are extremely economical compared

to other digital solutions. Yet in spite of this, they are by no means

the beginning of the end for tried-and-tested reed contact switches.

Owing to their proven reliability, classic float switches will continue to be

a good alternative for many applications in tomorrow's world where the

benefits of mechanical switching are decisive – such as potential-free

switching or safe isolation of circuits and cables.

01

Photographs: Wika Alexander Wiegand SE & Co. KG, Germany

https://en.wika.com

Hall 5.1

Booth 5.1H-A159

Leading the way.

Reinventing positioning.

Revolutionizing safety.

safePXV

SIL 3/PL e Using a Single Sensor

Absolute positioning with maximum safety

Highly efficient: absolute positioning using a single

sensor with direct connection to the safety PLC

Extremely reliable due to unique combination of

2-D camera with Data Matrix code tape

www.pepperl-fuchs.com/safe-positioning
---
A taste of the future of industry

The great promise of new connected concepts of

industry like Industrie 4.0 is their ability to deliver a

historically unparalleled level of responsiveness and

flexibility. While modern supply chains are already

heavily integrated and designed to be fluid and fast

moving, a large swathe of manufacturing still remains

beholden to economies of scale, large production runs,

and careful preplanning.

The Industrial Internet of Things is set to change this by allowing

small-batch or even custom manufacturing on a truly industrial

scale. With machines whose functions are not set in stone, but flexible

and determined by their operating software and with a new form of

connectivity bringing industrial engineers, product manufacturers,

and end users closer together than ever before, ad-hoc adjustments to

e.g. automotive parts during active product runs or the bespoke manufacturing

of custom sneakers become very viable options indeed.

Much of this remains a theoretical vision, but IUNO, the German

national reference project for IT security in Industry 4.0, demonstrates

the new capabilities in action with a secure technology data

marketplace running a smart drinks mixer.

The solution

The IUNO demonstrator consists

of two ends to the simulated supply

chain: The technological data

marketplace, where inventors of

drinks can upload the recipes, and

a cocktail mixing machine, which

is connected to the marketplace

and can license the encrypted

recipes. The system uses Wibu-

Systems' cloud-based CodeMeter

License Central to protect the

recipes, the production data that

acts as a currency in this smart

production network, with full

encryption both when it is sent to

the mixer and when the drink is made in the machine itself – whose

inner workings are again secured with a CodeMeter dongle as anchor

of trust and dependable proof of identity, powered by Infineon's SLM

97 security controller. On the front end, the drinks are mixed and

ready for the buyer to enjoy.

The results

The IUNO demonstrator is a template for a secure technology data

marketplace that is both fully protected with Wibu-Systems' solutions

and open enough to accommodate additional actors and vendors,

the IUNO cocktail mixing machine becomes a model for a new paradigm

in manufacturing. Where vertical integration once meant

physical control and ownership over every link in the supply chain, it

can now mean the integration of independent partners. Like the

recipes, production data can be traded, licensed, and securely transported

through the Industrial Internet to smart factories that offer

manufacturing as a service. This creates new commercial freedom

and access for sellers, buyers, and makers, all of whom can rest

assured that their data is protected from theft, illicit use by more

unscrupulous partners in the supply chain, or tampering along the way

with the power of CodeMeter's licensing and protection capabilities.

A chance to see smart custom manufacturing

in action

The future of industry is connected, intelligent, responsive, and customized.

With concepts like Industrie 4.0, we have a roadmap and a

vision to follow. The protocols for machine communication and new

HMI interfaces are available

and continue to be refined.

From the new data infrastructure

to the industrial

machines on the ground,

the hardware is being

rolled out, in upgraded

and retrofitted brownfield

installations or completely

new greenfield sites.

Industrial engineers and

the operators of their

products on the ground

have also begun to take

the threat of cyber-crimi-

AUTOMATION

32 WORLD OF INDUSTRIES 2019
---
A high-tech drinks mixer showcases how a secure technology data marketplace can work as the front end

of a smart, connected, and fully secured and licensed supply chain

nality seriously and are investing in protection and licensing

capabilities. Still, the opportunities to truly experience the Industrial

Internet of Things and smart factories in action are few and far

between. IUNO, the German national reference project for IT security

in Industrie 4.0, is set to change this with a show-stopping technology

demonstrator: a high-tech drinks mixer that showcases how

a secure technology data marketplace can work as the front end of a

smart, connected, and fully secured and licensed supply chain.

The role of a cloud solution for license

management

Developed in a multivendor project partnership including the

IUNO members Wibu-Systems and Trumpf, the drinks mixer

works by combining a technology data marketplace – a repository

of drinks that would-be vendors can add their favorite recipes to

– with a secure data transmission concept and similarly protected

front-end hardware. With a selection of recipes at the customer's

disposal, the drinks are chosen from the custommade sales platform

at https://iuno.axoom.cloud and paid for by Testnet Bitcoin.

Once the customer has made his or her selection and the Bitcoin

transaction has been processed, the technology marketplace

sends the order for the right recipe in fully encrypted form to the

physical mixer, using Wibu-Systems' CodeMeter License Central,

the cloud solution for license management, to do the heavy lifting

of encrypting, licensing, and securing the operation. In the mixer

itself, a CodeMeter dongle provides an anchor of trust for the protected

operating software of the mixer and for the mixer's correct

identity in its transaction with the IUNO marketplace, using an

industry-grade Infineon SLM 97 security controller. At no stage in

the supply chain can the recipe be read out or tampered with,

neither in the cloud marketplace nor in its transmission or in the

mixer itself.

On top of protecting the IP in the recipes, the CodeMeter technology

is used to enforce the licensing for each recipe. Only the

paid number of items (drinks in this case) can be produced. The

encrypted recipe is worthless without the corresponding license

which defines the amount of goods allowed for production. As in

more regular manufacturing operations, the manufacturer of the

technology (the mixer) and the vendor of the product (the recipe)

– who could be one and the same or separate entities – can rest

assured that their intellectual property is safe and sound.

The customer on the front end sees little of the intricate software

and hardware that goes into making his or her drink of choice.

Whatever drink the customer goes for, one thing is certain: the end

result is more than a refreshing beverage. It is a taste of the future of

industry.

Photographs: Wibu-Systems

www.wibu.com

Access to marketplaces and ownership over

data are becoming the gatekeepers for

participation in Industrie 4.0 – but neither

can function without the level of protection

afforded by Wibu-Systems' cloud-based

technology.

Oliver Winzenried, CEO,

Wibu-Systems AG

WORLD OF INDUSTRIES 2019 33
---
Smooth and trouble-free

Solution for real-time thermal analysis

www.fotolia.de

With its clutches, couplings and brakes, mayr

power transmission offers complete solutions from

a single source – for the reliable protection of machine tools

and machining centres. For example, a wide spectrum of

backlash-free, high-performance servo couplings provides

a secure connection between the shafts. mayr power

transmission has developed a wide portfolio of reliable safety

brakes specifically for the safeguarding of gravity-loaded axes.

This is because hanging loads represent a substantial risk

potential in machines and systems. Picture: backlash-free,

flexible Roba-ES

elastomer coupling (left)

and Roba-topstop, the

modular safety brake

system (right).

www.mayr.com

The high performance Flir A6750 MWIR camera offers short

exposure times and high-speed windowed frame rates,

making it an ideal choice for recording rapid thermal events

and fast-moving targets. Freeze motion or achieve accurate

temperature measurements on moving subjects, and perform

a variety of non-destructive testing with this cooled InSb

camera. The 327, 680 (640 x 512) pixel IR resolution and high

sensitivity produce crisp imagery, well suited to electronics

inspections, medical thermography,

and more. The camera

is plug-and-play with third-party

software, and works seamlessly

with Flir ResearchIR for intuitive

viewing, recording, and advanced

processing of thermal data.

www.flir.com

Machine learning for control systems

Beckhoff now offers a machine learning (ML) solution that

is seamlessly integrated into TwinCAT 3 software. Building

on established standards, TwinCAT 3 Machine Learning

brings to ML applications the advantages of system openness

familiar from PC-based control. In addition, the TwinCAT

solution supports machine learning in real-time, allowing it

to handle even demanding tasks like motion control. These

capabilities provide machine builders and manufacturers

with an optimum foundation to enhance machine performance,

e.g. through prescriptive maintenance and process

self-optimisation. Picture:

With TwinCAT 3 software,

experts can tap into new

machine learning and deep

learning possibilities.

www.beckhoff.com

Launch of laser thru-beam sensors

With the new laser thru-beam sensor series HG-T, Panasonic

launches an easy-to-use and customer-friendly laser

measurement systems with many features and is responding

to the needs of the market. The HG-T sensors work like optical

micrometers that can precisely measure µm even over large

distances. A laser belt with a width of 10 mm allows the

high-precision monitoring of wide webs, for example in the

printing industry. The laser measurement system consists of

a controller and a sensor head with an emitter and a receiver.

The controller offers many

preset functions such as

edge detection, diameter

measuring, or measuring

of transparent objects.

www.panasonic-electric-works.

com

PRODUCTS

Editorial board:

Winfried Bauer (Editor-in-chief), E-mail: w.bauer@vfmz.de

Peter Becker (Editor-in-chief), E-mail: p.becker@vfmz.de

Nicole Steinicke (Editor-in-chief), E-mail: s.steinicke@vfmz.de

Manfred Weber, E-mail: m.weber@vfmz.de

Svenja Stenner, E-mail: s.stenner@vfmz.de

Managing editor:

Winfried Bauer

Assistant editors:

Petra Weidt, Melanie Lerch, Angelina Haas, Ulla Winter

Design/Layout:

Anna Schätzlein, Sonja Daniel, Anette Fröder, Mario Wüst

E-paper designer:

Katja Rüdell

Publishing house:

Vereinigte Fachverlage GmbH

Lise-Meitner-Str. 2, 55129 Mainz, Germany

Commercial register No.:

HRB 2270, District Court of Mainz

VAT-ID: DE149063659

Privacy statement: ds-vfv.vfmz.de

Managing director: Dr. Olaf Theisen

Publishing director:

Dr. Michael Werner, E-mail: m.werner@vfmz.de

Correspondent India: Sushen Haresh Doshi M.Sc.

Advertising sales director:

Beatrice Thomas-Meyer, E-mail: b.thomas-meyer@vfmz.de

Advertising sales manager:

Oliver Jennen, E-mail: o.jennen@vfmz.de

Andreas Zepig, E-mail: a.zepig@vfmz.de

Sales representatives

Austria:

Heinz-Joachim Greiner,

E-mail: verlagsbuero-greiner@vfmz.de

France:

Marc Jouanny, E-mail: marc-jouanny@wanadoo.fr

Great Britain, Ireland:

Rob Brewer, E-mail: rob.brewer1@btinternet.com

Switzerland, Italy:

Hermann Jordi, E-mail: info@jordipublipress.de

Denmark, Sweden, Finland, Norway:

Malte Mezger, E-mail: verlagsbuero-mezger@vfmz.de

USA, Canada, Mexico:

Patrick Venezia Jr, E-mail: verlagsbuero-venezia@vfmz.de

Advertising disposition:

Annemarie Benthin, E-mail: a.benthin@vfmz.de

Heike Rauschkolb, E-mail: h.rauschkolb@vfmz.de

Nevenka Islamovic, E-mail: n.islamovic@vfmz.de

In cooperation with:

Hannover Fairs International GmbH,

Messegelände, 30521 Hannover, Germany

Internet:

www.world-of-industries.com

34 WORLD OF INDUSTRIES 4/2019
---
Digital future must

be actively shaped

Today, supply chains are complex and global networks

that can increasingly only be handled through

digitalisation. Intralogistics as a cross-sectional

discipline is gaining in importance and occupies key

positions in many areas.

Because the more transparent the digital flow of information, the

smoother the actual physical transport of materials runs – and

that equally in a smart factory or in a modern warehouse. Therefore,

the future of the industry can only lie in networked solutions and

digital services. The major drivers worldwide are still the automotive

industry and the rapidly growing e-commerce sector. Like

other industries, they depend on smooth and highly adaptable processes.

Automation in this context is not a new, but still important

keyword.

In the past, automation was primarily an issue for large companies

with a high proportion of standardized processes. Today, the

massively increased computing power and increasingly intelligent

technologies and components are opening the way to automation

even for smaller companies – with the necessary flexibility at manageable

costs and justifiable effort.

Regardless of the customer industry – everywhere there are farreaching

changes that have to be mapped and implemented in the

logistics processes. For suppliers of intralogistics and materials

handling systems, this means actively shaping the step towards Industrie

4.0 and consistently moving forward. They offer the customer

individual solutions with which he can shape his path to a smart

factory or a smart warehouse.

This is important because the next paradigm shift in the industry

is already in sight: Automation will become autonomy in the future.

Dr. Klaus-Dieter Rosenbach, Chairman of the Executive Board of VDMA

Materials Handling and Intralogistics

The goal are intralogistics systems, capable of networking autonomously,

controlling and optimizing their own operations. However,

intensive research and development work is still needed here.

Communication standards are a large work package. In the industrial

environment, OPC UA is the main winner in this context.

Therefore, intralogistics is also working on the first Companion

Specifications - an exciting development that will give the industry

and its solutions many interesting impulses in the coming years.

WORLD OF INDUSTRIES 2019 35
---
HANNOVER MESSE

WORLDWIDE

DISCOVER

NEW HORIZONS.

NEW MARKETS. NEW LEADS.

NEW CUSTOMERS.

→ hannovermesse.de/worldwide

36 WORLD OF INDUSTRIES 3/2019