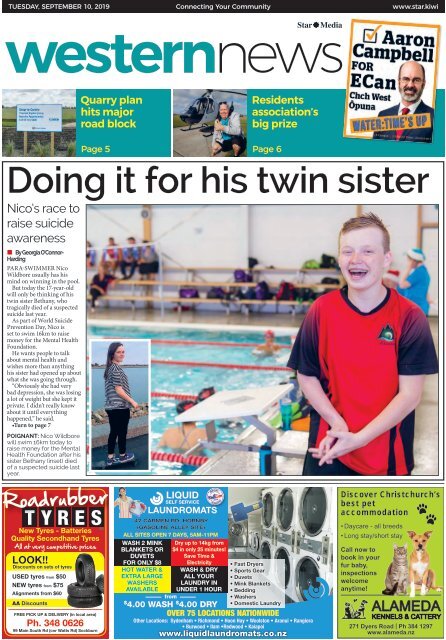 Western News: September 10, 2019
Create successful ePaper yourself
Turn your PDF publications into a flip-book with our unique Google optimized e-Paper software.
TUESDAY, SEPTEMBER 10, 2019

Connecting Your Community

www.star.kiwi

Quarry plan

hits major

road block

Residents

association's

big prize

Page 5 Page 6

Doing it for his twin sister

Nico's race to

raise suicide

awareness

• By Georgia O'Connor-

Harding

PARA-SWIMMER Nico

Wildbore usually has his

mind on winning in the pool.

But today the 17-year-old

will only be thinking of his

twin sister Bethany, who

tragically died of a suspected

suicide last year.

As part of World Suicide

Prevention Day, Nico is

set to swim 16km to raise

money for the Mental Health

Foundation.

He wants people to talk

about mental health and

wishes more than anything

his sister had opened up about

what she was going through.

"Obviously she had very

bad depression, she was losing

a lot of weight but she kept it

private. I didn't really know

about it until everything

happened," he said.

•Turn to page 7

POIGNANT: Nico Wildbore

will swim 16km today to

raise money for the Mental

Health Foundation after his

sister Bethany (inset) died

of a suspected suicide last

year.

Roadrubber

T Y R E S

New Tyres - Batteries

Quality Secondhand Tyres

All at very competitive prices

LOOK!!

Discounts on sets of tyres

USED tyres from $50

NEW tyres from $75

Alignments from $60

AA Discounts

FREE PICK UP & DELIVERY (in local area)

Ph. 348 0626

99 Main South Rd (cnr Watts Rd) Sockburn

LTD

liquiD

SeLF Service

LaunDroMatS

47 Carmen rd, Hornby

(Gasoline alley site)

All sites open 7 DAYs, 5Am-11pm

WaSH 2 Mink

BLanketS or

DuvetS

For onLY $8

Hot Water &

extra LarGe

WaSHerS

avaiLaBLe

Dry up to 14kg from

$4 in only 25 minutes!

Save time &

electricity

WaSH & DrY

aLL Your

LaunDrY in

unDer 1 Hour

from

$

4.00 WASH $ 4.00 DRY

• Fast Dryers

• Sports Gear

• Duvets

• Mink Blankets

• Bedding

• Washers

• Domestic Laundry

over 75 locations nationwide

Other Locations: Sydenham • Richmond • Hoon Hay • Woolston • Aranui • Rangiora

• Burwood • Ilam •Redwood • Kaiapoi

www.liquidlaundromats.co.nz

Discover Christchurch's

best pet

accommodation

• Daycare - all breeds

• Long stay/short stay

Call now to

book in your

fur baby,

inspections

welcome

anytime!

ALAMEDA

KENNELS & CATTERY

271 Dyers Road | Ph 384 1297

www.alameda.nz
---
2 Tuesday September 10 2019

Latest Canterbury news at starnews.co.nz

get in touch

GENERAL INQUIRIES Ph 379 7100

CLASSIFIED ADVERTISING Ph 379 1100

Star Media,

a division of Allied Press Ltd

PO box 1467, Christchurch

starmedia.kiwi

NEWS

Georgia O'Connor-Harding

Ph: 021 910 730

georgia.oconnor@starmedia.kiwi

news

Charity shops become dumping ground

People are discarding damaged goods and other rubbish

outside charity shops to avoid paying refuse station fees.

Page 4

community events

Bookbuddies

A photographic exhibition to celebrate the iconic Chung Wah II

restaurant will be held at the Upper Riccarton Library on Saturday,

10am-4pm.

Page 18

tasty bites

WESTERN NEWS

ADVERTISING

Alana Powell

Ph: 962 8753

alana.powell@starmedia.kiwi

Exotic food without the hassle

If you are going to cook for a large dinner party, organisation and

preparation are key, starting with working out a menu well ahead

of the event.

Page 20

The best-read local newspaper,

delivered to 15,905 homes

every Tuesday

Templeton, Islington, Hei Hei, Broomfield, Halswell, Oaklands,

Westlake, Hornby, Wigram, Sockburn, Church Corner, Ilam,

Russley, Hyde Park, Avonhead, Riccarton Park, Riccarton.

• The Star

• North Canterbury News

• Selwyn Times

• Ashburton Courier

also publishing:

• Bay Harbour News

• Southern View

• NorWest News

• Pegasus Post
---
WESTERN NEWS Latest Canterbury news at starnews.co.nz

Tuesday September 10 2019 3

News

•HAVE YOUR SAY: Do you think a right-turning bay should be installed on Main South

Rd? Email your views to georgia.oconnor@starmedia.kiwi

Intersection layout reconsidered

• By Georgia O'Connor-Harding

BUSINESSES frustrated by a

lack of direct access into their

shopping area may have their

concerns eased.

The Halswell-Hornby-Riccarton

Community Board has

asked for its original decision to

ban vehicles from turning right

or making U-turns on Main

South Rd, opposite Harvard Ave

to be reconsidered.

RA Shearings Contractors

director Bob Shearing, DA

Lewis director Mark Lewis and

Chipmunks Playland & Cafe

Wigram business partner Dell

Lu have been calling for a rightturning

bay to be installed at the

intersection.

They made a presentation on

behalf of other businesses in the

area to the board recently asking

it to reconsider a report made by

city council staff.

A new report made by city

council staff concluded installing

a right turning bay will have

no benefit to improving the

safety of motorists.

It instead planned to improve

road-marking improvements

and re-enforce no right turn and

no U-turn movements.

City council staff were

required to look into the issue

after a petition of almost 150

signatures was collected calling

for a right-turning bay to

be constructed in the area in

February.

Following the presentation of

the report, the board asked the

no right-turn and no U-turn

sign to be reconsidered.

Mr Shearing, a former city

councillor, said he would have

liked to have seen the board a

bit more "forceful" in getting

the signs removed and a rightturning

bay installed.

But he said: "At least we are

still there and they can come

back (city council staff) and

hopefully something sensible

can be made out of the situation

and we will go back to the status

quo."

Businesses had raised concerns

in the past that patronage

would decline due to customers

travelling into Hornby being

unable to directly access their

business.

In a presentation to the board

recently, Mr Shearing said hundreds

of vehicles need to make

right turns and U-turns somewhere

along this stretch of road.

"Prior to the installation of

CALL FOR

CHANGE:

Business owners

Bob Shearing

and Mark Lewis

want a turning

bay installed on

Main South Rd

opposite Harvard

Ave.

PHOTO: MARTIN

HUNTER

the signs in January these turns

were spread between the four

intersections, however, mostly

were at the Harvard Ave intersection,"

he said.

He argued there was never a

safety issue at the Harvard Ave

intersection.

New Zealand Transport

Agency crash data one crash was

recorded at the intersection.

City council is expected to

report back to the board in the

coming weeks with the review

to take into account road safety

and the impacts on commercial

businesses.

In Brief

DIVISION ST PARKING

Some of the existing 60min

short-term parking spaces on

Division St, Riccarton, could be

reduced. Visit www.ccc.govt.nz/

the-council/consultations-andsubmissions/haveyoursay/.

HALSWELL PONY CLUB

The Halswell branch of the

Christchurch Pony Club plans to

construct a cross-country course

at Canterbury Agricultural Park.

The club has requested $2000 for

the project from the Halswell-

Hornby-Riccarton Community

Board.

CLARIFICATION

In last week's Western News

coverage of the new Hornby

Library, Service Centre and

South West Pool decision, a

photo caption of Anne Galloway,

Mike Mora, Debbie Mora and

Catherine Chu read as: "Anne

Galloway and Mike Mora voted

for a number of key steps to allow

the development of the Hornby

mega-facility to go ahead, while

Debbie Mora and Catherine Chu

voted against several changes."

Western News wishes to clarify,

as stated in the article, Helen

Broughton and Miss Chu voted

against the changes, while Ms

Mora and Ross McFarlane either

voted against or abstained.

Community Board Candidate

Halswell Ward

Trusted

Informed

Connected

Known

=

The revolution

in heat pumps

is here now!

Find us on

@rossmcfarlaneforhalswellward

Authorised by Ross McFarlane 52 Quaifes Rd

The revolution in heat pumps is here now!

The Fujitsu e3series

The brilliant

heat pumps from Fujitsu

e1 : efficiency

e2 : environment

e3 : economy

Website: www.pshc.co.nz

Finance available

FREE consultation from your local

Accredited Heat Pump Expert

Phone today: 03 381 6950

INSERT DEALER DETAILS HERE

The brilliant e3 series

heat pumps from Fujitsu

e1 : efficiency

e2 : environment

e3 : economy

Fujitsu's Catechin Filters are

approved by the Asthma and

Respiratory Foundation NZ's

Sensitive Choice ® programme.

Email: info@pshc.co.nz

Catherine

CHU

Council

Community Board

Fall in love

with your

favourite furniture

all over again!

• Recover your chairs and couches

and save money!

• Excellent range of fabrics

• Quality workmanship guaranteed

• Free quotes available

• Over 30 years experience

before

Somerfield Upholstery Ltd

FURNITURE RECOVERY SPECIALIST

after

6/47 Sonter Road, Wigram | Ph 021 251 6200 | 349 0456
---
4 Tuesday September 10 2019

Latest Canterbury news at starnews.co.nz

News

WESTERN NEWS

Charity shops seen as a rubbish dump

• By Laura Hitchon

PEOPLE ARE discarding

damaged goods and other

rubbish outside charity shops to

avoid paying refuse station fees.

Charity shop staff are turning

up to work on Monday mornings

to discover large piles of damaged

goods lying on their front

door step and, although some

items are saleable, many are not.

St John Opportunity Shop

volunteer Brian North said many

people dropped off the goods at

their Addington store at night

or during the weekend when the

shop was closed.

"We would prefer that people

drop off their goods during the

daytime when we are able to

inspect them.

"People think that just because

they donate something, we will

accept it but we need to be able

to sell these items and if they're

damaged, we can't," he said.

Salvation Army Family Store

Hornby shop manager Terry

Murray said some people genuinely

believed the goods they

were donating were in an acceptable

condition but many people

knew the goods were rubbish

and donated them anyway.

Damaged goods being donated

included lounge suites, drawers,

mattresses, tables, chairs,

ANNOYED: Salvation Army Family Store Hornby shop manager Terry Murray

(right) and volunteer Neville Walton stand next to the overflowing rubbish skip

filled with donated goods they cannot sell.

sporting equipment, crockery,

glassware, artwork, books, clothing

and shoes.

The money generated from

selling donated goods goes back

into the charity to help people

in need, however, this was being

jeopardised by the cost of having

to dump other people's rubbish.

Mr Murray said they emptied

their skip about three times a

week which cost them about

$140 each time.

"One of the biggest expenses

we have is taking damaged

goods to the dump."

Mr Murray said the cost of

taking rubbish to the refuse

station was a possible cause of

people dumping their unwanted

goods at charity shops.

"Many people don't own a

trailer and can't afford to hire

one let alone afford to take their

rubbish to the dump, so they just

leave it on the charity's doorstep,"

he said.

To dump one tonne of general

waste, the EcoCentral website

lists it at $253.40.

WASTE: Salvation Army staff members Leane

Robertson (left) and Karen White with dirty,

stained and faded clothing.

PHOTOS: LAURA HITCHON

Mr Murray said it would be

beneficial if the city council

collected large waste from the

charity once a month and subsidised

the dumping fees to ease

pressure.

A city council spokesperson

said they expected residents to

dispose of their unwanted items

responsibly and that people

should only make donations to

charity stores that are open, able

and willing to take their items.

The spokesperson said dumping

damaged goods at charity

bins or store fronts could be seen

as illegal dumping and could

incur a fine for the person disposing

of the litter.

"The kerbside collection

service is a standard service

funded by ratepayers and we

are unable to provide additional

services above the entitlement of

a property."

The spokesperson said

unwanted goods could be

disposed of at one of three

EcoDrop recycling centres across

the city at a cost.

John

Connelly

Vote

JOIN US NOW!

See website for details

PuRE dRINkING WaTER!

Independent

Riccarton Ward

forCouncil

I stand for:

• Zero rates increases

• Cancel rate increases

• Cut council expenditure

• Expenditure accountability

I have an extensive

background in

business and community

organisations.

Authorized by Gerald Herbert 37 Clifford Ave Christchurch

• New business incentives

• Employment opportunities

• Environmental Targets

• Get tough on crime

I will be an effective

communicator for

the silent minority of

ratepayers.

STYLES MAY DIFFER

TO IMAGE SHOWN

Sign up to Smart Deals & be in the monthly draw for a $100 Dress-Smart gift card!

Open 10am-5pm, 7 Days 03 349 5750

CHRISTCHURCH 409 Main South Road, Hornby

www.dress-smart.co.nz

SWANNDRI

All Women's Shirts $39

BENDON

$20 sale. Some

exclusions apply.

ICEBREAKER

End of season sale.

50%-70% off RRP

storewide. Ends 15 Sep

JOHNNY BIGG

Sale Suits now $119.99.

Sale Knits nothing over

$39.99. Ends 15 Sep

HALLENSTEINS

Blazers & Jackets $30.

Fine gauge jerseys $20.

Selected styles. While

stocks last.
---
WESTERN NEWS Latest Canterbury news at starnews.co.nz

Tuesday September 10 2019 5

News

Templeton quarry

A neighbourhood for

the lucky few in the

heart of Halswell

Sections from $191,000

cloverden.nz | 08004AVANDA

plan runs into major stumbling block

• By Georgia O'Connor-

Harding

FULTON HOGAN'S plan to

open a controversial quarry in

Templeton has hit a major road

block.

But the company is confident it

can address the concerns raised

by experts over its proposed

170ha Roydon Quarry.

Environment Canterbury and

the Selwyn District Council are

recommending the application

to open the quarry is declined

unless changes are made.

Independently prepared

Section 42A reports for the two

authorities were released last

week ahead

of the quarry

hearing due

to start in

November.

Traffic

issues, hours

of operation

and unclear

Simon Moore

plans on how

Fulton Hogan

will reduce

major air pollutant PM10

are key reasons behind the

recommendation for the

ROCKY: Environment Canterbury and the Selwyn District

Council have recommended consent for Fulton Hogan's

planned quarry in Templeton be declined.

PHOTO: MARTIN HUNTER

application to be declined.

But Fulton Hogan South Island

general manager Craig Stewart

said he is confident any technical

concerns raised about traffic,

hours of operation and dust can

be addressed to the satisfaction

of the community and decisionmakers.

In a new development on top

of the release of the reports,

residents are unhappy some

submitters will not have a say

on the changes made last month

by Fulton Hogan to its original

application. The changes include

amending its proposal from

1500 heavy vehicle movements a

day to a daily limit of 800 heavy

vehicles.

ECan and the district council

will only accept submissions

on whether the changes to the

quarry application are significant

enough that it should be treated

as a completely new process.

All submissions are required to

be authored by legal counsel and

are due on September 17.

Only those who chose to speak

at the hearing before the changes

were made will have a chance

to do so. Quarry opponent

Simon Moore said it is "unfair"

submitters who will not speak

at the hearing will not have an

opportunity to have a say on the

changes.

But he said if ECan and

the district council are

recommending the application

be declined, it is a good outcome.

His views are backed

by Templeton Residents'

Association treasurer

Jolene Eagar, who said

the biggest item to

come out of the report

was the traffic concerns

highlighted.

As part of the

Section 42A report,

the district council's

recommendations

were made by Andrew

Henderson from

independent engineering

consultant Beca, while Incite

resource management consultant

Hannah Goslin was contracted

by ECan.

Mr Henderson said the

application needs to have

appropriate measures to avoid

Jolene Eagar

adverse effects arising from

trucks queuing between the

main trunk railway crossing and

Main South Rd.

This is a result of Fulton

Hogan proposing to provide a

vehicle access point from Jones

Rd into the quarry, which is

adjacent to Main South Rd.

Mr Henderson's other key

concern is all activities proposed

to occur between 8pm and

6am at the quarry need to be

removed.

Incite resource

management consultant

Hannah Goslin said she

has not been provided

with enough information

to show Fulton Hogan

can reliably reduce the

discharge of PM10 (a

major air pollutant).

"At this time, I do not

consider the applicant

is able to comply with

Regulation 17(1) of the National

Standards for Air Quality," she

said.

Mr Stewart said Fulton Hogan

is going over the detail of expert

opinions and will be addressing

this in its evidence, ongoing

conversations and at the hearing.

Soft plastics go

in the red bin

That's anything plastic you can

scrunch in your hand, like this

piece of bubble wrap.

Thanks for bin good everyone!

ccc.govt.nz/redbin
---
6 Tuesday September 10 2019

Latest Canterbury news at starnews.co.nz

WESTERN NEWS

News

Residents to

lobby council

for liquor policy

• By Georgia O'Connor-Harding

RESIDENTS FIGHTING a

long battle to stop an off-licence

liquor store from opening in

Halswell have been defeated.

The Alcohol Regulatory and

Licensing Authority dismissed

an appeal by the Halswell

Residents' Association to allow

Bottle-O Halswell to open a

store at 29 Ensign St.

In December, Bottle-O

Halswell Ltd was granted an

application to open the store, but

the decision was appealed by the

association.

Halswell Residents' Association

secretary David Hawke said

it knew the odds were stacked

against it.

"But we still felt it was worth

giving it a go. Even though

we lost we are still glad we attempted

it," he said.

The association will now be

working towards lobbying for

the city council to develop its

Local Alcohol Policy.

Mr Hawke had previously

said the drawn-out process has

highlighted "significant deficiencies"

in alcohol inspectors and

the knowledge base of agencies

and district licensing committee

members.

Panthers fan 'stoked' with chopper flight

• By Georgia O'Connor-Harding

PAUL MATHESON has never

flown in a helicopter before.

But little did he know when

he liked the Greater Hornby

Residents' Association Facebook

page he would become the

prizewinner of a free flight over

the suburb.

The association was running

a competition with the 3000th

person to like its page winning

a free flight with Christchurch

Helicopters.

That 3000th person happened

to be Mr Matheson.

The only condition was the

winner had to take photos of

Hornby while hovering in the

skies.

Mr Matheson, who is the

owner of pick-up and delivery

service Man with a Van

Christchurch, said it was an

"awesome flight" and wanted

to thank GHRA and

Christchurch Helicopters for

the opportunity.

He said said he was "pretty

stoked" as he didn't even know

the competition was running

when he liked the page.

Mr Matheson was slightly

nervous having only ever flown

in a microlite while in Rarotonga

which was "a bit scary."

But his nerves were put to ease

as he got to fly in a new model

of the Guimbal Cabri G2

helicopter.

He described it as a "late

birthday present" after turning

50 in June.

Mr Matheson joked it may

upset a few Hornby residents,

because he has lived in Halswell

most of his life.

His reason for liking the

Facebook page was because he

was an avid follower of rugby

league and was interested in

following the Hornby Panthers

as part of Canterbury Rugby

League's grand final held

recently.

Playing for the Halswell

Bowling Club, Mr Matheson

said he knows the Hornby

WMC Bowling Club, as he often

competes against them.

PRIZEWINNER:

Paul Matheson

had a free

helicopter flight

over Hornby

on Tuesday

with pilot Aaron

Body.

PHOTOS:

GEOFF SLOAN

Turn Key House and Land Package

Lot 21 Country Palms Drive, Halswell | $525,500

3 bedrooms | 2 bathrooms | 2 toilets | 1 living room | 1 car-garage | 1 off-street park | Listing Number: BE193331

A great opportunity to have a brand-new home with all the details

taken care of. Just move in when the home is finished and enjoy.

Built by Golden Homes you can be assured of a quality build

with the security of steel framing. This home will be finished

with drapes and soft landscaping. No last minute unplanned for

expenses - this is truly a turnkey build.

Three double bedrooms, 2 bathrooms and a generous open plan

living create an ideal family home, along with the internal access

single garage. Located in the popular Country Palms estate, just

minutes away from the shops at Halswell and close to the medical

centre at Longhurst. You are also only a few minutes away from

Halswell School and Seven Oaks School.

Call me now - homes such as these are in high demand!

Your agent, Your home, Your future

LICENSED SALES CONSULTANT REAA 2008

list for spring

P 027 777 0411

call 0800 KEY TEAM (539 832)

413 MAIN SOUTH RD, HORNBY (JUST BEFORE CALTEX STATION) | WWW.SHOSHA.NZ

Lindsay & Marilyn Welch

L. 0275 770 216 | M. 0275 770 214

lindsay.welch@harcourts.co.nz

marilyn.welch@harcourts.co.nz

Alison Paulin

027 884 6817

alison.paulin@harcourts.co.nz

Shelley Howe

021 898 076

shelley.howe@harcourts.co.nz

Cecelia Harrison

021 494 641

cecelia.harrison@harcourts.co.nz

Grenadier Real Estate Ltd | Licensed Agent REAA 2008
---
WESTERN NEWS Latest Canterbury news at starnews.co.nz

Tuesday September 10 2019 7

Big swim in memory of twin sister

•From page 1

Nico decided to swim the

gruelling distance to mark his

sister being 16-years-old at the

time of her death.

For the past three years,

Nico has been training at the

Waitaha Swim Club, based at

the Canterbury Swim School in

Hornby, where the swim will be

held today.

Nico's mother Keiran Horne

said Bethany, who attended

Hagley Community College,

struggled following the February

22, 2011, earthquake.

She was located at Redcliffs

School at the time of the quake.

"You could imagine it was

pretty traumatic with the cliffs

coming down so for years after

Beth had trouble sleeping.

"She had been seeing a

psychologist for sometime, she

had been working on strategies to

keep on an even keel. Then about

a month before she died she just

went on a downward spiral."

Ms Horne said she is

immensely proud of Nico, who

came up with the idea of the

swim and organised the event

himself.

She said Bethany had a

beautiful soul and was loved by

many, but a lot of people didn't

realise the struggles she was

ENDURANCE: Nico Wildbore is set to swim 16km today to raise awareness about the stigma

attached to talking about mental health and suicide.

going through.

Ms Horne said there needs to

be more education and talk about

dealing mental health issues.

"I have always been a really

open communicator with my

children, but when we had to

start to deal with issues around

mental health I actually really

struggled to know how to talk

about it in the best way."

The distance of the swim is a

difficult undertaking for anyone,

but especially for Nico.

He was born with a type of

cerebral palsy called hemiplegia,

which means Nico has limited

mobility in his right arm and leg.

But Nico, who is transgender, is

a high achiever. Last year he was

named the best para-swimmer

at the Canterbury secondary

swimming championships. One

of his big goals is to make it to the

Paralympics and pave the way for

other transgender people to do

the same.

Since his sister's death, Nico

said he has been coping as well as

he can, but is taking it one day at

a time.

The spotlight is on mental

health issues which are at an alltime

high in Canterbury.

Police statistics showed 4369

attempted suicide events in

Canterbury were reported in

2018, up 59 per cent from 2015.

Ms Horne said she wants

people who may be feeling the

way her daughter did to know

there is always hope.

WHERE TO GET HELP:

If you are worried about

your own or someone else's

mental health, visit your

GP or local mental health

provider. However, if you or

someone else is in danger

or endangering others, call

police immediately on 111.

Or if you need someone to

talk to phone:

•LIFELINE: 0800 543 354

(available 24/7)

•SUICIDE CRISIS HELPLINE:

0508 828 865 (0508

TAUTOKO) (available 24/7)

•YOUTHLINE: 0800 376 633

•NEED TO TALK? Free call

or text 1737 (available 24/7)

•KIDSLINE: 0800 543 754

(available 24/7)

•WHATSUP: 0800 942 8787

(1pm to 11pm)

•DEPRESSION HELPLINE:

0800 111 757

•Everyone is welcome to

support and cheer Nico on

during his swim, which starts

at 9am at the Canterbury

Swim School, 25 Charente

Way. If you want to support

Nico's effort, donations can

be made at the Givealittle

page https://givealittle.co.nz/

fundraiser/nicos-16-kilometerswim

Meet Ruth

at the Te Hapua ¯ Halswell Centre Café

2-3pm Friday 13 September

Second Friday of each month

Phone 03 376 4512

porthills.mp@parliament.govt.nz

WOF

Only $50

• Courtesy cars • oil changes • tyres & batteries

• Brake & clutch repairs • transmission flush service

• Full mechanical repairs • Petrol & diesel servicing

FitzgeRald MotoRs

PHONE 03 349 7813

We've shifted now located at

Unit 8,193 Waterloo Road, Hornby

(6 doors down from our old site)

september

specials

50% OFF 20%

welsh slate OFF

MUSGROVES

fixed

aluminium

recycled

windows

5% OFF

new pine decking

140x30mm

These are just three examples of our specials.

see more on our website.

3 Musgrove Close (off Wigram Road), Christchurch

www.musgroves.co.nz • 03 322 7922 or Freephone 0508 468 747

Be a volun-tree

guardian

this Conservation Week

Help grow a healthier future by

planting native trees and shrubs.

West Broken Run, Wigram Saturday 14 September 1-3pm

Travis Wetland Saturday 21 September 10am-midday

For all the details go to:

ccc.govt.nz/volunteer-in-parks
---
8

Tuesday September 10 2019

For everything

AUTO ELECTRIC

CARS • BOATS • TRUCKS

CARAVANS • TRAILERS • 4WDS

ELECTRIC & HYBRID VEHICLES

• Starter Motors

• Alternators

• Central

Locking

• electric

Windows

• ABS & Airbags

• Stereos/

Alarms

• Batteries

• tuneups

• engine

Management

Amazing

Auto USUALLy

AAE Electric SAMe DAy

ServiCe

65 Coleridge St, Sydenham

Phone 03 379 4250

www.amazingautoelectric.co.nz

oN sAle Now!

Now only

$35.80

Plus $5 P&H per copy

AvAilAble from stAr mediA:

Level One, 359 Lincoln Road

Addington, Christchurch

Phone 379 7100

News

Successful new slant on popcorn

• By Georgia O'Connor-Harding

FOUR LINWOOD College

students have made their mark

in the popcorn business after

being recognised in a regional

enterprise competition.

PopCoin was named the

winner of the Canterbury

Young Enterprise Product

launch recently, which was

sponsored by Ara Institute of

Canterbury.

The business, which creates

freshly flavoured popcorn was

founded by year 13 students

– Riccarton's Eileen Prasad

and Arnie Ferreras, New

Brighton's Tara Blackmore

and Redcliff's Meghan Kerr.

The idea was formed

after the students took part

in the national Young Enterprise

scheme – a programme

aimed to inspire young people

to become involved in business.

As part of the scheme, their

challenge was to create a business

idea. The students were

debating between a salad bowl

or popcorn.

After undertaking research,

the students found there was a

demand for popcorn.

The students receive full

profit from the business and

Latest Canterbury news at starnews.co.nz

have made $100 in the four

months it has been running

stalls for.

They run stalls at ARA, New

Brighton Seaside Market, The

Riccarton Sunday Market and

will be selling at Turanga on

September 15.

The flavours the students

have created include savoury

herb and cheese, salted caramel,

chocolate popcorn and

caramel banana.

"We as a group have got a lot

of interest in making food so

we used our own knowledge

and came up with the flavours,"

Eileen said.

Eileen, the mastermind

behind the flavours, was last

year's winner of the National

Secondary School Culinary

Challenge.

She is hoping to go into the

hospitality industry either as a

chef or management position

or study business at Canterbury

University.

Each student plays an

important role in the

business with Arnie as the

finance manager, Tara as the

WESTERN NEWS

INNOVATIVE: Linwood

College students Tara

Blackmore, Eileen

Prasad and Arnie

Ferreras' business

PopCoin has been

recognised in a regional

enterprise competition. ​

communication and

marketing manager and

Meghan as the production

manager.

Social studies teacher Richard

Jolly said the product has

been so well-crafted they have

sold out every time they have

gone to market.

The quirky name for the

business emerged after the

students were joking around

about the term "popcoin"

which featured in a children's

cartoon called The Big Lez

Show.

Drop in to view our

beautiful brand new

apartments and

discover the benefits

of the Living Well Park

Lane community.

Your cosy new home is well insulated

with wooden feature walls and thermal

concrete for extra warmth in winter and

cooling effect in summer. The open

plan kitchen, living area and balcony

provide a great sense of space. With

resort style facilities and electric cars

provided, Park Lane is a fun, independent

and social lifestyle option.

Open Home Saturday 14 &

Sunday 15 Sept, 12pm-3pm

35 Whiteleigh Ave, Tower Junction,

Christchurch 8024. On-site parking.

Email: sales@parklaneretirement.co.nz

or phone: 03 338 4495

www.livingwellparklane.co.nz
---
WESTERN NEWS Latest Canterbury news at starnews.co.nz

Tuesday September 10 2019 9

buY ONe get ONe Free

For every metre you purchase,

Free!

we will give you the 2nd metre

Selected products only. Terms and conditions apply.

PuRE WOOL

NYLON

PuRE WOOL

Parklife

• Extra Heavy Duty

• Cut Pile

• 48oz

• 1 colour

ONLY

$199.90

Per Metre

Newport

• Commercial Heavy Duty

• Solution Dyed Nylon

• Loop Pile

• 5 colours

ONLY

$129.90

Per Metre

Zibeline

• Extra Heavy Duty

• 100% Wool

• 40oz

• 1 colour

ONLY

$169.90

Per Metre

2 COLOuRS

vega vinyl Planks

ONLY

$59.90

Per sQM

3 Metre Wide vinyl

ONLY

$89.90

Per Metre

Lancaster

Park

312 Wilsons Road North, Waltham Phone 366 0070

Open Monday to Friday 8am-5pm and Saturday 10am-1pm

Check out our website www.carpetkingdom.co.nz

for even more CRAZY INSTORE DEALS!

Railway Line

Alpine Ice

Skating

ASk FOR OuR FREE NO ObLIgATION MEASuRE AND quOTE SERvICE
---
10 Tuesday September 10 2019

Latest Canterbury news at starnews.co.nz

News

Chorus bound for New Orleans

• By Claire Booker

SINGERS IN the Christchurch

City Chorus are packing their

bags and warming up their

voices for the Sweet Adelines

World Championship in New

Orleans.

The group was founded in

1985 and the women sing in a

four-part harmony a capella

style and have been national

champions 11 times – but this

time they are back representing

the country on an international

stage.

The last time the group performed

internationally was 2016

in Las Vegas where they placed

fifth and received the "most

entertaining" award.

The chorus is made up of 130

women from across Christchurch,

with members also

hailing from Nelson, Dunedin,

Invercargill, Palmerston North,

Auckland and Australia.

Ellie Sutton, of Cashmere, is

one of the chorus members and

said she is fizzing in anticipation

of her first international contest.

"We and our families have

willingly sacrificed so much to

get the fabulous Christchurch

City Chorus to this point. New

Orleans is the pinnacle of the

journey we have taken together

over the last couple of years and

I can't wait to show the rest of

ENTERTAINING: The Christchurch City Chorus will head to

New Orleans for the Sweet Adelines World Championship this

week.

PHOTO: CLIVE COPEMAN ​

the SAI world what we can do,"

she said.

Papanui's Nicky McCaughan

is the group's visual director,

and she is in charge of the choreography

and showmanship of

the chorus.

The chorus will fly to New

Orleans this week, and the

competition will run from September

16 to 21.

Redwood resident Sharyn

Glassey is excited and feels

"blessed" to be a part of the

chorus.

"Never in my wildest dreams

did I ever think I would be representing

our beautiful country

in an international competition,"

she said.

Musical director Virginia

Humphrey-Taylor said the chorus

is excited for the thrill of

representing New Zealand on

the international stage.

"It has taken three solid years

of learning and performing

songs to reach this pinnacle

time. The chorus' aim is to better

our fifth placing in Las Vegas

the last time we represented

New Zealand in 2016," she said.

"It is exciting, extremely

focused, intensely pleasurable

work, right up until the moment

on stage when they announce:

'We are ready for our next

contestant, from Christchurch,

New Zealand, under the

direction of Virginia Humphrey-

Taylor, the Christchurch City

Chorus,' I live for this moment

in my life," Ms Humphrey-

Taylor said.

Speed limits under review

around Yaldhurst

SPEED LIMITS in Yaldhurst are

being reviewed.

The city council is planning

to lower the speed limits on

Ryans, Pound and Hasketts Rds

as well as in Yaldhurst Village to

60km/h.

The New Zealand Transport

Agency is also be looking at

decreasing the speed limit along

State Highway 73 in the area.

City council staff have spoken

to residents and businesses about

making the highway around

Yaldhurst safer.

There has been a lot of

development in the area, both

commercial and residential, and

more pedestrians are present,

especially around the intersection

of SH73 and Sir John MacKenzie

Ave.

In the last 10 years, there were

56 crashes. As a result of these

crashes, there was one fatality

WESTERN NEWS

SAFETY: Speed

limits around

the intersection

of Pound and

Ryans Rds are

under review.

and five people were seriously

injured.

The Halswell-Hornby-

Riccarton and Fendalton-

Waimairi-Harewood community

boards will consider all

submissions and hear from

submitters before making any

recommendations over speed

limits. A recommendation on

Ryans, Pound and Hasketts Rds,

as well as Yaldhurst Village, will

be made to the city council before

final approval can be given.

For State Highway 73, NZTA

will decide on what the safe and

appropriate speeds should be

based on a technical assessment

and submissions.

•To make a submission, go

to www.ccc.govt.nz/thecouncil/consultations-andsubmissions/haveyoursay/

before September 30.
---
WESTERN NEWS Latest Canterbury news at starnews.co.nz

Tuesday September 10 2019 11

The IIam

Apartments

The new release at Bupa Parkstone

Retirement Village available now.

Open Home Weekend

Saturday 14 September, 1pm - 3pm

Sunday 15 September, 1pm - 3pm

Call Lorenzo on (03) 974 8349

2 Athol Terrace, Ilam, Christchurch

www.bupa.co.nz/parkstone

2 bedroom

apartments

from

$525,000

All apartments contain:

• New Fisher and Paykel kitchen appliances

• Modern, well-designed kitchen with stone

bench tops

• Second toilet

• Open plan lounge and dining area with

heat pump

• 24 hour emergency call system

• Quality light fittings, drapes, and floor

coverings

• Double glazed windows and patio doors

Village amenities:

• Indoor heated swimming pool

• Airconditioned gym

• BBQ and entertainment area

• Sunny courtyard

• Children's playground

• Community kitchen and dining room

• Workshop
---
12

Tuesday September 10 2019

Latest Canterbury news at starnews.co.nz

WESTERN NEWS

SPRING CLEAN SALE

NOW ON. ENDS 30.09.19.

refresh

& revive...

Real Leather!

ZEN

DINING RANGE

ON SALE

Dining Chair NOW $ 120

Dining Table NOW $ 599

Livorno 3 Seater

NOW $1899

Lift Up Storage

Mattress Base

FROM $

550

Aubrey Chair

NOW $459

add a pop of

ON SALE

colour...

CARNIVAL

LIVING & BEDROOM

ON SALE

6 Drawer Tallboy NOW $ 399

6 Drawer Bedside NOW $ 169

Large Bookcase NOW $ 279

Charleston 3 Seater

NOW $999

Caribbean

MATTRESSES

ON SALE

Single NOW $ 299

King Single NOW $ 349

Double NOW $ 379

Queen NOW $ 399

King NOW $ 459

Charleston 2 Seater

NOW $799

Ritz

Ottoman

NOW $129

Available in a range of colours.

SPRING CLEAN SALE ENDS 30.09.19.

Shop

Online

Nationwide

Delivery

Finance

Options

targetfurniture.co.nz

Cnr Blenheim & Curletts Rds, Christchurch

Ph: 0800 TARGET (0800 827438)

Offers and product prices advertised here expire 30/09/19.

Sale excludes Manchester and Accessories.
---
WESTERN NEWS Latest Canterbury news at starnews.co.nz

Tuesday September 10 2019 13

MUSIC: Villa Maria College's Con Brio has won a coveted silver award at The Big Sing Finale. ​

Silver award for Villa singers

VILLA MARIA College's largest

choir, Con Brio, has won a

coveted silver award at The Big

Sing Finale.

The Big Sing is a nationwide

choral competition, hosted

by the New Zealand Choral

Federation.

It sees New Zealand's

secondary school choirs compete

in regional contests, before a list

of the best of the best is released.

Those choirs are then invited

to the televised national finale in

search of gold, silver and bronze

medals.

Twenty-four choirs were selected

for the finale.

The finale was held in

Dunedin and culminated in a

gala concert.

Con Brio is made up of 53

girls from year 10 to year 13,

who share a love of singing and

performing.

"I am enormously proud of the

girls, they work incredibly hard

throughout the year, and they

just keep getting better," said

choral director Naomi Hnat.

"The girls hold themselves to

a very high standard and stretch

themselves to continue to grow

as a group. Some of the girls are

more experienced than others,

and it's a pleasure to watch those

students help to lead the group."

Ms Hnat said performing

alongside other talented choirs

from all around New Zealand is

very special.

"This year there were only

four choirs from Canterbury

selected for the finale, so we feel

proud to be among the best in

the region, and now we can say

we are among the best in the

country."

• By Claire Booker

THE SEARCH for New

Zealand's top outdoor spot has

been won by three Christchurch

children.

And one of those winners was

Waimairi School year 6 pupil

Lauren Hickmott.

Lauren (right) won the art

prize for her silhouette called

Alone, which showcases the sense

of solitude which comes from

camping beneath the night sky.

The annual competition is

run by the Walking Access

Commission, and entries were

received from all over New

Zealand.

Pupils entered a photo,

drawing, poem or short story

relating to their favourite spot to

win a prize pack.

The competition aims to help

teach children to understand

responsible outdoor behaviour.

The photo competition was

won by Breens Intermediate year

7 pupil Taylor Blackbourn, who

entered a photo of the Te Paki

sand dunes in Cape Reinga.

Heathcote Valley School year

6 pupil Matilda Scofield won the

writing prize with her bilingual

poem Sumner Pohutukawa.

Matilda wrote the poem at

her Write on School for Young

Writers class. Her prize will be

SCHOOLS

Waimairi pupil takes

out national art prize

shared with Heathcote Valley

School.

Walking Access Commission

spokesman Asher Wilson-

Goldman said some great entries

were received from across the

country.

"It was a surprise when we

saw all the winning entries

came from Christchurch. But

Canterbury kids really embraced

our competition this year and

celebrated their love of exploring

the outdoors."

MORVEN APARTMENTS UNDER CONSTRUCTION - SELLING NOW

ELEGANT RETIREMENT LIVING

Contemporary design with all the comforts of home

Nestled in the heart of Fendalton, take time to enjoy Holly Lea Village's idyllic parklike setting

with beautiful grounds, established trees and the Waimari stream meandering its way through

the village grounds.

At Holly Lea Village your health and wellbeing is our priority. We provide a supportive lifestyle

with a range of services that can be tailored to meet your individual requirements.

Construction has commenced on the Morven Apartments, eight spacious two bedroom

apartments, architecturally designed with your comfort and safety in mind.

For more information about

purchasing an apartment,

contact Juliane.

hollylea.co.nz

03 351 7764

123 Fendalton Rd, Christchurch

APARTMENTS | ASSISTED LIVING | REST HOME LEVEL CARE
---
14 Tuesday September 10 2019

Latest Canterbury news at starnews.co.nz

AUTOMOTIVE PROFESSIONALS

WESTERN NEWS

Your

car light

95

gasson st

specialists

Long-established car light specialists,

Braxton Car Lights, are now shining their

lights from a new address – just around the

corner from their familiar Brougham Street

site.

The business moved from 325 Brougham

Street to 95 Gasson Street, where they offer

a brighter showroom, easier access for their

customers and plenty of off-street parking.

"We're all set up in our new premises,"

sales manager Richard Vernimmen says,

"and continuing to provide our customers

with an extensive range of replacement

lights for most Japanese, European and

New Zealand-made vehicles. We can cover

most vehicles on the road, and all our lights

are fully checked and in perfect working

order."

If they don't have it in stock, they can

source it from one of the other branches in

the nationwide BE Group, Richard says. BE

is one of New Zealand's largest importers of

car, truck and commercial parts.

Braxton Car Lights also offers a repair

service for headlights, with their skilled

staff of three having 80 years' experience in

the automotive trade between them. They

also specialise in light adjuster and light

conversion of American car lights and their

repair service includes plastic

welding, drying out, and

re-silvering, re-sealing

and lens refurbishment.

Their services can also

be arranged through

your own local garage or

workshop.

So, next time you

need replacement car

lights, call into Braxton Car

Lights' bright new showroom,

95 Gasson Street, phone 0800 225 483,

email carlights@carlights.co.nz.

A vonhead

utomotive

free

6 months roadside assist

with any vehicle servicing

• automatic transmission

flushing service

• Wof • tune-ups • suspension

• batteries • neW tyres • oil &

lube service • courtesy cars

• full mechanical repairs

oPen 6 days (sat until 1pm)

126 racecourse road

Ph 342 7123 or 027 495 6600

Your LoCAL

TYrE SPECIALIST

New & Quality Used Second-hand Tyres

Alloy Wheels

Replacement Rims

Puncture Repairs

www.jcmdirect.co.nz

8c Birmingham Drive,

Middleton

Next to Addington Raceway

343 0099 or 027 22 63 805

®

NEW

LOCATION

95 Gasson St

s

m

a

r

t

The Automotive Lamp Specialists

New and Used Lamps for Cars, Trucks,

Vans, 4WD and Motorhomes

PH 0800 225 483 | 95 Gasson Street, CHRISTCHURCH

mall

edium

• Panel beating

• Spray painting

Fast

turnaround

utomotive

epair

echniques

Smart repairS (NZ) Limited

automotive refinishers

272 Lichfield St (Fitzgerald Ave end)

Ph 377-0409

European

Car Owners

NEW DIAGNOSTIC EQUIPMENT!

We can identify ANY electrical

fault & reduce repair work

with our NEW European Car

Specific Diagnostic Equipment

ROSES

AUTO ELECTRICAL

Enquiries welcome

CH 352 5090
---
WESTERN NEWS Latest Canterbury news at starnews.co.nz

Tuesday September 10 2019 15

WINNERS: CGHS beat Dunedin's St Hilda's Collegiate to win the South

Island Secondary Schools netball tournament final for the first time in

51 years on Thursday.

CGHS win netball title, Villa Maria third

• By Claire Booker

CHRISTCHURCH Girls' High

have won the South Island

Secondary Schools netball

competition for the first time in

51 years.

CGHS beat Dunedin's St

Hilda's Collegiate 29-27 in a

nail-biting final which went into

extra time at Saxton Stadium in

Nelson on Thursday.

Both teams now head to the

nationals next month.

CGHS stayed either level or

in front throughout the A grade

final.

It was 9-9 after the first quarter

and 12-12 at half-time until

CGHS nudged ahead by two

goals after the third quarter.

At full-time, the teams were

level again 26-26. In overtime,

it see-sawed again as both sides

fought hard for the two-goal

advantage needed to take the

title.

South Island Secondary

Schools Netball Association

chairwoman Maggie Lloyd

SPORT

described the game as

"fabulous."

"There was outstanding

defence all throughout the court.

The crowd swung from wanting

one team to win to another team

to win," she said.

Lloyd said CGHS goal shoot,

Olivia McIntyre was "amazing".

CGHS co-captains Charlotte

Knight and Shana Ali were

named the talented players of the

tournament.

Lloyd said the reason for the

low scoring final was because

St Hilda's played a patient game

and looked to control the ball.

The standard had improved

compared to previous years, she

said.

CGHS went into the

tournament ranked third, two

places ahead of St Hilda's.

CGHS beat Ashburton College

34-21 in the semi-final, and

St Hilda's knocked reigning

champions Villa Maria College

out of the running in the other

semi.

Villa beat Ashburton 39-30 for

third, while St Margaret's beat St

Andrew's College for fifth spot,

36-34.

CGHS, St Hilda's, Villa

Maria, Ashburton College

and St Margaret's qualified for

the New Zealand Secondary

Schools tournament in Nelson in

October.

BRAND NEW sHOW HOME IN

HALsWELL

COMMONs

Lot 204 Halswell Commons home

and land package $729,000

NOW OPEN 7 DAys 12PM - 4PM

19 Holmes Hanover Lane, Halswell

(Enter from Halswell Road or Hendersons Road)

• Stunning 4 Bedroom architecturally designed home

• Master bedroom with ensuite and walk in robe

• Large modern kitchen with walk in pantry

• Two separate living areas

• Two bathrooms and separate WC

• Large heatpump and upgraded insulation

• LED lighting throughout

• Soft and hard landscaping included

• Guaranteed move in date; fully fixed price contract;

10 year residential build guarantee

Incredible

design and friendly

team! Home & Land

packages available

in Christchurch

and Selwyn.

www.generation.co.nz/christchurch

MAKING BUILDING easy

Like us on Facebook: Generation Homes Christchurch
---
16 Tuesday September 10 2019

Latest Canterbury news at starnews.co.nz

WESTERN NEWS

The new

local news

destination

for Cantabrians

From Kaikoura,

to Christchurch,

to Ashburton,

we have it covered

Powered by

A division of Allied Press
---
WESTERN NEWS Latest Canterbury news at starnews.co.nz

Tuesday September 10 2019 17

Shop

Win

& Relax

WIN

1 OF 5 FAMILY

GETAWAYS

TO HANMER

SPRINGS

more

chances

to win!

Enter every time you shop at any of these participating businesses

• Re-thread broken necklaces

• Re-knot pearls

• Magnetic clasps fitted

• All jewellery repairs

at any level

Your Outdoor Specialists

At Least

30% OFF

Storewide

Jewellery

& Giftware

JEWELLERY REPAIRS

HOURS: Mon-Fri 9am-5pm, Sat 9am-1pm

79 Wrights Road, Middleton.

Ph: (03) 338 0171

Email: sales@warrenagencies.co.nz

www.warrenagencies.co.nz

The Body's Youth Protein

NEOCELL COLLAGEN SUPPORTS:

- Reduction in lines & wrinkles - improved skin elasticity

- Strong hair & nails, may help reduce hair loss

- Supports bone, ligaments, tendons & joint health

MARSHALLS HEALTH & NATURAL THERAPY

CONSULTING - PRESCRIBING - DISPENSING -

MANUFACTURING - MEDICAL HERBALISTS

101 SEAVIEW RD, NEW BRIGHTON • PH 03 388 5757

Email: enquiry@marshallshealthshop.co.nz

• Footwear

• Clothing

• Skiwear

• Camping

Open 7 dayS

dreSSmart HOrnby, main SOutH rd pH 03 344 5304

2019-2020 SEASON

StArtiNg SOON!

SEASON pASSES

AvAilAblE At thE

wOOdfOrd glEN ShOp

129 North Avon Road, ChCh | Ph (03) 385-1515

Check out www.woodfordglen.co.nz for meeting dates |

NEOCELL PREMIUM COLLAGEN IS

CLINICALLY RESEARCHED

FOR SUPERIOR RESULTS

SUPER LOW PRicE!

120's only $36.90, save $5.75

250's only $56.90, save $9.75

Mail Order Available

Bringing You the Best in

Natural Health!

- WE ARE ALWAYS HAPPY

TO HELP! -

Enjoy your journey with Caltex Hornby

gas up witH us today!

dog wasH

NEw!

iNstoRE

Now

atM | CoFFEE | Lpg swappa BottLE | MiNi supERMaRKEt | FiREwood

tRaiLER HiRE | FoRECouRt sERViCE | touCH FREE CaRwasH

LoCaLLy owNEd & opERatEd

427 MaiN soutH Rd - pH 349 2407

www.CaLtExHoRNBy.Co.Nz

New Zealand's Largest Recycled Clothing Retailer

94 Shands Road, Hornby. Open 7 days 10am - 4pm

Hanleys Essential

Dog Roll

• Pure meat

• No chemicals

• No fillers

• Contains 18% protein

Designer Fashion

• Designer Brands

• Family Clothing

• Menswear

• Footwear

• Bric-a-brac

• Books

• Household Goods

• Workman

Outdoor Clothing

• See the Retro

Section AND

Formal Wear

Formulated for dogs

WIGRAM

Tanqueray

Gin

1 Litre

$

44 99

each

Available from The Feed Shack - Shop 33, Bishopdale Mall

Phone 359 5118 or visit www.animalessentials co.nz

Super Liquor Wigram

187 Wigram Rd (next to Culture Fitness)

Ph (03) 322 4000

See Our

HUGE

Selection!

Convenient

location

to Wigram

Skies

Chill-ahh hire

GlaSS hire

3000

items

arriving

daily!

Bring in this coupon for

GIFT CARDS

BUY ONE

ONE FREE

GET

• Barrington Mall

• The Hub, Hornby

• New Brighton Mall

• South City Centre

Conditions apply, free gift card same price or less, one deal per coupon. Offer expires 20th October, 2019.

Indulge in...

Our gorgeous range of.. sandwiches, paninis,

bagels, scones, slices, muffins, quiches, sausage rolls

& pies, coffee and more! CATERING AVAILABLE!

Gorgeous Food

66-68 Springs Rd Ph: 344 6044 Email: gorgeousfood@xtra.co.nz

Open Monday-Friday 6am-3.30pm www.gorgeousfood.co.nz

OPEN SATURDAY

7am - 1.30pm

specialist bakery

Thinking

Luggage?

Think

Just

Bagz!

PARA PARA PARA PARA PARA PARA

Samsonite Range

DressSmart Mall | 417 Main South Rd, Hornby | 03 349 7887

So-Lite 3 Range

PARA PARA PARA PARA PARA PARA PARA PARA PARA PARA PARA PARA PARA PARA PARA PARA

MATTRESSES

FOR ALL OCCASIONS

127 Blenheim Road PHONE 343 9820

No rainchecks. Cash sales only.

PARA PARA PARA PARA PARA PARA PARA PARA PARA PARA PARA PARA PARA PARA PARA PARA

BLENHEIM

CLARENCE

MATIPO

just

bagZ

PARA PARA PARA PARA PARA PARA
---
18 Tuesday September 10 2019

Latest Canterbury news at starnews.co.nz

WESTERN NEWS

Email georgia.oconnor@starmedia.kiwi

by 5pm each Wednesday

JP Clinics

Tuesday, 10am-1pm

A justice of the peace will

be on-site to take declarations,

affidavits and affirmations,

witness signatures on documents

and certify document copies.

They can also witness citizenship

applications and rates rebate

applications.

Te Hāpua: Halswell Centre and

Upper Riccarton Library

Citizens Advice Bureau

Monday, Wednesday,

Thursday, Friday, 11-5pm, and

Tuesday, 2-5pm, at Papanui, and

Wednesday, Thursday, Friday

and Monday, 11am-5pm, at

Hornby and on weekdays, 9am-

5pm.

The Citizens Advice Bureau

provides free and confidential

advice to everyone. It takes the

time to listen to you and equip

you with information, options

and support.

The Village Presbyterian

Church and Community Centre,

cnr of Papanui Rd and Franks St,

and the Hornby Library

Family History Help

Wednesday, 11am-1pm

Are you interested in family

history (genealogy)? A volunteer

from the Canterbury branch

of the New Zealand Society

of Genealogists is available to

help with your family history

questions.

Upper Riccarton Library

Mahjong Group

Wednesday, 1-3pm

Interested in playing mahjong?

Learn to play at the library. For

beginners and advanced players

alike. If you have your own set

take it along.

Upper Riccarton Library

Scrabble Club

Wednesday, 1.30-3.30pm

Have a way with words? Go

along when you can and join the

library's friendly Scrabble Club.

Some boards provided, but feel

free to take your own.

Te Hāpua: Halswell Centre

UR Club

Wednesday, 3.30-4.30pm

Go and join the fun at an

after-school club. Open to all

school-aged children. There will

be stories, crafts, games and

more.

Upper Riccarton Library

Chinese Technology Help

Book-in Sessions

Wednesday, 2-3pm

These free book-in sessions

are available to help you with

specific issues, such as using

email, searching the internet,

using the library catalogue,

AVANT-GARDE: A second photographic exhibition celebrating the history of iconic restaurant

Chung Wah II will be held at the Upper Riccarton Library on Saturday. In this exhibition follows

the life story of Toi Yee Chan from Tai Shan, China, to the city where he opened the biggest

Chinese restaurant in New Zealand in 1984. The exhibition will be open from 10am-4pm,

Saturday at Upper Riccarton Library. ​

using electronic resources and

any other general computerrelated

queries. Take your

laptop, tablet, smartphone or use

one of the desktop computers.

Registration required.

Upper Riccarton Library

Culture Exchange

Thursday, 11am-noon

Upper Riccarton Library's

Culture Exchange is a friendly,

relaxed group, where you can

make new friends, practice

English and learn about New

Zealand and the city. Free

weekly meetings.

Upper Riccarton Library

GenConnect

Thursday, 1-2pm

Connecting generations by

sharing knowledge. Do you

have questions about your iPad,

smartphone or tablet? Want

to know how to use Skype,

Facebook and apps or share your

photos with family or friends?

Ask an expert.

Upper Riccarton Library

Spark Jump – help for

families to get online at home

Friday, 2-3pm

The library is teaming up

with Digital Inclusion Alliance

Aotearoa to offer Spark Jump.

Spark Jump is designed

for families in low income

communities with the care of

children (aged 0 to 18) who don't

have a current fixed broadband

connection at home, and whose

household is in the 4G coverage

area. Workshop participants

receive a free Wi-Fi modem

and 30gb of data for $10 on the

pre-pay service with no fixed

contract. Register online for a

workshop, or phone the library

at 941 7923.

Hornby Library

Super Saturday Storytimes

Saturday, 11am-noon

Encourage learning through a

love for stories. Storytimes is an

interactive programme including

stories, rhymes, craft and play.

This is a free session run during

school term times.

Upper Riccarton Library

Family Makerspace

Saturday, 1.30–3pm

Join in for fun activities every

week in the Makerspace. Every

week there will be a creative and/

or tech activity to try.

Te Hāpua: Halswell Centre

Drop-in Chinese Art Club

Sunday, 10.30am-noon

Take your own brushes, ink,

paint, and paper. Join the club

and work on calligraphy and

brush painting. For ages 10 and

up. Only during term time.

Te Hāpua: Halswell Centre

Wā Kōrero/Storytimes

Monday, 10-10.30am

Encourage learning through

a love for stories. Storytimes is

an interactive programme of

stories, songs, rhymes and play.

Upper Riccarton Library

Study with Vision

CHOOSE FROM OUR CERTIFICATES, DIPLOMAS & DEGREES!

WE OFFER:

• ULTIMATE FOUNDATION SKILLS

• EARLY CHILDHOOD

EDUCATION AND CARE

• SECURITY AND FORCES

TRAINING COURSE

• BUSINESS ADMINISTRATION

AND TECHNOLOGY

• COUNSELLING

• WEB DESIGN AND SOFTWARE

DEVELOPMENT

WWW.VISION.AC.NZ | 0800 834 834

50 Hazeldean Road, Addington, Christchurch
---
WESTERN NEWS Latest Canterbury news at starnews.co.nz

Tuesday September 10 2019 19

YALDHURST AREA SPEED REVIEWS

Have your say

on safer speeds

Public consultation 2–30 September 2019

The NZ Transport Agency and the Christchurch City Council are proposing

safer speed limits in the Yaldhurst area, including on State Highway 73.

Before we make a decision we want to hear from you.

We want to hear from you

Find out more and make a

formal submission at

ccc.govt.nz/haveyoursay

Or, if you'd like us to send

you a consultation form,

call 03 941 8793
---
20

Tuesday September 10 2019

Tasty Bites

Latest Canterbury news at starnews.co.nz

WESTERN NEWS

Exotic food with the least hassle

If you are going to cook

for a large dinner party,

organisation and preparation

are key, starting with

working out a menu well

ahead of the event. Try

including this tasty Asianinfluenced

starter to your

list

Tamarind chilli crispy-skin

salmon with green mango

herb salad

Serves 4

Ingredients

600g salmon fillets, cut into 4cm

cubes, patted dry with paper

towels

Sea salt

Fresh cracked black pepper

Crispy shallots

Oil

Tamarind chilli dressing

5-10g large dried red chillies

2 cloves garlic, peeled, minced in

a mortar and pestle with a pinch

of salt

5g belacan (shrimp paste)

65g gula melaka, shaved

25g tamarind pulp, soaked in

150ml

hot water, rendered and sieved

1½ Tbsp lemon juice

2 large kaffir lime leaves, finely

julienned

Green mango herb salad

½ telegraph cucumber or one

lebanese cucumber, unpeeled,

shaved into ribbons

1 green mango, peeled, shaved

into ribbons

1 small bunch coriander leaves

1 small bunch Thai basil leaves

2 wing beans, finely sliced

Squeeze of lemon juice

Pinch of sugar

Olive oil

Directions

Season the fish with salt and

pepper and a drizzle of oil.

Place the soaked dried chillies

and garlic in a food processor

and blend until a fine paste.

Heat two tablespoons of oil in

a small saucepan over medium

heat, add the shrimp paste and

mash with a wooden spatula.

Cook for 1min until the shrimp

paste becomes fragrant and

starts to toast.

Add the chilli garlic paste

and continue to cook, stirring

frequently, until fragrant.

Add the gula melaka and cook

until dark, glossy and sticky.

Slowly pour in the tamarind

puree. Cook until slightly

thickened, then stir in the lemon

juice and sprinkle on the kaffir

lime leaves. Remove from heat

and set aside.

Heat a non-stick fry pan over

high heat. Place the fish pieces

skin side down evenly around

the pan and cook until crisp and

golden.

To ensure that the skin is

evenly crispy, you may need to

gently press with a spatula to

keep the skin flat on the pan.

Turn over, and cook the other

side until three-quarter cooked.

Pour over the tamarind chilli

sauce and toss very gently to just

coat. Be careful not to break up

the fish pieces.

Combine the salad ingredients,

and dress with lemon juice,

sugar and olive oil just before

serving.

Transfer the fish to a serving

plate along with all the sauce

and top with the green mango,

cucumber and herb salad.

Sprinkle with crispy shallots and

serve immediately.

Note: Adjust the quantity

of the large, red dried chillies

according to your taste. Also,

leave the seeds in if you like

the dish extra spicy, otherwise,

deseed them.

In any case, soak the chillies in

hot water until softened before

using them.

www.bigbrothersbigsisters.org.nz
---
WESTERN NEWS Latest Canterbury news at starnews.co.nz

Tuesday September 10 2019 21

REAL ESTATE

Private, peaceful

Purau rural retreat

52 Purau Port Levy Road, Purau Valley, Lyttelton Harbour

Price: $850,000 plus GST if any

2 bedrooms | 1 bathroom | 2 living rooms | 13ha | Listing Number: 9736

Seldom do properties such as this come

to the market but retiring vendors of 30

years have decided the time has come.

This is a wonderful location, peaceful

and private with wonderful bird song. Set

on 13.1369 hectares or 32.5 acres approx.

this charming 100m 2 home is both easycare

and warm. Commanding beautiful

views of the Purau Valley, Purau Bay and

Mt Evans, if you are looking for peace and

privacy then this one could be for you.

Set well off the road the house has

two double bedrooms, two living areas,

lovely decking and one bathroom. North

East facing and sheltered with a garage/

workshop adjacent to the house. The

garden is easy care and the land is a

mixture of pasture in five paddocks for

grazing, some bush and about 250 approx.

30 year old pine trees ready for harvesting.

The property is well fenced and has an

excellent water supply, a small stream and

a natural pond. Further down the driveway

there is a set of yards, a four bay implement

shed, a tractor shed with high stud and a

large high stud workshop with three phase

power. There is also a semi derelict house

from about the 1930s on the property.

This is an idyllic location and perfect for

a retiring farmer, someone wanting to get

into the firewood business or someone with

a portable mill to make use of all the trees.

Purau Bay is approximately 30 minutes'

drive from Christchurch, making it a

highly desirable destination as it is so

useable being close to Christchurch.

Properties in this lovely valley and by such

a safe swimming beach are defying all the

odds and selling fast generally as they come

up very seldom.

Excellent swimming, boating, walking

and stunning sunsets on the hills, quick

and easy access to Lyttelton via the

Diamond Harbour ferry (approx. five

mins), local shops, cafés and bar make this

a fun filled place to visit. Properties here

make an excellent investment and Purau

Bay and valley is a truly magical place to

live.

To view this property please contact

Tim Dunningham of Min Sarginson Real

Estate (Licensed Agent REAA 2008),

phone 027 651 5474 or 329 4161

growing with you June 2018 | 100%

Plants For

winter wow

Cool Choices

For Colour

& Contrast

From swamp

to sea views

The journey

begins with sarah

the Gardener

$7.90 incl. GST

Snap it up

Enter our annual

Birdlife Photo

Competition to win

great prizes!

clear the air

Why groWing

indoor PLAnTs is

so good for you

give it a grow

from gArLic

To chinese

ArTichokes,

We hAve your

groWing TiPs

covered

the latest releases

into the rose world

+ rose care

through winter

The magazine for

gardeners who like to get

their hands dirty

SUBSCRIBE FROM

$43. 50*

*6 issues/6 months

SUBSCRIPTIONS FREEPHONE

0800 77 77 10

WWW.GARDENER.KIWI
---
22

Tuesday September 10 2019

Latest Canterbury news at starnews.co.nz

WESTERN NEWS

PICK IT UP AND DRIVE AWAY

Available from hundreds of pick up points around

Christchurch, Canterbury and the West Coast

each Friday including:

Selected Fresh Choice, New World stores and

hundreds of takeaway shops

Bringing buyers and sellers

together every week

For advertising enquiries

please call Anna on 021 902 729
---
2010 j ep patriot

$14,999

location: 68 Falsgrave Str et, W olston, Christchurch

www.grcaudio.co.nz

S e page 5 for details

2013 TOYOTA PRIUS

HYBRID

Trave led 79, 89km's,

very economical.

LEATHER INTERIOR

$11,999 +

454 St Asaph Str et, 03 378 1818 or 021 480 201

NO dEPOSIT

$49 PEr W Ek

ORC

mazda 2

2012, 5 sp ed, 92, 0kms, NZ new,

side airbags, popular model.

$6,950

S e our ad on

the back page.

198 Yaldhurst Road,

Avonhead

Phone (03) 342 3434

2006 NISSAN FUGA

Auto, A loys, ABS,

Twin Airbags,

Half Leather.

$8,990

Cnr Colombo & Milton Sts. Ph: 337 9629.

CAR AUDIO

AUDIO VISUAL

CAR SECURITY REVERSE CAMERAS

CE LULAR RADAR DETECTORS

Terms, conditions & lending criteria a ply

From $61,990

FU L REPAIR SERVICE

AERIALS

PLEASE TAKE ONE

Friday 2nd August 2019 | No. 609

2013 FoRd FOCUs

$13,999

TM

• Very a tractive interest rates

• Up to 5yr term available

• Very low kms

NO DEPOSIT!

Terms & conditions a ply.

Ce l 0272 424 76 Ce l 021 8 5 84

ON SALE Was $14, 90

$68 p/w

2016 Suzuki

Swift XG

G od People, G od Service, G od Cars

12 0 c, Petrol, 5 D or, Hatchback,

1,985km, 5 seats, automatic.

Ph 08 0 421 6 1

w.g odcars.nz

OPEN 7 DAYS

Cnr M orhouse Ave

& Lancaster St

*Terms & conditions a ply. *Finance subjec to credit and lending criteria. *On Road Costs A ply.

$112pw *

$4,995

* Terms and conditions apply

Inch Quality

European

393 Fe ry Road, Christchurch

P 03 389 6108 urbanauto.co.nz

NO dEPOSIT

$56 PEr WEEk

See page 4 for details

2010 VOlVO XC60

T6 R DeSign

3000cc, Turbo, Intercooler, black leather

seats, auto/tiptronic, AWD, all electrics,

fully loaded – top spec, safety cameras,

low 55,200km.

2 06

Honda CiviC 2.0S

NZ New, leather, sunr of

1 98 c auto, VTeC, cruise, a l

electrics, a loys, spot lights,

climate control, aBS brakes, efI.

S e more from our

fOrd fIESTa 5 SPEEd

2009, 5 speed, 5 door, 92,000kms,

NZ new, side airbags, great colour!

& uNDer SeLeCTIoN

TurN The page .

IPOD INTEGRATION

GPS/TRACKING

S e our ad

on page 35

198 Yaldhurst Road,

Avonhead

Phone (03) 342 3434

www.tcm4wd.co.nz

113 Sherborne St, Edgeware Ph (03) 377 8873

$29,999

541 Moorhouse Ave

Christchurch

Ph 03 3799528 or 0274366076

$7,950

S e our ad on

the back page.

$79 PW

2017 HoldEn Barina ls HaTCH

1.6 Litre, 6 spd auto, 5 star ancap,

reverse cam, bluetooth, cruise,

alloys, choice of 2 NZ new.

from $13,995

2010 honda stream

$9,999

www.grcaudio.co.nz

S e page 5 for details

454 St Asaph Str et, 03 378 1818 or 021 480 201

www.bestmotorbuys.co.nz

S E OUR AD ON PAGE 15

*conditions a ply

CashbaCK

bonanza!

FR E ORC

no PaYMEnTs

FoR 3 MonThs!

(12months of reg and fresh wof)

FREE Fu l Tank o fuel!

www.tcm4wd.co.nz

2009 lexUS IS 250

HARD TOP

cOnveRTIBle

91, 0kms, black leather interior.

ExcE LENT cONdITION!

$21,999 +

$1 2 pw

1 95 ni san safari granroad

4.2 Turbo diesel, 160,8 0kms,

winch, whole back seat.

only $21, 95

PLEASE TAKE ONE

For advertising enquiries, phone Anna Rossiter on 021 902 729

Thinking Finance for a New Car,

Boat, Caravan, Truck or Trailer?

Think Paul Kelly Finance

Phone – 0800 PAUL KELLY

www.paulkellyfinance.co.nz

Terms, conditions & lending criteria apply

2018 Everest Titanium

From $61,990 • Very attractive interest rates

• Up to 5yr term available

• Very low kms

NO DEPOSIT!

Terms & conditions apply.

Now Available @ NZ Van Spares

ORC

CAR AUDIO CAR SECURITY

AUDIO VISUAL CE LULAR

location: 68 Falsgrave Street, Woolston, Christchurch

email: nzvanspares@hotmail.com | phone: 03 379 3932 / 0508 698 267

$7,995

393 Ferry Road, Christchurch

P 03 389 6108 urbanauto.co.nz

The South Island's leading motoring publication FREE

every Friday at hundreds of locations around the South Island,

and it's available online at www.bestmotorbuys.co.nz

TM

Cell 0272 424 776 Cell 021 855 884

2009

Volkswagen

Polo gTi

Sporty & fun, 1 Year Warranty

1800cc, 5 speed manual, turbo,

alloys, pioneer bluetooth stereo,

air cond, spoiler.

& uNDer SeLeCTIoN

TurN The page...

REVERSE CAMERAS

RADAR DETECTORS

Terms, conditions & lending criteria a ply

From $61,990

$7,995

393 Fe ry Road, Christchurch

P 03 389 6108 urbanauto.co.nz

FU L REPAIR SERVICE

AERIALS

IPOD INTEGRATION

GPS/TRACKING

PLEASE TAKE ONE

• Very a tractive interest rates

• Up to 5yr term available

• Very low kms

NO DEPOSIT!

Terms & conditions a ply.

Ce l 0272 424 76 Ce l 021 8 5 84

2 09

Volkswagen

Polo gTi

Sporty & fun, 1 Year Warranty

18 0 c, 5 sp ed manual, turbo,

alloys, pion er bluet oth stereo,

air cond, spoiler.

S e more from our

& uNDer SeLeCTIoN

TurN The page .

S e our ad

on page 35

TM

WESTERN NEWS Latest Canterbury news at starnews.co.nz

Tuesday September 10 2019 23

Curtains

www.curtainfabric-outlet.com

Fashion Designs & Colours

Discontinued Designs

End of Lines Bargain Prices

Call at Our Shop

CURTAIN FABRIC OUTLET

71 Hawdon St Sydenham

Ph 366-5026

Garage Sales

Plant and

book sale

St Silas Anglican Church

237 Main North Road,

Redwood

8am-1pm, Saturday

14th September

Approx 1000 plants, from

native asparagus to peonies.

Large number of quality

books, great for summer

reading. BYO bag or box.

Gardening

& Supplies

A GARDEN OR

LANDSCAPING TIDY

UP? Shrub, hedge &

tree pruning, Lawns,

Gardening, consistently

reliable general property

upkeep, Dip. Hort. 10

yrs experience, One off

tidy ups or on-going

service. Nick's Garden

Maintenance. Keeping

your garden beautiful.

Free Quote. Ph. 942-4440

& 022 264 7452

Health & Beauty

Qualified Hairdresser and

reg home hair studio in

Avonhead. Cuts, colours,

kids, families, weddings,

group bookings. Call Soni

022 434 1055

Situations Vacant

Advertising Account

Executive

Best Motorbuys Magazine

Classifieds Contact us today Phone our local team 03 379 1100

Friday 23rd August 2019 | No. 612

• Full time position

• Help drive Christchurch's only

weekly full gloss motoring

magazine forward

• Excellent commission opportunities

Star Media is seeking an Advertising Account

Executive to take responsibility for our weekly Best Motor Buys Magazine.

We seek a person who enjoys working as part of a team, has a can-do

attitude and who has an affinity and interest across the motoring sector.

The position encompasses the following major functions:

• Effective promotion and sales of advertising for Best Motorbuys Magazine

and Star Media's range of products

• Providing a high quality, professional sales administration service

• Ensuring the highest possible level of customer/client service

• Works proactively to ensure that clients are offered the best advertising

solution across all potential advertising platforms

If you have the above and want to be part of a progressive

media company, please email your CV to:

Shane Victor, Advertising Manager - shane@starmedia.kiwi

Star Media is a division of Allied Press.

Holiday

Accommodation

Australia QLD

SUNSHINE

COAST

RESORT

ALEXANDRA HEADLAND

All Units Have Ocean Views.

Heated Pools, Spa & Sauna,

Free Wifi, Tennis

& Mini Golf.

CHECK OUR GREAT

WINTER SPECIALS

www.mandolin.com.au

0061 7 5443 5011

JUNE to AUG temps 20C

Public Notices

AnnuAl

GenerAl MeetinG

Hornby Day

Care Trust

93 Carmen Rd, Hornby

12 noon, Tuesday

24th September

ADD SOME

A fordable new parts available for BMW / MERCEDES BENZ / AUDI

Hilux spares

Now Available @ NZ Van Spares

email: nzvanspares@hotmail.com | phone: 03 379 3932 / 0508 698 267

Best

FREE

Motorbuys

$7,990

275 Colombo St, Christchurch.

COLOUR

TO YOUR ADVERT!

www.bestmotorbuys.co.nz

ANYTHING WITH A MOTOR!

For advertising enquiries, phone A na Ro siter on 021 902 729

Thinking Finance for a New Car,

Boat, Caravan, Truck or Trailer?

Think Paul Ke ly Finance

Phone – 0800 PAUL KELLY

www.paulke lyfinance.co.nz

2018 Everest Titanium

mobile installation service 0800 212 777

Best

TM

Motorbuys

$12,990

ONLY

$7,995

Friday 9th August 2019 | No. 610

FREE

Best

Motorbuys

A fordable new parts available for BMW / MERCEDES BENZ / AUDI

ANYTHING WITH A MOTOR!

259 Colombo Street, Sydenham

154 Orchard Road, Harewood

WE BUY

UTES!

PHONE 027 303 0101 NOW!

547 Moorhouse Avenue

Hilux spares

13 Sherborne St, Edgeware Ph (03) 3 7 873

Motorbuys

Best

www.bestmotorbuys.co.nz

Thinking Finance for a New Car,

Boat, Caravan, Truck or Trailer?

Think Paul Ke ly Finance

Phone – 0800 PAUL KELLY

www.paulke lyfinance.co.nz

Hilux spares

Now Available @ NZ Van Spares

location: 68 Falsgrave Str et, W olston, Christchurch

email: nzvanspares@hotmail.com | phone: 03 379 3932 / 0508 698 267

mobile installation service 0800 212 777

See more from our

$7,995

FREE

ANYTHING WITH A MOTOR!

For advertising enquiries, phone A na Ro siter on 021 902 729

2018 Everest Titanium

$7,995

Trades & Services

Real Estate

ROLLESTON

37c Stonebrook Drive

Sunny, Private and Peaceful

Open Homes: Wed 11 Sept 1pm-2pm

and Sat 14 Sept 1.30pm-2.30pm

• Sunny warm north facing home with indoor/

outdoor flow via four ranchsliders onto patios

• 3 bedrooms, study/nursery, 2 bathrooms

• Perfect for summer BBQs and entertaining

• Modern spacious kitchen with scullery

• Secure lockable section

• Drive through garage with space for boat, bikes,

trailer etc

• Generous sized section perfect for the family

• Convenient location to all local amenities

Enquiries over $579,000

Contact Kristy 021 454 944

Trade Me Listing GJW919 | Private Sale

kitchen renovation

Kitchen looking tired?

Revitalize with new colour at a

fraction of replacement cost

• Alterations & Hardware available

• Laminated Kitchens no problem

• 'On Site' finishing available

• Over 20 years experience

• Free Quotes with no obligation

• All Joinery & Furniture repair & Spraycoatings

PABLO'S PAINTWORKS

27 Birmingham Drive, Middleton

03 338 6280 | 021 541 323

pablospaints@xtra.co.nz

www.pablospaintworks.co.nz

plumbING AND GAS

• Gas fitting – servicing, new, renovations

• Gas hot water installs

• Gas cookers and gas fires

• Kitchen / Bathroom renovations

• Backflow testing and installs

• Filtration – whole house, kitchen tap

• Domestic maintenance

Email: james@plumbingandgashq.co.nz

Text: 021 174 9265

0800 H20 LPG

4 2 6 5 7 4

GLAZING

DISCOUNT FOR

SUPER GOLD CARD

HOLDERS!

FREE QUOTES

Twisty Glass & Glazing LTD

• Mirrors • Pet door specialists

• Splashbacks

THE CAT DOOR MAN

ALL BROKEN WINDOWS

Phone Cushla or Darren Twist

03 352 6225 or 027 352 6225

Trades & Services

WINDOW TINTING

tintawindow

advanced film solutions

99% uv block

fade protection

heat control

reduce glare

25 Years Experience

privacy films

frosting designs

non-darkening films

Workmanship Guaranteed

Lifetime Warranties on Most Films

UV

block

Trades & Services

PAINTER

Houses Interior/

Exterior

27 years exp.

Tidy workmanship

On the spot

written quotes

Phone:

0274 360 298

UPHOLSTERER

dyers upholstery services

(Ex Leacroft St, Bishopdale)

We specialise in

re-upholstering all types of

household furniture

inc squabs.

Trusted craftsman for over

30 years. Fabric samples,

Free quotes, pick up &

delivery.

All work guaranteed.

Ph. 359 5033 or

022 106 0108

Free Quotes Canterbury and Districts

03 365 3653 0800 368 468

YOU COULD

BE HERE

Let us help take

your business to

new heights

Advertise your business in our

Trades and Services column.

For assistance contact Vicky

Phone 03 364 7419 or email

vicky.sayers@starmedia.kiwi

ADVERTISE YOUR

BUSINESS HERE

Phone for further details

(03) 379 1100

Trades & Services

ROOF

PAINTING

Rope & harness

a speciality,

no scaffolding

required,

30 years of

breathtaking

experience.

FREE QUOTES

Exterior staining,

exterior painting,

moss and mould

treatment and

waterblasting

Phone Kevin

027 561 4629

rooF

painting

Book now for

Summer and

receive 20%

discount.

Rope and harness

a speciality.

No scaffolding

required.

30 years

experience.

Free quotes,

call Craig

021 060 2392

BATHROOM

Renovations, complete

service from start to finish,

free quotes, ph Dave 027

334 4125

BEST BATHROOMS

full renovations

specialists, LBP builder,

free quote, all building

property maintenace ph 03

383 1927or 027 245 5226

ciey@xtra.co.nz

BRICKLAYER.

George Lockyer. Over

40 years bricklaying

experience.Uk trained.

Insurance work, EQC

repairs. Heritage

brickwork & stonework

a speciality. No job too

small. Governers Bay.

Home 329 9344. Cell

027 684 4046. E mail

georgelockyer@xtra.co.nz

BUILDER

New builds, alterations,

decks, fencing. 30 yrs in

the trade has given me

ability to build to a high

standard. Free quotes. Ph

Brent 027 241 7471

CARPET LAYING

Exp. Repairs, uplifting,

relaying, restretching.

Phone John on 0800

003181, 027 240 7416

jflattery@xtra.co.nz

ELECTRICIAN

Registered, electrical

installation and repairs,

Gorbie Electrical, ph 021

026 73375 or 03 322 4209

PAINTING

Indoor / Outdoor, over 30

yrs exp, same day quotes,

ph Steve 021 255 7968

PLUMBER

A Top Plumbing job

completed at a fair price,

prompt service, all work

guaranteed, Ph Brian 960-

7673 or 021 112-3492

Trades & Services

STUMP GRINDING

Best price guarantee Tony

0275 588 895

TILING

Flooring - Splashbacks -

Wall incl tile removal, reg

master tiler, ph Dave 027

334 4125

T.V. SERVICE CENTRE

Repairs, tvs, microwaves,

audio amps, soundbars.

.Aerial & satellite installations,

kitsets, 480D Moorhouse Ave,

ph 03 379 1400

VHS VIDEO TAPES

& all camera tapes

converted to DVD, video

taping special occasions,

www.grahamsvideo.co.nz

ph 03 338-1655

Wanted To Buy

CASH FOR

STAMPS,

COINS &

GOLD

Free Appraisals

Call Matt at

The Stamp and

Coin Exchange

134a Riccarton Rd

0800 39 24 26

We can come to you.

Call today.

Dealers. Phone 980 5812

sawbenches, lathes, cash

AAA Buying goods

quality furniture,

Beds, Stoves, Washing

machines, Fridge Freezers.

Same day service. Selwyn

or 027 313 8156

TOOLS Garden,

garage, woodworking,

mechanical, engineering,

buyer, ph 355-2045
---
24 Tuesday September 10 2019

Latest Canterbury news at starnews.co.nz

WESTERN NEWS

We love

what we do

Congratulations to our Top 20 Consultants

for August 2019

It's an unquestionable truth – the success of our clients is

directly tied to the success of our people. We are inspired

every day by our clients' stories and it's why we love doing

what we do.

Congratulations to our top performers for their passion and

dedication, their unique expertise and exemplary service.

Top 02 03 04

TIM HARRIS

Merivale

CHRIS CAMPBELL

Merivale

CORINA GREY

Ilam

CHRIS LEWIS

Fendalton

05 06 07 08

EMMA LUXTON

Ilam 2

PETER FITZHARDINGE

Ilam 2

RICHARD DAWSON

Ilam 2

CINDY-LEE SINCLAIR

Merivale

09 10 11 12

PENELOPE SHRIMPTON

NAI Commercial

PAUL NICHOLS

Fendalton

BRIDGETTE ANDREWS

Merivale

ENEKA BURROUGHS

St Albans

13 14 15 16

JENNI ROLTON

St Albans

BEV GRIFFITHS

St Albans

FIONA WILLIAMS

Ilam

DARREN WILLIAMS

Merivale

17 18

19 20

LIZ O'NEILL

Merivale

FIONA NANKIVELL

Fendalton

MARTIN SUTTON

Ilam 2

JAN MORLEY

Fendalton

Contact one of our top performers today:

FENDALTON

03 355 6116

ILAM

03 351 6556

ILAM 2

03 351 3002

MERIVALE

03 355 6677

ST ALBANS

03 377 0377

holmwood.co.nz