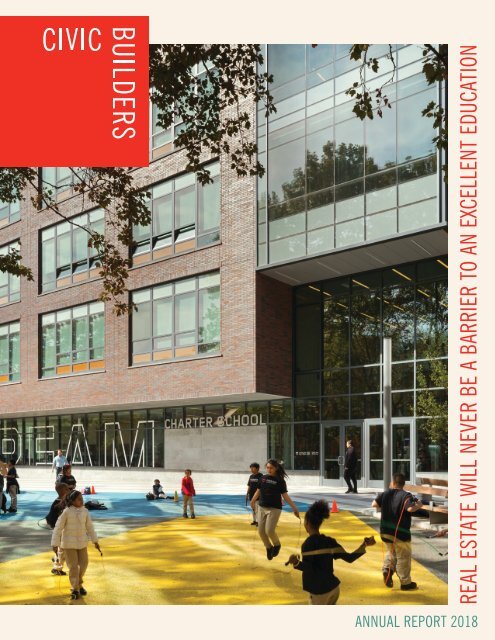 Civic Builders: 2018 Annual Report
Civic Builders develops and finances school buildings for the nation's top public charter schools. Jump in to our 2018 Annual Report to learn about unique facilities financing funds and innovative development approaches in NYC and across the country.
Civic Builders develops and finances school buildings for the nation's top public charter schools. Jump in to our 2018 Annual Report to learn about unique facilities financing funds and innovative development approaches in NYC and across the country.
SHOW MORE
SHOW LESS
You also want an ePaper? Increase the reach of your titles
YUMPU automatically turns print PDFs into web optimized ePapers that Google loves.
REAL ESTATE WILL NEVER BE A BARRIER TO AN EXCELLENT EDUCATION

ANNUAL REPORT 2018
---
AN INFLECTION POINT IN EDUCATION REFORM

Every child should be able to attend a great public school in their

neighborhood. Unfortunately, this is not the reality in many communities

across the nation. Civic Builders is committed to supporting

educators as they solve the education crisis in our backyard.

This work lies at the nexus of community development and

social impact.

We are at an inflection point in the education reform sector. With

over 1 million children on charter school wait lists nationally, over

50,000 of those students in NYC, and a challenging political environment,

now more than ever we need to support great public

charter schools. To bring access to opportunity to the thousands

of students who are shut out, Civic Builders will continue to partner

with the nation's top educators seeking to open and operate

excellent schools.

Educators consistently name access to affordable facilities as a

top barrier to growth and serving more students. Civic Builders is

the nation's leading non-profit charter school developer and

lender, focused on increased access to high-quality education for

all students. Since 2002, Civic Builders has brought tailored facilities

services to 39 schools. We are constantly evolving and growing

our services to find the right facilities solutions unique to each

school.

Through decades of experience and expertise in charter school

facilities, Civic Builders manages all elements of development

and financing so school leaders can focus on the important work

of opening and operating high-quality schools. We are prepared

to bring the most innovative and impactful products to the char-

ter facilities space and are excited for this next chapter of the

organization.

With gratitude and enthusiasm,

BRAHM CRAMER

Board Chair

DAVID UMANSKY

Co-Founder & CEO

Brahm and David

1 2
---
ACHIEVEMENTS

APPROACH

39 SCHOOLS

6 IN 2018

1

Affordable financing

18,000 SEATS

$1 BILLION INVESTED

2,500 IN 2018

2

Turnkey facilities

$100M IN 2018

$118M NMTC ALLOCATION

10,OOO

$40MM IN 2018

GRADUATES GOING

ON TO HIGHER ED

3

Innovative partnerships

to build thriving

communities

1,000 IN 2018

3
---
BUILDERS

CIVIC

FACILITIES

FINANCING

Charter schools are unable to access

affordable loans for their facilities

projects. This presents a major

barrier to the growth of great schools.

FACILITIES

INVESTMENT

FUND CASE STUDY

Over the last five years, Civic Builders

has created and scaled a lending

business to meet this need and is on

track to be one of the largest charter

school facilities lenders in the nation.

DEVELOPS AFFORDABLE

FINANCING SOLUTIONS

The Facilities Investment Fund, a partnership between the Walton Family Foundation, Bank of

America Merrill Lynch, and Civic Builders, is a groundbreaking $100 million loan fund that is committed

to improving facilities financing for high-performing charter schools and networks across

the country. The program provides financing for new school construction or renovations to existing

buildings with loans up to $20 million for up to 90% loan-to-value.

Throughout 2018, the Facilities Investment Fund helped to finance the construction of two new

schools, Great Hearts is constructing a new 784 student, K-6 school in San Antonio, TX, and KIPP

Indianapolis is building a new high school facility to serve 450 students. The Facilities Investment

Fund represents a first-of-its kind partnership between philanthropic capital and commercial capital

used to Improve access for early stage schools and operators that show promise in improving

outcomes for economically disadvantaged students.

5 6
---
BUILDERS

CIVIC

SHORT-TERM

SPACE

While most charter schools typically grow one

grade at a time, real estate is not easily

expandable. Most scaling schools take on more

space than they need or can afford in early years.

Civic Builders is launching New York City's first

public charter school incubation space to offer

flexible, affordable, and pre-built space to new

and growing schools.

SOUTH BRONX INCUBATOR

CASE STUDY

The Jill & Brian Olson Charter School Incubator, located at 411 Wales Avenue,

Bronx, NY, will support schools as they scale and grow into their long-term,

permanent school sites. Civic Builders' incubation space is 26,000 square feet of

the 52,000 square foot building with an additional 6,000 square foot full gymnasium.

The space will open for school year 2019 with Neighborhood Charter School

Bronx as the anchor tenant and American Dream School as the first incubating

tenant. At scale, the space will educate approximately 620 students annually

across grades K-8. During the four years of incubation in the space, Civic Builders

will support the launch of three to five schools.

DEVELOPS NEW TURNKEY

FACILITY MODELS

The incubator model represents a compelling opportunity for new and scaling

schools to pay rent only up to the facilities assistance subsidy for the number of

students enrolled each year. Real estate does not typically match size and rental

costs to a scaling school's size, so this brings huge benefit to schools as they grow.

The incubator space is a key example of Civic Builders' efforts to tackle the variety

of facilities challenges our school partners face.

7 8
---
BUILDERS

CIVIC

MIXED-USE

DEVELOPMENT

Affordable housing and great public schools are

cornerstones to healthy and thriving communities.

Civic Builders recognizes the myriad benefits to pairing

these neighborhood anchors.

PHIPPS HOUSES

& BRILLA VERITAS

CASE STUDY

Civic Builders entered a partnership with Phipps Houses, an affordable

housing developer, for a mixed-use development in the South Bronx. This

project will bring 70 units of affordable housing and a new K-5 space for 450

students from Brilla Veritas Charter School.

9

DEVELOPS INNOVATIVE

PARTNERSHIPS TO BUILD

THRIVING COMMUNITIES

Partnerships such as these are excellent avenues to unlock affordable space

for schools. From project efficiencies to increased subsidies, a mixed-use

development is an excellent approach to launching school facilities in large

cities such as NYC. Civic Builders will continue to explore opportunities to

build thriving communities and excellent educational choice.

10
---
UNIQUE

REINVESTMENT

MODEL

FINANCIALS

*

Sustainability is inherent in our model.

Capital is recycled from past investments and used

for future school projects.

UNRESTRICTED

CASH

RESTRICTED

CASH

2016 2017 2018

$14,891,566 $17,622,531 $16,300,508

$18,169,062 $13,321,716 $34,939,982

RECEIVABLES

$2,539,258 $4,102,314 $2,565,750

FIXED ASSETS

$67,796,787 $68,334,393 $78,520,134

From projects in the current portfolio, Civic

will recycle over $40MM for reinvestment in

new school buildings.

TOTAL ASSETS

$103,396,673 $103,420,955 $132,326,375

*Aggregate Balance Sheet includes Civic Builders, Inc., subsidiaries, affiliates, and

unrelated sponsored entities. This presentation does not conform with GAAP; audited

financial statements are available upon request.

12
---
LOOKING AHEAD

THANK YOU TO OUR

SUPPORTERS

1

Financing Solutions

A new philanthropic investment fund focused

on charter school facilities nationwide

2

New Facilities Models

More incubation space to help schools launch and grow

3

Mixed-use Developments

Affordable housing, community facilities, and a new,

50,000 square foot school space in the heart of East

Harlem at the SenderoVerde development

To our supporters and friends, your ongoing partnership has facilitated

Civic Builders' impact and success. Our school buildings

bring opportunity and joy to students each day, like graduating

senior, Yancee Mendez, from Hyde Leadership Charter School

from Bronx, NY.

"My favorite part of my school is the windows. At my middle

school, there were hardly any windows and it seemed like there

was no freedom or future, either. It was almost like a prison. The

orange lights did not help and made the days go by slowly. The

few windows that were there were covered up by blinds and by

cages, presumably so students couldn't jump. This made sense

because we all thought of escaping, frequently. Each little infraction

received a reprimand, tenfold. School should be about learning

and exploring your choices but instead, we were robots on an

assembly line.

When I got to high school, everything changed. The building was

brand new so the desks were nice and unmarred. The blue and

green chairs gave the school a very clean look. Every floor had

lockers that we as students could actually use. The lighting was a

bright white instead of a depressing orange hue. Every room had

windows, some had window sills with plants on them while others

had perfect views of the Bronx.

These windows symbolize freedom and future for me. They are a

clear reminder of what my community is and what I should be

striving to make better. This school has given me a great education

and beautiful facilities in which to learn. The views are not

the contemporary definition of beautiful but they are my definition

because they frame my community."

Yancee Mendez

13
---
Civic Builders, Inc.

180 Varick Street, Suite 1414

New York, NY 10014

212-571-7260

info@civicbuilders.org

www.civicbuilders.org

ANNUAL REPORT 2018