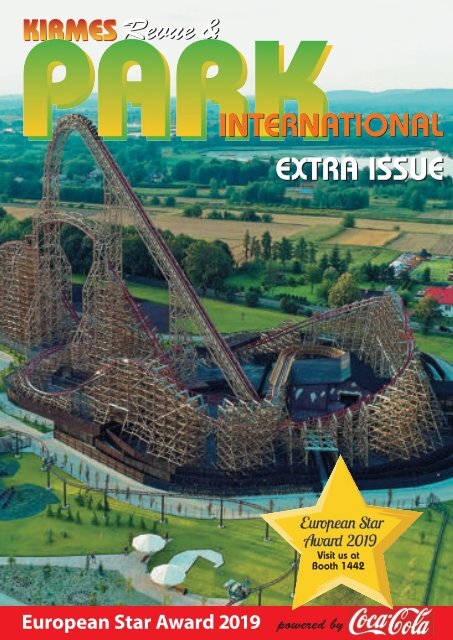 Kirmes & Park Revue EAS Extra Issue 2019
Our Kirmes & Park Revue EAS Extra Issue including the winners of the European Star Award 2019
Our Kirmes & Park Revue EAS Extra Issue including the winners of the European Star Award 2019
SHOW MORE
SHOW LESS
Create successful ePaper yourself
Turn your PDF publications into a flip-book with our unique Google optimized e-Paper software.
Revue &

INTERNATIONAL

EXTRA ISSUE

Visit us at

Booth 1442

European Star Award 2019

powered by
---
www.polin.com.tr
---
EUROPEAN STAR AWARD 2019

We are inviting all Top 10 Parks to celebrate their

success together with friends and manufacturers. All Top

5 Winners are receiving looping sculptures – which are

ex clusively hand-made from real Bohemian Crystal.

INTRODUCTION

A very warm-hearted "Bienvenue" to this year's European Star Award and to the IAAPA Expo Europe in Paris.

We are very proud that the independent and non-profit European Star Award is well established. This year we

are celebrating the 8 th edition in a row, and during this period the award has become Europe's most important

award for the leisure industry. In fact, this award is dedicated explicitly to European theme parks, bringing

attention to entrepreneurial courage and innovations.

In 14 categories, winners were voted by an international team of 44 experts. In each category, members of

the trade jury were able to vote for their personal favourites. Choices could be made from theme parks and

water parks throughout Europe including Russia and Turkey, with the minimum criteria of at least one ride or

slide attraction in operation.

An important note regarding this year's results: A number of attractions were opened very late. In some

instances, too late to be able to be taken into account before the end of voting. Unfortunately, as a result some

attractions are not reqresented in the Top 10. For example the coaster innovation "Desmo Race" at Mirabilandia.

Or the world's tallest hybrid coaster "Zadra" at Energylandia, which you can see on this year's cover.

The European Star Award remains a non-profit organization. But to keep this independent award alive, we

requested supporting adverts only after the voting was completed. However, we would like to give thanks our

this year's sponsors – The Coca-Cola Company and Popcorn Affairs.

This year the European Star Award 2019 is presented at one of Europe's best theme parks: Parc Astérix. We

would like to say thank you to Compagnie des Alpes, in particular to Sébastien Retailleau, Benoit Spriet and

Francois Fassier for their support in making it possible to have the event take place at their beautiful park.

We are pleased to congratulate all Top 10 winners, and we wish all visitors to the IAAPA Expo Europe a great

time in Paris, together with many stimulating inspirations for future attractions!

With kind regards… or to say it in French: Cordialement

Frank Lanfer

ISSN 1436-6525

appears 12 x per year

■ Gemi Verlags GmbH

Pfaffenhofener Straße 3

85293 Reichertshausen

Tel.: +49 (0) 8441/40 22-0

Fax: +49 (0) 8441/718 46

info@gemiverlag.de

www.kirmesparkrevue.de

■ Managing Directors

Gerd Reddersen

Rudolf Neumeier

■ Editoral Manager Star Award

Frank Lanfer

frank.lanfer@gemiverlag.de

■ International Representative

Translation, Advertisements

Agi Reddersen

Phone: +49 (0 ) 84 41/8 10 57

Facsimile: +49 (0 ) 8441/8 61 05

www.ag-advertising.de

Kirmes.A@t-online.de

■ Proof Reader

Marcus Gaines

■ Representative Great Britain

Michele Emmett

■ Layout

Frank Lanfer, Heidi Jeude

■ Production

Westner Medien GmbH

■ Printing

Kössinger AG Schierling

■ Advertisements

GEMI Verlags GmbH

■ Sales and Marketing

Gerd Reddersen

■ Subscriptions

DataM-Services GmbH

Postfach 91 61

97091 Würzburg

phone: +49 (0) 931/4170-178

(Mo-Tu 8-17, Fr 8-15)

Facsimile +49 (0) 931/4170-179

services-abo@verlagsunion.de

■ Cover Photo

Energylandia

■ Photo Credits

We like to say thank you to all

parks, manufacturers and authors

■ Free Special Edition Online

Free online version on:

www.kirmesparkrevue.com/de/

info/esa.html

Please visit our website:

www.kirmesparkrevue.de

Follow us on facebook:

facebook.com/kirmesparkrevue

All rights reserved. No part of this magazine

may be duplicated or published without written

permission from the publisher. This prohibition

also pertains to the commercial duplication

by copying, input into an electronic

database, and duplication onto a CD-ROM.

Certified active member of the
---
www.parcasterix.fr
---
THE EXPERT-JURY OF THE EUROPEAN STAR AWARD 2019

Dr. Salvador Anton Clavé

Nergis Aslan

Bas Bakkers

David Callen

Prof. Dr. Salvador Anton Clavé (Spain)

He is a Full Professor at the Faculty of Tourism and Geography

at the Rovira i Virgili University and Director of the

Doctoral Program in Tourism and Leisure. He is also

Senior Research Scholar at the International Institute of

Tourism Studies at the George Washington University as

well as Research Director at the Department of Tourism

Innovation at Eurecat -Technological Center of Catalonia.

He is author of the book "The Global Theme Park Industry"

(CABI, 2007). His research concentrates on analysis of the

evolution of tourism destinations, theme parks and visitor

attractions, destination image, policies and planning.

Nergis Aslan (Turkey)

She is the founding partner of Tureks Uluslararası Fuarcılık,

the organizer company of ATRAX Exhibition, which

is the only trade fair for the amusement in dustry of Turkey

and region. With her profound knowledge in the amusement

industry, Nergis played an im portant role in gathering

the players of the sector under one roof for the first

time in Turkey. Along with ATRAX, she continues to contribute

to the efforts aimed at the further development of

the sector with the Shining Star Awards and the Atraksiyon

Magazin as well. She also carries out a detailed sectorial

analysis and statistical study in the amusement and

recreations industry of Turkey, which has never been done

before. With a view to monitoring the development of the

industry closely, she continues to travel globally. Nergis

has an undergraduate degree in Sociology.

Bas Bakkers (Netherlands)

He is working for the Coca-Cola Company and leads the

international engagement with the Leisure and Hotel

Industry . Bas has 20 years of experience in the Coca-Cola

system where he was responsible for sales and business

development roles in the home and away from home

markets in the Netherlands.

David Callen (Great Britain)

He is a 34 year old geophysicist and enthusiast who re -

sides in London, UK. He is also owner of the page VH

Coasters (www.vhcoasters.com) which has a heavy emphasis

on highlighting news and information about ob -

scure theme parks around the world not usually covered

by other news sites. He has been passionate about both

theme parks and travelling since he was a kid and wanted

a way for people to hear about all the smaller amusement

parks in countries they may otherwise miss.

Victor Cavaller (Spain)

He is the Managing Director of Garmisch Consulting

Group (www.garmischconsulting.com), the TAA Design

firm. Among others he has led concept and design development

for new rides at Ferrari World Abu Dhabi, themed

hotels for Merlin Entertainments, and FECs for Parques

Reunidos. Prior to leading GCG he was part of Thinkwell

Europe, serving as Show Producer for the 2007 "Furius

Baco" coaster at Port Aventura, as Producer "Police Academy

Stunt Show" at Parque Warner Madrid, as Project

Manager for "Ice Age Adventure!" at Movie Park Germany,

as well as Ski Dubai's Snow Park at the Mall of the

Emirates. Victor was also a part of the team responsible

for the award-winning "FiestAven tura Nighttime Spectacular"

and the "Templo del Fuego" attractions at Universal

Port Aventura. He has a degree in Audio/Visual Communication

from the University Autonoma de Barcelona.

Jessica De Jong (Netherlands)

Jessica has always been into themeparks and thrill rides.

She started as a ride operator on several rides in Walibi

Holland and expanded her field of expertise by becoming

RollercoasterGirl 2018 where she worked as an influencer

for Mack Rides. Subsequently, she started working in

Europa -Park as Junior Social & Media Producer.

Rik Engelen (Belgium)

He lives in Belgium, has a law degree and works at the

Belgian insurance company Ethias. He has always had a

childhood fascination for everything theme park-related,

particularly coasters and water rides. He grew up with his

hometown park Bobbe jaanland. Later he started to visit

other parks. His passion, along with his other interest in

photography, makes a good combination for also writing

for the Park International and other magazines. In 2001 he

started cooperating with www.rcdb.com. For a few years

now he has been handling the site's photo management.

Francesco Fabris (Italy)

For nearly 20 years engaged in the amusement industry,

both independently and through Amusement Project

(Italian consulting firm), Francesco has always combined

his deep passion for the amusement parks with the interest

in studying and improving all the issues that belong to this

complex but at the same time engaging business. The

goals he always puts in first place are to achieve a memor -

able experience while maintaining a high level of guest

satis faction in an well organized environment.

Thomas Frank (Germany)

He is the founder and editor-in-chief for Parkerlebnis.de

(www.parkerlebnis.de), the most popular theme park

magazine on the internet in the German speaking region.

Thanks to his parents, Thomas grew up with theme park

visits during almost every family holiday. He is fascinated

by articial worlds ever since. Thomas has been working in

the entertainment industry for more than 15 years. Since

2013, he is running Parkerlebnis.de with focus on coverage

for the general public and providing informaton for

more than 4 million unique visitors a year.

Dr. Felix Fritz (Germany)

He has been fascinated by theme parks, and sometime

later by coasters, ever since his father took him to Europa-Park

as a child. As a result, after attaining his degree

in mechanical engineering, he worked on "roller coaster

dynamics" during his time as a doctoral candidate. These

days he does reviews of technical documentation and onsite

testing of rides worldwide for TÜV SÜD in Munich

6
---
Victor Cavaller

Jessica De Jong

Rik Engelen

Francesco Fabris

(www.tuev-sued.de). Although he knows the busi ness

behind the magic, he still likes to visit parks and loves to

get some airtime on a good roller coaster.

Marcus Gaines (Great Britain)

He grew up as a theme park and funfair fan. Family holidays

as a child involved visiting at least one theme park

somewhere in the world. As the father of two young boys,

Marcus now pays as much attention to family rides as thrill -

ing coasters. Graduating from university in 1999 with an

honours degree in Media Production and Technology, his

first job was as a show technician for Disney Cruise Lines .

These days he works for Britain's largest broad casting

company and is often called upon to use his knowledge

of the amusement industry to work on related documentaries

and news features. Marcus is current ly working with

a number of ride manufacturers to produce their promotional

videos for trade shows and their websites. More

information on www.coastertouring.com

Marshall Hill (Great Britain)

He is the past-chairman of BALPPA (British Association of

Amusement Parks, Piers and Attractions). Prominent at the

association's meetings and many other industry events

and trade shows, he is known for his down-to-earth and

approachable personality. Marshall is the third generation

of his family to operate the traditional Funland amusement

park on Hayling Island on the south coast of England

(www.funland.info). He also buys and sells rides on behalf

of other parks and also travelling showmen.

Marc Lacombe (Canada)

He has been a theme park fan all his life, and his love for

parks comes from his parents. He realized his dream and

worked as an international worker at Disneyland Paris on

"Space Mountain". Marc then moved on to La Ronde in

Montreal and then had the privilege to be a guest relations

host at Epcot in Florida. He is currently working for a major

airline and runs the Park Vault blog (www.parkvault.net)

after holding the responsibility of international reporter for

Newsparcs. Park Vault concentrates on the historical aspect

of the industry.

Alex Lemmens (Netherlands)

After his mechanical and electrical studies at the technical

university, Alex joined Efteling in 1975 as Director of technical

services. From 1987 to 1992 he was Park Manager

and until 2005 he was responsible for development of projects

such as "Python", "Pirana", "Haunted Castle", "Villa

Volta", "Fata Morgana"and "Dream Flight". In 2004 he was

chairman of the international conference "TilE" (Trends in

Leisure and Entertainment) in Maastricht. After a working

period of more than 30 years at Efteling, he retired in 2005

and started his own consulting company (Alex Lemmens

Consultancy) for the leisure industry and is a permanent

ad viser to the Blijdorp Zoo in Rotterdam, amusement park

Toverland and Van den Berk Nerseries in St. Oedenrode,

Netherlands. In 2014 a documentary about his working life

was made and can be seen (subtitled in English) on

www.devijfzintuigen.nl and on YouTube.

Mario O. Mamon (Philippines)

He is the Chairman and President of Enchanted Kingdom

for more than twenty years (www.enchantedkingdom.ph).

The park has been at the forefront of the amusement and

attractions industry in the Philippines and is expected to

continue to do so in the coming years as it prepares to

transform itself from a standalone themed amusement

park into an integrated attractions destination resort. The

park is divided into seven meticulously themed zones that

transport the park visitor into a certain place and time in

history, accentuated by the various rides, attractions and

entertainment offerings in each of the different zones.

Mario became the thrid Vice-Chairman of IAAPA in 2011,

rising to become the association's first Asian Chairman in

2014. In the course of his official duties with IAAPA, he had

been able to travel extensively around the world including

Europe, visiting and familiarizing himself with many European

amusement parks and attractions.

François Mayné (France)

Born in Brussels, François has had a passion for the theme

park industry for years. At the beginning of the 2000s, he

was involved in the management of several websites that

formed the core of an emerging French-speak ing fan

community. After getting a degree in market ing, he decided

to create his own busines and became the editor of

NewsParcs.com, an online magazine dedicated to the

professionals of the park industry. Then he chose to focus

on another website developed for a main stream audience:

www.ooparc.com is an online guide book about theme

parks in Europe. Together with running that business,

François also offers his ser vices as a freelance reporter

for trade publications covering the attractions industry.

Thomas Frank

Dr. Felix Fritz

Marcus Gaines

7
---
Marshall Hill

Marc Lacombe Alex Lemmens Mario O. Mamon

François Mayné

Shaun McKeogh

Yves Merienne

Shaun McKeogh (Australia)

He has extensive experience across the breadth of the

amusement industry. His expertise lies in Human Re -

sources, Training and Operations Management to build

strong workplace cultures. As a highly respected specialist

for the attractions industry, Shaun is passionate about

workplace reward and recognition, leader ship, performance

management and quality service excellence systems.

He is co-author of the book "Reasons 2 Reward"

and author of numerous attractions industry features. He

is Chair for the IAAPA Asia Pacific Education Sub Committee,

member of the IAAPA Global Education Committee,

he serves for the IAAPA Institute for Attraction Managers.

He is founder and president of Attractions Academy

(www.attractionsacademy.com), providing global attractions

training development, delivery and consultancy.

Yves Merienne (France)

He has been passionate about parks since his childhood.

It's thanks to some pictures in the encyclopedia "Tout

l'Uni vers" that he discovered Disneyland California, be -

fore he visited his park in 1979. Since the 1990's, he has

been traveling extensively worldwide to discover new

parks. It is by meeting other French enthusiasts during his

travels around the world that he had the idea to create

Parcs Passion in 2002 (www.parcspassion.org) to

connect parks with the fans and to make discover the job

to the fans. In his everyday life, he works in a Foundation

that cares for people with autism. He never wanted to work

in a park, because he prefers to stay a "professional

guest", as the former director of Parc Astérix named him.

Martin J. Palicki (USA)

He is the publisher of InPark Magazine, a trade publication

covering themed entertainment, technology and story -

telling. Martin loved parks and rides since a child and

enjoyed working at Six Flags Great America, Adventureland

(Iowa), and Walt Disney World before deciding to

start his own magazine. Now in its 15th year, InPark has

subscribers and distribution around the world and is avail -

able online at www.inparkmagazine.com

Frédéric Pastuszak (France)

His passion for theme parks started after his first visit to

Europa-Park in 1989, where he found his lifetime vocation.

After graduating as an architect, Frédéric developed his

skills and expertise of creativity and innovation in planning,

design and art directing of parks, creating amazing rides

and attractions and leaving timeless memories through

storytelling. During his 15 years within the industry, working

in various project locations worldwide, his greatest

achievements are the acclaimed attraction "Arthur - In the

Minimoys Kingdom" at Europa-Park, where he was Creative

Director, and most recently, as Senior Art Director, for

the newly opened Warner Bros. World Abu Dhabi.

Wolfgang Payer (Austria)

Born in 1957 in Vienna, the retired former electrical

engineer of Vienna airport is a passionate photographer.

He is a father of two daughters and a happy grandfather

since this year. He has been photographing rides and

attractions professionally for more than 10 years. His

photo graphs are used by many different suppliers at trade

shows, in their leaflets and on their websites as well as in

various trade magazines of the amusement industry.

Since 2017 he is working for the media agency mov(e)-

motions, which is producing ride and park videos as well

as photos for ride manufacturers and theme parks.

Jochen Peschel (Germany)

The patent attorney in a Munich law firm is occupied in the

areas of Intellectual Property and other topics, as well as

questions concerning commercial legal protection in the

amusement branch. As a student, Jochen was able to take

a look behind the scenes of the Pützchens Markt, with his

interest in fairgrounds and theme parks being awakened

during his electrical engineering studies. Since then he is

responsible for the contents of the online maga zine

www.coastersandmore.de. A career as engineer at a manufacturer

never came into question, and instead he concentrated

on being a part-time journalist special ized in the

area of the technical aspects of coasters and other rides.

Marek Pisarski (Poland)

He is a consultant in the edutainment sector and founded

PAIT Consulting, calling Marek Pisarski Imagineering

(www.marekpisarski.pl). Over many years he has authored

multiple projects in the leisure parks and science centre

in Poland and abroad. He was also responsible for

major changes in Polish tourism industry when he was

working with government organizations as the main ad -

visor of the Sport and Tourism Minister, member of the

board of Polish Tourism Development Agency and the

General Manager of Polish Tourism Office in the Nether-

8
---
Martin J. Palicki

Frederic Pastuszak

Wolfgang Payer

Jochen Peschel

lands, creating new products and solutions. Since early

2000s he has been popularising theme parks and science

centres, which had been previously hardly known in

Poland . He was also responsible for the operating of the

different attractions and science centre sectors. More -

over, he is engaged in imagineering design and production

of a variety of attractions, decorations and exhibitions.

Sven Popelier (Belgium)

He is living in Belgium, and besides working as a Product

Manager at Beobank, he's definitely a theme park en -

thusiast. He's writer and manager of the European division

of The Coaster Kings. In Dutch, he writes for the website

www.pretparken.be and Brakesection Magazine.

Owen Ralph (Great Britain)

He has been writing about theme parks, funfairs and

attractions for over 20 years, for industry publications including

Kirmes Revue, Park International, Blooloop, Park

World, and World's Fair. Interested in rides and attractions

from an early age (growing up 30 minutes from Blackpool

Pleasure Beach probably helped), he shows no signs of

growing out of it any time soon and is pleased to have

made many friends and contacts in the business on a professional

basis.

Darya Ratmanskaya (Russia)

She studied law at the Peoples' Friendship University of

Russia, and has gained many years of vast and successful

experience working for the Russian Association of Amuse -

ment Parks and Attractions, participating in and promoting

of key professional events of the amusement industry on

the national and international arena.

Dr. Igor Rodionov (Russia)

He is a graduate of the Moscow State University of Culture

and Arts and earned a PhD in Pedagogic sciences. And

he is also Vice President of the Russian Association of

Amusement Parks and Attractions (www.raapa.ru/en),

General Director of the RAAPA Training & Education

Centre that provides training for entertainment centres

and amusement park operators, is Chief Editor of the

"Attractions and Entertainments" magazine (Russia), and

also Assistant Professor at the Moscow State Institute of

Arts. He has published numerous of articles and publications

for Russian and foreign industry specialized maga -

zines, and he acts as a speaker at many conferences.

Stefan Rothaug (Taiwan)

Born in Germany, his first contact with theme parks came

about in his childhood. During his studies of eco nomic

sciences he was employed in the marketing divi sions of

Fort Fun, Panoramapark and Phantasialand temporarily.

After he fell in love with the Asian continent through countless

trips to Japan and Korea, he moved to Tokyo in 2006

and later to Taiwan. Stefan's focus has changed: whilst in

the early years he was mainly travel ling in Japan, the first

and foremost in his calendar in the meantime is Chinese

parks, thus travelling through Southeast Asia. He enjoys

connecting his enthusiasm for Asia, theme parks and

travell ing. Since 2016 he is working for Taiwanese ride

supplier Brogent Technologies in a marketing role.

Adam Sandy (USA)

He is Ride Entertainment's President Business Development

Division and has been a part of the team since 2004.

He oversees all of the company's ride sales, contracts for

the installation division, and works on special projects.

During his tenure, Adam has been involved with hundreds

of millions in sales. Working with groups like Six Flags,

Herschend Family Entertainment, and family-owned parks

such as Canobie Lake Park. He has sold and run projects

throughout the world. Adam was responsible for multimillion

dollar installations like Dollywood's famed "Fire

Chaser Express" and the roll-out of Six Flags' 11 "Sky

Screamer" towers across North America.

Wieland Schwarzkopf (Germany)

As son of the coaster pioneer Anton Schwarzkopf, he grew

up quite literally between carousel constructions and

coaster innovations, and is these days a sought after

expert of attraction technology and tourist transportation

for more than 45 years. From 1998 to today, he is the Chairman

of the German Association of Attraction Manufac -

turers and Suppliers (VDV), and since 2002 he is also the

Chairman of the European Association of Amusement

Supplier Industry (EAASI).

Dennis L. Speigel (USA)

Dennis is the President of International Theme Park

Ser vices, Inc. (ITPS), a leading, independent full-service

manage ment/consulting firm in USA (www.interthemepark.com).

He is an internationally recognized expert in

the theme park and leisure industry with over 50 years of

experience. He began in 1960 as a seasonal employee

Marek Pisarski

Sven Popelier

Owen Ralph

9
---
Darya Ratmanskaya

Dr. Igor Rodionov

Stefan Rothaug

Adam Sandy

Wieland Schwarzkopf

Dennis L. Speigel

Marc Spies

at Coney Island Ohio, and worked his way up to manage

Kings Island and Kings Dominion. Then he be came Vice

Presi dent of International Operations for the Taft Broad -

casting's Leisure Division. He is also a former President of

IAAPA and currently serves on the Board of Directors. In

2010 he received the Life-Time Achievement Award. He

regularly appears in the Wall Street Journal, New York

Times , USA Today, Financial Times, China Daily, and

others. His company has worked on over 500 projects in

more than 50 countries. He is regarded as one of the

pioneers of the leisure industry.

Marc Spies (Germany)

He is a social education worker, and now he is mainly

occu pied in stationary youth welfare. He also works in

adult education consultancy, as well as freelancing for

media companies. He has been interested in fairs, parks,

and water parks since his early childhood, and with

increasing age and mobility often travels inland and abroad

to test novelties. For years now he has been indis -

pensible in the area of water parks for the Park International,

but also reports about coasters and fairs.

Dr. h.c. Werner Stengel (Germany)

There's hardly another person who has impacted the

amuse ment industry as strongly as Dr. Werner Stengel,

who is now over 80 years of age. In 1963 he began his

work together with Anton Schwarzkopf on the first German

steel coaster. Together with him, and later with other

manu facturers also, he repeatedly revolutionized the

amuse ment branch, with for example, the world's first

modern coaster with a vertical loop. Since 1974, he has

been an active member of the German standard committee

for DIN 4112, now the EN 13814. In 2004, he stepped

back from daily office work. Over the past decades, his

firm Stengel GmbH has developed the design of 700

coas ters plus another 600 ride attractions.

Francis Stokkel (USA)

The native-born Dutch Engineer began his career in the

industry with the establishment of the Warner Bros. Movie

Park in Germany (now Movie Park Germany) and has now

almost 30 years of experience in the leisure industry.

Francis was involved in numerous theme park projects

such as Ferrari World Abu Dhabi, Six Flags Holland and

Tropical Islands in Germany. Currently he is working as

Project Executive on the world's tallest coaster, the "Poler-

coaster" in Orlando. He is an AIMS licensed ride inspector,

OSHA 501 & 500 health and safety inspector, TÜV ISO

quality auditor and has broad knowledge in project management

and development, technical and operational

management, deep knowledge in all kinds of rides and

ride constructions management, risk assessment, bud -

geting and control. As an analytical driver he has a passion

for working with collaborative cross functional teams.

Susan L. Storey (USA)

She has more 20 years of experience working in the

amuse ment and travel industry. She is the Global Communications

Director for IAAPA. An avid fan of the attractions

industry, Susan has combined her passion for speak -

ing and writing with her love of roller coasters. Her career

began with the Walt Disney World College Program, and

has led public relations roles serving to Cedar Fair Entertainment

Company, Six Flags Entertainment Corporation,

Great Wolf Resorts and SeaWorld Orlando. When she is

not at work, Susan and her son Aiden can be found ex -

periencing theme parks and water parks.

Eric Christopher Straube (Germany)

For 10 years now he is Theatre and Film Director and

studied Scenic Art at the Privately Funded University

Hildes heim. His research focus was the staging and

drama turgy of mobile ride constructions and theme park

attractions. He is the editor-in-chief of the park+ride, the

club magazine of German fan club FKF, as well as co-organiser

of the FKF-Convention. Currently he is working at

the Theater Junge Generation Dresden, as dramaturge for

digital media, and directs with modern and experimental

stage forms in kids and youth theatres. Further along he

also writes regularly for the Park International.

Dr. Sacha Szabo (Germany)

He is a sociologist and works as a trend researcher at the

Institut für Theoriekultur (www.institut-theoriekultur.de) in

Freiburg, examining popular culture. He has been a guest

lecturer at the Uni Freiburg and the HfMT Hamburg. He

wrote his PhD thesis about cultural dimensions of thrill and

amusement rides, and has written a number of books and

articles about amusement culture, which examines rides

from a scientific view. In 2015 he published "Sozioanalyse

des Alltags" making some conclusions about fairs like

Oktoberfest, for example. Currently he works on the socio-phenomenological

effects of funfairs.

10
---
Dr. h.c. Werner Stengel Francis Stokkel Susan L. Storey Eric Christopher Straube

Prof. Dr. Torsten Widmann (Germany)

He studied tourism geography, busi ness administration,

and economics at the University of Trier. Since 2007 he

has been Professor for Tourism and Leisure Management,

initially at the Cologne Business School, and since 2009

as Director of the Bachelor course of studies "Management

of Leisure and Recreation Facilities" at the Cooperative

State University of Baden-Württemberg. The study

path has since developed into a proven cooperative education

model, joined together with numerous training partners

for junior managers for the parks and amusement

industry . A practical training in partner operation evolved

within the frames of the dual study, the theoretical training

at Campus Ravensburg. New partner operations are very

welcome: www.ravensburg.dhbw.de/studienangebot/

bachelor-studiengaenge/bwl-tourismus-hotellerie-undgastronomie-freizeitwirtschaft.html

Piotr Wiecha (Poland)

He is theme park enthusiast and professional,

and is also the third generation

working in the showman industry,

being engaged in the industry

since he was born. He grew up with

the Silesian Amusement Park (now

Legendia), the only park during the

communist times in Poland, spending

whole days there working with

his parents. Piotr has personally visited

the majority of European parks,

including smaller ones, and is a fan

of wooden and classic coasters. He

is also founder and publisher of Parkmag,

an internet magazine dedica-

Prof. Dr. Torsten Widmann Piotr Wiecha

ted to the leisure industry in Poland (www.parkmag.pl). As

independent consultant he's work ing on many ongoing

projects in Poland.

Melanie Yankers-Lauterbach (Germany)

She received a diploma in journalism and has worked ever

since for 17 years for the popular weekly maga zine Abenteuer

Leben, shown by the German TV station Kabel 1

(www.kabeleins.de/tv/abenteuer-leben). As editor she

produces her own documentaries, and she is addition ally

also Deputy Duty Editor, plans and organises shows, and

supervises her colleague's films. In her reports for, she has

often covered various aspects of parks and attractions.

For example, she has accompanied showmen from fairground

to fairground, has documented the build-up of

rides at theme parks, and reported about the opening of

water parks. Thus she has become a top insider of the

leisure industry virtually in passing, as part of her job.

…ADDITIONALLY THE EDITORS OF KIRMES & PARK REVUE

Frank Lanfer

Agi Reddersen Karl Ruisinger Gerd Reddersen

Dr. Sacha Szabo

Melanie Yankers-Lauterbach

OUR ADS

It is important to point out

the independence of the

votes. Targeted advertis -

ing sales began only after

the count of votes. How -

ever, we want to thank all

advertising clients as well

as our sponsors for their

support, helping us to

keep this non-profit award

alive. Thank you!

■

11
---
EUROPEAN STAR AWARD 2019

EUROPE'S BEST MAJOR THEME PARKS

EUROPA-PARK

Since the European Star

Award was first bestowed

in 2012, Europa-Park has

been voted continuously to

first place . Undoubtedly the

park's consistent theming is

respons ible as well as familyfriendly

attractions and five

on-site hotels, creating an integrated

multiple day resort.

The family-run destina tion is

testimony to honesty and integrity

in management, and a

great willingness to invest. It

also has one other trick up its

sleeve: No other park has the

good fortune that the operator

is also a major international

ride manufacturer. ■

EFTELING

The historic Dutch theme park continues

to entertain families with its

storybook of classic fairytales set inside

a comprehensive theme park

environment. Efteling is an institution

in the Netherlands, and a milestone

in the European leisure industry. The

overnight accommodation possibilities

that have been added in recent years,

in perfect harmony with nature, also

make the establishment unique in the

sector.

■
---
www.europapark.com
---
PORTAVENTURA

Another best theme park of the continent

is PortAventura World. The

convincingly themed property, which

thanks to the six park-owned hotels and

easy access to the Mediterranean

Coast , can also be described as a holiday

destination. Europe's only Sesame

Street themed area and lavish vegetation

make PortAventura an experience for all

ages. Together with Ferrari Land, Caribe

Aquatic Park, a golf course, and its own

beach club, the resort offers an extensive

experience, which cannot be found any -

where else in the world.

■

LISEBERG

The park that has been in existence since

1923 has a part icular allure due to its setting

and unique topo graphy. Located within

the city borders of Gothenburg, it is built on

a hill. With its six coasters and countless

other attractions, the park offers exact ly the right mix for the

family public and thrill seeker. No wonder it's Sweden's top

amusement park. Liseberg is also considered locally to be

the first choice for evening entertainment due to its concerts,

gastronomy and festive atmosphere.

■

TIVOLI GARDENS

The world's oldest still existing

theme park is located in the city

centre of Denmark's capital since

1843. It is dedicated to both tra -

dition as well as thirll sieekers, but

is also Copenhagen's "parlour" with

restaurants and concerts. Being open

until midnight, the park offers all night

owls attractive rides and a festive

atmosphere , too.

■
---
EUROPEAN STAR AWARD 2019

EUROPE'S BEST THEME PARKS (REGIONAL)

ERLEBNISPARK TRIPSDRILL

The family-run enterprise

that stemmed from an excursion

destina tion founded in

1929 is considered to be the

oldest surviving theme park in

Germany. But it was in 1960 that the first ride was erected. Today Tripsdrill

offers its almost 800,000 annual guests an attractive mix of original

family attractions, modern thrill rides and character ful Swabian theming.

Its offer is rounded off with a wildlife park and a small overnight

resort comprising of high class tree houses and shepherd huts. ■

TOVERLAND

Opened in 2001 as an indoor park, this Dutch facility grew only

three years later with a second hall of attractions and an outside

area including Vekoma's first ever Motorbike type coaster, and later

the Great Coasters' "Troy". At the very latest with last year's huge extension

– among them with B&M's "Fenix", Toverland has become a

fully-fledged outdoor theme park.

■
---
www.fraispertuis-city.fr
---
NIGLOLAND

The park in the French Ardennes was founded in 1987 by the

brothers Philippe und Patrick Géli. Over the 30 years that have

followed , it has developed into a notable theme park also containing

some unusual attractions. As well as six roller coasters (four from Mack

Rides alone), guests can enjoy a 60 m high ferris wheel from Gerst -

lauer, and a 100 m freefall tower from Funtime.

■

DJURS SOMMERLAND

In the past years, the owner

family has deliber -

ately invested in large thrill

attractions that can compete

Europa wide –

among them large

coasters and attractions.

More and more attention

has been paid to the theming

of the individual constructions

as well as the

overall theming. Ad -

ditionally, there is a great

kiddie area as well, where

the whole family can

spend enjoyable times. ■

FRAISPERTUIS CITY PARC

FANTASIANA STRASSWALCHEN
---
www.erlebnispark.at
---
EUROPEAN STAR AWARD 2019

EUROPE'S BEST FAMILY PARKS

DISNEYLAND PARK PARIS

Undisputedly Disneyland is among the best theme parks in the world,

and so too its European subsidiary outside the French capital . Disneyland

Park Paris is consistently the busiest theme park in Europe. From

"Space Mountain" to "Pirates of the Caribbean", many of the Disney favourites

are here. In fact, it contains considerably more thrill attractions

than any other Disney park in the world. The wider Disneyland Resort Paris

with its two theme parks, huge hotels, evening entertainment options,

and water park resort, is an attractive holiday destination for all ages. ■

PARC ASTERIX

Also Europe's most popular comic

hero has his own theme park since

1989. Parc Astérix contains coasters

from B&M, Vekoma, Mack and CCI, as

well as attractions from Aerophile, Zamperla

and Intamin. In addition to these

and countless other ride adventures that

can be experienced together with the fearless

Gauls, the overall theming is particularly

remarkable, as European themes have been

used in full awareness, which makes the

park a sharp contrast to the near by Disney

competitor. Two themed hotels round off the

offering at the park near Paris.

■
---
PLOPSALAND DE PANNE

Founded in 1936 by a honey producer,

Studio 100 took over the park

in 1999 and continually expanded it.

And as luck would have it, a year later

the popular Maya the Bee as well a

Vicky the Viking and Heidi moved in. In addition

to over 30 rides and attractions and the

first class theming matching popular European

kiddie series, the park can be described as

extremely remark able.

■

BOBBEJAANLAND

The park, which was originally

opened by singer Bobbejaan

Schoepen in 1961, was bought

by Parques Reunidos in 2004.

For a couple of years now, the

theme of the entire park has been

overhauled extensive ly. For example,

the completely new

themed area "Land of Legends "

was introduced this season with

the opening of the "Fury" coaster ,

which shows its thematic po -

tential . The award winning

"Sledge Hammer" from Huss, the

world's first giant swing ride,

shines in new splendour as well

now.

■

PAULTONS PARK

The park covers 56 hectares of

land and features a collection

of around 80 species of birds and

animals, in addition to the rides.

Most of the theme park rides are

designed for children. But it's not

just one of England's premier family

theme parks, but also home

of the world's first "Peppa Pig

World" area – long before the

Merlin group introduced it to their

parks. The area opened in 2011

and annual visitor numbers increased

from 500,000 to 1

million imme diately.

■
---
EUROPEAN STAR AWARD 2019

EUROPE'S BEST WATER PARKS

SIAM PARK

Since the European Star Award was

first bestowed in 2012, Siam Park

has been voted continuously to first

place. The aquatic paradise on the island

of Tenerife is well-known for its

spectacular overall theming, but also

for its truly breathtaking water slides, all from

ProSlide. With an area of 18.5 hectares, it is,

together with Therme Erding the largest water

park in Europe, and contains among others

Europe's longest lazy river, and a wave pool

with the world's highest artificial breakers. ■

THE LAND OF LEGENDS

The huge resort in Antalya of the same

name is the new member of the Rixos resorts,

and contains in addition to a 5 star hotel

and a City Walk like shopping and entertainment

discrict, also a type of hybrid theme

park with water slides and dry attractions. Particularly

remarkable is the continuous theming with artificial

rocks. A whole lot of water fun is provided

by the large and spectacular slides from Polin

Water parks, which leave nothing to be desired . ■
---
www.siampark.net
---
THERME ERDING

Europe's largest thermal baths, located near the Munich airport, comprises

five large indoor theme areas (including nude saunas, adult

wellness oases, family worlds). The slide area is called Galaxy, and it

offers a lot of world's firsts from manufacturers Klarer and wiegand. -

maelzer. For example, the world's longest slide, the "High Fly" ski jump,

hybrid slides, and a VR slide. All light-flooded indoor halls can be opened

during favourable weather conditions, an additional outdoor area with

stages and bars in the water are available during summer months. ■

CARIBE AQUATIC PARK

The water park at Spain's PortAven tura

World, which is divided into three

themed areas, opened in 2002. In addition

to a small indoor area, the outside

section has an attractive Caribbean flair

with lush vegetation, a large wave pool,

and a number of water slides from White

Water West that provide a tropical holiday

atmo sphere. An extension added in 2013

provides Sesame Street them ing, flat water

areas for the kids, as well as the highest water

slide in Europe.

■

ETNALAND ACQUAPARK

Located near the city of Catania, in Sicily, with a real active vol cano as its

backyard, Etnaland is one of the most popular water parks in Italy. Together

with amazing water slides and pools, the park offers additional rides like a spillwater,

a rapids ride and a log flume that aren't normally found in water parks. ■
---
www.thelandoflegendsthemepark.com
---
EUROPEAN STAR AWARD 2019

EUROPE'S BEST NEW COASTERS 2019

UNTAMED

Europe's first conversion of an existing

wooden coaster into a hybrid coaster is

"Untamed", located at Walibi Holland. RMC

used its famous "iBox" track system to re -

place the steel track and to include many

unusual ride elements never seen before in Europe.

After the 80° steep drop, 4 inversions follow

on the 1,085 m long and 36.5 m high track course,

with for example a 45° outward angled curve

and a double inverting 270° Corner Stall. ■

TAIGA

Abreathtaking new coaster has been erected in the Finnish Linnanmäki park:

"Taiga" is an attraction with an unusually diverse track course, two launch

sequences and 4 loopings – and for the non-profit operated park there is a new

unequalled main attraction! The 1,104 m long and 52 m high coaster simulates

the flight of the Taiga-bird, and captivates all its passengers emotionally.

■
---
www.schwabenpark.de
---
DYNAMITE

The 492 m long and 40 m high

power -course from Mack Rides,

as well as the animatronics from Hofmann

figures make the new coaster

at Freizeitpark Plohn a first class

experience . The highlight in short is

that the two-row individual cars have

made a creative layout on the smallest

of areas possible. Additionally, various

sitting positions are available: Sit-down

and floorless seats for varied experi -

ences.

■

FURY

The new roller coaster at Bobbejaanland is

a worldwide novelty: Passengers can

vote and decide if their one and half minute

ride should travel forwards or in reverse over

the 600 m long and up to 43 m high track

course! Gerstlauer Rides is the manufacturer

of this kind of triple launch coaster that is the

main part of the new area "Land of Legends".

The wonderful and atmospheric design was

done by Leisure Expert Group.

■

MYSTIC

WILDE HILDE
---
www.gerstlauer-rides.com

www.leisureexpertgroup.com
---
EUROPEAN STAR AWARD 2019

EUROPE'S BEST STEEL COASTERS

SHAMBHALA

Although the 2012 opened "Shambhala" from

B&M had to give up its record as Europe's highest

coaster, its status as best steel coaster in Europe

was nevertheless retained this year. The now

3 rd highest coaster still has much going for it, such

as the consistent stringing together of the parabola

formed hill, which offers long running and breath -

taking airtime. The ride's 1,564 m long track of pure

airtime exhilaration is interrupted only by an overbanked

turnaround in the form of a standing 8. ■

HELIX

Europe's most varied coaster is located

at the famous Swedish park Liseberg.

Helix not only has seven completely different

inversions , but also two launch courses,

a track difference of 51 metres and

1,300 m of track in a lively layout on a mountain

slope. And despite all this, the complete

course is not visible, which leads to many

surprising moments – for both passengers

and viewers .

■
---
www.portaventuraworld.com
---
HYPERION

Europe's 2 nd highest coaster

"Hyperion" open -

ed in 2018 at the aspir ing

theme park Energy landia,

and appears to have established

itself as one of

Europe's top coasters. With

a height of 80 m and a

length of 1,447.5 m as well

as an exciting Out-and-

Back layout including a

sequence of airtime hills as

well as a simultaneous

lateral banking of 180°, the

Intamin coaster promises

an incomparable high alti -

tude euphoria.

■

TARON

This absolute mega coaster has called Phantasialand home since

2016. The extremely varied 1,320 m long course of "Taron" in the

theme area "Klugheim" travels along the narrowest of areas, and more

under than over ground level. But everything is just right here: The perfect

hardware with a double launch course and intensive airtime

moments interacting with a perfect theming lacks in nothing. ■

OZIRIS

The spectacular inverted coaster at Parc Astérix has justifiably been

voted to a top position once again. The 1,030 m long and 35 m high

attractive track course passes an unterwater tunnel and some amazing

elements. Additionally, the inside and outside theming is world class. ■
---
EUROPEAN STAR AWARD 2019

EUROPE'S BEST WOODEN COASTERS

COLOSSOS – KAMPF DER GIGANTEN

Heide-Park has dared to defy the current trend: The Intamin "Colossos"

erected in 2001 has not been rebuilt to a hybrid coaster , but remains

a real wooden coaster ! And that's good, as the layout and dynamics of

the 50 m high and 1,350 m long coaster were – and still are – perfect. The

new theming with fire elements was provided by MK Themed Attractions

and Universal Rocks. This bravery has been rewarded by First Place! ■

TROY

The Great Coasters' woodie at Toverland

offers not only a great ride

experience with a lot of airtime, but is

also an attractive visual pleasure for all

visitors to Toverland. The fierce attraction,

celebrating its 10th anniversary in

2017, marked a turning point for what had

previously been more or less a childfocused

indoor park. The ride is 1,070 m

long and 31 m high.

■
---
www.heide-park.de
---
BALDER

The ride's 1,070 m of tracks were prefabricated

exactly according to CNC

calculations, and erected on a compact

site at the famous park in Gothenburg,

Sweden. Riders can enjoy countless airtime

moments in addition to many "near misses"

whilst travelling through the 37 m high

wooden structure.

■

WODAN TIMBURCOASTER

The almost 40 m high and 1,050

m long construction is a master

work in wooden roller coaster construction.

A varied layout and a number of

unusual ride gimmicks allow the track bed to

vibrate from beginning to end.

■

CU CHULAINN

THE WICKER MAN
---
www.TAYTOPARK.ie
---
EUROPEAN STAR AWARD 2019

EUROPE'S BEST NEW RIDES

SESAME STREET: STREET MISSION

Europe's first "Sesame Street" dark ride was opened at PortAventura

Park this year. Because of the trackless vehicles from ETF and the

easy to handle "Clue Collectors" and interaction from Alterface, and especially

because of the famous and perfectly designed "Sesame Street"

with its concept, theming and animatronics from general contractor Sally

Corporation, this amazing ride is a real family attraction for all ages.

■

HIGHLANDER

In the competition for the highest gyro drop tower

in the world, Hansa -Park has set new standards.

The "Highlander" from Funtime has a fully 120 m

total height and a real fall height of 103 m. In combination

with the tilted seats, the park on the Baltic

Sea has created a highlight once again for visitors

but also for thrill seekers.

■
---
www.alterface.com
---
POPCORN REVENGE

The world's first so-called "Erratic Ride" from Alterface stands at Walibi

Belgium since this season. The trackless vehicles from ETF absolve

a number of the 7 cinemas with interactive projection and a total of 1,000

virtual targets in random sequence, in which the crazy little popcorn men

have to be captured with candy sauce. The storyline has been de -

veloped by Alterface (with theming/decoration from JoraVision). ■

THE HAUNTED HOUSE MONSTER PARTY

Since the new indoor ride has opened, little monsters are invited to

join the frightfully friendly Lord Vampyre for a monstrous party at

his spooky new haunted home. Then, once sitting comfortably in the

attraction built by Vekoma Rides, Lord Vampyre will reveal his magical

party trick – bringing the banquet hall swinging to life and turning the

room upside down.

■

BOOM!

The new vertical ride from Zamperla has an impressive 68

m height. In contrast to a real freefall, the tower offers a

varied ride with a cable drive, as the gondola doesn't only fall

once, but depending on the drive programme, also gives the

feeling of simulated falling more often – thus allowing visitors

to ex perience up to 4 g.

■
---
www.hansapark.de
---
EUROPEAN STAR AWARD 2019

EUROPE'S BEST THRILL RIDES

TALOCAN

The 18 metres high suspended version of the "Top Spin" from Huss Park Attractions

enjoys great popularity at many theme parks around the world. However, the ride

opened at Phantasialand in 2007 conveys a great and exciting ride feeling due to the

intensive theming: Water and fire effects and a setting that half encom passes the ride

are simply impressive.

■

LOKE

The ride that has been named after a Nordic

godhead catapults all its guests buoyantly

towards the deity, as after all, a maximum ride

height of 40 m is reached. Together with the

rotating gondola and the outward swing to the

side of 120°, a breathtaking speed of up to

100 km/h is reached. ■
---
www.hussrides.com

www.thegravitygroup.com
---
THRILL TOWERS

This double-tower

construction from

S&S has been located

at the new Ferrari

Land since 2017,

which is part of the-

PortAventura World.

Both towers are 55 m

high. While one of the

freefall towers offers

a pneumatic launch

from below to above,

the other one shoots

the passengers from

up above down -

wards.

■

TIK TAK

The Mondial delivered "Shake R5" has been skilfully set in the scene

as a clockwork mechanism and presents itself as a top attraction.

During the day the prisms coming through the roof make great effects,

and in the evening the disco atmosphere is almost unsurpassable. "Tik

Tak" is a successful anniversary attraction for 175-year-old Tivoli.

■

IKAROS

The world's only second "Sky Jump" attraction from Intamin opened

in 2017 at Gröna Lund. In this 95 m high freefall tower the seats tilt

to the front at 90°, so that each of the 16 passengers speed downwards

horizontally with their line of vision towards the ground.

■
---
www.intamin.com
---
EUROPEAN STAR AWARD 2019

EUROPE'S BEST FAMILY RIDES

ARTHUR

The attraction that opened in

2004 is a never before combination

of inverted powered coaster

and dark ride with horizontally ro -

tating cars. The trains move at a

variable speed over the 505 m long

course. A large part of the fourminute

ride travels inside, passing

film scenes of the cinema hit of the

same name, before landing out -

side. The on-board sound and a

detailed and consistent theming

make "Arthur" an experience for the

whole family.

■

PEGASE EXPRESS

This ride is unique in Europe! The 918 m long and

up to 21 m high coaster from Gerstlauer offers

not only attractive theming, but also a very varied

track course. Beginning with a friction drive launch

and banked steep curve, the chain lift is followed by

a number of curved parallel turns, an indoor stopoff

and a lively reverse section back to the station.

Riders never know what to expect next! ■
---
www.mack-rides.com
---
ANGKOR

It's Europe's longest and perhaps also wettest boat-battle. The 323 m

long water canal winds through the impressive Cambodian land scape,

and by aiming at various targets, different actions can be triggered.

There is no age or size restriction, so the whole family can enjoy wet and

happy fun on "Angkor: Adventure in the Lost Kingdom".

■

DIE SCHLANGE VON MIDGARD

The perfect "beginner" coaster for all future coaster fans is located

at Hansa-Park. Passengers with a size from 100 cm can already

board and enjoy a speedy and varied ride over the nine metres high

and 200 m long track course. The lift is located in the interior building,

and the curvy ride takes place mostly over a water surface.

■

KAMELEN

ACCELERATOR

Another brilliant "beginner coaster" is the new installation at Tivoli

Gardens . The small kiddie coaster from Zierer replaced an older one

with the same measurements (60 m long, 3.5 m high). But the new round

course is as smooth as possible for the kids, and themed very well.

■
---
EUROPEAN STAR AWARD 2019

EUROPE'S BEST DARK RIDES

RATATOUILLE: THE ADVENTURE

Together with the rat Rémy, the main figure in "Ratatouille", a 4D dark -

ride with elaborate theming, carries passengers through impressive

settings that almost melt with the visual animation on the screen.

Thanks to the cars in rat design, the trackless ride system, and a child

orientated size ap proval, the attraction is fun for the whole family.

■

SYMBOLICA

The gigantic "Symbolica" palace is the centrepiece of the main

street style pedestrian walkway. The exterior is already overwhelming;

how ever, the visitors then find themselves inside an

enchanted castle again. At the end of the waiting area a trackless

"Multi Mover" from ETF Rides is ready to transport passengers

on three different routes through out the estate. In the process,

visitors can discover secret passages and magic rooms, and

enjoy everything without shooting or throwing equipment.

■
---
VOLETARIUM

At long last the spectacular flying theatres that are located at Northern American

Disney Parks have entered Europe since a few years now. The largest and probably

best themed is the "Voletarium" at Europa-Park. In the two theatres from Brogent, 1,400

passengers per hour can experience a flight over Europe – naturally with Europa-Park

as the start and destination. The expensive film was produced by MackMedia.

■

PIRATES OF THE CARIBBEAN

Every year the indoor Log Flume from Disney is right up front, and

is a permanent component at every Disneyland in similar versions.

No wonder then that the excellent theming and the clever storyline is

convincing in all aspects. Additionally, there is no age restriction. In

the case of Disneyland Paris, the 1992 erected hardware is from

Intamin , and as feature has a vertical lift.

■

DERREN BROWN'S GHOST TRAIN

Thorpe Park is a draw especially for all English teenagers, and

the park is well-known for its psycho effect attractions – and not

only during the Halloween season. The virtual reality ride "Derren

Brown's Ghost Tour" is one of these year-round psycho rides that

is only once in the world. The Simworx attraction was realized in

cooperation with Intamin, Severn Lamb, and others.

■
---
IAAPA EXPO EUROPE • PARIS 17. - 19.9.2019

YOU CAN FIND OUR PRODUCTS AT BOOTH NO. 1442

PARK INTERNATIONAL – OUR SPONSORING PARTNER

More info: testme@popcornaffairs.com
---
EUROPEAN STAR AWARD 2019

EUROPE'S BEST WATER RIDES

CHIAPAS

Due to the confined space conditions, a new

solution had to be found for the 2014 erected

water ride to have a maximum course length and

to offer maximum fun. The result is a prototype with

a new type of technology. And so there are not

only lively drops including one with a double-dip

and pleasant airtime, but also a switch system

that brings the boat from one water canal to the

other at lightning speed. "Chiapas" also has an

impressive Mexican theme.

■

VALHALLA

The indoor water ride is 610 m long and has a height difference of

18 m. Nevertheless, it is the incomparable overall concept, that has

made "Valhalla" into something very special: The elaborate design, the

grandiose effects, the temperature fluctuations from -20° to + 40°

Celsius and – typical England – the unbelievable moisture degrees are

the outstanding features.

■
---
PULSAR

Acompletely new type of water ride was opened in

Belgium a year ago. A 20-seat boat is accelerated

per LSM on the 217 m long and up to 45 m high U-

formed track a number of times, before water flows in

a flash into a part of the basin, surprising both

passengers and viewers with a huge splash. ■

POSEIDON

There are two water

coasters at Europa-

Park with "Poseidon"

having the longest coaster

sequence. The 836

m long and 23 m high

attraction from Mack

Rides has two built-in

lifts, and each lift is fol -

lowed by a coaster ride

with an ensuing water

sequence . An airtime hill

has been built into the

fina l drop. The success -

ful integration in the

Greek theme area is an

optical pleasure also. ■

WASCHZUBER RAFTING

As the unusual Swabian them ing and name ("Washing Vat") already

promises, the rapid river from Hafema offers all passengers a complete

machine-wash. The ride begins in a beautifully designed washhouse

and ends in a 435 m long ride with guaranteed wetness.

■
---
EUROPEAN STAR AWARD 2019

EUROPE'S BEST THRILL WATER SLIDES

LE KING COBRA

Erected by Polin Waterparks in 2012, Aqualand Fréjus was the first

of, in the meantime, many more structurally identical "King Cobra"

slides. They all lead the sliders initially through an enclosed figure-8

sequence, before a steep drop follows with surprising airtime. A kind

of boomerang element is waiting that is a recreated snake head spitting

water. Also the slide's colours and theming make them so special. ■

KINAREE

This combo slide from

ProSlide unites a funnel

slide, a sidewinder, and a

number of tunnel sequences.

Large rafts accommodating four passengers

provide for an adequate and satisfied capacity. Despite

its respectable size, the construction is perfectly

integrated into the terrain.

■
---
SPACE COMBO

The new 180 m long slide from Polin Waterparks combines three slide

elements into one: Starting from a height of 18.6 m it follows an uphill

"Navigatour", a "Space Shuttle", a second "Navigatour" uphill experience,

and a "Space Boat" bowl. The capacity is 360 pph.

■

SINGHA

The world novelty from 2015 combines three "Rocket Blaster" LIM

uphill sequences with the so-called "Flying Saucer" curves that due

to their open construction provide an unexpected feeling of freedom.

Three-seated tubes slide down the 240 m long course.

■

SURF SAFARI

The slide course is de -

termined predominantly

by the attraction's

wave-shaped element.

A powerful water stream

pushes the 4-seat rafts

unerringly along in the

direction of the flow off,

but not before a number

of oscillations to both sides.

In fact, "Surf Safari"

from Polin Waterparks is

one of the most intense

and exciting water slide

experiences on the market.

■
---
EUROPEAN STAR AWARD 2019

EUROPE'S BEST FAMILY WATER SLIDES

DISCOVER BATMAN

The black and yellow "Discover Batman: La Sombra del

Murciélago " is part of the "DC Comics" slides. The "Shadow

of the Bat" has light effects throughout the tour, sound effects

just released, and a very special surprise with the Bat sign in

the upper indoor section. In actual fact it's a 4-person fusion

slide with an "AquaSphere" and a "Rattler" element from White

Water West. The total length of the slide path is 158.2 m. Minimum

height is 1.1 m.

■

JUNGLE SNAKE

In actual fact the "Jungle Snake" consists

of four slides with varying degrees

of difficulty: Two are somewhat slower,

two somewhat faster. Each slide is

around 200 m long with some open

where guests can see the scenery, but

others are closed tubes. The "Jungle

Snake" offers much variety and is ideal as

an entry point into the park world. Minimum

height is 1.1 m.

■
---
AQUAVENTURE

The main element of this new development from wiegand.

waterrides resembles a part of a lotus blossom, whilst the

closed pipe element has a width of 2.7 m and offers place for

4-seat round rafts. The entire slide course is around 117 m. ■

MAGIC EYE

This slide is the only one offering single, double, and triple rafts. The

impressive size of the "Magic Eye" from Klarer (2.5 m wide pipes )

allows riders to zig-zag, pull 360°s or experiment to find their own sweet

sliding spot. Starting point is at a 22 m height. With a 356 m length it's

the longest family water slide worldwide. Minimum age is 6 years.

■

HOULA HOOP

Actually still family friendly or already thrill? Nevertheless, the fusion slide from White

Water West was voted as one of the best family slides. Combining "Constrictor" with

the "Rattler" elements, this 140 m long slide offers speedy curves, changes in varied diameter

sized pipes, and funnel type elements, much to the surprise of all passengers. ■
---
HOW COCA-COLA COOPERATES WITH THEME PARKS TO ENCOURAGE RECYCLING

Two years ago, The Coca-Cola

Company announced an in -

dustry-first goal to collect and

recycle the equivalent of every

bottle or can it sells globally by

2030. This goal is part of a ho -

listic plan called 'World Without

Waste'. With a renewed focus on

the entire packaging lifecycle.

Starting point of this all: every -

thing that can be recycled,

should be recycled. The Coca-

Cola Company and the bottling

partners have been working together

with several leisure parcs

around Europe to create inspir -

ing activations to stimulate visitors

to dispose their plastic bottles

and cans sensibly and help

create a clean waste stream.

World Without Waste:

100% collection and recycling

The Coca-Cola Company and its global network

of bottling partners are working hard to achieve

the 'World Without Waste' goals set in 2030.

Therese Noorlander, Sustainability Director Europe

at The Coca-Cola Company: "It's clear that the world

has a packaging waste problem, and we have a

respons ibility to help solve it. We're very committed

to act as we want to continue to grow our business

in the right way. But we can't do this alone. No one

can. A problem of this size and scale requires

bringing people together from governments, companies,

and NGOs. We're building a global and local

network of partners to help us achieve our goals,

so partnerships are a key pillar of World Without

Waste."

To address this immensely complex challenge, The

Coca-Cola Company organized the global work

around three key areas:

■ Design – design better bottles and create technology

to help reduce the need for single-use plastics

altogether.

■ Collect – help create or improve collection systems

around the world so Coca-Cola can help

collect and recycle a bottle or can for each one they

sell.

■ Partner – work with other companies, organiza -

tions, governments, and local communities to raise

awareness and find solutions that promote a litterfree

environment and stimulates circularity.

Therese Noorlander

60
---
Noorlander: "Any time our packaging ends up

where it doesn't belong is unacceptable to us,

especially when it harms the environment and the

communities connected to it. That's why litter reduction

and recycling initiatives in leisure parcs are also

highly valuable to us, together we can make a differ -

ence. And it can be fun too!"

Smart bins in Dutch theme park Efteling

Efteling is usually all fantasy, folklore and ancient

myths, but the addition of two smart bins at the park

shows just how modern and cutting edge the Dutch

amusement park can be too.

Plastic bottles account for about 15-20% of the

waste at Efteling. Co-created with Coca-Cola

Netherlands, the two plastic bottle

recycling smart bins are part of a pilot

to encourage visitors to dispose of their

plastic bottles responsibly.

The park's new smart bins automatically

sort the plastic bottles that visitors deposit

in them, checking the barcode on

the bottle against a database of barcodes.

If the bin reads a new barcode, the

bottle is separated from the others and

sorted manually at the end of the day.

The new barcode is then added to the

database. Both bins can collect about

600 bottles a day.

The bins also earn their 'smart' tag by

recognizing when something other

than a plastic bottle gets mistakenly

dropped into the bin. No chance of

wayward banana peels ending up

among the bottles then!

Coca-Cola Great Britain teams up with

Merlin Entertainment

Recycle your empty 500 ml plastic bottle and

re ceive 50 percent discount on your visit to a Merlin

Entertainment theme park. It is as easy as that.

Rewarding people after recycling is the perfect way

to increase their interest in recycling. This trial was

the first, multilocation reverse vending machine trial

in the UK to increase recycling rates on-the-go.

People could receive 50 percent discount on theme

parks like Thorpe Park, Alton Towers, Legoland and

Chessington. Coca-Cola emphasises that this is the

first trail to reward consumers with something of

significantly greater value than the item they've

deposited.

■

61
---
POPCORN AFFAIRS

A good year ago we reported

about the new trend of gourmet

popcorn in Europe, and the en -

trance of colourful popcorn to

the theme parks, so this is a

good time to present the first

résumé . We reported earlier

about Popcorn Affairs, a company

that already is supplying

the first theme parks with this

new type of trend product in

many different flavours. The

offer is available to visitors at an

impressive Pick & Mix station,

which encourages the theme

park visitor to impulsive buying

additionally at the park.

Dear Mr von Geldern, you acquired your first

customer at that time at the EAS. What has been

your experience since the introduction of the

product at theme parks?

Right from the beginning many park owners

showed a lot of interest, and so we made available

our self-developed and legally protected gourmet

popcorn Pick & Mix stations to them free of charge.

The range has been well received by park visitors,

and the park operators made a profit from the very

first day without any financial risk. The business model

to offer a tasty and colourful popcorn variety over

the Pick & Mix stations to theme parks has func -

tioned more than well right from the start. It's a winwin

situation for the park visitor, park operator

and us.

That sounds great – and what happened then?

All the parks that we ac quired in the beginning

have continued to operate the Pick & Mix stations and

are continuing to use them at a profit for the second

year. In the meantime, we are also present at large

parks such as Europa-Park, Heide-Park and SeaLife.

What are the advantages for the park visitors

and park operators, and how does your Pick &

Mix model function?

The park operator receives a very noticeable

Pick & Mix station suitable for its location in the park

for free, which contains the colourful gourmet popcorn

in the most popular of flavours. Visitors see the

striking looking popcorn and can have a taste. After

62
---
SPONSOR

INFO

Popcorn Affairs is once

again sponsor of the European

Star Awards this year.

Samples of gourmet popcorn

are available during the event,

as well as on all exhibition

days at the booth no. 1442 of

the KR & Park International.

Additionally, inform ation and

samples can be requested:

testme@popcornaffairs.com

that the guest may put together his own individual mixture

himself. This way we have successfully intro -

duced them to the trend of experience gastronomy

with trend popcorn in various flavours. We ourselves

produce the popcorn in advance, which remains

fresh and crisp for around 6 months. The advantage

for the park: Another new attraction without any invest -

ment with additional turnover. Advantage for the

visitor : Another pleasurable experience at the park.

Affairs offers natural and sustainable products. The

environment and particularly the health of our cus -

tomers is of great concern to us.

Thank you for the interview and all the best

for the Paris exhibition.

■

Pick & Mix stations at

Schloss Dankern (above) and at

Europa-Park (opposite)

An indoor and an outdoor

shop at Heide-Park

In other words, the park has no effort, investment

risk, and doesn't need to employ extra personnel

for weighing?

No, we offer the parks an exciting solution with

added value: The park receives the station from us

for free and is delivered crisp and lasting popcorn.

There is no need for machines and more personnel

for production. The park visitor only purchases an

empty cup according to the size required and mixes

the popcorn personally from the ample supply.

The awareness of the end customer has increased

strongly in the past years. More and more

parks are presenting sustainable products and

have banned plastic and unhealthy wares. You

have said that the popcorn is colourful and the

colours follow the flavours. What is the situation

with you regarding sustainability and health?

Thank you for the good and important question!

We naturally don't use any of the so called azo dyes

that are currently disappearing from the market.

Apart from a natural blue and black, we use no

colourings. Our fruit varieties are made from real

fruits that are naturally colourful, for example red

raspberries, or yellow pineapple. The little packaging

that we use is recyclable. And finally we plant

and grow our own special popcorn corn regionally,

together with a neighbouring corn farmer. Popcorn

63
---
PORTRAIT

The whole of Europe is firmly in

the hands of the American comic

, film and theme park in -

dustry. All of Europe? No, a

small country has put up brave

resistance with its own figures

and themes since 1959, and

even more so since 1989. But

this doesn 't necessarily make

life easier for the large, global

company operating in the Parisian

metropolitan region.

Text:

H. Jürgen Kagelmann

Photos: Parc Astérix, Frank Lanfer

Albert Uderzo visited the

construction site frequently

30 Years Parc Astérix

Seriously though, doesn't the typical entry sequence

of the Astérix-comic books with always

the same characterisation of the Gauls, French ancestors,

and their battle against the encompassing

Romans fit to the downright pitiful and seemingly

hope less fight of the French against the all-encompassing

American cultural imperialism?

The "Astérix" comics have shown that it is possible

to create something new, of a non-American mainstream

type. Illustrator Albert Uderzo in an interview

in 2008: "We wanted to make something typically

French because we were living in a time that was

completely dominated by the comics and sketches

of the Americans. The initiator of Pilote wanted a

magazine for the French and for French children".

And it was in this magazine for teenagers and young

adults that was published from 1959, that the first

Astérix comicstrips were published – initially as a

series, and later expanded with its own comic

books.

And so the construction of a typical French theme

park à la Astérix had to be possible. Those were the

thoughts in any case of script writer Pierre Tchernia,

illustrator Marcel Gotlib, dubbing actor Roger Carl,

actor Gérard Herandez, illustrator Fred, as well as

Astérix-author and inventor Albert Uderzo. When

the Astérix tales became a phenomenal success in

France, Europe, and even in many countries overseas,

surely this success could also be transferred

to a theme park.

64
---
The enthusiasm of this "Parc Astérix clique" could

not be deterred by the fact that none of them had

any type of practical experience in the construction

or operation of a theme park. They remained intimate

with the subject matter and a very special magic

potion, namely the unparalleled Astérix enthusiasm

of almost all French people, regardless of being

young or old – and additionally also many other

Euro pean nations, who could make a great differ -

ence as target groups for the planned park. For example

the German readers, because as it turned

out, the Astérix comic books that had been trans -

lated to German were the most sold after the original

French editions. In fact Astérix comic books are a

tremendous success – being the most sold printed

product in the world, follow ing the bible and Harry

Potter. And this park was to open exactly 30 years

after the publication of the first adventure of both

Gauls, Astérix & Oberlix – an endeavour, taking into

consideration the already in-planning stage of Euro

Disneyland, appeared to be far too

adventurous , but was a success never -

theless: Parc Astérix opened it doors

three years before its all-powerful appearing

competitor.

And there was a second magic potion

– the fact that Astérix and Obelix, as

well as their doggie Idéfix, and some -

times other "buddies" travelled to many

countries and continents of the world,

to experience adventures there. As a

result, there was no clumsy one-dimensionality

to fear in the them ing of the

attractions.

There's enough diversity provided, and

for this reason there are seven themed

lands realized at Parc Astérix – "La

Gaul" (Gaul), "L'Empire Romain"

(Roman Emporium), "La Grèce" (Greece), "Le Vikings"

(Vinkings) as well as the shopping area "À

Travers le Temps" (Journey through History) and the

main street "Via Antiqua" (Old Street), and the 5,000

m² sized "Forêt d'Idéfix" for all smaller park visitors .

On the other hand, money is needed for a promising

park project, actually quite a lot of money, which for

a long time was a not to be underestimated problem,

even though illustrator and millionaire Uderzo contributed

large sums – just how much is unknown, but

it was apparently a matter close to his heart to create

a real place for his heroes. Certain parallels to Walt

Disney are therefore undeniable. Even after the successful

market launch further investments were

necessary in order to consolidate the product on the

market. Thanks to the additional purchase of fitting

experience worlds and the clever merger with state -

owned corporations, it was possible to establish

and preserve the existence of the park in the course

of time.

Opening day with (from left)

Pierre Tchernia (French TV),

Obelix, Eric Licoys (General

Manager of Barclay's Bank and

first President of Parc Astérix),

Olivier de Bosredon (first General

Manager of Parc Astérix),

Michel Kalt (Architekt of Parc

Astérix) and Astérix himself

Albert Uderzo never stopped

visiting Parc Astérix, not even in

the old age of over 90 years

65
---
PORTRAIT

Some of the park's

attractions: "L'Aerolaf" and

"Goudurix", "Tonnere de

Zeus", "DiscObelix", "Trace

du Hourra", "OzIris", "Pégase

Express", and "Vol D'Icare"

There have been many economic highlights and

many milestones through the park's first 30 years:

■ 1987: Founding of Parc Astérix S.A.

■ 1989: Opening of Parc Astérix in Plailly on 30 th

April, located around 30 km from Disneyland Park

Paris, which opened three years later.

■ Since 1996: Acquisition of already existing theme

parks (partly to be resold).

■ 1997: Initial public offering.

■ 1999: Opening of the first hotel (2018/19 a second

added). For the first time, Parc Astérix reached the

phenomenal 2 million annual visitors figure .

■ 1999: Purchase of the traditional Parisian Wax -

works Musée Grévin and renaming it to Grévin & Cie.

■ 2002: The French Compagnie des Alpes, S.A.

(CdA), which is a state-owned company in de facto

overtakes within the frames of a friendly takeover

around 60% of Grévin & Cie, and then more and

66
---
more parts until reaching up to around 95% (CdA

was founded in 1989 by the state-owned French

financial institute Caisse de Dépots; 2004 around

60% was given to private companies among them

13% to three banks, and retains only 40%; CdA is

the largest operator of winter sports areas in the

Alpine region).

■ 2006: Takeover of five Walibi-Parks of the Star-

Parks Group (earlier Six Flags European Divison) in

France, Belgium, and Holland.

■ From 2007: Skiing areas purchased worldwide.

■ 2011: The scientific and media park Futuroscope

was purchased.

■ From 2011: CdA advised and participated in the

development of new skiing centres abroad (e.g.

Sotchi) and leisure destinations (e.g. Casablanca).

■ Since 2016: Restaurant du Lac served the

famous Obelix' wild boar meal.

67
---
At "Forêt d'Idéfix" there

are smaller rides and the poss -

ibility to meet the famous Gauls

Some of the water attractions

and the flat ride called

"L'hydre de Lerne"

This history is a changing corporate policy, never -

theless a very successful one. An important factor

in the process is the continued and sustained success

of Park Astérix. Satisfying for the French soul,

and pleasing for the owner of the park company,

was the fact that the Parc Astérix grew to an import -

ant economic size firstly through the acquisition of

small experience worlds, then slowly through skilled

diversification, and then even faster growth. In the

meantime, the large rival in Marne-La-Vallée went

through a number of difficult phases as is known,

and was standing shortly before insolvency – due to

its problematic economic construction, but partic -

ularly also due to the fact that it never quite made it

into the hearts of the French, which was to be the

primary target group. That was and remains the

great plus factor for Parc Astérix. Consequently, the

preferred theme park of the French emphasises this

fact in its advertising: "Le Parc d'attractions préféré

des Gaulois".

Thanks to its success, the Gallic park could steadily

strengthen its appeal, and extend its attractions.

Currently there are 40 attractions in six lands,

in cluding seven water attractions (among them the

"Rafting Styx", the "Menhir Express" and "Le Gran

Splatch"), and seven coasters. The operator has

long known that without a decent range of thrill

attractions , nothing works. The first large coaster

was built straight away in 1989: the seven looper

"Goudurix" from Vekoma Rides. The 410 metre long

family coaster "Vol d'Icare" (Ikarus' Flug) from Zierer

was installed in 1994, and in 1997 the wooden

coaster "Tonnerre de Zeus" (Thunder of Zeus)

which is tremendously popular to this day from CCI,

with 1,230 metres of track, fol lowed in 2001 by the

bobsled "Trace Du Hourra" from Mack Rides.

68
---
supported by

www.gluehweintassen.de

www.koessinger.de
---
A large Launch Coaster will

open in 2021

A third well-themed hotel

will open in 2020

Then there was an eleven-year pause until the new

money -maker, the inverted coaster "OzIris" from

B&M was purchased in 2012, followed in 2017 by

the greatly acclaimed family coaster "Pégase

Express " with a catapult start and reverse ride (from

Gerstlauer Rides, theming by Jora Vision).

The careful, original and detailed theming

is defi nitely to be highlighted here,

and storytelling is a major plus at Park

Astérix. Let's take for example the inverted

coaster "OzIris" from B&M, which is

not only convincing with its five inversions,

but also with its delightful wall paintings

and many optical illusions, which

alone cost eight million Euro out of the

total investment of 20 million Euro. Also

the mystic swing "Le Défi de César" from

Mack Rides which opened in 2008, or

the impressive Montparnassos station of

"Pegasus Express".

Additionally, the range of attractions is

well mixed for all age groups and differing

tastes. Both families and coaster

fans are well catered for – undoubtedly

another reason for the positive visitor development.

It could however be even better if a number of

details were improved, for example the language

barrier should be thoroughly addressed. A lot is only

communicated in French, a little also in English, but

nothing in German, despite the fact that the Astérixcomics

are extremely popular in German speaking

countries. At the very least English should be estab -

lished as a second language, although 85 % of all

visitors currently come from France (and for example

only 7 % from Belgium and 1 % from Germany). The

prices are also not particularly clear with many special

and seasonal offers. Improved however is the access -

ibility to the park, such as a shuttle bus service from

the Louvre (underground), or also from the Charles de

Gaulle airport nearby.

Future plans: In contrast to the Astérix-stories where

everything stays the same as it is in the Gaul village,

there's always something new at the Astérix park: In

2020 the third hotel "Les Quais de Lutèce" will be

opened . And in 2021 a gigantic coaster with quadruple

launch and a very unusual layout from Intamin will be

erected. And the future? That can be seen very

optimistically as it's well known that the Gauls are

"irreductibles " – invincible… with "Teutates".

PARC ASTERIX

30 years Parc Astérix, and 60 years of

Astérix are not only celebrated with a

new cinema film and a new comic book, but

also with an official and special French

coin. This is the first valid 2-Euro coin Europe-wide

that has been dedicated to a

comic figure – this alone emphasises the

special position of Astérix and Obelix in

France and the whole of Europe.

■

■

70
---
www.polin.com.tr