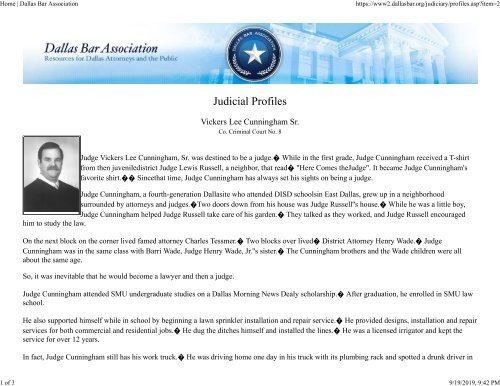 Judge Vic Cunningham Dallas Bar Association
Profile of Judge Vic Cunningham from the Dallas Bar Association. Visit: https://www2.dallasbar.org/judiciary/profiles.asp?item=2
Profile of Judge Vic Cunningham from the Dallas Bar Association. Visit: https://www2.dallasbar.org/judiciary/profiles.asp?item=2

SHOW MORE
SHOW LESS
Create successful ePaper yourself
Turn your PDF publications into a flip-book with our unique Google optimized e-Paper software.
Home | Dallas Bar Association

https://www2.dallasbar.org/judiciary/profiles.asp?item=2

1 of 3 9/19/2019, 9:42 PM

Judicial Profiles

Vickers Lee Cunningham Sr.

Co. Criminal Court No. 8

Judge Vickers Lee Cunningham, Sr. was destined to be a judge. While in the first grade, Judge Cunningham received a T-shirt

from then juveniledistrict Judge Lewis Russell, a neighbor, that read "Here Comes theJudge". It became Judge Cunningham's

favorite shirt. Sincethat time, Judge Cunningham has always set his sights on being a judge.

Judge Cunningham, a fourth-generation Dallasite who attended DISD schoolsin East Dallas, grew up in a neighborhood

surrounded by attorneys and judges.Two doors down from his house was Judge Russell''s house. While he was a little boy,

Judge Cunningham helped Judge Russell take care of his garden. They talked as they worked, and Judge Russell encouraged

him to study the law.

On the next block on the corner lived famed attorney Charles Tessmer. Two blocks over lived District Attorney Henry Wade. Judge

Cunningham was in the same class with Barri Wade, Judge Henry Wade, Jr.''s sister. The Cunningham brothers and the Wade children were all

about the same age.

So, it was inevitable that he would become a lawyer and then a judge.

Judge Cunningham attended SMU undergraduate studies on a Dallas Morning News Dealy scholarship. After graduation, he enrolled in SMU law

school.

He also supported himself while in school by beginning a lawn sprinkler installation and repair service. He provided designs, installation and repair

services for both commercial and residential jobs. He dug the ditches himself and installed the lines. He was a licensed irrigator and kept the

service for over 12 years.

In fact, Judge Cunningham still has his work truck. He was driving home one day in his truck with its plumbing rack and spotted a drunk driver in
---
Home | Dallas Bar Association

https://www2.dallasbar.org/judiciary/profiles.asp?item=2

2 of 3 9/19/2019, 9:42 PM

his neighborhood. He called the police and held the man until the police could get there. The man proceeded to tell his attorney that he was

arrested by a maintenance man. The attorney requested a competency evaluation for his client for such an extreme statement. When Judge

Cunningham heard about the incident from a lawyer in an adjoining court, he rectified the situation by explaining that he was the maintenance man

who had held the defendant until the police could arrive.

As part of his education, Judge Cunningham studied at the University of Plymouth in Devon, England and has studied the judicial/legal systems of

England and Germany. At one time, he participated in the defense of an accused German citizen in a criminal trial in Hamburg, Germany.

After graduation from law school, he worked in the Dallas County District Attorney's office from 1988 through 1994. He prosecuted everything

from traffic tickets to capital murder. He left to become a criminal defense attorney. He was then elected to the bench in 1995.

Judge Cunningham enjoys building and remodeling projects as hobbies. He has built a small house in the country completely by himself - pier and

beam foundation to plumbing and electrical installations to roofing the project. He enjoys weekends at his country retreat where he can fish and

spend time with his family. He played football in high school and now enjoys watching football and baseball games, and skiing.

Judge Cunningham's family is the most important thing in his life. He and his wife, Donna Sue, have two children, Susan Rose who is 6 years old

and Vickers Lee Cunningham, Jr. who is 4-1/2 years old. They are members of the First Baptist Church of Dallas.

Judge Cunningham is an extremely hard working judge, as evidenced by the recent Dallas Bar Association's judicial evaluation poll. He had one of

the highest ratings of any judge. He tries to make his court the most efficient that it can be. He works hard at reducing court backlog without

sacrificing the judicial process. He has disposed of over 17,000 cases since he has taken office.

Since he has served as both prosecutor and defense attorney, he was familiar with all the courtroom procedures. But what surprised him the most

when he was elected was the tremendous amount of administrative work that a judge must do. The record keeping and paperwork take a large

amount of time to process. The volume of cases that a court must handle has increased 30% since he began practicing law. When he was elected,

he brought his own personal computer to the courthouse to increase the efficiency of his court. He finds the job of being a judge a full-time, all-thetime

job. To him, the most stressful part of the job are the demands he places on himself to run a tight and efficient court.

Judge Cunningham is always looking for ways to improve his court. For example, he schedules meetings with field officers in probation to work

with them and see what he can do to make their jobs run more smoothly and efficiently. He wants his court to be a full service court. He feels

that his entire staff and office are a part of his team. He wants his staff to be helpful and courteous to all who come through his court. He doesn't

want to hear any of his staff tell an attorney or a citizen that "that's not my job." He wants all of his staff and office to be as helpful to the public as

they can. If someone needs some help, he expects his office to help them.

Judge Cunningham also has a gift of an extraordinary memory for names and faces. He remembers defendants who have come through his court
---
Home | Dallas Bar Association

https://www2.dallasbar.org/judiciary/profiles.asp?item=2

3 of 3 9/19/2019, 9:42 PM

before. This ability sometimes surprises defendants, but it underscores the basic judicial concept that courts do not like to be revolving doors.

Judge Cunningham tries to be fair, impartial and just, but he is firm and expects defendants to carry out their sentences and not be back in his court

again.

On the other hand, Judge Cunningham feels that some of the greatest satisfaction in being a judge is being able to swear in new attorneys, to perform

weddings and to preside at adoptions. He has performed several weddings in the past few years for close friends. Family and friends are

extremely important to Judge Cunningham. He thinks that being a judge is all that he thought it would be when he was a child, and he can''t

imagine doing anything he would enjoy more.