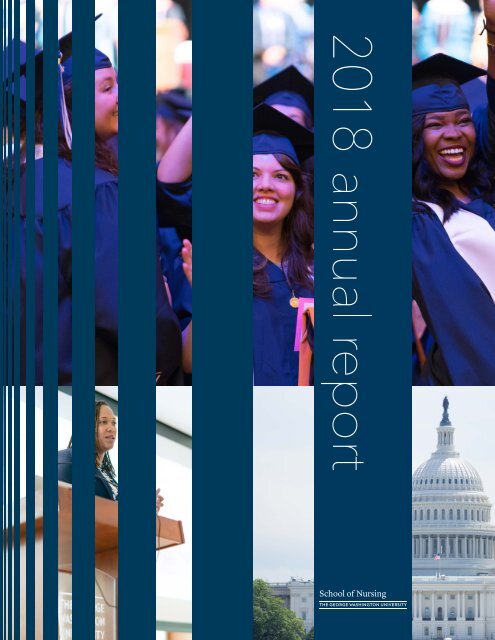 You also want an ePaper? Increase the reach of your titles
YUMPU automatically turns print PDFs into web optimized ePapers that Google loves.
Fiscal Year 2018

July 1, 2017 – June 30, 2018
---
Letter from the Dean

This year has been one of tremendous growth and significant

achievements for the School of Nursing. Faculty and staff came together

to chart a new course for the next three years, resulting in the school's threeyear

strategic plan. President Thomas LeBlanc took office and unveiled five

strategic initiatives for the whole university. These guiding principles will

help ensure the School of Nursing continues to grow and thrive.

As a result of the diligent efforts of our students, faculty and staff, the

school continued to climb in U.S. News and World Report ranking — at

No. 5 among online graduate nursing programs and No. 25 among DNP

programs nationwide. These advancements reflect years of effort to improve

how we approach education, research, scholarship and recruitment.

I am incredibly pleased to report that, after submitting an application to

the National League for Nursing for consideration, we were designated a

Center of Excellence in Nursing Education. This is the culmination of years

of work laying a foundation of evidence-based pedagogies upon which to

build a culture of excellence. Over the course of months putting together

the application, I was thrilled to hear of brief anecdotes, quotes and success

stories that together painted a picture of the outstanding education we

provide at this school.

This year was also significant for the university, as it was re-accredited by

the Middle States Commission on Higher Education. I am proud of the part

the School of Nursing played in demonstrating the quality education that

GW continues to provide.

As encouraging as it is to reflect on what we have done in the past year, I

am heartened by future prospects. Reading about these achievements and

other milestones for the school, I trust you will be as excited for our future

endeavors as I am.

Best

Pamela R. Jeffries

Dean and Professor, GW School of Nursing
---
Academics

New Programs

Fiscal year 2018 was a year of expansion with

the addition of new certificates in the fields of

Health Policy and Media Engagement, Nursing

Education and Psychiatric Mental Health Nurse

Practitioner (PMHNP). GW Nursing also made the

notable milestones of securing approvals of a PhD

in Nursing program and a MSN option in PMHNP.

All new offerings address shortages of adequately

prepared practitioners, scientists and advocates

within the nursing profession and are valuable

additions to the school's array of educational

programs.

Clinical Placement

With a distance-learning graduate education

model, streamlining clinical placement processes

has been an ongoing effort to improve the student

experience. Over the past two years, GW Nursing

revamped its graduate clinical placement process

to adopt a student-driven and competency-based

clinical placement model designed to empower

nurse practitioner students to select clinical sites

based on potential to meet clinical objectives

and support clinical competencies. The new

model also allows faculty and staff to efficiently

address challenges associated with rapid national

expansion, regulatory requirements and the

educational standards of online NP education

programs.

The school's clinical placement staff developed

a database of clinical sites across the country to

help our graduate students find preceptors. It is

accessible by students and faculty and currently

contains more than 2,500 sites grouped by

availability and population foci.

Figure 1. Enrollment trends by degree program

Admissions Pipelines

Graduation total

BSN 210

MSN 179

DNP 37

Certificates 17

GW Nursing negotiated five new guaranteed

admissions agreements for students in area

community colleges. The school also partnered with

the Organization of Associate Degree Nursing to

offer guaranteed admission to its members. These

agreements facilitate the seamless transition to

GW Nursing and address a nationwide demand for

nurses.

4
---
Faculty and research

GW Nursing celebrates faculty members

who joined the school this year. Each brings an

invaluable perspective on nursing education or

research to enrich the school's portfolio of academic

pursuits.

+ + Cindy Allen

Assistant Professor

+ + Carol Braungart

Assistant Professor

FNP Program Director

+ + Mercedes Echevarria

Associate Professor

DNP Program Director

+ + Crystel Farina

Director of Simulation Education

+ + Jeanne Murphy

Assistant Professor

+ + Anne-Marie O'Brien

Clinical Assistant Professor

Director of BSN Clinical Education

Rounding out the new

cadre of faculty was

Jeanne Geiger-Brown,

who joined GW Nursing

in January as a tenured

professor and associate

dean for research. Dr. Geiger

Brown, a well-known nurse

researcher and former

nursing school dean, will

lead the school's expanding

research endeavors and mentor faculty as she

oversees the school's Office of Research. She is

internationally known for her research in adverse

outcomes of occupational sleep deficiency.

In January, the school held the inaugural GW

Nursing Research Colloquium in Washington, D.C.,

inviting faculty, students and staff from partner

institutions and other GW schools to share their

research at this daylong interdisciplinary event.

Faculty shared the podium with students from

our Doctor of Nursing Practice program and from

partner organizations.

As the school builds the its research portfolio,

faculty contributed several new grants and awards:

+ + Kathleen Griffith — VA - SPIRE subaward

Progressive Activity-Based Rehabilitation

in Veteran Cancer Survivors with Chronic Pain

+ + Mayri Leslie — R01 NICHD subaward

Umbilical Cord Milking in Non-Vigorous Infants

(the MINVI Trial) - Domestic

+ + Joyce Pulcini — GW Honey W. Nashman Center

Professional Development Grant

+ + Erin Athey — GW Honey W. Nashman Center

Professional Development Grant

+ + Ellen Kurtzman — Robert Wood Johnson Foundation

Health Policy Fellowship

+ + Pearl Zhou — GW-CDRF

Using blood glucose feedback to regulate

physical activity to control blood glucose among

women with pre-diabetes

+ + Sandra Davis — Sigma Theta Tau

Mentorship for Academic and Professional,

Growth, Guidance and Success

5
---
Faculty expertise

65 percent of our faculty

are active in practice

52 percent of tenure-track

faculty hold a fellowship

Figures accurate as of publication date

Awards and Honors

Sigma Theta Tau International

Several GW Nursing faculty members were

honored at the Sigma Theta Tau International

Biennial Convention. Karen Wyche was inducted

as an honorary member. Christine Pintz and

Laurie Posey won the Best Practice in Technology

Award for their work on the GW Interprofessional

Education Collaborative. Dean Jeffries was awarded

the Edith Moore Copeland Award for Excellence

and Creativity.

From Sigma Theta Tau International:

Sigma's International Awards for Nursing

Excellence are based on the society's dedication

to fostering high professional nursing standards,

recognizing superior achievement, developing

leadership, and encouraging creative work.

Awards are conferred to nurses each biennium

for contributions in the fields of research,

leadership/professionalism, education/technology,

communications, nursing practice, and chapter

activity/membership.

George Washington Bender Award

for Excellence in Teaching

In fiscal year 2018, Majeda El-Banna won the

university's premier award for teaching professors:

the Bender Award. The Bender Teaching Awards

recognize undergraduate, graduate, and

professional teaching at GW.

2017 Edith Moore Copeland Award

for Excellence and Creativity

Pamela R. Jeffries was honored with the Edith

Moore Copeland Award for Excellence and

Creativity, also known as a Sigma Theta Tau

Founders Award. This award reflects a career

dedicated to the advancement of the profession

of nursing and her contributions to the state of

the science of simulation education.

On receiving the award, Dean Jeffries said,

"Being lauded for creativity and my work

on the NLN/Jeffries Simulation Framework

is both exciting and humbling. Nationally

and internationally, Sigma is recognized as a

standard of excellence within nursing. Being

honored by such a prestigious group of my

peers and colleagues is a highlight of my

career."

Fellowships

Three GW Nursing faculty members were

honored this past year with fellowships in different

academies and associations, reflecting their

commitment to the profession of nursing.

+ + Karen Kesten

American Academy of Nursing

+ + Jeanne Murphy

American College of Nurse-Midwives

+ + Karen Whitt

American Association of Nurse Practitioners

6
---
Engagement

For the past several years, GW Nursing has

focused on building infrastructure — on campus,

with new hires and with streamlined processes — to

better meet the demands of a growing student

body. Whether by expanding the spaces available

to our students or creating new professional

development or support programs, the school is

committed to improving the student experience

and building an institutional culture.

Well-Being Experience

GW Nursing is dedicated to building resilience

and grit to help future nurses fight burnout and

fatigue. Practicing resilience in the face of adversity

can be challenging, given the rigorous demands

of the nursing profession. Preparing nurses to deal

with burnout, stress and other factors that cause

them to leave the profession can be as important

to their success in a nursing career as the clinical

skills they learn. The Well-Being Experience

was designed in FY18 to provide psychosocial,

physical and educational support to students in our

programs. The initiative includes eight modules.

Students receive a notation on their transcripts after

completion.

Veterans

GW Nursing values veterans of the armed forces,

which is why the school offers a supportive learning

environment tailored to veterans' needs. The BSN

veterans option offers a customized curricular

roadmap, which is based on prior education,

military service and experience. Since the creation

of the initiative in 2014, the school has graduated

more than 50 veterans to new careers in nursing.

GW Nursing Veterans At a Glance

+ + 55 student veterans currently enrolled

+ + 94 percent NCLEX pass rate

+ + 47 percent of veteran students had prior

military training related to direct patient care

+ + 5 percent increase in gender diversity across

the entire school since 2014

+ + Ranked No. 3 by U.S. News and World

Report for Veterans

+ + Ranked No. 19 by Military Times for Best

Colleges for Veterans

Diversity

To prepare students for a dynamic and

increasingly complex health care industry,

the school recognizes that it must provide

programming that educates students and the

school community on the different backgrounds,

personalities, scenarios and identities they will

encounter in the course of their careers. This

initiative provides a broader perspective on how the

practice of health care and the education of health

care providers is shaped and affected by issues of

diversity.

This year, Sandra Davis was

appointed as inaugural assistant

dean for diversity, equity and

inclusion and led the school's first

diversity retreat in January 2018.

The school also now offers a

diversity-focused lecture series

three times each semester, featuring

speakers on topics such as race,

sexuality, social determinants of

health and more.

7
---
* Bureau of Labor and Statistics

Figure 3. Trends in the diversity of the student body at the School of Nursing.

Centers

The Center for Health Policy

and Media Engagement

This center is committed to increasing visibility

across health care disciplines to educate the public

about their expertise, perspectives and work.

Developing the right health and social policies for

the nation depends upon it.

Woodhull Study Revisited

Despite gradual increases in women's

representation in the media, nurses remain largely

invisible in health news stories, despite their

relevance to almost any health issue. Although the

profession has an increasing number of nurses with

doctoral degrees who are clinicians or researchers

with deep clinical and policy expertise, nurses are

seldom included as sources in stories on topics

related to health policy, research and the business

of health care. These are the disparities the center

sought to highlight and begin to remedy in their

replication of the 20-year-old Woodhull Study on

Nursing and the Media:

Health Care's Invisible

Partner. The center

shared preliminary results

during Nurses Week at

The National Press Club.

Learn more about the

Woodhull Study Revisited

at go.gwu.edu/woodhull

The Woodhull Study Revisited:

Nurses' Representation in Health News Media

WOMEN UNDERREPRESENTED AS EXPERT SOURCES IN NEWS STORIES i,ii

Representation

in newsrooms

Expert sources

in news stories

Representation in

news images

NURSES ARE LARGEST GROUP OF HEALTH PROFESSIONALS

3 nurses to 1 doctor

MORE OF THE SAME OVER TIME:

REPLICATION OF ORIGINAL WOODHULL STUDY 1997 VS. 2017

The Woodhull Study on Nursing and the Media found that nurses were identified as sources in only

4 percent of quotations or other sourcing in health news stories in leading print newspapers, and

has not improved in 20 years. iii

NURSES AS SOURCES

IN HEALTH NEWS:*

* Difference is not statistically significant.

24% women

36% women

25% women

~3.5 million RNs in U.S.*

~800,000 physicians in U.S.*

1997:

4%

2017:

2%

90%

of nurses

are female

The Center for Aging, Health

and Humanities

This center is the interdisciplinary home for GW

faculty to collaborate on research, education,

scholarship and clinical innovations to improve the

care of older adults and their families. The center

works with faculty and organizations to incorporate

skills, benefits and lessons learned from the

humanities in the fields of aging and health. This

unique approach provides practitioners insight into

the intersection of the human experience and the

rapidly changing landscape of science, technology

and public policy in health care.

In May 2018, the center hosted the End-of-Life

Nursing Education Consortium which offered

12 hours of Continuing Education credits to the

85 participants — 60 RNs, 20 social workers, two

chaplains and three nursing home administrators.

Community and Global Initiatives

The school strives to improve health equity

throughout the communities it serves and across

the world by creating strategic relationships with

organizations that serve communities in need of

our health expertise. Each year, students and faculty

provide over 200,000 hours of community service

to the D.C. region and on international mission trips.

This year, Community and Global Initiatives

created a new, graduate-level online elective

course (NURS 6290, Global Health for Healthcare

Professionals) in response to an elevated interest in

global public health. Students across all disciplines

at GW analyze global health problems and issues

from an interdisciplinary perspective.

1. The Woodhull Study Revisited Infographic

180503

8
---
Constituent Engagement

Fundraising exceeded attainment goals for the

fiscal year by 12 percent. GW Nursing's faculty

and staff giving rate was also the highest in the

university.

Figure 4. Development attainment goals of past fiscal years for

reference against FY2018, in which the school's actual attainment

exceeded its goal by $120,000.

Figure 5. Attainment by gift type

Selected Initiatives

+ + The Clinician Leadership Executive Program

(CLEP) is a partnership with the UnitedHealth

Group (UHG) Center for Clinician Advancement.

CLEP engages 14 senior clinician leaders across

UHG's many business lines and prepares them

for executive leadership roles. Participants hone

their executive mindset and presence, leadership,

ability to drive system change and capacity

to advocate on behalf of the UHG enterprise.

The program, led by Kate Malliarakis has an

interprofessional perspective, and tailors a

rigorous and customized curriculum to meet the

evolving needs of UHG and the cohort.

+ + In partnership with Envision, GW Nursing hosted

more than 350 high school students from across

the country interested in careers in health care

through this pipeline program this summer. The

students participated in interprofessional handson

activities and simulations relevant to topics

and issues in health care today, as well as the

profession of nursing.

+ + In March of 2018, the school hosted the inaugural

GW Simulation Conference on the Virginia

Science and Technology Campus, with some 25

different speakers and presenters discussing

issues and implications of simulation education

for today's nurse educators and practitioners.

Dean Jeffries delivered a keynote address

exploring the various policy implications of

increasingly using simulation to educate prelicensure

and advanced practice nurses. The

simulation conference introduced participants to

the next steps in providing evidence, ideas and

policy implications. The conference focused on

clinical simulation implementation in advanced

practice nursing education and clinical practice

settings to build clinical resiliency. Conference

highlights include presentations of critical

learning experiences and exemplars designed to

enhance simulation programs.

+ + GW Nursing also has standing partnerships

with two area hospital systems to offer students

scholarships and job placement after they

graduate. The school graduated 43 students

from the Washington Squared program and six

students from the GW Hospital Nursing Scholars

program.

9
---
Administration

Construction for the Objective Structured Clinical

Examination (OSCE) simulation space and a new

Student Success Center began in February of

2018 at Innovation Hall on the Virginia Science and

Technology Campus. The Student Success Center

will house staff from the Office of Student Affairs

and provide dedicated study and meeting spaces

for students. The planned expansion of the OSCE

space will provide additional space for clinical skills

testing for NP students.

The new space will add 12 patient exam rooms

and two acute care rooms, bringing the total

simulation space to nearly 20,000 square feet. The

entire OSCE space is outfitted with SimCapture,

B-line's health care simulation management

platform that provides livestreaming, recording,

connections to real data and medical devices and

more.

Staff hires

GW Nursing has grown significantly in the past

few years, resulting in the need for expanding the

school's staff to support a larger student body and a

restructured faculty organizational culture with two

communities. As a result, the school has brought

on a number of new people in the past fiscal year

to help scale, streamline and continually improve

the processes and procedures that keep the school

running.

+ + Dianne Alston — Coordinator for the

Policy, Populations and Systems Community

+ + Norah Bennett — Simulation Operations Associate

+ + Ashley Birkman — Coordinator for the

Acute and Chronic Care Community

+ + Katie Brakefield — Senior Administrative Assistant

for Academic Affairs

+ + Kristen Cabrera — Assistant Director of Admissions

+ + Nikki Gebara — Senior Instructional Designer

+ + Melissa Jacklin — MSN Program Associate

+ + Ashley Johnson — Manager of Clinical Placement

+ + Blair Johnson — Director of Ventures,

Initiatives and Partnerships

+ + Sydnae Law — Manager for the Acute

and Chronic Care Community

+ + Joshua Mannix — Coordinator for the

Policy, Populations and Systems Community

+ + Rebecca Melson — Simulation Operations Associate

+ + Evan Mulloy — Information Technology

Service Associate

+ + Janice Ouellette — BSN Program Associate

+ + Cortni Romaine — Research Associate

+ + Chelsea Richwine — Research Associate

+ + Betsy Shaw — Human Resources Manager

+ + Srijana Silwal — Senior Financial Analyst

+ + Andrew Smith-Mui — Financial Analyst

+ + Anthony Spatola — Director of Enrollment

Management

+ + Ryan Tunkel — Assistant Director of Admissions

10
---
Advisory Council

This reflects the membership of the advisory council

during the fiscal year.

Chair

+ + Mary-Michael Brown, DNP, RN

MedStar Health

Members

+ + Diane Billings, EdD, RN, FAAN

Indiana University School of Nursing

+ + Alan Schurman Cohn, JD

AbsoluteCare

+ + Ellen Dawson, PhD, RN

Professor Emerita of GW School of Nursing

+ + Patrick DeLeon, PhD, JD

Retired, Chief of Staff to

U.S. Senator Daniel Inouye (D-HI)

+ + Karen N. Drenkard, PhD, RN, FAAN

GetWell Network

+ + Lucas Huang, BEE, BAE

B-Line Medical

+ + Robin Kaplan, MSN, RN

Kushner Hebrew Academy

+ + Elizabeth (Betsy) K. Linsert, MS, FNP

GW Colonial Health Center

+ + Molly McCarthy, MBA, RN

Microsoft US Health

+ + Lynn Mertz, PhD

AARP Center to Champion Nursing in America

+ + Angela Patterson, DNP, RN

CVS MinuteClinic

+ + Sandra Ryan, MSN, RN, FAAN

Walmart Care Clinic

+ + Al Shimkus, MSN, RN, Capt. USN (Ret.)

Naval War College

+ + Janet R. Southby, PhD, RN

Interagency Institute for Federal HealthCare

Executives

Executive Council

This reflects the membership of the executive council

as of the publication date.

+ + David Biglari

Director of Marketing and Communications

+ + Marie Brown

Senior Adviser to the Dean

+ + Sandra Davis

Assistant Dean for Diversity, Equity and Inclusion

+ + Alyscia Eisen

Director of Finance

+ + Jeanne Geiger-Brown

Associate Dean for Research

+ + Jennifer Hayes-Klosteridis

Assistant Dean for Student Affairs

+ + Pamela Jeffries

Dean

+ + David Keepnews (interim)

Chair — Acute and Chronic Care Community

+ + Kate Malliarakis

Chair — Policy, Populations and Systems

Community

+ + Angela McNelis

Associate Dean for Scholarship, Innovation

and Clinical Sciences

+ + Pamela Slaven-Lee (interim)

Senior Associate Dean for Academic Affairs

+ + Joe Velez

Director of Operations

11
---
The George Washington University

does not unlawfully discriminate in

its admissions programs against any

person based on that person's race,

color, religion, sex, national origin,

age, disability, veteran status, sexual

orientation, or gender identity or

expression. For available states visit

nursing.gwu.edu/states

181219