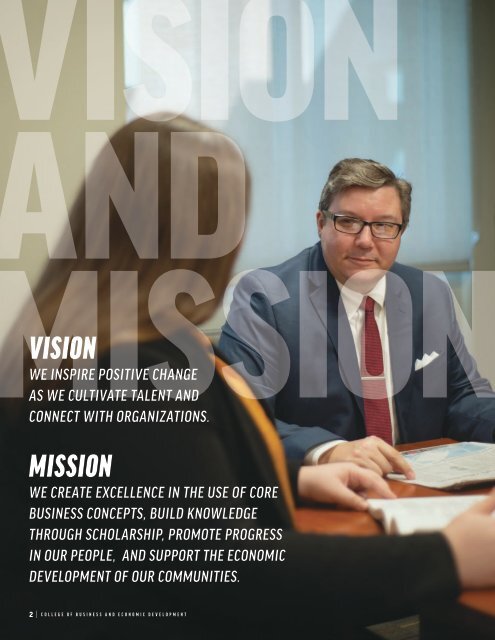 2018-19 Annual Report The 2018-19 Annual Report, published by the College of Business and Economic Development at The University of Southern Mississippi, tells stories of outstanding achievements made by our faculty, students, staff, donors, and alumni over the course of the academic year.
ISION

ND

ISSION

VISION

WE INSPIRE POSITIVE CHANGE

AS WE CULTIVATE TALENT AND

CONNECT WITH ORGANIZATIONS.

MISSION

WE CREATE EXCELLENCE IN THE USE OF CORE

BUSINESS CONCEPTS, BUILD KNOWLEDGE

THROUGH SCHOLARSHIP, PROMOTE PROGRESS

IN OUR PEOPLE, AND SUPPORT THE ECONOMIC

DEVELOPMENT OF OUR COMMUNITIES.

2 | C O L L E G E O F B U S I N E S S A N D E C O N O M I C D E V E L O P M E N T