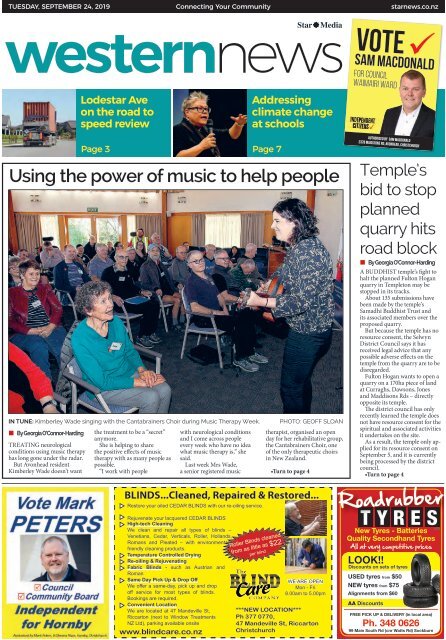 Western News: September 24, 2019
You also want an ePaper? Increase the reach of your titles
YUMPU automatically turns print PDFs into web optimized ePapers that Google loves.
TUESDAY, SEPTEMBER 24, 2019

Connecting Your Community

starnews.co.nz

Lodestar Ave

on the road to

speed review

Addressing

climate change

at schools

VOTE

Sam MacDonald

For Council

Waimairi Ward

• By Georgia O'Connor-Harding

TREATING neurological

conditions using music therapy

has long gone under the radar.

But Avonhead resident

Kimberley Wade doesn't want

Page 3 Page 7

Using the power of music to help people

IN TUNE: Kimberley Wade singing with the Cantabrainers Choir during Music Therapy Week.

the treatment to be a "secret"

anymore.

She is helping to share

the positive effects of music

therapy with as many people as

possible.

"I work with people

with neurological conditions

and I come across people

every week who have no idea

what music therapy is," she

said.

Last week Mrs Wade,

a senior registered music

PHOTO: GEOFF SLOAN

therapist, organised an open

day for her rehabilitative group,

the Cantabrainers Choir, one

of the only therapeutic choirs

in New Zealand.

•Turn to page 4

BLINDS...Cleaned, Repaired & Restored...

Restore your oiled CEDAR BLINDS with our re-oiling service.

Rejuvenate your lacquered CEDAR BLINDS

High-tech Cleaning

We clean and repair all types of blinds –

Venetians, Cedar, Verticals, Roller, Hollands,

Romans and Pleated – with environmentally

friendly cleaning products.

Temperature Controlled Drying

Re-oiling & Rejuvenating

Fabric Blinds - such as Austrian and

Roman

Same Day Pick Up & Drop Off

We offer a same-day, pick up and drop

off service for most types of blinds.

Bookings are required.

Convenient Location

We are located at 47 Mandeville St,

Riccarton (next to Window Treatments

NZ Ltd), parking available onsite

www.blindcare.co.nz

Roller Blinds cleaned

from as little as $22

per blind

WE ARE OPEN

Mon - Fri

8.00am to 5.00pm

***NEW LOCATION***

Ph 377 0770,

47 Mandeville St, Riccarton

Christchurch

Authorised by Sam MacDonald

237B Maidstone Rd, Avonhead, Christchurch

Temple's

bid to stop

planned

quarry hits

road block

• By Georgia O'Connor-Harding

A BUDDHIST temple's fight to

halt the planned Fulton Hogan

quarry in Templeton may be

stopped in its tracks.

About 135 submissions have

been made by the temple's

Samadhi Buddhist Trust and

its associated members over the

proposed quarry.

But because the temple has no

resource consent, the Selwyn

District Council says it has

received legal advice that any

possible adverse effects on the

temple from the quarry are to be

disregarded.

Fulton Hogan wants to open a

quarry on a 170ha piece of land

at Curraghs, Dawsons, Jones

and Maddisons Rds – directly

opposite its temple.

The district council has only

recently learned the temple does

not have resource consent for the

spiritual and associated activities

it undertakes on the site.

As a result, the temple only applied

for its resource consent on

September 5, and it is currently

being processed by the district

council.

•Turn to page 4

Roadrubber

T Y R E S

New Tyres - Batteries

Quality Secondhand Tyres

All at very competitive prices

LOOK!!

Discounts on sets of tyres

USED tyres from $50

NEW tyres from $75

Alignments from $60

AA Discounts

FREE PICK UP & DELIVERY (in local area)

Ph. 348 0626

99 Main South Rd (cnr Watts Rd) Sockburn

LTD
---
2 Tuesday September 24 2019

Latest Canterbury news at starnews.co.nz

get in touch

GENERAL INQUIRIES Ph 379 7100

CLASSIFIED ADVERTISING Ph 379 1100

Star Media,

a division of Allied Press Ltd

PO box 1467, Christchurch

starmedia.kiwi

news

Riccarton Rd works to finish early

The upgrade to Riccarton Rd between Harakeke and

Matipo Sts is likely to finish four months earlier than

expected.

Page 6

community events

WESTERN NEWS

Seed and plant swap

Drop in your seeds to the Te Hapua: Halswell Centre early in the

week. It is open 9am-7pm and on weekends 10am-4pm.

NEWS

Georgia O'Connor-Harding

Ph: 021 910 730

georgia.oconnor@starmedia.kiwi

ADVERTISING

Alana Powell

Ph: 962 8753

alana.powell@starmedia.kiwi

Page 19

tasty bites

Traditional American dessert

Lime pie is a well-known Florida dish, it can be made even better

with a box of fresh New Zealand limes.

Page 24

The best-read local newspaper,

delivered to 15,905 homes

every Tuesday

Templeton, Islington, Hei Hei, Broomfield, Halswell, Oaklands,

Westlake, Hornby, Wigram, Sockburn, Church Corner, Ilam,

Russley, Hyde Park, Avonhead, Riccarton Park, Riccarton.

• The Star

• North Canterbury News

• Selwyn Times

• Ashburton Courier

also publishing:

• Bay Harbour News

• Southern View

• NorWest News

• Pegasus Post

THE

MUSICAL

Book by MAUREEN CHADWICK & ANN MCMANUS. Music & Lyrics by KATH GOTTS.

Originally Book directed by MAGGIE MAUREEN NORRIS. Orchestrations by MARTIN KOCH. CHADWICK By arrangement with Hal Leonard & Australia ANN Pty Ltd on behalf MCMANUS.

of Joseph Weinberger Ltd London.

Director TOM HART. Musical Director CHERYLLYN CALLANDER.

Music & Lyrics by KATH GOTTS.

2-11 OCTOBER

Originally directed by MAGGIE NORRIS. Orchestrations by

MARTIN KOCH. By arrangement with Hal Leonard

Australia HAGLEY Pty Ltd THEATRE, on behalf 510 of Joseph HAGLEY Weinberger AVE. TIX: $35 Ltd. / $30

FOR SHOW TIMES & BOOKINGS VISIT WWW.RICCARTONPLAYERS.CO.NZ

Director TOM HART.

Musical Director CHERYLLYN CALLANDER.

2-11 OCTOBER

HAGLEY THEATRE, 510 HAGLEY AVE.

TIX: $35 WAGED / $30 UNWAGED

MEGAN HANDS

FOR ENVIRONMENT

CANTERBURY

CHRISTCHURCH WEST OPUNA

• Collaborative

Decisions

• Sustainable

Environment

& Economy

• Fiscal

Responsibility

FOR SHOW TIMES & BOOKINGS VISIT

WWW.RICCARTONPLAYERS.CO.NZ

Authorised by

Megan Hands,

229 Hacketts Rd,

Darfield

Te Ara Maurea Roydvale School have

adopted an amendment to our enrolment

scheme effective from 1 January 2020.

The amended enrolment

scheme may be viewed at the

school office or on our website

roydvale.school.nz

117 Roydvale Ave, Burnside | Phone 03 358 5785 | www.roydvale.school.nz
---
WESTERN NEWS Latest Canterbury news at starnews.co.nz

Tuesday September 24 2019 3

News

• By Georgia O'Connor-Harding

RETIREMENT village residents

living on a busy road in Wigram

could be one step closer to

having their speed limits

lowered.

The city council has revealed

what roads it is planning to

consider if it undertakes a speed

limit review of the Wigram Skies

area.

It is looking

to lower the

speed limit of

roads in the

Wigram Skies

subdivision

from 50km/h

to 40km/h

Anne Galloway

– including

Lodestar Ave.

But city

council staff will first undertake

a pre-assessment of the proposed

speed limit review by discussing

it with organisations including

police, Wigram Primary School

and businesses.

It will then report to the newly

Halswell-Hornby-Riccarton

Community Board (following

the elections) next month which

will decide if the speed limit

review goes ahead and out for

public consultation.

It comes after Lady Wigram

SAFETY: Lodestar Ave residents could be one step closer to

having their speed limit lowered.

Retirement Village residents,

who have been calling for heavy

vehicle restrictions to be placed

on Lodestar Ave, were left disappointed

when they were left

out of a speed limit review for

Halswell and Hornby wards.

For the past four years, noisy

trucks on Lodestar Ave have

been a long-standing issue for

residents living at the retirement

village.

A Lodestar Ave resident, who

did not wish to be named, said

he was pleased something is

happening and is hoping it will

be done quickly.

But he said while it is bound

to help it will not solve the

problem.

"You can put a speed limit on

anything but how do you make

trucks and cars adhere to it?" the

resident said.

A memorandum on the review

in will come to the Halswell-

Hornby-Riccarton Community

Board today.

City councillor Anne

Galloway said the speed limit

review of Lodestar Ave is "well

overdue."

A neighbourhood for

the lucky few in the

heart of Halswell

First step taken to lower Sections from $191,000

speed limit on busy Wigram road

cloverden.nz | 08004AVANDA

She said representatives from

Kilmarnock Enterprises, which

are located on Lodestar Ave will

be speaking about their concerns

at the meeting today.

The social enterprise provides

employment, training and support

to people with disabilities.

Cr Galloway said because Kilmarnock

employs people with

disabilities, it is dangerous for

them to cross the road.

She hoped their presentation

to the board would add "weight"

to the need to make Lodestar

Ave safer.

The city council is also planning

to lower the speed limit

from 60km/h to 50km/h on

Awatea Rd (from Wilmers Rd

to the Christchurch Southern

Motorway bridge.

The same speed limit changes

are considered for Wigram Rd

(from Awatea Rd to Hayton Rd)

and all of Owaka Rd.

The review will also look at

intersection controls, no stopping

restrictions and cycle lanes

in the Wigram Skies area.

If it goes ahead, consultation

will begin either next month or

November.

It is expected if any changes

are made it will be approved by

the city council by February.

In Brief

COMMUNITY CENTRE

The city council plans to

provide New Zealand postal

services at the new Riccarton

Community Centre. It has

been working with NZ Post

to ensure residents in the area

will have easy access to postal

and bill paying services. The

new Riccarton Community

Centre is expected to open in

December and the NZ Post

service would be implemented

in April.

STORMWATER FACILITY

A new stormwater facility

is planned for Halswell. The

city council has purchased

about 12ha to allow the facility

to be constructed north of

Quaifes Rd. It would include a

flush basin, flood attenuation

basin and wetlands. Once

constructed, the facility

will immediately receive

stormwater from the Country

Palms subdivision.

FAMILY FUN DAY

The Salvation Army will run

its family fun day in Riccarton

on Saturday. The event will

be held at the Salvation Army

Family Store on Riccarton Rd

from 10am-1pm.

Community Board Candidate, Halswell Ward

Trusted

Informed

Connected

Known

Find us on

Authorised by Ross McFarlane 52 Quaifes Rd

=

@rossmcfarlaneforhalswellward

Catherine

CHU

Council

Community Board

Grab your girlfriends, mum

or daughters for a great day out!

5 & 6 October, 10am–5pm

Horncastle Arena, Christchurch

2-for-1

tickets on

Everything from gourmet food, tea and artisan

products to fashion, beauty, travel and more!

• 200 Exhibitors • Artisan Craft Zone

• Vivo Hair & Beauty Lounge • Taste Zone

• Little Biddy School of Gin Lounge

• Southern Reflexology Relaxation Lounge

• Goodie Bags • Door Sales $10 • Kids Under 12 FREE

womenslifestyleexpo.co.nz

Dilmah is celebrating the

amazing women of New Zealand

with the gift of tea. Stop by our

stand to nominate the unsung

heroes in your life!
---
4 Tuesday September 24 2019

Latest Canterbury news at starnews.co.nz

News

Potential impacts of quarry on

temple could be 'disregarded'

•From page 1

The temple, which is located

at 358 Maddisons Rd, is on land

deemed "inner rural zone" under

the Selwyn District Plan.

The district council's advice to

disregard the impact the quarry

may have on the temple was

in the independently prepared

Section 42A

reports.

The reports

prepared for

Environment

Canterbury

and the district

Jesse

Burgess

Jolene

Eagar

council both

recommended the

quarry is declined

at the hearing

unless changes are

made.

Within the

reports, Beca

engineering

consultant Andrew

Henderson, who

was contracted by

the district council,

said the legal

advice received on the temple was

"the scale of activities undertaken

on the site exceeds the permitted

thresholds for a spiritual activity

in the Selwyn District Plan.

"The temple is operating in

the absence of any consents, any

adverse effects on it are to be

disregarded." But district council

environmental services planning

manager Jesse Burgess said the

decision on whether the temple's

submissions will be considered

will ultimately be made by the

panel of commissioners at the

hearing over the proposed quarry

in November.

Mr Burgess said the district

council first became aware of the

temple last year when the temple

asked general questions about

District Plan requirements for the

activities its wished to undertake

on the site.

The temple moved from

Hornby to the Maddisons Rd

site in 2017. Mr Burgess said

when the Samadhi Buddhist

Trust made a submission on the

Fulton Hogan quarry, the district

council's consultant planner

wanted to better understand

the temple activities so it could

CONSENT

NEEDED:

The Samadhi

Buddhist Trust

temple on

Maddisons Rd

in Templeton. ​

understand the effects the quarry

would have on it.

It then became evident

the temple did not have the

appropriate resource consent as

outlined in the submissions.

Templeton Residents'

Association secretary Jolene

Eagar said the community loves

having the temple and the people

who use it are very welcoming.

She said having a quarry across

from the temple will have a

significant impact and it will be

a shame if the submissions from

people associated with the temple

cannot be heard at the hearing.

"It doesn't matter if their

resource consent application

hasn't been completed, they

still need to have a voice because

they will be affected," Mrs Eagar

said.

Western News was unable

to get in touch with temple

representatives for comment.

Avonhead musician forms

'Cantabrainers Choir'

•From page 1

The open day, held at Mary

Potters Community Centre in

St Albans, was part of Music

Therapy Week last week.

As part of the day, the public

was given a brief description of

what music therapy is and the

choir performed songs, including

some of its own compositions.

The choir also celebrated

the launch of a short film on

neurological choirs, which it

feature in with the SoundsWell

Singers.

Eight years ago Mrs Wade,

who runs her private practice

Southern Music Therapy in

Halswell, saw a gap for people

with neurological conditions

who wished to take part in

community activities.

"I had a few clients that were in

choirs that were no longer able to

be in choirs. Their whole life had

changed. If they are not coming

to community things then they

are isolated in their homes," Mrs

Wade said.

It is why she and speech

therapist Susan McDonald, along

with Therapy Professionals,

established the Cantabrainers

Choir.

The choir is now run by Mrs

Wade and speech-language

therapist Angela Reimer for

people who have had a stroke,

WESTERN NEWS

or have Parkinson's disease,

multiple sclerosis or a brain

injury. It improves voice and

communication through singing

and socialising.

About 50 people are registered

with the choir and about 35

attend the weekly meetings.

At each session, the choir is

taught a range of music from

modern to traditional. Members

also write their own music to

stimulate the brain.

"Music is processed in many

areas of the brain. It is a really

fantastic tool for people with

brain injuries," Mrs Wade said.

She said a huge amount

of work goes into operating

the choir, which is why the

Cantabrainers Choir Trust was

set up this year.

It aims to get more funding to

ensure a sustainable environment

for choir members.

While the choir's main goal

is participation, due to demand

from within, it has done several

public performances with a

Christmas concert coming up in

December.

•The choir meets every

Wednesday at the Mary

Potter Community Centre

from 10am-11.45am. To

view its latest film, go to

www.smt.nz/

PuRE dRINkING WaTER!

John

Connelly

Vote

Independent

Riccarton Ward

forCouncil

Craig Pauling

Environment Canterbury - West/Opuna

Dr Chrys Horn

Environment Canterbury - West/OPuna

I stand for:

• Zero rates increases

• New business incentives

Nicole Marshall

Environment Canterbury - Central/Ohoko

• Cancel rate increases

• Cut council expenditure

• Expenditure accountability

• Employment opportunities

• Environmental Targets

• Get tough on crime

Paul McMahon

Environment Canterbury - Central/Ohoko

I have an extensive

background in

business and community

organisations.

Authorized by Gerald Herbert 37 Clifford Ave Christchurch

I will be an effective

communicator for

the silent minority of

ratepayers.

The

People's

Choice.

Authorised by J McLellan, Braddon Street Addington
---
WESTERN NEWS Latest Canterbury news at starnews.co.nz

Tuesday September 24 2019 5

Chen vents frustration over mega-facility vote

• By Georgia O'Connor-Harding

JIMMY CHEN has criticised

some of his fellow board

members for their controversial

failed recommendation to delay

the Hornby mega-facility.

But Halswell-Hornby-

Riccarton Community

Board deputy chairwoman

Helen Broughton said she is

disappointed the four board

members,

including

herself, who

recommended

delaying the

mega-facility,

are copping the

blame for the

decision.

Jimmy Chen

Cr Chen's

comments,

which were made at a city

council meeting, come after

councillors unanimously voted

to get the new $35.7 million

Hornby Library, Service Centre

and South West Pool back on

track.

The decision overturned the

board's recommendation, which

had prompted outrage in the

Hornby community and saw

residents march into the city

council to fight the delays.

Cr Chen said he was "very

frustrated and disappointed"

Evan Harris

Felicity Price

for Environment

Canterbury

"We always get

great results for

our community."

at some attempts by board

members to delay the facility.

But Mrs Broughton said Cr

Chen, a Hornby representative,

wasn't at the original

board meeting to make a

recommendation to the city

council on the facility.

She said: "I don't think he

should have criticised other

board members. The four board

members who voted against it

voted on the grounds of land

stability and we didn't expect to

be in the majority.''

Mrs Broughton said if

LOCATION:

Tensions remain

high between

community board

members over

decisions on

the new Hornby

Library, Service

Centre and South

West Pool's

location at Kyle

Park.

everyone had been at the board He said Kyle Park had already

meeting, the recommendation been approved by the board and

to allow the facility to go

the city council as the

ahead would have passed.

mega-facility's future

Cr Chen was absent

home along with the

from the meeting due

Kyle Park reclassification

and changes to the

to being required as city

council multicultural

management plan.

committee chairman

The key concern

to attend a ceremony

of the four board

welcoming 180 New

members who

Zealand citizens.

Helen recomended the delay

But Cr Chen said the Broughton was that a report on

four board members need

gas-testing at Kyle

to take responsibility for the Park will not be available until

decision they made.

April when construction on

The revolution

in heat pumps

is here now!

The Fujitsu e3series

The brilliant

heat pumps from Fujitsu

e1 : efficiency

e2 : environment

e3 : economy

the facility is set to start. At the

board's meeting in August, Mrs

Broughton and board member

Catherine Chu voted against

the changes, while Debbie Mora

and Ross McFarlane either voted

against or abstained.

Due to absences, only city

councillor Anne Galloway and

board chairman Mike Mora were

left to vote in support for several

changes to go ahead.

Mrs Broughton said perhaps

the board's decision on the

facility should have been delayed

to ensure Cr Chen, Cr Vicki

Buck and board member Natalie

Bryden were at the meeting.

But Mr Mora said the decision

could not be delayed any longer

as the board could not afford to

have any "unfinished business"

before the elections. He was

also confident the board's

recommendation would be

overturned at the city council

meeting. It comes as the city

council took away delegation

from the community board

for making decisions over the

facility.

Mr Mora said he suspected the

delegation would be taken away

but hoped it will be given back to

the board after the elections or

he would be "very disappointed."

•Letters, page 10

The revolution in heat pumps is here now!

The brilliant e3 series

heat pumps from Fujitsu

e1 : efficiency

e2 : environment

e3 : economy

INDEPENDENT CITIZENS

Authorised by B S Palliser QSM, 20 Gothic Place, Christchurch

Christchurch City Council

Website: www.pshc.co.nz

Finance available

FREE consultation from your local

Accredited Heat Pump Expert

Phone today: 03 381 6950

INSERT DEALER DETAILS HERE

FG1441

Fujitsu's Catechin Filters are

approved by the Asthma and

Respiratory Foundation NZ's

Sensitive Choice ® programme.

Email: info@pshc.co.nz

Environment Canterbury

INDEPENDENT

CITIZENS

We're working for you

Clive

Antony

Central

James

Gough

Fendalton

Peter

McDougall

Papanui

Catherine

Chu

Riccarton

Sam

MacDonald

Waimairi

Christchurch City Community Boards

Evan

Harris

Felicity

Price

Central Ward

Rod

Cullinane

West Ward

Lincoln

Platt

South Ward

Local, Professional and

Committed to Christchurch

www.independentcitizens.org.nz

Authorised by Sam MacDonald, 237B Maidstone Road, Avonhead, Christchurch

David Bridget

Cartwright Williams

Fendalton

Helen

Broughton

Riccarton

Shirish Pereen

Paranjape Singh

Waimairi

Linda Jason

Chen Middlemiss

Harewood
---
6 Tuesday September 24 2019

Latest Canterbury news at starnews.co.nz

WESTERN NEWS

News

Walkway

plan to keep

pupils safe

A NEW walkway is on the

cards for Halswell to prevent

car parking chaos during peak

school hours.

The Aidanfield Christian School

board of trustees has approved

the idea of encouraging the use of

Nga Puna Wai for car parking so

pupils can walk to school through

the back gate via the St John of

God walkway. It would mean

children avoid walking along Aidanfield,

Euphrasie and Augustine

Drives – keeping them off these

busy Halswell roads.

City council staff are working

with St John of God, the school

and the Community Guardians

– a partnership between the

Student Volunteer Army and City

Care – to co-ordinate the work

needed to upgrade the pathway. It

may include the construction of a

bridge or boardwalk to cross the

area around the stream.

The aim is to complete the project

in time for term one in 2020.

The Hurutini Student Council,

which is made up of Halswell

primary schools, is working on

an event, planned for October 25,

to demonstrate the parking plan

and help parents and students

familiarise themselves with the

route.

Riccarton Rd works to finish early

WORK ON upgrading the

busy section of Riccarton Rd

between Harakeke and Matipo

Sts is likely to finish four months

earlier than expected.

Multi-stage earthquake repairs

to the busy thoroughfare have

been testing the patience of

motorists and causing problems

for retailers in the area.

Fulton Hogan has been

replacing the underground pipes

and renewing the road between

the two streets since February

and was expected to finish in late

2020.

But now the city council says

it has been told the work will

finish by August next year. It was

anticipated the upgrade would

take until the end of next year.

"Fulton Hogan have managed

to get through the sewer work

faster than expected so that

means they have been able

to fast track other aspects of

the project," said city council

transport planning and delivery

manager Lynette Ellis.

"We realise there are still many

months of road works ahead but

we are really pleased that Fulton

Hogan have been able to bring

forward the completion date by a

few months."

It comes after businesses

raised concerns over how they

would be affected, leading to

a meeting with city council

staff and the Halswell-Hornby-

Riccarton Community Board

before Christmas.

Solutions the city council

and businesses came up with

before work began in February

included faster construction

methods, additional signage to

indicate businesses are open and,

where available, car parking was

made.

ON TIME: The upgrade work

along Riccarton Rd is set to

be completed earlier than

expected.

Ms Ellis said Fulton Hogan

is very conscious it is working

on one of the busiest streets in

the city and that it is causing

disruption for businesses,

residents and motorists who

travel along Riccarton Rd, so

they are constantly looking at

ways to get the job done faster.

The work involves replacing

and upgrading about 1km of

old, damaged sewer pipe, which

is buried 4m below the surface,

and then rebuilding the road

to accommodate bus priority

measures.

"Most of the work that is

being done along Riccarton

Rd is essential upgrades to the

infrastructure, but we are also

taking the opportunity to make

some streetscape improvements

and add some landscaping so we

create a nicer environment for all

road users,'" Ms Ellis said.

Award winning Bakery Opens in Sockburn!

Let your stomach be the judge

Freshly baked and prepared daily - pies, rolls, sandwiches and sweet treats

Sockburn Bakery, 146 Main South Road, Sockburn

Opening Hours: Monday to Saturday 6am-5pm, closed Sunday

golf

Adult Beginners

or those who have

not played for a while

Groups of 8 approx.

4 week course

Aimed at 50+ years of age (flexible)

Professional coaching - PGA qualified

Monday 7th October

for four Mondays (no play Labour day)

TAI TAPU

GOLF

COURSE

TAI TAPU

DOMAIN

9.30am One hour of professional group

coaching then play five holes with support.

Total time approx. 2.5 hours.

Additional times as numbers require.

Cost: $85.00 for 4 weeks

(Includes club hire if required. Must book with registration)

SUPER FRIENDLY ENVIRONMENT

Registration or further details:

www.taitapugolf.co.nz

Call club manager Steve Piper on 329 6710

admin@taitapugolf.co.nz

Want ultra fast broadband,

Are you over the way the

great pricing and flexible

big telcos treat you?

payment plans?

Check out Compass. Because we're a smaller company, we work harder at doing all the things the 'big boys'

seem to over-look, such as: having a local call centre, great pricing, flexible payment plans and being locally owned.

Call Ash 0800 964 558

www.compass.net.nz

CMP002
---
WESTERN NEWS Latest Canterbury news at starnews.co.nz

Tuesday September 24 2019 7

Reserves benefit from planting events

COMMUNITY volunteers

have helped plant at least

29,000 shrubs and trees in

Christchurch parks and reserves

in the past year.

Planting days have taken

place in areas including the Port

Hills, Halswell Quarry Park and

Travis Wetland Nature Heritage

Park.

This work has a value of about

$1.5 million.

The work has been carried

out through the city council's

community partnership programme

which aims to boost

community-led action in the

city's green spaces.

It includes running volunteer

planting days, clean-ups, and

working with schools to encourage

kids to help improve their

local parks and waterways.

The programme is now in its

second year of operation and

receives an annual grant from

the Community Resilience Fund

for two years.

Recognising the work of local

volunteers is timely because this

week is the 50th anniversary of

conservation week – a national

celebration that encourages

people to get involved in nature

and help take care of it.

There were more than 38,000

volunteer hours recorded

across all city council parks

GROWING: Volunteers such as this group at Halswell Quarry

Park have helped plant 29,000 shrubs and trees in the last

financial year. ​

programmes in the last financial

year, a 27 per cent increase on

the previous year.

This represents 29,000 plants

and trees put into the ground,

an outcome that would normally

cost between $1.1 million

and $1.5 million to achieve.

City council manager of

parks, programmes and

partnerships Kate Russell said

the fund is a great example of

what can be achieved when

the city council is able to boost

community involvement and

volunteering.

"The numbers only tell part of

the story, the significance of the

stories and goodwill generated

can't be overestimated. It really

nurtures active citizenship. The

feelings of guardianship that

have been generated through

this work are where the true

value lie.

"The programme caters for

people who want to do one-off

service in their community

'The feelings of

guardianship that have

been generated through

this work are where the

true values lie.'

parks as well as those who

see themselves as longer term

guardians of their parks and

who give hundreds of voluntary

hours individually each year."

As word spreads, staff are

receiving a steadily increasing

number of inquiries about

projects that can be supported

through the fund, she said.

In 2018, a total of 62 events

took place, including 20 that

were one-off events and more

than 40 that have sparked an

ongoing commitment with multiple

events over the year and

more planned in the future.

Ms Russell believes the numbers

will grow even more when

a city-wide volunteer database

system is introduced and figures

can be more accurately reported.

The community partnership

programme is managed by a

co-ordinator and a full-time

schools support field ranger.

With current funding coming

to an end by the end of 2020,

the city council's parks team is

exploring ways to create a more

permanent programme, she said.

Templeton land

could be used

for a cemetery

LAND IN Templeton could

provide the answer to the city's

long-term need for more burial

space and for a large sports park.

The city council has agreed staff

should begin drafting a development

plan for the Maddisons

Rd land that allows for about

two-thirds of it to be used as a

cemetery and for the remaining

third to be used as a sports park.

Most of the city's existing

cemeteries are at, or nearing capacity,

so there is a need for a new

cemetery.

Christchurch also has a shortage

of large sports parks that can

accommodate multiple sports and

recreation activities and largescale

tournaments and events in

one location.

City council head of parks

Andrew Rutledge said the land

at Templeton is suited to both

cemetery and sports use and the

location is ideal as there has been

a population shift westward since

the earthquakes.

"The council is legally required

to provide for community burial

needs and we have been looking at

possible cemetery sites across the

city. A new cemetery on the land

at Templeton could potentially

provide for the city's burial needs

for at least 60 years," he said.

WIN THE GARDEN

OF YOUR

DREAMS

TEWH/WEST/001

Purchase a section and go in the draw

PURCHASE to win your dream A SECTION garden*! AND GO IN THE DRAW TO WIN YOUR DREAM GARDEN!*

Sections

priced from

$195,000

All sections purchased from

now until 5 December 2019

will receive a FREE landscape

architect voucher.†

*Construction of the garden will be with Evergreen Landcare to the value of $30,000.

Contracts must be settled before 05 December 2019. For full terms and conditions

visit our website.†All sections purchased from 07 August 2019 to 05 December 2019

will receive a landscape design voucher for DCM Urban (Landscape Architects).

Learn more at tewhariki.co.nzldreamgarden

Mō tātou, ā, mō kā uri ā muri ake nei – For us and our children after us
---
8

Tuesday September 24 2019

For everything

AUTO ELECTRIC

CARS • BOATS • TRUCKS

CARAVANS • TRAILERS • 4WDS

ELECTRIC & HYBRID VEHICLES

• Starter Motors

• Alternators

• Central

Locking

• electric

Windows

• ABS & Airbags

• Stereos/

Alarms

• Batteries

• tuneups

• engine

Management

Amazing

Auto USUALLy

AAE Electric SAMe DAy

ServiCe

65 Coleridge St, Sydenham

Phone 03 379 4250

www.amazingautoelectric.co.nz

oN sAle Now!

Now only

$35.80

Plus $5 P&H per copy

AvAilAble from stAr mediA:

Level One, 359 Lincoln Road

Addington, Christchurch

Phone 379 7100

News

Science journalist addresses

students over climate change

• By Claire Booker

YOUNG CLIMATE activists

were visited by Canadian

science journalist Alanna

Mitchell – and her message

was one of hope.

Students and teachers at

Christchurch Girls' High and

Hillmorton High schools met

Ms Mitchell last week, and she

spoke about her career – with

her speciality being the ocean.

Ms Mitchell has written six

books on climate change, and

her knowledge comes from

following some of the world's

most celebrated scientists on

their expeditions.

Ms Mitchell is in New

Zealand to do a series of talks

to MAS Insurance members,

and the company wanted to

give her the opportunity to

inspire the next generation

of climate change activists in

Christchurch.

Hillmorton High School

social studies teacher Geordie

Dann said the school's year 9s

and environment committee

enjoyed hosting Alanna as

the ideas and issues discussed

about the oceans were enlightening

and frightening.

"The students were so keen

Latest Canterbury news at starnews.co.nz

EXPERT: Climate change journalist Alanna Mitchell visited

Hillmorton High and Christchurch Girls' High to educate

students on climate change. ​

to interact and find solutions

or practical things that people

can do to make real change

before the damage is irreversible".

Ms Mitchell also spoke to

about 40 year 8 and 9 social

studies students at Hillmorton

High School.

After each talk, she spent

time privately speaking with

four students from each school

from the schools' environmental

committees.

Student Charlotte Koers

said: "I think this was an

amazing, different experience

and a new way to learn more

about a topic our generation is

interested in. I found it really

interesting learning about

Coral Spawning and that it

happens once annually. Overall,

Alanna's talk was a great

WESTERN NEWS

opportunity and one that we

learnt a lot from."

Ms Mitchell's overall message

to the students was that

there is still hope, and she

applauded New Zealand students

for being so active in the

climate change space.

"It's this generation that

is really going to make that

difference in this whole public

discourse about climate

change. It's so inspiring to

hear about what these students

are doing. They are going to

change the world, I know it.

I feel so much more hopeful

having done this talk – it's

moving and fascinating," she

said.

At CGHS she talked to about

270 mostly year 12 students,

and assistant principal Sonja

Bailey said she hopes the talk

will open up a lot of horizons

for the students.

Mrs Bailey said the school

supports its students who

are involved with the School

Strike 4 Climate initiative, and

there will be students striking

on Friday.

"If we can support our girls,

that's our little bit we can do,"

she said.
---
WESTERN NEWS Latest Canterbury news at starnews.co.nz

Tuesday September 24 2019 9

best deals

q Card Finance Now Available

FREE no obligation measure & quote (conditions apply)

Where the

are done

Selected products only. Terms and conditions apply.

½ Price

Carpet

Remnants

Hundreds of small to large

lounge size pieces available

Nylon Carpet Sale

26oz Rivera $75.00

36oz Windsor $99.90

36oz Cable Bay $99.90

50oz Grange Fell $119.90

Polyester Carpet

22oz Washington $55.00

50oz Idaho $95.00

28oz Vermont $69.90

Lancaster

Park

312 Wilsons Road North, Waltham Phone 366 0070

Open Monday to Friday 8am-5pm and Saturday 10am-1pm

Check out our website www.carpetkingdom.co.nz

for even more CRAZY INSTORE DEALS!

Railway Line

Alpine Ice

Skating

ASk FOR OuR FREE NO ObLIgATION MEASuRE AND quOTE SERvICE
---
10 Tuesday September 24 2019

Latest Canterbury news at starnews.co.nz

WESTERN NEWS

Your Local Views

413 MAIN SOUTH RD, HORNBY (JUST BEFORE CALTEX STATION) | WWW.SHOSHA.NZ

Donna Brookbanks Dai Henwood JarRed Fell Alan M c Elroy

7 pm THIS

3 CG EVENTS presents Live in Lincoln

TICKETS ON SALENOW!

SATURDAY

28 th sept

AT lincoln

2019

LAUGH

AT

THE

the rock

ROLLESTON

Bridgestone

LINCOLN

Crate & Barrel

LEESTON

INTERNATIONAL

COMEDY NIGHT

R18

TRIUMPH: Hornby residents had an emotional win after marching into a city

council meeting to show their opposition to delaying the planned Hornby

Library, Service Centre and South West Pool.

PHOTO: GEOFF SLOAN

Readers respond the

Western News article

about residents'

reaction to the city

council's decision to

overturn the Halswell-

Hornby-Riccarton

Community Board's

recommendation

to further delay the

Hornby mega-facility

Susan Johnstone

Lord – That's just

wonderful for everyone.

Physical and mental health

enhanced. Congratulations

to all involved.

David Simon –

Good news, nice bit of

grandstanding for the

mayor just before a local

election. Timing and spin

are everything.

Nathan Gardiner –

Why was this even a vote.

Basic facilities should not

need a public vote.

Ray Boyer – Must

be election year lol. But

whatever works.

Jeremy Maxwell

– Just in time for the

elections.

Hamish Middleton

– Would have been so

much easier, cheaper and

faster to place the facility at

the now-closed Sockburn

School site. Obviously

would have reduced the

incomes of many city

council employees that

have milked this over the

last few years.

Trevor Taylor – If

Dalziel has said t will

happen . . . it won't.

Eva Reid responds to

an article about the

Halswell-Hornby-

Riccarton Community

Board asking city

council staff to

reconsider its original

decision to ban

vehicles from turning

right or making

U-turns on Main South

Rd, opposite Harvard

Ave

As a resident on Harvard

Ave, I have noticed a

definite improvement in

safety in gaining access

from Main South Rd into

Harvard Ave since the

mentioned signs were

installed in January.

Previously while

attempting to turn into

Harvard Ave across

oncoming traffic, one also

had to contend with a bank

up of cars wanting to turn

into the business zone.

Under these

circumstances it's very

difficult to see oncoming

traffic beyond the

cars stationery there,

thus making entry to

Harvard Ave hazardous.

So in spite of business

owners complaining,

there has been a definite

improvement for residents.

Also, traffic flow in the

area seems to be getting

heavier anyway.

•More local

views, page 13

PUSH:

Business

owners Bob

Shearing and

Mark Lewis

want a turning

bay installed

on Main South

Rd off Harvard

Ave.

PHOTO:

MARTIN

HUNTER

list now for the 'spring' market

call 0800 KEYTEAM (539 832)

Lindsay and Marilyn Welch

L 0275 770 216 | M 0275 770 214

lindsay.welch@harcourts.co.nz

marilyn.welch@harcourts.co.nz

Alison Paulin

M 027 884 6817

alison.paulin@harcourts.co.nz

Shelley Howe

M 021 898 076

shelley.howe@harcourts.co.nz

Cecelia Harrison

M 021 494 641

cecelia.harrison@harcourts.co.nz

Grenadier Real Estate Ltd MREINZ. Licensed Agent REAA 2008
---
WESTERN NEWS Latest Canterbury news at starnews.co.nz

Tuesday September 24 2019 11

SUPER

DEAL

50"

Markdown

Prices slashed on beds,

furniture & appliances.

Madness

Starts Tomorrow!

50" 4K Smart UHD TV RU7400

Now

$ 1388

less

than

per

$ 15 week #<

15.6"

$ 859

+

BONUS

Weekender 4 BBQ

WORTH $599

Ios 5 Piece

Outdoor Corner

Lounge Suite

$ 2699

less

than

per

$ 14 week #>

15.6" A6 Laptop DB0182AU

8GB RAM, 256GB SSD, AMD A6-9225

Dual-Core processor, Windows 10

Home 64 operating system.

HOT

PRICE!

less

than

Save

$ 340

$ 11

per

week #<

Smooth Finish

Ceramic

Straightener

S3505AU

Now

$ 19

99

AX7 Dual Sim Smartphone

Available in Glaze Blue & Glaring Gold

$ 319

Save

$ 30

Quality and comfort combined.

Check out our great range in-store and online like this retro suite

Trend Fabric 5 Seater Lounge Suite

Accessories not included

$ 2999

Save

less per

than

$ 16 week

$ 1500

#>

6.5KG

DIAMOND

DRUM

FOR POWERFUL

YET GENTLE

WASHING

PERFORMANCE

6.5kg Top Load

Washing Machine

WA65F5S6DRW

$ 599

Save

$ 350

less

than

per

$ 8 week #<

50 months

interest free

on furniture & beds $999 and over #

24 months

interest free

on everything $499 and over #

Easy repayments

with affordable finance,

EVERYDAY!

Proudly New Zealand owned, helping Kiwis feel at home since 1918

Some products on display in selected stores only – please call us on 0800 764 847 to check for availability at your local store. All offers in this mailer are valid Wednesday 25th Sept until Tuesday 1st Oct 2019, while stocks last or unless otherwise stated. *Discount is off our full retail price and not in conjunction with any other offer.

* 1 Discount is off our full retail price, not in conjunction with any other offer and the prices listed are for queensize only. See in-store or online for other sizes. # Apple products, selected computers, game consoles, gift cards, clearance items and some promotional items are not available in conjunction with interest free offers.

Flooring available on a maximum of 18 months interest free. Exclusions, fees, terms, conditions and credit criteria apply. Available in-store only. Equal instalment amounts include one-off booking fee of $45.00, annual fees of $45.00 p.a., and security registration fee of $8.05, and exclude insurance. Current interest rate of

23.95% applies to any unpaid balance after expiry of (any) interest free period. See in-store or visit smithscity.co.nz for details. < Instalment amount based on a 24 month finance period. > Instalment amount based on a 50 month finance period.

JT5985

550 Colombo Street | Cnr Belfast and Radcliffe Road Northwood, CHRISTCHURCH MEGASTORES
---
12 Tuesday September 24 2019

Latest Canterbury news at starnews.co.nz

WESTERN NEWS

Shop

Win

& Relax

WIN

1 OF 5 FAMILY

GETAWAYS

TO HANMER

SPRINGS

more

chances

to win!

Enter every time you shop at any of these participating businesses

• Re-thread broken necklaces

• Re-knot pearls

• Magnetic clasps fitted

• All jewellery repairs

at any level

Jewellery

& Giftware

JEWELLERY REPAIRS

HOURS: Mon-Fri 9am-5pm, Sat 9am-1pm

79 Wrights Road, Middleton.

Ph: (03) 338 0171

Email: sales@warrenagencies.co.nz

www.warrenagencies.co.nz

2019-2020 SEASON

StArtiNg SOON!

SEASON pASSES

AvAilAblE At thE

wOOdfOrd glEN ShOp

129 North Avon Road, ChCh | Ph (03) 385-1515

Check out www.woodfordglen.co.nz for meeting dates |

Enjoy your journey with Caltex Hornby

gas up witH us today!

dog wasH

NEw!

iNstoRE

Now

atM | CoFFEE | Lpg swappa BottLE | MiNi supERMaRKEt | FiREwood

tRaiLER HiRE | FoRECouRt sERViCE | touCH FREE CaRwasH

LoCaLLy owNEd & opERatEd

427 MaiN soutH Rd - pH 349 2407

www.CaLtExHoRNBy.Co.Nz

WIGRAM

Gordons Gin or

Bells Whisky

1 Litre

$

37 99

each

Super Liquor Wigram

187 Wigram Rd (next to Culture Fitness)

Ph (03) 322 4000

Convenient

location

to Wigram

Skies

Chill-ahh hire

GlaSS hire

The Body's Youth Protein

NEOCELL COLLAGEN SUPPORTS:

- Reduction in lines & wrinkles - improved skin elasticity

- Strong hair & nails, may help reduce hair loss

- Supports bone, ligaments, tendons & joint health

MARSHALLS HEALTH & NATURAL THERAPY

CONSULTING - PRESCRIBING - DISPENSING -

MANUFACTURING - MEDICAL HERBALISTS

101 SEAVIEW RD, NEW BRIGHTON • PH 03 388 5757

Email: enquiry@marshallshealthshop.co.nz

NEOCELL PREMIUM COLLAGEN IS

CLINICALLY RESEARCHED

FOR SUPERIOR RESULTS

SUPER LOW PRicE!

120's only $36.90, save $5.75

250's only $56.90, save $9.75

Mail Order Available

Bringing You the Best in

Natural Health!

- WE ARE ALWAYS HAPPY

TO HELP! -

Designer Fashion

• Designer Brands

• Family Clothing

• Menswear

• Footwear

• Bric-a-brac

• Books

• Household Goods

• Workman

Outdoor Clothing

• See the Retro

Section AND

Formal Wear

New Zealand's Largest Recycled Clothing Retailer

94 Shands Road, Hornby. Open 7 days 10am - 4pm

See Our

HUGE

Selection!

3000

items

arriving

daily!

Your Outdoor Specialists

At Least

30% OFF

Storewide

• Footwear

• Clothing

• Skiwear

• Camping

Open 7 dayS

dreSSmart HOrnby, main SOutH rd pH 03 344 5304

Hanleys Essential

Dog Roll

• Pure meat

• No chemicals

• No fillers

• Contains 18% protein

Formulated for dogs

Available from The Feed Shack - Shop 33, Bishopdale Mall

Phone 359 5118 or visit www.animalessentials co.nz

Bring in this coupon for

GIFT CARDS

BUY ONE

ONE FREE

GET

• Barrington Mall

• The Hub, Hornby

• New Brighton Mall

• South City Centre

Conditions apply, free gift card same price or less, one deal per coupon. Offer expires 20th October, 2019.

Indulge in...

Our gorgeous range of.. sandwiches, paninis,

bagels, scones, slices, muffins, quiches, sausage rolls

& pies, coffee and more! CATERING AVAILABLE!

Gorgeous Food

specialist bakery

66-68 Springs Rd Ph: 344 6044 Email: gorgeousfood@xtra.co.nz

Open Monday-Friday 6am-3.30pm www.gorgeousfood.co.nz

OPEN SATURDAY

7am - 1.30pm

Thinking

Luggage?

Think

Just

Bagz!

Samsonite Range

DressSmart Mall | 417 Main South Rd, Hornby | 03 349 7887

So-Lite 3 Range

PARA PARA PARA PARA PARA PARA PARA PARA PARA PARA PARA PARA PARA PARA PARA PARA

PARA PARA PARA PARA PARA PARA

MATTRESSES

FOR ALL OCCASIONS

127 Blenheim Road PHONE 343 9820

No rainchecks. Cash sales only.

PARA PARA PARA PARA PARA PARA PARA PARA PARA PARA PARA PARA PARA PARA PARA PARA

BLENHEIM

CLARENCE

MATIPO

just

bagZ

PARA PARA PARA PARA PARA PARA
---
WESTERN NEWS Latest Canterbury news at starnews.co.nz

Tuesday September 24 2019 13

Your Local Views

Board leaders look back on highlights

Ahead of the

October local

body elections,

Fendalton-

Waimairi-

Harewood

Community

Board chairman

Sam MacDonald writes

about what the board has

achieved in the last three

years

IT'S BEEN A productive three

years for the Fendalton-Waimairi-

Harewood Community Board

on a range of fronts. The board

operates on delegations from the

city council in an effort to make

more local decision-making, and

to ensure the city council table

concentrates on city-wide issues.

While it is difficult to capture

everything I wanted to touch on a

few tangible outcomes our board

has worked on. Most recently we

finally got the green light from

the city council to install traffic

lights at the Harewood, Breens

and Gardiners Rds intersection –

this has been a long fight but it's

good to see it progress.

Often we are approached by

community groups which have an

interest in a something significant

in our board area. Of note was

the consultation to consider the

Avonhead Cemetery be recognised

as a memorial cemetery.

This is particularly relevant following

the earthquakes and after

a huge effort by the Friends of

Avonhead Cemetery.

We have had pedestrian lights

installed outside St Andrew's

College in a bid to make it safer

for students crossing Papanui Rd.

We have approved and instructed

city council staff to undertake the

work required to modernise the

Lake Roto Kohatu facilities, which

will make it far more accessible

and user-friendly for everyone

who uses it (particularly over the

summer). It has been pleasing to

see the Bishopdale Library open

after its earthquake rebuild and

I'm sure everyone who uses Jellie

Park will also value the redevelopment

that has occurred there.

We have had a record number

of students present to the board

over this term, updating us on

what they are achieving locally,

and so many community groups

have partnered with the board to

strengthen their work in the local

community.

While we undertake a lot of outcome-driven

work in the local area,

we also advocate to the city council

at every annual budget and Long

Term Plan on behalf of residents;

and we have continually reminded

the city council that it needs to

focus on the basics and reinvest the

rates everyone in our wards pay

back into our part of the city.

Chairman

Mike Mora

also writes

about the

Halswell-

Hornby-

Riccarton

Community Board's past

three years

IT'S BEEN a very busy and

productive three years for the

Halswell-Hornby-Riccarton

Community Board.

Being the largest community

board in New Zealand and

representing the fastest growing

areas of Christchurch, we have

successfully achieved a number

of highlights.

Of particular mention is

the recognition given by the

board for the new and proactive

Greater Hornby Residents'

Association, particularly its

involvement in progressing the

new Hornby Library, Service

Centre and South West Pool

project at Kyle Park.

The board is most

appreciative of the good work

being carried out by our local

residents' associations and for

bringing issues to the board's

attention.

It is pleasing that good

progress is being made towards

completing the new Riccarton

ADVOCATE: The Halswell-

Hornby-Riccarton

Community Board has

opposed the planned

Roydon Quarry in

Templeton.

PHOTO: MARTIN HUNTER

Community Centre in Clarence

St later this year and the

completion of the next stage of

the Southern Motorway, which

should help ease current traffic

congestion on our roads.

Other highlights saw the

board fund additional operating

hours for the forthcoming

summer season at the Halswell

Pool and also the opening of the

Wigram and Knights Stream

Schools and the relocation of

the South Hornby Primary

School.

There have been many

decisions made by the board to

keep our roads safer and make

them operate more efficiently,

including reduced speed

limits in new subdivisions at

Longhurst and Knights Stream,

and in the wider Halswell and

Hornby areas.

We have been especially

active in opposing the proposed

Roydon Quarry at Templeton

and have also given support

to Yaldhurst residents over

their ongoing issues around

quarrying activity.

The board participated

actively in the city council's

annual and long term plans,

advocating strongly to

secure the budgets for our

communities' priorities.

The funding support provided

to local community groups

and organisations, especially

to our young people, was a real

highlight of the last three years.

There have been some

unresolved issues, such as the

Yaldhurst Park subdivision,

relocation of the Christchurch

Kart Club, and the former

Owaka Pit site.

The board has lobbied to

oppose the increasing number

of liquor outlets seeking

to establish in our local

communities.

WOODCOTE RETIREMENT VILLAGE

Newly refurbished two-bedroom townhouse available now, $410,000

Large sunny bedrooms

All Ryman villages offer a fixed weekly fee for life – guaranteed! *

Enjoy a sunny two-bedroom home with brand new kitchen, bathroom and double glazing.

With a fully fenced and established private lawn and garden which our gardeners will keep

looking amazing for you, this home won't last long.

Independent living provides the best of both worlds – the freedom to come and go as

you please, with the security and companionship of the village community.

For more information

phone Susie on 338 7696

29 Woodcote Avenue, Hornby

*Some conditions apply

Newly refurbished bathroom

Modern open plan kitchen
---
14 Tuesday September 24 2019

Latest Canterbury news at starnews.co.nz

WESTERN NEWS

WITH MARY IN FAITH

TĀTOU KO MERE E WHAKAPONO ANA

MESSAGE FROM THE PRINCIPAL

This term has been a wonderful celebration

of Marian's Special Character and school

culture. When girls are involved in school

life, which is rich with celebrations and

traditions, we see improvements in student

learning, participation and wellbeing.

This term we had Feast Day, which is the

most anticipated religious event on the

Marian College calendar and includes

Mass, a house group singing competition,

talent quest and plenty of fun.

Our kapa haka team has combined with

brother school St Bede's College to

produce a 'super group' which gave a

moving performance at the Secondary

Schools' Kapa Haka Whakataetae

Regionals. For many, it was a 'first time on

the stage' experience.

We are also underway exploring our

school's cultural narrative. As well as

relocating Marian College in 2023 and

all we represent, building a new school

involves weaving the history and story

of mana whenua into the fabric of our

buildings and environment.

On a recent staff only day, we traced the

journey of the school; key women, role

models from our past and shared stories

and memories of the school from its

beginning up to today. We look forward

to future work on our cultural narrative as

plans for our new school develop.

For the latest Marian news and information,

please check our website and follow us on

Facebook. Enjoy the read!

Mary-Lou Davidson

Marian College Principal

Tū whitia te hopo, mairangitia te angitū – feel the fear, do it anyway!

Marian College St Bede's Kapa Haka group performed at the Secondary

Schools Kapa Haka Whakataetae Regionals for Waitaha Canterbury.

HITOMI STAYS ON

The Marian College First XI won the New Zealand Secondary Schools Girls'

Football Gary Sowden Winter Tournament in Timaru recently. Congratulations to

the girls, coaches, manager, parents, caregivers, staff and supporters – what a

fantastic result!

FRANCESCA RELEASES FIRST SINGLE

Our talented Head of Culture

Francesca Humphries has written

recorded and released her first

single. Her beautiful song 'I had

a dream' is available now on

iTunes, Spotify and Google Play.

Fran was selected to participate in

an artist development programme

with Nathan Phillips Vocals and

the results are breath-taking.

Well done Fran, we are very

proud of you! You can follow

Francesca @fraaancescaaamusic

on Instagram.

Rising Japanese rugby star, Hitomi Oka,

has enjoyed the International Rugby

Programme (IRP) so much, she is staying

on at Marian College.

"Both in terms of my rugby and my life

in general, I think I have become far more

resilient and self-driven," Hitomi says.

"What I like best about Marian College is

that teachers and students are very kind and

welcoming to me."

Marian College Principal Mary-Lou

Davidson says the IRP is an amazing

opportunity for students from all over

the world to come together for high

performance sport development.

"Our Marian students are exposed to the

opportunities sport at this level brings.

They make connections through the

enjoyment of playing sport, develop

manaakitanga and make long-lasting

friendships," Mrs Davidson says.

Marian has partnered with St Bede's

College to host the International Rugby

Programme (IRP) from 2019. The 17-yearold

high-performance programme makes

use of the latest technologies and practice.

International students participate in a

combination of rugby training, coaching

and academic learning.

Like and

follow us!

@mariancollegechch

www.mariancollege.school.nz | 03 385 8449 | exec@mariancollege.school.nz
---
WESTERN NEWS Latest Canterbury news at starnews.co.nz

Tuesday September 24 2019 15

News

Ditch transformed into stream

THE TRANSITION of the Ilam

Stream from its previous state as

an "ugly stormwater drain" into

a live, flowing, neighbourhood

stream has taken another big

step forward.

Stream beautification and

bank protection was the goal

for 63 Guides from GirlGuiding

New Zealand who donned

robust footwear and took up

spades in Crosbie Park to plant

native plants along the stream's

banks and carry out a general

tidy-up of the area.

The riparian planting event

was a combined initiative involving

stream group, Network of

the Ilam Stream, Girl Guides

and the city council.

The event's success would not

have been possible without the

enthusiastic and generous support

of the city council.

Fendalton-Waimairi-Harewood

Community Board chairman

Sam MacDonald initially

brought the two groups together

and the assistance of the city

council's parks and gardens team

who supplied all of the plants,

tools and refreshments.

The event was attended by Mr

MacDonald and board member

Shirish Paranjape.

The botanic expertise was provided

by Matthew Arat and his

team, who gave up part of their

weekend to assist and ensured

the event went without a hitch.

GREEN THUMB: GirlGuiding New Zealand Russley guide

unit team leader Kimberley Washington of GirlGuiding New

Zealand and Network of the Ilam Stream chairman Bill Carroll

helping plant at Crosbie Park. ​

City council head of partnerships

Kate Russel said: "We are so

delighted to be working alongside

the Girl Guides of all ages to help

to make Crosbie Park an even

better community space.''

She said the city council's

programme of engagement with

young people through schools

and groups such as GirlGuiding

NZ is creating a new generation

of parks' guardians to look after

greenspaces into the future.

The rejuvenated Ilam Stream

flows from the top of Avonhead

Park through Avonhead before

joining up with the Avon River

in the grounds of Canterbury

University.

The stream was the 1980s

dream of the late Tony Royds, a

long-time Avonhead resident.

This planting event is a further

step in progressing the stream

from its previous ditch-like state

into a restful focal point for

residents to enjoy with its now

flowing water and plantings that

are supportive of both ongoing

bird and aquatic life.

• By Jacob Page

THE RICCARTON Knights

have honoured a past stalwart

as they unveiled their new

changing rooms at Crosbie Park.

The new facility is known as

the David Attewell Building,

recognising a man who gave

more than 30 years service to the

club before he died in 2013.

Acting club chairman Peter

Carey said the two new changing

rooms, along with two store

rooms and two dual-purpose

toilets, will ease the pressures on

the club during major events.

"There are two fields at

Crosbie Park but only one set of

changing rooms so when we held

a club day or had multiple home

games, it was super busy and

at times we had to have teams

SPORT

MOMENT: Riccarton Knights rugby league acting chairman

Peter Carey outside the new David Attewell Building at

Crosbie Park.

League stalwart honoured

change in our club lounge or

even put up a marquee."

Dr Carey said Mr Attewell was

the right man for the honour.

"David gave a lot of time to

the club for many years, doing

all sorts of things to keep the

club ticking over, as did his wife,

Sally, so for the building to have

his name was the right decision."

The $270,000 project took five

years to complete, with the club

raising more than a third of the

money needed, with charitable

donations covering the rest.

This has been a major project

for us a club and we seem to be

doing better than most at present

so we hope that continues into

the future," Dr Carey said.

•More sport, page 17

Drop in to view our

beautiful brand new

apartments & discover

the benefits of the

Living Well Park Lane

community.

Your cosy new home is well insulated

with wooden feature walls and thermal

concrete for extra warmth in winter and

cooling effect in summer. The open

plan kitchen, living area and balcony

provide a great sense of space. With

resort style facilities and electric cars

provided, Park Lane is a fun, social

retirement lifestyle option.

35 Whiteleigh Ave, Tower Junction,

Christchurch 8024. On-site parking.

Email: sales@parklaneretirement.co.nz

or phone: 03 338 4495

www.livingwellparklane.co.nz
---
16 Tuesday September 24 2019

Latest Canterbury news at starnews.co.nz

WESTERN NEWS

highlights

World Scholars Cup

In August this year we sent one Junior and

one Senior team to Sydney to compete in the

global round of The Worlds Scholars Cup.

Both teams qualified through the regional

round held in Christchurch.

There are six subject academic challenges:

Arts, Social Science, History, Science,

Literature, Special Area - in this case Unsolved

Mysteries. These are subjects that students

studied before the event. The seniors did

particularly well in these. Team medals are for

Collaborative Writing, Debating and combined

Academic and Scholars Bowl General

Knowledge.

All students achieved at a very high level

in this competition which was attended by

students from 28 countries.

Both teams qualified for The Tournament of

Champions to be held at Yale University in

November.

Cantamath Competition -

Wednesday 28 August 2019

Our Year 10 top team won the

competition and scored 100 points

getting all the questions correct.

Our Year 9 team placed second.

Fifty-six teams in all competed.

Well done to the students involved

and the staff of the Mathematics

Faculty. Overall, Burnside High

School has won three out of the

four Canterbury Maths Association

trophies this year, a great effort.

From left to right: Cole Stevens,

Helaman Hatcher,

Mark Change, Tim Fisher-Taylor

NZSS Golf Team

Championships Final

in Cromwell -

2 September 2019

Burnside High School Mixed Team - 2nd place

NZSS Table Tennis

Team Championships

in Tauranga

2-3 September 2019

A Grade Teams Event

Burnside High School 'A' Team - 1st place

Third year in a row winning this title.

From left to right: Conor McCullough,

Olivia Wang, Lucia Guo, Jai Bartlett, Ameya Raut

Cycling News

The 2019 UCI Junior Track Cycling World

Championships were held in Frankfurt, Germany,

from 14-18 August this year. One of our Year 13

students, Sami Donnelly, competed in the 3000

metres Teams' time trial event. The team came a

very respectable second, missing out on gold to

Italy by a mere .007 of a second! Two silver medals

for Sami in two years. Congratulations!

Sami Donnelly on the left

From left to right: Amy Weng, Jasmine Clancy,

Yuki Miya, Hayato Miya

NZ Age Group

Championships in

Cromwell -

4-6 September 2019

Womens' U17 –

Amy Weng, 17th

Womens' U15 –

Jasmine Clancy, 14th

Mens' U17 –

Hayato Miya, 2nd

Mens' U15 –

Yuki Miya, 4th

NZSS Table Tennis

Individual

Championships -

4 September 2019

U19 Girls Champion -

Jiayi Zhou (gold medal)

U19 Girls Runner-Up -

Avon Liu (silver medal)

U19 Boys Runner-up -

Sang-Yong Park (silver medal)

U19 Boys 3rd equal -

Zak McKellar (bronze medal)

From left

to right:

Jiayi Zhou,

Sang-Yong

Park,

Avon Liu

Burnside High School | Greers Road, PO Box 29 677, Christchurch 8540

Telephone: 358 8383 | Website: learn.burnside.school.nz
---
WESTERN NEWS Latest Canterbury news at starnews.co.nz

Tuesday September 24 2019 17

Dominant Middleton set to

take on North Island foes

• By Jacob Page

THE MIDDLETON Grange

basketball team hope their looks

will be deceiving when the

head to the national secondary

schools' tournament at

Palmerston North on September

30.

In spite of being Canterbury

and South Island champions,

co-coach Jack Williamson said

they may still be able to fly under

the radar.

The nationals begin on

September 30 at Palmerston

North with Cashmere High

School, St Andrew's College

and Shirley Boys' High School

the other Christchurch schools

competing.

"Not too many of the teams up

there would have seen us before

and I'm hoping that when they

see how under-sized and unathletic

looking we are during

warm-ups that they may take us

lightly," he said.

Middleton Grange have

simply run their South Island

opposition off the court all

year and their multiple outside

shooting threats have proved too

hot to handle so far.

Williamson said they were

keen to keep playing that style of

game.

"We know the North

Island teams will be more

physical than what we are used

too but we will just try to play

TOP TEAM: Middleton Grange basketballers have been in

dominant form losing just one game. ​

our way that has worked so well

for us so far.

"I thought the team got better

as the (South Island) tournament

went on and hopefully we can

build on that."

Middleton Grange managed

their third win over former

South Island champions

Cashmere High School in the

semi-finals of the tournament

in Nelson but Williamson said

SPORT

they would still be a threat at

nationals.

"Our style works for us

against them but they have

some big bodies and talented

players so we still expect them

to do some damage at

nationals."

Williamson said the coaching

staff were hopeful of making the

top eight and then seeing how

things go from there.

Bad health no hurdle

to Mason's singles title

• By Adrian Seconi

FENDALTON teenager Abby

Mason battled a cold and her

doubles partner to claim the

Otago Indoor Open women's

singles title in Dunedin.

The St Margaret's College

15-year-old coughed her way

through the match but also

slammed her backhand and

forehand to power her way to

a 6-3, 6-7, 6-2 win against rival

and tournament No 1 seed Kelly

Southwood.

The pair teamed up to win the

women's doubles title earlier in

the day.

They beat Angela Fitzgerald

and Belinda Hirst 6-0, 7-5. They

also play club tennis together in

Wellington – Mason commutes

to the capital regularly.

But the partnership was put on

hold for the singles final. Mason

was hitting the ball harder earlier

and broke her rival's serve to take

a 4-2 lead.

Southwood could not find a

way back in the set and the final

looked to be heading for an early

finish when Mason went up 3-0

in the second set.

But this time Southwood was

able to find a crack.

She broke her opponents serve

and held her own to trail 3-2.

Game six was backwards and

forwards. Both players had an

opportunity to win the game but

Southwood eventually prevailed.

But she followed up some hard

VICTORIOUS: St Margaret's

College 15-year-old Abby

Mason plays a forehand

during the final of the Otago

Indoor Open in Dunedin.

PHOTO: GERARD O'BRIEN

work with a poor serving game.

Mason served for the game at 5-4

and again at 6-5 but could not

finish.

She fluffed some easy shots

when coming into the net and the

odd overhand went wayward as

well.

The errors proved costly.

Southwood won a tiebreaker 7-5

to claim the second set.

But Mason put aside the

squandered opportunities and

produced a more polished effort

in the third set to claim the win.

Both players hit the ball with a

lot of power but Mason had the

edge with her backhand.

MORVEN APARTMENTS UNDER CONSTRUCTION - SELLING NOW

ELEGANT RETIREMENT LIVING

Contemporary design with all the comforts of home

Nestled in the heart of Fendalton, take time to enjoy Holly Lea Village's idyllic parklike setting

with beautiful grounds, established trees and the Waimari stream meandering its way through

the village grounds.

At Holly Lea Village your health and wellbeing is our priority. We provide a supportive lifestyle

with a range of services that can be tailored to meet your individual requirements.

Construction has commenced on the Morven Apartments, eight spacious two bedroom

apartments, architecturally designed with your comfort and safety in mind.

For more information about

purchasing an apartment,

contact Juliane.

hollylea.co.nz

03 351 7764

123 Fendalton Rd, Christchurch

APARTMENTS | ASSISTED LIVING | REST HOME LEVEL CARE
---
18 Tuesday September 24 2019

Latest Canterbury news at starnews.co.nz

WESTERN NEWS

ANTHONY WILDING RETIREMENT VILLAGE

Townhouses available now!

Two-bedroom townhouses available now,

priced from $475,000

Our townhouses have a modern open plan living area

with two generous bedrooms.

Independent living combines the best of both worlds –

the freedom to come and go as you please, with the

security and companionship of the village community.

There is so much for residents to enjoy, including

amenities such as an all-weather bowling green, indoor

heated swimming pool, spa, library, gym, hair and

beauty salon, and much more. You will have more time

to do what you really love.

delicious

We invite you to come in for a taste of village life

Complimentary Lunch

(Valid Monday to Friday)

Please call Susie on 03 338 7696

to book in. Transport available.
---
WESTERN NEWS Latest Canterbury news at starnews.co.nz

Tuesday September 24 2019 19

JP Clinics

Tuesday, 10am-1pm

A justice of the peace will be

on-site to take declarations, affidavits

and affirmations, witness

signatures on documents and

certify document copies. They

can also witness citizenship

applications and rates rebate applications.

Te Hāpua: Halswell Centre and

Upper Riccarton Library

Citizens Advice Bureau

Monday, Wednesday,

Thursday, Friday, 11-5pm, and

Tuesday, 2-5pm, at Papanui, and

Wednesday, Thursday, Friday

and Monday, 11am-5pm, at

Hornby and on weekdays, 9am-

5pm.

The Citizens Advice Bureau

provides free and confidential

advice to everyone. It takes the

time to listen to you and equip

you with information, options

and support.

The Village Presbyterian

Church and Community Centre,

cnr of Papanui Rd and Franks St,

and the Hornby Library

Upper Riccarton Library

Book Discussion Group

Wednesday 10-11am

For those who love reading

and want to share in discussion

with other friendly book lovers.

The group subscribes to the Book

Email georgia.oconnor@starmedia.kiwi

by 5pm each Wednesday

Discussion Scheme so there is a

cost involved.

Upper Riccarton Library

Family History Help

Wednesday, 11am-1pm

Are you interested in family

history (genealogy)? A volunteer

from the Canterbury branch

of the New Zealand Society of

Genealogists are available to help

with your family history questions.

Upper Riccarton Library

Mahjong Group

Wednesday, 1-3pm

Interested in playing mahjong?

Learn to play at the library. For

beginners and advanced players

alike. If you have your own set

take it along.

Upper Riccarton Library

Scrabble Club

Wednesday, 1.30-3.30pm

Have a way with words? Go

along when you can and join the

library's friendly Scrabble Club.

Some boards provided.

Te Hāpua: Halswell Centre

UR Club

Wednesday, 3.30-4.30pm

Go and join the fun at an afterschool

club. Open to all schoolaged

children. There will be

stories, crafts, games and more.

Upper Riccarton Library

Chinese Technology Help

Book-in Sessions

Wednesday, 2-3pm

These free book-in sessions

are available to help you with

specific issues, such as using

email, searching the internet,

using the library catalogue, using

electronic resources and any

other general computer-related

queries. Take your laptop, tablet,

smartphone or use one of the

desktop computers. Registration

required.

Upper Riccarton Library

Culture Exchange

Thursday, 11am-noon

Upper Riccarton Library's

Culture Exchange is a friendly,

relaxed group, where you can

make new friends, practice

English and learn about New

Zealand and the city. Free weekly

meetings.

Upper Riccarton Library

GenConnect

Thursday, 1-2pm

Connecting generations by

sharing knowledge. Do you

have questions about your iPad,

smartphone or tablet? Want to

know how to use Skype, Facebook

and apps or share

your photos with family or

friends?

Upper Riccarton Library

Spark Jump – help for

families to get online at home

Friday, 2-3pm

The library is teaming up

with Digital Inclusion Alliance

Aotearoa to offer Spark Jump.

Spark Jump is designed

for families in low income

communities with the care of

children (aged 0 to 18) who don't

have a current fixed broadband

connection at home, and whose

household is in the 4G coverage

area. Workshop participants

receive a free Wi-Fi modem

and 30gb of data for $10 on the

pre-pay service with no fixed

contract. Register online for a

workshop, or phone the library

at 941 7923.

Hornby Library

Go along to The Great Library

Seed and Plant Swap. Got

some home-saved (or leftover

bought) seeds to share? Don't

worry if you don't have any

seeds to share this year, you

might next year. Seeds can

be dropped in anytime before

or during seed swap times – if

you're bringing in seedlings,

please drop them off at the

beginning of the week. The

event will be held all week at

the Te Hapua: Halswell Centre.

On weekdays the library

is open 9am-7pm and on

weekends 10am-4pm. ​

Super Saturday Storytimes

Saturday, 11am-noon

Encourage learning through a

love for stories. Storytimes is an

interactive programme including

stories, rhymes, craft and play.

This is a free session run during

school term times.

Upper Riccarton Library

Family Makerspace

Saturday, 1.30–3pm

Join in for fun activities every

week in the Makerspace. Every

week there will be a creative and/

or tech activity to try.

Te Hāpua: Halswell Centre

Halswell Community Market

Sunday, September 22, noon-

3pm

Held on the fourth Sunday of

each month in the award winning

grounds of St John |

of God. There will be live

music, delicious food, fabulous

stalls, games on the lawns.

Perfect way to spend a Sunday

afternoon.

26 Nash Rd, Halswell

JOIN US NOW!

See website for details

Christchurch

Heritage

Festival

ANDREA BIANI

Last pairs of ladies clearance

shoes now $49.90 and under.

T&Cs apply. While stocks last.

SCRIBER & MARKS

Get a free Shirt and Tie with

any Merino Suit purchase from

$299 and up. T&Cs apply.

While stocks last.

Encounter

our stories

Over 80 special events! Discover heritage tours,

walks, talks, workshops, music, food and more

with the Christchurch Heritage Festival.

7–28 October 2019

ccc.govt.nz/heritagefestival

STYLES MAY DIFFER

TO IMAGE SHOWN

SPRING SHOWCASE

Join us on Thursday 10th October

between 5 – 7pm for a fabulous

night of Fashion and Savings.

See www.dress-smart.co.nz for more details

BENDON

Up to 80% off.

Selected styles. T&Cs apply

RODD & GUNN

Rodd T-shirts now $29 or

3 for $59.

Open 10am-5pm, 7 Days 03 349 5750

CHRISTCHURCH 409 Main South Road, Hornby

www.dress-smart.co.nz
---
20 Tuesday September 24 2019

Latest Canterbury news at starnews.co.nz

September 2019

WESTERN NEWS

Commitment,

Achievement,

Resilience,

Respect

Student,

school

success

in many

fields

Kia ora koutou. Talofa. Kia Orana. Malo e

lelei. Bula. Fakaalofa atu. Namaste. Kumusta.

Haere mai haere mai ki Te Kura Huruhuru Ao

o Horomaka. Warm greetings to the Hornby

High School community.

What an exciting term we have had. It has

been filled with a most incredible spread

of amazing student achievement crossing

cultural, sporting, and academic fields, the

beautiful blessing of our new buildings, and

the shift into the last of our new buildings.

The NCEA Music performance evening showed

us yet again the depth of musical talent that

our students have. Our two senior basketball

teams qualified for nationals for the first

time (and our junior teams have shown

outstanding performances too), and we have

seen academic achievement at the Merit and

Excellence levels in NCEA acceleratIng.

Whether it be community impact projects

focused on kindness or the environment, new

and innovative technology projects, or new

ways to look at technological change across

cultures, we have seen creative excellence

to the fore in the academic sphere. I have

challenged staff and senior students to

normalise the use of Te Reo Māori through the

school. As one of our three official languages

in Aotearoa New Zealand, and one of the two

oral languages, we should hear it as often

as we hear English. What a wero, what a

challenge.

I'll finish with a reminder to get new student

enrolments for 2020 in as soon as possible

please. Early notice allows us to advance our

planning for 2020, benefiting all students.

I'll let the accompanying photographs and

articles tell our term 3 story. Ka rawe!!!

Ngā mihi nui

Robin Sutton

Tumuaki

South Island Tournaments

Hornby High School netballers, above, and the combined boys'

and girls' basketball squad, top right, and the boys' basketball

team in action in Greymouth, bottom right.

Above left, senior students in traditional costume, and above right, students demonstrate a traditional Filipino dance.

Diversity celebrated at

International Festival

The diverse nationalities

represented at Hornby

High School were

celebrated with national

costume and cuisine

recently.

On Thursday September

12, the school hosted its

third International Food

Festival in The Learning

Commons, Te Pae Rewa.

The day started with

an international mufti

day with the students

encouraged to dress in

their national costume.

All funds raised were

donated to Red Cross.

In the evening

students, whānau,

and community, were

invited to partake in

a food festival, which

several hundred

attended. A wide

variety of foods was

available, including

Mexican, Tongan,

Filipino, Chinese and

Cook Island.

Our Hornby High School netball

and basketball teams did well in the

tournaments they took part in early this

month.

The netball team competed in Nelson while

the basketballers played in Greymouth.

We are very proud of how all our teams

represented our school.

Our netballers, pictured left, finished their

competition in eighth place, achieving the

goal they set themselves going into the

tournament.

Our boys' and girls' basketballers were

also hugely successful at their events. Both

teams finished in fourth place and in so

doing qualified to compete at Nationals for

the first time in Hornby High School history.

We would like to thank all our supporters

and sponsors in getting us this far, in

particular Dress-Mart Hornby.

We are still looking for further sponsorship

to get our teams to National Tournament

so please contact the school or any of the

players if you are keen to help.
---
WESTERN NEWS Latest Canterbury news at starnews.co.nz

Tuesday September [Edition 24 datE] 2019 21 3

continuing education

Adult and Community Education at

Risingholme community centre

Wanting to expand, express and enhance your life – Come learn with us!

Risingholme continues to offer a wide

range of exciting learning opportunities

across the city at Risingholme, Riccarton

High School, Christchurch Girls' High

School, The Village House New Brighton

and Hornby High School. With the start

of term 4, on Monday 14th October, and

longer days why not enrol in one of our

exciting courses – www.risingholme.org.

nz

Is English your second language? In

term 4 we are offering ESOL at Riccarton

High School. Other Language courses

include, German, Spanish, Italian,

Russian, Arabic, NZ Sign and Te Reo

Māori are offered at many of our venues.

So if you would like to improve your

English or learn a new language you can

enrol via our website www.risingholme.

org.nz

Is food and cooking your passion?

In term 4 we have on offer a range of

cooking courses including A Taste of

Egyptian Cooking course at Riccarton

High School or Thai Cooking course at

Hornby High School.

A new and exciting course being

offered in Term 4 at Hornby High School

is our Crochet for Beginners. Have

you always want to learn this craft –

now is your opportunity. Enrol now!

During this course you will gain an

understanding of crochet language, learn

a range of basic stitches while meeting

and learning alongside others.

The full programme for Term 4

courses is available on our website at

http://www.risingholme.org.nz/courses.

For more information on courses

contact the Risingholme Community

Centre on 332 7359 or e-mail info@

risingholme.org.nz

Brochures are available at the

Risingholme office and public libraries.

Adult and Community Education Term 4, 2019

Come learn with us

Risingholme Community Centre offers

a wide range of short courses, each term,

at a range of venues.

Risingholme Community Centre

Art (Create with Pastels & Paints, Mixed Media, Watercolour, Painting with

Acrylics), Drawing & Sketching, Embroidery, Fabric & Craft Skills, Guitar,

Pottery, Sewing Skills, Upholstery, Using your Overlocker, Weekend Sewing

classes, Yoga, Wood Sculpture, Woodwork, Woodwork for Women, Zentangle,

Printmaking, Fermented Foods, Plastics Free, Te Reo Maori, Patchwork and

Quilting, Massage, Reiki 2, Screenprinting, Qigong.

Christchurch Girls' High School

Dressmaking, Te Reo Maori, Watercolour Painting, Drawing & Sketching,

German Language, Painting with Acrylics, Spanish Language, NZ Sign

Language.

Hornby High School

Sewing Skills, Thai Cooking, Te Reo Maori, Crochet.

Riccarton High School

Calligraphy, ESOL Business English Intermediate, Indian Cooking,

Italian Language, NZ Sign Language, Russian Language, Sewing Skills,

Spanish for Travellers, Te Reo Maori, Arabic, A Taste of Egyptian Cooking,

Picture Framing, Mediterranean Cooking, Italian Cooking, Yoga.

The Village House - New Brighton

NZ Sign Language, Yoga.

Full details available on www.risingholme.org.nz

Risingholme office at 22 Cholmondeley Ave, Opawa, Chch

Phone 332 7359 | Email info@risingholme.org.nz

www.risingholme.org.nz
---
4

[Edition

Tuesday

datE]

September 24 2019

22

Latest Canterbury news at starnews.co.nz

continuing education

christchurch

School of Music

The Christchurch School of Music is a family-oriented

community aimed at providing quality music education in and

around Christchurch. The school has been an important part of the

Christchurch music education scene for 64 years so why not come

along and join us?

CSM is a not-for-profit organisation with a strong focus on

community. From ages 2 to 92 we have something for everyone.

On a Saturday morning the whole family can find something to

suit.

For the young ones there are pre-school and junior school classes,

"Take Off with Music", 41/2 year olds can start on Suzuki strings

and at 6 the recorder is a great instrument to learn. In 2019 we have

a fantastic deal for beginner recorder players – just $52 for a year of

tuition and this includes a recorder and a book!!

Older children and adults may opt for group or individual lessons

on a specific instrument (including voice). With six orchestras,

two concert bands, a Big Band, a jazz combo, 6 wind ensembles,

rock bands, two choirs, chamber groups, a samba band and a guitar

ensemble there is an ensemble to suit all levels and all ages.

If affordability is an issue, CSM may be able to offer a discount

through funding provided by the Rata Foundation.

Enrol any time at www.csm.org.nz

Papanui High School

As the weather gets warmer and the evenings get longer it is the

ideal time to get out of the house and learn something new and

meet some new people by taking part in one of the wide range of

nightclasses on offer at Papanui High School for Term 4 beginning

from Monday 21 October.

From Art to Yoga and everything in between we are sure regardless

of your age or interest you will find something to tempt you.

Classes at Papanui High School are held in a warm, friendly relaxed

environment and our tutors are supportive and well qualified in their

chosen fields.

We have a range of short Cake Decorating classes on offer for Term

4 covering different aspects of this craft. You will be able to learn to

decorate Christmas cupcakes, create icing roses, cover and decorate

your Christmas cake or learn how to make icing flowers, piping,

covering a cake and making a figure from fondant. These classes

are being taught by Adrienne Loffhagen and will be held at Papanui

High School on Monday night 7-9pm beginning from 21 October.

For further information and enrolment in these or any of our

Term 4 courses please visit our website on https://www.papanui.

school.nz/com-ed/all-courses or email rpb@papanui.school.nz or

telephone our office on 3520701.

Bumper programme at WEA

WESTERN NEWS

The final programme of events for 2019 from the WEA has

no less than 48 items to choose from. Whether you are looking

to stretch your mind with science, history or philosophy, get

creative, have fun with movement or challenge yourself with some

personal growth and development: there really is something for

everyone this term!

The WEA has been in Christchurch for more than 100 years

and has a long history of encouraging people to think deeply

about the issues of the day. This kaupapa is alive and well with

talks on the climate crisis, sustainable living skills and nuclear

disarmament to mention but a few.

The WEA is committed to keeping the cost of courses as low

as possible and specializes in small class sizes – so don't delay,

hop onto www.cwea.org.nz or find them on www.facebook.

com/canterburyWEA and book your learning experience today.

CANTERBURY WORKERS EDUCATIONAL ASSOCIATION

www.cwea.org.nz 59 Gloucester Street, Christchurch 03 3660285
---
WESTERN NEWS Latest Canterbury news at starnews.co.nz

Tuesday September [Edition 24 datE] 2019 23 5

continuing education

gain a

second chance

at ncea

Each year up to 10,000 young people

in New Zealand leave school with little

or no formal qualifications. Many teens

disengage with school as the teaching

environment simply does not suit their

style of learning. Research shows that

without a qualification they are more likely

to have difficulties entering the workforce,

as most jobs nowadays require NCEA and

a driver's licence.

Many early school leavers unfortunately

believe that secondary school is the only

way to earn their NCEA qualifications.

This misconception is particularly

concerning for those young people

who don't necessarily 'fit' the schooling

environment, but still want to find

employment or complete certain industry

training courses for which an NCEA

qualification is a pre-requisite.

Every year dozens of young people

are getting a second chance at earning

NCEA credits after leaving secondary

school, thanks to Vision College. The

Private Training Establishment (PTE) are

spreading awareness to the young people

in the community, making sure they know

that achieving their NCEA levels outside

of school is within their reach.

Vision College's free 'Ultimate'

programme offers students without NCEA

the opportunity to gain NCEA Level 1

and 2, their driver's licence, and a range of

skills designed to make them employable.

Students earn their NCEA credits in

a more practical way, through games,

hands-on activities, and by applying their

learning to real life situations. Students

also get to experience tasters of different

career and study paths to help them

decide where they would like to head after

completing 'Ultimate'.

School leavers can also enrol in

Security, Early Childcare or Business

Administration courses to earn not only

credits towards NCEA Level 3, but also

a career qualification in just six months.

These courses are all free for anyone aged

between 16 and 19. Upon completion

students can even pathway onto higher

study with Vision College in Web and

Software Design, Early Childhood

Education, and Counselling.

Vision College are enrolling now for

2020! For more information on their

courses, call 0800 834 834, txt "VISION"

to 027 557 8839, or visit their website

www.vision.ac.nz.

Study with Vision

CHOOSE FROM OUR CERTIFICATES, DIPLOMAS & DEGREES!

WE OFFER:

• ULTIMATE FOUNDATION SKILLS

• EARLY CHILDHOOD EDUCATION AND

CARE

• SECURITY AND FORCES TRAINING

COURSE

• BUSINESS ADMINISTRATION AND

TECHNOLOGY

• COUNSELLING

• WEB DEVELOPMENT AND DESIGN

AND SOFTWARE DEVELOPMENT

WWW.VISION.AC.NZ | 0800 834 834

50 Hazeldean Road, Addington, Christchurch
---
24 Tuesday September 24 2019

Latest Canterbury news at starnews.co.nz

Tasty Bites

WESTERN NEWS

American dessert to top off Kiwi main

This well-known Florida

dessert can be made even

better with a box of fresh

New Zealand limes

Lime Pie

Serves 8-10

Ingredients

250g digestive biscuits, well

crushed

100g butter, melted

Filling

390g sweetened condensed milk

4 egg yolks

1 tsp lime zest

½ cup fresh lime juice

Pinch of salt

300ml cream, whipped

Equipment

20cm pie dish

Directions

Heat the oven to 180 deg C.

Begin by crushing the biscuits

to a fine crumb.

Add the melted butter and mix

well so all the crumbs are coated

in the butter. Press firmly into

the pie dish covering the sides.

Bake for 15min. Remove and

cool.

To make the filling, mix the

condensed milk with the egg

yolks, lime juice and zest. Mix

thoroughly and pour into the

prepared pie crust.

Bake the pie for 15min or until

set. Remove from the oven and

cool completely.

Refrigerate for at least 4 hours,

but preferably overnight.

When ready to serve,

traditionally it is covered with

cream or you can serve it

alongside if desired.

The pie is a great way to top

off a classic South Island main

with meat and three veg

Venison fillet

Serves 4

Ingredients

850g venison fillet

500ml extra virgin olive oil

2 sprigs rosemary

1/2 head cauliflower

1 litre cream

8 heads bok choi

100ml tamari or soy sauce

250g carrots

500g agria potatoes

2 litres beef stock

1 litre chicken stock

500ml red wine (pinot

noir)

Salt, butter and cooking oil

Directions

First cut the venison fillet into

four 200g portions and marinate

in olive oil and rosemary.

Overnight is best, but for at least

a couple of hours.

Put stock and red wine in a

pot and reduce until medium

thickness and sticky, should

have a deep meaty flavour. This

may take an hour or so of rapid

boiling/reduction.

Slice potatoes as thin as

possible and layer into a baking

dish with a light sprinkle of salt

every few layers.

Bring cream to a boil and pour

over potatoes, place in oven at

165 deg C for about one hour

or until golden and cooked

through.

This can be set aside and

reheated or served fresh.

Peel carrots, toss in olive oil

and season. These can cook in

the oven with the potatoes, and

should be golden and soft to the

bite when finished.

Boil cauliflower florets in salty

water with a dash of cream or

milk in the water to make it

cloudy.

Boil for 5-8min until soft, then

blitz in food processor with a

few spoons of butter and salt to

taste until smooth. This can be

easily reheated in a saucepan.

Sear venison in cooking oil in a

hot skillet then transfer to oven

for 5min Saute bok choi in a hot

pan and deglaze with tamari –

that should steam the bok choi

through and add a nice sticky

glaze. Serve cauliflower puree,

venison and jus (gravy) on one

plate and the sides to share are

served in separate bowls.

Serve with red wine vinegar on

the side to help cut through the

gaminess of the venison.

Don't assume your smoke alarms are working.

Push the button to check them this daylight saving weekend.

FNZ0032_180x260
---
WESTERN NEWS Latest Canterbury news at starnews.co.nz

Tuesday September 24 2019 25

RicHMOND DiScOuNT

Discount Furniture and Bedding - The Best Little Furniture Shop in Town

BEDS TALLBOyS MIRRORS CABINETS cHESTS STORAgE SHElvES

BOOKCASES buffET uNiTS DINING TABLES HAll TAblES SIDE CABINETS & MORE!

Legacy Bedroom Range

Victor

Bedroom

Suite

Includes

duchess with

mirror, tallboy

and two

bedside

cabinets.

Duchess

with

Mirror

1090x410x820

NZ made.

Chest

$399

Bedside Cabinet

$129

Scotch Chest

$599

Queen Frame & Mattress

$699

$1599

ONLY

$549

Midi 7 Drawer

Scotch Chest

975x760x410. With metal runners.

Also available in Black.

Bedside Cabinet

540x460. With metal runners.

Also available in Black.

7 Drawer

Scotch Chest

1140x800x410.

Also available in black.

Ther-a-pedic Mattress & Base

Reversible pillowtop innersprung.

Single

$499

Solid

Timber

Free

Standing

Mirror

ONLY

$269

ONLY

$130

ONLY

$299

King Single/Double/3/4

$599

Queen

$699

WAS $169

ONLY

$129

Jumbo 4

Drawer Chest

1140x800x400. NZ made.

Metal runners. Also available in black.

Tallboy 4 Drawer

600x400x900.

Towerboy 6 Drawer

1260x460x410.

With metal

runners.

Also available

in Black.

Lowboy 6 Drawer

1130x410x820.

7 Drawer TV/

DVD Chest

760x1140x410. (Gap 150)

Foundry Display

Cabinet

900x1800

x420.

Timber Bookcase

600x320

x1200.

ONLY

$269

ONLY

$199

ONLY

$220

ONLY

$449

eACH

ONLY

$299

ONLY

$599

ONLY

$199

Coffee Table

Solid Timber.

Coffee Table

Solid Timber.

Coffee Table

1200x400x600.

Side Cabinet

600x600x450.

Display Cabinet

1800h

x900w

x400d.

Solid

Timber

Buffet

Units

Buffet Unit

700x

320x

1070.

ONLY

$169

1200x600

ONLY

$329

ONLY

$399

ONLY

$199

ONLY

$599

ONLY

$299

ONLY

$329

Nest of Tables

Hall Table

2 Drawers.

Hall Table

3 Drawers.

2 Drawer Hall Table

1200x810x420.

Bookcases

NZ Pine.

Corner TV Unit

1000x750x550

ONLY

$149

ONLY

$279

ONLY

$349

ONLY

$379

900x1200

$279 900x1500

$299 900x1800

$349

ONLY

$329

2 Draw

entertainment Unit

1200x600x450.

entertainment

Unit

1100x400x480.

entertainment

Unit

980x600x460. Solid Timber.

entertainment

Unit

1530x520x660. Solid Timber.

Buffet Unit

1500x800x420.

Buffet Unit

1175x430x840.

ONLY

$399

ONLY

$299

ONLY

$299

ONLY

$499

ONLY

$549

ONLY

$399

233 STANMORE ROAD • PHONE 03 389 0536

WE ACCEPT EFTPOS, VISA AND MASTERCARD... PARKING AT REAR

OPEN MON-fRi 10AM–4.30PM SAT 10–1PM
---
26 Tuesday September 24 2019

Latest Canterbury news at starnews.co.nz

REAL ESTATE

WESTERN NEWS

Valley of tranquillity

25 Valley Road, Cashmere

Auction: Thursday, 3 October 2019, Unless Sold Prior

4 bedrooms | 2 bathrooms | 2 living rooms | 1 dining room | 2 car-garage | 1 off-street park - Listing Number: BE193366

A private elevated location on Valley

Road this 1970's architecturally designed

home by Lucking and Vial is waiting for

a new owner. On entering the front door

the first thing you notice is the light that

streams into the living rooms, together

with the popular exposed beams of that

era making you feel instantly at home.

Surrounded by native trees and shrubs

inviting the abundant bird life of Wood

Pigeons, Fantails and Bellbirds, and the

magnificent views, makes you feel like

you're on holiday every day of the year.

This very spacious home literally has

many layers. A rumpus room and two

bedrooms on the lowest level, ideal for

teenagers to have their own space or rent

as Airbnb. The laundry, bathroom, and a

bedroom on the second; dining, living and

kitchen on third; while on the upper level

is the main bedroom, ensuite and study.

There are several outdoor spaces, a

paved sheltered barbecue area with the

added bonus of a pizza oven to enjoy al

fresco dining with family and friends, a

deck off the third level for a read of the

paper with a cup of coffee in hand, or the

surrounding area including the stepped

pathway to wander through nature.

Zoned for Cashmere Primary and

Cashmere High Schools and close to all

amenities.

A walkway right outside your door, and

the sense of seclusion and tranquillity on

entering the property, what more could

you ask for.

Open Homes Saturday and Sunday

12:00pm - 12:30pm.

See you at the open home or to arrange

a private viewing of this property call

Debbie Pettigrew on 027 777 0411

from Harcourts Grenadier Beckenham

(Licensed Agent REAA 2008) or phone

the office 337 1316
---
WESTERN NEWS Latest Canterbury news at starnews.co.nz

Tuesday September 24 2019 27

Classifieds Contact us today Phone our local team 03 379 1100

Curtains

Trades & Services

Trades & Services

Trades & Services

Wanted To Buy

Public Notices

www.curtainfabric-outlet.com

Fashion Designs & Colours

Discontinued Designs

End of Lines Bargain Prices

Call at Our Shop

CURTAIN FABRIC OUTLET

71 Hawdon St Sydenham

Ph 366-5026

Gardening

& Supplies

A GARDEN OR

LANDSCAPING TIDY

UP? Shrub, hedge &

tree pruning, Lawns,

Gardening, consistently

reliable general property

upkeep, Dip. Hort. 10

yrs experience, One off

tidy ups or on-going

service. Nick's Garden

Maintenance. Keeping

your garden beautiful.

Free Quote. Ph. 942-4440

& 022 264 7452

Holiday

Accommodation

Australia QLD

SUNSHINE

COAST

RESORT

ALEXANDRA HEADLAND

All Units Have Ocean Views.

Heated Pools, Spa & Sauna,

Free Wifi, Tennis

& Mini Golf.

CHECK OUR GREAT

WINTER SPECIALS

www.mandolin.com.au

0061 7 5443 5011

JUNE to AUG temps 20C

Trades & Services

UPHOLSTERER

dyers upholstery services

(Ex Leacroft St, Bishopdale)

We specialise in

re-upholstering all types of

household furniture

inc squabs.

Trusted craftsman for over

30 years. Fabric samples,

Free quotes, pick up &

delivery.

All work guaranteed.

Ph. 359 5033 or

022 106 0108

GLAZING

Twisty Glass & Glazing LTD

• Mirrors • Pet door specialists

• Splashbacks

THE CAT DOOR MAN

ALL BROKEN WINDOWS

Phone Cushla or Darren Twist

03 352 6225 or 027 352 6225

• New homes

• Extensions

• Renovations

Builder

• Light Commercial

• Repairs and

Maintenance

Brandon Taw

Phone 027 370 2572

enquiries@tawbuilders.co.nz

www.tawbuilders.co.nz

House & Garden

Property services Ltd

Tree and hedge

trimming

Tree removal

Gardening

Landscaping

CALL us 021 405 277

Lawns, Gardens

& Home Cleaning

Free Quotes

Professional, personalised

service. Regular &

one-offs. Fixed price.

Ph: 377-5814

For all your property and

cleaning requirements

Trained, insured & security

screened owner/operators

Multi-award winning

systems & Franchises

Franchises Available

www.viphomeservices.co.nz

PAINTING

• New Homes

• Plastering

• Wallpapering

• Int/Ext

• All aspects of decoration

Small, friendly, local

painting team

Ph: Inline Painting Ltd

Paul 027 254 2499

ROOF

PAINTING

Rope & harness

a speciality,

no scaffolding

required,

30 years of

breathtaking

experience.

FREE QUOTES

Exterior staining,

exterior painting,

moss and mould

treatment and

waterblasting

Phone Kevin

027 561 4629

kitchen renovation

Kitchen looking tired?

Revitalize with new colour at a

fraction of replacement cost

• Alterations & Hardware available

• Laminated Kitchens no problem

• 'On Site' finishing available

• Over 20 years experience

• Free Quotes with no obligation

• All Joinery & Furniture repair & Spraycoatings

PABLO'S PAINTWORKS

27 Birmingham Drive, Middleton

03 338 6280 | 021 541 323

pablospaints@xtra.co.nz

www.pablospaintworks.co.nz

WINDOW TINTING

tintawindow

advanced film solutions

99% uv block

fade protection

heat control

reduce glare

25 Years Experience

privacy films

frosting designs

non-darkening films

Workmanship Guaranteed

Lifetime Warranties on Most Films

UV

block

Free Quotes Canterbury and Districts

03 365 3653 0800 368 468

Trades & Services

rooF

painting

Book now for

Summer and

receive 20%

discount.

Rope and harness

a speciality.

No scaffolding

required.

30 years

experience.

Free quotes,

call Craig

021 060 2392

Trades & Services

BATHROOM

RenOvATiOns

complete service from

start to finish, free quotes,

ph Dave 027 334 4125

BesT BATHROOMs

full renovations

specialists, LBP builder,

free quote, all building

property maintenace ph 03

383 1927or 027 245 5226

ciey@xtra.co.nz

BRiCKLAYeR

George Lockyer. Over

40 years bricklaying

experience.Uk trained.

Insurance work, EQC

repairs. Heritage

brickwork & stonework

a speciality. No job too

small. Governers Bay.

Home 329 9344. Cell

027 684 4046. E mail

georgelockyer@xtra.co.nz

BUiLDeR

New builds, alterations,

decks, fencing. 30 yrs in

the trade has given me

ability to build to a high

standard. Free quotes. Ph

Brent 027 241 7471

CARPeT LAYinG

Exp. Repairs, uplifting,

relaying, restretching.

Phone John on 0800

003181, 027 240 7416

jflattery@xtra.co.nz

eLeCTRiCiAn

Registered, electrical

installation and repairs,

Gorbie Electrical, ph 021

026 73375 or 03 322 4209

GUTTeR CLeAninG

RUBBisH ReMOvAL

Ph 385-4348, 027 274

3541

PAinTinG

Indoor / Outdoor, over 30

yrs exp, same day quotes,

ph Steve 021 255 7968

PAinTeR inT/eXT

Comp rates. Ph 385-4348,

027 274 3541

PLUMBeR

A Top Plumbing job

completed at a fair price,

prompt service, all work

guaranteed, Ph Brian 960-

7673 or 021 112-3492

sTUMP GRinDinG

Best price guarantee Tony

0275 588 895

TiLinG

Flooring - Splashbacks -

Wall incl tile removal, reg

master tiler, ph Dave 027

334 4125

T.v. seRviCe CenTRe

Repairs, tvs, microwaves,

audio amps, soundbars.

.Aerial & satellite

installations, kitsets, 480D

Moorhouse Ave, ph 03 379

1400

vHs viDeO TAPes

& all camera tapes

converted to DVD, video

taping special occasions,

www.grahamsvideo.co.nz

ph 03 338-1655

Wanted To Buy

CASH FOR

STAMPS,

COINS &

GOLD

Free Appraisals

Call Matt at

The Stamp and

Coin Exchange

134a Riccarton Rd

0800 39 24 26

We can come to you.

Call today.

AAA Buying goods

quality furniture,

Beds, Stoves, Washing

machines, Fridge Freezers.

Same day service. Selwyn

Dealers. Phone 980 5812

or 027 313 8156

TOOLS Garden,

garage, woodworking,

mechanical, engineering,

sawbenches, lathes, cash

buyer, ph 355-2045

ADVERTISE YOUR BUSINESS HERE

Phone for further details

(03) 379 1100
---
28 Tuesday September 24 2019

Latest Canterbury news at starnews.co.nz

WESTERN NEWS
---
WESTERN NEWS Latest Canterbury news at starnews.co.nz

Tuesday September 24 2019 29

Authorised by Paul Lonsdale, 8 Cumbria Lane, Halswell, Christchuch 8025

With Your Support,

We Can Do

Better

As a resident I also want to

Restore

local leadership

at the local level

I will fight for

• Cleaner Water

• Lower Rates

• A Safer Halswell

• Financial Responsibility

Vote Paul

LONSDALE

Independent for

HALSWELL
---
30 Tuesday September 24 2019

Latest Canterbury news at starnews.co.nz

WESTERN NEWS

Paul Lonsdale

Is Christchurch shaping up as the city you want it to be?

I am running for Council because I believe we

can do better. Much better.

Halswell is growing fast and we need to

manage that growth. I have lived in this area

most of my life, and I have seen our traffic

become more congested, flooding challenges

increase and water quality decrease.

As an independent Council candidate who

has proven ability of getting things done, I

will represent your voice and not be swayed

by Wellington politics. We need to get back to

better local representation.

With many years of management and

governance experience I have the

knowledge and skills to make our rate

money go further. With your support, I will

work hard to ensure our community's voice

is heard and that we get a better deal for

Halswell at the council table.

I was instrumental in setting up the Re:Start

I am running

for council because

I believe we can

do better.

Much better.

Mall and managing the Central City Business

association during the earthquakes before

serving on the Council from 2013 to 2016.

During my term I helped establish the

Otautahi Community Housing Trust, led

changes to fix the Council's building consent

process as well as gained funding for many

local projects in my ward.

We need a council that is living within its

means again. We cannot sustain the rate rises

that are projected, and I believe we can get

better value for our money.

Communities like Halswell need local

representatives who can get a better deal for

them to address issues like traffic congestion,

water quality, and how future growth is

planned for and delivered.

I have the skills, knowledge, and

experience to get a better deal for

Halswell and Christchurch.

Key Priorities

If elected I will not be under the thumb of Wellington politics and I will restore

local leadership at a local level. Over this last three years we have seen –

Indecision – No Decision – and Poor Decision all of which have increased your

rates and I know we can do better – much better.

I want to bring back action-orientated decision making to drive this city

forward and to stop wasting money.

I am standing on four policy platforms with the fifth being

Sustainability that overarches them all:

1. Cleaner Water

I have lived in this area most of my life, and I have seen our water quality

decrease. We can do better – much better.

2. Lower Rates

With many years of management and governance experience, I will start from

day one working on ways to make our rate money go further.

3. A Safer Haslwell

As a former Chair of the Safer Christchurch committee, I have seen growing

crime and insecurity in our suburbs in the past three years.

4. Financial Responsibility

City Council should be providing the core services to a good standard

before investing the "nice to have" items with our rates money.

I believe a better future is when:

We can look at Christchurch and see a place

that we are proud to call home as New

Zealand's second largest city. We can see that

it offers the next generation the opportunity

to live, work and raise a family here.

We know we have the opportunity to

grow, but we need to ensure growth is at

a sustainable rate and accessible for future

generations to enjoy.

I want to lift the aspirations and restore pride

back to this great city of ours.

Over this last three years we have seen Council

indecision – and more often than not, making

poor decisions. This has led to increased rates.

I know we can do better – much better. That is

why I am focused on sustainably delivering:

Accepting an award for the Re:Start Container Mall project I was involved in

Paul LONSDALE

Independent for Halswell
---
WESTERN NEWS Latest Canterbury news at starnews.co.nz

Tuesday September 24 2019 31

Independent for Halswell

1. Cleaner Water 2. Lower Rates

Good water quality is essential for the health of our people.

One of the most upsetting aspects of this council over the last three years was the

mismanagement of our drinking water. The chlorination of our water supply has destroyed

what was once the best tasting water on the planet.

1. Priority 1 – Continue to develop our

waste and storm water infrastructure

to prevent pollution getting into our

waterways and reduce flooding issues.

2. Priority 2 – Increase waterway and wetland

plantings, working with community

groups to protect our waterways.

3. Priority 3 – Build up the knowledge of

our waterways through monitoring.

Harness modern technology to help us

monitor not only our water but also our

air quality.

With many years of management and governance experience, I will

start from day one working on ways to make our rate money go further.

Over this last three years we have seen indecision and more often than not, poor decisions

from our City Council, which has led to unaffordable rates increases.

I will advocate to:

1. Minimise rate increases

2. Balance the budget

3. Cut wasteful Spending

4. Reduce inefficiencies

5. Sustainable growth

6. Review council staffing levels

My team recieving our Safe City Accreditation

3. A Safer Haslwell 4. Financial Responsibility

I have a bold vision that Halswell is the safest suburb in Christchurch.

1. Priority 1 – Proactive partnerships

between Council, Police and other groups

responsible for delivering safety

2. Priority 2 - Reducing and preventing

injuries by getting our footpaths and road

properly repaired

3. Priority 3 - Reducing and preventing crime

by work with our community and agencies

to identify and respond to crime to reduce

fear and antisocial behavior

4. Priority 4 – Improving our roads and

increasing road safety to reduce crashes

is key given over 53% of crashes occur at

intersections

5. Priority 5 – Building in safety as new

subdivisions are developed around

Halswell, such as better lighting and clear

pedestrian-only areas

To be financially responsible the city needs to make informed decisions

based on facts, what is going to deliver the best value for money and

what is best for the community.

Over this last term, political agendas and ideologies have got in the way of the right

outcome for our community and our city, which has slowed our cities rebuild progress.

As an independent, I will strongly advocate for:

1. Action-orientated decision making

2. Fixing the broken and preparing for the new

3. Reducing council bureaucracy

Cleaner Water • Lower Rates • A Safer Halswell • Financial Responsibility
---
32 Tuesday September 24 2019

Latest Canterbury news at starnews.co.nz

WESTERN NEWS

Family is the heart of our community

Vote Paul Lonsdale

About Me:

I was born in Gore before moving to Invercargill, then Christchurch at the age of

eleven. I have lived in the Southern Christchurch suburbs for most of my adult life

because I believe this is a great part of the city to live in.

I am happily married to Denise and together we have three adult children so I

understand the many challenges families face today and the ever-growing pressure on

household incomes.

As a family man, I want the very best future for my children and if elected as your

Councillor I will work hard to make sure we build a city that remains a great place to

live now and into the future.

I have worked hard all my life and had a variety of roles, so I will bring a lot of life

experience and be a strong voice around the Council table on Halswell issues. Having

been a Christchurch City Councillor I understand the art of advocacy and negotiation,

which is a core part of this role and with your support we can build a better and

stronger community together.

Paul

My Family

Why Vote For Me?

Over this last three years we have seen indecision and more often than not, poor

decisions from our City Council. This has led to unaffordable rates increases and the

continued chlorination of our drinking water.

We need lower rates, cleaner water, safer communities, and more financial

responsibility from our City Council. However, these things require better decisionmaking

and this can only be achieved through Councillors listening to and helping

solve the many challenges facing their local communities.

As a resident of the Halswell ward and an independent candidate who has a proven

ability for getting things done, I want the opportunity to represent our community as

your Councillor. I will not be swayed by Wellington politics and my only focus is that

Halswell remains a great place to live now and into the future.

With many years of successful governance and management experience I have the

knowledge and skills to make our rates money go further and with your vote, I will

work hard to ensure our community's voice is heard at the Council table.

With your support

I believe we can do better.

Much better.

Paul LONSDALE

Independent for Halswell