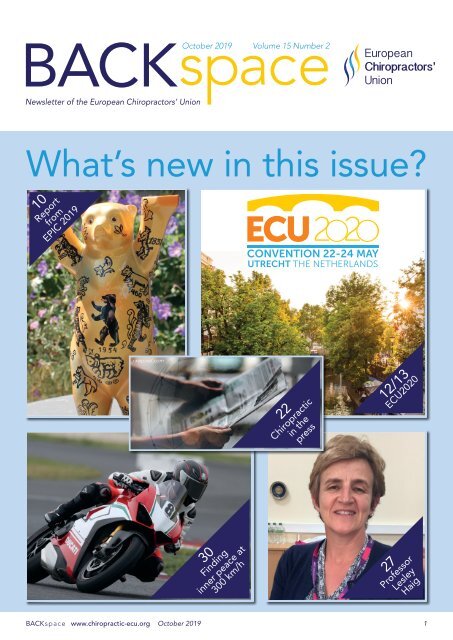 Backspace Oct19
Backspace Oct19
Backspace Oct19
SHOW MORE
SHOW LESS
You also want an ePaper? Increase the reach of your titles
YUMPU automatically turns print PDFs into web optimized ePapers that Google loves.
October 2019 Volume 15 Number 2

Newsletter of the European Chiropractors' Union

What's new in this issue?

10

Report

from

EPIC 2019

CONVENTION 22-24 MAY

UTRECHT THE NETHERLANDS

rawpixel.com

22

Chiropractic

in the

press

12/13

ECU2020

30

Finding

inner peace at

300 km/h

27

Professor

Lesley

Haig

BACKspace www.chiropractic-ecu.org October 2019 1

01-32 Backspace Oct19.indd 1 10/09/2019 16:14
---
SPECIAL

OFFER

Learn The Activator Method

From ANYWHERE in the World

on ANY DEVICE

BASIC SCAN AND EXTREMITIES COURSES ARE NOW AVAILABLE

Experience a virtual seminar at your fingertips!

(Multiple language translations coming soon)

Pause, Stop, and Replay on your own time

as Dr. Fuhr and his esteemed colleagues guide you

through a series of short, interactive training lessons!

NORMALLY

$699/MO

ACCESS TODAY

$299/MO

For either the Basic Scan Protocol

or Extremities course

Try Activator Institute VT TODAY at ActivatorVT.com

activator.com

1-602-224-0220

Activator and Activator Methods are registered trademarks of Activator Methods International, Ltd. in the United States and other countries.

Activator Methods International UK, Ltd.

01-32 Backspace-ActVT-210x297.indd Backspace Oct19.indd 2 1

10/09/2019 7/31/19 12:22 16:14 PM
---
Newsletter of the European Chiropractors' Union

President's message

A perfect vision for the profession

THOSE WHO attended the

ECU/WFC joint Congress

earlier this year will know what

EPIC, the Congress' theme,

stands for. It is about being

Evidence-based, People-centered,

Inter-professional, Collaborative

in the care we provide. Add in to

the equation the misery and costs

created by low back pain (LBP) and

musculoskeletal (MSK) conditions,

and there is a perfect vision and

opportunity for the chiropractic

profession. That is exactly why we

have advanced from a theme of

'EPIC' in Berlin 2019 to a theme

of 'A perfect vision for chiropractic'

for ECU 2020 in Utrecht, The

Netherlands, 22-24 May.

There are recent significant wins

that I find greatly encouraging:

foremost amongst them the

decision of the European Court

of Justice, in late June, following

a legal battle by the Belgian

BACKspace is published twice a

year by the European Chiropractors'

Union (ECU) and distributed free

to all ECU members. Opinions in

BACKspace are not necessarily those

of the editor or the ECU, who reserve

the right to edit all contributions.

The ECU accepts no responsibility for

advertising content.

European Chiropractors' Union,

The Glasshouse, 5A Hampton Road,

Hampton Hill, Middlesex TW12 1JN

Tel: +44 (0) 20 8977 2206

Email: info@chiropractic-ecu.org

Website: www.chiropractic-ecu.org

Edited and produced by

Manya McMahon at

Pinpoint Communication Ltd

www.pinpoint-uk.co.uk

info@pinpoint-uk.co.uk

Tel: +44 (0) 1395 269573

Design and print by Full Spectrum

Print Media Ltd, Basildon, Essex.

To advertise in BACKspace, please

contact Claire Wilmot, Business

Manager at ECU Head Office:

info@chiropractic-ecu.org

© ECU. All rights reserved. Reproduction

of any part of BACKspace is not allowed

without the written permission of ECU.

Chiropractors' Union, that ruled

against the application of VAT

to chiropractic services. It creates

a precedent for all EU countries

and levels the playing field for

chiropractic with services provided

by other health care professionals.

There is also news from the

UK of chiropractors acting as

First Contact Practitioners (FCP),

taking up a new role, integrating

within the country's National

Health Service, relieving some

of the pressure on family doctors

where one in eight appointments

involves an MSK condition. Does

this imply a restricted vision of

what the chiropractor can do? Not

at all! I think that interpretation

would be to misrepresent a golden

opportunity to be seen to come

into the centre of mainstream

health care.

Discussion of a better,

sustainable – name it as you wish

– future is one that started some

time ago. In my closing remarks

at the Berlin Congress I called

upon the profession to coalesce

around a flag, a banner. I called

out for that flag to lead our troops

into battle against the upcoming

MSK epidemic with the EPIC

principles firmly at the centre. And

I stand by that message, stronger

and more determined than ever.

The opportunity provided to us

is one of a kind and should not

be missed. We can re-invent and

modernise our profession as much

as we wish - and so we should - but

ultimately it is the outside world

at large that will determine our

identity. Meanwhile, we clinicians

must keep doing what we always

have done best: the alleviation and

prevention of LBP, neck pain, spine

and MSK conditions.

This issue of BACKspace

features on page 26 a review of

Chiropractic Identity-Building by

Andries Kleynhans. Matthew

Bennett reviews this contribution

"Research to the researchers;

politics to the politicians."

to a debate surrounding identity

that has plagued the profession

since its inception. The key

message I draw from all this lies

in the contrast between "… how

decision-makers, the public and

healthcare professions will decide

our identity for us and how it

will be unsatisfactory compared

with what we can do through

profession-controlled identitybuilding."

We have to give a lead

here or we will be at the mercy of

the waves and wind of a climate

determined by others.

I will continue to work tirelessly

to make sure that our profession

doesn't choose, by default or by

decision, to stand still while we

argue, quarrel and fight about who

is right and who is wrong, which

identity is best, which one respects

our history and tradition, which

one follows the current evidence etc.

The global review of the

chiropractic workforce by

Stochkendahl et.al., as published

recently in the Journal of

Chiropractic and Manual Therapies,

showed that we are still a relatively

small profession that has not yet

reached maturity. Our resources,

human and financial, are limited

and should be handled with

wisdom and care. History teaches

that 'divide and conquer' works

every time, so unless we wish to be

conquered, we'd better concentrate

our energy on working together

towards a common goal and

identity that is beneficial to all

(above all patients/people). A

vision of serving society and the

public's need for easily accessible,

effective, cost-efficient, and safe

MSK primary contact health care

is a goal we can all adopt regardless

of our background, ideology or

philosophical inclination. It will

bring a prosperous and bright

future. The future our profession

deserves.

A last, but vital and significant,

aspect of this vision is that

it will widen the acceptance,

recognition and integration of the

profession, and its related service,

in health systems. That process

will, hopefully and inevitably,

generate more and more rigorous,

relevant research via expanding

access to sources of research

funding. Much-needed research

that will allow researchers to

shed light on all that we don't yet

fully understand and eventually

assist politicians in banishing

unsubstantiated claims and bad

practices to the dustbin of history.

But a vision is just a picture until

it is brought to life. We need more

good evidence from our researchers

and a clear political rallying cry

from our politicians. It is a concept

that I have always firmly supported:

Research to the researchers and

politics to the politicians.

Vasileios Gkolfinopoulos

ECU President

© Øistein Holm Haagensen

BACKspace www.chiropractic-ecu.org October 2019 3

12:22 PM

01-32 Backspace Oct19.indd 3 10/09/2019 16:14
---
ECU news

News from the ECCRE

ECCRE Young

Researcher of the Year

THE SWEDISH researcher in

physical activity epidemiology,

Melker Johansson, was named

ECCRE Young Researcher of

the Year at the joint WFC/ECU

Congress EPIC2019 in Berlin.

He graduated as a

chiropractor from the University

of Southern Denmark in 2015.

Since then, he has been active

in research projects and started

as a PhD candidate in 2017.

His main research interest is in

physical activity epidemiology.

Other areas of interest are

how musculoskeletal pain

can be a barrier to an active

life, the interaction between

musculoskeletal disorders and

other lifestyle diseases and how

physical activity can play an

important preventative role in

public health.

He has published six peerreviewed

scientific papers and

is part of the prestigious CARL

Programme, where talented

early-career researchers get

inspiration and guidance

from eminent leaders in

musculoskeletal research.

His presentation at EPIC2019

was entitled: Does time spent

in stationary behaviours and

physical activity differ between

individuals with and without

persistent musculoskeletal

pain? A descriptive study

using accelerometer-based

measurements of physical

behaviours in the Copenhagen

City Heart Study.

ECCRE awards funding

to five research

projects in 2019

ONCE A year ECCRE invites

researchers from the ECU

member countries to apply

for grants for musculoskeletal

research. The ECCRE board

decided to award research funds

to five research projects in 2019,

based on recommendations from

its Academic Advisory board:

• The relationship between

physical activity, low

back pain and cognitive

impairment. A cross-sectional

and longitudinal analysis of

data from the Danish Twins

Registry – lead researcher

Damian Bailey: €18,805

• A second CARL programme

– lead researcher Jan

Hartvigsen: €51,650

• Phenotyping low back pain - a

prospective observational

pilot study – Lead researcher

Petra Schweinhardt: €56,934

• Growing pains in Danish

children: A quantitative and

qualitative description – lead

researcher Sara Thunøe

Jensen: €107,950

• Spinal manipulative therapy

for acute low-back pain:

systematic review and metaanalysis

– lead researcher

Sidney Rubinstein: €20,155

The total amount awarded in

2019 is €255,494.

First ECCRE-backed

research project

completed

THE FIRST of the 13 research

projects to receive partfunding

from ECCRE has now

been completed. In 2016,

Andreas Eklund and his coinvestigators

embarked on the

research project Chiropractic

Maintenance Care – cost-utility,

psychological factors and pain

trajectories. This has now been

completed.

Melker Johansson

Their research concludes

that chiropractic Maintenance

Care (MC) reduces the number

of days of pain within each

LBP episode among patients

classified as dysfunctional (by the

MPI-S instrument), by limiting

the impact of each new episode,

stabilising the clinical course and

increasing the number of pain

free weeks. Timing of treatment

and patient selection appear to

be key features. Patients with a

predictable clinical pattern, with

episodes with high impact on

life, are good candidates for the

MC intervention.

ECU financial grants

THE FOLLOWING financial

grants were agreed at the

meeting of the ECU General

Council on 20 March 2019:

• A grant of €10,000 to the CAI

(Ireland) to help meet the cost

of consulting senior Counsel

to review the strength of a

possible legal case challenging

the Irish Government's ban on

chiropractors referring patients

for x-rays. The president

of the CAI reported that

senior Counsel had advised

that their case was weak and

would be expensive. It had,

therefore, been decided not to

proceed with a legal challenge.

Attention had been switched

to discussions with the Faculty

of Radiologists to explore a

possible understanding which

would allow chiropractors to

send those patients requiring

x-ray on medical grounds to

radiology departments. Private

hospitals were already accepting

such referrals.

• A request from the AEQ (Spain)

for €44,700 to meet the costs

of a lobbying campaign over

the following three months

to establish the AEQ in the

public mind and government

as a legitimate spokesperson for

the profession. The association

is asking their members to

hold themselves to the highest

educational, professional and

ethical principles, which are in line

with ECU standards. Meanwhile

the GC welcomed the decision of

the Madrid Chiropractic College

to sign the educational statement

by the International Chiropractic

Education Collaboration.

• A request from the NKF

(Norway) for a grant of €40,000

towards the cost (estimated at

€70,000) of a strategic report

to be conducted by Oslo

Economics, a consultancy

trusted by the Norwegian

Government. The report was

to be an empirical study with

exploratory design with the aim

of providing quantitative data

on the overall socio-economic

costs associated with back and

neck disorders in Norway, so as

to provide increased insight into

the field and the chiropractors'

contribution and value within the

overall health service. See page 8.

4BACKspace www.chiropractic-ecu.org October 2019

01-32 Backspace Oct19.indd 4 10/09/2019 16:14
---
Newsletter of the European Chiropractors' Union

ECU news

Be EPIC, be bold

Gerly Truuväärt reports on a meeting at the Estonian Ministry of Social

Affairs in May, when a group of Estonian chiropractors met with the

General Director of the Health Service Department of Health Board, the

Secretary General of Ministry of Social Affairs and Health Board advisers.

THE ESTONIAN Chiropractic

Association became an ECU

member four years ago. With four

chiropractors in the country, an

association was established in order

to start mapping chiropractic as

a profession in the Baltic region.

There are challenges, as there are no

examples to follow or strategy to

adopt, but the biggest advantage of

starting from the ground up is that

you get to build your own road, using

your creativity and vision to be bold

in widening the horizon, especially

where politics involve regulations,

integration and education.

After the Lancet studies were

published in 2018 it became very

clear that we needed to change the

ways in which health care providers

treat and manage LBP and neck

pain. Clearly the few chiropractors in

a country of 1.5m are not enough to

take the load. We need integration of

skills in mainstream health care and

accredited professional education.

There were no questions about

the need for regulation of the

profession; we all shared EPIC

values and vision. Once you talk

about EPIC you don't have to

explain yourself further. With great

respect to the Palmers and the

founding fathers of the profession,

there is no way you could look

straight into the eye of a minister

or neurologist and state that their

historic philosophy and techniques

are what chiropractic remains

today. The Palmers were practising

and developing chiropractic at the

same time as bloodletting was used

for headaches!

During our meeting, I was very

proud to have the Lancet research

in my hand, full support from

the ECU and WFC, and from

Dr Toomas Toomsoo (Director

of Neurology, Tallinn Regional

Hospital), Dr Kadi Lambot of the

Confido Private Medical Centre

and our consultants at Ernst and

Young Baltics. It does take a team to

make a difference and to be heard.

The ministers saluted us in our

efforts of promoting higher quality

standards of care for musculoskeletal

disorders. They were greatly

surprised by the level of chiropractic

education, and we talked about our

vision of having regulation and full

health system integration by 2030.

Our team was wholeheartedly

thanked for broadening their vision

and they offered their support

and contacts for taking next steps,

including starting to organise a

Masters programme of chiropractic

education in Estonia, the first of its

kind in the region.

It is hard to imagine a better

outcome.

© Øistein Holm Haagensen

McTimoney College of Chiropractic

Masters in Chiropractic

j Standard full-time programme

j Unique extended five-year programme with

a delivery mode suitable for adult learners

and career changers

Located in Oxfordshire and Manchester

University validated; GCC and ECCE Accredited

Postgraduate programmes in chiropractic

for children and animals

j MSc Chiropractic (Paediatrics)

j MSc Animal Manipulation (Chiropractic)

The first and only chiropractic College

in the North of England.

Your future is in your hands

For more information please contact:

01235 468 523 336 575

✉ chiropractic@mctimoney-college.ac.uk

admissions@mctimoney-college.ac.uk

mctimoney-college.ac.uk

Your future is in your hands

01235 468 575

✉ admissions@mctimoney-college.ac.uk

mctimoney-college.ac.uk

BACKspace www.chiropractic-ecu.org October 2019 5

01-32 Backspace Oct19.indd 5 10/09/2019 16:14
---
ECU news

ECU lecture to become part

of McTimoney curriculum

ECU PRESIDENT Vasileios

Gkolfinopoulos spoke

to assembled students at the

Abingdon McTimoney campus

on 29 May about how the medical

professions are changing and will

continue to change.

He highlighted how the debates

about Big Data, algorithms

and Artificial Intelligence are

relevant to MSK professionals.

"In the chiropractic profession

we sense change in the air during

discussions about the role of

patient expectations in treatment

and in discussions about the

placebo effect," he said. "We sense

it in research about the origins and

management of pain and, looking

further ahead, in the potential for

gene therapy – particularly for lifethreatening

conditions."

This was the first of what will

become a regular annual feature

in the McTimoney programme

to create an awareness of the

future direction of chiropractic

culture. It provides a new and

revitalised confidence and

strength from knowing that as an

individual clinician you share a

common attitude and approach to

treating MSK disability with the

thousands of other chiropractors

worldwide; a common history and

a common future.

As the Lancet papers reminded

us, musculoskeletal problems are

the number one cause of disability

in Europe, and low back pain

disability alone is greater than lung,

bowel and breast cancer disability

combined, yet current health care

policies are failing to deal with them

effectively. There is an epidemic of

musculoskeletal disability which

hard-pressed family doctors are

already struggling to combat –

with the temptation to reach for

the medicine cabinet, whereas

specialist maintenance care from

chiropractors can bring significant

improvement and, perhaps just as

important, significant hope that

conditions can be managed and life

conditions improved.

The ECU embraces the

importance of continuing

professional development and

its education arm, the European

Academy of Chiropractic, is

working on an exciting new

project under the title GEN-C

(Global Education Network of

Chiropractic). It is a collaborative

project between the Academy, the

Royal College of Chiropractors

and Chiropractic Australia. It

aims to establish a joint venture

network of like-minded chiropractic

educational organisations to

facilitate the production and

dissemination of high-quality

continuing education that focuses

on evidence-based management to

support practitioners in the delivery

of high-quality patient care. It will

be a keystone in staying relevant and

demonstrating fitness to practise.

"I believe," Vasileios told the

students, "that you will go out into

the professional world and will

EAC will bring CPD at

the touch of a mouse

Tom Michielsen, EAC chair, explains.

THE EUROPEAN Academy

is all about education. It

is part of a consortium of the

ECU, Chiropractic Australia

and the Royal College of

Chiropractors working to

improve access to the evidence

base for chiropractic, to be

called GEN-C.

An important and exciting

project that relates to the

development of an online

learning platform for all ECU

member, GEN-C (Global

Education Network for

Chiropractic), will host online CPD

modules by leading experts in

our profession. The EAC special

interest groups have contributed

significantly to the first modules,

which will be evidence based and

clinically orientated.

We will start off with the

following modules:

• Professor David Byfield will

talk you through the evidencebased

approach of cervical

and lumbar radiculopathy

• Ulrik Sandstrøm will repeat

his hamstring module from

the Berlin congress

• Professor Peter Tuchin will

host an extensive up-to-date

review of vertebrobasilar

insufficiency that is a must for

all chiropractors.

The system will be launched

in September 2019

improve the well-being of those

in your communities. I hope that

you will invest in yourself through

CPD, in the world of health care

through collaboration with other

health care professionals, and in

your own profession by asking

yourself not just what you get from

it, but also what you give to it.

"You are the future. Your

actions will determine how

Each ECU member will receive

an e-mail from his/her national

association that will guide him/

her through the application

process and log-on procedures.

Access is free for ECU members

- the cost is incorporated into the

ECU membership fee.

CPD credits

All modules are designed for you

to go through at your own pace

and will have a specific number

of learning hours linked to it. At

the end of a module, a multiplechoice

session will help you with

the learning process. An email

will be forwarded to you when

you have completed the whole

session successfully, to be used

with your local CPD regulator.

Other content

As well as specific topics, there

will be a 'paper of the month'

module. Important research

will be presented with multiple

choice questions added to it

to enhance understanding and

to give more options to obtain

CPD credits. In the future, we

will have input from the authors

themselves linked to these

articles.

Many more modules are in

the production phase and will

be released on the platform

when ready.

healthy the profession is in 10 or

20 years. Today we properly salute

the thought leaders of yesterday.

We bow to those who have

educated us. But I want to issue a

challenge to you; ask yourself what

is the legacy you will leave to this

beautiful profession? In the words

of an ancient Chinese proverb:

One generation builds the street

on which the next will walk."

6 BACKspace www.chiropractic-ecu.org October 2019

01-32 Backspace Oct19.indd 6 10/09/2019 16:14
---
01-32 Backspace Oct19.indd 7 10/09/2019 16:14
---
ECU news

Oslo Economics report calls for action

A SEPARATE

SOCIOECONOMIC

analysis of back and neck

conditions has been published in

Norway for the very first time.

The report, conducted by the

renowned consulting firm Oslo

Economics and partially financed

by the ECU, documents that

back and neck pain are the most

important causes of non-fatal

health loss in Norway.

Back and neck conditions are

widespread in the population

and involve reduced function,

pain and reduced quality of

life. Approximately 1.2 million

individuals (of a total of 5.3

million) annually are affected by

lower back and neck pain, and

these conditions account for about

85% of all muscle and skeletal

disorders.

General practitioners (doctors),

physiotherapists/manual therapists

and chiropractors are the three

main health professionals with

public reimbursement rights and

the right to both refer to specialists

and report sickness in Norway's

primary care system.

Although being a relatively

small profession, the new report

documents that chiropractors treat

32% of all the individual back

and neck patients in Norway's

primary care system, compared

to 51% by the GPs and 17% by

physiotherapist/manual therapists

(with reimbursement rights).

The report documents that

back and neck complaints alone

– conservatively estimated – cost

a staggering NOK 165 billion in

lost health, and charge the health

care system 8.7 billion annually.

Today's ominous state challenges

the sustainability of the welfare

state.

"This issue is extensive and

growing. Knowing that only half

of employed Norwegians keep

working until retirement age, it is

important to address this enormous

health problem for the population

and society, and to take measures

that directly affect the patient

group. Even small improvement

can bring great savings and help

many," says Espen Ohren, President

of the Norwegian Chiropractors'

Association.

"The report shows the need for

new thinking and investments

in the musculoskeletal health

field, including even greater use

of chiropractors' expertise and

availability. Special attention must

be paid to the diagnosis, treatment

and coordination of patients with

back and neck complaints in the

primary health service."

The report was published in

Norway on 28 June 2019. A

full version in English is due in

September 2019.

Report summary

Most people are affected

by back and neck conditions

during life

The cause of back and neck

complaints is often unknown

and/or due to composite factors.

In addition, the type of work

or conditions at the workplace

constitute key risk factors for

the development of back and

neck disorders. Data from the

Norwegian Survey on Income

and Living Conditions show

that the incidence of neck and

shoulder pain amounts to about

40%, while the incidence of back

pain was 37% in 2015. Back

and neck pain is more common

among women than among men;

in the survey, 50% of the women

reported that they experienced

neck and shoulder pain, compared

to 34% of men. For back pain, the

proportion was 40% for women

and 34% for men. The incidence

is generally highest in the age

group 45-49 for both genders.

Lower back and neck pain are the

leading causes of years lived with

disability in Norway.

People with back and neck

conditions have lower

participation in work

Prolonged or chronic back and

neck pain constitute a considerable

burden for the patient, their

relatives and society at large. For

many patients, this type of pain is

of great importance to their ability

to work. People with back and

neck conditions may find it more

difficult to stay at work, while

some fall out of work.

We identified a total of 149,820

unique patients on sick leave

due to back and neck conditions

during 2018, of which 77,971

were women and 71,849 men.

A total of NOK 3.4 billion was

paid in work assessment allowance

for people with back and neck

conditions in 2018. The annual

expenditure on disability benefits

for people with back and neck

complaints amounted to NOK

7.8 million in 2015. In addition,

some employees with back and

neck conditions are less productive

when they are at work (e.g.

because they produce less than

what they could otherwise have

done within a given time frame).

Overall, lower back and neck

pain accounted for almost 126,818

health-adjusted life years lost.

Measured in NOK, this health

loss amounts to NOK 165 billion.

The production loss, due to sick

leave, social security benefits and

reduced productivity for those who

are still in work amounts to NOK

50 billion. The total health service

costs associated with the diagnosis,

treatment and follow-up of patients

with back and neck complaints are

estimated at NOK 8.7 billion.

Health care services and

welfare benefits

Just under half a million people

were in contact with the primary

care service during 2018 and

more than 70,000 people were

in contact with specialist health

services entailing considerable

time and travel cost; about 11.8

million hours was spent in 2018.

This use of health care services

for people with back and neck

conditions includes the use of

diagnostics, treatment, followup,

rehabilitation, use of various

aids and assistance for ergonomic

measures.

Back and neck conditions

constitute a major challenge

for society

Whilst there is a need for researchbased

knowledge on how to

improve the diagnosis, treatment

and prevention of back and neck

conditions in Norway much can

be done already:

• The employer can contribute by

facilitating tailored work tasks

and ways of organising the work.

• The authorities should design

the tax and social security

schemes in such a way that the

individual is motivated to work

when possible. A workplace

provides meaningful tasks and

an important social arena. It is

of great value to the individual

to limit sick leave, which can

quickly lead to persistent

exclusion.

• The health service can

contribute with correct

and timely diagnosis and

knowledge-based treatment. It

will be crucial to implement

measures enabling individuals

to live with back and neck

conditions, and that sick leave

is only provided when it is

medically necessary.

• In recent years, the health

service has increasingly focused

on preventive measures. It will

be important to strengthen

preventive measures for back

and neck complaints, which

mainly include lifestyle

measures such as smoking

cessation, physical activity and a

healthy diet.

8BACKspace www.chiropractic-ecu.org October 2019

01-32 Backspace Oct19.indd 8 10/09/2019 16:14
---
Newsletter of the European Chiropractors' Union

ECU news

CPD survey results

CONTINUED

PROFESSIONAL

Development (CPD) is any

learning outside of undergraduate

or postgraduate studies. It

encompasses a variety of

development and educational

activities which chiropractors

undertake to maintain and

enhance their knowledge, skills,

performance and relationships

in the provision of care. CPD

has been implemented as a

requirement in many health care

disciplines across the world as it

has been demonstrated to have

a positive influence on quality

of care of patients, as well as

practitioner competence and skills.

The EAC is examining CPD

in the profession in a three-part

study. Part one will look at CPD

requirements in each ECU member

country; part two will look at ECU

members preferences as well as

barriers to attending CPD; and

part three will look at CPD being

accredited by the EAC for trends.

The aim of this study is to gain an

understanding of the role of CPD

in the profession, as well as explore

challenges and barriers to CPD

requirement implementation.

The EAC recently completed

part one of the study by sending

out a CPD survey to all ECU

Member Associations. The aim

of the survey was to gain a better

understanding of individual

countries CPD requirements in

ECU member countries. The

response was very good, with

78% (18 countries) of member

associations completing the survey.

Thank you to all the countries

which replied, your assistance is

greatly appreciated.

CPD requirements

CPD requirement

Voluntary CPD submission

No CPD requirement

Number of CPD

hours required

30 hours of CPD

More than 30 hours of CPD

Less than 30 hours of CPD

Fifty percent (9 countries) of

ECU member countries have

compulsory CPD requirements

(see figure 1). Of the countries

which have a CPD requirement,

56% (5 countries) have a

requirement of 30 hours per

year which is in keeping with

the EAC recommendation for

CPD hours (see figure 2). Of the

ECU member countries which

have a CPD requirement, 33%

(3 countries) require CPD for

registration as a chiropractor.

In 78% (7 countries) of ECU

member countries, CPD is

submitted to, and regulated by

the National Associations. 22% (2

countries) have separate regulatory

bodies which regulate CPD. All

countries submit CPD attendance

certificates, however some countries

require additional reflective pieces

of work or learning cycles to

complete the CPD requirement.

In 89% (8 countries) CPD

submissions are evaluated in some

form either by the regulatory body

or National Association. Percentage

of submissions evaluated, or

evaluation criteria were not

explored in this survey.

The countries which do not

have a CPD requirement were

asked if there were plans to

implement a CPD requirement

in the future. Whilst 11% (1

country) indicated that CPD

requirements were in the pipeline,

the remaining 89% (8 countries)

indicated that there were no plans

to implement CPD requirements.

One country stated that members

of the national association

opposed CPD requirements, while

another indicated that trying to

get members to engage with CPD

was a problem.

In summary, out of 18 ECU

member countries:

• 7 countries have requirements

of 30 or more CPD hours per

year.

• 3 countries have a CPD

requirement to register as a

chiropractor in the country

The aim of CPD is to maintain

quality of care and improve

standards of treatment, which

should be what we, as a profession,

are striving for. For the countries

who are looking to implement

CPD requirements, even as a

voluntary submission and would

like support or guidance on how

to do so, please contact the EAC.

Jacqueline Rix (EAC

Educational Development)

© O H Haagensen

"The aim of this study is to gain an understanding of the role

of CPD in the profession, as well as explore challenges and

barriers to CPD requirement implementation"

BACKspace www.chiropractic-ecu.org October 2019 9

01-32 Backspace Oct19.indd 9 10/09/2019 16:14
---
Congress

REPORT FROM EPIC 2019 – GLOBAL OP

The workshops are an essential part of the Convention – bringing an extravaganza of up-to-date

techniques and practice. The European Academy of Chiropractic is the beating heart of this body

of knowledge. Here's a selection of what was on offer.

Ulrik Sandstrøm gave a

masterclass on hamstring injuries.

He guided delegates through three grades of

injury. Grade 1 is on overstretching but no

tearing of the muscle or the tendon. There is

no pain during activity, but pain starts after the

activity. Strength and flexibility stay good. There

is possible presence of tightness during sitting and

descending or ascending stairs or steep terrain.

Grade 2 shows a partial tear of the muscle.

Strength and/or flexibility is reduced. There will

be immediate pain on activity. Pain is present

with stretching and muscle testing. Limping is

very likely while walking and the knee may be

slightly flexed. Swelling and discoloration due to

bleeding is present.

Grade 3 displays the presence of a severe

or complete tear. There will be severe sharp

pain, and a swelling and depression are visible.

Walking shows a limp. Bleeding is prominent.

May need surgical repair.

© O H Haagensen

Vasileios Gkolfinopoulos,

President, ECU

In short, what I believe that EPIC stands

for is throwing away the clothes that have

been in our wardrobe for many years which

no longer fit and choosing the clothes of

tomorrow. As chiropractors we should want

a better tomorrow, not a better yesterday.

© O H Haagensen

Igor Dijkers gave a general

overview of the definition of

concussion, post-concussive

syndromes and the epidemiology

in this area. Mild traumatic brain

injury (mTBI) is a common public

health concern that affects

millions of people each year.

Matthew Antonucci explained that as no two

brains are exactly the same, every patient is

a study of one. He provided tools to assess

patients, including the Trail Making Test which

is sensitive to detecting cognitive impairment,

and the Go/NoGo Test where the patient is

tested for capacity for sustained attention and

response control.

Nicole Oliver rounded off the

session with some tangible tips for

rehabilitation. One example was

Saccadic Eye Movement Exercises.

She stressed that as with most neurorehab

exercises, patients should practise little

and often, and stop before the point of fatigue.

In a tribute to the Berlin Film Festival,

EPIC 2019 awarded its own Berlin bears.

The EPIC journey will continue in ECU 2020 – A PERFECT

VI

10BACKspace www.chiropractic-ecu.org October 2019

01-32 Backspace Oct19.indd 10 10/09/2019 16:14
---
Newsletter of the European Chiropractors' Union

Congress

L OPPORTUNITIES IN SPINE CARE

© O H Haagensen

Sue Weber, Amy Miller, Aurelie

Marchand and Lise Hestbaek

presented on behalf of the

EAC special interest group for

paediatrics.

Did you know that when a child is overweight

at 6-7 years old, it is very, very likely that they

will be overweight adults, especially girls? The

biomechanical consequences, the endocrine

changes, the psychological changes and many

others will influence these children throughout

the rest of their lives. And it is not as simple as

energy in equals energy out.

The session gave insights into the

epidemiology of paediatric obesity, prevention

of obesity in pregnancy, breastfeeding and

early nutrition, anatomical and biomechanical

considerations in obese children, physical

activity, obesity and MSK health together

with chiropractic treatment options, and a

rehabilitation programme for children with

suboptimal motor patterns.

Identifying and managing

psychosocial factors in spinal

pain was presented by David

Byfield, Jonathan Field, Tim

Raven, and Stuart Smellie.

The workshop was valuable in helping the busy

practitioner identify some of these factors.

Simple, easy to administer questionnaires were

discussed as well as the types of questions that

can be asked to open up a conversation around

these issues.

Of particular value was the plethora of simple

interventions that can be used with patients who

exhibit these factors. The interactive nature of

this workshop was revealing in terms of the wide

disparity of knowledge of these interventions

amongst delegates.

© O H Haagensen

T VISION FOR CHIROPRACTIC – UTRECHT MAY 22-24

BACKspace www.chiropractic-ecu.org October 2019 11

01-32 Backspace Oct19.indd 11 10/09/2019 16:14
---
Congress

ECU2020 Utrecht

Gitte Tønner, academic organiser and president of the

Netherlands Chiropractors' Association, offers a preview

THE NETHERLANDS is a little big

country – historically an entrepreneurial

powerhouse and now a modern melting pot.

We're 17 million colourful people living on a

very small piece of land; making islands where

there weren't any and mastering the forces

of water. The Netherlands Chiropractors'

Association (NCA) is similarly colourful and

multi-cultural (300 members from 13 countries

and 20 chiropractic institutions), and more

recently full of entrepreneurial spirit (we'll have

a surprise for you, but you'll have to come to

Utrecht to hear about it).

The NCA is proud to co-host the 2020

ECU Convention and besides hoping you'll

be inspired by the academic programme, we're

very excited to have you participate in our

local night. This will kick off with a boat ride

on the canals of Utrecht, and drop you off

for a culinary journey in a two-storey canal

house where taste sensations will be countered

with musical ones – we have secured the

ever-popular Audible Release for a special

performance not to be missed!

The theme of the convention is A Perfect

Vision for Chiropractic. The presenters have

been chosen for their expertise in their fields

– a fair number from outside the chiropractic

profession. This is in line with the perfect vision

we have for chiropractic - because we naturally

collaborate and share knowledge and insights

with numerous other clinicians and researchers,

as part of a global movement to improve the

health of our patients.

You'll recognise names such as Sidney

Rubinstein, Greg Kawchuk, Pierre Côté, David

Byfield and Dave Newell – and hopefully,

you'll be curious to see what the new faces on

the stage have to offer, including Lesley Haig,

Michael Freeman, Adam Toulon, Michael

Pierce and Jamiu Busari. There will be the

latest insights in pain, surgery, rehabilitation;

hands-on workshops with our popular

Ulrik Sandstrøm; the European Academy of

Chiropractic's Special Interest Groups will

present their most encouraging advances –

and we'll have some fun and interaction with

Kahoot! You'll have a chance to catch up with

colleagues and have conversations with your

chiropractic research heroes around the poster

exhibition.

In short: what you'll experience at the

ECU2020 Convention is that we're right where

we want to be: chiropractors as equal partners

in lifting the burden of MSK issues. That, to

us, makes this convention A Perfect Vision for

Chiropractic.

Equipment for Chiropractors - Sales & Service

• Chiropractic tables from Lloyd, Atlas,Thuli, Zenith and Gyrst Fusion

• Gonstead: Knee Chest, Pelvic Bench

• Cervical Chair designed by Peter Gyrst

• Service of all tables

• Reasonable prices on renovated tables and well-equipped stock

• Shock wave equipment from EMS og Richard Wolf

• Purchase or leasing

www.flmedical.dk

+45 8644 5122

MEDICAL

backspace annonce.indd 1 06-08-2019 14:28:44

12 BACKspace www.chiropractic-ecu.org October 2019

01-32 Backspace Oct19.indd 12 10/09/2019 16:14
---
CONVENTION 22-24 MAY

UTRECHT THE NETHERLANDS

ECU2020 is about being right where we want to be

– equal partners with other health care professionals and

researchers in lifting the burden of MSK complaints.

A Perfect Vision for Chiropractic

22-24 May, Utrecht, The Netherlands

UTRECHT

Save the date – registration opens on 15 October

www.chiropractic-ecu.org/ECU2020

01-32 Backspace Oct19.indd 13 10/09/2019 16:14
---
Research

Research Corner:

Questions raised by the update of

the Cochrane review

IN THE previous edition of my

column, I devoted attention to

my update of the Cochrane review

on the effect of spinal manipulative

therapy (SMT) for chronic

low-back pain. We concluded

that: "SMT produces similar

effects to recommended therapies

…, whereas SMT seems to be

better than non-recommended

interventions for improvement in

function …" 1 Seemingly, a positive

conclusion, suggesting that SMT

is certainly on-par with other

commonly prescribed interventions

for the treatment of chronic

low-back pain. Unfortunately,

not everyone was happy. One

active Tweeter took issue with the

observation that there is a small

difference between the effect of

SMT and sham SMT (or placebo),

therefore, questioning the efficacy

of SMT. 2 In the days that followed,

a Twitter firestorm was unleashed.

This raises an important

issue. How is it possible for an

intervention such as SMT to be

equally effective as recommended

therapies, including exercise, yet

essentially no different than sham? Is

this evidence of ineffectiveness of all

treatments for low-back pain? These

are difficult questions to answer

which I will attempt to explain.

Efficacy vs effectiveness

Intervention studies can be viewed

to be on a continuum, progressing

from efficacy to effectiveness trials.

Trials of efficacy are designed to

examine an intervention under

ideal and controlled circumstances,

such as in a laboratory, whereas

trials of effectiveness are designed

to examine an intervention under

'real-world' conditions. In order

to examine efficacy of SMT, it is

important to 'blind' patients as in

pharmaceutical trials. 'Blinding'

reduces bias by eliminating patient

beliefs about a given therapy.

We know that patient beliefs

influence the manner in which

self-reported (subjective) outcomes

are measured. Think about it, if

you were a participant in a RCT

and were offered a (potentially)

effective medication or a sugar

tablet and knew to which arm of

the study you were assigned, it

is unlikely that you would assess

your outcomes equally. This is

particularly relevant for low-back

pain because most of the outcomes

which we measure are subjective

(e.g. pain, functional status).

We choose for these outcomes

because it is more important to

know how the patient feels or

thinks about their pain rather

than to focus on other types

of measures or physiological

outcomes, such as range-of-motion

or electrophysiological measures.

The problem is, SMT is a handson

therapy, meaning subjects

cannot be adequately blinded. In

the case of a SMT vs sham SMT

trial design, patients are likely

to decipher which therapy they

received, and thus give a biased

view of their outcomes. Given

this, it could be argued that these

trial designs are flawed and we

should focus on pragmatic trials,

such as when SMT is compared to

physiotherapy or standard GP care

(i.e. effectiveness). Both designs

are relevant and answer different

questions, but have their own

inherent forms of bias.

So what is the ideal trial? Does

that even exist?

Problems with the

present approach

Given the above, it is perhaps not

unremarkable that the 'ideal' trial

on SMT has not been conducted,

nor is it likely to ever be conducted.

Even the UK BEAM trial which

included >1,300 patients left

many questions, as is illustrated

by the letters to the editor. This

highlights some fundamental

problems in the present approach

to low-back pain. For example, we

treat aspecific low-back pain as if

it is one (homogeneous) condition

when clearly it is not. Furthermore,

some subgroups of patients are

"SMT is a hands-on therapy,

meaning subjects cannot be

adequately blinded"

more likely to benefit from a

specific therapy than another; the

basis for 'personalised medicine'.

The problem is, identifying these

subgroups remains somewhat

elusive. Consider also the

following: one might expect that

trials of SMT would only include

those with a 'manipulable lesion'

or fixation. After all, I believe this

is the fundament of what we are

treating. Aside from the problem

of how this would be objectively

defined and identified, I don't

believe that this has ever been

considered an inclusion criteria.

Problems also include presentation

of the data. An often-heard

comment is that we present results

for the 'average' participant, yet

ignore those who clearly benefit.

One manner to circumvent this

problem would be to express

the results as % improvement

(e.g. 30% or 50% reduction in

pain). I am happy to see that this

is reported in the more recent

trials. Other problems include the

measures used to assess outcomes:

they might not be 'sensitive'

enough to detect real change.

Subjects typically begin in the lower

half or lower quarter of the pain

and disability scales, respectively,

reflecting a phenomenon known

as the 'floor effect'. The list goes

on, not to mention attention for

the contextual factors surrounding

treatment, but I will leave that to

my good friend, David Newell.

What does this mean for you,

the clinician? The update of the

Cochrane review probably won't

change the way you practise.

It does, however, make clear

that SMT appears to be equally

as effective as recommended

treatments, such as exercise. It is

another piece in a puzzle, albeit in

my opinion, a large piece. Perhaps

most importantly, it can help

convince those who are sceptical. It

can also facilitate conversations with

policymakers and governmental

agencies where SMT/chiropractic

care is brought into question.

Sidney Rubinstein, DC, PhD

References

1 Rubinstein SM, de Zoete A, van

Middelkoop M, Assendelft WJJ, de

Boer MR, van Tulder MW. Benefits

and harms of spinal manipulative

therapy for chronic low-back pain:

systematic review and meta-analysis.

BMJ 2019;364:l689. http://dx.doi.

org/10.1136/bmj.l689

2 https://www.bmj.com/content/364/

bmj.l689/rapid-responses. See

O'Keeffe and O'Connell

14 BACKspace www.chiropractic-ecu.org October 2019

01-32 Backspace Oct19.indd 14 10/09/2019 16:14
---
Newsletter of the European Chiropractors' Union

Research

Barcelona College faculty member wins

VII Queen Maria Cristina research award

MARSHALL DELTOFF,

radiology instructor at

Barcelona College of Chiropractic,

was recently awarded the

VII Queen Maria Cristina

International Research Award.

Dr Deltoff's winning paper, One

Profession – but not one oath; a new

survey revisiting the chiropractic

oaths, studied and analysed the

various oaths used at the 45

chiropractic colleges worldwide,

and proposed the composition of

a singular universal chiropractic

oath.

The award of €3,000 was

presented to Dr Deltoff at the

sponsoring institution, the Real

Centro Universitario Escorial

Maria Cristina, in San Lorenzo de

El Escorial, Spain, by Reverend

Father Marceliano Arranz

Rodrigo, Order of San Augustín,

Rector of the Royal College of

Higher Studies and Director RCU

Escorial - María Cristina. The

university is also the site of the

Madrid Chiropractic College.

Conference on work

disability prevention and

integration a huge success

MORE THAN 200

researchers took

part in the Work Disability

Prevention and Integration

Conference (WDPI) 2019 at

the University of Southern

Denmark from June 4 to June

7. The conference was a huge

success and highly appraised

by the many participants from

the international research

community on work disability

prevention and integration.

The WDPI Conference

is a biennial conference

activity of the WDPI Scientific

Committee of the International

Commission on Occupational

Health (ICOH). It serves as

an international forum for

research and knowledge

exchange in the field of work

disability prevention and

integration, addressing issues

in both developed as well as

developing countries.

The theme for this year's

conference was Work and

health in an integrated life

course perspective. The

academic programme featured

several relevant and interesting

keynote speeches by leading

researchers in the field as well

as many smaller sessions on

work disability prevention and

integration and a poster session

and awards: the Dr Patrick

Loisel Award for the best

presentations was awarded to

Michiel Greidanus and the Best

Poster award was awarded to

Kaat Goorts.

During the conference the

speakers and participants

addressed the labour market

entry in the early years of

work life; work retention or

work re-entry when disease

and life circumstances impact

workability, and the exit from

the work force in the late stages

of work life. They did this

through a transdisciplinary and

evidence-based perspective,

and through personal, cultural,

social, health care and legal

lenses.

The conference was

organised by the University

of Southern Denmark and

the National Research Centre

of the Working Environment

and chiropractors Mette

Jensen Stochkendahl and Jan

Hartvigsen.

l-r Reverend Father Marceliano Arranz Rodrigo, Marshall Deltoff,

Ricardo Fujikawa, director, Madrid Chiropractic College

The acute effects of joint

manipulative techniques on markers

of autonomic nervous system activity:

A systematic review and meta-analysis

of randomized sham-controlled trials

MANY CHIROPRACTORS

and osteopaths think that

joint manipulative techniques,

especially spinal manipulation,

can influence the autonomic

nervous system, but what does

the literature reveal on this topic?

We did a systematic review of

studies comparing autonomic

activation following a mobilisation

or a thrust manipulation to

that of a sham procedure. The

results showed that some types

of mobilisations did increase

skin sympathetic nerve activity

regardless of the 'treated' area,

as shown by an increase in skin

conductance (i.e. sweating).

This finding is interesting in

an experimental context but

has limited clinical relevance.

Our results also showed that

a spinal (high velocity low

amplitude) manipulation

may have no acute effect on

autonomic activity. There are

still gaps in our understanding

of this topic, so there will likely

be more research needed to

make these conclusions more

certain. Regarding the current

state of knowledge, our main

message for chiropractors and

other manual therapists is that

the use of spinal (high velocity

low amplitude) manipulation to

obtain specific acute effects on

the autonomic nervous system

is not supported by scientific

evidence.

Read the full article at

https://tinyurl.com/yyud3tmn

BACKspace www.chiropractic-ecu.org October 2019 15

01-32 Backspace Oct19.indd 15 10/09/2019 16:14
---
Education

London-based MChiro programme

completes its first year

Mark Thomas writes from London South Bank University (LSBU)

WE WERE very pleased to welcome our first cohort of 15 students

to the four-year Integrated Masters in Chiropractic (MChiro)

programme at LSBU in September 2018. At the time of writing, it is

expected that our second cohort this September will be a further 25

students. LSBU is based in the heart of London, with great views over

some the city's landmarks, including the London Eye, The Shard and

the Houses of Parliament. The University, as you would imagine, is very

diverse and is home to 18,000 students from over 130 countries.

The University started as the Borough Polytechnic in 1982 and has

developed into an outstanding Higher Education Institute with significant

research output. LSBU's focus has always been in vocational training and

equipping students to meet the challenges of the workplace. The University

has won The Times University of the Year for Graduate Employment for the last

two years running. Our programme collaborates with local clinics, requiring

students to observe and engage with practising clinicians throughout every

year of study. We have been overwhelmed with the support from local

clinics looking to help support the education of future colleagues.

The MChiro programme sits within the Department of Allied

Health Science, home to the following specialities; physiotherapy,

sports rehabilitation, radiography, occupational therapy and operating

theatre practitioners. As such, both staff and students experience a truly

interprofessional environment. During year 1, all allied health care students

embark on a Concepts of Interprofessional and Collaborative Practice module.

This module requires students to work in interprofessional learning sets and

to be taught and assessed by both lecturers and patients.

The students have already exceeded our expectations and received

excellent feedback from the placement providers. In addition, they have

started a World Congress of Chiropractic Students (WCCS) chapter

and were recently accepted as a member at the WCCS 2019 AGM in

Brisbane, Australia. We thank our president, Alison McLuckie and Vice

President, James West for all their dedication and hard work.

Meanwhile, the University has joined the International Chiropractic

Education Collaboration and strongly supports its focus on evidencebased

practice.

We are still recruiting for September 2019 and look forward to the

growth and development of the programme. For further information,

please visit www.lsbu.ac.uk or contact me mark.thomas@lsbu.ac.uk or

the Professional Lead, Mark Langweiler langweim@lsbu.ac.uk directly.

ECCE updates processes of evaluation

THE EUROPEAN Council on Chiropractic Education (ECCE) has

been undergoing intensive internal evaluation and analysis of

its policies and procedures. One important outcome of this is the

expansion of the maximum time frame for re-accreditation from five

years to eight years. The expanded maximum re-accreditation time

period also provides flexibility to facilitate joint accreditation events

with national accrediting agencies where possible.

In order to reduce possible subjectivity in assigning re-accreditation

time periods, the ECCE undertook a study to identify which of

the 37 standards should be more heavily weighted in determining

accreditation and length of accreditation. This new policy has been

successfully applied to the most recent accreditation events. The full

paper (The European Council on Chiropractic Education identification

of critical standards to accredit chiropractic programmes: a qualitative

study and thematic analysis) is available on the ECCE website (http://

cce-europe.com) or at J Chiropr Educ 2019;00(0):000–000 DOI

10.7899/JCE-18-21.

The ECCE is the only chiropractic-specific accrediting agency in

the world to include students as full members of council as well as

evaluation teams. This too has been assessed to investigate and

improve the effectiveness of student members in these roles in

the following study: Is there any benefit to adding students to the

European Council on Chiropractic Education Evaluation Teams and

General Council? Survey Feedback from Stakeholders.

Findings from the study led to new training materials and formal

training events for new student members of Council as well as to

expanding the eligibility of student members to include those in

recognised post-graduate programmes. This allows their time on

Council to be extended beyond one or two years. The study will be

placed onto the ECCE website in the near future.

Cindy Peterson, ECCE Quality Assurance

16BACKspace www.chiropractic-ecu.org October 2019

01-32 Backspace Oct19.indd 16 10/09/2019 16:14
---
Newsletter of the European Chiropractors' Union

Education

SPCE Annual Lecture –

May 2019

Report by Satjit Singh

WHO KNEW that a world-famous heart

surgeon liked bungee jumping? Our

keynote speaker did just that. When on a foreign

trip he passed a sign that advertised free bungee

jumping for the over seventies, he couldn't resist!

The other speakers at the Society for

Promoting Chiropractic Excellence's (SPCE)

Annual Lecture did not recount such

adventurous stories; they did nevertheless

inspire, cajole and exhort the invited audience

of leaders of the chiropractic profession, to

reach for a vibrant future and destiny.

The keynote speaker was Sir Terence English,

former president of both the British Medical

Association and the Royal College of Surgeons.

He has been a great friend and supporter of the

chiropractic profession and it was his support that

led to the establishment of the Royal College of

Chiropractors in the UK. His support continues

and his desire to see chiropractors working as part

of mainstream health care shone through.

"Both painted vivid

pictures of their

experiences"

The two other speakers, Ken Vall, president

of the European Council on Chiropractic

Education (ECCE) and Aurelie Belsot,

former president of the Turkish Chiropractic

Association, both painted vivid pictures of their

experiences and pointed the way for a brighter

future. All the lectures are on the SPCE website.

The audience included key figures from the

world of chiropractic. Vivian Kil was there,

in one of her first roles as interim president of

the WFC, along with Richard Brown, WFC's

secretary-general, Rishi Loatey (treasurer) and

Ian Beesley (secretary-general) of the ECU. We

grabbed the opportunity and asked Vivian to

present mementos to the speakers; this she did

most graciously.

Other well-known figures from the European

chiropractic associations lent their support to the

evening: Catherine Quinn (UK), Gitte Tønner

(Netherlands), Bart Vandendries (Belgium),

Tony Accardi (Ireland), Baiju Khandanchani

(Italy), David Fontova (Spain). In addition,

leading chiropractors from the UK were also

present. Other guests included the chairman of

Leicestershire University Hospitals Trust; the

deputy chair of trustees, London University as

well as the chair, chief executive and director of

education of the General Chiropractic Council.

The proceedings began with a review of SPCE's

activities during the past year as well as the plans

and aspirations for the future in Europe and

beyond. Peter Dixon, in a rousing speech, with

more than a nod to Nehru's Tryst with Destiny

address when he became the first prime minister

of independent India, exhorted the profession to

scale higher peaks and continually strive for the

well-being of the patients and the profession.

Matthew Bennett introduced all the

speakers with his inimitable humour. Sir

Terence lauded SPCE's ambition to grow

the profession by expanding chiropractic

education in universities and supported the

principle of inter-professional learning. He also

suggested that chiropractors share knowledge

of their profession and collaborate with other

professions such as orthopaedic surgeons and

those involved in pain management.

Ken Vall highlighted the scarce resources

available for expanding chiropractic education

and called on educational institutions to

collaborate by sharing resources. Following

on from his talk, the SPCE and the Royal

College of Chiropractors, along with existing

UK schools, are taking forward an initiative to

explore how this can be achieved. He also called

for more innovation in chiropractic education

and for the profession to fund it with at least as

much enthusiasm as it funds research.

Aurelie Belsot spoke eloquently about the

challenges in establishing a university-based

chiropractic programme in Turkey, a country

where the profession is still in relative infancy.

The nods around the room indicated that

the Turkish experience struck a chord with

many who are still trying to get an education

programme started in their countries. Aurelie,

an enthusiastic presenter, was the only speaker

of the evening to require a bleep on the video.

The live audience loved the uncut version!

The formal part of the evening ended with

the announcement that SPCE's chairman,

Major General David Howell was stepping

down due to other commitments; he would,

EAC to develop

GEP template

THE EUROPEAN Academy of

Chiropractic (EAC) organised a

workshop on the national Graduate

Educational Programmes (GEP) at the

EPIC2019 conference in Berlin in May. The

GEP representatives for each member

nation were invited to participate in

a three-hour session with the aim of

discussing the findings of a recent GEP

survey, the perspective and barriers for

future development of GEPs and to share

experiences about how to successfully

overcome such barriers.

The workshop was started off by

two guest speakers, Jens Jacobsen

(Denmark) and Michael Schneider (USA),

both of whom have unique experiences

and insights as pioneers in establishing

clinical and educational programmes for

chiropractors.

As evident from the GEP survey, the

current situation is one of considerable

heterogeneity between ECU member

nations: roughly half have established

GEP programmes of varying scope and

extent in place. The other half have no

such programmes and the majority of

those countries report having no serious

ambitions to develop a GEP in future.

In light of this very mixed state of

affairs, it was the general consensus in the

workshop that a one-size-fits-all solution

to GEP programme development was

unrealistic. Instead it was considered that

a viable way forward would be for the EAC

to produce a generic GEP programme

template, which could be made available

to, and adapted by, individual member

nations, as and when they decide to

pursue such development. The EAC will

undertake this work in the coming months.

The survey results can be seen at

https://internus.shinyapps.io/GEP2019/

however, continue to be involved as a member

of SPCE's Advisory Board. Tim Lang, a lawyer

and a leading light in health regulation, was

announced as the new chairman; he will start

this role in September 2019.

Following the vote of thanks, everyone

retired to join the drinks reception to network

and enjoy the evening.

BACKspace www.chiropractic-ecu.org October 2019 17

01-32 Backspace Oct19.indd 17 10/09/2019 16:14
---
Education

Addressing the shortage of

chiropractors

THERE IS a world shortage of chiropractors highlighted by a new report.

The chiropractic workforce: a global review draws attention to the scarcity

of chiropractors especially in parts of Europe and developing countries.

Whilst the USA, Canada and Australia have a relatively good proportion of

chiropractors for the population the rest of world is poorly served.

Most of us working away in a busy practice might find hard to see the

vulnerabilities of the profession in a global context. But we should care

if we want chiropractic to thrive over the next 50 or even 100 years. We

must take steps now to secure our legacy and bring chiropractic to the

whole of Europe and beyond.

Most European countries have a tiny number of chiropractors and

a poorly developed profession. A government is not going to bother

regulating a profession with a handful of practitioners. Besides state

regulation, access to state funded health care, research and undergraduate

training are the hallmarks of a mature profession and, with a few

exceptions, we are a long way from this. Even in countries with relatively

well-developed legislation and institutions like the UK, a sustainable

future is not assured as growth in numbers of chiropractors has been

static for several years.

The growth of the profession in Europe has also been static. There

are around 6000 chiropractors under the arc of the ECU and this hasn't

changed much in a decade. Other professions have grown while we have

been sitting on our hands. Osteopathy in France is booming with over

20,000 listed. In Italy there are 6000 osteopaths and around 25 educational

institutions according to the Forum for Osteopathic Regulation in Europe

(FORE). The Netherlands has 600 osteopaths or so.

It is wonderful that most of us will live to an age that our grandparents

could never imagine. Better living standards, improved public health and

universal access to health services have all helped. This is excellent but

living longer means that we are likely to be working longer. It also means

that for us to enjoy that longevity, we need to live active, fulfilling lives.

Too many people are afflicted by musculoskeletal pain mainly in the

back and neck. This not only has physical implications, but like so many

chronic problems, has effects on mental health too.

Musculoskeletal problems are responsible for 30% of visits to a GP and

have an enormous impact on the quality of life of millions of people. The

health care system, already under so much strain, has to cope with the

burden of an increasing number of people presenting with MSK issues;

besides, the economy certainly cannot afford to lose so many working-days.

Not only are we faced with an increasing MSK burden, we also lack the

health care resources to deal with it. In the UK, the National Institute for

Health and Care Excellence (NICE) recommends manipulation as part of

the package of care to deal with back pain and the package of care offered

by chiropractors helps many other musculoskeletal conditions; however,

we only have 3,300 chiropractors for a population of 67 million. We

need more, many more. At our existing rate of growth, it will take the

UK over 175 years to reach the Canadian levels of penetration, i.e., one

chiropractor for 4,000 people. Besides, not only do we have an ageing

population, our health workforce is also ageing.

Until recently there were only three universities in the UK offering

chiropractic degrees, the most recent of which opened 20 years ago.

Many secondary schools are not even aware of the profession to make

it available as a choice to their students. That is why the Society for

Promoting Chiropractic Education (SPCE) was established last year.

Launched by George Freeman MP, former Life Sciences Minister and

Chairman of the Prime Minister's Policy Board, it aims to encourage

school leavers to consider a career in chiropractic; whilst simultaneously

working with universities to offer chiropractic degree programmes.

Successes so far include getting London South Bank University to

launch a new four-year masters course in chiropractic; they admitted

students to the programme in September 2018 (see page 16). SPCE was

also successful in persuading Teesside University, in north-east England,

and the University of Central Lancashire, in north-west England, to

start MChiro programmes in 2020. These universities boast world-class

facilities. What is especially important is that these new courses will

be based within their existing health faculties and, students will learn

in multi-professional settings alongside others studying physiotherapy,

nursing and occupational health, etc. This will ensure that future

graduates understand how they fit into the wider health landscape.

We are also planning new programmes in poorly served geographical

locations in Europe. In addition, we stand ready to help those in other

European nations who want to establish chiropractic degree programmes

in their countries. SPCE has been advising the chiropractic associations

in the Netherlands and Belgium on starting their own programmes as

well as assisting the Chiropractic Association of Ireland in approaching

universities there.

If we are to assure a vibrant future for chiropractic as a profession

and for chiropractors, we need to tackle the shortage of chiropractors

in Europe and beyond. Chiropractic organisations, associations and

decision-makers in health must make this a priority to ensure that

patients with MSK problems get the care they need.

Matthew Bennett

Read the report at https://tinyurl.com/y6eo32jl

18BACKspace www.chiropractic-ecu.org October 2019

01-32 Backspace Oct19.indd 18 10/09/2019 16:14
---
ECU SECRETARY GENERAL – APPLICATIONS SOUGHT

THE ECU SECRETARY GENERAL, IAN BEESLEY PHD, IS STANDING DOWN AT THE END

OF MAY 2020 AFTER 5 YEARS IN POST AND APPLICATIONS ARE INVITED FOR THE

POSITION ON A ROLLING 2-YEAR CONTRACT FROM 1 JUNE 2020.

Ian has made a marked improvement in the professionalism of the Union and in the support

provided to the elected officers. In November the General Council will have a first discussion

of a report by a review group that has been working on a strategy for the ECU 2019-2023

and organising the implementation programme will feature strongly in the responsibilities of

the Secretary General.

Other key responsibilities are:

• To support the elected President and members of the Executive Council.

• Take overall responsibility for corporate governance of the organisation and ensure that

the ECU achieves its core objectives.

• To support the implementation of ECU strategy.

• To ensure that meeting venues and the logistics of meetings are forward planned.

• To prepare items for Executive Council and General Council meetings, produce agendas

and records of the meetings and brief the President on the conduct of the meeting.

• To serve as a central access and communication point for ECU member organisations,

including to disseminate information on issues relevant to chiropractic in Europe.

• To be responsible for BACKspace, the ECU App and ECU presence on social media in

conjunction with the communications adviser.

• To review the ECU Constitution, Bylaws and other standards of governance regularly and

to ensure compliance with them.

• To liaise with members of the General Council and help ensure that their concerns are

properly handled.

• To liaise with the Treasurer and ECU accountant in ensuring good financial governance,

with timely issuing of invoices and collection of outstanding dues.

• To deal with issues in relation to individual chiropractors' enquiries on matters that are not

usually covered by ECU member associations.

This is a senior appointment for which candidates must have demonstrable credentials and

experience at the highest levels of corporate governance.

How to apply

Visit www.chiropractic-ecu.org/news or classified ads on the ECU App for details.

Applications will close on 14 October.

01-32 Backspace Oct19.indd 19 10/09/2019 16:14
---
General news

Inside the health tent

Christian Ankerstjerne, Head of Communication at the Danish

Chiropractors' Association (DCA), describes their involvement in the

annual Folkemødet on Bornholm.

OVER A four-day period in

June, for the past eight years,

Allinge on the northern coast of

the Baltic island of Bornholm has

hosted a tented roadshow that sees

its population swell from under

2,000 to over 40,000. Danish

politicians, NGOs and citizens

debate current political concerns

in this idyllic town in an initiative

known as 'Folkemødet' – literally,

people's meeting. No surprise that

Sundhedstelt – the Health Tent –

is at the centre of interest.

During the four days more than

3,000 events take place – all are free

and within walking distance of each

other. Strolling around the streets

you may meet the current Danish

Prime Minister, stars from the

media and even former Liverpool

FC central defender Daniel Agger.

Each of the 13 political parties

represented in Folketinget – the

Danish Parliament – has the

opportunity to give a major

speech, and every night there are

parties across the town.

The DCA, along with

colleagues in the rest of the

Danish health care system,

naturally take part; 16 health care

organisations – chiropractors, nurses,

physiotherapists and so on – have

joined forces. The result is 'Det Fælles

Sundhedstelt' – The United Health

Tent. It has been going since 2016

and is now the second largest indoor

venue at Folkemødet. Further, the

DCA has been a part of the steering

committee since day one.

Arranging the programme is a

task that goes on for nine months,

from September through June, and

takes a lot of co-operation between

the respective organisations.

Each pays a participant fee of

approximately €3,000 which

covers practicalities in relation

to the actual tent, but not travel

expenses, fees to moderators, nor

accommodation – to secure the

latter is in itself a bit of a task.

But the work is worth it. This

year the #sundtelt twitter handle

was the 7th most used during

the four days, and #sundpol

handle, which is used for health

care politics, was the 2nd most

used. This means that the events

at Det Fælles Sundhedstelt are

well-attended and perform well

above average for all events at

Folkemødet in general. It also

means that it is easier to attract

the right politicians and other

stakeholders into the tent –

because they know that their

attendance will be noticed and

that there will be people watching.

For the DCA this is very

important. We're not the largest, nor

the most important or influential,

organisation in the Danish health

care system, but being part of this

tent means that we have a platform

for raising the profile of MSK issues

and makes it easier to attract the

right people for DCA events during

the rest of the year.

The DCA has attended every

year for the last five, the last four

in Sundhedsteltet. During that

time the DCA chairperson, Lone

Kousgaard Jørgensen, has been

taking on politicians, medical

doctors, the director of the National

Board of Health and many others,

debating the challenges of those

who suffer from MSK.

Does it work?

Here's Lone's view: "Taking part in

Folkemødet obviously doesn't solve

all our political challenges by itself,

but by being there and setting up

an event, we can reach and have

meaningful conversations with

our most important stakeholders.

Because everybody's there anyway,

it's perfect for setting up informal

meetings with other organisations

and politicians. And also, the social

events make it possible to get really

close to some of the organisations,

stakeholders and decision makers,

who we usually only meet in more

formal settings."

This year the DCA decided to

focus its input on patient fees and

the cost of seeing a chiropractor.

In Denmark seeing a family

doctor is free for residents (those

with a personal identification

number). But seeing a dentist or a

chiropractor, among others, is only

partly funded by the public health

care system (typically 20%). This

means that only people with either

sufficient funds or appropriate

health care insurance are able to

seek chiropractic help.

To discuss this the DCA invited

two politicians from the Left in the

political spectrum – both heavily

involved in health care politics, and

both in key positions after the June

2019 general election in Denmark

when the outgoing conservative

coalition lost out to a social

democrat-led coalition.

The responses from the politicians

were mainly positive. First of all,

there was a broad consensus that the

cost of going to see a chiropractor

prevents the poorest patient

groups having sufficient access to

chiropractic treatment. But there

was also agreement that it there

has to be a better way than the

current one, where user payment

is inconsistent. Lone again: "We

should stop the silo thinking in the

health care system. With investment

in prevention and quick diagnosis

and treatment, the country would

potentially save a lot of money on

sick leave and early retirement."

Next year the DCA expects to

be back inside the Sundhedstelt.

20 BACKspace www.chiropractic-ecu.org October 2019

01-32 Backspace Oct19.indd 20 10/09/2019 16:14
---
Newsletter of the European Chiropractors' Union

General news

Chiropractor Sven Knipphals competing at the

German championships in Nuremberg in 2015

Fédération Internationale de Chiropratique

du Sport (FICS)

HAVE YOU heard of

FICS? It's a not-for-profit

association representing national

sports chiropractic organisations

and the chiropractic profession

internationally in the field of

sports chiropractic. FICS is the

voice in the international arena of

sports chiropractic both politically

and through our new educational

programmes.

Strategic plan

FICS released its strategic plan in

2018, setting the framework for the

future and a busy agenda for 2019.

This year sees the return of FICS to

Lausanne, release of our upgraded

e-Learning System (eLS) giving

members access to the International

Certificate in Sports Chiropractic

(ICSC), more hands-on seminars

to extend sport chiropractors

skills and participation in more

international games to provide

members with the opportunity to

work on elite athletes.

Our objective is to grow

FICS into an internationally

recognised thought leader in

sports chiropractic owing to the

importance of sports chiropractic

to athletes and its contribution

to their ability to achieve their

optimal performance without

the use of drugs. We want sports

chiropractors to always be part of

the core health care team at major

international sports events and

ultimately the Olympic Games.

International Sporting

Federations (ISFs)

The ISF Commission is responsible

for FICS' identification of, and

engagement and interaction with,

pertinent ISFs which FICS aligns

itself with in order to achieve its

goal of attaining IOC recognition

and full accreditation. The

Commission manages all aspects

of FICS' participation at selected

international events and is the

liaison for FICS with the World

Games Association and the Global

Association of International Sports

Federations (GAISF).

The ISF Commission is

responsible for sending a delegation

to the annual Sport Accord

Convention. This provides FICS

with the opportunity to meet and

network with all 106 accredited

sporting federations from around the

globe who are members of GAISF.

The ISF Commission has worked

hard to fill and secure our Games

Calendar for 2019 with over 40

World Championship events

covering just under 20 different

International Sporting Federations.

Highlight events in August

included the International Fistball

Mens World Cup in Switzerland,

the Sport Climbing World

Championships in Japan, and the

World Youth Championships in

Italy. September has the World

Tug of War Championships in

Ireland, Waterski and Wakeboard

Championships in France and the

inaugural GAISF World Urban

Games in Budapest.

We are always looking for

volunteers. If you are interested in

applying to work at any of these

events, we would love to have you

on board.

International Certificate

in Sports Chiropractic

One of FICS primary objectives

is promoting excellence in

postgraduate education and

practice in sports chiropractic

worldwide, in part through the

development of postgraduate

sports chiropractic programmes.

FICS's aim is to set an

appropriate minimum standard

in theoretical and practical

sports chiropractic education for

chiropractors wanting to develop

special competence in the field

of sports chiropractic and to be

qualified to serve on FICS teams,

or teams selected with assistance

from FICS, at international events.

FICS eLS has 10 new evidencebased

modules of amazing materials

that any sport chiropractor would feel

inspired by. The joint forces of FICS

and North Western University now

provides us with a strong educational

platform. The modified practical

hands-on modules are also a success

and well received by attendees.

For more information on how

to start your eLS program and to

register for any of the hands-on

modules please visit

https://tinyurl.com/y6eaoec9

Graeme Harrison-Brown,

Secretary General

BACKspace www.chiropractic-ecu.org October 2019 21

01-32 Backspace Oct19.indd 21 10/09/2019 16:14
---
General news

Chiropractic in the news – a selection from

what is being said about the profession

De Specialist –

2 May 2019

"The lower back

pain guideline was

developed together

with the Health Care Knowledge

Centre (KCE report 287). This is

an adaptation of the NICE

guideline, made more workable to

Belgian standards. But even then,

a book of 268 pages remains,

which is not very workable in

practice. "It says in particular what

you should not do," explains Prof.

Depreitere. "That is why we

produced a care path and a specific

flow chart. That was the second

project together with the KCE. It

resulted in report 295, supported

by all players: insurance doctors,

chiropractors, general

practitioners, physiotherapists,

psychologists, occupational

physicians, neurosurgeons,

orthopaedists, algologists, physical

medicine. That was the beauty. A

flow chart for lower back pain and

one for radicular pain came about.

The KCE made it an online tool

and that is a wonderful tool. It

spans acute, subacute and chronic

problems in primary care and in

the hospital, and it's about health

care providers and reintegration.

The extremely user-friendly tool

can be found at

www.lagerugpijn.kce.be."

La Libre Belgique –

28 June 2019,

also Belga and

De Morgen

"Treatment by

chiropractors and

osteopaths in

Belgium must be exempted from

VAT, as are already the doctors or

paramedical practitioners, the

Court of Justice of the European

Union decided on Thursday."

Danmarks Radio –

30 May 2019

"In 2018 more than

one in five Danish

babies visited a

chiropractor during their first

year- a doubling over the situation

10 years ago… But despite the

large increase researchers have not

yet shown that, for example,

treatment for colic is effective."

"There have been several

studies, but they have been quite

small. We suspect that there is a

beneficial effect, and the research

points in that direction," says

Lise Hestbaek, who is a senior

researcher at the Nordic Institute

for Chiropractic and Clinical

Biomechanics, NIKKB, at the

University of Southern Denmark.

The Director of the Nordic

Cochrane Centre, Karsten Juhl

Jørgensen, does not believe that

there has been important new

research since a 2012 report

concluded that there is no

scientific evidence that chiropractic

treatment is effective. He questions

whether public funding should

support such treatment.

Lise Hestbaek again: "There is no

other treatment with documented

evidence of effectiveness for crying

babies… Besides, we have no

reports of side effects from the

treatment of babies and according

to the latest report (from 2014)

there have been no complaints to

the Health Board or the Danish

Chiropractor Commission."

Corriere della Sera –

8 July 2019

"Tension in the

world of health

professions has

returned. Those stirring up the

water are mostly the chiropractors,

a discipline recognised in most of

the world with a five-year degree,

which in Italy is at the centre of a

dispute. In the last reform of the

health professions, chiropractic was

assigned a three-year degree course

and, consequently, is incompatible

with the existing law from 2007

that defines chiropractic as a

'primary health care profession' and

requires a five-year degree. The fact

that the previous law was not

repealed would suggest that there

are now two incompatible laws

about a single profession."

Bergen Tidende –

28 June 2019

A new report

shows that back

and neck pain are

the most important reasons for

sickness absence from work. (See

page 8 for further details).

The report, from Oslo

Economics, has been shared with

the medical faculty at Bergen

University which wishes to

establish a five-year chiropractic

education and awaits the go-ahead

from the Government. "We can

start in 2021," says the dean of the

medical faculty, Per Bakke, "with

much of the teaching in the first

years undertaken in common with

the medical students."

europapress/chance/

tendencias –

1 April 2019

"Chiropractic is

becoming a health

trend focused on

the diagnosis and treatment of

mechanical disorders of the

musculoskeletal system. However,

it is still an unknown practice to

many users, even though a large

percentage of the population

suffers from bone and muscle pain.

With the aim of throwing light on

this discipline, the Asociación

Española de Quiropráctica is

explaining the benefits of

chiropractic for our health."

Maldita.es/

malditaciencia –

10 April 2019

"To date, there is

no evidence that

chiropractic is an

effective treatment for any health

problem. The only possible

exception is the treatment of

chronic low back pain, but it has

neither been confirmed nor denied

that it works better than other

conventional treatments. The same

happens with its possible side

effects: there are known cases of

severe damage to the spinal cord,

with serious consequences such as

epidural hematoma, stroke or

death. There is no reliable data on

the frequency they occur and more

and better research is needed."

De Volkskrant –

18 June 2019

"Majority of Dutch

people want

alternative care in

the basic package."

"More than half of the Dutch

population would like to see one

or more alternative medicine

disciplines reimbursed from the

basic health insurance package.

In the eyes of a quarter of the

population, alternative care has

'just as much value' as regular

health care."

"According to research carried

out by the Central Bureau of

Statistics (CBS) to be published

on Tuesday, June, 18 2019, 6%

of the population visited an

alternative healer in 2018. The

osteopath, chiropractor and

acupuncturist were the most

frequently mentioned. Women

and the more highly educated

make relatively more use of

alternative medicine than men and

less educated people."

22BACKspace www.chiropractic-ecu.org October 2019

01-32 Backspace Oct19.indd 22 10/09/2019 16:14
---
Newsletter of the European Chiropractors' Union

Newell's Notes

Making room for humanity

HOW HUMAN beings provide care for each other is complex and

profound. Advances in artificial intelligence (AI) provide immense

opportunities to make medicine more effective but will they ever be able

to replicate the complexity of a successful therapeutic encounter? This

encounter comprises a multitude of interactions between the clinician's

and the patient's brain via complex cues and signals including body

language, empathetic language, mellifluence of voice, socialisations and

cultural paradigms. How we interpret these cues and signals creates and

modulates the meaning of an encounter.

Emerging research suggests that our very awareness of ourselves, of

each other and of the world around us may be generated through realtime

guesswork. In Bayesian language:

1 The brain predicts what might be happening using internal

representations of the world gained from our individual experience

2 It gathers conscious and unconscious signals from our body and the

wider environment, including the perceptions and expressions of

others, to 'check' the ongoing accuracy of these predictions

3 It adjusts the internal representations or the incoming information to

minimize the error between the two.

This incessant 'betting' on a range of possible 'reality horses' on the whole

tends to generate predictions that are ostensibly correct, in the sense that

they correlate to a substantive degree with the physical reality inside and

outside of us.

But that does not mean that what we are experiencing is objective reality.

It is merely the best fit to our learned experience; checked against the cues

and signals we are getting at any particular time. These cues and signals

particularly those interpreted as auguring a positive outcome (such as the

reduction of pain) can be self-fulfilling (reduce our pain), as we alter the

perceptions to fit the world we have predicted. Contrastingly, those cues and

signals interpreted as associated with increased pain can increase our pain.

The neurobiology underlying this phenomenon is now fairly well known

and constitutes the placebo and nocebo response.

The confluence of placebo research and AI is fascinating. The advent

of Deep Learning has been a game changer. Essentially this is a technique

where artificial neural networks are fed huge numbers of instances of a

particular phenomenon (faces, tumours on MRI scans, Facebook posts,

buying habits, chess and Go moves or stock market behaviour) which

they then 'learn' to leverage, developing an expertise at predicting what a

previously unseen instance is. Such learning machines can predict to high

levels of accuracy how we might vote in the next election by categorising the

sort of political views we hold as gleaned from Facebook posts, buying habits

and a wide range of other characteristics displayed. Deep learning underpins

speech recognition, IBM's 'Watson' and the recent stars of artificial game

playing networks that now are better than any human at chess and Go.

In medicine, fears have emerged that AI and super smart pattern

recognition may replace the clinician. I think this unlikely in the medium

term. Why? Because it is emerging that the elements in a therapeutic

encounter are numerous and deeply human in nature and there is much

more in an encounter than the specific things the doctor or the patient think

they are doing. These have powerful effects on actual physical outcomes:

• We know from the few trials that have compared placebo surgery to

real surgery that placebo surgery works just as well for knee or shoulder

pain, with the effects lasting over years, even when the patients are told

they received placebo.

• We know that when you give an inert pill to low-back pain patients

and tell them it is a placebo they clinically improve their pain scores to

a greater degree when compared to usual care.

• We know that if you first pair a strange-tasting drink with an

immunosuppressive drug, cellular changes associated with an

immunosuppressive drug can be detected even when you subsequently

just give the inert drink.

• We know that if you tell an athlete that they have been given a drug that

will damage their performance, despite it being inert, physiological changes

associated with reduced performance and actual reduced performance ensue.

• We know that if you tell someone they are breathing low oxygen levels

equivalent to high altitude they develop headaches as if they were at

high altitude. Furthermore, this is accompanied by all the consequent

changes in blood enzymes (cyclooxygenases) that would normally be a

reaction to real high altitude.

AI will not make headway in this area for some time. Language, trust,

cultural authority, subtle body cues including touch, powerful stories and

a host of other deeply human interactions are paramount in leveraging an

expectancy and subsequent reality of such changes. These contextual cues

are common in all health encounters and particularly so in more humancentred

types of care typical of professions such as nursing, psychotherapy,

primary care and of course the manual therapeutic professions.

So where will AI impact? Simply said, done well and with intelligence,

AI may afford clinicians more quality time. This most obviously includes

doing the heavy lifting of administrative tasks now carried out, for

example, by GPs. Looking up a patient's past history, checking the dosage

of prescriptions and what else (s)he may be taking can all be personalised

by present semi-smart technology.

But what if an AI had a deep knowledge about the patient's genes,

past health, activity, diet, living conditions, socioeconomic status? Here

then is AI sitting in the background, able to whisper in the doctor's ear

during the consultation. What if, even more subtly, an AI has already

primed you with the sort of language, approach and behavioural change

techniques tailored precisely to the patient? What if a super smart AI sat

in the background helping you create a rich and targeted consultation

that sensibly maximises patient expectations, allays fears and maximises

the power of context to raise the chances of better outcomes?

The urge to help each other is strong and deeply human. So is the urge

to exploit and control. There remain many ethical issues around access

to, and protection of, huge amounts of personal data gleaned from our

day-to-day living. This would need to be solved before their use by AI can

be supported. However, the tech giants already have a good deal of this

personal information (and sell it to companies that target adverts or, even

worse, seek to manipulate voting habits) – couldn't we find a way to allow

AI to use it to support healthier and happier lives?

Utopia or dystopia. The choice is ours.

Dave Newell is Senior Research Fellow at the

Southampton University Department of Primary

Care and Population Sciences, and Director of

Research at AECC University College. The views

he expresses are his own and are not necessarily

the views of the European Chiropractors' Union or

AECC University College.

BACKspace www.chiropractic-ecu.org October 2019 23

01-32 Backspace Oct19.indd 23 10/09/2019 16:14
---
Feature

UK chiropractors enter the field as

first contact practitioners

THE UK is experiencing the first sustained drop in family doctor (GP)

numbers for 50 years. With MSK issues accounting for one in eight GP

appointments it is estimated that 29% of the UK population live with an MSK

condition. The British Chiropractic Association (BCA) reports that, for some

time, physiotherapists have been helping relieve the burden on family doctors

by providing services in a First Contact Practitioner (FCP) role and that, from

2020, the doors will open more widely for chiropractors to enter the field.

There are already a handful of chiropractors in this role. Recently qualified

BCA member Hannah Fairris told Contact, the BCA magazine, that:

"Because I'm able to relieve some pressure in the system and the patients have

fed back high levels of satisfaction, GPs and Advanced Nurse Practitioners are

happy. Of course, because NHS colleagues tend to have more experience of

physiotherapists, some do think I am a physio or an osteopath, but by being

here and working in this role I can champion the chiropractic profession. To

be honest, I haven't had any negative feedback about being a chiropractor,

just apprehension due to a lack of understanding of our skillset. My NHS

colleagues are impressed that our training is to such a high standard."

As a chiropractor in a GP practice, Hannah reports that MSK patients

only wait one to two days to see her, versus the one to two-week wait time

for a GP appointment and a four month wait to see a physiotherapist.

Jonathan Field, pioneer of Care Response, reports something similar.

He is now four months into the FCP role in a GP surgery, having already

provided triage services in a hospital setting for a number of years. From

this secondary level role, he has become well-known to, and trusted by,

local GPs. He estimates that in 2020 there will be 2000 new FCP roles as

a result of a new GP contract with the National Health Service (NHS).

But he believes that success in part depends on becoming familiar with the

culture and language of the NHS in order to convince other health care

professionals that you see their point of view. This can be a slow-burn.

Jonathan also points to research by Christine Goetz about the

importance of accepting the culture of the individual hospital if

chiropractors are to be effective collaborators in a multi-discipline

environment. Thereafter it is possible to shape the role a chiropractor plays

in the system and even, over time, to change the system subtly towards, for

example, using fewer injections and adopting the psycho-social model.

The FCP role won't be for everyone. There is a perception that it requires

some trade-off between financial reward and less tangible benefits from

being a valued member of a team and the satisfaction from bringing care to

a wider range of the population, especially where fees for treatment are not

reimbursed by the state or easily accessible through patient insurance. As a

responsible profession with a collective social conscience, involvement at the

first contact level is surely to be encouraged.

ELECTRONIC PRODUCT COMPARISON

THERE'S A PLACE IN YOUR

PRACTICE FOR ACTIVATOR ®

23 CLINICAL TRIALS

ERGONOMICALLY DESIGNED

ELECTRONIC CORDLESS

PORTABILILTY

COMPATIBLE WITH ACTIVATOR METHODS

CHIROPRACTIC TECHNIQUE

TEXTBOOK

SPECIFICALLY APPROVED BY MEDICARE

FDA REGISTERED

ISO CERTIFIED

MADE IN USA

TGA CERTIFIED

ArthoStim

ACTIVATOR V Impulse Sigma Pulstar

(Impac)

4

4

4

4

4

4

4

4 4 4 4

4 4 4 4

4 4 4 4

Activator V is a superior instrument with a sleek, ergonomic design and is the only fully wireless electronic instrument on the market.

MANUAL PRODUCT COMPARISON

HIGH GRADE STAINLESS STEEL

OFFERS AN EZ GRIP MODEL

PRE-LOADED TIP

23 CLINICAL TRIALS

COMPATIBLE WITH ACTIVATOR

METHODS CHIROPRACTIC TECHNIQUE

ERGONOMICALLY DESIGNED

SPECIFICALLY APPROVED BY MEDICARE

FDA REGISTERED

MADE IN USA

TGA CERTIFIED

ACTIVATOR IV ACTIVATOR II ACTIVATOR I Jtech CAT Jtech CAT LT

4 4 4

4

4 4

4 4 4

4 4 4

4 4

4 4 4

Find out more at www.activator.com or call 800-598-0224

Generic

Adjusting Tool

activator.com

800-598-0224

*All information gathered from companies web sites. Activator and Activator Methods are registered trademarks of Activator Methods International, Ltd. in the United States and other countries.

Activator Methods International UK, Ltd.

Backspace-HalfPg-InstComp-186x122.indd 1

7/24/19 3:48 PM

24BACKspace www.chiropractic-ecu.org October 2019

01-32 Backspace Oct19.indd 24 10/09/2019 16:14
---
Newsletter of the European Chiropractors' Union

Review

Biotensegrity

The structural basis of life

2nd edition

Graham Scarr

Handspring 2018 ISBN 978-1-909141-84-1

Reviewed by Marshall Deltoff DC, DACBR, FCCR(C), Barcelona College of Chiropractic

DR GRAHAM Scarr, an osteopath widely

regarded as an authority on tensegrity,

opens with a chapter introducing the concept,

including its definition and its brief history as a

fairly recent area of investigation. Tensegrity is a

contraction of tension + integrity.

Tensional integrity, also referred to as floating

compression, is a structural principle based on

the use of isolated components in compression

inside a net of continuous tension, in such a way

that the compressed members do not touch each

other and the prestressed tensioned members

delineate the system spatially. In effect, it defines

a stable three-dimensional structure consisting

of members under tension that are contiguous

and members under compression that are not.

Presenting an interesting way of looking at

structure, stability, forces and building, the

book goes on to explain how the principles of

tensegrity logically extend to living organisms,

hence, biotensegrity.

Biotensegrity is a rather new, emerging area

of science that provides a different way of

viewing and appreciating anatomy, structure

and biomechanics. It comprises a paradigm

shift in current biomechanical thought and

teaching; for example, challenging the almost

universally accepted concept that bones are

the load-bearing structures of our bodies, like

bricks in a wall or a building frame, and that

they directly pass force loads to each other.

Rather, the bones do not actually touch each

other, but are effectively 'floating' in a tension

structure formed by our muscles and fascia.

In fact, when the tensegrity structure around

a particular joint is injured or becomes weak,

bones can touch each other, and transfer load

directly; this is anatomically and clinically

problematic, causing dysfunction and resulting

in degenerative arthritic changes.

Another example, directly applicable to us as

chiropractors, is the biotensegrity model of the

spine, wherein the vertebrae float apart from

each other without touching, supported by

tension forces in the surrounding muscles and

fascia, in contrast to the common conceptual

model with vertebrae stacked up on each other

while passing force compressively to each other;

this model implies that the forces are being

transferred through the discs, suggesting that

they could be crushed and ground apart as we

move and rotate our spines. In the biotensegrity

model, a weak or injured tension network

(muscles and fascia) can no longer hold the

vertebrae apart. The experienced forces will

now start passing compressively through the

vertebrae and discs, leading to back pain, disc

bulges and herniations and other spinal failures.

This weakening of the tensional support system

"Biotensegrity

is a rather new,

emerging area

of science that

provides a different

way of viewing

and appreciating

anatomy, structure

and biomechanics."

Marshall Deltoff

and atrophy of critical weight-supporting

paraspinal musculature is encouraged by lack of

exercise and a highly sedentary lifestyle.

Dr Stephen Levin, an orthopedic surgeon

and consultant to Scarr's book, was the first to

apply tensegrity concepts to complex biological

organisms. He maintains that the consideration

of the skeleton as the lone system of loadcarrying,

like the beams and rafters of a house,

results in force calculations that predict shearing

and crushing of bones under our regular daily

force loads. He reasons that we can only account

for the ability to perform everyday tasks by

accepting that it is primarily and optimally the

'tensional members' of our bodies, i.e. muscles

and connective tissue, that transmit forces.

Over the course of twelve chapters, the

explanation of biotensegrity is integrated into

biomechanical evaluation, starting with the

simple geometry present in complex living

organisms, the balance of unseen forces, the

issues with the current model of biomechanics,

a discussion of the cytoskeleton within a living

cell, how motion enters into the equation and

affects the tensegrity structure, the misnomer

of 'hard' and 'soft' tissues; complex patterns in

biology, and then presents biotensegrity as a

rational approach to biomechanics, and as the

structural basis for life. Appendix 1 describes

how to construct your own simple tensegrity

models in order to better illustrate the principles

in their proper three-dimensional state.

Each chapter is beautifully and plentifully

illustrated with full-colour drawings, photos

and models demonstrating the concepts being

explained. In my opinion, the book provides an

interesting, novel, yet correct and logical, way

of approaching human structure and function.

Yet, overall, this decidedly theoretical text is

lacking in overt clinical/practical application.

The book is not my cup of tea, and, while a

unique read, it's not for everybody.

BACKspace www.chiropractic-ecu.org October 2019 25

01-32 Backspace Oct19.indd 25 10/09/2019 16:14
---
Review

Chiropractic Identity-Building

Approaches to better patient care

Andries Kleynhans

ITM Press Institute of Therapeutic Manipulation P/L 2019

ISBN-10 0994383118 ISBN-13 978-0994383112

Matthew Bennett reviews this contribution to the debate surrounding identity

problems that have plagued the profession since its inception.

CHIROPRACTIC, A profession at war

with itself; introverted, isolated and

divided. We have heard this from authors many

times before over several decades. What is new

and exciting about this book is that it offers a

practical solution. Andries Kleynhans has put

together a comprehensive blueprint for saving

the chiropractic profession from itself.

The profession itself is aware that there is

a problem. At the WFC/ECU Congress in

Berlin in March 2019 much time was given to

discussing a sustainable future and improving

collaboration and cultural authority. Platform

speakers highlighted the importance of evidencebased

practice which prompted organisations

who felt under attack to subsequently complain

most vigorously. Kleynhans has it right it seems.

The WFC and ECU, through their recent

EPIC campaign, have focussed on plausible and

supportable assertions regarding chiropractic

care. The emphasis on evidence-based, patientcentred,

interprofessional and collaborative

approaches to spine care are echoed in the

American Chiropractic Association's Choosing

Wisely campaign. Kleynhnas would applaud

these campaigns and sees them a vital for our

future. He urges unity in spite of calls from

some quarters to split the profession.

He opens with a thoughtful summary of why

identity building is essential. He highlights that

the chiropractic profession cannot continue

to present multiple identities to the world and

that the public/market does not use a service

it does not understand. He adds that decisionmakers

will not accept marginal theory or

philosophical rhetoric.

Early on Kleynhans explains how decisionmakers,

the public and health care professions

will decide our identity for us and how it will be

unsatisfactory compared with what we can do

through profession-controlled identity-building.

The book decries a tiny but vocal minority in our

profession "with a profound retrograde ideology"

and how these individuals and organisations

have caused untold reputational damage. It cites

adherence to a "flawed chiropractic ideology

centering on innate intelligence and vitalism;

claims of cures for visceral and other nonmusculoskeletal

conditions". This will not be a

surprise to most chiropractors.

He has pulled off a remarkable feat with

Chiropractic Identity-Building: – Approaches

to better patient care. He has laid out complex

and detailed concepts in simple ways that are

easy to grasp. He uses chapter introductions

and summaries and lots of tables and highlights

so you can skim read and get a general idea or

you can drill down to the detail.

There is a common thread throughout,

pulling the interests of patients to the fore.

Patients are mentioned 257 times no less.

Esteemed chiropractor Raymond Sandoz is

quoted: "Chiropractic does not belong to

chiropractors... it belongs to patients and those

who will make the most of it." Quite so.

Kleynhans acknowledges the anxieties

chiropractors might feel about identity-building

including loss of autonomy, discomfort at

changing practice based on research findings

and challenges to firmly held beliefs. He is

clear that the goal will, however, be worthwhile

– increased utilisation, access to government

funding for education and research and

everything else that comes with the status of a

mature and accepted profession.

The second half of the book lays out a

blueprint for achieving a clear identity which

all groups can sign up to. Kleynhans goes into

considerable detail outlining the steps to take

but, smartly, does not prescribe the outcome.

He recognises that different jurisdictions and

cultures exist and instead details the steps to

take. He provides different pathways that might

suit different circumstances, but the thrust is

the same - do this or fail to reach our potential

or worse, be supplanted by others.

His template is first, understand where we

are and how we got here and then produce a

framework or plan to design the

future. Kleynhans cites examples of how other

professions and organisations have done this and

he cites research extensively to back up his action

plan. He recommends forming task forces from

all stakeholders to gather information, create a

consensus and agree on a future worth pursuing

which will lead to the vivification of chiropractic.

Kleynhans acknowledges the resistance that this

process might encounter but recommends small

initial steps to get a dialogue going between

various factions. It is this part of the book that

is the most powerful addition to the literature

and is the reason that every chiropractic leader,

regulator and decision-maker should read it.

Kleynhans was an advocate of evidencebased

care before it became a buzz phrase and

he supported multi-disciplinary training when

it was frowned upon in chiropractic. He has

contributed to chiropractic recognition, education

and regulation throughout the world over the last

60 years representing the profession to the World

Health Organisation and several governments.

This book, the first in a series, is a culmination

of the author's experience and wisdom gathered

through the slow and often turbulent progress of

the chiropractic profession. It is an indictment of

chiropractic leaders, myself included, who have

failed to bring unity to a fractured profession. It

offers the stepping stones to a more sustainable

future for the benefit of individual chiropractors

but most of all to our patients.

Matthew Bennett is the past-president of the British

Chiropractic Association.

26 BACKspace www.chiropractic-ecu.org October 2019

01-32 Backspace Oct19.indd 26 10/09/2019 16:14
---
Newsletter of the European Chiropractors' Union

People

HOW DO you follow a

successful and much-loved

predecessor? That was always

going to be a challenge for the

new principal of the UK's AECC

University College, and it is clear

that Lesley Haig is well up to the

task. She is a bundle of welldirected

energy, engaging to talk to

and open about her ambitions to

continue and accelerate the strategy

put in place to capitalise on the

achievement of University College

status. So, who is Professor Lesley

Haig and what motivates her?

A keen player of sports (hockey

at National League standard with

Ealing Ladies and tennis as a

second interest), like many, she first

came into contact with manual

therapy when injured. She elected

to train as a physiotherapist at the

prestigious St Thomas's Hospital,

London, aged 18, and soon

developed an academic interest

in sports-related musculoskeletal

issues and rehabilitation. Whilst

also continuing to work in private

practice she has moved in and out

of academia, letting the one feed

off the other.

It was as a clinician that Lesley

became fascinated with the

conundrum of how to motivate

patients to persevere with changes

in everyday behaviour that can

contribute to the prevention or

alleviation of chronic pain. This

led to a PhD in Motivational

Interviewing and a lifetime

fascination with the psychological

and social relationship between

patient and clinician. Too many

experienced clinicians from a wide

variety of disciplines take a short

cut to prescribing a solution before

they have really got to the bottom

of the patient's circumstances

Professor Lesley Haig

Principal of AECC University College and

enthusiast for motivational interviewing

The Secretary General's interview

– the almost irresistible urge to

offer a fix. Those who heard Julian

Treasure at EPIC 2019 will recall

his startling statement that the

average time before a doctor in the

US interrupts their patient can be

as little as 18 seconds.

After spells as an academic at

St Mary's University and London

South Bank, which trains 350

nurses a year plus other allied

health professionals, she found

the chance to give strategic

leadership to the relatively newly

independent University College

irresistible. Not only did the

University College have a stellar

reputation in the musculoskeletal

world but the combination of that

with its well-established leadership

in postgraduate teaching of

ultrasound and imaging brings the

opportunity to wrap chiropractic

into a wider envelope of health care

professionals. Lesley is convinced

that the skillset and competence of

chiropractors is sufficiently strong

for the identity of the profession

to thrive - working harmoniously

alongside physiotherapists,

osteopaths and others. Nor should

the profession be afraid to address

challenges such as the ethical

discharge of prescription rights.

As AECC UC is an institution

that has a high reputation across

Europe and recruits significant

numbers of students from outside

the UK, it was inevitable that

our conversation turned to the

likely effects of Brexit on the

University College. Encouragingly

the institution looks to be well

prepared for even the most

extreme outcome. The badge of

independent degree awarding

powers is important here. There

is no artificial cap on numbers or

other requirements imposed by a

wider university body. In charge

of its own destiny, the University

College is determined to maintain

an open door to good quality

students from beyond the UK. It

is confident that its status within

the UK university system will,

despite the high cost of providing

chiropractic education, support

a continuing strategy to educate

chiropractors at undergraduate

level from many countries. It

will also continue to offer fly-in

postgraduate education delivered

in other European countries on

topics such as ultrasound and a

planned paediatric initiative.

As to the ability to maintain

a quality intake, Lesley

acknowledges that the current

exclusion of chiropractic from the

UK Allied Health Practitioner

(AHP) group is a disadvantage

in marketing terms but points to

the success of optometry, which

is also outside the AHP group, in

attracting strong potential student

interest. She is also keen to widen

access (whilst maintaining quality)

through conversion courses

for suitably qualified graduate

entry from those with academic

degrees in other health care topics

or science, and points to the

success of the physiotherapists

and osteopaths in so doing. The

accompanying inflow of mature

and experienced students would

reinforce the quest to maintain

high quality in teaching: they

will not accept second best; and

their accession into the ranks of

chiropractors can only improve

the reputation of the profession.

Which brought our conversation

onto the issue of chiropractic

career paths post-qualification.

Encouraging clinicians to become

academics and researchers is

vital if the schools are to grow

and the evidence base to remain

competitive. Yet it is something

of an underdeveloped territory.

As indeed is the absence of

an academically recognised

postgraduate advanced practitioner

licence or specialism in the

profession. Both need attention if

chiropractic is to fulfil its potential

as a mature profession. This

requires offering courses to enable

clinicians to develop academic

teaching competence and/or to

enter the fierce world of academic

research. Perhaps because the

profession in the UK has developed

outside the National Health Service

and the teaching hospitals, with

their strong public service ethic

and close day-by-day contact with

teaching and research, there is a

cultural barrier in all these areas.

Nor is Lesley a believer that a

university can be an elite island

in the landscape. The AECC

University College clinic is well

established in the local area and is

known well beyond Bournemouth

for innovation in, for example,

imaging. However, in the pursuit

of encouraging chiropractors to

become engaged with all local

communities, Lesley has the aim

of building strong relationships

with those in most need of help in

integrating with more established

groups. There is a significant

refugee population nearby for

which the College can offer a safe

space as well as appropriate care. It

is a living example of Lesley's belief

that the chiropractor must be seen

to be authentic, living the values

that underpin the profession in

their wider lives.

BACKspace www.chiropractic-ecu.org October 2019 27

01-32 Backspace Oct19.indd 27 10/09/2019 16:14
---
People

60-second interview

BACKspace interviews figures from the world of chiropractic

WIOC ECU Award 2019

Laura Devenney has received this year's ECU award for

Chiropractic Graduate of the Year at the Welsh Institute

of Chiropractic (WIOC).

ALWAYS KNEW I wanted to have a career that could help either humans or

I animals, but I had mixed feelings for many years as to which profession I would

enjoy the most. I had considered a different course at university, but I quickly

changed my choice after watching a chiropractor treat my horse.

Following my horse's chiropractic appointment, I booked myself in for a

consultation and treatment with the same chiropractor, as I had ongoing

musculoskeletal complaints, which had not been resolved with various other types

of care. Chiropractic exceeded my expectations. I felt great relief and could identify

the positive effect it had on my horse and his performance. I quickly fell in love with

the profession and knew it was the right path for me, and even better, I could help

both humans and animals by providing conservative care.

Although I never expected it, I feel very privileged to receive this award. My priority

is always to ensure my patients receive the thorough care they deserve and through

this, I established an excellent rapport and results with my patients in my clinical year.

I believe the future of chiropractic lies within further development of integrated

care, involving various health care professionals co-managing patients to achieve the

desired outcome. This will demonstrate how our profession can be very beneficial in

relieving stress upon the NHS and will lead to further recognition of the high skillset

that we hold.

Mark Langweiler

Principal Lead – Chiropractic London South Bank University

What is your career history?

I came to chiropractic following careers in music, science and

technical publishing. I graduated from Cleveland Chiropractic

College, Kansas City, MO. USA in 1988.

What attracted you to chiropractic?

Like many, I was attracted to chiropractic following an auto accident. A local

chiropractor (local in New Jersey!) was recommended for my neck and shoulder pain.

I was quite impressed, so much so that a year later I was enrolled.

I have post–doctoral training in pain management; that remains an interest. I

also have an interest in performing arts injuries, especially musicians. Needless to

say, chiropractic pedagogy is of primary importance. I seem to be moving towards

medical humanities lately, that is where my reading and writing are. I am currently

looking at the cultural context of health and healing.

What is your most memorable professional moment?

Trying to come up with a single memorable moment is difficult. My career path is

rather unusual for a chiropractor. Aside from practising in four countries, I was also

the Director of Medicine at an oncology clinic in the States. I left that in 2008 to teach

full-time.

What are your ambitions for the LSBU course?

The programme at LSBU is a real opportunity to encourage the further development

of the chiropractic profession. Being based in one of the most cosmopolitan cities in

the world can only help with the spread. I can see the Integrated Masters becoming a

world-class programme. You don't think that's too ambitious, do you?

Contact

langweim@lsbu.ac.uk

Sven Knipphals

Vice-president of the German

Chiropractors' Association

What is your career history?

I started sprinting at 16 years

running 100m in 12.31 seconds, which is pretty

slow. In 2007, when I started studying chiropractic,

I ran 10.73, which qualified me for my first German

Championships. In 2011, I qualified for my first

World Championships after sprinting 10.23. I

was 'only' substitute for the 4x100m but in 2012

I was able to compete at my first international

championships in Helsinki, missing the 200m final

by 1.5/100 of a second. And again, I was substitute

for the 4x100m relay at the London Olympics.

From 2013 till 2016 I was part of the German relay

team, lowering my 100m personal best to 10.13 (9th

in the German all-time list) and winning one silver

and one bronze at the European Championships in

2014 and 2016. We were 4th twice, at the World

Championships in 2013 and 2015. Being substitute

at the 2012 Olympics I was very keen on making the

team for Rio, where we missed the final by 7/100 of a

second and came in 9th.

The most special moment in sport was my 100m

heat at the world championships in Beijing 2015,

where I missed out on qualifying for the semis but

ran, from my point of view, the best race of my life,

in front of 80,000 spectators in a floodlit 'birdsnest'.

I ended my sprinting career in 2018.

I studied at the Anglo European College of

Chiropractic and graduated with a Master of

Chiropractic with Merit in 2013. It was such a

special time of my life, and I can easily recommend

studying at the AECC to anybody. The depth of

education I got exposed to still helps me in a lot

of fields even outside of the profession. In terms of

continuing professional education, I am more of an

autodidact as I have a poor concentration span and

am more an auditory learner. I've attended about 20

seminars in different fields (SOT, CCEEP, extremity

adjusting, Gonstead etc). At the moment I'm

learning a lot about training, sports performance,

injury prevention and functional nutrition to better

help the athletes I take care of.

What attracted you to chiropractic?

I was treated by Alex Steinbrenner, a chiropractor

from my home town, and I really thought he

understood the human body better than anyone

I knew, so I thought, as an athlete I would like to

understand how the body works. That brought me

to the Idea of studying chiropractic.

What is your most memorable professional moment?

I treated an autistic child for headaches - he was

banging his head on the wall and told his parents

that he didn't want to live any more due to his pain.

After three treatments he only had mild episodes,

which did not bother him much.

What are your ambitions for the Association?

My main goal is to optimise the relationship

between the members and the boards.

Furthermore, I want to assist the president in the

daily business, so he can focus more on other more

important things.

Contact

vizepraesident@chiropraktik.de

28BACKspace www.chiropractic-ecu.org October 2019

01-32 Backspace Oct19.indd 28 10/09/2019 16:14
---
Newsletter of the European Chiropractors' Union

People

Tom Mullarkey MBE

CEO of British Chiropractic Association

What is your career history?

I started out as an Army officer, after a

management degree, and served in the UK,

Germany and Northern Ireland. I was lucky to be selected

as the British Exchange Officer to the Canadian Artillery and

to the Indian Staff College, two fabulous family postings. I

then spent two years as the strategic advisor to the Deputy

Chief of Defence Staff before my last posting to Rwanda,

just after the genocide. On leaving the Army, I worked in the

City of London for 15 months and then went to Manchester

to put together the Commonwealth Games Project, which

paved the way for our successful Olympic Bid for 2012. In

2002, I became CEO of the National Security Inspectorate,

repositioning the previously disparaged security industry to

favour the customer/consumer and after four years there

moved to the safety industry, where I ran the Royal Society

for the Prevention of Accidents (RoSPA) for 11 years. Once

again, the challenge was to adjust the position of safety

(much maligned 'health and safety) to show the value which

accident prevention can bring to reducing mortality and

morbidity to millions of people worldwide, also relieving the

pressure on domestic health services.

What attracted you to chiropractic?

The BCA role interested me because I really enjoy helping

to maximise the impact of sectors which have yet to achieve

their full potential and gain the respect they deserve from

wider society. I see the chiropractic profession as one which

is not sufficiently understood and appreciated and yet which

can help to alleviate enormous pain and misery whilst again

reducing pressure on the health care system. There is a

natural crossover between MSK prevention (RoSPA is big in

safe people handling in the NHS for example) and first-line

treatment and I think I understand more than most how to

'join the dots'.

I like to think big and long-term and I've made my career

on working through strategic options in sufficient detail to

be able to foresee the inevitable and sometimes intractable

obstacles and how they can be overcome or avoided. I've

become much more interested in epidemiology in recent

years and I'm hoping to get to grips with the chiropractic

evidence base as I embark on this new chapter in my career.

Once the arguments are reduced to incontrovertible facts,

they become irresistible.

What is your most memorable professional moment?

In Rwanda, I wrote and developed the post-genocide

restoration plan for the country and was privileged to be

given responsibility for its delivery personally by the UN

Secretary General, Dr Boutros-Boutros Ghali. This was the

most exhilarating, demanding and rewarding period of my

professional life.

What are your ambitions for the Association?

The BCA is a proud leader for the profession and a champion

for chiropractors, whichever affiliations they may have, and

because we are such a significant player in Europe, that

influence reaches internationally. I'd like to see us secure the

alignment of the profession around the core common ideas

and interests which embrace all, but which also provide a

clear picture to the outside world, of the clinical value of the

profession. The heart of any profession is the people who

practise within it and as their principal representative and

ambassador in the UK, I foresee the BCA's voice becoming

crisper and more accessible, which will benefit everyone, in

Europe and the wider world.

Contact

tom.mullarkey@chiropractic-uk.co.uk

Happy 30th issue!

This is the 30th edition of BACKspace since it

became a professionally edited, designed and

printed magazine in March 2005. Manya McMahon

has edited all 30 issues, working alongside no fewer

than four ECU executive editors – Anne Kemp, Sue

Hymns, Richard Brown and Ian Beesley.

MY JOB as editor of BACKspace involves helping the ECU's executive

editor with planning each edition, writing articles and reworking, trimming

and correcting the language and grammar (where necessary) in those written by

others, collating and co-ordinating copy, photos and advertisements and working

with designer Louise Wood to prepare a magazine where

BACKspace

everything fits, ready for print and distribution. Louise has

taken BACKspace through three redesigns since we began

(as well as getting married and having two children!) and

we work very well together. Efficiency of production has

certainly improved over the years – I used to have to mark

up corrections on paper proofs with a red pen. Now it's all

done on screen, with pdfs and digital 'sticky notes'!

Looking back over copies from the early days, the

most noticeable change has been in the quality and

quantity of the photos we include, and I think that

there are two main reasons for this. The first is that

Øistein Holm Haagensen has, it seems, made a second

career out of supplying us with stunningly high-quality

photographic records of ECU Conventions – he does a fantastic job. The second

is that the quality of mobile phone cameras has improved massively in recent

years, meaning that we can use many photos that in the past we would have had

to reject for being too low in resolution. You only have to see the amazing photos

on pages 10/11 and 30 of this issue to see what I mean!

You would not be wrong to deduce from this that I see less change in the material

itself. While there is a definite and positive move towards more feature articles and

opinion pieces these days (news tends to be released on the ECU App) our early

issues covered themes that are still very much alive today – chiropractic education,

consultations on chiropractic identity, treating the scourge of low-back pain…

Is there one thing I'd say to the profession from this privileged position as an

outsider, inside?

Before I worked for the ECU, I spent nearly eight years as a communications

consultant for the BCA, and edited Contact magazine. Then, as now, there were

constant discussions about identity, and about clarifying the differences between

chiropractors and other MSK specialists. The joke that was trending for a while was:

"Chiropractors and osteopaths are like crocodiles and alligators. Everyone knows that

they're different, but no-one knows how." Nowadays, there are still differences, and,

sadly, they are often between chiropractors with apparently opposing ideologies.

I believe it's time to get that identity question answered for once and for all (see

page 26), so that chiropractors can get on with the honourable and enormous task

of improving people's lives.

Chiropractic education

The good, the bad

and the ugly

CHIROPRACTIC EDUCATION

has taken a huge leap forward with

the announcemen tha the Anglo

European Co lege of Chiropractic

(AECC) has been awarded public

funding. This long-awaited news

means that from this September,

both ECCE-accredited UK

chiropractic teaching institutions

– the AECC and the Welsh Institute

of Chiropractic - wi l offer publiclyfunded

courses to EU students (see

page 14 for the AECC's report).

There is exce lent news too from

Norway, where the parliament

has recommended establishing

chiropractic education in a

university se ting (see page 12).

More good news comes from The

Netherlands, where the Netherlands

Chiropractic A sociation has been

granted €75,000 by the ECU

General Council to a sis the

development of a university-based

chiropractic education.

And the medical faculty of the

University of Zürich is prepared

to offer a course of studies in

chiropractic and intends to create

a chiropractic professorship. It has

asked tha the profession contribute

to the running costs for ten years.

The General Assembly of the

Association of Swiss Chiropractors

has agreed to this and a final

decision is now expected.

The channels of ECU communication continue to develop, now encompassing the ECU App,

BACKspace in print and electronic versions, the ECU website and convention website and

a variety of social media:

• The President's Facebook @EcuPres VasGkolfinopoulos

• ECU Facebook @EuropeanChiropractorsUnion

• ECU Conventions Facebook @ecuconventions

• ECU Conventions Twitter @ECUConventions

• ECU Conventions Instagram @ecuconventions

Photo courtesy of Grzegorz Niewiadomski

Aims and objectives of the ECU

•To achieve legislation in those

countries that do not have it

•To harmonise that legislation

across Europe to conform to

and embrace our professional

and educational standards

•To establish fu l-time universitybased

education programmes

to masters level, conforming

to European Council on

Chiropractic Education

standards, for chiropractic in as

many countries as possible

•To represen the European

chiropractic profesqsion

throughout Europe and defend

its principles

•To be the political

representative body of

the European chiropractic

profession within the EU

•To ensure a high quality

chiropractic research

programme within Europe

Newsletter of the European Chiropractors' Union

March 2005 Volume 1 Number 1

However, in other parts of

Europe the status of chiropractic

education is less positive.

The standards of education for

chiropractors and naprapaths in

Sweden do not mee the criteria

required by Sweden's National

Agency for Higher Education,

and university status has been

denied. The Agency cited many

shortcomings; the courses lack

integration between theory and

practice, mos teachers lack the

required competence, links to

research were non-existent and

students are no trained in critical

analysis.

The Agency strongly

recommended that both programmes

become part of a state-run university

as soon as po sible. The Swedish

Chiropractic A sociation is therefore

pu ting forward requests for financial

a sistance from the ECU, a staterun

Swedish university and the

Department of Education in Sweden.

Fina ly, we must acknowledge

the 'ugly' side of the profession.

BACKspace has received

disappointing news from Spain and

Germany, where the teaching of

weekend DC courses is damaging

standards of chiropractic education.

See pages 10 and 11 for fu l details.

In BACKspace:

BACKspace March 2005 1

03

04-06

07-09

10-12

14-16

17-19

20-22

President's report

ECU News

National

association news

Legal status

Competition

Chirocruise

Research

Chiropractic online

Quality assurance

CPD

Education in Europe

Germany, Norway

and Spain

Academic

institutions

General

chiropractic news

WFC

ProChiroEurope

FICS

Co league

to co league

A case to remember

Book review

BACKspace www.chiropractic-ecu.org October 2019 29

01-32 Backspace Oct19.indd 29 10/09/2019 16:14
---
People

Finding inner peace at 300 km/h

Christian Domittner is president of the Austrian Chiropractic Association. And he has a secret.

He races motorbikes, riding a Ducati Paningale V4S. Here he reflects on why he has adopted this

dangerous sport.

SUPPOSE THAT I could be

I called an adrenaline junkie. In

my younger days, my thrill and

challenge was martial arts; I am 1st

Dan Black Belt in Tae Kwon Do.

I was twice Austrian champion of

Kickboxing at 63 kg and a member

of the Austrian ITF Tae Kwon Do

National Team, also at 63 kg.

In my 40s I practised Iaido, the

art of Japanese sword fighting,

for 10 years and I am 1st Dan

in Muso Shinen Ryo. I practise

once a week with a real and sharp

Katana made in Japan. And I ride

my XDiavelS with my sword on

my back to training and home –

combining two hobbies.

Now that I am 52 years old, I am

still looking for ways to challenge

myself and still seeking the thrill

and adrenaline in dangerous

competitive sport. I am not made

for sitting on the couch, so I chose

something that is age appropriate. I

race my Ducati Paningale V4S with

212 horsepower and 310 km/h top

speed on the track.

For me, MotoGP is the most

exciting sport to watch and racing

motorcycles myself is the most

exciting sport I can do. It is not

only exhilarating and breathtaking,

it gives me inner peace and a

feeling of accomplishment and

satisfaction. It also regenerates my

life battery and I ride with a big

smile on my face.

I would have chosen this sport

30 years ago but I could not even

afford the tyres you need for racing.

Thanks to chiropractic, I now can

afford this sport. It is funny how

many men over 50 are on the race

track. It is one of the few sports in

which you can compete on equal

terms against younger men.

It is not just the feeling of going

300 km/h on the straight, but

mainly that incredible moment

and feeling, when you are on the

perfect line, braking just right into

the curve, the front of the bike

drops down and then you release

the brake... in the same moment

you accelerate out of the curve

and it is like a slingshot – you are

moving towards the next curve,

standing on your toes steering the

bike under you by moving your

body from one side to the other.

Once you have control over your

bike, you can corner the curve at

a 50-55 degree angle, cut through

like a scalpel and pass between two

slower riders, accelerating out of

the curve without any stress – what

an indescribable thrill.

Yes, it is dangerous and you

are stupid if you are not afraid of

destroying your bike or your body.

And sure, there are moments of

apocalypse, as I call them. The

moment when you feel you are

going too fast and you are not going

to make the next turn and you take

a dive. You drive 210 km/h towards

the brow of a slope and you do not

see what is behind it – a right curve,

and the moment you reach the top

you have to brake down to 90 km/h

to make the corner.

But you face your fear until you

are not afraid any more.

The good thing is that we

have the Dainese D-Air Suit that

protects the body from severe

injuries. And usually it goes so

quickly that you are a passenger

and there is not a lot you can do.

I did have a highsider (accident)

in Brünn in a left curve at 120

km/h. There was a bump in the

road that World Champion Rossi

has a name for. I know it now

too. There was nothing I could

do, just hold on to the bike, so it

slides and doesn't tumble and let

go once we hit the ground. The

air bag in the suit opens and you

relax and let it happen.

Without that suit, I would

have had broken shoulders and

clavicles. With D-Air, I was sliding

and tumbling, jumped up and got

my bike up. The bike had €650

of damage and I was able to keep

riding another day. The helmet

was replaced for €1,250 and the

suit repaired for €650. €4500

of equipment saves your life, and

your body is well protected.

Crossing the street or riding a

bicycle without a helmet is more

dangerous than riding on the race

track.

30 BACKspace www.chiropractic-ecu.org

October 2019

01-32 Backspace Oct19.indd 30 10/09/2019 16:14
---
Newsletter of the European Chiropractors' Union

People

Fragmentation

hinders development

of the profession

Jan Geert Wagenaar, the ECU Vice-President,

introduces himself

I

'M 50-YEARS-OLD, married to Astrid

with two sons and one daughter. I

graduated in 1999 from the then Anglo

European College of Chiropractic. Since 2001

I have been working in my private practice in

Deventer, the Netherlands, together with my

colleague Ailsa van Poecke-Barrett. Through

my background in sports I am involved with

local sport teams and events such as the

Dakar Rally. Sports chiropractic has proved

to be a wonderfully effective way of giving

chiropractic a podium.

From an early age I had an interest in sports, football in particular.

During my active years as a professional footballer, I incurred a back

injury. Despite several visits to the team's sports physician, the physio and

the manual therapist, it was two visits with my mother's chiropractor that

got me fit, fully recovered and on my way to chiropractic college.

During most of my working life of 20 years I have been, on and off,

closely involved in chiropractic politics. I served my time in college as

Student Union president, in the Netherlands as president of the NCA

and now in Europe as vice-president for the ECU. In 2004, a few years

after graduating from the AECC, I wrote a strategic document for a

university-based chiropractic education in the Netherlands. With this

document we visited many universities and governmental agencies and

I quickly came to an understanding that lawyers and policymakers are

not interested in just a good story and the wonders of our profession.

We must make them realise that back pain causes high costs and a great

pressure on society. It's up to us, the politicians, to present this evidence

and show them how chiropractic can play a positive role.

Between 2008 and 2014 I was the president of the Dutch Chiropractic

Association. We still have two associations in the Netherlands, and I am

still disappointed that we have not been able to unify our profession. This

has often been an obstacle during our talks with government and for this

reason I firmly believe in the benefits of unity in our profession. However,

unification should never be at the expense of quality. The quality should

always be number one in order for the profession to survive and thrive! By

keeping educational and professional standards high, in the Netherlands we

have been able to influence and overturn a government decision in 2013

on VAT, creating a financial and legal equality with other 'regulated' health

professions. This later served as an example for other European countries.

The ECU is a platform for 23 member states in Europe. Some countries

are strong, well regulated and well organised, whereas other countries are

smaller and still searching for recognition from public and politics. The

ECU member states collectively discuss, plan and execute the future of the

profession in Europe and support other individual member states in their

goals and developments for the future. It would therefore be such a good

thing if important countries as France and Portugal would commit to the

ECU and by doing so unify the chiropractic profession in Europe.

Essentials of Veterinary

Chiropractic for Equine

and Companion Animals

Practice-oriented intensive training, specifically

designed for practicing chiropractors. Excellent

practical and theoretical lessons, presented in

five modules over a period of six months, with

experienced international faculty of veterinarians

and chiropractors.

Upcoming Course Start Dates:

Bournemouth, UK,

AECC University College

» April 22nd, 2020

Sittensen/Northern Germany

(language of instruction: English)

» October 23rd, 2019

» March 11th, 2020

Further information and module dates:

www.i-a-v-c.com

InternatIonal academy of VeterInary chIropractIc

Dr. Donald Moffatt (MRCVS)

Dorfstr. 17, 27419 Freetz, Germany

info@i-a-v-c.com or give us a call +49 4282 590099

Associated with the AECC University College and recognized by the Royal

College of Chiropractors. IAVC certification includes external validation from the

internationally recognized Veterinary Society of Chiropractic (VSC).

BACKspace www.chiropractic-ecu.org October 2019 31

01-32 Backspace Oct19.indd 31 10/09/2019 16:15
---
The

Foot Levelers

Kiosk

NOW IN

SPANISH

"While admittedly I was reluctant to purchase the

Kiosk, I will say that I have sold more Foot Levelers

than I EVER have previously. 15 pairs (in a little

more than a month). I don't think I have sold that

many in the past 6 years."

Dr. Philip Kogler

"It's great because the patients can scan

themselves with easy-to-follow directions. Patients

see it. They get right on. And they get very excited

about orthotics. I would highly recommend it!"

Dr. Eric Luper

Good for your practice and

GREAT for the environment!

Revolutionize Your Practice

International@FootLevelers.com

www.FootLevelers.com

© 2019 Foot Levelers, Inc

ECU_KioskSpanish.indd 01-32 Backspace Oct19.indd 1 32 10/09/2019 9/6/19 8:31 16:15 AM