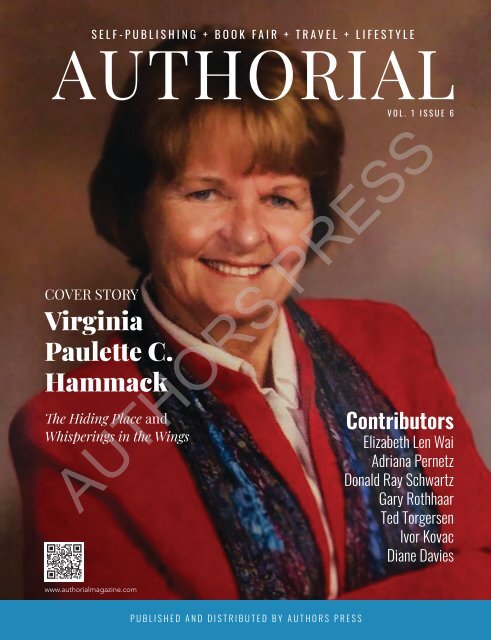 Authorial Magazine - Manila Edition
The Manila International Book Fair is celebrating its 40th anniversary this year. The book fair, one of the biggest, most prestigious, and longest running events in the Philippines, is a great avenue amongst professionals in the publishing and academic world to collaborate and exchange ideas. It's our first time to participate in this event and rally with literary giants and emerging voices from the world of books. In this issue, we start off with Virginia Paulette C. Hammack, author of the books The Hiding Place and Whisperings in the Wings. Hammack talks about her life, her two books, and her struggles as a writer. We also talked to Raju Ramanathan, world renowned enlightenment guru and author of Souls from Mercury. Ramanathan shares what inspired him to write and offers advice to aspiring authors. We still receive and get tons of contributions from talented and renowned writers, and in this issue, we're featuring the works of Adriana Pernetz, Ted Torgersen, Donald Ray Schwartz, Gary Alan Rothhaar, Ivor Kovac, Diane Davies, and Elizabeth Len Wai. Lastly, beautiful spots and fascinating experiences await beyond the bright lights of the city when you read "The Charming City of Manila," in our lifestyle section. We all love stories that resonate with our own, especially those that bring us to greater heights in mood and in thought. We hope you'll enjoy reading this issue as much as we enjoyed piecing it together.
The Manila International Book Fair is celebrating its 40th anniversary this year. The book fair, one of the biggest, most prestigious, and longest running events in the Philippines, is a great avenue amongst professionals in the publishing and academic world to collaborate and exchange ideas.

It's our first time to participate in this event and rally with literary giants and emerging voices from the world of books. In this issue, we start off with Virginia Paulette C. Hammack, author of the books The Hiding Place and Whisperings in the Wings. Hammack talks about her life, her two books, and her struggles as a writer.

We also talked to Raju Ramanathan, world renowned enlightenment guru and author of Souls from Mercury. Ramanathan shares what inspired him to write and offers advice to aspiring authors.

We still receive and get tons of contributions from talented and renowned writers, and in this issue, we're featuring the works of Adriana Pernetz, Ted Torgersen, Donald Ray Schwartz, Gary Alan Rothhaar, Ivor Kovac, Diane Davies, and Elizabeth Len Wai.

Lastly, beautiful spots and fascinating experiences await beyond the bright lights of the city when you read "The Charming City of Manila," in our lifestyle section.

We all love stories that resonate with our own, especially those that bring us to greater heights in mood and in thought. We hope you'll enjoy reading this issue as much as we enjoyed piecing it together.
SHOW MORE
SHOW LESS
You also want an ePaper? Increase the reach of your titles
YUMPU automatically turns print PDFs into web optimized ePapers that Google loves.
COVER STORY

Virginia

Paulette C.

Hammack

The Hiding Place and

Whisperings in the Wings

Vol. 1 Issue 6

Contributors

Elizabeth Len Wai

Adriana Pernetz

Donald Ray Schwartz

Gary Rothhaar

Ted Torgersen

Ivor Kovac

Diane Davies

AUTHORS PRESS

www.authorialmagazine.com

PUBLISHED AND DISTRIBUTED BY AUTHORS PRESS
---
Editor's Note

The Manila International Book Fair is celebrating its 40 th anniversary

this year. The book fair, one of the biggest, most prestigious, and longest

running events in the Philippines, is a great avenue amongst professionals

in the publishing and academic world to collaborate and exchange ideas.

It's our first time to participate in this event and rally with literary giants

and emerging voices from the world of books.

In this issue, we start off with Virginia Paulette C. Hammack, author of

the books The Hiding Place and Whisperings in the Wings. Hammack talks

about her life, her two books, and her struggles as a writer.

We also talked to Raju Ramanathan, world renowned enlightenment guru

and author of Souls from Mercury. Ramanathan shares what inspired him

to write and offers advice to aspiring authors.

We still receive and get tons of contributions from talented and renowned

writers, and in this issue, we're featuring the works of Adriana Pernetz,

Ted Torgersen, Donald Ray Schwartz, Gary Alan Rothhaar, Ivor Kovac,

Diane Davies, and Elizabeth Len Wai.

Lastly, beautiful spots and fascinating experiences await beyond the bright

lights of the city when you read "The Charming City of Manila," in our

lifestyle section.

We all love stories that resonate with our own, especially those that bring

us to greater heights in mood and in thought. We hope you'll enjoy

reading this issue as much as we enjoyed piecing it together.

Publisher

Belle Birao

Managing Director

Gladys Rodriquez

Layout Artist

Kem Enon

Writer

Juno Guadayo, Rio Siao,

and Calvin Garcia

Contributors

Adriana Pernetz, Ted Torgersen, Donald Ray Schwartz,

Gary Alan Rothhaar, Ivor Kovac, Diane Davies, and Elizabeth Len Wai.

AUTHORS PRESS

All rights reserved for Authorial Magazine 2018 l 1321 Buchanan Rd. Pittsburg, CA 94565 l 925 255 0098
---
What's Inside

4 Cover Story: A Conversation

with Inspirational Author

Virginia Paulette C. Hammack

10 A Day in Their Lives She

Will Never Forget

by Elizabeth Len Wai

16 A Day in the Life by Adriana Pernetz

20 ONE-ON-ONE EXCLUSIVE

24 Herman Wouk and the Year 1942

by Donald Ray Schwartz

28 In Pursuit of a TV Interview

by Diane Davies

34 Contributor - Poetry by Gary Rothhaar

38 Contributor - Poetry by Ted Torgersen

50 Trouble on the Sea of Mars

Short story by Ivor Kovac

67 Lifestyle:

The Charming City of Manila

10

28

62

AUTHORS PRESS
---
Cover Story

A Conversation with

Inspirational Author

Virginia Paulette C.

Hammack

by Calvin Garcia

AUTHORS PRESS

I've had the opportunity and the privilege to speak with one of Authors Press' most

highly-recommended inspirational authors, Virginia Paulette C. Hammack, to talk

about her two books, her journey and struggles as a writer, and her life. Find out

how she found her calling, not just to write for passion, but to touch and inspire

people and share God's message of love, forgiveness, and hope.

authorial magazine | 4
---
Authorial: What does a-day-in-the-life

of (Paulette C. Hammack) look like?

What are the things you love doing?

Paulette: My name is Paulette Hammack,

the author of two books, The Hiding

Place and Whisperings in the Wings. My

day begins every morning with time

for my visit with Jesus. Prayer is very

important to me and I believe starting

the day with Jesus is the best source for

having a profitable day. I am a GiGi,

a grandmama to seven handsome and

wonderful grandsons. My day consist

of being able to care for my grandsons

while my two daughters and sons-in-law

go to work. I have been doing this since

my first grandson entered the world; that

was 18 years ago! It has not always been

easy, but very rewarding. Now that I am

retired from teaching, I have more time

to spend with them. My daughter, sonin-law,

and three of my young grandsons

are living with me at the present time.

Each morning, before my feet hit the

floor, I ask the Lord for His guidance

for my day and offer my day to Him.

The morning begins with breakfast and

getting everyone ready for the day. During

school days, two of the boys get ready

for school; I keep the baby with me. By

midafternoon I pick up one of the boys

from school, to get home in time to get

the others off the bus. My grandsons

from my older daughter (I only had two

children, my two beautiful daughters) also

get off the bus and are with me until their

parents get home. The children have a

snack, do homework, and then they can

play. When parents arrive home, two go

with one daughter and the other three

stay with me, of course the two older

ones get home on their own. After the

parents get home, we have dinner, baths

and time for bed, the end of one day to

start over again the next morning.

What I love doing is caring for my

grandsons, and being with my entire

family for when we can get together.

When I get the opportunity on weekends,

I like to go camping in my RV. This is

a new experience for me and I love it. I

love to work in my yard and care for my

garden. My favorite flower is the rose. I

try hard to help them look beautiful. I

like to color in my adult coloring book,

with outdoor scenes and landscape, it

soothes my mind. I enjoy reading my

bible, it sooths my soul. I enjoy being with

family and friends on all occasions. I am a

member of the Third Order of Carmelites,

which is a lay order of the Carmelites.

We gather for prayer, study and service

to others and our community. I joined

the Order in 1985, being a Lay Carmelite

has helped me to grow spiritually and

become a more rounded person. God is

good all the time!

Have you always known you'd become

a writer? Have you always wanted to be

one? How did you get into writing? What

or who inspired you to write?

In my wildest dreams, I never thought I

was capable of writing. In my imagination,

I could write all sorts of stories, but never

thought it was possible to write a book,

let alone it being published and in book

stores. I remember in High School, we

had to write a short story about anything

we desired to write about. I wrote a

short story called "Collide and Scatter,"

It was about a child in the age of planet

hoping and visiting during school field

trips. The class had a visit to one of the

planets to watch a game called Collide

and Scatter. The families had robots that

did everything for them and the children

were picked up for school in a flying

saucer. My teacher could not believe I

wrote the story and wanted to know

if I copied it from some other source.

I have to admit that I was surprised I

wrote it also!

My inspiration came from writing in

my journal. During my time I spent

with Jesus, I would write a short story

about situations in my life as analogies

or spiritual feelings. These stories came

from dreams, thoughts, situations, and

seeing myself in my mind just talking

to Jesus and telling him little stories and

him telling me little stories. As a matter

of fact, the first book that was written

was of stories that I had written in some

of my journals. In my early years, there

had been some sexual abuse. I had not

remembered any of it, but in my maturing

to adulthood, I would wander why I had

feelings of anger or feeling sick in different

situations. I looked in the mirror one day

and asked the person in the mirror, "Who

authorial magazine | 5

are you, and why do you feel this way?"

I started to receive dreams of different

situations, and one that reoccurred was I

was always trying to get up to the room

upstairs, like an attic. In the dream, I could

never get to the door to open it up. That

was the beginning of my healing process.

I still cannot tell you what happened, I

just know that God took me by the hand

and led me through the healing process.

What I learned was

that forgiveness is

freedom and God is love!

Whatever happened

to me led me to a

very close relationship

with God and a better

understanding and

empathy for others and

their struggles in life.

Life is a journey; we must live, love, suffer

and enjoy until we reach our home in

Heaven and see our God face-to-face.

Oh, happy days!

The reason the first book was written

was because I heard God in my heart

tell me to write the stories in a book!

My response was, "Lord, if you want me

to write this book, you are going to have

to come down in this chair and tell me."

Sharing my journal was a scary thought.

One day while on my computer, I was

looking up Pet Finder for my daughter

who had lost her little dog because of

old age.When I pulled it up, there were

six pictures of puppies and information

about each. There was a space between

another set of puppy information, and in

that space was written, WRITE YOUR

BOOK! I took that as Jesus sitting down

in the chair and telling me to write the

book. I then said, "Lord, if I am going

to write this book, I will need a title," I

then received Whisperings in the Wings.

I prayed and chose several stories out of

my journal and the result was a published

book. I knew then that the book was not

written for me to become an established

author, but rather a book to let others

AUTHORS PRESS
---
know they are not alone and that God

is with them and He never leaves them

alone. He also wanted others to know

that unforgiveness holds a person captive

in their own mind and forgiveness is the

freedom to move forward and grow. I

pray this is the result from my listening

and obeying what I believe was a word

from God for you.

If you could tell your younger self

anything, what would it be?

Be not afraid! Life can be full of love,

happiness and struggles. What I would

tell my younger self is, don't be afraid to

do new things to experience life with

caution and do all things in moderation.

Keep God first and life will fall into

place. Recognize the roses God sends

you. He speaks quietly so you must be

aware of His calling. Let Him show you

the beauty of life even in struggles. It is

through the suffering and beauty of the

Cross that we have Eternal Life. Life

comes with struggles as well as joy, take

them both and learn from them. As it

has been said, "Do it afraid," as long as

you take the step, God leads the way.

You are not alone.

Tell us something about your book.

Why should people read it? Do you

think it would make a difference in

their lives? In what way?

I pray that both books would be an

awakening and encouragement for others.

If God puts either book in someone's

hand, it would be specific for them and

hopefully they would receive what God is

trying to share. My second book is called

The Hiding Place. The reason this book was

written is because I was watching the news

on TV and seeing all the devastation and

cruelty going on, my heart was hurting for

all the people. I wanted to reach through

the TV and say, "You are not alone, God

is with you, do not despair!" I wanted to

tell everyone that the spiritual realm is

real and alive and working with us. We

just need to recognize them and call on

them. Angels are everywhere waiting to

be called on, they want to help, and that

is what they are there for, just call on

them. If we could only see in the spiritual

realm, we would see how busy they are,

waiting and waiting to be recognized

and utilized. This is for real, it is not a

fantasy. The spiritual realm is more real

than the world we live in, and of course

there are two sides, good and evil. We

authorial magazine | 6

need discernment and closeness with God

to know the difference, the evil one does

come as an angel of light. In the name of

Jesus is the power to tell the difference.

The second book was started by just sitting

down and putting pen to paper. I would

write until nothing else would come. When

I felt inspired, then I would write. It took

me longer to write the second book because

my husband had Parkinson's Disease. He

loved to read and he helped me with the

second book while he was capable. When

his disease got worse, I was spending my

time with him and did not have time to

write. One day while he was resting, I felt

I needed to finish the book or it would

never get published. So, I completed it

and sent it on its way to be published.

It was hard to concentrate on filling out

information and the different questions

that I needed to give the publisher, but

with the help of God, I got it done. My

husband did pass away, but I know he is

with Jesus and so happy to be there. That

is what life is all about, to finally get to

our resting place with our Abba, God!

He is missed and loved and will always

be remembered.

In reading The Hiding Place, I would

like for everyone to feel the comfort

of knowing how God takes care of us,

even if we cannot see how He does it. To

know sometimes the bumps in the road

are learning experiences where we grow

in wisdom, knowledge, understanding

and discernment. To be alert, know your

surroundings and be aware so you are

not deceived.

The book is a story of a town that started

recognizing a subtle change in the

atmosphere of the people living in their

small town: changes in the school, their

jobs and finally in their own personnel

lives. It was so subtle that the change

was not recognized as harmful or that it

would eventually really make a difference

in how people worked, played, prayed or

thought. It was not until, in desperation,

people began to pray. Only then was God

able to work in their lives, because they

called on Him. What was secret begun

to be revealed, for those who have eyes

to see and ears to hear. Intrigue, suspense,

and a sitting on the edge of your chair to

see what happens next.

AUTHORS PRESS
---
What sets your book apart from

other similar books in this genre?

What would you wish the readers to

experience when they read your works?

I don't know that my book is one that is

set apart, but one that will help emphasize

the importance of what the content of the

book is trying to say. When something is

said more than once in different ways, it

seems to reach all the people. The way to

comprehend and keep in your mind what

you have learned is, read it, write it, and

say it out loud. Hopefully it will build in

understanding. That is what I wish for

my books to do, reach as many people as

possible, sooner than later. I would like for

the book to make more people aware of

the way God interacts with us, because He

does. He is so alive and so real that if more

people could see and feel His presence,

we could actually have His Kingdom to

Come here on earth. Love accomplishes

the impossible, and God is Love.

Tell us something about you that only

a few people know. Why is this not

known so much?

I don't know of something about me

that only a few people know. I guess one

thing is that I have become an author. The

reason that it is not so widely known is

that I became an author later in life and

only by a calling from God. Not many

authors start by putting their journals

out for the public to read, but that is how

God works. Only because God gave me

the sign and courage to step out in faith,

is the only reason the first book was ever

written. Even for myself to realize that I

had become an author was an astonishing

feeling. I would love to continue to write

and hope that is in the near future.

In your perspective, what makes a

successful author?

I think to be a successful author you

just have to Do It! Sometimes a person's

best work is just stepping out and doing

something they never thought possible.

We, I think, as human beings, limit

ourselves. Getting caught up in the daily

monotony of our own lives, living out

what other people think we should be

or can do. What we have always been

told about ourselves and even the way

we think of ourselves. So often we sell

ourselves short of our own capacity. To

be successful in anything, a person has

to first believe in themselves.

What is the most challenging part of

your writing journey? How did you

go about it?

The most challenging part of my writing

journey is to believe that anyone would

want to read what I wrote. When I would

think of an author, I would think of

Faulkner, and Mark Twain, etc. For me

to get beyond that mind set, I had to step

out of myself and do what I thought was

impossible. I also have discovered how

much I enjoy writing, and the challenge

is to continue even with doubt of mind,

and faith in God.

Does your family support your career

as a writer?

Yes, my family supports me. My

greatest supporter was my husband. He

encouraged me to write and gave me

confidence to realize I just might be able

to do this. After my first book, I figured

it was my last book, but God had other

plans and used my husband to help push

me forward. I miss him and am grateful

for him. My children, grandchildren, and

extended family also support me. I come

from a large family, eight boys and four

girls, lots of nieces and nephews, such

a blessing.

What are you looking forward to

most in life right now?

What I look forward to most in life

right now is waking up in the morning,

enjoying my family, friends and smelling

the roses as I continue life.

God has been good to

me and whatever He has

planned for me on the

road ahead, I am sure

will be an unforgettable

adventure.

There is nothing greater to look forward

to than my continual greater relationship

with God.

authorial magazine | 7

What advice would you give to your

readers?

The advice I would give to my readers

is, live life in the present moment. What

has happened in the past is just that,

in the past. Let go and move forward,

there is so much more ahead for you. Put

God first, He will never let you down.

Life is a journey to experience, to grow,

to except the things you can do and

strive to accomplice more of what you

think you cannot do. Take your falling

downs as a learning experience, grow

in wisdom, knowledge, discernment

and understanding. Accept the trials

and tribulations as an opportunity to

become a better person. The joys in life

then will become more often and with

a deeper understanding of why you have

been created. Always keep in mind, you

are just a pilgrim, Heaven is your home.

Give us one word that best describes

you. Explain why.

Hopeful. I choose this word because it is

only in Hope that tomorrow is a better

day. In hope that my accomplishment

may be meaningful, in hope that my life

could be an example for others to want

to receive more of what God wants to

give them. Only in hope did Abraham

believe that God was going to fulfill the

promise He made for him. Hope gives

us a reason to continue on our journey.

Hope is the mountain we climb in life

with excitement and anticipation for

what God has for us on the other side!

In hope that we can do all things in God

who strengthen us.

In totality, what is the message of

your book and you as an author?

The messages of my books are, God is

Alive and well and He really does care

about you, even in your darkest and

brightest hours. In hope that when a

person reads the books that it will not

be me but themselves that they can see.

I truly want everyone to know the God

I know, He is awesome, intimate and so

very, very close and He loves You. The

only part of me as the author is, I want

to be only the instrument in which God

can touch others.

AUTHORS PRESS
---
Paperback | $6.71

Kindle | $7.56

Hardcover | $24.99

Paperback | $16.99

Kindle | $4.54

Jamie's Pet

by Ramona Morrow

Jamie's Pet is about a little boy who wants a pet. He is not

sure what kind of pet to get. Jamie and his mother make

a trip to the pet store. At the pet store, Jamie discovers all

types of pets available. Jamie has to make a tough decision

about which pet to get until he finds his perfect pet, his

perfect friend.

Ramona Morrow loves to listen to music, watch movies,

bake, make home-cooked meals and is a self-taught

chocolatier. When Ramona was younger, she was involved

with sports, liked indoor and outdoor track & field, figure

skating, and girl's hockey. Ramona has lived in various

towns and cities throughout Manitoba and Saskatchewan.

The Contest Winner

A Simple Little Tale

by Eleanor Grande

Geneva is a teacher in a small Colorado mining town with a very special

skill. Either by coincidence or luck-or something more mystical-Geneva

wins every contest she enters. A lover of words, she pines to become a

writer if only she could win a truly big contest. She begins to realize that

her abilities go beyond winning contests for herself, but she can also project

her winning desires out into the universe. Del is a "demo queen" at the local

grocery store. She wants more out of her job and her life. When she meets

Geneva, something magical occurs. Now, the journey of self-discovery has

begun. Geneva searches to find the best way to use her ability as a contest

winner. How can it improve her day-to-day life, and how can it help others,

as well? Geneva is on a quest, but she's not alone. Along with Del, she meets

many colorful individuals who prove her ability to change lives, all with

the power of positive thought. Author Eleanor Grande believes in positive

thought and visualization, which is why it is so important to be cautious

when creating "winning" pictures. Life is a journey of challenges big and

small, and Geneva must learn to harness her power to do the right thing.

AUTHORS PRESS
---
The Big

Paperback | $4.54

Kindle | $8.99

Paperback | $10.00

Dance

by Shirlie Calabrese

Jennifer and Alex are friends from school and got a chance to

be contestants in a dance contest at the end of their senior year.

They both had been in Mrs. Lands' dance classes since seventh

grade and had become very good at many different dance

moves. Mrs. Lands and both Jennifer and Alex's parents were

very excited that they were going to be contestants and had

every confident feeling that Jennifer and Alex would be in the

first, second, or third place as winners.

Shades of Blue

by Moore, T. D., Sr.

Shades of Blue is a riveting collection of poetry that traverses T.D.

Moore, Sr.'s multiple stages of life. As a communicator, Moore was

given the nickname "Blue," and he utilizes the concept of "Blue"

throughout his poetry. Moore articulately expounds upon love,

romance, wisdom, healing, poverty, and many other meaningful

subjects. This intimate collection exposes Moore's inner being in a

raw and touching light.

AUTHORS PRESS

T.D. Moore, Sr., works for homeland security with the United

States Government and currently lives in Hampton, Virginia. He

has two children, Cherita C. and T.D. Moore II. T.D. belongs to

the American Veterans Association and in his spare time enjoys

scuba diving, recording, writing, antiques, restoring cars, and biking.

He has previously published the article "Caving in Okinawa" in

Entrepreneur Magazine; this is his first published book.
---
A Day in Their

Lives She Will

Never Forget

by Elizabeth Len Wai

This day in their lives remains vivid

in her memory even years after it

forever changed how she viewed a

lot of things and people. Her heart

was changed and she gained a new

compassion for people all over the

world who have shared a similar

time in their lives. Like herself, she

was sure that no one ever imagined

that their precious child would face

a time like this. So let me tell you

about that day.

The drive seemed to take forever

even though the destination was

only about twenty miles away. Maybe

because her mind was racing with

questions and concerns. Did she have

everything required? Was she really

prepared for this meeting? Could she

do this? Why did she even have to?

authorial magazine | 10

What could she expect? She had left

home early to prepare for any traffic

issues. After all, she was beginning to

overwhelm herself. She realized she

had arrived at the required location

and she turned into the parking lot.

She must have been early because

there were a lot of open parking

spaces. She chose one close to the

entrance, turned off the engine, and

checked the time. She was nearly

thirty minutes early. Traffic had been

light, so now she would have to wait.

Oh well, she thought. More time to

double check the list of requirements

she had been sent. She pulls out the

list and carefully reviews it, mentally

checking off each item. She is satisfied

she has met the criteria outlined.

She puts the list down; she hadn't

forgotten or overlooked anything on

AUTHORS PRESS
---
it. Now for the first time, she takes

time to really look around and take

in the full impact of where she is. As

the reality of the situation fully sinks

in, she begins to weep. Her heart is

breaking and she does the only thing

she knows when facing difficulties—

she prays, "God please help me. Give

me strength. Help me hold it together

for him. Cover me with your peace

and assurance of your presence even

here. Help me please to do only your

will. Open my ears, eyes, and heart to

learn what you have for me to learn

through all this. Thank you Lord for

not leaving me now or ever, Amen."

What is so upsetting you may ask? It is

the realness of this place and what she

is staring at. She is sitting in front of

double chain link gates, each attached

to a chain link fence surrounding the

buildings and grounds and topped

with razor wire. The pathway between

the two fences is for patrolling guard

dogs according to the signs. No this

is not a military base like the one

her son had served on years earlier.

This was a state penitentiary with

armed men stationed in a guard tower

in the middle of the complex. Her

youngest child, her precious son, was

sentenced to time here, surrounded by

the element of society that it was built

to protect people from. Her precious

child, (now a man) was here. To her,

his presence here was unreasonable,

and yet it was real; he was in this

horrible, cold, and menacing place.

This place sits on a knoll and it is

windy and cold, but the sunshine

pouring down on the car windows

creates warmth that is somewhat

comforting. Her heart begins to slow

to a normal pace as she observes the

people that have begun to line up

by the gate. She is surprised by the

appearances and variety of the people;

all different ages and both genders

ranging from young mothers trying

to occupy their little ones to older

grandparent types and everything in

between. Somehow this is not what

she expected. As the time grows closer

for the gates to open, the number of

visitors grew. Since she doesn't know

if the number of visitors allowed is

limited, she decides to join the group.

She takes a deep breath and prepares

to get out of the car, and once again

is overcome by weeping. But God

is faithful and helps her pull herself

together, dry her tears, and leave the

car to get in line.

When she joins the group, an older

lady asks if she is going to be okay and

offers her a Kleenex. She displays her

own and thanks her for her kindness.

She soon realizes that others must

surely have experienced her same

pain and heartache. Each of these

people are here to visit someone dear

to their heart, and probably someone

they never imagined would be living

in this frightening place. Just as these

realizations were filling her head, the

sound of the first gate opening snaps

her back to reality. It's time for the

visiting process to begin. As the gate

slams shut behind her, she jumps. The

older lady that had been so kind in line

tells her what she must do: stand in

AUTHORS PRESS

authorial magazine | 11
---
AUTHORS PRESS

authorial magazine | 12
---
line to show them her photo I.D and

tell them who she's visiting, then place

her personal items into a locker and

remove the key. She explains visitors

can only take the locker key and their

quarters into the visiting area. She

didn't bring any quarters. Should she

have? She asks. Then the kind lady

explains that the quarters are to make

purchases of food or snack items for

the inmates. It was obvious that she

was confused and was told that this

visiting time meant that the inmate

would have to miss lunch. Why wasn't

she told this information when she

was approved? Now her heart was

totally torn in half. In order to accept

a visit, her beloved son would have

to miss what she understood to be

an already lacking amount of food.

How much worse was this going to

get? The distress was written all over

her face and the compassion of God

lead that same older lady to share her

quarters. She was reluctant to accept

because she knew it would take away

from that woman's child, but the

lady explained that her son had food

commissary in his cell and would be

able to eat after if he hadn't already

eaten beforehand. She thanked the

kind lady and promised to repay her.

The visitors were called back to the

visiting area in small numbers as the

ones they had come to see responded

to their visitation call. As she waited

her turn, the ladies chatted and the

older lady explained some of the

questions to avoid when visiting with

others there. Kind of a quick study in

visitor etiquette. This chatting time

helped to set her as ease. When she

was called, she was still nervous but

anxious to see her beloved son. Each

locking door behind her reminded

her of the seriousness of where

she was and what her son must be

experiencing multiple times each

day. When she entered the visiting

room, she was assigned a table, told

to wait there for the inmate and was

reminded that she was only allowed a

brief embrace at the beginning and the

end of the visit, but they could hold

hands across the table. At least there

would be no glass between them like

you see in the movies, she thought.

As she waits, she observes the inmates

coming in and the way they greet

their visitors. She knows what to do,

they are teaching her. Some of these

guys have little children visiting them,

and she can't help but think about

how hard this had to be for all of

them. There are a set of brothers, one

in and one visiting, there are many

parents visiting sons, and grandparents

visiting grandsons and even sons

visiting fathers. She realizes that none

of them wants thing this way, but all

are making the best of the situation

they find themselves in. As she waits,

her mind is racing back to him as a

precious and precocious little boy,

full of compassion for the elderly,

tenderness in his heart for someone

else that is hurting. She thinks about

all of the health issues that challenged

him as a child and how God brought

him through. She thinks about how

blessed she has felt ever since his birth,

even when he challenged her with his

ideas and adventuresome ways. She

was assured that God had a plan for

him and felt sure this was not what

he had in mind. But she also knew

that her God was able to use even

this for his good although she didn't

herself understand how. The thing

that serves to hold her together and

give her hope for the future is that

Jesus Christ loved all enough to die

for them. All being the key, every

single person here is loved by Jesus.

She looks up and with tears in her

eyes, sees the face that she has longed

to see and is grateful that he looks

well. When he smiles at her, her heart

melts and where they are seems less

important, they are together. They

spend the small amount of time they

authorial magazine | 13

have together playing dominos and

talking. She shares with him about

the quarters and her concern that she

doesn't have enough to fill his tummy,

but he assures that whatever he gets

will be sufficient and apologizes for

not having fully prepared her. The visit

is too short in both of their opinions

and he continually apologizes that

she should even have to be here at

all. They kiss goodbye and promise

each other prayers. She promises that

she will come back and they agree

he can call once a week, they set a

day and time.

As she leaves the visiting area, she

gathers her ID and her personal

belongings and heads to her car to

leave. Her mind is reeling. She had so

many misconceptions about people

in prison and the people who visit

them. The compassion of the Lord

overcomes her and she realizes that

the same pain she felt during this visit

must surely be felt by her heavenly

Father when any of his children are

dealing with the consequences of

their bad choices. She knows this is

not what he intended for any of them

and his heart must nearly break in half

as he watches the needless suffering

they go through.

Many years have passed since this

horrible day in their lives. He finally

got his life back on track with God's

help and now enjoys being with his

children and his family. He holds a

full time job and makes a positive

contribution to his community and

has even become a grandfather. But

she will always remember that one

day and the impact it had on her life.

She hopes that others who shared

that day have also been blessed with

restoration in their families.

AUTHORS PRESS
---
Paperback | $14.00

Kindle | $9.00

Hardcover | $18.85

Paperback | $7.94

Kindle | $3.99

Collection of

Short Stories

by Larry D. Steinman

Things aren't always as they seem in "The Cougar," "Where's

the Fortune," and "The Case of the Pearl-Handled Dagger."

Mystery, intrigue, and classic whodunit tales compose this

nail-biting Collection of Short Stories by Larry D. Steinman.

Larry D. Steinman never thought of himself as a storyteller.

One day a thought came to him. He wrote it down and, before

he realized it, he had written a story. So here he is, seventyeight

years old, starting a new career. He enjoys his newfound

passion and hopes people find pleasure in reading his stories.

Larry currently lives in Beggs, Oklahoma.

Go Ask the Dead

by Frank Tropea

This tale deals with a beautiful young girl, Amanda Mannon, who

comes from a rather haunted family and becomes rather haunted

herself. Surviving her morally loose mother's murder, and her

seductive handsome stepfather's murder attempt of her, She goes

to live with a wealthy great-aunt Lavinia Mannon. Because she can

both see and talk and interact with the dead, she has a long-term

affair with William, the ghost of long-dead Confederate officer killed

at Gettysburg. Later, it all turns very bad for her with William with

sexual abuse from him and his ghastly cohorts. Desperate, she turns to

Craig her ex-husband who still loves her for help. But she must find

the strength to defeat the evil dead from inside of herself. Later, she

gives birth to a son. But with this baby's remarkable heritage, what,

exactly will the future hold for him and Amanda and Craig? This is

the tale of a haunted girl in a haunted land, the South, still haunted

by the Civil War and slavery.

AUTHORS PRESS
---
Hardcover | $1.79

Paperback | $12.39

Kindle | $9.99

Hardcover | $22.99

Paperback | $9.90

From Silence to

Secrecy: A Memoir

by Martha E. Leiker

As a young girl growing up in Kansas, Martha Leiker always felt a pull

toward Africa. She couldn't explain why, but she dreamed of working in

Africa with the African people. In From Silence to Secrecy, Leiker narrates the

story of how she made that dream come true. Leiker likens her life to that

of a chameleon-changing easily from one lifestyle to another. This memoir

follows those changes, beginning with her birth in 1940 in rural Kansas;

her training as a nun with the Missionary Sisters of Our Lady of Africa in

Pennsylvania; her work in Africa as a missionary for eight years; her twenty

years of service with the CIA; and her current position with the National

Active and Retired Federal Employees Association (NARFE) in Colorado.

Including many fascinating photos, From Silence to Secrecy demonstrates how

one young girl with a dream accomplished her goals and lived a life full of

rich experiences. Leiker's story shows how her faith, hope, inner strength,

and dreams carried her far.

Play Right: Life on

the Other Side

by Scott Lee Mosure

A riveting chase of time through a labyrinth of adventures weaved

on the puzzling beauty of friendship and love.

"If I don't know the past, then what am I going to look forward to

in the future?"

-- Excerpt from Play Right: Life on the

Other Side, by Scott Lee Mosure

AUTHORS PRESS

Scott Lee Mosure was born in California but grew up in Indiana.

He has always been a creative all throughout his life. One thing that

sticks out from his everyday routine is his passion for writing. Ideas

just come to him naturally and he loves putting them on paper in the

form of short or long stories and screenplays coupled with songs that

he knows by heart.
---
Contributor - Adriana Pernetz

A Day in

the Life

by Adriana Pernetz

"We read for Africa and our brains!"

This is the enthusiastic morning

chant that my students exclaim

joyfully as our day starts. We are

at Centerville Elementary School

located in Garland, Texas, part of the

GISD community. Any passerby in

the hallway can hear 22-second grade

bilingual students say these powerful

words while passing room 30 every

morning at 8:00 sharp! When we

read, everyone wins!

Our school is located in a low

socio-economic area. My kids

and their families are in severe

financial need since the majority of

parents are unemployed and have a

limited education. Through books,

my students learned the power of

compassion and beauty in words. This

year, they happily celebrated reaching

our classroom goal of reading 3,250

books and collecting 2,500 dollars

for Heifer International, a nonprofit

organization dedicated to bringing

change through the gift of animals

to families in need all over the world.

My students learned that every person

has the power to lighten the burdens

of another in small and simple ways.

Reading for them became one of

the many tools to do just that. With

Read To Feed and finding sponsors

they were able to pass that gift to

families around the world. Education

and the power of books is a gift that

every child in the world should never

be without!

When I was a little girl, I hated school,

with a passion!!! In 4th grade, I had

the worst reading teacher any child

could ever have. I was a horrible

reader and had serious problems

learning how to read properly. My

AUTHORS PRESS

authorial magazine | 16
---
teacher was very skilled in feeding

the shame some kids felt, especially

me. I was ever so happy to return the

negativity a thousand times over and

happily became the student no one

wanted in their class. I mirrored her

anger and lashed out with it daily, I'm

Not proud of that.

Thanks to my father and mother

who had the great sense of sending

me to an excellent boarding school

in Ontario, Canada. I found myself

with teachers who truly cared about

me, properly taught me and placed

in my hand's wonderful books. I

learned the language and fell in love

with school.

The bad student that I had become,

disappeared and I found hope thanks

to the power of books. Becoming a

teacher and trying to give back the

love that I received from wonderful

teachers in Canada became my goal.

I decided not to teach only what the

state mandates, but to guide the child

to see the beauty within Knowledge.

To show the power that a simple

smile has, and the good it can bring to

someone in need. Writing came from

seeing the needs in my classroom.

It is a sad reality that some schools

have become places where children

have to be afraid for their lives. Too

many angry teenagers are taking

hatred to the next level and have

turned arms against their peers. In my

line of work, having kids with such

difficult backgrounds, the need to

teach empathy, forgiveness, love and

compassion is vital to prevent children

becoming so hopeless that the only

solution to a problem in hand is to

take other lives and their own. Anger

without hope develops into what

we see daily in the news. "Once in a

Forest" was a story that I had done

almost 20 years ago when I began

teaching second grade at a different

school. I used it with my children

to introduce different concepts. I

never really completed it until one

terrible day in 2017. Last school year

one of my students lost his sister to

street violence: she was murdered

outside her house by a gang member.

My student's sadness and anger was

molding him to become someone that

he was not intended to be. We had a

lesson where I told him the story of a

little bear who did not follow anyone's

anger or hatred. A bear who enjoyed

being unique and used his love to

help other creatures in need. That

was a wonderful day and somehow

he identified with Baby Bear. The

children became very closed that day.

They all wanted to be baby bears in

our school community. That was the

time when I thought I could actually

publish the story. Almost two years

later I was very pleased to receive great

reviews for that book and the report

that it had been included in the top

10 popular books during the London

International Book Expo 2019.

I have two wonderful boys of my

own. My oldest child is an Army

man and from a young age he knew

that his dream was to help other

people in need. No matter what the

situation, he wanted to be there. His

dream inspired me to write "Gloria's

Dream" my second book. When he

chose to go into the Army, he told

me that there are times when people

need our strength because they have

run out of their own. In this book,

Goat has to let go and give some of

that little strength to someone else.

Goat realizes that there is far more

happiness in seeing hope and joy in

someone else's life.

My new book, Rooster's Voice,

was written for another need my

classroom. One of my students lost

his father to street violence a couple

of years ago and had carried a sense

of loss since then. I myself lost my

parents less than a year ago. The idea

came from that pain and the love

that never goes away. The one that

stays in your heart forever. I used the

manuscript in class when that child

mentioned the sadness he had in his

heart ever since his dad was taken

away from him. The book helped

him and me understand that love

ones never leave us, their memories

can guide us to be better people in

life. I have been very blessed this

school year by being proclaimed the

winner of Garland Federation of

Clubs Outstanding teacher 2019 for

my work at Centerville Elementary.

¡Que vivan los libros!!!!

AUTHORS PRESS

authorial magazine | 17
---
Hardcover | $38.08

Paperback | $44.16

Kindle | $40.71

Hardcover | $29.99

Paperback | $19.99

Kindle | $5.99

I'll Have The Chicken

by Robert Kavula

I'll Have the Chicken is a collection of engaging stories from former

Navy and commercial pilot Captain Robert Kavula. The book gives

readers an intimate look from the other side of the cockpit door and

some of the decisions made before and during flight. Kavula tells about

his journey to become a pilot, near collisions in the air and on the

runway, and the people and flights that remain vivid memories more

than forty years later.

The collection includes Kavula's account of losing engines and

generators and somehow finding his way to a safe landing, and hilarious

conversations among pilots mid-flight. Read about Kavula's flight

with astronaut Neil Armstrong and the question he asked him about

flying, and dozens more stories that put the reader inside the cockpit to

experience the life of a pilot.

A Tulip In The Desert

by Syed Raza Haider

A Tulip in the Desert is the story of Amina, a nine year old girl from

a small village in the Waziristan region of northern Pakistan. She

lives in an extended family system surrounded by the families of

her father's male relatives in an enclosed compound called a kot.

Amina narrates the next ten years of her tremulous life. Ups and

downs in her tale open a window into the enigmatic society of ultraconservative

Waziristan where modernity has made little inroads. Life

is particularly harsh for girls as they are kept extremely constrained

and their fates are decided entirely by their male relatives. Amina puts

up an enduring fight against the system albeit at a high cost. As if life

isn't hard enough for her, she develops a forbidden passion for an elite

sport, a sport that has no place in this "medieval" society, and is utterly

forbidden for a Waziri girl.

AUTHORS PRESS
---
Paperback | $18.75

Kindle | $2.99

Hardcover | $22.99

Paperback | $9.90

The Unexpected:

Wives Who Have Affairs and the

Husbands Who Love Them

by Chris Dawson

Marriage is very complex, a lot of people get married with so much

love and happiness yet end up cheating in the course of a marriage.

Chris Dawson's book "The Unexpected" is a classic example of this. This

wonderful book tells us that it is clear that most women marry for love

and may still love their husband but for a variety of reasons she finds

herself unexpectedly seduced or otherwise seeks sexual gratification or

stimulation from other than the man she married. The reasons a wife

chooses to start an affair or is seduced into an affair are many, varied and

may surprise all who have either been curious or who have lived this

experience. For sure, do not discount the frequency of this phenomena.

The objective of the author is to inform and open the eyes to the reality

of life as a couple in a very competitive world. This book is filled with

a lot of imaginative illustrations written in well-structured and simple

English. It is guaranteed to wow its readers and keep them on the edge

of their seats in agitation as they pace through from page to page.

Invasion Revealed:

Healing Alcoholism, Mental Illness

& Drug Addiction

by Nancy Lynne Harris, M.A.

"...A summation of her teaching is that thinking 'I love myself ' is

the best medicine you can ever take..."

— The US Review of Books

AUTHORS PRESS

Nancy Lynne Harris graduated from The Four Winds Society. She

trained as a spiritual teacher from the Eschatology Foundation. She

is also a shaman and the founder of GodSpirits United, LLC, which

is a company that assists people with addiction and severe diseases

that seem to be medically incurable. She helps patients change their

mindset towards healing and guides them to shift their energy to cure

themselves without the help of medicine.
---
ONE-ON-ONE

EXCLUSIVE

by Calvin Garcia

I had the honor and the opportunity

to chat with Raju Ramanathan, worldrenowned

enlightenment guru and

author of Souls from Mercury, to

learn more about his book and his

message, discover what inspired him

to write, and hear what advice he has

for aspiring authors.

About Raju Ramanathan

Raju, popularly referred to as Datta

Yogi Raja, is one of the most soughtafter

life coaches of high profiled

individuals, as well as a distinguished

improvement champion for major

corporations. He is a brilliant scientist

of both inner and outer worlds who

has been teaching meditation and

mediation since he was thirteen.

His techniques took the numerous

countries by storm, where the

diverse cultural backgrounds haven't

hindered to enlighten even modern

communities through his spiritual

messages. A truly life transforming

experience and unique in its ways,

his teachings have gained popularity

from yoga to medical practices which

asked for guesting opportunities on

several TV and radio programs in

Canada. He has successfully bridged

the two debatable realms of science

and religion.

"I chose Mercury as the golden mean between

Mars and Venus because it symbolizes wisdom

in the astrological tradition. . .He represents wit,

wisdom, and agility. Astrologically, he rules over

the solar plexus and the nervous system. Those

who are born under the influence of Mercury are

highly intelligent and ingenious."

–Raju Ramanathan

Read our Exclusive Interview

with Author Raju Ramanathan:

Authorial:

Have you always known that you

would become a writer? Have you

always wanted to be one? How did

you get into writing? What or who

inspired you?

Raju: I have always wanted to be a

writer. When I was just 10 years old,

I wrote a huge book of comics with

stories written by me and distributed

to all my classmates at school.

My cousin helped me to draw the

pictures. But my preoccupation with

Technical education and working at

very responsible corporate positions

never allowed me the luxury of leisure

time to do so. In the last four years my

son and daughter in law inspired me to

put all my seminars given around the

world to be put into a book form for

authorial magazine | 20

being read by all of their friends. They

supplied me with the photographs

which they had taken during their

global travels. They have been my

inspiration. My spiritual Masters gave

me further impetus.

Do you still remember the first book

you loved reading or the one that made

the greatest impact on your life? Tell

us about it and why do you love it?

I remember the first books at age

eleven which were intentionally put

by my uncles at my bed side.. They

were, The Bhagwat Gita, the scripture

of the Hindus and The Holy Bible,

the scripture of the Christians. As

I started reading them side by side,

I saw a striking similarity between

them. When I had difficult moments

in my life I will simply open one of the

books and Lo and behold, the answer

to my issue at hand was right there.

That is why I loved both the book.

AUTHORS PRESS
---
In fact I memorized many sections

of both and shared with friends at

school. My book Souls from Mercury

actually emerged on those days which

is half a century before. The amount

of quotations from both the scriptures

can be seen all over my book now

being published in 2019,

Tell us about your book. Why should

people read it? Do you think that it

will make a difference in their lives

and in what way?

My book is about a new dawn

and a new hope for mankind even

though it is entitled differently. It

describes a pathway for mankind

like the Celestine Prophecy. I call

it as evolution through an inward

revolution in every person.

The system recommended is through

"Chakra purification" which is very

much what is recommended by other

authors such as Carolyn Myss in

the field of the emerging "Energy

Medicine". People of all ages should

read my work because they will

find answers to so many nagging

questions in their minds that they

were afraid of asking their parents

or even their priests.

I am positive that this could transform

their relationship with themselves,

with the family, and eventually the

relationship with a personal God.

Tell us something about you that only

a few people know. Why is this not

known so much?

Only a few people know that I am

a unique combination of a Scientist,

a Mystic and an artist. In the past

the scientific community only saw

my technical ability to innovate, The

spiritual community saw me as a great

Yogi and a Master of meditation

and my family saw the great inters

I have in in Poetry and music. This

combination is not known so much

because I kept this as a secret and

wanted it to be discovered by others.

They finally did! My grandchildren

address me as "Master Bubloo", a

favorite nickname of their own. This

unique combination is what I describe

as a SOUL FROM MERCURY. I

see this potential in everyone if only

they attempt to purify their Chakras.

In your perspective what makes a

successful author?

A successful author should feel like

Isaac Newton who said that I am

nothing and I am standing on the

shoulders of other scientists before

my time and looked ahead.

A successful author is not there to

impose his or her own opinions to be

infused into other minds. Recently

I read this amazing sentence while

reading the Publication Manual of

the American Psychological Magazine.

Section 1.03 of this text reads "The

authorship encompasses not only

those who do the actual writing but

also those who have made substantial

scientific contributions to the study. It

makes reference to further literature

to substantiate this idea.

What is the most challenging part of

your writing journey? How did you

go about it?

The most challenging part of my

writing journey was to fulfil the

requirement of most well-known

publishers. They said: "Give us a

final product that we can get printed."

In other words they wanted me to

produce a manuscript that has already

gone through all editorial assessment

and grammatical corrections,

computer alignment and all the rest.

They were unwilling to help me with

any of these tasks.

authorial magazine | 21

One fine morning, I was finally

approached by Authors Press who

gave me all the help I need and

coached me all the way in these

tasks. I am so very grateful to all

the great men and women in their

teams. My book has finally seen the

light of the day!

What advice would you give you to

aspiring authors?

Here is a poem that I heard in my

childhood. It goes like this. "Work

while you work, play while you play,

that is the way to be happy and gay.

All that you do, do it with your

might, things done by halves are

never done right."

Here is another one from famous

poet HW Longfellow:

"The heights by great men reached

and kept were not attained by sudden

flight. They, while their companions

slept, were toiling upwards in

the night."

Give us one word that best describes

you as an author

Here it is! A MYSTIC. Life is a

mystery to be lived.

AUTHORS PRESS
---
Paperback | $13.63

Paperback | $11.99

Kindle | $9.99

Heal Yourself of Anything

Example Glaucoma

by Nancy Lynne Harris, M.A.

"...Harris urges readers to recognize that thoughts are like the code

that runs behind a software program on a computer or mobile phone.

Your thoughts are what regulate your body chemistry. They also are

responsible for causing your specific life experience."

— US Review of Books

"One of the most informative and life changing books I've ever

read. Everything is to the point and easy to follow. Having been

diagnosed with Glaucoma myself. I've come to realize, I allowed

myself to feel as if I'm being pressured by my job and others. I've

tested Nancy's suggestions, and have noticed a great difference in

the pressure of my eyes. So yes. It works!"

— Rory Demeo

Farmer's Son,

Military Career

by Clarence "Kip" Vold

Growing up on the plains of South Dakota, completing

grade school in a one-room school, surviving blizzards.

Success in Air Force the culmination of a career in

achieving the highest enlisted grade in the Air Force. A

full life after the Air Force with writing and painting.

Graduating from college with a degree in Economics 39

years after graduating from high school.

AUTHORS PRESS
---
Paperback | $15.99

Kindle | $3.99

Hardcover | $13.99

Paperback | $9.90

Annie Mae

and the Wild

Wagon Ride

by Ellie Weaver

Life for a little Amish girl can get quite interesting, especially

when she is as spirited and lively as Annie Mae. The lack of

electricity, cars, and modern conveniences does not stop this

little girl from having fun. And when the wagon gets away

from her, oh, what a ride! It can get a little wild!

Humor and

Witticisms 101 Plus

by Alex Gall

This book is not a novel, there is no plot. Unless you munch on a page

the best way to enjoy the flavor of this book is with a few examples of

the book's contents.

Mom, this cow followed me home, may I keep her?

One good intern deserves another.

John took a shot with his pistol and he killed his shadow.

My doctor gave me a shot in the arm, but he was aiming lower.

I had four visitors, one of each sex. By the way, did I tell you I

flunked anatomy?

I gave my wife an inch; she converted it to centimeters.

Push came to shove when my car broke down.

When in Rome do as the Romans do. When in New York City,

forget about it.

AUTHORS PRESS
---
Herman Wouk

and the Year 1942

by Donald Ray Schwartz

A few days ago. Herman Wouk passed

away. He died at 103 years old. He

was working on his next book.

Wouk, an observant Talmudist, wrote

largely on American issues, although

his early novel, Marjorie Morningstar,

did coin or led to the term, Jewish

American Princess or JAP.

His novel, The Caine Mutiny, was

made into a movie starring Humphrey

Bogart, later a New York production.

But the book—books, actually, a

series of two, Winds of War and War

and Remembrance is what I remember

most. The oeuvre is historical

fiction, the fiction with compelling

characterizations, the historicity of

WWII erudite and true. Indeed

Wouk's concentration in detail of the

Battle of Midway is probably the most

complete hour by hour delineation

of that all important engagement,

and contains a magnificence of

remembrance, which I will cover later.

AUTHORS PRESS

authorial magazine | 24
---
As 1941 drew to a close, things

looked grim. Rommel's Afrika

Corps advanced from Egypt through

northern Africa and east to Palestine;

The German army's advances in

Eastern Europe seemed unstoppable.

London daily on fire from V-1 and

later the more powerful V-2 rockets,

as well as the Luftwaffe bombers.

And, at the end of the year, Japan

destroyed or inflicted harm upon

our battleships at Pearl Harbor. Yet,

what seemed nearly hopeless soon

transformed these judgments into a

resurgence of allied power.

In northern Africa, Patten's invasion

with his well-trained tank corps aided

Britain's Montgomery to push back

Rommel and establish a northern base

from which to invade Sicily, thence

Italy itself to open a southern salient

against the Wehrmacht.

As the Germans headed at breakneck

speed into Russia in winter without

appropriate clothing, Marshal

Zhukov, as spider waits for its prey, let

them in as far as Stalingrad, where he

surrounded them, starved them, and

waited for their inevitable surrender.

And, in the Pacific, the U.S. had

broken the Japanese code, and

intelligence informed Admiral

Nimitz they were planning to invade

Midway Island and had dispatched

the same 4 aircraft carriers that had

launched the planes that attacked

Pearl. Nimitz dispatched the aircraft

carriers Yorktown, Lexington, and

Enterprise.

The first wave of American dive

bombers set upon the enemy carriers.

The Japanese launched their fighter

planes to engage. Quite successfully

so, as well as antiaircraft fire decimated

the Americans who, valorously

attacking, soon lost their lives. But

not in vain. For the Japanese aircraft

now had to land upon their ships

to refuel. Oil and gas had to be

brought up on deck. And in that

moment, the second and third wave

of Nimitz's planes fell upon the ships,

with their dive bombs hitting the

exposed planes and fuel to point of

enormous explosions resulting in the

ships sinking. It was the beginning

of the end of the Japanese navy, and

therefore of its homeland.

Although the war would continue

for 2 ½ more years, these 3 battles, in

Africa, Russia, and the Pacific began

to turn the tide.

Now, back to Wouk's books: No one

else has done this—but through

assiduous research in WWII naval

unit histories, the author located a

yellowing document listing the name,

rank, and hometown of each of the

men in the first wave of the Midway

battle who gave the ultimate sacrifice,

but enabled ultimate victory. That list

exists only in War and Remembrance.

AUTHORS PRESS

Now we remember Herman Wouk!

authorial magazine | 25
---
Hardcover | $14.23

Hardcover | $17.99

Paperback | $9.99

Kindle | $4.89

Jeannie Ann's

Grandma Has

Breast Cancer

by Diane Davies

"When you're diagnosed with breast cancer, one of your greatest

worries is how your loved ones will be impacted. It's challenging

enough to have difficult discussions with adults, but what do

young children need to know so they, too, can cope? In Jeannie

Ann's Grandma Has Breast Cancer, author, teacher, and breast

cancer survivor Diane Davies gets right to the heart of this

matter."

--Beverly Vote, publisher,

Breast Cancer Wellness Magazine

Tsavo: Oddball

Reseachers Use Data

and Guns to Save

African Elephants

by Daniel B Botkin

AUTHORS PRESS

A small group of American and British scientists go to East Africa

to try to save elephants from poachers and to find how many remain.

They end up fighting with poachers, large and small groups, who try

to kill them, meanwhile being chased and threatened by elephants

and having to shoot some to survive.

Based on real research and attempts to save African elephants, in this

book you will meet some of the strangest characters in the world, the

kind of people who can't survive in normal society and, with their odd

behavior, retreat to wilderness.
---
Hardcover | $11.13

Paperback | $6.16

Hardcover | $13.99

Paperback | $9.90

Hanging Out with Wild

Animals - Book One

by Cheryl Batavia

All the poems in this book are inspired by my own real-life experiences

here in Florida. All of these wonderful animals, and many others, live here.

Wherever you live, a lot of interesting animals live near you. There is a whole

wide world to explore: beaches, mountains, zoos, parks, or your own back

yard. So get out there and meet some animals for yourself! Have a wonderful

time exploring the world around you, and observe animals wherever you go.

Take a camera along to record and share your adventures. If you are curious

about the animals meet, go online to learn more about them. You may be

surprised to discover that some animals living near you are endangered. You

can find out about ways to protect animals and their habitats. Always observe

animals safely. Have fun!

Life in

Inspiring

Places

by Cheryl Batavia

The author has been fortunate to spend her life surrounded by history

and natural beauty. Life in Inspiring Places, a book of poems and

beautiful photographs, shares memories and impressions of living in

the Shenandoah Valley of Virginia, Washington, DC, Miami Beach,

and the Florida Gulf Coast. Poems offering personal perspectives

about life and family round out the book.

AUTHORS PRESS
---
In Pursuit of a

TV Interview

AUTHORS PRESS

by Diane Davies

authorial magazine | 28
---
Travelers:

Vicki and Diane

Destination: Atlanta, Georgia - Preach the Word

Worldwide Network TV Studio,

Roswell, GA

July 13, 2019

2:30 P.M. appointment with Bishop

Larry Carnes for the book interview

regarding Jeannie Ann's Grandma Has

Breast Cancer.

2:00 A.M. Telephone rings in room 838 at the

Intercontinental Hotel at the MSP

International Airport with a wake-up

call for the first leg of our four flights

today to Atlanta and back. It definitely

felt like 2:00 A.M.!

3:00 A.M. Left hotel in a Cadillac Escalade shuttle

for the airport terminal.

3:10 A.M. Arrived at airport. No bags to check.

Walked straight through TSA Pre-

Check. Lights are on but no coffee

and nothing open. Couldn't find our

flight on the departure board. (We were

looking for Atlanta and should have

been looking for Chicago! Duh! Maybe

a bit early for the two of us?) Found our

gate and found our flight delayed from

5:00 A.M. to 6:00 A.M.! (Could have

had another hour of sleep.)

Flight delayed to 8:30 A.M.

Flight delayed to 9:30 A.M.

Flight updated back to 6:00

A.M. (What???)

6:00 A.M. Left for Chicago. Arrived with plenty of

time for breakfast before leg #2.

8:30 A.M. Misread the boarding pass thinking they

began loading at 8:30. Stopped to use

the bathroom and arrived at the gate just

as they closed the door for boarding. The

flight left at 8:30 A.M. The gate agents

said they had paged us several times.

With the deaf leading the deaf, we never

heard the page!

We were sent to customer service where

the agent found a flight to Atlanta on

another airline in another part of the

airport (Chicago O'Hare let me remind

you!) leaving in 45 minutes. She sent us

on our way with excellent directions to

find the gate and a stern warning not to

stop anywhere along the way and "You

will make it!"

It was a l-o-n-g way to the gate with no

service carts in sight. We arrived with

about 10 minutes to spare. Boarded

the plane with sweat dripping from

our ears and hair BUT we were finally

Atlanta bound.

12:10 P.M. Arrived in Atlanta – the busiest airport

in the United States – we learned. Again

it was a l-o-n-g way to the car rental

center. So long that we had to take;

1. Concourse Tram

2. Sky Train

3. And lots of walking

4. Up and down several escalators

Finally found the EZ Rental Counter

as the agent was once again closing the

door on us leaving a sign that told us to

find the Advantage Counter for help.

We did – after another escalator ride

and a few more steps. After signing all

of forms, we were directed across the

ramp, down the elevator, to another

Advantage Desk where they would

direct us to our car. A blue Passat was

waiting for us.

1:30 P.M. Once we figured out how to get the

car started, we were off following our

step by step Google directions on our

iPhone. We had about a 45 minute drive

to Roswell giving us 15 minutes to spare

for getting lost and found again.

AUTHORS PRESS

authorial magazine | 29

2:15 P.M. Rain begins pouring down just

as we arrive in Roswell and I

mean POURING!

2:23 P.M. We pull up and park by the front door of

the building where the studio is located.

No umbrellas. No raincoats. No brains.

We run through the rain and arrive ON

TIME looking like drowned rats from

Minnesota!
---
2:30 P.M. Arrive in studio offices after having

run through rain monsoon and water

up to our ankles. We were soaked, hair,

clothes, shoes and all. Dr. Larry D.

Carnes, Books of the Month program

host, met with us for a few minutes

of get acquainted chit chat. He felt

that Jeannie Ann's Grandma Has

Breast Cancer was both powerful and

impactful. "Are you ready?" he asked. I

responded with, "Well I think I need to

use a bathroom to try and save what's

left of me and my hairdo!"

After trying to dry my hair with paper

towels, adding a little "product" as they

say, and applying make-up once again to

replace what washed off in the Georgia

deluge, we were invited in to the studio.

Being a Saturday, they had a pretty bare

bones staff on hand to do the taping.

Two tall chairs where set on a green

background cloth – the cover of the

Jeannie Ann Book will be added to the

background later. Two technicians were

set up with the cameras and computers

and such and away we went with the

interview with Dr. Larry on his stool

and I on mine. The main thrust of the

interview was on the impact the book

was having on its readers.

We visited a bit longer after the

interview finished. The Bishop, Dr.

Larry, was astonished that we had

traveled all that way for just one day and

were heading home again that evening.

He really seemed in no hurry to visit

Minnesota any time soon. Our winter

weather legends and chronicles have the

south pretty much afraid to travel north.

"What do you do when it's so cold and

snowy?" he asked. "Carry on with our

lives," we replied. "Just like you do down

here in the heat."

4:00 P.M. Or there about, we're back in the car,

headed toward Atlanta and the airport

once again. We arrive around an hour

later to return the car to the rental

company and back track our way into

the terminal. This time following the

steps backwards from about 3 hours ago.

AUTHORS PRESS

authorial magazine | 30

1. Lots of walking and an

escalator or two.

2. Sky Train back to the terminal.

3. Tram out to the concourses.

4. Check-in - TSA Pre-Check

Found Gate D23 and that our flight to

Charlotte was delayed until 7:45 P.M.

We checked in with the gate agent as we

did not want to miss our flight at 10:44

P.M. out of Charlotte to Minneapolis.
---
He assured us that we would have

plenty of time to make the flight.

Feeling confident, we headed off to find

some dinner.

6:00 P.M. Mustard Seed BBQ caught our

attention. We ordered drinks and dinner

and began to relax for the first time

thinking we were all set and on our way

home. Then the iPhone began to ding

with messages:

"Ding" - Flight 5212 to Charlotte

delayed to 8:30 P.M.

"Ding" - Flight 5212 to Charlotte

delayed to 9:04 P.M.

"Ding" - Due to delay, you may

miss your connecting flight to

Minneapolis

"Ding" - Flight 5212 to

Charlotte canceled.

"Ding" – Due to cancelation of

Flight 5212 to Charlotte you will

miss your flight to Minneapolis. We

are trying to reroute you. Stay tuned

for more information.

Choking down our dinner, we headed

back to Gate D23 to find the line to

speak with an agent at least 20 people

long if not longer. We asked where

customer service was located and were

told that we were looking at it. By

now 5 more people have joined the

line. An airline agent handed out cards

instructing us to call customer service

to get help before we got to the counter

as that would speed up everything for

everyone. Right!?!?!

We called the number and the agent,

after what seemed like forever, came

back on the phone and told us to stay in

line and request a hotel voucher when

we got to the desk and have the agent

arrange flights for us in the morning.

The airplane loading at the gate right

then was heading to Charlotte. We had

been told earlier that it was already over

booked. At that point the desk agent

announced that if you are heading to

Chicago, the next departure at that gate

after the Charlotte flight left, please step

aside and let the Charlotte passengers

ahead of you in line. Now we are 6

people waiting in line rather than 20.

After what seemed like forever, it was

finally our turn with the agent. Believe

it not, it was the same agent that we

had talked with earlier who had assured

us that we would make our flight out

of Charlotte to Minneapolis with no

problem. We approached and told him

we needed a hotel voucher and flights

in the morning. He just smiled and

said, "Ladies, I'll get you home tonight!"

The next thing we knew, he handed us

boarding passes for the Charlotte flight

leaving immediately. After much thanks,

we walked right on to the plane, the

doors closed and we were headed to

Charlotte with plenty of time to make

our connecting flight to Minneapolis.

"What just happened?" We decided it

must have been our good looks, clean

living, old age? For whatever reason,

we were where we needed to be and on

our way home.

10:00 P.M. Landed in Charlotte. Found our

concourse and gate as well as frozen

yogurt with fresh fruit and had

time to spare.

10:44 P.M. Left Charlotte on time for Minneapolis.

July 14, 2019

12:20 A.M. Landed in Minneapolis. Picked up our

luggage at the Intercontinental Hotel.

I retrieved my car out of Valet Parking

and headed home. Exhausted but so

happy to have completed the interview

and the trip!

AUTHORS PRESS

authorial magazine | 31

We packed a lot into those twenty-two

hours. By the time I drove home and

crawled into bed, it was twenty-four

hours from that first wake-up call. I have

to say I'm too old to ever try that again!

But it certainly was a fun and exciting

adventure! Now I hope the interview

was successful. Time will tell!
---
Hardcover | $15.25

Paperback | $7.47

Kindle | $2.42

Hardcover | $17.99

Paperback | $9.99

Kindle | $4.89

Souls from

Mercury

by Raju Ramanathan

Charles Darwin pointed out that the future evolution of mankind

cannot happen through the continuation of the "survival of fittest"

ideology. It lies in the courage to stand up like the first animal did

and move in a vertical dimension, whereas developing kindness,

compassion, and empathy are the hallmark of evolution and truly an

inward revolution. This goal can be achieved by delving deeper into

ourselves through the simple process of meditation and mindfulness.

In this book you will learn the pathway to your inner vastness (i.e.,

Samadhi, Enlightenment or the "Mercury space") and gain answers

to becoming "Souls From Mercury."

Affirmations for Law

Enforcement:

We Protect. We Serve.

We Care.

by Darlene P. Hoyt

Dr. Darlene P. Hoyt is a Board Certified Police and Public Safety

Psychologist. She has been working in the field of Law Enforcement since

1990 providing counseling, training at the Academy, Peer Support, Critical

Incident Debriefings, working with Swat Teams, providing Pre-Employment

Psychological evaluations for hire, and testifying in Court. Everyday Law

Enforcement Personnel are on the job to protect the public and community

at large while at times putting themselves at risk. Dr. Hoyt has created this

book for Law Enforcement personnel to help them cope with the pressure

and strains of working in stressful, dangerous and troubling situations. Daily

affirmations can help promote positive mental focus, reduce stress, and

improve mood and sense of well-being. The hope of this book is to provide

Law Enforcement Personnel another tool to use in their daily life to achieve

peace, success and job satisfaction.

AUTHORS PRESS
---
Paperback | $12.91

Miracles

Master the Art

Healing Medically

Incurable Illness

by Nancy Lynne Harris, M.A.

"…offers many positive life tips."

— Kirkus Review

Nancy Lynne Harris graduated from the Four Winds Society,

founded by Dr. Alberto Villoldo, where she took up energy medicine

and shamanism. She is also trained as a spiritual teacher by The

Eschathology Foundation in Los Angeles and a founder of a

company called the GodSpirits United, LLC which helps people

recover from medically incurable diseases including addiction.

The Fruit of the

Spirit: The Path

That Leads

to Loving as

Jesus Loved

AUTHORS PRESS

by Steve Langford

Hardcover | $22.47

Paperback | $11.95

Kindle | $3.99

Jesus and the apostle Paul both identified love as the

distinguishing mark of the follower of Jesus. In his description

of the fruit of the Spirit, Paul described how it is possible to love

the way Jesus loved. But how do we love in this profound way?
---
Contributor - Gary Rothhaar

Our Friendship Tree

I met her at a square dance; she was all alone

She had no one to dance with; no one to take her home

I asked her if she cared to dance, then we sat down to chat

She said she was a widow, who lived with just her cat

She asked me if I knew someone with time to mow her yard

Although her farm is rather large, the mowing's not too hard

I said, I might have time for that if you'll include a meal

She said that's great, I love to cook; I guess we have a deal

While sitting at the table, our words began to flow

We spoke of all the places, we would like to go

And then I said, why don't we dear; we've waited much to long

So we began our bucket list, and its still going strong

She said, we'll never marry, and I'll never be your wife

But I would like for you to know; I'd trust you with my life

I told her what that met to me as we drove into town

And how I'd try my very best to never let her down

We never met without a hug, we walked while holding hands

We never kept a secret, about our future plans

Her words were always soft and kind, and timely as could be

The wisdom of this gentle soul, was deeper than the sea

One day she said, let's plant a tree: a friendship tree for you and me

A symbol of the love we know; we'll watch it bloom, we'll watch it grow

The winds may blow beyond the norm, but it will weather every storm

And it will outlive you and me, and it will be our friendship tree

AUTHORS PRESS

by Gary Alan Rothhaar for his

precious friend Janis Lucile Shade

authorial magazine | 34
---
After thirty years of marriage and four great kids, I suddenly found myself

single again. I chose not to re-marry, but I didn't want to be alone the rest of

my life either. I was looking for a companion who didn't want to re-marry,

and that's when I met Janis Shade at a square dance. Janis had recently lost

her husband and she needed some help keeping up the farm. I agreed to

help if she would occasionally be kind enough to cook us a nice warm meal,

which she was happy to do.

AUTHORS PRESS

As we got to know each other we decided to plant a friendship tree on

her farm as a symbol of our love. Then I wrote the poem "Our Friendship

Tree" and put it on a plaque at the base of the tree. As the years went by

we watched our tree blossom and grow stronger and more beautiful just

like our friendship. For ten years we have worked, played, traveled and

prayed together in a very uniquely innocent friendship. We trust that "Our

Friendship Tree" and the plaque at the base of it will inspire others to seek

uniquely enduring friendships.

Author: Gary Alan Rothhaar
---
Paperback | $8.64

Hardcover | $42.79

Paperback | $26.56

Kindle | $3.03

Better Than a

Homerun

by Freda Dehoff

Twelve-year-old Daryl Jenkins' summer plans are shattered by the

death of his best friend, Terry, who died in an automobile accident

caused by a drunk driver. With the memories still fresh in his mind,

he tries to deal with his anger, disappointment, and frustration by

playing baseball with his friends and drawing pictures for an art

contest. But the ache in his heart tarnishes everything he does. Better

Than a Homerun is the story of a boy who faces the monumental

challenges of forgiveness. Through the encouragement and wise

advice of his parents, Daryl begins to trust God and depend upon

Him in all that he does, and his personal relationships with family

and friends help strengthen his trust in God. But one big question

remains. How can he ever forgive the drunk driver who took his best

friend's life? To Daryl, it seems almost more than a boy can handle.

Rome and America: the

Great Republics: What

the Fall of the Roman

Republic Portends for

the United States

by Walter Signorelli

AUTHORS PRESS

In innumerable ways, the United States of America is the political and

social descendant of the Roman Republic, and the influences of Rome

reverberate throughout our world. Yet while America reflects the heights of

Roman structures, ideas, and principles, we also now face a host of problems

similar to those that the Romans faced-immigration and citizenship, the

consequences of slavery, the growing divide between classes, the conflict

between conservatives and progressives, and the challenges of being a

superpower.
---
Paperback | $4.46

Kindle | $4.46

Paperback | $13.18

Kindle | $9.99

Parenting: It Isn't

Hard If You Keep

Your Eyes on the

Mentor, God, Our

Heavenly Father

by Elizabeth Len Wai

God is the only perfect parent; it is appropriate that we should

choose him as our mentor in parenting. A lot of the behaviors that

irritate us in our child, God has experienced with us--tantrums,

questioning, disobedience, defiance, crying, and begging. He has

experienced them all with us and still calls us his children.

Wisdom from a

Wheelchair

by Olivia Espinosa

The author of Wisdom from a Wheelchair has been disabled since

she was twelve years old. While going through her own personal

struggles and the progression of her disability, Olivia Espinosa

found her gift from God: creating daily inspirational messages

that have changed her life and healed her spirit.

AUTHORS PRESS

It is her hope that this book will bring you inspiration, faith,

strength, and comfort. It will warm your heart when you're

feeling too far from God. You will find encouragement and

support to overcome your own life's struggles. You too can move

mountains.
---
Contributor - Ted Torgersen

A Hegemony of Hats

As many as the hats they wore,

as dense as the column

in which they marched,

as district upon district

paid them homage,

they are no more.

Teeth were gnashed,

and grim grins gritted

as baleful eyes looked on.

Remember the truth

that no one spoke,

remember the setting of the sun.

Between the mountains

and the sea

lies a road

that has never been traveled.

It leads to a fountain,

long gone dry,

in the desert

of mankind's ambitions.

AUTHORS PRESS

authorial magazine | 38
---
Migration

We've all lost our way

at one time or another,

and that is why we watch birds.

They always know

when it's time to migrate.

There is nothing for them to fear,

when the time to move on draws near,

there is nothing that the birds haven't heard.

A yellowtail on a wall,

or a hummingbird near the fence,

they know when the time has come.

The aline singing in the shadows

can't say where they've gone.

It's a different country,

one that you've never seen;

even if you manage to get there,

you won't know what it means.

At least, to them,

they're not tourists, you see.

Birds live each day where they are,

wherever that happens to be.

That could also be you,

it could even be me,

cross over, for a minute,

to an open country.

A mile is a minute

of your life's journey gone by.

Make you open up your eyes

and see the reason why

we all need to migrate,

from time to time.

From ignorance, we need respite,

from oppression to take flight;

we need to turn day

into freedom from night.

Approximation can't save you,

like you once thought,

it's this haphazard thinking

which makes you get caught.

In this district, you can see,

it's starting to happen again,

and when it comes to migration,

now is better than when,

ever since the oppressor is making

everyone change their skin.

Like, if you don't do it,

think of the trouble you'll be in.

Better to fly far and fly fast,

than, in a season of darkness,

to breathe out your last.

There are some places, however,

where many people fear mice,

myself among them.

How do you differentiate

between fears, like this?

Is there a way you can know

where you must go?

Can you migrate to a place

free from mice?

Would it be so much nicer there,

with nothing to fear, at the end,

but the mindless nameless insects

that live in the bush?

Whether, by instinct or instigation,

or to establish a pattern

that we can understand,

the need to migrate stands foremost,

uniting heart and mind

in a desire to leave winter behind,

and like a shooting star, slip away,

to dance with the nightingale,

knowing that the journey stops with you.

Ted Torgersen, Out of Exile

Copyright 2014

AUTHORS PRESS

authorial magazine | 39
---
Paperback | $9.95

Kindle | $3.99

Hardcover | $29.95

Paperback | $17.95

Kindle | $9.99

Grip of Heaven

by H. Bruce Boulton

There are two classes of people in the church today those who receive

revelation in their spirits, and those who only know about Christ with

their minds. The latter have just education, not revelation, and so we

should ask of ourselves: Do we have eyes that see and ears that hear in

our spirits?

In Grip of Heaven, author H. Bruce Boulton shares his touching

personal testimony of faith, as he seeks the truth of Gods Word

following his wife's passing. Together for fifty-eight (1958-2016)

years, they were led by the Lord in all aspects of their lives, and

Boulton now offers the wisdom that was revealed to him by God

through a personal great awakening of the spirit.

God can reveal himself and his ways to us, but we must be receptive

and use all of our sensesespecially our spiritual senses to see, hear,

and feel his voice and his presence in our lives. We should therefore

accept his will for our lives now, as we pray the Lords Prayer and look

forward to the Holy Spirits rule in our souls.

Finding the

Clouds and

a Life

by Carl M. Robinson

AUTHORS PRESS

The schedule for my sampling flight was the last mission for

Operation Castle. The device is twenty-three miles across the atoll

from where our office is located. The device is sitting on a float

of some sort over where an island was blown away. Every flight I

made to get flying time, I would fly over the area to see how the

construction was coming along. I was looking forward to seeing

what kind of damage it would make in relation to size, heat, sound,

and height. Another thing I would practice at the end of every

flight was a GCA landing.
---
Hardcover | $24.40

Paperback | $13.95

Kindle | $3.99

Hardcover | $28.83

Paperback | $12.49

Kindle | $2.39

The Jewish Background

of Christianity in God's

Plan of Salvation: A

Catholic Approach to the

Old Testament

by Marianne Ivany D. Min

Modern Catholics may be dissuaded from reading or studying

the Old Testament simply because the stories seem unusual or

implausible and the language, foreign and confusing. Still, we

must not neglect the inestimable value of God's self-disclosure

and the wealth of wisdom within the Hebrew scriptures, nor

the Jewish prayers and traditions contained within, as many of

them lie at the core of our faith and worship.

The Gift

by Lila Ellexson Senter

In The Gift, Lila Ellexson Senter reflects on Christmases past and

takes us along for the journey. Throughout time, she and her friends

and family have discovered the joy of "word gifts" -collections of

quotations, original poetry, and stories that have amplified the

meaning of Christmas for both the gift giver and recipient. This

book represents some of the most meaningful word gifts they have

exchanged over the years. The words, so carefully chosen, reflect a

strong faith, and the beautiful artwork that accompanies each word

gift amplifies the message. Reading The Gift is truly a gift to yourself.

Throughout the year, pick up this book and let it remind you of

the importance of love, family, and faith. And during the holidays,

consider wrapping it up for a friend, along with a word gift of your

own, so they, too, can reconnect with the true meaning of Christmas.

Lila Ellexson Senter is a retired social worker living in Abilene, Texas.

She and her husband Bill, with whom she raised three children, enjoy

traveling, reading, and volunteering in their community. The Gift was

written as a way to promote and support the work of Abilene Hope

Haven, a local shelter in the Senters' hometown.

AUTHORS PRESS
---
Contributor - Ted Torgersen

The Four Directions

Altruism

In my travels, once,

while I was crossing the road,

I really thought the devil had got me

for what he said that I owed.

I started to remember

that the night was not far off,

so I gathered up my leaflets

and began to scatter reports.

I said what I was thinking,

I talked about what I had heard;

now, looking back at it,

it all seems so absurd.

* * * *

Heroism

We gonna beat the monkey,

though he creeps the whole night through.

We can't make very much of it,

despite what we wanted, too.

We gonna beat him right out of this

human thing that we do.

We keep fast to our side,

don't let nothin' get through,

and the last time we stopped them

go be remembered, for true.

Livin' here now, it's all about work.

No one will teach you how to do it,

or show you where to buy the shirt.

It's damned if you do,

but then if you don't,

it's consequences unheard of,

and perseverance only hurts.

As far as my life goes,

there's no news that is new;

I'll continue to continue

to give the devil his due;

that is, until we meet face to face.

* * * *

AUTHORS PRESS

authorial magazine | 42
---
Realism

Schism

On the talk shows,

the host tells you what's what,

and if you ask too many questions,

they'll say, "Keep your mouth shut."

Even the dreams you can remember

are just make believe,

and everyday life gets harder and harder

'till it's time for you to leave.

The heavier your burden,

the farther there is to go,

and it seems the long years' only purpose

is to erase what you know.

Remember the beginning?

When the end was far away?

You had more questions than answers,

and each morning was a new day.

Now the sun is setting

and you have no place to go.

The night is dark and empty,

and of holiness there is none.

Try to remember, try as you might,

but nothing will stay with you

into your next life.

* * * *

Exactly in between what is right

and what's wrong,

lies an imaginary boundary

that's never been mentioned in song.

The place where it starts,

and the place where it ends

is at the beginning,

where everything bends.

Bread of sorrow,

life's ambition;

open country,

life in prison;

break it open,

seal it shut;

life is a feeling

deep in your gut.

The Four Directions

are not choices.

They are the measure of the world,

yet they remain unrepentant.

AUTHORS PRESS

authorial magazine | 43
---
Paperback | $3.93

Kindle | $7.52

Hardcover | $35.00

What If Ants Wore

Orange Pants

by Alice J Strauss

"What if Ants Wore Orange Pants" was originally conceived as a gift

book for the author's grandsons. Starting as two illustrated prints given

as baby gifts, it grew over several years into a complete alphabet book.

Twenty-six little rhymes for little readers make learning the alphabet as

much fun for parents to read as for children to enjoy on their own.

Alice Johanson Strauss studied at the Rhode Island School of Design

and worked in the textile industry for many years in both NYC and

the Philadelphia area. Now retired, she lives with her partner and

seven cats in a 100-year-old farmhouse in rural Pennsylvania. At

present she does most of her designing in her garden while she thinks

up new ideas for children's books.

DogSpeak: The Strange

Story of a Curiously Smart

Dog in the Year 2038

by Donal Blaise Lloyd

Many people have asked the question, "What does the future

hold?" This book provides some answers. This touching story of a

man and his dog may surprise you, because this dog is like no other

dog you have ever met. Both man and dog live in the near future, at

a time when everything has been transformed by new technology:

voting, driving, spending money, the use of clocks, time zones, and

basic measurements. But the most surprising is likely the use of

brain decoding and recording—and its many and varied uses may

shock or surprise you.

And yet some things are certain to never change—like the love

between a man and his dog.

AUTHORS PRESS
---
Paperback | $27.17

Kindle | $33.22

Hardcover | $12.65

Paperback | $5.32

Kindle | $4.54

Under Five

Flags

by Hackchan Rhee and Marta L. Tulis

Under Five Flags is the true account of Hackchan Rhee's

experiences under a variety of governments and political

circumstances. Through it all, he's seen that people share

not only the finer characteristics of humanity, but the dark

undercurrents as well. Born in Pyongyang, Korea, before

World War II, and eventually moving to the United States,

Rhee has lived under the rule of Japan, Russia, North Korea,

South Korea, and the United States. His experiences taught

him the futility of socialism and the devastation that a

"planned economy" can have on a society.

Robert's Orchid

by Yvette Feurtado

Moving forward with life seems almost impossible when you have lost

your only child in a tragic accident. You slowly sink into an abyss of

darkness and despair. How do you move on? Everything in your life

becomes meaningless. You are now left with a life that is empty and

have experienced a loss that is forever. What do I do now?

AUTHORS PRESS

She began writing her story of the loss of her beloved son as a means

of releasing all the emotional turmoil felt deep inside. She was going

within to find inspiration to move forward to transcend the path of

sorrow. How do you move on when your heart is broken knowing the

future life envisioned with your loved one will never materialize.
---
Contributor - Ted Torgersen

The Invisible Stranger

Who am I now,

and what was I before

in that uncertain country

that I couldn't take, anymore?

Inaction has consequences too:

if I see nothing, say nothing,

hear nothing, fait rien,

I am nothing and no one can see me,

nor where I am not,

nor what I'm not doing.

If a leaf falls by itself in a forest,

does it make any sound?

Or does your whole play pretend castle

have to crash down around you

to get your attention?

Can I man walk naked down Main Street,

lighting invisible bonfires

that smell faintly

like the funeral pyre of lost love?

Dance away, and no one will see you,

slip away and no one will know

you were ever there.

Make a little pile of leaves and feathers

to show that nobody cares.

Burn down Babylon

with the fire of truth

and forget that you ever had a name.

AUTHORS PRESS

authorial magazine | 46
---
The Wind and the Goats

Some days are so windy

that I wish some goats would come

and calm things down.

Ever see a goat on a windy day?

Something about them makes the wind stay away.

They are a force, like gravity,

that keeps the wind at bay.

Promising to blow tomorrow,

but staying calm today.

Maybe it's the way they smell,

so strong and rank and, well, goatey,

that keeps the wind from trying

to ruffle their hair, knowing it'll never

get through all that powerful goatodor.

So it goes and blows itself away,

meaning to come back again, some day

when there aren't so many goats in the way.

They are a force of nature, going not

so much toward something, or away, as at it.

Perhaps that's why they're called goats, 'cause they go at.

Have you ever seen many goats?

This country is really short on goats, I find,

just like it's short on poets.

Maybe it's a conspiracy

of Western archetypes,

cattlemen and sheep-men,

but no goat-men, except one with balloons.

Maybe he borrowed their feet to keep the wind

from messing with his strings,

or maybe the goats are here, and no one notices.

Like no one can tell a poet, anywhere, anytime,

without a program, and even then can't tell him

much.

Imagine John Wayne on the silver screen,

surrounded by a herd of goats, if you can.

History would really look different, then,

if anyone noticed.

Maybe then the weather channel

would use goats to predict wind patterns,

and we could all be lucky on the eights,

instead of the way we are now, without goats.

But the world's in no danger, no…

there are plenty of goats

in enough places to keep the wind at bay,

so the place don't just blow away

in a cross country goat race, except,

how do you keep them running?

Goats don't stampede, they exude, or recede,

going not away, but at what they perceive.

It could be just a phase,

like childhood, or the hula-hoop,

and after years of struggle,

mankind could finally find itself

surrounded by goats,

becalmed on a hillside, far away

from the false winds

of changeable history.

AUTHORS PRESS

authorial magazine | 47
---
Paperback | $3.81

Kindle | $7.52

Hardcover | $30.99

Paperback | $22.45

Kindle | $8.27

Sex: Baddest

Sin or Goodest

Pleasure

by Ron Vieselmeyer

The purpose of this book is to help you, the reader, enjoy physical

and spiritual intimacy to its fullest. Perhaps getting to know the

author will help you understand why he is so passionate about this

subject. A beautifully carved eagle by an artist who won first place in

international competition is mounted on a beam under the peak of

the gable above the front entrance to Ron Vieselmeyer's home. This

eagle symbolizes what Ron is all about (FREEDOM). John 8:32 "The

TRUTH will set you Free."

A Commentary on the

Gospel of John

by Stanley Polski

A Commentary on the Gospel of John is an exciting, startling new

study by a lay philosopher who may be described as "an uncommon

common man." Though detailed and scholarly, his work is excitingly

readable for every seeker of insights. And isn't that all of us? His

writing provides a fresh, provocative, yet reverent look at Jesus as he

is revealed through John's writings and the author's interpretation.

The author quotes the Gospel of John a few verses at a time-and

then explores these quotations with a commentary: though deeply

religious he manages to relate them to world leaders and politicians

against the backdrop of the classic philosophers. Some of his views are

outrageous, but he provides a touchstone that believers, seekers, and

doubters may use as a basis for their own religious journeys. This is a

book valuable for both the secular and religious communities.

AUTHORS PRESS
---
Paperback | $14.49

Kindle | $6.96

Hardcover | $25.99

Paperback | $15.99

Kindle | $2.40

The Rabid WATCHDOGS

Abuses Within Our Imperfect

World: Reflections of a

Psychotherapist

by Mary D. Morgillo PhD, A.B.M.P.P.

All Dr. Morgillo wanted to do was help people improve their mental

health and overall livelihood, a calling she felt all her life. However,

no one could have prepared her for enduring one of the most trying

times of her life, which not only put her private psychology practice

and reputation in danger, but also her health and sanity. In her

autobiographical work, THE RAPID WATCHDOGS: Abuses within

our Imperfect World, she sheds insight into the shocking growth of

medical fraud investigations that emerged in the late eighties. Several

practitioners were falsely presented to the Medicaid fraud unit by

disgruntled former employees, exacerbated by misleading attorneys and

indifferent court systems.

Trails to and

Tales of

Sanderson,Texas

by Cleo W. Robinson Jr.

AUTHORS PRESS

This is a work manly of fiction. However, many of the stories and

characters are drawn from real life. It is a about life in a small

ranching and railroad town in Southwest Texas just east of the Big

Bend area. For nine months in 1958 and 1959, I had the pleasure

of living in Sanderson, Texas. It was a time between high school

and college that I needed to decide what I wanted to try to do with

my life. Although I was born in a small town, Ionia, Missouri; my

family moved to Springfield, Missouri when I was less than one

year old so I never experienced small town life. Sanderson, Texas

provided that missing ingredient.
---
Trouble on the

Sea of Mars

Short story and illustration by Ivor Kovac

Chapter 5

Mars

After what seemed like an interminable

journey, they finally arrived at Mars.

At first it was a small dot, like a star,

but then it grew larger and brighter

and took on a ruddy tone. Finally, it

grew to such a size that the narrow

strip of windows in front could not

encompass the entire view. Nathan

had to look through his periscope to

capture a proper view of the planet,

and found it endlessly fascinating.

Mars was both like and unlike Earth.

It had polar ice caps in both the

north and south, but not nearly as

much ocean. There was a great ocean

in the south, but in the northern

hemisphere there were only a few

lakes. The ocean was blue, but the

foliage came in varying shades of red

and orange, so that the more heavily

foliated regions were a deep red, and

the arid grassland regions had more

of an orange look to them.

In the north there were some large

deserts, which appeared yellow like

the Earth's Sahara desert. As one

went north from Mars' equator,

the vegetation gradually became

sparse, and the far north was almost

exclusively a desert, save for the

northern ice cap and the surrounding

area where the melting ice produced

enough moisture to sustain tundralike

vegetation and forests, and a

few other areas where there were

rivers and artificial channels dug for

irrigation purposes.

Mars was 85% the size of Earth, but

it actually had more people, and the

smaller size was compensated for by

the greater land to water ratio, even

with the deserts. The moons of Mars

were also fascinating. The larger moon

was round, but smaller than Earth's

moon, and the smaller moon was

shaped like a potato.

AUTHORS PRESS

authorial magazine | 50
---
The Krenth nation was the dominant

force in the western hemisphere of

Mars, and the country ran from the

ocean to one of the great deserts in

the north. The plan was that half the

crew, including the captain, would

embark in capsules and land in the

ocean where they would be picked up

by the Krenth Navy. If negotiations

were successful, then more of the crew

would come down, and a human space

port would most likely be established

on Mars.

If negotiations were unsuccessful then

the Krenth might, or might not, return

the crew to the Teddy Roosevelt.

Kor-Neev stated that the test was to

successfully make it to Mars, but it

was possible that regardless of how

negotiations went the crew might

have to find their own way back to

their ship.

"We knew this could be a one way

journey all along," Nathan said. "But

some things are worth it."

Once the Teddy Roosevelt was put

into orbit, Nathan, half the crew,

and the diplomatic team took to the

capsules and descended upon the

Martian ocean. Parachutes deployed

on the way down, but the landing was

still quite forceful.

The shapes of the ships which rescued

them were peculiar, angular in some

places and rounded in others. The

ships were all white in color, and the

crewmen wore form fitting blue and

white uniforms, with oddly shaped

blue helmets. The helmets covered

most of their heads, but were open

in front. The sides of their faces were

covered, and the front of the helmet

came down nearly to the bridges

of their noses in a widow's peak

style point. The tops of the helmets

projected back a bit beyond the back

of their heads and shifted back in

towards the base of their skulls. Some

of them had visors attached to the

fronts of their helmets to shield their

eyes from the sun.

It was the middle of the day, but

the sun was not quite as bright here

as it was on Earth. It was rather

subtle, but still a noticeable difference.

The temperature was warm, but not

terribly hot, even though they were

technically in the tropic zone.

The ranking officers wore looser

garments and robes. Their hair was

bound up into a small cup shaped

cap on the backs of their heads, and

many of them had beards. It reminded

Nathan of ancient Chinese styles that

he had read about in his college library

and seen illustrations of in books.

He could not help but wonder what

things would have been like back on

Earth had some group other than

the western race and culture come

to be the dominant force. It might

have been that ancient Chinese styles

were perpetuated and duplicated

everywhere across the planet, or

perhaps Persian or Indian.

AUTHORS PRESS

authorial magazine | 51
---
But at the moment, Nathan had more

immediate things to think about.

After being hoisted aboard the ship,

Nathan found that he had difficulty

walking. Even though Mars had

lower gravity, their muscles had grown

weaker as a result of living for weeks

in a zero gravity environment.

In spite of the difficulties, Nathan

remained on deck until all of the

capsules were retrieved, and the ships

began to make for land. Others on

the crew showered and ate, but what

they ate was a mystery to Nathan. He

decided to put off eating Martian

food for a while, just in case it didn't

agree with his stomach.

As they traveled, he observed the crew,

and they also observed him and the

other Earthmen. They were generally

reserved, but not all of them were as

stoic as Kor-Neev. On two occasions

he actually saw crewmen laughing.

But what interested him most was

the shoreline.

Once the shoreline came into view, he

saw the largest and most impressive

cityscape he had ever seen. It made

New York City look like a small

country town by comparison. The

city seemed to stretch as far as the

eye could see in either direction. Once

he reached the shoreline, he saw just

how immense the buildings were. He

now understood why Kor-Neev was so

unimpressed by Earth's architecture.

After he disembarked from the ship,

he found himself in a naval yard full of

what appeared to be military vessels.

He and the others were herded into

the Martian version of cars, which

were more aerodynamic and sleek

than any cars back on Earth, and

clearly more advanced technologically.

As they drove through the city he

got a better look at the buildings.

They were composed of metal, stone,

and glass, but all were polished and

shining. They came in varying shades

of gray and black, and towered to

monstrous heights. The architecture

was definitely more advanced than

anything back on Earth, but Nathan

could not help but wonder if the lesser

gravity was also a factor in being able

to build such tall buildings.

The people they passed on the

sidewalks all appeared to be the same

race. Most of them wore black or

gray, but there were a few who wore

different colors in dark tones. Some

of the streets were lined with trees,

and there were also parks, but the

trees were all alien in shape. They

had black trunks and red leaves, and

the grass was orange in color.

Everything was clean and well

ordered. The Krenth even had traffic

lights, but in their case, red meant

go, purple meant caution, and blue

meant stop.

Eventually, they were taken to a

large building surfaced with what

appeared to be polished black stone,

like marble, and led inside. The lobby

was massive, with large black columns

ascending thirty feet overhead to an

AUTHORS PRESS

authorial magazine | 52
---
arched ceiling. The walls along the

sides of the lobby were lined with

gold mirrors, and in front of those

were small gardens with yellow and

orange foliage.

They were in what was evidently an

expensive hotel, and which had been

completely cleared of Martians, save

for the staff and a squadron of security

teams for their own protection.

Unfortunately, they were still not

the only tenants, as Nathan soon

discovered.

As he was standing near the counter

waiting to receive his room key, the

main hotel doors opened up and a

group of men stepped inside. Three

of them were Martians, but the

other three were clearly Earthmen

of the Asiatic persuasion. They were

wearing uniforms, two had relatively

simple uniforms, while the third had

an elaborate officer's uniform with

medals and a hat. The officer had a

mustache and round glasses, and his

hand rested on the hilt of a sword.

He looked around the lobby and

glared at Nathan when their eyes

met. Then he snapped his fingers

twice and said something in a foreign

language as he pointed to a hallway

at the other end of the lobby. The

men with him proceeded to move

in the direction he pointed, while he

glared at Nathan for a second longer.

Nathan raised an eyebrow but other

than that he held his gaze until the

other man snorted disdainfully and

moved off toward the hallway.

A moment later, someone from

behind the counter tapped on his

shoulder.

"Sir, your room key is ready," the man

behind the counter said in English,

but with a heavy accent.

Nathan turned around to see the

Martian clerk holding some kind of

card in his hand.

"What is this?" Nathan asked.

"Your room key sir," the clerk said.

"It is an electronic lock. All you have

to do is swipe this card through the

slot on the mechanism, and the door

will be unlocked."

"That's interesting," Nathan said. "But

I was actually asking about those

fellows who just passed through.

"They arrived before you did."

"But why are they in the hotel with

us?"

"The Japanese are staying on the first

floor, the Germans are staying on the

second. You Americans and English

will be staying on floors four and five."

"Whose idea was it to have us share

the same hotel?"

"The Sovereign's."

"Everyone here is under truce,"

another Martian said. "This is a battle

of words, not force, therefore it should

authorial magazine | 53

not matter if you are within physical

proximity of one another."

Nathan said nothing further, but it

did not make him happy, to say the

least. He and the others were shown

to their rooms, and for the first time

in a long time Nathan was able to take

a shower, and after that, he was able

to flop down onto a real bed. As he

looked up at the ceiling pondering

what to do next, there came a knock

at the door.

When he answered the door, he found

Kor-Neev escorted by a Krenth man

dressed in mostly black. He had a

sleeveless black tunic which ran down

to his feet in front and in back, and

underneath he wore a dark gray shirt

with wide baggy sleeves, and wide

baggy pants. He wore a dark visor,

similar to what Nathan had seen

the Martians wear when they were

on Earth.

"Captain Benson," Kor-Neev said

in formal sounding English. "This is

officer Gor-Kaal Emk. He is to be

your chief security liaison."

"A body guard," Nathan said.

Or maybe just a guard?

"That is correct," Kor-Neev replied.

"As you know, you are to be introduced

to the Sovereign. Bear in mind what

I told you of Krenth etiquette."

"How could I forget?" Nathan asked.

Shouting, except in cases of emergency,

was considered indecent. It was not

against the law, but it was a strong

taboo, and could result in eviction

from a government building or a place

of business. It was rude to enquire of

a person's welfare unless there was a

legitimate cause for concern. Showing

strong emotion was considered taboo,

and it was better to keep the face

expressionless.

AUTHORS PRESS
---
"It is an honor to meet you," Gor-Kaal

said as he made fists and touched

them against one another with the

backs of his hands towards Nathan.

Nathan returned the gesture. It was

the Krenth equivalent of a handshake.

An actual handshake might be

considered a vulgarism to the Krenth,

as there were all sorts of taboos against

unnecessary physical contact.

"I will be escorting you to the Council

Chamber in the Tower of Excellence

within the hour," Gor-Kaal said.

The "Tower of Excellence" was the

primary government building for

the nation of Krenthalkon, and from

what Nathan heard their central

government was small enough to fit

entirely into one building. Of course

the building was of immense height,

but half of it was libraries, archives,

and museums.

After the introduction, they left

Nathan alone for some time, but

returned when it was time to go

to meet the Sovereign. Nathan

was escorted into a vehicle along

with some of the diplomatic team,

while the remaining members of

the diplomatic team were taken in a

series of other vehicles. Each member

of the team was assigned at least one

Martian bodyguard, sometimes more.

They drove down the streets of the

city, passing massive buildings on both

sides of the road. Since the windows

of the cars were tinted, no one paid

noticed that there were aliens inside

or paid them any heed. When they

reached the Tower of Excellence,

the cars parked in a sheltered drive

through, again shielding them from

the eyes of the public, and they were

instructed to disembark.

The Krenth security was either highly

professional, indifferent, or used to the

presence of aliens, as none of them

stared or reacted to their presence,

from the highest official to the lowest

guard. Over the door was an enormous

plaque with an inscription in Krenth

written in large letters. It took Nathan

a few seconds but he was able to

read it.

"LOGIC IS JUSTICE," it read.

But Nathan was given no time to

think about it. He and the diplomatic

team were made to pass through some

black objects which looked like plastic

or metal doorframes with no doors,

and once on the other side they were

escorted into the elevators and up to

one of the top floors.

When they got out of the elevators,

they were escorted down a long

hallway of black marble with

decorative patterns of silver inlay. The

lighting overhead was a clear white

light with no tinge of any color. The

doors to the council chamber were of

finely carved black stone, or at least

something that looked like stone.

Kor-Neev entered first, followed

by the human delegation, and their

guards stepped through last. The room

was large, and somewhat reminiscent

of gothic architecture with columns

and sharp pointed arches, but the walls

going around the outer perimeter of

the room were actually tinted windows

which afforded a view of the cityscape.

In the center of the room was a long

horseshoe shaped table of glossy black

material.

Martians were seated all around the

outside of the table, and all were

dressed predominantly in black. Some

were dressed more elaborately, and

decked out in glossy silver jewelry

with black gemstones. Most were

men but a few were women. All of

them wore some kind of hat of silver

and grey metal. The man at the head

of the table had the biggest chair,

and he wore the tallest hat of all.

It reminded Nathan of the crowns

worn by ancient Egyptian pharaohs.

He wondered if it was supposed

to symbolize something deep and

philosophical, and if so what. If the

Krenth had been a simple culture,

he would have supposed the hat to

represent having the biggest head, and

by extension the biggest brain, but the

Krenth were far too sophisticated for

that, or so he thought.

The man at the head of the table was

introduced as Sovereign Tor-Anaz

Semth. Kor-Neev introduced all of

the Earth men next, then she began

introducing all of the other Martians

who sat around the table, but after

some time she was cut off by one of

the men who sat close to her father.

"This is wasteful of time, Advocate,"

the Martian said. "If these men are

like the others in ability they will

not memorize our names so swiftly."

The statement was logical, and true

enough. None of the Earthmen would

be able to memorize all those names

so quickly, except for Dr. Robinson,

and perhaps the lawyer, Henley. But

the statement was blunt and tactless,

and showed a severe lack of manners,

or indifference toward them.

At least, by Earth standards.

"Very well," Kor-Neev said. "In that

case I propose that we utilize name

plates."

"Your suggestion has already been

anticipated, Advocate," the Sovereign

said. "Name plates will be distributed

and utilized upon commencement

of the trial, for the benefit of the

Earthmen."

AUTHORS PRESS

authorial magazine | 54

The Sovereign officially welcomed

the Earthmen to Krentholkan, never

mentioning Mars or whatever the

local name might be for the planet,

then he immediately proceeded to
---
the basics of when and how the trial

would occur.

"No doubt the Advocate has already

instructed you, but there is a high

probability that you will benefit from

secondary instruction," the Sovereign

said.

Even though he kept his face and

voice expressionless and toneless,

it still seemed to Nathan that his

words were dripping with contempt.

It seemed as though the Sovereign

were going out of his way to remind

them of the power relationship and

difference in intellect between his

people and theirs.

Patience, kindness, long suffering …

Nathan recited words of peace and

wisdom in his mind in order to

temper his mood as the Sovereign

went on. However, his recitations

did not prevent him from getting

the gist of what the Sovereign was

saying. The conference was to occur

mostly in the Krenth language, even

though all of the Martian councilors

knew English. The Axis and Allies

would both be present so that if a

proposal were made the other side

could make a counter-proposal, and

so on and so forth.

When the Sovereign finished his

rundown of the procedures, all of the

guests were invited for dinner on the

floor below. Unfortunately the Axis

representatives would also be there.

They descended a stairwell to the floor

below, with the Krenth councilors

leading the way. On the way in,

the humans were given temporary

nametag stickers, with their names

phonetically spelled in the Krenth

language. As Nathan stepped into

the room, he saw the Axis delegation

was already there, although they were

not yet seated. They stood near the

other side of the room talking quietly

among themselves.

Once all of the American and British

delegation were inside, the Sovereign

made a brief announcement.

"This banquet is largely unstructured,"

he said. "The purpose is to engage in

undirected preliminary interactions

with one another, and to sample

Krenth cuisine."

"Small talk?" Nathan asked quietly,

to no one in particular.

"Not small talk," Kor-Neev said

overhearing. "Preliminary interactions,

to establish a basis for further

interaction. How should I render

this in Earth terms? Ah yes, it is an

opportunity to 'sound out' or 'get a

feel for your opponents,' as it were.

Consider it a type of reconnaissance."

"Got it."

"And now," the Sovereign stated. "Do

feel free to eat and mingle."

The food was served buffet style, and

although Nathan was hungry, he had

no idea what to take or where to start.

He decided to stick closely to Kor-

Neev to see what it she was taking.

"I'd like to follow you through the

line," he said.

"As you wish," she replied.

"I need to know what the Earth

equivalents are to all your Martian

food."

"There are no direct Earth equivalents

to Martian plants and animals,"

she said, "And do not use the term

'Martian,' even if we are conversing

in English."

"Why not?"

"It will be taken as an insult by anyone

who comes to know the meaning."

"But—"

"Come, we must select our food."

Nathan followed, and for the most

part he got what Kor-Neev got, but

he often took smaller portions, just in

case he did not like something. If he

did like something he could always

go back for more.

As they went through the line, the

most information he was able to get

out of her was whether something

was root, stalk, leaf, or fruit, and when

it came to meat, it was a matter of

whether it was a sea or land animal.

When he sat down to eat, everything

was quite different, but it all tasted

good. Nathan finished quickly and

went back for seconds. When he

came back to his table he found the

Sovereign there, talking quietly with

Kor-Neev.

"Greetings Captain Benson," the

Sovereign said when he saw Nathan.

"Greetings Sovereign," Nathan

returned.

"I had hoped to meet you at this time,"

the Sovereign said. "I wanted to thank

you, as a father, for delivering my

daughter safely and without incident

to Krentholkan."

"Thank you, sir," Nathan replied.

"You're quite welcome."

The Sovereign gave Nathan the

Martian salute as he sat down. Now

that he saw Kor-Neev and her father

sitting next to one another, he noted

that there was a strong resemblance,

although her father had ice-blue eyes

instead of gray.

AUTHORS PRESS

authorial magazine | 55

"The trip was adequate father," Kor-

Neev said.

"Indeed it was," the Sovereign said.

"I must admit, I did have certain

reservations, and I am not speaking

of the low-tech navigational systems

or primitive combustion based

propulsion system, although that

was certainly a cause for concern…"
---
"Father…" Kor-Neev said with a hint

of warning or displeasure in her voice.

"However," the Sovereign continued.

"Based on what I have been told, I

was able to infer that you comported

yourself with the dignity, propriety,

and logic of that befitting a Councilor.

It should be noted that your behavior

will factor in favorably in your case,

even though you will not be physically

present during the proceedings."

"Thank you sir," Nathan said,

perceiving that he had just received

an enormous compliment by Krenth

standards.

"I will engage in this ritual, just

this once, in commendation of your

performance," the Sovereign said as

he extended a hand toward Nathan.

Nathan took his hand and shook it.

"Now if you'll excuse me," the

Sovereign said when they released

hands. "There are other persons I

must attend to. Farewell Captain

Benson, and do enjoy your stay on

our world regardless of the outcome

of these events."

As Nathan ate his seconds, he looked

around the room. His eyes fell on the

Japanese officer he had met in the

lobby. The man's face seemed to be

locked into a perpetual scowl, at least

partially. He clearly radiated hostility,

and Nathan could only wonder how

the Martians would take it. All

throughout the banquet, he noted that

the Japanese officer remained close to

one of the most elaborately dressed

Krenth councilors, and that they spoke

continually in hushed tones. In spite

of all the Krenth security personnel,

the Japanese officer carried a side arm

and a sword, and one of his hands

always hovered somewhere close to

his weapon.

Unstable… Aggressive…

One of the German's also drew

Nathan's attention. The man was

middle aged and wore an elaborate

uniform covered in medals. But unlike

the Japanese officer, this man was of

an enormous size, and about 6'5 in

height. His balding head was shaved

down to gray stubble, and he wore

a monocle over one eye. He had a

large chest and arms, but he also had

a significant gut. Nathan could not

help wonder how much of his bulk

was fat vs. muscle.

This man seemed to be more easygoing

than the Japanese officer, but had the

hint of a smirk perpetually on his

face, except on a few occasions when

it burst into a full-fledged sneer. The

German officer went around the

room speaking with many of the

Martians, and with the members of

the Allied diplomatic team. Nathan

found this man equally disturbing,

but for slightly different reasons. He

shook his head and returned to his

food. For the first time he was glad

that he was not a member of the

diplomatic team.

AUTHORS PRESS

authorial magazine | 56

After some time, Kor-Neev got up

and went to go interact with the

Axis team. Nathan shook his head

once more, then went to get dessert
---
and returned to his table. But he had

barely begun to eat his dessert when

someone spoke to him with a heavy

German accent.

"Herr Benson?" the voice said.

Nathan sighed and turned slowly to

see who it was that addressed him,

even though he could probably guess.

"So you are the brave captain

of the American ship," said the

German officer with the monocle.

"I congratulate you on your swift and

efficient voyage."

The German officer was flanked by

two other men. One was the Japanese

officer, and the other was a large

German with extremely pale skin,

white flat-top hair, and dark glasses.

The German officer smiled at Nathan

and held out a hand. Nathan sighed

inwardly and rose to his feet. He

shook hands with the German officer

in spite of himself.

"I am General Praetorius, representing

the military arm of the Third Reich,

and my honorable colleague is General

Watanabe, of the Imperial Japanese

Army," the German officer said,

gesturing toward the Japanese officer,

who still seemed to be scowling.

The Japanese officer bowed toward

Nathan, and Nathan returned the

gesture.

"And this fine gentleman to my

right, is your counterpart," General

Praetorius said gesturing to the other

man. "He is Captain Adolf Schultz."

Now that Nathan was standing, he

was able to get a better idea of the

size of the German captain. He was

an enormous mountain of a man.

Nathan was a big man himself, but

he looked unimpressive next to this

German soldier. He could not help

but wonder if that was by design, to

put up a superior and/or intimidating

front. But if so, was it for the Martians

or the Americans?

Perhaps both?

Both the face and form of Captain

Schultz were finely chiseled, like the

work of a sculptor attempting to create

an image of the perfect man.

The German captain stepped closer

to Nathan, until he came within a

few inches of him. Nathan refused

to allow himself to be intimidated.

He straightened up and cocked his

head casually to one side, then the

other, as if he were a boxer preparing

for a fight. The German captain's jaw

clenched, and he removed his dark

glasses. Baleful pink eyes glared down

at Nathan.

An albino!

He wondered why the Germans

would send an albino, which was

actually a sort of disability, but then

it occurred to Nathan that on Mars,

pigment would not be quite as vital

as it was on Earth. In this context,

his anomalous pink eyes combined

with his immense bulk would be an

asset, if intimidation was the goal, and

knowing the Axis, it probably was.

Is this what they mean when they talk

about the Ubermensch?

After looking Nathan up and down,

as if sizing him up, Captain Schultz

extended an enormous hand. Nathan

took his hand, and immediately his

hand was squeezed in a vice-like

grip. Nathan kept his face steady in

order to hide his discomfort, and he

squeezed back with as much pressure

as he could apply. The German's eyes

narrowed, and he applied even more

pressure. Nathan clenched his jaws,

but kept on the pressure and made

no sound or expression which would

betray his discomfort and pain.

Finally the German captain released

his hand, and General Praetorius

spoke up again.

"There!" the General said. "You see,

we are all friends here! This is not a

hostile confrontation, but an auction

of sorts, where we both bid for the

same commodity. There is no reason

why we cannot be friends, after all,

there is no hostility between our

peoples back on Earth, no state of

war … The best man will win this

auction. As for the loser, well … There

are other people's here on Mars, yes?"

The comment was gratuitous and

empty. Both the Axis and Allies

knew that the Krenth were the most

technologically advanced civilization

on Mars, and they also controlled

the largest geographic area. The only

advantage their chief competitor had

was a larger population, but a larger

army could be overcome by a smaller

army with superior equipment and

training.

"Well, if you will excuse me Herr

Benson, I must take my leave of you,"

the German General said with a

smirk. "I am eager to meet your Dr.

Robinson. Good day."

General Praetorius turned away, and

General Watanabe bowed once more

before turning to follow him. Captain

Schultz remained glaring at Nathan

for a few seconds longer.

"Good grip," he said, then he put

his dark glasses on and turned away.

AUTHORS PRESS

Nathan's flexed and crackled his hand

once the German captain was gone.

His hand throbbed for the rest of

the night, and when he returned to

his hotel room, he stuck his hand

under the faucet and turned on the

cold water.

authorial magazine | 57
---
Chapter 6

The City

The next day, Nathan got up and got

dressed in casual clothes. He knew

there was really nothing for him to

do, other than check in with the ship

on a daily basis. He was essentially a

tourist on an alien world. Or was he?

Could I really just get up and walk

out of here?

Under normal circumstances, he

would have gone down to the cafeteria

to eat, but there was a good chance

the Germans and Japanese would

be there.

So what if they are, they don't own the

hotel! But… on the other hand, why

should I stay in the hotel when there's

a planet to see?

He had been issued a small plastic

card which supposedly represented

a certain amount of Krenth currency,

so he could go shopping and buy

food if he wished. But then he

remembered how it had been on

Earth for the Martians. None of them

were physically threatened, but they

had to go everywhere with security,

and wherever they went in public they

were quickly surrounded by crowds.

Still, staying in the room all day would

not work. Nathan opened the door

and stepped out into the hall. He

found Gor-Kaal standing in the hall

outside of his room, and a line of

Martian security going down the

hallway in both directions, with one

guard standing outside of each room

occupied by humans.

Gor-Kaal nodded at Nathan but

said nothing.

"I want to go outside," Nathan said.

"Outside?" Gor-Kaal said.

"Yes, why not? You don't expect me

to stay in this hotel the whole time

I'm here do you?"

"This hotel has extensive

accommodations. In the top floor,

there is a park. There are also swimming

pools, weight rooms, running tracks,

multiple restaurants, and a movie

theater. Also, the hotel has been

cleared of all Krenth customers."

AUTHORS PRESS

authorial magazine | 58

"Am I a prisoner?"

"Of course not."

"Then I'm going outside."

"Wait, let me make the appropriate

arrangements. One moment …"
---
Gor-Kaal tapped a small black device

which was on his ear and began to

speak. He quickly relayed what

Nathan planned to do and called for

extra security to be ready in the lobby.

"Why the extra security?"

Nathan asked.

"Since you are more important than

the average crewman of your ship, I

thought it prudent to call for extra

security," Gor-Kaal replied.

Nathan recalled how much security

had been assigned to the Martians

back on Earth. It was extensive, and

they generally tried to avoid being

seen in large public places. If they

wanted to go somewhere, like a zoo

or historical site, it was often cleared

of civilians before they arrived.

But the Krenth were different. They

were more reserved, therefore it

followed that they would behave in

a more restrained fashion.

When they reached the lobby, they

were joined by two more security men,

who followed them without a word.

When they reached the main doors

of the hotel, Gor-Kaal sighed. It was

not a loud sigh but Nathan still heard

it. Apparently not all of the Krenth

were as controlled and bottled up

emotionally as the Sovereign and

the councilors.

Which means anything could happen…

For a moment, Nathan considered

staying inside, but when he looked

back toward the cafeteria which was

on the ground floor he saw a good

many Japanese soldiers loitering

about and eating. He shook his

head and decided to risk whatever

perils lay outside rather than eat

lunch surrounded by those who were

clearly an enemy.

Gor-Kaal led Nathan to a car with

darkly tinted windows. Even when

Nathan leaned in close and put his

face against the back window, he could

hardly see anything inside. The other

two guards got into the front of the

car, while Nathan and Gor-Kaal got

into the back.

"Where would you like to go first?"

Gor-Kaal asked once they were

all inside.

"Take me to get something to eat,"

Nathan replied. "Take me to a place

you would go. I still don't know what's

what here."

"We'll go to a place with a consistently

low volume of customers."

"No way! Take me to a place where

the food is good."

For half a second, the shadow of an

exasperated look flitted across Gor-

Kaal's face. By Earth standards it was

nothing, but compared with how

all the other Martians Nathan had

seen comported themselves it was

practically a shout.

"Take us to Gor-Saalas' Prime Eatery,"

Gor-Kaal said in Krenth.

"I hope it's good," Nathan replied in

the same language.

"You know Krenth?" Gor-Kaal asked,

turning suddenly to face Nathan.

"I know enough to converse, but

I'd like to know more. Why don't

we talk in Krenth, and if I don't

understand something I'll ask you

for the English word."

"Very good, I find it difficult to speak

in English continuously."

"Really? I don't find it so hard to

speak in Krenth. It's a very natural

language."

"Is it? I wonder if others in your team

feel the same way?"

"I have no idea, but I know Dr.

Robinson and Henley are better at

it than me."

"Hmm."

"I have a question, what's with all the

Gor and Kor?"

"Ah, I would not expect you to

understand. They come from old

Krenth speech, from before the

World War."

"Your people had a World War? So

did we … But wait, first tell me what

the Gor and Kor mean."

"They are designations that refer to

birth order. We are a hierarchical

society. 'Kor' refers to firstborn, 'Gor'

refers to the second born. Kor-Neev

is the Sovereign's oldest child, and

her brother Gor-Malas is the second

child. The Sovereign himself is the

third of his family."

"I see, and the war?"

"The World War happened 2000

years ago. It stripped our world of

most of its civilizations, and nearly

destroyed all life."

"How?"

"It was an atomic war. It took us over

1000 years to rebuild our civilization.

It was a great tragedy."

"What do you mean by atomic?"

"We invented fission devices to split

the atom, which released incredible

amounts of energy, followed by

radiation which poisoned our world

for hundreds of years. Now a state

of balance exists between us and

the Sovath."

AUTHORS PRESS

authorial magazine | 59

"Sovath?"

"The other great power. They exist

on the other side of our world. They

are not as advanced as we, but they

have many atomic devices."
---
"You mean, people still use such things

after what happened?"

"No one uses them, but all the most

powerful nations have them for the

sake of deterrence. Even though we

are the most advanced technologically,

a conventional war with the Sovath

would be difficult for us, because they

outnumber us three to one. That is

why we must have atomic devices.

In fact, we have more atomic devices

than they do."

"Well, so long as it keeps the peace …"

"That is the entire purpose."

Hopefully these people don't want to use

Earth as grounds for a proxy war …

Or maybe they want Earth as a backup

world, or a colony!

Nathan continued to quietly mull over

his concerns until they reached the

restaurant. The diner took up half of

the ground level floor in one of the

enormous buildings, and it had large

round windows which glowed with a

blue light around the edges.

When they stepped inside, the

woman working as receptionist looked

startled, but quickly regained her

composure, then she looked at Gor-

Kaal. Gor-Kaal nodded at her, and

she began to speak rapidly in Krenth,

barely restraining her excitement.

"Right this way sir," she said. "We

have a table you can have at once."

"Sounds good," Nathan replied.

As they passed through the dining

area, many of the customers cast

glances at Nathan, and some of them

quickly muttered to one another

as they looked at him, but no one

said anything to him. Some younger

Martians raised small handheld

devices similar to the one Kor-Neev

used to take pictures as they passed.

Gor-Kaal glared and took a step

toward one of them but Nathan

stopped him.

"Let them take their pictures," Nathan

said. "They just want a story to tell

their friends. There's no harm in it."

"If you insist," Gor-Kaal said.

When Nathan and Gor-Kaal were

seated, the other two men took up

positions at different points nearby.

The receptionist placed a menu in

front of them, and informed them

that a waiter would be with them

momentarily. Then she left to return

to the front, but not without pausing

and turning around to steal another

glance at Nathan.

Nathan looked at the menu. Some

of the food items had pictures, but

most did not. There were of course

descriptions, but even though he

could sound out the words the names

of plants, animals, and spices were

mostly meaningless to him.

Ultimately Gor-Kaal helped Nathan

pick something to eat, and it turned

out to be good.

After they finished their meal, Gor-

Kaal wanted to return, but Nathan

insisted on seeing more of the city.

Gor-Kaal reluctantly obliged. They

visited a park, a mall, and a museum.

Over the course of the day many of

the people they passed paused to

glance at Nathan, but ultimately kept

walking without saying a word. Some

just turned their heads for a second

and continued without stopping, and

some were entirely indifferent to him.

But there were a few people who

wanted to stop and speak with

Nathan, mostly young people in

their late teens and early 20s. The

first few times it happened, Gor-

Kaal attempted to send them away

but Nathan overruled him. He was

eager to meet other Martians besides

the stuffy aristocratic rulers he had

spoken with prior to leaving the hotel.

Most of the young women who

stopped him, and some of the men,

wanted to take pictures with Nathan.

"Does everyone have these tiny

cameras?" Nathan asked Gor-Kaal

at one time when they had just gotten

through talking with some Martian

college students.

"The technology is about fifteen years

old, and based on what I have seen,

all the young adults under thirty

have them, at least the women do,"

Gor-Kaal said.

"You don't approve?" Nathan asked.

"I think it's foolish and narcissistic."

"How do the cameras work? I've

never seen film that could fit into a

case that small."

"They don't use film, and those

devices aren't just cameras. They

are computers, and they store the

information in their memory. The

pictures can be uploaded to other

devices, or put on the network."

"Network? What's that?"

"There are literally billions of

computers around our world. They

are connected by wires and electronic

signals, which form a network where

information can be exchanged with

any other computer."

"So anyone can see what you have on

your personal computer?"

AUTHORS PRESS

authorial magazine | 60

"No, they can only see what you post

in public for them to see. There are

large computers that host a lot of

information, and people can connect

to those remotely and browse through

it, like a library, but inside a computer."

"Interesting."
---
"A lot of it is garbage, because

anything at all can be posted."

"I see."

"So the pictures of me that they

are taking …"

"You're probably going to be all over

the social media."

"Social media? What is that?"

"It is a ridiculous custom started by

the Sovath and others of their race.

Each person gets a 'page' on a social

networking site, where they can post

pictures of themselves and personal

details. The idea is that they connect

with friends to share information

publicly, and each person subscribed to

their page receive an update every time

they post a picture or a statement."

"So… what? They post pictures of

themselves and make statements, like

in a diary, but for everyone to see?"

"Yes."

"So it's like having your own

personal newspaper, which is entirely

about you?"

"Yes, precisely."

"That does sound narcissistic. But,

surely most people don't care about

those kinds of things."

"Most Krenth find it foolish, as I

do, but it is popular among some

of the younger people, too many

unfortunately."

"Strange …"

"Strange and foolish, and certainly

contrary to our values and culture."

"But still, you allow it."

"It is allowed. We are a free people,

which includes the freedom to be a

fool as well."

"Huh …"

"Some will keep the pictures on their

personal computers, and others will

be satisfied by printing them off."

"Interesting, take a picture without

film, and print it off on another device."

At the end of the day, they ate dinner

and returned, but the next day Nathan

wanted to go out again. They visited

another part of the city and ate at

different restaurants. Again they

were stopped throughout the day

by young people.

AUTHORS PRESS

"If you could just put an arm around

me," one of the Martian women said.

"And also my friend …"

Nathan put his arm around both

women, while Gor-Kaal grew tense

and the other two guards looked

around with expressionless faces.

authorial magazine | 61
---
"You take the picture first Tor-Shal,

make sure you get us both," one of

the women said.

"Friendship with fools is a poor

investment, and often comes

with a cost."

the attention was certainly motivated

by the novelty aspect of his presence,

but sometimes it was more than that.

There were three young women, and

each had their own mobile device.

Tor-Shal took pictures with all three

devices, then switched places with one

of the other girls and the procedure

was repeated. The whole process took

nearly ten minutes.

"You have something to say Gor-

Kaal?" Nathan asked when the

women had gone.

"It is not my place to say anything,"

Gor-Kaal replied.

"It's alright, go ahead."

"Why do you encourage such

foolishness?"

"Why not? I'm the first alien they ever

got to see, and maybe the last. They're

young, and they want to remember.

There's no harm in it. It's good to be

friendly."

"Relax. This is nothing compared with

how my people reacted to yours back

on Earth. Every time they went out,

there were enormous crowds, and

many people leaning in and reaching

out to try to touch them. If they

wanted to spend any length of time

in an area the police had to clear it."

A clear look of horror flitted across

Gor-Kaal's face and his mouth even

dropped open a little. Nathan waited

to give him an opportunity to say

something but he was speechless.

"So you see, this is nothing by

comparison," Nathan said.

But that was not all. On Earth he

was considered attractive by the

opposite sex, and he received flirts

from time to time, but it was nothing

compared with the volume of female

attention he received now. Much of

At one point he had a long

conversation with a twenty-two

year old woman. As they talked, she

frequently brushed at her long black

hair. It parted on the side, and so

smooth that it kept slipping down

over one side of her face. Nathan

found the repeated action charming,

and occasionally the young woman

even smiled at him.

It slowly dawned on Nathan that he

was coming to appreciate Martian

beauty. The universally long hair and

flowing garments reminded him

of older and more noble eras of

ancient Earth, and began to stir up

new thoughts in him and longings

which he did not know that he had.

Of course, that was not the only

thing. Most of the women were tall

and slim, and had sharp Nordic type

features. He had gotten used to the

AUTHORS PRESS

authorial magazine | 62
---
higher foreheads to the point where he

no longer thought of them, although

some Krenth did not have them. The

woman he spoke with now had a

human-sized forehead.

He had also grown accustomed to

the gray skin, and now it just seemed

natural to him while his own skin

seemed anomalous. He had also

grown to appreciate their outfits,

which were modest yet flattering of

their forms, and elegant. At first he

never would have imagined that he

would be attracted to the Martian

women, but even though they were

aliens, the fact remained that they

were women and he was a man.

Nathan invited the young woman to

eat dinner with him, and the whole

time he enjoyed her company, while

Gor-Kaal looked increasingly tense

and uncomfortable. The other two

guards remained aloof.

After dinner, they walked and talked

together for a while, but suddenly the

young woman became tense after

removing her mobile device to take

another picture.

"I'm going to be late for my economics

class!" she said anxiously. "I have to

run. But, tell me your mobile number

before I go …"

"My what?" Nathan asked.

"Your mobile number, maybe we can

meet again?"

"I don't know what that is."

"You don't have a mobile phone?

Like this?"

She held up the device that she had

been using to take pictures.

"That's a phone?" Nathan asked.

"Of course silly! What did you think?"

"I don't know…"

"Are you on Karm Profiles?"

"What is that?"

"What about Happy Tracker?"

"I really don't know what you're

talking about."

"What's your electronic mail address?"

"I don't know what that is either."

"My goodness!" she said as she took

his hand and held it. "Well here …"

She took a pen from her purse and

wrote a number on Nathan's hand,

then she wrote her name beneath it

in large letters.

"Bye now!" she said with a smile. "I

have to go."

She turned from him and walked off

at a rapid pace, her boots clomping

loudly against the floor, and at one

point she tripped and stumbled to the

side, but she quickly steadied herself

and ran off at a faster louder pace.

Nathan and Gor-Kaal watched her

go, and once she was gone Gor-

Kaal spoke up.

"What a stupid woman," he said.

"I was growing concerned that she

would never leave."

"She seemed nice, and she's not that

stupid," Nathan said. "We had a nice

long conversation."

"About animals and food."

"And family. She seemed like a

nice girl."

"She is a fool, and she has a

stunted sense of dignity, propriety,

and manners."

"Come on …"

"Flaunting her emotions in such

a brazen fashion and unrestricted

fashion in public, as if she had no

proper upbringing or education.

Completely lacking in basic manners

and discretion…"

"That's a lot of judgment."

"Speaking of which, I sincerely hope

that you will not judge the Krenth

people based upon that individual."

"I won't."

"Good, there are always those

among us with low intellect and

a poor upbringing, but they are a

small minority. Will you actually

call her later?"

"I don't know, I hadn't thought

about it."

"Cavorting with our women may

adversely affect the diplomatic

endeavors your people are making,

but then, if you were to take such

a foolish and intellectually stunted

creature from our gene pool and

return to Earth, it would certainly be

no loss to us. Pragmatically speaking,

it would be in our interest to allow

you to do so."

"For goodness sake …"

"But I could not bear to live with such

a foolish woman. Her low intellect

and cloying emotionalism would

grow extremely tiresome."

"Listen, I'm here on a mission, that's

all. All I'm doing now is experiencing

your culture, like Kor-Neev did when

she was on Earth. Just because I'm

talking with people you probably

never would does not mean I'm

getting ready to marry them. I just

said she was a nice girl, that's it. No

reason to read anything into that.

Now let's get going, I want to buy

some souvenirs …"

AUTHORS PRESS

authorial magazine | 63

To be continued…
---
Paperback | $13.99

Kindle | $3.98

Hardcover | $5.81

Paperback | $8.02

Kindle | $4.53

Dancing with

the Stripes

by Shirley Ellen Dodding

Alyssa loses both parents at twenty-one, and to ward off

her depression, her gran pays for a fourteen-day Caribbean

cruise. Looking for love, a new life, and the sun, Alyssa's

journey starts with adventurous romance, but it quickly

turns nightmarish.

Two mischievous kids in a cabin down the hall, have the

run of the ship. In time, they have the whole ship looking

to solve a crime. Alyssa is arrested and thrown into the

brig. Will the ship's officer, the romantic Clive, save her, or

the F.B.I.? Who will save the ship?

Satan Don't

Block My Way

by Lillie Mae Hipps-Dickerson

It is a book of short poems written to inspire people to live their lives

through the eyes of their life in God.

AUTHORS PRESS

I am the second of nine children, and at nine months old I had polio. I

started walking at the age of three and the doctor gave me a fifty fifty

chance of living. Some of them say I would be in a vegetable state, but

the Lord blessed me to be the person that I am today. My faith in the

Lord is very strong. I am a writer and I write for the Lord's people

who need a word from the Lord to be blessed in His love.
---
Paperback | $9.99

Hardcover | $23.99

Paperback | $19.99

Kindle | $4.57

Who is this

Stranger

by Sally M. Russell

Having just graduated from Law School in his home state of Virginia,

Carlton was offered an inheritance from his grandfather that had

grown through several generations. The only stipulation was that it be

used in someway to help mankind which had been the dream of his

great, great, great grandfather.

His travels to find what he wanted brought him to a 'little spot in the

road' in Illinois which intrigued him, but there was also a very naive

young lady who was ready to learn about love and wasn't afraid to ask

questions. It's a challenge, not only with the town that becomes his

project along with his grandfather, but also with a love he's not sure he's

ready for but doesn't want to let go.

Face into

the Wind

by Raymond D. Aumack

The poems in this book are as diverse as you can imagine.

There are poems of Irish imagination as well as poems of

triumph and sadness in tragedy. There are love poems and

poems observing the vicissitudes of our curious society. There

are poems that simply tell stories. There are poems that

celebrate personal courage. There are poems of both lament

and praise. And there are poems of internal reflection.

AUTHORS PRESS
---
AUTHORS PRESS

authorial magazine | 66
---
Lifestyle

The Charming

City of Manila

by Rio Siao

Manila, the capital city of the Philippines, was declared as one of the most densely

populated city proper in the entire world during 2018. It has gained its reputation as

the second capital city in the world that has been damaged and rebuilt so many times,

right after Tokyo. Aside from being such a resilient global city, it is also known to be

one of the wealthiest cities in Southeast Asia. The city's name, "Manila," is derived from

the term which means the whole metropolitan area.

The city is located on the eastern shores of Manila Bay.Th e Pasig River flows through

the middle of the city, dividing it into the north and south sections. It is made up of

sixteen administrative districts: Binondo, Ermita, Intramuros, Malate, Paco, Pandacan,

Port Area, Quiapo, Sampaloc, San Andres, San Miguel, San Nicolas, Santa Ana, Santa

Cruz, Santa Mesa, and Tondo. Home to many historic sites, most of which were made

in the 16 th century, it was founded by Spanish conquistador, Miguel de Legazpi, during

June 24, 1571.

Why it's great to be in Manila

• The people's hospitality will make you feel at home. Filipinos are really one

of the friendliest people you will ever meet.

• If you don't know how to speak Tagalog, the national language, you won't really

have a problem communicating because most Filipinos know basic English.

AUTHORS PRESS

• The food is definitely a must-try. Since the Philippines became a colony of

three big nations, namely Spain, Japan, and the USA, it offers an extensive

range of dishes to choose from. Some are so unique because the recipes are

infusions of these countries.

• Manila's nightlife is pulsating with so much adrenaline, making its mark as

one of Asia's coolest cities.

• The city takes pride in its rich culture, arts, and history.

authorial magazine | 67
---
Sights and Sounds

in Manila

Manila Bay

Manila Bay is a natural harbor which serves as the main

port of Manila in the Philippines. Strategically located

around the capital city of the country, it facilitated

commerce and trade between the Philippines and its

neighboring countries, thus, becoming the gateway for

socio-economic development even prior to Spanish

occupation. It also boasts an experience like no other

as every afternoon brings a beautiful sunset.

Intramuros

A home to Spanish-era landmarks like Fort Santiago,

this citadel has a large stone gate and a shrine to national

hero José Rizal. Affluent in history and arts such that of

the ornate Manila Cathedral housing bronze carvings and

stained glass windows, while the San Agustin Church

museum has religious artwork and statues. Walk around

the Spanish colonial features of furniture and art-filled

Casa Manila museum and ride in one of the horse-drawn

carriages (kalesa) that ply the area's cobblestone streets

to complete the experience.

The Cultural Center of the Philippines

Experience the best of the country's culture and arts. It

is the zenith of every artist, performer, musician, and

director's dream for local fame. The theater showcases

the best of Philippines' pride.

AUTHORS PRESS

authorial magazine | 68
---
Quiapo

Not only does the famous annual procession of the

Black Nazarene centers on this iconic place, but the

bustling streets of Quiapo will mesmerize you like that

of a kaleidoscope. Surrounding the places of worship are

mystical affairs crawling the sidewalks. Vendors peddling

spiritual items like that of amulets, candles, magical

potions, even offering tarot card and palm reading.

Manila Zoo

Formally known as the Manila Zoological and Botanical

Garden, this is a 5.5-hectare zoo located in Malate,

Manila. It was opened to the public on July 25, 1959.

Touring the zoo is a great way to educate children and

yourself of the various animals especially those only

found in the Philippines. Enjoy the grace of these rare

animals with their beautiful habitats while getting to

know each of their characteristics.

AUTHORS PRESS

authorial magazine | 69
---
Paperback | $6.89

Paperback | $18.00

Kindle | $7.59

Brightly, the

Grounded Angel

by Gay Sizemore Sauer

Everybody is useful in spite of limitations... this includes

ANGELS. Everyone has a talent that can be used for the

good of others. Brightly, the one winged angel shows us

how we can all be useful in God's kingdom. Although he

is a handicap, Brightly, uses his beautiful singing voice to

soothe newborn babies with his beautiful voice. Beginning

with his first assignment in the stable at Bethlehem,

Brightly learns that it is more fun to help the newborn

babies than to somersault in multiple flip-flops in the

atmosphere.

Fate

Unknown

by Leean Lewis-Ramirez

Fate Unknown is a novel inspired by adolescent years spent

entirely in the world of fantasy. The original draft of the

novel started the author's freshman year of high school and

was completed a month before graduating, with multiple

edits since.

This is the story of a secret Mystic Society blending in with

modern civilization. It centers on a fourteen-year-old girl's

struggle to fit into both. With a prophecy hanging over

her head and a war threatening to begin, Kana Young must

team up with Lost Mystics and try to fend off the first wave

of darkness.

AUTHORS PRESS
---
Hardcover | $28.95

Paperback | $9.35

Kindle | $2.97

Paperback | $11.99

The Mind of a

Deviant Woman

by Paula Paul

Carrie Buck, a young woman living in early-twentieth-century

Virginia, is raped and becomes pregnant by a family member--and her

trauma is only beginning. She is deemed a "deviant" for having a child

out of wedlock and, for that reason, is a candidate for sterilization.

Louisa Van Patten, a New York socialite, is an advocate of the eugenics

movement, which promotes this punishment.

When Carrie and Louisa meet, along with journalist Ben Newman,

during a national debate about the merits of forced sterilization, all

their lives--and ours--are changed forever.

Paula Paul's historical novel The Mind of a Deviant Woman offers a

thrilling story based in extensive research into a little-known, but

devastating, part of American history.

Grandma's

Magic Box

by Nadine Thomas

This book is a collection of stories written by a

grandmother and sent to her grandson as a way to keep

in touch over a long distance. These stories are delightful

adventure trips for young children. The stories all revolve

around a box that the grandmother had given to her

grandson for Christmas. Each story takes the reader to

a different location with facts about that location. The

ending of each story is quite a mystery. These are sure to

delight any child ages four to eight.

AUTHORS PRESS
---
Hardcover | $28.99

Paperback | $19.99

Kindle | $4.57

Hardcover | $25.99

Paperback | $9.91

Harmony's Song

and Other Stories

by Carl Wooton

Twelve stories explore the stresses and strains inherent in youth coming

of age, family dynamics, misplaced and unrequited love, the reserved

strength in a marriage, a confrontation with death, and the constant

awareness that there is never enough money.

Ernest Ramblers family lives with the knowledge that Ernest senses

that he must always be looking for or moving to a better job, which

means they will be moving again soon. The stories place the characters

in Indiana, Illinois, Kansas, Arkansas, and Louisiana. None of the

characters seems to find a sense of permanence in any one place. In

Ramblers and Spinners, coming of age can mean a counting of losses. In

A Wide Day, the death of a chicken reveals a mystery about time and

life and death. Arrangements and Harmonys Song display how little one

might know about another. There is a general sense that everything in

life involves unending pursuits of security and love and that coming of

age may well be a never-ending process.

From Homeless

to Heaven

by Jeanne Ann Off

Usually Cody Cambres had to do ranch work alone in the winter.

However, he had a standing order with an employment agency for

an employee. One winter he was surprised to get a call saying a man

would be on the bus that evening. Alan told Cody that he wanted a

job and a warm place to sleep instead of living outdoors as a homeless

man. Alan had refused to stay in any mission shelter because of life

experiences involving religion. He does enjoy ranch work. In the

spring Cody and Alan are checking cows and the calves born that

spring when a bullet hits Alan. Later a bullet from the same rifle kills

Cody's best horse. Fire begins on Cody's ranch and spreads. Aimi's

house burns down and Aimi's husband is murdered by a bullet from

the same rifle. Alan helps both Cody and Aimi with ranch work.

Friendship develops.

AUTHORS PRESS
---
Paperback | $9.21

Hardcover | $5.78

Paperback | $17.43

Kindle | $5.60

Tock A Tick

by Ryke Leigh Douglas

Author Ryke Leigh Douglas is a veteran educator devoted

to helping children discover the joy of reading and the

magic of books.

She also strives to provide parents and teachers with

entertaining stories that lend themselves to nurturing

positive attitudes, good character traits, and creative

thinking. When she isn't writing, Ms. Douglas enjoys

visiting schools, libraries and early learning centers to

share her stories.

She also encourages children to develop their own writing

skills with a program she created entitled The Writer's

Tool Box.

The Apathetical Man

by Gregory McLeod

Today, we, as mankind, need hope without any doubt. We need hope

in something greater than that of our government, teachers, doctors,

and so on. Even though these are good for us, we still are sometimes

without the understanding of true reality. Today, we can have greater

hope in something greater than you can imagine. Just look to the

heavens, my friend. Just think, everything that your eyes can see, your

ears can hear, and your fingers can touch will be gone like a vapor one

day. It isn't a matter of "IF" it is a matter of just "WHEN." Then what?

If this life here on this great earth was all that I have hope in, I would

be the most miserable person that man would know. This hope that

I have today is BIG. This hope is spiritual and I am today grateful to

share this Greater hope with you. This hope gives me a new life day

by day. I can now live a normal life and have great hope in tomorrow.

May The Creator of All Breath Keep You, -Gregory M. McLeod.

AUTHORS PRESS
---
Hardcover | $34.54

Paperback | $10.09

Eyes from Above!

by Howard R Milsted Jr.

"Eyes from Above" the sequel to "A Real Love Story," is a romantic

novel about a man who experiences great loneliness and deep

depression after the death of his beloved wife of forty-eight years.

His loss of will to live consumes him until his wife comes to him in

visions and urges him to enjoy his life on earth until they are united

again for eternity. He meets a much younger woman and the three

of them become entwined in a journey of found, lost and then found

again happiness. His story will lift the hearts of readers who have

suffered great loss.

Hot and Cold

Running War

by Captain Eugene Ray Martin

AUTHORS PRESS

This book is a collection of adventures that defined the cold war. The

theme of some of these adventures is about how close we came to

World War III with nuclear exchanges between China, Russia, and

America. The results of some of those stories might have resulted in a

non-nuclear war with Russia and America shooting at each other.

Paperback | $21.95

Kindle | $7.52

Our NSA protagonist and his KGB girlfriend tie many of the stories

together. All the adventures are fictional although they were based on

actual events. This was a time when the world's greatest powers, Russia,

America, and China were at conflicting ends politically and militarily.
---
Paperback | $14.99

Hardcover | $12.92

Paperback | $11.99

Kindle | $4.52

Your Opportunity for a

Better Life: 9 Keys to Unlock

Success in Your Life

by Jeff Daws

Jeff Daws provides an insightful road map for us to live a better and

abundant life. Through entertaining and enriching personal life stories,

he shares practical principles to help us discover and live the best life

we can. I believe every reader will be refreshed by Jeff 's personal and

practical insights.

Twists & Turns

by Gloria Winkels

Dr. David Cooper, Lead Pastor, Mount Paran Church

It is with great excitement that I recommend Your Opportunity for a

Better Life. Applying the wisdom found in this book's pages will help

you change your life! Thank you, Jeff, for giving us hope, help, and

something to hold on to!

Dr. Benny Tate, Senior Pastor, Rock Springs Church

Twists & Turns is the story of my life. It begins with my birth.

I was taken away from my mother when I was almost three

years old and was put into a foster home. I was almost five years

old when a loving family adopted me. They gave me a good

foundation in life, and they taught me that God is love. My life

has been filled with many experiences, both tragic and happy. I

invite you to come along with me on my journey, and I will tell

you about my adventures and how I was able to cope because of

my strong faith. My hope is that my story will be an inspiration

for others.

AUTHORS PRESS
---
AUTHORS PRESS

NOVEMBER 22-24, 2019

Don't miss out! Get in touch with one of our consultants today at 925 255 0098

and find out how you can join us at the Miami Book Fair International.

www.authorspress.com