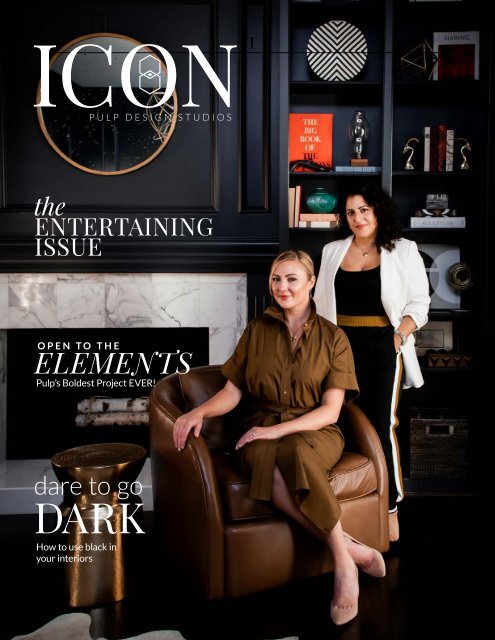 Pulp Design Studios | ICON | Issue 3
This issue of ICON features Pulp's Ultimate Entertaining Guide, gift guides, our latest trend watch and must haves, and our most exciting projects to date. A dynamic home that is opens to the elements maximizing indoor and outdoor living in Seattle. A traditional home in Dallas that received a modern update through carefully selected finishes and furnishings. And a before and after on a mid-century modern home reimagined for modern living.
This issue of ICON features Pulp's Ultimate Entertaining Guide, gift guides, our latest trend watch and must haves, and our most exciting projects to date. A dynamic home that is opens to the elements maximizing indoor and outdoor living in Seattle. A traditional home in Dallas that received a modern update through carefully selected finishes and furnishings. And a before and after on a mid-century modern home reimagined for modern living.
SHOW MORE
SHOW LESS
Create successful ePaper yourself
Turn your PDF publications into a flip-book with our unique Google optimized e-Paper software.
ICON

PULP DESIGN STUDIOS

1

the

ENTERTAINING

ISSUE

OPEN TO THE

ELEMENTS

Pulp's Boldest Project EVER!

dare to go

DARK

How to use black in

your interiors

1
---
STEAMIER

than EVER

The brand that invented the Wall Oven has reimagined the

possibilities. Introducing the largest 30" Steam Oven on the market*,

featuring multiple racks, the ability to seamlessly fi t into pre-existing

cavities, 17 different cooking modes—plus Home Connect . Revel in

the unmatched power only Thermador delivers.

LEARN MORE AT

THERMADOR.COM/STEAM-OVENS

THE

STEAM COLLECTION

30" Masterpiece® &

Professional Double Steam

& Convection Ovens

THE FIRST & ONLY DOUBLE STEAM &

CONVECTION OVEN ON THE MARKET

48" & 60" Pro Grand®

Steam Ranges

THE FIRST EVER STEAM CAVITY

IN RANGES

30" Masterpiece® & Professional

Single Steam Ovens

THE LARGEST SINGLE STEAM

OVEN CAPACITY

2

*According to AHAM Standards, the 30" Steam Oven delivers the largest steam capacity on the market.

©2019 BSH HOME APPLIANCES CORPORATION. ALL RIGHTS RESERVED.
---
CONTENTS

ON THE COVER

Photo by Korena Bolding

TREND

14

WATCH

IN this

ISSUE

FOR S. HARRIS

A COLLECTION of

LUXURY TEXTILES

18

FOUNDERS' LETTER 6

GIFTS FOR THE SEASON 8

TREND WATCH 14

OPEN THE THE

ELEMENTS

STEAM IS HOT! 16

This Seattle

home is Pulp's

boldest project ever!

OPEN TO THE ELEMENTS 18

FACE LIFT FOR 40

TRADITIONAL

DARE TO GO DARK 50

BEFORE & AFTER 54

BEHIND THE SCENES 64

HOW DO YOU PULP ? 65

ASK PULP ANYTHING 66

67

Pulp's Ultimate

ENTERTAINING

GUIDE

PULP'S ULTIMATE 67

ENTERTAINING GUIDE

Ask a Designer 68

Designed for Entertaining 70

Entertaining Tips 72

Setting the Table 74

Shake it Up 76

Pulp Playlist 77

THE LAST WORD 78

Dallas | Seattle | Los Angeles pulpdesignstudios.com @pulpdesigns 214.504.2606
---
OUNDERS' LETTER

We love to entertain at Pulp Design Studios, and we

are thrilled when our clients ask us to design great

spaces to welcome family and friends! This is our first

Entertaining Issue, and we've packed it full of homes,

ideas, and tips to make the most of the upcoming holiday season,

and beyond!

The issue also includes our boldest project ever, a color-filled home

that's open to the elements on Seattle's Lake Washington. It has

stunning views of the lake and the mountains, so the furniture

layout was key to take advantage of every line of sight. We also

have projects that go bold with black, that take an updated twist

on traditional, and that are designed with the right flow for soirees

and dinner parties.

Pulp's Ultimate Entertaining Guide also gives you great tips for

setting the table, how to be the most welcoming host, and what the

best hostess gifts are for the season, as well as cocktail recipes, and

a fabulous playlist. All you need to do is send the invites.

We hope you enjoy this issue and, as always, reach out to us to ask

design questions, show us your Pulp, or send us photos of your

holiday parties!

6

BETH DOTOLO AND CAROLINA GENTRY

PULP DESIGN STUDIOS

7
---
GIFTS for the SEASON

The holidays are just around the corner, so the Pulp Design Studios team is giving you their favorite gift ideas!

1

5

Cheeky!

perfect for my

LAPTOP!

1

Handmade brass hoops

created by Stvdio in

Brooklyn are woven in

a fishtail pattern in a

large oval.

6

The human

form is

endlessly

fascinating for

me, so I love

this cheeky

ceramic

Popotin vase.

I am constantly on the

go and this Medium

Manhattan Leather

Satchel from Saint

Laurent is the perfect

size for everything I

need to carry!

7 8

Serpents were seen as guardians

in the ancient world, and these

brass bookends from House

of Hackney will keep your

books safe from harm.

BETH'S PICKS

4

Kaye Blegvad's

Brass Woman

Incense Burner

is cast from

an original

handmade wax

model.

perfect for

BENNIE!

2

Totally into this retro '90s reboot

Nike with super-cool reversed

seams and an embossed swoosh.

3

Well now that we

have our little

canine addition

to the family, I'm

always on the

lookout for gifts

that will make him

happy, too. Like

this Charred Oak

Dog Bowl Stand

from Mr. Dog that

keeps Fido's food at

the perfect height.

9

The Office of Angela Scott creates shoes for boss

ladies - like me and Carolina - and I love this

Mr. Colin Double Monk Strap.

For the

BOSS

LADY in

YOUR

LIFE

10

I love a bold entry table

and this new Beacon

Console Table from

Interlude Home is

gorgeous!

The Porter Bowl from W&P makes

taking your lunch so much more

stylish. And bonus - it's better for

the environment!

Breathing clean

air is key to

good health, so

I love this quiet

and mighty

purifier from

Molekule.

8

9
---
GIFTS for the SEASON

6

CAROLINA'S PICKS

3

If you have a buisness contact

you want to impress, gift

them this gorgeous Alexander

McQueen Card Holder with a

Swarovski-embellished skull

hardware closure.

holiday

GLAM!

4

Avoid the evil eye

over the holidays with

this gorgeous turquoise,

silver, and gold ring from

Shoshannah Frank.

5

1

I do love my heels

and high-heeled

boots are perfect

for fall. These

Paris Texas boots

made in Italy

of snake-skin

printed leather are

definitely on my

list for Santa!

2At 36

ounces,

this Yeti

Rambler is

the perfect

gift for

staying

hydrated on

the go.

give the

GIFT OF

HYDRATION

Give a very personalized

gift - an ornament

featuring your unique

fingerprint, created by

Your Prints of Love.

8

Paul Schneider creates handmade

ceramics with unique glazes, like

this Dappled Bowl. Artisanal gifts

never go wrong.

Retro but

modern, this

Bottega Veneta

clutch combines a

bit of Deco with a

whole lotta glam.

It's ready to ring

in the New Year!

stocking

stuffer

7This

calming

oil and

soothing

spritz duo

from This

Works is

the perfect

stocking

stuffer!

9

Keep your eyes on

the prize this holiday

season with these

creative cocktail

napkins by Jonathan

Adler. They make a

great hostess gift, too!

it's a

TV!

10

I just bought Samsung's

The Frame Smart TV

for my own house. It

transforms from a 4K

UHD TV into a work of

art - no more arguing

about hiding the TV.

It's the perfect gift to

give yourself over the

holidays!

10

11
---
PULP TEAM PICKS

GIFTS for the SEASON

1

The fashionista in your life will

love the New Ace sneaker from

Gucci with the iconic bands on

the side, plus a golden bee.

- Shannon Carl, Junior Designer

6

7

3We love this desk-to-holidayparty

Pillowtalk eyeshadow

collection from the

fabulous Charlotte Tilbury!

- Tracy Sexton, Director of

Strategy and Development

12

4

Simple and sophisticated,

The Bridge earrings

by Sophie Monet are a

perfect combo of metal

and wooden beads.

- Maghara DiPaoli,

Design Assistant

perfect for

HUBBY

The Matagorda

lamp from Paul

Schneider is

hand-fired

stoneware

with a special

banded drip

glaze pattern.

- Tara Shovan,

Interior

Designer

5

Don't let the stress

of the holiday

season get to you!

We love this pro

facial steamer

from Dr. Dennis

Gross. - Tracy

Sexton, Director

of Strategy and

Development

2

The Beam from Sonos adds

theater-quality sound to your home

entertainment. - Tracy Sexton,

Director of Strategy and Development

sleep in

STYLE

10

Holidays = relaxing.

And what better way

to relax than a washable

silk tee sleep set

by Lunya. We're ready

for some serious down

time now!

- Jana Ecklund,

Interior Designer

The Everywhere Bag from Away is the

perfect size for a weekend getaway and

comes in fab colors! - Tracy Sexton, Director

of Strategy and Development

8

This Crystal Contour

Gua Sha Beauty Tool from

Odacite smoothes wrinkles and

helps to detoxify skin. - Tracy

Sexton, Director of Strategy

and Development

GREAT

stocking

stuffer

9

Perfect for the man in

your life, this Saint

Laurent money clip

is made of gold toned

brass. - Tara Shovan,

Interior Designer

13
---
TREND WATCH

14

1

4

THE ALLURE OF

CAPTIVATING

GLAMOUR

Glamour is back with

stylized patterns, bold

gold, opulent layering

and more than a touch of

the exotic. We're loving

the maximalist approach

and its focus on unique

details and one-of-a-kind

accessories.

1. INSTYLE MAGAZINE IS 25!

Loving the '90s tribute in a recent

issue, with Amber Valetta sporting

the iconic Versace dress originally

worn by Elizabeth Hurley.

2. MESMERIZING MALACHITE.

Add some depth to any wall or

ceiling with these eye-catching

wallcoverings, including a swirling

pattern from Cole and Son.

3

2

3. BRUTALLY BEAUTIFUL.

Global Views' Eye of the Storm

Antique Brass Box has a cool

brutalist vibe. It's perfect for a

nightstand or coffee table.

4. EXTRAVAGANT EMBROIDERY.

This gorgeous Brunschwig &

Fils fabric - designed by Les

Ensembliers - is rich in pattern

and texture.

5

5. DEEPEST BLACK. Our newest finish

for the Pulp Design Studios Starburst Pull

is bewitching in a dark and mysterious

matte black.

6. A LUXURIOUS LIAISON.

Ann Sacks has our heart with incredible

tile designs full of depth and pattern.

Liaison is twisting tale of mosaics

and style from the Kelly Wearstler

Collection.

6

9

10

7. SPIKY SOPHISTICATION.

Erin West creates limited edition and

small-run handmade ceramics that can

be found at Maestri Gallery. We love the

spikes on the side of this bowl - a perfect

combo of badass and beautiful.

8. FACE-TO-FACE FABULOUS.

The Gemma Statue from Bungalow 5

makes a Cubist statement with faces on

several sides, hand molded in bronze.

7

9. RETRO-GLAM GAMING.

Go Home takes tic-tac-toe to glam new

heights with a 3D version of the old school

pastime. Gorgeous in bronze and marble,

there's nothing childish about this board's

game.

10. EYE SPY IT ALL.

Squares of bone, resin, and wood give

the handle of this Gustav Magnifier a chic

sensibility, from Global Views.

8

15
---
STEAM is HOT!

Why This Trend is Heating Up

Steam technology is available for the home like never before. The health

benefits are key, but these high-tech products also make life easier.

STEAM COOKING

LUXURY HOME

FRAGRANCES

AVAILABLE IN

FOUR SCENTS

The Thermador Steam

and Convection Oven is

the ultimate culinary tool

that gives you the option of

either steam or convection

cooking - or both. Steam

cooking retains food's

vitamins and nutrients,

making it one of the

healthiest cooking options.

STEAM SHOWER

Create a wellness retreat with

the iDream package from Mr.

Steam. These tools let you

create a steam shower that

helps improve circulation,

detoxes your body, and helps

you fight off colds. Included are

AromaTherapy, ChromaTherapy,

and Music Therapy, all controlled

with a handy app.

STEAM & CLOTHING

The LG Steam Clothing

Care System refreshes

your laundry and cuts

down on time spent

ironing. But it also helps

reduce allergens and is

WiFi enabled.

16

Dallas | Seattle | Los Angeles pulpdesignstudios.com @pulpdesigns 214.504.2606
---
en

TO THE

ELEMENTS

Pulp's BOLDEST Project Ever!

By folding in the glass doors, the

living room is open to the outdoors

with views that go from land to lake.

Location, location, location. This modern home's

waterfront setting is the perfect backdrop

for this Pulp-client's new construction home,

inspiring many of the incredible design details.

With floor-to-ceiling windows that can be opened to let

the rooms flow into the outdoor setting, the architecture

made the most of the mountain and lake views. The Pulp

design team worked closely with the clients, the builder,

and the architect for over two years, from initial planning

through to installation, to help these clients realize their

dream home.

The clients love to entertain, are a family of artists,

and have a love for travel. Pulp teamed up with the

architects to create open rooms with the furnishings

positioned to take advantage of the scenery. The team

created unique design details that were geared towards

creating, entertaining, and showcasing the soul of this

unique family.

While the architect crafted a modern and angular

structure to make the most of the views, the Pulp team

worked hard to develop layouts, finishes, lighting and

details that would add a warm counterbalance to the

strong architecture.

18

Luckily, these clients were not afraid of color, pattern,

or taking a risk - which is why they were drawn to Pulp

Design Studios in their exhaustive hunt for a designer.

Curating artful details, customizing furnishings, and

creating those special moments and wow-factors that

improve the daily experience are what sets Pulp apart,

and what makes this home's interiors so special.

Bold Modern Project

Interior Design: PULP DESIGN STUDIOS

Photographer: STEPHEN KARLISCH

Architect: DEFOREST ARCHITECTS

Contractor: TOTH CONSTRUCTION

Location: SEATTLE, WA

19
---
BOLD LIVING

The warm wood on the ceiling adds softeness and an

organic feeling to the angular architecture.

Sofa by Ambella Home, swivel chairs by Century, floor lamp from Mr. Brown, Phillip Jeffries wallpaper (behind bookshelves).

20

21
---
BOLD LIVING

The home is filled with art from the clients' personal collection, as well as items they brought back from their travels around the world.

Pocket doors separate the living room from an open art studio space

with a fold-down Murphy bed for guests and a loft above.

22

23
---
Dining indoors or out? Our clients have the best

of both worlds in this room that opens to the

outdoors with durable textiles to match.

24

25
---
"

Our clients love the style of the home we created! The pops of color are fun

and play well off the modern architecture of the home. The house is the

perfect mix of luxury, whimsy, sophistication, and comfort.

"

– Beth Dotolo

BOLD LIVING

26

Pendants by SKLO

Chairs by Theodore

Alexander covered in

Perennials fabrics, table

by Phillips Collection,

barstools by Mitchell

Gold + Bob Williams

covered in Pulp Design

Studios by S. Harris

Collection fabrics.

27
---
BOLD LIVING

"

The spaces really utilize the

views and every piece of

furniture and art is unique

and interesting - the perfect

Pulp style!

"

– Carolina Gentry

details

MATTER

In any Pulp Design Studios' project, we love to surprise and delight with exciting

details that make the space more functional, and more beautiful.

Color inside the island is Sherwin-Williams Amalfi.

1 2 3

The Grohe faucet we

used in the kitchen

is a great restaurantgrade

design, but the

bright orange color

made it perfect for this

colorful home.

Why should a pantry be

boring? We used that

bright orange again

to give a moment of

surprise each time the

clients walk in - using

Sherwin-Williams

paint in Daredevil.

We went the extra mile

on the waterfall side

of the kitchen island,

disguising the outlet

plate with a handpainted

finish to match the

vein pattern.

28

Counters are by Wilsonart, appliances by Thermador, cookware by Le Creuset.

29
---
BOLD LIVING

The clients were thrilled with the results, and were

extremely happy with the way we captured their

personalities and also gave them gorgeous and

functional home!

One of the fun parts of this project for the design

team was capturing the soul of the clients by hunting

for unique and one-of-a-kind accessories and

incorporating their family heirlooms. Each new piece

introduced was hand-selected specifically for these

clients during designer travels.

Swivel chairs by Mitchell Gold + Bob Williams, covered in Pulp Design Studios for S. Harris fabric; cocktail table by Bernhardt.

The kitchen and dining area lead into an adjoining family room.

30

Sectional by Mitchell Gold + Bob Williams, side table by Theodore Alexander.

31
---
32

33
---
BOLD LIVING

Bed by Century, bedside table by Theodore Alexander, wallcovering by Innovations.

Mitchell

34

Gold + Bob Williams swivel chairs covered in Kerry Joyce Textiles; table by Palecek.

35
---
BOLD LIVING

Shower tile by Ann Sacks.

Sconces in master bathroom by Visual Comfort.

All plumbing by DXV.

36

37
---
BOLD LIVING

TOP LEFT: Bed by Four Hands, bedside

table by Zuo Modern, rug by Jaipur.

BOTTOM LEFT: Table lamp from

Mr. Brown on an antique chest from

the client's own collection.

BELOW: The powder room has one of our

favorite wallcoverings that we've ever

installed. It's the Eldorado pattern by Élitis.

The upstairs loft has an amazing view of the

mountain hillside.

Sectional by Room and Board, ottomans from

Zuo Modern, entertainment console by Noir,

side table by Global Views, and lamp by Currey

& Company.

38

39
---
fa e

LIFT FOR

TRADITIONAL

A Modern Take on Classic Design

Sometimes a home doesn't need a major

overall, but just a nip and tuck. Thatwas

what these Dallas clients needed for

their traditional home in a sought-after

neighborhood. They saw a neighbor's house in

D Home magazine and when they found out it was

designed by Pulp Design Studios, they asked Pulp

to make a house call.

Since the home had amazing bones, the Pulp

design team prescribed a makeover through

paint, lighting, and furnishings. With a keen

sense of what their clients were looking for, Pulp

made clever design choices to completely overhaul

the home.

Now this traditional home is ready for modern

living, serving as the backdrop for entertaining

friends in fabulous style!

Classic with an Edge

Interior Design: PULP DESIGN STUDIOS

Photographer: STEPHEN KARLISCH

Location: DALLAS

Be sure to see the bold study in black from this project, pages 50 and 53!

40

41
---
FACE LIFT

"

This is a family that has young children, so we wanted

to think about functionality while still meeting the needs of

our clients' desire for a beautiful home to entertain in.

"

– Carolina Gentry

TOP LEFT: Console and bench by Made Goods, chandelier, and lamp by Visual Comfort, artwork by Wendover, rug by Togar.

TOP RIGHT: Bench by Bernhardt, throw by Pulp Design Studios, artwork from client's own collection.

RIGHT: Chairs by Redford House, rug by Loloi.

42

43
---
Modern furnishings and accessories

update a traditional family room for a

more contemporary design.

44

45
---
FACE LIFT

"

A mix of patterns and colors gives the

super-traditional dining room an update

for this modern family!

"

– Beth Dotolo

TOP LEFT: Captain's chair by Bernhardt covered in Kravet (inside) and Robert Allen (outside back), rug by Surya, wallcovering by Hickory Chair.

TOP RIGHT: Console by Bernhardt, mirror by Uttermost, lamps by Arteriors.

LEFT: Dining table by Ambella Home, dining chairs by Bernhardt in Pindler and Pindler fabrics, chandelier by Arteriors.

46

47
---
FACE LIFT

LEFT: Barstools by

Zuo Modern, pendants

by Schoolhouse Electric.

RIGHT: Chairs by

Modway, artwork by

Wendover, chandelier

by Visual Comfort.

48

49
---
DARE to

go DARK

Don't Let This Bold Hue Spook You!

Black may not be the first wall color

you think of when you're ready to

redesign, but we think it's worth a

second look! Deep and dark, black

can give a small space major drama, but it

can also add a cozy factor to larger rooms.

We love to use this bold color as a

counterpoint to light, or as a dramatic

surprise. It's also a fantastic backdrop for

an art collection and provides context to a

textural surface.

Take a chance on this dark tone in your

home - we promise it's a treat!

LEFT: This stunning black study (featured on our

cover and part of the project on pages 40-49) becomes

cozy in a darker hue.

ABOVE: Bathrooms

are the perfect place

for the drama of black

- we paired the color

with a graphic blackand-white

tile pattern

on the floor.

LEFT: If you're

nervous about

using such a bold

color, try it as an

accent color, like in

shelves, lampshades,

or accessories.

We also used a

graphic wallpaper to

complement the black

in this home office we

designed.

50

51
---
LEFT: Black is the perfect

backdrop for brightly colored

art, allowing each piece to

really pop, like in this office we

designed for creative clients.

LEFT: It's a chic rock-and-roll

look when you pair embossed

croc with deep dark black. It's

a duo that definitely rocks.

RIGHT: The bold black color

in this study we designed for a

Dallas client (it's the other side

of the room from the photo

on page 48) highlights the

moulding and takes the walls

from blah to BAM!

See the full walkthrough of

this project on pages 40-49.

52

53
---
BEFORE and AFTER

A Retro Home Reimagined for Modern Living

Our clients were close to selling their beloved mid-century modern

home when they realized they just loved it too much to give it up.

But as much as they wanted to keep it, they also knew it needed a

major modern makeover.

We completely gutted the structure and gave them an addition, adding light

and space, and bringing in a contemporary vibe for the interiors. All of

which was perfect for this creative and modern family!

after

after

AN OPEN PLAN

THE ENTRY

Like most of the house, the original entrance

was dim and dull. Besides opening it up, we

also brought in a dramatic black wall and

a fabulous piece of art to make a big first

impression for visitors.

We took out a wall to open up the living room,

dining room, and kitchen into a large and airy

living space.

And we took inspiration from the age of the

1955 house to give it more of a mid-century

modern vibe than it originally had.

Mid-Century Makeover Project

Interior Design: PULP DESIGN STUDIOS

Photographer: STEPHEN KARLISCH

Location: DALLAS

Architect: studioSHORTALL

Contractor: WEALDSTONE CONSTRUCTION

54

55
---
BEFORE/AFTER

after

after

FAMILY ROOM + FIREPLACE

The original living room had an awkward

corner fireplace covered in brick and the

celiings were low. We lifted the ceiling as

part of the addition and created a sleek wall

for the fireplace and television. You can also

see part of the new addition - the hallway

next to the living space.

THE KITCHEN

As historic as it might have been, the old kitchen

needed a major update. When we removed a wall

and opened up the living area, we were able to

expand the kitchen into a bright and modern space.

56

57
---
BEFORE/AFTER

THE MASTER BEDROOM

all new!

Mid-century homes are notorius for not putting

a lot of emphasis on bedroom design, so we had

blank canvases in this home.

The master bedroom had space, but no personality.

We updated the colors, added fabulous art, and

brought in more of the clients' personalities. And in

the process, we created a beautiful oasis for them!

after

THE MASTER BATHROOM

The addition to the home gave us the room to create a spa bathroom as part of the master suite, including a wet room

that encloses the shower and a soaking tub. The clients told us this room is one of their favorite spaces in their house!

See the new home office we added to this home on the top of page 53!

58

59
---
BEFORE/AFTER

PLAY ROOM + CHILD'S BEDROOM

We took two of the original bedrooms and

created a cute suite for our clients' little

boy. Between the fun and colorful playroom

and the adjoining bedroom is a jack-and-jill

bathroom.

after

60

61
---
BEFORE/AFTER

KISMET

LOUNGE

COLLECTION

after

POWDER ROOM

That pink and black tile we had to remove was so common

during the 1950s. We decided to keep the retro and remove

the out-of-style, and the result is a dramatic powder room

that's perfect for the 21st century!

See more bold black rooms by Pulp on pages 50-53.

62

SEE THE ENTIRE PROJECT ON PULPDESIGNSTUDIOS.COM

Dallas | Seattle | Los Angeles pulpdesignstudios.com @pulpdesigns 214.504.2606

63
---
BEHIND the SCENES

An Inside Look at How We Work

MEYERCORD DESIGN goes bright

and bold with a project mockup that

includes our Starburst Pull.

Everyone loves to see behind the scenes - it's one of the most popular posts on our Instagram! Pulp Design

Studios' co-founders Carolina Gentry and Beth Dotolo pull the curtain back on a day in their design lives.

@PulpDesigns

See more insider photos on Instagram!

Curating custom art is a Pulp specialty A little giddy after a bedroom install Beth taking care of every detail

HOW do

YOU PULP?

ARIANNE BELLIZAIRE

INTERIORS created

a calm oasis with our

Osaka and Echion

fabrics from our

S. Harris collection.

We love it when you show us how you're using

our fabrics, hardware, Kismet Collection, and

luxury candles in you projects and homes! Tag us

on Instagram with @pulpdesigns to be featured.

CAITLIN JONES designed a

glamazon bathroom retreat,

featuring our Starburst Pull

hardware in the nickel finish.

Carolina measuring the scale of a floor lamp

We only work with the best subcontractors

Project planning during an install break

@PulpDesigns

JENNIFER STONER INTERIORS

mixed pattern and color, going

green and teal with our Old Cairo

pattern in Antidote.

64

65
---
QASK

PULP

ANYTHING!

PULP'S

ULTIMATE

ENTERTAINING

"I love open-plan rooms, but never know

how to set up my furniture. What's the

best way to make these rooms feel cozy?"

Margaret Francis

We love open-plan rooms, too! They have a great flow, especially if you

entertain a lot. We like to create zones in open spaces - like a seating area, a

dining area, and so on. Use rugs to define each space, and think about using

your furniture as a "divider," like we did with the sectional above. Designing

these specific areas will keep wide open spaces from seeming too cavernous!

Send your questions to icon@pulpdesignstudios.com

A

66
---
ASK a DESIGNER

Let's Find Out What Style and Entertaining Icons Say Are Their Go-To Hostess Gifts!

ENTERTAINING

MARY

mcdonald

"I still like to give

old-fashioned linen

hand towels as

hostess gits -

everyone still

needs them!"

Filo Towels

by Sferra

CAROLINA

gentry

"Cocktail napkins

are always in

demand at parties

and dinners, so

I love to give fun

patterns like these

featuring Karl

Lagerfeld."

Cocktail Napkins

by Lettermade

See these napkins

in action on

page 78.

BETH

"There's nothing better than a candle for a

hostess gift, and of course I love to give one of

Pulp's four fabulous home fragrances."

Pulp Design Studios

home fragrance collection

dotolo

EDDIE

ross

"The hostess gift I give

the most is our solid brass

tassel bottle opener through

Addison Weeks! It's lovely

and functional!"

Eddie Ross Bottle Opener and

Jigger by Addison Weeks

68

69
---
DESIGNED

for ENTERTAINING

Soirees Are Simpler with the Perfect Design

No matter where you plan to have your party, people always tend to

end up in the kitchen. If you love to have friends and family over, be

sure your kitchen is set up for a fun night for all.

1 2 3 4

Keep your work

zone clean and

clear for crowdfree

prepping.

Seating in the kitchen

allows guests to visit

with you while you're

filling glasses and

passing trays.

The double islands

give you plenty of

space for serving

food - extra tables

could work, too!

Bonus! There's a

full bar on the backside

of this column. Go to

pulpdesignstudios.com

to see the full project.

1

4

2

3

Highland Park Contemporary Project

Interior Design: PULP DESIGN STUDIOS

Location: DALLAS

As Seen In: D HOME MAGAZINE

70

available exclusively to the trade

sharris.com 800.999.5600
---
ENTERTAINING TIPS

ENTERTAINING

Beth & Carolina Love to Throw a Party - Here Are Their Favorite Do's and Don'ts!

DO

Have an eclectic guest list.

Interesting people make a party

fun and exciting!

Come up with a great playlist

that fits the mood of your party.

See our go-to list on page 77!

Light a candle a couple of hours

before the party to spruce up the

space, but put it out before guests

arrive so it's not so strong.

Have some sort of food and

always display it in a creative way.

Be prepared for for extra guests -

just in case.

DON'T

Don't take on all the food and

drink prep yourself. Rally the

troops and get some help!

Don't skimp on the alcohol. A

signature cocktail is always

a good idea! You can make it

seasonal or part of a theme. It's

also easy to make ahead of time.

Don't forget the fresh flowers!

Always a must in the powder

room and through out the space.

Don't forget beverages for the

non-alcohol drinkers

Don't forget to tell your guests

what type of attire is required.

72

73
---
2

ENTERTAINING

Use something

unique like these

handpainted leather

placemats to set

your table apart!

3

SETTING THE TABLE

There's an art to setting a stunning table for a dinner party - here's how it's done!

Custom placemats

hand-painted for

Pulp Design Studios

by Spirit of Salt

Flowers, fruits,

herbs, plants all add

life to the table - be

daring with your table

decor. We added

porcupine quills to

this arrangement!

Florals by Kristen

Griffith-VanderYacht

of Wild Bloom Floral.

Vessels by L'Objet.

1

5

74

Add a lot of visual

interest with different

heights, patterns,

colors, and textures.

Custom table runner in Pulp

Design Studios for S.Harris

fabric, the Hidalgo pattern.

Wine glasses by Nason

Moretti. Dinner plates

by Bernardaud.

Flatware by Sambonet.

4

No one should have to

reach for the salt and

pepper, so we like to

offer either personal

shakers at each place

setting, or at least

multiples at each end of

the table. It's the little

things that mean a lot!

Who says you have

to use the same old

clear vase? We love

using objects with a

lot of visual interest

for our florals, like

this spiky footed

goblet by L'Objet.

75
---
SHAKE it UP

A Mocktail Made to Take the Stress Out of Any Holiday Entertaining

ENTERTAINING

MARY JANE MULE MOCKTAIL

INGREDIENTS

6 oz. ginger beer

2 dashes lime bitters

.75 ml CBD vanilla oil

juice of 1/2 a lime

Vanilla bean, cut vertically

EQUIPMENT

Kismet Lounge Coaster

Copper Mug

INSTRUCTIONS

Fill a copper mug with ice, pour 6

ounces of ginger beer over the ice,

then add 2 dashes of bitters, the

CBD oil, and the lime juice. Stir,

garnish with 1/2 a vanilla bean per

drink. Sip and chill out!

THE

ULTIMATE

PARTY

PLAYLIST

EXCLUSIVE KISMET LOUNGE

PLAYLIST FROM PULP

DALLAS

Feel It All Around, Washed Out

On + Off, Maggie Rogers

Rebirth of Slick, Digable Planets

SEATTLE

Feel It Still, Portugal the Man

Truth, Alex Ebert

L.E.S. Artistes, Santigold

LOS ANGELES

Dance Yourself Clean, LCD

Soundsystem

Fu-Gee-La, Fugees

Que Sera, Wax Tailor

what's in

THAT?!

Yes, it's CBD oil.

This non-GMO version won't

make you high & helps destress

any situation! It's super-high

quality & ships all around

the world.

Find more Pulp Design

Studios playlists on Spotify! Shout

out to our resident DJ

@TheSextonReview

Shop the Kismet Lounge Collection for stylish and

adventurous entertaining ware at PulpDesignStudios.com

Photo by RCA Records

76

77
---
ENTERTAINING

P U L P T V !

THE

LAST

WORD!

Hey, Beth &

Carolina:

What's your

favorite go-to

cocktail ?

CVODKA

MANDARIN

SPRITZER

"Vodka and soda is always

a great choice. I've found

the magic combination

between the Waterloo

sparkling water, a dash

of bitters, and a squeeze

of mandarin." - Carolina

78

bT HE

CLASSIC

MANHATTAN

"I always opt for a

Manhattan to wind down.

It's fun to play with

different vermouths and

bitters to change the

flavors seasonally." - Beth

NEW EPISODES

HOME TOURS & DUO DIALOG

FOR YOUR BINGE-WATCHING PLEASURE!

pulpdesignstudios.com/videos

79
---
STARBURST

HARDWARE

AVAILABLE IN

FOUR FINISHES

Dallas | Seattle | Los Angeles pulpdesignstudios.com @pulpdesigns 214.504.2606