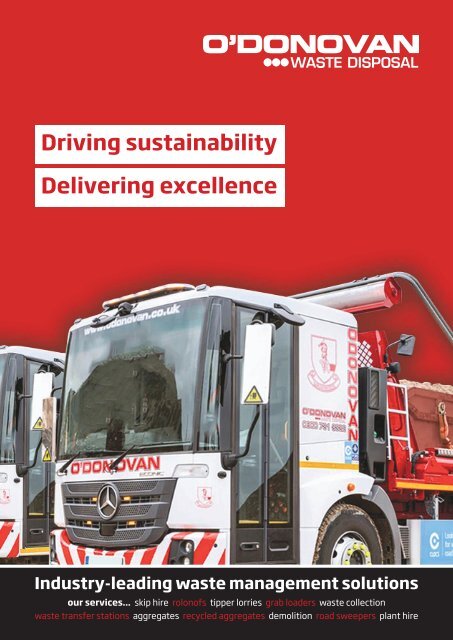 O'Dovovan Waste Disposal Ltd Brochure
Create successful ePaper yourself
Turn your PDF publications into a flip-book with our unique Google optimized e-Paper software.
O'Donovan <strong>Brochure</strong> (Print).qxp_Layout 1 21/08/2019 17:21 Page 1<br />
Driving sustainability<br />
Delivering excellence<br />
Industry-leading waste management solutions<br />
our services... skip hire rolonofs tipper lorries grab loaders waste collection<br />
waste transfer stations aggregates recycled aggregates demolition road sweepers plant hire
---
O'Donovan <strong>Brochure</strong> (Print).qxp_Layout 1 21/08/2019 17:21 Page 2<br />
Introduction<br />
Driving sustainability – Delivering excellence<br />
O'Donovan <strong>Waste</strong> <strong>Disposal</strong> is one of London's leading independent waste management companies.<br />
A dynamic business specialising in construction and demolition waste, O'Donovan has earned an<br />
excellent reputation as a trusted partner in the supply chain offering total waste management<br />
and recycling solutions whilst leading the way in safe, green and efficient operations. With a<br />
multi-million-pound turnover and a highly-skilled workforce, services can be booked 24 hours a day,<br />
7 days a week and include skip hire, roll on/off bins, tipper and grab lorry services, recycled aggregates,<br />
road sweepers and demolition services, tipping facilities at our waste transfer stations.<br />
Family is at the very heart of O'Donovan and the company has roots dating back to 1959 when it was<br />
started in its earliest form by the late Joe O'Donovan from West Cork. Joe sadly passed away suddenly<br />
in 1985 aged just 51 and his four children have worked together since to continue his legacy.<br />
Today, Michael, Caroline, Anthony and Jacqueline all hold pivotal roles in the business and prioritise a<br />
range of ongoing initiatives that support innovation, leadership and service excellence as well as<br />
those family values.<br />
Demonstrating a top-down commitment, their continual investment in staff and working practices,<br />
fleet and technical innovation sets standards and safety is the commanding priority behind the<br />
company's quality service, status and sustained success. With a high-level training policy underpinning<br />
its commitment to employee's professional and personal development, education is considered an<br />
essential component, not only for upskilling staff, but for maintaining and delivering high-quality<br />
services in the safest possible way. Uniformed professional drivers have quarterly ongoing Driver CPC<br />
training which includes the compulsory Safer Urban Driving course, where all lorry drivers take to<br />
London's roads on bikes to better understand a cyclist's perspective.<br />
O'Donovan invests heavily in state of the art waste processing infrastructure and produces recycled<br />
materials for re-use to a British Standard quality certification, demonstrating excellence and commitment<br />
to the circular economy and recycling 100% of the one million tons of waste received annually.<br />
O'Donovan is a certified training centre, approved by JAUPT (DCPC) and British Safety Council (BSC)<br />
The multi award-winning business has an array of impressive accreditations demonstrating their<br />
commitment to service, clients and staff as well as their expertise and ethical practices and is a Fleet<br />
Operator Recognition Scheme (FORS) Gold operator as well as being a Construction Logistics and<br />
Community Safety (CLOCS) Champion .
---
O'Donovan <strong>Brochure</strong> (Print).qxp_Layout 1 21/08/2019 17:21 Page 3<br />
Contents<br />
Skip hire 2<br />
Roll on/off bins 4<br />
Grab loaders 6<br />
Tipper services 8<br />
The O'Donovan Family<br />
Recycled aggregates 10<br />
Aggregates 11<br />
Road sweepers 12<br />
Demolition 14<br />
<strong>Waste</strong> collection 15<br />
Caged vehicles 16<br />
<strong>Waste</strong> transfer stations 17<br />
Recycling 18<br />
Hazardous and COSHH<br />
<strong>Waste</strong> <strong>Disposal</strong> 20<br />
Compliance 21<br />
Memberships 22<br />
Skip Licence Contacts<br />
at Local Authorities 23<br />
FREEFONE 0800 731 3332 www.odonovan.co.uk
---
O'Donovan <strong>Brochure</strong> (Print).qxp_Layout 1 21/08/2019 17:21 Page 4<br />
Skip hire<br />
We are a fully compliant, industry expert putting the environment and health and safety at<br />
the forefront of everything we do. This ethos gives our customers, both business and personal,<br />
the peace of mind that all waste we collect will be dealt with responsibly and efficiently.<br />
Our full range of skips start at 4 cubic yards to 40, and we also offer certified lifting skips and<br />
lockable skips.<br />
Our skips are suitable for a range of different types of waste, from light weight materials to<br />
builders' heavy waste and large bulky items. <strong>Waste</strong> can include typical construction waste,<br />
household items, bulky recyclables and much more. The size of skip you need will depend on<br />
the type of waste to be removed.<br />
Measurements<br />
Access for a lorry should be in excess of<br />
3300mm/11.5ft.<br />
If the skip contains light waste, it may be possible to<br />
use a mini-skip lorry which is 2600mm/8.5ft in width.<br />
3500mm<br />
Vehicle Dimensions<br />
Height.......................................................3500mm/11.5ft<br />
Width...........................................................3000mm/10ft<br />
Length..........................................................5100mm/17ft<br />
3000mm<br />
4 Yard 3 Skip/<br />
4.6 metres (m 3 )<br />
Capacity..........4.6 cubic metres (m 3 )<br />
Height..............................1.22 metres<br />
Length................................2.6 metres<br />
Width................................1.52 metres<br />
Suitable for all waste types<br />
7/8 Yard 3 Skip/<br />
5.8 metres (m 3 )<br />
Capacity......5.806 cubic metres (m 3 )<br />
Height..............................1.22 metres<br />
Length................................3.1 metres<br />
Width...................................1.6metres<br />
Suitable for<br />
heavy waste/builders' skip<br />
12 Yard 3 Skip/<br />
9.2 metres (m 3 )<br />
Capacity...........9.2 cubic metres (m 3 )<br />
Height..............................1.68 metres<br />
Length................................3.7 metres<br />
Width...............................1.78 metres<br />
Best suited to light or bulky waste<br />
2
---
O'Donovan <strong>Brochure</strong> (Print).qxp_Layout 1 21/08/2019 17:21 Page 5<br />
Our skips can be placed off-road (access and local authority permitting) or on-road,<br />
subject to local authority. Depending on the Borough, we can arrange the relevant permits<br />
on clients' behalf.<br />
We can advise you who to contact to arrange directly. Many councils also request that<br />
skips are covered and lit at night for safety reasons and we carry stocks of both covers and<br />
lights if required.<br />
For those requiring a swift clearance of waste, we also offer our 'Wait and Load' service –<br />
a driver will arrive with your skip, bin or container of choice and wait while you load it.<br />
FREEFONE 0800 731 3332 www.odonovan.co.uk<br />
3
---
O'Donovan <strong>Brochure</strong> (Print).qxp_Layout 1 21/08/2019 17:21 Page 6<br />
Roll on/off bins<br />
For those jobs where skips are not large enough, we provide roll on/off bins and containers<br />
ranging in size from 20 cubic yards to 40 cubic yards.<br />
Robust and versatile, these bins are suitable for clients working on large projects such as<br />
refurbishments or restoration jobs. They can hold rubble, industrial or commercial waste,<br />
light bulky recyclables.<br />
Measurements<br />
Access for a roll on/off bin lorry should be in excess<br />
of 3300mm/11ft regardless of what size bin you<br />
have ordered.<br />
Vehicle Dimensions<br />
4200mm<br />
Height..........................................................4200mm/14ft<br />
Width........................................................3100mm/10.5ft<br />
Length..........................................................9550mm/32ft<br />
20 Yard 3 Bin/15.3 cubic metres (m 3 )<br />
3100mm<br />
Volume..........................................15.3 cubic metres (m 3 )<br />
Height...............................................................1.85 metres<br />
Length................................................................6.1 metres<br />
Width..................................................................2.4 metres<br />
40 Yard 3 Bin/30.6 cubic metres (m 3 )<br />
Volume..........................................30.6 cubic metres (m 3 )<br />
Height.................................................................2.8 metres<br />
Length................................................................6.1 metres<br />
Width..................................................................2.4 metres<br />
4
---
O'Donovan <strong>Brochure</strong> (Print).qxp_Layout 1 21/08/2019 17:21 Page 7<br />
For large jobs, we provide roll on/off bins and containers ranging in size from 20 cubic yards<br />
to 40 cubic yards. Due to their size, these bins cannot be placed on a public highway so space<br />
and access is required.<br />
Robust and versatile, these bins are suitable for clients working on large refurbishments or<br />
restoration jobs. They can hold general rubbish, wood, industrial or commercial waste, bulky<br />
recyclables, large amounts of construction and demolition waste. Please check at the time<br />
of booking which size is best suited to your materials. Roll on/off bins provide a very cost<br />
effective way to dispose of large quantities of bulky waste.<br />
FREEFONE 0800 731 3332 www.odonovan.co.uk<br />
5
---
O'Donovan <strong>Brochure</strong> (Print).qxp_Layout 1 21/08/2019 17:22 Page 8<br />
Grab loaders<br />
We operate a fleet of eight-wheel, 32 tonne grab-loader lorries which are an excellent<br />
alternative to hiring excavators to load lorries and a cost-effective alternative to skip hire<br />
when you have larger quantities of materials. We offer a fully-operated service with<br />
experienced, trained, professional staff.<br />
Versatile and multi-purpose, our grab loaders offer a range of options from collecting waste<br />
from hard to reach spaces, to delivering a variety of aggregates and placing them precisely<br />
where you need.<br />
6
---
O'Donovan <strong>Brochure</strong> (Print).qxp_Layout 1 21/08/2019 17:22 Page 9<br />
Measurements<br />
Access for a lorry should be in excess of 3200mm.<br />
Vehicle Dimensions<br />
Height from stored arm.......................3900mm/13ft<br />
Width..................................................3200mm/10.5ft<br />
Length................................................9550mm/31.5ft<br />
3900mm<br />
3200mm<br />
FREEFONE 0800 731 3332 www.odonovan.co.uk<br />
7
---
O'Donovan <strong>Brochure</strong> (Print).qxp_Layout 1 21/08/2019 17:22 Page 10<br />
Tipper services<br />
Our fleet of eight-wheel, 30/32 tonne tipper lorries are available to hire for excavation work,<br />
day work and for the delivery or collection of materials. All O'Donovan drivers are fully<br />
trained to offer the highest levels of service and professionalism, whilst also undergoing<br />
regular training.<br />
We also operate 7.5 tonne tippers for smaller or less accessible jobs. These can also be hired<br />
with a driver, where required, or used for the delivery of smaller quantities of aggregates<br />
and crushed material.<br />
8
---
O'Donovan <strong>Brochure</strong> (Print).qxp_Layout 1 21/08/2019 17:22 Page 11<br />
Measurements<br />
Access for a lorry should be in excess of<br />
3300mm/11ft.<br />
Vehicle Dimensions<br />
Height.................................................3400mm/11.5ft<br />
Width...................................................3210mm/10.5ft<br />
3400mm<br />
Length....................................................9320mm/31ft<br />
3210mm<br />
FREEFONE 0800 731 3332 www.odonovan.co.uk<br />
9
---
O'Donovan <strong>Brochure</strong> (Print).qxp_Layout 1 21/08/2019 17:22 Page 12<br />
Recycled aggregates/Aggregates<br />
Recycled aggregates<br />
Our recycling plants can provide specified materials including type two crushed concrete,<br />
concrete fines, 6F1 and 6F2, crushed brick, hardcore and screened topsoil. Construction<br />
waste, such as concrete and brick are crushed using state of the art equipment. They are<br />
then processed, graded and certified as per the WRAP quality protocol before going on to<br />
be re-used in construction. All of our recycled materials/aggregates come with grading and<br />
quality certification.<br />
We also operate a range of crushers and mobile screeners, which are available for hire with<br />
an operator. They combine the maximum possible mobility and flexibility, resulting in high<br />
productivity and high quality materials, providing the ideal assistance on site, when recycling<br />
and sorting is required. All machines are available to hire on both a self-drive or operated<br />
basis. In addition, we can supply a variety of loading shovels to assist the operations of the<br />
crushing and screening plant.<br />
10
---
O'Donovan <strong>Brochure</strong> (Print).qxp_Layout 1 21/08/2019 17:23 Page 13<br />
Aggregates<br />
Our wide range of aggregates include soft sand, sharp sand, ballasts, MOT type one stone,<br />
shingle, gravels and more. All aggregates are quarried and come with certification.<br />
Aggregates can be supplied in skips, bins or loose in one ton bags, up to 20 ton loose loads.<br />
All aggregates are suitable for domestic use or construction projects.<br />
FREEFONE 0800 731 3332 www.odonovan.co.uk<br />
11
---
O'Donovan <strong>Brochure</strong> (Print).qxp_Layout 1 21/08/2019 17:23 Page 14<br />
Road sweepers<br />
To ensure sites and surrounding areas are kept clear, we operate a range of modern road<br />
sweepers. They range in size and ability, catering for all types of clients from construction<br />
sites to motorways.<br />
All road sweeper drivers are fully qualified, and have obtained both their CSCS in health and<br />
safety for road cleansing. Road sweepers can be supplied 24 hours a day, 7 days a week.<br />
Regular daily, weekly or monthly sweeps can be booked in advance. The road sweepers are<br />
fitted with additional attachments to allow us to offer the extra services (on request) of<br />
gully sucking or jet washing.<br />
We also offer Precinct Sweepers which are compact and highly manoeuvrable making them<br />
ideal for ideal for low entrances, confined spaces and or restricted access.<br />
12
---
O'Donovan <strong>Brochure</strong> (Print).qxp_Layout 1 21/08/2019 17:23 Page 15<br />
Precinct Sweepers<br />
Road Sweepers<br />
CX200 Capabilities<br />
Hopper Voided Volume......1.8m 3 nominal<br />
Payload Capacity..................................1.5m 3<br />
Fuel Tank..................................................51L<br />
Lost Water Tank....................................157L<br />
VT650 Capabilities<br />
Hopper Voided Volume......6.5m 3 nominal<br />
Payload Voided Volume......5.7m 3 nominal<br />
Payload Capacity..............................^6 tons<br />
Fuel Tank...............................................190L<br />
Water Tank.........................................1,300L<br />
Hydraulic System....................................75L<br />
^chassis dependent<br />
FREEFONE 0800 731 3332 www.odonovan.co.uk<br />
13
---
O'Donovan <strong>Brochure</strong> (Print).qxp_Layout 1 21/08/2019 17:23 Page 16<br />
Demolition/<strong>Waste</strong> collection<br />
Demolition<br />
We offer clients a comprehensive solution to their demolition needs – from industrial<br />
dismantling, asbestos removal, strip-outs, full site clearance, scaffolding and rubbish removal.<br />
We are committed to ensuring total client satisfaction by providing solutions to suit<br />
individual requirements including site visits, welfare assessments along with risk<br />
assessments and method statements. We operate a full compliance department to ensure<br />
all Construction Design and Management (CDM) and associated regulations are adhered<br />
to – assisting clients with their legal compliance whilst on site.<br />
14
---
O'Donovan <strong>Brochure</strong> (Print).qxp_Layout 1 21/08/2019 17:24 Page 17<br />
<strong>Waste</strong> collection<br />
Wait and load<br />
Our 'Wait and Load' service is available via skip, bin, compactor or caged lorry. The loading<br />
time included in the price is 30 minutes, however this can be extended if requested in<br />
advance and is chargeable. We can also supply the service with the manpower needed<br />
to load. Loading is made easy with the hydraulic tail-lift.<br />
Wheelie Bins and Compactor Lorry<br />
Hiring wheelie bins can be the perfect solution for limited site access or space or where<br />
there are multiple floors. Our compactor vehicle empties the bins at a time of your choice.<br />
This service can be booked in or out of normal working hours. Charges are based on the size<br />
and number of wheelie bins hired, and the number of times they have to be emptied.<br />
Our wheelie bins are available in 660 litre and 1100 litre sizes.<br />
FREEFONE 0800 731 3332 www.odonovan.co.uk<br />
15
---
O'Donovan <strong>Brochure</strong> (Print).qxp_Layout 1 21/08/2019 17:24 Page 18<br />
Caged vehicles/<strong>Waste</strong> transfer stations<br />
Caged vehicles<br />
If you need to hire a caged vehicle, our driver will wait whilst you load the waste. The<br />
standard time allocated is 30 minutes, but this can be extended if requested in advance.<br />
This is a cost-effective option if you have the labour and location for the vehicle to be<br />
parked legally on road, or have access to park off road – thus eliminating the need to obtain and pay<br />
for a council permit. We can also arrange to supply labour, if you'd prefer us to load the vehicle.<br />
An out of hours service can be provided on request and our standard conditions apply when work is<br />
carried out off of the public highway.<br />
Measurements<br />
Access for a caged lorry should be a minimum of 3070mm/10.2ft in both height and width.<br />
16
---
O'Donovan <strong>Brochure</strong> (Print).qxp_Layout 1 21/08/2019 17:24 Page 19<br />
<strong>Waste</strong> transfer stations<br />
O'Donovan <strong>Waste</strong> has licensed waste transfer stations in North and West London that are<br />
open to the public for tipping waste. We have invested in state-of-the-art facilities allowing<br />
us to re-use the maximum amount of waste possible and recycle 100% of all waste. We also<br />
manage the disposal of hazardous waste.<br />
Open to business and the public – please call 0800 731 3332 for further information<br />
O'Donovan <strong>Waste</strong> <strong>Disposal</strong> Limited<br />
Markfield House<br />
82 Markfield Road<br />
Tottenham<br />
London<br />
N15 4QF<br />
O'Donovan <strong>Waste</strong> <strong>Disposal</strong> Limited<br />
Alperton lane<br />
Wembley<br />
London<br />
HA0 1DX<br />
FREEFONE 0800 731 3332 www.odonovan.co.uk<br />
17
---
O'Donovan <strong>Brochure</strong> (Print).qxp_Layout 1 21/08/2019 17:24 Page 20<br />
Recycling<br />
O'Donovan is committed to sustainability and the circular economy and we demonstrate<br />
excellence in environmental practice by recycling 100% of the one million tons of waste we<br />
process annually. We have invested heavily in our materials recycling facility at our<br />
Tottenham HQ as well as at our £15m sustainable waste processing facility in Alperton,<br />
contributing to and improving the recycling infrastructure in London.<br />
Incoming waste is weighed and sorted by mechanical equipment and physical sorting. It is<br />
segregated into waste streams with reusable items being shared on our ReUse Hub<br />
website, making reusable items available for use in community projects. Recyclable<br />
materials such as cardboard, wood etc. are sent to their next destination to be made into<br />
recycled-content products.<br />
Construction waste like bricks are processed on site using state of the art equipment<br />
and then graded as per the WRAP quality protocol. These recycled aggregates are reused<br />
in construction projects and come with quality certification. Any waste that cannot be<br />
reused or recycled, is baled and wrapped and sent to Energy from <strong>Waste</strong> Plants to convert<br />
into power.<br />
18
---
O'Donovan <strong>Brochure</strong> (Print).qxp_Layout 1 21/08/2019 17:24 Page 21<br />
FREEFONE 0800 731 3332 www.odonovan.co.uk<br />
19
---
O'Donovan <strong>Brochure</strong> (Print).qxp_Layout 1 21/08/2019 17:25 Page 22<br />
Hazardous and COSHH <strong>Waste</strong> <strong>Disposal</strong>/<br />
Compliance<br />
Hazardous and COSHH <strong>Waste</strong> <strong>Disposal</strong><br />
We offer a comprehensive range of COSHH (Control of Substances Hazardous to Health)<br />
waste management services. We can provide wheelie bins, enclosed sealed containers,<br />
sealed barrels, pallets, enclosed skips and roll on/off bins depending on the type and<br />
quantity of waste. We offer the service of segregating and packaging the different waste<br />
types at our depot. We also supply specific containers to dispose of fluorescent lamp<br />
recycling. Where practicable, items are either recycled or processed and disposed of at a<br />
suitably licensed facility, ensuring legal requirements are fulfilled. We manage and review<br />
the chain of custody process ensuring full traceability. COSHH waste may include items like<br />
empty paint tins, solvent and mastic containers, oily rags and aerosols.<br />
Contact us for more details on our hazardous waste collection, disposal and management<br />
and we'll be happy to give further advice or a quote for your individual requirements.<br />
20
---
O'Donovan <strong>Brochure</strong> (Print).qxp_Layout 1 21/08/2019 17:25 Page 23<br />
Compliance<br />
Compliance and safety both on and off-site are a crucial requirement to contractors in the<br />
construction industry and O'Donovan is a stand-out company in terms of meeting and<br />
surpassing best-practice which makes them unique and an exceptional partner in the<br />
supply-chain.<br />
With the waste industry being one of the most heavily regulated, O'Donovan works hard to<br />
not only comply but exceed best practice and recommendations set out in the industry.<br />
Our compliance team and director ensures we operate to the highest quality standards<br />
within the industry. Our adherence and surpassing of these standards is evidenced by our<br />
growing number of industry accreditations, awards and memberships.<br />
Fleet Operator Recognition Scheme (FORS)<br />
As one of the very first companies to join FORS, we are still one of few independent<br />
companies to hold the stringently audited FORS Gold standard and have retained it since<br />
achieving it in 2011 and exceed the criteria. FORS accreditation rewards excellence and is<br />
based upon the operator actively demonstrating ongoing legal compliance, road safety,<br />
efficiency and environmental protection.<br />
Construction Logistics and Community Safety (CLOCS)<br />
The CLOCS programme was developed to help protect vulnerable road users. O'Donovan<br />
has been at the forefront of the initiative as one of the first CLOCS Champions. As a CLOCS<br />
Champion we are identified as 'a fleet operator committed to adhering to the requirements<br />
within the standard across their operations'.<br />
Fleet Safety Equipment<br />
In addition to the standard requirements,<br />
O'Donovan lorries also are equipped with<br />
five-way CCTV, audible left turn warning<br />
systems along with near-side sensors and blind<br />
spot minimisation.<br />
FREEFONE 0800 731 3332 www.odonovan.co.uk<br />
21
---
O'Donovan <strong>Brochure</strong> (Print).qxp_Layout 1 21/08/2019 17:25 Page 24<br />
Memberships<br />
22
---
O'Donovan <strong>Brochure</strong> (Print).qxp_Layout 1 21/08/2019 17:25 Page 25<br />
Skip Licence Contacts at Local Authorities<br />
Council<br />
Barnet – By Phone or Email<br />
Brent Council<br />
Broxbourne Council – Online<br />
Camden Council – Online<br />
Ealing Council – Online<br />
Enfield Council – By email<br />
Essex County Council – Online<br />
Greenwich Council – Online<br />
Hackney Council – Online<br />
Hammersmith/Fulham – Online<br />
Haringey Council – Online/Tel/Email/Post<br />
Harrow Council – Online/Email/Post<br />
Havering Council – By Phone<br />
Herts Council – Online/Tel<br />
Hillingdon Council – Online<br />
Hounslow Council – Online<br />
Islington Council – Online<br />
Lambeth Council – Online<br />
Lewisham Council – Online<br />
Merton Council – Online<br />
Newham Council – Tel/Email<br />
Richmond Council – Online<br />
Southwark Council – Tel/Email/Post<br />
Sutton Council – Online<br />
Wandsworth Council – Tel/Email/Post<br />
Waltham Forest Council – Tel/Email<br />
Bexley Council – Online<br />
Bromley – Online<br />
Barking & Dagenham – By Phone Account<br />
Kensington & Chelsea<br />
Kingston upon Thames – Fax<br />
Redbridge Council – Online<br />
Tower Hamlets – Online<br />
Contact<br />
Tel: 020 8359 7644 or email: Rita.Zippo@Barnet.gov.uk. Email: Suspensions.Bays@barnet.gov.uk<br />
Tel: 0208 937 5259/Parking – 0208 937 4995 or email: SSH.Highwayslicences@brent.gov.uk<br />
Tel: 01992 785 564/Fax:01992 350180. Online: https://www.broxbourne.gov.uk/business/skips<br />
Online: https://www.camden.gov.uk/ccm/content/business/business-regulations/licensing-and-permits<br />
Online: https://www.ealing.gov.uk/info/201152/roads_highways_and_pavements<br />
Tel: 020 8379 2154 or email: Highway.licensing@enfield.gov.uk<br />
Tel: 08456 037631. Online: https://forms.essex.gov.uk/default.aspx/RenderForm/<br />
Tel: 02089216000. Online: https://www.royalgreenwich.gov.uk/site/<br />
Tel: 020 8356 4970 or email: info@hackney.gov.uk. Online: https://www.hackney.gov.uk/skip-licence<br />
Tel: 020 7371 5678. Online: https://www.apps1.lbhf.gov.uk/myAccount/<br />
Tel: 02084891000 opt 4, 3 or email: skips-accounts@haringey.gov.uk<br />
Online: http://www.haringey.gov.uk/parking-roads-and-travel<br />
Post: London Borough of Haringey, PO Box 55235, London N22 9DF<br />
Tel: 020 8736 6298 or email technicalservices@harrow.gov.uk<br />
Online: http://www.harrow.gov.uk/info/200063/licences_and_street_trading Harrow Council, PO Box 18,<br />
Civic Centre, Station Rd, Harrow HA1 2XY<br />
Environment Services Tel: 01708 432 563<br />
Tel: 0300 123 4047 Barbara Ext: 22219<br />
Online: https://www.hertfordshire.gov.uk/services/highways-roads-and-pavements<br />
Tel: 01895 277 524 or fax: 01895 277 042<br />
Online: https://www.hillingdon.gov.uk/article/21758/Skip-permit<br />
Online: http://www.hounslowhighways.org/38-contact.html<br />
Online: https://www.islington.gov.uk/roads/skips<br />
Tel: 0207 926 8123/0207 926 0524 or email: licensing@lambeth.gov.uk<br />
Online: https://www.lambeth.gov.uk/business-services-rates-and-licensing<br />
Online: https://www.lewisham.gov.uk/myservices/business/licences-and-street-trading<br />
Online: https://www.merton.gov.uk/streets-parking-transport/streets-and-pavements<br />
Tel: 020 3373 1463 or email: skipsand.scaffolding@newham.gov.uk<br />
Online: https://www.richmond.gov.uk/apply_for_a_skip_licence<br />
Email: highwayslicensing@southwark.gov.uk. Post: Southwark Council, Network Management, Regulatory<br />
Services, Highways Licensing Team, Floor 3 Hub 1 PO BOX 64529, London, SE1 5LX<br />
Online: https://www.sutton.gov.uk/info/200503/highways_and_street_lighting<br />
Email: highwaylicences@wandsworth.gov.uk / Tel: 020 8871 8871 / Fax: 020 8871 8399.<br />
Post: Wandsworth Council, Environment and Community Services, Department, Inspection and Enforcement<br />
Team, PO Box 56518, London SW18 9B<br />
Tel: 020 8496 3000 or email: nrswa.admin@walthamforest.gov.uk.<br />
Tel: 020 3045 3000. Online: https://mybexley.firmstep.com/service/Skip_licence<br />
Online: https://www.bromley.gov.uk/info/200063/licences<br />
Online: https://www.lbbd.gov.uk/business/licenses-and-permits/roads-and-highway-licences/<br />
Tel: 020 7361 4385 or email: centrallicensing@tfl.gov.uk<br />
Post: BKC Parking Services, PO Box 67735, London W6 6FX<br />
Tel: 0208 547 5002 or email: skips@kingston.gov.uk<br />
Tel: 020 8708 3944. Online: https://my.redbridge.gov.uk/HighwayLicences/Apply?licence=101<br />
Tel: 020 7364 6586.<br />
Online: https://forms.towerhamlets.gov.uk/service/Apply_to_put_a_skip_on_a_street_or_pavement<br />
N.B. Correct at time of going to print<br />
FREEFONE 0800 731 3332 www.odonovan.co.uk<br />
23
---
O'Donovan <strong>Brochure</strong> (Print).qxp_Layout 1 21/08/2019 17:26 Page 26<br />
24
---
O'Donovan <strong>Brochure</strong> (Print).qxp_Layout 1 21/08/2019 17:27 Page 27<br />
FREEFONE 0800 731 3332 www.odonovan.co.uk<br />
25
---
O'Donovan <strong>Brochure</strong> (Print).qxp_Layout 1 21/08/2019 17:27 Page 28<br />
Markfield House, 82 Markfield Road, Tottenham, London N15 4QF<br />
Tel: 020 8801 9561 • Fax: 020 8808 1043<br />
FREEFONE 0800 731 3332 • email: sales@odonovan.co.uk • www.odonovan.co.uk