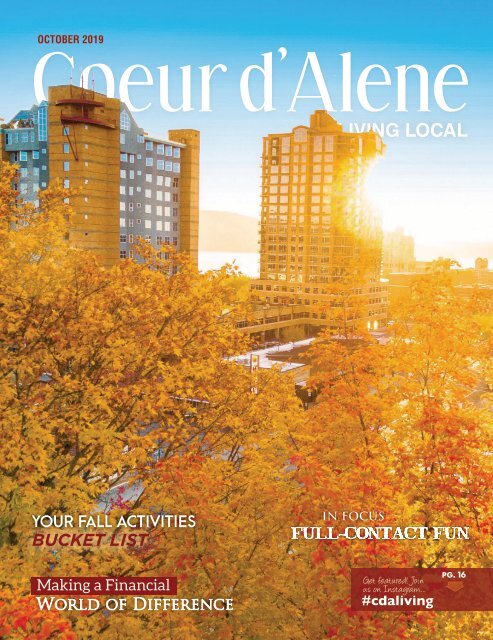 October 2019 Coeur d'Alene Living Local
October 2019 Coeur d'Alene Living Local
October 2019 Coeur d'Alene Living Local
SHOW MORE
SHOW LESS
Create successful ePaper yourself
Turn your PDF publications into a flip-book with our unique Google optimized e-Paper software.
OCTOBER 2019

LIVING LOCAL

Your fall activities

BUCKET LIST

IN FOCUS

FULL-CONTACT FUN

Making a Financial

Get featured! Join

us on Instagram...

#cdaliving

pg. 16

CDALivingLocal.com

1
---
luxury living in the 208

Buy or Sell your next home with The Wade Jacklin

Experience. Call, Text or Email us

TODAY!

Wade Jacklin | 208.755.5075

JACKLIN.REALTOR

wpjacklin@gmail.com

Nicole Jacklin | 208.704.0358

Megan Mongeau | 208.625.0878

CDALivingLocal.com

2
---
Builder - Residential

Pillars of Architerra Homes

Neighborhoods

We aspire to create neighborhoods

of enduring value where people

want to live. Neighborhoods that

focus on how people live, rich with

features and amenities that add

value to our homeowners as well

as the surrounding community.

Features include parks, play areas,

open green spaces, schools, trails

and walking paths.

Innovation

We seek out and embrace

innovation. Examples of innovation

include technology, house design,

land development and new products

that will ultimately result in an

enhanced customer experience.

Quality

We strive to ensure quality is

infused throughout everything we

do. We define this as quality of

materials, quality of workmanship,

quality of the homebuyer experience

and quality of service. We don't just

say quality, we live it.

Ethics

We promise to always act in an

ethical manner, whether we are

dealing with our customers,

subcontractors, fellow employees

or community members. We always

ask the question, "What is the right

thing to do?" and then do it!

208-449-1905 | www.myarchiterra.com

Architerra Homes, LLC | 1859 N. Lakewood Drive, Suite 200 | Coeur d'Alene, ID 83814

CDALivingLocal.com 3
---
THE

COEUR D'ALENE, IDAHO

208.765.7799 | BlackwellBoutiqueHotel.com

CDALivingLocal.com

4
---
5097 N. Building Center Dr. | Coeur d'Alene, Idaho | 208.772.9333 | www.MonarchCustomHomes.com

Joel & Shawn Anderson

CDALivingLocal.com

5
---
powered by cda's #1 search site

searchcda.com

pending

532 E Miles Ave, Hayden

$329,900 #19-9248

373 Lazy Spade Ln, Careywood

$199,500 #19-6916 10 acres under 200k!

pending

502 E Whitewater ln, Post Falls

$269,500 #19-10071

17442 S Painted Rose Rd, Coeur d'Alene

$2,995,000 #19-4834

www.luxuryloghomeidaho.com

@OURTOWNCDA

#movetocda

SOLD!

SOLD!

SOLD!

SOLD!

CDALivingLocal.com

6
---
[INSERT A CATCHY REAL ESTATE HEADLINE HERE...]

Our Town CDA at Professional Realty Services Idaho is consistently recognized as one of the top

local real estate teams in North Idaho. WHY? Give us a call today and find out for yourself!

2946 E Harrison Ave, Coeur d'Alene

$395,000 #19-8460

1401 E Lakeside, Coeur d'Alene

$384,500 #19-9851

pending

420 S 18th St, Coeur d'Alene

$599,000 #19-10191

5091 E Frazier Dr, Post Falls

$419,500 #19-9430

BEST OF

SOLD!

SOLD!

raniel diaz

208.640.3794

SOLD!

SOLD!

SOLD!

SOLD SOLD!

CDALivingLocal.com

7
---
OCTOBER 2019

Volume 11 Number 10

inside

Halloween at Home

Creating your own costume

Your Fall Activities Bucket List

Family friendly fun awaits

68

74

It's Football Season

Time to get cookin'

80

CDALivingLocal.com

8
---
There's expected, then there's EXTRAORDINARY

208.664.9171 | aspenhomes.com

1831 N Lakewood Drive, CDA, ID 83814

CDALivingLocal.com

9
---
GOOGLE ONLY LOVES YOU

WHEN EVERYONE ELSE

LOVES YOU FIRST.

REPUTATION

MANAGEMENT

DIGITAL

MARKETING

SEO

...

AD

GOOGLE ADS

SOCIAL MEDIA

MARKETING

CDALIVINGLOCAL.COM

MARKETING

DIRECTOR OF MARKETING

Allyia Briggs | 208.627.6476

allyia@like-media.com

IDAHO SALES & MARKETING DIRECTOR

Jessica Kimble | 208.290.4959

jessica@livinglocal360.com

EDITORIAL

EDITOR/CONTENT MANAGER

Jillian Chandler | jillian@livinglocal360.com

STAFF WRITER/DISTRIBUTION

Colin Anderson | colin@livinglocal360.com

DESIGN

CREATIVE DIRECTOR | Whitney Lebsock

DESIGN DIRECTOR | Maddie Horton

GRAPHIC DESIGNER | Darbey Scrimsher

GRAPHIC DESIGNER | Donna Johnson

OPERATIONS

MANAGING PARTNER | Kim Russo

EXECUTIVE DIRECTOR | Steve Russo

DIRECTOR OF OPERATIONS | Rachel Figgins

CONTRIBUTORS

Nikki Luttman, Dawn Mehra, Dan Thompson, Joanne

Halbrecht, Bri Williams, Ryan Egan, Marc Stewart,

Maureen Dolan, Alison Henslee, Troy Louis Chandler,

Marina Gunn, Marguerite Cleveland

COEUR D'ALENE LIVING LOCAL MAGAZINE

is brought to you by Like-Media.com. If you would

like to advertise with us, please call 208.627.6476

or email allyia@like-media.com. To submit articles,

photos, nominations and events, email us at

events@livinglocal360.com.

GOOGLE LISTING

ROCKETFISHDIGITAL.COM

POWERED BY

Living Local magazine is published monthly and distributed

freely throughout Coeur d'Alene, Hayden, Post Falls,

Rathdrum, Spokane Valley, Sandpoint, Bonners Ferry and

Dover Bay. Opinions expressed in articles or advertisements

do not necessarily reflect the opinions of the publisher.

Living Local magazine is not responsible for omissions or

information that has been misrepresented to the magazine.

Living Local magazine is produced and published by

Like Media, and no part of this publication may be reproduced

or transmitted without the permission of the publisher.

CDALivingLocal.com

10
---
#1Independent Real Estate Brokerage In Kootenai County!

GORGEOUS

DOWNTOWN

CONDO!

$679,900

609 E SHERMAN #302

COEUR D'ALENE

This condo in Downtown Coeur d'Alene offers views of Lake CDA, Downtown, Tubbs Hill and More! Unit is 2262SF, 2BEDS/2BATHS, all on one level with

private covered deck, hardwood floors, granite counters, gas fireplace and more! Don't miss out! #19-8193

SHERMAN

5 EAST

STARTING AT

$695,000

ONLY 3 UNITS LEFT!

New contemporary farmhouse development located right downtown with 2 different floor plans to choose from offering 2500+/-SF, 3BEDS/2.5BATHS

plus detached 2 car garages with a second level office/loft and full bathroom. Call today to reserve a unit.

NEW CONSTRUCTION!

AMAZING HOME ON 10 ACRES!

938 E Elm Ave, Coeur d'Alene

$495,000 | MLS #19-6771

New construction in downtown offers ONE LEVEL living with 3BEDS/

3BATHS (two suites), plus an office! Open concept listing, beautiful

finishes, covered front porch and back patio, detached 2 car garage.

NEW CONSTRUCTION!

STOCK PHOTO

11249 W Romin Rd, Post Falls

$795,000 | MLS #19-8749

This rancher with a bonus room on a full walk-out basement offers

3837SF, 6BEDS/3BATHS with an open great room, main floor master

and formal dining room. Open deck, landscaping with sprinkler system,

and the 30x40 shop are just the beginning of the long list of amenities!

HARRISON CABIN WITH LAKE VIEWS!

2917 N Bygone Way, Post Falls

$388,800 | MLS #19-8327

Single Level, Ranch Style home in one of Post Falls Newest Subdivisions.

Close to Tullamore Parks, and close to the future sports fields at Cecil

& Prairie. 3 bedroom/2 bath, 1809SF, vaulted ceilings, tile in all the

bathrooms, granite/quartz on all counter-tops! Don't miss this one!

601 S Woodland Dr, Harrison

$525,000 | MLS #19-8681

Stunning 3004SF, 3BED/3BATH home in Harrison overlooking Lake Coeur

d'Alene and the surrounding mountains! This beautiful home offers an

open great room floor plan with beautiful wood burning fireplace, gourmet

kitchen, and vaulted T&G ceiling. The expansive covered deck, endless

views, all located on 1.65 acres.

208.664.4200 | 2022 N Government Way, CdA, ID

www.northwestrealtygroup.com

119224

Chad Oakland

Realtor/Owner

208.704.2000

CDALivingLocal.com

chad@nwidaho.com

11
---
Photo Courtesy of Aaron Theisen

CDALivingLocal.com

12
---
"I'm so glad I live in

a world where there

are Octobers."

- L.M. Montgomery

X

CDALivingLocal.com

13
---
PUBLISHER'S

Note

Crisp Fall Days are Upon Us

HEAT TAPE

INSTALLATIONS

Now is the time to prevent ice

dams in your gutters before the

cold winter months hit. Pricing

is dependent upon square

footage needed. Call BEFORE

the snow and ice hit to get your

quote today!

IT'S THE TIME OF YEAR WE START

PREPARING FOR THE COLD WINTER

MONTHS. But, in the meantime, now is the

time to enjoy the autumn season and all the

beauty that abounds during this time of year.

In this issue you'll find some great ideas on

how to spend the fall months with family

and friends. From hiking in nature while

taking in the beautiful fall foliage, to picking

your own pumpkin from a local pumpkin

patch or apples from that local orchard, this

time of the year is unlike any other, so take

advantage of it.

With October comes the anticipation and

excitement of Halloween. You'll find some

great area events marking the occasion, as

well as creative ideas for making that oneof-a-kind

costume for adults and children

alike!

If you're looking for a little adventure this

season, our travel article will take readers

to Asheville, North Carolina, one of the

most beautiful places in the country during

the autumn months—especially during

October. Here you will find the Blue Ridge

Parkway, one of the most scenic roads in

America, as well as the Biltmore Estate built

by George Vanderbilt. Set on 8,000 acres in

the Blue Ridge Mountains, it is America's

largest home.

And no, we haven't forgotten that football

season is upon us, so we've compiled some

great game-time snacks for you to try

at home to satisfy those appetites while

watching the big game.

Fall … there's nothing like it. Get out and

enjoy all the season brings.

Steve Russo

Executive Director

steve@like-media.com

ABOUT THE COVER

208.765.WIRE(9473)

www.nextgencda.com

311 Coeur d'Alene Ave., Ste. C

Coeur d'Alene, Idaho

FALL IS IN FULL FORCE HERE IN COEUR

D'ALENE, AND THE BEAUTY THE SEASON

BRINGS IS UNSURPASSED. The leaves have been

changing to hues of deep reds and golden yellows, and

the days and nights have turned cool and crisp. Take

the time to enjoy the fall foliage and all the activities

that accompany this time of year, as it won't be long

before the winter months are upon us.

Would you like to receive this issue and future

issues in your inbox? Visit CDALivingLocal.com

and sign up for our FREE Digital Edition.

CDALivingLocal.com

14
---
NORTH IDAHO'S PREMIER CUSTOM HOME BUILDER

The Creekside home philosophy of building is based on achieving superior craftsmanship on all levels.

Our commitment to excellence serves as the foundation on which we build every custom home. It is our

dedication that ensures your new home will meet your highest expectations.

TRADITION - INNOVATION - PERFORMANCE - REPUTATION

www.CreeksideCdA.com // 10075 N. Government Way, Hayden, ID 83835 // 208.666.1111

CDALivingLocal.com

15
---
GET CONNECTED WITH COEUR D'ALENE LIVING LOCAL!

1.

3.

#CDALIVING

#CDALiving and your photos will show up on our Get Social

page at CDALivingLocal.com and you'll have the chance to

see your photos in print right here!

2.

facebook.com/cdaliving

instagram.com/cdaliving

pinterest.com/LL360

twitter.com/cdaliving

1.

2.

3.

Hope you found this as relaxing as I did. #idahoexplored #cda

#idahome #cdalivinglocal #idaho

brianjmelcher via

Home is not a place, it's a feeling. And oh boy does this

space feel good! #cdalivinglocal #kitchendesign

strohmaierconstruction via

Even after the leaves fall they are beautiful! #cdalivinglocal

#coeurdalene #fallleaves #idaho

shannyboots via

CONTACT US TO ADVERTISE

Allyia Briggs | 208.627.6476

allyia@like-media.com

SEO

CDALivingLocal.com

LET US TAKE THE GUESS WORK OUT OF YOUR MARKETING

Creative Services | Reputation Management | Google Ad-Words | Google Listings

SEO | Social Media Management | And More

WWW.LIKE-MEDIA.COM | ALLYIA@LIKE-MEDIA.COM

16
---
Together is our

favorite place to be.

The fondest memories are made when gathered around the table.

Whether you need a table for two or a growing family, bring home

quality, handcrafted furnishings to tell your family's story.

Call or Text 509-535-1111 • 1727 E Sprague Ave • Monday - Saturday 10 - 5 • www.TinRoofFurniture.com

Follow our story & connect with us @tinrooffurniture

FURNISHINGS + LIGHTING + RUGS + WALL ART + DESIGN

CDALivingLocal.com

17
---
Contents

68

20

42

82

GET FEATURED

Join us on Instagram @CdALiving for a

chance to get your photos, recipes, ideas

and much more featured

ESSENTIALS

The latest tips and trends in home, garden,

finances and life.

LIFE & COMMUNITY

It's Time to Lace Up Your Shoes: Help

support Specialized Needs Recreation at

this year's Monster Mash Dash

GOOD NEWS

30

Walk 500 Miles in My Shoes: Vet turns

leisurely stroll into a journey of self-discovery

CDA IN FOCUS

Full Contact Fun: Derby gals won't be

pushed around

LIVING LOCAL

Fall Activities in the Inland Northwest:

Events for all ages all over the region

HEALTH & LIFESTYLE

36

42

52

Tips and informational articles about living

a healthy, active lifestyle

27

16 BUSINESS IN THE 34 FEATURE STORY

SPOTLIGHT

20

28

The Atrium Professional Building: An

interesting story behind a unique building

Making a Financial World of Difference:

One woman's journey to help others,

one budget at a time

TRAVEL & LEISURE

Asheville: Gilded Age culture and fall

foliage on the Blue Ridge Parkway

FOOD & DRINK

Your local guide to the tastiest hot

spots around town and local recipes

ARTS &

ENTERTAINMENT

Calendar of great local events, music,

sports and shows!

60

82

85

92

CDALivingLocal.com

18
---
inside_october19_2.ai 1 8/23/2019 11:51:12 AM

The Mommy Makeover

An Intimate Journey, Expertly Arranged

The Mommy Makeover

Growing a family brings change we can seldom control. Often, the most profound change is hidden from

An Intimate Journey, Expertly Arranged

sight, yet ever-present — a growing dissatisfaction with our physical appearance that leads to "hiding"

behind clothes and shying away from "exposing" activities. And although our partners can be reassuring

and kind, moments of intimacy suffer as our confidence diminishes. Dr. Kate Kuhlman-Wood and the

Growing a family brings change we can seldom control. Often, the most profound change is hidden from

staff at sight, Coeur yet d'Alene ever-present Plastic — a Surgery growing dissatisfaction & THE SPA

with can our help physical restore appearance your confidence that leads through to "hiding" a carefully

tailored behind and timed clothes combination and shying away of surgical from "exposing" and non-surgical activities. And corrections. although our Helping partners mom's can be ― reassuring it's what we

do at Coeur and kind, d'Alene moments Plastic of intimacy Surgery. suffer as our confidence diminishes. Dr. Kate Kuhlman-Wood and the

staff at Coeur d'Alene Plastic Surgery & THE SPA can help restore your confidence through a carefully

tailored and timed combination of surgical and non-surgical corrections. Helping mom's ― it's what we

Learn more at www.cdaplasticsurgery.com/mommy

do at Coeur d'Alene Plastic Surgery.

Learn more at www.cdaplasticsurgery.com/mommy

Kate Kuhlman-Wood,

Kate Kuhlman-Wood,

MD is a Board-Certified

MD is a Board-Certified

Plastic

Plastic

Surgeon.

Surgeon.

Schedule a consultation online at www.cdaplasticsurgery.com or call 208 758 0486 | 1875 N. Lakewood Dr. Suite 103, Coeur d'Alene, ID 83814 | MEMBER American Society of Plastic Surgeons®

Schedule a consultation online at www.cdaplasticsurgery.com or call 208 758 0486 | 1875 N. Lakewood Dr. Suite 103, Coeur d'Alene, ID 83814 | MEMBER American Society of Plastic Surgeons®

CDALivingLocal.com

19
---
Heavy Metals

HOW TO MIX AND MATCH METAL FINISHES IN YOUR HOME

BY NIKKI LUTTMANN, SEVEN BEE INTERIORS

FOR SANDPOINT FURNITURE, CARPET ONE AND SELKIRK GLASS AND CABINETS

One of the more common questions I get asked as a

designer is how to mix metal finishes. And though

it seems like a fairly straightforward question, it

doesn't really have a straightforward answer. The

rule is typically to mix no more than three metal finishes in any

given room, and even go so far as to say in any given home.

However, something I strongly believe is that rules are meant

to be broken!

One of the coolest new trends in lighting and hardware is a

matte black finish. And while this finish looks great all on its

own, it also looks fantastic paired with a cool satin nickel or

stainless steel finish, or even with a warmer brass finish. I've also

paired black with weathered copper to fantastic effect, which

looks great in more rustic or industrial interiors.

When choosing new hardware for your kitchen, however, it can

be tricky to pair new finishes with existing light fixtures or other

elements. For cabinetry, one thing to keep in mind are your

hinges. You might switch out your old boring shiny brass drawer

pulls for sleek new stainless steel models, but if your hinges are

exposed and stay the same shiny brass, the effect is lost and all

of a sudden it looks like a bit of a mess instead of the modern

new look you wanted. In this case, what I might do is either

switch out the hinges too, or, if that's not an option, replace the

old pulls with updated brass pieces for a more modern look that

still works with the existing hinges.

When it comes to lighting, finish is very important. I don't

know if you've ever walked into a home and looked up at the

ceiling to spy a gold and crystal chandelier proudly declaring

CDALivingLocal.com

20
---
ON SALE

OCTOBER SALE on the

AUG 30 - SEPT 16

by

RE

We're Unique! We're Different! And We're Worth the Drive!

YES! WE DELIVER TO CDA!

ON SALE

AUG 30 - SEPT CDALivingLocal.com

16

21

RETAILER
---
One of the coolest new trends in

lighting and hardware is a matte black finish.

that the house was built in 1987, but I sure have!

Replacing light fixtures can have a huge impact

on how your house looks. But choosing a finish

can be tricky. One thing that might help you

choose a finish is your door hardware. If you have

satin nickel doorknobs, then you know a satin

nickel fixture would look right at home in your

house. Should you want to branch out and choose

on oil-rubbed-bronze (ORB) fixture, go ahead!

Just make sure that it's not the only ORB element

in the house, so it doesn't look out of place.

One thing I try to stay away from is specialty

finishes. For example, in the early '90s there was

a textured granite finish that was very popular for

light fixtures. This short-lived trend immediately

dated any house that included this strange breed

of light fixture, and the homeowners were then

forced to replace it or simply ignore it once it

went out of style.

For that reason, I opt to go for classic metals and

finishes. Oil-rubbed-bronze, patinaed brass and

copper, satin nickel, stainless steel and simple

black are fairly timeless and will stay up-todate

looking for far longer than their trendier

counterparts. You can generally combine any two

to three of these in any given room and still have

them looking great now and for years to come!

CDALivingLocal.com

22
---
welcome to nest designs

RESIDENTIAL DESIGN

Interior Design | New Construction | Design & Color Consultation | Project Consultation | Renovations

Nest Designs is a residential design company creating stunning yet functional spaces with

an appropriate hint of unconventionality. Owner Kristina Schreiner states, "Our goal is to find

balance between beautiful design and creating homes that reflect our clients." Nest Designs works

through a close, collaborative process, partnering with local craftsmen to ensure every element in

each project is exceptional and carefully delivered.

CDALivingLocal.com

23
---
TAKE CHARGE

OF YOUR

FINANCIAL

FUTURE

F I N A N C

I A L F O C U S

What Can a Financial Advisor Do for You?

This article was written by Edward Jones for use by your local Edward Jones

Financial Advisors Doug Rupiper, Chris Liermann and Debbie Holmes

www.edwardjones.com

www.edwardjones.com

You've Spent a Lifetime

Preparing for Retirement.

Doug Rupiper, CFP®

Financial Advisor

Now 211 E. Coeur What?

d'Alene, Ste.104

Coeur d'Alene, ID 83814

Office: 208.667.1539

doug.rupiper@edwardjones.com

If

If

you're

you're

recently

recently

retired

retired

or

or

planning

planning

to

to

retire,

retire,

you're

you're

probably

probably

concerned

concerned

about

about

making

making

the

the

right

right

financial

financial

decisions.

decisions.

Together,

Together,

we

we

can

can

find

find

the

the

answers.

answers.

We'll

We'll

sit

sit

down,

down,

face

face

to

to

face,

face,

to

to

develop

develop

a strategy

strategy

designed

designed

to

to

help

help

your Chris

your

finances Liermann

finances

meet

meet

your

your

needs

needs

over Financial

over

the

the

long Advisor

long

haul.

haul.

1810 Schneidmiller Ave., Ste. 210

Post Falls, ID 83854

Office: 208.773.3268

christopher.liermann@edwardjones.com

To develop a retirement

income strategy that

works for you, call or

visit today.

What does investing mean to you?

If the word makes you think of

transactions—buying or selling

stocks and bonds—you're looking at just part

of the picture. To work toward all your goals,

such as a comfortable retirement, you need a

comprehensive financial strategy. And for that,

you might need to work with a personal financial

advisor. But what, specifically, can this type of

professional do for you?

Here are some of the key services a financial

advisor can provide:

• Help you invest for your retirement - An

experienced financial advisor can look at all the

relevant factors—your current and projected

income, age at which you'd like to retire, desired

retirement lifestyle—to help you determine how

much you need to invest, and in which investment

vehicles, to help you reach your retirement goals.

To cite just one example, a financial advisor can

review your employer-sponsored retirement plan

and help you determine how to use it to your

greatest advantage.

• Help you save for college - Higher education is

expensive, and costs are rising every year. If you'd

like to help your children—or grandchildren—go

to college someday, you need to save and invest

early and often. A financial advisor can suggest

appropriate college savings vehicles and strategies.

• Help make sure you're well-protected - If

something were to happen to you, could your

family maintain its standard of living? Or if you

someday needed some type of long-term care,

such as an extended stay in a nursing home,

would you be able to maintain your financial

independence, or would you be forced to rely on

your adult children for help? A financial advisor

can recommend and possibly provide suitable

protection products and services for your needs.

• Help you adjust your financial strategy - Not

much will stay constant in your life—and that

includes your financial strategy. Any number of

events—a new child, a new job, a new retirement

destination—can cause you to adjust your

investment moves, as will some of the factors

influencing the financial markets—economic

downturns, changing interest rates, new tax laws

and more. A financial advisor can help you change

course as needed—and sometimes encourage

you not to change course when, in his or her

professional opinion, you might be tempted to

overreact to some event or other.

While a financial advisor can help you in

many ways, you'll need, above all else, to feel

comfortable with whomever you choose.

Ultimately, you'll want to pick someone who

understands what's important to you and who

will follow an established process to create

personalized strategies and recommend specific

actions needed to help achieve your goals. And

you'll want someone who will be with you in

the long run—someone who will revisit your

objectives and risk tolerance and who can adjust

your strategies in response to changes in your life.

A financial advisor can make a big difference

in your life. So, work diligently to find the right

one—and take full advantage of the help you'll

receive as you move toward your important goals.

Kevin R Callos, AAMS ®

Financial Financial

Advisor

Advisor

6797

6797

Eisenhower

Eisenhower

St

Debbie HolmesSt

Bonners

Bonners

Ferry,

Ferry,

ID

ID

83805

Financial Advisor 83805

208.267.5664

208.267.5664

6600 W. Commerical Park Ave., Ste. E

Rathdrum, ID 83858

Office: 208.687.5765

debbie.holmes@edwardjones.com

IRT-4513A-A

IRT-4513A-A

Member SIPC

Member SIPC

CDALivingLocal.com

24
---
CDALivingLocal.com

25
---
CYBERCRIMINALS ARE TARGETING

THE EDUCATION SECTOR

How to protect your family

(BPT) - NOW THAT THE KIDS ARE

BACK IN SCHOOL, there is a topic not

found in textbooks or traditional coursework

that parents, guardians and educators should

prioritize: smart cybersecurity practices.

Recent McAfee Labs research found

cybercriminals are actively targeting the

education sector, with publicly disclosed attacks

increasing 50 percent in Q1 2019. As children

increasingly use various devices starting at

younger ages both at school and home, smart

online practices should be learned early on.

PROVIDING NECESSITIES AND

BASIC HOUSEHOLD ITEMS TO

VETERANS, ACTIVE MILITARY

AND THEIR FAMILIES.

Call or visit our website to see

how you can enroll/donate or

get Involved today!

570 S. Clearwater Loop Unit A

Post Falls, ID 83854

208.610.6996

NEWBYGINNINGS.ORG

F NEWBY-GINNINGS OF NORTH IDAHO

Ad Sponsored By

While there is a need for more cybersecurity

education, students are not learning about the

importance of it in school. In fact, a McAfee

survey found only about a third (36 percent) of

American students learn how to keep personal

information safe through school resources,

instead, 42 percent report that the news is their

best resource for cybersecurity education. This

issue continues through college with only 19

percent of American college students ages 18 to

25 taking extra steps to protect their school and

academic records.

Academic information is a rich resource for

personal data, which can lead to identity theft

and other criminal activity, and these stats

demonstrate the importance of educating

children sooner rather than later when it comes

to cybersecurity to keep them informed and

protected.

"It is crucial that students, parents and

educational institutions of all levels are more

thorough and proactive about protecting what

matters to them and students' futures. It is

equally important that we educate students

about cyber safety. After all, by the time college

rolls around nearly half of students are unaware

of the likelihood that they will fall victim to

cybercrime in their lifetime," says Gary Davis,

McAfee's chief consumer security evangelist.

Davis shares smart tips for parents and their

children to better protect personal data:

Discuss cyber safety: Talk to your family about

ways to identify phishing scams and what to do

if your data was involved in a data breach.

Never reuse passwords: Use unique passwords for

each one of your accounts, even if it's for an account

that doesn't hold a lot of personal information.

Always set privacy and security settings: Protect

your identity and privacy by turning your profiles

to private in order to have control over who can see

information about you.

Use the cloud with security mindset: If you plan

to store your documents in the cloud, be sure to

set up an additional layer of access security to keep

your data available and secure. One way of doing

this is through two-factor authentication.

Always connect with caution: If you must

conduct transactions on a public Wi-Fi

connection, especially those financial in nature,

use a virtual private network (VPN) to help keep

your connection secure and details private.

Invest in security software: An ounce of

prevention is worth a pound of cure, so invest in

security software like McAfee's Total Protection

that scans for malware and untrusted sites to

protect your entire family whether on a computer

or digital device like a smartphone or tablet.

Plan a conversation today with your family and

discuss the best steps for protecting personal

data. With a proactive approach, students can

keep personal data secure so they can focus on

academics, reaching milestones and making

memories.

CDALivingLocal.com

26
---
COUNTRY GIRL

DO I WANT THAT DOGGIE

IN THE WINDOW?

Selecting a dog breed that suits you

and your family is likely the most

important decision you make when

adding a pet. This subject arose the

other day when I came face to face

with a young standard poodle and one of my

favorite clients. This pet parent had recently

lost his beloved 15-year-old standard poodle

to cancer. Starting over with the same breed

seemed like the right thing to do; he knew the

personality type, husbandry and emotional

needs of a standard poodle. Yet his most recent

memory was of an aging, ailing furry pet, not

an energetic puppy. And during those 15 years,

this gentleman's mobility had changed. He had

developed arthritis in his knee that restricted

his movement.

"Uh oh," I thought. "How is this going to

work?" Training, exercising and grooming a

puppy can be physically demanding for more

than a few years. I breathed a sigh of relief

when discovering that his adult grandchild had

stepped up to the plate, taking full responsibility

for all of the above. It was a co-adoption. When

they don't get what they need—food, attention,

exercise—these loving and loyal friends often

suffer quietly, likely develop behavior issues and

either are re-homed or euthanized.

Back in the "good old days" people used books

to sort through breed types, ambled through

the shelter looking for a tail wag or just plain

"adopted a dog." Sometimes it worked out,

Choosing the

right canine!

By Dr. Dawn Mehra,

North Idaho Animal

Hospital

and sometimes dogs were re-homed due to

owner limitations or pet behavior issues. The

wisest and kindest pet parents now tap into

the internet's abundance of information before

choosing a breed. Key points in this are the

dog's needs, personality and activity level, and

your living space and desired activity level.

The most important factor, no matter which

breed you choose, is your schedule. What is

your lifestyle? Do you work long hours? Travel

frequently? Struggle to get out of the house

in the morning? If you answer yes to several

of these questions, you might reconsider

having any type of pet—especially a dog!

They, like small children, require lifestyle

changes and interruptions of your schedule.

Consistent walks, runs and training eat up

your time. Feeding, veterinary care, pet sitting

and boarding consume your finances. Be

careful! Take a quiz on one of the internet's

several websites, DogTime.com, AKC.org and

SelectADogBreed.com, and you will learn

to either fashion your lifestyle, schedule and

emotional health to the breed you desire or

pick the breed that best matches the lifestyle

that you and your family have. There is a world

of difference between the two.

Dawn Mehra, DVM, North Idaho Animal

Hospital, 320 South Ella Street, PO Box

1021, Sandpoint, Idaho 83864, 208.265.5700,

IdahoVet.com, ask@idahovet.com, AAHA

Hospital / Fear Free Certified

Bring Life to

Any Room!

Benefits of potted plants:

• Cleaner air

• Cheerful color

• Enhance mood and

productivity

• Aesthetics for employee,

customer and your

enjoyment

• Create a welcoming

atmosphere

Give us a call

today!

208.964.1621

CountryGirlGarden.com

CDALivingLocal.com

27
---
IT'S TIME TO LACE UP YOUR

SHOES!

Help support Specialized

Needs Recreation at this year's

Monster Mash Dash

By Jillian Chandler

A

Halloween-themed fun run unlike any other, don't hesitate

to register to participate in the 2019 Monster Mash Dash in

Downtown Coeur d'Alene.

Held at McEuen Park Saturday, October 19, come

dressed in your best Halloween attire and be ready

to walk, jog or run to raise funds for Specialized

Needs Recreation.

The third annual Monster Mash Dash promises

to provide friends and families of all ages an

opportunity to run through beautiful Downtown

Coeur d' Alene in their wildest and most

imaginative Halloween costumes. There are two

race categories, with both runs taking off from

Avista Pavilion in McEuen Park: a 1-mile kids costume run for

children 12 years of age and younger starting at 11am followed

by the 5k costume run for all ages at 11:30am. In addition, friends

IT'S TIME TO GET

IN THE HALLOWEEN

SPIRIT, AND FOR A

GREAT CAUSE!

and family, as well as race participants, will be treated to music and

food in the park. Children will have a blast trick or treating and

playing games at the Monster Mash Dash Kids Fall Festival. The

proceeds raised from the event will be donated to

Specialized Needs Recreation, a Coeur d'Alenebased

nonprofit organization providing yearround

recreation for children and adults with

disabilities. (You can find out more online at

SNRIdaho.org.)

What are you waiting for? It's time to get in

the Halloween spirit, and for a great cause!

Registration is $25 for the 5k and $20 for the

1-mile kids run. You can register today at

RaceEntry.com. Scroll down and enter Monster Mash Dash 5k -

Coeur d'Alene and click on the button to register. To find additional

information about the event, you can visit MonsterMashCdA.com.

CDALivingLocal.com

28
---
Discover the power that comes with deciding for yourself

what it means to be beautiful. Signature Aesthetics is here to

help you see a "you" you'll love in the mirror each day.

COOLSCULPTING

we are #1 in North Idaho for the 4th time &

#1 in the Pacific Inland Northwest for the 2nd time

we can use three machines at one time

WOMEN'S WELLNESS

AESTHETIC SERVICES

NOW OFFERING SPIDER VEIN TREATMENTS

NOW OFFERING HYDRAFACIAL TREATMENTS

208.627.6869 | SignatureAesthetics.com

1130 West Prairie Avenue, Coeur d'Alene, ID

212 North First Avenue, Suite 103, Sandcreek Plaza, Sandpoint, ID

CDALivingLocal.com

29
---
Walk 500 Miles in My Shoes

VET TURNS LEISURELY STROLL INTO A JOURNEY OF SELF-DISCOVERY

BY DAN AZNOFF

PHOTOS BY ABBY HENNING

THIS WAS NOT JUST

ANY WALK, BUT A

STROLL AROUND

HIS HOME STATE OF

WASHINGTON. IN

THE END, HENNING

DECIDED TO WALK

500 MILES AROUND

THE STATE TO

FURTHER HIS CAUSE.

Army veteran Rich Henning showed his respect

to the first responders of 9/11 by doing what

comes naturally. He took a walk.

Henning wanted to duplicate the effort of the emergency

teams that responded to the Twin Towers of the World

Trade Center that ominous morning by climbing

104 flights of stairs. Unfortunately, there are very few

buildings with that many floors east of the Cascades.

So instead, he did the next best thing. He found an

18-story building and climbed the stairs top to bottom

six times for a total of 108 floors.

"Did the extra for those who perished," he posted on his

Facebook blog.

Henning, who has found personal satisfaction with

his career as a professional chef, has been lacing up his

shoes and pounding the pavement since his retirement

from the US Army after 22 years of active service.

His latest cause has been walking to raise money

and raise awareness of soldiers who suffer from Post

Traumatic Stress Disorder. In September, he put

together the Inland NW Heroes Golf Tournament to

provide support for local veterans. In July he walked

13 miles with a 50-pound ruck with a group of vets

CDALivingLocal.com

30

known as the Irreverent Warriors. He finished the trek

in San Diego while maintaining a rapid pace with the

declaration, "Too easy, Drill Sergeant. Too easy."

He admits his own battle with the disorder seems

inconsequential compared to soldiers returning from a

combat zone, but his personal battle to overcome the

ailment has been no less agonizing.

The only time he actually took up arms in combat was

in a skirmish in Turkey with Kurdish rebels. He earned

his battle scars during the 13 years he spent serving

under what he described as "abusive leadership" in the

difficult environment with the recruiting command.

"My combat was not extensive, but I did come away

with many of the same issues," Henning said. "Ended

up in the VA Hospital where I received help to address

my issues and overcome many of my issues."

Henning wanted to share his discovery with the

thousands of other veterans who face the same dilemma

without any hope for the future.

"There was a way out of the darkness," he said. "There

are so many agencies and programs out there for

veterans. Unfortunately, too many of them go unused

or underutilized."
---
COME EXPERIENCE THIS REFRESHING NEW APPROACH TO CUSTOM HOME BUILDING

Whether your style is a Mountain Contemporary Home, Western Rancher Home, Classic Coeur d'Alene Luxury Home

or a Rustic Timber Framed Compound Home with contemporary finishes, a custom home built by Affordable Custom

Builders in Coeur d'Alene, Idaho, is guaranteed to express your creativity and style.

Thank you for keeping us booked full for 4 years in a row!

208.666.4141 | AFFORDABLECUSTOMBUILDERS.COM | 401 SHERMAN AVE., STE. 207 | COEUR D'ALENE, ID 83814

CDALivingLocal.com

31
---
"Along the way I had the

opportunity to share my story

with some really great people

and picked up support from

local organizations."

500 miles

After evaluating the situation with his wife, the Army vet decided to

walk. This was not just any walk, but a stroll around his home state of

Washington. In the end Henning decided to walk 500 miles around the

state to further his cause.

Henning left his home in the Palouse and headed to the state capital with

his knapsack and an American flag.

He "flipped the map" and began his expedition in Olympia, strolled along

sidewalks and busy highways north to Seattle, turned east and made his

way through Issaquah, over the pass to Ellensburg where he turned north

toward Leavenworth, then made a hard right and followed the road until

he made it back to Coeur d'Alene.

"I had hoped to cover 20 miles per day. In the end I averaged 16 to 17 miles

per day," he said proudly. "Along the way I had the opportunity to share

my story with some really great people and picked up support from local

organizations."

Box of chocolates

He was sustained along the way by his wife, Abby, who scouted the road

ahead of him in their camper or trailed him along long stretches of highway.

The couple had breakfast together in the camper every morning.

With a smile and a laugh, Henning remembered people he met along the

way who compared his effort to the fictional character Forrest Gump.

"And it was the people along the way who opened our eyes to the

possibilities."

The trek for Henning took 23 days. He walked every day except for July 4,

which he took off to "hang out" by celebrating the birthday of America in

the city of Liberty.

"That was just an extraordinary coincidence," he said. "But a great one as

it turns out."

Before he took the first step of his journey, Henning established a

GoFundMe account to help offset his expenses and establish the Have a

Heart Foundation. The website did not meet its goal of $10,000, however,

Henning did generate $2,600 for the project and came home with cash

leftover. He plans to supplement the unused funds into $500 scholarships

for veterans.

Henning documented his journey with his own video that he hopes to

produce so it can be shown in waiting rooms at the VA Hospital.

"What an incredible experience," he said, recalling how people bought him

food and bottles of water as he walked along the highway.

Henning said his wife never paid more than $25 to stay in campgrounds

after the operators listened to the inspiration behind his walk.

"Abby and I have kept in contact with the people we met along the way,"

Henning concluded. "Walking is my therapy. Hopefully my efforts will

benefit others as much as it has helped me."

"He walked across the country," said Henning. "I only covered 500 miles

within Washington. But the similarities cannot be denied. We both walked

in search of answer we could not find on our own.

CDALivingLocal.com

32

Dan Aznoff is a freelance writer based in Mukilteo, Washington. He can be

reached at da@dajournalist.com.
---
THANK YOU!

Thank you to our Day of Caring

volunteers. We appreciate the nearly

400 business leaders and community

members who donated their day to

work alongside 30 nonprofit agencies in

Kootenai and Bonner counties.

208.667.8112 | www.UnitedWayofNorthIdaho.org

Where the Spirit Finds Serenity

624 W. Harrison Avenue, Coeur d' Alene www.theorchardcda.org 208-664-8119

CDALivingLocal.com

33
---
An interesting

story behind a

unique building

ONE-OF-A-KIND LOCATION NOW

LEASING OFFICE SPACE

BY JILLIAN CHANDLER

PHOTOS BY OWEN AIRD

13403 Government Way

Hayden, Idaho 83835

208.699.9000

pbielec@ccim.net

"THIS BUILDING IS TRULY A HIDDEN GEM

THAT VERY FEW PEOPLE IN THE AREA

ARE AWARE OF. IMAGINE GOING TO YOUR

OFFICE IN JANUARY OR FEBRUARY AND

FEELING LIKE YOU ARE IN THE TROPICS!"

Hidden amongst the tall trees in Hayden, Idaho, yet only a few minutes

from Highway 95 on Government Way, is where you will find a

building, which is unpretentious on the outside but takes you to

another place once you enter.

Constructed from 1983 to 1986 by the Louisiana Pacific Corporation with

a budget of $1.5 million—which was a substantial sum for the time—it was

built to operate as the corporation's one-of-a-kind divisional headquarters.

In 2004, Bielec Enterprises, Inc. purchased the building from Louisiana

Pacific, which then leased space in the building. Ten years later, in 2014, LP

slowly began to scale back their operations at the facility, and as of August this

year has completely relocated to their headquarters in Tennessee.

"We have completed extensive renovations through the years, including new

CDALivingLocal.com

34
---
carpet, paint, HVAC, boiler and security while keeping the building's

unique historical character," says Paul Bielec, president of Bielec

Enterprises, Inc. "The Atrium now has multiple tenants in offices ranging

from 300 square feet to over 2,500 square feet."

The space currently houses attorneys, financial specialists, marketing

firms, real estate professionals, public companies, as well as a large variety

of other interesting businesses, according to Paul. Currently there are

suites available to lease from as small as 400 square feet and up.

The Atrium Professional Building, located at 13403 Government Way,

sits on more than 14 acres and offers more than 30,000 square feet of

rentable office space—and is over 50,000 square feet with the more than

three-story tall atrium included. The building also offers 75 parking

spaces.

"The atrium area includes a lazy river with waterfall, bridges and

hundreds of huge live plants and trees," says Paul.

In addition, the interior of the building is primarily composed of cedar

with vast laminated wood beams and over 220 4'x6' skylights for natural

light, which allows for a bright and sunny office space no matter what

time of year.

"This building is truly a hidden gem that very few people in the area are

aware of," says Paul. "Imagine going to your office in January or February

and feeling like you are in the tropics!"

If you are in the market for a new office space, and you are interested in

leasing information or taking a tour of the Atrium Professional Building,

Paul welcomes you to contact him by calling 208.699.9000 or emailing

pbielec@ccim.net.

CDALivingLocal.com

35
---
CDA

IN FOCUS

FULL-CONTACT FUN

DERBY GALS WON'T BE PUSHED AROUND

BY COLIN ANDERSON

When in high school or college, it's

pretty easy to join a competitive

team. There are all kinds of

clubs and sports at competitive

and intramural levels, and without a full-time job

or family, you've generally got a lot more time for

practices and competitions. As we get older it can

become more difficult to find a way to scratch

that competitive itch in a team environment, as

there just aren't as many opportunities due to our

many daily obligations and responsibilities. For

almost a decade now, a group of local women are

finding not just a way to keep competing but a

place to be part of a team, release some stress and

make some lasting relationships.

Coeur d'Alene Roller Derby is a team comprised

of women who come from all kinds of athletic

backgrounds, with many having little to no

skating experience. "I think a person would be

surprised to see how aggressive it could be, as

well as how light hearted it could be in the same

game," explained Stephanie Coates, who goes by

"Bigs Eats Smalls" during her bouts.

"Most people who aren't familiar with roller derby

often ask: 'So you beat each other up on skates?'

Well, it's not that simple," said team member Kayla

Apel, aka "Nahmaslay." There are many rules to

prevent competitors from seriously injuring one

another while using strategy and technique. It is a

physical sport, so there is contact, but there is no

punching or kicking like some may think. "It's a

family friendly environment with a lot of passion,

hard work and plenty of sweat—and sometimes

tears," she said.

For those who aren't familiar with the rules, games

are called bouts, and each has two 30-minute

halves with a halftime in between. Each half is

made up of jams, which last up to two minutes

each. Each team has a jammer who scores points

by lapping members of the other team, and four

blockers who try to stop the other team's jammer

while also assisting their own jammer. It's a fullcontact

sport, so you will definitely see skaters

falling down and flying across the track. There

are a lot of rules though, so it's not just a brawl,

and there is an announcer who tries to explain all

the action as it happens.

CDALivingLocal.com

36
---
PHOTO COURTESY OF REGULARMAN PHOTOGRAPHY

Coeur d'Alene Roller Derby is part of the

Women's Flat Track Derby Association and

hosts bouts locally while also traveling across

Idaho, Washington and Montana for additional

competitions.

In addition to the 30 or so skaters from both

teams, up to seven referees, who also wear skates,

are needed, plus 10 or so non-skating officials

who keep score, track penalties and lineups, time

the jams and make sure the game runs smoothly.

Then there are the bench coaches for each team

who help with strategy, decide which skaters

go out to the track and make sure no one gets

too tired. Medics are on hand for each game to

assist if anyone gets injured. Finally there are the

volunteers who take tickets, sell merchandise

and help set up and tear down the track. There

are probably more people working "behind the

scenes" than there are skaters on the track.

Practices are held twice a week, and participants

better show up ready to break a sweat both

physically and mentally. "We usually like to do

footwork and/or endurance at the beginning,

throw in some hitting drills, and toward the end

of our practice we scrimmage," explained Kayla.

"Most practices are different, and we mix up drills

to keep us on our toes and to never stop learning

new ways to improve."

It's practice where new women—or "fresh meat"

as they are referred by—get their first look at all

of what roller derby entails. "The first time I was

on skates I knew I wanted to keep skating," said

third-year member Piper Kenny, aka "EmPiper

Strikes Back." Piper's commitment to the sports

goes beyond the twice-a-week practice as she

looks to be a strong competitor when it's time for

a bout. "Outside of practice I work on lifting and

endurance at the gym; basically all my focus is on

my legs since you don't use your arms much in

derby. The team taught me to skate well, but the

gym is an important part of making sure we don't

tire out during games."

All women are invited to attend a practice to

see whether this might be something they are

interested in pursuing. While it can sound

intense, Coeur d'Alene Roller Derby welcomes

women of all skill levels, even those who've never

CDALivingLocal.com

37
---
PHOTO COURTESY OF REGULARMAN PHOTOGRAPHY

PHOTO COURTESY OF NICK SADIGH PHOTOGRAPHY

PHOTO COURTESY OF NICK SADIGH PHOTOGRAPHY

donned roller skates before. When speaking with various members, it's clear

to see that this is so much more than just competition as the women push

each other out of their comfort zones and encourage each other to continue

to gain confidence.

"Roller derby girls may seem very tough and hard, which is true," said Kayla,

"but a lot of us are softies who just want to connect with this community

while getting some exercise and letting out the stresses of every day." It rings

similar for "Skatanic Panic" (Alaina Drake). "We celebrate each other's

individual successes too, so when a teammate does something awesome it's

so satisfying to share in that and to have them share in your successes too."

Bouts with opposing teams can get intense; after all, the entire goal is to

physically block your opponent from getting around you on the 88-footlong

track. Emotions can run high, but win or lose, at the end of the bout, it

is all about sportsmanship. "All those skaters that are so intimidating to play

against are also instant friends—on and off the track," said Piper. "There's a

deep link that allows us all to play the sport that we love, be aggressive and

competitive, and really lay it all out on the track, and then to high five your

opponents afterward and compliment them on how well they played, how

hard they hit me, how much of a pain they were to score against."

You can catch the Coeur d'Alene Roller Derby team in action in their final

home bout of the season on Saturday, October 26, at the Kootenai County

Fairgrounds. Tickets can be purchased in advance online at CdARollerDerby.

com for $5 or on the day of the bout for $8. Kids 10 and younger are free.

Concessions and a beer garden will also be available.

Whether you're looking for a rocking group of ladies to join up with, or

perhaps just a change up in your Saturday night entertainment, the team

hopes you'll stop by and cheer them on.

"This sport has given me and others so much more confidence in

many different aspects we may have been lacking in before," said Kayla.

"Community is so important, and this sport connects all different walks of

life and can be very encouraging to push past your limits—even off track."

CDALivingLocal.com

38
---
Holiday Decorating

COMPLETE DECOR SERVICES, FROM

Rooftops to Walkways

• CUSTOM DESIGN

• PROFESSIONAL INSTALLATION

• TAKE-DOWN

Colbert, WA:

Home, Decorated

by Senske

Dazzling Results,Without the Hassle

L et your imagintion and the professionals at

Senske be your guide in turning your home

into a wonderland of holiday cheer.

Our trained team of professionals

are focused on two things—providing a beautiful

holiday display and making your holiday season

as enjoyable and safe as possible!

Each hassle-free decorating package comes complete with:

• FREE, No Obligation Estimates

• Custom designed for you and your home

• Professional installation

• Night-time "twinkle" checks

• Take-down and storage

SEASON SPECIAL

FREE

WREATH *

48" Pre-lit Wreath with 24" wire-edged bow

Valued at $249.95

*With the purchase of a custom Holiday Lighting Service

before December 1st. While supplies last.

Offer available to new customers only, with a minimum order of $899.

Give us a call for your FREE estimate:

(208) 231-1371

www.senske.com

CDALivingLocal.com 39

BY

BY

TM

services

services

TM TM
---
Athletes of the

BY COLIN ANDERSON

Month

Experience our Gourmet

Soft Peanut Brittle

Light and Flaky

CARRIE MINDEN PHOTOGRAPHY

EMILY MIKKELSEN PHOTOGRAPHY

Gluten-Free & Dairy-Free*

Perfect for Client & Employee Gifts

Gift Boxed for Birthday & Seasonal Presents

Introducing our Newest Flavor

Chocolate-Hazelnut Brittle (*Gluten-Free only)

Visit our Production Facility, Mon-Thu 9-3, Fri 9-6

for some FREE SAMPLES at our Will Call Lobby

Phone Orders 8:30AM-4:30PM

9991 N. Lyle Loop Ste B, Hayden ID 83835

Just one Mile off Hwy 95 by the CDA Airport

Phone: (208) 610-1880

www.robinsonsoftbrittle.com

JANAE RAYBORN

Lake City High School

October Athlete of the Month

Janae Rayborn is focused

on her last season as a Lake

City High School volleyball

player. The senior knew

a while back that this was her calling in

athletics and what she wanted to expend her

full energy on. "Over the years I have played

basketball, soccer and tennis, but I eventually

wanted to choose one sport to focus on full

time. This was a really hard decision for me,

but I'm so glad I chose volleyball," said Janae.

When she was a freshman, Janae played on

the junior varsity team. When districts and

state tournament came around, she was

called up to the varsity squad and hasn't

looked back since. It's the uniqueness of the

game and communicating with teammates

that makes the sport her favorite. "I love

volleyball because it's extremely fast-paced,

competitive and all about team," she said.

While Janae hasn't chosen a college yet, she

plans on attending secondary education

and is also hoping to continue her volleyball

career at the next level. She continues to excel

in the classroom as well, having been on

the Honor Roll for four years, a part of the

DECA program, a mentor, and a member of

the Sources of Strength and the Green Dot

programs at Lake City High School.

As for what she'd like to study after high

school, most of her ideas revolve around

the medical field. "In the future I want to

go into the medical field for either nursing

or radiology. The medical field has always

interested me, and I want to go into a field

where I can help others," said Janae.

Janae adds that she's met some of her very

best friends playing the sport she loves and is

thankful for the relationships that have come

from playing. She's also learned lessons she

can apply to many aspects of her life. "I've

learned all about how to work as a team, and I

have also gained a lot of leadership skills that

I can use in the future. I also learned hard

work and dedication by playing year-round."

In her words....

"I love volleyball because it's extremely fast-paced, competitive and all

about team."

AD VERT. 2.325x9.875 CDA Oct 2019.indd 1

CDALivingLocal.com

9/25/19 1:51 PM

40
---
BROUGHT TO YOU BY

Enjoy the flavors of Fall with

Super 1 Foods!

JULIEANNA STITH

Coeur d'Alene High School

Julieanna Stith, known to most as Julie,

isn't afraid of challenging herself in

all aspects of life. While balancing

high school athletics and academics

is a challenge to any student, Julie has

taken it up a notch, competing on an Olympic

Development Program and also taking

courses at North Idaho College while still in

high school. "My current GPA is 3.8, and I am

planning on graduating with my associate's

degree when I graduate high school," said

Julie.

With an associate's degree in hand, Julie doesn't

plan on slowing and already has her eye on a

master's degree for nursing. Soccer may or

may not be in her future, but no matter where

she goes she wants to end up in a field where

she can help people. "In the future I hope to

become a nurse or a nurse practitioner. I have

always loved caring for people and helping

people out in any way possible," she said.

Last summer, Julie had the opportunity in

playing at nationals with the Thorns North FC

2000s team. The Coeur d'Alene-based team

placed second amongst competitive teams

from all across the country.

"Even though we took second, it still was an

amazing opportunity to play in a high level

of competitive competition," said Julie. That

same year Julie also went to regionals with her

Olympic Development Program.

Julie says one of the most difficult things she's

had to overcome in soccer is beating out the

girl next to her. "Each day, during practice or

game, you have to get better, and if that means

winning every ball or playing smarter, you

have to practice. "I wake up early and go to the

gym so I can be stronger. I get extra touches in

so I can have better ball skills. I push myself so

I can beat out that girl in the game, and I push

myself to give it my all because when that final

whistle blows I have to know that I gave it all

that I could," she explained.

Soccer is the ultimate team sport, and high

level competitors need great endurance,

strong communication skills and a knack for

finding teammates. Julie will continue to work

hard knowing she's playing for so much more

than herself. "I have learned that even through

the hardest downfalls or setbacks, you can't let

it hold you down. You have to rise up and keep

pushing no matter what because you have 19

other girls counting on you to push through

it."

In her words....

"I have learned that even through the hardest downfalls or setbacks, you

can't let it hold you down."

CDALivingLocal.com

41

SUPER1FOODS.NET

RATHDRUM

HAYDEN

COEUR D'ALENE

POST FALLS

ATHOL
---
FALL ACTIVITIES IN THE

Inland Northwest

EVENTS FOR ALL AGES ALL

OVER THE REGION

BY COLIN ANDERSON

Photo Courtesy of Aaron Theisen

Photo Courtesy of Aaron Theisen

October is a favorite of many Northwesterners. A sunny day

with a bit of a bite in the air but no snow on the ground

makes for a lot of smiles. It's also the last chance to get

out and enjoy dry ground before the November rains and

December snows start to fall. All around the region there

are fall activities, many culminating around Halloween. You can sample

seasonal foods and drinks, select that perfect pumpkin, enjoy carnivals

and entertainment or be scared completely out of your mind. Check out

some of our favorites, and enjoy the last breath of fall before winter shuts

you in!

Scarywood - Athol

Continually recognized as one of the most unique Halloween experiences

not just in the region but across the whole country, Silverwood Theme

Park's Scarywood tries to outdo itself every year. Now in its 10th season,

the park is transformed into an intensely spooky arena with creatures and

ghouls jumping out for a scare even as you simply meander through the

park. There are seven different 'Scare Zones' such as: Clown Town, The

Doll House, and The Crypts. Many of Silverwood's signature rides are

also open for your enjoyment, including a backwards roller coaster ride

and a few additional surprises. If you are really looking for a terrifying

experience, make your way to one of the park's five interactive haunts.

These are ranked on a scale of 3 to 5 in terms of intensity, and the 5 level

means serious scares. Escape demonic mummies inside Pharaoh's Curse

and killer hillbillies lurking around the Blood Bayou. For the ultimate

CDALivingLocal.com

42
---
Join us for Fun Fall Festival

OctOber 11th, 12th & 13th

Enjoy family fun for all!

enter tO win

$500 landscape

package giveaway!

Also showcasing a great

selection of local artisans

Free Activities Include:

Petting Zoo

Straw Maze

Crafts and Games

Addititonal Activities to Enjoy:

Pumpkin Patch

Pony Rides

Local food & beer will be

available for purchase

12655 N. Government Way, Hayden, ID 83835 | 208.762.4825

NewLeafNurseryHayden.com | f NewLeafNurseryHayden

EXCEPTIONAL

Idaho's Trusted Choice for Real Estate

Nolan & Eileen Crossley

Phone : 208-714-7300

CDALivingLocal.com

43
---
ALL AROUND THE REGION THERE ARE FALL

ACTIVITIES, MANY CULMINATING AROUND

HALLOWEEN. YOU CAN SAMPLE SEASONAL FOODS

AND DRINKS, SELECT THAT PERFECT PUMPKIN, ENJOY

CARNIVALS AND ENTERTAINMENT OR BE SCARED

COMPLETELY OUT OF YOUR MIND.

battle of survival, join up with fellow zombie hunters to put a stop to an

epidemic. Scarywood is open Thursday, Friday and Saturday nights in

October and generally gets busier the closer you get to Halloween.

Greenbluff - Spokane County

Fall is the most popular time to visit this beloved rural area of North

Spokane. People come from all over to visit the many farms and family

friendly activities that make for a wonderful fall day. Many of the larger

farms have large pumpkin patches where you can pick out the exact

shape and size you are looking for. Kids especially enjoy the festivities

at Beck's Harvest House, which include a corn maze, food vendors, live

music, hayrides and more. Walter's Fruit Ranch is also another popular

destination with pony rides, petting zoo, trampolines and apple picking.

Adults can taste wine, hard cider, mead and beer, and you'll get a more

personal experience by stopping by some of the smaller local farms. Visit

GreenbluffGrowers.com for a complete list of events and to see what

fruits and vegetables are still in season during your visit.

Monster's Ball - Coeur d'Alene

Guests are encouraged to dress their best, whether spooky, sexy or funny

for this yearly favorite adult only Halloween Party located inside the

Coeur d'Alene Resort. Held October 26, you'll find a DJ with dancing,

plenty to eat and drink, and a costume contest with prizes for several

categories. Ditch the kids for the night and let your inner child out!

Tickets are available by contacting the Coeur d'Alene Resort, and there

are also overnight packages available that include a room and admission

to all the fun.

Hickey Farms Harvest Festival - Sandpoint

What started as just a simple fun event for extended family is now one of

the biggest fall activities in North Idaho. Now in its sixth season, Hickey

Farms draws thousands of visitors from all over the region. The pumpkin

patch is unique in that they have 20 different varieties growing, so you'll

find a wide array of colors, shapes and sizes. The more than 5,000-foot-

CDALivingLocal.com

44
---
#BETHEIRVILLAGE

COCKTAILS

FOR A CAUSE

October 23 | Sponsorship Available

$75 per seat. First 100 tickets will receive a high ball glass; seats limited.

Jacklin Arts Center | Post Falls | 6-9pm

Text "CV" to 41444 to buy tickets now or purchase on our website.

1350 W. Hanley Ave., Coeur d'Alene, ID | 208.667.1189

theChildrensVillage.org

A Trauma-Informed Care Facility

Loving Children ~ Restoring Hope

CDALivingLocal.com

45
---
long corn maze excites children and adults alike, and there are local

vendors on hand with tasty treats and fall flavor. Live music will

entertain Mom and Dad while the kids enjoy the inflatable slide

and rides on the barrel train. The Harvest Festival is open Fridays

in October from 3pm until dusk, and Saturdays and Sundays from

10am until dusk. You can also inquire about birthday parties or

other special events throughout the month.

Post Falls Lions Club Haunted House - CLOSED

On a sad note, after 42 years of operation, the Post Falls Lions Club

will not be opening its Haunted House on Fourth Avenue as the site

is up for sale. Thousands of visitors enjoyed this unique experience

over the decades, and their donations helped pay thousands upon

thousands of dollars in Lions Club projects such as scholarships

and funding for all kinds of community projects and organizations.

Remember the good times!

Prairie Home Farm - Coeur d'Alene

For a laid-back and peaceful pumpkin-picking experience, try

Prairie Home Farm, located on Atlas Road just south of Prairie

Avenue. The small family farm specializes in pumpkins, but you'll

also find some late fall produce available such as winter squash,

berries, thyme and sage. You can snip your own in the field or choose

from fresh picked pumpkins available right as you arrive. Kids can

feed the barn animals while parents pick up all their fall decorations

like corn stalks, Indian corn, gourds and straw bales. You'll be hard

CDALivingLocal.com

pressed to leave without purchasing a Lil Punkin' Pie which come

in three sizes and many flavors. The farm is open Wednesdays and

Saturdays in October from 10am to 5pm.

Great Pumpkin Race - Spokane

Meals on Wheels Spokane invites you to its Annual Great Pumpkin

Race & Fun Run Saturday, October 26, at Greenwood Cemetery.

What's more fun than cheering for pumpkins on wheels racing to a

blazing finish? Getting dressed up and joining friends and family for

a 1k or 5k walk/run while you're there of course. This is a one-of-akind

Halloween event, with all proceeds going to Meals on Wheels

Spokane. Participants are encouraged to come dressed in colorful

costumes. Also enjoy vendors and music all under the beautiful fall

colors as Greenwood Memorial Terrace is transformed for the sideby-side

pumpkin races.

The Billy Goat Ranch - Deer Park

For a bit of an adventure and a more rural experience, make the

drive about 10 miles north of Spokane and just south of Deer Park to

Billy Goat Ranch, where you can pick your own pumpkin Tuesday

through Sunday until they run out. There are all kinds of varieties

available with some giants reaching upward of 80 pounds! The smell

of the lavender field will put you at ease, and with four Ford tractors

and an international, it's a great place for fall family photos. There

are corn stalks and gourds available, and you can take home special

gourds that double as bird houses.

46
---
CDALivingLocal.com

47
---
COMMON READ

A SHARED EXPERIENCE, A SENSE OF BELONGING | BY MAUREEN DOLAN

Sebastian Junger, author of "Tribe: On Homecoming and Belonging"

(SebastianJunger.com)

The connection between mental health and

a sense of inclusion is raised in "Tribe: On

Belonging and Homecoming," the current

book selection for Cardinal Reads, North Idaho

College's common read program.

While author Sebastian Junger shares his thoughts

on how the lack of a feeling of belonging may

affect veterans returning from serving overseas,

it's not a foreign idea on college campuses.

College students may appear to be gliding along

effortlessly as they make their way around

campuses throughout the nation, but how many

are faking it until they make it, feeling out of

place, alone and anxious? Probably more than

you'd imagine.

More than 50 percent of students surveyed in

2016 by the American College Health Association

reported feelings of hopelessness and nearly 39

percent reported depression that made it difficult

for them to function. They are part of a campus

community, but do they feel connected, like they

belong?

"A growing body of research has linked students'

sense of belonging on their campuses to a

number of important outcomes, including their

persistence in college and even their well-being,"

wrote Beckie Supiano in the Chronicle of Higher

Education.

"Tribe" author Sebastian Junger, a journalist

who was a war reporter embedded with a unit

in Afghanistan in the early 2000s, proposes that

the loss of tribal structure in modern society has

come at a great psychological cost to humans.

Junger describes the real and ancient meaning

of "tribe" as a community of people who share

resources and who would risk their lives to defend

their community.

He was puzzled while in Afghanistan to find

that men and women serving there often didn't

want to return home to the states when their

deployments ended. He notes that about 40

percent of people who serve in the military

overseas are not traumatized while deployed but

return home with PTSD.

"Maybe they had an experience of tribal closeness

when they were eating together, sleeping together,

defending each other with their lives," Junger

said during a 2015 TED talk. "We keep focusing

on trauma, but maybe what's bothering them is

actually a kind of alienation?"

NIC is among roughly 300 colleges nationwide

that offer common read programs, which aim to

connect people through a shared experience.

NIC's Cardinal Reads is part of the college's

diversity program, with book selections designed

to encourage diversity awareness on campus.

The current diversity theme is cultural identity.

The common read is one of the ways the college

strives to encourage that cultural awareness.

"The NIC student population and larger

community of North Idaho benefit from

understanding a variety of cultural perspectives of

underrepresented populations," says the college's

Diversity Council's Project Statement.

Common reads also encourage critical thinking

and courteous, thoughtful discourse, even when

opposing opinions emerge. The common read

helps create some of those human connections

that can foster a sense of community—and yes, a

feeling of belonging.

Copies of "Tribe" are available in the North Idaho

College library.

For more information, visit NIC.edu.

CDALivingLocal.com

48
---
JJ[WNTOWN

The Sand Creek Lofts put you steps away from everything.

Dining, shopping, parks, recreation, nightlife, scenic Lake

Pend Oreille and the marina are literally just outside your door.

One or two bedroom units come with lake, marina or city views

and off-street parking. Boat moorage is available.

STARTING AT $349,000

COMING SOONI THE LAKE 200 LUXURY DOWNTOWN CONDOMINIUMS.

CURRENTLY UNDER CONSTRUCTION ... RESERVE YOUR NEW LUXURY CONDO NOWI

For information visit

sandcreeklofts.com

CDALivingLocal.com

49

To schedule a tour

contact John or Marie at

208.265.1597
---
208.699.9692

NORTHWEST BUSINESS

Union Gospel Mission Center

for Women & Children

UGM's long-term, residential recovery center for women with

children in Kootenai County provides a home-like setting in

which to explore and confront the issues underlying abuse,

addiction and homelessness. Residents receive food, shelter,

clothing, therapy, life skills classes, Bible study, educational

and vocational training, and medical care free of charge.

196 West Haycraft Avenue | Coeur d'Alene

208.665.4673 | UnionGospelMission.org

The Big Picture

Serving the community for 26 years, The Big Picture specializes

in senior, family, children and business photography. Both

outdoor and indoor (studio) sessions are available, allowing

then to capture the perfect photo year round. Combined with

owner/photographer Mark Huender's expertise in lighting,

posing and re-touching techniques, he can capture just what

you're looking for. Choose from photographic prints, canvas

wraps, metal and digital file options.

13403 North Government Way, Suite 114 | Hayden

208.772.4244 | BigPixr.com | F Bigpixr

Prime Trade NW

At Prime Trade NW, owners and ITEX brokers Arthur and Kimberly Shaw offer an independent

brokerage within the ITEX barter network. ITEX allows businesses to trade with each other

with ITEX currency while the brokerage helps build membership in the ITEX network and

supporting local members in earning more business and spend ITEX currency. Call today for

more information.

1869 East Seltice Way | Post Falls

208.699.9692

PrimeTradeNW.com | F itexpacificnw

CDALivingLocal.com

50
---
Renew Aesthetics and IV Hydration Bar is a full-service medical spa focused on health

EXPERTS...

and wellness. Beverly-Hills trained injection specialist Angela Sattler, RN practices a

FEELING TIRED / LOW ENERGY?

'freestyle' filling technique - an individualized treatment approach based on each client's

READY TO KICK YOUR ATHLETIC

unique facial shape, structure and needs that creates stunning results.

PERFORMANCE UP A NOTCH?

LET US HELP YOU SHINE **All business IN 2019. listings are members of ITEX Corporation and currently accept ITEX dollars.

NEED RECOVERY FROM A LATE NIGHT?

We have a drip for that.

SCULPTRA ®

BOTOX ®

FILLERS

KYBELLA ®

VAMPIRE PROCEDURES ®

SALT FACIAL

ESTHETICIAN SERVICES

Renew Aesthetics & Hydration Bar

Providing a full-service medical spa experience with health and

SPECIAL OFFER!

wellness as their top priority, all services are performed by their

MENTION THIS AD TO RECEIVE

$

10

injection ANY specialist, BOTOX who focuses on individualized treatment plans

® SERVICE FOR

PER UNIT

that are specific to each client's facial shape and structure. Renew

Aesthetics & Hydration Bar is the first in the Inland Northwest to offer

Vitamindrip® micronutrient IV infusions, which include vitamins and

minerals to improve energy, cognitive function and improve general

wellness—customized to meet your individual needs.

515 North Fourth Street, Suite #2 | Coeur d'Alene

208.930.6823 | RenewCdA.com

F RenewCDA | d Renewaestheticsandhydrationbar

F Vitamindripcoeurdalene | d Vitamindripcoeurdalener

RENEWCDA.COM

Call to schedule your free consultation today. 208 / 930-6823 515 N 4th St in Coeur d'Alene

Hippo Car Wash

Hippo Car Wash has been providing quality vehicle care at

+ 100% ABSORPTION

affordable prices since 2006. Securing the most advanced

+ HIGHER NUTRIENT LEVELS

tunnel in the area combined with the industry's best car

+ IMMEDIATE NUTRIENT AVAILABILITY

wash equipment, Hippo provides you the cleanest vehicle

Hydrate, boost energy levels and release those unwanted toxins.

wash around—and fast! In addition, crew members are well

trained and use only the best, safest methods when cleaning

your vehicle. If you love NOW OFFERING your car, B12, there's VITAMIN no D, AND better LIPO-B choice SHOTS

than Hippo Car Wash.

Enjoy sustained energy - for days (not hours) - without the crash.

We can custom mix to fit your needs! Book a party for 3 or more.

Call to schedule your drip or find out more today.

510 West Bosanko Avenue | Coeur d'Alene

208.667.5603 | HippoCarWash.com

208 / 930-6823 RENEWCDA.COM

V

Ren

All Pro Auto Repair & Electric LLC

Honest, trustworthy, affordable and experienced. Look no further than All

Pro Auto Repair and Electric for your auto repairs and maintenance services.

A full-service auto repair shop, they specialize in vehicle diagnostics and

auto maintenance. Servicing vehicles of various makes and models, trucks,

motorcycles and more, they'll keep your vehicle running smoothly year-round.

The facility is fully approved and ASE certified. Financing options are available.

Open Tuesday through Saturday, 8am to 5pm.

185 West Haycraft Avenue | Coeur d'Alene

208.966.4396 | AllProAutoAndElectric.com

CDALivingLocal.com

51
---
DOCTOR'S ADVICE

Don't do that!

By Joanne Halbrecht, MD, Coeur d'Alene Orthopedics and Sports Medicine

After 25 years of practicing orthopedic surgery and sports medicine,

I have frequently seen injuries caused by the same activity. Here

are a few:

1. Reaching in the back seat of your car. Injury: biceps tendon tear, rotator

cuff tear, herniated cervical disc.

What may seem like a fairly innocuous activity can have disastrous

consequences. The awkward activity of turning your head and stretching

our arm backward puts stress on your neck, shoulder and arm.

A sudden pop in the shoulder followed by prominence of the biceps muscle

(Popeye Sign) is an indication that the long head (there are two, thus "bi")

has ruptured or torn. Depending on your age, this may require surgery to

fix. Sudden onset of neck pain that radiates down the arm signals that a disc

in the cervical spine or neck is now bulging and pressing against a nerve.

Ouch! A tearing sensation in the shoulder followed by pain and difficulty

lifting the arm overhead are classic for a rotator cuff tear.

So, if you need to get something that's in the back seat, find a safe place to

pull over, get out of your car and retrieve it.

2. Jumping on a trampoline with more than one person. Injury: ankle

sprain, fracture of the foot, ankle or femur.

New trampolines enclosed in netting have greatly reduced trampoline

injuries. Unfortunately, the netting gives the user a false sense of security.

More than one person on a trampoline frequently results in one person

landing on another or one person bouncing the other in a direction they

had not anticipated.

Ankle swelling and pain can indicate an ankle sprain. A fracture is

associated with the sudden sharp pain, bruising, swelling and pain with

weight bearing. In severe cases, there is a physical deformity. Sometimes,

HEALTHY TIP

PUMPKIN SPICE MAGIC

You can celebrate the upcoming holiday season like a pro.

Dense in vitamins A and C, pumpkins are more than just an

ornament ... they offer health benefits as well! Enjoy soup,

pies, muffins, breads and take happiness in the fact that you

are getting some great vitamins in!

CDALivingLocal.com

52
---
MORE

REASONS TO

SMILE

BECOME A NEW PATIENT AT OUR AWARD WINNING

DENTAL OFFICE AND YOU'LL BE SMILING A LOT MORE!

To show our appreciation to the community, we are offering all new patients a chance

to win your choice of a $1,000 gift card to Costco or Pilgrim's Natural Food Market.

You can also save now on these special new patient offers:

ONLY $150 NEW PATIENT SPECIAL

FOR XRAY, EXAM & CLEANING A $400 VALUE

$100 OFF

IN-OFFICE WHITENING

3D IMAGING • IMPLANTS • 1-DAY CROWNS • WHITENING

VENEERS • INVISILIGN • DENTURES • ROOT CANALS

LASER PERIODONTAL THERAPY

208-664-8283 | KootenaiFamilyDental.com

CDALivingLocal.com 1420 Lincoln 53 Way, CdA |
---
WHAT'S ON THE OTHER SIDE?

MUSCLE

ACHES WITH

WORKING OUT

ARE EXPECTED,

BUT WHEN YOU

EXPERIENCE

ATYPICAL SHARP

OR UNRELENTING

PAIN, DON'T

TRY TO WORK

THROUGH IT.

STOP AND REST.

IF IT DOES

NOT RESOLVE,

SEEK MEDICAL

ATTENTION.

fractures are not very painful and require X-ray for

diagnosis.

Play it safe. Don't jump on a trampoline with more than

one person.

3. Performing manual labor that you are not accustomed

to. Injury: bursitis, rotator cuff tear, tendonitis, carpal

tunnel syndrome, cubital tunnel syndrome.

If you're avocation does not include painting houses,

building decks or extensive landscaping, you may sustain

an overuse injury if you try to tackle the job yourself.

Repetitive use of the shoulder, elbow, wrist and hand in

painting, hammering or shoveling can cause pain due to

inflammation of tendons and bursitis or even a tear in the

rotator cuff. Numbness in the arm or hand can be a sign or

carpal or cubital tunnel syndrome due to swelling around

the nerves in the wrist or elbow.

Months of pain, activity restriction, physical therapy and

possible surgery are not worth it. Hire a professional to do

the job.

4. Taking a jump on a snowboard not knowing what's on

the other side. Injury: anterior cruciate ligament (ACL) or

medial collateral ligament (MCL) tear.

This injury is more common among expert snowboarders

than beginners. Typical scenario: The boarder sees what

looks like a sweet jump, then finds out that the landing

is unexpectedly flat. The boarder leans back and the ACL

tears or the boarder falls and tears either the ACL, MCL or

both. That will get you a toboggan ride down the mountain.

It's best to scout out a jump first, check out what the

landing looks like, then take it on the next run when you're

prepared to react to the landing.

5. Age 40-plus and new workout routine that includes

repetitive lunges, squats and/or leg presses. Injury:

damage to patella (knee cap) cartilage.

It's great to add new exercises to your workout or,

even better, to make the commitment to get in shape.

Unfortunately, our ageing knees don't always cooperate

with our desire to be active. As we age, the patella is the

most common area for arthritis (worn cartilage). Those

knees have been squatting, kneeling and going up and

down stairs for four decades!

Often, the arthritis is not painful until we engage in an

activity that loads the patella such as lunges, squats and leg

presses, particularly when the knee is bent more than 90

degrees.

There are other ways to strengthen the quadriceps that do

not load the patella. In some cases, bending the knee less

than 45 degrees may give the desired results without pain

or further cartilage damage.

6. If it hurts, don't do it. Injury: muscle tear, tendon

sprain, stress fracture.

Muscle aches with working out are expected, but when you

experience atypical sharp or unrelenting pain, don't try to

work through it. Stop and rest. If it does not resolve, seek

medical attention.

CDALivingLocal.com

54
---
MICRONEEDLING

WHAT IS IT AND HOW CAN IT TRANSFORM MY SKIN?

By Bri Williams, RN, BSN

What would you say if I told you there

is a treatment that has been around

for over 1000 years, is safe for all skin

types, and uses your body's own healing abilities

to repair damaged skin tissue and turn back the

hands of time? First used in 1905 to treat scars

and hyperpigmentation, microneedling has come

a long way and is now considered one of the best

in-office treatments for acne scarring, fine lines

and wrinkles, and more. Read on to learn more!

What is microneedling?

Microneedling, also known as collagen induction

therapy, is a minimally invasive, nonsurgical,

medical-grade treatment designed to enhance

production of collagen and elastin, thus lessening

the appearance of sun damage, acne scars, stretch

marks and hyperpigmentation. In addition,

fine lines and wrinkles are reduced, giving the

skin a healthier glow and fresh appearance. The

procedure works well on all areas of the body and

is most commonly performed on the face, neck/

chest and back of hands.

approximately $300 to treat the face, and a series

of three to four treatments (one month apart) is

most often recommended for initial therapy.

Does microneedling hurt?

Prior to treatment, a topical numbing cream

is applied to the treatment area, making the

procedure well tolerated by most. It is generally

described as being slightly uncomfortable, but not

painful.

Is there any downtime or recovery after this

treatment?

You can expect to look a little red the first 24 hours

after treatment (like a sunburn). You need to avoid

any unprotected sun exposure to the treatment

area for seven days after your treatment. Mild

swelling and occasionally bruising can occur,

and dryness/slight peeling is expected around

day three. Most clients return to their normal

activities on post treatment day one and find the

recovery to be easy.

BLUE LIZARD

NATIVE AMERICAN GALLERY

Specializing in

Jewelry, Art and Artifacts

The treatment includes creating thousands of

microscopic punctures to the skin using a pen-like

device that has sterile needles in it. The needles

penetrate to specific depths creating micro

"injuries." As a result, your body goes to work to

"heal the wound," and in the process new collagen

and elastin are created. This helps to firm the skin

and heal imperfections.

How much does microneedling cost?

The cost of microneedling varies depending on

the part of the body being treated and how large

the treatment area is, as well as where you are

having the treatment completed. In general, it is

Where can I have this treatment done?

Microneedling should only be performed in

a clinical office and by licensed professionals

to avoid complications such as infection. It is

important that your provider is knowledgeable

about facial anatomy and the safety of providing

minimally invasive treatments. When in the

care of a trained and licensed professional,

microneedling is considered a very safe treatment.

To learn more about microneedling or to find

out if this treatment can help address any skin

concerns you have, consult with your aesthetic

provider.

Visit Our New

Location Today

and find your perfect gift!

208.255.7105

100 Cedar Street Suite B

Sandpoint, Idaho 83864

CDALivingLocal.com

55
---
IF I LIFT HEAVY, I WILL GET

BULKY

THE MYTHS AND HEALTH BENEFITS

BEHIND WEIGHT TRAINING

BY RYAN EGAN, LICENSED JOINT AND MOVEMENT SPECIALIST

Women are serious 21st century warriors. Answering a call

as wives, mothers, teammates, athletes and all-around

radical individuals engaged in every hardcore pursuit

alongside men. Women experience the same forces skiing,

climbing, moving, running, biking, etc., and do so at a slight disadvantage.

Men are generally stronger, able to carry more lean body mass and can

safely operate at a lower body composition. Being equipped with more

testosterone, men have a much easier time building muscle and lifting

heavier during strength practice. But that does not mean that women

should not lift and practice heavy strength training. In fact, it becomes

even more crucial for women to do for numerous factors—especially as

the glorious aging process develops, because they are nearly three times

as likely to develop osteoporosis. After 30, the decline of bone density and

lean body mass becomes critical to offset with well-practiced strength

training.

But the common fear is that if I train heavy I will get bulky and end

up looking like the enormous women of bodybuilding. This is a very

scary myth because it keeps women from expressing their potential as

humans and athletes, but even more importantly leaves them vulnerable

to injury due to lack of overall strength, bone density, lean muscle mass,

and soft-tissue tendon and ligament strength (which can be at increased

risk due to monthly hormonal changes that leave these extremely

important structures in a state of slightly increased laxity). Regardless of

my professional opinion, the myth, although a logical concern, is very

misleading.

For one, the type of muscle hypertrophy (growth) seen in "bulky" women

is directly attributed to numerous factors and a very specific and wellcalculated

environment. There are two types of muscular hypertrophy:

myofibril density (dense and tighter muscle growth) and sarcoplasmic

hypertrophy (puffy, big, bulky muscle growth). Both are desirable

reactions, but specific protocols in programming by well-equipped

strength coaches can elicit more of one than the other. Furthermore,

women are just not chemically and hormonally equipped to develop bulk

and large muscles like a man.

Much like a fruit tree, for the tree to produce the most abundant and

bountiful fruit, all the correct environmental and chemical pieces must

be in place or the fruit will not grow. When it comes to building muscle

or "getting bulky," most men have most of these pieces in place naturally;

higher levels of testosterone being the key ingredient. There are, however,

varying body types and predispositions genetically that will impose or

impede building muscle, but generally men are much more inept.

Besides the significant athletic benefits from heavy strength training,

doing so utilizing complex movements will in fact develop all the muscles

women want to look good. Butt, legs, arms (typically triceps, aka turkey

arms), back, and at higher capabilities will in fact develop the abs.

Besides the obvious athletic, health and cosmetic benefits, lifting heavy

is crucial and vitally good for you—increased central nervous system

activity, improved balance and coordination, as well as developed postural

control and stability. Skeletal loading enhances bone density and muscular

stimulation. Heavy lifting causes connective tissue stress and strength,

and mental psychological demand and toughness.

The key is finding a coach who can safely teach you how to progress and

help you develop competent movement patterns so that increasing the

weights during training is done safely. A good coach can also program the

training to have a more bulk-avoiding effect. Heavy lifting while keeping

the total volume low and the reps less than five is the key to remaining

tight and small while expressing fantastic amounts of strength. The real

hurdle is spending the time learning, but it will all pay off when you're

still skiing, running, biking or doing whatever you love; most importantly,

being stronger and vibrant to play with your grandkids well into later life.

CDALivingLocal.com

56
---
Indulge

Yourself

today!

Gift

Certificates

Available!

Spa Packages

PACKAGE #1 PERSONAL SPA PACKAGE - $85

Includes a 25-minute foot bath & foot massage, 25-minute table massage, hair mud mask

and self-applied mini facial, hand paraffin dip, steam sauna and a glass of wine.

PACKAGE #2 HEAVENLY HEAD TO TOE - $117.50

Includes our Highlands facial treatment, intensive foot treatment

(foot soak, scrub, mask and massage), steam sauna and a glass of wine.

PACKAGE #3 SENSORY SOOTHER - $126.50

Includes a 55-minute full-body massage, intensive foot treatment (foot soak, scrub, mask

and massage), steam sauna and a glass of wine.

PACKAGE #4 THE STRESS RELIEVER - $140.00

A 30-minute full-body chamomile exfoliation, followed by a 90-minute full-body

massage, steam sauna and a glass of wine.

Visit us online to view all eight of our packages!

CDALivingLocal.com

4365 Inverness Drive | Post Falls, ID 83854

highlandsdayspa.com | 208.773.0773

57
---
Collars

Toys

Treats

Gifts

Clothes

Pillows

A fun, unique and original dog shop.

It is for all dog lovers!

LIKE "KYMS" ON FACEBOOK FOR

COMMUNITY EVENTS & MORE!

210 E. Sherman Ave., Ste. 143 | Coeur d'Alene

Resort Plaza Shops • 208.664.0414

www.thelabradorstoreandmore.com

Creative Soul Collective

· Workshops

· Classes

· Group & Private Sessions

For schedules & details:

Alison Henslee | Artist & Creative Coach

208.610.8806 | aghenslee@gmail.com

Bonners Ferry | Sandpoint | Coeur d'Alene

CDALivingLocal.com

58
---
HEALTHY BONDS

Provider and patient relationships more important than ever

BY MARC STEWART

Dani Jones has battled a myriad of health

issues for nearly a decade.

The Coeur d'Alene woman suffers from thyroid

disease, arthritis, vertigo and tremors. Also,

she has been injured with various wounds and

other minor ailments.

Dani considers her longtime medical provider,

Erika Mikles, a good and trusted friend.

"I love her," says Jones. "She's great and she

takes care of all my needs. If she's not sure of

something, she investigates it and figures it

out."

to her concerns. She praises Erika for using

plain language instead of relying on medical

jargon.

"She's not above my level so to speak," says

Dani. "I don't feel embarrassed to talk to

her about anything. She makes me feel very

comfortable. Erika treats you like a person, not

just a number. With her, you are somebody."

The provider-patient relationship is the bedrock

of quality health care dating back to the days of

house calls. Erika takes her responsibility as a

provider seriously and strives to have the best

relationship possible.

Healthcare from the Heart

ACCEPTING NEW PATIENTS

208.620.5250

myHeritageHealth.org

Erika, a physician assistant for Heritage Health,

acknowledges she has developed a special bond

with Dani.

"We have a great relationship," says Erika.

"Dani and I have really honest conversations.

She knows I am someone who she can trust."

That trust has been built through dozens of

interactions.

"Sometimes I see her once a week, sometimes

it's once a month," says Erika. "She has had a lot

of challenges in her life. Sometimes I am just

there as a sounding board, almost in the role

of a therapist."

Dani has had less than ideal interactions with

medical professionals in the past, largely in

part because her previous providers had poor

communication skills, including not listening

"I hear patients over and over again say they

just want to be heard," says Erika. "I want to

listen to them, I want to know their story, I

want to know their living situation. I can't make

any recommendations until I know more about

them."

Erika says providers can have a major impact

on their patients' emotional health.

"I have some patients who are isolated from

family and friends, and I am the closest

relationship they have, and that is a privilege,"

she says. "I am hoping in Dani's case that if I

can help make her feel better, her physical

health will get better too."

ERIKA, PA

Follow Us!

CDALivingLocal.com

59
---
MAKING A FINANCIAL

WORLD OF

DIFFERENCE

ONE WOMAN'S JOURNEY TO HELP

OTHERS, ONE BUDGET AT A TIME

BY ALISON HENSLEE

PHOTOS COURTESY OF KUMIKO LOVE

When a person goes to college and gets a degree, they

typically learn a great deal about their chosen field,

hoping to find a good job, make a lot of money and live

the perfect dream life. For one Spokane, Washington,

woman though, going from point A to point B has already happened

in her 30-some years, but with a fascinating, and life-changing, twist.

Kumiko Love, an accredited financial counselor and the creator of The

Budget Mom, was raised on a farm in Chewelah, Washington, and

lived a normal farm-girl life. She grew up, went off to college where

she obtained a business administration degree—majoring in finance

and accounting and minoring in economics. She got a job right out of

college with an independent financial company in Spokane and worked

for seven years as an administrative assistant and accredited financial

counselor, helping other people wisely spend and save their money.

She also did traditional life things: got married and had a child. And

then the not-so-planned life things: got a divorce and became sole

financial provider for her then 2-year-old son, which was a challenge

in itself, and then factor in substantial student loan debt, credit card

debt and a new vehicle loan, all adding to her single mom level of stress.

Miko found herself going to work feeling embarrassed because, as she

puts it, "How am I supposed to tell these people how to manage their

money when I can't even manage my own?!" She had the knowledge,

she knew the steps, but a long-time struggle with self-esteem issues

made retail therapy a thing in her life, and it served as an antidote for

her feeling of no self-worth. The more she struggled with that issue, the

deeper in debt she went.

Being a mom was so meaningful to her, Miko knew she had to take

steps to work on her personal self-development so she could be the best

parent to her son. The pivotal financial turning point happened when

she finally faced her debt. Writing it all out on paper and seeing her

real debt numbers—almost $78,000!—in black and white was all the

motivation she needed.

Pulling from every bit of knowledge she had, Miko became her own

best client. Debt reduction became her number one focus, and she

challenged herself to try different budgets but was unable to find one

that completely worked for her.

Her solution? Dig through all the budgets that she had tried and pick

out the pieces in each of them that had worked for her. Then Miko

carefully compiled those pieces and rolled them together until she

created a budget worksheet that finally worked for her. Her paycheck

system allowed Miko to outline her spending based on the money she

was going to earn, and then she always knew exactly where her money

was going ahead of time.

Miko found the new budget worked and did everything she could to

stay on course, using tools like a vision board and colorful debt payoff

trackers to keep track of every single dollar she put toward paying down

her debt. Every line she colored in on her payoff trackers represented

not only another goal met but also a lot of hard work.

She whole-heartedly advocates using a vision board to track one's

financial goals. Her first board, started way back in 2011, simply had

a photo of a really nice backpack that she wanted to save up for. Now,

literally every single piece of her financial life is on multiple vision

boards above her desk, and she marvels at how many financial "wishes"

have already become realities—starting with that long-ago backpack!

Another thing that worked for Miko was following her own advice,

CDALivingLocal.com

60
---
CDALivingLocal.com

61
---
Another thing that worked for Miko

was following her own advice, "If you

can't reduce spending, you need to

increase income."

"If you can't reduce spending, you need to

increase income." After combing through and

cutting out as much unnecessary spending

from her monthly budget as she could and

still coming up short, Miko then considered

her options. She could go find an additional

job, but then she would be putting her son

in additional daycare, so there would be an

extra expense. She weighed out that option

and decided it wouldn't be worth the money

or time away from her son.

So then Miko looked at her favorite hobbies,

wondering if there was something that she

loved to do that could bring in additional

money. And so she decided to fine-tune her

love of photography. After watching countless

hours of YouTube videos and reading on the

subject, she used that talent and found work

as a real estate photographer to supplement

her income. It was perfect because it was

something she could do on her time off and

take her son with her. She worked hard,

stayed focused and scraped together every

penny she could to go toward lowering those

balances.

She began to see progress but, deep down

inside, she was bursting at the seams with

what she was learning and with every

accomplishment, every bill paid, every line

colored in—Miko just wanted to shout her

knowledge out to other single moms. She

knew there were other moms out there who

understood exactly where she was coming

from and knew what it felt like to be in her

shoes; women who could benefit from what

she was learning to do the same thing: get

out from under those mountains of debt. She

wanted to share it with everyone!

So one night, not able to stay quiet one

second longer, Miko grabbed her computer

and started typing. Her first post flowed

into a steady stream of posts; she began

sharing the tools she was using: the colorful

tracking charts, cash envelope system and her

paycheck budget binder.

Though her blog, newsletter, Instagram,

Facebook, Pinterest, Twitter, even Amazon

accounts, Miko shares her best tips, ideas and

tools that have worked for her, and dedicates

herself to holding true to the purpose that

she believes she was put on earth—to do

something great. Helping people is her

passion, and Miko throws herself at it with

all of her heart. Every bit of communication

is answered personally by her and, now,

her assistant. They have posted a video on

Instagram every single day for a year-and-ahalf

now.

CDALivingLocal.com

62
---
FILL YOUR FREEZER TODAY!

Stop in to see the specials we are offering to help you stock up before the cold hits!

WHOLE, HALVES AND QUARTER CUTS OF YOUR FAVORITE BEEF AND PORK OPTIONS ARE AVAILABLE TODAY!

Stop in for all of your home cooking essentials from Wood Chips for Home Smokers,

Select Sauces, Rubs and everything in between! Large selection of American-Made

Smokers, Grills and Locally Made Fire Pits.

Tim's Special Cut Meats, Inc

.

Come see us at our NEW LOCATION!

525 N. Graffiti St. • Post Falls, ID 83854 • 208.772.3327

YOUR OLD-FASHION BUTCHER SHOP...

Experience the Family Atmosphere

& Amish-Quality Food!

COME CHECK OUT ALL WE OFFER:

· Area's Largest Deli with over 80

Varieties of Fresh Meat & Cheese

from Amish Country, Ohio

· Surplus Groceries

· Fresh Produce

· Huckleberry Products

Stop By Today!

· Glacier Ice Cream

· Homemade Soup & Deli

Sandwiches

· Homemade Biscuits & Gravy

· Homemade Breakfast Burritos

· NEW Dinners & Salads to Go!

Mon-Fri 6am-7pm & Sat 7am-4pm

208.267.9607 · 56 Plato Drive, Bonners Ferry (Hwy 95 N. by the Log Inn)

CDALivingLocal.com

63
---
"Everything we do here, every single day, is

we want to inspire hope," Miko shares. She

believes the most effective motivation for

anyone is to invoke feeling, adding that "…

every article we share or video we post is

done with the thought, 'Is this going to invoke

feeling?' Because without provoking feeling,

there's not going to be action, and people take

action because they feel something."

Miko has definitely evoked feeling. Her fans

clamored for more, so she began offering free

resources and marketing her tools: colorful cash

envelopes and trackers, worksheets, planners

and her Budget by Paycheck workbooks that

are now being sold around the world.

Miko was shocked when she went viral. Her

fan base is growing rapidly—she adds about

1,000 followers per day, and she has nearly

65,000 subscribers on YouTube. Google "The

Budget Mom" and you'll find her story goes

on for pages. She's been featured on "Good

Morning America" and other talk shows, her

story told in endless articles, and currently

she's planning her first speaking event in

Spokane Valley (October 23 at the CenterPlace

Regional Event Center).

"I had no idea The Budget Mom would ever

be this big, that so many people wanted to

change their financial lives," Miko says of her

newfound status as a financial influencer,

"but it helps me pursue my passion of helping

people every day, which makes me happy!"

When asked what makes her different than

other financial bloggers, she believes there are

two things that have made her successful:

One, sharing her real numbers since day one.

Miko believes in teaching from experience,

not by example, so she's completely transparent

about her entire debt story. And two, having

a personal connection with her fans. People

are surprised when she responds to their

correspondence, but that's her way of making

an impact, which she feels also keeps her

relatable. Miko especially loves hearing how

her advice helps people find their way out of

debt, saving relationships and lives—because

her advice works.

Remember that $78,000 in debt she was buried

under? Miko paid it off in full four years later,

the bulk of it in eight months after her Budget

Mom business started growing. As of last year,

she and her business are 100 percent debt-free.

Her current goal? Saving enough money to buy

her first home with cash. And yes, that means

she's still practicing what she preaches and

living very frugally!

Sometimes it's challenging to make that

sacrifice when you want something now, but

CDALivingLocal.com

64
---
Blinds Shutters Shades Drapes Accents Solutions And More

Lutron Certified Dealer

Call Today!

208-664-5777

budgetblinds.com/coeurdalene

Call now for your free in-home consultation!

Transform your home by changing your window coverings with cellular shades, panel tracks, roller shades and

window shadings.

*Applies to selected Enlightened Style window treatments sold by Budget Blinds.® Some restrictions may apply. Ask for details. At participating franchises only. Not valid with any

other offers, discounts or coupons. Valid for a limited time only. Offer good at initial time of estimate only. ©2018 Budget Blinds, LLC. All Rights Reserved. Budget Blinds is a trademark

of Budget Blinds, LLC. and a Home Franchise Concepts Brand. Each franchise independently owned and operated.

Where your office space can feel like a weekend getaway ... every day.

PROFESSIONAL BUILDING

NOW LEASING!

» 40,000+ sq. ft. Professional Office Building

» Various Office Sizes Available

» Spectrum High Speed Internet Available

» Conference Rooms Available for Tenants' Use

» Open Seating and Gazebo by the River

» Large Private Parking Lot Surrounding the Building

» Secure Building After Hours and Weekends

CONTACT PAUL BIELEC FOR YOUR TOUR TODAY!

208.699.9000 | 13403 N. Government Way, Hayden, ID 83835

CDALivingLocal.com

65
---
Miko advocates the rewards that

come from being a patient spender.

Her goal of paying cash for a home

will hopefully then allow her to travel

and spend more time with her son,

and without a mortgage to deal with,

Miko can entertain the thought of

retiring early.

Miko's biggest message to those

struggling under a mountain of debt

is to take that first small step and the

next one and just continue to stick

with it. She encourages people to keep

their motivation in front of them, to

not lose heart at having to do without,

especially because this isn't going to

be their permanent way of living.

"I had no idea The Budget

Mom would ever be this big,

that so many people wanted

to change their financial

lives. but it helps me pursue

my passion of helping people

CDALivingLocal.com

every day, which makes

me happy!"

66

Per Miko's own experience, the

sacrifice you're making today is going

to be worth it when you are finally

getting to live the life you really want

and be able to do whatever you would

like.

She might be small in stature but

Miko Love is making a really big

impact in the world, generously

dispensing her budgeting and living

frugally knowledge so that others can

live debt-free lives also, one carefully

saved (and spent) penny at a time.

If you'd like to attend her speaking

event, you can find the event

information and purchase tickets at

EventBrite.com. Search An Evening

with the Budget Mom.
---
Do you need a Shed, Garage

or Cabin?

We've got you

covered

Rent to Own | No Credit Check

Built in Bonners Ferry, ID

All of our buildings are ID engineered

and stamped for this area.

Come visit our lot at

HWY 95 at 411 Miles Ave

Hayden, ID

208.772.7232

www.theshedcenter.com

JOIN OUR TEAM AND WRITE FOR THE MOST DISTRIBUTED MAGAZINES IN NORTH IDAHO. THERE

ARE SO MANY AMAZING STORIES TO BE TOLD IN NORTH IDAHO, AND WE WANT YOU TO BE THE

NEXT ONE TO WRITE ABOUT THEM! CONTACT US TODAY TO GET STARTED.

Email Jillian at editorial@livinglocal360.com with a sample of

your writing if you are interested.

CDALivingLocal.com

67
---
CDALivingLocal.com

68
---
By Colin Anderson

Halloween At Home

Creating your own costume

CDALivingLocal.com

69
---
With just weeks until Halloween, you, like many others, probably

won't start thinking about your costume until the last minute. You

can always run to the big box store and grab something off the rack,

but why spend the money when you probably have all you need for

a unique getup laying around your house? Find your creative side

by utilizing some of these common household items for a fun, goofy or spooky

new look.

The WAY back of the closet

It's likely you've got some outfits stashed away that are 20-plus years old (and likely

even older at Grandma and Grandpa's house). Dig out the floral tank tops, bellbottom

or acid-wash jeans, and transport yourself back to a previous generation.

Maybe Grandpa still has pinstripe suit and fedora for an easy mobster look. Old

wedding dresses or bridesmaid dresses that you don't mind altering can pair with

ghoulish makeup for zombie or vampire brides and prom dates. Kids love playing

dress up, so why not make them look just as you did when you were 8 years old

and "super cool."

Cardboard

Many of us have packages shipped to our homes almost daily, and the stack of

cardboard in the garage can quickly get out of control. Use your imagination, slap

on some color and find hundreds of ways to utilize this light-weight accessory.

Build armor, a sword or shield. Turn yourself into a tablet, wall calendar or TV

screen. Kids can use large boxes with a cutout for their heads to become robots

and adults, perhaps a box of wine? At the end of the night you can choose to keep

the costume for another year or recycle it easily at a cost of roughly $0.

CDALivingLocal.com

70
---
Bedsheets and pillowcases

If you are really in a last-minute pinch, a white bedsheet and powdery

make-up on your face is a quick ghost costume. If you want a scarier

look, cover the sheet in fake blood and pretend you are a cadaver from

the morgue. Sheets make great capes for little princesses and little super

heroes, and instead of buying a mask from the store, create your own by

cutting out some eye and mouth holes in an old pillowcase. Kids who

want to hit every house on the block and then some might also consider

using a pillowcase to haul all their candy, as regular buckets can easily

overflow, and you can throw it over your shoulder when it gets heavy.

Mimic your favorite TV/movie character

This might require a trip to the local thrift store but shouldn't break

the bank. Going as a character simply means finding everyday clothes

that match their look. A brown bathrobe, shorts and a bowling ball

and you're easily transformed into The Dude; black suit, white shirt

and black tie and your an agent from "Men in Black"; a lab coat, purple

shirt, pink shorts and doctor's bag and your little one is their favorite

cartoon doctor. Re-watch your favorite movie or show, take a look at

your character and find clothing and accessories that make you look as

authentic as possible.

Old wedding dresses or bridesmaid dresses that you

don't mind altering can pair with ghoulish makeup

for zombie or vampire brides and prom dates.

CDALivingLocal.com

71
---
Mom's makeup

Maybe not her favorite lipsticks and eye shadows, but those ones that

don't get used as often can be very versatile for the look you are going for.

Dark shades of eye shadow can create black eyes and bruises. Mascara

can color in a beard to become jet black, and eyeliner can make cuts,

scars or stitches. Bold lipstick colors will make you stand out, and nail

polish can be wacky and mismatched for a clown or goofy character, or

fit for a fairytale princess.

Halloween doesn't have to be expensive, and your creative costume

made at home will catch more eyes and grab more comments than those

bought at a store (and that you'll probably see five of during your night).

Figure out what you want to be and, before running out of the house, dig

around in the closets, storage bins and attic to see what you can utilize

for your unique look. Have a happy Halloween, and feel free to share

your best DIY costumes with us on our social media platforms!

CDALivingLocal.com

72
---
POOL WORLD IS DONATING $100 PER SPA SOLD IN OCTOBER

TO EVERY WOMAN CAN FOR BREAST CANCER AWARENESS.

Pool World has been a locally owned, family run business

for over 43 years now and is proud to serve the CDA area

with quality products and exceptional customer service.

208.765.5220

745 W Appleway Ave

Coeur d'Alene, ID 83814

CDALivingLocal.com

73
---
Your Fall Activities Bucket List

FAMILY FRIENDLY FUN AWAITS

BY JILLIAN CHANDLER

The leaves are changing to hues of deep reds and golden yellows,

and the days and nights have turned cool and crisp. Fall has

arrived here in the Northwest, and with it an abundance of

activities that are sure to bring smiles to everyone's faces.

The autumn months may be a bit chilly, but these activities are sure to

warm the hearts of every family member both young and old.

As the leaves slowly make their way down to the ground, it calls for some

yard cleanup. But instead of just raking up those leaves and throwing

the piles into a garbage bag—the festive pumpkin trash bags are most

certainly the way to go this time of the year—let the kids have some fun!

There's nothing like jumping into a big pile of leaves, throwing them in

the air or at one another, and just lying in them and daydreaming the day

away. Who needs snow angels when you can make leaf angels? And this

makes for a prime time to snap some great action-packed photos of the

kids. And Mom and Dad, don't forget to join in the fun. All work and no

play was never good for anyone.

The many varieties and colors of the leaves can also make for a fun

afternoon art project. Have the kids gather a dozen or so of their favorite

leaves and let their imaginations soar as they create their own unique fall

leaf art projects. I still remember placing a white piece of paper over the

leaf, peeling the wrapper off of the crayon, then rubbing the crayon onto

the paper to make the outline of the leaf and all of its veins and stem.

You don't have to look to your own backyard to enjoy the leaves. As

the fall foliage could easily make the season one of the most rich and

colorful of the year, take the family out for a walk in nature, or even a

drive, to take in the sights that this season blesses us with.

Looking for a little adventure? Rather than going to your local

supermarket to pick out your pumpkins—whether they be for carving

or cooking—plan a trip to a local you-pick pumpkin patch. Here the kids

can roam around outdoors and in the fresh air and choose their very

own unique pumpkin to carve just in time for Halloween. In addition,

select your own pumpkins and other squash available for purchase to

decorate your front porch or create an autumn centerpiece for your

CDALivingLocal.com

74
---
Whether Building or Remodeling, We Can Help to

Make Your House feel more like a Home.

Your Vision. Our mastery.

Offering Innovative Cabinetry,

Countertops AND Flooring to meet

your needs.

CALL TO CONNECT WITH ONE OF OUR DESIGNERS TODAY!

6055 N. SUNSHINE ST., COEUR D'ALENE, ID | 208.664.8830 | ACCENTCDA.COM

CDALivingLocal.com

75
---
LOOKING FOR A LITTLE ADVENTURE? RATHER THAN

GOING TO YOUR LOCAL SUPERMARKET TO PICK OUT YOUR

PUMPKINS—WHETHER THEY BE FOR CARVING OR COOKING—

PLAN A TRIP TO A LOCAL YOU-PICK PUMPKIN PATCH.

CDALivingLocal.com

76
---
Make sure your little one is

school ready

Call to schedule your tour today!

• Strategic lesson plans for each age group

• Ensuring growth and development

• Focusing on school readiness and more!

Striving to create life-long learners!

1 208.966.4256 4 smartstartcda.com 0 smartstartcda@gmail.com 5 180 W. Clayton Ave. | Coeur d'Alene, ID

CDALivingLocal.com

77
---
CDALivingLocal.com

78

dining room table. And don't forget, grab a few extra for those

pumpkin pies, baked pumpkin seeds, squash soups and more.

And let the kids help in the meal preparation. There's nothing

like preparing meals, farm to table, with your family by your

side.

Another exciting, and tasty, outing is to head to that local apple

orchard. Be sure to bring the wagon and get picking. Many

orchards allow you to taste the different apple offerings so you

can choose your favorites before picking. The kids are sure to

get a workout running about, climbing ladders and picking

the apples. As a treat, once you've arrived back at home, make

caramel apples and let the kids decorate with candy. Make

homemade apple chips and applesauce—what kid doesn't love

applesauce? And plan on preparing and canning some of the

apples for those warm, delicious homemade Thanksgiving and

Christmas pies. Your guests are sure to be impressed.

Fall is the time for fields of sunflowers, corn mazes and haunted

houses. Running through a corn maze, getting "lost" or finding

oneself at a dead end, offers a thrill for most children. And as

long as you go during daylight hours, it's sure to leave them

smiling once they make their way out. Most children love

excitement, and a haunted house provides just that. Just be sure

that the haunted house you enter is age appropriate for your

child, as there's no fun in having your child leave in tears.

Many towns hold fall festivals and carnivals, where you can

experience a little bit of everything "fall" including delicious fall

foods to warm you up, autumn décor for sale, entertainment,

hayrides and more. Get in the spirit and make sure to attend

one and support your local community and businesses.

Many think of springtime when it comes to gardening. But the

best time of the year to plant bulbs is in the fall, six to eight

weeks before the first hard frost makes its appearance. Bundle

up the kiddos, break out the gardening gloves and tools, and

make an afternoon of fun which all will be rewarded in the

spring with a yard full of beautiful, colorful tulips and daffodils.

The kids are sure to be proud of the part they played when they

see the first blooms of spring.
---
509

L I F E S T Y L E M A G A Z I N E

DECEMBER 2019, Like Media is excited to

introduce the premiere issue of 509 Lifestyle

Magazine, a classy and sophisticated publication.

This is not your traditional vanity magazine but rather

a publication that dives deep into the local scene in

a way no one has done before. From our community

and culture, area cuisine and fashion to great local

stories, you'll find all of these and more in the pages

of 509.

Our lifestyle ... our hopes ... our dreams are reflected

and steeped deep in our history; the roots of what

make us ... us!

We hope you will join us in our journey of offering the

best to our readers. 509 will be unlike anything the

area has seen before. This is the place you will want to

be seen.

ISSUE NO. 01 DECEMBER 2019

TRUE COLOR

DISCOVER COLORS

THAT ARE INSPIRING

CURRENT FASHION TRENDS

Q&A WITH NATALIE GOSS

THE FOUNDER OF TRENDING SPOKANE .COM

ADVERTISING INQUIRIES PLEASE CONTACT:

Allyia Briggs 208.627.6476 allyia@like-media.com

Brought to you by the publishers of

CDALivingLocal.com

79
---
IT'S FOOTBALL SEASON

Time to get cookin'

- BY TROY LOUIS CHANDLER -

Fall is here, and it's that time of year most everyone has been anticipating all year—football season. And what's better

than watching the game with friends and family than with some great food to satisfy your hunger for the game. I have

to admit, I'm not the biggest football fan, but I do enjoy cooking up my family's favorite football snacks (I'm a chef, so

it's kind of expected of me) while they enjoy the game in the other room. Below you will find several of my easy-tomake

football favorites. You'll enjoy them so much, you might forget about the big game all together! Now get cooking!

SLOW-COOKED PULLED PORK SLIDERS

In your favorite crock pot, InstaPot, Dutch oven or cast-iron pot, braise

pork shoulder until fork tender with cumin, chili powder and a touch of

liquid smoke. Reduce or remove liquid and combine shredded pork with

your best barbecue sauce. Serve with grain mustard and chopped pickles

on slider buns.

BEST BREAD AND CHEESE BOWL

Carve out a fresh sourdough bread bowl, saving the top and "guts." Mix

the following ingredients and stuff the bread bowl, replacing the top

and using bread "guts" as dipping vessels. Here's how we do it: one pack

Boursin cheese, 1/2 pound shredded white cheddar; juice of one lemon;

juice of one orange; two chipotle peppers with adobo sauce, minced;

three garlic cloves, minced; and a 1/4 cup honey. This recipe will create

two to four bread bowls, depending on size. You can also substitute mini

dinner rolls for smaller servings if you plan on having a lot of company.

MINI FISH TACOS WITH COLESLAW

Purchase your favorite mini corn taco skins and fish. Mahi-mahi

(dorado) is an amazing choice, but your favorite fish will do. Grill or

deep fry the tortillas and grill the fish. Then use this amazing coleslaw

recipe and garnishes to make the best fish tacos on the planet, or at least

in your cul de sac. You'll need one part rice wine vinegar and one part

sugar. Bring to just a boil and turn off. Cool and set aside. Then mix your

concoction with your slaw to blow the minds of your guests. You can also

add a touch of mayo for a creamier slaw. You're welcome.

CDALivingLocal.com

80
---
BIG BOY BITES

Man up boys, here we go. I have to add that most women can out hot

pepper us, but shhh .... Split jalapeños in half removing seeds and ribs.

Add a one-ounce piece of smoked gouda cheese to each half, then wrap

the pepper in prosciutto (or bacon). Bake at 350° for six to eight minutes.

Your taste buds will be sizzling and your mind blown after indulging in

one of these spicy, savory bites.

DASTARDLY DIRTY DEVILED EGGS

This is a unique take on an all-time classic. Peel and cut chilled hardboiled

eggs in half lengthwise (bring eggs and water to a light boil for

11 minutes, then run under cold water or chill in the refrigerator until

cold). In a bowl or food processor, blend the yolks with avocado, mayo,

minced pickles, and salt and pepper to taste. When creamy, pipe mixture

(or spoon) back into egg whites. Garnish with smoked paprika and bacon

bits.

BIG GAME CHARCUTERIE BOARD

Now, you can stick to the basics of salami, cheese and crackers, but why

would you do that when the internet is now filled with farm-raised "wild"

game that you can easily purchase online? Grab a large wood cutting

board and fill it up with fun items like bacon-wrapped grilled antelope,

elk sausage and venison meatballs glazed with barbecue sauce. To that

add a few of your favorite cheeses, a sliced French baguette, specialty

wine jams and some fancy mustards and pickles, and you will have the

best meat and cheese platter in your football bracket!

EAT

DRINK WATCH

CDALivingLocal.com

81
---
ASHEVILLE

Gilded Age culture and fall foliage on the Blue Ridge Parkway

By Marguerite Cleveland

Photos Courtesy of Explore Asheville and The Biltmore Company

Not many people realize that one of the founders of modern forestry in the United States was a

Vanderbilt. The Biltmore Estate was cobbled together from George Vanderbilt's land purchases

in the Asheville area. Many were farms where the land was considered worn out. Fredrick Law

Olmsted (design Central Park), who was hired to landscape the property, was not impressed

with the 125,000 acres which were in a deplorable condition. Vanderbilt hired Gifford Pinchot

to manage the forests on the estate, and he later became the first Chief of the United States Forest Service. Later

on, the first school of forestry in North America, The Biltmore School of Forestry, was operated on the estate

by Dr. Carl A. Schenck. After Vanderbilt's death, around 86,000 acres of the estate were sold to the United State

Forest Service to establish the Pisgah National Forest, one of the first in the Eastern United States.

Most fall foliage destinations tend to have a peak week when hordes of people descend upon the area to see

autumn flora at its best. The wooded areas surrounding Asheville, North Carolina, and the forests observed

from the Blue Ridge Parkway have one of the longest and most diverse fall foliage seasons in the world.

The Biltmore Estate

With its history of forestry, the Biltmore Estate is the perfect destination for a fall foliage trip, and you can stay

right on the estate. The Village Hotel provides a casual-style stay and is close to the winery and other shopping

and dining activities. But for a true Biltmore experience you need to step it up and stay at the Inn on Biltmore

CDALivingLocal.com

82
---
THE WOODED AREAS SURROUNDING

ASHEVILLE, NORTH CAROLINA, AND THE

FORESTS OBSERVED FROM THE BLUE RIDGE

PARKWAY HAVE ONE OF THE LONGEST AND

MOST DIVERSE FALL FOLIAGE SEASONS IN

THE WORLD.

Estate. It is luxurious with interiors that make you feel like you are a guest

in the Biltmore House. Enjoy rooms decorated like Gilded Age visitors

enjoyed. The staff is outstanding and provides warm Southern hospitality

without any stuffiness. There are a variety of dining options on the estate

with the ingredients for many dishes grown or produced right on the

estate.

During your stay in Asheville, make sure to allow plenty of time to tour

and experience all the estate has to offer. Your admission includes a selfguided

tour of the historic Biltmore House and access to the grounds.

There are a variety of optional add-on tours. The Audio Guide to

Biltmore is well worth the $15 extra cost with its music and description of

what life was like when the home was first built. The Legacy of the Land

Tour gets you behind the scenes on the estate while you learn more about

the history of the land. Visit the Outdoor Adventure Center to book

fun outside activities, many you won't see anywhere else. Enjoy a ride

with Belgian draft horses pulling an elegant carriage, or try your hand at

falconry and learn how to interact with a hawk or falcon. You may have

been to many wineries before, but the Biltmore Winery is really special

with its self-guided tour and many tasting options. The winery is the

most visited in the country and produces about 150,000 cases annually.

Blue Ridge Parkway

The Blue Ridge Parkway is one of the most scenic roads in America. With

fall foliage peaking in October, the parkway is a wonder to behold. It

meanders for a total of 469 miles following the ridge of the Blue Ridge

Mountains leading to stunning views. The parkway utilizes a milepost

system which makes it easier to track where you are on the parkway.

Before heading out to the parkway, grab a picnic lunch from the Well-

Bred Bakery & Café, which prides itself on fresh sandwiches, salads and

bakery treats.

Heading south from Asheville on the parkway, stop at milepost 382 and

tour the Blue Ridge Parkway Visitor Center for information, maps and

a movie about the area. Here you'll also find the Folk Art Center for

demonstrations and eclectic local folk art.

Plan to hike Mount Pisgah while exploring the Blue Ridge Parkway.

Enjoying the views from the loggia at Biltmore House you can see

CDALivingLocal.com

83
---
The Speci f ics

PLANNING

Explore Asheville - ExploreAsheville.com

WHERE TO STAY

The Inn on Biltmore Estate - Biltmore.com/stay/inn

WHAT TO DO

Foraging Tour with No Taste Like Home

Notastelikehome.org

The Blue Ridge Parkway - BlueRidgeParkway.org

Biltmore Falconry - Biltmore.com/visit/things-todo/outdoor-activities/falconr

WHERE TO EAT

Well-Bred Bakery and Café - WellBredBakery.com

Vue 1913 at The Omni Grove Park Inn -

OmniHotels.com/hotels/asheville-grove-park/

dining/vue-1913

Biltmore Estate Dining - Biltmore.com/visit/

things-to-do/estate-dining

Mount Pisgah in the distance. The estate

once stretched all the way to this peak. The

5,721-foot summit can be accessed from

milepost 407.6 on the parkway. The moderate

2.6-mile round-trip trail will take you to an

observation platform which affords stunning

views of the mountains and, on a clear day,

Asheville is visible.

Asheville

Allow a day to spend time exploring Asheville,

a funky mountain city with a rich architectural history. Its many Art

Deco, Beaux Arts and Neoclassical buildings are now home to locally

owned shops, more than 30 art galleries and an exciting culinary scene.

Throw in some live music and you have a special destination which will

draw you back again and again.

A fun way to tour the city is to experience the Urban Trail, which is

essentially the city's outdoor history museum. The tour is 1.7 miles long

and has 30 stations that highlight the city's historic and cultural stories.

At each stop you will find a bronze plaque and a piece of art. Learn about

notable characters, many whom you may recognize such as Thomas

Wolfe, F. Scott Fitzgerald and O. Henry. Start at the front of Pack Place

on Asheville's Park Square for Plaque #1, "Walk Into History." Set aside

a couple of hours to complete the tour while allowing plenty of time to

have lunch and shop.

Another unique Asheville activity is to book a foraging tour with No

Taste Like Home. This interesting tour will take you out into the forests

near Asheville to forage 12 to15 edibles. It also includes a cooking

demonstration and tasting. Later head to a local restaurant to enjoy an

appetizer made from what you foraged. Three days before the tour you

will receive an email with your meeting location based on the weather

and what foods are available to forage.

For a truly spectacular meal, dine at Vue 1913 in the historic Omni Grove

Park Inn. This is a AAA Four Diamond Restaurant and consistent winner

of the Wine Spectator Best of Award of Excellence. The menu is a haute

cuisine take on Southern favorites with plenty of rustic, local ingredients.

With beautiful views of the Blue Ridge Mountains, this Art-Deco dining

room is stunning. It is well worth the splurge.

Fall is a peak time to visit the Asheville area, so plan accordingly and book

reservations not only for lodging but also for restaurants and activities. If

possible, plan to visit on weekdays when you will experience less people.

The Explore Asheville website is an excellent tool to plan your visit. There

are many posts that highlight local small businesses and the people that

make Asheville such a great place to visit. It also has an interactive fall

color map and fall leaves schedule to help you plan the perfect time to

visit.

CDALivingLocal.com

84
---
YUM

Your local Dining Guide

PRESENTED BY

www.northwestsizzle.com

RECIPES LOCAL FLAVOR SPOTLIGHTS

CDALivingLocal.com

85
---
MASHED POTATOES WITH

PARSLEY & BUTTER

Recipe & Photo Courtesy of Marina Gunn

@MarinaGunn | MarinaGunn.com

Cook Time: 30 minutes

INGREDIENTS:

1 bag of yellow potatoes, 10-15 potatoes, about 3 lbs.

4 tbsp. unsalted butter

¼ cup half and half

2 tbsp. salt

1 tbsp. olive oil

Chopped parsley

Flaked sea salt

METHOD:

• Wash and cut potatoes in half and place into a steamer

basket. Cover and steam until a fork goes through the

potatoes with ease.

• With a paddle attachment of a stand mixer or hand

mixer, beat the potatoes with 3 tbsp. butter, half and

half, salt and olive oil until consistent and creamy.

• Add salt to taste.

• Serve with a pat of butter, chopped parsley and flaked

sea salt.

CDALivingLocal.com

86
---
Breakfast, Lunch, Dinner

Waterfront Views

Live Music

An Experience

58 Bridge Street at City Beach | Sandpoint, Idaho | 208.255.7558 | TrinityAtCityBeach.com

CDALivingLocal.com

87
---
SWEET LOU'S RESTAURANT

AND TAP HOUSE

American fare with a twist. Ribs (pork or bison) smoked in house. Unique

burger menu featuring burgers made from ground top sirloin, topped with

pulled pork, hand-battered onion rings or jalapenos. 32 beers on tap to

enjoy while watching the game on one of their 24, 4K TVs.

601 E. Front St. Ste. 101 | Coeur d'Alene

208.667.1170 | SweetLousIdaho.com

f SweetLousCDA

Browse, Eat, Relax, Enjoy

A shopping and culinary experience awaits

By Jillian Chandler

Photos by Owen Aird

The Culinary Stone has been serving the Coeur d'Alene

community for nearly six years now, and exciting things are

happening!

Be sure to stop by their neighborhood boutique deli for

artisan deli meats and cheeses, and homemade sausages.

Now open from 10:30am to 6pm Monday through Saturday

and 10:30am to 5pm Sunday, they invite you to take a seat and

enjoy great food. Try their delicious gourmet sandwiches,

salads and homemade soups—all made to order!

CALYPSOS COFFEE

At Calypsos you'll find a combination of amazing coffee, which they roast

on site, ice cream, fantastic food and live music on a regular basis. They

display artwork from local artists, offer free Wi-Fi, have a play area for the

kids and also offer a Smart Room for meeting rentals!

116 E. Lakeside Ave. | Coeur d'Alene

208.665.0591 | CalypsosCoffee.com

If you are looking for that perfect charcuterie or veggie

platter for a party or special event that is not only tasty but a

work of art, The Culinary Stone is ready to make it happen.

Just call or stop in. And don't forget about their café featuring

artisan breads, European pastries and cakes.

Each week, area chefs invite you to pull up a seat at one of

The Culinary Stone's cooking classes where you will learn to

create new delicious meals that you can share with others,

all while engaging with new friends. They also host weekly

wine tastings, so you can explore new wines to pair with your

meals at home.

Enjoy an experience you won't find anywhere else … at The

Culinary Stone.

The Culinary Stone

At Riverstone

2129 North Main Street

Coeur d'Alene, Idaho 83814

208.277.4116

CulinaryStone.com

CDALivingLocal.com

88

MAX AT MIRABEAU

Join MAX at Mirabeau for an unforgettable experience. You'll be treated

to eclectic cuisine, an award-winning menu with more than 100 items, a

wine list boasting more than 500 labels and 75 eclectic cocktails—a perfect

match for everything on the menu. Enjoy two happy hours daily, a-la-carte

brunch featuring multiple benedicts, mimosas and the area's best Bloody

Mary Bar—starting at only $5.90 per person! There's live music on Friday

and Saturday evenings, and late-night dining with a full menu is offered

until close. Open daily at 6am.

1100 N. Sullivan Rd. | Spokane Valley

509.922.6252 | MAXatMirabeau.com
---
The The

Culinary

Stone

Culinary

A culinary marketplace, The Deli and

A culinary marketplace, The Deli and

The The Café Café creating creating community community and a and a

full sensory experience for our guests

full sensory experience for our guests

CDA OLIVE OIL KITCHEN SUPPLIES COOKING CLASSES ARTISAN DELI

CDA OLIVE OIL KITCHEN SUPPLIES COOKING CLASSES ARTISAN DELI

THE CAFE

THE CAFE

Coeur d'Alene Olive Oil Co. Make gourmet living part of Cultivate your skills in our Gourmet meats and cheeses,

NEW HOURS & CAFE NOW OPEN ON SUNDAYS!

Coffee prepared just the way you

is now located at The Culinary your everyday lifestyle. Browse cooking classes. We believe wine and beer taps, specialty like it sourced from Tom Sawyer

Stone! Come on in to sample a wide variety of whimsical and meals prepared properly provide appetizer plates, unique

Roasters. European pastries

Coeur d'Alene your Olive favorite Oil olive Co. oils and find Make gourmet unique gifts living as well part as of practical, Cultivate nourishment your for skills your soul. in our sandwiches Gourmet and meats salads and made cheeses, prepared by Coffee our team prepared of local just the way you

is now located

specialty

at The

foods

Culinary

from around the

your everyday

reasonably

lifestyle.

priced kitchen

Browse

and

cooking classes. We believe

fresh

wine

to order.

and

Homemade

beer taps, specialty artisans. One-of-a-kind, specialty

region and the world.

like it sourced from Tom Sawyer

dining supplies.

Visit CulinaryStone.com/ soups using local ingredients

Stone! Come on in to sample a wide variety of whimsical and meals prepared properly provide appetizer plates, unique

order cakes.

classes.php to view upcoming created daily. SAVE THE DATE Roasters. European pastries

your favorite Purchase olive oils CDA and olive find oil online: unique gifts as well as practical, nourishment classes and register. for your soul. sandwiches and salads made

Come taste prepared for yourself by our team of local

specialty foods Culinarystone.com/coeurdaleneoliveoil

world.

dining supplies.

Visit CulinaryStone.com/ 10:30 soups am – using 3:00 pm. local ingredients order cakes.

from around the reasonably priced kitchen and

Deli fresh lunches to served order.

JOIN

Homemade

US FOR OUR artisans. 6 YEAR One-of-a-kind, specialty

region and the

GOURMET MEATS & CHEESES, DAILY FRESH classes.php BAKED to view BREAD upcoming & PASTRIES created daily. ANNIVERSARY PARTY ON

Purchase CDA olive LUNCH oil online: SERVED DAILY

COFFEE classes and & TEA register. TO ORDER

Come taste for yourself

Culinarystone.com/coeurdaleneoliveoil

2129 N Main Street Coeur d'Alene, ID 83814 :: CulinaryStone.com NOVEMBER

Deli lunches :: served 208.277.4116 2ND!

MONDAY - SATURDAY: 10:30AM - 6PM MONDAY - SATURDAY: 7:30AM - 5:30PM

10:30 am – 3:00 pm.

SUNDAY: 10:30AM - 5PM

SUNDAY: 10:30AM - 5PM

123685_culinarystone_PC_6x11_2019.indd 1

2129 N Main Street Coeur d'Alene, ID 83814 :: CulinaryStone.com :: 208.277.4116

4/10/19 3:08 PM

23685_culinarystone_PC_6x11_2019.indd 1

4/10/19 3:08 P

///////////////////////////////////////////////////////////////////////////

BEER.Food.Friends

FOOTBALL

- Monday Nights with k102 -

Check out our website for events, specials & more: www.sweetlousidaho.com

- Sweet Lou Says -

"Come hungry, Stay

late, Eat well!"

///////////////////////////////////////////////////////////////////////////

Sweet lou's restaurant & tap house

>> 601 FRONT Ave. 208.667.1170

DOWNTOWN COEUR D'ALENe

Sweet lou's restaurant & BaR

>> Ponderay, Idaho 208.263.1381

Next to Holiday Inn Express

CDALivingLocal.com

89
---
THE PORCH PUBLIC HOUSE

A beautiful golf-course view without the cost of joining the

country club. They offer a full menu of sandwiches, salads,

soups and specialties prepared from scratch without the

high price of fine dining, and the region's finest cocktails,

microbrews and wines to accompany your meal. Feel at home

in the comfortable pub-style dining room or the fantastic

outdoor dining area. Open daily at 11am year round. Photo by

Lauren Denos, Adventure Bound Media.

1658 E. Miles Ave. | Hayden

208.772.7111 | WeDontHaveOne.com

MOON TIME

Serving some of the best food around in a comfortable pub-style

atmosphere. The menu offers soups, sandwiches, pastas, salads

and other specialties prepared from scratch daily, along with a

fantastic selection of micro-brewed beers and fine wines by the

glass and bottle. Open daily at 11am, the kitchen is open late

every night. Be sure to stop in Thursday night for live music

featuring national and local artists. For more information

including photos, menu, specials and directions, make sure to

visit their website.

1602 Sherman Ave. | Coeur d'Alene

208.667.2331 | WeDontHaveOne.com

FISHERMAN'S MARKET

DELICIOUS FOOD & FUN COCKTAILS

41 Lakeshore Drive, Sagle, ID

Next to the Lodge at Sandpoint

A local favorite for an array of reasons, including the friendly

staff, unbeatable atmosphere and phenomenal food. Voted best

seafood in Coeur d'Alene 2012, 2013 and 2014. Their menu includes

salads, fishwiches, taste of baja, fish and chips, smoked

fish, fresh sushi bar and fresh fish market with live shell fish

and lobster.

215 W. Kathleen | Coeur d'Alene

208.664.4800 | FishermansMarketCdA.com

315 MARTINIS AND TAPAS

At 315, guests will be treated to a full dinner menu and tapas

using fresh and seasonal food, more than 50 hand-crafted

martinis using the best natural ingredients, great wine, beer

and a variety of non-alcoholic beverages. Guests can choose

to dine in the large dining room, comfortable lounge, at the

bar our outdoors on their expansive patio. 315 offers nightly

specials and food and drink pairings weekly, and live music

on Tuesday night! The Greenbriar Inn also offers getaway and

elopement packages. Open Tuesday - Saturday 3:15pm - close.

315 Wallace Ave. | Coeur d'Alene

208.667.9660 | 315MartinisandTapas.com

FORTY-ONE SOUTH

OPEN 7 NIGHTS A WEEK

208.265.2000

41SouthSandpoint.com

A beautiful waterfront, fine-dining restaurant in a romantic

lodge setting overlooking Lake Pend Oreille. Whether it

is summer on the patio or cozying up to the fireplace in the

winter, Forty-One South's spectacular sunsets, innovative

cuisine, full bar and extensive wine list are sure to make it a

memorable night out. A variety of delicious food year-round.

Reservations recommended.

41 Lakeshore Dr. | Sagle

208.265.2000 | 41SouthSandpoint.com

CDALivingLocal.com

90
---
SHOGA SUSHI BAR

Delicious sushi and Japanese cuisine sure to delight

anyone's palate. Offering a wide variety of traditional

and specialty rolls as well as salads, sweet and sour pork,

grilled salmon and more! Beautiful waterfront dining

with spectacular sunset views. Professional and courteous

service. On Wedsnday nights it's buy one Sushi Roll get one

half off! Enjoy a delicious meal while taking in the beautiful

waterfront and spectacular sunset views.

41 Lakeshore Dr. | Sagle

208.265.2001 | ShogaSushi.com

Shopping. Dining. Take-Out.

MOONDOLLARS BISTRO

Moondollars Bistro is known for their burgers,

accompanied by scratch-made bread and soups. They

uses only fresh ingredients, which are the backbone

of this customer favorite. With a comfortable, friendly

atmosphere, awesome food, great service, huge patio

and full bar there is always something to keep customers

coming back for more.

609 N. Syringa St. | Post Falls | 208.777.7040

5416 W. Village Blvd. | Rathdrum

208.687.5396 | MoondollarsBistro.com

ANGELO'S RISTORANTE

"There is no substitution for quality. Our food is organic

and prepared from scratch." Authentic Italian cuisine.

Guaranteed best steaks in town. Catering and private

cooking classes available with Chef Angelo. DINNER FOR

2 & A BOTTLE OF WINE $65. Choose from 15 Entrees

and 10 Bottles of Wine. Open 7 days a week from 4 to 10pm.

846 N. Fourth St. | Coeur d'Alene

208.765.2850 | AngelosRistorante.net

JUNIOR'S BBQ

Enjoy North Idaho's best barbecue at Junior's, where guests

are treated to bold backyard flavor. Whether you dine in,

take out or need catering, you will not be disappointed,

and ordering is simple. Choose a sandwich, taco or salad.

Next choose your meat, then your choice of fixin's, from

Granny's baked beans, Mamma's mashed taters, smothered

green beans, coleslaw or pig tail fries. Top it all off with

Hillbilly Habanero or Junior's Original sauce.

85 W. Prairie Shopping Ctr. | Hayden

JuniorsBarbecue.com

TIM'S SPECIAL CUT MEATS

Tim's Special Cut Meats is your perfect, old-fashioned

butcher shop. The friendly staff is ready to help you pick out

the perfect cut. Tim's carries only the finest natural meats

and also handles custom orders, with an extensive line

of house-made products from pickled garlic to specialty

sauces, marinades, rubs and salsas. Mobile butchering and

wild game processing are also available.

525 N. Graffiti St. | Post Falls

208.772.3327 | fTimsSpecialCutMeats

TimsSpecialCutMeats.com

CDALivingLocal.com

91

When the weather

turns cold, we will

be ready!

Be a chef at home or dine with us!

• Fresh Fish Market and Sushi Bar

• Smoked Fish

• 12 different kinds of fish and chips

208.664.4800

Mon-Sat 11am-8pm

215 W. Kathleen, Coeur d'Alene

Locally Owned & Operated

t f
---
OCTOBER 2019

coeur d'alene

ENTERTAINMENT

Check out what is going

on in Coeur d'Alene this

month!

CDALivingLocal.com

92
---
Like Media is EXPANDING and we are looking to hire sales & marketing, writers,

local photographers and interns for social media and sales & marketing in the

Coeur d'Alene, Sandpoint and Spokane areas.

Please send in your resume to steve@like-media.com to apply for a position.

CDALivingLocal.com

93
---
ENTERTAINMENT

OCT

19

Idaho's Newest Comic Book and Pop

Culture Show Returns

October 19 marks the second annual

Lake City Comicon

BY JILLIAN CHANDLER | PHOTO BY MIKE LAVERDURE

AT THIS AFFORDABLE FAMILY FUN EXPERIENCE, ATTENDEES WILL FIND

MEMORABLE COSPLAY, GUESTS, LOCAL ARTIST AND BUSINESSES. Lake City

Comicon 2019 will feature 75 exhibitors selling a variety of comics, toys,

collectibles, arts and crafts, original art, jewelry, games, books and more

October 19 from 10am to 4pm. Also at the event, you will find professional

special guest actors, entertainers, artists and creators for people to meet and

interact with. And don't forget, this event offers guests the unique opportunity

to dress up in costume—aka cosplay.

"We blew the doors off the Jacklin Building at the Kootenai County

Fairgrounds [at our inaugural event]," says Nathan O'Brien, founder and CEO

of the Lilac City Comicon in Spokane (the largest comic book and pop culture

convention in Eastern Washington since 2007). "Being it was a first year

experiment in 2018, we set our expectations low and figured we'd be happy

with 200 to 300 people. Instead we had over 1,300 people turn out for our first

inaugural show!"

Nathan's flagship show in Spokane had been so successful that the decision

was made to create a second show and host it in Coeur d'Alene, "where there

was potentially fans of comic books, art and pop culture that had never been

to Spokane for Lilac City Comicon," according to Nathan. "After the success

with our inaugural show, this helped establish another affordable single-day

event to appeal to new fans but also satisfy current fans with two shows a

year."

The exhibitor floor covers 16,500 square feet, featuring a variety of local artists

and business from the area, including local food trucks outside the Jacklin

Building available during show hours.

OCT

6

7th Annual Run for the Angels 5k &

Family Fun Day

Join the Inland Northwest SIDS Foundation for their signature event, Run for the

Angels, Sunday, October 6, at Mae McEuen Playfield in Downtown Coeur d'Alene.

Noon to 4pm, there will be fun for the entire family including face painting, bounce

houses, Papa Murphy Pizza, Disney princesses and much more! The Opening

Ceremony starts at 2pm, followed by the Remembrance Ceremony to honor those

affected by a pregnancy, infant or child loss, followed by the 5k. Registration is just $25

and free for those 15 years old and younger. Find out more by calling 208.557.4371 or

online at INWSIDS.org.

HIGHLIGHT EVENT

Nathan says the highlight of this year's event includes special guest actor Zack

Ward ("A Christmas Story," "Freddy vs Jason," "Transformers"); actor Carla Perez

(aka Rita Repulsa from "Mighty Morphin' Power Rangers)"; and Hall of Fame

Wrestler Greg Valentine (WWF, WWE).

Tickets are available at the door for $6 each or $5 with a canned food donation.

Ages 12 and younger are free to attend.

To find out more about the second annual Lake City Comicon, you can visit

LakeCityCon.com.

OCT

26

Fall Fest & Apple Palooza

Don't miss the final Farmers Market of the 2019 season! Held 10am to 3pm Saturday,

October 26, in Downtown Coeur d'Alene at Fifth Street and Sherman Avenue, the

Coeur d'Alene Downtown Association invites you to come shop and taste the best of

the season's harvest. There will be free hayrides, harvest produce, music, food and—

everyone's favorite—Apple Palooza. This apple tasting event takes place at various

participating businesses throughout downtown. Pick up your maps and People's

Choice ballots at Fifth and Sherman. KootenaiFarmersMarkets.org

UPCOMING EVENTS IN NOVEMBER ...

8-

9

REBEL JUNK HOLIDAY

MARKET

8

WINEMAKER'S

DINNER

& PAIRING WITH BASEL

CELLARS

CDALivingLocal.com

94

9

MURDER WITH

SHERLOCK HOLMES

15-

24

SEUSSICAL
---
THANK YOU FOR ANOTHER

INCREDIBLE SEASON!

SEE YOU NEXT YEAR!

FESTIVALATSANDPOINT.COM -- 208.265.4554

AN

IHG

HOTEL

EVALUATE

www.hiexpress.com

YOUR

TRAVEL

Stay & Play

Minutes from

Schweitzer!

477326 Highway 95 North

Ponderay, ID 83852

208.255.4500

www.hiexpress.com

CDALivingLocal.com

95
---
CALENDAR OF EVENTS

OCTOBER

—

THU-

SAT

/ October

SCARYWOOD

Thursdays through Saturdays in October

7:00 to 11:00pm

Silverwood Theme Park

SilverwoodThemePark.com

14

October

MURDER AT THE PIANO BAR:

DINNER & MYSTERY

14

6:00 to 10:00pm

The NYC Piano Bar

thenycpianobar@gmail.com

4

October

7TH ANNUAL NEW YORK

RUNWAY FASHION SHOW

4

5:30 to 9:00pm

Best Western Plus Coeur d'Alene

For more information and to purchase tickets,

visit StVincentdePaulCdA.org

19

October

THE HIGHWAYMEN TRIBUTE

SHOW

19

6:00 to 8:00pm

Lake City Center

EvenBrite.com

11-

13

October

JBF NORTH IDAHO FALL SALES

EVENT

11 - 13

9:00am to 8:00pm/9:00am to 4:00pm/8:00am to

1:00pm

Kootenai County Fairgrounds

JBFSale.com

23

COCKTAILS FOR A CAUSE BENEFITING

THE CHILDREN'S VILLAGE

DON'T

MISS!

October 23

6:00 to 9:00pm

Jacklin Arts and Cultural Center, Post Falls

TheChildrensVillage.org/events

13

CDA MAKERS FALL MARKET

October 13

10:00am to 4:00pm

The Coeur d'alene Resort

CdAMakers.com

DON'T

MISS!

25

IHC'S NORTH IDAHO DISTINGUISHED

LECTURE WITH VIET THANH NGUYEN

October 25

7:00 to 9:00pm

The Coeur d'alene Resort

IdahoHumanities.org

13

FULL MOON RIDE

October 13

6:00 to 10:00pm

Slate Creek Brewing co.

SlateCreekBrewing.com

31

October

DOWNTOWN COEUR D'ALENE

TRICK OR TREAT

31

4:00 to 6:00

Various Business Locations on Sherman Avenue

UPCOMING EVENTS IN NOVEMBER...

DIRTY BIRD TRAIL

16 RUN

16

CHOOSE LOCAL

HOLIDAY FEST AT THE

MALL

CDALivingLocal.com

DOWNTOWN COEUR

29 D'ALENE LIGHTING

CEREMONY

96

FESTIVAL OF TREES

30 GALA
---
T W O

BIG

SHOWS

UNDER

ONE

ROOF

NOVEMBER 1-3, 2019

(SPOKANE FAIR & EXPO CENTER)

• Friday - 12:00pm - 8:00pm

• Saturday - 10:00am - 7:00pm

• Sunday - 10:00am - 5:00pm

TASTE AND STAY PACKAGE

($99 PER NIGHT)

• Room accommodations for two

• Breakfast voucher for two

• Home Idea Show/ Northwest Taste show tickets for two

• Commemorative glass for two

• Round-trip shuttle to fairgrounds

TICKETS

• $10 - Adults

• $8 - Seniors/Military

• FREE - 12 years and younger

CDALivingLocal.com

97

Two great shows... One easy price... Three fun days. The Northwest

Taste Show provides attendees the opportunity to watch and interact

with local chefs during live cooking demos all the while tasting,

sipping and sampling a variety of products — plus the Home Idea

Show offers attendees the chance to browse hundreds of

home-improvement exhibits and speak one-on-one with the experts.

FOR MORE INFORMATION VISIT NORTHWESTTASTE.COM

OR SPOKANEHOMESHOWS.COM
---
STAND

WITH

HEATH.

ABOUT

TICKETS

WHEN & WHERE

Heath Okon has been battling stage

4 Synovial Sarcoma since May of

2018. His treatments are now in St.

Louis requiring a lot of travel and

living expenses. All money raised

will go toward these expenses.

Tickets are available at Stylebar

Beauty Bar, Perfection Tire and

Sandpoint Furniture for $25 cash.

If you are unable to attend, cash

donations are appreciated at any of

these locations.

CDALivingLocal.com

98

On October 19, join us for an auction,

dinner and dancing at Ponderay

Event Center while getting to support

such an amazing cause. Beer, wine

and seltzers available upon purchase.

Soft drinks included!
---
Free Home Search

All homes, all companies at www.BrendaBurk.com

$655,000 | MLS #: 19-5221

Stunning City and Mountain views from this

Coeur d'Alene home. This immaculate custom

home boasts 5,523 square feet, 4 bedrooms, 3

bathrooms, office, living room, family room with

cozy gas fireplace, formal dining room, plus a

large 3-car garage. Gorgeous kitchen perfect for

entertaining with granite counters, stainless steel

appliances, wine fridge, 2 islands, and a pantry.

Spacious master suite with large soaking tub and

walk-in closet. There's even a full-sized unfinished

basement with egress windows and garage

access.

$322,500 | MLS #: 19-1660

What a great way to supplement your lake view

getaway than with this very successful vacation

rental property. Enjoy breathtaking views of

Coeur d'Alene Lake from this home that has 2

additional build-able lots! Remodeled home has

room for everyone with 3 bedrooms, 2 baths,

and is just over 2,300 square feet. As a bonus it

comes completely furnished and is within walking

distance of downtown Harrison. Don't miss out

on this one!

1,250,000 | MLS #: 19-3286

This fully furnished Spectacular Diamond Lake

Mediterranean Waterfront property sits on 75' of

pristine deep lake frontage with a sandy beach

and beautifully landscaped yard. This stunning

home is currently being run as a B&B and

recently received the coveted 5-star award from

Trip Advisor for 2018! This home also boasts 7

master suites, 7 baths, and 2 decks to enjoy the

breathtaking views.

$565,000 | MLS #: 19-10179

A true cabin in the woods! Bring your imagination

and inspiration to this home located on 2.5

wooded acres with a shop. This home does need a

little TLC, so bring all offers.

$500,000 | MLS #: 19-9186

Imagine being high up in a Lookout Tower gazing

out over valleys, fields, forests to Mt Spokane,

Mice Peak, Steptoe Butte, Turnbull Wildlife

Refuge, Total Open Concept Living on 18+ AC of

gorgeous 360~views. This very unique custom

built 3 bed 2 bath home features: gated entry,

over sized shop, add'l 2 car attached garage,

private office with hi speed internet & 900 SF of

wrap around deck to enjoy every sunrise & sunset.

This penthouse living styled home capture all

mother nature has to offer out every window.

$275,000 | MLS #: 19-9129

17.45 acres to build your dream home on. Wake

up everyday to the sunrise, relax every night with

the sunset. View Mt. Spokane, Mica Peak, Turnbull

National Wildlife Refuge, Steptoe Butte. Yes,

spectacular panoramic views in every direction! 2

miles to Cheney and EWU. 12 min to Spokane Int'l,

18 min to downtown Spokane. Quiet, beautiful,

borders country road. A real gem. Electricity at

parcel boundary, 2 wells on property. Currently

in Ag program, zoned RT. Add'l 19-190 acres

available.

Proudly Selling North Idaho & Eastern Washington

208.818.3668 | Brenda@BrendaBurk.com

CDALivingLocal.com

99
---
Lorrie Morgan

Thu, Oct 17 / 7:30pm

Urban Cowboy Reunion

Featuring Mickey Gilley

& Johnny Lee Nov 24

Richard Marx

Sun, Nov 10 / 7:30pm

Kenny G

Dec 11

Queensrÿche

Dec 15

Lance Burton

Master Magician & Friends

Fri, Nov 22 / 7:30pm

NORTHERNQUEST.COM | 877.871.6772 | SPOKANE, WA

CDALivingLocal.com

100