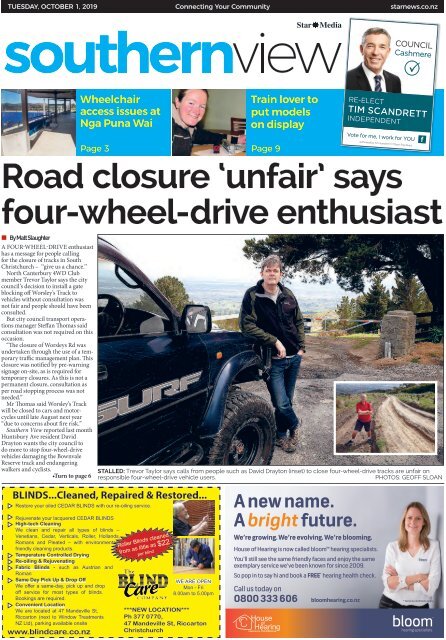 Southern View: October 01, 2019
You also want an ePaper? Increase the reach of your titles
YUMPU automatically turns print PDFs into web optimized ePapers that Google loves.
TUESDAY, OCTOBER 1, 2019

Connecting Your Community

starnews.co.nz

COUNCIL

COUNCIL

COUNCIL

COUNCIL

Cashmere

Cashmere

Cashmere

Cashmere

Wheelchair

access issues at

Nga Puna Wai

Page 3

Train lover to

put models

on display

Page 9

RE-ELECT

RE-ELECT

RE-ELECT

TIM TIM

SCANDRETT

SCANDRETT

RE-ELECT

TIM SCANDRETT

INDEPENDENT

INDEPENDENT

INDEPENDENT

INDEPENDENT

Vote for me, I work for YOU

Vote for me, work for YOU

Vote for me, I work for YOU

Authorised by Tim Scandrett 117 Dyers Pass Road.

Vote for me, I work for YOU

Road closure 'unfair' says

four-wheel-drive enthusiast

• By Matt Slaughter

A FOUR-WHEEL-DRIVE enthusiast

has a message for people calling

for the closure of tracks in South

Christchurch – ''give us a chance.''

North Canterbury 4WD Club

member Trevor Taylor says the city

council's decision to install a gate

blocking off Worsley's Track to

vehicles without consultation was

not fair and people should have been

consulted.

But city council transport operations

manager Steffan Thomas said

consultation was not required on this

occasion.

"The closure of Worsleys Rd was

undertaken through the use of a temporary

traffic management plan. This

closure was notified by pre-warning

signage on-site, as is required for

temporary closures. As this is not a

permanent closure, consultation as

per road stopping process was not

needed."

Mr Thomas said Worsley's Track

will be closed to cars and motorcycles

until late August next year

"due to concerns about fire risk."

Southern View reported last month

Huntsbury Ave resident David

Drayton wants the city council to

do more to stop four-wheel-drive

vehicles damaging the Bownvale

Reserve track and endangering

walkers and cyclists.

•Turn to page 6

STALLED: Trevor Taylor says calls from people such as David Drayton (inset) to close four-wheel-drive tracks are unfair on

responsible four-wheel-drive vehicle users.

PHOTOS: GEOFF SLOAN

BLINDS...Cleaned, Repaired & Restored...

Restore your oiled CEDAR BLINDS with our re-oiling service.

Rejuvenate your lacquered CEDAR BLINDS

High-tech Cleaning

We clean and repair all types of blinds –

Venetians, Cedar, Verticals, Roller, Hollands,

Romans and Pleated – with environmentally

friendly cleaning products.

Temperature Controlled Drying

Re-oiling & Rejuvenating

Fabric Blinds - such as Austrian and

Roman

Same Day Pick Up & Drop Off

We offer a same-day, pick up and drop

off service for most types of blinds.

Bookings are required.

Convenient Location

We are located at 47 Mandeville St,

Riccarton (next to Window Treatments

NZ Ltd), parking available onsite

www.blindcare.co.nz

Roller Blinds cleaned

from as little as $22

per blind

WE ARE OPEN

Mon - Fri

8.00am to 5.00pm

***NEW LOCATION***

Ph 377 0770,

47 Mandeville St, Riccarton

Christchurch

A new name.

A bright future.

We're growing. We're evolving. We're blooming.

House of Hearing is now called bloom hearing specialists.

You'll still see the same friendly faces and enjoy the same

exemplary service we've been known for since 2009.

So pop in to say hi and book a FREE * hearing health check.

Call us today on

0800 333 606

bloomhearing.co.nz

* Terms & conditions apply.
---
2 Tuesday October 1 2019

Latest Canterbury news at starnews.co.nz

get in touch

GENERAL INQUIRIES Ph 379 7100

CLASSIFIED ADVERTISING Ph 379 1100

Star Media,

a division of Allied Press Ltd

PO box 1467, Christchurch

starmedia.kiwi

news

Creating a healthy Heathcote

Young people from schools and early learning centres are being

called into action to create a healthy Heathcote River.

Page 4

community events

SOUTHERN VIEW

Bees and ladybirds

Make a finger puppet at Te Hapua: Halswell Centre on

Thursday from 10.30 to 11.30am.

NEWS

Matt Slaughter

Ph: 021 910 788

matt.slaughter@starmedia.kiwi

ADVERTISING

Mark Sinclair

Ph: 364 7461

mark.sinclair@starmedia.kiwi

The best-read local newspaper,

delivered to 21,155 homes

every Tuesday

Spreydon, Hoon Hay, Hillmorton, Cracroft, Cashmere,

St Martins, Somerfield, Sydenham, Addington, Waltham,

Opawa, Beckenham, Huntsbury, Woolston.

Page 15

tasty bites

Vegan friendly-food from Asia

Try these classic Asian dishes with a vegan slant, which are sure

to satisfy your taste buds.

Page 18

• The Star

• North Canterbury News

• Selwyn Times

• Ashburton Courier

also publishing:

• Bay Harbour News

• Western News

• Pegasus Post

• Western News

liquiD

SeLF Service

LaunDroMatS

289 colombo street, sydenham

17 halswell road, hoon hay

713 ferry road, woolston

All sites open 7 DAYs, 5Am-11pm

WaSH 2 Mink

BLanketS or

DuvetS

For onLY $8

Hot Water &

extra LarGe

WaSHerS

avaiLaBLe

Dry up to 14kg from

$4 in only 25 minutes!

Save time &

electricity

WaSH & DrY

aLL Your

LaunDrY in

unDer 1 Hour

• Fast Dryers

• Sports Gear

• Duvets

• Mink Blankets

• Bedding

• Washers

• Domestic Laundry

from

$

4.00 WASH $ 4.00 DRY

over 75 locations

nationwide

www.liquidlaundromats.co.nz

Other Locations: Richmond • Hornby • Burwood

Aranui • Rangiora • Redwood • Ilam • Kaiapoi

Ladies from $18

Men from $12

Kids from $18

282A Colombo Street, Sydenham

022 424 5624

Want a friendly internet

Are you over the way the

provider with a local

big telcos treat you?

call centre?

Check out Compass. Because we're a smaller company, we work harder at doing all the things the 'big boys'

seem to over-look, such as: having a local call centre, great pricing, flexible payment plans and being locally owned.

Call Ash 0800 964 558

www.compass.net.nz

CMP001
---
SOUTHERN VIEW Latest Canterbury news at starnews.co.nz

Tuesday October 1 2019 3

News

•HAVE YOUR SAY: Do you think wheelchair accessibility at Nga Puna Wai is an issue? Email your views to

matt.slaughter@starmedia.kiwi

Wheelchair user issues at Nga Puna Wai

• By Matt Slaughter

CONCERNS HAVE been raised

about accessibility issues for

wheelchair users at Nga Puna

Wai.

The city council say it is aware

of these concerns and will put

in place measures to improve

accessibility.

Spreydon-Cashmere Community

Board chairwoman Karolin

Potter said wheelchair access at

the venue is not

good enough

and the rest

of the board

agrees.

Ms Potter

brought to the

David Bailey

board a wheelchair

user's

concerns about

having trouble seeing when they

use the wheelchair seating areas

at the venue to watch sport.

For wheelchair users, Ms Potter

said: "The fence around the field is

at their eyeline or just below it, so

you're either looking through wire

netting or you're looking at the

fence post along the top rail."

Ms Potter who used to work

for the Human Rights Commission

said this is not good

enough.

"My experience over the years

is that we fail and fail and fail

again on the issue of disability

access. Nga Puna Wai is brand

new and this made me feel more

angry than I could possibly discuss

with you about this issue.

It's just outrageous."

The board has asked city council

staff to investigate accessibility

issues at Nga Puna Wai, including

introducing space for spectators

in wheelchairs to have an unobstructed

view of the sports fields.

Said city council manager of

recreation and sports facilities

David Bailey: "We value the

concerns and have investigated

one complaint about the hockey

wheelchair spectator area not

being accessible. In this instance,

the limited access was due to

temporary fencing incorrectly

closing off the area. The issue was

rectified on the same day."

Ms Potter said some of the

wheelchair seating at Nga Puna

Wai is separated from the other

spectator areas with little shelter

from the elements.

Said Mr Bailey: "Within the

covered spectator seating for

hockey there are dedicated

spaces at the top of the stand

for people who use wheelchairs.

Fixed seats are below this

viewing platform for other

spectators. The covered seating

provides some protection from

UNFAIR:

Visibility from

wheelchair areas

at Nga Puna Nai

has been raised

as an issue and

the city council

says it will

take measures

to improve

accessibility at

the venue.

the weather, specifically rain.

The rear and sides of the

stand provide some wind

protection."

Ms Potter said accessibility

and inclusiveness at the facility

has to be improved.

"The premise is, is that everything

we do should be just like

an open door, it should be built

for everyone."

Mr Bailey said the city

council's current plans to

improve accessibility at Nga

Puna Wai will involve installing

"improved signage directing

wheelchair users to the

accessible viewing stands."

In Brief

SCHOOL LOCKDOWN

Police had Bamford School in

Woolston in lockdown after

a life-threatening incident at

a neighbouring property on

Wednesday. Gould Cres was

cordoned off and the school was

placed in lockdown at about 3pm.

Parents picking their children

up were made to wait outside the

cordon. A police spokeswoman

said there was a large police

presence at the address, including

the armed offenders squad. The

lockdown was lifted at about 5pm.

STREET NAMED

Mamuku Lane has been chosen

as the name for a street in a new

Huntsbury subdivision. The name

was approved by the Spreydon-

Cashmere Community Board.

GRANTS FOR STUDENTS

Three Woolston students

have received grants towards

upcoming trips. The Linwood-

Central-Heathcote Community

Board has approved $150 towards

Haeata Community Campus

student Haddasah Timo's trip

to Samoa from which is taking

place right now until October

12. It also approved $200 to

Linwood College students Mapu

O-Moungatonga Uasi and Sione

Lei Uasi towards the rugby

league southern zone under-19

tournament in Dunedin.

Buy pre-loved &

spread the love

Clothing | furniture | household goods

Corner Gasson & Carlyle Streets,

Sydenham | ph (03) 332 3378277

2843

Open Monday–Friday 9am–4:30pm

& Saturday 9:30am–1:30pm.

The revolution

in heat pumps

is here now!

Free pick up of donated goods.

familystore.org.nz

The revolution in heat pumps is here now!

The Fujitsu e3series

The brilliant

heat pumps from Fujitsu

e1 : efficiency

e2 : environment

e3 : economy

More than just a store.

Community Board Candidate

Halswell Ward

Trusted

Informed

Connected

Known

=

Find us on

@rossmcfarlaneforhalswellward

Authorised by Ross McFarlane 52 Quaifes Rd

The brilliant e3 series

heat pumps from Fujitsu

e1 : efficiency

e2 : environment

e3 : economy

Challenge

Opawa

15 C per

litre *

9kg $ gas bottles

24 90

for

11 Opawa Road, Opawa

Christchurch

Open 24/7

• Home made pies & pastries

• Cake, slice & biscuits

• Fresh ingredients

&

• All food made daily on site

• Barista made coffee available

• Bread baked daily

Website: www.pshc.co.nz

Finance available

FREE consultation from your local

Accredited Heat Pump Expert

Phone today: 03 381 6950

INSERT DEALER DETAILS HERE

Fujitsu's Catechin Filters are

approved by the Asthma and

Respiratory Foundation NZ's

Sensitive Choice ® programme.

Email: info@pshc.co.nz

Open

Mon - Fri

Sat

sun

- 6am - 4pm

- 7am - 2pm

- closed

- Hills Road Bakery & Coffee

- Addington bakery
---
4 Tuesday October 1 2019

Latest Canterbury news at starnews.co.nz

News

Bus stop

shift to

increase

accessibility

• By Matt Slaughter

A BUS stop on Lyttelton St

will be shifted to make it more

accessible for buses and people.

The bus stop will move from

its current location beside

145 Lyttelton St just slightly

further along the road beside 2

Hennessy Pl.

When cars occupy parking

spaces around the bus stop,

there is not enough space for

buses to pull into it and stop

parallel to the boarding area.

When these parks are used,

this also limits how accessible it

is for people.

The existing bus stop is also

21m away from the boarding

area, adding to access challenges.

Spreydon-Cashmere Community

Board chairwoman Karolin

Potter said moving the bus stop

about 50m down will hopefully

address these issues.

"It really was about the current

bus stop not being legally large

enough for buses to get in and

out of properly and that was

going to cause a problem at

some stage," she said.

Healthy Heathcote aim of young

YOUNG PEOPLE from schools

and early learning centres are

asked to take action to create a

healthy Heathcote River.

The pilot project is a collaborative

community approach to conservation

education that aims to

connect students along the river.

City council parks programmes

and

partnerships

manager Kate

Russell said

the project

aims to establish

a blueprint

Kate Russell

for student action

to power

environmental change within

the Heathcote River.

"We are looking to these young

people as the protectors of their

local river environment and hope

to expand this approach further

afield," Ms Russell said.

Supported by city council education

co-ordinator Sally Airey,

the project encourages young

people to take "guardianship" of

the Heathcote River.

"The river suffers from 'urban

stream syndrome' and has poor

water quality," Ms Airey said.

"We are inviting young people

to lead community action to help

create a healthy awa [river]."

Ms Airey, whose role is being

funded by the Department of

Dyers Road Landscape

& Garden Supplies

• Barks • Peastraw • Composts - we supply the best available

• Aggregates - Chip, Round and Basecourse

• Pavers & Schist products • Pungas

• Decorative Stones & Landscaping Rocks

• Trailer Hire first hour free with purchase

• Bag & Bulk - pick up or delivered

David, Carol & Mike

We will deliver!

SOIL

AND

'The river suffers from

'urban stream syndrome'

and has poor water quality'

– Sally Airey

ENVIRONMENTAL: City council education co-ordinator Sally Airey is part of a new studentfocused

project to protect the Heathcote River. ​

HARDFILL

DUMPING

Phone: 03 384 6540

183 Dyers Rd, Bromley • OPEN 7 DAYS

Weekdays 7.30am-5pm. Weekends 8.30am-3pm

www.dyersroadandlandscapes.co.nz

Conservation, said the initial

project title – Healthy Ōpāwaho

– expresses the "connection

between a healthy river and a

healthy community."

However, she expects a new

student leadership team to come

up with a new name, vision and

measurable goals for the project.

"Initially, I will be directly

working with interested students

and teachers from a handful of

the 100 schools and early learning

centres that are within one

kilometre of the awa," she said.

"As the group develops and

connections are made between

schools, we hope even more

schools and early learning centres

will be involved."

The project aims to inspire

hundreds of young people to

take action for a healthy river,

building on individual projects

already under way in the area.

"Young people are our future

PRINTER

CARTRIDGES

New compatible toner cartridges

New compatible ink cartridges

Brand ink cartridges

Gold card discounts

www.cartridgerefills.co.nz

35 Woodgrove Ave, North Beach, Chch

Ph. 03 382 5858 • info@cartridgerefills.co.nz

SOUTHERN VIEW

leaders and need to be given the

opportunity to make decisions

that can lead to positive change

in our communities and our

environment," Ms Airey said.

The project is supported by the

city council, DOC, Community

and Public Health, the Canterbury

District Health Board, the

Ōpāwaho/Heathcote River Network,

Environment Canterbury,

Junior Neighbourhood Support

and Ngāi Tahu.

HUGE SAVINGS ON VALUE PACKS

Making yesterday's

best performance into today's

new baseline is how legends

roll. Never settle. Never stop.

No one in New Zealand is

selling more houses than us!

#teamcameronbailey

Residential Sales Person

of the Year for Volume 2019
---
SOUTHERN VIEW Latest Canterbury news at starnews.co.nz

Tuesday October 1 2019 5

News

With the community board terms nearing their end, Spreydon Cashmere Community Board chairwoman Karolin Potter and

board member Helene Mautner reflect on the board's achievements over the last three years

Supporting community initiatives

WE SUPPORT community

initiatives small and large

including removing the righthand

turn out of Barrington

Mall and rejecting traffic

proposals on Wilsons Rd that

would have facilitated a right

hand turn out of St Martins New

World car park -both for reasons

of safety.

We support cycleways. We

also know our city is comparatively

calm and peaceful in the

school holidays and for this to be

the norm we must make cycling

safe for our children and adults.

We have supported traffic

measures around schools and

they range from simple speed

signs on Tennyson St to more

elaborate measures outside

schools on busy roads such as

West Spreydon, Hoon Hay and

Hillview. We approve bus stops

and changes to parking.

We applaud our residents at

functions such as the Spreydon

Cashmere Service and Youth

Service Awards, Community

Garden Pride Awards and the

Edible Garden Awards. Every

year we recognise the commitment

of hundreds of people in

our wards to their community

in casual ceremonies.

Karolin Potter

We contribute small sums of

money to our communities. The

funds range from the Strengthening

Communities Fund which

contributes to the work being

done in our community by

organisations such as Manuka

Cottage, Rowley Resource Centre,

Sharp Crossover Trust and

Project Esther. Then there is the

Discretionary Fund which contributes

to sports and cultural

organisations and other initiatives

such as volunteer cycle

repair in Spreydon and bus trip

for older people in St Martins.

We support the Pacific Series

a rugby league competition and

we have the Hoon Hay Fiesta

a celebration of culture. We

support a community pantry, a

drinking fountain, a picnic table

and environmental projects such

as Beckenham School putting

signs up on the river asking

people to care about their environment,

We have huge projects

including flood protection

measures. We are involved in

the environmental issues led by

the Opawaho River Network,

The Summit Road Society, the

Cashmere Stream Care Group

and the Port Hills Trust Board.

We have the Give Gear Get

Great project with colourful

bins in our libraries and schools,

to get sports equipment out of

wardrobes and to kids with not

a lot.

We also have the Old Stone

House back up and running, the

Sign of the Takhe open again,

Coronation Hall about to be

repaired and Manuka Cottage

about to be built.

We have a special project for

older people called Age-Friendly

Spreydon Cashmere and that

will, in the coming years develop

ideas that will benefit us all.

Actively solving issues

AT THE LAST Spreydon

Cashmere Community Board

meeting I retired after three

terms on the board.

The Spreydon Cashmere Community

Board has actively and

regularly initiated extensive interactions

and consultations with

the community.

We've stood in supermarkets,

and in Barrington Mall, we've

met with local school boards of

trustees, we began the first community

board age-friendly initiative

to address needs of older

adults, we've held regular open

community workshop evenings

on transport and environmental

issues.

We have actively, and without

reservation worked to seek out

information from the community

and listened, listened and listened

some more.

Very often, solving small local

and personal issues have a huge

effect on peoples' lives and make

living in our ward that much

better.

We had safety handrails installed

on two long unsupported

sets of steps in Purau Reserve so

that a 90-year-old woman could

access buses on Cashmere Rd

after the Dyers Pass bus service

was cut. Then there was the time

Helene Mautner

some residents in Cracroft knew

they were living in the Cracroft

suburb, but the city council's

website insisted they were living

in Hoon Hay Valley.

We did the research, sent a

request to the council for change

and the name was corrected. We

advocated for and got additional

seats approved to make it easier

for older people to walk long distances

between home and their

closest bus stops.

We organised celebrations

to thank the many volunteers,

community groups and residents'

associations who have provided

us with their special insight and

understanding of the community.

SENIOR LIVING

Advertising Feature

Nazareth Community of Care

When people think about moving into a

retirement village or rest home, they

sometimes worry about a loss of freedom.

Ensuring our residents have choice

and variety are key priorities at Nazareth

Community of Care.

Offering continuum of care, we have

65 architecturally designed two and three

bedroom, two bathroom villas, and

Nazareth House, our spacious 80 bed rest

home and hospital.

We respect all faiths. Residents are

welcome to spend some quiet time in our

on-site chapel or join our daily services.

Whether you're in a villa or living at

Nazareth House, we will work hard to

meet your individual needs – in a secure

and friendly environment.

Your family and friends are always

welcome. The rest home has four large

lounges, each with Sky TV, and eight

smaller lounges, four of these with a

fridge and tea and coffee making facilities.

A community within a community,

Nazareth incorporates a market style

square, featuring amenities such as a

café, hairdresser, medical consulting

suite, gift shop, large function space,

chapel and comfortable cinema. It's all

here at Nazareth.

Life is as varied outside the village as it

is in, with Sydenham Bowling Club next

door, The Colombo shopping centre

nearby and it's only a short drive to the

city. Villa residents can do their own garden

or have help from our team if they'd prefer.

Raised communal garden beds mean you

can grow your own vegetables and herbs.

In everything we do at Nazareth

Community of Care, we are guided by

our values of love, respect, patience,

justice, hospitality and compassion.
---
6

Tuesday October 1 2019

News

Villa's budding business bosses

VILLA MARIA College

students have had the

opportunity to be business

bosses, putting their business

knowledge into practice at the

school's market day.

Year 10 commerce students

including Beckenham's Katie

McHerron were challenged to

create a product and a food item

and sell to the college community

recently.

"My favourite part was

presenting our prototype and

receiving the feedback so we

could improve our product before

market day. I'm excited to be

selling our coffee cups and cake

mixes at the market and also

helping out our chosen charity,"

said Katie.

"We had to choose products to

sell, identify the unique selling

point, develop a business plan,

make prototypes and work on

our marketing skills," said year

10 student Kyra Clarkson, whose

group is called Super Mugs.

"We decided to sell reusable

coffee cups, filled with a readyto-bake

cake mix and cookie

dough."

Fellow student Keito Yoshida

added: "We focussed on creating

a product that was sustainable

and environmentally friendly,

and encourages people to reuse

SUPER MUGS: Katie McHerron, Keito Yoshida, Kyra Clarkson

and Ruby Lundy with their reusable coffee cups and cake mix. ​

their cups, rather than using

disposable cups."

Commerce is an optional subject

for year 10 students at Villa

Maria College and is a combination

of accounting, economics

and business studies.

It's a popular subject choice for

students and they enjoy the challenge

of the market day event.

Student Ruby Lundy said: "It

was tricky to come up with a

Latest Canterbury news at starnews.co.nz

product that was unique and

special so that we could attract

lots of customers, but we're really

happy with our end product."

The students will all decide

on a charity to donate a portion

of their profits to after the

market.

Other products at the market

included reusable metal straws,

face masks and lip scrubs,

bubble tea and sweet treats.

'One or two idiots ruin it'

•From page 1

Mr Taylor read the article and

told Southern View closing off

tracks like this one and Worsley's

Track is unfair to responsible

four-wheel-drive users.

Mr Taylor said it is just a few

people ruining it for everyone else

wanting to drive on tracks like

these.

"One or two idiots ruin it for

everyone else. It's the old story,

let's punish the good guys, and

it's just not right."

He said North Canterbury

4WD Club always encouraged its

members to be responsible when

four-wheel-driving and believed

they should not be punished for

other's bad behaviour.

"We're very, very careful with

what we do. We always follow the

tread lightly policy that we have,

that sort of leave only a few tyre

SOUTHERN VIEW

NO

VEHICLES:

Worsley's

Track will be

closed until

August 5

next year.

marks and nothing else, that's

very important for us. That's why

we have these regular meetings

with DOC [the Department of

Conservation] and things like

that.

"I'm just an ordinary fourwheel-driver

who wants us to

keep our access," he said.

Mr Thomas said there are still

options for people wanting to

go four-wheel-driving but they

should not abuse these privileges.

"There is a variety of

information available online

for local four-wheel-drive

opportunities, including through

the Department of Conservation

and four-wheel-drive clubs. The

council would also encourage

four-wheel-drivers to use all

roads with respect and to

minimise damage that may

inhibit other road users," he said.

Kids

Come and watch a FREE movie at Eastgate's

Pop Up mini theatre these holidays.

Get comfy and lounge around on cushions or our inflatable chairs

Date 10am Screening 2pm Screening 6pm Screening

Wednesday The Nut Job 2 The Secret Life of Pets

2 October G 91minutes G 91minutes

Thursday Hotel Transylvania Big Hero 6 Jumanji

3 October PG 91minutes PG 108minutes PG 84minutes

Friday Storks How to Train Your Dragon

4 October G 87minutes PG 102minutes

Saturday Secret Life of Pets Hotel Transylvania

5 October G 91minutes PG 91minutes

Sunday The Nut Job 2 Storks

6 October G 91minutes G 87minutes

Monday Big Hero 6 How to Train Your Dragon

7 October PG 108minutes PG 102minutes

Free small drink and snack.

Parents grab a coffee and join the kids for some relaxing holiday fun!

Children under 10 must be accompanied by an adult or older sibling.

Seats limited to 30 per session.

www.eastgate.co.nz

Snacks kindly sponsored

by Countdown

Want to be

elected?

• Local Council

• Community Board

• Ecan

• CDHB

Star Media can help you.

Talk to us today about your campaign.

Contact: Mark Sinclair

03 364 7461

021 913 566

mark.sinclair@starmedia.kiwi
---
SOUTHERN VIEW Latest Canterbury news at starnews.co.nz

Tuesday October 1 2019 7

News

Dig out your historic photos for competition

GIVEN TIME, even the most

ordinary photo can be an

extraordinary window into a

different world.

This photo, picturing the intersection

of High, Hereford and

Colombo Sts, was a highly commended

entry in Christchurch

City Libraries' 2008 photo hunt.

It was submitted by Tony Bowie

and shows his mother and

grandmother on their way to

shop in High St in the late 1950s.

During the 1950s, the central

city was the prime destination

for shopping in Christchurch,

and women would don hats and

gloves for their trip into town.

The central city enjoyed this

shopping heyday in the first half

of the 20th-century, coinciding

with the peak of reliance on

public transport – first trams,

then buses. Cathedral Square

was the central hub of the city's

transport network, which connected

the suburbs to the city

centre.

It was customary for people

to go into town to shop, and to

"take tea" in the tea rooms of

the major department stores

located on both sides of Cathedral

Square.

Beca Christchurch Heritage

Festival 2019 starts on October 7

and this year, as part of the festival,

Christchurch City Libraries

is celebrating 10 years of the

Christchurch photo hunt.

Over the past decade, the

photo hunt has collected

hundreds of great photos like

this one, and Christchurch City

Libraries hopes people will dust

off their collections and unearth

some more treasures.

This year's competition runs

from October 1 to 31. Your

photos are carefully scanned

and preserved as part of

Christchurch City Libraries'

collection, and loaded onto

the Discovery Wall at Tūranga

(Central Library) so everyone

can enjoy them.

•Submit your photos at

any of our Christchurch

OCCASION: This

1950s photo

was submitted

in the 2008

Christchurch

City Libraries'

photo hunt. The

competition is on

again.

City Libraries or at my.

christchurchcitylibraries.

com/photo-hunt/

•There are many

events happening in

the central city during

the Heritage Festival

2019. Check out what's

happening at the Arts

Centre, at Tūranga (Central

Library) and look out for

events showcasing the

project to reinstate Christ

Church Cathedral.

New life

for Sign of

the Takahe

• By Matt Slaughter

THE SIGN of the Takahe has

reopened.

An official opening event was

held at the historic venue on

Hackthorne Rd. About 400 people

turned up on the day to celebrate.

The more than 100-year-old

building has been closed since the

2011 earthquake.

It was leased off the city council

by Andrew Male and his wife

Kay at the start of the year. They

have installed a new cafe and

bar upstairs and revamped the

interior of the building.

Mr Male said reopening the

Sign of the Takahe was a great

feeling, given the months of work

which have gone into getting it

ready. "My wife and I have been

talking about and passionate

about it for the last six months,

but you know, sometimes you

look back and think I couldn't

have done it without my team."

He said visitors are excited

about having the iconic building

back up and running.

"It's finally seeing the building

back open again that has a lot of

history, people have got history

with it."

Encounter

our stories

Christchurch

Heritage

Festival

7–28 October

Over 80 special events! Discover heritage tours,

walks, talks, workshops, music, food and more

with the Christchurch Heritage Festival…

• Spirited Cemetery Tours, in your area 11, 13 & 20 October

• Addington Heritage Evening, 15 October

• The Story of Harry Ell: Early Conservation on the Port Hills, 20 October

ccc.govt.nz/heritagefestival
---
Advert: fcsv0110

Newspaper: Southern View

8 Tuesday October 1 2019

Latest Canterbury news at starnews.co.nz

SOUTHERN VIEW

Purex White Unscented

Toilet Tissue 4 Pack

WW Still

Spring

Water 1.5L

Prices you can

rely on everyday

90 ¢ ea

$

2 00

pk

WW White

Sugar

1.5kg

Sunrise

Spread 500g

$

1 90

ea

Ninety Nine

Soft Drink 1.5L

$

1 00

ea

$

2 70

ea

WW Chocolate

Biscuits

190-200g

$

2 00

ea

Best Foods

Real Mayonnaise

405-435g

$

5 00

ea

Oak Baked

Beans or

Spaghetti 420g

$

1 00

ea

Get these deals and

more delivered to you!

Shop online now at

FreshChoiceYourWay.co.nz

Barrington

Open 7am – 11pm, 7 days a week.

City Market

Open 7am – 9pm, 7 days a week.

FreshChoiceNZ

OWNED &

OPERATED BY

LOCALS

fcsv0110

Prices valid for a limited time, subject to change without notice. While stocks last at FreshChoice City Market & Barrington only. Limits may apply.
---
SOUTHERN VIEW Latest Canterbury news at starnews.co.nz

Tuesday October 1 2019 9

News

Building model trains to go on show

ANNA THOMAS is a

keen rail modeller, skilfully

creating New Zealand

prototypes.

Ms Thomas said her mother

recalls her throwing a tantrum

in Kmart when she was four

because she couldn't have a

train set.

"I did get one later. It was

an American Santa-Fe set

with a figure-eight track and

a tunnel. I soon lost interest,

probably because it wasn't very

realistic.''

The 26-year-old who

works for an online distributor

is keen on all things

mechanical.

For two years, she has been

building a Di class dieselelectric

locomotive to haul a

train of ballast wagons.

It will include a 9m wooden

guard's van carriage with a

ballast spreader underneath.

"I have talked to people

who knew the Di class locos.

That's been pretty cool really,'

she said.

The guard's van will feature

at the Big Model Train Show

at Pioneer Recreation & Sport

Centre on Saturday and

Sunday, 9.30am until 5pm.

Ms Thomas' train modelling

is realistic. She is working

CHOO CHOO: Anna Thomas will be displaying one of her model train carriages at Big

Model Train Show at Pioneer Recreation & Sport Centre. ​

with white metal kits.

She is excited to be involved

this year's show.

The show will feature model

train clubs and individuals

from throughout the South

Island.

Those presenting New

Zealand prototypes are always

popular. Last year a winning

layout represented the

Kaikoura Coast.

The train show is an event

for anyone thinking about

getting involved with the

hobby.

•Entry to the Big Model

Train Show is $5 for

children, $10 for adults

and $15 for an adult

weekend pass.

Easy Parking • Laybuy Welcome

17 Lillian Street, Halswell

03 322 4548

Open Mon-Fri 9.30am - 5.00pm

Saturday 10.00am - 1.00pm

Take a sneak

peek at the new

Christchurch

Hospital Hagley

Public Open Day

6 October

When it opens next year,

Christchurch Hospital Hagley

will be the new home of acute

services. This is your chance

to have a look behind the

scenes at the new Emergency

Department, Intensive

Care, Children's High Care,

Radiology and wards before

they're fully kitted out.

Opening early 2020

Sunday 6 October 2019

The 30 minute tour will

cover three floors

10am – 3pm

Closed-toe, soft-soled shoes are

essential – sneakers are perfect

Pedestrian entry only

Entry to the new Hagley building is

to the left of Christchurch Women's

Hospital off Riccarton Avenue.

Entry is free

Gold coin donations to the Māia

Health Foundation appreciated.

There will be a drop off zone on Riccarton Avenue, and there's a bus

stop right outside – bus travel is free for SuperGold Card holders.

Like Canterbury DHB on Facebook for updates. Details and

conditions of entry are on our website - cdhb.health.nz/hagley
---
10 Tuesday October 1 2019

Latest Canterbury news at starnews.co.nz

News

Top young landscaper awarded

GEORGE TROWER has been

named young landscaper of the

year at the Registered Master

Landscaper Landscapes of

Distinction awards in Auckland.

Mr Trower, who works at

Fendalton's Goom Landscapes

and lives in Bishopdale, was

recognised for his innovation,

communication, leadership,

career development and

construction abilities.

"It was such an honour to

pick the award up and receive

recognition from across the

industry, especially considering

the calibre of the other finalists,"

the Lincoln University graduate

said.

"I was so humbled that the

team at Goom seemed to be

as excited about my individual

award as they were the numerous

awards they received on the

night."

Mr Trower will now progresses

to the young horticulturist of the

year awards, in which finalists

across six industries battle it out

for top honours.

Goom Landscapes is a highly

• By Matt Slaughter

LANGUAGE students at

Cashmere High School have

achieved high placings in

an international languages

competition.

The school's languages faculty

finished fifth in the world and

second in New Zealand in the

Education Perfect Languages

Championship held between

BIG FUTURE: George Trower

was named landscaper of the

year at the Registered Master

Landscaper Landscapes of

Distinction awards.

regarded landscape design and

construction firm established

more than 35 years ago.

The nationally recognised

awards acknowledged the best in

landscape design, construction,

horticulture and maintenance.

August 27 and September 3.

Students from 1644 schools

worldwide took part and 369

of these were from New

Zealand.

In spite of finishing second in

New Zealand, Cashmere High

was presented with the first-place

trophy last week because of a

technicality.

Over the week, 808 students

within the faculty attempted

Said Goom Landscapes

director Tim Goom: "We take

enormous pride as a team in

completing every project to

the highest standard, so to gain

national recognition, not to

mention armloads of awards, is

deeply gratifying'.

The company entered four

projects in both the design

and construction categories. It

received four gold medals for

construction and three gold and

a silver medal for design.

In addition to these medals,

Goom Landscapes also won

the premier award for best

construction project of the year

for its high-country project at

the Terrace Downs Resort at

Windwhistle.

The judges said the project

was a very worthy winner of this

top award as it demonstrated

"outstanding workmanship using

various materials and finishes,

bringing to life the vision and

design."

They also said the water feature

was considered to be elegant

design.

more than 1 million languagerelated

questions, earning points

for each one they answered

correctly.

At the end of the competition,

these students had earned

604,386 points between

them.

Cashmere High School

Japanese teacher and driver

of the school's effort Linda

Tappenden said 10 students

Smiths City donates

$15k to city mission

• By Claire Booker

A $15,000 donation to the

Christchurch City Mission

will change the lives of 12

Cantabrians.

Last week, Smiths City's

Colombo St store manager,

Kevin Owers presented the

cheque to City Mission chief

executive Matthew Mark.

Mr Mark said the mission has

to raise $5.5 million each year to

cover the cost of the services it

offers to people in need.

"This $15,000 cheque will

support 12 people through an

alcohol and drug detox. It is an

incredibly generous donation,"

he said.

Each year, the city mission

supports about 42 thousand

Christchurch residents in need.

It celebrated its 90th

anniversary in July.

"Almost 10 per cent of

Christchurch's population has

been supported by the city

mission," Mr Mark said.

won elite awards in the

competition for earning 10,000

points or more each.

Mrs Tappenden said

receiving the trophy was a

great achievement and many

of the students who participated

in the competition put in big

efforts.

"I think it's just amazing,

the student involvement and

their passion for their language

SOUTHERN VIEW

HELPING: Kevin Owers (left)

presents Matthew Mark with

a cheque to support people

in need. ​

Store manager Kevin Owers

said he was "very proud" to

make the presentation.

"I couldn't think of anyone

better to give it to. It gives you

tingles," he said.

Smiths City chief executive

Roy Campbell said the company

has been a supporter of the city

mission for many years.

"It doesn't matter where we

are in New Zealand, we want to

be those locals who help locals.

It makes us immensely proud,"

he said.

Language skills earn Cashmere students award

learning and the fact that their

prepared to put in so much

effort during that world champs

time."

She said Cashmere High had

put in very strong performances

in the competition in the past,

which made the most recent

result even sweeter.

"This is the fourth time we've

won the cup, last year we were

first in New Zealand."

sweet

School Holidays are

Decorate

Cupcake

your own

7 TH TO 11 TH OCTOBER

10AM, 11AM, 12PM, 1PM

30 MINUTE SESSIONS. AGE 5+

AvonheadShoppingCentre

www.avonhead.co.nz

Cnr Withells Rd and Merrin St

Avonhead

at Avonhead

Shopping Centre!

Get creative these holidays by

decorating your very own cupcake!

Bookings essential at

www.themakecompany.co.nz
---
SOUTHERN VIEW Latest Canterbury news at starnews.co.nz

Tuesday October 1 2019 11

2-for-1

tickets on

ON THIS

WEEKEND!

Sat 5 & Sun 6 Oct, 10am–5pm

Horncastle Arena, Christchurch

Door Sales $10 | Kids Under 12 Free

Everything from gourmet food, tea and artisan products

to fashion, beauty, travel and more:

• 200 Exhibitors • Goodie Bags

• Artisan Craft Zone • Taste Zone

• Little Biddy School of Gin Lounge

• Vivo Hair & Beauty Lounge

• Southern Reflexology Relaxation Lounge

You deserve a girls day out.

Dilmah is celebrating the amazing women of

New Zealand with the gift of tea. Stop by our stand

to nominate the unsung heroes in your life!

womenslifestyleexpo.co.nz
---
12 Tuesday October 1 2019

Latest Canterbury news at starnews.co.nz

SOUTHERN VIEW

Woolston boxers in the ring for Canty

• By Jacob Page

SIX WOOLSTON boxers will

be part of the Canterbury team

to compete at the national

championships which start

tomorrow at Hastings

A 20-strong team will test

themselves against the best

amateur boxers in New Zealand

over the five-day tournament.

Ryley Sutherland, Hamuera

Tainui, Blake Henderson, Trevor

Swainson, Byron Antal and

Tegan Clark will all represent

Woolston in the team.

Canterbury coach Mark Fuller

said the team have a good mix

of youth and experience across

junior, cadet and senior grades.

He has high hopes for the

Woolston contingent.

CONTENDERS: Ryley

Sutherland (left) and

Hamuera Tainui are aiming to

add to their trophy cabinet at

the nationals in Hastings this

week. PHOTO: WOOLSTON

BOXING CLUB

"I like the look of Trevor

Swainson," he said.

"He's been around a long

time and deserves a

national title.

"He's capable and

durable."

Tainui won a

national title last year

in the 63kg cadet class

and will be looking

for another win this

year.

Both he and

Sutherland won New

Zealand Golden

Gloves titles last

month in Rotorua.

"Tegan Clark has a hard class

but if she's positive enough she's

definitely one who could win a

national title," Fuller said.

"In the cadets, Sutherland and

Kwahli Beauchamp – they've

had 25 to 30 fights now – and the

juniors Daniel Meehan, James

Charlton and Blake Gibson all

have 30 fights plus.

"We always aim to medal, but

there are a few kids there that

will need three bouts to earn a

silver or gold, but realistically we

should come back with a good

haul.

"This is the pinnacle

tournament of the year so they''ll

all be giving it everything.

SPORT

Mark Fuller

"Byron Antal is a good lad, it'll

be a big step up and he's keen to

learn."

Weigh-ins are due to

take place today.

"It's a good team

and we always have

expectations to

perform well and to

represent Canterbury

well," Fuller said.

Canterbury team

Kwahli Beauchamp

(Smiling Tigers),

Ryley Sutherland

(Woolston), Leon

Gibson (Waikuku),

Daniel Meehan

(Smiling Tigers), Hamuera

Tainui (woolston), James

Charlton (Rangiora), Tom

Westall (Papanui), Ryan

Entese (Papanui), Rendz

Remaneses, Sam Burdett

Clark (Smiling Tigers), Blake

Henderson (Woolston),

Trevor Swainson (Woolston),

Wheels Mau'u (Burnham),

Savanah Haehae (Rangiora),

Tegan Clark (Woolston),

Bree Cumming (Round 12),

Mel McGlynn (Burnham),

Elenoa Lilo (Burnham),

Edward Richards (Rangiora),

Byron Antal (Woolston),

and Rendz Remaneses

(Redwood).
---
SOUTHERN VIEW Latest Canterbury news at starnews.co.nz

Tuesday October 1 2019 13

www.barrington.nz

FREE

WIFI

256 Barrington Street, Christchurch 8024 Phone: 03 332 4221

FOLLOW US:
---
14 Tuesday October 1 2019

Latest Canterbury news at starnews.co.nz

SOUTHERN VIEW

CyClOnE CyClES AnD MOwErS

HAS MOVED

47 Hawdon St, Sydenham

Just off Brougham & Wordsworth St, only 5 minutes from our old 245 Colombo Street location.

wOrDSwOrTH ST

COlOMBO ST

BUCHAn ST

HAwDOn ST

AA

BrOUGHAM STrEET

COlErIDGE ST

GASSOn STrEET

Same people,

Same service,

new location

Cyclone Cycles and Mowers – Servicing Canterbury since 1952

03 332 9588 link2cyclone@xtra.co.nz www.cyclone.net.nz
---
SOUTHERN VIEW Latest Canterbury news at starnews.co.nz

Tuesday October 1 2019 15

Email georgia.oconnor@starmedia.kiwi

by 5pm each Wednesday

JP Clinic

Today, 10am-1pm

A justice of the peace will

be available to witness signatures,

certify documents, take

oaths, declarations, affidavits,

affirmations, applications for

citizenship and rates rebates.

South, Linwood and Te Hapua:

Halswell Centre libraries

Technology Help Drop-in

Sessions

Today, 10.30-11.30am, at

Spreydon, 2-3pm, at Halswell,

and tomorrow, 11am-noon, at

Spreydon

These free drop-in sessions are

available to help you with specific

issues, such as using email,

searching the internet, library

catalogue or electronic resources

and any other general computerrelated

queries. Go along with

your laptop, tablet, smartphone

or use one of the library's desktop

computers if you need help.

Te Hapua: Halswell Centre and

Spreydon Library

Citizens Advice Bureau

Today, 11am-2pm

The Citizens Advice Bureau

provides free and confidential

advice. It takes the time to listen

to you and equip you with information,

options and support.

Linwood Library

Makerspace

Today at the South Library,

3.30-4.30pm, and Monday, 3.30-

4pm, at the Spreydon Library

Drop-in for fun activities

every week at the Makerspace.

There will be a variety of activities

for all ages. Free.

South and Spreydon libraries

Mainly Music

Wednesday, 10-11.30am and

9.45-11.15am

Go along for some fun and

learning with music for mums

with children aged up to five.

The first visit is free and $4 per

family after this. Morning tea

provided.

St Johns Anglican Church,

corner of St Johns St and Ferry

Rd, Woolston and St Martin's

Anglican Church ($3) 50 Lincoln

Rd

South Library Book Discussion

Group

Wednesday, 7.15-8.15pm

This group is for people who

love reading and want to share

in discussion with other booklovers.

This group is free.

South Library

Knit 'n' Yarn

Wednesday, 10.30am-1pm, at

Linwood, Thursday, 1-3pm, at

Halswell, and 1.30-3.30pm, at

Bees and ladybirds will be held at Te Hāpua: Halswell Centre on Thursday from 10.30 until

11.30am. Go and create a mini bee and ladybird finger puppet using a variety of materials. Be as

creative as you want to be. ​

South Library, Saturday, 1-3pm,

at Halswell

Head along for a craft corner

session. Take your knitting, crochet

or other craft projects. Free

and beginners are welcome.

Linwood, Halswell and South

libraries

Friendships and Chats

Thursday, 10am-12.30pm

Join in the fun with a decent

cuppa at the Cashmere New

Life Church. There will be homemade

scones served on Royal

Albert and fine china. Take a

friend. $3 donation.

St Saviour's Anglican Church –

Parish of South Christchurch, 200

Colombo St, Sydenham

Creative Writing on Sundays

Sunday, 1-3pm

Group leaders work with

members to craft, create and

develop their own work. Take

along your pens, paper and

ideas.

Linwood Library

Linwood Library Book Club

Monday, 10.45am-noon

Go along to this relaxed

and friendly group and talk

about books – fiction or nonfiction.

Linwood Library

Scrabble Club

Wednesday, 1.30-3.30pm, at

Halswell, and Friday, 10.30am-

12.30pm, at Linwood

No obligation to go, just head

along and join in the friendly

games.

Te Hapua: Halswell

Centre and Linwood

Library

Rummikub Club

Thursday, 10am-noon

Go and join in a game

of rummikub, a tile-based

game for two to four players,

which combines elements of

the card game rummy and

mahjong.

Linwood Library

Game Zone

Thursday, 3.30-4.30pm

Go along and play Minecraft,

charades, Connect Four,

Pictionary and more. Take

your friends or meet some new

ones. All children aged eight

to 13 welcome, no bookings or

payment needed.

Linwood Library

Elite Haircuts

at affordable prices

Mens Cuts ...............................$20

Womens Cuts ..........................$27

Kids Cuts under 12 years ........$15

Clipper Cuts ............................$14

Gold Card Mens .......................$15

Gold Card Womens .................$20

Open Blade Box In ..................$4

GOLD CARD DISCOUNT AVAILABLE | Eftpos Available

I welcome all John Thompson's

past and present customers.

238 Barrington Street, Spreydon (opp St Nicholas Church)

NO APPOINTMENT NEEDED! Mon-Fri 9am-5pm, Thu 9am-6pm

HEAT PUMP

SALE NOW ON!

Amazin' Spring Specials!!

ham on

the bone:

pre-order for

christmas

• We will offer you the best quality brands and

option of heat pump for your home/business

• Providing Heat Pump solutions for over 17 years to Cantabrians

• We personally guarantee all our products & installs for 5 years

(providing annual maintenance has been completed)

Phone us today for your free consultation & quote

41A SHAKESPEARE RD, WALTHAM

PHONE 03 366 0525

www.enviromaster.co.nz

"A local team for local people"

Your local butchery

specialising in the best

hams, small goods

and meat products

372 Selwyn St | Ph 366 4947

www.everybodysbutchery.co.nz
---
16

Latest Canterbury news at starnews.co.nz

Tuesday October 1 2019

SOUTHERN VIEW

2019 LocaL ELEcTionS - meet your candidates

Tim Scandrett Independent City Councillor - Standing for re-election

Paid Advertising Feature

VOTE FOR ME, I WORK FOR YOU

Thank you for supporting me for the past

six years as your independent City Councillor.

Independent means I work for you, not a

political party.

Christchurch and our community have

taken a lot of hits in the last few years. We are

making great progress but there is still a lot

more to do.

The next three years are very important as

we continue to work to make Christchurch

a vibrant, inclusive and sustainable city. We

need to rejuvenate our community and adapt

to climate change in an environmentally,

financially and socially sustainable way.

By working together we can achieve this and

much more.

I am a proven City Councillor who knows

how to get the job done. I will remain your

independent advocate, working with you

to keep our community voice at the core of

Council decision making.

I will continue to meet you at my monthly

clinics to understand the issues important

to you. I will energetically represent our

community and work hard for local concerns

Vote for me and I will continue to fight for

chlorine-free drinking water protected at its

source, for preservation and regeneration

of the Heathcote River and Port Hills, for

improved community facilities and better traffic

planning.

We need to keep your rates down,

strengthen our community, and protect your

future and your children's futures

Your support will ensure I remain your

independent City Councillor.

Please re-elect Tim Scandrett 027 693 5155

timscandrett@xtra.co.nz

Authorised by Tim Scandrett, 117 Dyers Pass Road, Christchurch.

Darrell Latham Standing for Councillor and Community Board - Heathcote Ward

As an elected representative I have a proven

track record advocating and gaining results for

residents. I do ask the hard questions and I do

seek accountability from the Council on your

behalf.

This is a defining election and ratepayers are

losing faith with the council. Areas of concern

include.

• Rates that are projected to rise by more

than 52% by 2028. Over the last three years,

average rate rises have hit 5.25%. This is

unacceptable.

• The Council needs to review income and

expenditure and how it manages assets to

avoid soaring debt.

• Ratepayers want transparency and

accountability without resorting to Official

Information Act procedures. The Council has

been branded as ''the most secretive in the

country.'' A change of culture is required.

• Eight years on from the quakes we still

have endless roadworks, questionable sewage

systems and water that is compromised.

• Water supply, waste water, storm water and

water infrastructure are critically important. Our

waterways and coastal water form a major part

of the landscape and lives of the community.

• Central City residential developments

are creating masses of on street car parking.

These developments require off street parking

areas.

• A smart city is an accessible city. The

Council must listen to business people

and road users and create a user friendly

accessible city.

• We need individual and collective action

to minimise climate change. Mitigation and

adaptive management strategies must be part

of that discussion.

I am decisive, determined and dependable

and I will represent all Heathcote residents with

enthusiasm.

Authorised by Dr Darrell Latham, 53 Colenso Street, Sumner, Christchurch 8081.

Lee Sampson Standing for Councillor and Community Board - Cashmere Ward

I'm standing to ensure Christchurch realises

it's potential as one of the most liveable,

vibrant, sustainable cities in the world for all our

communities.

I have a strong track record of getting things

done - and can tackle our cities biggest issues

in a logical and positive manner. I'll ensure we

get the priorities right moving forward and with

increased transparency and financial nous for

all our ratepayers.

I've spent 20+ years managing large public

and private sector projects and I'm confident

that by making sounder decisions and getting

the basics right, we can deliver more for our

respective communities and within our financial

constraints.

I'll be fighting to:

• Protect our precious water resources

(removing chlorine as soon as its safe to do so)

• Get our basic services right

• Keep rates affordable and prioritise

accordingly

• Support Port Hills conservation alongside the

ecological restoration of our urban rivers

• Reduce public transport gaps (such as)

Somerfield Street, Birdwood Ave, Bowenvale

Ave and Dyers Pass Road

• Secure regional investment through central

government.

I have broad volunteer experience as a

Rotarian, youth mentor and representative on

the Summit Road Society.

During the rebuild I delivered new Social

Housing and reduced the associated costs by

up-to 50% through adopting waste reduction

and lean principles - this enabled more warm

and sustainable homes to be built for our most

vulnerable residents.

I'm motivated, approachable and always have

an open door. Call on 021 772 929 or email

lee.sampson@habitusgroup.co.nz if you have

any local issues or concerns.

Facebook https://m.facebook.com/

LeeSampsonCHCH/

Authorised by Lee Sampson 28 Valley Road, Cashmere, Christchurch.

Peter Gatonyi Standing for Councillor and Community Board - Spreydon Ward

RATES FOR ROADS NOT FATTENING

SALARIES

These are my priorities if I have the honour

of becoming the next city Councillor for

Spreydon.

Roading: Taking 20 years to get our roads

back to pre quake condition is unacceptable.

This must be the councils number one priority

Rate rises: I think rates are getting to high and

not enough attention is being paid to spending.

If the forecasted rises go ahead it will cause

real hardship.

Chlorine: I think the council acted on bad

information when they put chlorine in our

perfectly good drinking water. The sooner it's

out the better.

Parking: I would like to see more parking in the

inner city. Especially the free/cheap kind. I will

fight for hospital parking from day one.

Please contact me anytime:

ysteriswhat@hotmail.com or 022 639 6727.

Facebook Peter Gatonyi For Council -

Spreydon.

Authorised by Pete Gatonyi, 228 Milton Street, Christchurch.

Lianne Dalziel Christchurch Mayor - Standing for re-election

Re-elect Lianne Dalziel Mayor

"I love Christchurch and am confident about our

future. With my experience and inclusive style

of leadership, we can tackle any challenges that

lie ahead, while seizing every opportunity that

comes our way."

It is vital we keep the momentum going.

My immediate priorities are:

Water: Investment in our infrastructure will

deliver pure water safely to your home. I

will fight Government-imposed mandatory

chlorination.

Rates: I will bring rates rises down while

ensuring continued infrastructure investment,

and balancing council debt and inflation.

Central City: A vibrant city centre is essential.

Having secured $300m for Christchurch, the

stadium will be a multi-use facility. I will continue

to back the developers leading the way.

Sustainability: I am committed to reducing our

city's carbon footprint, and helping communities

prepare for the impacts of climate change.

Eastern Alliance: An alliance of contractors will

deliver a fully integrated programme of works

across the east, fixing the roads, footpaths and

pipes and building stopbanks.

Do it once, do it right.

www.lianne.co.nz

Authorised by A Campbell lvl1/394 Riccarton Road, Christchurch.
---
SOUTHERN VIEW Latest Canterbury news at starnews.co.nz

Tuesday October 1 2019 17

2019 LocAL ELEcTions - meet your candidates

Peter Ballantyne Standing for Canterbury District Health Board

Paid Advertising Feature

Peter has considerable experience in the

health sector having served as Deputy Chair of

the Canterbury District Health Board and Chair

of the West Coast District Health Board.

Peter believes the health board has worked

tirelessly to meet the needs of Cantabrians,

but has been constrained by lack of funding

.Peter considers that he is well placed to

advocate strongly for equitable funding for our

health needs in Canterbury. This, combined

with efficiencies in service, will enable more

funds to be available to meet the increased

demands of health issues such as mental

health, cancer and elective surgery in order to

ensure that our communities get well, stay well

and live well closer to home. Addressing the

increasing needs of our ageing population is

a continuing demand on our health services.

There is also need to remove the capital

charge, and progress the rate of our facility

rebuilds to ensure our people receive timely

and appropriate treatment in modern hospital

facilities. He is very conscious of the safety and

wellbeing of our health workforce which has

been operating under tremendous pressure

since the earthquakes while continuing to

maintain high standards of service.

Peter was previously a partner in the

international consulting firm Deloitte. He

currently serves on the CDHB Quality, Finance,

Audit, and Risk Committee and on the

University of Canterbury Council.

A life long Cantabrian, Peter is a greatgrandson

of John Ballantyne, founder of

Ballantynes Department Store. Peter's wife

Claire worked as a registered nurse with

the CDHB and his daughter is a Consultant

Geriatrician. With two sons, an engineer and a

film director, Peter's leisure time is spent with

family, grandchildren and sailing.

If you wish to contact Peter you can email him

at prballantyne@yahoo.com

Authorised by Peter Ballantyne, 37 Waiwetu Street, Christchurch.

John Minto Standing for Christchurch Mayor

I am standing as a KOA (Keep our Assets

Canterbury) candidate for mayor because we

want a future for Christchurch which makes

sense.

The city faces three big challenges: a

climate emergency, a water supply threatened

by contaminants and many people struggling

on poverty incomes without dignity or selfrespect.

Our policies are to reduce greenhouse

gas emissions with free and frequent public

transport; provide a local zone for Canterbury

businesses and co-operatives in the city

centre; rebuild the 400 council rental homes

destroyed in the earthquakes; future-proof

our water supply and develop a plan for

swimmable rivers; rate increases kept to the

rate of inflation and a minimum of the living

wage for all council work.

As well as significantly reducing our

greenhouse gas emissions, fare-free public

transport will create a more cohesive, less

divided city as people mix and mingle on

modern, low-emission buses with free wifi.

It will also save families approximately four

weeks pay per year in transport costs which

will be spent in the local economy giving a

boost to local businesses and co-operatives.

This policy will not increase rates because

it will be paid for from existing government

budgets by rebalancing transport funding away

from new roads in favour of public transport.

These policies will improve our lives while

saving the council money. More details are at

www.MintoforMayor.nz

Authorised by John Minto, 21 York Street, Waltham, Christchurch.

Alexandra Davids Standing for Canterbury District Health Board

I am fully committed to giving all members

of our communities the strong, positive

representation they deserve.

I have been an elected member since 2013.

In this time, I have held a variety of positions,

including my daily work with Women's Refuge

at the Battered Women's Trust which has

given me an insight into the daily struggles

going on behind closed doors, Chair of

Keep New Zealand Beautiful, Chair of Keep

Christchurch Beautiful, Elected Member of the

Local Government Young Elected Members

Board, Local Government Elected Member

of the national Community Board Executive

Committee, Trustee of the Graeme Dingle

Foundation, Chair of Whitau School.

These experiences have given me the

opportunity to continue to develop the

leadership and mediation skills we need

around the table within the CDHB for us to

make positive steps forward for the entire

Canterbury region.

I am a proactive, results-focussed candidate

with the enthusiasm and energy needed to

effect positive change.

As your elected representative I aim to

strongly advocate for a parking solution for

Christchurch Hospital, future focussed decision

marking and more resourcing for our aging

population, more support for mental health and

chlorine free water.

facebook.com/Alexandra.Davids.Community.

Rep/

Authorised by David Blenkiron 4 Limes Avenue, Parklands, Christchurch.

Rik Tindall Standing for Environment Canterbury - Christchurch South Ōwhanga

Kia ora, hello Banks Peninsula, Port Hills

and South Christchurch residents.

Te mana o te wai - top respect for water -

guides local government: when water

status is good, so is all life around it. The

four shared wellbeings - social, economic,

environmental and cultural - grow as values

built on pure aquifers, clean surface water

and secure domestic supply, with prioritised

care - kaitiakitanga. With service experience

2007-2010 from Save Our Water campaign,

I ask your vote of support again, returning

democracy and public oversight to Canterbury

Regional Council.

Biosecurity brings rural and urban people

together, against pest animals and plants that

undermine our economy and biodiversity.

As a Predator Free Port Hills coordinator

for Cashmere, I work with the Summit Road

Society, Banks Peninsula Conservation Trust,

DOC and council staff, to help our communities

protect the native species we all treasure.

Parallel to the Canterbury Water Management

Strategy and Zone Committees our elected

Ecan helped found, this collaboration shows

how all society can work together, for the

common good.

Emergency preparedness can't be forgotten

and was the portfolio chair I held for the last full

elected Ecan board, before the earthquakes.

I have deepened readiness awareness

from then since, as a city civil defence and

residents' group volunteer. I would help all

communites advance thorough emergency

response plans. Disasters can strike any

time, lest we forget. Harbour safety and public

transport are important. Climate change

mitigation work is most urgently essential to

begin.

More information: www.CommunityVoice.nz

+ 027 406 0077 + riktindall1@gmail.com

Authorised by Rik Tindall, 98 Hackthorne Road, Christchurch 8022.

Darryll Park Standing for Christchurch Mayor

Hello there, I am Darryll Park, a proud

Cantabrian, and extremely passionate about this,

our city of Christchurch.

I have lived and worked in and around

Christchurch all of my life.

In the past I was the CEO of Christchurch

& Canterbury Marketing Ltd, and I helped

to reposition Tourism under the government

Tourism 2010 Strategy, as well as past board

member of Civil Aviation Authority & Aviation

Security Services, two government agencies and

was employed as Air NZ South Island Manager

until 1998.

Nowadays I am the co-owner of Oxford

Management Services, a property development

and management company supporting

hospitality, Chair of Mondo Travel Group, and a

Director of the Canterbury Rugby Union and the

Crusaders.

What I'm standing for

I am standing as a Mayoralty candidate for

Christchurch in the upcoming elections. I am

campaigning to 'Move Christchurch Forward',

with a focus on common sense, a back to basics

approach and better ways to move us forward.

Why am I doing this?

Quite simply, I want to restore public trust in

Christchurch's local leadership and with your

help, do what's needed to be done to make

Christchurch, New Zealand's most liveable city.

This will mean being accountable and

transparent to you, the voter, ratepayer, resident

and business community. Our key areas of

focus are rates, water, infrastructure, tourism,

sustainability, institutions and events, crime and

communities. I will be revealing our policies over

the coming weeks.

There is much to be done, and if elected, I will

stand aside from my current business interests

and governance roles to ensure my focus on this

city is absolute.

Thank you for your interest, and if you want to

help move Christchurch forward, I look forward

to your vote.

Authorised by Darryll Park, Christchurch Mayoral candidate, 400 Pound Road, Yaldhurst, Christchurch 7676.
---
18

Tuesday October 1 2019

Tasty Bites

Latest Canterbury news at starnews.co.nz

SOUTHERN VIEW

Sweet vegan classics from Asia

Try a vegan take on

some Asian classics

Indonesian crumpets

Makes 20

Ingredients

250ml (1 cup) soy or coconut

milk

7g sachet dried active yeast

1 tsp coconut sugar

300g (2 cups) plain flour

2 tsp bicarbonate of soda

1 tsp sea salt

1 tsp vanilla powder

Olive oil or vegan butter, for

greasing

Suggested toppings:

Coconut yoghurt, vegan butter,

pure maple syrup, fresh berries,

shredded basil leaves, dried

edible flowers, hemp seeds, icing

sugar.

Directions

Gently warm the soy or

coconut milk and 250ml (one

cup) of water in a saucepan

over low heat until just warmed

through (don't warm the liquid

too much or you will kill your

yeast). Pour the liquid into a

bowl and add the dried yeast

and sugar. Set aside in a warm

place for 15min or until the

surface starts to foam. Sift the

flour, bicarbonate of soda, salt

and vanilla into a large bowl.

Add the yeast mixture and stir to

combine. Place a clean damp tea

towel over the mixing bowl and

set aside for 35-40min or until

the mixture is risen and bubbly.

Heat the oven to 100 deg C

fan-forced. Lightly grease a large

frying pan and set over mediumhigh

heat, then lightly grease a

few egg rings and place them in

the pan.

Stir the mixture again – it

should look like thick, bubbly

pancake batter. Add 60-125ml

(¼ cup-½ cup) more water to

reach the desired consistency if

necessary.

Spoon two to three

tablespoons of the mixture into

each egg ring. Cook for 2min

or until the tops are completely

covered in bubbles and the

batter is dry. Remove the egg

rings, transfer the crumpets

to a heatproof plate and keep

warm in the oven. Repeat with

the remaining mixture to make

about 20 crumpets.

Serve the warm crumpets with

your favourite toppings.

Any leftover crumpets will

keep in an airtight container in

the fridge for two to three days

or in the freezer for up to two

weeks.

Chana masala

Serves 2

Ingredients

2 Tbsp avocado oil

1 onion, diced

400g can whole tomatoes

400g can chickpeas, drained and

rinsed (see tip)

2 tsp coconut sugar

2 Tbsp freshly squeezed lemon

juice, plus lemon wedges to serve

Sea salt

Chopped coriander leaves, to

serve

Steamed basmati rice or garlic

Naan to serve

Masala curry paste

2-3 long red chillies, roughly

chopped

3 garlic cloves, roughly chopped

2 tsp ground cumin

2-3cm piece of ginger, roughly

chopped

1 tsp ground turmeric

1/2 tsp sea salt

1 tsp black peppercorns

1 tsp garam masala

1 tsp ground coriander

1 tsp brown mustard seeds

Directions

Using a large mortar and

pestle, pound the masala curry

paste ingredients for about

10min or until you have a

smooth paste (alternatively,

you can use a small food

processor.)

Heat a saucepan over medium

heat, add the oil and curry paste

and saute for 30sec.

Add the onion and saute for

2min, then stir through the

tomatoes and chickpeas.

Reduce the heat to low and

simmer for 30min or until

reduced to a thick curry.

Remove the pan from the heat,

stir through the sugar and lemon

juice, then taste and add a little

salt, if necessary.

Sprinkle the chana masala

with coriander and serve with

steamed basmati rice or garlic

naan on the side and lemon

wedges for squeezing over.

Tip: Keep your chickpea liquid

(aquafaba) to make sriracha

mayo or caesar dressing.

www.bigbrothersbigsisters.org.nz
---
SOUTHERN VIEW Latest Canterbury news at starnews.co.nz

Tuesday October 1 2019 19
---
20

Tuesday October 1 2019

Shop

Win

& Relax

Latest Canterbury news at starnews.co.nz

WIN

1 OF 5 FAMILY

GETAWAYS

TO HANMER

SPRINGS

SOUTHERN VIEW

more

chances

to win!

Enter every time you shop at any of these participating businesses

NATIVE PLANT NURSERY

speCialisTs in

• Groundcovers

• Ferns

Trees for CanTerbury

• Grasses

• Small to big sized shrubs

Helping our community grow

• Shelterbelts

• ALL grades

www.treesforcanterbury.org.nz

• Expert advice

• Planting now

42 Charlesworth Street | Ph/Fax (03) 982-1028 | OPEN 7 DAYS

I can see

clearly now

GREAT BUY!

$29.60

BARRINGTON, 256 Barrington Street | PH 332 1730 | www.suckling.co.nz

JEWELLERY REPAIRS

• Re-thread broken necklaces

• Re-knot pearls

• Magnetic clasps fitted

• All jewellery repairs at any level

79 Wrights Road, Middleton

Ph: (03) 338 0171

Jewellery & Giftware

HOURS: Mon-Fri 9am-5pm, Sat 9am-1pm

Email: sales@warrenagencies.co.nz

www.warrenagencies.co.nz

The Body's Youth Protein

NEOCELL COLLAGEN SUPPORTS:

- Reduction in lines & wrinkles - improved skin elasticity

- Strong hair & nails, may help reduce hair loss

- Supports bone, ligaments, tendons & joint health

MARSHALLS HEALTH & NATURAL THERAPY

CONSULTING - PRESCRIBING - DISPENSING -

MANUFACTURING - MEDICAL HERBALISTS

101 SEAVIEW RD, NEW BRIGHTON • PH 03 388 5757

Email: enquiry@marshallshealthshop.co.nz

NEOCELL PREMIUM COLLAGEN IS

CLINICALLY RESEARCHED

FOR SUPERIOR RESULTS

SUPER LOW PRicE!

120's only $36.90, save $5.75

250's only $56.90, save $9.75

Mail Order Available

Bringing You the Best in

Natural Health!

- WE ARE ALWAYS HAPPY

TO HELP! -

Bring in this coupon for

GIFT CARDS

BUY ONE

ONE FREE

GET

• Barrington Mall

• The Hub, Hornby

• New Brighton Mall

• South City Centre

Conditions apply, free gift card same price or less, one deal per coupon. Offer expires 20th October, 2019.

FREE Courtesy Cars

All insurance & private

work welcome

302 Travis Road, North New Brighton

Phone: 03 388 5187

E: qe2collisionrepairs@outlook.com

Designer Fashion

• Designer Brands

• Family Clothing

• Menswear

• Footwear

• Bric-a-brac

• Books

• Household Goods

• Workman

Outdoor Clothing

• See the Retro

Section AND

Formal Wear

New Zealand's Largest Recycled Clothing Retailer

39 Battersea Street, Sydenham. Open 7 days 10am - 4pm

See Our

HUGE

Selection!

3000

items

arriving

daily!

Authentic Thai Cuisine

Lunch Special

Tuesday - Saturday

FROm

$10

HOON HAY THAI RESTAURANT

Open 6 Days • Lunch & Dinner

9 Coppell Place. Phone 339 0320.

www.everybodysbutchery.co.nz

ham on

the bone:

pre-order

for

christmas

372 Selwyn St

Ph 366 4947

Go Karting at

Christchurch's

Premier

Indoor Track

FUN

FOR ALL

AGES

91 Buchan Street, Sydenham

Phone 03 374 9425
---
SOUTHERN VIEW Latest Canterbury news at starnews.co.nz

Tuesday October 1 2019 21

WHY CHoose

for Your next VeHICLe?

It's in our name

- Value!

A vehicle from

Value Cars will have

the best presentation,

best mileage and best

price combination.

We have been

trusted in Canterbury

for over 25 years and a

majority of our customers

are referral or repeat

customers. We stand by

every vehicle and we are

proud of our service.

One location for

every type of vehicle

and under cover makes

for a pleasant buying

experience. Our colour

and low mileage selection

is something we work

hard to provide.

CANTERBURY OWNED

& OPERATED

ESTABLIShED 1993

VALUE

REPUTATION

SELECTION

TRUSTED

PLUS

REGISTRATION

2014 toyota yaris

$11,999

The Yaris is a very economical and spacious family

5 door hatch, features a 1.3L engine with automatic

trans, NZ New, cruise control, Bluetooth, reverse

camera, keyless entry, rear wiper, low kms, safety of

ABS, T/C and 9 airbags, stands out finished in red,

won't last long!

PLUS

REGISTRATION

2014 toyota prius

$17,999

Very well sought after fuel efficient vehicle, features

a 1.8L engine with Hybrid Synergy Drive and

automatic trans returning 5.5 star fuel efficiency,

looks sharp in classic silver on 15" black alloys with

factory wheel covers, travelled very low kms, push

button start, safety of ABS, T/C and 8 airbags.

PLUS

REGISTRATION

2013 Renault lutecia

$13,999

'Supermini' European hatch, features a 1.2 litre turbo

charged engine with tiptronic trans, looks really good

in white with factory body kit and stylish black interior,

cruise control, push button start, rear wiper, low kms,

ABS and 4 airbags, very stylish vehicle, inspection won't

disappoint!

PLUS

REGISTRATION

2012 nissan note

$10,999

The Note is an economical, spacious, practical everyday

commuter, features a 1.2L engine with automatic trans

and 5.5 Sytar fuel efficiency, stands out finished in blue

with stylish black interior, smart keyless ignition, rear

wiper, low kms, ABS and airbags, view now!

PLUS

REGISTRATION

2009 MaZDa DeMio

$11,999

The Demio is a very popular and surprisingly spacious 5

door hatch, "sport" model, features the slightly peppier

but still economical 1.5 litre engine with automatic

trans and 5 star fuel efficiency, looks good in silver with

body kit, driving lights and 16" alloys, travelled very low

kms, smart keyless ignition, come and view now!

PLUS

REGISTRATION

2001 bMw cabriolet

$8,999

The 330i Cabriolet is a desirable RWD European

4 seater soft-top sports tourer, NZ New, features

a 3.0L engine with tiptronic trans, looks great in

gold metallic wtih black soft-top, driving lights

and factory 17" alloys, cruise control, rear parking

sensors, keyless entry, good kms, ABS, T/C.

PLUS

REGISTRATION

PLUS

REGISTRATION

2008 Mitsubishi galant

$8,999

Good looking sporty 4 door sedan, features a 2.0L

engine with tiptronic trans and 4 star fuel efficiency,

looks great in light gold metallic with spoilers and

17" alloys, dark part leather interior, towbar, low kms,

cruise control, reverse camera, keyless entry, ABS,

T/C and airbags, great vehicle and great buying.

PLUS

REGISTRATION

PLUS

REGISTRATION

2006 honDa inspire

$7,999

A luxury inspired family sedan, features a powerful

3.0 litre V6 engine with tiptronic trans, looks sharp

in silver with driving lights, 16" alloys, plush black

interior with woodgrain accents, cruise control,

keyless entry, reverse camera, smart keyless ignition,

ABS, T/C and airbags, test drive won't disappoint!

2017 nissan bluebirD sylphy

$15,999

The Bluebird has long been a popular choice

for those wanting an economical, reliable and

comfortable family sedan, features a 1.8 litre engine

with automatic trans, looks sharp finished in white

with chrome detail, travelled very low kms, reverse

camera, keyless entry, ABS, T/C and airbags.

2009 subaRu legacy

$13,999

The Legacy is a very desired sports sedan and this

example doesn't disappoint, features a powerful

2.5 litre engine with tiptronic trans and paddleshift

option, stands out finished in wine red with factory

body kit, driving lights and 16" alloys, desirable

black interior, push button start, worth a look!

PLUS

REGISTRATION

PLUS

REGISTRATION

PLUS

REGISTRATION

2010 nissan lafesta

$7,999

Facelift model, 7 seater, features a 2.0 litre

engine with automatic trans, looks sharp in white

with driving lights and 15" alloys, smart keyless

ignition, black interior, rear wiper, ABS and

airbags, worth a look if you're in the market for an

economical, spacious and versatile family wagon!

PLUS

REGISTRATION

2008 subaRu forester

$12,999

Practical, well built and enjoyable to drive, the

Forester offers excellent balance, features a 2.0 litre

turbo charged engine with tiptronic trans, AWD,

cruise control, heated/powered front seats, reverse

camera, driving lights, 17" alloys, keyless entry, rear

wiper, ABS, T/C and airbags.

PLUS

REGISTRATION

2010 toyota wish

$11,999

Very popular and well sought after wagons,

features a 1.8 litre engine with tiptronic trans,

room to seat 7, finished in grey with stylish black

interior, keyless entry, rear wiper, push button

start, ABS and 8 airbags, fast sellers so don't

delay!

2006 auDi a4

$8,999

Stylish European 5 door wagon, features a 2.0L

engine with tiptronic trans, looks sleek finished

in silver with driving lights, brushed alloy roof

rails and 16" alloys, parking sensors, keyless

entry, rear wiper, safety of ABS, T/C and 8

airbags, upgrade your family wagon today!

2012 MaZDa cX-5

$22,999

Modern tech-savvy SUV, features a 2.0 litre SkyActiv

engine with i-stop and tiptronic trans giving class leading

4.5 star fuel efficiency, wine red with contrasting black

factory body kit, driving lights and 17" alloys, stylish

black interior, rear vehicle monitoring, push button start,

ABS, T/C and multiple airbags, be quick – fast sellers!

Registration for 6 months is $301

Value Cars Warehouse

4.72

32 Moorhouse Ave, P: (03) 366 7768 IMVDA

www.valuecarswarehouse.co.nz
---
22 Tuesday October 1 2019

Latest Canterbury news at starnews.co.nz

SENIOR LIVING

SOUTHERN VIEW

Hydrate to elevate

We all know drinking water is important, but the

majority of us simply don't drink enough even though

we know it makes us feel great when we do. We look

at the benefits and motivate you to drink more with a

few tips on how to make it just a little more palatable.

With over a quarter of Kiwis

consuming less than two glasses of

water a day and only 5% drinking

more than the recommended eight, the

message obviously hasn't hit home on

the importance of hydrating our body.

A recent survey conducted by

SodaStream found that Cantabrians

are particularly guilty when it comes to

their water intake.

With 82% drinking less than six

glasses of water a day, but with over 85%

admitting they feel healthier when they

drink more water, something needs to

be done to bridge the gap in terms of

what we know to be true and what we're

actually doing about it.

This same survey revealed that

although 41% of us limit how many soft

drinks we consume due to our concerns

over sugar content, the same number

of people said tea or coffee is this their

number one drink of choice.

Some people even believe that the

water consumed in their cup of Joe

constitutes part of their water intake.

This is a fallacy.

As caffeine actually dehydrates us, as

does alcohol too, it means we need to

drink even more water to compensate.

Not so surprisingly the reason we

don't drink nearly enough water is that

we simply forget. Now with apps you

can download direct to your smart

phone, there are no more excuses.

Further studies proved that people

who had a SodaStream machine in their

homes were more likely to drink more

water.

In fact, the study showed that people

drank 30% more water.

For those of us who aren't used to

drinking water like it's going

out of fashion, there are plenty of ways

to increase the fun factor while still

being healthy.

After

Before

By simply turning tap water into sparkling water with a

SodaStream machine and adding a splash of fresh lemon juice

or naturally squeezed fruit juice, is bound to have a positive

impact on our health and wellbeing.

INSPIRING

INDEPENDENT

living

Spring is in the air and with our

range of helpful products, we look to

help people achieve their objectives by

reducing barriers of daily living.

• Shop and hire helpful products to reduce barriers of daily living.

• Mobile Services – Fun presentations coupled with demonstrations of

how to use some of the products we stock. We come to you in your

community. For more information contact Kylie Taylor on 022 676 5851

or 03 366 6189.

• Disability Information: Unbiased information, we are here to listen

and help.

• Total Mobility Scheme – call for a chat about this service. 50% off Taxi's

for those eligible. Terms apply.

Contact us for a chat.

314 Worcester Street,

Linwood, Christchurch

Ph: 03 366 6189

Freephone: 0800 347 242

Ph: (Total Mobility) 03 366 9093

Aspire Canterbury is a not-for-profit organisation providing services to the community since 1981

E: manager@aspirecanterbury.org.nz | W: www.aspirecanterbury.org.nz

A Leader in

Healthcare

Excellence for

the Older Person

Brookhaven

Retirement Village

29 Alport Place

Woolston

Phone 03 384 5046

Albarosa

Dementia

80 Harewood Road

Papanui

Phone 03 375 0727

Somerfield

Dementia

137 Barrington Street

Somerfield

Phone 03 332 5897

www.goldenhealthcare.co.nz

Golden Age

Retirement Village

96 Harewood Road

Papanui

Phone 03 375 0720

Camellia Court

Dementia

84 Harewood Road

Papanui

Phone 03 375 0722

Hoon Hay

Dementia

16 Anvers Place

Hoon Hay

Phone 03 379 7825

Lady Wigram

Retirement Village

Sarah Jacobson

Village Manager

210 Kittyhawk Ave,

Wigram

Phone 027 3411 464

you can stop him

snoring with a

SNOREX

Why put up with a broken

night's sleep?

Ph 377-4318 or 027 682 1752

DENISE LIM

FOR A FREE INFO PACK

Website: www.snorex.co.nz

Would you

like to profile

and grow your

Business?

For feature advertising

please phone

Jenny Wright

03 364 7446 or 021 220 3484

jenny@starmedia.kiwi
---
SOUTHERN VIEW Latest Canterbury news at starnews.co.nz

Tuesday October 1 2019 23

SENIOR LIVING

Cleansed and cured?

Many common health problems can

all be easily solved with one simple

approach according to a leading New

Zealand Medical Herbalist Brett Elliott.

He found in his clinical practice that

most of his clients have similar common

health complaints and that it all could be

traced back to digestive disorders. Did

you know up to 50% of the population

suffer from common health conditions

like; chronic constipation, acid reflux,

bloating, gas, ulcers, irritable bowel

syndrome, crohn's disease, coeliac

disease, haemorrhoids, gallstones,

cancer, diabetes, high blood pressure,

abdominal weight gain, skin complaints

and many more and can all come back to

a poor digestive system.

He wanted to find a simple solution

everyone could use to support their

bodies natural healing without the side

effects of pharmaceutical medications

that often only ease or cover the

symptoms without healing as well as

often having many side effects. Brett

knew everything in the body depends on

the digestive system working properly

and so went about developing "The

Ultimate Herbal Detox Body Cleanse

Program" a simple to use two week

program. It not only supports the whole

digestive system but also helps cleanse

the entire body of toxins and parasites.

The program contains four different

all herb formulas all in capsule form

that need to be taken twice daily. These

capsules can be blended into a smoothie

if you prefer. Colon-aid is designed to

support a healthy bowel movement,

increases the secretion of gastric

juices and bile and promote appetite

and digestion. Digez-aid soothes and

stimulates healthy

digestion and

absorption of

vital nutrients.

Sym-lax is a

bulking fibre to

cleanse and heal

the intestines

and bowels. It

also makes you

feel less hungry.

Liva-food is the

final nutrient

rich formula to

support a healthy

liver function.

It supports

detoxing the

body of toxins

and heavy

metals.

The program supports the bodies'

organs to do their job. The formulas are

New Zealand made and contain a total

of 24 high potency herbs making it quite

possibly the most comprehensive "do

it yourself " herbal detox body cleanse

program in the world. Brett has refined

the formula over 20 years and has now

sold over 100, 000 kits world-wide. He

regularly receives incredible feedback

from users with many re-doing the

program once or twice yearly.

With toxic overload and many

diseases sky-rockerting now is the

time to make a positive change by

cleansing, nourishing and helping build

your body to a better health.

The Ultimate Herbal Detox and

further information is available

from the Natural Health Advisers

and Medical Herbalists at Marshall's

Health & Natural Therapy, 101 Seaview

Road, New Brighton, Phone: 388-5757.

We are always happy to help!

CLEANSED AND CURED?

Did you know around 50% of

the population suffer from

common health problems

that may be easily

eliminated by restoring

healthy body function?

Knowing this N.Z.

leading medical herbalist

"Brett Elliott" wanted to find

a simple solution everyone

could use. He developed "The

Ultimate Herbal Detox Body Cleanse

Program" to support cleansing the

body of stored waste matter, toxins, parasites & heavy

metals etc. Brett also knew he needed to support the vital

organ function so health could be restored & so included

natural herbs in the program to achieve this. Brett has

refined the program over 20 years & has now sold over

100.000 kits world-wide. He regularly receives incredible feedback from users.

SUPER

SPECiAL

ULTIMATE HERBAL

DETOX KITS

ONLY

$148.90

SAVE $51

DO YOU SUFFER FROM:

• Constipation • Ulcers

• Acid reflux • High blood sugar

• Bloating & gas • Eczema,

• High blood psoriasis & other

pressure

skin complaints

• Abdominal • Cancer

weight gain • Poor health

SEMINAR:

Brett Elliott will be running

a seminar "Understanding

the causes & solutions

for most common health

problems" & will be able to

answer all your questions.

Further details from us.

NOW IS THE TIME TO MAKE A POSITIVE CHANGE BY CLEANSING,

NOURISHING & HELPING BUILD YOUR BODY TO BETTER HEALTH!

Bringing You the Best in Natural Health! MAIL ORDER AVAILABLE

mARShALLS hEALth & NAtURAL thERAPY

CONSULTING - PRESCRIBING - DISPENSING - MANUFACTURING - MEDICAL HERBALISTS

101 SEAViEw RD, NEw BRightoN • Ph 03 388 5757 • Email: enquiry@marshallshealthshop.co.nz

- kNowLEDgE mAkES thE DiffERENCE -

Modern Lifestyle Living

33 Connolly Street, Geraldine

P 0800 845 524 or 03 693 8340 E sales@mlv.org.nz

www.mlv.org.nz

ACCREDITED VILLAGE OF THE RVA
---
24 Tuesday October 1 2019

Latest Canterbury news at starnews.co.nz

SOUTHERN VIEW

We're for

local

voices

From Kaikoura,

to Christchurch,

to Ashburton,

we have it covered
---
SOUTHERN VIEW Latest Canterbury news at starnews.co.nz

Tuesday October 1 2019 25

REAL ESTATE

Resplendent

resort-style living

26 Kaikainui Lane, Clearwater, Harewood

Auction: Thursday 10 October 2019, Unless Sold Prior

4 bedrooms | 4 bathrooms | 2 living rooms | 1 dining room | 1 swimming pool

2 car-garage | 8 off-street parks | Listing Number: PI59583

A design masterpiece and recipient of six

national and regional awards, this executive

home was crafted by O'Neil Architecture

and built by multi award winning Metzger

Builders Ltd (MBL). Sublime style and

unparalleled luxury sets the tone for this

grand residence showcasing world class

architectural excellence and state-of-theart

technology. Spectacularly positioned

on 3,427sqm, this luxurious home offers

an escape from the everyday in a breathtaking

location, boarding the Kaikainui

Stream. This exquisite residence is designed

for lavish entertaining inside and out.

Impressive dimensions and an abundance of

accommodation with resort style amenities

provide the ultimate lifestyle. No expense

has been spared to create a magical - yet

eminently functional - executive home.

Sleek and sophisticated, the stylish interior has

been cleverly composed to reveal delightful

spaces at every turn. Interior living spaces

wrap around a stunning outdoor room with

full-height glazed panels and sliding doors

and an opening louvre roof for year-round

al fresco living. Inside, open-plan living and

dining flows to a high-spec kitchen boasting

stone counters, butler's pantry, and drawers

and cupboards with electric servo operation.

Sliding doors push back to outdoor living

on two sides and stacking windows in the

kitchen open to the main terrace and pool for

effortless entertaining. A separate media room

offers a mirror TV, drop-down projector and

home theatre, a gas fire and garden views.

Upstairs, the master bedroom is a palatial

retreat, with wrap-around glazing and a

balcony for absorbing the tranquil outlook,

and is served by a sumptuous tiled en-suite

with twin vanities and bath. Three more

bedrooms all feature en-suite bathrooms,

and the extensive extras include built-in

wine storage for 250+ bottles, smart wiring

and ducted air-conditioning. All of this is set

in picturesque grounds, fully appointed for

entertaining with an infinity pool, in-ground

spa, gazebo with fire pit and multiple outdoor

sitting areas totalling 250 sqm.

This remarkable home offers the ultimate

in opulence and comfort for contemporary

resort-style living in a tranquil, semi-rural

location. Homes of this calibre are all too rare.

To arrange a private viewing phone

Cameron Bailey on 352 6166 or mobile

0275 557 079 of Harcourts Gold Papanui

(Licensed Agent REAA 2008)

growing with you June 2018 | 100%

Plants For

winter wow

Cool Choices

For Colour

& Contrast

From swamp

to sea views

The journey

begins with sarah

the Gardener

$7.90 incl. GST

Snap it up

Enter our annual

Birdlife Photo

Competition to win

great prizes!

clear the air

Why groWing

indoor PLAnTs is

so good for you

give it a grow

from gArLic

To chinese

ArTichokes,

We hAve your

groWing TiPs

covered

the latest releases

into the rose world

+ rose care

through winter

The magazine for

gardeners who like to get

their hands dirty

SUBSCRIBE FROM

$43. 50*

*6 issues/6 months

SUBSCRIPTIONS FREEPHONE

0800 77 77 10

WWW.GARDENER.KIWI
---
26

Tuesday October 1 2019

Latest Canterbury news at starnews.co.nz

SOUTHERN VIEW

PICK IT UP AND DRIVE AWAY

Showcasing thousands of cars for sale and

the best value from Canterbury's most trusted

motor vehicle dealers every week!

Out every Friday and available free from our pick up locations

across Christchurch, Canterbury and the West Coast.

Don't miss it – in your local Supermarket, Shopping mall,

Fuel station, local food outlet or one of our other

hundred pick up locations.

Bringing buyers and sellers

together every week

For advertising enquiries

please phone 379 7100
---
SOUTHERN VIEW Latest Canterbury news at starnews.co.nz

Tuesday October 1 2019 27

Classifieds Contact us today Phone our local team 03 379 1100

Car Parts

Trades & Services

Trades & Services

Trades & Services

Trades & Services

TYRES Secondhand,

most szs from $30 - $70

fitted, Also batteries, 217

Waltham Road, 027 476

2404

Curtains

www.curtainfabric-outlet.com

Fashion Designs & Colours

Discontinued Designs

End of Lines Bargain Prices

Call at Our Shop

CURTAIN FABRIC OUTLET

71 Hawdon St Sydenham

Ph 366-5026

Gardening

& Supplies

A GARDEN OR

LANDSCAPING TIDY

UP? Shrub, hedge &

tree pruning, Lawns,

Gardening, consistently

reliable general property

upkeep, Dip. Hort. 10

yrs experience, One off

tidy ups or on-going

service. Nick's Garden

Maintenance. Keeping

your garden beautiful.

Free Quote. Ph. 942-4440

& 022 264 7452

Holiday

Accommodation

Australia QLD

SUNSHINE

COAST

RESORT

ALEXANDRA HEADLAND

All Units Have Ocean Views.

Heated Pools, Spa & Sauna,

Free Wifi, Tennis

& Mini Golf.

CHECK OUR GREAT

WINTER SPECIALS

www.mandolin.com.au

0061 7 5443 5011

JUNE to AUG temps 20C

ADD SOME

COLOUR

TO YOUR ADVERT!

• New homes

• Extensions

• Renovations

Builder

• Light Commercial

• Repairs and

Maintenance

Brandon Taw

Phone 027 370 2572

enquiries@tawbuilders.co.nz

www.tawbuilders.co.nz

DRIVEWAYS

Exposed Aggregate

Stamped Concrete Plain

Concrete Resurfacing

Things we offer...

Competitive/affordable pricing

Attention to detail

Professional service

free quotes/insurance scopes

Cell 0278 145 848

www.drivecrete.co.nz

YOU COULD

BE HERE

Let us help take

your business to

new heights

Advertise your business in our

Trades and Services column.

For assistance contact Vicky

Phone 03 364 7419 or email

vicky.sayers@starmedia.kiwi

PAINTING & TILING

• PAINTING • TILING

• PLASTERING

• WALLPAPERING

Phone Kevin Steel

• Interior/Exterior

• New Homes & Repaints

• Quality workmanship assured

• Correct preparation always undertaken

• 20+ years experience

• Earthquake repairs

(Painting/Plastering/Wallpapering/Tiling)

Ph 381 7417 or 027 216 8946

www.facebook.com/kevinsteelpainters&decorators

Trades & Services

HOUSE

CLEARING

Are you

moving house

or trying to

downsize?

Call All Clear

Canterbury. We work

with you to recycle,

sell and dispose of

unwanted items.

Ph: 03 260 0934

or 021 078 4553

raewynlcooke@gmail.com

www.allclearcanterbury.co.nz

ROOF

PAINTING

Rope & harness

a speciality,

no scaffolding

required,

30 years of

breathtaking

experience.

FREE QUOTES

Exterior staining,

exterior painting,

moss and mould

treatment and

waterblasting

Phone Kevin

027 561 4629

Trades & Services

rooF

painting

Book now for

Summer and

receive 20%

discount.

Rope and harness

a speciality.

No scaffolding

required.

30 years

experience.

Free quotes,

call Craig

021 060 2392

Trades & Services

AAA HANDYMAN

licensed carpenter

LBP, all property and

building maintenance,

repairs, bathroom/shower

installations, with free

quotes 03 383 1927 or 027

245 5226 ciey@xtra.co.nz

BRICKLAYER

George Lockyer. Over

40 years bricklaying

experience.Uk trained.

Insurance work, EQC

repairs. Heritage

brickwork & stonework

a speciality. No job too

small. Governers Bay.

Home 329 9344. Cell

027 684 4046. E mail

georgelockyer@xtra.co.nz

CARPET LAYING

Exp. Repairs, uplifting,

relaying, restretching.

Phone John on 0800

003181, 027 240 7416

jflattery@xtra.co.nz

CARPETLAYER

35yrs experience. Special

rates for seniors. Prompt

service. Ph 021 046 0231

PAINTING

Indoor / Outdoor, over 30

yrs exp, same day quotes,

ph Steve 021 255 7968

PAINTER

Specialising in roof &

fence painting. Very

competitive. Phone Brent

027 241 7471

PAINTER INT/EXT

Comp rates. Ph 385-4348,

027 274 3541

SPOUTING CLEANING

Spouting Unblocked,

Cleaned Out and Flushed

Out. Call Trevor 332 8949

or 021 043 2034

STUMP GRINDING

Best price guarantee Tony

0275 588 895

T.V. SERVICE

CENTRE

Repairs, tvs, microwaves,

audio amps, soundbars.

.Aerial & satellite

installations, kitsets, 480D

Moorhouse Ave, ph 03 379

1400

VHS VIDEO TAPES

& all camera tapes

converted to DVD, video

taping special occasions,

www.grahamsvideo.co.nz

ph 03 338-1655

Wanted To Buy

AAA Buying goods

quality furniture,

Beds, Stoves, Washing

machines, Fridge Freezers.

Same day service. Selwyn

Dealers. Phone 980 5812

or 027 313 8156

CASH/CASH for any

unwanted vehicles, ph

347 9354 or 027 476 2404

TOOLS Garden,

garage, woodworking,

mechanical, engineering,

sawbenches, lathes, cash

buyer, ph 355-2045

Public Notices

NUDIST GROUP

Expressions of interest in

forming a chaste nudist

group. Write (include

postal address) to PO Box

9051, Tower Junction,

ChCh 8061

WINDOW TINTING

99% uv block

fade protection

heat control

reduce glare

25 Years Experience

Free Quotes Canterbury and Districts

03 365 3653 0800 368 468

ADVERTISE YOUR BUSINESS HERE

tintawindow

advanced film solutions

privacy films

frosting designs

non-darkening films

Workmanship Guaranteed

Lifetime Warranties on Most Films

UV

block

Phone for further details

(03) 379 1100

3 issues $20 • 6 issues $44.50 • 10 issues $65

rugbynews.co.nz 0800 77 77 10
---
28 Tuesday October 1 2019

Latest Canterbury news at starnews.co.nz

SOUTHERN VIEW

LUXURIOUS WOOL

AND NYLON CARPET

UP TO

60 % OFF

TOP FLOOring

BrAnDS

NEW STOCK

JUST ARRIVED

Huge savings! First in, first served!

You'll find all types of top end quality floor stock

at the lowest prices in town! Why not come in

and view our extensive range of beautiful rolls

of wool and nylon carpet, laminates, vinyl,

factory over runs and seconds of top quality

product all at heavily discounted prices!

DEpOT SpECIaLS pLUS MaNy MORE INSTORE

CaRpET

Stock Special 60oz cut pile carpet

Was $149plm now 50% off $74.50 per lineal metre

Production Special 60oz chunky wool (Charcoal colour)

Was $360plm now 60% off $144 per lineal metre

Feltex Heathland, loop pile (Charcoal colour)

Was $169plm now 40% off $99per lineal metre

LaMINaTE FLOORINg

Mountain Oak 12mm Laminate $69 m 2 now 60% off $27.60m 2

Summit Oak 8mm Laminate $45 m 2 now 50% off $22.50m 2

Stirling Oak 8mm Laminate $45 m 2 now 50% off $22.50m 2

FREE

MEASURE

& QUOTE

100 Fitzgerald Avenue, Christchurch

P: (03) 595 1260 | E: sales@carpetdepot.co.nz

Mon–Fri 8:30am–5pm, Sat 10am–2pm, Sun Closed

www.carpetdepot.co.nz