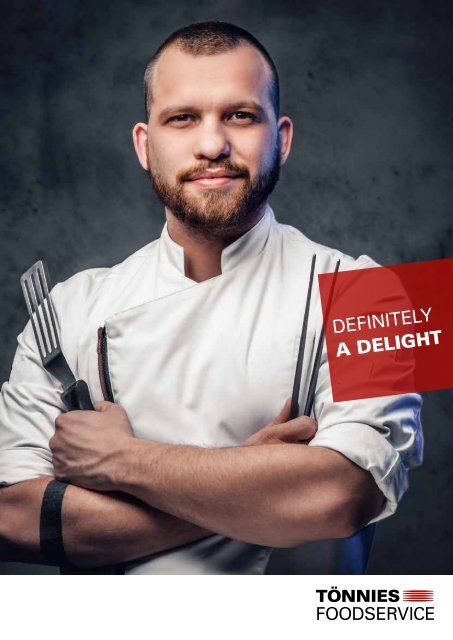 ImageBroschuere Tönnies Foodservice GB
You also want an ePaper? Increase the reach of your titles
YUMPU automatically turns print PDFs into web optimized ePapers that Google loves.
DEFINITELY

A DELIGHT
---
TOP-RANKING IN QUALITY –

AT THE FOREFRONT

OF KNOW HOW

Uncompromisingly good!

For almost 50 years, the Tönnies Group has been synonymous

with the production and refinement of quality meat

at the highest level. Tönnies Foodservice presents itself as

a trend-setting industry specialist and experienced partner

to restaurant owners and caterers, system suppliers, bulk

consumers and industry.

Short production processes and the technical know-how of the

group of companies guarantee your access to a comprehensive

portfolio of fresh raw materials; naturally using the latest technologies

and boundless innovation. Armed in this way, Tönnies

Foodservice's products are perfectly tailored to your specific

requirements.

The Tönnies Group exclusively supplies quality meat from regional

farms. Because cooperation with family farms has a long-standing

tradition at Tönnies. After all, Tönnies itself is not just any anonymous

entity, but has been a family business for almost half a

century. In order to ensure good cooperation and short distances

between the breeding site and the slaughterhouse, Tönnies'

slaughterhouses are located throughout Germany in all relevant

regions in which numerous family farms with animal husbandry

are located. The company is exemplary in its commitment to animal

welfare. The slaughtering processes are designed to comply

with above-average animal welfare rules.
---
DEFINITELY

A DELIGHT
---
SUCCESS IS ON YOUR SIDE

WITH ARTLAND

We are the schnitzel pioneers
---
When the talk turns to the triumph of the perfect

schnitzel in Germany's restaurants and catering

operations the name "ARTLAND Schnitzel" will

inevitably be heard.

Let's take a look at the tranquil Osnabrück region in

1884, where the small, family-operated Artland butcher's

shop developed some extremely tasty products.

What was once small a butcher's shop evolved into

the traditional Artland brand and from then on set the

highest standards as a schnitzel pioneer.

The traditional brand became part of the Tönnies Group

in 2017. Tönnies Foodservice is continuing ARTLAND's

success story and thus expanding its high level of

expertise in the eat-out market.

The ARTLAND brand assortment will be distributed with

immediate effect, both directly and through renowned

partners in the foodservice market.

What counts is what ARTLAND has done to become the

market leader in frozen convenience foods: uncompromising

quality, product safety and an assortment that is

committed to customer benefit.

This includes bestsellers like the "Gold Schnitzel",

the crispy "Knusper Schnitzel", the "Party Schnitzel",

meatballs, snacks & the like. Rural tradition, fresh ideas,

service and partnership are what characterise us, and as

Tönnies Foodservice has shown: "The original is back!"

THE

ORIGINAL

IS

BACK
---
PORTIONING

BOOSTS PROFITS

IQF: Individually Quick-Frozen

Time is money. IQF products save you time and overhead. The

IQF range by Tönnies Foodservice is easy to portion and offers

the highest quality at the lowest cost. Our IQF products are made

from freshly slaughtered raw materials.

After exact cutting, the meat is separated and shock-frozen with

cryogenic cold.

This processing prevents the settling juice from escaping and

keeps the meat colour-stable. In contrast to mechanical freezing,

the cell structure of the meat is perfectly preserved in our freezing

process. One hundred percent of the quality that we

achieve during slaughtering and processing reaches your

kitchen.
---
INDIVIDUALLY

QUICK FROZEN

IQF
---
VARIETY INSTEAD

OF BOREDOM –

IMPETUS FROM NEW

PRODUCTS

Win easily with strong partners
---
No question about it – a product needs to taste really great,

be fun and magically attract guests. And it has to have

the visual appeal that makes the guests' mouths water. An

eye-catching product on the plate is the salt in the soup of

every restaurant owner.

Tönnies Foodservice offers you a high-quality assortment

of extremely creative and tasty products. With this selection

you shape up even before the first bite and score a

Golden Goal with incomparable delights. This means that

you can easily meet your guests' expectations.

Our product development impresses with sound knowledge

of the industry and a sensitivity to new trends that

appeal to all the senses.

The result: "Best of Tellermitte" (Centre-Plate

Champions) – successful new developments that are

taking the food market by storm.

Our latest product innovation, the Mini Gyros Skewer,

helps you establish yourself as a cuisine trendsetter.

The pre-cooked meat skewer with typical gyros seasoning

is available in chicken and pork varieties. The ease and

speed of preparation will impress you. With a cooking

time of only 20 minutes, you can put a piece of Greece

on your guests' plates.

DEFINITELY

A DELIGHT
---
BEING SURE WHAT

YOU ARE

PUTTING ON

THE PLATE

Comprehensive checks for guaranteed quality

If you would like to find

out more, we recommend

our "Dialog" website,

which you can reach at:

www.toennies.de

on the Internet.
---
Freshly slaughtered raw materials, exquisite

ingredients and top-safe production processes

ensure consistent quality; this naturally applies

to both our fresh products and our frozen

convenience products.

Quality assurance is our strongest ally.

We are convinced that comprehensive quality management

forms the basis for maximum product safety and

transparency. For this reason, we have all processes

monitored daily, and hundreds of samples checked by

independent laboratories. And, of course, these are comprehensively

documented. You and your guests benefit

from the successful and assured Tönnies quality principle.

We can proudly claim: "Tönnies Foodservice – definitely

a delight".

Tönnies sets the benchmarks in animal welfare.

Independent and internationally renowned scientists

confirm that the animal welfare standards at Tönnies

are exemplary in the meat processing industry. After

Dr. Temple Grandin, the well-known American animal

husbandry researcher from Colorado State University,

had visited all the companies in the group, she publicly

expressed her appreciation with the words:

"The handling of the animals and the standards at

Tönnies' cattle and pig slaughterhouses comply with

the latest animal science findings and are exemplary".

Empowered through this, we continue to work on optimising

our processes.

Regionality and origin are important criteria – for your

guests, too. This is why we deliver transparency and

reliable answers.

DEFINITELY

A DELIGHT
---
WE PASS THE

BALL TO YOU

So that you can sustainably impress your guests
---
As a chef, you were born with good taste. What counts

for you is satisfied guests. To be able to pass the ball efficiently,

you need consistent quality, assured costing and

reliable partners.

You can rely on Tönnies Foodservice in these respects,

too: your guests will be queueing up. We guarantee high

quality through our unique freshness advantage. And

we guarantee accurate cuts and exact calibration for the

fresh, frozen and convenience foods ranges.

If you have any questions regarding the selection of our

product range, product composition, suggested quantities

and preparation recommendations, our staff will be happy

to assist you at any time.

DEFINITELY

A DELIGHT
---
ROLLOUT

FOR THE INGREDIENTS

OF SUCCESS

You know what you want –

we know what you need

Classic dishes are at the top of your wish list and are something that

menu planning should not be without: whether this be pork goulash,

beef goulash or stews – thanks to our products you can create

sophisticated classics in the twinkling of an eye. We recommend

freshly slaughtered raw materials from our extensive IQF range as

the basic product. Our exact cuts offer an inspiring basis for your

taste compositions in a variety of ways.

Do you attach great importance to the tried and tested recipes, but

at the same time want to try something new and spoil your guests

with eye-catching creations? For example, refine cooked minced beef

to create a spicy wrap and develop tempting burgers from patties in

next to no time. You can present your product creations in a way

that is certain to be successful and easy to cost.
---
DEFINITELY

A DELIGHT
---
THE WAY TO A MAN'S

HEART IS THROUGH

HIS STOMACH, BUT

VISUAL APPEAL

COMES FIRST

Centre-Plate Champions

Schnitzels, meatballs, sausage and burgers! These are the

undisputed favourites at the centre of the plate.

According to the EHI survey 2018, these are the top 4 classics

should not be missing from any menu, otherwise you will be

disappointing many guests.

But there is no need to panic – these delicious basic products

are an integral part of our range.
---
DEFINITELY

A DELIGHT

But we've taken this one step further. Increasingly

demanding food lovers seek a wealth of taste and

visual diversity – far removed from the proven

standard range.

Why not try a new approach? For example, you can

easily tempt any guest to try taste-intensive and juicy

Spare Ribs Single Cuts. Talking of temptation: have you

ever dared to bite into the finely-marbled Allgäu heifer

patty? We can reveal this much: regular guests are

guaranteed!

We can assure you of top service behind the scenes,

the delivery of high-quality meat, inspiration for new

product combinations as well as reliable production

processes and assured costing across the board.
---
WE GIVE YOU TIME

FOR GOOD SERVICE

When your guests are satisfied, so are we

Hats off! You do a top job in the kitchen day after

day and are an excellent host at the same time.

Because you are on the front line and devote all your

attention to the wishes, expectations and questions

of your guests. Whether company catering, clinics,

refectories, day-care centres, or restaurants and

catering, Tönnies Foodservice's demand-oriented

range has the offers that every target group desires.

Throughout our complete product range you can rely

on excellent taste, high quality, uncomplicated preparation

and assured costing.

When talk turns to diversity, origin and product

safety, our cooperation means that you can always

answer your guests' questions. Our employees

are happy to talk to you, and they speak your language.

This cooperation is the basis for satisfied

guests and your business success.

We work on this every day; and preferably

in collaboration with you.

Company catering

Restaurants

Clinics

Refectories/day-care centres
---
DEFINITELY

A DELIGHT
---
...WORLD OF

POSSIBILITIES

Tönnies Foodservice GmbH

In der Mark 2

33378 Rheda-Wiedenbrück, Germany

Phone: +49 (0) 5242 961-0

E-Mail: foodservice@toennies.de

www.toennies-foodservice.de