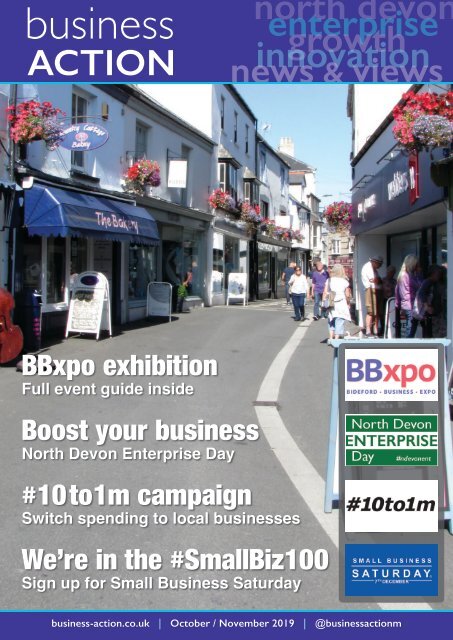 Business Action | October / November 2019
October / November 2019 issue of the independent North Devon-based business magazine covering news about business and enterprise in Barnstaple, Bideford, Braunton, Chulmleigh, Combe Martin, Holsworthy, Ilfracombe, Lynmouth, Lynton, South Molton, Torrington, Woolacombe and more. This issue includes the event guide for the BBxpo business exhibition and networking event in Bideford on Thursday 24 October 2019. Business Action Plan and magazine subscribers receive priority access of new issues of Business Action on publication. Subscribe at http://www.business-action.co.uk/plans
October / November 2019 issue of the independent North Devon-based business magazine covering news about business and enterprise in Barnstaple, Bideford, Braunton, Chulmleigh, Combe Martin, Holsworthy, Ilfracombe, Lynmouth, Lynton, South Molton, Torrington, Woolacombe and more.

This issue includes the event guide for the BBxpo business exhibition and networking event in Bideford on Thursday 24 October 2019.

Business Action Plan and magazine subscribers receive priority access of new issues of Business Action on publication. Subscribe at http://www.business-action.co.uk/plans
SHOW MORE
SHOW LESS
Create successful ePaper yourself
Turn your PDF publications into a flip-book with our unique Google optimized e-Paper software.
usiness

ACTION

north enterprise

devon

growth

innovation

news & views

BBxpo exhibition

Full event guide inside

Boost your business

North Devon Enterprise Day

#10to1m campaign

Switch spending to local businesses

We're in the #SmallBiz100

Sign up for Small Business Saturday

business-action.co.uk | October / November 2019 | @businessactionm
---
CONTENTS

Wills Property Trusts (in will)

Children's Trusts (in will) Funeral Plans

Probate Lasting Powers of Attorney

Wills: £70 Single / £105 Joint

Web site | business-action.co.uk

Online version | business-action.uk

Vol 1 Issue 5 – Oct / Nov 2019 – distribution 2,500 across North Devon

Enterprise................................................................................................................ 1

New laundry offers flexible service............................................................. 2

Clovelly Lectures: Smart people have too much power..................... 2

Media pigs fly with Facebook approval...................................................... 3

High Street.............................................................................................................. 4

Exceptional service drives digital agency................................................ 5

Small Business Saturday................................................................................. 6

Business Action is a #SmallBiz100............................................................. 6

How B2B businesses can get involved with SBS.................................. 6

From £10 to £1 million #10to1m.................................................................... 7

Business Action Advertising Plans............................................................. 7

BBxpo event guide.............................................................................................. 9

BBxpo presentations & free networking lunch...................................... 9

BBxpo exhibitors................................................................................................. 10

North Devon Enterprise Day........................................................................... 11

Expressing your brand in video.................................................................... 11

Quality print plus local service...................................................................... 11

Corporate responsibility recognised by Parliament............................ 14

People....................................................................................................................... 15

Networking.............................................................................................................. 16

A finance provider with a difference........................................................... 17

Untapped Talent recruitment event ............................................................ 18

Virtual Business Partners listen to clients' needs................................ 18

Harness your web site data............................................................................. 18

Business Listings................................................................................................ 19

In the Hot Seat: Mike Matthews of Lineal Software.............................. 20

From vine to bottle in Devon........................................................................... 21

Bringing business ideas to life...................................................................... 21

© Need it Find it 2019. All information in this magazine is published in good faith.

Any views expressed are not necessarily those of the publisher, Need it Find it.

Readers are strongly recommended to seek advice from an appropriate professional

before taking any action on any topic discussed in the magazine and to check full

terms and conditions of any products or services promoted in advertisements.

Visit ideaengine.co.uk to see all the

brands that we have brought to life

online, in print, outdoors and in a

whole host of other ways.

ideaengine.co.uk

01271 324594 or 07974306711

Web, Brand, Advertising, Design, Literature

ii

business action | October / November 2019 | business-action.co.uk
---
ENTERPRISE

business

ACTION

Building a prosperous economy

When we launched Business

Action in February this year,

it was with the idea of raising

awareness of businesses in

and around North Devon and

supporting their growth and

development.

Seven months later, we are

astounded at the response to

the magazine and the support

from local businesses. We are

also surprised and delighted

that we have been selected as

the only business in Devon to

be included in Small Business

Saturday's #SmallBiz100 – 100

businesses from across the

country chosen to represent

and support small businesses.

In fact, events overtook us.

We were already organising

our BBxpo business exhibition

and networking event

on Thursday 24 October

2019 and had created North

Devon Enterprise Day to help

ADVERTISING

Alan Williams

Advertising, Distribution & Publisher

t: 07970 671192

e: alan@business-action.co.uk

businesses take advantage of

national initiatives such as

Small Business Saturday, which

provide free resources and

infrastructure to support them.

Selection for #SmallBiz100 took

this a step further and in order

to maximise this opportunity

for all businesses in the area,

EDITORIAL

Robert Zarywacz

Editor, Designer & Publisher

t: 07971 176044

e: robertz@business-action.co.uk

@robertz

we have launched the #10to1m

initiative to encourage not only

businesses, but also consumers

to change their buying habits.

Let's make it a habit always to

ask where we can purchase

a product or service locally

before resorting to a national

business or online giant.

The take-up of these initiatives

by enthusiastic business

owners is very exciting and we

want to encourage you to join

in with us. Everyone benefits

if we inject money back into

our economy by switching to

buying locally whenever we

can – businesses thrive, jobs are

maintained and created, and

prosperity increases through

the community.

We thank all our supporters,

especially our advertisers,

without whom this magazine

would not exist. To support us,

please consider taking out one

of our affordable advertising

plans for your business. We

also thank all our contributors

and readers.

We do hope you enjoy this

issue and participate in all

the initiatives below for the

benefit of your business, your

employees and the whole area.

Small Business Saturday

is the national campaign to

encourage people to support

local businesses on the first

Saturday of December – this

year on 7 December.

Business Action is delighted

to have been selected as one of

the campaign's #SmallBiz100

for 2019 – one of 100 businesses

across the UK chosen to

represent the campaign and the

only one in Devon.

We will be working hard

during the coming months

to encourage all small businesses

to join in Small Business

Saturday – campaign registration

and resources are free.

>>> PAGE 6

From 10 to a million – that's

what we can achieve if just

over half the population of

North Devon and Torridge

switch £10 of spending from

an online giant or national

company to a local business on

one day – £1 million.

Sounds crazy, but it is

achievable. All we have to do is

to each pause before we make

any purchase – either personal

or for business – and consider

whether we can buy from a

local business.

And when we do buy

locally to share it with the

#10to1m hashtag.

Let's do it!

>>> PAGE 7

BBxpo is North Devon's

biggest business-to-business

exhibition and networking

event and will open its doors

to visitors on Thursday 24

October 2019 at Devon Hall,

Bideford College.

Register your free place(s)

at bbxpo19.eventbrite.co.uk

to attend the business exhibition

and the presentation

programme, which includes

two sessions from the Google

Digital Garage.

The event culminates in

the biggest free lunch in

North Devon – our famous

networking buffet.

See you there!

The first North Devon

Enterprise Day is on Thursday

24 October – the same day as

BBxpo – and aims to celebrate,

inspire and encourage entrepreneurs

across North Devon.

Book for the session at

BBxpo to join in the group

discussion on how entrepreneurs

can work together to

provide support for each other

and build a stronger North

Devon economy.

Join our North Devon

Enterprise Wave and demonstrate

how you are investing,

expanding and succeeding in

developing your business in

North Devon.

>>> PAGE 9 >>> PAGE 11

@businessactionm | October / November 2019 | business action 1
---
NEWS

New laundry offers flexible service

Edwards Laundry Services

has launched in Holsworthy to

provide tailored and bespoke

services for holiday let owners,

hotels and property management

companies.

The company is owned

by Amy Parker and David

Drewery, and named after

their 10-month-old son.

"For the past seven years

I have been managing local

holiday let properties," says

Amy. "Throughout the years

laundry has always been an

issue. Either the larger companies

were not interested, due

to not having an order over

£500 a week, or I would be put

into a contract where we were

builder Phil Cook, SD Martin

Plumbing and Heating, Terry

Graves Electrical and North

Cornwall Bottled Gas and

Solid Fuel Centre.

The response to the service

has been enthusiastic and

customers include hotels and

holiday companies.

"We do not tie companies

into a contract," says Amy.

"I believe our customers

stay with us because we give

them a good service and

quality. We understand that

everyone's requirements will be

different, which is why we offer

tailored and bespoke laundry

services to all our customers."

Amy adds that all staff have

charged even if we were quiet.

previously worked either with

Bespoke laundry services: (from left) David Drewery and Amy Parker

"Three years ago, I started

holiday lets or in hotels so

my own laundering and

bought linen and towels for

a property in Bude. Over the

years, due to demand, it has

just grown."

Dave adds, "It's a new

adventure and an act of faith

in Amy and her staff.

"I saw the amount of

laundry Amy and her staff

would have to do and at times

I was found at the ironing

board, ironing for hours. We

decided to open a laundry

business and employ local

people."

Amy and Dave acquired

their 2,100 sq. ft. premises on

Holsworthy Industrial Estate

in late June. They are grateful

to a range of local suppliers

who helped them prepare

to launch Edwards Laundry

Services in July, including

they care and understand how

important it is to have clean

bedding and that the tablecloths

in a hotel or restaurant

have to have lines that match

up to look right.

■■Details 01409 259872 or

edwardslaundryservices.co.uk

Smart people have too much power

Smart people have too much

power is the topic of the latest

Clovelly Lecture on Saturday

12 October at Clovelly.

The talk will be presented

by David Goodhart, who will

examine 'Democracy in Crisis

– Understanding Political

Disaffection in the West'. As

an influential journalist and

head of the Demography,

Immigration and Integration

Unit at the think tank Policy

Exchange, Goodhart will lead

the discussion, which will

provide the opportunity for

the audience to ask questions

directly on some of the

most important issues of the

current time.

David Goodhart founded,

current affairs magazine Prospect

in 1995, was director of

the London-based think tank

Demos and took up his Policy

Exchange role in 2017. He has

been a correspondent for the

Financial Times, has written

for The Times, The Independent

and The Guardian and

presented documentaries for

BBC Radio 4.

The purpose of Clovelly

Lectures is to provide information

on policy directions

for making informed choices.

They aim to bring influential

people out of the corridors of

power and into a more relaxed

setting where people can meet

them and hear what they have

to say.

The David Goodhart event

includes reception, lecture,

debate and optional dinner.

It runs from 6.00pm from

8.20pm with the dinner

running until 10.30pm.

■■Book on 01237 431200 or

clovellylectures11@gmail.com

Details at clovellylectures.com

Friendly, Reliable, Affordable

• Accounts

• Bookkeeping

• Limited Companies • VAT

• Tax

• Payroll / CIS

Over 20 years experience - Free initial meeting

mail@garethpollardaccountancyservices.com

T: 01409 254817 M: 07811 164428

The Old Orchard | Holsworthy | Devon | EX22 6LT

First Thursday of every month

is Steak Night!

01237 473399

49 Torrington Street, East the Water, EX39 4DP

www.theriverbankbistro.co.uk

email@theriverbankbistro.co.uk

2 business action | October / November 2019 | business-action.co.uk
---
Blind Pig Media, which has

creative hubs in both Bude

and London, has been named

a Facebook official Marketing

Partner. Recognition by a

corporation of this size is a

significant achievement for

the growing digital marketing

agency, and will open up more

opportunities for both the

agency and its clients.

According to Facebook,

"Marketing Partners are

painstakingly vetted not only

for capability and expertise,

but also for a solid track record

of success", meaning that

when a company is in need

A trio of the Bude Blind Pig Team: (from left) Steve Brookes, Alice Edmonds and Erin Michie. Two of the piglets are Hippo and Lily!

Media pigs fly with Facebook approval

of marketing assistance, they

can head straight to this list of

proven partners all across the

world to find an agency who

will help –Blind Pig Media now

being one of them.

The benefits of this recognition

include early access to

new product releases, a direct

connection to the Facebook

team, as well as a wide variety

of training resources and events

right at the tip of the team's

fingers. These can be fed back

to clients, which include SMEs

and FTSE100 companies, to

further improve their digital

marketing and business success.

Exeter ranked a top five UK airport

Exeter Airport has again

been ranked in the top five

of UK airports for customer

satisfaction, according to the

consumer group Which?

Exeter went up one place

this year to fourth out of

17 airports across the UK

with fewer than 10 million

passengers. Based on a range

of member measures, Exeter

scored 73%, up one percent

on the previous report, in the

survey competed by more than

6,000 Which? passengers.

Matt Roach, managing

director of Exeter Airport,

said: "Our passengers appreciate

the convenience of flying

from their local airport and

the Which? survey results

show that our staff at Exeter

Airport have again helped

bring about the high scores for

customer satisfaction."

■■Details exeter-airport.co.uk

Steve Brookes, co-founder of

Blind Pig Media says, "We are

delighted to have received this

partnership accreditation from

Facebook and to be recognised

for our expertise and the results

achieved for our clients.

"I am very proud of the

team's efforts and hard work

that have got us to this stage as

a business, and I am even more

excited for the future of Blind

Pig Media and what's to come."

Blind Pig Media was

originally established in

London and relocated to Bude

in 2016, while retaining its

London presence. One of the

William Bolton, 22, has won

the Exmoor Society's 2019

Pinnacle Award for Young

Entrepreneurs, worth £3,000.

William has a passion for

bee-keeping, learnt from his

grandfather, and is determined

to follow in his footsteps by

producing heather honey

from hives on Exmoor. He will

continue the practice of moving

hives on and off the moor by

reviving these sites and finding

main reasons for moving to

the South West was the level of

creative talent emerging from

Falmouth University.

Client account associate

Alice Edmonds adds: "I also

love the fact that you can get

out for a walk on the beach

in your lunch break or before

work – it definitely helps the

creativity to flow."

The Blind Pig 'litter' now

numbers 14 and its services

range from content creation to

growth and engagement, SEO

and web design.

■■Details 020 3745 65 75 or

blindpigmedia.co.uk

Rural award winner busy with bees

new ones in his enterprise

WBee, based on his initials.

William attended school in

Wiveliscombe before working

on several bee farms in New

Zealand. He said: ''It is an

honour to have been chosen

by the Exmoor Society for this

award and I look forward to

growing my business for the

benefit of the environment and

my community."

■■Details exmoorsociety.com

@businessactionm | October / November 2019 | business action 3
---
HIGH STREET

Fill your own containers in Lynton

After visiting local eco

shops, Val Pugsley wanted

to open her own store and so

started researching products.

On 1 September, Val and

husband Steve accepted the

keys to the shop at 1 Lee Road,

Lynton and opened the doors

of Ginger Nut on 2 September.

Ginger Nut stocks home,

eco and seaside goods and

is building up its range to

include cleaning products

from fabric conditioner to

washing-up liquid, hand soap,

laundry liquid, toilet cleaner,

washing and dishwasher

powder and a lot more.

To reduce waste, customers

are invited to bring their own

bottles to refill and reuse their

plastic containers. Ginger Nut

also sells glass bottles with a

pump, spray or pourer, which

can be refilled again and

again. The store's emphasis is

on products free from dyes

and harsh chemicals and not

tested on animals.

As well as Val and Steve,

the store is staffed by four

assistants include Christine

Bowden, Kelly Peacock and

family members.

The response from the

community has been very

positive and Val intends to

open all year.

■■Details 07811 356711 or

ginger-nut.co.uk

Pannier market plan

Bideford Pannier Market

development officer Helen

Perrson, appointed in August, is

working to increase market use

for businesses and community.

With accommodation for

a potential 17 businesses on

Butcher's Row, eight marketplace

shops and 35 stalls plus

toilets, baby-changing facilities,

café and food outlets all under

cover, Helen aims to develop

events to attract more traders,

families and shoppers.

"We welcome new traders

who want to be part of a

vibrant market," says Helen.

The Pannier Market Hall

is open Tuesdays to Saturdays,

9.00am to 3.00pm from

January to March and 9.00am

to 4.00pm from April to

December; the independent

Butcher's Row and the Market

Place Shops are open Mondays

to Saturdays.

■■Details Bideford Pannier

Market at bideford-tc.gov.uk

Sustainable store: (from left) Christine Bowden, Kelly Peacock

and ginger nut Val Pugsley

Back to nature on the high street

If the high street is at the

centre of the community, then

the community is at the centre

of Nature's Nutrition in Mill

Street, Bideford.

Not only is Nature's Nutrition

a health-food store selling

high-quality foods and supplements

for a range of specialist

and regular diets, but it's also

a co-operative which aims to

support the local community.

Registered as a not-for-profit

community benefit society, individuals

can join as members.

It also strives to care for the

environment and encourages

customers to bring in their own

boxes, jars or pots to fill them

with herbs, spices, cereals, rice,

pulses, dried fruit and other

foods to reduce packaging and

waste. It also stocks refill shampoos,

hand-wash, cleaning and

laundry liquids from ethical

brands including EcoLeaf, Bio

D and Faith in Nature.

There is large range of

products in store, from vegan

protein powders to speciality

teas, and staff are always pleased

to source specific products.

■■Details 01237 425194 or

naturesnutrition.life

4 business action | October / November 2019 | business-action.co.uk
---
NEWS

Do you need to be based in

a city to run a digital agency

with customers across the

world? Andrew Bowers of

Peak Online has proved that

you don't. Originally from

Wales, Andrew now lives in

North Devon and has moved

his business here too.

Andrew started his

first business 10 years ago,

building web sites for local

businesses in Wales. In 2014,

he travelled to Hong Kong,

where a friend was based. On

his first visit, he signed up his

first international client and

started Peak Online. Since

then, Andrew has developed it

into an international web site

design and digital marketing

business servicing clients

across the world.

"Now I go to Hong Kong

every year and see as many

people as possible to sign up

new customers," says Andrew.

"Over the years, clients don't

need to see me and I can

contact them by Skype."

As well as working with

Farmers group's fifth anniversary

Exmoor Hill Farming Network

(EHFN) is celebrating its fifth

anniversary. The independent,

farmer-led group was launched

in 2014 to improve the viability

and sustainability of Exmoor

farming businesses through

knowledge transfer, peer-group

support, training, and co-operation

to safeguard upland

farming, rural employment and

landscape management.

EHFN is based at Cutcombe

Market and aims to be the

'go-to hub' for the farming

community, supporting some

300 farming businesses in and

around Exmoor.

EHFN organises a wide

range of events for farmers to

learn, share and collaborate

through a mix of discussion

groups, visits, and specialist

knowledge / training events.

Exceptional service

drives digital agency

Recently, members and the

National Park Authority have

produced 'Exmoor's Ambition'.

These proposals advocate a

new approach to enhancing

the internationally important

landscapes and the many public

benefits that good farming and

other land managing businesses

can provide. They comprise a

co-ordinated set of locally delivered

and accountable measures

to enhance the environment,

economy and public wellbeing.

Network chairman Dave

Knight says, "Because this has

been a farmer-based approach,

backed by the National Park

Authority and the local

community, we have got a

groundswell of local farming

support for this initiative."

■■Details 01643 841455 or

exmoorhillfarmingnetwork.org.uk

Andrew Bowers of Peak Online

clients in Hong Kong and

Australia, Andrew also works

with design and marketing

professionals across the world

so that his business operates

truly internationally.

"I have a formula of things

I expect from professionals,

including speed of response,

honesty, reliability and their

ability to deliver. I like to build

up trust with all the people I

work with."

Peak Online's services

range from Wordpress and

Magento web site design and

development to ecommerce,

app development, digital

marketing, copywriting, translation

and graphic design.

In addition to clients

abroad and in Wales, Andrew

is keen to become part of

the North Devon business

community and to work with

more customers here. Peak

Online already manages web

sites for World of Wonder

at Affinity and Mono Stereo

Records in Bideford.

Andrew is not only

interested in the business side,

but also has a long history of

involvement with community

and helps Neath Port Talbot

Mind with its web site.

"I like to get involved with

the local community and I

like to work with people who

complement my business."

While digital and design

skills are essential to his business,

Andrew emphasises that

Peak Online's success is due to

its exceptionally high level of

customer service.

"We help customers improve

their businesses because we

care about their businesses."

■■Details 01237 721256 or

northdevon.peak-online.uk.com

VISIT STAND AT BBXPO

Looking for independent financial advice?

Call us on 01237 426450

for a free initial consultation

contact@dscottfinancial.co.uk

https://dscottfinancial.co.uk

Your home may be repossessed if you do not keep up repayments on your mortgage.

@businessactionm | October / November 2019 | business action 5
---
Small Business Saturday UK

is a grassroots, non-commercial

campaign, which highlights

small business success and

encourages consumers to 'shop

local' and support small businesses

in their communities.

The day itself takes place on

the first Saturday in December

each year – this year on 7

December – but the campaign

aims to have a lasting impact

on small businesses.

On Small Business Saturday,

customers across the UK go out

and support all types of small

businesses, online, in offices

and in stores. Many small

businesses take part in the day

by hosting events and offering

discounts to customers.

SMALL BUSINESS

Sign up for Small Business Saturday

Every year the campaign

highlights 100 small businesses

across the country, one

a day for the 100 days leading

up to Small Business Saturday.

This year Business Action

has been selected as one of

the #SmallBiz100 – the only

business representing Devon

– and is working to encourage

as many businesses as possible

to register for Small Business

Saturday and as many

customers as possible to buy

from small businesses, both

on the day and every day

throughout the year.

Why get involved?

£812 million was spent in

small businesses across the UK

on Small Business Saturday in

2018, according to research

commissioned by founder and

We are a #SmallBiz100

menting the services you

provide. Then work out a plan

of how you're going to work

together, for example:

➤➤Joint giveaway (maybe a

competition)

➤➤Joint offer (create a bundle

of your services)

➤➤Create a networking event

for other local businesses

Whatever you decide to do,

remember that you will extend

your reach because you'll both

be promoting your activity to

your respective audiences.

Give away some expertise

You know your stuff. You are

the expert on the product or

service you offer. So why not

principal supporter American

Express, up from £748 million

the previous year.

Small Business Saturday

also achieves high engagement

on social media channels,

including Facebook, Instagram

and Twitter. Tweets on the day

reached more than 100 million

people, with #SmallBizSatUK

and #SmallBusinessSaturday

trending in the UK's top 5.

■■Register your business and

benefit from the campaign at

smallbusinesssaturdayuk.com

Work together for success

Sign up your business and follow

Small Business Saturday

on all social media channels.

To make the most of the

campaign, follow Business

Action and talk to other local

small businesses so we all

work together for success.

Business Action publishers

Robert Zarywacz and Alan

Williams (alongside left to

right) will also be discussing

how North Devon businesses

can take part in Small Business

Saturday at BBxpo in Bideford

on 24 October.

How B2B businesses can get involved

Many business-to-business

(B2B) enterprises think that

they can't take part in Small

Business Saturday. They think

it's a day for retail businesses.

They are wrong! Small Business

Saturday is for all small businesses.

You just need to work

out what you're going to do.

I've been involved in Small

Business Saturday as a small

business owner for the last

three years and in total since

it began in 2013. My target

customers are you, other small

businesses. In addition to being

a Small Biz 100 (I got that in

my first five months of business),

I've also run my own

offers and campaigns. What can

you do? Here are some ideas.

Don't go it alone

Sometimes, two heads are

better than one. So why not

partner up with another business?

Work out who would be

good to work with, comple-

Can B2B businesses benefit from Small Business Saturday? Minal

Patel is a previous #SmallBiz100 and has been involved with Small

Business Saturday for the past three years. This extract from her

blog shows how businesses can grasp the opportunities available

give some of that expertise

away for free, such as an ebook,

webinar or personal event?

Get on video

Video is big news. It should

be a regular part of your

marketing and doesn't have to

be expensive or complicated.

Join in local SBS activities

If you're a little unsure of

jumping in and doing your

own thing, check out what

chambers of commerce or local

networking groups are doing.

Ask them if you can help.

Get listed on the SBS app

It's free to list your business and

any offers or events you have

right now and up to the big day.

Read Minal's blogs in full

Read the whole blog and others

on Minal's web site for more

Small Business Saturday ideas.

■■Details 07766 222344 or

marketingbyminal.com

6 business action | October / November 2019 | business-action.co.uk
---
#10to1m

From £10 to £1 million

What is #10to1m?

Switch £10 of spending to a

local business.

Buying locally supports

businesses so they thrive,

employ more local people and

re-inject money back into the

local economy to keep our

towns and villages alive.

How could this benefit

North Devon?

Some 162,000 people live in

North Devon.

➤➤100 people switching £10

of spending to a local

business on one day would

inject £1,000 back into the

economy

1. While you might not

be able to compete with

national or online businesses

on price, take advantage

of the local service you

can offer customers.

2. Encourage customers to

ask questions so that you

can provide help and advice

– getting advice from

national or online businesses

is not always easy.

3. Offer to order products

for customers – if national

or online businesses have

limited ranges, you can

compete with them by

being more flexible.

➤➤1,000 people would inject

£10,000

➤➤100,000 people would inject

£1,000,000

➤➤100,000 people switching

most weeks would inject

£50,000,000 a year

#10to1m is about making

that switch happen.

Businesses

Make it easy for people to buy from you

All plans include

➤➤6 adverts (if selected)

➤➤6 magazine listings

➤➤online listing

➤➤6 mailed magazines

➤➤plus more

Switch £10 of your spending to a local North

Devon business each month, week or day

4. Make your business as

environmentally friendly

as possible by switching

to sustainable packaging

or bags wherever you can

– welcome customers who

bring their own bags or

containers with them.

5. Apply your knowledge and

expertise for you customers'

benefit – they like to know

they have someone whose

advice they can trust when

they need something.

Once customers know how

good you are, they will return

to you again and again.

Join in with #10to1m now

It's easy – just buy local and

share on social media.

1. All are welcome to join in –

shoppers and businesses.

2. Change your shopping

habits – look for a local

supplier before you buy.

Shoppers

1. Do you really need something

instantly? Buying

online appears convenient,

but might add delivery

charges, while delivery

direct to your address could

require a special journey by

delivery van and unnecessary

packaging – not good

for the environment.

2. You could walk to a local

business to make your

purchase or perhaps travel

there on the way to work or

as part of another journey

– much better for the

environment.

3. Whenever you buy local,

post it on your social media

accounts with the business

name, town and hashtag

#10to1m.

Example tweet:

@businessactionm Bought a

fantastic jumper in #######

in #Braunton #10to1m

4. Share with your family,

friends and colleagues and

encourage them to switch

their spending to local businesses

too.

5. Share with us on our social

media channels.

■■Join in at 10to1m.co.uk and

share hashtag #10to1m

When you need something, look to buy locally

3. A local business can let you

see products before you buy

and explain the differences

between brands or models

– you are more likely to

select the most suitable

product or service to meet

your needs and receive

better service.

Convenience is not always

environmentally friendly and

could cost you more.

Visit 10to1m.co.uk

and share the

#10to1m hashtag

Promote your business all year round with our

Business Action Plans

Select plan

£50 Business Action Plan – 6 magazine listings

£150 Business Action Plan – 6 business card adverts

£275 Business Action Plan – 6 banner adverts

£400 Business Action Plan – 6 quarter page adverts

£750 Business Action Plan – 6 half page adverts

£1,375 Business Action Plan – 6 full page adverts

Payment options

Pay in full or by

12 monthly instalments –

with no extra charges.

Put yourself in front of

North Devon businesses.

Book online at business-action.co.uk/plans or call Alan on 07970 671192

@businessactionm | October / November 2019 | business action 7
---
Investment property to Let?

• Competitive commission rates

• Local, friendly, expert advice and support

• Comprehensive marketing

• Fully managed services to suit your needs

• NEW! Mobile-optimised website

• Over 97% of our owners would

recommend us - find out why...

Contact us today on 01271 813777

for your homeowner recruitment pack

marsdens.co.uk

Attract customer

Attention!

with your marketing, PR

and communications

u business journalism u technical writing u

u case studies u blogs & online content u

u magazine production u campaigns u

u events u project management u

Call Robert Zarywacz on

01271 879100

25 years of business communication

Z

A

R

Y

W

C

COMMUNICATE IN SPEECH, PRINT & ONLINE

A

Z

Virtual Business Partners

Because running a business

can be a lonely journey!

Why work with a Virtual Business Partner?

What's the Benefit?

If you are a solopreneur, entrepreneur or SME we can help

you to:

• Consolidate your position - stabilise or expand, depending on the

health of your business

• Streamline your business, across - processes, procedures, systems

and people

• Invigorate and energise your reasons for starting this journey -

through coaching and collaboration

How do we do this?

• By listening - to what's working and what's not, and to your end

goal vision.

• By offering practical advice and actually doing what's needed - we

are not just all talk, we are not gurus, we actually do the work.

With the added potential benefit of virtual assistance.

• By bringing extensive experience and a proven track record to the

table.

Are you ready to take your start-up or SME to the next level?

If so, contact us to discuss whether working with a Virtual Business

Partner is right for you.

Contact details: email: nfo@virtualbusinesspartners.co.uk

tel: 01271 603078 or 07788 181419

www.virtualbusinesspartners.co.uk

8 business action | October / November 2019 | business-action.co.uk
---
BBXPO GUIDE

Welcome to BBxpo

We welcome you to our second

annual BBxpo business event.

We hope you enjoy:

➤➤visiting the exhibition

➤➤attending the presentations

➤➤the free networking buffet

Get new skills

for a digital world!

We're partnering with Google

Digital Garage to bring you

digital skills training from

Google – book for free training

courses below.

Visitors are urged to take

the opportunity to pick up the

best hints and tips on how to

Thursday 24 October

Devon Hall, Bideford College

FREE BUSINESS EVENT

brand their businesses online

and achieve better visibility for

their businesses.

Business exhibition

See pages 10-14 for profiles of

the 40+ businesses exhibiting

Free business presentations

10:00–11:00 | Build Your Personal Brand Online | the Google Digital Garage

For people who want to understand and identify what their brand is online. We cover which platforms

are right for you and how to get the most out of them. You will learn how to build a personal

brand online and how to increase visibility online.

1. Define your personal brand

2. Build your brand online

3. Increase your online visibility

11:00–12:00 | Get Your Business Visible on Google | the Google Digital Garage

For anyone who wants to get their business more visible online. We cover creating a listing for your

business on Google Maps and provide training in how to monitor and maintain your website's presence

on Google Search. You'll learn how to use the Google My Business platform to manage your

business presence on Google.

1. Understand how search works

2. Set-up a Google My Business listing

3. Manage your listing on Google

12:00–12:40 | High Performance in the Workplace | Dare2BU

1 in 4 people suffer with a mental health problem, every year. What impact can it have on a

business, whether small or large, when employees have mental ill-health and are unsure what to

do about it and feel unable to get help. Discover the rewards, business and personal, when we

understand where our mental health and state of mind comes from. What can an individual do for

themselves and what can an individual do for others?

12:40–13:20 | Benefits of Upskilling Your Workforce | Rozz Algar, Petroc

Supporting your staff will bring benefits to you and them. This presentation will discuss specific

qualifications, short courses or Apprenticeships as a route to help your staff upskill. This interactive

discussion will be an opportunity to explore the options for you and your business and staff.

13:20–14.00 | North Devon Enterprise Day Panel

To celebrate and promote enterprise in North Devon, a panel of successful business people will discuss

enterprise and how to develop your business, and answer questions from visitors. This will also

include Small Business Saturday, #10to1m and North Devon Enterprise Day. The panel will include:

➤➤Denise Anstey – Heartfelt Products

➤➤Jack Richards – Applegate

➤➤Lee Randall-Pybus – Devon Partnerships

➤➤Robert Zarywacz – Business Action

14:00–15:00 | North Devon Enterprise Day Free Networking Buffet

Join us for the ultimate free lunch at North Devon's biggest networking event to celebrate and

promote enterprise in North Devon. Nibble and network and establish new business contacts.

Register at bbxpo19.eventbrite.co.uk

in the main hall. Support

organisations attending include

CITB, which will be advising

on grants for construction

businesses, while the Heart

of the South West Growth

Hub will be advising on its free

business advice and support.

Jobcentre Plus and Learn

Devon will be on hand to

discuss employment, while

Petroc will be promoting its

wide range of courses.

Free networking buffet

And don't miss our free

networking buffet – the biggest

in North Devon – which offers

the opportunity for everyone

to make new connections and

build new relationships.

Panellists

Denise Anstey

Denise is an award-winning

inventor and business owner.

She has worked for an ISO9001

regulated company within the

R&D Tax Credits industry and

can provide impartial advice on

these for businesses.

Jack Richards

Jack Richards works in

marketing at Applegate – the

eProcurement marketplace for

business. He studies Business

and Management at Plymouth

University and is an Apprenticeship

Ambassador in the

South West. Jack has considerable

knowledge and experience

of eCommerce, marketing

automation, communications

strategy and Project Management

and has appeared in the

Financial Times and on BBC

Radio 5 Live.

Lee Randall-Pybus

Lee is director of Your Partnerships,

having created

the extensive programme of

Devon Partnerships business

networking events across

Devon. Lee has an extensive

network of business people

across the county and the UK.

Robert Zarywacz

Robert combines corporate

experience with 25 years as a

business owner. He is a wellknown

business journalist and

is editor of Business Action

magazine. He is also co-organiser

of BBxpo.

@businessactionm | October / November 2019 | business action 9
---
BBXPO HEADER GUIDE

good

design

is good

business.

let's be good together

01271 336275 | clevera.co.uk

ps. see you at the expo

Barclays Business Banking

Web: barclays.co.uk/businessbanking

Tel: 07775 555514

Address: 38 Boutport Street,

Barnstaple, Devon, EX31 1HH

Contact: Simon Pollard,

Relationship Manager. Whether

you are just starting out in

business or you're already well

established, you'll know that

smart, sensible support from your

bank can make all the difference.

That's where we come in. Talk

to us about what you want to

achieve, in the UK or abroad, and

our team of managers will do all

they can to help you reach your

business goals.

Bearman's Plumbing Centre

Twitter: @Bearmansplumin

Web: bearmansplumbingcentre.

co.uk

Tel: Ilfracombe 01271 867990

Barnstaple 01271 328097

Address: Unit 1F, Mullacott

Cross Industrial Estate,

Ilfracombe, EX34 8PL and

Unit 5 Brannam Crescent,

Roundswell Business Park,

Barnstaple, EX31 3TD

Plumbing, heating and bathroom

supplier to trade and DIY

customers. Supplying all aspects

of heating, plumbing, gas fittings,

bathrooms, pipe and fittings.

Spares for showers, taps, and

boilers in stock or available net

day. Expert advice available

on all aspects of plumbing and

heating as well as great advice

on bathroom design and fitting.

BNIB

Twitter: @BNIBarnstaple

Tel: 0843 289 1339

Web: bnibarnstaple.co.uk

Business Networking in Barnstaple

(BNIB) is a team of North Devon

businesses who meet weekly in

order to expand their business

through making new contacts

and gaining new work through

focused business referrals.

Business Action

Twitter: @BusinessActionM

Tel: 07971 176044

Web: businessaction.co.uk

and business-action.uk

Meet the publishers and editor.

CITB

Twitter: @CITB_UK

Web: citb.co.uk

CITB is the industry training

board for the construction sector

in England, Scotland and Wales.

Its aim is to help the construction

industry attract talent and to

support skills development to

build a better Britain.

Clarity Copiers North Devon

Tel: 01271 374061

Web: claritynorthdevon.co.uk

Address: Ground Floor, Florence

House, Brannam Crescent,

Roundswell Business Park,

Barnstaple, EX31 3TD

North Devon-based advice,

demonstration, service, rental &

sale of colour printers, copiers &

MFPs (multifunctional printers).

Wide range of models to suit all

requirements.

EXHIBITORS

Clevera

Twitter: @CleveraAgency

Tel: 01271 336275

Web: clevera.co.uk

Address: Whiddon Valley,

Barnstaple

We're a fun, friendly creative

agency producing fab designs

for all forms of printed & digital

media. From a logo to anything

you can put it on, we've been

making businesses look their

best for many a year. If you fancy

getting a little Clevera with your

design and print, come say hi.

Cranford Business

Services Limited

Tel: 07896 204857

Web: accountsindevon.co.uk

Address: Old Stone, Cranford,

Devon, EX39 5QW

Barbara Harris FMAAT provides

accountancy and business

support. Does your accountant

listen to you and act on your

needs? Explain your accounts in

terms you understand? Arrange

meetings at your convenience?

Dare2BU

Tel: 07772 215366

Web: dare2bu.co.uk

Can we help you? Our aim is

to make North Devon the most

mentally healthy place to live

and work. We are Dare2BU, a

team of four ladies, led by Debra

Simmons, working together to

run retreats, talks, workshops

and other events to help

people find a more fulfilling and

contented way of living.

Devon Electric Heating

Twitter: @heatingdevon

Tel: 01237 722136

Web: devonelectricheating.

co.uk

Address: 1, The Vineyards,

Holsworthy, EX22 6JG

Electric Heating Systems

– supplied and installed –

throughout the South West. The

Devon Electric Heating range

of products provides a heating

solution whatever the size of your

property. From the smallest to

the largest home. Contact us for

a free, no obligation consultation

and survey.

Devon Partnerships

Twitter: @Devon_Partners

Tel: 07393 149855

Web: devonpartnerships.co.uk

Devon Partnerships' purpose is

to help your business enhance its

position within the community by

providing the necessary tools to

promote your brand and services

by connecting businesses

together to create a stronger

Business network across Devon.

Devon Partnerships will also

work with Cornwall businesses

and Cornish Partnerships to help

build an even stronger South

West business community.

Fernbank Advertising

Tel: 01566 779653

Web: fernbankadvertising.co.uk

Promoting your business through

advertisements on bus shelters

across the South West region.

10 business action | October / November 2019 | business-action.co.uk
---
Thursday

24 October 2019

is North Devon Enterprise

Day when all businesses can

join together to celebrate our

vibrant local business community,

support each other

and promote the vast range of

products and services provided

in the area.

Take part

Are you an enterprising

business? Take part now by

registering to

join the Enterprise

Wave at ndevonent.uk

Businesses are already

registering for what we aim

to be the largest independent

enterprise community in the

area – a collection of forwardlooking

entrepreneurs

committed to helping every

business to succeed.

On the day, we'll celebrate

at BBxpo with a panel session

of North Devon entrepreneurs

Expressing your brand in video

The buzz at an event is great

to experience and video can

capture the atmosphere to

share with those who cannot be

present. Paulo Symons of

Panotion will be present at

BBxpo to video the day's activities

and has offered his insight

into the benefits of video and

how he approaches it.

Paulo studied graphics at

college and university and

learnt to apply the concepts of

storytelling to evoke emotions

and to include a call to action

in his work. He believes businesses

who use videos can get

messages out to their audience

quickly and effectively. Videos

can show the essence of what a

brand is, what it does and why

it is unique.

"Great video tells a story

in some form, whether it be

a simple message selling a

product or promoting a brand's

ethos," says Paulo.

"Everyone connects with

stories, so when a business

shares a story, this has the

power to influence people to

react positively towards it."

Paulo started Panotion in

2019 to produce commercial,

promotional and wedding

videos.

A specific product Panotion

offers is the Video Business

Card (VBC), usually a video of

up to two-and-a half minutes

long that promotes what the

client's business does, why it's

different and how it meets its

customers' needs.

All videos are tailored to

meet the individual communication

needs of a business.

For example, a customer may

want a cool, fun, enticing 45

to 60-second video for their

social media or web site using

a cinematic approach (without

scripting, using purely music

and sound effects).

"Panotion takes the time to

learn about a client's business,

what works well and not so

well," adds Paulo.

"Once we've learnt about the

client, we tailor specific solutions

that may reinforce what

they currently do well and/or

create new ways they can reach

their intended target market

through video, while adhering

to their brand personality."

Speak to Paulo at BBxpo and

see him video the event.

■■Details 07780 010411

VISIT STAND AT BBXPO

and the North Devon

Enterprise Free Networking

Buffet – open to all businesses.

Let's all share our experience

and advice to help other

businesses so all thrive.

And share on social media

– hashtag #ndevonent – to

encourage everyone to join in.

North Devon

ENTERPRISE

Day #ndevonent

Follow and connect

Connect with @northdevon,

@businessactionm and

@needitfinditnow on Twitter

and other platforms.

■■Visit ndevonent.uk or email

ndevonent@business-action.co.uk

for full details.

Quality print plus local service

Jamaica Press moved to its

current base at Mambury

Moor Estate, Buckland Brewer

10 years ago. Over the past

decade, owner Paul Mitchell

has seen many changes in

print and office supplies.

Broadband has become

essential to the business,

while digital printing enables

it to offer quick turnaround,

shorter runs and personalisation

options. Jamaica Press

also installed a full colour

press, delivering economies

through quicker print times

and better quality, and offers

large format print for signs,

posters, vinyl banners, roller

banners and custom shaped

labels. Technology has not

only broadened its range

of print services, but also

improved the business's own

IT services, enabling it to

operate more efficiently.

On the office products side,

developments include expansion

into areas such as facilities

management (cleaning products),

educational supplies and

rest room supplies.

While technology is a great

help, Jamaica Press is built

on the foundations of high

quality, local service. Paul is

the third generation of his

family to run the business,

and serving and supporting

the community remains of

paramount importance.

"We care. It's important

to us that we provide quality

product alongside good service

and good value," says Paul.

"We'll get it done. Online

print companies rarely have

a connection with their

customers and when it goes

wrong – quality or delivery –

there is usually little that can

be done. Producing in-house,

we control these variables.

"We're also supporting the

local economy and the money

spent stays in North Devon

longer. Our employees all live

in North Devon and spend

their income here with other

local businesses."

■■Details 01237 452333 or

jamaicapress.co.uk

VISIT STAND AT BBXPO

Members of the Jamaica Press team at Buckland Brewer

@businessactionm | October / November 2019 | business action 11
---
BBXPO GUIDE

Finding Jobs for People and People for Jobs

Temporary & Permanent recruitment solutions throughout North Devon!

01237 439500

Fitzgerald HR

Twitter: @FitzgeraldHR

Tel: 01271 859267

Web: fitzgeraldhr.co.uk

With offices in Devon, Somerset

and London, Fitzgerald HR

provides Human Resources

with the human touch to small,

medium and large organisations

looking for HR solutions across

the employee life cycle. Our

team of specialists deliver a truly

customised HR service for each

of our clients.

Growth Support Programme

Twitter: @ERDF_GSP

Web: heartofswgrowthhub.co.uk/

business-support-programmes/

growth-support-programme/

The Growth Support Programme

helps businesses to identify

their barriers to success and

provides access to the funded

support they need to grow. You

can get up to 12 hours of free

advice in different areas, such as

marketing, business planning,

digital processes, finance and HR.

Heart of the South West

Growth Hub

Twitter: @GrowthHubHOTSW

Tel: 03456 047 047

Web: heartofswgrowthhub.co.uk

The Heart of the South West

Growth Hub provides a central

business advice service to

businesses within Devon and

Somerset. The Growth Hub

is a free, first point of contact

for both new and established

businesses seeking support

and advice. We have a local,

dedicated advisory team on

hand to answer questions,

provide information and make

www.simplerecruitmentltd.co.uk

introductions to specialists on

business topics such as: funding

opportunities, marketing, finance,

exporting and innovation.

Heartfelt Products

Twitter: @HeartfeltProdu1

Tel: 01237 476005

Web: heartfelt-products.com

We design products including

the ICE Alert pocket medical

wallet, the Woofie Wallet and a

bespoke range Made in Devon

comprising Happy Quilts and

Quilt of Memories (to wrap

around people/children for

their final journey). We can add

photos, wording, names and

dates to these products and

tailor colours/themes.

Imaginary Space

Twitter: _imaginaryspace

Tel: 07544 666457

Web: imaginaryspace.co.uk

Address: Bideford

Imaginary Space was founded

on the premise of improving the

quality of local web design in

North Devon. We are a twoman

studio that is excited to

help local businesses grow by

designing with their customers

in mind. We detest trends,

templates and stupid b******t.

Itseeze North Devon

Tel: 07890 633458

Web: itseeze-northdevon.co.uk

Itseeze North Devon has the

"World's Easiest Editing System"

based simply on Word – giving

you complete control to change

text, images, menus, prices, add

EXHIBITORS

unlimited pages – live on screen

in seconds! We guarantee to

save you time and money – for

less than £2 a day! As SEO

and copywriting experts – we

guarantee a high local ranking.

All our websites are bespoke

– no frames or templates, 24/7

customer support on your own

website and via Itseeze Youtube

Editing Support.

Jamaica Press

Twitter: @jamaicapress

Tel: 01237 452333

Web: jamaicapress.co.uk

Address: Mambury Moor

Estate, Buckland Brewer,

Bideford, Devon, EX39 5NL

Jamaica Press has many years'

practical experience in working

closely with our clients and

being the 'everyday' answer to

queries, regular requirements

and emergencies. With our

highly skilled team of staff, we

offer graphic design, printing,

signage/display, web design,

office products/stationery, office

furniture and education supplies

– all with a high level of customer

service.

Jobcentre Plus

Twitter: @JCPinDevon

Web: dwp.gov.uk

Tel: 01237 496925

Address: Northbank House,

North Road, Bideford, EX39 1RD

Engage with employers to

identify bespoke labour market

solutions creating opportunities

for DWP customers. Support the

recruitment and retention of staff,

Follow us:

promote the flexibilities offered

by Universal Credit and support

schools to prepare young people

for the world of work.

Learn Devon

Tel: 01237 472462

Web: learndevon.co.uk

Address: The Arts Centre, The

Quay, Bideford, EX39 2EY

Learn Devon has provided adult

and community learning courses

on behalf of Devon County

Council for more than 20 years

supporting people in learning

new skills for leisure, returning

to employment, improving their

English and maths and improving

their health and wellbeing.

Marley Comms

Twitter: @MarleyComms

Web: marleycomms.co.uk

Tel: 01237 423445

Address: Unit 8, Caddsdown

Business Centre, Clovelly

Road, Bideford, EX39 3DX

An expert leading bespoke

cloud and on premise

telecommunications and

technology company. We

are a specialist Voice & Data

Communications and IP CCTV

company based in the South

West that aims to help you

reduce your costs, while giving

you great products and a first

class after-sales service. We

offer a 24-hour call-out service

throughout the year, so you are

assured that you will have the

support whenever you need

it and because we are locally

based covering Devon, Cornwall,

Somerset and Dorset; we can be

with you in less than four hours.

Cranford Business

Services Limited

design | concepts | logos | brand identity

print | stationery | forms | brochures | books

signs | posters | banners | exhibitions | signs

web | design | domains | seo | hosting

office | supplies | consumables | furniture

01237 452333 info@jamaicapress.co.uk

"Employing local people – supporting North Devon's economy"

www.accountsindevon.co.uk

Old Stone, Cranford, Bideford, Devon, EX39 5QW

07896 204 857

Does your accountant...

Listen to you and act on your needs?

Explain your accounts in terms you understand?

Arrange meeting at your convenience?

Leaving you free to concentrate on what you do best!

12 business action | October / November 2019 | business-action.co.uk
---
Marsdens

Devon Cottages

Twitter: @MarsdensCottage

Web: marsdens.co.uk

Tel: 01271 813777

Address: 2 The Square,

Braunton, Devon, EX33 2JB

With over 400 holiday cottages

across North Devon and

Exmoor and more than 40 years'

experience, Marsdens Devon

Cottages understands how to

get the most from letting your

holiday property. Our local team

offers a professional, personal

and friendly service, plus all our

properties are graded by our own

Quality Assessment Team to give

guests confidence when booking.

Medicare South West

Limited

Web: medicaresouthwest.uk

Tel: 0800 0614539

Address: 10 Pollards Place,

Bideford, EX39 4FE

We have been offering care and

support to local people affected

by a life-limiting illness since

1984. We now care for around

3,000 people every year across

North Devon, offering specialist

care to patients at home and at

the hospice, while supporting the

whole family throughout these

toughest of times.

Need it Find it

Twitter: @needitfinditnow

Web: needitfindit.uk

Tel: 07970 671192

Need it Find it's aim is to be

useful by connecting businesses.

It achieves this through business

events, including BBxpo;

Business Action magazine; and

its online directory.

Nott's Welding &

Sandblasting

Web: facebook.com/Nottswelding

Tel: 07706 595955

Address: Unit 5D, Mullacott

Cross Industrial Estate,

Ilfracombe, EX34 8PL

We specialise in welding and

sandblasting offering dependable

and efficient services. We believe

in delivering the highest quality

fabrication for the best possible

price. Our team cover a range of

skilled jobs from mobile welding

to bespoke furniture, wrought

iron gates & railings, fabrication,

agricultural, roof racks,

sandblasting, pressure washing,

spray painting, and stainless

steel and glass balcony cleaning.

Panotion

Tel: 07780 010411

Address: Bideford

Panotion started with a passion

for video and a bridge to serve

businesses well by helping solve

communication challenges.

As a solo video creator, I enjoy

working closely with businesses

to learn about them, how I

can facilitate growth and build

stronger relationships with my

client's target audience.

Peak Online

Twitter: @peakonlineltd

Web: northdevon.peak-online.

uk.com

Phone: 01237 721256

Address: 21 Chingswell St,

Bideford, EX39 2NF

Peak Online provides website

design and digital marketing

services to clients throughout

the UK and Internationally.

Specialising in WordPress and

Magento websites, custom

or templated, we cater for all

budgets. Our digital marketing

services include SEO, social

media, pay per click and email

marketing.

Petroc

Twitter: @petrocofficial

Web: petroc.ac.uk

Phone: 01271 345291

Address: Petroc, Old

Sticklepath Hill, Barnstaple,

Devon, EX31 2BQ

Petroc is one of the South

West's leading colleges, raising

the aspirations, knowledge

and skills of individuals,

communities and business in

Devon and beyond. The college

offers a vast range of courses

including apprenticeships,

vocational training, professional

programmes and degrees,

BBXPO GUIDE

EXHIBITORS

and works with hundreds of

employers to deliver essential

training.

Safety Supplies Direct /

Tawsa

Twitter: @safetysupplies1

Web: safetysuppliesdirect.

co.uk and tawsa.co.uk

Phone: 01271 377558

Address: Unit 47A, Upcott

Avenue, Pottington Business

Park, Barnstaple, EX31 1HN

Tawsa Ltd is a Health & Safety

consultancy providing an

extensive range of services to

clients, from simple questions

answered over the phone to

overseeing and managing

the health, safety and welfare

of an entire business. Safety

Supplies Direct is Tawsa's sister

specialising in supplying PPE

and workwear, including safety

boots and shoes, high visibility

clothing, workwear, gloves, eye

protection, fall arrest equipment

and harnesses, from its

Barnstaple store and online.

Simple Recruitment

Twitter: @SimpleRecND

Web: simplerecruitmentltd.co.uk

Phone: 01237 439500

Address: 2 Jubilee House,

Queen St, Bideford, EX39 2JH

We provide local businesses

and individuals with a different,

more personal, approach to

recruitment which sets us

apart from other recruiters. We

specialise in both temporary and

permanent recruitment solutions

across industrial and commercial

sectors covering the North

Devon area and get to know

each every one of our clients

and candidates to ensure that

the match is always perfect. We

take great pleasure in making the

recruitment process SIMPLE.

SWIG Finance Ltd

Twitter: @swigfinance

Web: swigfinance.co.uk

Phone: 01872 223883

SWIG Finance provides business

loans from £500 to £100,000

to start-ups and growing SMEs

throughout the South West.

From offices in Exeter, Truro

and Bristol, we provide friendly,

professional support to smaller

businesses who often find it

difficult to raise finance from

other sources. We have 30 years'

business lending experience and

are part of a national network of

Responsible Finance Providers.

Tarkatography

Twitter: @tarkatography

Web: tarkatography.co.uk

Phone: 07977 414798

A passionate photographer

concentrating mainly on food and

interior images. Images can now

be shown in far better quality

and detail than before and my

photography has evolved with the

internet enabling me to deliver a

cost effective quality product for

your websites and magazines.

Tazza Design

Web: tazzadesign.com

Phone: 01237 479240

Address: 10 & 11, Rope Walk,

Bideford, EX39 2NA

"Tazza design and print images

you see everywhere", ie we

print and decorate all sorts of

garments from t-shirts to Hi Vis

workwear. We also print and

supply signs, banners, flags

and stickers. We can print on to

nearly all types of material and

virtually any shape.

The Sign Maker

Twitter: @the_sign_maker

Web: sign-maker.net

Phone: 01769 561355

Address: Yelland Farm, High

Bickington, High Bickington,

Umberleigh, EX37 9BX

House signs, business signs,

memorials, engraved plaques

and wheel covers all made at

The Sign Maker in North Devon.

Everything made just the way

you want it – your choice of size,

font, image and material which

includes granite, slate, oak, other

timbers, cast bronze, engraved

brass and many more.

@businessactionm | October / November 2019 | business action 13
---
Towergate

Web: towergate.com/locations/

bideford

Phone: 01237 429 978

Address: 24 The Quay, Bideford,

EX39 2EZ

Through our trusted team in

Bideford, Towergate has access

to a wide range of tailor-made

insurance solutions and risk

management programmes.

Drawing on resources from our

insurance experts across the

UK, we can assist with insurance

requirements locally, nationally

and globally. Located on the Quay

means we are easily accessible

to see clients in the office or visit

them to ensure full understanding

of their requirements.

Utilities Warehouse

Distributor – Nick Parry

Web: pinkpigsavings.co.uk

Phone: 07890 655316

Based in North Devon, I can

show you how to make great

savings on all your household

bills with the added convenience

of having everything on the same

The All Party Parliamentary

Corporate Responsibility

Group recently recognised

Applegate in Barnstaple for

its commitment to corporate

responsibility, including its

pioneering work on degree

apprenticeships.

The APCRG is a group

of MPs and members of the

House of Lords committed to

promoting corporate responsibility

within Parliament and

beyond. As part of their work,

they highlight a small number

of businesses each year from

monthly bill! Contact me to find

out how much you could save.

Virtual Business Partners

Twitter: @virtualbizuk

Web: virtualbusinesspartners.co.uk

Tel: 01271 603078

Practical solutions, support and

coaching for small businesses,

entrepreneurs and start-ups. If

you require additional resources,

and need experienced, flexible

support, we have it covered:

Business process optimisation

| Administrative / VA assistance

| Managing / setting up CRM

systems | Web design & hosting /

content writing | Communications

(newsletters, social media).

Wall Printer UK

Twitter: @WallprinterU

Web: wallprinter.co.uk

Phone: 07534 258992

Wallprinter UK is pleased to

introduce the UK's brand new,

innovative vertical wall printing

across the UK as Responsible

Business Champions. Nominated

by Peter Heaton-Jones,

MP for North Devon, Applegate

joined major corporations

such as Standard Life,

BAe Systems and Zurich in

receiving the honour.

Corporate responsibility

encompasses many aspects of

business life and operation:

its fundamental purpose – for

Applegate, connecting buyers

and sellers to help commerce

work more effectively – the

tax paid to fund schools

BBXPO GUIDE

EXHIBITORS

technology. Wall printing is

the perfect medium for interior

designers, graphic designers,

advertising agencies, sign

makers, painters, decorators,

artists and start-ups who need

to make an impact and want to

add drama to everyday spaces.

Wallprinter UK can print any

design on indoor and outdoor

walls in brilliant, durable, highdefinition

colour, whatever the

texture of your surface: plaster,

wood, stone, plastic, tiles, glass,

metal, concrete and similar

materials.

Wills at Home

Web: wills-athome.co.uk

Phone: 01271 860105

Address: West Yelland,

Barnstaple, EX31 3EX

Alan Williams provides a personal

wills and lasting powers of

attorney service in North Devon.

Wills – £70 single – £105 joint.

and hospitals, its role in the

community, and the impact it

has on the environment.

In recent years, Applegate

has starkly reduced its carbon

footprint by moving systems

into the cloud, enabling the

decommissioning of inefficient

servers and air-conditioning

units; the business

donates £45,000 a year to

local charities in Devon, it

runs an extensive programme

of school talks and work

experience opportunities,

and it provides gold-standard

Wizard Signs and Print

Twitter: @WizardSignsLtd

Web: wizardsignsltd.co.uk

Phone: 01237 476100

Address: Unit 2, Habat

Enterprise Park, Clovelly Road

Industrial Estate, Bideford,

EX39 3HN

Wizard Signs and Print has built

a reputation for engaging with

clients to design, manufacture

and install a wide range of

promotional and directional

materials to ensure maximum

recognition for their businesses.

Zarywacz

Twitter: @z2zcom

Web: z2z.com

Phone: 01271 879100

Attract customer attention

with marketing, PR and

communications from Zarywacz.

25 years in business, we provide

business journalism, technical

copywriting, case studies,

magazine production, blogs

and online content, campaigns,

events and project management.

Corporate responsibility recognised by Parliament

training through its degree

apprenticeship programme.

In addition to having their

university fees paid and

earning while studying,

Applegate's apprentices benefit

from a wide range of broader

opportunities, including

visits to Parliament, to other

businesses and to local charities,

and on graduation the

company provides them with

up to £15,000 each to help

them buy their first home.

■■Contact 0345 600 7177 or

applegate.co.uk

Corporate responsibility: (from left) Applegate chief

executive officer Stuart Brocklehurst receives the

certificate from Peter Heaton-Jones MP

14 business action | October / November 2019 | business-action.co.uk
---
PEOPLE

Apprentice success: (from left) Jenny Vince, Exeter College,

with Dan Huxtable and Peregrine Mears

Dan Huxtable, an apprentice at

Peregrine Mears Architects in

Barnstaple, scooped bronze for

Apprentice 16-18 of the Year

in the national BTEC awards.

This is Dan's second big win of

the year, having already won

Construction Apprentice 2019

at the annual Exeter College

Apprentice and Employer

Awards. Practice director

Peregrine Mears comments,

"Dan has put in tremendous

effort since he started with

us three years ago. This latest

Peter Beaumont is to assume

the role of managing director

of insurance company Cornish

Mutual, which has its Devon

office in Cullompton. Currently

the company's finance and

operations director, Peter will

take over the role (subject to

regulatory approval) from

Alan Goddard, who retires in

December 2019.

Cornish Mutual insures

farms and rural businesses

across Cornwall, Devon,

award is justly deserved and

shows what can result from

hard work and enthusiasm."

The practice fully supports

the National Apprenticeships

programme and the principle

of 'earn while you learn'.

Dan's broad range of

experience at the company

includes using BIM (Building

Information Modelling) as

part of CAD (Computed

Aided Design) to explore and

develop design concepts from

a technical perspective.

Somerset and Dorset. It is a

mutual organisation, owned by

customers – its members – and

was the first mutual insurance

company in the UK and the

first insurer in the South West

to achieve chartered status.

The company's growth has

increased members' funds to

above £21 million.

Peter joined Cornish Mutual

in 2009, bringing with him a

wealth of experience in the IT

and financial services sectors.

Peter Brown has been

appointed a director by

accountancy firm Thomas

Westcott. Based in the Holsworthy

office, Peter leads the

firm's agricultural consultancy

team and has been providing

technical and business advice

to farmers and landowners for

more than three decades.

In addition to advising on

business planning and cash

flow management for agricultural

clients, Peter has recently

developed a new service to help

dairy farmers analyse milk data

to increase yields.

Peter joined Thomas Westcott

in 2016, having worked

for national consultancy firm

Genus ABS, bringing a wealth

of experience in finance,

banking and agricultural

consultancy from the UK and

overseas. He grew up all over

the world and made Devon his

home at the age of 21.

Tom French has joined marketing

agency MiHi Digital in

Broadwoodwidger as digital

marketing executive after

Peter said: "I am delighted that

the company has given me this

promotion. It reflects the hard

work that the whole team has

put into building our agricultural

consultancy service and

will help me to continue to

drive it forward.

"The agricultural sector is

absolutely vital to the South

West's economy. Farmers need

support on a whole range of

issues so it is important to

have a trusted advisor with

sound technical agricultural

knowledge as well as financial

expertise."

more than eight years working

in journalism in West Devon.

MiHi Digital director, Mark

Worden said, "Tom brings

with him a wealth of experience

and we are delighted to

welcome him to the team.

"In order to be able to

provide the best possible

service for our clients it's vital

that we have a talented and

knowledgeable team. I am

confident that the addition of

Tom will allow us to continue

delivering for our clients,

expand the business and grow

our client base even further."

@businessactionm | October / November 2019 | business action 15
---
Business Networking in Barnstaple

Business Networking in

Barnstaple includes three

members who started with the

group in its original form more

than 17 years ago.

The group relaunched in

its present format three years

ago and is now approaching its

limit of 25 members.

BNIB meets weekly on a

Tuesday morning at Portmore

Golf Park, near Barnstaple,

and mixes friendly, structured

networking with an online

referral system that measured

£650,000 of actual business

referrals last year, with more

than £350,000 referred since

January 2019. One member can

be admitted per business sector

and the group is easy to join,

with no pressure.

Chairman John McLaughlin-

Mills says this enables members

to measure and see actual business

generated by the group.

Members are encouraged to

generate referrals voluntarily,

but these are not the sole

measure of a member's value.

"The group values services

people give," says John, who is

a founder member. "We value

the human side and the efforts

people make to support each

other. People in the group get

on very well."

As a self-managed group,

BNIB works to keep fees low

and organises social gatherings

to help people get to know each

other. It also supports members

by helping to promote them,

including attending events such

as BBxpo exhibition.

It also encourages members

to conduct one-to-one meetings

to get to know each other

and their businesses well,

which strengthens the group.

■■Details 0843 289 1339 or

bnibarnstaple.co.uk

VISIT STAND AT BBXPO

NETWORKING

North Devon's remoteness can

be a barrier to connecting with

businesses across the county

or beyond. Building these

connections has become easier

with the launch of Devon

Partnerships, which hosts

networking events across the

county and held its first North

Devon lunch in September.

Lee Randall-Pybus

launched Devon Partnerships

in May, inspired by the success

of Cornish Partnerships run by

David Brock. Since then, Lee

has run 120 networking events

and says that there is always a

new face at every event.

"I had only ever been to one

networking event before," says

Lee. "I met David at one of

his events and there was such

a buzz. Now I do it full-time,

helping people where I can. It's

North Devon networking groups

North Devon Networking

Group

Meets at the Barnstaple Hotel,

Barnstaple on alternate Fridays

from 7.15am to 8.45am.

Networking with a difference

– a friendly and informal

group of business people with

no charge for membership and

no targets to bring in leads.

There is ample opportunity

to network, present your business

and gain contacts.

■■northdevonnetworking.co.uk

Rise

Meets at Block, Butcher's

Row, Barnstaple on alternate

Wednesdays from 7.00am to

8.30am.

Co-founded by Martin

Critchard and James

Devon Partnerships across the county

Dapling, Rise offers informal

networking interspersed with

alternate member presentations

and educational sessions.

Choose your breakfast from a

wide menu with great coffee.

Come along, make friends and

do business.

■■martin@duchyifa.co.uk

all about creating relationships

– we're like a big family. Events

are very relaxed and informal,

and everyone is welcome."

Lee likes to meet each

business owner for a one-toone

meeting to explore how

becoming a member can help

their business.

Devon Partnerships now

has more than 200 members

across the county and Lee and

David are franchising Your

Partnerships throughout the

UK. Anyone joining in Devon

will be able to attend events

anywhere else in the country.

"The greatest thing for a

business is to build relationships

face-to-face."

■■Details 07393 149855 or

devonpartnerships.co.uk

VISIT STAND AT BBXPO

Torridge Business

Network

Meets at the Royal North

Devon Golf Club, Westward

Ho! on alternate Fridays from

7.00am. Plenty of free parking.

A friendly and informal

networking group with no

joining fees – just the cost of

breakfast. Come along and

meet like-minded businesses.

■■torridgebusinessnetwork.co.uk

WE OFFER ASSISTANCE WITH:

Valuations

Cost Management

Bills of Quantities Tendering

Procurement

Invoice Reconciliation

CALL TODAY for an informal chat:

01271 603053

futuredimensions.uk

info@futuredimensions.uk

01271 267420 | info@gtales.co.uk

16 business action | October / November 2019 | business-action.co.uk
---
FINANCE

your link to success

covering Temporary, Permanent and Contract

in Manufacturing, Sales and Marketing and Business Support

offices in Barnstaple and Somerset 01271 349 745

www.coopergolding.co.uk

A finance provider with a difference

At a recent meeting with

a team of business bank

managers, I was asked to

explain how SWIG Finance

differs from other alternative

finance providers operating in

the South West.

I answered that we are

interested in engaging with the

customers that you like, but

your underwriters don't.

Because we have our own

capital as well as access to other

sources of finance, we have our

own lending discretions. This

means we can look at the whole

picture, and not make a decision

based on last year's accounts or

background collateral. Indeed,

by using the Enterprise Finance

Guarantee (EFG) scheme, we

commonly lend where there is

no security available.

You won't find SWIG

Finance on any of the national

bank referral portals. In our

view, signposting to a list of

John Peters, managing director of SWIG Finance, takes a look at

what makes a different alternative finance provider

other potential funders isn't

a solution for many small

business owners, who want

someone to talk to about their

business and its needs.

The referral scheme – which

requires banks to refer any business

declined for funding to one

of four online funding platforms

Meet the SWIG Finance team at BBxpo

– has only had very limited

success; according to figures

published by the Treasury,

between 2016 and 2018, 19,000

businesses have been referred

via the scheme but only 900

have been granted funding.

This is where SWIG Finance

is really different; whilst we are

harnessing 'fintech' to support

our lending operations, our

business managers personally

engage with all applicants, and

meet with everyone we take

to credit. We do this so that

we know our customers and

have confidence that the loan

request being made is right for

them as well as us.

SWIG Finance is part of a

national network of CDFIS

(Community Development

Finance Institutions) and is the

only one lending to businesses

in the South West. This means

it is our mission to provide

finance where it is most needed

to support local businesses that

have the potential to create and

secure jobs for the benefit of

the communities in which they

are based.

■■Details 01872 223883 or

swigfinance.co.uk

VISIT STAND AT BBXPO

The story of Business Action began

with Need it Find it, a sales leaflet

developed for distribution around

Bideford. Soon it became clear that

there was a need for dedicated business

news coverage of North Devon

businesses and Business Action was

born. Need it Find it publishes Business

Action and organises BBxpo.

It is now developing an online

directory to complement advertisements

and listings in Business

Action magazine. Any advertiser

purchasing a Business Action Plan

will receive a listing on the directory.

■■Visit at needitfindit.uk

@businessactionm | August / September 2019 | business action

17
---
Reducing the disability employment

gap in North Devon

is the aim of an Untapped

Talent recruitment event at

the Park Hotel, Barnstaple on

Wednesday 6 November.

Instead of attracting

jobseekers to meet employers,

this event invites employers

to come in to meet and talk

to a group of talented individuals

with a wide range of

skills. Employers will receive

anonymised profiles of the

candidates in advance to

showcase the skills and abilities

on offer before the event. On

the day, facilitators will help

introduce employers to whichever

candidates they would like

to speak to, and also ensure

everyone is fully involved.

The aim is to help start

or continue the jobseeker's

journey within the world

of work by offering jobs,

interviews, work trials,

observations, taster days, work

NEWS

Reversing roles at Untapped Talent recruitment event

Listening to clients' needs

A couple who pooled their

considerable corporate

experience to start their own

business have moved to North

Devon where they continue to

service clients remotely.

Clive Struver was born

in Devon and has worked in

the technology and telecoms

industries in the UK and

Europe at board level, while

Jane Struver's experience

includes roles with the Bank

of England and as business

analyst with a global

IT company. Clive and Jane

started Virtual Business

Partners to provide a range of

business support services

They describe Virtual Business

Partners as "more than an

assistant, more hands-on and

practical than a consultant,

filling in the gaps and getting

things done."

Jane has extensive experience

in social media

campaigns and content

management, web design,

CRM and sales support, while

Clive provides business and

personal coaching, business

strategy and planning support.

They always get to know a

business first, so that, along

with the business owner, they

can establish exactly what

services are required.

■■Details 01271 603078 or

virtualbusinesspartners.co.uk

VISIT STAND AT BBXPO

experience, or any other corporate

programmes available.

The event has been organised

by the Northern Devon

Employment and Skills

Board in conjunction with

the Department of Work

and Pensions, Pluss, Petroc,

Empowering Enterprise, Young

Devon, Project Search and

Next Steps Development.

The organisers are keen to

speak to employers who would

like to find out more about

Imaginary Space is a web

design studio formed by Harry

Roper and Luke James to help

local businesses grow.

Harry started a games studio

at the age of 15, organising

people around the world, and

while at Petroc did a lot of

work online for companies in

America, including a project

for Universal Studios at the age

of 19. He went to university

in London, although helped

develop a VR game there for

start-up Tengio and left his

studies to take up a full-time

role with the company. Harry

decided he liked the business

side more than programming

and returned to North Devon

where he founded Imaginary

supporting disabled people into

work. Contact Tony George,

employer advisor (DWP) tony.

george@dwp.gov.uk on 01271

395401 or Nicola Williams,

Northern Devon Employment

and Skills Board coordinator

nicola.williams@petroc.ac.uk

on 01271 852428 for details.

Harness your web site data

Space to build better web sites

for local businesses.

For Harry, success is more

than the look of a web site and

he thinks many businesses don't

realise that they are losing out

by not making use of their data.

"I think most businesses

don't understand what their

data is telling them or what

they can do with it," says Harry.

"We operate a three-month

catch-up where I call our client

and explain to them in layman's

terms what their data is telling

me and what they could potentially

do based on it."

■■Details 07544 666457 or

imaginaryspace.co.uk

VISIT STAND AT BBXPO

Imaginary Space: (from left) Harry Roper and Luke James

Call 01271 326694.

info@boomboomedia.co.uk

visit www.boomboommedia.co.uk

18 business action | October / November 2019 | business-action.co.uk
---
ADMINISTRATIVe & BookKeeping

Exmoorfern

South Molton

t: 01598 740210

w: exmoorfern.co.uk

ARCHITECTS

Sam Nolan RIBA Architect

North Devon & UK

t: 01271 325 236

w: northdevonarchitects.com

BrewERY

GT Ales

Chivenor

t: 01271 267420

w: gtales.co.uk

BuSINESS Advisor

Susie Kevern

North Devon

t: 07801 199671

w: poundlane.co.uk

Commercial PropERTY

James Doble Commercial

North Devon

t: 01237 424053

w: jd-commercial.co.uk

CopIERS & Printers

Clarity Copiers North Devon

Barnstaple & North Devon

t: 01237 374061

w: claritynorthdevon.co.uk

CopywRITINg & communications

Zarywacz

North Devon & UK

t: 01271 879100

w: z2z.com

Counselling & Psychotherapy

North Devon Counselling

Barnstaple

t: 07872 501606

w: northdevoncounselling.co.uk

Hotels

The Carlton

Ilfracombe

t: 01271 862446

w: ilfracombecarlton.co.uk

Human RESOurces

Fitzgerald HR

Barnstaple, Exeter, London &

Wellington

t: 01271 859267

w: fitzgeraldhr.co.uk

Right Way HR Services

Highampton

t: 07825 090782

HypNOTHERApy

New Life Hypnotherapy

South Molton

t: 01769 57471

w: newlifehypnotherapy.org

Insurance

Towergate

Bideford

t: 01237 429978

w: towergate.com/locations/bideford

Together Insurance Solutions

Barnstaple

t: 01271 347147

w: togetherinsurancesolutions.co.uk

Landscaping

CW Landscaping

Bideford & North Devon

t: 01237 474335

m: 07960 930974

LockSMITHS

MJS Locksmith

Bideford

t: 07532 139388

w: northdevonlocksmith.co.uk

SW Locksmiths

Holsworthy / Bude

t: 01409 255533

w: swlocksmiths.com

Networking groups

Business Networking in Barnstaple

Barnstaple

t: 0843 289 1339

w: bnibarnstaple.co.uk

Devon Partnerships

Devon

t: 07393 149855

w: devonpartnerships.co.uk

North Devon Networking Group

Barnstaple

w: northdevonnetworking.co.uk

Rise

Barnstaple

e: martin@duchyifa.co.uk

Torridge Business Network

Westward Ho!

w: torridgebusinessnetwork.co.uk

Office Supplies

South West Office Supplies

North Devon

t: 01271 889337

w: swofficesupplies.co.uk

PhotograpHY

Tarkatography

Westward Ho!

t: 07977 414798

DIRECTORY

BUSINESS LISTINGS

Printing

Jamaica Press

Buckland Brewer

t: 01237 452333

w: jamaicapress.co.uk

Recruitment

Cooper Golding

Barnstaple

t: 01271 349745

w: coopergolding.co.uk

Simple Recruitment

Bideford

t: 01237 439500

w: simplerecruitmentltd.co.uk

REMOVAls

HLH Removals

North Devon & UK

t: 07593 234194

fb page: HLH Removals -

Horshams Light Haulage

Telecom Services

Marley Comms

Bideford & UK

t: 01237 423455

w: marleycomms.co.uk

TRAVEL AGENT

Clare Flint – Travel Counsellors

North Devon & UK

t: 01271 828990

w: travelcounsellors.co.uk/clare.flint

Web DESIgn & Digital MarkETINg

Peak Online

Bideford

t: 01237 721256

w: northdevon.peak-online.uk.com

Welding & SandblASTINg

Nott's Welding

Ilfracombe & North Devon

t: 07706 595955

Wills

Wills at Home

West Yelland

t: 01271 860105

w: wills-athome.co.uk

List your business all year!

£50 Business Action Plan

The £50 annual Business

Action Plan promotes your

business throughout the year

in this magazine – see listings

above – and online in our

needitfindit.uk directory.

➤➤Magazine listing, including

name, business type, phone

number, web site and

address, printed in 6 issues.

➤➤Online listing including

name, business type, phone

number, web site and

address, description and

logo for one year.

➤➤6 issues of magazine mailed

direct to your UK address.

BOOK YOUR LISTING NOW AT

business-action.co.uk/plans

Right Way HR Services

Safeguard your business

• Advice on all aspects of employment law

• Contracts of employment

• Staff handbook • HR policies

• Letters, templates and documents

Call Richard on 07825 090782

e-mail: richard@rwhrs.com

@businessactionm | October / November 2019 | business action 19
---
IN THE HEADER HOT SEAT

Mike Matthews of Lineal Software

1. What was your first job?

When I was five, my first job

was stacking pinions, ready for

assembly in my father's small

factory which made motors

and precision gearboxes. It

kept me out of mischief, and

I got given two pence. It's still

a point of argument that my

sister got a shilling!

2. What is the best

business advice you've

ever received?

Two lessons have stuck with

me: If you want something,

save up for it – don't go

completely mad with credit

because it's not really a

shortcut. Most importantly, do

everything you can to make

sure your customers succeed:

their fate is tied to yours and if

they're winning, so will you.

3. What do you enjoy most

about business?

The joys have changed since

the start. From the beginning

it was simply the moments of

seeing a valued client succeed

that were always the most

heartening, because you know

you've made a real contribution

beyond just your own business.

After 35 years, the same applies

to seeing your own staff make

progress and develop as people.

4. What essential

technology could your

business never be without?

A MacBook – but really any

computer! Lineal is a sophisticated

technology business

now, but I bought my first

Apple 'Personal Computer' in

1982. From that I learned to

program robotics, learnt stock

management, and accounting,

Each issue we put a North Devon business personality in the hot seat

and ask them 10 questions. This issue we asked Mike Matthews of

Lineal Software

and then built the first version

of our SQLWorks business

management software, and on

and on and on. We owe everything

to the tool that makes

learning and skills development

possible.

5. Describe your business

management / style

Give the staff the ability to do it

for themselves on your behalf.

As you go forward your role in

leading a business isn't to do

acrobatics anymore, it's simply

to stand underneath with a

big safety net (and enjoy the

applause!).

6. How do you go about

personal development?

Read and read and read. I've

found too that you need to

encourage a culture of testing

and experimentation and wait

for the 'lightbulb' moment of

inspiration when it comes.

Unfortunately, the more

advanced in years you become,

the rarer those moments are,

so you increasingly need to

practise cultivating good ideas

from others.

7. Is there anything about

yourself that you would like

to change?

Although caution is wise, I

wish I'd been a little more

ambitious earlier! Pick the

right team and your firm can

be something entirely different

Lineal Software Solutions is a

multi-disciplinary IT solutions

provider based in Barnstaple.

We exist to be your trusted

technology partner. Every day,

our team provide accessible

expertise, solve emerging business

challenges, and deliver

exceptional IT solutions.

We offer business to

business (B2B) IT support,

hardware, technical upgrades

and repairs, network infrastructure,

cybersecurity,

cloud-based and telephony

five or ten years from now, in a

way that would surprise you. I

wish I had the perfect foresight

to see a person's full potential,

because that's what will drive

the future success of a business.

8. Social media: yes or no?

Preferred network?

Yes – I find LinkedIn helpful

for work, but each platform

is useful in its own way.

Facebook feels more fun for

photography because it pulls in

the wider community. There's

no substitute for real-world

interaction in my opinion, but

these networks are an important

part of many people's

lives now – so when Lineal

publishes educational content,

like cybersecurity guidance, it's

great to see people engaging

with it voluntarily. Communicate

with people via a medium

they enjoy and they'll come

back for more.

9. How do you wind down

when not working?

Reading and photography

(including for Barnstaple Gig

Pilot Gig Club.) Gardening too

because it's 'off the grid' – nontechnology

time is important!

10. Do you have a motto or

favourite quotation?

Several really: "You snooze,

you lose" and "If our clients

succeed, we succeed" are

common refrains in our offices,

but my favourite is Isaac

Asimov's "Violence is the last

resort of the incompetent" –

one for the computing buffs

out there! Oh, and "Mind the

paint!" of course.

ABOUT LINEAL SOFTWARE SOLUTIONS

services, in addition to

software development – to a

diverse range of public and

private sector clients.

With over 30 years in the

industry, and as one of Devon's

only certified Microsoft Gold

Partners, our priority is to

provide specialist IT support,

ERP software development,

and technology services with

an honest, professional and

approachable manner.

■■Details 01271 375999 or

www.lineal.co.uk

20 business action | October / November 2019 | business-action.co.uk
---
NEWS

From vine to bottle in Devon

It was at the North Devon

Show that I found Torview

Wines. We had been on the

Business Action stand all day

when I realised I hadn't seen

many other exhibitors, so I

headed for the food tent where

I met Tim Gowan. Delighted

to have discovered a local wine

producer, Tim booked me

on to a tour of his vineyard

at Sheepwash to see how the

vines are grown, harvested

and processed to produce Torview's

range of award-winning

English red wines.

Originally, Tim studied

leisure management and

became interested in farm

Lots of people have ideas for

businesses and products, but

turning ideas into reality can be

very difficult. Denise Anstey of

Heartfelt Products has considerable

experience of business

and product development. She

designed her first product,

the Slik Stik walking stick, in

2006, for which she was named

'British Female Inventor and

Innovator 2009'. The Slik Stik

is a walking stick which used

'wind-up' technology and was

developed after Denise was

injured in a car crash.

Drinking wine was once a headache for Business Action editor

Robert Zarywacz, but after discovering English wine made with

fewer chemicals, his head cleared. This summer he visited Torview

Wines' vineyard at Sheepwash to see how wine is produced

diversity, which fired his

interest in wine-making. After

a two-year search for a suitable

site, Tim and his family moved

into Beara Farm and began

planting vines. They added a

second field in 2010 and now

have some 7,000 vines with

four grape varieties: Pinot

Noir, Dornfelder, Rondo and

Acolon. These help to produce

characteristics in the wines

including subtlety, softness,

fruitiness, easy drinking style

and hedgerow fruits flavours.

Now Denise has launched

Heartfelt Products, which

produces products to aid

people in their daily lives. These

include the ICE Alert Wallet

to alert hospital staff to your

medical records should you be

taken ill, and Memory Mats

to help stimulate the minds of

those suffering with dementia

and eco-friendly bags.

Denise commits to achieving

the highest standards and

Heartfelt Products has obtained

Trading Standards' Trusted

Trader status with five stars and

was a Twitter #WOW Business

Winner of the Week selected by

Jacqueline Gold CBE.

Denise believes it's important

to "keep a sense of what's

real, appreciating input, understanding

what the customer

really wants and knowing that

These are also helped by the

slower South West ripening

conditions, with harvesting

sometimes extending into

mid-November. All Torview

wines are produced exclusively

from its own grapes.

Unlike large producers

required by major retailers to

sterile-filter their wines, which

loses much of the character,

colour, fruit and tannin,

Torview only lightly filters

its wines to maintain their

character and style. While

the vineyard is not organic,

Tim aims to keep production

as natural as possible. Living

on site helps to identify any

disease early so intervention

can be minimised.

Torview sells 80% of its

wines in Devon and supplies

a number of local restaurants.

You can often catch Tim

selling wine at markets or,

even better, book yourself on

to a vineyard tour and tasting,

which run between April and

October, and learn more about

how the wines are made. You

can also buy from the web site.

■■Details 07977 408829 or

torview.co.uk

Bringing business ideas to life

if I can make the difference

to just one person then I have

achieved what I set out to do".

"It's about changing a

person's life for the better,

supporting Britain's economy

whilst looking at environmental

impact."

Denise will be part of the

Enterprise Panel discussion at

BBxpo and exhibiting Heartfelt

Products at the event.

■■Details 01237 476005 or

heartfelt-products.com

VISIT STAND AT BBXPO

Beautiful candles – Handmade in Devon

SHOWROOM & STUDIO

Lyn Candles . Lynton . N. Devon . EX35 6BS

Tel: 01598 753321 www.lyncandles.com

e-mail: lyncandles@btopenworld.com

@businessactionm | October / November 2019 | business action 21
---
• NORTH DEVON'S BIGGEST BUSINESS-TO-BUSINESS EVENT •

EXHIBITION

NETWORKING

PRESENTATIONS

• FREE PARKING • FREE ENTRY • FREE PRESENTATIONS • FREE LUNCH •

BBxpo

BIDEFORD • BUSINESS • EXPO

Thursday 24 October

10am–3pm | Devon Hall, Bideford College

• REGISTER YOUR PLACE(S) AT BBXPO19.EVENTBRITE.CO.UK •

Get new skills for a digital world!

We're partnering with Google Digital Garage to bring you digital skills training from

Google – book for free training on:

Build Your Personal Brand Online

Get Your Business Visible on Google

• VISIT BBXPO.UK • FOLLOW #BBXPO •