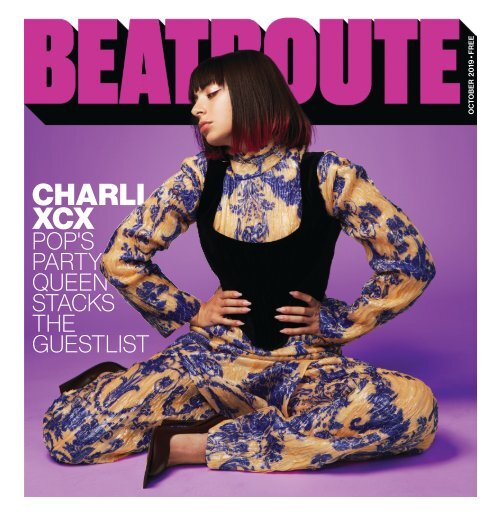 BeatRoute Magazine AB Edition - October 2019
BeatRoute Magazine is a music monthly and website that also covers: fashion, film, travel, liquor and cannabis all through the lens of a music fan. Distributed in British Columbia and Alberta, Ontario edition coming Thursday, October 4, 2019. BeatRoute's Alberta edition is distributed in Calgary, Edmonton, Banff and Canmore. The BC edition is distributed in Vancouver, Victoria and Nanaimo. BeatRoute (AB) Mission PO 23045 Calgary, AB T2S 3A8 E. editor@beatroute.ca BeatRoute (BC) #202 – 2405 E Hastings Vancouver, BC V5K 1Y8 P. 778-888-1120
BeatRoute Magazine is a music monthly and website that also covers: fashion, film, travel, liquor and cannabis all through the lens of a music fan. Distributed in British Columbia and Alberta, Ontario edition coming Thursday, October 4, 2019. BeatRoute's Alberta edition is distributed in Calgary, Edmonton, Banff and Canmore. The BC edition is distributed in Vancouver, Victoria and Nanaimo. BeatRoute (AB) Mission PO 23045 Calgary, AB T2S 3A8 E. editor@beatroute.ca BeatRoute (BC) #202 – 2405 E Hastings Vancouver, BC V5K 1Y8 P. 778-888-1120
SHOW MORE
SHOW LESS
You also want an ePaper? Increase the reach of your titles
YUMPU automatically turns print PDFs into web optimized ePapers that Google loves.
OCTOBER 2019 • FREE

CHARLI

XCX

POP'S

PARTY

QUEEN

STACKS

THE

GUESTLIST
---
Contents

BEATROUTE

BEATROUTE

BEAT

ROUTE

BR

BRLIVE

BRYYZ

Music

4

7

21

23

28

The Guide

Toronto Raptors DJ,

4Korners, shares his top

song picks for game night.

Concert Previews

Big Thief, Chastity, Dead

Soft, Khillah Khills, nêhiyawak

and more!

The Playlist

All the singles we can't stop

listening to this month.

Album Reviews

Angel Olsen, Prefab Sprout,

Danny Brown, FKA TWIGS,

Kacy & Clayton, Refused,

Wilco, City and Colour, Kim

Gordon, Reuben and the

Dark.

Live Reviews

Lizzo and Ian Blurton's

Future Now.

Cover Story

22

Charli XCX

From underground raves to

the top of the pops, Charli

XCX is a star on her own

terms

Screen Time

30 Robbie Robertson has a

late-in-life creative spurt.

LifeStyle

32

36

Style

Rising R&B star Zsela is about to

hit the road with Cat Power. We

met up with her in NYC before

she took off to find out how style

informs her soothing sounds.

Travel

Iceland Airwaves is Reykjavík's

hottest annual music party. We

tap into some crucial insight

before visiting the land of fire

and ice.

KHILLAH KHILLS:

A band to watch, page 15

Joji, Sept. 13, 2019 at the Queen

Elizabeth Theatre for Westward Music

Festival. Check out our review of this

show and more at beatroute.ca

YYC

38

41

42

45

SEBASTIAN BUZZALINO

A Modern Frankenstein:

Alberta Ballet pushes the boundaries

of dance.

YYC Agenda

Calgary European Film Festival,

Unmanned, CUFF: 12-hour

movie marathon, Ghostbusters in

Concert.

YYC Music

Black Mastiff, St Arnaud, Bebe

Buckskin.

Plus The BeatRoute Cheat

Sheet brings you the essential

shows for October in Calgary

and Edmonton.

45 Savage Love

DARROLE PALMER

OCTOBER 2019 BEATROUTE 3
---
UpFront

OCTOBER

Champion Sound:

4Korners

4Korners has been the official DJ for the

Toronto Raptors since 2005—way before they

were the NBA Champions. Now, 4Korners

regularly plays to more than 20,000 fans per

night at the Raptors home court. We asked him

for his top tracks to hype up fans and players

as we close in on the 2019/2020 tip-off.

JAY ROCK - Win

This was our battle cry all season; I dropped

it as the guys touched the court every night.

This is my way of saying, "We're NOT the polite

Canadians here to play nice. We're here to do

one thing: "WIN!"

SHOWTEK - featuring We Are Loud

and Sonny WIlson - Booyah

I don't care who you are—you hear this come

on during a game you're gonna get charged

up! One of the guys from Showtek told me

they made the song to be played at football

(soccer) games in Holland which explains that

arena energy.

4KORNERS, Natra, Kyngz

and DJ Overule - I Want More

One of the best parts of being both a DJ/producer

is that I get to play my own music. During

the playoffs I got together with a few talented

artists and made this record. It's the right vibe

for the stadium: hard, bass heavy and is about

wanting the most out of life.

BLUR - Song 2

This one has been a staple for me for years. It's

one of those records that everyone knows and

when it's played at the right moment will have

the entire country yelling "WOO HOO!" I rock

this at BIG moments and we had a lot of those

this season.

DRAKE - Started From The Bottom

This is an OBVIOUS one, but how could I not?

It's been meaningful to us (as we have) moved

past the "happy to be here" stage and locked

in on building a winning legacy. Skip ahead to

this season and it was like a prophecy: WE THE

CHAMPS! I played this in Jurassic Park with

Drake on stage after we won the CHIP WIT DA

DIP—That's poetry!

BEATROUTE

Publisher

Julia Rambeau Smith

@beatroutemedia

Editor in Chief

Glenn Alderson

Creative Director

Troy Beyer

Managing Editors

Josephine Cruz

Melissa Vincent

Contributing Editors

Sebastian Buzzalino

Dayna Mahannah

Contributors

Ben Boddez • Jodi Brak

Jessica D'Angelo • Karina Espinosa

Natalie Harman

Courtney Heffernan • Kate Killet

Christine Leonard • Cam Lindsay

Maggie McPhee •

David McPherson • Pat Mullen

Jennie Orton • Johnny Papan

Tory Rosso • Yasmine Shemesh

Graeme Wiggins • Daniel Wilson

Contributing Photographers

Lindsey Blane • @alienyeux

Alexander Antonijevic

Megan-Magdalena Bourne

Michael Buisha • Dustin Condren

Aiden Cullen

Michaela De Cantis Wong

Jabari Flemings • Annie Forrest

Luke Gilford • Sheva Kafai

Kate Killet • Shervin Lainez

Devon Little • Levi Manchak

Alec Marchant • Liz Rosa

Diego Villarreal • John Warwick

Alex Wasspi • Tsutomu Yabuuchi

Coordinator (Live Music)

Darrole Palmer

Advertising Inquiries

Glenn Alderson

glenn@beatroute.ca

778-888-1120

Distribution

BeatRoute is distributed in

Vancouver, Victoria, Calgary,

Edmonton, Winnipeg,

Saskatoon and Toronto

Contact Us

2405 East Hastings St.

Vancouver, BC

V5K 1Y8

e-mail:

editor@beatroute.ca

@beatroutemedia

beatroutemedia

beatroute.ca
---
UPCOMING

EVENTS

THIS MONTH @

DEERFOOT CITY

OCT 5

OCT 9

OCT 13

OCT 25

OCT 30

OCT 31

BIG BAND

BURLESQUE

ft. Judith Stein &

Glitterverse Productions

ART BATTLE

DUSTIN NELSON

w/ Only the Strong &

Lostboys

MIDNIGHT ECHO

THE LAZYS

w/ The Fallaways

HALLOWEEN

CARNIVAL

ft. Unlimited Play,

Costume Contest, DJ &

More!

THIS MONTH @

SOUTH EDMONTON

COMMON

OCT 9

OCT 18

OCT 22

OCT 25

OCT 26

OCT 31

SINNERS

BURLESQUE

SHAG E.P. RELEASE

w/ The Band & Beach

Towels

STEVEN LAMBKE

w/ José Contreras

GOOD RUMOUR

w/ Bedside & Cypress

TEENAGE

BOTTLEROCKET

w/ The Isotopes

HALLOWEEN

CARNIVAL

ft. Unlimited Play,

Costume Contest, DJ &

More!

THIS MONTH @

WEST EDMONTON MALL

OCT 5

OCT 11

OCT 20

OCT 25

OCT 26

OCT 30

THE BARKELLS

ROCKZILLA

MONOWHALES

LIVE BAND

KARAOKE

w/ The Nervous Flirts

THE 9S

Halloween Party

HALLOWEEN

CARNIVAL

ft. Unlimited Play,

Costume Contest, DJ &

More!

Discover the ultimate gathering place to let go,

be playful and discover something new.

Tickets and full listings

TheRecRoom.com
---
6 BEATROUTE OCTOBER 2019
---
MUSiC

BIG

THIEF

Brooklyn folk-rockers' less-is-more

sound approaches perfection

By MAGGIE MCPHEE

F

ate does not smile upon the initial

attempt at an interview with

Big Thief frontwoman Adrianne

Lenker. What starts as technological

difficulties — navigating her Brooklyn

apartment for a clear signal — escalates when a

balcony window pops out of its frame and falls

on her girlfriend's head.

When she calls back later in the day after

making sure no harm had been done, Lenker

uses the incident as a point of departure to

discuss the intention behind Two Hands, the

indie-folk outfit's second album of 2019. "The

earth is like a body, like a vessel. It's our truest

home just like our bodies are homes. And if I get

a cut or if I hit my head," she says with a laugh,

"I'm suddenly aware of all this fragility,'oh it's

the only body I've got, I better take care of this

precious being.' That's Earth."

It takes a disarmingly short amount of time

on the phone for Lenker to ease into the philosophical.

She's discerning in a way that would

cause whiplash if not for her humility, and Lenker

precedes every point with "I wonder if" and

punctuates her insight with laughter and nearly

audible shrugs. Long silences elapse as she

gathers her thoughts, and when she does speak

the words emanate from a deeply thoughtful

place.

Big Thief's open-heartedness and commitment

to surviving "as an organism, as one entity,"

has led them to a remarkable place: not

only will they have released U.F.O.F. and Two

Hands just six months shy of each other, but

the two projects coalesce into a broader meta-

CONTINUED ON PG. 8 k

DUSTIN CONDREN

OCTOBER 2019 BEATROUTE 7
---
MUSiC CONCERT PREVIEWS

WITNESS THE WORLD PREMIERE OF

MARY SHELLEY'S GOTHIC THRILLER,

REIMAGINED FOR OUR TIME. THIS

MONSTER PRODUCTION COMES TO

LIFE THIS HALLOWEEN.

CALGARY OCT 23-26

EDMONTON OCT 31-NOV 2

Tickets available at albertaballet.com

Grab your ghouls and gals and your favourite costumes

for a halloween party experience like no other.

Groups of 10 or more automatically receive 25% off when booked

online. For groups of 25 or more, email boxoffice@albertaballet.com or

call 1.800.646.8533 ext 2.

BIG

THIEF

k CONTINUED FROM PG. 7

physical inquiry. The two records,

nicknamed "the celestial twin" and

"the earth twin," wonder about individuality

and collectivity in an

era marked by acute isolation and

helplessness.

If U.F.O.F. (Unidentified Flying

Object Friend) wanted to venture

into the cosmos to befriend "the

BIG THIEF

Wednesday, Oct. 16

Phoenix Concert Theatre

(Toronto)

Friday, Oct. 25

The Vogue Theatre

(Vancouver)

other," then Two Hands redirects that gaze

earthward and inward. Two Hands is grounding:

"Maybe to realize that there is no other,

maybe to dissolve that feeling," she says.

Lenker wrote fervently over the last two

years during two back-to-back world tours.

After a demo session in Topanga Canyon last

year resulted in 40 or 50 songs, the band realized

they enough for multiple records. But a

double album "would've been too dense, specifically

with this material," Lenker explains.

"So we decided to make two albums."

"[U.F.O.F.] started imaging as more ethereal,

celestial, and cosmic. [On Two Hands] we

wanted to be like bones and blood and very

human. It felt ambitious but it all made a lot of

sense once we got into it."

Big Thief leaned on the opposing natural

environments of the Pacific Northwest rainforest

and the New Mexico desert to guide the

sonic differences between both albums. Their

U.F.O.F. sessions in the middle of a forest outside

Seattle "just flowed," the lush greenery

and plentiful oxygen translating into the soft,

airy sounds on the album.

Less than a week later, the foursome evaporated

that fluidity under the scorching El

Paso sun. They grew "wily" in the 105-degree

weather. "We needed to shake off the desert

dust, to push through it." They needed to fight.

Creating in such a hot and barren climate

Tix: $23.50 - $30, ticketfly.com

birthed songs that sound burnt to a

crisp. After a few failed sessions,

the band experimented by placing

their instruments as close together

as possible.

All but two songs feature live

vocal takes so that Lenker's voice

hovers, suspended in the dry air,

clear and vulnerable. Krivchenia's

muted percussions and Meek's guitar are

evoke the feeling of cracked clay earth.

With Two Hands, Big Thief has tapped into

the vulnerability, immediacy, and universality

of the corporeal realm to craft an intensely political

record without using political language.

Lenker writes about the human body — the

most immediate and relatable thing — to bring

listeners into a shared sense of grief for our

disconnection to each other and to the earth,

while also pleading with us to refocus our energy

into our "immediate surroundings."

"I think we can all feel the wounds of the

earth and the wounds we impose upon each

other. It's very easy to distract from that feeling,

but if you're really tuned in there's just

this giant aching throbbing pain that anyone

could feel."

For her, most pain is ancestral and inherited

by each generation but we still have agency to

change it by "working with that energy and

transforming it through many, many, many

acts of love over time."

She wonders what would happen if everyone

poured love into themselves, worked on

their relationship with their grandmothers, and

"grew a little garden."

"If everyone turned inwardly and worked

on that microcosm, we would then have a big,

beautiful peaceful macrocosm. It would just be

contagious." ,

MICHAEL BUISHA

8 BEATROUTE OCTOBER 2019

ABC-Frank-BeatRoute-Ad_4.625x9.6875_Sep_WIP.indd 1

2019-09-25 9:08 PM
---
JABARI FLEMINGS

MUSiC CONCERT PREVIEWS

CHASTITY

Brandon Williams made a protest album from

the heart of the suburbs By COURTNEY HEFFERNAN

B

randon Williams has

an ambivalent relationship

to his hometown

in southern Ontario.

It serves as both the

inspiration behind his music, and

place that's a subject to criticism.

"The finance minister under

Stephen Harper, Jim Flaherty,

lived 300 metres away from me,"

Williams says from an airy loft in

Toronto's Junction, where he's

been working with director Justin

Singer on a video accompaniment

for Chastity's forthcoming

album, Home Made Satan. "He

had a massive sprawling property

among these average to small

one-car garage type of homes. It

was this privilege on the hill, and

then the rest of us. It's just this

weird..." he pauses, reflecting.

"It's Whitby, you know?"

On Chastity's debut album,

Death Lust (2018), Williams

leveled his criticism of organized

religion and unravelled the

experience of losing faith with

unrelenting intensity.

On his sophomore album,

Home Made Satan, he presents

a scathing criticism of far-right

politics. He talks about exposing

racists and the KKK in Ontario

("Spirit Meetup") and about

misogyny and hostility towards

marginalized people ("The Girls

I Know Don't Think So"). While

he contrasts the American

Dream with "elected fascists"

("Flames"), throughout Home

Made Satan he plants his narrative

close to home to criticize

inequality in Canadian society.

10 BEATROUTE OCTOBER 2019

"Home Made Satan is about

continuing to fight for your life,

about defending other vulnerable

lives," says Williams in an

Instagram post in advance of the

album release.

In the video for "The Girls I

Know Don't Think So," Charlotte

Nurse – an activist

and friend of Williams'

– and Holden Wednesday, Oct. 30

CHASTITY

Abraham, son of

The Great Hall (Toronto)

Fucked Up vocalist

Friday, Nov. 8

Damian Abrahams,

The Rec Room (Calgary)

carry signs that say,

Saturday, Nov. 9

"Black Trans Lives

The Rec Room (Edmonton)

Matter." It's a message

Nurse selected

Thursday, Nov. 14

and Williams endorses.

"It's a voice that Friday, Nov. 15

The Biltmore Cabaret (Van.)

matters to me," Williams

explains. When

Lucky Bar (Victoria)

asked if he found it

challenging to write lyrics as an

ally, he says, "No, not at all… To

me it feels inevitable."

For Williams, naming the album

was crucial to its narrative. It was

an intentional decision to call it

Home Made Satan, rather than

Homemade Satan. "I wanted

to emphasize the home," he

explains. "It's an album about

seclusion, and just hatching a

million different fears."

"I think it happens in America

a lot, and I think it happens in

Canada. It's how these nasty

people get elected. I just wanted

to emphasize home and where

some of this shit gets birthed."

While Home Made Satan is

more effortlessly melodic than the

deftly discordant Death Lust, it

has in common unflinching lyrics.

Like Chastity's debut, Home Made

Satan is a concept album. The

album's protagonist is an unnamed

young boy growing up in Whitby.

Much of the character was

inspired by is own upbringing with

some flexibility. "I've given myself

some liberty to say things," he

admits. "On 'I Still Feel the Same'

I say, 'Bring your Parliament / to

my subdivision / we'll rip them limb

from limb / I'm talking Andrew,

Justin.'

Of the shift in focus on Chastity's

albums from religion to

politics, Williams says, "I think a

political record was inevitable." After

touring through North America

and Europe behind Death Lust last

year, Williams realized that once

his music had reached cities as

far as London and Berlin, he felt

responsible for using it as a political

and social vehicle."Using this

platform for the greater good was

needed. I just felt compelled."

Now a year after he first penned

the open letter to Ontario Premier

Doug Ford about his decision to

drop the bottom floor price on

alcohol, he's frustrated that while

Whitby Brewery has recently

opened in Whitby's downtown,

the town still doesn't have a music

venue. "I just worry about Whitby

and the Durham region," he

reflects. "Durham's got 500,000

people. Why doesn't it have

something? It's a threat to the

community, really, and a threat to

young people engaging with each

other and becoming socialized,

cool people. I'm not saying it can't

happen without a venue but I think

a venue helps."

It's not surprising that Williams

would be such a vocal advocate

for places to people to collectivize.

Ultimately, he wants to make

music that would have resonated

with him as a teenager growing

up in the periphery of big cities.

"I want to do an outskirts tour. I

want to do a tour of only playing

places like Whitby," he says. "I

can't picture the day that Chastity

will lose that outskirts feeling

because it's what we are. It's what

the project is.

"I've said before that there's

thousands of Whitbys and millions

of skid kids. I was one of them. I

am one of them. I'm from one of

those places and I think there is

a voice there; I'm just singing the

neighbourhood song." ,
---
BUY BETTER,

BUY LESS

JOHN FLUEVOG CALGARY 207 8TH AVE SW 403·265·1970

JOHN FLUEVOG EDMONTON 10330 82 AVE NW 780·250·1970

FLUEVOG.COM
---
MEGAN-MAGDALENA

DEAD

SOFT

12 BEATROUTE OCTOBER 2019
---
B.C.'s Dead Soft find quiet

in the chaos with a zen

approach to life and music

By DAYNA MAHANNAH

A

ladder rattles noisily in the

back of the white Chevy Express

van, which doubles as a

work vehicle when not hauling

band equipment around on

tour. At night, only the van's

headlights illuminate a single,

deserted road encased by

the surrounding forest.

"We call this the tunnel," Nathaniel

Epp's voice reaches through the rattle as

he drives. It's the end of another day on

Gabriola Island for grunge band

DEAD SOFT

Dead Soft, where Epp (vocalist/

guitarist) and Keeley Rochon

Saturday, Oct. 12

(bassist/vocalist) work their The Astoria (Vancouver)

respective jobs as a landscaper Thursday, Oct. 17

and cashier at the tiny island's The Palomino Smokehouse

(Calgary))

only grocery store. "Now I know

everyone on Gabriola," Rochon

Friday, Oct. 18

laughs. "It's nice getting to

Sewing Machine Factory

(Edmonton)

know the community a bit

Friday, Oct. 25

more. People here are so different.

It's a different pace of life."

The Beguiling (Toronto)

It's been two years since the

musicians escaped the claustrophobic rental

market of Vancouver and moved to an island

of 4000 people off the coast of BC. It's

even smaller than their hometown of Prince

Rupert, where the two met in high school

and played DIY shows with their own bands.

In 2011, Epp and Rochon formed Dead Soft

while living in Victoria, before making the

move to the big city. "All my life, Vancouver

was like, the place," Epp says. "I never saw

anything past Vancouver."

Parking in a gravel driveway next to old

touring vans, the couple lead the way to a

small cabin overlooking the Pacific ocean.

Inside, it's picturesque and snug, allegedly

built in the 1970s by "some crazy hippy

guy." The walls are wood-paneled in wood,

covered by a floor-to-ceiling bookshelf and

collection of vinyl. Plants, quirky jars, and

cameras decorate the room. The fridge is

plastered with uniformly styled US state

magnets collected at various gas stations on

past tours.

Rochon recounts their first Vancouver

gig alongside Vancouver band Woolworm,

which landed Dead Soft on the inside of

the city's "insular" music scene. They spent

seven years working day jobs, funneling

their earnings into the band and struggling

in Canada's most expensive city to establish

a music career. It paid off. "Vancouver made

our band," Rochon says. But the city eventually

lost its glitter — they were unhappy.

"It's kinda funny because it's partly because

of the band that it was hard to survive." Epp

loads the fireplace with wood from a stash

outside. "Moving to Gabriola was purely for

ourselves. We were like, whatever, we'll make

it work or we won't." Curled up in an armchair,

Keeley lights up — "And it did work!"

Last year Dead Soft signed with indie

label Arts & Crafts, which boasts a

roster of international artists including

Feist, Dan Mangan, and Broken Social

Scene (who Dead Soft opened for at

SXSW 2019). The three-piece band

(drummer Alex Smith lives in Abbotsford)

will tour North America this fall to

promote their debut album, Big Blue.

Named after the dusk sky glow only

visible without light pollution, the record

hits notes of aggressive melancholy and

dark humour clinging to upbeat melodic

rock riffs.

The unconventional move away from

a music epicentre has meant more

travel — to the city to rehearse with the

rest of the band or to work — and much

more quiet. Last winter, a

storm blacked out most of

the island for six days. Without

electricity or running water,

the two kept their food

in coolers outside and filled

jugs from the creek. Rochon

powered through a portion

of her book collection and

Epp whittled a bird feeder.

"It was awesome." Gabriola

Island's scenic retreat

affords the musicians both

time and freedom to focus

on their art. "Not having a neighbour

upstairs that tortures me makes a pretty

big fucking difference to my world," Epp

says, perched next to the record player.

Just out of sight from the porch window

is a studio shed filled with old Dead Soft

posters, instruments, and recording

equipment.

Within the quiet stirs the chaos

that an upcoming tour and new album

inhabit. Yet touring holds a sense of

normalcy the musicians look forward

to — suffering and all. "It's about being

willing to quit your job and give up all of

your creature comforts to be immensely

uncomfortable. You have to have

a sense of humour about it," Rochon

insists, glowing in the orange light of

the room. "You have to be like, 'I feel like

shit right now. This is hilarious! I'm so

overtired that I'm weeping and laughing

at the same time.'" Epp nods earnestly.

"If you're all about security and comfort

and doing what makes the most sense,

then it's not something you should do."

He is met with gales of laughter by

Rochon.

It's the same attitude that has landed

them in the serenity and subtle seclusion

of this little island — a dicey place

for building a musical career. Epp and

Rochon have assessed the risks and are

willing to work through them. "You can't

get hung up on being in a certain place

or in a certain scene." Epp has taken to

"burping" a jar of homemade sauerkraut.

"Things that really matter aren't where

you appear. It's what you do." Indeed,

when the power goes out, Dead Soft will

be just fine. ,

OCTOBER 2019 BEATROUTE 13
---
M U S I C

AMY HEF | CARDIOGRAMS | KELLI FRANCES CORRADO | PAIGE DROBOT | EEKWOL | MOLLY FI | FUTURE STAR

HAIRNET | SHUMAILA HEMANI | HUNTER & THE KILL | JIAJIA LI | KAMIKAZE NURSE | KHILLA HKHILLS

KIMLEESTAR | KIMMORTAL | KNOWN LOCAL BABES | KRILL WILLIAMS | HUA LI | JESSICA MCCANN TRIO

MECHADROID | MI'ENS | HAVIAH MIGHTY | THE PACK A.D | QUIET GROOVE | LAURA REID | INDIGO ROSE

SELCI | SHEMATOMAS | STEGOSARAHS | STRANGE BREED | THE TORCHETTES | GABI TOMÉ | VALKYRIE

VANITY POPE | ASHLEY VELVET | WANDERINGARIA | WINDOW LAMP | WUT | YELRIHS

V I S U A L A R T

MADDIE ALEXANDER | ALIA ALUMA | SOPHIA BARTHOLOMEW

CLAUDIA CHAGOYA | ARCANA SHANKS | DIRTY DOUKS

HANNAH DOERKSEN | TAYLOR HARDER | NICOLE MARY

VERONIKA MCGINNIS & AUARTS STUDENTS

MORGAN SEARS-WILLIAMS

F I L M

SHORT FILMS BY YUNG-JEN CHAN | ALEX ESPLEN

ROWAN GRAY | RANDI HAMEL | NATASHA JENSEN

TRAN-ANH NGO | MEESH QX | ERIN RIANNA

SHEENA ROSSITER | AMANDA STRONG

KAYTLYN TURNER | SHELLEY WELCH

C O M E D Y

EMILY BILTON | ISSA KIXEN

JAYME TUCKER

W O R K S H O P S

ASTROLOGY | BIPOC ZINE MAKING CRAFTS

WITH STASH | PINK FLAMINGO YYC &

SHETALKS PANEL | WRITING + MORE

W I L D C A R D

ART PROJECTIONS | CLOTHING &

PLANT SWAP | DRAG | NAP-IN

SPOKEN WORD

w w w . f e m m e w a v e . c o m

We acknowledge the financial

support of FACTOR and Canada's

private radio broadcasters
---
Artist to Watch

KHILLAH

KHILLS

THE 80s REIGN

SUPREME IN

SYNTH-DRIVEN

DREAM ROCK

By SEBASTIAN BUZZALINO

There's a new band in Calgary marching to the beat of their own drum

machine. Splintering off from lush dream pop luminaries, Lashes, Khyla

Floen and Katie Hillson shed their analog instruments for a stack of

synths and a darker New Wave sound, complete with full 80s regalia.

Khillah Khills prowl Calgary like a glammed up, street-walkin' cheetah,

bringing a delirious dance club groove to a scene traditionally invested

in indie and psych garage jams.

"I was writing songs that didn't fit with so much with Lashes," says

Floen. "A lot more dancey. I usually play bass [in Lashes] and I write on

my synth or piano. It felt right for Khillah Khills."

"I really love writing on synths," agrees Hillson. "But within the dream

rock genre, I wanted to go further with the synth, with the dream and

electronic elements."

Khillah Khills dive deep into the 80s vibe, bringing a nostalgia for a relatively

recent past to the forefront of their music. Introduced in part to

their inspirations via their parents' music, the duo connected over their

love for the maximalist aesthetics and synth-driven dreamscapes.

"I really like that there's lots of synchronized dance moves, lots of

outfits, and lots of thought put into the whole aesthetics," says Floen.

"The 80s are over the top and we want to be over the top," laughs

Hillson. "We definitely came together over wanting to do something

different. Calgary has an incredible music scene, but we'd love to see

the scene expand into more genres, become more of an inclusive, queer

space, more of a creative space."

Khillah Khills' debut single, "Toxigenic," was released in August in

anticipation of a full-length out in November. Recorded in collaboration

with Calgary's resident fitness-core disco daddy, Mark Mills, it's a dark,

dystopian tune that joins the ranks of peers Melted Mirror in raising the

pulse of glammed up dance floors across the city.

Khillah Khills open for Lousie Burns at Broken City on November 3

SEBASTIAN BUZZALINO
---
16 BEATROUTE OCTOBER 2019

BR

BR

BR

BR

BR

BR

BR

BR

BR

BR

BR

BR

BR

BR

BR

BR

BR

BR

BR

BR

BR

BR

BR

BR

BR

BR

BR

BR

BR

BR

BR

BR

BR

BR

BR

BR

BR

BR

BR

BR

BR

BR

BR

BR

BR

BR

BR

BR

BR

BR

BR

BR

BR

BR

BR

BR

BR

BR

BR

BR

BR

BR

BRYYZ

YYZ

YYZ

YYZ

YYZ

YYZ

YYZ

YYZ

YYZ

YYZ

YYZ

YYZ

YYZ

YYZ

YYZ

YYZ

YYZ

YYZ

YYZ

YYZ

YYZ

YYZ

YYZ

YYZ

YYZ

YYZ

YYZ

YYZ

YYZ

YYZ

YYZ

YYZ

YYZ

YYZ

YYZ

YYZ

YYZ

YYZ

YYZ

YYZ

YYZ

YYZ

YYZ

YYZ

YYZ

YYZ

YYZ

YYZ

YYZ

YYZ

YYZ

YYZ

YYZ

YYZ

YYZ

YYZ

YYZ

YYZ

YYZ

YYZ

YYZ

YYZ

YYZ

BR

BR

BR

BR

BR

BR

BR

BR

BR

BR

BR

BR

BR

BR

BR

BR

BR

BR

BR

BR

BR

BR

BR

BR

BR

BR

BR

BR

BR

BR

BR

BR

BR

BR

BR

BR

BR

BR

BR

BR

BR

BR

BR

BR

BR

BR

BR

BR

BR

BR

BR

BR

BR

BR

BR

BR

BR

BR

BR

BR

BR

BR

BRCOVERSTORY

COVERSTORY

COVERSTORY

COVERSTORY

COVERSTORY

COVERSTORY

COVERSTORY

COVERSTORY

COVERSTORY

COVERSTORY

COVERSTORY

COVERSTORY

COVERSTORY

COVERSTORY

COVERSTORY

COVERSTORY

COVERSTORY

COVERSTORY

COVERSTORY

COVERSTORY

COVERSTORY

COVERSTORY

COVERSTORY

COVERSTORY

COVERSTORY

COVERSTORY

COVERSTORY

COVERSTORY

COVERSTORY

COVERSTORY

COVERSTORY

COVERSTORY

COVERSTORY

COVERSTORY

COVERSTORY

COVERSTORY

COVERSTORY

COVERSTORY

COVERSTORY

COVERSTORY

COVERSTORY

COVERSTORY

COVERSTORY

COVERSTORY

COVERSTORY

COVERSTORY

COVERSTORY

COVERSTORY

COVERSTORY

COVERSTORY

COVERSTORY

COVERSTORY

COVERSTORY

COVERSTORY

COVERSTORY

COVERSTORY

COVERSTORY

COVERSTORY

COVERSTORY

COVERSTORY

COVERSTORY

COVERSTORY

COVERSTORY
---
By KARINA ESPINOSA

S

tart Hill, Essex is not unlike any

of the countless other hamlets

peppered throughout the English

countryside. It sits just outside of

the market town of Bishop's Stortford,

where most of the 40,000 residents make the

hour-long commute into London each day. There's

not much here: a couple of car rental places that service

the nearby Stansted Airport; bed and breakfasts;

and nondescript houses nestled among towering

trees. And it was in a bedroom of one of these nondescript

homes that 14-year-old Charlotte Aitchison,

who the world now knows as Charli XCX, found herself

dreaming of more.

"I was 14, staring at MySpace and wishing I had a

cooler life," she says over the phone from her home

in Los Angeles the day before her 27th birthday. "I

was listening to some artists on Ed Banger Records

[Justice, Cassius] and I thought, 'Shit, I want a crew

like that to create with!'" She started songwriting and

posting her demos to MySpace, and it didn't take long

before she was getting booked to perform at warehouse

raves around East London. Because she was

so young, Aitchison used to bring her parents along

CONTINUED ON PG. 18 k

X

C

XOCTOBER 2019 BEATROUTE 17
---
BRCOVERSTORY

k CONTINUED FROM PG. 17

BRYYZ

to her gigs. "I was very much alone in

my musical journey when I was younger.

All my friends were at school while

I was going to raves—with my parents,

which wasn't very cool but whatever," she

laughs.

Fast forward to present day and Charli

XCX is firmly positioned as a multidisciplinary

artist on the cutting edge of

pop music, regularly creating some of

the most exciting, danceable music today.

She's penned hits for Iggy Azalea,

will.i.am, Shawn Mendes and Camilla Cabello.

She's made The F Word and Me, a

documentary about women in the music

industry; has released two experimental

pop mixtapes; and has launched her own

label, Vroom Vroom Recordings, to support

the sound she's become known for.

Despite her extensive—and ever-evolving—résumé,

Aitchison is refreshingly

modest when it comes to her achievements,

and has never lost the quiet determination

that has taken her from Start

Hill all the way to the top of the pops.

"I love proving people wrong. It's one

of my favourite hobbies," she says. "I

think I've always been considered an underdog

in music and I think that's probably

been emphasized more because I'm a

woman. But I think the way that I make

music, and how it sounds, has cast me as

different."

After she began to carve out her place

in the music industry in the early 2010s,

signing to Asylum Records and clocking

credits with such established acts at Icona

Pop, Aitchison eventually found the

kind of artistic community she always

sought—her own Ed Banger-esque crew

to create with. Even as she matured into

a solo musician, her forward-thinking

sound has been fueled by her relationships

with other artists who shared her

vision. "Collaboration is exciting for me,"

she says. "I have an ego—of course, as artists,

we all do—but I also don't need to

be front and centre in every

single thing I do."

A staunch feminist, Aitchison

says she loves being able

to support and learn from

other women, and her musical

output is proof of that.

Her most recent album,

CHARLI XCX

Saturday, Oct. 5

The Commodore Ballroom

(Vancouver)

Monday, Oct. 14

Rebel (Toronto)

Tix: $35, ticketmaster.ca

Charli (released on September 13), boasts

an impressive roster of female powerhouses:

Lizzo, Sky Ferreira, and HAIM are

just some of the guest contributors.

Her most memorable working experience,

however, was creating the the

song "Gone" with Héloïse Letissier of

Christine and the Queens. "It was an

Collaboration is exciting

for me. I have an ego—of

course, as artists, we all

do—but I also don't need

to be front and centre in

every single thing I do."

amazing process from start to finish," she

remembers. "Working with Chris was so

fluid and easy. She makes me feel so good

about myself, not only as an artist but

also as a person."

In the video for the track,

Aitchison is a self-determined,

leather-clad siren

dancing on top of a car.

She's an image of power,

control, and an unmistakable

cool—a swagger she

says was inspired by her

collaborator. "People think I'm extremely

confident—and I am, in some ways—but

I'm also insecure," she says. "I generally

hate doing photo shoots and music videos,

but I had so much fun shooting the

'Gone' video with Chris. She's so uniquely

her and confident in what she does that

it kind of rubs off on you."

While she's at the top of her game

delivering dancefloor-ready beats and

pushing the envelope of pop, experience

and maturity has also allowed Aitchison

to get in touch with a more vulnerable

side. Like everyone else, she battles

against imposter syndrome. "The life

and the world I live in is such a roller

coaster, and my emotional state is constantly

up and down," she describes.

"Sometimes I feel like I'm on top of the

world and I absolutely love myself, and

other times I wake up in the morning

and I hate myself—I feel alone and isolated

and not good enough."

The delicate dance between these

two extremes of emotion might just

be Aitchison's special sauce, and she's

laying it on thick as she moves to the

next stage of her already-accomplished

career. While many artists choose to

self-title their first album, naming her

third album after herself is an intentional

choice: Charli is both a coming-out

party and a rebirth; the product of a settled

and seasoned artist, who is reframing

what it means to be a pop star.

"I'm aware that every artist in the history

of artists has said that one album in

their career is the most personal they've

ever made. But I sincerely feel that this

is the case for me," she finishes. "I'm not

afraid to talk about my emotions anymore.

It's incredibly liberating." ,

QUEEN OF COLLAB

Charli XCX is pop's reigning Queen of the Collab.

Here are four artists featured on her latest album

who are all musical trailblazers in their own right.

TROYE SIVAN

Australian Troye Sivan

belongs to the Internet

generation, having come

of age behind a camera

as a popular YouTuber.

Since then, the LGBTQ+

spokesperson has grown

into a fully-fledged

popstar with newfound

poise. His sophomore

album, Bloom, is a record

that celebrates love, sex,

and being comfortable in

one's skin.

YAEJI

Known for her celestial

take on electronic music,

Yaeji has quickly cemented

herself as one of the

most prominent DJs of

the underground scene.

Her signature track,

"Raingurl," is a baseheavy

bop that combines

languages, cultures, and

genres to convey her

unique experience as a

Korean-American woman.

BIG FREEDIA

Big Freedia, the undisputed

"Queen of

Bounce," single-handedly

brought New Orleans'

bounce music to an international

platform. Her

influence in the mainstream

is far-reaching,

having collaborated with

the likes of Beyoncé and

Drake. In spite of these

associations, Freedia

continues to shake,

twerk, and bounce on

her own, all the way to

the top.

LIZZO

In an industry that almost

demands a meticulously

crafted image, Lizzo has

never been afraid to be

anyone but herself. The

singer-rapper-flautist

made waves last April

with her major label

release, Cuz I Love You,

a genre-blending work

that eschews pop clichés

while promoting the importance

of self-love.

18 BEATROUTE OCTOBER 2019
---
@gateway.bar

Wings $5/lb After 4 p.m. with beverage purchase, gst not included. Dine in only. 18+ legal ID required.

This event is open to all Sait students, staff, faculty, alumni, members, and guests. Please visit Saitsa.com for more information.

WHAT'S HAPPENING

Fri. Oct. 4, 2019

X92 Xposure Presents

THE CARBONS

+ A Day As Wolves & Poke The Bear

Thu. Oct. 31, 2019

X92 Presents

THE DUDES HALLOWEEN PARTY

+ The Quivers & Yvette

Fri. Nov. 15, 2019

The Gateway Presents

WANNABE

A Spice Girls Tribute

Wed. Oct. 9, 2019

The Gateway Presents

MARVEL TRIVIA

FREE TO PLAY

Tue. Oct. 15, 2019

Virgin Radio Calgary & AMP Radio Present

TYLER SHAW

+ Craig Stickland

WED. OCT. 2, 2019

Sat. Nov. 2, 2019

Calgary Folk Music Festival Presents

TERRA LIGHTFOOT

+ Sam Webber

Wed. Nov. 6, 2019

The Gateway Presents

WINGO

BINGO + WINGS! FREE TO PLAY!

Thu. Nov. 21, 2019

MRG Concerts Presents

RIA MAE

+ Matthew V Music

Fri. Nov. 22, 2019

The Gateway Presents

PROZZAK

Farewell Tour

Wed. Oct. 16, 2019

The Gateway Presents

DISNEY KARAOKE

FREE TO SING

Sat. Oct. 19, 2019

X92 Presents

ROYAL FOUNDRY

+ MONOWHALES & Lost Cousins

Wed. Oct. 23, 2019

The Gateway Presents

TOOLBELT BINGO

FREE TO PLAY

Wed. Oct. 30, 2019

X92 Presents

THE DUDES HALLOWEEN PARTY

+ Port Juvee & Gentlmens Club

$5/LB WINGS

5:00PM REGISTRATION | 5:30PM BINGO

FREE

TO PLAY

Saitsa.com/Events

Fri. Nov. 8, 2019

Calgary Folk Music Festival Presents

THE EAST POINTERS

+ Special Guests

Sat. Nov. 9, 2019

Calgary Folk Music Festival Presents

LEMON BUCKET

ORKESTRA + Special Guests

Wed. Nov. 13, 2019

The Gateway Presents

HARRY POTTER TRIVIA

FREE TO PLAY

Thu. Nov. 14, 2019

StFX YYC Presents

SIGNAL HILL

+ Special Guests

Fri. Nov. 29, 2019

The Gateway Presents

ALTAMEDA

+ Special Guests

Sat. Nov. 30, 2019

The Gateway Presents

HILLTOP HOODS

+ Adrian Eagle

Tue. Dec. 10, 2019

The Gateway Presents

HOCKEY DAD +

DZ DEATHRAYS

+ Horror My Friend

For a list of all upcoming events visit GatewayYYC.com/Events

And make sure to follow us @gatewaybar to catch all the latest announcements!

18+, Legal ID required. This event is open to all Sait students, staff, faculty, alumni, members, and guests.

Please visit Saitsa.com for more information.

GatewayYYC.com
---
MUSiC CONCERT PREVIEW

LEVI MANCHAK

nêhiyawak

I

t

Indigenous trio

nêhiyawak join the

resistance on debut LP

By SEBASTIAN BUZZALINO

seems fitting that when

BeatRoute connected with

Matthew Cardinal, bassist and

synth player for the band nêhiyawak,

they were recovering

from a severe thunderstorm that

had rained out their set at Supercrawl

in Hamilton, Ontario.

"They had to close down the

stages and there was lightning everywhere,"

he says. "Luckily, they

were able to get everything going

in time for Buffy Sainte-Marie."

That nêhiyawak were caught up

in such forces of nature suits the

thunderous and atmospheric indie

rock. Rounded out by Kris Harper

on vocals and guitars, and Marek

Tyler on

nêhiyawak

drums, the Friday, Oct. 4

trio from Aviary (Edmonton)

amiskwaciy Saturday, Oct. 5

in Treaty King Eddy (Calgary))

6 Territory Tix: $12, showclix.com

(current

day Edmonton) weaves together

intricate soundscapes chiming with

jangly guitars, modulated synths,

and swelling rhythms. It's the sound

of prairies sighing, of mountains

uprising, of rivers racing and

skies splitting open, all devoted to

investigating their land, history, and

heritage.

Combining contemporary indie

songwriting and traditional methods

of storytelling, nêhiyawak are

part of a renaissance of Indigenous

artists from across Canada using

their music to unravel the legacies

of colonialism.

"The subject matter is pretty

important for me — it's pretty

intense," explains Cardinal. "It's

inspired by the Idle No More

moments, the Sixties Scoop, the

displacement of Indigenous people

in general."

Their debut full-length, nipiy,

which translates to "water," is a

spirited expression of resistance.

Bookended with odes to kisiskâciwanisîpiy

(North Saskatchewan

River), the flow and rhythm of water

is a central part of the album's identity,

and nêhiyawak leverage their

teachings that come from water as

a lens to raise awareness for the

themes they tackle.

"If people can hear our music

and learn from that, and then reach

out to other people, that's all we

could ask for," says Cardinal. "It's

cool to be part of all these Indigenous

musicians who are gaining

some traction, and getting our

stories out."

nipiy is out October 24 on Arts & Crafts

20 BEATROUTE OCTOBER 2019
---
The Playlist:

BEATROUTE

BEATROUTE

BEAT

ROUTE

BR

BRLIVE

BRYYZ

1 2

10 songs in heavy rotation at the BR offices right now

5 7

9

4

1

FKA Twigs

holy terrain (Ft. Future)

The experimental alt-pop songstress

links up with some unusually

big names in Future, Skrillex and

Jack Antonoff for a more structured,

trap-influenced track. Twigs'

baroque, operatic vocals are still

as beautiful as ever as she wishes

for a man who is ready to enter her

god-like aura.

2

Rex Orange County

10/10

Rex predicts the review scores of

his upcoming album with a lead

single that sees him optimistically

looking towards a future of

self-improvement. Packed with

vibrant and uplifting synths, this will

immediately put a smile on your

face (and maybe motivate you to

clean your house or something).

3 Halsey

Graveyard

After releasing a couple of standalone

tracks, Halsey's official lead

single from her upcoming album

starts with quiet acoustic strumming

before steadily building to an

explosive chorus featuring some

pretty heavy percussion. With

producer-of-the-moment Louis Bell

behind the boards, another massive

hit is all but guaranteed.

Sean Leon

4 SORRY

Don't let the title fool you—this

track is all about just how sorry the

Toronto rapper isn't. A bombastic

flex track of the highest calibre,

Sean Leon is on top of the world as

he emphasizes just how fantastic

every single aspect of his life is.

Walk down the street listening to

this one and pretend you're this

cool.

5

Charlotte Day Wilson

Mountains

This mesmerizing track

opens to the sound

of trickling water and

a gospel choir that

ultimately settles into a

groove as a call-andresponse

to Wilson's

rich alto tone. Daniel

Caesar takes up a role

on the backing vocals as

Wilson delivers emotional

lyrics, comparing loneliness

to being lost

in the wilderness.

3

6

Alicia Keys & Miguel

Show Me Love

Two of the most soulful and boundless

voices in the game team up for

a collaboration that is unexpected

and yet completely perfect. A sensual

slow jam over R&B legend Raphael

Saadiq's acoustic noodling,

these two are just as effective in

an intense lower register than their

usual vocal acrobatics.

7 Wilco

Everyone Hides

Eleven albums in and Wilco

is still going strong.

Jeff Tweedy's breezy

falsetto complements

an upbeat and cheery

folk instrumental

interspersed with the

odd crunchy guitar

work. The music video,

where the band takes the

title literally and plays a

massive game of hide-andseek

around Chicago, is

just as charming.

8

Alessia Cara

Rooting For You

Inspired by Tyra Banks'

legendary Top Model tirade,

Alessia Cara steps out of her

calmer alt-R&B comfort zone

into a bouncy synthpop soundscape.

She still has ample

space to flex some of those

impressive vocal runs as she

recounts a summer romance

gone wrong. Spoiler alert: She

was really rooting for him.

9 Slowthai &

Denzel Curry

Psycho

Could horror-movie rap be the new

wave? One of the UK's most rapidly

ascendant artists drops the politics

for a second and links up with one of

the only people who can legitimately

match his screaming, distorted vocal

presence on the mic. The two lay

down some punishing verses over

high-pitched violins straight from a

slasher film.

10 JPEGMAFIA

Beta Male Strategies

The provocative and boundary-pushing

rapper for the Internet age

unleashes his official manifesto against

people who come at him through the

anonymity of Twitter, but won't say

it to his face. Issuing threats over a

couple of disorienting beat switches

and a roaring guitar, Peggy ultimately

predicts his own cancellation.

OCTOBER 2019 BEATROUTE 21
---
Reviews

ALBUM

Album Review

ANGEL OLSEN

All Mirrors

Jagjaguwar

After the overwhelming success of

her three wildly acclaimed albums, it

makes sense that Angel Olsen might

depart from the pillars of mendaciously-crafted

folk pop for something teeming

with fresh ambition and a towering

with a new objective: figuring out how

translate vulnerability into power.

Gone is is silver tinsel hair and

playful roller rink messing around that

adorned the video for her 2016 hit

single, "Shut Up Kiss Me." In its place,

Olsen's refreshed persona ventures

into the bold and exquisite world of

60s noir — an imposing figure draped

in a long black dress with a wind-swept

vail that follows her lead as she methodically

whirls across a stark white

backdrop. Such is the mood swing

from her first video featur- ing the title

track on All Mirrors.

The segue into the album's sonic

texture is also a strange, dramatic mix

of strings that swoop and swell, anchored

by synthesized keys and electronic

drums. These competing and

complementary forces collide with the

dreamy, icy elegance of gothic black

and white cinema, creating a surreal

sci-fi soundscape. What's truly compelling

about All Mirrors is its commanding

presence that travels deep into a

cavalcade of imaginary dimensions. It's

a bold cinematic experience.

Along with a distinct outer-limits

look and sound that dominates Olson's

current creative space, she weaves

and careens through lengthy, entangled

ballads exploring the mechanics

of a complicated heart which effectively

doubles as a summation of the

postmodern condition.

Best Song: What Is It

Brad Simm

OCTOBER 2019 BEATROUTE 23

CAMERON MCCOOL
---
nêhiyawak

OCT. 5

OCTOBER • LIVE MUSIC

DAN

MOXON

OCT. 11

Sweet

Alibi

OCT. 22

JORDAN

KLASSEN

OCT. 26

AND MORE!

VISIT KINGEDDY.CA FOR INFO

COME EARLY,

GRAB A BITE AND A BREW

GOLD AWARD FROM CULINAIRE MAGAZINE'S 2019 FINEST DRINKS

LIST FOR "BEST BEER LIST" AND "BEST ALBERTA CONTENT"

featuring

VILLAGE BREWERY, COLD GARDEN BEVERAGE COMPANY,

WILD ROSE BREWERY, NEW LEVEL BREWING, JASPER BREWING

CO., EIGHTY-EIGHT BREWING, GOOD MOOD BREWERY, DANDY

BREWING CO., COMMON CROWN BREWING CO., CABIN BREWING,

ANNEX ALE PROJECT, FREEHOLD BREWING, OT BREWING, ZERO

ISSUE BREWING, BANDED PEAK BREWING, LEGEND 7 BREWING,

TOOL SHED BREWING, RIBSTONE CREEK BREWERY, HELL'S

King Eddy | 438 9 Avenue SE, Calgary kingeddy.ca @KingEddyYYC #KingEddyYYC

BASEMENT, CARAVEL CRAFT BREWING, HIGHLINE BREWING,
---
MUSiC ALBUM REVIEWS

Interview

DANNY BROWN

uknowhatimsayin¿

Warp Records

PREFAB

SPROUT'S

FRONTMAN

PADDY

McALOON

STILL

MAKING

MUSIC...

ON AN

ATARI?

By GLENN ALDERSON

Paddy McAloon is tinkering in his

Northern England studio trying

to emulate the sounds of a guitar

using an Atari Computer when he

answers the phone.

The 62-year-old songwriter is

often credited as one of pop-rock's

greatest songwriters for his masterful

work with his band Prefab

Sprout, but due to his worsening

tinnitus, the sound of an actual

guitar—or any amplified musical

instrument—causes him immense

discomfort.

"Listening is not quite the

pleasure that it was. I only have so

many hours in a day where I can

work before my tinnitus just exhausts

me," he says in a thick English

accent. "I play the guitar but

sometimes when I'm working on a

song I use what I call a 'fake guitar,'

where I program the Atari to sound

like a guitar part. It's tedious and

boring and I'm probably old enough

to know better, but sometimes I get

carried away doing it."

McAloon is optimistically working

on the long-awaited Prefab Sprout

record, Femme Mythologiques, and

the band's first new music since

2003's experimental rollercoaster

of a concept album, I Trawl the

Megahertz. Originally released

as a solo album, Megahertz was

inspired by the shortwave radio

shows he would listen to while at

home recovering from a detached

retina. Earlier this year, Sony Music

Paddy McAloon

reissued the album under the Prefab

Sprout name as it was originally

intended.

Prefab Sprout rose to fame

in the late 70s and early 80s

with their unique brand of new

wave-inspired outsider pop music

that often got lumped into the new

wave movement, but stood tall

above the rest thanks to production

from Thomas Dolby on their

breakout album, Steve McQueen.

They experienced great success

in the UK—and mildly in North

America—with pop hits such as

"Cars And Girls" and "The King

Of Rock And Roll," cementing the

band as innovators in the evolving

landscape of pop rock.

With a nod to prosperity and

everything that once was, the band

is celebrating reissues of their first

three albums: their debut, Swoon,

which introduced the world to

McAloon's idiosyncratic songwriting

with subtle male-female harmonies

courtesy of bandmate Wendy

Smith; Jordan: The Comeback, an

overly-conscious but pleasantly

confident sophomore album; and

their earnest third album, From

Langley Park To Memphis.

But McAloon however is not interested

in looking back, only forward.

For him, creating ensures he doesn't

get left behind as a footnote in the

music history books. In fact, he's

infamously known for his archive of

unfinished material that he's barricaded

parts of his studio with.

"I've got a grand piano that I

can't get near because of the piles

of songs I've written since the year

2000. It's kind of hidden behind

this wall of packed boxes full of

music, which is a great tragedy,

really."

McAloon has been teasing his

archive of unfinished material

for decades but assures those

recordings aren't anywhere close

to being released.

"It's not a like a Prince or Frank

Zappa situation where there are a

bunch of finished records waiting

to go. It's more like I've written

songs for an album and they're on

cassettes. I've got the paperwork,

the chord charts, but very few

are finished. I can't just reach out

to a shelf and play you an entire

unreleased album, but I can find

you the box."

For now, fans can enjoy the

band's back catalogue while

McAloon remains hard at work,

committed to replicating that

perfect guitar sound for his next

offering using his Atari computer.

The new song he's speaking about

is called "Mary Magdalene Blues."

"It's got a strummy mildly funky

guitar part. I'm nearly finished it

actually. This afternoon I may have

it finished and then I will commit it

to tape."

Best Track: Cars and Girls (From

Langley Park To Memphis)

It's been three years since Danny

Brown released Atrocity Exhibition—the

album he famously spent

$70,000 of his own money on

samples for. While the Detroit

native may be making different

financial decisions with his fifth

album, uknowhatimsayin¿, one

thing remains the same: even after

over a decade in the game, he's still

one of the most inventive and fun

rappers there is.

uknowhatimsayin¿ features executive

production by none other than

Q-Tip, who also produced the majority

of the beats. The influence of

the ATCQ pioneer is strong on the

warm, sample-driven beats: tracks

like "Theme Song" and "Change

Up" could be lifted directly from the

Native Tongues heyday with their

jazzy vintage vibe. The laid-back,

classic feel combined with Brown's

contemporary flows results in an

era-bending mash-up we could only

have dared to dream of.

Additional production contributions

from the likes of Flying Lotus

and experimental jazz duo Standing

on the Corner add layers to the

sonic palette. The wide-ranging

features from JPEGMAFIA, Run

The Jewels, Blood Orange and Nigerian

spoken word artist Obongjayar

are the perfect complement

to Brown's chameleonic character

throughout.

"I'm livin' my best life," Brown

boasts on the song of the same

name, and we wholeheartedly

agree.

Best Track: 3 Tearz

Josephine Cruz

OCTOBER 2019 BEATROUTE 25
---
MUSiC ALBUM REVIEWS

FKA TWIGS

MAGDALENE

Young Turks

KACY & CLAYTON

Carrying On

New West Records

REFUSED

War Music

Spinefarm Records

WILCO

Ode to Joy

dBPM Records

CITY AND COLOUR

A Pill for Loneliness

Still Records

Tahliah "FKA twigs" Barnett conjures

images of a far-away planet

where cats purr melodies and you

can see music swirling through the

air like puffs of gossamer in the

wind.

The long-awaited follow-up to

LP1 offers her signature, ethereal

vocals paired with otherworldly,

emotional elements and goosebump-evoking

notes.

Smoky and silky, MAGDALENE

turns feminism on a dime in the

title track, about the "creature of

desire" when she sings: "A woman's

work / a woman's prerogative / a

woman's time to embrace she must

put herself first."

Rapper Future joins on the Hip

Hop anthem, "Holy Terrain," adding

a modern twist on what's bound to

become a classic release. Pitting

sweet, tinkling pianos against

coarse, rasping synths, the avantpop

album is the equivalent of a

robust glass of Cabernet and dark

chocolate in a candlelit bubble

bath.

Gloucestershire-born Barnett—

who reportedly got her nickname

from her penchant for cracking

her joints loudly—channels Kate

Bush's strange lyrical style in tracks

that smack of heretics, conjuring

the hotly-debated Mary Magdalene,

who was either a prostitute

befriended by Jesus Christ himself,

his wife — or both.

Best Track: Cellophane

Kasia Gorski

Were the world a fair place, Saskatchewan

duo Kacy & Clayton

would be filling stadiums and rolling

fields at outdoor stages with their

traditional folk songs.

On their fifth album, Carrying

On, there's a quiet, stoic strength in

singer Kacy Anderson and guitarist

Clayton Linthicum's songwriting as

each musician plays off the other

to form a sum so much greater

than its parts. Anderson's angelic

voice soars with a gossamer

quality that belies her young age,

while Linthicum plays the guitar

like he's reading poetry, equal parts

virtuosic and melodic.

Carrying On stumbles open with

a drum roll on "The Forty-Ninth

Parallel," which quickly sees Kacy

& Clayton luxuriously stretch into

their comfort zone with a lilting

rhythm and understated arrangement

that feels as airy and delicate

as an autumnal prairie sunset.

Immaculately produced by Wilco's

Jeff Tweedy, each instrument and

vocal line has ample space to

shine on its own, coming together

in a seamless whole that feels

effortless.

Indeed, Anderson and Linthicum

are at the top of their game on

this record in part because of the

space afforded to each of them to

play traditional folk in an English

tradition that sounds almost too

good to be true.

Best Track: Carrying On

Sebastian Buzzalino

When The Shape of Punk to

Come came out in 1998 it was a

daring new sound for hardcore, a

blast of energy that messed with

genre conventions and took things

to a new level for angry guitar rock.

Following a 15-year hiatus, their

long awaited follow up, Freedom

(2015), didn't quite deliver on that

same energy. There were new

sounds and experiments but something

as missing. War Music however,

sees Refused toning down the

experimentation, but bringing that

vital energy back into the mix.

Frontman Dennis Lyxzén has said

War Music is an album that would

"make more sense" for fans of The

Shape of Punk to Come and he isn't

wrong. The anger is once again

palpable and the album has an explosive

quality that Refused proudly

wore on their sleeves back in the

day. A little less daring in some

ways with slick production taking a

bit of the edge off, but the grooves

are there and Lyxzén tackles some

great anti-capitalist themes.

While War Music isn't as

genre-defying, it's still nice to see a

band quoting Marx and screaming

"blood red until I'm fucking dead"

like they mean it.

Best Track: Blood Red

Graeme Wiggins

The title of Wilco's eleventh record,

Ode to Joy is a bit deceiving, given

its downcast thematic content. But

the Chicago six-piece aren't seeking

to make a record that's hopeful,

or that radiates sunshine, and that's

perfectly okay—the tracks are reflective

of the times, and it's Wilco's

call to stay afloat despite them.

Minimalism is present throughout,

with drums being the constant

unifying thread within the album.

Are they a subtle nod to protests

or revolution? Yes, but a restrained

one. Wilco doesn't have to shout

to the rooftops about everything

wrong in the world because we

know well enough—we're living it.

Ode to Joy starts off slow but

kicks up after "Everyone Hides" and

stays melodically upbeat. Led by

frontman Jeff Tweedy, the group

takes a stripped-back approach

to songs that split open to reveal

lyrics splayed out over acoustic

instruments. This is perfectly

captured on "Hold Me Anyway" and

"Love is Everywhere (Beware)." It's

endearing, but there's a desire for a

deeper exploration.

It's an album with a message, but

by no means the next great American

record. And that's kind of the

point. The songs lean less towards

politically charged commentary

on American life, instead weighing

more heavily on finding moments of

happiness when all seems lost.

Best Track: Hold Me Anyway

Natalie Harmsen

Dallas Green's unmistakably

haunting vocals take center stage

on his sixth LP with 11 new songs

that release all his emotions with a

slow burn.

With sweeping melodies and

introspective lyricism, A Pill for

Loneliness is a step forward into

new musical territory for City and

Colour. The album is a departure

from the folksier, plaid-shirt-anda-guitar

vibe fans have come to

expect from Green on previous

albums. Although it strays into new

ground, it still serves up more of the

best Green has to offer.

As always, Green navigates the

uncertainty of relationships expertly,

and while the overall tone is

melancholy, there are breathtaking

moments where he finds some light

in the darkness. He does so delicately,

striking a balance of asking

difficult questions while pondering

familiar themes of despair and restlessness.

He knows we're living in

turbulent times, and that consciousness

translates with every whisper

and guitar riff.

There's still familiarity and

Green plays with it comfortably,

like putting on an old sweater. He

returns to his rock and roll roots

on a few guitar-driven tracks such

as "Imagination" but overall, it's a

record that soars due to experimentation

thanks to tranquil synths

and reverberating piano that reside

throughout.

Best Track: Astronaut

Natalie Harmsen

26 BEATROUTE OCTOBER 2019
---
KIM GORDON

No Home Record

Matador

REUBEN & THE DARK

Un|Love

Arts & Crafts

When Kim Gordon sings about

the 47-inch flat screen TV, the

Andy Warhol prints, Times Square

photoshoots, and her super host

on "Airbnb," the tone of her voice

is dripping with disdain. Ah, it's

wonderful to hear fresh criticism of

the American Way and a full-frontal

refusal to not be bubble wrapped in

its deliciously good life.

No Home Record, Gordon's first

s olo recording, ventures straight

into a self-reflective state-of-mind

that slams contemporary life

against a wall of art. But what else

would you expect from a visual

artist, which Gordon also is. As the

title suggests, she's addressing

the vacancy of living in her own

country. She's at home, yet alienated

— there's no home to be found.

Welcome to Trumpland, a true sign

of the times.

Gordon's voice has faded. Her

choppy one-liners and phrases that

rip with instant recognition ooze

with whip-smart wonder. With her

finger on the trigger, you know

exactly what she means by the

defiant, "Murdered Out."

Discordant pop — blissful when

they got it right — was Sonic

Youth's trademark. While No Home

Record is definitely Gordon's own

oeuvre d'art, she also has fulfilled

the promise of where it all might

have gone.

Best Track: Airbnb

Brad Simm

Interview

Reuben Bullock

opens up about

the power of

vulnerability

on Un|Love

Vulnerability through artistic practice

is largely about opening up

spaces: within the artist to explore

difficult or repressed emotions,

and within the audience to move

through the work with empathy

and openness. The best works that

arise from opening up have the

capacity to challange the type of

harmful narratives that have historically

made sensitivity a flaw — like

the idea of cis-hetero men prioritizing

their emotional well-being.

This is the place that Reuben

Bullock was coming from when

he began work on Un|Love, his

third full-length via Arts & Crafts.

As an indie-folk singer-songwriter,

Bullock is no stranger to writing

heart-wrenching songs with an

optimist core, and is a firm believer

that things can get better by going

through the process of feeling and

dealing with his emotions. But,

as he says over the phone from

Montreal, the album sprung from

darkness.

"This record came from a place

of some real suffering. For a lot

of the songs, I tried to turn that

suffering into something soothing.

The whole core of [my current

songs] feel super vulnerable," he

says. "Un|Love was the result of

hundreds of words with the prefix,

'Un,' before them and I became

obsessed with how it confused the

definition of the word."

Bullock filled

notebook pages

with words that

were destabilized

by the

addition of the

prefix. Perhaps unwittingly,

separating

the prefix from the

word with a vertical

line opened up a more

postmodern approach

for his vulnerability: he

wasn't just interested

in inverting or negating

the original feeling, both

of which would maintain

the binary dynamic, but

rather had a higher ambition. By

providing space for his vulnerability

to run free, he aimed to allow the

audience the space to explore their

own pressure points through his

work. On Instagram, Bullock put

the call out to his fans to respond

to the idea of "Un|Love" and interrogate

the area between words

and feelings.

"I wanted to start conversations

about how other people feel these

emotions. I have a real curiosity

of what that title brought out in

people: was it something dark and

painful, was it love and beautiful, or

something in between?

"A lot of people reacted to the

two polar sides. They reacted to

the pain of the word ['love']. A lot

of people felt like it challenged the

word: they thought it was a positive

thing in the sense of unlearning old

ideas and [developing] stronger

form of love."

At the core of his music, Bullock's

primary concern is that people

are reacting at all to the things

that dig at them. "I'm constantly

challenging myself," he says. "I

just started

realizing that

the audience

is amazing

and they really

hold us in a place

where we can do

what we want to do:

just to dig deep and put

out the things I'm going

through, sing about stuff

that matters to me, create

lyrics that are more intentionally

thoughtful than they

have been in the past." In

short, it's about opening

up new spaces for

emotions and letting

those run free as a

form of therapy — about

the intersection of audience

and music as liberation.

Sebastian Buzzalino

SHEVA KAFAI

OCTOBER 2019 BEATROUTE 27
---
Live

MUSiC

Toronto

LIZZO

September 19, 2019

Budweiser Stage

"She is the mother I never had. She is

the sister everybody would want. She

is the friend that everybody deserves."

That now-memed quote comes from

none other than Oprah, talking about

her idol Barbara Walters, but it may as

well be about Lizzo. We were blessed

enough to catch the "Juice"-y singer

on the Toronto stop of her Cuz I Love

You Too tour, and we can safely say, to

borrow Oprah's words, we "don't know a

better person."

Originally set to play Toronto's Rebel,

a 2,500 capacity venue, Lizzo was adorably

emotional about the show being

upgraded to the much larger venue due

to demand: Over 15,000 adoring fans

packed the Budweiser Stage—not bad

for an artist who just earlier this year

played a 1,500 person venue (the Danforth)

and didn't sell it out.

Along with her dancers, The Big Girls,

and the talented DJ Sophia Eris, Lizzo

served on-point choreography and

never missed a beat. She addressed

the crowd in between songs, reminding

them that they shouldn't reduce selflove

to spa days and mimosas; and that

despite many fans calling her a "hero,"

that we're all our own hero and she is

just the soundtrack.

To close the night she donned a wedding

veil and sunglasses for the record

breaking "Truth Hurts"—a reference to

the 2017 music video where she marries

herself—and threw a bouquet in the

crowd. She brought out Sasha Flute

and showed off her jazz flute skills. But

the devoted crowd still cheered for

more and after long, loud applause and

chants of her name, Lizzo returned to

the stage for an encore of "Juice."

Indeed, the evening was "Good As

Hell" and Lizzo is, without a shadow of

doubt, 100 per cent that bitch.

Kate Killet

KATE KILLET
---
Calgary

IAN BLURTON'S

FUTURE NOW

September 18, 2019

King Eddy

SEBASTIAN BUZZALINO

The iconic Canadian riff master, Ian Blurton, wrapped up a weeklong

recording residency at the National Music Centre with a free,

two-set show at the King Eddy on September 18. His latest project,

Ian Blurton's Future Now, features perhaps some of his strongest

and heaviest material of his career, joined on bass by Anna Ruddick,

on guitar by Aaron Goldstein and on drums by Glenn Milchem. It's a

powerhouse lineup that feels like a bunch of old friends jamming in the

garage like they're still 18.

Ian Blurton's Future Now's first set of the night featured all-new

material that the foursome had been writing and recording as part of

the residency. Blurton joked on stage that this was the first time that

they had played these songs live and, while they were a bit looser

than usual, the group's signature sonic heaviness was at the forefront

as they jammed and banged their way through the material. For their

second set, they returned to well-rehearsed songs and really let their

chops fly: it was clear that the band was more comfortable with the

material and were able to perform with more aplomb than the first set.

On a Wednesday stacked with great shows all around town, Ian

Blurton's Future Now was a fantastic first stop. And even though

Blurton kept joking that the seated crowd at the King Eddy was "the

quietest show [he's] played," it was still everything one could expect

from Ian Blurton's Future Now: howling riffs and extended jams neatly

packaged into two monster sets.

Sebastian Buzzalino

NMC presents

ALBERTA

SPOTLIGHT

SERIES

A MONTHLY CONCERT SERIES

HIGHLIGHTING SOME OF THE MOST

SOUGHT-AFTER ALBERTA ARTISTS RIGHT NOW.

OCTOBER 18

CALVIN LOVE

Join the lo-fi pop romantic as he weaves an

array of genres through a retro-future lens.

DETAILS AND TICKETS AT STUDIOBELL.CA/WHATS-ON

Studio Bell, home of the National Music Centre | 850 4 Street SE Calgary, AB

studiobell.ca @nmc_canada #StudioBell

OCTOBER 2019 BEATROUTE 29
---
Screen Time

THE

BEAUTIFUL

MADNESS

OF A

STORYTELLER

With the documentary Once Were Brothers, a Scorsese soundtrack and a new album Sinematic,

iconic Canadian songwriter Robbie Robertson has a late-in-life creative spurt By DAVID MCPHERSON

A

s a member of Ronnie Hawkins

backing band The Hawks,

Robbie Robertson cut his musical

chops playing places along

Yonge Street such as Le Coq

d'Or and Friar's Tavern; these

fabled bars exist today only as

heritage plaques. Robertson and his Hawks'

mates later became The Band, releasing the

seminal debut Music From Big Pink in 1968.

As leader of this roots-rock group, Robertson

wrote many storied songs such as "The

Weight," "The Night they Drove Old Dixie

Down," and "Up on Cripple Creek."

Sixty-seven years later, the Toronto-born

songwriter is still telling stories and still writing

songs. The chills still come. He is still curious.

And, that's the key. As long as he has

ideas, and follows the threads down whatever

path they take, there are songs and stories

waiting for him somewhere along that road.

This month the 76-year-old returns with

a few more stories: a new album (Sinematic),

his first batch of original songs since 2011, and

a new documentary based on his 2016 memoir

"Testimony" (Once Were Brothers) — the

opening night gala selection at this year's

Toronto International Film Festival (TIFF).

Robertson also wrote the score for his pal

Martin Scorsese's new film: The Irishman,

which arrives next month. If that output is

not enough, he lets on in the course of our

30-minute conversation that he is also working

on a follow up to Testimony.

"I've never done anything like this before,"

says Robertson of this outpouring of creativity.

"It all just came to the surface at once.

I'm still looking at it and scratching my head.

Where did this stuff come from? In some cases

I know; in other cases it's mysterious."

If you had to sum up Robertson's life into

two words, the title of one of his songs on

Sinematic works just fine: "Beautiful Madness."

Turn on the news, darkness lurks.

Look around you, beauty abounds. You can't

help but be affected by all of the colours and

moods the days of our lives present.

As one of Canada's most revered songwriters,

Robertson has always found a way

to weave all of these shades into his storied

songs. It all began during childhood summer

days spent with his mother at the Six Nations

of the Grand River — Canada's largest reserve

in Ohsweken, Ontario. Here is where

his love of the arts, and music was first kindled.

Robertson listened to the sacred myths

told by the elders. He listened to the beats

of the drums and the plucking of homemade

guitar strings as his relatives played and sang

storied songs like Lefty Frizzell's "The Long

Black Veil." These simple rhythms gave him

chills he still feels. By the age of nine most

kids are just figuring out whom they wanted

to play with at recess. Not Robertson. The

songwriter knew his destiny: when he grew

up he was going to be a storyteller.

While some places where the ideas and

stories hide are a mystery, the art of catching

these thoughts and assembling them into a

song still comes naturally to Robertson.

Most often they come from reading movie

scripts, watching films, and then everything

"I've never done anything

like this before. It all just

came to the surface at once.

I'm still looking at it and

scratching my head. Where

did this stuff come from? In

some cases I know; in other

cases it's mysterious."

connects, resulting in something beautiful. "I

don't' make records to go out and do a tour

and have new songs to play," he explains. "I'm

in a different line of work. It all connects with

the visuals."

This time the visuals came in the form of

the script for The Irishman and in working on

the Once Were Brothers documentary. Writing

for movies, Robertson explains, starts with

reading the script. "I imagine what kind of

mood and what colours come to mind and it

slowly starts to take shape."

On Scorsese' latest flick, Robertson says

he's never seen anything like it. "It's got a

different feel. It's a different take on this

gangster world, so the music needed to have

that different feel as well." On the TIFF gala

film — the first time a Canadian-made documentary

opened the festival — it's a tale of

a hometown hero, inspired by Testimony. It

brings to the screen Robertson's musical journey

and incredible life story.

Robertson's life is like a movie; it was not

hard to translate this tale to the big screen.

Read his autobiographical deep dive and you

see the cinematic similarities everywhere.

There is triumph. There is tragedy. There is

darkness and light. And, there is a soundtrack

that always played throughout his 76 years

and counting: from the Scarborough Bluffs to

the Hollywood Nights.

30 BEATROUTE OCTOBER 2019
---
"I thought in the past if I didn't get so distracted

early on with music and rock and roll,

I probably would have ended up in movie

land," Robertson jokes. Today he resides in

Los Angeles; so, in a roundabout way, his musical

explorations led him to a career in Hollywood

eventually.

Film grabbed hold of Robertson at a young

age. He never let go. These days, he feels nostalgic

for the golden age of movies;

he thinks some of that magical

world is slipping away.

"I remember as a kid, you

would go to a movie and

you would get completely

lost in a world you never

imagined going to," Robertson

concludes. "You sat in the

dark, watched a movie and you

were right in the movie with

the characters. It was

such a wonderful

feeling. Today,

movies have become

more like

roller coaster

rides. A sacrifice

is being made

for extraordinary

filmmaking." ,

ROBBIE ROBERTSON

RR SINEMATIC Cover.jpg

Sinematic

Universal Music

Sinematic is Robbie Robertson's sixth

solo record and his first batch of original

songs since How to Become Clairvoyant

(2011). Recorded at The Village,

the famed studio in West LA, Robertson

is joined on this 13-song collection by a

variety of collaborators from Van Morrison

(who duets on the first single "I

Hear You Paint Houses") to J.S. Ondara,

Glen Hansard, and singer-songwriter

Citizen Cope.

Storied songs abound. The title of

the disc is a fine example of wordplay;

"cinematic" refers to anything to do with

the world of films. Here, sin is substituted

to reflect the world we live in where

darkness dwells and evil simmers, waiting

for us to take them for a ride. Many

of the songs speak of this underbelly

of society.

Cinema is a world Robertson knows

well. It's a medium he's dabbled in ever

since his relationship with his seminal

group of musical brothers (The Band)

disbanded, following the memorable

last concert captured by his long-time

friend Martin Scorsese in The Last

Waltz.

"Once Were Brothers" is a cathartic

farewell to his old mates in The Band,

part nostalgia, part moving on, part

wondering what the hell went wrong.

Robertson croons: "Once Were Brothers/Brothers

no More/We lost our way/

After the war." Another highlight, "Dead

End Kid" speaks of Robertson's triumph

over all the doubters, who thought

he would go nowhere. He defied

the odds and this song is one

of the most personal on the

record. A pair of instrumentals

("Wandering Souls" and

"Remembrance") showcase

Robertson's gorgeous guitar

playing, which, like all the

songs on Sinematic, and like a

masterpiece of cinema, leave

you wanting more.

OCT. 7 - 8

CAMP FESTIVAL

OCT. 10

TEGAN AND SARA

SOLD OUT

OCT. 26

MATT MAYS

OCT. 28

CALIDORE STRING QUARTET

OCT. 30

DAVE KELLY LIVE

SEASON OPENER

AT THE BELLA

TAYLORCENTRE.CA

OCTOBER 2019 BEATROUTE 31
---
Style

Sweater: model's own

Hat: archive Vivienne Westwood

Pants: Trip NYC

Shoes: John Fleuvog

By GLENN ALDERSON

PHOTOGRAPHER: ANNIE FORREST

ART DIRECTOR: JACOB PARK

MAKEUP ARTIST: CIRSTY BURTON

PHOTO ASSISTANT: BRUNA MOREIRA

ZSELA
---
Coat: Luar

Tights: stylist's own

Necklace: model's own

In April,

experimental arts

and fashion collective

Vaquera hosted

"Vaqueraoke" at the

MoMA PS1 in New

York. Rising R&B star

Zsela Thompson

took the stage in a

tartan dress with cut

aways that revealed

an homage to Madonna's

iconic cone bra.

The moment she set

her dark, brooding

vocals loose over

an acapella cover of

Madonna's "Like a

Prayer," a new darling

of the NYC fashion

scene was born.

In September,

she followed up her

first single, "Noise,"

with "Earlier Days,"

a heart wrenching,

time-stopping ballad

steeped in nostalgia

and lost love. This fall,

Thompson will join

Cat Power and Angel

Olsen on tour.

And on the eve of

releasing a five-song

EP, Thompson is devoted

to allowing her

art to live and breath

in multiple disciplines

while planting her feet

firmly in music and

fashion.

"I'm inspired by the

space, or venue of

the moment and how

I'm physically feeling,"

she explains.

Equally as comfortable

in a Comme

des Garçons leather

jacket and John

Fluevog shoes or a

pair of jeans with a

baggy hoodie and a

bandana, Thompson

describes her style as

temporal and fleeting.

"I'm super scrappy

when it comes to

pulling together looks

too. An archive or

vintage piece can

be the inspiration

that a whole look

surrounds."

Zsela performs with Cat

Power on Monday, Oct.

28 at the Commodore

Ballroom (Vancouver).

OCTOBER 2019 BEATROUTE 33
---
Style

Zebra print top: stylist's own

Shoes: Maryam Nassir Zadeh

34 BEATROUTE OCTOBER 2019
---
TRAVEL

ICELAND

AIRWAVES

Exploring Reykjavík:

The Land of Fire and Ice

By GLENN ALDERSON

GETTY IMAGES/ISTOCKPHOTO

F

or a music celebration that takes place on an

island infamous for getting only three hours

of darkness during the summer months, Iceland

Airwaves knows a thing or two about

making a lot of noise when the sun goes down.

Located in the Nordic island country's capital

of Reykjavík, Iceland Airwaves is a hot bed

for local and international talent who gather once a year

for the ultimate music festival experience. The multi-day,

multi-venue celebration started 20 years ago as a talent

show held in an airport hangar for foreign record execs

hoping to catch a glimpse of the next BjÖrk or Sigur Ros.

Airwaves has since grown to become an internationally

recognized event for everyone, shining a light on the country's

vast music scene with tons of live shows, all night

parties and general debauchery crammed into four days.

"Iceland has consistently punched well above its weight

with quality music," says Iceland Airwaves' managing director,

Will Larnach-Jones. "It's an island, it's remote, and

yes it's expensive, but creatively our musical output stands

on the shoulders of giants."

Larnach-Jones isn't just talking about Of Monsters And

Men — arguably the country's largest musical export next

to the Sugarcubes — Although, they are closing out the

festival this year on the Saturday night.

"The festival will always showcase Icelandic music

firstly and foremostly, but we want to also build on the

B2B side of the festival. So many great talent buyers,

agents, festival and musicians come into town, we want

to give them more opportunities to do business with Iceland,

collaborate, and learn."

This year will see acts like Mac DeMarco, Shame, Booka

Shade, Orville Peck, Whitney and much more, performing

alongside a fantastic curation of Icelandic acts.

Matthildur is a stand out singer-songwriter and producer

based in Reykjavík. Her music is inspired by late 90s

R&B with elements of modern day soul. Emotive and bold

as hell, she is known for wearing her heart on her sleeve

and has been on an upward trajectory since her breakout

performance at Iceland Airwaves in 2018.

Whether you're looking to sample the sights and

sounds of Reykjavík, party with the locals or find easy

ways to stretch your dollar in one of the most notoriously

expensive but equally as beautiful countries in the world,

songwriter/producer, Matthildur, offers some tips on how

to maximize your experience when visiting the land of fire

and ice.

Iceland Airwaves runs Wednesday, Nov. 6 to Saturday Nov. 9

ICELANDIC

SINGER SÓLVEIG

MATTHILDUR'S

ESSENTIAL

REYKJAVÍK

Punk

Museum's

Black Elf

"When the night is over and I'm

feeling a little bit peckish, I head

to Mandí on Veltusund 3b for latenight

eats. The service is such a

treat and you'll definitely end up

having memorable conversations

with some locals, possibly in a

questionable state haha! "

36 BEATROUTE OCTOBER 2019
---
LOOKING FOR BJÖRK?

Try the Reykjavik Music Walk!

An informative and entertaining

tour, detailing the city's acclaimed pop

music scene, guided by Iceland's foremost

popular music scholar, Arnar Eggert.

The tour focuses on Iceland's pop and rock

history and the landmark sites that have

contributed to its remarkable success

abroad. Get a front row view of the

downtown practice spaces of Bjork

and The Sugarcubes, concert halls

used by early career Sigur Ros,

historically important live

venues and more.

Bæjarins Bestu (Tryggvagata 1)

This is a classic "must try in

Iceland" destination and it never

disappoints. If you like hot dogs

and would like to check out how

we do it here, just order 'one with

everything.' But if you're vegetarian,

order 'one with everything

except the hot dog' – that's what

I do!

Hlemmur mathöll

(Laugavegur 107)

The perfect place to go when

you're not exactly sure what

you're in the mood for. It's

Iceland's first 'food hall,' with so

many different culinary options.

You can go there at any time of

the day, it literally has it all.

The Coocoo's Nest

(Grandagarður 23)

For brunch, I love to go to the

Coocoo's Nest in the flourishing

area of Grandi by Reykjavik

harbour. Nestled in an old fishing

hut, it has a classic brunch menu

accompanied with the best ingredients.

Such a good way to start

the day and then take a stroll at

Grandi.

DESTINATIONS

The Icelandic Punk Museum

(Bankastræti 2)

Located in an old, abandoned

underground toilet, everything about

this former shit hole has been done

in the spirit of "punk". This history

of Iceland's punk scene paired

with better known punk bands who

toured and influenced the country

is well documented with newspaper

clippings and memorabilia galore,

including things from the early days

of the Sugarcubes and Killing Joke's

Jaz Coleman's infamous escape to

Iceland in 1982.

Reykjavík Art Museum

Kjarvalsstaðir (Flókagata 24)

Kjarvalstaðir is a wonderful museum

hosting beautiful artworks by

well-known Icelandic artists, and the

building itself is also one of the most

interesting in the city. It's a great

location to start a day wandering and

admiring your surroundings.

Guðlaug Baths

(Langisandur, Akranes)

Going swimming in Iceland is

almost obligatory when visiting. If

you want to take it one step further,

you should check out the beautiful

Guðlaug in Akranes, just one hour

away from Reykjavík. It's located

on the Langisandur beach, where

you can bathe in the warm water

while looking out to the ocean.

Gorgeous!

Grótta Lighthouse (Seltjarnarnes)

If you're visiting in the winter

months, you might get lucky and

see the Northern Lights. The best

place to see them in the city is if

you go to Grótta, which is a nature

reserve on the tip of the Seltjarnarnes

Peninsula in the north-westernmost

part of the Greater

Reykjavík Area. There is one tall

lighthouse but no light posts, so

the Northern Lights are especially

visible.

NIGHTLIFE/ LIVE MUSIC

Spánski barinn (Ingólfsstræti 8)

If you want to go somewhere cosy

and little bit quieter, go to Spánski

barinn in the city centre. It's the one

I always go to when I want to have

good conversation and an even

better drink.

Prikið (Bankastræti 12)

If you're like me and love hip-hop

and R&B music, Prikið is the best

place to be. They always have the

best DJs performing to make the

night even better.

Kex Hostel (Skúlagata 28)

This venue boasts the most

gorgeous view to the sea and the

mountain, Esja. It's a place where

you can grab a drink, listen to live

music and have a truly memorable

time.

Iðnó (Vonarstræti 3)

"A beautiful spot right by Tjörnin

(the lake) and the Reykjavík city

hall. It's a cultural hub that has

been important to Icelandic artist

since 1896. It's small and therefore

creates a close and intimate atmosphere

with each performance."

Listasafn Reykjavíkur

(Tryggvagata 17)

An industrial building that transformed

from being a ship manufacturer

to an art gallery. Experiencing

music inside this beautiful building

creates an indescribable atmosphere

that has made each concert

more memorable than the last.

EATS

Hamborgarabúlla Tómasar

(Geirsgata Geirsgötu 1)

This is where you get the best

burgers in Reykjavík. My brother

and I are official regulars so I think

it's safe to say we really like it!

Good service, great music and the

best burgers.

HOT WAX

Lucky Records (Rauðarárstígur

10) and Smekkleysa

(Skólavörðustígur 16) are solid

destinations for all your music

needs, both offering solid browsing

opportunities. You can find

many Icelandic music albums and

of course some classics as well.

It's the places I visit when I'm in

need of some fresh new vinyl.

OCTOBER 2019 BEATROUTE 37
---
Bold European Cinema

Organized by

www.CalgaryEuropeanFilmFestival.ca

Sponsored by

ALL MOVIES

DO HAVE ENGLISH

SUBTITLES
---
YYC

10.19

A Modern Frankenstein: Alberta

Ballet Goes Super High-Tech

and Cinematic By BRAD SIMM

O

ften hailed as the grandmaster

of gothic literature and

the first real piece of science

fiction, Mary Shelley's

Frankenstein resonates with its feminist's

foundation and the earth-shaking

probe that questions the origins and

creation of life. Written when Shelley

was only 18, it's a complex tale etched

deep into our psychology for more than

200 years that continues to fascinate.

Jean Grand-Maître, Alberta Ballet's

Artistic Director, is eager to bring his

own adaptation of Shelley's novel to the

stage. Knowing Frankenstein is full of

exotic interpretations, he too has reinvented

the gothic fantasy as a dance

production within a modern context.

"I was reading about the great

director, Stanley Kubrick," says Grand-

Maître. "He was completely daring and

not afraid to tackle different styles

of cinema and lighting, from science

fiction and horror to war and period

pieces, and of course the ground-breaking

A Clockwork Orange. All that was

something I found interesting as a

challenge for myself."

In his daring new version of Frankenstein,

Grand-Maître, in collaboration

with his group of set and costume

designers, transport the Frankenstein

family from its secluded Germany

castle to an upscale West Palm Beach

playground (Trump territory), young

Victor goes to medical school at

Harvard where he creates the monster

in Boston, and the chase ends at a

fully-functional meteorological station

in the Yukon instead of a lonely ship

abandoned in the Arctic.

In working with a new aesthetic,

Grand-Maître also employs a contemporary

soundtrack featuring a mix of

young, fresh composers, lively rock

bands along with some classical music.

He notes, "A soundtrack enables you

to use all sounds, not just an orchestral

sound. It becomes almost cinematic,

more a film than it is a ballet."

And for the first time he will use

"subtitles," as they do in operas, where

dialogue runs across video screens

mounted above the stage. Because

Frankenstein in based in literature,

Grand-Maître reveals it will be a "super

high-tech production using narrative

through video so the audience will understand

everything that's happening."

Finally, the look and development of

the characters receives particular attention,

especially the monster inspired

by the original writings of Shelley.

"It will have nothing to do with the

ones we have already seen," says

Grand-Maître, referring to the incarnations

found in many movies. "The monster

she describes is a 'discombobulated

panther' who moves swift and fast,

but everything seems broken, which

is interesting for a choreographer. But

as the ballet progresses, the monster's

movements become more and more

refined, almost human."

There are many subjects and powerful

themes embedded in Shelley's fictional

work that Grand-Maître strives to capture.

"There's a woman-created monster,

the usurpation of a woman's procreative

power, and the world without God. If you

can give life to matter, then there is no

God. And when written during the Industrial

Revolution, science was exploding,

there were no ethics. It was a scary time.

And here we are again."

AB Ballet's Frankenstein runs Oct. 23 to

26 in Calgary and Oct. 31 to Nov. 2 in Edmonton.

Tix $50-150.

CALGARY'S ESSENTIAL OCTOBER HAPPENINGSk

OCTOBER 2019 BEATROUTE 39
---
JAZZYYC

Canadian

Festival

November 6-10

2019

Jack Semple

Jack Semple Tribute To B.B. King

A Night Of Seduction Feat. Quincy Troupe,

Sheri-D Wilson & the REDLINE TRIO + 2

Ellen Doty // Tevet Sela & John Roney

Jazzlab Orchestra // Gentiane MG // Landline

Avi Granite 6 // Nate Waters Quartet

Emile Leger // Kelly Steele // Music With Mandy

Afo Fapojuwo // Apollo 4 // Rick Climans // CK Sax

Gus Moberg // Timothonius // Flat Whites // Polyjesters

jazzyyc.com

40 BEATROUTE OCTOBER 2019
---
10.19YYCAGENDA

Calgary

European

Film

Festival

By BRAD SIMM

D

ark, brooding and introspective

with subtitles.

That's how most of us

relate to European films, and you

wouldn't be wrong. Carlos Borjas,

director of communications for the

Calgary European Film Festival

(CEFF), acknowledges the focus

of European films is often on small,

intimate narratives. "Films that tell

stories about similar topics," he

says. "Like war and family, but told

from different perspectives.

Although European filmmakers

have historically been indie-orientated,

Borjas notes there's

been a move towards more lavish

productions with bigger budgets

looking for a wider, mainstream

audience. He cites the German

comedy drama, Toni Erdmann,

which was nominated for an Oscar

in 2016 as an example. Still, the

film fest has no intention of "going

Hollywood," rather they want to

strike a balance between intimate

and the mainstream.

Now in its eighth year, CEFF

has grown from representing five

to 22 countries with the specific

purpose to promote European

communities in Calgary.

"Despite their differences they

can get together for a week

through art and culture that

isn't available with commercial

CUFF: 12 Hour

Halloween Movie

Marathon

Calgary Underground Film Fest

asks, "Do you have it in you?" Can

you hack the horror and last 12

hours straight, watching seven

movies all through the night from

7 pm to 7 am?

There's no better way to prove

you're a true horror film fanatic.

If you're not, then "come for one,

or drop in and drop out." The

Evil Dead, Creepshow and the

Slumber Party Massacre are a

few of the fright-night favourites

showing at the Globe Cinema on

Oct. 26 to 27 (Friday night, Saturday

morning). The bar is open

until 2 am, with free breakfast for

those who survive to daylight. Tix

are $20, $18 for members.

YYCAgenda

Sami Blood is a Swedish coming-of-age drama set in the

1930s that reveals the racism towards the indigenous

population in Northern Scandianavia.

screenings. We specially do not

show films in English, but in their

original language as an immersive

experience, the full experience as

each nation intended."

Borjas adds that while they promote

indie productions, the films

selected are of notable quality and

have been shown at the Berlin or

Cannes film festival or recognized

with an award of distinction.

"They are the best voted by

their own industry and country,"

he says. "A presentation of all the

little European gems."

CEFF takes place Nov. 2-10 at The

Globe Cinema

Ghostbusters

in Concert

Ghostbusters on

the big screen

with the Calgary

Philharmonic and

strings galore.

If you're looking

for a ghoulish but

glamourized night

on the town, you know

who to call — the CPO at

the Jack Singer Concert

Friday, Oct. 26 and Saturday,

Oct. 27.

Unmanned

Sebastian Buzzalino's photos are well known in

the Calgary music scene.

A current contributing editor for BeatRoute

Magazine and longtime photographer, Buzzalino

has been working alongside bands for the past

five years, shooting them on stage, for album

covers and going on tours across North America

and Europe.

His upcoming photo exhibit, in collaboration

with art director Rebecca White, turns the

narrative on its head: instead of shooting artists

on stage or on set, stylized and surrounded

with visual cues, he strips his subjects, literally,

featuring prominent Calgary male musicians in

the nude.

"It was important to me that I didn't just

reverse the male gaze, or just invert the

heteronormative binary when taking these

nudes," says Buzzalino. "I want to destabilize

the patriarchy narrative, not just set

up a new one that positions the male body

as object instead of subject. By putting the

male body in unexpected places, and by

featuring musicians that we're used to seeing

on stage in the nude, I hope to open up new

spaces and avenues to consider the potential of

the male body and what that means in terms of

how patriarchy organizes all sorts of bodies."

Unmanned features 15 Calgary musicians,

including Evan Resnik (Sunglaciers), Sean

Hamilton (Miesha & the Spanks), Mason Jenkins

(The Corey Hotline), Mark Mills, CC Codpiece

(DRI HIEV), Taylor Cochrane (36?) and more.

Friday, Nov. 1 / Divine Dream Factory /

720 17th Ave. SW

OCTOBER 2019 BEATROUTE 41
---
M I K E M A C K E N Z I E ' S

10.19YYCMUSIC

O C T O B E R 1 2 , 2 0 1 9

C H R O M E S H O W R O O M

_

$10 -15 | DOORS @ 8 PM | SHOW @ 9 PM

FF19BRoute2.qxp_Layout 1 2019-09-26 3:52 PM Page 1

THE ONCE • Oct. 8 • Festival Hall

LEMON BUCKET ORCHESTRA • Oct. 9 • The Gateway

C.R. AVERY • Oct. 11 • Festival Hall

MARTIN SEXTON • Oct. 19 • Festival Hall

SAN FERMIN • Oct. 30 • Commonwealth

RICHARD THOMPSON • Oct. 31 • Bella Concert Hall

TERRA LIGHTFOOT • Nov. 2 • The Gateway

YOUNG'UNS • Nov. 7 • Festival Hall

EAST POINTERS • Nov. 8 • The Gateway

FORTUNATE ONES • Nov. 14 • Festival Hall

ALEX CUBA • Nov. 15 • Festival Hall

CHARLIE BROWN'S CHRISTMAS • Nov. 30 • Bella Concert Hall

Edmonton's Black Mastiff

Seize Control with Loser

Delusions By CHRISTINE LEONARD

"All of the songs in my head are Black Mastiff!"

It's a common condition among those who have been exposed to the Edmonton rock

band's wide-bottomed grooves and soulful vocals. Renowned for their thick curves and intuitive

rhythms, the heavy blues-metal trio has eclipsed their local scene and grown in stature

and repute on a diet of beefy riffs and Alberta rye.

Far from the desert canyons and rocky peaks pursued by their headbanging bretheren,

Black Mastiff is most at home prowling the urban landscape and exploring Edmonton's dark

underbelly. It's where they found the inspiration for their latest album, Loser Delusions; its

name a cheeky tip of the bandana to Axl Rose, reflecting Black Mastiff's state of mind.

"It was first thrown out as a bit of a joke," explains bassist Clay Shea. "We had a giggle

and then we thought about it for a bit and it just kind of made sense to us, with the way

the writing process had been going and our dedication to the process of getting together.

Our drummer, Allan (Harding), had been living in Vancouver and we were just trying to stay

motivated and were a bit delusional about the future."

It was a trial and a test for the sludgy outfit, who's self-titled debut appeared in 2011.

Working on Loser Delusions, Shea and guitarist/vocalist Bob Yiannakoulias knew they had

reached a crucial stage in the band's development, a high watermark that would see the

fuzzy entity sink or swim for its melodic life.

"We're always going for it, but we had to work hard to make this one happen," says

Yiannakoulias of working long-distance. "It took a lot of motivation, because that cathartic

thing you get from going to practice, turning up the amps, cranking up, blowing through your

songs and having those rewarding jams wasn't there. Sometimes it was less fun, but we had

to stay really focused, and keep our shit together, and put in that time. Everybody had to

pretty much step up the level of dedication."

And step up they did, creating their own record label Grand Hand, in cahoots with tourmates

Chon Goblin, along the way. It was a decision that put them in charge of their destiny

and once Black Mastiff had the leash in their jaws there was no restraining their artistic

impulses.

"We never really lost control," says Shea, "but I feel like this was all just about regaining

control and knowing we can keep doing this. We've got the chops to keep doing what we're

doing."

Fri, Oct. 11 / The Palomino Smokehouse (Calgary) // Fri, Oct. 18 / Hard Luck (Toronto)

Fri, Oct. 25 / Temple (Edmonton) // Tix: $15, bandsintown.ca

42 BEATROUTE OCTOBER 2019
---
EDMONTON INDIE FOLK

ST. ARNAUD, RISE FROM

THE ASHES OF GRIEF WITH

EMOTIONAL DEBUT LP,

THE COST OF LIVING By TORY ROSSO

E

dmonton folk musician Ian St.

Arnauds' life changed suddenly

when his North Of Here bandmate,

Luke Janzen, tragically

passed away following a collision

with a train in the fall of 2017.

Rising from the ashes of grief alongside

his friend and other bandmate, Will

Holowaychuk, the pair united to form St.

Arnaud and are now poised to release their

cathartic full-length, The Cost of Living.

"When I first started piecing ideas

together, this was just going to be

my small way of navigating

young adulthood: trials

and tribulations of

evolving relationships,

first heartbreak,

loneliness, all as

prices we pay to

go along," says

Arnaud. "However,

Luke passed away

suddenly in 2017 just

as we were beginning

to record demos, and

the focus shifted while

its scope deepened. It

quickly went from our

'first stab at a record and

having something to say' to

something we had to finish

and use to move forward."

The record is an amalgamation

of tracks that

were previously written

for North Of Here, as

well as more recently

produced numbers.

Building on their folk

music roots, St. Arnaud have

adapted a charming indie-darling

quality to their ever-evolving sound at the

hand of memorable hooks and anthemic

chants. Both heartwarming and pensive,

the record is St. Arnaud's greatest and

most emotional accomplishment to date.

"We released an EP (Morning, Buddy) in

October 2018, but this last year has been

important to the growth of something

new from something that was broken and

gone," explains Arnaud. "This collection

of songs counts back to days from before

Luke's death, through mourning, and then

on to new corners of life that I never could

have expected, both great and

terrible."

The record was produced

by and recorded at Wembley

Studios, the home of

Graham Lessard (Barr

Brothers, Basia Bulat,

36?) and released

with the help

of St. Arnaud's

label, Soaring Eagle

Records. The

label was founded

by former Cowpuncher

members

Matt Olah and Ryan

Kelly as a collective to

support musicians and offer

guidance with no strings

attached.

"The most important aspect

for me through this whole

process has just been

having support. It's lots of

little things, sometimes big

things, but when somebody

puts themselves on the line

for you and defends your

craft/art/work/whatever, that's

what keeps me going."

The Cost of Living will be released October

4. St. Arnaud perform with Shred Kelly at

the King Eddy on October 19.

The real, unfiltered,

raw and gritty sound

of Bebe Buckskin

By JODI BRAK

F

rom her earliest memories of

childhood in the Paddle Prairie

Metis Settlement, amongst

the dense, sprawling forests

of Northern Alberta, music has

always run through Bebe Buckskin's veins.

Danielle Ghostkeeper found her love

for music years before adopting her stage

name, being raised by music lovers, including

her mother, a touring musician who

introduced her to the guitar.

"That is exactly how I got my start:

from my family, and just always being so

fascinated by what my mom was doing.

She started teaching me how to play guitar

and I learned how to harmonize by listening

to her harmonize," Ghostkeeper says. "I

won my first talent show for singing when I

was three... and I remember that moment, I

remember thinking to myself at the age of

three: this is amazing this is what I want to

do for the rest of my life."

Now an adult with years of experience

in music under her belt, Ghostkeeper has

been bringing her own variety of roots-andblues-infused

rock and roll onto the scene.

With one EP under her belt, a five-song

release titled Flight that showcases a

raw, earthy brand of rock anchored in the

somber overtones of the blues, a follow-up

release titled Asiskiy is just on the horizon.

"The title of the album means 'Earth' in

Cree," She says. "I chose the name for a

lot of reasons. It's a more authentic representation

of who I am as an artist, and I feel

like it is definitely anchored in a gritty feel

in terms of the lyrics and the sound. There

is a lot of talk of my Indigenous roots, and

also a lot of talk about my own personal

journey. It's just real, unfiltered, raw and

gritty."

Among the five songs on Asiskiy is the

single Stockin' Wood, released Sept. 26, a

heartfelt tribute to the Woodstock Festival,

five decades after the fact.

"I would always daydream about being at

Woodstock. That was kind of my daydream,

away from the reality I was living

at the time," Ghostkeeper says. "It is kind

of an ode to the festival, but also to it as

being my safe place to go to in my mind,

that place I feel empowered and safe and

inspired."

Bebe Buckskin will be releasing Asiskiy

Oct. 25, kicking it off with an album release

show at the King Edward in Calgary. The

show features renowned slide guitarist

Ellen Mcllwaine, who also has a guest spot

on the record.

OCTOBER 2019 BEATROUTE 43
---
Yorkville Month is now

Powered by Yorkville Sound

0% Financing for 12 months

Plus great deals, Contests, In-store specials, and more!

visit www.long-mcquade.com/rocktober for more details.

CALGARY

225 58 Ave. S

(403) 244-5555

CALGARY EAST

3404 5 Ave. NE

(403) 245-3725

CALGARY NORTH

10 Royal Vista Dr. NW

(587) 794-3195

PLUS 5 STORES

IN EDMONTON

44 BEATROUTE OCTOBER 2019
---
10.19YYCMUSIC

The Cheat Sheet BR PICKS THE 5 ESSENTIAL LIVE MUSIC SHOWS

INDIE

ROCK

FOLK

1 nêhiyawak

Sat, Oct. 5 at King Eddy

Treaty 6 territory's nêhiyawak

unveil a modular synth-heavy

indie rock debut that has a direct

connection to their land and lived

experiences.

2

JADE BIRD

Mon, Oct. 14 at the Commonwealth

Classic and contemporary singer-songwriter

stylings collide in

Jade Bird's precocious tunes.

3

KERO KERO BONITO

Tues, Oct. 22 at the Commonwealth

East meets West in this Japanese-British

indie outfit who blend

pop-punk fun with indie rock glam.

4

CJSW/SLED ISLAND

HALLOWEEN PARTY

Fri, Oct. 25 at #1 Legion

All your favourite local bands covering

songs with all your favourite

buds dressed up and sprawled over

three floors of spooky mayhem.

5

ARUBA EP RELEASE

Fri, Oct. 25 at Palomino Smokehouse

Fun-loving supergroup of forever

friends sing seven-part rock and

roll harmonies that sound like

Jimmy Buffet getting wasted on a

dinghy at high noon on the river.

1

JIMMY RANKIN

Fri, Oct. 11 and Sat, Oct. 12 at National

Music Centre

Jimmy Rankin, of Rankin Family

fame, is hosting a two-night stand,

playing selections from a long-career

of hits.

2

THRUSH HERMIT

W/ SHOTGUN JIMMIE

Sat, Oct. 12 at The Palace Theatre

Thrush Hermit need no introduction

to those who grew up in the 90s

Canadian alt rock scene. A totally

classic reunion absolutely steeped

in the best kind of nostalgia.

3

DEAD SOFT

Thurs, Oct. 17 at Palomino

Smokehouse

Gabriola Island's Dead Soft celebrate

a new album of grunge-infused

indie rock.

4 HOLLERADO

Sat, Oct. 26 at Commonwealth

Long-running indie rock darlings,

Hollerado, are calling it quits after

this tour, so it's one last chance to

feel the love in the room and join in

on the antics.

5

THE DUDES ANNUAL

HALLOWEEN PARTY

Wed, Oct. 30 and Thurs, Oct. 31 at SAIT

Gateway

The Dudes' annual Calgary Halloween

tradition gets a two-night stand

due to high demand.

ROOTS

BENJAMIN FRANCIS

LEFTWICH

1

Sat, Oct. 5 at Palomino Smokehouse

Fluttering synths and introspective

acoustic melodies pin up York,

UK's Benjamin Francis Leftwich's

delicate, gossamer tunes.

2

C.R. AVERY & THE

STORM COLLECTIVE

Fri, Oct. 11 at Festival Hall

Pioneering slam poet, C.R. Avery,

has built his long-running career on

tackling tough topics head on and

with his head held high.

3

MARTIN SEXTON

Sat, Oct. 19 at Festival Hall

Martin Sexton's incendiary live

show, honest lyrics and vocal

prowess will grab you from the first

note of the show and take you on

a whirlwind adventure through the

night.

4

SHRED KELLY

Sat, Oct. 19 at King Eddy

Self-proclaimed masters of the

"stoke-folk" genre, Nelson, BC's

Shred Kelly know how to throw a

helluva house party.

5

DANIEL CHAMPAGNE

Sun, Oct. 20 at Ironwood Stage & Grill

Nashville-via-Australia's soft-spoken

Daniel Champagne has been

selling out world tours on the

strength of his virtuosic guitar

playing and songwriting.

EDM

PUNK

1 BIJOU

Fri, Oct. 5 at the Commonwealth Bar

G-House EDM master, Bijou, brings

his elements of hip-hop crossed

with classic house to Commonwealth

for a banger dance party.

2

COM TRUISE

Fri, Oct. 11 at The Hifi Club

American electronic music producer

and designer, Com Truise,

makes his return to Calgary with

another fantastic set of bangers

in tow.

3 MATRODA

Sat, Oct. 12 at The Hifi Club

Matroda's remixes for industry

heavyweights like Migos have propelled

him to the top of the scene.

4

SULLIVAN KING

Sun, Oct. 13 at the Commonwealth Bar

Dubstep and heavy metal crash

together in Sullivan King's heavierthan-hell

show.

5

SACHA ROBOTTI

Fri, Oct. 25 at The Hifi Club

Dirty Bird's Sacha Robotti's house

and techno jams have caught the

ears of well-curated producers and

playlists across North America and

Europe.

1

THE REAL SICKIES, THE

QUIVERS, MANDIBLE KLAW

Fri, Oct. 4 at Broken City

Edmonton's power-pop perfectionists,

The Real Sickies headline a

stacked night of real fun punk.

2 PHARMAKON

Tues, Oct. 8 at Palomino Smokehouse

Industrial noise from Far Rockaway,

NY skirts the line between

self-destructive grief and exorcised

demons.

3

CHRON GOBLIN AND

BLACK MASTIFF

Fri, Oct. 11 at Palomino Smokehouse

Stoner riff lords and forever best

buds, Chron Goblin and Black

Mastiff celebrate the heaviest double

LP release this side of fused

plutonium

4

IMMOLATION, BLOOD IN-

CANTATION, KATAPLEXIS

Wed, Oct. 16 at Dickens Pub

Death and grind metal afficionados

will find plenty of heavier and heaviest

on a rare Wednesday night

metal show at Dickens Pub.

5

TEENAGE BOTTLEROCKET

W/THE ISOTOPES

Fri, Oct. 25 at Dickens Pub

Classic punk pioneers, Teenage

Bottlerocket, are back for another

whip around Canada with Vancouver's

baseball punks, The Isotopes.

OCTOBER 2019 BEATROUTE 45
---
Savage Love

BY DAN SAVAGE

Physical Ideal

I don't listen to your podcast

religiously, but as soon as I told

my best friend this story, she said,

"That's a question for Dan Savage!"

Backstory: I have a monogamous

partner who I live with. It's a

heterosexual relationship, but we

are both bisexual. That little inkling

of homosexuality really drew me

to him when we first met. He also

told me early on about his previous

girlfriend, who looked like a

"suicide girl" (tattoos, short skirts,

dyed black hair, heavy eye makeup)

but had serious issues (they had

sex only 10 times in three years).

I'm by no means a suicide girl. I'm

pretty average looking with natural

hair and no tattoos. I don't wear

makeup, and I have an affinity for

baggy T-shirts and jeans. I love

having sex but rarely do I present

myself as "sexy." Recently I learned

that my boyfriend follows hundreds

of women on Instagram, and 95

percent of them look absolutely

nothing like me. (Remember the hot

suicide-girl girlfriend? They mostly

look like her.) It made me really

upset. I felt insecure about myself.

I felt distrustful of his positive

comments about how I look, like

he doesn't actually think I'm sexy.

It certainly doesn't help that I want

to have sex way more often than

he does. He's always "tired." I was

angry at him and instantly craving

to go back to a sexual relationship

with past partners who thought

I was the bee's knees. He has no

idea why I would be upset. He says

he feels like he's supporting these

women and that they feel "empowered"

by all the men leaving

comments like "Show me your

boobs" and "I wanna shove my

cock in you." He says he deleted

his Instagram just to make me happy,

but I still feel shitty about the

whole thing. Am I being oversensitive?

Is he being insensitive? Could

we be sexually incompatible? At

this point, I'm ready to look outside

of our relationship for sexual

interactions.

Your Very Ordinary Instagram Girl

I don't listen to your podcast,

either, YVOIG, so that makes us

even. (I assume you have a podcast.

Everyone does these days.)

Zooming out: If we're going to tell

people they shouldn't be so shallow

as to date only their "ideal" physical

types and we're going to tell people

they can learn to find a broader

array of people attractive and we're

going to tell people they can find a

person's insides so attractive that

they warm to their outside—and it's

mostly men people we tell these

things, as women people seem less

hung up on/entitled to their physical

ideals—then we also need to tell

people not to freak the fuck out

when they stumble over evidence

that they aren't their partner's ideal

physical type. Additionally, we need

to tell people that just because their

partner has a particular type, that

doesn't mean their partner isn't also

attracted to them.

Zooming in: You don't have a

great sex life with your boyfriend,

YVOIG, as you seem to have mismatched

libidos—and one partner

"always" being tired isn't a problem

that gets better over time. These are

both signs that you probably need

to end this relationship. (Already

looking outside your monogamous

relationship for sexual interactions?

Another sign.) But you can end

things without having a meltdown

about the fact that your soon-to-beex-boyfriend

was also or usually or,

hell, even exclusively with one notable

exception (YOU!) attracted to

"suicide girl" types. Instead of telling

yourself that every compliment your

soon-to-be-ex-boyfriend ever gave

you was a lie, you could tell yourself

that while your soon-to-be-ex-boyfriend

definitely has a type, he also

found you attractive. Because you

are attractive. You're so attractive

that you caught his eye despite not

being his usual type.

In other words, YVOIG, you don't

have to feed your self-esteem into a

shredder as you end this relationship.

P.S. Your soon-to-be-ex-boyfriend

may have deleted his old Instagram

account, but I promise you he

quickly created another one. And

here's hoping your soon-to-be-exboyfriend

only directs "empowering"

comments like "I wanna shove my

cock in you" at the kind of people

on Instagram who regard those

types of comments as "supportive."

They're out there—men and women—but

there are fewer of them out

there than too many men, gay and

straight, seem to believe there are.

I'm a 28-year-old straight guy with

one kink: I want to be collared and

on a leash. That's it. In private. Basically,

I just want to curl up at my

girlfriend's feet with the leash in

her hand. Just me on the floor next

to the couch while she watches

television, or me on the floor next

to the bed while she reads. I've

had three serious girlfriends, and

all three laughed in my face when

I told them about this. I'm dating a

girl now that I like a lot, and she actually

asked me if I had any kinks,

and I couldn't bring myself to tell

her. I'm worried about her laughing

in my face, too.

Laughter Erases All Sexual Hopes

People often have knee-jerk,

sex-negative reactions to kinky

requests not because they necessarily

think peeing on someone

or leashing someone is hopelessly

perverted or disqualifying,

LEASH, but because they've never

imagined themselves peeing on

someone or keeping a boyfriend on

a leash. The request conjures up

a mental image that conflicts with

a person's self-conception—they

never thought of themselves as

the peeing-on-other-people or

keeping-the-boyfriend-on-a-leash

type—and nervous laughter is a

common response to that particular

brand of cognitive dissonance. It

would be better if people didn't have

this reaction, of course, but you

should brace yourself for it, laugh/

shrug it off, and then proceed to

explain why this is such a turn-on

for you and what's in it for her. (It

sounds like a pretty easy way for her

to crank you up when she's feeling

horny.)

If the reactions of the last three girlfriends

left you scared and scarred,

LEASH, tell your current girlfriend

via text. ("Hey, remember when you

asked if I had a kink? I do: being on

a leash.") Then, if her first reaction is

to laugh, you won't be there to hear

it. You might get a "LOL, what?" in

response, but don't let it shut you

down. Keep texting, keep it light and

playful, show her that you have a

sense of humor about it… and you

could finally end up on that leash.

46 BEATROUTE OCTOBER 2019
---
new album includes "strangers" & "astronaut"

october 4

canadian tour

11.08 — victoria, bc @ save on foods memorial centre

11.09 — vancouver, bc @ pacific coliseum

11.10 — kelowna, bc @ prospera place

11.12 — calgary, ab @ scotiabank saddledome

11.13 — edmonton, ab @ rogers place

11.15 — regina, sk @ brandt centre

11.16 — winnipeg, mb @ bell mts place

11.19 — sudbury, on @ sudbury arena

11.20 — windsor, on @ the colosseum at caesars windsor

11.22 — toronto, on @ scotiabank arena

11.25 — ottawa, on @ canadian tire centre

11.26 — kingston, on @ leon's centre

11.28 — moncton, nb @ molson canadian centre at casino new bruswick

11.29 — halifax, ns @ scotiabank centre

each ticket purchased online includes a CD or digital copy of the new album

$1 from each ticket will be donated to MusiCounts & Indspire cityandcolour.com