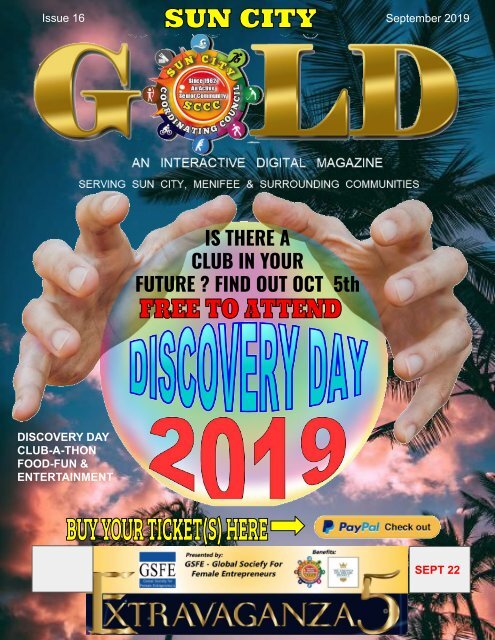 SUN CITY MAGAZINE SEPT 2019
You also want an ePaper? Increase the reach of your titles
YUMPU automatically turns print PDFs into web optimized ePapers that Google loves.
Issue 16

September 2019

SERVING THE SENIOR COMMUNITY IN SUN CITY MENIFEE & SURROUNDING AREAS

GET READY FOR

DISCOVERY DAY

PAGE 41

IS THERE A

CLUB IN YOUR

FUTURE ? FIND OUT OCT 5th

Check Out

Our New Section

The

Menifee Monitor

Pages 48-74

DISCOVERY DAY

CLUB-A-THON

FOOD-FUN &

ENTERTAINMENT

SEPT 22
---
SUN CITY GOLD MARCH 2019

DIGITAL MAGAZINE DIRECTORY

Editor: Gary Hawthorne

Advertising SCCA ARE 760-705-4626

YOU PREPARED IF DISASTER STRIKES? EPAC

Ask About Our Sponsorship Opportunities

2 CONTENTS

3 SCCC & SUN CITY HISTORY

4 BOARD OF DIRECTORS

5 SEPTEMBER 2019 AGENDA MEETING

6 LETTER FROM LONI kNOWLES ABOUT WHY

SCCC NEES TO RAISE FUNDS FOR ACTIVITIES AND CLUBS

7 SCCC COORDINATING COUNCIL CLUB INTEReST APPLICATION

8 Discovery Day Flyer

9 Discovery Day Vendor Promotion

10 Discovery Day Schedule

11 EPAC

12 BLITZER FROZEN YOGURT

13 GIOVANNI'S MENIFEE

14 CARNITAS EXPRESS

15 VIP'S CAFE

16 ARCHIBALD'S

17 ANDY'S XPRESS CAR WASH

18 ZESTY SHAWARMA

19 FARMERS INSURANCE

20 YOGA CLASSES

21 HAWTHORNE WORLDWIDE

22 Local Services Directory

23 Lawn Bowling Techniques Video

24 Neill's Recycling Center (NEW LOCATION)

25 Solar Guy Bill - Tap into Free Energy

26 SUN CITY TRAVEL CLUB pgs 27,28,29

30 News You Can Use - Check out the Clubs

31 Sun City Coordinating Council Article by Helen Richmond

32 Two Articles by Helen Richmond "We Want You" & "Whats Up Sun City

33 PERFORMING ARTISTS - COMEDY IMPROV - SUN CITY SLICKERS

34 MUSIC PLAYERS CLUB 34,35

36 Knit & Crochet Classes

37 SWAG "MENIFEE HOMELESS

38 SEE WHAT'S IN YOUR MAILBOX BEFORE IT GETS THERE

39 SEE EXAMPLE

40 HOW TO SIGN UP FOR FREE SERVICE

IMAGINE NO MORE WASTED TRIPS TO THE MAILBOX

WAITING FOR A LETTER OR CHECK. GREAT NEW

SERVICE YOU CAN TAKE ADVANTAGE OF FREE OF

CHARGE. HEY, WE'VE COME A LONG WAY SINCE

PONY EXPRESS.

OISCOVER DAY

PAGES

8,9 & 10
---
3
---
Tony Reverditto

Co-Vice President

Sun City Coordinating Council

Tony Reverditto's background in the entertainment industry is diverse and he has taught most

aspects of acting for over thirty years. He founded Way Off Broadway Playhouse, a successful live

theatre and acting school for eight years. While producing and directing nearly eighty productions

for the stage, he was awarded "Best Director and Best Production of the Year" by the Los Angeles

Times. Tony has created 3 touring comedy troupes and has written lots of comedy sketch while

hosting the performances. From there, he worked as a Talent Agent for five years, did Marketing

at Paramount Pictures, and script coverage for a top Product Placement company. His love for the

theatre brought him back to an Artistic Director position for an International Performing Arts

Academy in the heart of Hollywood. This is where he was able to expand his career into

film-making. Recently, he finished writing a screenplay and several television pilots that are being

promoted to industry professionals. He currently works as a journalist with a focus on community

issues, food, entertainment and travel.

Tony moved to Sun City in August of 2018 and is currently the Chairman of the Greek Theatre

Committee, Co-VP of the Coordinating Council and President of the newly formed Sun City

4

Performing Artists.
---
SUN CITY COORDINATING COUNCIL

Regular Meeting Agenda Friday, September 6, 2019

26850 Sun City Blvd. in North Town Hall-9am

Call to Order: (President Chuck Reutter)

Flag Salute

Introductions of Club Reps - Announcements/Members Comments & Concerns

Approval of Minutes:

Treasury Report: (Treasurer Loni Knowles)

Helen Richmond will talk about the Swim Club and the many programs provided by

our Swim Club including swimming lessons and aquatic exercises for the members

of our Core.

Our October meeting has been cancelled due to Discovery Day taking place on

October 5 and some clubs want to set up the day before.

Please send info you want to be placed in the Core Courier to Helen at

richmondhmr@verizon.net or call 951-672-3180.

https://www.suncitycoordinatingcouncil.com/ is the address for our web site.

Please send information or articles about your club to: garyhawthorne@gmail.com

so we can place them on our web site and magazine Please put club info in the

subject line.

Next Meeting: November 1, 2019

5
---
6
---
7
---
https://www.facebook.com/profile.p

hp?id=100003009948892

8
---
9
---
DISCOVERY DAY IS HERE – FREE FOOD, ENTERTAINMENT & 40 CLUBS

Our wonderful community will showcase a FREE to the public event on OCTOBER 5 th called

Discovery Day 2019 featuring a Swim Show from 10 am to Noon. Beginning at noon, Live

Entertainment by The Sun City Slickers, The Merry Makers, Square Dancers, Music Players Club, Line

Dancers and a Quilts of Valor presentation will hit the stage (schedule below). The campus will be

buzzing with Exhibitions, Demonstrations, and Sports Club expositions such as Lawn Bowling,

Horseshoeing, Shuffleboard, and Bicycling. Residents will see firsthand the many activities and clubs

available to them. Family and friends are welcome!

Other happenings include a variety of Arts and Crafts for Sale and on display, as well as some

surrounding Menifee Restaurants serving free signature small bite samplings prepared by their

amazing Chefs starting a noon. Come taste food presented by Baron's Market, China Brothers,

Archibald's, Gracie's Lunch Box, Zesty Shawarma and Grill, Nothing Bundt Cakes Coffee Bean and

Tea Leaf. There will be an opportunity drawing for lots of great prizes with a $1 donation per ticket

and $5 for 6 tickets which will benefit The Sun City Coordinating Councils future events.

DISCOVERY DAY PERFORMANCE SCHEDULE

Merry Makers 12:15 Webb Hall

Square Dancing 12:30 Webb Hall

Line Dancing 1:00 Webb Hall

Sun City Slickers 1:15 Webb Hall

Quilts of Valor 1:45 Webb Hall

Music Players Club will be performing by the Water Fountain

DISCOVERY DAY 2019, OCTOBER 5 FROM 10 AM TO 3PM AT THE SUN CITY CAMPUS located at

26850 Sun City Blvd. Sun City.

Visit the Sun City Coordinating Councils website at: https://suncitycoordinatingcouncil.com/

10
---
11
---
12
---
WWW.GIOVANNISMENIFEE.COM

13
---
Simply The Best

Since 1997

www.CARNITASEXPRESSRESTAURANTS.COM

3 LOCATIONS TO SERVE YOU, CARNITAS MENIFEE, CARNITAS LOS ALAMOS, CARNITAS

MADISON

14
---
(951) 244-6677

https://vipscaferestaurants.com/

VISIT US ON THE WEB FOR ADDRESS, DRIVING DIRECTIONS, FULL MENU & CATERING

15
---
16
---
17
---
18
---
Office:

(951) 514-6060

Fax:

(800) 433-2002

Address

23873 Clinton Keith Rd

Ste 111

Wildomar, CA 92595

Get Directions

GARY VEENHUIZEN

CA License # ok71824

FARMERS INSURANCE AGENT IN WILDOMAR

Serving Wildomar, Murrieta, Menifee, Canyon Lake and Lake Elsinore

19
---
JOIN OUR YOGA CLASS AND BE FLEXIBLE

Meet our Yoga Class instructor Mickie Warner. Mickie will take

you on a journey of increased flexibility by providing easy to

follow yoga exercises to keep you moving. Just click on the

video below and follow along.

20
---
DIGITALLY EMPOWERED WITH

THE MOST COMPLETE MARKETING

TOOL IN THE WORLD!

CHECK OUT THE FEATURES HERE

562-234-8928

21
---
LOCAL SERVICES

DIRECTORY

●

●

●

●

●

●

●

●

●

PLUMBER

TAX ACCOUNTANT

HVAC ( HEATING & AIR COND)

MOBILE MECHANIC

PET GROOMER

DENTIST

HOUSE PAINTER

GARAGE DOOR REPAIR

COMPUTER REPAIR

COMING SOON

22
---
23
---
24
---
MOTHER NATURE

& SOLAR GUY BILL

TO THE RESCUE.

DISCOVER THE DIRTY

LITTLE SECRETS

YOUR UTILITY

COMPANY WON'T

TELL YOU!

CALL SOLAR GUY BILL @ 951-961-4248

GET YOUR FREE SOLAR SYSTEM TODAY!

COOL MAN

LUKE SAYS

STAY COOL

& PROSPER

25
---
26
---
27
---
28
---
29
---
GETTING PREPARED FOR DISCOVERY DAY

OUR CLUB COMMUNITY IS GROWING PROVIDING AN EVER EXPANDING

OPPORTUNITY TO FIND AN ACTIVITY THAT APPEALS TO A WIDE RANGE

OF INTERESTS. YEP, FOR ALL YOU DO THERE'S A CLUB FOR YOU

The Performing Arts Club and the Music Makers

Club are both off to good starts. Both offer

opportunities to learn something new, which is a

great way for seniors to keep mentally active.

Another new club is forming, the Community

Information Club. Its goal is to provide

information about community resources available

to our members and residents and to help find

solutions to problems. Currently their meetings

CRIME WATCH

RV Club

VACATION CLUB

Ice Cream Social

are scheduled for the 4 th Friday of the month

from 2:00-3:00 in the Trophy Room.

The Crime Watch representative shared that

Sargent Rice is back with Crime Watch. Merry

Makers provided a special patriotic program in

recognition of Memorial Day, Veteran's Day, and

upcoming 4 th of July. They have several new,

strong male vocalists. Mahjong is reorganizing

and looking for people who'd like to play or learn

to play. TOPs enthusiastically reported income of

$1,600 from their annual yard sale, their

once-a-year fundraiser. Welcome Wagon added a

Saturday orientation in June to accommodate

working new residents. The Travel Club is

looking forward to its July ice-cream social. Chair

Volleyball's latest play day spreading into both

halls is a June happening. The Sun City RV Club

meets the 2 nd Thursday from 11:00-12:30.

Previews of Coming Attractions include our

Historical Preservation Committee presentation at

the Coordinating Council's August meeting, as

well as a representative from the Registrar of

Voters recruiting poll workers. The July meeting

will be devoted to Discovery Day preparation. Be

sure your club's representative attends this vital

meeting.

Chair

Volleyball

Now w/ eve play

Garden

Club

Welcome

Wagon to

New Working

Residents

30
---
COORDINATING COUNCIL COLUMN

Article by Helen Richmond

Menifee Union School District Superintendent Dr. Steve Kennedy was the guest

speaker at the September Coordinating Council meeting. He recognized Discovery

Day plans were talked about and everyone was assured that detailed information

would be available and distributed after the final planning meeting which is scheduled

on September 27th.

School Board Member Bob O'Donnell. Mr. O'Donnell has served the Menifee School

Board for over 35 years and he also served as the Sun City Post Master for 35 years.

Dr. Kennedy said that Bob was a steady voice of reason as Board dynamics changed

with each election.

Dr. Kennedy went on to say that he looked forward to his annual check-in with the

Sun City Community and to assure his audience that they are never taken for granted

and always appreciated for their contributions to the City and School District. He

shared a story about a student from Quail Valley who, in spite of hardships in her life,

took her elementary school's theme of "no excuses" seriously, applied it to her life and

later graduated from Paloma Valley High School as valedictorian, won a four-year full

scholarship to one of California's Universities, and is studying applied physics. He

also shared that property for the 4 th middle school has been purchased near La Ladera

Park.

The Swim Show representative shared the Club's activities which include swimming

lessons, water exercise classes, and the annual swim show. Everyone was urged to

attend this year's show on October 4 and 5, and to participate in Discovery Day

activities on October 5.

To allow all the club representatives to participate in Discovery Day activities, there

will be no Coordinating Council meeting in October. The next meeting will be

November 1, 2019 at 9:30 am with social time at 9:00. This will be a very important

meeting as planning for 2020 begins.

31
---
CURIOUS ABOUT

WHAT'S UP SUN CITY

By Helen Richmond

Here's the easiest way to find out. Just

type "whatsupsuncity.com" in the address

bar on your web page and the latest

information is there for you on our Sun

City Civic Association's own website.

Then select the appropriate heading to go

to the specific information you're looking

for. There's no need to log in or remember

a password, just an easy one-step process.

Do you want your club's activities to be

part of this information? Remember, it's

where our new younger techie residents

are going for the latest and greatest. You

can advertise your event before the fact

and then share photos afterward to entice

others to join you. But you have to take the

first step and send your news to the Media

Committee (mediascca@gmail.com) so the

website administrator can include it.

WE WANT YOU

By Helen Richmond

Do you like to write? Do you

constantly take pictures with your

phone? Do you love to know

everything that's going on around

you? Do you see and/or talk to people

every day? The Sun City Civic

Association's Media Committee would

like you to share with us and help us

get all the news out to our neighbors.

Be a regular part of the Committee

and help develop ideas on how to best

disseminate information to our diverse

community. Or, if you don't want to

make a formal commitment, simply

submit your stories and photos to the

committee for us to share via the

website "whatsupsuncity.com," the

Core Courier, the marquee, and other

venues as we develop them. The

Committee meets the 2 nd Tuesday of

each month at 10:00 am in the East

Room. Or contact us via email at

(mediascca@gmail.com) to find out

how to get your stories and photos

32
---
33
---
NEW

HOW TO JOIN

Michael Cook

President

I am proud to announce that we now have the Music

Players Club!

As President of the Music Players Club, I offer over

55 years of professional experience in the music

field in areas such as performing, songwriting,

recording, and teaching.

I've spent over 21 years on the road working with

various recording artists and bands. I have over 30

years of teaching experience, mainly on guitar, but in

the last ten years - piano as well. being raised on

southern gospel harmony and singing. playing guitar

on and off the road, studio work, and backing some

of the greatest musicians of my era.

As a road musician, I've worked with such greats as

Jerry Lee Lewis, George Jones, Rheba McEntyre,

Red Steagall, Carl Smith, Jack Greene, and Ernest

Tubb. In Blues, I've played the Jerry Walker Five in

LA and Kenny Jackson in Memphis.

My favorite mentor of all time is Eldon Shamblen of

Bob Wills and the Texas Playboys. I'm looking

forward to doing my part in the Music Players Club

and I feel confident that we are onto something good

for the Club and good for the Core.

We are a club that welcomes everyone with an SCCA membership who has

played to any degree and wants sharpen their skills, jam, and get to know others

who play. Contact Mickael Cook email: michaelcookguitar@gmail.com

We meet in the Trophy Room on the 1st and 3rd Thursdays of every month from

6:00 pm to 8:00 pm. First Thursdays are for Beginners who play just a little or

who are wanting to learn guitar. 2nd Thursdays are for Intermediate and up on

all instruments.

34
---
CONTINUED

Everyone who has an SCCA membership number is welcome to attend one or both

meetings. We've had two great club meetings already and are looking forward to

having everyone come and join in the fun.

Our club philosophy is to LEARN TOGETHER and PLAY TOGETHER.

We concentrate the various styles of music, such as Classic Rock, Country, Folk,

50's and 60's, Blues, as well as other styles.

We have the goal of performing whether as a single or in a group.

Linda: One of our members, learned to play when she was 12 years of age.

She began writing songs then as well. She's a member of several song-writing

groups in Los Angeles as well as Nashville. She has recorded a CD of her songs

that she has written. She hopes become more proficient with her guitar-playing and

we are happy to have her as a member.

Gary: Started playing the acoustic guitar right out of high school.

He has played with several local rock bands in San Fernando Valley and San

Diego over the next decade. He laid down his guitar to pursue photography and

returned to play in 2011. He hopes that becoming a member of the SCCA Music

Players Club, will help him improve his ability to play with others as a performer

as well as in a group.

Pat: She says that the musical talent she has, she inherited from her mother

who loved to play organ and piano, and loved to sing. She received her first

guitar, a 1957 Gibson, from a high school sweetheart. Her music training

consisted of piano lessons as a child. She performed in a church worship band

for 2 years. In 2009 she became involved with bluegrass music on the guitar. She

is currently a member of the Southwest Bluegrass Association. Although her

favorite music genre is Classic Country, she likes many different music styles.

She hopes to learn a variety of music within the Music Players Club.

35
---
Knit & Crochet Classes in

Sun City/Menifee Area

Every Monday 11am to 2pm Marion V. Ashley Community Center

1st & 3rd Thursdays 2 to 4pm Paloma Valley Library

25625 Briggs Road, Menifee Take Menifee Rd. or 215

N to Rt. 74, turn right. Turn left at Briggs. Center will

be on left.

31375 Bradley Rd. (adj to Paloma Valley HS)

Parking is on the right of the entryway drive.

2nd & 4th Thursdays 11am to 1:15pm Sun City Library

1st & 3rd Fridays 1 to 4pm Canyon Lake Library

26982 Cherry Hills Blvd.

31516 Railroad Canyon (inside City Hall) Turn onto

Town Center East. Library is on left.

Leader: Mary Dempsey 951-514-6418 © mmdempsey@aol.com

36
---
37
---
38
---
39
---
Useful Article Posted by

Nellie Hathorn

Owner-Accipiter Marketing

951-777-9850

'keeping an eye on your business'

THANK YOU NELLIE

40