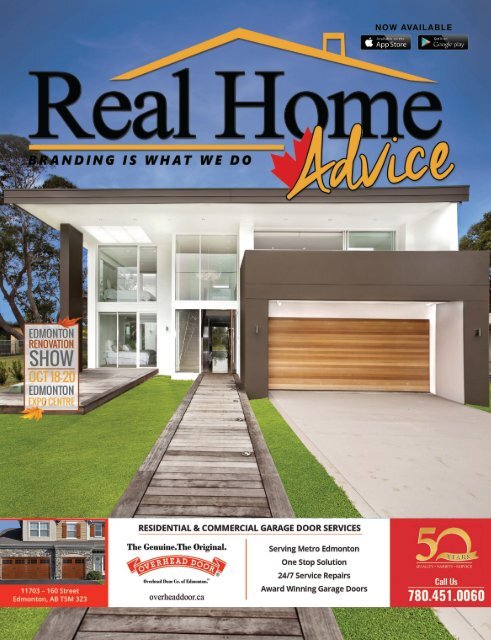 Create successful ePaper yourself
Turn your PDF publications into a flip-book with our unique Google optimized e-Paper software.
Published by:

Home Advice Ltd.

We at Real Home Advice welcome your comments,

suggestions, and opinions. There are several ways to reach

us and we assure you, we will respond in a prompt fashion.

12512 128 St NW

Edmonton AB T5L 1C8

Phone: 780-406-6441

Ad Material: adcopy@realhomeadvice.ca

Real Home Advice

@RealHomeAdvice

When requiring services, whether it be a realtors, builders,

contractors or more, we ask that you remember the

businesses featured in this publication are the best in the

industry.

All rights reserved by Real Home Advice.

Reproduction or transmission of all or any part of this

publication by any means is strictly forbidden without the

prior written consent of Real Home Advice. Although great

detail and attention is taken to avoid any ad copy or editorial

errors, any errors or omissions on the part of the publisher

are limited and dealt with solely by printing a letter of

retraction and/ or correction in the following edition.

To Our Valued Readers and Advertisers:

Real Home Advice is proud to announce that

2019 marks our 7th Year Anniversary in the

Edmonton Region. Our main objective remains

providing current and reliable information to our

readership. Our focus is in the areas of home

trends, renovations, services, decoration and

real estate.

Our readership has come to rely on our updated

and relevant editorials.

Also our advertising partners value the branding

opportunity we provide through our distribution,

exclusivity & online services. As the publisher

of Real Home Advice I'm extremely proud how

we have evolved in the last 6 years from the

traditional form of advertising into becoming

real partners with many local professionals,

services, & companies.

Graphics & Layout: KhafagyDesign

REAL HOME ADVICE 3
---
Moving

CONSIDERATIONS & PROFESSIONAL SUPPORT

As a senior looking to downsize

your home – what's your lifestyle

like? Are you in a position

to choose what environment

you wish to move to? Are you

active and looking for engaging

recreational facilities? Or do you

have to move into an Assisted

Living Seniors Home, where you

are assured of the best quality

care and attention.

who is especially trained with an

accredited

Senior's Real Estate Agent.

The designations of these Agents

is to understand your life situation,

and to best guide you – whether it's

legal, tax, provincial regulations, or

finding the most appropriate home,

they take the stress out of the

move.

senior with the best discounted

options.

What do seniors need and

require with downsizing? Agents

support seniors to ask what

family heirlooms are to keep, or to

establish the value of antiques and

collectibles. Clearing clutter is a big

consideration in being guided to

adjust sentimental attachments.

There are many decisions to make

with life-changing moves, and

especially around family dynamics

in any given situation. Along with

having a family discussion, you

may want to consult a REALTOR

4

It's reassuring to know that as

a senior, all your concerns are

handled from start to finish.

With a plethora of moving

providers, the Agent supports the

The best advice one can give

a senior in a time of change is to

source a REALTOR who has a

Senior's Designation. One who will

take all the guesswork and stress

out of that life transition and move.

REAL HOME ADVICE
---
www.funksmoving.com

MOVING

& STORAGE

MOVING & STORAGE

Solutions. Tailored to

Your NEEDS

MOVING

• RESIDENTIAL & COMMERCIAL

• LOCAL & INTERPROVINCIAL

• LOAD & UNLOAD SERVICES

• PACKING & UNPACKING

• GUARANTEED BOOKING

• FULLY INSURED

A Gold Partner of Real Home Advice

STORAGE

• SHORT OR LONG TERM

• SECURE & HEATED FACILITIES

•INSURED

SUPPLIES

• BOXES OF ALL SHAPES & SIZES

• PACKING TAPE & DISPENSERS

• PACKING PAPER & BUBBLE WRAP

• MARKERS

• AND MUCH MORE

FREE ESTIMATES

6

4YEARS

1972-2018

780.468.7052

2018

Locally Owned

& Operated

since 1972

"Congratulations Real Home Advice on Your 5 Year Anniversary"
---
CONQUERING

YOUR

KITCHEN

Photo credit: Janis Nicolay Photography

Tackling the kitchen can be a little daunting… okay, maybe really

daunting. Trying to design a kitchen that is both functional yet stylish

can be tough, let alone actually getting into the ring and cooking

delicious homemade meals yourself. But here's the thing: kitchens

aren't just a trend and more and more homeowners are getting inspired

to take on what is arguably the most important room in the home. This

year, the 2019 Edmonton Fall Home Show is packed with experts ready

to give you the advice you need when it comes to kitchen design and

cooking. On the main stage, Vancouver's Jamie Banfield is sharing his

top tips for kitchen renovations and right next door on the Cooking

Stage, Emily Mardell of www.choosefoodfirst.com is sharing her tips

on creating delicious and easy meals using local foods. You can catch

them both in person at the Edmonton Expo Centre October 18-20. For

now, here are some of their tips to create your dream life, in the kitchen.

"People are putting more emphasis on their cooking spaces and are

being very strategic when it comes to designing their dream kitchens,"

says Banfield. "Kitchens are one of the most used spaces in the home,

so every detail counts." Emily Mardell, registered dietician, couldn't

agree more. "I feel so blessed to be able to cook in such a functionally

beautiful, and inspiring space. My favourite thing about my kitchen is

the island. It's the centrepiece of our home, and where we gather to

cook, eat, and share. Even if we only have 15 minutes to recount our

day, it's the best 15 minutes hands down."

When it comes to renovating kitchens, it can sometimes seem simple,

but according to Banfield "before long, you're gutting down to the studs

and starting from scratch. This area can be tricky and oftentimes, you

may not be able to see all the costs with your eyes," notes Jamie. "For

example, even upgrading you appliances can be a bit more work that you

imagined since some new technology might require an upgrade to the

electrical panel." The kitchen plan should take time and be well thought

out. "It's a lot more than just adding more counter space or changing up

the backsplash. You have to consider the function, flow and fit of every

item and design elements to ensure you keep loving your space for

longer." Finally, Jamie suggests investing in items that get the most usage

in your day-to-day life such as your appliances, hardware and sink and

faucet. The joy in cooking at home isn't going anywhere anytime soon

and 6 will last forever with a kitchen designed right for you.

Eating local has definitely become an important value for many

Canadian families across the country. "For me, the value of eating

local extends well beyond the benefits of freshness, seasonality, and

nutrition. Eating local empowers my whole family to cultivate a more

joyful relationship with the food on our table. After all, knowing where

your food is grown, and the hard-working hands and hearts responsible

for it—is a special thing." Many homeowners are inspired to make a

change when it comes to their nutrition and supporting local however,

some struggle with the balance of eating right, what's convenient and

are concerned with the cost of it all. "Finding time to cook is more

about creating time than having time. We're all busy, but prioritizing

eating together is something you'll never regret. Set aside an hour, or

two each week to prep a recipe, or a few ingredients to help kick-start

quick, healthy meals." For Mardell's family, meal planning is a great way

to ensure balance, both in the wallet, and in the kitchen. "Meal planning

can be a helpful way to stretch food dollars. Knowing what you're

making, what you have on hand, and what you need to buy definitely

helps keep the grocery list to the essentials. Enjoying frozen fruit, and

veggies is a great way to save money, too. Frozen at peak freshness,

and nutrition, makes them a healthy, practical choice." Her tip? "You

don't nee to over plan! Prepare just do enough to give you a head start,

and allow your creativity, and appetite to guide what you make."

Curious to know more? Stop by the Edmonton Fall Home Show at the

Edmonton Expo Centre October 18-20. The main stage and cooking

stage will be chock-full of Edmonton's best, waiting to share their design

tips, tricks and food samples! Between creating your dream kitchen

to cooking meals you can't stop dreaming about, The Edmonton Fall

Home Show is the one-stop shop for industry knowledge and advice.

REAL HOME ADVICE

Photo credit: Janis Nicolay Photography
---
Oct 18 –20

Real home advice from

trusted home experts.

Is your do-it-yourself a don't? Get real home advice from trusted

experts at the Edmonton Fall Home Show. See Canada's favourite

handyman, HGTV's Bryan Baeumler on Friday, October 18 th and

Saturday, October 19 th for practical advice and inspiration for all your

home projects – however large or small. With hundreds of experts all

under one roof, find great deals, new ideas and inspiration at every

turn. Satisfaction guaranteed, or the cost of admission is on us.

SAVE $3

Buy tickets online

Promo Code: ADVICE

*On Regular Adult Admission Only

Sponsors:

.com

Home and Garden Events

@YEGHomeShows #EFHS19

edmontonfallhomeshow.com

Produced by
---
LEDUC FENCES & DECKS INC.

OUR SERVICES

FENCES

DECS

ORNAMENTAL

OUTDOOR LIVING SPACE

Providing quality fence, deck,

gate, build and repair services

Leducfenceanddeck.com

Leduc, Alberta

Call us for details

780-916-3580

Leave home in the morning ---Then come home to your new fence latter that same day

REAL HOME ADVICE 6
---
HOW TO HIRE A FENCE COMPANY

Think about the last time you

purchased a car. Chances are you

didn't go to the yellow pages, choose

a dealership at random, and buy your

car from the first lot you visited. Many

times, though, this scenario describes

the way homeowners find a fence

company, they look in the phone book

and call the company with the largest

ad or the first one listed on the internet.

But much like purchasing a car, finding

a qualified fence company requires

research and comparison shopping.

ASK QUESTIONS

Will they call the utility company to

stake out buried lines?

Are they responsible for sprinkler

heads?

What are the requirements if I own a

swimming pool?

How deep do you set your posts?

How far apart are the posts set from

each other?

ASK FOR AN ESTIMATE

Invite fence contractors to look at the

job and ask for an estimate in writing. In

the quote also ask them to specify the

time it will take to complete the job. Ask

what their backlog looks like, how soon

can they start and how long will it take

to complete. Make sure the contractors

are quoting on the same specifications

– linear feet, like materials, posts,

wood, stain, gates, etc.

EXECUTE A CONTRACT

Execute a contract specifying the

work to be done, total cost, payment

schedule, start date and estimated

completion date. Make sure the

contract specifies that the fence

company is responsible for cleanup

and the removal of your old fence.

THINGS TO LOOK FOR IN A

QUALIFIED FENCE COMPANY

There are a number of qualifications

which can set a professional fence

company apart.

Insurance: Be sure that the prospective

fence company you are considering

is fully insured, having both workers'

compensation and liability insurance.

Your selected contractor should be able

to provide you with a copy of his or her

insurance policy.

KELLY HILL

OWNER at LEDUC FENCE AND DECK
---
Blue light

and macular

degeneration

10

REAL HOME ADVICE
---
With the advent and

accelerated development of

energy efficient light bulbs such

as LED bulbs, much has come

to light regarding the safety of

what is known as blue light.

Research shows blue light is a

contributory factor in eye damage

particularly macular degeneration.

As opposed to red or nearinfrared

light – blue light has

a damaging affect on the

photoreceptor cells in the eyes.

Blue light may also be a

contributory factor in other

serious ailments, as it inhibits

the secretion of melatonin - the

hormone regulating sleep-wake

cycles and regenerative sleep.

Macular degeneration is

irreversible. It is the degeneration

of part of the retina known as the

macula. This is considered normal

in the aging process for seniors

ranging in their 60s to 70s.

When purchasing light bulbs or

asking someone to, try find some

analog bulbs and not LED bulbs.

If you have to get halogen

bulbs, choose the low-voltage

incandescent halogen lights.

The best colour bulb to purchase

is warm white as opposed to cool

white.

Limit your exposure – particularly

at night, to blue light and light

emanating off computer, television

and smart phone screens.

Sleep in a darkened room. Use

an eye mask to protect your eyes,

and for a more relaxing, deeper

sleep.

Health Practitioners recommend

eating foods that support eye

health – particularly Omega-3

fats, blueberries, leafy greens and

vegetables.

Be more aware of your exposure

to blue light to avoid further or

permanent eye damage. Seniors –

your eye health is important.

REAL HOME ADVICE

11
---
Baking Soda

a use for all

seasons

12

REAL HOME ADVICE
---
Gone are the days when baking

soda, otherwise known as sodium

bicarbonate was used just for

baking, with a box of baking soda

relegated to the back of the fridge

to eliminate bad odours.

Baking soda is now being

recommended as a cleaner in the

kitchen and bathroom. When made

into a paste – it can be used to

clean the oven, smelly and clogged

drains, odourous garbage bags,

appliances, dissolve grease stains,

clean bathroom sinks, tiles, toilets,

showers and tubs.

Other uses in the kitchen might be

to clean burned pots, with baking

soda sprinkled in the base of the

pot and heated boiling water, then

removed with burnt parts more

easily scrubbing off.

There are however, many more

benefits to baking soda from a

physical health perspective.

Whilst used with common sense it

makes a great mouthwash, and as a

tooth whitener now found in certain

toothpaste brands. When sprinkled

in a warm bath, baking soda will

ease burns, the sting of insect bites

and other itchy conditions.

Because baking soda is more

alkaline, it provides a healing

environment for the body stressed

from acidity and an unhealthy diet.

Looking at stomach issues and

heartburn – baking soda can be

used to treat acid reflux. A teaspoon

dissolved in a glass of water should

give relief.

It's worth exploring additional

benefits of baking soda. Using it in

the house creates a safer, less toxic

environment both for your home

and body. You and your family are

worth it.

• Granite • Quartz • Laminate • Solid Surface • Sinks & Faucets • Custom Products

PF Custom Countertops designs, builds, and installs countertops, taking your project from start to finish.

Our people understand the intricacies of various materials. They work with you to ensure your countertop

meets your needs and fits perfectly.To learn more visit www.pfcustomcountertops.com

780.484.0831 10417 174 St.

REAL HOME ADVICE

13
---
Veterans Housing

Project

We will

Remember.

101-5210 106 St. Edmonton, AB

780.435.2096
---
Your Local Trusted Home

Inspection Company

Article Provided by Ronny Reinhold - Owner Local Inspector

Local Inspector

Your Inspector

For most people buying a home is the biggest

investment in their life and I am here to make

your decision easier by thoroughly inspecting your

future home.

I walk every roof, as long as it is safe to do so.

This ensures that I can have a good look at shingle

installation and condition, flashing installation and

other things which may affect your roof.

I will also have a good look at grading, siding, stucco,

sidewalks, driveways, deck, heating/air conditioning,

electric, plumbing and much more.

Local-Inspector.ca is your "one stop Inspection

shop".

Hi, my name is Ronny Reinhold. I started my

career as an apprentice carpenter in 1995 in Germany,

where I also achieved a Master Carpenter

designation in 2004.

I came to Canada in 2006 where I first worked for

a commercial contractor before I started my own

company The Carpenter Edmonton Ltd. in 2011.

I am always on the lookout for things which can

benefit our clients. In 2016 I decided to obtain a

Home Inspection License and support my desire

to ensure top quality safe and reliable work for all

my clients and anyone else who might need Home

Inspection advice. The Carpenter Edmonton Ltd.

therefore is a licensed as a Home Inspection Business

as well as a 20 year Carpentry expert here in

Edmonton.

My goal is to give you the best Home Inspection

possible!

RONNY REINHOLD - CPI®

780.935.5059

www.the-carpenter.ca

Home Inspection

Air Quality Testing

Odour Removal

REAL HOME ADVICE

24 15
---
Serving Metro Edmonton

One Stop Solution

24/7 Service Repairs

Award Winning Garage Doors

Residential &

11703 – 160 Street

Edmonton, AB T5M 3Z3
---
780.451.0060 | overheaddoor.ca

Commercial Garage Door Services
---
The

COPPER

Treatment

Copper trim around the house

is in a sophisticated class of its

own. Not only does it enhance the

visual appearance of your home, it

adds a certain value to the design

and overall warmth. Copper is

expensive though.

Compared to aluminium that is. And

given the expense, the question

becomes - are you willing to pay for a

product that in some cases could be

Taras Cleaning Services

(780) 999 5065

sharpbuildingsolutions.ca

info@sharpbuildingsolutions.ca

RESIDENTIAL & COMMERCIAL RENOVATIONS

(587) 336-0807

nabozniakt@gmail.com

Residential cleaning

Move in/out cleans

Weekly, bi weekly & monthly

Commercial cleaning

• Residential & Commercial Renovations

• Basement, bathroom & Kitchen Renovations

• Custom Cabinets & Home Additions

• Deck & Patio Repair Services

18

REAL HOME ADVICE
---
as much as three to four times more

expensive than aluminum?

Well let's look at the pros of

using copper for your gutters,

flashing, fascia, custom cladding,

eavestroughs, leaderheads, snow

guards, downspouts, end caps

and flashing, miters, elbows and

pipes - even rain chains. Yes the

list of copper products is extensive.

Copper is not only good looking

- it's practical too. It is the oldest

metal used by man. Copper has a

long life. It never rusts and does not

require painting, unlike aluminium.

Due to weathering and the oxidation

process, depending upon the climate,

it might take a year or two for some

copper to turn green.

The reason copper is expensive is

because the trim has to be custom

made, and installation is time

consuming because of the additional

soldering of joints. Workmanship

requires specialized attention.

Damage can occur if leaking copper

downspouts and gutters are not

properly installed. Copper salts are

released with any stagnant water and

moisture and can stain light coloured

and porous materials like marble or

limestone. This potential issue with

copper drainage can be remediated

by directing run-off away from

the downspouts, and additionally

applying sealant to porous materials

in the immediate area. In order to

avoid any problems, experts advise

not to mix copper with aluminium

parts, as their properties are different.

Copper trim is beautiful let's face it.

And if you are not concerned about

the cost, you will be thrilled with the

elegant look the trim gives to your

home, not to mention the durability

and added value that pulls together

the finished and classic look you

have chosen to enhance the outside

of your house and your property.

REAL HOME ADVICE

19
---
WINDS IN THE EAST

PROFESSIONAL ORGANIZING

780-932-2363

windsintheeastproforg@gmail.com

TimTech Electric LTD.

(780) 850-5523

timtechelectric@gmail.com

20

✓ Basic Organizing

✓ Indepth Organizing

✓ Moving Assistance

✓ Eco Center Drop Off

✓ Electrical Upgrades

✓ Circuit Breakers

✓ Track and Accent Lighting

✓ Safety Inspections

✓ Electrical Maintenance

✓ Emergency Services

REAL HOME ADVICE
---
Your HERBAL Garden PHARMACY

There is nothing more pleasurable

than walking out your kitchen

door, or reaching up to your

windowsill to prune a few leaves

and stalks off the fragrant and vital

herbs that you have so lovingly

planted and nurtured.

Flourishing in the sunlight, your

herbal garden is not only growing

to enhance the dishes you create

for your family – they can also

be considered your home herbal

pharmacy. Yes, knowledge of

the power of herbs that grandma

planted and used a generation ago is

making a comeback into mainstream

awareness.

Let's have a look at a few of

your most basic herbs and their

qualities:

Thyme - For colds and flu, antiseptic,

collagen production, burns,

inflammation, coughs, digestive

spasms and cramps.

Rosemary - For mental stimulation,

digestion, allergies, nasal congestion,

colds and flu, fungal infections, skin

protection and food preservation.

Sage - Headaches, hot flashes,

toothaches, sore muscles, stagnant

digestion, memory, brain function,

infections.

Parsley - For the kidneys as a

cleansing tea, digestive issues,

cystitis, vitamin C and B, neutralizes

free radicals.

Oregano - Treats colds and flu, fungal

infections, mouthwash, inflammation,

wounds and burns.

Peppermint - Improves digestion,

fevers, immune system boost, anxiety.

Holy Basil - For anxiety and stress,

bacterial and fungal infections, colds

and flu, pain, ulcers, immune system.

Lavender - Supports relaxed sleep,

headaches, soothing for burns, bug

bites, fungal infections, anxiety and

tension.

Not only can you experience your

home grown herbs for their culinary

excellence - appreciate the amazing

healing benefits you and your family

can enjoy.

Professional Local and Long Distance

Movers serving Western Canada.

www.fortmoving.com

4 LOCAL & LONG DISTANCE

4 OFFICE & RESIDENTIAL

4 COMPETITIVE

4 MOVING SUPPLIES

4 FREE ESTIMATES

We offer the full moving package, including packing service and

moving supplies. Our goal is customer satisfaction and a professional,

efficient move every time at a fair price.

Get your FREE estimates today call 780.998.2422

INSURED &

BONDED

Across the street or across the country...

WE MAKE IT EASY!

REAL HOME ADVICE

21
---
A Layman's Guide

to Home Design

Article Provided by Debbie Titus - Home Planning Centre

HOME DESIGN requires important considerations

regarding functionality, efficiency and lifestyle.

The Site must be considered when deciding on a house

plan. Often home planners will put the largest/widest house

allowed by zoning bylaws on your lot. Consider directionality,

especially if using passive solar heating.

Traffic routes should be kept short, reducing wasted space.

Avoid routes requiring passage through rooms. Determine

traffic patterns by tracing over the plan with a pencil, following

your daily routines. Time, space and even maintenance

can be saved with efficient design.

Homes have three basic activity zones; sleeping, service and

living areas. Try to keep them separate from each other.

The main entry should lead guests directly to living areas.

Consider visually separating the main entry from the living

area for privacy. First impressions are good impressions.

The Kitchen's efficiency is optimized when the refrigerator,

range and sink form a 12 to 20 foot "work triangle". Kitchen

and eating areas should be close.

Living rooms are multi-functional, serving as recreational,

study or occasional dining areas, and situated adjacent to

the entrance and dining room; areas most frequented by

guests.

Bedroom sizes are determined considering bed types and

additional furnishing; have two walls free from doors and

windows to allow a flexible furniture layout.

Bathrooms can be used for dressing, exercising and laundering.

Full bathrooms should be accessible to all bedrooms

and must be minimum 5'-0" x 7'-6" to accommodate all

fixtures.

Stairways, properly sized, average 14 to 16 risers and are at

least 3'-2" wide.

Planning aides to help you design your home can be as

simple as graph paper and pencil or a more complicated

home design computer software.

Remember when choosing or designing your home plan,

there is no perfect plan for everyone. The most important

factor is incorporating your lifestyle into the plan.

Providing quality home plans for over 50 years

7 8 0 . 4 7 9 . 4 3 1 7

3000 Stock Plans Modify Stock Plans Custom Plans

9140–118 Ave. Edmonton, Alberta Email: info@homeplanningcentre.com

REAL 22 HOME ADVICE REAL HOME ADVICE6
---
EDMONTON EVICTION SERVICES INC

RESIDENTIAL TENANCY EVICTIONS

LANDLORD REPRESENTATION

Fast Reliable Cost Effective

Worried about being

able to evict?

Need to evict a tenant?

GET SOME EXPERT ADVICE!

EVICTION SERVICES

Residential Eviction

Commercial Eviction

Process Serving

Eviction Notice

CALL FOR

Landlord Tenant Mediation

Various Landlord Forms

FREE CONSULTATION

7 8 0 . 9 7 4 . 8 4 2 7

WWW.EDMONTONEVICTIONSERVICES.COM
---
Business & Service Directory

For advertising information give our classified advertising department

a call today at 780.406.6441 or email adcopy@realhomeadvice.ca

780.784.0613

GAF Timberline

Shingles

Owens Corning

Duration Shingles

Vinyl Siding

Aluminum Siding

James Hardie Planks

CanExcel

Residential & Commercial

Edmonton, Calgary & Red Deer

www.clearchoiceexteriors.ca |

www.facebook.com/clearchoiceexteriors.ca
---
26

REAL HOME ADVICE
---
All Canadian Structures

Request A Metal Order

Metal in Minutes

587.873.0577 | 780-781-6334

The

Fireplace

Guy

Full Project Management

Complete Construction

Competitive Prices

OUR SERVICES:

Gas Fireplaces

Wood Fireplaces

Fireplace Mantels

Fireplace Surroundings

Wood Stoves

Competitive prices

Facebook: www.facebook.com/minutemetal

Email: curtishofer1@gmail.com

780.974.7689

Edmonton, AB

倀 爀 漀 樀 攀 挀 琀 䴀 愀 渀 愀 最 攀 爀 㨀

䐀 愀 爀 漀 氀 䴀 挀 一 愀 爀 礀 ⠀ 㔀 㠀 㜀 ⤀ 㤀 㠀 㜀 ⴀ

䜀 攀 渀 攀 爀 愀 氀 䘀 漀 爀 攀 洀 愀 渀 㨀

吀 爀 愀 瘀 椀 猀 䄀 甀 戀 爀 攀 礀 ⠀ 㜀 㠀 ⤀ 㤀 ㈀ ⴀ

㘀 㘀 㤀

㈀ 㤀 㐀

䌀 漀 洀 洀 攀 爀 挀 椀 愀 氀 㨀

䌀 愀 洀 瀀 戀 甀 椀 氀 搀 猀 Ⰰ 䠀 漀 琀 攀 氀

爀 攀 渀 漀 瘀 愀 琀 椀 漀 渀 猀 Ⰰ 伀 昀 昀 椀 挀 攀

䈀 甀 椀 氀 搀 椀 渀 最 洀 愀 椀 渀 琀 攀 渀 愀 渀 挀 攀

愀 渀 搀 刀 攀 渀 漀 瘀 愀 琀 椀 漀 渀 猀

圀 攀 栀 愀 瘀 攀 戀 攀 攀 渀 椀 渀

琀 栀 攀 爀 攀 猀 椀 搀 攀 渀 琀 椀 愀 氀

愀 渀 搀 挀 漀 洀 洀 攀 爀 挀 椀 愀 氀

戀 甀 椀 氀 搀 椀 渀 最 椀 渀 搀 甀 猀 琀 爀 礀

昀 漀 爀 漀 瘀 攀 爀 アパート 礀 攀 愀 爀 猀 ⸀

刀 攀 猀 椀 搀 攀 渀 琀 椀 愀 氀 㨀

䌀 甀 猀 琀 漀 洀 挀 甀 瀀 戀 漀 愀 爀 搀 猀

愀 渀 搀 䌀 愀 戀 椀 渀 攀 琀 爀 礀 昀 攀 渀 挀 攀 猀 Ⰰ

䐀 攀 挀 欀 猀 Ⰰ 䜀 愀 稀 攀 戀 漀 猀 Ⰰ

䜀 愀 爀 愀 最 攀 猀 愀 渀 搀 匀 栀 攀 搀 猀

嘀 椀 猀 椀 琀 甀 猀 漀 渀 䘀 愀 挀 攀 戀 漀 漀 欀

䘀 䈀 㨀 吀 栀 甀 渀 搀 攀 爀 刀 椀 搀 最 攀 倀 爀 漀 樀 攀 挀 琀 猀

䔀 洀 愀 椀 氀 㨀 吀 栀 甀 渀 搀 攀 爀 爀 椀 搀 最 攀 氀 琀 搀 䀀 栀 漀 琀 洀 愀 椀 氀 ⸀ 挀 漀 洀

REAL HOME ADVICE

27
---
REAL HOME ADVICE 25
---
䘀 甀 攀 渀 琀 攀 猀 刀 攀 渀 漀 瘀 愀 琀 椀 漀 渀 猀 Ⰰ 䰀 吀 䐀

㜀 㠀 ⸀ 㤀 㐀 ⸀ 㜀 㜀 㤀

䘀 甀 攀 渀 琀 攀 猀 刀 攀 渀 漀 猀

䘀 甀 攀 渀 琀 攀 猀 爀 攀 渀 漀 氀 琀 搀 䀀 漀 甀 琀 氀 漀 漀 欀 ⸀ 挀 漀 洀

䌀 伀 䴀 䴀 䔀 刀 䌀 䤀 䄀 䰀 䄀 一 䐀 刀 䔀 匀 䤀 䐀 䔀 一 吀 䤀 䄀 䰀 刀 䔀 一 伀 嘀 䄀 吀 䤀 伀 一 匀

匀 琀 ⸀ 䄀 氀 戀 攀 爀 琀 Ⰰ

匀 爀 ⸀ 䴀 漀 爀 琀 最 愀 最 攀 䈀 爀 漀 欀 攀 爀

䈀 攀 挀 愀 甀 猀 攀 琀 栀 攀 爀 攀

椀 猀 愀 渀 漀 琀 栀 攀 爀 眀 愀 礀 ℀

㜀 㠀 ⸀ 㤀 㔀 ⸀ 㜀 㤀 㤀 㘀

洀 愀 爀 最 愀 爀 攀 琀 最 攀 愀 氀 氀 䀀 椀 渀 瘀 椀 猀 ⸀ 挀 愀

A lberta

C apital

C ontracting

FREE ESTIMATES CALL TODAY!

780-554-8251

Serving Edmonton & Area

Residential & Commercial

Painting

Drywall & taping

Basement development

Restoration after sinister

Interior & exterior