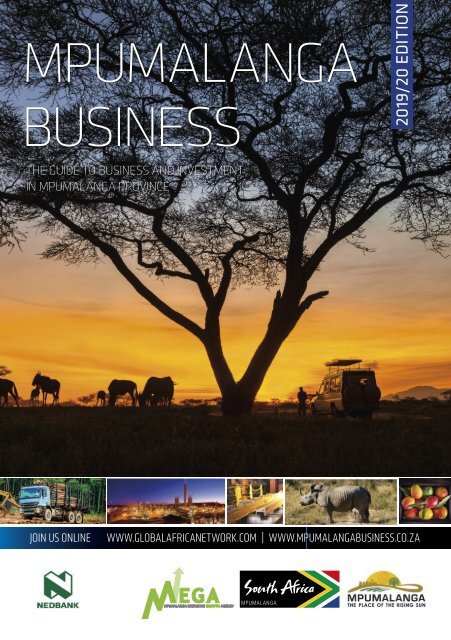 Mpumalanga Business 2019/20 edition
The 2019/20 edition of Mpumalanga Business is the tenth issue of this highly successful publication that since its launch in 2008 has established itself as the premier business and investment guide for the province. In addition to the regular articles providing insight into each of the key economic sectors of the province, there is a special focus on the new life given to an established site at the Highveld Industrial Park and the Nkomazi Special Economic Zone (NSEZ). A useful article on what incentives are available to investors is included, and the Mpumalanga Economic Growth Agency (MEGA) gives investors some perspectives on what is available in the province. Mpumalanga has several investment and business opportunities in a wide range of sectors. Updated information on Mpumalanga is also available through our monthly e-newsletter, which you can subscribe to online at www.gan.co.za, in addition to our complementary business-to-business titles that cover all nine provinces as well as our flagship South African Business title. Chris Whales Publisher, Global Africa Network Media
The 2019/20 edition of Mpumalanga Business is the tenth issue of this highly successful publication that since its launch in 2008 has established itself as the premier business and investment guide for the province.

In addition to the regular articles providing insight into each of the key economic sectors of the province, there is a special focus on the new life given to an established site at the Highveld Industrial Park and the Nkomazi Special Economic Zone (NSEZ). A useful article on what incentives are available to investors is included, and the Mpumalanga Economic Growth Agency (MEGA) gives investors some perspectives on what is available in the province.

Mpumalanga has several investment and business opportunities in a wide range of sectors.

Updated information on Mpumalanga is also available through our monthly e-newsletter, which you can subscribe to online at www.gan.co.za, in addition to our complementary business-to-business titles that cover all nine provinces as well as our flagship South African Business title.

Chris Whales
Publisher, Global Africa Network Media
SHOW MORE
SHOW LESS
You also want an ePaper? Increase the reach of your titles
YUMPU automatically turns print PDFs into web optimized ePapers that Google loves.
MPUMALANGA

BUSINESS

2019/20 EDITION

THE GUIDE TO BUSINESS AND INVESTMENT

IN MPUMALANGA PROVINCE

OVERVIEW

Oil and gas

Gas exploration and gas conversion are growing trends.

OVERVIEW

Manufacturing

Highveld steel works lives again as an industrial park.

JOIN JOIN US ONLINE US

SECTOR

ONLINE

INSIGHT

row the provincial economy of

ectors. Beneficiation of timber

iomass are two obvious areas

n a sector that already boasts a

Mpumalanga's Gross Domestic

akes up 12% of South Africa's

ducts sector contributes about

ses logging, saw-milling, wood

cture. Pulp and paper are the

, wood chips and wattle extract.

tage of sawn timber with very

n recent times due to concerns

ber in South Africa is used in

e and topography for forests.

f the industry, but commercial

uth along the Swaziland border.

, with 4% of that being natural

er in total hectares under forest

C

reative thinking kicked in when Highveld Steel's troubles

reached the tipping point in 2015. Aside from the business SECTOR INSIGHT

rescue process, which has allowed some production to restart,

there is some irony in the that fact | that the WWW.MPUMALANGABUSINESS.CO.ZA

1 000ha

| are in food WWW.LIMPOPOBUSINESS.CO.ZA

and

Most jobs in manufacturing

WWW.GLOBALAFRICANETWORK.COM timber.

York Timbers celebrated its

centenary in 2016. International chemicals and energy company Sasol has several large

• An Agriculture and plants in Mpumalanga and plays a major role in the economy of the

Forestry Technology Park province. The company's most recent upgrade of two polypropylene

is planned.

manufacturing plants at Secunda has been completed at a cost of

R1.1-billion.

This follows shortly after a stabilisation scheme valued at R1.3-billion

and is part of the global giant's ongoing investment in its facilities.

Development and Tourism More than 900 jobs were created for the duration of the upgrading

project, which took place while production continued at the plant.

(DEDET) will spend R3.9-million

Polypropylene is used in packaging, automotive components and

in the 2017/18 year on textiles statutory

compliance for this park In and Mpumalanga, Sasol's assets are Sasol Mining, Secunda Synfuels

and demand is growing every year.

other parks, which will include Operations, an Secunda Chemicals Operations and Sasol Energy.

Products manufactured at the Secunda complex include petroleum,

paraffin, jet fuel, creosote, bitumen, diesel and lubricants. Gas by-

incubation element for SMEs.

The Mpumalanga Economic products include oxygen and acetylene, liquefied petroleum gas (LPG),

Growth and Development and Path hydrogen and nitrogen. The primary feedstock for synthetic-fuel

production is coal, and the plant is located in the heart of Mpumalanga's

(MEGDP) intends to expand the

coalfield region.

industrial base of the provincial

economy, with a focus on beneficiation,

agri-processing and

MPUMALANGA BUSINESS 2017/18

42

value

property has been re-purposed as a multi-purpose site for industry and

commerce. Called the Highveld Industrial Park, this project has had the

effect of promoting a diversity of manufacturing enterprises, something

which has been a priority for economic planners for many years.

SECTOR INSIGHT Stockpiles of coal and vanadium are being sold off, but two iron

plants and a steel plant offer fully-equipped metallurgical and steelmaking

record facilities, supported by environmental monitoring services and

Sasol produced a

volume of synfuel in metallurgical 2017. and chemical laboratories.

• Tosaco Energy is searching

for gas at three sites.

The private rail siding gives the park good connections and the fact

that Sasol can supply methane-rich natural gas and that two gas producers

(Air Liquide and African Oxygen) have plants in the park makes

for an advantageous setting for industrial enterprise. The Eskom grid

supplies 350mVA power supply directly. The park is near eMalahleni,

next to the N4 highway and close to the N12 highway.

The Sasol Synfuels refinery,

In early 2018, the park had 21 tenants and many enquiries. Tenants

which forms part of the include Sasol a complex

at Secunda, is the and only Training com-

Authority (CETA) and a mining equipment refurbishment

training centre funded by the Construction Sector Education

company. An agricultural college is planned.

mercial coal-to-liquid fuel plant in

The structural mill of Evraz Highveld Steel in Witbank was officially

the world, and forms relaunched a vital part in June 2017 after ArcelorMittal South Africa signed a

of South Africa's oil and contract gas to sector.

In July 2017 Sasol announced

supply blooms and MPUMALANGA

slabs for the mill to make into heavy

that the synfuel plant produced MPUMALANGA a BUSINESS 2018/19

48

record annual output.

Sasol is spending about

R12-billion on expanding the

structural steel. Evraz Highveld

went into business rescue in

2015. The contract is for two

years with an option to renew

for another year. Alternately,

ArcelorMittal may buy the mill

after the two years.

The presence of Ferrometals

means that Mpumalanga is still

an important place for metals

and machinery manufacturing,

but the turbulence in the steel

sector has reminded everyone of

the need to diversify.

The chemicals and liquid

fluids complex of Sasol at

Secunda is a vital component of

the province of Mpumalanga's

manufacturing sector. The
---
SASOL SECUNDA OPERATIONS

The core of Sasol's Southern African Operations

Sasol is an international integrated chemicals and energy company. Through our

talented people, we use selected technologies to safely and sustainably source,

produce and market chemical and energy products competitively to create superior

value for our customers, shareholders and other stakeholders.

The company's Secunda Operations are the core of Sasol's Southern African Operations,

producing a wide range of petroleum products including diesel, petrol and jet fuel, as well

as chemical products which include ethylene, propylene and ammonia value chains.

The operations contribute to job creation, sustainable development and security of supply

in chemicals and energy. The site is host to the following entities: Sasol Mining, Secunda

Synfuels Operations, Secunda Chemicals Operations, Sasol Energy and Group Technology.

Sasol Mining operates ve coal mines in Mpumalanga that supply feedstock for the

Secunda Synfuels Operations complex. The coal is mainly used as gasication feedstock

and to generate electricity. Sasol Mining also exports coal from its Twistdraai Export Plant

to international power generation customers. As some of these mines are approaching the

end of their useful lives, new developments are underway to ensure continued supply

through the company's Mine replacement programme.

Secunda Synfuels Operations operates the world's largest coal-to-liquid manufacturing

facility, producing synthesis gas (syngas) through coal gasication and natural gas

reforming. The operating hub uses proprietary technology to convert syngas into

synthetic fuel components, pipeline gas and feedstock for producing chemicals.

Secunda Chemicals Operations is a large-scale integrated chemical product

manufacturing facility that produces and adds further value to the Sasol chemicals value

chains. Secunda Chemicals Operations also provides Sites Services, Infrastructure

Maintenance and Product Logistics Services for the Secunda site.

The Energy Business is key to Sasol's growth aspirations inside and outside South Africa,

manages the marketing and sales of all Sasol's oil, gas and electricity products in Southern

Africa.

Group Technology manages Sasol's research and development, technology innovation

and management, engineering services and capital project management portfolios. The

function contributes towards Sasol's fuels and chemicals businesses to maintain growth

and sustainability through appropriate technological solutions and services.

As an active corporate citizen, Sasol invests meaningfully in communities close to its

operations with the main objective of sustainably contributing to the broader socioeconomic

development of the Mpumalanga province as well as South Africa.
---
For more information visit www.sasol.com.
---
CONTENTS

CONTENTS

Mpumalanga Business 2019/20 Edition.

Introduction

Foreword6

A unique guide to business and investment in Mpumalanga.

Mpumalanga Economic Growth Agency (MEGA) 7

Driving trade and investment in Mpumalanga.

Special features

Regional overview 8

Diversifying and growing the manufacturing sector are

priorities for the region.

Investment incentives 12

A range of incentives are available to investors, companies,

entrepreneurs and co-operatives.

Industrial parks and Special Economic Zones 18

Dedicated zones and good rates are encouraging

manufacturing.

Economic sectors

Agriculture and agri-processing 28

A second agri-hub will be completed this year.

Forestry and paper 30

Sawmills are generating energy.

Oil and gas 34

Sasol is a world leader in liquid fuels.

Water

A new dam is to be built on the Crocodile River.

35

MPUMALANGA BUSINESS 2019/20

2
---
Terms and Conditions apply. Handles/usernames are illustrative only. Any similarity to any other handle/username on any platform,

Terms or otherwise, and Conditions is coincidental. apply. Handles/usernames are illustrative only. Any similarity to any other handle/username on any platform,

Terms or otherwise, and Conditions is coincidental. apply. Handles/usernames are illustrative only. Any similarity to any other handle/username on any platform,

or otherwise, is coincidental.

Terms and Conditions apply. Handles/usernames are illustrative only. Any similarity to any other handle/username on any platform,

or otherwise, is coincidental.
---
CONTENTS

Mining40

Sasol's R5.6-billion Impumelelo Colliery is producing coal.

Manufacturing44

Government wants to promote township

and rural manufacturing.

Transport and logistics 46

The first phase of the Moloto Corridor is complete.

Tourism48

The Mpumalanga Liberation Route has been launched.

Banking and financial services 50

Digital banking is on the rise.

Development finance and SMME support 52

Many small businesses operate in trade and accommodation.

Education and training 54

A new boarding school will assist rural children.

References

Sector contents 26

Index56

ABOUT THE COVER:

Credit: Ugurhan/iStock by Getty Images. Tourism is a key sector

in the economy of Mpumalanga. The Kruger National Park

is a vital asset in an offering that includes adventure tourism,

game viewing, heritage and natural history. Numbers of local

and international visitors are rising steadily on the back of new

products being rolled out in the province.

MPUMALANGA BUSINESS 2019/20 4
---
INTERVIEW

23454

SAVE UP TO 40%

ON BANKING FEES.

BIG VALUE FOR SMALL

BUSINESSES.

Are you in the early stages of building your business or

simply looking for a comprehensive banking solution that adds

to your bottom line? At Nedbank we have extensive experience

in serving and growing small businesses. That's why we can

provide you with a solution that not only saves you valuable

time but up to 40% on your monthly banking fees.

Visit nedbank.co.za/smallbusiness.

see money differently

Terms and conditions apply. | Nedbank Ltd Reg No 1951/000009/06. Authorised financial services and registered credit provider (NCRCP16).

5
---
FOREWORD

Mpumalanga Business

A unique guide to business, investment and tourism

in Mpumalanga.

The 2019/20 edition of Mpumalanga Business is the tenth issue

of this highly successful publication that since its launch

in 2008 has established itself as the premier business and

investment guide for the province.

In addition to the regular articles providing insight into each of the

key economic sectors of the province, there is a special focus on the

new life given to an established site at the Highveld Industrial Park and

the Nkomazi Special Economic Zone (NSEZ). A useful article on what

incentives are available to investors is included, and the Mpumalanga

Economic Growth Agency (MEGA) gives investors some perspectives

on what is available in the province.

Mpumalanga has several investment and business opportunities

in a wide range of sectors.

To complement the extensive local, national and international

distribution of the print edition, the full content can also be viewed

online at www.globalafricanetwork.com. Updated information on

Mpumalanga is also available through our monthly e-newsletter,

which you can subscribe to online at www.gan.co.za, in addition to

our complementary business-to-business titles that cover all nine

provinces as well as our flagship South African Business title.

Chris Whales

Publisher, Global Africa Network Media • chris@gan.co.za

CREDITS

Publisher: Chris Whales

Publishing director: Robert Arendse

Editor: John Young

Online editor: Christoff Scholtz

Art director: Brent Meder

Design: Tyra Martin

Production: Lizel Olivier

Ad sales: Gavin van der Merwe,

Sam Oliver, Gabriel Venter,

Vanessa Wallace, Jeremy Petersen,

Shiko Diala and Sandile Koni.

Managing director: Clive During

Administration & accounts:

Charlene Steynberg and

Natalie Koopman

Distribution & circulation

Manager: Edward MacDonald

Printing: FA Print

DISTRIBUTION

Mpumalanga Business is distributed internationally on outgoing

and incoming trade missions; through the Mpumalanga

Economic Growth Agency (MEGA); at top national and international

events; through the offices of foreign representatives in

South Africa; as well as nationally and regionally via chambers

of commerce, tourism offices, trade and investment agencies,

airport lounges, provincial government departments, municipalities

and companies.

Member of the Audit Bureau of Circulations

PUBLISHED BY

Global Africa Network Media (Pty) Ltd

Company Registration No: 2004/004982/07

Directors: Clive During, Chris Whales

Physical address: 28 Main Road, Rondebosch 7700

Postal address: PO Box 292, Newlands 7701

Tel: +27 21 657 6200 | Fax: +27 21 674 6943

Email: info@gan.co.za | Website: www.gan.co.za

ISSN 2222-3274

COPYRIGHT | Mpumalanga Business is an independent publication

published by Global Africa Network Media (Pty) Ltd. Full copyright to

the publication vests with Global Africa Network Media (Pty) Ltd. No part

of the publication may be reproduced in any form without the written

permission of Global Africa Network Media (Pty) Ltd.

PHOTO CREDITS | Highveld Industrial Park, iStock by Getty Images,

SAB Foundation, Sappi, Sasol, Seda.

DISCLAIMER | While the publisher, Global Africa Network Media (Pty)

Ltd, has used all reasonable efforts to ensure that the information contained

in Mpumalanga Business is accurate and up-to-date, the publishers

make no representations as to the accuracy, quality, timeliness, or

completeness of the information. Global Africa Network will not accept

responsibility for any loss or damage suffered as a result of the use of or

any reliance placed on such information.

MPUMALANGA BUSINESS 2019/20

6
---
Mpumalanga: place

of the rising sun

MESSAGE

Mpumalanga, which is in the northeast

of South Africa and borders

Mozambique and eSwatini, offers a

strategic location to investors and

export-oriented businesses.

The Mpumalanga Economic Growth Agency –

MEGA – is the official Economic Development Agency

for the provincial government of Mpumalanga.

MEGA offers a range of services to assist investors and

exporters to take advantage of the many trade and

investment opportunities in Mpumalanga Province.

The provincial economy is highly diverse, with

significant activity in mining, agriculture, stainlesssteel

production, petrochemicals, pulp and paper,

manufacturing and tourism. Mpumalanga's position

and resources make it a valuable transport and

logistics hub.

The Mpumalanga Economic Growth Agency

(MEGA) facilitates investment in the province and

is always keen to talk to potential investors.

Investment opportunities

The recently designated Nkomazi Special

Economic Zone (SEZ) is the first SEZ to be

established in Mpumalanga Province. Located in the

town of Komatipoort, adjacent to the border with

Mozambique, the Nkomazi SEZ is to be developed as

an agro-processing hub, supported by logistics and

other related international trade services. The Nkomazi

SEZ, though a generous tax incentive package, will

seek to maximise the participation and development

of local agriculture and small and medium-sized

enterprises throughout the value chain – from

primary agriculture to the production of high-value

end products for export.

The Maputo Development Corridor (MDC)

is a Spatial Development Initiative linking Gauteng,

Mpumalanga, the Nkomazi SEZ and the Port of Maputo

in Mozambique. The MDC infrastructure supports

logistics operations and gives investors and exporters

good access to the markets of East Africa, the Indian

Ocean rim and East Asia.

The Mpumalanga International Fresh

Produce Market (MIFPM) located in the provincial

capital city of Mbombela is currently under

construction. The MIFPM will serve farmers and

customers from Mpumalanga Province, South Africa,

regional markets in eSwatini and Mozambique

and the global food market through the Port of

Maputo. Mpumalanga Province is one of South

Africa's most productive and important agricultural

regions and plays a key role in the export profile

of South African fruit and nuts. The MIFPM offers

excellent investment opportunities for international

companies in the food industry.

MEGA services

We welcome potential investors in our province and

go out of our way to make the process of starting a

business easy. MEGA offers services in:

• Foreign Trade Promotion

• Investment Promotion

• Funding

• Property Management and Infrastructure

Development.

MEGA is focussed on customer needs and provides

innovative solutions with a high level of service. We

look forward to meeting you.

CONTACT DETAILS:

Tel: +27 13 755 6328

Fax: +27 13 755 1756

Email: info@mega.gov.za

Website: www.mega.gov.za

7 MPUMALANGA BUSINESS 2019/20
---
A REGIONAL OVERVIEW OF

MPUMALANGA

Diversifying and growing the manufacturing sector are priorities.

By John Young

Mpumalanga is at the centre of power

generation in South Africa, through

its coal-fired power stations. Despite

concerns about fossil fuels and their

effect on the environment, coal is going to be

around for the foreseeable future. The provincial

government is looking beyond coal towards

a renewable energy future, especially where

projects can be tackled by small businesses. There

might be opportunities in micro-hydro or rooftop

solar projects that will help to reduce dependence

on the national grid while simultaneously

promoting SMMEs.

As it happens, a number of coal mines are

receiving new investments and Sasol has just

launched the third of its replacement mines.

A major concern for provincial planners

is to diversify the economy and to grow the

manufacturing sector. The Mpumalanga

Economic Growth and Development Path

(MEGDP) identifies beneficiation, agri-processing

and the development of value chains as priorities.

Steel and associated manufacturing remains

one of the province's strong suits, but a number

of initiatives are being pursued to promote

beneficiation and other forms of manufacture

through a clustering approach and through tax

incentives in Special Economic Zones. These

initiatives are covered in a separate article

elsewhere in this publication.

A R250-million Youth Development Fund is to

be launched in Mpumalanga, aimed at township

MPUMALANGA BUSINESS 2019/20

8
---
SPECIAL FEATURE

and rural businesses run by young people.

The Provincial Government of Mpumalanga is

looking to cooperate closely with some of the

large companies in the province who actively

support SMMEs through enterprise and supplier

development programmes. The Premier has

identified possible partners such as the Exxaro

Enterprise Development Fund, the Anglo Zimele

Development Fund (Youth Development Hub

and the Youth Development Initiative), the Sasol

Enterprise Development Fund, South32, Glencore

and the South African Institute of Chartered

Accountants (SAICA).

Tourism is one of the brightest jewels in the

crown of the Mpumalanga economy. International

tourist arrivals rose from 1.5-million in 2017 to

1.6-million in 2018. The Mpumalanga Tourism and

Parks Agency (MTPA) has stepped up its marketing

efforts with the result that domestic tourist arrivals

also rose from 2.2-million in 2017 to 2.9-million

in 2018. All of these tourists spent R13.1-billion,

thus contributing significantly to the provincial

economy.

The Kruger National Park remains the

province's most visited asset but the decision by

UNESCO to afford World Heritage Site status to the

Makhonjwa Mountains near Barberton will boost

geological tourism to the province and supports

the efforts of the province to diversify its offering.

Major projects to improve tourist experiences

are underway at the Graskop Gorge (where a

transparent lift takes tourists into the depths of the

9

MPUMALANGA BUSINESS 2019/20
---
SPECIAL FEATURE

gorge), a skywalk is to be built at God's Window

and a cable car is planned for Three Rondavels.

The international body's decision has also

had the effect of expanding the curriculum at

the relatively new University of Mpumalanga. On

the basis of the UNESCO ruling, UMP is offering

geology as part of a BSc degree, to supplement

existing courses in education, agriculture and

hospitality.

Several infrastructure investment projects in

the tourism sector have been put forward by the

Mpumalanga Economic Growth Agency (MEGA).

To promote the province, the Mpumalanga

Tourism and Parks Agency regularly participates

in IMEX events in Frankfurt and Las Vegas, Africa's

Travel Indaba and WTM Africa.

Heritage and cultural tourism are in the

spotlight because Mpumalanga is already a

leader in nature reserves and parks. There is a

special focus on BRICS countries and provincial

authorities are investigating a tourism airlift route

between Moscow and Mpumalanga. The TRILAND

partnership with Eswatini and Mozambique is

another avenue, as is the collaboration with

KwaZulu-Natal, Eswatini, Mozambique and the

Seychelles. The latter project is called east3ROUTE

Tourism Initiative and proclaims "Experience,

Adventure, Scenery and Trade" between the

participating provinces and countries.

Mpumalanga has rich and varied mineral

resources and fertile soil that supports diverse

farming operations.

The province hosts large companies in the

manufacturing sector, with internationally

renowned firms such as Sasol (synthetic fuels and

chemicals) and Xstrata (ferrochrome) having large

operations in the province. Columbus Stainless in

Middelburg is a major producer of stainless steel,

while Middelburg Ferrochrome, Thos Begbie and

the Nelspruit-based Manganese Metal Company

are among other important heavy industrial

companies.

The province's rich agricultural produce is

used by companies such as McCain, Nestlé and

PepsiCo and there are also pulp and paper plants

(Sappi and Mondi), fertiliser facilities and textile

manufacturing concerns. The decision by Sappi

to start producing dissolving wood pulp at its

Ngodwana Mill has significantly increased the

manufacturing capacity of the province. York

Timbers is a leading forestry company and the

sugar mills and refinery of RCL Foods (formerly

TSB Sugar) are large contributors to the provincial

economy.

Sasol, the integrated oil, gas and chemicals

company, runs several plants at Secunda. Products

manufactured at the complex include synthetic

fuel, petroleum, paraffin, jet fuel, creosote, bitumen,

diesel and lubricants. The primary feedstock for

synthetic-fuel production is coal, and the plant is

in the heart of Mpumalanga's coalfields.

More than 80% of South Africa's coal is sourced

in Mpumalanga, with the town of Emalahleni

(Witbank) being the centre of the industry. Other

minerals found in the province include gold,

platinum group minerals, chromite, zinc, cobalt,

copper, iron and manganese.

The southern half of the eastern limb of the

platinum-rich Bushveld Igneous Complex runs

south towards the towns of Lydenburg and

Machdoadorp. Deposits of chromite, magnetite

and vanadium in this area are the basis of the

ferro-alloy complex in Witbank-Middelburg and

Lydenburg. Nkomati Mine is South Africa's only

pure nickel operation.

Investments

The biggest companies in Mpumalanga's most

significant sectors have been investing heavily in

infrastructure and operations. Global energy and

chemicals company Sasol regularly spends tens

of millions on upgrades and improvements at its

Secunda complex. The Sasol Synfuels refinery is

the only commercial coal-to-liquid fuel plant in

the world and constitutes a key component in

South Africa's oil and gas sector.

Sasol Mining is also very active in the province:

three of its projects are valued at more than

R8-billion and the third and final mine in its

replacement mine project was launched in 2019.

Exxaro Resources is investing R3.8-billion in a new

mine at Belfast.

MPUMALANGA BUSINESS 2019/20

10
---
SPECIAL FEATURE

Another global giant, Sappi, has invested Differences in temperature and rainfall between

heavily in the conversion of its massive Ngodwana the Highveld and Lowveld can be considerable.

Mpumalanga Mill (pictured), and other has 40% companies of South in Africa's the paper forestry One resources. of the fastest growing agricultural sectors

and forestry field such as Mondi and York Timbers is macadamia nuts. SECTOR These are INSIGHT

This fact presents an opportunity to exploit the sector's

cultivated in the

make large contributions the province's

economic by-products growth.

in the biomass-to-energy field. Lowveld and are exported in ever-growing

The Focus on Forestry conference

will target digital

The Zebra Pellets plant in Sabie is to be

volumes.

converted

The Nelspruit district in the Lowveld

The restarting of the Evraz Highveld steel mill in is South Africa's second biggest producer of

by national utility Eskom into a torrefied pellet plant. The wood will solutions.

2017 was particularly good news, after the company citrus fruit, while vegetables of all sorts do well

be provided to the plant (owned by the Industrial Development

went into business rescue two years before. in this area too.

Corporation) and then heated without the use of oxygen (torrefied) in 2019 by the Centre for the

ArcelorMittal South Africa continued supplying Large parts of the province are in the so-called

which

feedstock

creates

to

a coal-like

the mill and

product

in 2019

without

took up its

the

option

carbon.

Middleveld comprising

Modernisation

high-plateau

of

grasslands.

Forestry

Plans to purchase to develop the an mill. Agriculture The rest of and the Forestry mill complex Technology Forestry Park operations are Operations are found (CMO), in central the Institute and

being property, drawn up the by rebranded the Provincial Highveld Government Business of Park, Mpumalanga. south-eastern The Mpumalanga, for Commercial but Forestry the heart Research of this

Mpumalanga is now a thriving Economic mix Growth of engineering and Development concerns, Path important (MEGDP) industry (KZN is around University) Sabie in and the the east. Nelson The

intends manufacturers, to expand the distributors industrial base and commercial

of the provincial Mpumalanga economy, forestry Mandela sector University. is one of the most

with enterprises a focus on trading beneficiation, in an established agri-processing area with and important value chain

the country: Forestry 11% of accounts the total land for about area

development. excellent infrastructure and logistics links.

of Mpumalanga is 8% covered of Mpumalanga's either by plantations gross or

When forestry managers, contractor and forestry natural equipment forests. Large domestic sugar operations product. The are found sector

suppliers gather at the biannual Focus on Forestry conference in the south-east in comprises of the province. logging, saw-milling,

White

Geography

River in 2019, the theme will be "Bridging the digital The divide province wood has excellent product roads and and pulp railway and

in the African forestry sector".

connections and paper is well manufacture. served by airports, Pulp and

Sustainability

The Drakensberg

is a key

escarpment

area for

sharply

companies

divides

in

the

the forestry

airstrips

sector

and heliports.

paper

The

are

Kruger

the main

Mpumalanga

exports,

western grasslands at high altitude (Highveld) International Airport and Hoedspruit Airport are

and advances in the Internet of Things and AI are being keenly along with sawn lumber, wood

and the subtropical component to the east, the the province's two main airports.

monitored for ways to enhance margins in an environmentally chips and wattle extract. Most

Lowveld. The central region of the province The Maputo Development Corridor is a

sound way.

sawn timber in South Africa is

is mountainous, with dramatic landscapes transportation corridor comprising road, rail,

The

presenting

conference,

exciting

which

vistas

also looks

for

at

visitors.

topics

The

such as

border

silviculture,

posts, port

used

and

in

terminal

the construction

facilities, running

sector.

fire management Lebombo Mountains and forest rise in the engineering, east. alternates from between Pretoria in Gauteng Mpumalanga through Mpumalanga has the ideal to

Mpumalanga The southern and KwaZulu-Natal and northern Highveld and will regions be jointly organised

produce large quantities of field crops such as

barley, soybeans, maize, grain and sorghum.

MPUMALANGA BUSINESS 2018/19

38

Potatoes also flourish in this area.

Most of the province receives summer rainfall,

often via thunderstorms. Frost is common on the

Highveld but is almost absent in the subtropical

regions where fruit, nuts and citrus thrive.

the Port of Maputo climate in Mozambique. and topography The corridor for

supports high volumes of cross-border freight

services and aims to boost trade within and

beyond the region. Industry and tourism benefit

from the concentration of resources and ease

of transportation. This international initiative

emphasises Mpumalanga's excellent location as

a logistics and transport hub.

11

MPUMALANGA BUSINESS 2019/20
---
South African

investment incentives

The South African government, particularly the Department of Trade and Industry,

has a range of incentives available to investors, existing companies,

entrepreneurs and co-operatives across many sectors.

South Africa wishes to diversify its economy

and incentives are an important part of

the strategy to attract investors to the

country. The Department of Trade and

Industry (the dti) is the lead agency in the incentives

programme, which aims to encourage local and

foreign investment into targeted economic sectors,

but the Industrial Development Corporation

(IDC) is the most influential funder of projects across

South Africa.

There a variety of incentives available and these

incentives can broadly be categorised according to

the stage of project development:

• Conceptualisation of the project –

including feasibility studies and research

and development (grants for R&D and

feasibility studies, THRIP, Stp, etc)

• Capital expenditure – involving the creation

or expansion of the productive capacity

of businesses (MCEP, EIP, CIP, FIG, etc)

• Competitiveness enhancement –

involving the introduction of efficiencies

and whetting the competitive edge of

established companies and commercial

or industrial sectors (BBSDP, EMIA,

CTCIP, etc)

MPUMALANGA BUSINESS 2019/20 12
---
CONTINUING TO GROW THE WOMEN IN MINING

At Exxaro, we pride ourselves in recognising that our strength lies with our people - including our female employees -

who are our greatest asset.

We are steadfast in our quest to increase the inclusivity of women at all levels of our organisation, building o n the 42%

women representation o n the Exxaro Resources Board and 33% females in top management.

www.exxaro.com
---
PROFILE

• Some of the incentives are sector-specific, for

example the Aquaculture Development and

Enhancement Programme (ADEP), Clothing

and Textile Competitiveness Improvement

Programme (CTCIP) and the Tourism Support

Programme (TSP).

Manufacturing

Key components of the incentive programme are

the Manufacturing Incentive Programme (MIP) and

the Manufacturing Competitiveness Enhancement

Programme (MCEP). The initial MCEP, launched in

2012, was so successful that it was oversubscribed

with almost 890 businesses receiving funding. A

second phase of the programme was scheduled

for launch in 2016. The grants are not handouts

as the funding covers a maximum of 50% of the

cost of the investment, with the remainder to be

sourced elsewhere.

The Enterprise Investment Programme (EIP)

makes targeted grants to stimulate and promote

investment, BEE and employment creation in the

manufacturing and tourism sectors. Aimed at smaller

companies, the maximum grant is R30-million.

Specific tax deductions are permissible for larger

companies investing in the manufacturing sector

under Section 12i of the Income Tax Act.

Other incentives

Other incentives available to investors and existing

businesses in more than one sector include the:

• Technology and Human Resources for Industry

Programme (THRIP)

• Support Programme for Industrial Innovation

(SPII)

• Black Business Supplier Development Programme

(BBSDP), which is a cost-sharing grant offered to

black-owned small enterprises

• Critical Infrastructure Programme (CIP) that covers

between 10% and 30% of the total development

costs of qualifying infrastructure

• Co-operative Incentive Scheme, which is a 90:10

matching cash grant for registered primary

co-operatives

• Sector Specific Assistance Scheme, which is a

reimbursable 80:20 cost-sharing grant that can

be applied for by export councils, joint action

groups and industry associations.

Incentives for SMMEs

A lot of emphasis is placed on the potential role of

small, medium and micro enterprises in job creation

and a number of incentives are designed to promote

the growth of these businesses. These include:

• Small Medium Enterprise Development

Programme (SMEDP)

• Isivande Women's Fund

• Seda Technology Programme (Stp).

• Seda is the Small Enterprise Development Agency,

an agency of the Department of Small Business

Development that exists to promote SMMEs.

Trade-related incentives

The Export Marketing and Investment Assistance

(EMIA) Scheme includes support for local businesses

that wish to market their businesses internationally

to potential importers and investors. The scheme

offers financial assistance to South Africans travelling

or exhibiting abroad as well as for inbound potential

buyers of South African goods.

ONLINE RESOURCES

Department of Trade and Industry:

www.thedti.gov.za

Industrial Development Corporation:

www.idc.co.za

Mpumalanga Economic Growth Agency:

www.mega.gov.za

Official South African government incentive

schemes: www.investmentincentives.co.za

MPUMALANGA BUSINESS 2019/20

14
---
Highveld Industrial Park

Superb infrastructure on a well-located site is attracting tenants.

PROFILE

over

pace

strial

uare

ty is

ated

are

uding

lime

and

ance.

Following the closure of Evraz Highveld Steel

d unfurnished accommodation; also suitable for functions and

and Vanadium Limited and the retrenchment

of 1,700 employees in February 2016, Highveld

rk?

required a creative approach to save it from

ower stations

being demolished and sold as scrap. Highveld

the N12

Industrial Park, as it is now known, was developed from

N4

the erstwhile steelworks and has been regenerated as

a multi-purpose site for industry and commerce and is

today home to a diverse group of enterprises, including

s on site transport, manufacturing and engineering companies.

Highveld Industrial Park started with only four tenants

m the Eskom in grid 2016 and has gone from strength to strength. In

ctly supplied August by Sasol

2019, it reached the 50-tenant mark, which was a

ite purification proud moment for the Industrial Park, given the position

services

it was in less than four years ago. Highveld Industrial

d Laboratory support services

Park's tenants currently employ over 1,000 people

s

and boasts a wide variety of companies from various

ntrol

industries, including a dragline bucket refurbishment

al and Fire-fighting

company and rail siding operators which transport coal

and ore from one of the largest private sidings owned

intment and view facilities available for rental.

by Highveld, to Richards Bay and Maputo.

ighveld Industrial NOVO Park: Energy recently launched a R130-million gas

alpark.co.za/ compression facility at the Industrial Park, which is the

only one of its kind in Mpumalanga. Highveld Industrial

book.com/highveldindustrialpark/

Park is also extremely proud of its ongoing and

consistent support of SMMEs. By offering preferential

din.com/company-beta/18156518/

rates to developing enterprises it has assisted in

shaping successful companies, ranging from recycling

ube.com/channel/UCWXlGMO1n9UXYWDmnEGMsBA

to fence installations.

The park has a number of key assets that form the

basis of its unique rental proposition that allows it to

provide a holistic rental solution to its clients; these range

from high-end administration offices and conference

rooms to heavy industrial workshops that contain

overhead cranes with capacities of up to 250 tons.

Sasol Gas supplies piped methane-rich gas through

its distribution network directly to the Park, Air Liquide

and Afrox operate their gas plants in the Industrial Park,

which makes the setting for an industrial park even

more advantageous. The Park receives a direct supply

of water from the local municipal dam and undertakes

its own purification on-site. The Eskom grid supplies

the Park directly with 350MVA power, which allows the

Park to function independently of the local municipality,

thus not burdening its infrastructure but still supporting

industry within the municipal boundaries.

Structural mill

Highveld Structural Mill is currently the jewel in the crown

of Highveld Industrial Park. It is Africa's only producer of

heavy structural steel, as well as railway lines. The mill

was officially relaunched in June 2017 after ArcelorMittal

South Africa entered into a contract to supply blooms

and slabs for the mill to roll into heavy structural steel.

The contract was for a period of two years, with an

option for ArcelorMittal to acquire the Structural Mill

at the end of the period. On 31 July 2019, ArcelorMittal

announced its intention to purchase the mill and a sale

of business agreement was duly entered into, subject

to certain conditions being met. This is a milestone, not

only for Highveld Industrial Park, but for industry in South

Africa, as it ensures that the country maintains its strategic

steel manufacturing capability and supports jobs, while

enabling export opportunities.

CONTACT DETAILS:

Contact person: Andrea de Souza

Physical address: Old Pretoria Road,

Emalahleni,1035, South Africa

Tel: +27 71 452 9678

Email: andrea@hipark.co.za

Website: www.highveldindustrialpark.co.za

15 MPUMALANGA BUSINESS 2019/20 2017/18
---
INTERVIEW

Building a robust

economy in

Mpumalanga

Industrial Development Corporation Regional Manager Mashweu

Matsiela explains how the IDC's mandate helps to improve lives.

Mashweu Matsiela

What are the key goals of the IDC in Mpumalanga?

In line with the IDC's mandate, our goal is to provide financial and

non-financial support to entrepreneurs, thereby creating jobs and empowering

youth and women, as well as supporting black industrialists.

BIOGRAPHY

Mr Mashweu Matsiela has

been the Regional Manager

of the IDC's Mpumalanga office

since 2013. He is currently

also the Acting Manager of the

corporation's Limpopo office.

Having been awarded a British

Council scholarship, Mr Matsiela

pursued his tertiary education

in Scotland where he obtained

a BSc degree (Biological Sciences)

from Stirling University.

This was followed by an MBA

qualification from the University

of Pretoria, including a Graduate

Diploma in Company Direction

(GIMT). Mashweu also earned

himself a distinction on the highly

regarded Global Executive Development

Programme (GIBS).

What is your core business?

On a daily basis, we screen and assess business plans for viability. Based

on the economic merit thereof, the IDC can then decide on funding

the project under consideration. The corporation provides funding

in the form of loans, equity and guarantees, among others, to cater

for the funding needs of start-ups, expansion of existing capacities as

well as acquisitions. Our funding ranges from R1-million to R1-billion

per project.

The IDC also provides both pre- and post-investment business

support as may be required for its clients, thereby ensuring that any

gaps identified for the success of the funded entities are adequately

addressed, thereby safeguarding the corporation's investments. For example,

if corporate governance within the funded entity is considered

unacceptable, the IDC will, through its business support programme,

ensure that appropriate interventions are implemented to address

the gap as identified.

Do you sometime hold equity for a long period?

It depends on the strategic nature of the investment. These investments

assist the IDC in fulfilling its developmental role where, for

example, preference may be given to BEE parties at the time of

disposal of shares in this regard, thereby enabling the corporation to

achieve its empowerment and transformation agenda. Furthermore,

dividends from these investments, along with interest income, contribute

significantly towards the IDC's internally generated funds.

Do you fund projects when times are tough?

Depending on the economic merit of the entity concerned, the IDC

would provide funding because it is in our interest that these businesses

remain viable and sustainable in the long run where they will

MPUMALANGA BUSINESS 2019/20

16
---
INTERVIEW

continue to contribute meaningfully towards the

success of the economy of South Africa through

sustained employment opportunities, for example.

In actual fact the IDC's developmental role is more

pronounced during tough economic conditions

as the corporation is expected to play a countercyclical

role in turning the economy around.

What prompted the IDC to open a second office

in the province?

That decision was informed by the prevalence

of economic activities in the "highveld" part of

the province, mainly in Emalahleni and the surrounding

areas. Through this new office, which is

located in Emalahleni, the IDC would like to reach

out to the rest of the province and thereby exploit

the business opportunities further afield in areas

such as Mkhondo, Secunda, Ermelo, Delmas and

Kwa-Mhlanga.

Which sectors are you supporting the most?

The IDC provides funding across the various sectors

that fall under the corporation's funding mandate,

eg tourism, mining, manufacturing and agriculture,

all of which are some of the key economic sectors

within Mpumalanga. Please refer to the IDC website

to see the sectors that the corporation supports.

from these sectors which are expected to create

a significant number of jobs, once implemented.

Can you share with us some success stories?

Some of the IDC's success stories within Mpumalanga

include F&K Hlakani Engineering which specialises in

steel fabrication and engineering services. Through

the IDC's funding the company grew from humble

beginnings to become a key player that is highly

regarded in the market.

Another example of the IDC's success in the province

is Overlooked Colliery, a mining company which

has also become a key player in the mining sector.

The financial support assisted the BEE shareholder

of Overlooked to buy the rest of the shares in the

company as well as to acquire another mine nearby.

Are there special provisions for women and

young people in IDC programmes?

Indeed, the IDC is committed towards youth and

women empowerment. The corporation has set

itself specific targets in this regard where performance

on these targets is measured accordingly

at the end of each financial year. Through

its Gro-E Youth Fund Scheme, the IDC provides

funding to youth-owned businesses at preferential

interest rates.

Where is the most growth coming from?

Mainly from mining and manufacturing. Agriculture

and tourism also present significant growth and

transformation opportunities for the IDC as evidenced

by the projects currently in our pipeline. We

have seen a number of big projects coming forward

For further details contact

IDC Mpumalanga

Tel: +27 13 752 7724

Fax: +27 13 752 8139

Email: mashweum@idc.co.za

Web: www.idc.co. za

17 MPUMALANGA BUSINESS 2019/20
---
SPECIAL FEATURE

Industrial parks and Special

Economic Zones

Dedicated zones and good rates are encouraging manufacturing.

A Forestry Industrial Technology Park at Sabie will increase the value

derived from the province's trees.

South African industrial planners are creating

industrial parks and Special Economic

Zones (SEZs) as a means to cluster

together businesses that can benefit from

proximity to one another and as a way to boost local

manufacturing through incentives and tax rebates.

The policy aims to attract new skills and develop

new industries.

Key goals behind the establishment of SEZs are:

• to encourage industries to develop in clusters,

leading to economies of scale, skills-sharing and

easier access by suppliers

• to create industrial infrastructure to promote investment

• to promote cooperation between the public and

private sectors

• to use the zones as a launching pad for other

developments.

Ebrahim Patel, Minister of Trade and Industry,

meets trainees at the Highveld Industrial Park.

Apart from attracting foreign direct

investment (FDI) and boosting employment,

SEZs can also play a role in adding new

sectors or sub-sectors to an economy.

Various industrial parks (private or

public) are pursuing similar goals. The

emphasis in most of these initiatives is on

beneficiation, mainly of minerals but also

of agricultural products. South Africa's most

recent Industrial Policy Action Plan (IPAP)

has a manufacturing focus, so beneficiation

supports the diversification of the economy.

A good example of the thinking on this

subject is illustrated by the focus on forestry

of the Mpumalanga Department of Economic

Development and Tourism (DEDT). The

department wants Mpumalanga to follow the

example of Finland where every part of a tree

is processed into products that have value.

A memorandum of understanding signed

by South Africa with Finland holds potential for

Mpumalanga, as does the planned creation

of a Forestry Industrial Technology Park at

Sabie. DEDT has also asked the state forestry

company, SAFCOL, to relocate its head offices

to the province. SAFCOL is South Africa's thirdlargest

state-owned enterprise (SOE) and it

had revenues in 2017/18 of R926-million.

MPUMALANGA BUSINESS 2017/18 2019/20

18
---
Prime office and industrial

space available

FOCUS

Highveld Industrial Park offers unique variety in a prime location.

Highveld Industrial Park has over 60,000m²

of prime warehousing and workshop

space available for rental, industrial

workshops – from 420 to 3,500 square

metres. Vacant property is also available for

greenfield projects, situated on 650 hectares of

prime land.

The warehouses and workshops are suitable

for diverse purposes, including steel fabrication,

warehousing, heavy and light vehicle and

machinery maintenance. Six office blocks offer

furnished and unfurnished office space which are

also suitable for functions and training.

Where is Highveld Industrial Park?

• Within 80km of eight Eskom power stations

• 90km from Pretoria via the N4

• 120km from Johannesburg on the N12

• 200km from Mbombela on the N4

• Has an internal rail and road network.

Facilities: value-added services on-site

• Diesel supply facility

• Electricity supplied directly from the Eskom grid

• Methane-rich natural gas directly supplied by

Sasol

• Abundant raw water and on-site purification

• Round-the-clock maintenance services

• Specialised environmental and laboratory

support services

• On-site rail siding

• Canteen and laundry facilities

• 24/7 security and access control

• Emergency services: medical and fire-fighting

19 MPUMALANGA BUSINESS 2019/20
---
SPECIAL FEATURE

Other technology parks in the pipeline are the

Petro-Chemical Industrial Technology Park (Govan

Mbeki Municipality), Mining and Metal Industrial

Park (eMalahleni Municipality) and the Agricultural

Industrial Park in Mbombela.

A major government-led initiative in Mpumalanga

is the Nkomazi SEZ which boasts geographic and

logistical advantages and opportunities, given

its proximity to the Mozambique border and the

Mozambican port of Matola. Located in the town

of Komatipoort, the SEZ will provide access to

Mpumalanga's neighbouring provinces Gauteng

and Limpopo and the neighbouring states of

Eswatini and Mozambique.

An agri-hub within the SEZ will deal with the

whole value chain from growing fruit through

to processing, marketing and logistics. Having

manufacturing facilities at the core of the hub will

enable a variety of businesses to be established, both

upstream (to supply the plant) and downstream (to

deal with the products of the plant).

Highveld Industrial Park

An excellent example of a private initiative in the

field of generating growth through the intelligent

use of property is the Highveld Industrial Park in

eMalahleni.

Now a thriving industrial park, the site had

been home to Evraz Highveld Steel and Vanadium.

When that company went into business rescue the

property was repurposed as an industrial park.

Tenants have reacted enthusiastically to the

new offering. The number of tenants grew by

mid-2019 to over 40, having just topped 20 in early

2018. Tenants include a training centre funded by

the Construction Sector Education and Training

Authority (CETA), several engineering concerns and

a mining equipment refurbishment company.

The property's developers were able to

leverage all the advantages of the steel company's

site, which is well located in terms of its access

to the industrial heartlands of two provinces,

Mpumalanga and Gauteng. Two iron plants and a

steel plant offer fully-equipped metallurgical and

steel-making facilities, supported by environmental

monitoring services and metallurgical and chemical

laboratories.

In addition, there are good rail and utility

connections, water supply and purification facilities

and a ready supply of gas from several sources. Sasol

operates in Mpumalanga and supplies methane-rich

natural gas, while industrial gas producers African

Oxygen and Air Liquide both have plants on the

premises.

In 2019 Novo Energy opened a natural-gas

compression facility within the park. Fed by the

Sasol natural-gas pipeline, the plant operates all

day, every day and supplies natural gas via its fleet

of trucks to customers in a wide variety of sectors.

Highveld Industrial Park has many types of

workshops, storage areas and offices, together with

canteens, parking areas, change rooms and a clinic.

MPUMALANGA BUSINESS 2019/20

20
---
INTERVIEW

Diversity of tenants shows

Highveld Industrial Park's

versatility

CEO Johan Burger highlights the diverse range of

services enjoyed by industrial and office tenants of

Mpumalanga's newest industrial park.

Johan Burger, CEO

Is there a clustering of

enterprises taking place?

It was always the intention to create

an Industrial Park that operates as a

"one stop shop" where businesses

are able to operate with ease

and we are pleased to see these

synergies developing between

the tenants. The park offers a

host of support services, some

of which are offered by current

tenants and others through inhouse

expertise. This ranges from

diesel supply, compressed natural

gas supply, security services, onsite

laboratory and environmental

support services to emergency

services.

What are the logistical advantages

the park enjoys?

Highveld Industrial Park has

large-scale infrastructure to deal

with the high level of traffic and heavy operations including road

infrastructure, on-site weighbridges, tipplers and cranes. The park is

ideally situated in the heart of South Africa's coal-producing region and

within 80 kilometres of eight Eskom power stations. It is on the outskirts

of eMalahleni situated next to the N4 highway and close to the N12. One

of South Africa's largest private sidings is directly linked to the Richards

Bay and Maputo line and in the past two years coal, in excess of threemillion

tons, has been moved through the site.

What is your unique selling proposition?

We are logistically well situated and able to provide the necessary support

services to our clients on-site, which includes provision of security,

maintenance and utilities. The current team are all ex-employees of

Evraz Highveld and have specific skills, which range from environmental

to engineering.

We pride ourselves on the diverse nature of the businesses we

have on-site and are able to accommodate with ease; no business is

too big or too small. We have a number of facilities – ranging from

offices to large heavy industrial workshops – and we can accommodate

everything in between.

How significant is the recent purchase by ArcelorMittal

of Highveld Structural Mill?

This is a significant milestone as ArcelorMittal will be one of our anchor

tenants at Highveld Industrial Park. However, this purchase is also

important for the country as it secures a strategic steel manufacturing

asset, which is the only one of its kind in Africa.

21 MPUMALANGA BUSINESS 2017/18

MPUMALANGA BUSINESS 2019/20
---
Introducing the Mpumalanga Economic Regulator

The Mpumalanga Economic Regulator ("MER") is a newly

established public entity, reporting to the Department of

Economic Development and Tourism ("DEDT") in Mpumalanga,

charged with the mandate to provide for the regulation of the

gambling and liquor industries in the Province and to provide for

any other matters connected therewith.

The entity was established on 16 October 2017, marking the

beginning of a journey as a new provincial public entity, aiming to

achieve a cohesive and streamlined approach to gambling

and liquor regulation in the Mpumalanga Province.

The establishment of the MER is a culmination of a merger

between the Mpumalanga Gambling Board ("MGB") and the

Mpumalanga Liquor Authority ("MLA").

Our approach

We balance robust industry supervision to prevent and minimise harm

associated with the abuse of alcohol and social impacts associated

with problem gambling. This facilitates a regulatory environment

which enables a diverse and vibrant industry and recognises the social

and economic benefits around responsible industry development. We

have leveraged on the gambling and liquor regulation to develop

holistic approaches to these issues through enhancements in licensing,

compliance, education and administration.

We take a risk-based and intelligence led approach to ensure our

resources are applied where the risk is greatest and to minimise the

burden on responsible industry. We engage with stakeholders to

appreciate current and emerging issues, to influence policy dialogue

and to encourage positive compliance behaviours and best practice

within the industries.
---
We are committed to ethical principles of honesty, transparency,

integrity, non-discrimination, respect for human dignity,

professionalism and accountability. We are accountable to our

stakeholders for ensuring that the entity's business is conducted

in accordance with the highest standards of corporate governance, as

well as ethical and moral behaviours.

SPECIAL FEATURE

We continuously monitor and review the regulatory environment

for opportunities to improve regulatory efficiencies and effective

enforcement of applicable legislation, as well as minimising

harm caused by problem gambling and the abuse of alcohol.

There are fundamental reforms on both the gambling and liquor

regulation underway.

A snapshot of the regulatory environment in Mpumalanga

• Since 1994, South Africans have begun to enjoy newfound

freedom to participate in all social spheres, including the

age-old recreational activity, gambling. By legalising this

form of entertainment, government ensured a decrease in

criminality and clandestine behaviour that existed prior to the

legislation of the sector.

• Mpumalanga was the first province to establish a gambling

regulator in South Africa, post the legalisation of gambling in

1994; and the first to introduce the legalised gambling in

South Africa, i.e. casinos and limited payout machines ("LPMs").

• The MER and predecessor entities introduced various economic

growth projects in the gambling industry; 3 licensed casinos and

the fourth casino license which is still being considered,

2 route operators linked to 213 site operators, 8 bingo operators, 4

independent site operator licences, 37 betting outlets and

1 totalisator operator linked to 27 branches/agencies.

• The industry acts as a catalyst to create a thriving urban hub around

it, which includes malls, hotels and recreation facilities. Jobs are

created, new enterprises emerge, and inevitably, other investors are

attracted to the region. This type of symbiotic development of

infrastructure works hand in hand with the tourism sector,

contributing to the influx of visitors to a region.

Chief Executive Officer: Bheki Mlambo

• In addition, industry operators are liable to pay levies and

taxes, which contribute enormously to government's social

development commitments. The MER takes responsibility for

ensuring that these finances are accurately tallied and collected.

• On 01 April 2016, the MLA was de-linked from the DEDT, to

become a stand-alone public entity, until the merger in October 2017.

In terms of liquor licences, the entity and its predecessor entities has

granted approximately 6000 liquor licences.

• The entity is incredibly active in promoting the safe and responsible

use of gambling and liquor as a form of entertainment. It's no secret

that gambling and liquor can become habit-forming and have the

potential to affect not only families and their livelihoods, but the

economy of a region negatively, which

is something the MER takes very seriously.

• It is the board's mandate to adopt an honest

and open policy when it comes to the potential

negative side of these two industries, by

educating people of all cultures and

socio-economic backgrounds to

gamble responsibly and

drink responsibly.
---
ADVERTORIAL

SPECIAL FEATURE

Making it easier to do business with Nedbank

Whole-view Business Banking

Loderick Lubisi, Nedbank Provincial General Manager for Retail and

Business Banking for Mpumalanga, explains how Nedbank can help

business owners in the region.

on what's most important to you – running your

business,' says Lubisi.

There is good news for Mpumalanga

business owners and entrepreneurs seeking

a unique banking experience: Nedbank

Business Banking has business managers,

located across both provinces, specialising

in commercial industries as well as the

agricultural sector.

Lubisi says his team is ready to assist clients with

professional advice, industry-specific solutions

and a comprehensive range of financial products

and services.

'At Nedbank Business Banking we believe that you

need a financial partner who not only understands

your circumstances and aspirations, but also provides

you with relevant solutions and a banking experience

that is hassle-free. This allows you to concentrate

24

In line with our new brand proposition encouraging

clients to see money differently, our Mpumalanga

agriteams are committed to providing key support,

as well as advisory and business services to all

roleplayers involved in the agrispace in both

provinces. We will share our financial expertise

and play a role in advancing profitable, sustainable

practices throughout the agricultural production and

consumption value chain.

We recognise that farmers today face many

challenges and that to remain competitive they

continually have to improve and adopt best practices

and new technologies.

'We encourage you to see money differently with

Whole-view Business Banking', says Lubisi.

'We are also involved in a number of initiatives with

the public sector, ensuring that such partnerships

support provincial government goals in respect of job

creation and growing the economy,' Lubisi concludes.

Should you be interested in taking your business to the

next level, please call Loderick Lubisi on

+27 (0)13 759 4910, send an email to

loderickl@nedbank.co.za or

visit www.nedbank.co.za.
---
ADVERTORIAL

Nedbank Business Bundle is a game changer

with savings and personalised services for

small enterprises

The new Business Bundle from Nedbank is a game changer for small

enterprises in Mpumalanga, offering the best value for money when

compared to rival offerings.

SPECIAL FEATURE

With the country's challenging economic

environment, the Business Bundle not only

offers you personalised banking services,

but also critical tools to save – with up to

40% savings on monthly banking fees –

contributing directly to the bottomline at a

time when every cent counts.

In line with Nedbank's new brand proposition to see

money differently, the Business Bundle resonates with

the bank's commitment to do good by promoting

small enterprises.

'As a bank for small businesses we are committed

to partnering with entrepreneurs to help grow their

businesses. As such, Nedbank is always looking at

ways in which we can help unlock the value of our

clients' businesses. We support their business growth

journeys by providing practical tools to help them

run their businesses,' says Loderick Lubisi, Nedbank

Provincial General Manager, Retail and Business

Banking for Mpumalanga.

'Small businesses are the lifeblood of our economy.

Nedbank has, over the years, instituted various

interventions aimed at giving support to the smallbusiness

sector.'

Trust us to protect your business against

everyday risk

Stella Tedeschi, Regional Manager of Broker

Channels for Mpumalanga, says Nedbank

Insurance is not a one-size-fits-all business.

Nedbank Insurance has evolved into a business

that provides integrated insurance to individual

and business clients. Our offering comprises

comprehensive short-term insurance solutions,

life insurance solutions and investments.

Nedbank Insurance provides a comprehensive

offering of short-term products on behalf of

blue-chip insurers. Should you be interested in

expert advice on the type of cover that is exactly

right for your business needs, look no further.

Nedbank has a team of specialists ready to provide you with

information necessary to allow you to make an informed

decision. For more information call Stella Tedeschi on

+27 (0)12 436 7659, send an email to

stellat@nedbankinsurance.co.za,

or visit www.nedbank.co.za.

To see how Nedbank can help your small business reach its

goals call Loderick Lubisi on +27 (0)13 759 4910, send an

email to loderickl@nedbank.co.za or

visit www.nedbank.co.za/business.

25

Nedbank Ltd Reg No 1951/000009/06. Nedbank Ltd Reg Authorised No 1951/000009/06 financial

Authorised financial services services and registered and registered credit credit provider provider (NCRCP16).
---
KEY SECTORS

Overviews of the main economic

sectors of Mpumalanga

Agriculture 28

Forestry and paper 30

Oil and gas 34

Water 35

Mining 40

Manufacturing 44

Transport and logistics 46

Tourism 48

Banking and financial services 50

Development finance and

SMME support 52

Education and training 54

Sasol's operations at Secunda are among

the most important manufacturing facilities

in Mpumalanga province. Sasol Gas is one

of the four Sasol operations at Secunda.
---
OVERVIEW

Agriculture and agri-processing

A second agri-hub will be completed this year.

Small-scale farmers and co-operatives are being given a chance

to connect to the formal economy via agri-hubs which will

also provide advice and equipment. An agri-hub at Mkhuhlu,

east of Hazyview, has been established and another is set to

be completed in 2019 at Mkhondo (Piet Retief).

An International Fresh Produce Market is planned as a means of

stimulating agricultural production, but the project has stalled. The new

premier of the province has pledged that the first phase of the market's

top structure will begin in the 2019/20 financial year.

The intention is that this facility will lead to increased volumes

supplying domestic and international markets. Each of the province's

districts will have agri-hubs. The Department of Agriculture, Rural

Development, Land and Environmental Affairs has set up Farmer

Production Support Units in two municipalities, Bushbuckridge and

Nkomazi. A feedlot has been built at Mzinti and a R20-million packhouse

at Bushbuckridge.

Other interventions include the re-commissioning of the

Bushbuckridge poultry abattoir and support for soya and maize farmers

to supply the Lekwa Oilseed Crushing Plant in Standerton. Existing

programmes such as the Fortune 40 young farmers programme is to

be strengthened with the addition of 35 new incubation farms.

Big companies cultivate maize, sugar, timber, vegetables, fruit

and tea on a large scale in the province and are active in the

raising of poultry and cattle. Large commercial farmers account

SECTOR INSIGHT

Astral Foods in Standerton

has more than 2 400

employees.

for the bulk of crop and livestock

production.

Astral Foods runs a poultry

processing plant in Standerton

which has 2 425 employees with

a further 900 people further

down the agricultural value chain

dependent on the facility.

Agriculture is responsible for

about 3.4% of Mpumalanga's Gross

Domestic Product (GDP). Fruits,

nuts and vegetables are major

contributors to the provincial

and national export basket and

there is still scope for expansion

in this sector, both in terms of

lands planted and in terms of

downstream beneficiation.

MPUMALANGA BUSINESS 2019/20

28
---
OVERVIEW

Crops

Macadamia nuts have grown in popularity exponentially in recent years.

About 4 000 hectares of new trees is added each year across South Africa,

with most of that in Mpumalanga and neighbouring Limpopo. The vast

majority of the nuts are exported, with about 40% going to China.

There are about 450 farmers growing the nuts and there are 14 cracking

factories in South Africa. The sector employs about 4 500 people, of which

1 500 are permanent employees. Barberton and Hazyview are two prime

areas for the nut.

Mpumalanga produces one-million tons of maize from 291 788ha. About

53 000 tons of wheat and 33 000 tons of sorghum are produced annually.

Soya bean is another major crop: more than half of South Africa's soya bean

crop is produced in Mpumalanga's Highveld areas.

Mpumalanga accounts for about 21% of South Africa's citrus production

and a third of its export volumes, with Valencia's being the province's most

popular varietal and Nelspruit being the centre of the sector.

Avocados, litchis, mangoes and bananas thrive in the province. Hazyview

is an important source of bananas, with 20% of South Africa's production

originating there.

Deciduous fruits are cultivated in smaller quantities. About 15 000 tons

of table grapes are produced in the province annually and Mpumalanga

produces its own wine.

A specialist fruit that does well in the province is the marula. The marula

fruit makes a popular beer and is used in the production of a liqueur that

has done well on the international market.

Cotton is grown mostly under dryland conditions in Marble Hall. The

province has 1 500ha of dryland under cotton. Much of South Africa's total

annual production of about 34-million kilograms of tobacco, especially

Virginia tobacco, takes place in the north-western parts of Mpumalanga, and

in neighbouring Limpopo. Other crops produced for export in Mpumalanga

include cut flowers, pot plants and nursery plants.

Mpumalanga has the second-biggest sugar industry in South Africa,

after KwaZulu-Natal. TSB Sugar runs three mills in the Lowveld region,

ONLINE RESOURCES

Citrus Growers Association: www.cga.co.za

Fresh Produce Exporters' Forum: www.fpef.co.za

Macadamias South Africa: www.samac.org.za

South African Cane Growers' Association:

www.sacanegrowers.co.za

South African Subtropical Growers' Association:

www.subtrop.net

two of which have refining

capacity, and employs about

4 700 people. More than 1 400

farmers (commercial and smallscale)

deliver sugar cane to the

company. TSB brands are Selati

(sugar) and Molatek (animal feed).

Companies

Fresh fruit and nut supplier Halls

cultivates 375ha of its own land

and has another 1 400ha under

management. Its crops include

avocados and litchis.

Westfalia is a diversified

agricultural group which runs

extensive operations in the

province. The group's South

African operations regularly sell

more than five-million cartons of

avocados (50% of the country's

export volume) and sevenmillion

cartons of mangoes.

Umbhaba Estates is one of the

biggest banana growers in the

province.

The drier Highveld region

with its cold winters supports

crops such as cereals, legumes

and nuts. There is extensive

irrigation in the Loskop Dam

area. Ermelo is one of South

Africa's main centres of sheep

farming and wool production.

Subtropical fruit flourishes in

the Lowveld with the town of

Nelspruit being a major citrus

producer. Mixed farming and

potatoes, sweet potatoes and

beans are mostly found in the

southern and western parts of

the province.

29 MPUMALANGA BUSINESS 2019/20
---
OVERVIEW

Forestry and paper

Sawmills are generating energy.

Sustainability is the modern watchword but finding a way to

use resources for people is also popular.

The MTO Group, which has 39 900ha of plantation

under management in the Lowveld, teamed up in 2018

with mountain-bike enthusiasts of White River and Nelspruit to

develop a set of trails through the hilly landscape of the area.

One of the biggest operations in the forestry and paper sector

in Mpumalanga is Sappi's Ngodwana mill. The mill produces

330 000 tons of paper pulp for its own consumption, 250 000

tons of dissolving wood pulp (DWP) and 380 000 tons of paper

(newsprint and kraft linerboard used for packaging) annually.

Exports account for 70% of the mill's product.

Ongoing investment at Ngodwana Mill will contribute R13-

billion to the provincial economy over 20 years. Sappi's other large

facility in the province, the Lomati Sawmill in Barberton, produces

kiln-dried Southern African pine lumber from sawlogs supplied

by Sappi Forests.

The mill generates its own energy through co-generation

(steam and electricity from renewable and other sources). In 2017

Sappi built a sugar extraction demonstration plant at Ngodwana.

Findings from the experiment will help to improve the process

of extracting bio-renewable chemicals. Sappi is partnering with

Valmet, a Finnish company.

Other forestry companies are looking into energy generation,

including AFCOL. Mpumalanga has 40% of South Africa's forestry

resources. This fact presents an opportunity to exploit the sector's

byproducts in the biomass-to-energy field.

The Zebra Pellets plant in Sabie is to be converted by national

utility Eskom into a torrefied pellet plant. The wood will be provided

to the plant (owned by the Industrial Development Corporation)

and then heated without the use of oxygen (torrified) which creates

a coal-like product without the carbon.

SECTOR INSIGHT

The MTO Group plants 18

trees every minute.

Forestry accounts for about

8% of Mpumalanga's gross

domestic product. The sector

comprises logging, saw-milling,

wood product and pulp and

paper manufacture. Pulp and

paper are the main exports,

along with sawn lumber, wood

chips and wattle extract. Most

sawn timber in South Africa is

used in the construction sector.

Mpumalanga has the ideal

climate and topography for

forests. Sabie and Graskop

represent the hub of the industry,

but commercial forests are also

found to the east and south

along the Swaziland border.

About 11% of the land mass is

forested, with 4% of that being

natural forest. The province is the

national leader in total hectares

under forest (514 000ha) and in

export earnings.

Plans to develop an

Agriculture and Forestry

MPUMALANGA BUSINESS 2019/20

30
---
OVERVIEW

Technology Park are being drawn up by the Provincial Government of

Mpumalanga. The Mpumalanga Economic Growth and Development

Path (MEGDP) intends to expand the industrial base of the provincial

economy, with a focus on beneficiation, agri-processing and value

chain development.

When forestry managers, contractor and forestry equipment

suppliers gathered at the biannual Focus on Forestry conference in

White River in 2019, the theme was "Bridging the digital divide in the

African forestry sector".

Sustainability is a key area for companies in the forestry sector and

advances in the Internet of things and AI are being keenly monitored

for ways to enhance margins in an environmentally sound way.

York Timbers owns and operates five processing plants, including

the including the largest sawmill and plywood plants in South Africa

and it has 60 470 planted hectares. The company is considering

investing in biomass energy generation. The Industrial Development

Corporation (IDC) has a stake in York Timbers and a 42.6% share in

Hans Merensky Holdings, a company with timber and processing

interests in three provinces. Merensky is responsible for 20% of South

Africa's sawn pine lumber.

The Mondi Group has extensive forestry holdings in the province

and has been working on introducing a higher degree of mechanisation

in its operations. Mondi has also instituted an ecosystem management

ONLINE RESOURCES

Forestry South Africa: www.forestry.co.za

Institute for Commercial Forestry Research: www.icfr.ukzn.ac.za

South African Institute of Forestry: www.saif.org.za

Technical Association of the Pulp and Paper Industry of South

Africa: www.tappsa.co.za

plan throughout its forestry

operations with the intention

of better managing the impact

its work has on the environment.

Although local demand is

dwindling, the export market

for pulp and paper is strong.

Pulp production figures have

been on the rise for several

years and companies like Mondi

are increasingly focusing on

pulp export because of better

margins.

PG Bison has a board plant

in Piet Retief. Sonae Rauco runs

large plants at White River and

Panbult. Komatiland Forests,

a 100%-owned subsidiary of

state company SAFCOL, has big

plantations in several districts.

TWK is a R6-billion agricultural

company with its headquarters

in Mkhondo (Piet Retief).

Asset management company

Global Environment Fund

created Imvelo Forests and in

2015 the company investigated

using thermal imaging to detect

fires. Among the other private

timber growers in the province

are Pull Scar Timber Co, and

United Forest Products.

31

MPUMALANGA BUSINESS 2019/20
---
OVERVIEW

Oil and gas

Sasol is a world leader in liquid fuels.

International chemicals and energy company Sasol has several

large plants in Mpumalanga and plays a major role in the economy

of Mpumalanga. Sasol Gas is one of the four Sasol operations

at Secunda, supplying natural gas to Sasol Synfuels and buying

Sasol Synfuels' methane-rich pipeline gas to sell to customers in

Mpumalanga and KwaZulu-Natal.

Sasol will be a key player when national government finalises

policy on biofuels. Statutory minimums for biodiesel in diesel and

bioethanol in ethanol will give certainty to producers and boost

production levels. Sasol is already making 285 000kl of absolute

alcohol in ethanol from sugar fermentation annually. About 60-million

litres of liquid fuel is produced each day at the coal-to-liquid plant

run at Secunda. Sasol has finished its mine replacement programme

and feedstock is secure until the year 2050.

There is increased interest in gas as a source of energy in

South Africa although the country currently only has one gasto-liquids

plant.

ONLINE RESOURCES

ONLINE RESOURCES

Independent Power Producers Programme:

www.ipp-projects.co.za

Petroleum Agency SA: www.petroleumagency.co.za

PetroSA: www.petrosa.co.za

SECTOR INSIGHT

A biomass project has started

at Sappi's Ngodwana mill.

Much of the large gas resource

of Mozambique is piped to the

industrial heartland of South

Africa SECTOR and the INSIGHT promoters of the

Nkomazi Special Economic Zone

believe that the fact that a natural

gas pipeline passes through the

SEZ is a big selling point.

The Liquefied Natural Gas

Independent Power Producer

Procurement Programme (LNG

IPPPP) is part of the broader

programme of the National

Department of Energy which

encourages private investment

in renewable energy, namely the

Renewable Energy Independent

Power Producer Procurement

Programme (REIPPPP). The total

allocated to gas-to-power in the

national power plan is 3 726MW,

of which 3 000MW is for LNG.

Another part of the REIPPPP

is alternative sources such as

the conversion of biomass to

energy. At Sappi's Ngodwana

mill, a 25MW project is underway.

Transnet Pipelines runs

a 3 800km network of

underground, high-pressure

petroleum and gas pipelines

throughout the eastern parts

of South Africa. The company's

sophisticated multi-product

pipeline (NMPP) between the

coast and Gauteng transports

a range of liquid products.

MPUMALANGA BUSINESS 2017/18 2019/20

34
---
OVERVIEW

Water

A new dam is to be built on the Crocodile River.

Rapid growth in the Ehlanzeni District Municipality has led the

Provincial Government of Mpumalanga to decide to build a

new dam on the Crocodile River in the City of Mbombela.

Citizens of the Thembisile Hani Municipality will get more

immediate relief from water shortages with the construction of a treatment

plant on the Moses River. Acting on a disturbing report published

by the Centre for Environmental Rights on the way some mining

companies are using water, a provincial Environmental Management

Committee has been appointed to conduct environmental impact

analysis and assess climate change threats.

NuWater was contracted to reduce waste at the water treatment

plant for Emalahleni Municipality. An ultra-filtration technology was

used to reduce waste from 20Ml/day.

A total of 327 water infrastructure projects benefiting 350 259

households have been completed, with a further 165 sanitation projects

finalised. A bulk water supply system connecting villages within

the Bushbuckridge area has been completed. National government

has subsequently disbanded the Bushbuckridge Water Board and Rand

Water has taken over its operations.

A joint project with Eskom related to rain-water harvesting will also

create jobs. The Siyasebenza Job Creation Initiative is intended to create

900 jobs in the Nkangala District Municipality.

The Komati Basin Water Authority (KOBWA) is an important agency

ONLINE RESOURCES

De Hoop Dam: www.dhcw.co.za

Inkomati-Usuthu Catchment Management Agency:

www.iucma.co.za

Komati Basin Water Authority: www.kobwa.co.za

National Department of Water and Sanitation: www.dws.gov.za

SECTOR INSIGHT

An Environmental

Management Committee

has been established.

in controlling water resources in

the region. Formed out of a cooperation

agreement between

South African and Swaziland,

the agency has built two large

dams and is responsible for their

upkeep.

The Imkomati-Usuthu

Catchment Management Agency

covers Mpumalanga, parts of

Limpopo and part of the Kingdom

of Swaziland and is responsible for

water usage issues relating to the

following river catchment areas:

Sabie-Sand, Crocodile, Komati,

Nwaswitsontso and Nwanedzi.

The De Hoop Dam is the

centrepiece in the large

Olifants River Water Resource

Development Project (ORWRDP)

which is transforming the water

environment for industrial,

commercial and private users.

As the catchment area for this

huge scheme is to the north of

Mpumalanga, the spinoff effect

on the province is significant.

35 MPUMALANGA BUSINESS 2019/20 2017/18
---
FOCUS

Driekoppies Dam is the

perfect event venue

The Komati Basin Water Authority makes the dam available for events,

sports tournaments and recreational use.

The stunning beauty of the Driekoppies Dam and its

surrounds has made it possible for the Komati Basin

Water Authority (KOBWA) to convert the dam into a

suitable site for commercial and private recreational

use. This means that at a very low fee, the public can explore

and discover the scenic beauty and entertainment attractions

of the Driekoppies Dam.

In order to make the information about KOBWA's trans-boundary

nature more appealing, KOBWA uses the edutainment approach by

hosting educational tours around the dam and sports tournaments.

Here, people can be educated

about KOBWA in a relaxed,

enabling environment and

this is accommodated at the

Driekoppies Dam.

The Driekoppies Dam is a

popular venue for music shows

and private events such as picnics,

braais, family fun days, baby

showers, and weddings. This is

MPUMALANGA BUSINESS 2019/20

36
---
FOCUS

because of its spacious entertainment area which overlooks

the exquisite dam. Regulars are young entrepreneurs from

areas surrounding the dam who host Sunday Sessions and

the Food Market.

It also offers a venue for traditional authorities wishing to host

cultural activities and traditional meetings. Bike rallies and fishing

tournaments by various associations are also held at the dam.

KOBWA puts safety at the forefront of all planning. There is an

implementable Emergency Preparedness Plan that involves every

segment of society, from government agencies to traditional

authorities at community level. This ensures that entertaining at

the dam is not a risk.

The Driekoppies Dam is readily available for young people who

live in the Nkomazi area as a way to promote entrepreneurship

among young people. With so many interesting things to do,

especially on weekends, the Driekoppies Dam is the perfect

destination for any event.

Africa (1993 to 1998) and Maguga

Dam in Eswatini (1998 to 2003).

The two dams were constructed

mainly to provide assurance of

water supply to the irrigators in

both member states.

Tourism is one of the spinoffs

of the development of the

Driekoppies and Maguga dams.

There has been an increase in

recreational activities in both dams.

About KOBWA

The Komati Basin Water Authority (KOBWA) is a bi-national

company formed in 1992 through the Treaty of the Development

and Utilisation of the Water Resources of the Komati River Basin.

The treaty was signed by the Government of the Kingdom of

Eswatini and the Government of the Republic of South Africa. The

authority was tasked with designing, constructing, operating and

maintaining two dams and associated infrastructure. This resulted

in the construction of Driekoppies Dam in Schoemansdal South

CONTACT DETAILS

Physical address: Komati Basin Water Authority

Driekoppies Dam

Tel: +27 13 781 0317/8/9

Fax: +27 13 781 0320

Email: driekoppies.office@kobwa.co.za

Website: www.kobwa.co.za

37 MPUMALANGA BUSINESS 2019/20
---
FOCUS

Water Quality Testing Laboratory

sets high standards

The Gert Sibande District Municipality's Water Quality Testing Laboratory is the

only SANAS-accredited government-owned facility in Mpumalanga Province.

Technicians from GSDM Water Quality Testing Laboratory during an awareness programme to schools.

The Water Quality Testing Laboratory is

situated on the N17 corridor in Ermelo.

This location is bounded by the

Ekurhuleni Metro of the Gauteng Province

to the west, Sedibeng District Municipality of the

Northern Free State to the south-west, Ehlanzeni

District Municipality to the north-east, Nkangala

District Municipality to the north, Amajuba District

Municipality to the south-east and eSwatini to

the east.

The District Municipality's Water Quality

Testing Laboratory is the only SANAS-accredited,

government-owned facility in Mpumalanga

Province and is evidence of Gert Sibande District

Municipality's vision to be "A community-driven

district of excellence and development".

This is also in line with the National Development

Plan (NDP) vision 2030 which is "To ensure that all

South Africans have access to clean running water

in their homes".

The Water Quality Laboratory is an accredited

facility meeting the requirements of the ISO/

IEC 17025:2005. The centrality and the strategic

location of this facility ensures easy accessibility

by all stakeholders within the district and the

neighbouring districts.

Services

Informed by the need to improve water quality

in the district, the laboratory was established in

2011 to guarantee safe drinking water provided to

millions of citizens within the district according

to section 9 (1) of the Water Services Act No.

108 of 1997.

The facility provides chemical analysis,

microbiological analysis and physical analysis.

These services are available to all stakeholders

and customers, including local municipalities and

industries. The price list for water quality testing

offered is available on request.

MPUMALANGA BUSINESS 2019/20

38
---
FOCUS

In addition, the Gert Sibande Water Quality

Testing Laboratory promotes water quality and

care for water in communities through active

involvement in awareness programmes offered by

local municipalities in the district. It also promotes

careers in science by providing opportunities to

students in the form of in-service training.

The laboratory boasts the provision and

delivery of superior laboratory services and

aims to promote and support development

and culture of scientific learning. The Gert

Sibande Laboratory regards its clients as valuable

stakeholders whose interests are a priority for

the laboratory.

Office hours

Monday to Thursday: 07h30 to 13h00, 13h30 to 16h30

Friday: 07h30 to 14h00

Accredited Water Quality Testing Laboratory

situated in Ermelo, Mpumalanga.

CONTACT DETAILS

Physical address: Cnr N17 Bethal and Nespan Roads, Cassim Park

Postal address: PO Box 1748, Ermelo 2350

Tel: +27 17 801 7143

Email: laboratoryservices@gsibande.gov.za

Website: www.gsibande.gov.za

Facebook: @gertsibandedm

Twitter: @GertSibandeDM

Coordinates: S26 31' 25.73" E29 58' 19.25

39

MPUMALANGA BUSINESS 2019/20
---
OVERVIEW

Mining

Sasol's R5.6-billion Impumelelo Colliery is producing coal.

SECTOR INSIGHT

Mineworkers at Arnot mine

have become majority

shareholders.

After Exxaro Coal Mpumalanga's transfer of its 50% stake in

the Arnot coal mine to mineworkers at no cost, the workers

received a further 5% "free-carry" because of the specifications

of Mining Charter III. The mine thus becomes South Africa's

first majority worker-owned mine. Wescoal is the other shareholder and

operator of the mine.

Wescoal's profits doubled in 2018 to R202-million, proof that the coal

miner's acquisition and expansion strategy is paying off. The company,

which runs three mines and four processing plants in Mpumalanga, has

a resource base of about 300Mt.

Although renewable energy is catching on in South Africa, there

is no prospect of Mpumalanga's coal-fired power stations being

mothballed soon.

Nkomati Anthracite has been revived after an investment from

Unicorn Capital Partners, formerly Sentula Mining. The mine, which is

in the south-eastern corner of the province, has proven resources of

8.7-million tons and upwards of 400 jobs were created over the last two

years. Local communities have a 16.1% stake in the relaunched mine

and the Mpumalanga Economic

Growth Agency (MEGA) holds 34%.

Coal giant Exxaro, which runs

five mines in the province, has

committed R3.8-billion to its

Belfast project, an investment

that will create 1 160 jobs and

have an impact on the GDP (over

the life of the mine) of R39-billion.

Exxaro is also extending the life

of its Leeuwpan Mine by another

10 years.

Mpumalanga accounts for 83%

of South Africa's coal production

and is the third-largest coalexporting

region in the world.

The opening in April 2019

of Sasol's Impumelelo Colliery

south-west of Secunda was the

final phase of an investment in

new coal mines to replace three

coal mines that had reached the

end of their lives. Sasol produces

40-million tons of coal annually.

Impumelelo, which will produce

8.5-million tons per year, cost

R5.6-billion to build.

Anglo American has sold its

thermal coal operations to Seriti,

which is therefore the secondlargest

provider of thermal coal

to Eskom, supplying almost a

quarter of the utility's annual coal

requirements.

MPUMALANGA BUSINESS 2019/20

40
---
OVERVIEW

State coal company AEMFC (African Exploration Mining & Finance

Corporation) runs a colliery at Vlakfontein near Ogies and is planning

to develop other projects.

South32 has four collieries and three processing plants in the province.

The company has 4 860 full-time employees and 4 400 contractors.

ArmCoal is a black-owned coal company that arose out of a deal

between Xstrata Coal SA and African Rainbow Minerals Limited (51%).

ArmCoal was the vehicle used in the creation of the large open-cut

thermal coal mine at Goedgevonden.

Contribution to regional economy

Mining's contribution to provincial GDP is 25.9% of GDP and the

sector employs 53 000 people. Most of the province's mining companies

are involved in training. The Colliery Training College (CTC) in

Emalahleni is owned by a consortium of companies: Exxaro, Glencore,

Kanga Coal, South32 and Izimbiwa Coal. Historically the centre was

for mining only, but now it offers a broad range of artisan training,

including auto electrician, fitting and turning and millwrights. CTC

has been recognised as a leader in artisan training by the National

Skills Authority.

Coal, platinum, gold and nickel are the province's major mineral

resources and all are still in demand, even if coal and platinum have

experienced roller-coaster price fluctuations. South Africa produces

75% of the world's platinum, 80% of its manganese, 73% of its chrome

and 45% of its vanadium.

Deposits of chromite, magnetite and vanadium are the basis of the

ferro-alloy complex in Witbank-Middelburg (in the District Municipality

of Nkangala) and Lydenburg (Mashishing). Nkomati Mine is South Africa's

only pure-nickel operation. The province's coalfields are in the south

and west of the province.

Stillwater Sibanye is the new owner of the Burnstone gold mine near

Balfour. Stonewall Resources runs the TGME Project, near the towns

of Pilgrims Rest and Sabie. Stonewall has ambitious targets of going

beyond production of 40 000 ounces from this and other historic mines

in the area.

ONLINE RESOURCES

Colliery Training College: www.ctctraining.org

Minerals Council South Africa: www.mineralscouncil.org.za

National Department of Mineral Resources and Energy:

www.dmr.gov.za

South African Institute of Mining and Metallurgy:

www.saimm.co.za

Having taken full control of

its Barberton mines, Pan African

improved its BEE position

(Shanduka Gold is a 23.8%

shareholder) and set about

increasing its annual gold output

to 100 000 ounces.

Platinum is an important

mineral for the modern economy.

Two Rivers is a joint venture

between Implats (46%) and

African Rainbow Minerals. The

operation is on the southern part

of the eastern limb of the Bushveld

Igneous Complex, south-west of

Burgersfort.

Northam Platinum, which

has assets on both limbs of the

Bushveld Igneous Complex, has

purchased the Everest mine

from Aquarius Platinum. Everest

is adjacent to Northam's existing

Booysendal mine.

Jubilee Platinum has sold its

Smelting and Refining business

in Middelburg to Siyanda

Resources for R110.5-million.

Sylvania Platinum now has seven

PGM recovery plants that extract

chrome from tailings on both sides

of the Bushveld Igneous Complex.

Lydenburg is home to the Lion

ferrochrome smelter that is a joint

venture between Glencore and

Merafe Resources. Assmang, the

joint venture between ARM Ferrous

and the JSE-listed Assore, operates

a chrome mine (Dwarsrivier) and a

ferrochrome plant where chrome

alloys are made.

The Manganese Metal

Company (MMC) in Nelspruit

is the largest producer of pure

electrolytic manganese in the

world. MMC is owned by Samancor

(51%) and Bilston Investments

owns the balance.

41

MPUMALANGA BUSINESS 2019/20
---
INTERVIEW

Fast making strides in mining

Mpumalanga Business spoke with two trailblazing miners who

work at Exxaro's Leeuwpan Coal Mine, Johanne Struwig and

Bontle Mtshengu. Plant Manager Struwig was a finalist in the

Top Young Achiever of the Year category of the 2019 Standard

Bank Top Women of the Year awards, while Engineering

Manager Mtshengu won the award in the category, Top Gender

Empowered Organisation: Resources.

Bontle Mtshengu

BIOGRAPHY

Bontle's 18-year journey in

mining has encompassed

iron ore, minerals sands,

gold, platinum and now coal.

Her promotion in 2017 to

Engineering Manager, where

she now leads a team of more

than 200, made her the first

female to hold that post in

Exxaro. She started her career

as a mechanical technician

and worked her way up to

become an engineer. She

has a Government Certificate

of Competency (GCC) mines

and works, and a diploma in

mechanical engineering and is

studying for a BTech.

How did you choose mining as a career?

BM: Born in a rural small village called Cassel in the Northern

Cape, my mother was a teacher in a primary school and my dad

a truck operator in one of the mines. I found myself in a boarding

school 700km away from home and coincidentally landed in a

class with technical subjects in Grade 9. I fell in love with subjects

like technical drawing and electricity. Mining became a natural

choice when I was given an opportunity to do in-service training

in one of the mining houses and thereafter received a bursary.

JS: I think the mining industry chose me. I initially studied in the

chemistry field. After I got a bursary from Exxaro, I started to work in

mining and fell in love with operations and the culture.

When did you know this was a good choice?

BM: I eventually got exposed to maintenance management

environment and truly fell in love with that. The training I received

was remarkable. When I acquired the government certificate of

competency (GCC) is when I knew I had made a good choice: having

that legal appointment and seeing one's contribution to the industry

is the most satisfying feeling.

JS: On Leeuwpan mine, I have had the opportunity to be involved

in value chain operations from a technical point of view as well as

business. I fell in love with the adrenaline of operations, the pride of

mobilising people and overcoming a very challenging environment.

Did you encounter obstacles on your mining career path?

BM: Most women were recruited into positions and left there to fend

for themselves. Basic needs like sanitary facilities, personal protective

equipment (PPE) and safety underground were not available for

women. Men were not made ready for this change. It was a shock

to everyone.

JS: I was privileged that Leeuwpan created a positive environment

for my development. I had to learn through tough mistakes how to

develop emotional intelligence. I started out trying to conform and

it was only after I showed my own identity and being OK with that,

that I really flourished.

MPUMALANGA BUSINESS 2019/20

42
---
What has helped you the most along the way?

INTERVIEW

BM: Ensuring that I'm competent at what I do, always asking

questions and continuously learning new things. Certain people I

met along the way, currently my two leaders (Mangaliso Sethethi

and Baltimore Miles) and my mentor (Hemuna Bhola) have been

playing a vital role in my development.

JS: The most important building block of my career was mentoring.

Through these mentoring relationships I found my rhythm allowing

me to dance to beat of my own drum.

Johanne Struwig

BIOGRAPHY

With a Bachelor's degree

in Chemical Engineering,

Johanne was the first women

(and youngest) Plant Manager

to be appointed by Exxaro

Resources at the Leeuwpan

Coal operation. With a speciality

in mineral processing, she also

has diplomas in management

and training in risk management.

She previously worked as a

metallurgical engineer and has

been applying metallurgical

principles to optimise coal

beneficiation strategies. As a

leader, Johanne has always built

solid relationships with internal

and external stakeholders.

How did you feel to be nominated for the awards?

BM: This was a very humbling experience; this award means a lot for

me. It means my contribution is recognised. However, this also comes

with a vast responsibility to pave a way for young upcoming women

to ensure they don't go through the same experience I went through.

JS: It was probably one of the proudest moments of my life. I

am truly humbled and want to thank Mangaliso Sethethi (LPN BU

manager) for believing in me and making me believe in myself.

Is the current mining environment better for women?

BM: The industry has made significant strides in executing

transformation and promoting gender. A gap still exists in converting

women in technical positions to senior and board management levels.

More work must be done to create a space that is more accommodating

to everyone, a space where diversity is embraced and a place where

our differences make us strong.

JS: I suppose it is. Over the past 10 years, women went from

being tolerated to being accepted and even respected. Women

are not appointed for the sake of statistics but as decision-makers

and change-drivers in core positions. However, the way women

approach the mining environment has also evolved. Women are

more confident, which allows them to really show their competence.

LPN specifically has also embraced diversity to the fullest and proved

the value it adds to a business.

What should be prioritised to empower women?

BM: Companies need to develop clear strategies that focus on

development and empowerment of women within businesses. This

could include retention, fast-tracking programmes and executive

mentorship programmes. Women also need to embrace the challenge

and use the opportunity to empower themselves and others.

JS: Growing and making a difference in the mining industry requires

confidence, it requires women to be authentic. It requires us to be

strong under pressure. It also requires us to remain women because

that is what makes all the difference. As female leaders we have

the responsibility to teach this to every lady that wants to make it

in this industry through mentoring and coaching.

43

MPUMALANGA BUSINESS 2019/20
---
OVERVIEW

Manufacturing

Government wants to promote township and rural

manufacturing.

SECTOR INSIGHT

FLSmidth has doubled the

size of its Delmas facility.

Mpumalanga has a diverse manufacturing sector. The

Lowveld area supports food and beverage enterprises

and timber processing. Approximately 70% of jobs in the

manufacturing sector are in food and forestry.

Standerton has textile-manufacturing capacity in the form of

Standerton Mills. It is also home to several plants that use local raw

materials: Nestlé has an infant-cereal manufacturing plant, RCL runs

farms in the Carolina district and Early Bird is prominent. McCain and

PepsiCo (Simba) have plants that use the province's plentiful potato

crop.

TSB Sugar runs two large mills and produces fruit juices through

a subsidiary company. Nelspruit is the centre of the province's foodprocessing

cluster.

The presence of Ferrometals (a Samancor company) in Emalahleni

means that Mpumalanga is an important place for metals and machinery

manufacturing. It produces charge chrome and is one of the largest

ferrochome plants in the world. Joint ventures such as Crometals (Pty)

Ltd, Poschrome (Pty) Ltd and Elkem Ferroveld operate from the site.

Most manufacturing in the province takes place in the Highveld

where there is access to chrome, steel and coal.

In the course of an upgrade, FLSmidth has also doubled the size of its

Delmas Supercentre to 10 500m².

The company makes equipment

for materials handling and mineral

processing. The centre also hosts a

training facility and handles repairs

for customers.

In Middelburg, Thos Begbie

makes a variety of products at its

heavy engineering works. Graphite

Freezeline Solutions opened a new

graphite facility within the Begbie

property in 2018.

Thos Begbie has announced

an expansion into Zambia, where

it will service and repair furnace

components.

Middelburg-based Columbus

Stainless is a major supplier of

stainless-steel products to the

domestic and international market.

About 25% of the company's

production is sold domestically.

The Manganese Metal

Company in Nelspruit is the largest

producer of pure electrolytic

manganese metal in the world.

Delta EMD, in the same town, is

one of the biggest producers of

electrolytic manganese dioxide, a

material used in the manufacture

of alkaline batteries.

The chemicals and liquid

fluids complex of Sasol at

Secunda is a vital component of

MPUMALANGA BUSINESS 2019/20

44
---
OVERVIEW

Mpumalanga's manufacturing sector. The company has two propylene

manufacturing plants and recently completed two major investments

aimed at improving flows and expanding production.

Propylene is an input for polypropylene which is used in packaging,

automotive components and textiles. The market is growing in South

Africa at 4% per annum, roughly the same rate as the global market.

A large agri-processing fruit hub is planned for the province. Located

in the Nkomazi Special Economic Zone, the proposed hub, with an

estimated value of R10-billion, would deal with the whole value chain

from growing fruit through to processing, marketing and logistics.

Having manufacturing facilities at the core of the hub will enable

a variety of businesses to be established, both upstream (to supply

the plant) and downstream (to deal with the products of the plant).

Creative thinking kicked in when Highveld Steel's troubles reached

the tipping point in 2015. Aside from the business rescue process,

which has allowed some production to restart, there is some irony

in the that fact that the 1 000ha property has been repurposed as a

multi-purpose site for industry and commerce. Called the Highveld

Industrial Park, this project has had the effect of promoting a diversity

of manufacturing enterprises, something which has been a priority

for economic planners for many years.

Stockpiles of coal and vanadium are being sold off, but two iron

plants and a steel plant offer fully-equipped metallurgical and steelmaking

facilities, supported by environmental monitoring services

and metallurgical and chemical laboratories.

The structural mill of Evraz Highveld Steel in Witbank was officially

relaunched in June 2017 after ArcelorMittal South Africa signed a

contract to supply blooms and slabs for the mill to make into heavy

structural steel. Evraz Highveld went into business rescue in 2015.

ArcelorMittal has now exercised its right to purchase the mill outright.

Future plans

The provincial government has declared that it is determined "to turn

Mpumalanga into a manufacturing hub for South Africa and the rest

of the continent". To that end, partnerships with Russia, China and Italy

have been established to improve local knowledge of technology and

to become globally competitive.

This strategy could be said

to have paid off when it was

announced that Minsk Tractor

Works is to establish an assembly

plant in the province.

Belarus and Oman are two of

the other countries with which

Mpumalanga is engaged with.

A key objective of the provincial

government's Mpumalanga

Economic Growth and

Development Path (MEGDP) is

to expand the industrial base

of the provincial economy.

To do this, policy-makers are

focusing on beneficiation, agriprocessing

and value chain

development.

Samancor Chrome (which

runs Ferrometals) is the secondlargest

ferrochrome producer in

the world with three plants, two

of which are in Mpumalanga:

eMalahleni (Witbank) and

Middelburg.

A Social Enterprise

Development Programme has

been designed by the Provincial

Government of Mpumalanga

to help township and rural

manufacturing businesses grow

in the steel fabrication sector. This

will include finished products

such as door frames, window

frames and concrete products

like paving bricks, building bricks

and blocks.

ONLINE RESOURCES

Highveld Industrial Park: www.highveldindustrialpark.co.za

Mpumalanga Economic Growth Agency: www.mega.gov.za

South African Iron and Steel Institute: www.saisi.co.za

45

MPUMALANGA BUSINESS 2019/20
---
OVERVIEW

Transport and logistics

The first phase of the Moloto Corridor is nearly complete.

A

new flight has been added to SA Airlink's connections

between Mpumalanga and Cape Town. In addition to

the regular early-morning flights out of Nelspruit Kruger

Mpumalanga International Airport (KMIA) with a lateafternoon

return flight, an early-morning Saturday flight has been

added. This leaves Nelspruit KMIA at 7h40 and arrives in Cape Town

at 10h05 and is targeted at the leisure traveller.

Nelspruit KMIA is the province's main airport, serving both the

capital and being a convenient entry point to the southern part

of the Kruger National Park. Airlink has direct flights to and from

Johannesburg, Cape Town, Durban and Livingstone in Zimbabwe.

Hoedspruit Eastgate Airport is a popular destination for travellers

on their way to private game lodges and is also near the Orpen Gate

of the Kruger National Park. SA Express flies to Hoedspruit from

Johannesburg and Cape Town.

Middelburg Airfield is one of the larger alternate airports in the

province, boasting a 1.9km runway that can accommodate a 737. The

annual Middelburg Air Show is held in June. Many game lodges have

airstrips and helipads. SA Red Cross Air Mercy Service operates out

of the old Nelspruit airport just south of the city.

Coal haulage puts immense pressure on Mpumalanga's roads

network, particularly in the Gert Sibande District and the Nkangala

District. Road improvement plans aim to simultaneously fix rural

roads and make better connections between rural and urban areas.

The South African National Roads Agency (Sanral) has presented its

long-term vision, Horizon 2030, as part of its contribution to the National

Development Plan 2030. Road improvements which have boosted

SECTOR INSIGHT

SA Airlink has a new flight to

Cape Town.

the transport infrastructure of

Mpumalanga recently include

the upgrades to the R570 (linking

Malelane on the N4 to Swaziland),

the N11 (Hendrina-Middelburg)

and part of the vital R573 Moloto

Road, which carries huge volumes

of traffic to Gauteng and Limpopo.

Sanral's three-year plan for the

R573 allocates R1-billion to the

project.

A clause in Sanral's contract

with big companies to work

on the R573 ensures that

small companies are involved.

Raubex Construction has

formed a joint venture with Biz

Afrika, Khuluphala Tradings and

Themolo Business Enterprise.

The R573 forms part of the

Moloto Corridor, which connects

MPUMALANGA BUSINESS 2019/20

46
---
OVERVIEW

the province with Gauteng . The long-term aim is to create a coordinated

road and rail corridor including rapid rail facilities. With about 50 000

motor vehicles currently using the route every day, it represents one of

the busiest parts of South Africa's road network. The plan to upgrade the

corridor is one of 18 national Strategic Infrastructure Projects (SIPs). Not

only will the corridor provide better linkages between the provinces and

boost development along the route but improve access to the mineral

reserves of the Waterberg region.

The first phase of the Moloto Corridor Development Programme,

which involves the upgrading of road infrastructure is nearly

complete. Accidents have been reduced as a result of the R3.7-

billion first phase.

The Maputo Development Corridor is Africa's most advanced

spatial development initiative (SDI) comprising road and rail

infrastructure, border posts, and port and terminal facilities. Run

by the Maputo Development Corridor Logistics Initiative (MCLI),

the corridor runs from just outside Pretoria in Gauteng, through

Witbank, Middelburg and Nelspruit in Mpumalanga, and on to

Maputo in Mozambique.

The Maputo Development Corridor will receive a further boost

with the upgrading of the Komatiepoort Dry Port into a Special

Economic Zone. The National Department of Trade, Industry and

Competition (the dtic) has designated the Mpumalanga Economic

Growth Agency (MEGA) as the lead agent to develop the SEZ.

Rail

Another infrastructural development that will boost trade is Transnet's

planned Swaziland Rail Link (SwaziLink) project. A 146km railway line

between Lothair in Mpumalanga and Sidvokodvo in Swaziland will

ONLINE RESOURCES

Kruger Mpumalanga International Airport: www.kmiairport.co.za

Maputo Corridor Logistics Initiative: www.mcli.co.za

Middelburg Airfield: http://middelburgaeroclub.com

Railroad Association of South Africa: www.rra.co.za

South African National Roads Agency Ltd: www.sanral.co.za

allow for better movement of

freight between the countries

and provide a possible alternative

route for freight through to

Richards Bay.

The Mpumalanga rail system

generates more freight traffic

than any other province in

South Africa and is of great

strategic value. Transnet Freight

Rail is the main operator and

the chief freight movements

are coal, fuel, chemicals, timber,

iron and chrome ore, fruit,

maize, animal feed, wholesale

and retail goods, steel,

building supplies, fertiliser and

consumer goods. The port of

Maputo in Mozambique is an

attractive option for freight.

The coal terminal at Richards

Bay in KwaZulu-Natal receives

the majority of the coal that is

mined in the province.

A new rail siding is being

built to service the Majuba

Power Station. The 68km single

heavy-haul track will be a

private line that is projected to

cost in the region of R5-billion

and create between 3 500 and

5 000 jobs.

Private rail operator Sheltam

services the coal-mining and

ferrochrome-metal industries

from regional headquarters in

Witbank. The company runs

systems, hauls raw materials

and rebuilds and refurbishes

locomotives.

47

MPUMALANGA BUSINESS 2019/20
---
OVERVIEW

Tourism

The Mpumalanga Liberation Heritage Route

has been launched.

SECTOR INSIGHT

Training programmes are empowering

rural communities.

Kruger National Park is Mpumalanga's most famous tourism

asset. Other notable landmarks include God's Window and

the Blyde River Canyon but the province's newest asset is

ancient.

A three-billion-year-old micro-fossil found in the Makhonjwa

Mountains near Barberton and the border with Swaziland is thought

to be the oldest sign of life on the planet. Now the Makhonjwa

Mountains, themselves somewhere between 3.2-billion and

3.6-billion years old, have been declared a World Heritage Site by

the United Nations Educational' Scientific and Cultural Organisation

(UNESCO). The tourist offering near Barberton has been branded

the Genesis Route.

This brings to 10 the number of World Heritage Sites in South

Africa and opens up the possibility of a new type of niche tourism

for Mpumalanga. Funds for conservation of the area will be made

available from the World Heritage Fund.

Visitors to Graskop Gorge can now drop 50m into the gorge via a

glass elevator which was built by Enza Construction. The R25-million

Graskop Gorge Tourism Attraction Centre contains a 200-seater

restaurant, an overhanging veranda, a ticket office, curio shops and

an area for informal traders to sell their wares.

Although the province already caters for motor-rally enthusiasts,

cyclists, runners, walkers, fishers, horse-riders, tree-gliders, abseilers,

white-water rafters and rock climbers, there is still potential for more

investment in the ecotourism and

adventure tourism subsectors.

Another option for tourists was

recently added to the province's

portfolio, the Mpumalanga

Liberation Heritage Route.

Twenty-five young women

from rural areas are receiving

training in hospitality as part

of the Hazyview Project, an

offshoot of the Travel and

Tourism Excellence Academy.

The programme is jointly

sponsored by Amadeus, a travel

technology company, Economic

Development Solutions and the

Thebe Tourism Group.

Hazyview is near the Kruger

National Park and the students

are expected to be employed

at a new hotel at Skukuza when

they graduate. The Good Work

Foundation (GWF) is running

the programme at its Hazyview

Digital Campus, in partnership

with the South Africa College of

Tourism.

The province has plans to

attract international tourists from

nearby and from far away. The

tourist authorities of Swaziland

and Mozambique have agreed to

explore the possibilities of joint

marketing through the TriLand

Brand Initiative.

MPUMALANGA BUSINESS 2019/20

48
---
OVERVIEW

The provincial government department responsible for tourism is

exploring opportunities via the BRICS initiative. It believes that visitor

numbers from Russia could increase dramatically if a direct flight were

introduced between Moscow and Mpumalanga.

Thebe Tourism has three projects in the province, the Kruger Shalati

(a luxury train on the Selati Bridge), the Blyde Canyon Community

Project and a proposed development for Lisbon Estate which is

adjacent to the Kruger National Park. The Lisbon development is

projected to comprise two hotels, retail, hospitality and dining

facilities and staff housing associated with the Lisbon Estate.

At Blyde River Canyon, Thebe has signed an agreement with

local communities with land claims in the Blyde River Canyon

Nature Reserve which will involve them as shareholders in the new

developments. God's Window is to receive a Skywalk, the facilities

at Bourke's Luck Potholes will be rejuvenated, a cable car project is

planned for Three Rondavels and another hotel is planned to boost

accommodation options in the area.

All of these projects have been registered with National Treasury

as public-private partnerships. They are regarded as priority projects

by the provincial government.

The Provincial Government of Mpumalanga is looking for more

private partners to invest in a range of ambitious projects to boost an

already active sector that has several superb tourism assets, ranging

from the iconic Kruger National Park (one of about 70 parks and

reserves) to bird-watching, music festivals, car rallies and casinos.

The provincial investment agency, MEGA, has packaged many

tourism investment opportunities. The underlying principle in each

Bourke's Luck Potholes

ONLINE RESOURCES

Mpumalanga Gaming Board: www.mgb.org.za

Mpumalanga Tourism & Parks Agency: www.mtpa.co.za

South African National Parks: www.sanparks.co.za

South African Tourism: www.southafrica.net

South African Tourism Services Association: www.satsa.com

case is a form of public-private

partnership where the agency

would assist in getting land-use

and other legal requirements,

and perhaps in seeing that basic

infrastructure was laid on, then

the developer would build and

manage a tourism facility.

A transaction adviser has

been appointed to flesh out

these proposals for investable

tourism products. An example of

infrastructure investment from

the government's side is the

upgrading of the Manyeleti Resort.

Other provincial plans

regarding tourism involve

promoting the province as a

convention venue. A Convention

Bureau has been established and

the city of Mbombela is being

encouraged to build a large centre.

Forever Resorts has a big

presence in the province,

catering to many caravans and

campers and holiday-makers

wanting to stay in chalets. There

is also a four-star Forever Resorts

Mount Sheba. The Graceland

Hotel Casino and Country Club

is a Peermont resort in Secunda.

Tsogo Sun has six hotels in

the province, ranging from two

StayEasys to Southern Sun The

Ridge, which is attached to the Ridge

Casino in Witbank (Emalahleni).

Tsogo runs a further two resorts in

Hazyview (Sabi River Sun Resort)

and White River (Pine Lake Resort).

Protea Hotels by Marriott has

three properties in Mpumalanga,

including Protea Hotel Kruger

Gate, Nelspruit and Hazyview. At

White River, Premier Hotel The

Winkler is 20 minutes' drive from

the Numbi Gate of the Kruger

National Park.

49

MPUMALANGA BUSINESS 2019/20
---
OVERVIEW

Banking and financial

services

Digital banking is on the rise.

Embalenhle has a new Ubank branch. Situated at the Mall@

Emba, the branch will serve customers from Secunda and

other areas such as those that used to bank at a branch at

the Kinross mine, which has been closed.

In line with modern trends towards digital banking, the new Ubank

branch has internal and external facing digital walls. The screens

promote new products and campaigns, give customers information

and provide financial education. A feature that is designed to support

local artists is the Feature Wall.

All of the big retail banks (Nedbank, Absa, Standard Bank, Capitec

and First National Bank) are present in the province's major towns.

Agriculture is an important focus area for banks, and most have

specialised divisions such as Nedbank Agribusiness.

TWK Agri offers financing and insurance together with the usual

suite of agricultural services. Afgri, one of the country's biggest

agricultural companies, offers financial services (financing and

insurance) under the brand Unigro. It has another service called Gro

Capital Financial Services which offers more complicated products.

Another source of funding for farmers is the Land and Agricultural

Development Bank of South Africa (Land Bank), a developmentfinance

institution that falls under the Ministry of Finance. Standard

Bank has a new black economic empowerment agricultural fund

designed to support emerging farmers. The R500-million fund is

designed to connect farmers who have received farms in land reform

projects to agri-businesses that will buy their produce.

The first new banking licence in nearly two decades was issued

in 2017, to TymeDigital. The bank has no physical branches although

Tyme's Money Transfer product, which it launched in 2016, is available

at Boxer and Pick n Pay. The banking licence is the first to be issued

since Capitec was granted a licence by the South African Reserve

Bank in 1999.

ONLINE RESOURCES

Financial Services Board: www.fsb.co.za

Post Bank: www.postbank.co.za

Public Investment Corporation: www.pic.gov.za

SECTOR INSIGHT

New banking licences have

been granted.

In a province with a high

proportion of rural citizens such

as Mpumalanga, the prospect of

Postbank being upgraded to a

full-service bank is positive news.

The current Postbank focusses

on taking deposits and savings

accounts. Postbank has secured

a R3.7-billion loan to enable it to

open its own loan book. The large

geographical footprint of the Post

Office will make the bank easily

accessible to even remote parts of

the country.

Banks are working hard to

offer products to the previously

unbanked. Nedbank has

partnerships with shops such

as Boxer Stores and Pick n Pay

where customers can have access

to financial services in previously

unserviced areas.

MPUMALANGA BUSINESS 2019/20

50
---
OVERVIEW

I'M AN

ENTREPRENEUR.

AN INNOVATOR.

AND A GAME

CHANGER.

NOW I JUST NEED BIG VALUE

FOR MY SMALL BUSINESS.

You've got what it takes to succeed. All you need now

is for your money to up its game for your business,

with a business bundle from Nedbank. Save up to 40%

on banking fees, get 35 free transactions a month,

Greenbacks rewards, discount on your point-of-sale

device, and a dedicated banker. All this and more for only

R219 per month! For more information call 0860 116 400

or search 'Business Bundle' on nedbank.co.za.

SAVE UP TO

40%

ON BANKING

FEES

nedbank.co.za

Terms and conditions apply.

see money differently

51 MPUMALANGA BUSINESS 2018/19

Nedbank Ltd Reg No 1951/000009/06. Authorised financial services and registered credit provider (NCRCP16).
---
OVERVIEW

Development finance and

SMME support

Many small businesses operate in trade and accommodation.

Support for the small business sector is not always easy to

measure. Advice and mentoring are important but it's in

turnover figures where concrete results can be seen.

Bushbuckridge entrepreneur Freddy Sibuyi (pictured)

took full advantage of the advice and support that Tholoana Enterprise

Programme of the SAB Foundation had to offer. Turnover of Freddy and

Sons Maintenance and Engineering jumped from a little over R602 000

to more than R2.2-million and he added 10 employees to his original

staff complement of five.

The SAB Foundation has provided over R6-million in grant funding

and business support to 60 entrepreneurs in Mpumalanga. Collective

turnover has increased by 324% and 121 new jobs have been created.

Research done by the Small Enterprise Development Agency (Seda)

shows that a high percentage of SMMEs in Mpumalanga are in the trade

and accommodation sector. Whereas the national figure is about 43%,

in Mpumalanga it is closer to 50%.

Seda supports several incubators in the province: Furntech, furniture

manufacturing, White River; Mobile Agri-Skills Development & Training

(MASDT), agricultural training, Nelspruit; Mpumalanga Stainless Initiative

(MSI), stainless steel processing, Middelburg (with Columbus Stainless);

Timbali floriculture, Nelspruit; Ehlanzeni TVET College Rapid Incubator

Renewable Technologies, Nelspruit.

Seda is a subsidiary of the National Department of Small Business

Development (DSBD). Seda is not a financial agency, focussing rather on

training and administrative support, although the agency will help SMMEs

get in touch with financial bodies.

Sappi's long-term Ngodwana mill project will spend more than

R600-million on procuring goods and supplies from broad-based

black economic empowered companies, of which R51-million will go

to SMMEs.

Other companies supporting SMMEs through their buying chain

include Woolworths and Anglo American. Woolworths is funding

ONLINE RESOURCES

Mpumalanga Economic Growth Agency: www.mega.gov.za

Mpumalanga Stainless Initiative: www.mpstainless.co.za

Small Enterprise Development Agency: www.seda.org.za

TechnoServe to ensure that small

tomato growers can grow produce

that will meet the demanding

standards of the retailer, and to help

them expand production.

Anglo American's Zimele runs

four enterprise development and

investment funds. Zimele runs

hubs related to the supply chains

of platinum, thermal coal and, with

Mondi, forestry.

The Mpumalanga Economic

Growth Agency (MEGA) is the

implementing agent of the

provincial government's SMME

support policy.An agreement has

been signed with Standard Bank

to launch an SME Fund with a

capitalisation of R500-million.

MPUMALANGA BUSINESS 2019/20

52
---
Kruger Lowveld Chamber

of Business and Tourism

The voice of business in Ehlanzeni.

PROFILE

As the official representative body of business and tourism in

the Kruger Lowveld (Ehlanzeni District), our main mandates

are to promote the region as a tourism and investment

destination, to provide a diverse suite of networking and

marketing opportunities for our members, and to represent and speak

on behalf of the business and tourism community of our area. We do

this by building and maintaining meaningful relationships with all

spheres of government as well as like-minded organisations, and by

acting as liaison between these entities and the business community.

KLCBT's president is Mr Oupa Pilane (pictured).

Area of operation

The Kruger Lowveld covers the Ehlanzeni District of Mpumalanga,

including the following local municipalities: City of Mbombela, Thaba

Chweu, Nkomazi and Bushbuckridge, as well as the southern part of

Kruger National Park and the surrounding private nature reserves.

Member benefits

Listing on website, Pay-to-Play participation in various marketing services

and projects, weekly newsletter, invitations to all KLCBT events, advocacy and

representations made by KLCBT on behalf of members, access to preferential

arrangements negotiated by KLCBT with service providers, brochure display at

Crossing Centre office, various sponsorship options, access to tender information.

We are actively involved in the following advocacy campaigns:

Service delivery: Public participation in various forums where government

engages with stakeholders regarding budgets, planning and legislation.

CONTACT DETAILS

Physical address: KLCBT House, Crossing Centre, Nelspruit

Postal address: Private Bag X 11326, Nelspruit 1200

Tel: +27 13 755 1988

Fax: +27 13 753 2986

Email: business@klcbt.co.za and tourism@klcbt.co.za

Website: www.klcbt.co.za

Promote home-grown businesses

through education processes, research,

maintaining a database,

lobbying for stricter regulations

on large shopping chains, engaging

large chains to buy local and

to spend their CSI budgets locally.

Local Economic Development:

We are assisting with incubation

in seven main corridors, mainly

adding additional tourism

products.

Anti-corruption: Several

successful initiatives reduced

roadside corruption.

Water: Bulk-water supply faces a

future crisis and lobbying for the

increase of storage capacity is

beginning to show success.

Roads and public attractions:

Require upgrades and investment.

Safety and security: A concern

for all regions in SA.

53 MPUMALANGA BUSINESS 2019/20 2017/18
---
OVERVIEW

Education and training

A new boarding school will assist rural children.

SECTOR INSIGHT

85 students are studying in

Russia.

The opening of the Thaba Chweu Boarding School in the

Ehlanzeni District will make access to education easier for rural

children who would otherwise have to travel long distances.

Two new schools will also be completed in 2019, in the City

of Mbombela and in eMalahleni.

The Provincial Government of Mpumalanga has teamed up with

the Manufacturing, Engineering and Related Services Sector SETA

to send 85 students to Russia. The SETA will pay for 35 students in

areas that have been identified as critical, namely medicine, civil

engineering, veterinary science, aviation/aeronautical studies and

information technology.

Sasol offers an all-inclusive bursary for students in engineering,

science and accounting. The bursary also has performance-based

awards and allowances for things like laptops and calculators. Sasol

has also committed to taking on qualified apprentices from the Hydra

Arc academy in Secunda.

The University of Mpumalanga enrolled 3 220 students in 2019, a

marked increase on humble beginnings in 2014 when the university

ONLINE RESOURCES

Mpumalanga Department of Education:

www.mpumalanga.gov.za/education

Sasol bursaries: www.sasolbursaries.com

Southern African Wildlife College: www.wildlifecollege.org.za

University of Mpumalanga: www.ump.ac.za

started life with 167 students. The

university has added bachelor's

degrees in arts and commerce

to its initial offering of academic

courses in education and agriculture

and a diploma in hospitality.

Geology will soon be offered as

part of a BSc.

The main campus is at

Mbombela with satellites at

Siyabuswa (a former education

college) and KaNyamazane,

which hosts hospitality studies.

Mpumalanga has three

Technical and Vocational

Education and Training (TVET)

Colleges, with an enrolment of

over 36 000. UNISA, the Tshwane

University of Technology and the

Vaal University of Technology also

have satellite campuses in the

province.

The Mpumalanga Regional

Training Trust (MRTT) is a Section

21 company with several sites

in the province, including a

Hospitality and Tourism Academy

at Karino outside Nelspruit. The

trust's construction-training facility

is accredited as a Construction

Centre of Excellence. The

Southern African Wildlife College

is located near the Orpen Gate on

the edge of the Kruger National

Park.

MPUMALANGA BUSINESS 2019/20 54
---
Gert Sibande District

Municipality

PROFILE

A community-driven district of excellence and development.

Vision

GSDM is customer focussed. The vision is the municipality's point of

reference throughout each financial year in all the municipality's plans,

programmes and activities. The vision ensures that the District operates

within its powers of function which is to support and coordinate local

municipalities.

Mission

Led by Executive Mayor

Councillor Muzi Chirwa,

with its offices located

in Ermelo right at the

heart of the district, Gert

Sibande District Municipality

(GSDM) is the largest of the

three districts in Mpumalanga

Province at 31 841 km², covering

40% of the Mpumalanga

Province's land mass.

According to Stats SA (2016

Community Survey), Gert Sibande's

population increased from 1043 194

in 2011 to 1 135 409 people in 2016.

This makes the GSDM the smallest

district in terms of population

among the three districts in the

province.

Seven local municipalities

make up the District Municipality,

which is traversed by several

major roads including the N11,

the N17 and the N3, the main

road connecting Gauteng with

the coast.

To support and coordinate our local municipalities to provide excellent

services and development. Some of the district's major towns are

Balfour, Carolina, Ermelo, Evander, Secunda, Standerton, Wakkerstroom

and Mkhondo (Piet Retief).

The District is gradually growing its reputation for its range of

innovative initiatives such as the establishment of the water quality

laboratory, purchase of the pothole patching truck, supporting the

development of cooperatives and its excellence in rendering municipal

health services.

CONTACT DETAILS

Physcal address: Corner Joubert and Oosthuise Streets,

Ermelo, South Africa

Postal address: PO Box 1748, Ermelo 2350

Tel: +27 17 801 7000

Fax: +27 17 811 1207

Email: records@gsibande.gov.za

Website: www.gsibande.gov.za

55 MPUMALANGA BUSINESS 2019/20 2017/18
---
INDEX

INDEX

Exxaro Resources............................................................................................................................... 13, 42

Gert Sibande District Municipality........................................................................................... 38, 55

Highveld Industrial Park ...........................................................................................................15,19, 21

Industrial Development Corporation (IDC)............................................................................... 16

Komati Basin Water Authority (KOBWA)...................................................................................... 36

Komati Lowveld Chamber of Business and Tourism (KLCBT).........................................53

Mpumalanga Economic Growth Agency (MEGA).........................................................7, OBC

Mpumalanga Economic Regulator (MER) ................................................................................. 22

MTN.......................................................................................................................................................................3

Nedbank............................................................................................................................................. 5, 24, 51

SA Airlink .......................................................................................................................................................IBC

Sasol..................................................................................................................................................................IFC

Transnet Pipelines..................................................................................................................................... 32

MPUMALANGA BUSINESS 2019/20

56
---
Discover Mpumalanga

& Mozambique

46600

Image courtesy Heléne Ramackers.

46600

Image courtesy Heléne Ramackers.

Image courtesy andBeyond.

Image courtesy andBeyond.

Travel extraordinary

Business or leisure, or leisure, fly Airlink fly Airlink direct direct from from Johannesburg,

Cape Cape Town, Town, Durban Durban and and Livingstone to Nelspruit to KMIA, KMIA,

in Mpumalanga's in capital capital city, city, and and travel travel onwards to the to the

Kruger Kruger National Park. Park. Nelspruit KMIA KMIA further further connects

you you to Vilanculos, to gateway to the to the Bazaruto and and

For For more Benguerra more information islands. islands. visit visit www.sasol.com.

flyairlink.com @fly_airlink Fly Airlink Fly Airlink
---
OVERVIEW

Forestry

Demand for sawn timbe

Forestry is ideally suite

Mpumalanga in dow

and energy generat

where there is great

considerable infrastructure.

Forestry accounts for ab

Product. At national level, t

agricultural GDP while the fo

1% to national GDP. The sec

product and pulp and pap

main exports, along with saw

The country is experienc

few new permits having be

about water availability. Mo

the construction sector.

Mpumalanga has the id

Sabie and Graskop represen

forests are also found to the e

About 11% of the land mass

forest. The province is the na

(514 000) and in export earn