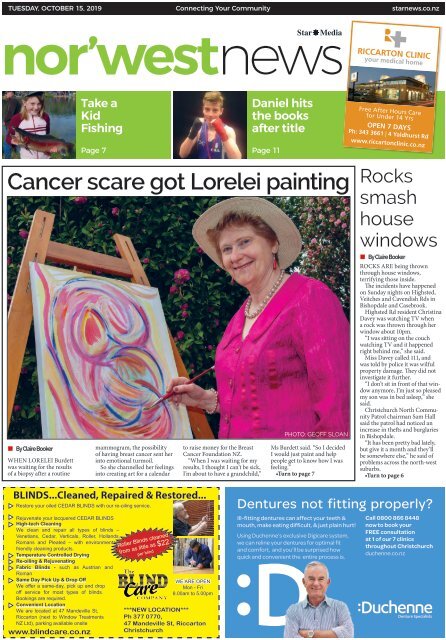 Nor'West News: October 15, 2019
Create successful ePaper yourself
Turn your PDF publications into a flip-book with our unique Google optimized e-Paper software.
TUESDAY, OCTOBER 15, 2019

Connecting Your Community

starnews.co.nz

Take a

Kid

Fishing

Daniel hits

the books

after title

Free After Hours Care

for Under 14 Yrs

OPEN 7 DAYS

Ph: 343 3661 | 4 Yaldhurst Rd

• By Claire Booker

WHEN LORELEI Burdett

was waiting for the results

of a biopsy after a routine

Page 7 Page 11

Cancer scare got Lorelei painting

mammogram, the possibility

of having breast cancer sent her

into emotional turmoil.

So she channelled her feelings

into creating art for a calendar

to raise money for the Breast

Cancer Foundation NZ.

"When I was waiting for my

results, I thought I can't be sick,

I'm about to have a grandchild,"

PHOTO: GEOFF SLOAN

Ms Burdett said. "So I decided

I would just paint and help

people get to know how I was

feeling."

•Turn to page 7

www.riccartonclinic.co.nz

Rocks

smash

house

windows

• By Claire Booker

ROCKS ARE being thrown

through house windows,

terrifying those inside.

The incidents have happened

on Sunday nights on Highsted,

Veitches and Cavendish Rds in

Bishopdale and Casebrook.

Highsted Rd resident Christina

Davey was watching TV when

a rock was thrown through her

window about 10pm.

"I was sitting on the couch

watching TV and it happened

right behind me," she said.

Miss Davey called 111, and

was told by police it was wilful

property damage. They did not

investigate it further.

"I don't sit in front of that window

anymore, I'm just so pleased

my son was in bed asleep," she

said.

Christchurch North Community

Patrol chairman Sam Hall

said the patrol had noticed an

increase in thefts and burglaries

in Bishopdale.

"It has been pretty bad lately,

but give it a month and they'll

be somewhere else," he said of

problems across the north-west

suburbs.

•Turn to page 6

BLINDS...Cleaned, Repaired & Restored...

Restore your oiled CEDAR BLINDS with our re-oiling service.

Rejuvenate your lacquered CEDAR BLINDS

High-tech Cleaning

We clean and repair all types of blinds –

Venetians, Cedar, Verticals, Roller, Hollands,

Romans and Pleated – with environmentally

friendly cleaning products.

Temperature Controlled Drying

Re-oiling & Rejuvenating

Fabric Blinds - such as Austrian and

Roman

Same Day Pick Up & Drop Off

We offer a same-day, pick up and drop

off service for most types of blinds.

Bookings are required.

Convenient Location

We are located at 47 Mandeville St,

Riccarton (next to Window Treatments

NZ Ltd), parking available onsite

www.blindcare.co.nz

Roller Blinds cleaned

from as little as $22

per blind

WE ARE OPEN

Mon - Fri

8.00am to 5.00pm

***NEW LOCATION***

Ph 377 0770,

47 Mandeville St, Riccarton

Christchurch

Dentures not fitting properly?

Ill-fitting dentures can affect your teeth &

mouth, make eating difficult, & just plain hurt!

Using Duchenne's exclusive Digicare system,

we can reline your dentures for optimal fit

and comfort, and you'll be surprised how

quick and convenient the entire process is.

Call 0800 866 8448

now to book your

FREE consultation

at 1 of our 7 clinics

throughout Christchurch

duchenne.co.nz
---
2 Tuesday October 15 2019

Latest Canterbury news at starnews.co.nz

get in touch

GENERAL INQUIRIES Ph 379 7100

CLASSIFIED ADVERTISING Ph 379 1100

Star Media,

a division of Allied Press Ltd

PO box 1467, Christchurch

starmedia.kiwi

news

Quizzes help pay for pool consent

Pub quizzes helped pay for the proposed Edgeware Pool's

$43,000 resource consent.

Page 6

community events

NOR'WEST NEWS

Special Storytimes

Check out A Lion in the Meadow Storytimes at the Bishopdale

Library on Wednesday from 10.30-11am

NEWS

Claire Booker

Ph: 021 911 576

claire.booker@starmedia.kiwi

Page 13

tasty bites

ADVERTISING

Monique Maynard

Ph: 364 7474

monique.maynard@

starmedia.kiwi

Rodd Gray

Ph: 982 9308

rodd.gray@

starmedia.kiwi

Veges take centre stage

No longer the side dishes, vegetables have earned their place

front and centre on the plate as these recipes show.

Page 14

The best-read local newspaper,

delivered to 15,960 homes

every Tuesday

Harewood, Burnside, Bishopdale, Bryndwr, Fendalton,

Merivale, St Albans, Mairehau, Papanui, Casebrook, Redwood,

Regents Park, Styx Mill, Northwood, Belfast, Strowan.

• The Star

• North Canterbury News

• Selwyn Times

• Ashburton Courier

also publishing:

• Bay Harbour News

• Southern View

• Pegasus Post

• Western News

HEAT PUMP

SALE NOW ON!

Amazin' Spring Specials!!

• We will offer you the best quality brands and

option of heat pump for your home/business

• Providing Heat Pump solutions for over 17 years to Cantabrians

• We personally guarantee all our products & installs for 5 years

(providing annual maintenance has been completed)

Phone us today for your free consultation & quote

OpEning

nigHT!

SAT 19 TH OcTOBER

6.30pm START

41A SHAKESPEARE RD, WALTHAM

PHONE 03 366 0525

www.enviromaster.co.nz

"A local team for local people"

ADULTS $20 Seniors $10

FAMILY PASS $40

Children $5 Under 5yrs free

(2 adults & up to

4 children 15yrs & under)

DOUBLEDAYS ROAD KAiApOi

infOLinE 03 364 8833

www.wOODfORDgLEn.cO.nz

Want ultra fast broadband,

Are you over the way the

great pricing and flexible

big telcos treat you?

payment plans?

Check out Compass. Because we're a smaller company, we work harder at doing all the things the 'big boys'

seem to over-look, such as: having a local call centre, great pricing, flexible payment plans and being locally owned.

Call Ash 0800 964 558

www.compass.net.nz

CMP002
---
NOR'WEST NEWS Latest Canterbury news at starnews.co.nz

Tuesday October 15 2019 3

News

Harvey takes reins at SARA

• By Claire Booker

A NEW chairman has been

appointed to the St Albans

Residents Association – and for

the first time in nearly 10 years

the role will be held by a man.

Jason Harvey has stepped up

to fill the role previously held by

Emma Twaddell,

who has since

been employed

as a community

activator.

But Mr

Harvey, who

started last

Jason

Harvey

week, has no

concerns about

taking on the

role as a male.

"I think what matters is a

passion for developing a great

community," he said.

Mr Harvey has been closely

involved with the mitigation

of the Downstream Effects

Management Plan, which is

set to bring more than 48,000

vehicles through the suburb.

Before moving to St Albans in

2011, Mr Harvey was a volunteer

firefighter for about four years.

He is also involved with youth

groups and youth camps, and

was an under-10 to under-13

coach at the Shirley Rugby Club

for a few years.

NEW BEGINNINGS: Former St Albans Residents Association

chairwoman Emma Twaddell has taken up a community

activator role.

PHOTO: GEOFF SLOAN

Mr Harvey, alongside Mark

Wilson, helped organise a

petition to try and stop the

Christchurch Northern Corridor

motorway traffic from being

funnelled through St Albans.

He said it is an honour to land

the role.

"SARA has done an amazing

job in advocating for our

community. I'm looking forward

to continuing that work with

everyone," he said.

Mr Harvey's priorities in his

new role are to continue with

the work the association already

has under way.

"The next year is a big

'I think what matters is a

passion for developing a

great community'

– Jason Harvey

one with the opening of

the Christchurch Northern

Corridor and all the associated

works related to that, and the

building of the new community

centre," he said.

Ms Twaddell gave up full-time

employment 13 years ago to be

a full-time mother, and she is

excited to move back into her

role as a community activator.

"Being well over dishes and

washing, I'm excited to be

employed again in a field that I

think is very rewarding. The role

is about using SARAs resources

to enable residents and local

groups to develop local groups,

activities and events," she said.

Ms Twaddell said she doesn't

know Mr Harvey very well, but

believes he has a quiet calmness

about him.

"He is diligent and in a good

team, I think he will be a good

leader, especially with a strong

committee behind him," she

said.

Peter Jaspers and Conrad

Fitzgerald have also joined the

association's committee.

In Brief

BIRD-SCARING GUNS

Two bird-scaring gas guns

will be placed along the

Christchurch Northern

Corridor this month to ward

of birds. The gas guns will

be placed as far away from

residential properties as

possible, but the noise may be

heard from a distance. The guns

will be used until the plants are

established. It is likely they will

be taken away in December.

CRANFORD ST WORK

Work was due to start on

Monday to upgrade Cranford

St to four lanes, with a central

median and cycle lanes on

both sides of the road. The

intersection of Cranford St

and Innes Rd will also be

widened, and turning lanes

will be improved. All traffic

on Cranford St will be moved

to the east side of the road and

there will be 30km/h speed

limit. The work will take two

and three weeks.

REDWOOD LIBRARY OPEN

After a two-month closure for

repairs and refurbishment, the

Redwood Library has reopened.

It was due to open on August

26, but damage to the concrete

slab around the structural

steel columns was found and

repaired.

rechargeable

hearing aids

• Simple to use

Christchurch

Heritage

Festival

• No battery -

no ongoing

costs

• Just charge

and go!

FREE CHARGER (RRP $700)

With this advertisement. Offer valid to October 31st.

Book your free consultation today

Merivale

Hearing Clinic

24b Church Lane

Call now: 356 2324

Encounter

our stories

Over 80 special events! Discover heritage tours,

walks, talks, workshops, music, food and more

with the Christchurch Heritage Festival.

7–28 October 2019

ccc.govt.nz/heritagefestival
---
4 Tuesday October 15 2019

Latest Canterbury news at starnews.co.nz

News

NOR'WEST NEWS

Big upgrade for Graham Condon

Belfast

pensioners

hit the road

• By Claire Booker

SHOPPING IN Christchurch

is getting busier – so a group of

elderly Belfast residents decided to

get theirs done in Ashburton.

The Belfast Active Senior

Support group spent a day in the

town, op-shopping and visiting

Trott's Garden.

Belfast Community Network's

Debbie Booker, who supports the

group, said the day out was a great

success.

"Our seniors miss going to

'town' since the earthquakes, it is

important for them to have easy

access and parking so that they

don't need to walk too far. They

also thoroughly enjoy going somewhere

different that they haven't

been to for a long time," she said.

The group was started to offer

services and programmes for

older members of the community,

especially those who may be

lonely or isolated.

CLOSURE: Graham Condon Recreation and Sports

Centre will be closed from mid-January for a series of

refurbishments.

THE GRAHAM Condon

Recreation and Sport Centre will

undergo a refresh over summer.

It will be the most significant

maintenance and refurbishment

work to be carried out on the

facility since it opened eight years

ago. However, it will be closed

temporarily from mid-January.

The refresh will start in mid-

January and include

work to improve the

efficiency of the facility,

such as changing to LED

lighting.

Other work will include

painting, replacement of

showers and toilets and

pool-side work.

The main hall and gym

will be completed first

and re-open in early February,

while the remainder of the centre

– including the pools – will reopen

in early April.

City council head of recreation,

sports and events Nigel Cox says

the facility has had a lot of use

since opening, especially as other

recreation and sports centres

were closed or damaged after the

earthquakes.

"Since Graham Condon opened

in October 2011, a huge number

of people have made use of the

facility. It's definitely time for it

to have deferred maintenance

Nigel Cox

completed to ensure it is modern,

efficient and well maintained for

continued community use.

"We thank the public for their

patience as we carry out this

much-needed work and hope

they look forward to seeing and

experiencing the benefits it will

bring," he said.

Over the past two years

refurbishments have also

been carried out at Pioneer

and Jellie Park recreation

and sports centres.

Mr Cox said as other

new facilities like He

Puna Taimoana in New

Brighton, the Metro Sports

facility, Te Pou Toetoe

in Linwood, and the

planned library, customer

services and recreation and

sport centre in Hornby are built,

they will be added into the city

council's scheduled maintenance

programme.

"It's important to regularly

maintain these popular assets for

the community," he said.

During the closure period the

community is encouraged to use

Jellie Park and Tairoa QEII or the

city council's outside pools, which

will be open over the summer.

People with specific

memberships at Graham Condon

will be able to use other centres.

NOW

OPEN

Bupa Bethesda Care Home

has officially opened

our brand new dementia

community here in

Bishopdale, Christchurch.

We are

recognised as

dementia-friendly by

Our residents enjoy a small, close-knit community where we focus

on person-first care.

Want to know more? Call our care home manager, Chris McCulloch

on (03) 359 6390, or feel free to drop by during business hours.

235 Harewood Rd, Bishopdale | www.bupa.co.nz/bethesda
---
NOR'WEST NEWS Latest Canterbury news at starnews.co.nz

Tuesday October 15 2019 5

Pub quizzes help pay for

pool resource consent

• By Claire Booker

PUB QUIZZES seem to be highly

popular in St Albans, with funds

from the event helping to pay for

the $43,000 resource consent for

the proposed Edgeware Pool.

The monthly quizzes held

at Bailies Bar have helped pay

off the last of the cost for the

resource consent and subdivision

fees for the project.

More than 50 loyal trivia enthusiasts

have regularly attended

the events to support the community

pool.

The pool has been a contentious

issue in the area since its

closure and demolition in 2006

by the city council.

In 2016, the city council sold

the land for the Edgeware Pool to

the St Albans Pavilion and Pool

Group for $1.

The city council stated at the

time it would not contribute to

the project, but later said it would

commit $1.25 million if the group

could raise the rest of the $5 million

costs.

The St Albans Pavilion and

Pool group are now awaiting

the results of a feasibility study,

which are expected next month.

The revolution

in heat pumps

is here now!

ARTIST'S IMPRESSION: The designs for Edgeware Pool will

be assessed in a feasibility study, and results are expected in

November.

The study will assess the practicality

of the new Edgeware Pool

designs and whether it will be an

asset to the community.

After the study, the group can

apply for money from major

charitable funding groups to

build the pool.

St Albans Pavilion and Pool

spokeswoman Valerie Somerville

said once the study is complete,

The revolution in heat pumps is here now!

The Fujitsu e3series

The brilliant

heat pumps from Fujitsu

e1 : efficiency

e2 : environment

e3 : economy

Website: www.pshc.co.nz

Finance available

FREE consultation from your local

Accredited Heat Pump Expert

Phone today: 03 381 6950

INSERT DEALER DETAILS HERE

The brilliant e3 series

heat pumps from Fujitsu

e1 : efficiency

e2 : environment

e3 : economy

funding will be applied for to

cover the capital costs to build

the new pool.

"It is envisaged that it will be an

"oasis" in St Albans, two outdoor

pools heated sufficiently for

maximum use during the spring,

summer and autumn months and

surrounded by a family-friendly

picnic lawn," she said.

Fujitsu's Catechin Filters are

approved by the Asthma and

Respiratory Foundation NZ's

Sensitive Choice ® programme.

Email: info@pshc.co.nz

Student wins

awards for

inspiring others

• By Jess Gibson

ELEANOR HURTON has

found strength in living with a

disability.

And now, she is empowering

other young people to do the

same.

The 25-year-old masters student

from Northwood, who has

a hearing disorder, received two

major trophies at the Canterbury

University Blues Awards.

She won the outstanding

contribution to equity and

diversity award and was a joint

winner of the most prestigious

community award the outstanding

achievement in community

engagement.

Miss Hurton received four

nominations for the community

awards – the most ever received

in the community section since

the category was added to the

awards three years ago.

"I feel very humbled. As a

young person with a disability,

when I won multiple Blues

Awards I didn't win them for

myself, I won then for everyone

in the disabled community who

strives to make Aotearoa a more

equitable and accessible country

for people with disabilities," she

said.

Miss Hurton was diagnosed

with auditory processing disorder,

which affects how the brain

processes speech, in 2017.

Following an initial bout of

thinking APD was the worst

part about her, she came to

terms with her diagnosis and

decided she would support others

who may feel like they had to

hide their truth.

Since then, Miss Hurton has

gone on to set up ReDefine:

Youth Development Programme,

which aims to redefine

what it means to be a young

person with a disability and

empowers them to take on a

positive identity.

She is the first person with a

disability to ever be on the committee

for the Christchurch City/

Banks Peninsula community organisation

grants scheme, which

has allocated over $700,000 of

funds to the disability sector.

Restoring your confidence through your smile

Full service Denture Clinic

and Laboratory

Caldent Denture Cleaner

Free Consultation

No Obligation

Ph: 385 5517 + 396 Innes Road, St Albans

admin@denturesplus.co.nz

+ denturesplus.co.nz

FG1441

Argentina - Hosted Small Group Tour

12 days - 17 to 28 April 2020 | $5,230pp share twin

Discover the vibrant colours, cosmopolitan Buenos Aires, awe-inspiring Iguazu Falls, unique wildlife,

the cobbled streets of historic Salta, sizzling steaks and divine wines of Cafayate. Includes flights,

hotels, daily breakfast, guided sightseeing. Hosted by Nicole Knapp, World Travellers Christchurch City.

https://worldtravellerschristchurchcity.co.nz/tours/south-america/argentina-group/

Includes

flights!

Also, on sale for travel in 2020:

Grand Mediterranean - 31 days from $5,999pp

Japan - 12 days from $3,299pp

Nepal Trekking - 15 days from $2,799pp

Vietnam Foodie Tour - 13 days from $2,899pp

Georgia, Armenia, Azerbaijan - 25 days from $5,999pp

The Balkans - 25 days from $5,999pp

International flights included. All prices based on share twin accommodation, include meals and sightseeing.

Nicole Knapp

World Travellers Christchurch City - 307 Durham Street North (free parking at the door)

E: christchurch@worldtravellers.co.nz | T: 03 961 6862 | www.worldtravellerschristchurchcity.co.nz

T's and C's: Offers available for a limited time or until sold out. Prices & inclusions correct as at time of printing &may fluctuate due to changes in availability, surcharges, fees, taxes or exchange rates,

without notice. Seasonal surcharges & blackout dates may apply depending on date of travel. For full terms and conditions contact us.
---
6 Tuesday October 15 2019

Latest Canterbury news at starnews.co.nz

Your Local Views

NOR'WEST NEWS

Busy time on patrol

HAVE YOUR SAY: Have you noticed an increase in thefts or

burglaries in your area? Email your views to

claire.booker@starmedia.kiwi

Christchurch

North

Community

Patrol

chairman

Sam Hall

writes about

the group's

achievements over the past

few months and provides

some tips on how to keep

yourself safe

OUR PATROL has had a busy

few months, averaging 400

volunteer hours and 4000km per

month.

In August, we reported 52

suspicious vehicles, 10 incidents

of suspicious behaviour, found

five stolen cars, performed

multiple welfare checks and

reported 108 pieces of graffiti.

We have also assisted at vehicle

accidents and a house fire,

where our training was put into

practice.

Our relationship with the

Christchurch Charity Hospital

has continued and we have been

transporting its equipment to the

main hospital and patients to and

from their appointments.

We have been operating in

Christchurch for 30 years now

and we love working alongside

the police and the community.

For all your

catering needs

order instore or online

at kiddscakes.co.nz

OPEN 7 DAYS

254 Cranford Street, St Albans

P: 03 355 6921 E: cafe@kiddscakes.co.nz

www.kiddscakes.co.nz

LOOK OUT: Sam Hall and

the Christchurch North

Community Patrol are

encouraging residents to

stay vigilant when it comes to

safety. ​

We have an amazing group

of volunteers who are all well

trained and police vetted.

Our patrollers are a mixture of

young and old, men and woman.

Some are retired, a number are

police recruits, and others are

just people wanting to help out in

their community. If you would

like to join us, then you would be

most welcome.

We have a Facebook page,

which has provided a great way

for people to get in touch with us

and find out what we do.

As well as the hotspot and

burglary maps that the police

give us, we have been able to add

more areas of concern to our

patrol routes.

We adjust our times and routes

with this information, and

With

34 on

site car

parks!

Baking fresh each day since 1986

we have added later shifts and

concentrated patrols in these

streets.

With an increase in activity in

our area, we suggest you remove

valuables from your cars when

you lock up. Invest in car alarms,

and keep vigilant with regards to

unwanted people on your streets.

Our motto when patrolling is

if something doesn't look right –

then it probably isn't. If you see

something or someone, and they

are still in the area, then phoning

111 is your best option. This will

get the police there fast.

You could also take down

number plates, descriptions, and

a direction of travel if you can.

If they are long-gone, or there is

something that doesn't require a

police presence right away, then

you can call the 105 number to

report it. Keep safe, and look

after your neighbours.

•To find out about the patrol,

visitwww.facebook.com/

chchnorthcommunitypatrol/

DAMAGE:

Christina

Davey's

Bishopdale

home had a

rock thrown

through its

window one

Sunday night

while she

was at home. ​

House windows

smashed by rocks

•From page 1

In August, the patrol

reported 52 suspicious

vehicles, 10 incidents of

suspicious behaviour,

found five stolen cars,

performed multiple

welfare checks and

reported 108 pieces

of graffiti throughout

suburbs across the

north west.

But police say they are

not aware of anything

out of the ordinary in

regards to crime in the area.

Senior Sergeant Roy Appley

said he was not aware of any

'CEREC' & cosmetic dentistry

Wisdom tooth removal

Painless, high quality dentistry

Sedation dentistry

Experienced, conscientious team

Experienced hygienists

OPEN SATURDAYS

355 9380

144 Cranford Street

www.stalbansdentalcentre.co.nz

specific issues in Bishopdale

until the Nor'west News spoke to

him about the incidents

of rocks through

windows.

"Rocks through

windows is not a

normal occurrence,

but residents should

know there is a sergeant

and five constables

specifically focused

Roy Appley on Bishopdale and the

north west," she said.

He said

communication was "working

well" between the community

patrol and police.

Pataka

Christmas

shoP!

oPEN 7 days

10am - 4.30pm

768 Marshland Road (North End)

Making yesterday's

best performance into today's

new baseline is how legends

roll. Never settle. Never stop.

No one in New Zealand is

selling more houses than us!

#teamcameronbailey

Residential Sales Person

of the Year for Volume 2019
---
NOR'WEST NEWS Latest Canterbury news at starnews.co.nz

Tuesday October 15 2019 7

News

Kids get ready to fish

ANGLER: Brooke Meldrum, of Burwood, was proud of her catch

at last year's Take a Kid Fishing event.

• By Claire Booker

ABOUT 800 salmon and

rainbow trout will be released

before the Take a Kid Fishing day

at The Groynes lakes on Sunday.

The event was first held in 1988

and is the largest of its type in

New Zealand.

Isaac

Conservation

and Wildlife

Trust chairman

Dave Denton

is helping to

organise the day.

He said a key

objective is "to

give children

a sense of confidence and

Dave

Denton

self-worth by involving them

and their families in a healthy

outdoor pursuit.

"Many children have no

opportunity to enjoy such an

outdoor experience and they just

don't know how to get involved.

This event offers a lot more than

fishing. Encouraging children

to fish is a great way to develop

closer family relationships and

outdoor involvement. And while

fishing is the tool, the benefits are

much wider," he said.

The event will run from 9am

to 1pm. Rods, tackle and bait

will be available on loan, but

identification must be brought by

the parent or caregiver.

Painter produces

artwork to raise

cash for charity

•From page 1

The results came back clear,

much to Ms Burdett's relief,

but she continued painting

and compiling artwork for the

calendar.

She developed a passion

for art when she was at high

school in Whakatane, and says

painting is not hard for her –

she just lets

her feelings

flow on to the

canvas.

Ms Burdett's

feature

piece for the

calendar

La Femme

portrays femininity and hope.

"It had to be beautiful and

feminine," she said.

Family is an important part

of Ms Burdett's life and the

inspiration behind her art,

which is mostly done using oil

paint.

"Every painting has a story,

people may not get it, but

they just have to use their

imagination," she said.

'This is not perfect, I'm

not perfect, but this is

through my eyes'

– Lorelei Burdett

Each painting generally takes

Ms Burdett about two days to

complete, depending on how

"hyped-up" she is about it.

Many of the pieces in the

calendar are colourful and

dedicated to members of her

family, including her late

husband Peter, who died in 2009

from pancreatic cancer.

After Peter

died, she

dedicated

a calendar

to him and

painted

another one

for the CD

Kids Hospital

Appeal in 2017.

Ms Burdett said her art may

not be perfect, but that is part of

the beauty of it.

"This is not perfect, I'm not

perfect, but this is through my

eyes, and that's how I like it," she

said.

•To buy a calendar for

$20, email loreleiburdett@

hotmail.com

CONTEMPORARY RETIREMENT LIVING

At Christchurch's finest address

The Russley Village is set within award-winning gardens and grounds with the centrepiece being

the Homestead, where you will find Abode Café & Brasserie, a cinema, library, arts & crafts space

and hair salon, being some of the extensive facilities on offer.

There is only a limited selection of brand new apartments left in the Sefton Apartment building,

priced from $475,000. A stunning combination of architectural-design and timeless style makes

these apartments a must see.

The Ashley Suites, our boutique care facility and serviced apartments, is due to open in

November and will provide residential care up to hospital level.

For more information or to

take a tour of the village make

an appointment today.

russleyvillage.co.nz

03 357 9392

73 Roydvale Ave,

Christchurch

VILLAS | APARTMENTS | REST HOME AND HOSPITAL LEVEL CARE
---
8 Tuesday October 15 2019

Latest Canterbury news at starnews.co.nz

REAL ESTATE

An unparalleled lifestyle in magical Moncks Bay

On the sunny side of the street

242 Main Road, Redcliffs - "As-Is, Where-Is"

Auction:

24 Ruby

Thursday,

Avenue, Hampton

14 March

Grange,

2019 Unless

Northwood

Sold Prior

4 bedroom | 3 bathroom | 3 lounge | 3 toilet | 2 garage | 2 off street | www.harcourts.co.nz | Listing #PI59697

4 bedrooms | 2 bathrooms | 3 living rooms | 1 office/study | 2 car-garage | 2 off-street parks | Listing Number SM0166

Built on a 900m2 parcel of land and in one Treasured by two generations and offering Moncks Bay incorporating from Shag Rock

Northwoods most desirable streets, this modern

a truly once in a lifetime opportunity, this and right along the Pegasus Bay coastline.

two storey executive home offers a sense of

tantalizing home upon a 2853m2 section This property can potentially be subdivided

which furthers your options and adds

grandeur from the minute you walk through the

enjoys an overwhelming tranquil setting and

double timber, redwood feature-doors into the

is presented to the market on an uninsured another element of interest for buyers.

foyer. Built to stand the test of time, the Oamaru

"as-is, where-is" basis.

Ensconced in a private lane that sits across

Stone cladding has recently been treated and

Situated in the tightly held locale of magical from the waterfront, this property is also

sealed, with a maintenance tick of approval.

Moncks Bay, this property makes a memorable positioned to enjoy the area's celebrated

first There impression are four large and bedrooms was constructed offer, guest in the microclimate and is located within easy reach

1960s or master but has downstairs naturally with ensuite received and extensive external of the beaches, boating facilities, Barnett

modern

access,

enhancements

ideal for Air B&B, work

including

from home

a

office

Bruce Park and the amenities in both Redcliffs and

or business. A further master upstairs with walkin-robe

and full-size bathroom includes spa bath

Banbury architectural renovation in 2004. Sumner.

Resort-style serenity is provided by the With floors needing repiling and being sold

and separate shower. The final two bedrooms are

colourful Clivias as well as the established uninsured, deemed uneconomical to repair,

serviced by a third bathroom which has recently

greenery and palms trees that border the this unique "as-is, where-is" opportunity is a

been completely refurbished; Nothing to do here!

swimming and spa pool, with the outstanding real game changer with the feel good factor

views With and countless majestic options cliff throughout, face backdrop it is clear only that and is guaranteed to attract attention. Your

escalating the design the of property's this wonderful visual home appeal. was nothing earliest viewing is advised.

Spacious short of intentional living areas including are on complemented

the landing Open Homes: Wednesdays, Saturdays

by upstairs, the sizeable ideal for Kwila a further deck, living area water or high feature and Sundays 1:00pm - 1:45pm.

and functioning idyllic alfresco office. You are surroundings well catered for which from See you at the open homes or for a private

have

every

previously

vantage point

hosted

through

a wedding

the generously

and could viewing or for more information contact

proportioned open plan living, dining area with

continue to be the scene of many memorable

Alison Carter of Harcourts Grenadier

gas fire and new bespoke kitchen, perfect for

occasions.

Ferrymead/Sumner year-round enjoyment is (Licensed waiting to be Agent had and REAA Auction: Thursday 24 October, from 10.00am

home chefs with designer pantry shelving and

Skylights, the superb use of timber, a

2008) memories on 384 created 7950 with or family mobile and 0274 friends. 318 960. (unless sold prior) Gold Auction Rooms, 471

excellent bench tops, maximising flow and space.

contemporary colour scheme and the Set amongst other high-quality homes and

Papanui Road

magnificent A separate formal stone living fireplaces room features create gas fire an exceptionally presented throughout, 24 Ruby

Viewing: Wed / Thurs 1.00pm - 2.00pm

incredibly and bi-fold inviting stacker ambience doors. Superb indoors indoor-outdoor where Avenue also offers larger than normal double

Sat / Sun 1.00 pm - 3.00pm

you'll flow find is on offer four from double all three living bedrooms, spaces out two to garaging, extra in-built storage and plenty of

Contact:

bathrooms a paved North and a Facing relaxing patio sunroom area and pergola. area that Our off-street-parking. Conveniently close to Styx Mill

Ash and Shar Sutherland Todd

027 675 2225 (Ash) 027 675 2224 (Shar)

comes owners complete have loved with how a spa much bath. fun their children Conservation Reserve, cafes, supermarkets and

ash.sutherlandtodd@harcourts.co.nz

With have had an playing expansive games lawn on the area large manicured shopping, don't miss the opportunity to create a

and the

shar.sutherlandtodd@harcourtsgold.co.nz

picturesque

lawn followed

garden

by a

at

dip

the

in their

rear

in-ground

of the property

48,000 remarkable lifestyle for you and your family.

Gold Real Estate Group Limited

litre concrete swimming pool. Bathed in sun,

both epitomise peace and privacy and offer Contact the agent today to view.

Licensed Agent REAA 2008

access up to the top of the section where

you can sit and admire the ocean vistas over

NOR'WEST NEWS

Negotiation may be a key requirement

for a successful real estate career, but it's

surprising how often fluency in this core

skill is absent.

This is an assessment I've made through recent

personal observations of consultants from a

myriad of different companies, in addition to

'coalface' participation, and as a result I'm now

prioritizing the teaching of negotiation methods.

It is, after all, a skill that benefits from practice,

and all skills are improved through training and

diligence.

It's not necessarily easy and, for some consultants,

it's just too confronting to move people from their

expectations. In previous markets, especially in the

days when house purchases flowed off the back of

large insurance payouts, very little negotiation may

have actually been required, especially regarding

price. But not now. In the current market, not

negotiating effectively prevents everyone from

meeting at the point of compromise and can

prevent a result. Little wonder it is so important to

get a skilled negotiator.

History has taught me that every owner (myself

included) wants the best/highest price and this

may or may not be a realistic price. Accompanying

this is the fact that every buyer wants to pay the

fairest/lowest price, not necessarily the asking

price. There you have it: the dichotomy of any

sales process.

With property, all the odds are particularly large, so

the stakes are high – as are the emotions.

The solution lies with effective negotiation and

here are some of the practices and philosophies

supporting that process.

To be an exceptional negotiator requires strong

communication skills, both through listening and

through clearly and empathetically discussing both

sides of a situation, emphasis on both! There are

three documented phases to negotiation:

1. Preparation Which looks at the intention of each

party, for example, as set out in a contract.

In real estate that's seen in the presentation of an

offer where negotiations can be required to move

the two parties to a point of acceptance.

2. Development This could be where specific

clauses are determined, the all-important price is

considered, and specific points of view or conflict

are argued and defended. Some consultants excel

at this.

3. Closing Just as it states, all parties have matters

done (or not), they understand what has transpired

and then everything is recorded in writing.

Now this whole process might take minutes, hours,

a day. I've seen negotiations go on for a week and

the clinical description I've detailed overlooks the

massive emotional weight that comes to bear. It can

involve tears, conflict and disappointments, but it

can also be an incredibly satisfying and happy event.

It's therefore critical to know your agent has the skill

to navigate the often choppy waters of negotiation.

I'll be doing my utmost to ensure they do.

Lynette McFadden

Harcourts Gold Business Owner

Harcourts NZ Inspirational Women Ambassador

Ph. 0274 320 447

lynette.mcfadden@harcourtsgold.co.nz

Inspirational Women

You are invited!

Join us to hear life changing stories from

inspirational speakers with great messages

for both men and women.

Thursday 21st November

3:00pm – 5:30pm, Hagley Oval

Refreshments and canapes served

TICKETS ARE COMPLIMENTARY SO BE QUICK!

Please register by the 14th November to

jacqui.wright@harcourts.net

PROUDLY SUPPORTED BY

FOLLOW US ON...

Stacey Beatson,

NZ's top Stylist,

featured in Next

magazine,

Sept. 2019

Lynette & John

McFadden,

Harcourts gold

Rosa & Margo

Flanagan, Two

Raw Sisters
---
NOR'WEST NEWS Latest Canterbury news at starnews.co.nz

Tuesday October 15 2019 9

Growing fruit in the 19th century

Papanui Heritage Group

chairman Murray Williams

– with research from

Christine Grant – writes

about the orchardist

Frederick William Cone

PAPANUI WAS first settled

because of the attraction of

the Papanui Bush, which

provided timber for the nearby

Christchurch market.

However, the native forest

was quickly cut out, although it

was soon discovered that once

drained, the land would support

farming and horticulture.

From the 1860s, Papanui

became a centre for orcharding

and eventually the necessary

infrastructure was developed.

For example, the arrival of the

railway link with Christchurch

in 1872 was a major advantage,

as was the later development of

cool stores, which helped in the

more orderly marketing of the

area's apple crop.

Many tried their luck as

orchardists.

One such individual was

Frederick William Cone. Born

in 1866 at Ashley Downs, he

did not enter this industry until

his mid-40s, having trained

as a saddler and worked in

this business in several towns,

ranging from Rangiora and

Kaiapoi and later in New

Plymouth and Inglewood.

He married Helen (Nellie)

Wilson in 1888 and the

couple had a family of 12,

eight of whom survived

childhood.

In 1910 he purchased five acres

at Langdons Rd in Papanui and

established himself as a producer

of apples, pears and plums.

His eight daughters all worked

in the orchard, which came to be

known popularly as the 'Garden

of Eden'.

Apples graded as exportworthy

were sent to the United

States for a return of £1 per case.

The property featured a large

two-storey house with two

internal staircases, although

when the reticulation of

electricity became available, only

the ground floor was connected

as the cost of installation

precluded this luxury upstairs.

An artesian well provided good

quality water for the home and

orchard.

Cone's land was to play an

important part in the future of

Papanui.

In 1945 it was sold and became

part of the site on which The

Firestone Corporation built its

tyre factory that became a large

ESTATE:

The Cone

homestead,

where

Papanui

orchardist

Frederick

Cone and his

family lived.

Papanui employer. The land

formerly owned by Cone was

eventually donated to the city of

Christchurch by Bridgestone, the

company which had purchased

the Firestone plant until it too

withdrew from Papanui.

It is this land beside the

railway that is now the subject

of a project to replant the area

with native trees and will

hopefully bring back the native

birds which once thrived in the

original bush. The venture is

being led by Papanui Rotary and

the city council, as well as other

local organisations including the

Papanui Heritage Group.

New life for

artist's

old home

WORK IS underway to adapt

the former home in Richmond

of acclaimed Christchurch artist

Bill Sutton into a house museum

and community centre.

The Templar St home, in the

red zone, will be gifted to the city

council by the Crown after the

restoration project is complete to

allow Sutton's legacy to live on.

Land Information New

Zealand chief executive Gaye

Searancke says the restoration

of the significant site, protected

by a covenant, marks the start of

wider regeneration plans for the

Ōtākaro Avon River Corridor.

"It's an honour for LINZ to be

involved in this project which,

once complete, will bring new

life to this special home," said Ms

Searancke.

"As kaitiaki of this land, we

are always looking for new ways

to support the use of the residential

red zone, and this is just

another way we can help make

that happen." The trust plans

to use the facility to run tours

about the life and work of Sutton

and run a range of community

programmes and public meetings.

The restoration is expected

to be completed and the facility

opened to the public in March.

STUDY

CHRISTCHURCH CAMPUS

ENROL NOW FOR 2020

ª Automotive &

Collision Repair

ª Makeup Artistry &

Barber Skills

ª Construction

ª Electrical

ª Hairdressing

ª Project Management

ª Sport, Exercise &

Recreation

SIT OPEN

NIGHTS

CHECK OUT YOUR STUDY OPTIONS

Come and speak with our experienced

Tutors, Programme Managers and staff.

Wednesday, 23 October

4.30pm - 6.30pm

SIT Christchurch Campus

60 Waterloo Road Hornby,

Christchurch

www.sit.ac.nz

0800 TO STUDY
---
10 Tuesday October 15 2019

Latest Canterbury news at starnews.co.nz

NOR'WEST NEWS

UP TO

Chiropractic HDX

Now

$

3,399

Queen Size Mattress & Base

EXPERT

BACK CARE

5 ZONE DUAL

SUPPORT

TEMPERATURE

SUPPORT

ENDORSED BY

CHIROPRACTORS

Sanctuary Range

Made with the highest quality

materials, ensuring total comfort

and a beautiful night's sleep. With

patented Sensorzone® technology,

each spring independently responds

to pressure and movement, so you

can enjoy a beautiful sleep without

any disturbance.

Was $7,999

Now From

$3,999

Queen Size

Mattress & Base

BEDS R US CHRISTCHURCH

166 Moorhouse Ave, (Next To Noel Leeming)

Ph: 03 379 5110

Serenity Z

Now From

$

$ 2,099

Queen Size Mattress & Base
---
NOR'WEST NEWS Latest Canterbury news at starnews.co.nz

Tuesday October 15 2019 11

More piping

success for

Campbell

• By Claire Booker

CAMPBELL WILSON may

only be 16, but his list of

bag-piping success is almost

never-ending.

Last week, the St Andrew's

College pupil won the New

Zealand Young Piper of the Year

award for the second year in a

row.

"It feels pretty surreal, all I

wanted to do in nelson was to

play good tunes, and that was

what I did," Campbell said.

At the competition in Nelson,

Campbell won all three under-21

events, the piobaireachd,

march, strathspey and reel, and

the hornpipe jig.

"It's certainly one of the most

prestigious awards I've won in

New Zealand, for sure," he said.

In August, Campbell won

the under-18 piobaireachd and

under-18 march, strathspey

and reel events at the Northern

Meeting in Inverness, Scotland.

In the piping world, the annual

Northern Meeting is the

most prestigious competition for

solo pipers around the world.

He made history at the Hastings

Highland Games in April

when he became the youngest

ever winner of the New Zealand

Gold Medal for Piobaireachd.

Campbell said he practices

about five or six hours each

week and usually has a lesson on

the weekend with his father.

He said the hours he practices

when competitions are not in

the near future seem extensive,

but when competitions are

on the horizon, he feels well

prepared.

Campbell's father Greg

Wilson is classified as one of the

top pipers in the world – and

doubles as his tutor.

"He [Greg] has been the

backbone of my piping successes.

Without him I wouldn't

do nearly as well as I am now,"

Campbell said.

Campbell is now looking

forward to when he competes

against his father at the upcoming

Labour weekend competitions.

"The next steps for me would

be having success in the annual

Labour Weekend competitions

coming up in a couple of weeks.

As my dad always says, you're

only as good as your next tune,"

he said.

Daniel hits the books after

bringing home third NZ title

SPORT

• By Jacob Page

BURWOOD'S DANIEL Meehan

is happy to juggle his boxing

dream with studying for his

NCEA level one exams.

Fresh from winning his third

consecutive national amateur

boxing title, the 16-year-old

was hitting the books last week

rather than the punching bag.

Daniel, who trains at Papanui's

Smiling Tigers Boxing Gym,

won the junior under-60kg New

Zealand title at the tournament

in Hastings and was also named

most scientific junior boxer.

"It felt good to win another

national title," he said.

"I didn't know much about my

two opponents, so I just tried to

control what I could control.

"I just wanted to control the

ring (with foot movement) and

use my jab to keep scoring. Be as

scientific as possible."

He is following in the footsteps

of his father, Danny, who had

more than 120 fights when he

was based in Manawatu.

Daniel has been training for

the past six years under Smiling

Tigers coach Mark Fuller.

He initially started hitting

HARD-HITTING:

Daniel Meehan

has added a third

New Zealand title

to his growing list

of achievements.

PHOTO:

CANTERBURY

BOXING

ASSOCIATION

pads with his dad in the garage

and progressed from there.

He has big goals. "I'd like to

compete at the Commonwealth

Games in 2022," he said.

"I'll be 19 by then so that's

what I've set my sights on."

Daniel trains five times a week

and will not ease up even with

exams looming.

Fuller, who was also one of

the Canterbury coaches at the

tournament, said Daniel has a

bright future. "He has a great

work ethic, and, yes, he has the

genes that help him but he

is extremely dedicated," he

said.

"He's a smart boxer in there

and knows what he is about. I

don't think the Commonwealth

Games is too big of a goal for

him if he keeps on this path,"

Fuller said.

Daylight savings gives us a

great opportunity to make the

most of our vibrant Canterbury

region. I took the children to

Hagley Park on the weekend to

ride their bikes and the spring

blossoms on the trees framing

the walkways looked right out

of a tourism brochure. Walking

around the botanical gardens to

show the kids the daffodils made

me realise how lucky we are to

have our garden city with its easy

access to the mountains and

the sea on our doorstep. The

opening of the Riverside Market

this month showcased a great

new asset for Christchurch and

is yet another way to exhibit our

region to visitors.

My Northern Christchurch

over 60s coffee mornings have

started this month in Belfast. It's

especially important to me, as

local MP, that I listen to our over

60s because I believe you've

worked hard in your life and

deserve a secure retirement. Our

region is enjoying strong growth

but we need to ensure services

are available as our region grows

and that we have a strong focus

on creating an age-friendly

community.

I'm always inviting local

organisations and groups to

catch up with me and last week

I enjoyed being shown around

the Papanui Club by its general

manager, who explained how

they reach out to our North West

community, and the elderly in

particular, to provide socialisation

and friendship.

Please take care to protect

yourselves from measles as we

wait on more vaccines to be

available. National is pushing to

make the vaccine available to

our early childhood education

teachers to protect children with

compromised immune systems.

We need to keep them safe.

Clare Reilly

Journeys of the Heart

19 October – 19 November 2019

19 October - 19 November 2019

Two years since Clare's last Little River gallery show,

and much has changed in her life; she has moved south

to Blueskin Bay and fashioned a new existence after the

death of her life partner and fellow artist, Max Podstolski.

Last September Clare travelled to Spain to walk part of

the Camino, raising money for Leukaemia and Blood

Cancer New Zealand, as a way of giving something to

help others coping with a terminally ill loved one and a

way of self-healing.

It was an Main outward Rd, and Little inward River journey | 03 325 for Clare. 1944This time

and distance away

art@littlerivergallery.com

allowed her to explore whether she

could find a sense of joy again in her work and her life,

and she was able to choose to keep on painting. The

resilience of the human spirit to endure parting and grief,

for Clare, came from the power and beauty of the natural

environment around her.

These works explore Clare's journey back into painting

and finding a sense of renewal and a path forward that is

not merely surviving but thriving.

The Last Plum Gone Sing Me the Path Forward

"Uplift my singing heart,

as once it was torn asunder.

The wound, now papered over, is not forgotten,

but pulsing with a tenderness for a further chance of life.

With every beat it grows a little stronger, a little lighter.

The cycle of returning to old places, empty now without you,

gives me a knowing that each movement forward,

when facing the storm of solitude,

is a healing.

The call of the light reveals an illuminating path.

Not merely to survive but truly thrive.

Now dance me into a fresh dawn

of hope and possibilities on

these Journeys of the Heart.

I'm over the moon to be alive."

Little River Gallery open 7 days, Main Road, Akaroa Highway.

Clare Reilly

Journeys of the Heart

19 October - 19 November 2019

Main Rd, Little River | 03 325 1944

art@littlerivergallery.com
---
12 Tuesday October 15 2019

Latest Canterbury news at starnews.co.nz

NOR'WEST NEWS

24 months

interest free

on all Apple products!*

NOISE

CANCELLING

& UP TO 22

HOURS OF

BATTERY LIFE

Studio 3 Wireless

Over-Ear Headphones +

Colours may vary per store.

11" iPad Pro

Wi-Fi 64GB

Space Grey or Silver.

Selected stores

& online+

$ 1399

less per

than

$15 week*<

$ 389

Save

$ 110

THE

GIANT

SMITHS CITY SALE

-WEEK 2 STARTS WEDNESDAY 16TH -

FHD

50" FHD Smart TV TH-50FS500Z

50"

$ 888

less

than

Perfect for petite patios!

Now

$ $11 14 week *<

per

week*<

VERSATILE

GRILL

THAT CAN

REDUCE FAT

CONTENT

Family Steel Grill

GR25042AU

UP TO

30%OFF

Vacuums

$ 69

Save

$ 50

* 1

BONUS

144 FINISH

POWERBALL TABLETS

34L Inverter Microwave

Silver R341FS

Price valid 9th - 22nd October.

$ 229

Save

$ 100

$ 279

Save

$

Melun Outdoor Patio Setting

70

+

14 Place Setting

Dishwasher SMS46KI01A +

VIA REDEMPTION AT

WWW.BOSCH-HOME.CO.NZ/

PROMOTIONS. T&CS APPLY.

Now

$ 1249

less

$ per

than

$14 week*<

Trend Fabric 5 Seater Lounge Suite + Accessories not included. Price valid till the 29th October.

PAY LESS

THAN $16

PER WEEK! *>

$ 2999

Save

$ 1500

Easy repayments with affordable finance, EVERYDAY!

24 months

interest free

on everything $499 & over *

50 months

interest free

/smithscity

/smiths.city

0800 SMITHS (0800 764 847)

on furniture & beds $999 & over * smithscity.co.nz

Life made easy. Helping Kiwis feel at home since 1918

+ Not all products are available in all stores but are available online and for order. Please call us on 0800 764 847 to check for availability at your local store. All offers in this ad are valid Wednesday 16th until Tuesday

22nd October 2019 - while stocks last or unless otherwise stated. *Selected computers, game consoles, gift cards, clearance items and some promotional items are not available in conjunction with interest free offers.

Flooring available on a maximum of 18 months interest free. Exclusions, fees, terms, conditions and credit criteria apply. Available in-store only. Equal instalment amounts include one-off booking fee of $45.00, annual fees

of $45.00 p.a., and security registration fee of $8.05, and exclude insurance. Current interest rate of 23.95% applies to any unpaid balance after expiry of (any) interest free period. See in-store or visit smithscity.co.nz for

details.Instalment amount based on a 50 month finance period. *1 Discount is off our full retail price and not in conjunction with any other offer, excludes clearance.

AAWK25

550 Colombo Street | Cnr Belfast and Radcliffe Road Northwood, CHRISTCHURCH MEGASTORES
---
NOR'WEST NEWS Latest Canterbury news at starnews.co.nz

Tuesday October 15 2019 13

Email claire.booker@starmedia.kiwi by

5pm each Wednesday

Knit 'n' Yarn

Tuesday, 1-3pm, at Bishopdale,

Wednesday, 1-2.30pm, at

Redwood, Thursday, 2-3pm, at

Fendalton, and Friday, 10amnoon,

at Papanui

Take your knitting, crochet or

other craft projects and have fun

with a social group. This is a free,

drop-in event.

Bishopdale, Redwood,

Fendalton and Papanui libraries

internet. Phone 348 4499 for

more information.

3 Brake St, Upper Riccarton

Games at Papanui

Thursday, 2.30-4.30pm

If you love games, head

along and choose from a wide selection,

including the classics, at

this fun and social event. Free for

all ages to enjoy. No bookings.

Papanui Library

A Lion in the Meadow Storytimes will be held at the Bishopdale Library on Wednesday from

10.30-11am. Celebrate the 50th anniversary of Margaret Mahy's A Lion in the Meadow. This

event will be suitable for pre-schoolers and will involve a giant copy of the book, rhymes and

songs. Every little lion will also get to make their own tails and ears.

Culture Exchange

Friday, 3.45-4.45pm

Go along and make new

friends, practice your english

and learn about Christchurch.

Shirley Library

Housie

Wednesday, 7.15pm

Go along for a social night out

and play housie as a fundraiser

for the Christchurch United

Football Club. Food will be

available to purchase and there

will be a bar on site.

Papanui League Clubrooms, 53

Sawyers Arms Rd

SeniorNet

Wednesday, 10am

SeniorNet Garden City will

host a class for seniors (65-

plus) to learn about all things

technology. Learn how to use

your smartphone, tablet or

laptop and the mysteries of the

GenConnect

Tuesday, 12.15-12.45pm

If you have questions about

your Ipad, smartphone or tablet,

head down to GenConnect

where Papanui High School

students will help you for free.

Papanui Library

Makerspace

Tuesday, 3.30-4.30pm.

Join in the fun tech activities at

these Makerspace sessions.

Redwood Library

Scrabble

Tuesday, 10.30-noon, at

Redwood, Wednesday, 1-3pm, at

Bishopdale, and 1.30-3.30pm, at

Shirley

Play scrabble with a friendly

group. Head along when you

can. No bookings required. All

materials supplied. Free

event.

Bishopdale and Shirley libraries

JP Clinics

Tuesday, 10am-1pm, at

Papanui and Shirley, Wednesday,

10am-1pm, at Bishopdale,

Saturday, 10am-noon, at

Fendalton

A justice of the peace

will be available to witness

signatures and documents,

certify document copies, hear

oaths, declarations, affidavits

or affirmations, as well as sign

citizenship or rates rebates

applications.

Papanui, Shirley, Bishopdale

and Fendalton libraries

Mahjong

Saturday, 2-4pm, at Shirley,

Monday, 2-4pm, at Papanui

Go along if you are interested

in playing or learning about

mahjong. Free. Register for the

Shirley Library event.

Shirley and Papanui

libraries

Rummikub

Thursday, 1-2.30pm, at

Fendalton, Monday, 1-3pm, at

Bishopdale

Play rummikub – an exciting,

interactive strategy game. Free,

drop-in event.

Fendalton and Bishopdale

libraries

After School Activities

Friday, 3.30-4.30pm

Suitable for ages eight to 13. Go

along for an interactive session

with technology, games, crafts

and books. Take your friends, or

make some new ones.

Papanui Library

Super Saturday Storytimes

Saturday, 11-11.45am

Encourage learning through

stories. This is an interactive

programme with stories, songs,

rhymes, craft and play. Free.

Shirley Library

Cards Club

Friday, 1.30-3.30pm

The weekly cards club is on

every Friday, go along and join

the fun. Free, no bookings

required.

Shirley Library

Tabletop Games

Monday, 11am-5.15pm

Play some tabletop board

games. Free event, no bookings

required.

Shirley Library

Activity Zone

Monday, 3.45-4.45pm

The after school club has

technology, games, crafts

and books. This is suitable

for children aged six to 10

and caregivers are asked to

remain in the library during

the session. Free – no bookings

required.

Shirley Library
---
14 Tuesday October 15 2019

Latest Canterbury news at starnews.co.nz

Tasty Bites

NOR'WEST NEWS

Moving veges to centre stage

No longer the side dishes, the back-up dancers or the understudies, vegetables

have earned their place front and centre on the plate as this pizza shows

Broccoli margherita pizzas

Serves 4

Ingredients

1 x quantity broccoli dough (see

following basic recipe)

⅔ cup (50g) finely grated

parmesan

300g cherry tomatoes, torn in

half and squeezed to remove the

seeds

¼ cup (4g) oregano leaves

Extra virgin olive oil, for

drizzling

2 x 125g fresh mozzarella balls,

torn

Basil leaves, to serve

Finely grated parmesan, plus

extra to serve (optional)

Directions

Preheat oven to 200 deg C.

Line 2cm x 30cm round oven

trays with non-stick baking

paper.

Divide the dough in half and

press on to each tray to make

2cm x 28cm round pizza bases.

Bake for 20min or until firm and

slightly golden.

Sprinkle the bases with

parmesan and top with the

tomatoes and oregano.

Drizzle with a little oil.

Return the pizzas to the oven

and bake for a further 20min or

until golden.

Top warm pizzas with the

mozzarella and sprinkle with

basil and extra parmesan to

serve.

Cook's notes: You can add

your favourite toppings to this

pizza.

Just avoid anything that might

make the broccoli base turn soft

(such as tomato puree).

It's best to stick to fresh

tomatoes with the seeds and

some of the juice squeezed out.

Try sprinkling over preroasted

pumpkin, eggplant

(aubergine) or zucchini

(courgette).

To have these pizza bases on

standby for busy days, bake

them for the first 20min, then

cool, wrap and freeze for later

use.

Broccoli dough

Ingredients

600g broccoli florets (about two

heads), roughly chopped (see

cooks notes)

¾ cup (90g) almond meal

(ground almonds)

½ cup (25g) finely grated

Parmesan

3 eggs

Sea salt and cracked black

pepper

Directions

In small batches, place

the broccoli in a food

processor and process until

finely chopped. Transfer to a

large bowl.

Add the almond meal,

parmesan, eggs, salt and pepper

to the broccoli and mix well to

combine.

Makes one quantity.

Cook's notes: It's best if you

don't add too much of the

broccoli stem to this dough.

A floret with roughly 6-8cm of

stem is great.

Adding extra can make the

dough watery.

You can swap half, or all, of

the broccoli for cauliflower if

you prefer.

Again, just don't use too much

of the stem.

Is your

wardrobe

summer

ready yet?

Addington - Barrington - Middleton - Burnside - Edgeware - Fendalton - Merivale

Find us on

maxwellsdrycleaning.co.nz

3 issues $20 • 6 issues $44.50 • 10 issues $65

rugbynews.co.nz 0800 77 77 10
---
NOR'WEST NEWS Latest Canterbury news at starnews.co.nz

Tuesday October 15 2019 15

WANTED WANTED WANTED WANTED

GOLD•COINS•WATCHES•BANKNOTES•ANTIQUES•PAINTINGS • COLLECTABLES

Any

SCRAP GOLD & BROKEN JEWELLERY

Cash in on high gold prices

Any

GOLD JEWELLERY

Recycle those unwanted chains, cufflinks,

bracelets, brooches, etc. 9ct, 14ct, 18ct, 22ct

Any

NZ PAINTINGS & ARTWORKS

Any

POCKET WATCHES & OLD WATCHES

Mechanical watches in any condition, also for

parts (no quartz or battery watches please)

Any

MEDALS & BADGES

Military medals, badges, agricultural

medals, etc

Any

OLD BANKNOTES

Pre-decimal • NZ • World • Obsolete currency etc

Any

GOLD & SILVER COINS

Whole collections or accumulations Pre 1947 silver

coins, sovereigns, krugerrands, etc

Any

STERLING SILVER

Any sterling items - cutlery, canteens, Tea service,

candle sticks, trays etc

Any

ANTIQUES • COLLECTABLES

Any

ANY NZ HISTORICAL ITEMS • KIWIANA

OLD TIN TOYS • OLD FOUNTAIN PENS

Any

AnyCHINESE & JAPANESE ANTIQUESANY MAORI & PACIFIC ARTEFACTS

AnyVINTAGE OR MODERN ROLEX, TUDOR, OMEGA, IWC, HEUER, PATEK PHILIPPE Any condition - going or not

ROLEX

SUBMARINER

ROLEX

EXPLORER

ROLEX

GMT MASTER

ROLEX

DAYTONA

OMEGA

SEAMASTER

OMEGA

SPEEDMASTER

OMEGA

DIVERS 600

TUDOR

SEIKO DIVERS AUTO

(Pre 1980'S)

Have you stopped collecting? Downsizing or moving? Family not interested? Lying in a cupboard unused? Unwanted jewellery? Would cash be more useful? Or even if you are just curious,

then please see our buyers at a venue listed below. We will buy single items or complete collections. If unable to visit a venue, please call Hamish on 0800 105 228 to arrange a home visit.

See us at a venue near you. Please check the dates and times carefully.

MONDAY 21 OCT

CASHMERE

9.30am - 12noon

Heathcote Room, Cashmere

Club, 50 Colombo St

TUESDAY 22 OCT WEDNESDAY 23 OCT THURSDAY 24 OCT FRIDAY 25 OCT SATURDAY 26 OCT SUNDAY 27 OCT

PAPANUI

9.30am - 12noon

Chapel Street Centre

Harewood Rd & Chapel St

BRYNDWR

9.30am - 12noon

Village Church & Community

Centre, 365A Ilam Rd

AVONHEAD

9.30am - 12noon

St Christophers Church

244 Avonhead Rd

ST MARTINS

9.30am - 12noon

St Martins Community Centre

Cnr Wade Ave & Wilsons Rd

RANGIORA

9.30am - 12noon

John Knox Centre

Cnr High & King Sts

SHIRLEY

9.30am - 12noon

Garden Hotel Meeting Room

110 Marshland Rd

RANGIORA

1pm - 4pm

John Knox Centre

Cnr High & King Sts

HALSWELL

1pm - 4pm

Te Hapua-Halswell Centre

341 Halswell Rd

REDWOOD

1pm - 4pm

St Lukes Church Hall

Cnr Main North & Daniel Rds

PAPANUI

1pm - 4pm

Village Church & Community

Centre, 460 Papanui Rd

ROLLESTON

1pm - 4pm

Rolleston Community Centre

94 Rolleston Dr

NEW BRIGHTON

1pm - 4pm

St Faiths Hall

46 Hawke St

MT PLEASANT

1pm - 4pm

Mt Pleasant Community

Centre, 3 McCormaks Bay Rd

Goldco Antique Buyers - Member NZNDA. www.goldco.co.nz. email: hamishwalsh@xtra.co.nz

TEL 0800 105 228 Security supplied by
---
16 Tuesday October 15 2019

Latest Canterbury news at starnews.co.nz

AUTOMOTIVE PROFESSIONALS

NOR'WEST NEWS

Customers pleased with honest,

reliable vehicle servicing

Having your vehicle regularly serviced is

key to getting the best out of it in terms of

fuel efficiency and reduced wear and tear

on expensive parts.

Kevin, who owns and operates Parker

Automotive in Birmingham Drive,

provides full vehicle servicing to keep your

vehicle running smoothly, as well as WOFs,

batteries and tyres.

He also carries out all mechanical repairs,

including cam belt replacement, suspension

work, clutch and gearbox repairs, only

repairing what's necessary, and without

charging the earth.

He has owned the business since 2007,

and over that time has established a loyal

customer base – people that rely on him

to give them sound advice and provide

professional care and servicing for their

vehicles.

Customers come from across the city,

Spreydon, Hillmorton, Riccarton, Halswell

and Middleton areas, and the business has

received many positive Google reviews

from customers. Below are some examples:

I have been going to Parker Automotive

for the last eight years and I cannot fault the

service. The mechanical work has been top

notch! If you want top service and value for

money I recommend Parker Automotive. –

Daniel Jay

I've had all sorts of work done here from

basic servicing and warrants through to

major work like clutches, replacement

coilovers and bushings. Kevin is a very

honest guy who gets the job done in a very

timely manor and he has outstanding

communication. The overall service I've

received is excellent. – Lachlan Poole

I know it's not always about price but

sometimes, when it comes to vehicle repairs,

you just want a perceived good deal and work

carried out by someone who seems to care.

Kevin came recommended by a friend, and

what a great recommendation. His work was

clean, efficient, fast and came in under what

I thought it was going to cost. So we took my

partner's car there two days later and that

too was completed faster than we expected

and at an almost unbelievable cost.

Give Parker Automotive a shot next

time you need something done. Kevin

is a nice fella too, win win. – Mark

Lewis

Earlier this year, Parker Automotive

moved from premises on the Lincoln

and Torrens roads corner to a new site

at 23B Birmingham Drive, Middleton.

Opening hours are Monday to

Friday 7.30am-4pm, Saturday 8am-

12pm. So give Kevin a call on 982

4268, or pop in and he will be happy

to help with all your vehicle servicing

needs.

PARKER

AUTOMOTIVE

All Automotive Repairs and Servicing including 4WD

Suspension Brakes & Cambelts

WOF, Tyres, Batteries

23B Birmingham Drive, Middleton

Ph 03 982 4268

Mobile 027 331 0382 | Email: parkerauto89@outlook.com

NeW LoCATIoN 95 Gasson St

The Automotive

Lamp Specialists

New and Used Lamps for Cars, Trucks,

Vans, 4WD and Motorhomes

95 Gasson Street, CHRISTCHURCH

PH 0800 225 483

Your LoCAL

TYrE SPECIALIST

New & Quality Used

Second-hand Tyres

Alloy Wheels

Replacement Rims

Puncture

Repairs

8c Birmingham Drive, Middleton

Next to Addington Raceway

343 0099 or 027 22 63 805

www.jcmdirect.co.nz

s

m

a

r

t

mall

edium

• Panel beating

• Spray painting

Fast

turnaround

utomotive

epair

echniques

Smart repairS (NZ) Limited

automotive refinishers

272 Lichfield St (Fitzgerald Ave end)

Ph 377-0409

A vonhead

utomotive

free

6 months roadside assist

with any vehicle servicing

• automatic transmission

flushing service

• Wof • tune-ups • suspension

• batteries • neW tyres • oil &

lube service • courtesy cars

• full mechanical repairs

oPen 6 days (sat until 1pm)

126 racecourse road

Ph 342 7123 or 027 495 6600

Free Check & Assessment

ROSES

AUTO ELECTRICAL

rosesautoelec@gmail.com

®
---
NOR'WEST NEWS Latest Canterbury news at starnews.co.nz

Tuesday October 15 2019 17

REAL ESTATE

Seascape delight

28B Ripon Street, Lyttelton

Enquiries over $645,000

4 bedrooms | 2 bathrooms | 1 living room

open-plan kitchen/dining | 1 car garage

plus 1 carport - Listing no. 10099

Elegant and stylish. Built for maximum

sun with panoramic views over Lyttelton

Harbour and surrounding hills across to

Quail Island.

Stroll up the driveway, past single garage

and carport up a few steps across a deck

onto the first level. Here you find three

double bedrooms. The master with access

to decent size bathroom having the luxury

of shower, bath and double his-and-hers

sinks, plus a separate toilet. The laundry

is also located on this floor. Continue up

the central stairway onto the second level

landing. Turn left to the living, right to

kitchen or diagonal to access the rear of the

property.

The private landscaped courtyard provides

all day living, ideal for that morning cuppa

to evening BBQs. Take time to breath in the

fragrant Jasmine that adorns the trellis.

The light-filled open-plan kitchen/dining

area is the heart of the home. Here stunning

picture-perfect sea views from the fulllength

dining room window combine with

high ceilings making for that feeling of

spaciousness.

Flow continues through to the living area

where a balcony off this room provides

additional living or entertaining space.

Stairs continue through the centre of the

house to a cleverly designed mezzanine

floor. Again, be spoilt with superb views

from the dining room windows. Having its

own shower and toilet makes this a super

fourth double bedroom, but if you want

space, light, and a "special spot" in which

to work from home, then this is just the

space. This is one of those properties where

careful planning, quality and convenience

for modern day living will have you want

to live here.

Lyttelton has become a sought-after

dynamic Port community with much to

offer from the Saturday market, cafes,

restaurants, to great entertainment. A town

that can boast having a number of famous

artists. Come join this bubbling township.

"Buyers over $645,000" need to view.

To arrange a private viewing of this home

please contact...

Heather Chick

Min Sarginson Real Estate

(Licensed Agent REAA 2008)

Phone 027 211 7205

or 03 328 7273

The Arvida Attitude of Living Well is transforming the ageing experience.

At Arvida, we're working every day to improve the lifestyle and wellbeing of thousands of New Zealanders. We're

creating communities that enable residents to enjoy their retirement and to feel actively engaged in life. Before you

make a decision about retirement care for yourself or a loved one, why not pop in for a chat at one of our 10 boutique

communities throughout the Christchurch region. Each village is unique

in its own way and offers a range of retirement living and care options.

Give us a call today on 0800 278 432

or visit our website www.arvida.co.nz

The Attitude of Living Well

www.arvida.co.nz
---
18 Tuesday October 15 2019

Latest Canterbury news at starnews.co.nz

NOR'WEST NEWS

We're for

local

business

From Kaikoura,

to Christchurch,

to Ashburton,

we have it covered
---
NOR'WEST NEWS Latest Canterbury news at starnews.co.nz

Tuesday October 15 2019 19

Classifieds Contact us today Phone our local team 03 379 1100

Community Events

ALCOHOLICS

ANONYMOUS, If you

want to have a drink that's

your business. If you want

to stop, we can help. Phone

0800 229-6757

Curtains

www.curtainfabric-outlet.com

Fashion Designs & Colours

Discontinued Designs

End of Lines Bargain Prices

Call at Our Shop

CURTAIN FABRIC OUTLET

71 Hawdon St Sydenham

Ph 366-5026

Gardening

& Supplies

A GARDEN OR

LANDSCAPING TIDY

UP? Shrub, hedge &

tree pruning, Lawns,

Gardening, consistently

reliable general property

upkeep, Dip. Hort. 10

yrs experience, One off

tidy ups or on-going

service. Nick's Garden

Maintenance. Keeping

your garden beautiful.

Free Quote. Ph. 942-4440

& 022 264 7452

Australia QLD

SUNSHINE

COAST

RESORT

ALEXANDRA HEADLAND

All Units Have Ocean Views.

Heated Pools, Spa & Sauna,

Free Wifi, Tennis

& Mini Golf.

CHECK OUR GREAT

WINTER SPECIALS

www.mandolin.com.au

0061 7 5443 5011

JUNE to AUG temps 20C

Personals

PROF (ret) GENT.

Living in NW of city seeks

a well presented older lady

to be a companian. Ph 027

6594425

To Let

HOMESITTERS

reqd Xmas / New Year.

beautiful homes / pets. Ph

Lisa 03 359-2323 www.

townandcountryhomesit.

co.nz

Trades & Services

UPHOLSTERER

dyers upholstery services

(Ex Leacroft St, Bishopdale)

We specialise in

re-upholstering all types of

household furniture

inc squabs.

Trusted craftsman for over

30 years. Fabric samples,

Free quotes, pick up &

delivery.

All work guaranteed.

Ph. 359 5033 or

022 106 0108

• New homes

• Extensions

• Renovations

Trades & Services

Builder

• Light Commercial

• Repairs and

Maintenance

Brandon Taw

Phone 027 370 2572

enquiries@tawbuilders.co.nz

www.tawbuilders.co.nz

concrete & paving

• Driveways

• Earthquake repairs

• New Home Specialists

• Patios & Paths

tel: 0508 873 7483

email: sales@affordableconcrete.co.nz

www.affordableconcrete.co.nz

DRIVEWAYS

Exposed Aggregate

Stamped Concrete Plain

Concrete Resurfacing

Things we offer...

Competitive/affordable pricing

Attention to detail

Professional service

free quotes/insurance scopes

Cell 0278 145 848

www.drivecrete.co.nz

house and garden

home

cleaning

gardening

services available

throughout

christchurch

your one stop shop for home services

www.anextrapairofhands.co.nz

info@anextrapairofhands.co.nz

0800 535 355

Trades & Services

plumbING AND GAS

• Gas fitting – servicing, new, renovations

• Gas hot water installs

• Gas cookers and gas fires

• Kitchen / Bathroom renovations

• Backflow testing and installs

• Filtration – whole house, kitchen tap

• Domestic maintenance

Email: james@plumbingandgashq.co.nz

Text: 021 174 9265

0800 H20 LPG

PAINTER

Michael Kelly Painters

Locally owned and

operated family

business.

25+ years Experience

• Painting • Wallpapering

• Interior • Exterior

Free Quotes

Phone

Michael 0212 649 492

michaelkellypainter@hotmail.co.nz

PLUMBER

NEED A PLUMBER

Call us now for fast friendly service.

Get your problems sorted out

quick smart - on time!!

Phone for a

FREE

quote now.

4 2 6 5 7 4

DISCOUNT FOR

SUPER GOLD CARD

HOLDERS!

FREE QUOTES

Phone 03 377 1280 | Mobile 021 898 380

YOU COULD

BE HERE

Let us help take

your business to

new heights

Advertise your business in our

Trades and Services column.

For assistance contact Vicky

Phone 03 364 7419 or email

vicky.sayers@starmedia.kiwi

Trades & Services

BLOCKED

DRAINS?

• Video inspection

• Waterblasting

• liquid Waste

pH: 03 365 7960

24 hours // 7 days

info@h20jet.co.nz

www.h20jet.co.nz

HOUSE

CLEARING

Are you

moving house

or trying to

downsize?

Call All Clear

Canterbury. We work

with you to recycle,

sell and dispose of

unwanted items.

Ph: 03 260 0934

or 021 078 4553

raewynlcooke@gmail.com

www.allclearcanterbury.co.nz

ROOF

PAINTING

Rope & harness

a speciality,

no scaffolding

required,

30 years of

breathtaking

experience.

FREE QUOTES

Exterior staining,

exterior painting,

moss and mould

treatment and

waterblasting

Phone Kevin

027 561 4629

rooF

painting

Book now for

Summer and

receive 20%

discount.

Rope and harness

a speciality.

No scaffolding

required.

30 years

experience.

Free quotes,

call Craig

021 060 2392

Trades & Services

BATHROOM

Renovations, complete

service from start to finish,

free quotes, ph Dave 027

334 4125

BEST BATHROOMS

full renovations

specialists, LBP builder,

free quote, all building

property maintenace ph 03

383 1927or 027 245 5226

ciey@xtra.co.nz

BRICKLAYER.

George Lockyer. Over

40 years bricklaying

experience.Uk trained.

Insurance work, EQC

repairs. Heritage

brickwork & stonework

a speciality. No job too

small. Governers Bay.

Home 329 9344. Cell

027 684 4046. E mail

georgelockyer@xtra.co.nz

BUILDER

HANDYMAN. No job

too small. Install heat

transfers, repair/replace

fences, floor boards,

decks. Russ 027 884 2330.

Liability insurance.

CARPET LAYING

Exp. Repairs, uplifting,

relaying, restretching.

Phone John on 0800

003181, 027 240 7416

jflattery@xtra.co.nz

ELECTRICIAN

Prompt & reliable

registered electrician

with 24 years experience

for all residential and

commercial work, new

housing and switch board

replacements. Phone Chris

027 516 0669

ELECTRICIAN

Registered, electrical

installation and repairs,

Gorbie Electrical, ph 021

026 73375 or 03 322 4209

Vehicles Wanted

CASH/CASH for any

unwanted vehicles, ph

347 9354 or 027 476 2404

ADVERTISE YOUR BUSINESS HERE

Trades & Services

LAWNMOWING

Push mow & Ride On.

Fully insured. Ph John or

Jo on 021 027 99392

PEST CONTROL

Qualified & licensed

applicator. Spiders, flies,

ants. Ring Bob 0800

387369

PLASTERER

Gib Stopping, Small

job specialty. 30 + years

experience. Ring 0800

387-369

SHOE REPAIRS

Belfast engraving. Shoe

repairs, key cutting &

engraving. (10 yrs exp)683

Main North Rd, ph 027

3113423

SPOUTING CLEANING

Spouting Unblocked,

Cleaned Out and Flushed

Out. Call Trevor 332 8949

or 021 043 2034

STUMP GRINDING

Best price guarantee Tony

0275 588 895

TILING

Flooring - Splashbacks -

Wall incl tile removal, reg

master tiler, ph Dave 027

334 4125

T.V. SERVICE CENTRE

Repairs, tvs, microwaves,

audio amps, soundbars.

.Aerial & satellite

installations, kitsets, 480D

Moorhouse Ave, ph 03 379

1400

VHS VIDEO TAPES

& all camera tapes

converted to DVD, video

taping special occasions,

www.grahamsvideo.co.nz

ph 03 338-1655

Wanted To Buy

AAA

Buying goods quality

furniture, Beds, Stoves,

Washing machines,

Fridge Freezers. Same day

service. Selwyn Dealers.

Phone 980 5812 or 027

313 8156

TOOLS Garden,

garage, woodworking,

mechanical, engineering,

sawbenches, lathes, cash

buyer, ph 355-2045

Phone for further details

(03) 379 1100
---
20 Tuesday October 15 2019

Latest Canterbury news at starnews.co.nz

NOR'WEST NEWS

HARCOURTS GOLD

FOR REVENUE PER SALES CONSULTANT

2013-2019

MEET OUR...

TOP PERFORMERS

HARCOURTS GOLD TOP CONSULTANTS FOR SEPTEMBER 2019

1 2 3 4 5

CAMERON BAILEY

PAPANUI

MARY TURNBULL

PAPANUI

MICHELLE FU

PAPANUI

CALEB GRIFFIOEN

PARKLANDS

MARK O'LOUGHLIN

REDWOOD

10

6 7 8 9 10

ASH SUTHERLAND TODD

PAPANUI

LEEANN MARRIOTT

PAPANUI

DEB CROSBY

PAPANUI

GEETA ROSE

PAPANUI

KAYE CADDICK

PAPANUI

When your brand includes the top Harcourts office out

of 900 around the world, it's clear that you've got an

extraordinary team.

So for these consultants to earn the position of one of the top

ten real estate sales consultants at Harcourts gold is truly a

remarkable achievement.

They are phenomenally good at what they do; highly skilled,

highly trained and dedicated to delivering exceptional results for

property owners. I am extremely proud to work with these real

estate professionals.

JOHN MCFADDEN

BUSINESS OWNER HARCOURTS GOLD

John McFadden

Business Owner,

HARCOURTS GOLD AREINZ

Lynette McFadden

Business Owner,

HARCOURTS GOLD AREINZ

Chris Kennedy

General Manager,

HARCOURTS GOLD AREINZ

Left to Right: Kyle Sutherland Executive Manager, HARCOURTS GOLD PAPANUI

Margaret Danzer Sales Manager, HARCOURTS GOLD REDWOOD

Nikila Creagh Sales Manager, HARCOURTS GOLD EASTSIDE

Doug Soper Liaison Manager, HARCOURTS GOLD AREINZ

Rosa & Margo

Flanagan, Two

Raw Sisters

Inspirational Women

You are invited!

Join us to hear life changing stories from

inspirational speakers with great messages

for both men and women.

Thursday 21st November

3:00pm – 5:30pm, Hagley Oval

Refreshments and canapes served

TICKETS ARE COMPLIMENTARY SO BE QUICK!

Please register by the 14th November to

jacqui.wright@harcourts.net

Stacey Beatson,

NZ's top Stylist,

featured in Next

magazine,

Sept. 2019

Lynette & John

McFadden,

Harcourts gold

PROUDLY SUPPORTED BY

PAPANUI 352 6166 International Division (+64) 3 662 9811

REDWOOD 352 0352 PARKLANDS 383 0406 NEW BRIGHTON 382 0043

FOLLOW US ON
---
NOR'WEST NEWS Latest Canterbury news at starnews.co.nz

Tuesday October 15 2019 21

Love the life you choose

Christchurch Open Weekend

Saturday 19 & Sunday 20 October

10am - 3pm

Summerset at Avonhead

120 Hawthornden Road,

Avonhead

Summerset on Cavendish

147 Cavendish Road,

Casebrook

Summerset at Wigram

135 Awatea Road,

Wigram

0800 SUMMER

summerset.co.nz

SUM1802_FC1
---
22 Tuesday October 15 2019

Latest Canterbury news at starnews.co.nz

NOR'WEST NEWS

Love the life

you choose

When you move into a Summerset retirement village, you're not just

moving house – you're joining a vibrant and welcoming community

where you'll feel completely at home.

At Summerset we put you at the heart of everything

we do, so you can enjoy the freedom of living the life

you choose.

The perfect home is waiting for you. From villas and townhouses, to

apartments – you'll find a place to make your own. Our homes are

accessible, high-quality, and there are no worries about maintenance or

upkeep as we do it all for you. Pets are also welcome, and you can even

go away on holiday knowing your home will be safe and secure. We'll

also make sure you're aware of all costs, giving you the certainty that

there won't be any unexpected surprises.

When it comes to activities and events, there's always something

happening to keep our Summerset community involved and

entertained, and you can choose to do as much or as little as you like.

If you need some extra care or support, our continuum of care means

we'll be there for you as your needs change, giving you the peace of

mind to continue living life to its fullest.

Over 5,000 residents are already enjoying the Summerset life across

26 villages around New Zealand. If you're interested in Summerset for

yourself or a family member, come and visit one of our Christchurch

villages to find out more.

Christchurch

Open Weekend

Saturday 19 October & Sunday 20 October,

10am - 3pm

Visit summerset.co.nz to find the

Summerset village nearest you.
---
NOR'WEST NEWS Latest Canterbury news at starnews.co.nz

Tuesday October 15 2019 23

Love the Summerset life

Love the Choice

At Summerset you'll find a wide range of homes specifically designed

for the over 70s. Choose from one of our lovely, modern, purposebuilt

homes, then make it your own. All our homes are designed with

accessibility as a priority.

Love the Community

At Summerset you can continue to live the life you choose with the

added peace of mind of living in a warm and friendly community where

you'll feel completely at home.

As a Summerset resident, you'll enjoy all the benefits of being part

of a thriving Summerset community including easy access to village

facilities and community spaces. And there's support on hand should

you need it in the future.

Love the Confidence

At a Summerset village you can live fully independently or, should

you need it, you can receive support and care in your own home or

apartment, or in our fully certified care centre. So, if your needs change,

you can be confident you will the get the support you need, without

having to leave the village.

Summerset on Cavendish Continuum

of Care Information Session

Hear more about our new Serviced Apartments

and continuum of care coming soon to Summerset

on Cavendish. Sunday 20 October & Thursday

24 October, 147 Cavendish Road, Casebrook.

Presentations at 10am and 2pm.

As a Summerset resident, you'll have access to a range

of community facilities, including;

Divine Café

Exercise room

Communal vegetable

gardens

Residents' bar

All-weather bowling green

Residents' workshop

Hair and beauty salon

Swimming pool and/or

spa pool

Regular visits from

health practitioners

SUM1802_DPS
---
24 Tuesday October 15 2019

Latest Canterbury news at starnews.co.nz

NOR'WEST NEWS

Love the life you choose at

our Christchurch villages

Brand new homes available now!

At Summerset retirement villages, you'll find a wide range of homes specifically

designed for the over 70s.

Our warm, modern homes are built with accessibility as a priority. And there's no need

to worry about maintenance or upkeep. Simply choose your new home and make it

your own. You can even bring along your pet.

Our three Christchurch villages all have brand new homes available now. Come along

to our Open Weekend and find the home that's right for you. We will take you through

village plans and pricing, and answer any questions you may have.

If you would like to get some information prior, you can make an appointment or call

in and visit us any time - we are open 7 days.

Open

Weekend

Saturday 19 October

Sunday 20 October

10am - 3pm

Summerset at Avonhead

120 Hawthornden Road, Avonhead

Summerset on Cavendish

147 Cavendish Road, Casebrook

Summerset at Wigram

135 Awatea Road, Wigram

To find out more about Summerset, call us on

0800 SUMMER (786 637) or visit summerset.co.nz

SUM1802_FC4