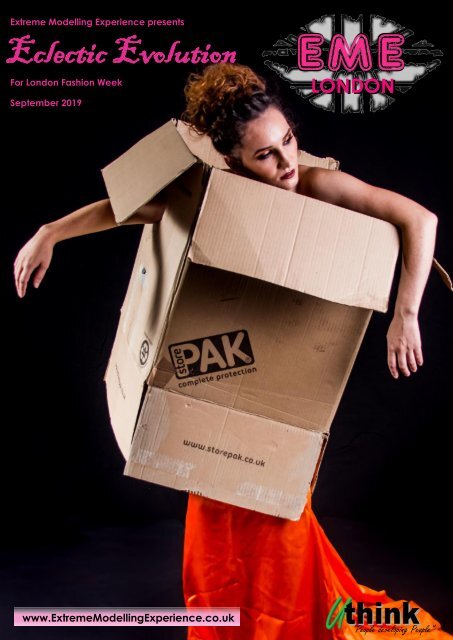 EME Fashion show program: Eclectic Evolution
Extreme Modelling Experience held its first fashion show on 21st September 2019. Unlike most fashion shows, EME made the evening more of an actual show than straight forward catwalk presentations. Choreographed by Kelly Rahman and containing entertainment from the acclaimed Eva Von Schnippitz, belly dancing, singing and an art installation performance by #aFineLine. In addition, EME was showcasing 4 new themes which were shown by way of decorated rooms for selfies and shots with models from the show.
Extreme Modelling Experience held its first fashion show on 21st September 2019.
Unlike most fashion shows, EME made the evening more of an actual show than straight forward catwalk presentations.
Choreographed by Kelly Rahman and containing entertainment from the acclaimed Eva Von Schnippitz, belly dancing, singing and an art installation performance by #aFineLine.
In addition, EME was showcasing 4 new themes which were shown by way of decorated rooms for selfies and shots with models from the show.
SHOW MORE
SHOW LESS
Create successful ePaper yourself
Turn your PDF publications into a flip-book with our unique Google optimized e-Paper software.
Extreme Modelling Experience presents

Eclectic Evolution

For London Fashion Week

September 2019

www.ExtremeModellingExperience.co.uk
---
1

EME Presents

Eclectic Evolution

`

Featuring

Bahri

Larissa Reit

Luciana Soul

for the

model

within

Trippy Hippy

you
---
21

`

EME is the brainchild of K Anthony that offers clients

the experience of being part of a bespoke art piece

through an Extreme Modelling Experience. K's

inspiration came from realizing that capturing 'real

life' moments of artistic expression can expand the

photo shoot experience. Our Extreme Modelling

Experience will transform the client into the integral

creation of the unique art piece.

K's team of professionals have collective experience

in film, TV, theatre and fashion. Their central aim is

always, and above all, client satisfaction; no, delight!

Their joint skill set enables them to work together as

a team to produce creative art with the client as the

centrepiece. All this is achieved in a fun, friendly

atmosphere.

The group shots are designed to make the client part

of a piece of art. We also include individual portrait

shots as well as "behind the scenes" in

which the client can take centre stage and freely

express their personality.

for the

model

within

you

Additionally, they have valued support staff on hand

providing hospitality and catering to ensure that the

client's experience leaves them feeling rejuvenated

and looking stunning.
---
13

`

Each event is designed to produce the most

unforgettable experience possible, provided by our

professionally qualified team. The client becomes

part of team for that day - a vital part!

Each experience includes a sumptuous lunch with a

wide selection of refreshments. Additionally, clients

are invited to a private exhibition where they can

view their art with friends and family.

In consultation with the client, EME will provide

experiences based on carefully selected themes.

There are always four available themes to

"experience" and they are updated in rotation.

On display for Eclectic Evolution are:

Futuristic, by Rebecca Lilley,

Model: Andrea Piancastelli

Cupid's Diary, by Nadine and Lynda.

Model: Chloe Carriera

Love & Light and Candid Colour by Louise Montague,

Models: Louise herself & Tiziana Coste

for the

model

within

you

.
---
43

LARISSA REIT

Larissa is a London based

contemporary fashion designer,

specialising in textile

experimentation using

established technologies.

The brand's unique aesthetic

incorporates digital print, laser

cutting and pleating. By layering

printed fabrics in order to

manipulate them, optical

illusions are created. These

come to life as they move.

Larissa Reit was born in Kazakhstan and

raised in Germany. She came to London to

study Fashion Design at Istituto Marangoni.

She has worked for Haizhen Wang, as well as

a sales agency and has been short-listed for

the 'LVMH Luxury experience of Tomorrow'.

She decided to use London as a platform to

launch her eponymous brand which

encapsulates her multi-cultural journey and

design philosophy - merging German

engineering, British innovation and Italian

Flair.

www.LarissaReit.com

Larissa Reit produces luxurious, thoughtprovoking

yet wearable chic pieces. Putting

the customer needs above all else is their

priority, with all garments and accessories

lined with the best quality fabrics and finished

to the highest standard. They offer versatile

pieces that can be worn to multiple different

occasions. Comfort and practicality are at the

forefront of the design process, whilst making

sure that both cut and style are never

sacrificed.

All garments and accessories are designed

and meticulously handcrafted in London.
---
gjgj 35

BAHRI

Bahri is the first 'Habesha' (Eritrean and

Ethiopian) inspired beachwear and accessories

label created by model turned 'mumpreneur'

Elsabel Yemane.

Having found there is no other brand that

combines the unique Habesha culture with

modern swimwear, Elsabel Yemane spent 2

years developing the first 20 piece 'Werrki'

(Jewel) collection with precise vision. This

vision was brought to life in June 2019,

launching her online shop.

BAHRI - simply meaning the sea/ocean, is to

bring excitement to the mainstream, whilst

empowering the proud international Habesha

community. The end goal is to move production

from Hong Kong, Italy and London to Eritrea's

beautiful capital city, Asmara.

Elsabel dreams of a full factory back home

creating jobs and contributing to promoting the

stunning 360+ islands for tourism.

www.bahri.shop

www.Bahri.shop
---
36

LUCIANA SOUL

Luciana Pulcini is the founder and owner of

LucianaSoul which has been based in London

since 2014, officially registered in 2019.

LucianaSoul (the story behind the textiles) is a

concept of sustainable consumption and

production. Her mission is to reduce textile

waste, but also to highlight to the fashion

industry - and people in general - new ways of

creating a brand using existing resources.

Luciana's venture began after she observed

the huge amount of clothes left on the streets

of London. At the time she was homeless and

had very little to wear. With her passion and

natural talent plus her Italian diploma in

tailoring, she developed ideas for upcycling.

She also studied online courses with the

British Library on building a sustainable

fashion business.

In 2016 Luciana was the recipient of the FDC

Young Designer Award for 'the most important

alternative to fast fashion". She also took part

in Catwalks for Disabled Girls (December

2018) at the Old Biscuit Factory, Bermondsey.

In July 2019 Luciana exhibited in Italy with the

NGO 'Anffas' (National Association of

Families of People with Intellectual and/or

Relational Disabilities).

210-212 Southwark Park Road, Bermondsey, London, SE16 3RX
---
37

TRIPPY HIPPY

Trippy Hippy Clothing was created to inspire and bring a

unique blast of colour to the world. All pieces are one of

a kind and all are hand crafted by Victoria Patterson

who currently resides in London, England.

Victoria Patterson, president and founder, left her

home in Canada to explore the world. Trippy Hippy is

the result of seeing and experiencing life in her way -

celebrating a love of music, culture and self-expression.

These clothes express the life of youth and culture,

inspired by years of finding herself. Victoria's clothes

exude vibrancy and passion for life.

At the heart of this newly established brand is Victoria's

drive to push beyond accepted limits and to

communicate the importance of embracing new

experiences. Trippy Hippy is for everyone, particularly

for those who want to express individuality and those

who dare to be different. It is for free spirits, those who

rebel against convention and refuse to be constrained.

"I've never been one to fit in and follow trends,

sometimes I think I was born in the wrong time. I

embrace my wild side, with rainbow hair, striking clothes

and a want to be different. Everything I create is me and

it's my goal to share that with the world."

trippyhippy.myshopify.com
---
38

Eva Von Schnippisch (Host)

Eva Von Schnippisch is one of the fastest, finest

and furiously funny Weimar Vixen Cabaret

Comperes on the scene. With a spectacular

belting voice, exceptional comedy timing, and unrivalled

audience interaction skills, she is a strictmistress

with a warm heart that "holds the

audience's attention like no other" and leaves

them deeply satisfied! Cheeky and charming,

smooth and alluring…slightly un-hinged and

desperate for love: a true femme-fatale. Eva is a

regular compere at London's hottest new

member's club: Gersch & Rox Presents Cabaret

At The Curtain, as well as regular turns at The

Candlelight Club, The Hundred Watt Club, and

The Zeppelin Club. Eva has also hosted at

BGWMC, RVT, Kettner's, Jamboree, Madame

Jojo's, Le QuecumBar, The Marlborough Theatre

in Brighton, Wild Cabaret in Glasgow, CC Blooms

in Edinburgh, and countless private events. Miss

Stephanie Ware, (Eva's alter ego) has compered

at Bestival, Camp Bestival, and further afield in

Europe and the UAE.

Her critically acclaimed award-winning show:

HOW EVA VON SCHNIPPISCH WON WWII, an

action-packed, spy-thriller, one-woman comedy

musical has been a hit on the Fringe circuit and

is soon to go on a national tour.

Kelly Rahman (Choreographer & Artistic director)

Kelly is a London based choreographer and

artistic director. A classically trained dancer who

began studying the arts in Norway before

travelling to London to continue his training and

launch his career.

His work has been categorised as a blend of

powerful versatility and theatrical range. With

extensive experience working with celebrities,

brands and bands he has travelled globally to

share his interpretation of the arts.

Selected credits include Vivian Westwood,

Stephen Way, Kylie Minogue, The Spice Girls,

Take That, the Brit Awards and the English

National Opera. He has also gleaned accolades

for his work with the Royal charity 'Never

Forgotten'.
---
93

EME Themes

Cupid's Diary, by Nadine and Lynda

As you can imagine, this theme is about love and the

ways in which it is communicated. This interpretation

involved inviting attendees of 'Eclectic Evolution' to

write their love notes on the walls.

Future versions will include walls filled with love letters,

note and poems. There will also be an increasing list of

communications methods, from age old letters to

modern day texts, swipes and who knows what else.

There is as much fun as you want with this theme, but

it can also be melancholy and pensive.

Photo courtesy of Marcin Libera

Nadine Montaghami first trained as an interior designer when she was

17 years old for a company near the Lake District. After coming runner

up three times in a national window dressing competition, she then

dabbled in fashion, eventually going to university and gaining a BA

Honours degree in contemporary fine art.

She moved to London 18 months ago and met her business partner

(and manager at her full-time job) Lynda.

Nadine also coaches women in self-confidence and inner power and

recent walked the runway of a fashion show in London to prove bigger

women can be confident too.

Lynda Thompson started her career as a dental nurse and eventually

became a practice manager, but she has always had a passion for art

and fashion. After meeting Nadine, the two formed a friendship and

business partnership after realising they both had a creative touch for

dressing rooms and designing concepts.

Futuristic, by Rebecca Lilley

This is surely one of our most variable themes. It

changes to accommodate may perspectives of what

futuristic might mean. In this version Rebecca has

created an interpretation of cold anonymity facilitated

by the hard to see influence of the web.

Other interpretations offer a more optimistic outllook.

However you choose to interpret it, the experience will

be uniquely yours.

Rebecca began exploring her creative talents from age 5. She

studied theatre and costume design before making the drastic

change to law and working in finance.

Rebecca is currently studying with the London school of styling -

Fashion and personal styling. In learning about style, she likes

exploring modern fashion trends with vintage couture and seeing

how to bring a sense of realism to clothes. She hopes to continue

working on fashion week jobs as well as her business

PassageToPoise, offering fashion styling/ coaching as well as photo

shoots.
---
10 3

EME Themes: by Louise Montague

Candid Colour

This theme, though created with the designer Trippy

Hippy in mind has its origins in one of EME's ideas

around the use of colour.

There is no story that immediately springs to mind. It

is more a celebration of the senses, of life and of

expression. The use of faux flowers and bright

fabrics invite a bright and positive story, an ideal we

all aspire to.

Having said that, we welcome interpretations that

buck the trend and stretch the imagination. Even in

choices of clothing, this theme can be reinterpreted.

Photo courtesy of Vincenzo Albano

Love & Light

This theme is born of the ethereal. Where fantasy

meets mindfulness. An escape into the angelic and

an invitation to explore a visualization of the

spiritual.

We use smoke, spheres, faux clouds and many

other inspiring props associated with love, peace

and serenity to make this theme a dream to enjoy.

Whether it is your

intention to get lost in

the embrace of the

theme and its implied

magic, or if you have

desires on recreating a

brand of light that tells

a tale otherwise unique

to you, there is scope

for a wealth of

creativity and of course

immersive pleasure.

Photo courtesy of Jim Nemer

Louise Montague graduated from UEL in 2002,

with a First Class Honours degree in 'Textiles

and Surface decoration and has since worked in

the Textile art and Design Industry.

Louise is influenced and inspired by travelling.

Discovering the Far East and the Caribbean has

helped her to see the world in new light; to

experience the impact of nature as the universe

intended it to be seen. Louise's artwork is

infused with bright vibrant colours. These

colours are meant to make you feel uplifted and

energised and colour is a huge influence

throughout her work.

To quote her: "My paintings create a magical

place for you to get lost in for a moment, to let

your imagination go, to escape the realities of

life and for you not to feel the feelings of pain. A

place where we feel accepted and don't feel like

an outcast. Where we can experience the power

of colour".

Louise has in the past modelled for EME. Her

enthusiasm and warmth is evident in all her

artistic expression and we look forward to

working with her In the future.

www.etsy.com/uk/shop/lulujoelle

Photo courtesy of Marcin Libera
---
11 3

Laura Scimone (Moonlight Design)

Moonlight Design is a dance costume brand

founded in 2013 by the radiant Italian dancer &

designer Laura Scimone.

Laura grew up in the family's bridal dresses business getting

exposure to the exquisite craftsmanship of skilled artisans. She

made her debut in the entertainment industry at the age of 19, as a

dance performer, experiencing different dance styles such as jazz,

hip hop and salsa. Belly dance, however, was her calling.

Laura studied at the Oriental Belly Dance School in Milan. She soon

started making her own costumes, gaining the praise of teachers

and colleagues. In 1994 she began studying fashion design at

'Marangoni' in Milan, where she enhanced her skills achieving a

professional level as a fashion designer.

She became a makeup artist in 1998 after studying at BCM college

in Milan. Her passion for beauty and fashion started her on a

journey into the fashion industry as makeup artist and body painter

while working on her own dream of becoming a fashion designer

with her own label.

In 2003 she moved to London working as a professional belly

dancer in addition to being a makeup artist. She also continued to

follow her dream of being a belly dance costume maker.

This dream came to fruition in 2013 when she founded 'Moonlight

Design', a luxury belly dance brand. Since the launch of Moonlight

Design the brand has expanded rapidly. The unique bespoke

design takes the client on a magical journey. Her motto is 'You

dream it. We make it!".

Laura offers a wide range of fabrics, materials and design, sketching

the costume for the client. She hopes this will take the wearer into

the land of their imagination, to become the star they aspire to be.

Tearborn

Tearborn is a modern

indie pop duo from

London.

Monika & Kelly met in a studio in Ladbroke Grove, where

she was studying music production and him recording.

Monika's biggest influence was Linkin Park as it pulled her

towards a music career, but songwriting was always in her

heart as she wrote her first songs when she was just seven

years old.

Kelly was inspired by the likes of Jimi Hendrix and the

'urban' hip hop movement. He was given an old keyboard for

his 16th birthday and started writing songs in his bedroom

based on raw emotion.

Together their pop songs are a blend of emotive vocals and

catching melodies with an authentic emotional punch.

Tearborn successfully released their first cover 'What is

Love' as a taster, which led to their first original single

'Beauty in Me'. They are currently working hard and planning

to release two new singles "Come Home" and "Hold" in the

coming months.

www.Tearborn.com
---
12 4 12

#aFineLine

#aFineLine is an ever evolving photographic installation art piece created

by Elizabeth Richardson & K Anthony.

Uthink

The message is simple:

"It's A Fine Line between technology being our salvation or our destruction."

People

Developing

People

This being the 7 th incarnation of #aFineLine we

decided not only to reinvent the piece, but to push

the boundary in its interpretation.

The original was modelled by one of the cocreators,

Elizabeth. Thus to go to the extreme,

instead of having a long-haired, white, female nude

model we opted for a shaven, black man in the

shape of JuJu.

JuJu's performance piece before the actual

fashion show was a melancholy yet striking

representation, which needless to say gained a lot

of attention from attendees and photographers.

More than ever, the use of the orange cabling

couldn't be understated. It is all that protected his

modesty.

Photo courtesy of Vincenzo Albano

www.afineline.eu
---
413

Uthink

People

Developing

People

UTHINK started life in 2010 as a community interest company

before evolving into a charitable organisation (Uthink People

Developing People). Its founders, Gary Pate and Paul

O'Rourke, are considerably experienced and fully qualified

Youth and Community Workers, who have for many years

worked at the coalface with young people in demanding urban

and rural environments, on behalf of various local authorities.

Given Gary and Paul's youth work experience, it is of no

surprise that UTHINK was originally established with a primary

focus on young people. However, whilst the golden thread of

youth work continues to run through much of what the charity

does, UTHINK has since expanded into providing services for

adults as well. This reflects Gary's proven track record of

leading services and programmes catering for both

disadvantaged adults and young people.

In addition to its two founders, UTHINK is guided by the

practical wisdom of Jay Malone, who acts as the charity's

Governance Officer. His role is to ensure that UTHINK not only

complies with, but also enters into the spirit of, the rules,

regulations and policies that exist to ensure the good

governance of the charity and the protection of the vulnerable

people we work with.

UTHINK's daily operation is also administered by a team of very

experienced staff members, who make it possible for Gary and

Paul to focus on the charity's service provision.

This is not to forget that a major aspect of UTHINK's mission is

to empower our service-users to become future UTHINK

leaders and mentors, who are willing to invest their newly

acquired skills into the development and education of others

who also need to experience enfranchisement and

empowerment. In other words, we enable the individuals we

work with to become catalysts for change in their own social

environments and communities. This creates a transformative

cycle that sustains the positive impact of UTHINK's work, by

enabling our service-users to take ownership of their personal

development and to become sources of inspiration and

influence in their own peer groups.

www.Uthinkpdp.org.uk
---
14 4 Crew list

Producer – K Anthony

Manager – Sarah Pearson

Choreography & art dir. – Kelly Rahman

Room stylist – Andrea Piancastelli

Makeup artists

Stefania Sanna

Laura Fagan

Simona

Vanessa Hider (SFX)

Hair stylists

Yolanda Shillingford

Elena Katsarova

EME room designers

Louise Montague

Lynda Thompson

Nadine Montaghami

Rebecca Lilley

Sound & music

John Robinson

DJ Dimensions

Lights

Mike Henry

Bernard Parker

Videography

Stephen Hearst-Francis

Support staff

Bernadette Mordi

Felix Ntumazah

Hayley Britton

Mal Henry

Octavia Findlay

Sophia Mordi

Models

Amie Hampshire Gill

Andrea Piancastelli

Chloe Charrier

Coco Nobel

Elexa Tanner

Hajr Karim

Jean Claude Warner

Katie Horan

Katie Ice

Katie Taylor

Kelsey D Taylor

Kristy Scholler

Lauryn Bryan

Lilly Laschelcic

Louise Montague

Mariekah Ihekoromad

Nikita Cindy

Sarah Lott

Sonja Syne

Sophie Levine

Tiziana Coste

Victoria Patterson

Dancers

Coco Nobel

Monique

Uthink pdp

Viv Ellis

Runners

Abi Newman

Beatriz Palau

Sam Georgiou

Cover image

Filipa Rocha
---
4

Experience Day

6hr event

Lunch & refreshments

Individual portrait & group shots

4 free (8"x10") prints

Private exhibition (2 weeks after)