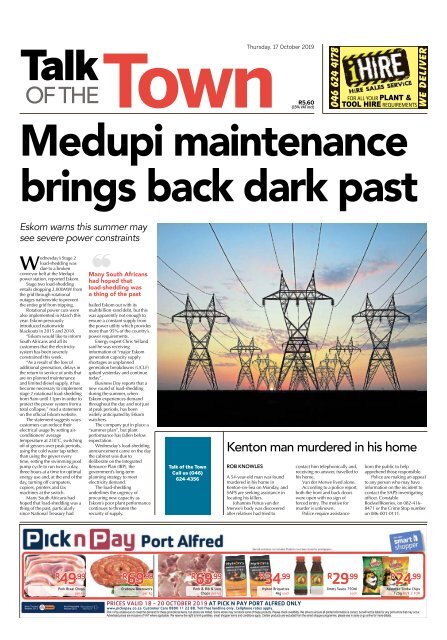 Create successful ePaper yourself
Turn your PDF publications into a flip-book with our unique Google optimized e-Paper software.
T h u rsd ay, 17 October 2019

Ta l kTow n

OF THE R 5.60

(15% VAT incl)

Medupi maintenance

brings back dark past

Eskom warns this summer may

see severe power constraints

We d n e s d ay 's Stage 2

load-shedding was

due to a broken

conveyor belt at the Medupi

power station, reported Eskom.

Stage two load-shedding

entails dropping 2,000MW from

the grid through rotational

outages nationwide to prevent

the entire grid from tripping.

Rotational power cuts were

also implemented in March this

year. Eskom previously

introduced nationwide

blackouts in 2015 and 2018.

"Eskom would like to inform

South Africans and all its

customers that the electricity

system has been severely

constrained this week.

"As a result of the loss of

additional generation, delays in

the return to service of units that

are on planned maintenance

and limited diesel supply, it has

become necessary to implement

stage 2 rotational load-shedding

from 9am until 11pm in order to

protect the power system from a

total collapse," read a statement

on the official Eskom website.

The statement suggests ways

customers can reduce their

electrical usage by setting airconditioners'

ave ra g e

temperature at 230°C, switching

off of geysers over peak periods,

using the cold water tap rather

than using the geyser every

time, setting the swimming pool

pump cycle to run twice a day,

three hours at a time for optimal

energy use and, at the end of the

day, turning off computers,

copiers, printers and fax

machines at the switch.

Many South Africans had

hoped that load-shedding was a

thing of the past, particularly

since National Treasury had

❝Many South Africans

had hoped that

load-shedding was

a thing of the past

bailed Eskom out with its

multibillion-rand debt, but this

was apparently not enough to

ensure a constant supply from

the power utility which provides

more than 95% of the country's

power requirements.

Energy expert Chris Yelland

said he was receiving

information of "major Eskom

generation capacity supply

shortages as unplanned

generation breakdowns (UCLF)

spiked yesterday and continue

t o d ay ".

Business Day reports that a

new round of load-shedding

during the summer, when

Eskom experiences demand

throughout the day and not just

at peak periods, has been

widely anticipated by Eskom

wa t ch e r s .

The company put in place a

"summer plan", but plant

performance has fallen below

expectation.

We d n e s d ay 's load-shedding

announcement came on the day

the cabinet was due to

deliberate on the Integrated

Resource Plan (IRP), the

g ove r n m e n t 's long-term

planning strategy to meet

electricity demand.

The load-shedding

underlines the urgency of

procuring new capacity as

Eskom's poor plant performance

continues to threaten the

security of supply.

Talk of the Town

Call us (046)

6 24 - 4 3 5 6

Kenton man murdered in his home

ROB KNOWLES

A 54-year-old man was found

murdered in his home in

Kenton-on-Sea on Monday, and

SAPS are seeking assistance in

locating his killers.

Johannes Petrus van der

Merwe's body was discovered

after relatives had tried to

contact him telephonically and,

receiving no answer, travelled to

his home.

Van der Merwe lived alone.

According to a police report,

both the front and back doors

were open with no sign of

forced entry. The motive for

murder is unknown.

Police require assistance

from the public to help

apprehend those responsible.

Police are making an appeal

to any person who may have

information on the incident to

contact the SAPS investigating

officer, Constable

RodwellKoeries, on 082-416-

8471 or the Crime Stop number

on 086-001-0111.

R

49 .99

R

69 .99

R

69 .99

R

34 .99 R 29 .99 R 24 .99

Pork Braai Chops

per kg

Grabouw Boerewors

per kg

Pork & Rib & Loin

Chops per kg

Hylton Briquettes

4kg each

Jimmy Sauce 750ml

each

Assorted Simba Chips

125g BUY 2 FOR

PRICES VALID 18 - 20 OCTOBER 2019 AT PICK N PAY PORT ALFRED ONLY

www.picknpay.co.za Customer Care 0800 11 22 88. Toll free landline only. Cellphone rates apply.
---
2 Advertising & Newsdesk: (046) 624-4356 Find us on Facebook 17 October 2019 TALK OF THE TOW N

Alex farm robbers sentenced

Two men get 20 years imprisonment for aggravated robbery

SAPS Eastern Cape

Provincial Commissioner,

Lt Gen Liziwe Ntshinga

welcomed the sentences

handed out to two men found

guilty of robbing two elderly

women on a farm in Alexandria

on January 29.

Earlier this month 51-yearold

Lumnkile Manene and 37-

year-old Zukile Vena were

found guilty of housebreaking

with intent to commit robbery,

and aggravated robbery.

Manene was sentenced to

four years' imprisonment for

Port Alfred Ratepayers' and

Residents' Association (PARRA)

ŽĐĞŽĨŶŶĂůĞŶĞĂů

ĞĞŶŐŽŶŽŶĚĂ ŽĨĐŽďĞ

ĂŵĨŽŵ

ůĞĂĞũŽŝŶĂŚĞŽĂůŽůĨĞĚ

ĂŝŶĂůĞ

Please we need your support as someone

has to hold the Ndlambe Municipality to

account. PARRA and the NRF have

managed to keep the rates increase to

5.2%, the lowest increase in recent years.

PARRA needs more people to help,

for the greater our capacity the more

comprehensive our oversight of the

Municipality will be to improve all the

ĨŶĐŽŶŚĂĂīĞĐŽĂĞĂĞ

and residents.

housebreaking with intent to

commit robbery, and 20 years'

imprisonment for aggravated

r o b b e r y.

Vena was sentenced to four

ye a r s ' imprisonment for

housebreaking with intent to

commit robbery, and 15 years'

imprisonment for aggravated

r o b b e r y.

"Successful convictions and

sentences are based on several

pillars including thorough crime

scene management, meticulous

statements, honest witness

testimony and a solid

relationship between the

investigator and the National

Prosecuting Authority,"

Ntshinga said.

Three suspects entered the

house in the early hours of the

morning when one victim was

awoken by the incessant

barking of her three dogs.

She got up to investigate and

as she entered the lounge she

saw the men.

The men tied her wrists and

those of a friend who was

visiting with cable ties and

bound their legs to the legs of

VOLCANIK

TELEVISION

29 Biscay Road

TEL: (046) 624 3630

32"

SINOTEC

LED TV

R2500

the chairs with packaging tape.

They then ransacked the

house, took an undisclosed

amount of cash, a firearm and

fled the scene after about two

hours with an Isuzu bakkie that

belonged to the farm owner.

Both victims were severely

traumatised and sustained

bruises.

Information of the incident

was circulated after one of the

victims managed to free herself

and alert the SAPS.

The speedy response by

members of the Port Elizabeth

Flying Squad resulted in the

arrest of two men and the

recovery of the vehicle in

Motherwell, Port Elizabeth,

about one and a half hours after

fleeing the scene.

¿ 29 Miles St, Port Alfred

PO Box 2871, Port Alfred, 6170

046 624 4356 / Fax: 046 624 2293

Mauneen Charter, mcharter@tisoblackstar.co.za

Anneli Hanstein, hansteina@tisoblackstar.co.za

Jon Houzet, houzetj@tisoblackstar.co.za

ĂůŬŽŌŚĞŽŶĐŽĂ

ĂůŬŽĨŚĞŽŶ

ΛĂůŬŽŌŚĞŽŶĞĐ

A third suspect, Mphathi

Advocate Nkomonde, died in a

shootout with police.

Several items were found in

his possession, including

applications for a firearm

licence belonging to the owner

of the farm, safe keys, cash,

household items taken along

with the .38 Special revolver

which was taken from the farm.

A well-known criminal,

Manene had two previous

convictions including robbery

and escape from lawful custody

and was on parole.

He was released a month

prior to the incident. Vena had

five previous convictions – three

for housebreaking, one for theft

and one for robbery.

Nkomonde was on bail for a

robbery on a farm in Somerset

East.

When handing down

sentence, Judge Gerald Bloem

of the Grahamstown High

court commented that it was a

planned robbery and, on their

arrival at scene the three men

came prepared with bolt

cutters knowing that the house

was secure.

They also came with

gloves, duct tape, cable ties

and knives.

Advocate Jan Engelbrecht

from the Office of the Director

of Public Prosecutions worked

closely with the investigating

officer to prepare the case.

The two suspects remained

in custody for the duration of

the trial.

ĂůŬŽĨŚĞŽŶŶĚůĂŵďĞ
---
TALK OF THE TOWN 17 October 2019 Advertising & Newsdesk: (046) 624-4356 Find us on Facebook 3

Health testing and awareness

day for Nemato community

Experts stress

importance of

proper diet

NTOMBENTSHA MSUTU

Jauka Hall was packed with

Nemato community

members last Thursday at an

eye-care and mental health

awareness day organised by the

Sarah Baartman District

department of health.

The day started off with a

prayer and a performance from

Mtyhobo Primary School,

followed by various health talks.

Siphokazi Magqalaza, from

the department of health, said as

health practitioners, it was

important that they informed

people about the importance of

taking care of their health.

"It is important for people to

do regular check-ups; they need

to check everything in their

bodies because in South Africa

we have the highest number of

obese people. We need to fight

that.

"Today we have people

checking diabetes,

hypertension, we are also doing

eye tests and mental screening.

"We are glad that a lot of

people came to support this

d ay,"Magqalaza said.

In between the testing,

different specialists spoke to

people about what to eat to stay

healthy, while a psychologist

discussed the importance of

mental health.

Nontozintle Hewana, also

from the department of health,

told the audience about how to

prepare healthy meals and what

they should make sure to eat on

a daily basis.

"Always make sure that you

eat many fruits and vegetables at

least every day.

"Make sure that your

vegetables when you prepare

them that they are not overcooked

because that takes away

the vitamins.

"People must also make sure

that they drink a lot of water –

that is also very important.

"Eat less sugar, we know it is

easier said than done but

consistency is the only key,"

Hewana said.

"Another thing before you

do your grocery shopping, first

make sure that you do a grocery

list of important things to buy

because that will help make

sure that you buy healthy foods

and stay away from the junk that

we normally buy.

"Also make sure that in the

mornings you eat Weetbix or

oats – those are way better than

corn flakes," Hewana said.

In between the talks,

Mtyhobo Primary School kept

the audience entertained with a

variety of vibrant songs and

dance.

MARCHING FOR

HEALTH: Kuyasa

Combined School

drum majorettes,

who opened the

health day that was

held at Jauka Hall

last Thursday

Picture: NTOMBI

MSUTU

MOMMY AND ME

BONDING TOGETHER: Watching fun games

at the Westside Community Fair were Teri-

LeeBaartman with her son Blake Baartman

Picture: NTOMBI MSUTU

Trading Hours Superspar: Mon– Sat: 8am – 7pm Sun 8am - 5pm

Valid: 17 - 20 October 2019 | E&OE | Tel: 046 624 3542 | www.rosehillsuperspar.co.za |

While stocks last. WE DELIVER - Place orders telephonically or via email rosehill1@retail.spar.co.za

Trading Hours Nemato Spar: Mon– Sat: 7am – 7pm Sun: 7:30am - 6pm

Valid: 17 - 20 October 2019 | E&OE | Tel: 046 940 0383 | While stocks last

WE DELIVER - Place orders telephonically or via email nemato1@retail.spar.co.za

Denny Sliced

Mushrooms 250g

R16.99 Each

Chicken Sosaties

R59.99 Per kg

Venison Sausage

R59.99 Per kg

Rhodes Baked Beans

in Tomato Sauce 10g

4 FOR R40.00

B-Well Omega

Cooking Oil 2L

R31.99 Each

Sasko Cake Flour

10kg

R74.99 Each

Hot Cross Buns 6's

R12.99 Each

2 Chicken Pieces &

Chips

R19.99 Each

Feline Cuisine Cat Food

2kg

BUY 2 FOR R120

SPAR Vanilla Custard

1L

2 FOR R40.00

Rainbow Cake

R19.99 Each

Rib Burger & Chips

100g

R24.99 Each
---
4 Advertising & Newsdesk: (046) 624-4356 Find us on Facebook 17 October 2019 TALK OF THE TOW N

Kuyasa honoured in

reading competition

MEC Bayeni delivers key note address inspiring pupils

NTOMBENTSHA MSUTU

Different schools from

different municipal

areas in the Eastern

Cape gathered on Friday at the

Port Alfred High School sports

club to attend an event

honouring the pupils from

the schools who were recently

part of the Funda Mzantsi

reading competition.

This competition is usually

carried out by libraries during

the national book week.

Among those who attended

the event was MEC for Sports,

Recreation, Arts and Culture

Fezeka Bayeni and Head of

department Mzolisi Matutu,

together with several

councillors from Ndlambe

M u n i c i p a l i t y.

The pupils from the different

schools first participated in

reading competitions in their

respective areas and then

competed at a district level in

Alexandria where they had to

read, debate and hold a spelling

bee. They then participated in

the provincial level which was

held at Mount Frere, and then

the nationals were held at

George with different schools all

over SA Participating.

The pupils were from Mary

Waters High School in

Grahamstown, Kuyasa

Combined School, and Moses

Mabida High School from

READING CHAMPS: Humouring and celebrating reading champs from different schools in the

Eastern Cape from left, Fezeka Bayeni MEC of Sport, Recreation, Arts and Culture, Unako Mawu

from Kuyasa Combined School, Xolani Mayana Principal of Kuyasa combined school, pupil

Asemahle Lose and teacher Ntombekhaya Swaartbooi from Kuyasa and Head of Department

Mzolisi Matutu Picture: NTOMBI MSUTU

Sundays River.

They were each given a

platform to tell the audience

about their experience at the

competition.

Unako Mawu from

KuyasaCombined School said

the experience had taught her a

lot about herself and the beauty

of different languages in the

c o u n t r y.

"This whole experience has

taught me courage, it has also

taught me to stand up for

my s e l f ," Mawu said.

Bayeni spoke a few words of

encouragement to the pupil,

inspiring them to read more.

"I thank you all for the warm

welcome, it is such an honour

to be surrounded by readers

today. In any society a child that

reads a lot is normally called a

nerd, but you have defied those

stereotypes. In this competition

you have shown a lot of people

that you are more than that,"

Bayeni said.

"A great leader is made out

of reading material; reading can

have a positive impact on one's

life."

After Bayeni's keynote

address, the pupils were each

awarded medals for their

sterling performances during the

competition. Kuyasa Combined

School received an honorary

certificate for being placed in

the third place out of all the

provinces who participated in

the nationals.

AWARDS IN HAND: SheenaLouca, Port Alfred High School's

Interact president, has won many awards and accolades during

her term and was recently given honorary membership of the

Rotary E-Club of South Africa; the youngest person to ever

receive membership of the organisation. With her is Rotary

mentor, Rotary E-Club member Mike Millard

Louca is

youngest

Rotary E-Club

member

Congratulations to SheenaLouca, President of Port Alfred High

School Interact Club, who was recently made an honorary member

of the Rotary E-Club of SA, the youngest person ever to attain this

distinction.

Louca has had a very successful year as the president of the Port

Alfred High School Interact Club and has

received awards for her outstanding

achievements for 2019.

These include Interactor of the Year award for

2019, the most enthusiastic and dedicated

Interactor of the Year for 2019, the Rotary E-Club

Award for community service for 2019 and the

Community Service Award for outstanding

community service, dedication and contribution

to the community of Port Alfred during the

2019/2020 Year.

Added to this, Louca was made an honorary

member of the Rotary E-Club of South Africa for

her ongoing achievements.

"The Rotary E-Club of South Africa would

like to honour SheenaLouca and make her an

honorary member," wrote MoniqueLaba, club

president of Rotary E-Club of SA.

"At Age 16, SheenaLouca will be the

youngest Rotary E-Club member in history.

"Thanks to her outstanding leadership

qualities embodied in Rotary International's

belief that, Together we see a world where

people unite and take action to create lasting

change across the globe, in our communities

and in ourselves.

Our sincere heartfelt congratulations to Port

Alfred High School's president of Interact."

WESLEY METHODIST CHURCH

invites you to their

SATURDAY 26 OCTOBER

8:00am

Cakes, Plants, Books, Handcrafts,

Teas, Boerewors Rolls, Pancakes,

Jumble, White Elephant

WARM HOSPITALITY

Hards Street, Port Alfred
---
TALK OF THE TOWN 17 October 2019 Advertising & Newsdesk: (046) 624-4356 Find us on Facebook 5

Readers discuss the upcoming

trial of former president

Most say justice system is no match for Zuma

NTOMBENTSHA MSUTU

For our latest Facebook

question, we asked our

readers Now that Zuma is

going on trial, do they think he

will be found guilty and be

ch a r g e d ?

Alfred Stevenson said: "N e ve r !

He still controls most of

p a r l i a m e n t ."

Dirk Swanepoelsaid: "Yup! But

then nothing will happen."

Beverly Young said: "Nah- a

year down the line, we will still

be waiting for whatever

evidence the dog ate- or

something similar."

Gail Hayes-Bean said no.

DorothyAnne Sutton said he

will wiggle out of it somehow.

Barbara Carolansaid she hopes

so.

Angi Bezuidenhout said: "If he

is going down..he will take a

few comrades with him as he

doesn't want to be lonely...I

wonder what he has on them

all?? It's time to spill the beans."

Dawn Hainssaid it will depend

on who the judge is.

Tony King said: "The problem is

that if he is charged and perhaps

incarcerated, there may well be

uprisings by the people as he is

still immensely popular and that

won't be taken lightly by the

majority. This may lead to more

unrest which will not be good

for the country, so the powers

that be have to tread very

carefully in such a case.

Heather Timm-Osner replied to

Tony King: "That is why their

evidence should be water tight.

If the allegations are true he has

stolen from the poor and our

South Africans are not as

gullible as people may think...

They just don't trust and fear

that the peanuts grants will be

taken away."

Marie BosmanDickie said that is

just wishful thinking.

Shane Richardson said: "Th e s e

trials take forever. At least he

will have some form of

punishment with all the stress

and financial pressure it brings."

Jenni Nicholabest said: "Not on

your Nelly! This one will try

every trick in the book to stop

p r o c e e d i n g s ."

Alida du Toit said: "He has so

much money stashed away; he

can run circles around the

justice system. His interest in

diamond mines in Africa keeps

him and his cronies in money

and could probably finance a

civil war."

Elizabeth Ford said: "Can only

hope so, but somehow people

like him seem to get away with

it. Even if he is jailed he will

probably fake illness and not

spend a day in jail. Hopefully

they make him pay some of the

money back he stole."

Linda Reynolds said: "Th e y

should offer him a deal.... he

needs to spill the beans...

names... how.. Who... what.

Hard evidence... then let him

retire with conditions."

Russell Deutschmann said: "I

really hope so but don't think

so. He has so much money all

over and paid off too many

people in high places. But if he

does hope he never gets to

spend his money."

Linda Bekkersaid: "I think

so.....trusts the system, things

are happening, albeit slowly."

Karen RamsayTannahill said: "I

expect that he will appeal this

judgment and will take it

ultimately to the Con court."

Ramzan Phethela said I wonder.

Stella Davies said we can only

hope.

Colleen Denniss said: "He

deserves to put in jail for a very

long time....... But I don't think

that is going to happen. He will

squirm himself out of every

situation with his delay tactics.

OUT FOR BRUNCH

SHARING IS CARING When Heather Howard, centre, recently won the Talk of the Town

crossword voucher for breakfast at The Paper Nautilus, Royal St Andrews, she took along her

friends Lyn Peterson, left, and Joan Wheeler to enjoy the breakfast with her

Talk of the Town / Call us (046) 624-4356

Heritage Mall, Port Alfred

Tel: (046) 624 1648 Fax: (046) 624 3547

E-Mail: leachpharm@border.co.za
---
6 Advertising & Newsdesk: (046) 624-4356 Find us on Facebook 17 October 2019 TALK OF THE TOW N

EDITORIAL

OPINION

Eskom's

ongoing

curse

DINNER TIME

Load-shedding again, and this week it

took everyone by surprise. Apparently

a broken conveyor belt at the Medupi

power station was to blame. Just enough

time for Eskom to rush out a load shedding

schedule minutes before the power went

out.

South Africans are tired of Eskom's

excuses, tired of the lack of maintenance of

critical infrastructure, tired of the continual

bailouts of the state-owned enterprise and

tired of being hit with huge increases in the

cost of electricity every year.

Despite Eskom saying the bailouts and

increases are needed to stave off load

shedding, it happens anyway. So we have

the double whammy of paying much more

for an unreliable service.

The schedule on Eskom website shows

stage 2 load shedding (two and a half hours

at a time during staggered times of the day)

for every day until November. Is Eskom

telling us this broken conveyor belt will

take that long to fix, or is this an indication

of a far bigger problem?

This will come at yet more cost to the

business sector in South Africa, with the

accompanying loss in production and

wasted working hours when electricity is

required to power equipment.

Who is going to make up for this loss in

business? Certainly not the government. If

employers are not able to work around

these sustained power cuts, the long-term

effect of such wasted working hours is

making cuts to the hours that employees

work, and even laying off staff. Load

shedding is a vicious circle that hurts the

economy and impoverishes people.

It's mind-boggling that in the face of this

power crisis, that has been ongoing for

years, South Africa is still exporting power

to other countries, including Zimbabwe,

Lesotho, Swaziland, Namibia, Botswana,

Mozambique and Zambia.

One can understand retaining mercy to

small nations with few resources like

Swaziland and Lesotho, but we should have

pulled the plug on other regional

neighbours years ago. South Africa must

see to the needs of its citizens first, before

trying to be daddy to its neighbours.

A few years ago, it was infuriating to find

out that Eskom was supplying an enormous

amount of power – at less than the

residential consumer rate – to two huge

aluminium smelters, one in Richard's Bay,

and the other in Mozambique.

Ordinary consumers are being

penalised by Eskom's (and the

g ove r n m e n t 's) decisions. The year-on-year

increases in the cost of electricity have been

compounded to the point of being

unaffordable to many consumers, aside

from those who already receive free power

from the government, or who simply don't

pay their bills.

- Jon Houzet

This is an open forum for readers to

express their opinions.

However, the publishers reserve the right to

shorten letters. Those printed are not

necessarily the views of Talk of the Town.

Although noms de plume may be used,

letters must be signed and have an

authentic contactable address & te l e p h o n e

n u m b e r.

Talk of the Town reserves the right

to not publish letters.

Please limit letters to 250 words or less.

BEE MEET SPIDER: The Kowie Camera Club's winning photo for September was 'Dinner Time'

by Lynton Perry, who scored a certificate of merit. The camera club can be contacted by e-mail at

kowiecc@gmail.com

HAVE YOUR SAY Letters to PO Box 2871, Port Alfred — or e-mail to h o u ze t j @ t i s o b l a c kst a r.c o. za

Impressed with service

Upon opening my most

recent municipal account, I

found that I had been

charged R3,028, almost

twice the normal amount.

Electricity consumption

alone accounted for

R1,441, ie 830 units.

For a household

consisting of two

doddering oldsters who

follow a staid lifestyle, this

is more than a little

e x c e s s ive .

Fraud accusation malicious

On October 2 my wife and I

arrived on the SPCA parking

lot (Station Hill) at about

11.45pm to view what was

in their shop.

Having just parked, a

man approached us.

He inquired if my wife

had bought a Chinese bowl

set. We both denied this as

we always accompany each

o t h e r.

When I asked him why

the question then the

accusation of fraud against

I know that Eskom has

got itself in to financial

straits, but as I do not feel it

is my responsibility to dig

them out of the hole they

had dug for themselves, I

proceeded to the municipal

offices, where I was

attended to promptly by a

friendly Ms S Mabengeza.

She took down details

of my query and said that

she would phone me once

the enquiry had been

her was made.

He accused her of

swapping the price tag for a

lower value price tag at the

SPCA area at Home

Industries in town.

He based his accusations

on a report from Home

Industries.

I then approached the

SPCA manager who clearly

stated the SPCA shops have

nothing to do with him

whatsoever, he is in charge

of the animals.

completed.

I must admit that,

despite being impressed by

the manner in which Ms

Mabengeza had attended

to me, I thought that the

matter would land in the

proverbial file 13 and that I

would have to send

repeated reminders, and

would be told that, despite

living in the Eastern Cape, I

would have to obey the

Law of the Transvaal, to wit,

I then went to Home

Industries to trace the other

a c c u s e r.

I spoke to the secretary

who refused to divulge the

name of this slanderous

person. I then referred to the

SPCA to get his address.

Mr SPCA manager arrives

stating he was a witness and

he will support him.

These are malicious,

fraudulent fabrications.

HENDRIK BARNARD

Em e rge n cy N u m b e rs

TideGuide courtesy of the South African Navy

Da t e High Lo w Da t e High Lo w

Port Alfred hospital........... (046) 604-4000

Police station..................... (046) 604-2001/2

July 17 1740 0527 2356 1134

July 21 2055 0822 0159 1442

Multi-Security ................... (046) 624-2508

18 1810 0557 ---- 1204

22 2327 1038 0344 1718

Chubb Security ................. (046) 624-4810

19 1844 0630 0027 1238

23 ---- 1231 0558 1858 Sky Alarms ........................ (046) 624-2806

20 1930 0713 0105 1323

24 0058 1331 0712 1953 NSRI ................................... 082 - 990 - 5971

WALKING SHY: Karli Owsley was shyly

walking the runway for the beauty competition

at the Westside Community Fair on Saturday

Picture: NTOMBI MSUTU

"K-k of betaal"

Imagine my surprise

when a mere three hours

later Ms Mabengeza

phoned to say the matter

had been investigated, an

error detected and rectified

and the amount now owing

on the account was about

R1,800.

That this matter was

resolved with such

promptitude has left me

quite gobsmacked.

The municipality is

more often than not the

recipient of brickbats,

many of which I myself

have hurled.

It pleases me to give

credit where credit is due

and to present them with a

bouquet and to thank Ms

Mabengeza for the efficient

manner in which she dealt

with this matter.

DERRICK FELLOWS

More tales of woe

from department

In response to the Pregnant

Pause letter dated September

26, "Don't hold your breath.

I applied for my driving

license in November 2018.

My first anniversary is

coming up. Our stories are

much alike.

It's also an expensive

exercise, what with the cost

of the non-existent card, eye

test, photos and two

temporary driver's licences

at R100 each, never mind

the many trips into town to

the licensing department.

All this to drive legally.

When you are old, it gets

tiring to stand in queues just

to meet with a blank wall of

incomprehension at the end.

This department should

be ashamed to provide such

an awful service.

MARGARET CAMPBELL,

Bathurst

Electricity .......................... (046) 624-1111 (a / h )

Gardmed ............................ 0 8 2 -759 - 2 13 4

EMS (Emergency

Medical Services) ........... 10 17 7

Holistic EMS ...................... 063-460-0042

Fire Department................ (046) 624-1111
---
TALK OF THE TOWN 17 October 2019 Advertising & Newsdesk: (046) 624-4356 Find us on Facebook 7

FACE 2 FACE with /

ROBIN HYDE Royal St Andrews Hotel's food and beverage manager

OUT AND ABOUT

QWhat is the most

satisfying aspect of the

work you do?

AThis is a question that

has two equal answers to

me. One is seeing our guests

leaving the hotel with

amazing memories and their

positive feedback of their

experience. The other is

seeing the growth of the staff

at the hotel, seeing them

achieve things and growing in

their professional and

personal lives.

What is the one tourist aspect

you would recommend to a

visitor to the Sunshine Coast?

The beaches – we have the

most amazing beaches which

encompass walking,

swimming, fishing and the

most amazing surfing spots.

QUALITY TIME: Having a good time at the Westside Community Fair

on Saturday were from left, Iviwe Nokonya, Uyathandwa Vazi, and

Anela Sopela Picture: NTOMBI MSUTU

Trading Hours Sunshine Coast Spar:

Mon - Fri: 7:30am - 6pm

Sat: 7:30am - 5pm Sun 7:30am - 4pm

Valid: 17 - 19 October 2019 | E&OE

Tel: 046 648 1023 | While stocks last

If you have a bucket list, what

is the top item you would like

to do?

Taking a food and wine trip

through Italy, visiting all the

villages and tasting the

regional food and tasting

wine made by hand in the

villages.

What is your motto in life?

Be kind, you have no idea

what being kind can inspire in

others.

What keeps you motivated?

My son Russell-James.

With the high unemployment

rate in our country, what do

you think could be done to

address the situation?

Wow, an incredibly difficult

question.

Education, more help for

entrepreneurs and

small/medium business.

Being involved in the

tourism sector we need

decisive action from

government, with regard to

the visa situation, safety of

tourists, funding for tourism

bodies and land policy

certainty as who wants to

invest in a country where you

don't have security of tenure.

Do you think enough is being

done to reduce our carbon

footprint on the planet? If

not, what do you think could

be done to change it?

No. Every single one of us

needs to be aware of what we

can do to reduce our own

effect in our everyday lives.

What is your favourite music

of all time?

Wow, so much I love, but if I

am forced to choose, U2.

What is the one item that is

always in your fridge?

A bottle of wine.

If you could be president of

SA for one day, what would

be the top three things you

would do for your day in

office?

Convert all state owned

enterprises to private

companies, fire our public

protector and ensure all the

visa restrictions and red

tape are removed to make

it easy for tourists to

visit SA.

Spar Puff Pastry

400g

R12.99 Each

Spar Butcher's Best

Grillers (Selected) 425g

R45.99 Each

Nature`s Garden Country

or Garden Mix 1kg

R29.99 Each

Deboned Chicken

R69.99 per kg

Spar Nectar Blend

(Selected) 1L

R13.99 Each

Carrots 1kg

R5.99 Each

Swartland

Winery

Winemaker's Collection

Syrah

47 99

750ml

Special price also

applies to the

following:

• Cabernet Sauvignon

• Merlot

• Pinotage

• Tinta Barocca

Boland Cellar

Sixty • 40

Cabernet Sauvignon

/ Shiraz

37 99

750ml

Special price also

applies to the

following:

• Chenin Blanc /

Sauvignon Blanc

Swartland

Winery

Winemaker's Collection

Chenin Blanc

39 99

750ml

Special price also

applies to the

following:

• Sauvignon Blanc

Rusthof

Natural Sweet Rosé

99 99

5l

Special price also

applies to the

following:

• Blanc De Blanc

• Johannisberger

• Late Harvest

Johnnie Walker

Red Label

Blended Scotch Whisky

199 99

750ml

Meukow

VS

Cognac

359 99

750ml

NEW

Viceroy

Makoya

Superior Quality

Brandy

119 99

750ml

Brickmakers

Distilling Co.

Rhino Rum

The Original

Hand Crafted in

Port Elizabeth

169 99

750ml

NEW

Bumbu

The Original

Rum with

Natural Flavours

429 99

750ml

NEW

London Hill

London Dry Gin

169 99

750ml

Cîroc

Distilled 5 Times

French Imported

Vodka

379 99

750ml

Special price also

applies to the

following:

• Apple Spirit Aperitif

• Mango Flavoured

Vodka

• Pineapple Flavoured

Vodka

• Red Berry

Spirit Aperitif

Amstel Lager

279 99

64 99

179

229 99

99

64 99

229 99 Jack Black

79 99

Strongbow

299 99

259 99

69 99

259 99

Bernini

Classic Grape

Frizzante Sparkling

Non-Returnable Bottles

6 X 275ml

24 X 275ml

Special price also

applies to the

following:

• Blush

• Ruby Berry

Apple Cider

Red Berries

Non-Returnable Bottles

6 X 330ml

24 X 330ml

Special price also

applies to the

following:

• Gold Apple

Cans

6 X 440ml

24 X 440ml

Carling Black

Label

Cans

24 X 500ml

Castle Lager

Non-Returnable Bottles

Special price also

applies to the

following:

• Cans 330ml

24 X 340ml

& A CASTLE LAGER

ONE NATION JERSEY

24 X 340ml

PRICE WITHOUT

THE JERSEY

Original

Brewers Lager

Non-Returnable Bottles

6 X 340ml

24 X 340ml

JERSEY

STOCK

AVAILABILITY:

100

UNITS

SS | 13897

Applicable to Port Alfred only.

While stocks last.

PORT ALFRED:

VISIT: WWW.PRESTONSLIQUORS.CO.ZA FACEBOOK.COM/PRESTONSLIQUORS TWITTER.COM/PRESTONS_LIQUOR
---
8 Advertising & Newsdesk: (046) 624-4356 Find us on Facebook 17 October 2019 TALK OF THE TOW N

READY AND NERVOUS: Ready to run for their challenge at the Westside Community Fair on Saturday Picture: NTOMBI MSUTU

READY TO RUN: Young competitors ready to compete at the egg spoon challenge held at the Westside Community Fair on

Saturday Picture: NTOMBI MSUTU

Lady Biscay boat a good

adventure for functions

YOU CRACK ME UP

LITTLE CHAMP: Winner of the egg spoon run challenge

Michael Schreuder at the Westside Community Fair

Picture: NTOMBI MSUTU

Port

A l f re d BUSINESS FORUM Keeping you up to date on the local business front

graphic © vadym yesaulov / 123RF.com

NTOMBENTSHA MSUTU

It is that time of the year again when

people will be going to different

places for their work year-end

functions, and going on a boat

cruise with your colleagues might

be a brilliant way to unwind and

feast your eyes on the beautiful

scenery that surrounds Kowie River.

After a long year in the work

place, most people look forward to

relaxation and fun even if it's for

one day.

You need not look further Kowie

River Cruises' Lady Biscay who has

a team on board that will have you

and your colleagues sharing

unforgettable memories.

Owner GraemeKelbrick said

that their boat can take up to 45

people and the cruise lasts two

hours.

"We have a full bar, people can

do their own catering or ask me to

do it for them."

Unwinding on a river cruise is a

lovely way to spend the morning or

afternoon viewing the scenery on

the river.

Lady Biscay cruises leave from

Wharf Street in Port Alfred.

For your bookings, contact

Graeme Kelbrick on 071-946-4935.

CELEBRATING WORLD EGG DAY Mr Eggy, the mascot from Feathers Farm, popped in the Heritage Mall Pick n Pay

with MaureenNissen, also from Feathers Farm on Friday to mark World Egg Day. Store manager Jarred Moss welcomed

the pair at the egg stand where their brands are on special

New development at Rosehill

Lew Geffen Sotheby's International Realty Port Alfred is excited

to launch a new development – Azalea on Rosehill.

This proposed secure development is in an elevated

position, high up above the Rosehill Mall.

Prices are reasonable, starting from R815,000 for a twobedroom,

two-bathroom unit and going up to R985,000 for a

three-bedroom, two-bathroom unit. This price will include

transfer costs, making this a very exciting development.

There is a choice of five different designs plus choices for

various extras. Choose your plot and plan independently.

In total, when completed, there will be 42 sectional title

units.

The first phase will start with 11 units, and building is

expected to start in mid-January with occupation ready by mid-

2020.

The developer is GysBotes, a well-known developer from

Bloemfontein and also of Tikwe, here in Port Alfred.

Tikwe homes has a very high standard of finishes and is a most

successful development. Botes has built many complexes in

Bloemfontein and Sotheby's can show you actual photos of

homes just the same as the proposed homes here in Port Alfred.

Sotheby's is confident this development is good for Port

Alfred and an amazing opportunity to secure a home at a very

reasonable price, in a secure complex, in an excellent position.

Contact LewGeffenSotheby's International Realty Port

Alfred to view the plans and the finishing schedules.
---
TALK OF THE TOWN 17 October 2019 Advertising & Newsdesk: (046) 624-4356 9

Walk in another

man's shoes

Compassion, empathy key to good relationships

In contemplating our lives

and pondering the

influences, defining moments

and unforgettable experiences

that constitute the significant

milestones in our journeys, the

interactions with fellow humans

surely outweigh any others.

Of course for most of us there

are prized possessions, proud

achievements and exhilarating

experiences of a hugely diverse

nature, but can these really

compete with the complex and

dynamic relationships we have

with humans?

Realistically, however, not all

people impact our lives equally

as indicated by FlaviaWeedn in:

"Some people come into our

lives and quickly go. Some

people move our souls to dance.

They awaken us to a new

understanding with the passing

whisper of their wisdom. Some

people make the sky more

beautiful to gaze upon. They stay

in our lives for awhile, leave

footprints on our hearts, and we

are never, ever the same."

What seems to be very

important in our relationships

and interactions with others, is

an understanding and

appreciation of their

circumstances and life-affecting

experiences...in a word,

empathy. Sarah McBride

captures the essence of this

crucial concept in:

"In my view, the best of

THINK

ABOUT IT

Roy Hewett

humanity is in our exercise of

empathy and compassion. It's

when we challenge ourselves to

walk in the shoes of someone

whose pain or plight might seem

so different than yours that it's

almost incomprehensible."

We would do well to remind

ourselves, often, that being too

easily judgmental of our fellow

humans represents one of the

lower rungs of humanity...and a

disturbing lack of compassion

and empathy. One of the best

known American quotes –

paradoxically by an unknown

source – reflects a powerful call

to adopt this approach to life:

"You can't understand

someone until you've walked a

mile in their shoes."

Equally famous

encouragement to enrich one's

approach to life comes from

Atticus Finch in Harper Lee's -To

Kill A Mockingbird:

"If you can learn a simple

trick, Scout, you'll get along a lot

better with all kinds of folks. You

never really understand a person

until you consider things from

his point of view, until you climb

inside of his skin and walk

around in it."

Of course we all have our

strengths and weaknesses...these

are realities of human existence

and a dimension that contributes

to the fascination and vibrancy

of life. It is the unfortunate

tendency that comes naturally to

most of us to sideline

compassion and empathy, that

diminishes the quality of human

interaction. The world could be

so much better a place were we

to live by the guidelines of

Atticus Finch (Harper Lee) and

Sarah McBride.

Another strong word of

advice rests in:

"Whenever you are about to

find fault with someone, ask

yourself the following question:

What fault of mine most nearly

resembles the one I am about to

criticize?" – M a rc u s

Au r e l i u s , M e d i t a t i o n s .

The rationale is that often we

are most disturbed by our own

weaknesses mirrored in others,

and tend to be critical of them.

Compassion and empathy

are the keys to meaningful

interactions with our fellow

human beings.

Port Alfred's own

antiques roadshow

Don't miss the chance to discover if you have treasure in the attic...

FROM Coventry to Cape Town, antiques expert

Andy Elton has been putting a price on family

heirlooms and forgotten relics for over 40

years... and now he's coming to Port Alfred.

The founder of Bentley's UK - which sets up shop

in the Halyards Hotel - is just the man to make your

dreams come true – or let you down gently.

"A lot of people are very unsure as to the worth of

their items, which may have been stored for years in

cupboards, lofts, garages and even garden sheds,"

says Andy. "Others are convinced they're bringing

something that's worth a fortune.

"You can open a box and know you're not going

¿

something that is part of their heritage – you've got

to be diplomatic."

On the other hand, Andy is in a position to break

some very welcome news: "One gentleman had a

Rolex Submariner watch, which had lain unworn in

a cupboard since it was given to him by his uncle.

He was amazed when I offered him R50 000.

"Then there was the time in South Africa when

someone came along with a dusty bronze which

turned out to be a rare work by the sculptor Anton

Van Wouw – I valued that at R80 000."

Andy prides himself on offering a fair price: "I treat

people as I would want to be treated myself," he

says.

¿

be honest.

Visit our website for testimonials from

many happy clients

"I've got customers who have been coming to me for

15 years and others who have been referred to me by

family and friends. I think that speaks for itself."

He's always been interested in antiques and jewellery

and has worked with two of the major auction houses

in London and another in Nottingham. But he prefers to

be his own boss.

"I've travelled all over the UK and I regularly go to

South Africa, meeting thousands of people along the

way," he says.

"You come across some wonderful stories; I love hearing

about how grandad got his medals.

"You never know what the day will bring – that's why it's

such a lovely job. I'm a very lucky man. Hopefully I'll be

making someone in Port Alfred very happy!"

The Bentley's UK valuation and purchasing day runs at

Halyards Hotel, 1 Albany Road, Port Alfred

Tuesday 22 October

9am - 1pm

Bentley's UK

Mobile 076 334 7795

Whatsapp +44 776 851 3132

info@bentleysuk.com

www.bentleysuk.com

HALYARDS HOTEL, 1 ALBANY ROAD, PORT ALFRED

TUESDAY 22 OCTOBER 2019 | 9AM - 1PM

Gold Coins (GB & world, sovereigns, Krugerrands,

Royal Mint proof sets), antiques, paintings, wristwatches,

pocket watches, gold (English & foreign),

silver, re-saleable jewellery items, amber, jade & ivory,

any articles by Cartier, Tiffany, Aspreys, etc. Dinky &

Corgi toys, Moorcroft & Clarice Cliff pottery, medals &

militaria, clocks, swords & bayonets.

WE DO NOT BUY

OLD MONEY

Page 9, Thursday 17 October 2019 - Talk of the Town
---
10 Advertising & Newsdesk: (046) 624-4356 Find us on Facebook 17 October 2019 TALK OF THE TOW N

N E I G H B O U R LY NOTES

E-mail Rob Knowles at knowlesr@tisoblackstar.co.za or fax (046) 624-2293

or drop in at 29 Miles Street from 8am to 4.30pm, Monday to Friday

AT the time of writing there are

only a couple of events happening

this weekend, showing that there

is a general dearth of

entertainment in the area. This

situation has prompted people to

suggest that the lack of

entertainment could be

responsible for the Kowie's drug

problems, particularly with

respect to our youth. Perhaps

more entertainment would give

our youth less time to get involved

with the drug scene? It would be

interesting to learn what our

readers think on this subject.

In the meantime, the Port Alfred

Lions will be at Heritage Mall on

Saturday at 9am supporting the

World Sight Week initiative and

will provide free diabetes testing

as well as selling "White Cane

Badges" to raise funds to continue

providing sight related assistance

in the community.

WHILE on the subject of the area's

lack of entertainment and events

over weekends, the Westside

Community Fair took place last

Saturday and was an unmitigated

success thanks to pastor Robin

Jakin and his team at the Westside

Community Church. A special

word of congratulations to Asher

Bam for winning the Port Alfred's

got Talent competition (although

she actually comes from

Alexandria). Well done Robin,

and we hope this is just the first of

many such events in the future.

ANOTHER senseless murder took

place on Monday in Kenton-on-

Sea. Johannes Petrus van der

Merwe was discovered by

relatives after they had failed to

contact him telephonically and

travelled to his home, only to find

Van der Merwe's lifeless body.

Van der Merwe is just the latest in

a list of murders that have

occurred in the area over the last

few years. From the murder of

Noel Maddocks, the murder of

Stephne Evans, that of Peter de

Coning, Riaan Scheepers

(although he died sometime after

the attack) to this latest murder, it

is necessary to keep careful vigil

for any suspicious people in the

area. Fortunately, the CPF has

introduced WhatsApp groups for

residents to report suspicious

incidents. Private security officers

as well as SAPS personnel can

then respond and also develop a

picture of hotspots in the area.

OKAY, we have to mention it,

former President Jacob Zuma has,

once again, attempted to avoid the

fraud, racketeering and corruption

charges against him for his role in

the so-called Arms Deal that go

back to at least 1995. Zuma's

lawyers have appealed the ruling

that denied his application to have

all charges laid aside, claiming

they are politically motivated. The

court of appeal will make a

judgement on Zuma's case by

November 22 (provided Zuma's

lawyers lodge the appeal by

November 1), and the case has

been postponed until February 4

next year (for a pre-trial hearing,

and assuming Zuma's appeal to

dismiss all charges is

unsuccessful).

The question is, how much public

money must be wasted on this

case, remembering the then

President Thabo Mbeki authorised

the state (ie. the taxpayer) to cover

his legal costs, and the fact that

Zuma is still seeking relief from

the government, claiming

p ove r t y ?

C O N G R AT U L AT I O N S and happy

birthday greetings to everyone

having a special day in the week

ahead. We wish you all a

wonderful day and a super

carefree year ahead, especially to

Neil de Villiers, Rodney Gradwell,

Alfred Scheepers, Arthur

Manning, Andrew Warren, Shaun

Elms, David Drennan, Mick Tuck,

Dean Samuel, Michael Dewsnap,

Gerald Spilkin, June Wheelwright,

Irma Venter, Jean Steyn, Derrick

Page, Shannon Hopkins, Johanna

van der Merwe, Eddie Hoseck,

Bea Klopper, Ria van der Merwe,

Blake Squires, Sandy von

Memerty, Diane Malan, Jessica

Pullen, Hermann Heim, Reginald

Prince, Lionel Farao, Maryna

Shepherd, Anneli Hanstein, Jan

Simpson, Talia Ohayon, Belinda

Prince, Ivo Chunnett, Jeanette

Msipa, Peter Sulter, Percy Elliott,

Erica Alexandre, Alan McLean,

Helen Cowie, Lorraine Samuel,

Clinton "Stoffel" Schultz, Claire

Purdon, Arlene Young, Rory

Gailey, Wendy Vivier, Erica

McNulty and Jenny Potter.

BEST wishes and continued

success to businesses celebrating

an anniversary soon. Pig 'n

Whistle, The Crazy Store, The

Hospice Shop, Guido's Port Alfred

and Bedford Garden Festival.

AFTER recovering slightly against

world currencies over the last few

weeks the rand is once more

about to hit the $1=R15 mark, and

has already exceeded £1=R19

SHOWING THEIR COMMITMENT: In a rare demonstration of

loyalty and altruism, James Rycroft and Toni Parsons, urged

friends and well-wishers at their wedding to donate all the

money they intended to use to buy them gifts towards settling

outstanding Rhodes University student fees. Both are 'Old

Rhodians', as ex-Rhodes students are affectionately known.

The couple exchanged wedding vows earlier this month at the

coastal town of Southbroom outside Port Shepstone in

KwaZulu-Natal

mark. This has very little to do

with what we do here at home,

although Eskom and other

parastatals and their enormous

debts are an issue with investors. It

is, however, heavily influenced by

US/China trade talks and,

significantly but to a lesser degree,

DIARISE THIS

OUR ENTRIES ARE OPEN FOR OCTOBER, NOVEMBER AND DECEMBER

E-mail houzetj@tisoblackstar.co.za E-mail or fax (046) 624-2293 E-mail or drop in at 29 Miles Street from 8am to 4.30pm, Monday to Friday

.

.

.

Brexit negotiations. Oil has stayed

below $60 a barrel but that offers

little relief as fluctuations in the

currency tend to negate any gains

made in the price of crude oil.

With last year's financial figures in

brackets to compare against this

ye a r 's trading figures, at the time of

going to press the Rand was

trading at R15.00 to the Dollar

(R14.24), R19.07 to the Pound

(R18.67) and R16.54 to the Euro

(R16.42). Gold is trading at

$1,482.85 per fine ounce

($1,280.17), Platinum at

$899.058 per ounce ($844.00)

Brent Crude Oil $58.46 per barrel

($80.94).

SPECIAL thoughts and prayers are

with all those folk who are not

well, having or have already had

tests, operations and treatments.

'Sterkte' to Roy Potter, Andrew de

Vries, Jenny Groenewald, Rowena

Collin, Marian Eaton, Malcolm

Cock and Brenda Shelton.

IT was sad to hear of the death of

Warren "Wo z a " Williams who

died recently. He will be

remembered fondly by those who

knew him and we send our

condolences to his family and

friends.

M AY happiness and contentment

continue to be in your lives for

many more great years ahead to

all couples celebrating another

wedding anniversary. Good

wishes and congratulations

especially to Popeye and Jean

Steyn, Colin and Joan Purdon,

Ryan and Sonai Owsley, David

and Margaret Foulkes, Peter and

Elaine Collins.

THOUGHT for the week: "It is

only when we silent the blaring

sounds of our daily existence that

we can finally hear the whispers

of truth that life reveals to us, as it

stands knocking on the doorsteps

of our hearts".

BEST regards as always,

The Team.

Albany Vintage and Classic Motor

Club Museum opens on the last

Saturday of each month – 9am-12

noon – Hawkins Industrial Park,

Alfred Road, Port Alfred.

Alzheimer SA East Cape Support

G ro u p meets the last Thursday of

each month at 3pm at Brookshaw

Home at 9 Donkin Street,

Grahamstown. The Support

Group is for family, friends and

caregivers of those with

Alzheimer's Disease or any form

of Dementia. There is usually a

speaker followed by discussion

and tea. Contact Dr Heather

Rauch 081-350-8079 for

information and to get on to our

mailing list.

Bathurst Farmers Market– E ve r y

Sunday rain or shine at Yesterday

Today and Tomorrow Nursery,

Kowie Road from 9am-12.30pm.

Birdwatching Tours and Three

Sisters Saunter. Book with Anne

(046) 675-1976 or 083-719-4950.

w w w. a n n e s b i rd i n g . c o . z a

Bonsai Club meets once a month

on a Saturday. For more

information please contact David

Brewis on 076-457-3218. Or e-

mail d av i d b rew i s 7 7 @ g m a i l . c o m

Cricket Club – Practices on

Tuesdays and Thursdays at the Port

Alfred Country Club, French Street

from 5pm. Contact Rob Nel on

076-394-4067.

East Cape Shotokan-Ryu Karate,

Port Alfred - Mondays and

Thursdays: 4.30pm for beginners.

5.15 for intermediate class and

6pm for the advanced cl;ass.

Contact Gary Grapentin on 073-

346-0059 for more information.

Healing Horses Therapeutic

Riding Centre - Therapeutic and

recreational horse riding activities

for people living with disabilities.

Mondays at 9.30am and 10.30am,

Wednesdays at 10am and 11am.

To book a ride, or find out about

volunteering, call Jann on 078-

346-5412.

Hockey Club – Practices on

Tuesdays and Thursdays from 5pm

at the Port Alfred Country Club,

French Street. Contact Chris Pike

on 082-350-0900.

Kenton Garden Club meeting

third Wednesday of the month at

9.30am. For info visit

w w w. k e n t o n g a rd e n c l u b . c o . z a

Kenton Pub Quiz – 6.30pm – first

Sunday of each month at Kenton

Bowls Club. Cash bar available.

Cash and other prizes. Teams of

four to six. All welcome.

Kleinemonde Morning Market on

the first Saturday of every

month, from 8.30 to 10am.

Kleinemonde Community Hall.

Enjoy breakfast and browse the

stalls selling wholesome farm

chickens and home produce,

including quality meats,

vegetables, pancakes, frozen

meals, quiches, bread, rusks,

gingerbread houses, home

baked cakes, doggy treats,

candles, gifts and more.

Knit and KnatterCrafters club at

Holly House, every Wednesday at

9am. All welcome. Contact Kathy

on (046) 624-4452 for further

information.

Kowie Auctioneers - monthly

auction every last Thursday of the

month at 35 North Street. Entries

for the auction need to be in on

the Tuesday before the auction.

Viewing day prior from 2 p.m. For

more information call Colin

Maclachlan 083-521-3623 or

Peter Charter on 082-569-3478.

The Kowie Camera Club monthly

meeting, the last Monday of every

month (except December) at 7pm

in the Settlers Park Retirement

Village hall. Contact Herman

Groenewald 078-428-9551.

Kowie History Museum, at The

Old Railway Station, Pascoe

Crescent. Open 9.30am-12.30pm

Tuesday-Saturday. Closed

Sunday/Monday and public

h o l i d ay s .

Kowie Striders time trial – e ve r y

Tuesday at 5.30pm at the Port

Alfred Country Club. Distances of

3,5 or 8km. Runners and walkers

welcome. Contact Sticks Stiglingh

on 071-612-7339 or Alan Robb

on 082-495-6842.

Kowie Striders casual long run

from the Duck Pond - every

Sunday at 7am. Runners and

walkers welcome. The route will

be determined on the morning of

the run.

Lower Albany Historical Society

meets 3rd Thursday of the month –

some meetings in Don Powis Hall,

Settlers Park, others, outside trips.

Call Avonne on 083-473-6823 for

details.

Lower Albany Woodworkers'

Guild, meets first Tuesday of each

month. Call Brian Edwards on

(046) 624-2945 for more

information.

Memory Book Scrapbook Club

meets twice a month on a

Thursday afternoon. All welcome.

Contact Cheryl (046) 624-2733 /

083-556-7562.

M OT H S - Old soldiers never die

– Calling all ex-servicemen

"OuManne" and their ladies for a

get-together on the first Sunday of

every month at 12 noon and the

MOTH Hall (next to the Ski-boat

Club) for a light lunch and some

memories. RSVP MOTHS at 082-

537-9033 for catering purposes.

National Sea Rescue Institute

practices every Wednesday at

5pm. To join the NSRI visit the

base in person to undergo an

e va l u a t i o n .

Port Alfred Art Club welcomes

new members, both experienced

or wanting to learn. We meet

weekly offering a monthly DVD

from leading artists, giving

excellent tips and guidance on

how to draw and paint. Contact

Jenny (083-292-2650) or Paddy

(083-226-5254).

Port Alfred Bowling and Croquet

Club invites you to try your hand

at lawn bowls and Croquet,free

coaching and equipment

available. Situated next to the

NicoMalan Bridge. Enquiries: Rod

Wilson at: 082 375 2968 or 046

624 5671. Croquet enquiries:

Rodger Darkes at 082-373-8181

See our website at:

w w w. p a b c c . c o . z a and our

Facebook page.

Port Alfred Bridge Club – N ow

meets at the Eddie Grant MOTH

Hall (next to the Ski-boat Club)

every Monday and Thursday –

1pm for 1.30pm start. All bridge

enthusiasts and persons wishing to

learn to play bridge are most

welcome.

Port Alfred Community Police

Fo r u m meets on the third Tuesday

of each month at the Port Alfred

Police Station at 2.30pm.

Port Alfred Floral Art Group

(PAFAG) meets on the 3rd

Saturday of the month at Settlers

Park hall at 2.30pm. For more

information phone 082-464-4606

(Hennie de Bruin). All welcome.

Port Alfred parkrun, Civic

Centre. Every Saturday, starts 8am.

Probus Club of the Kowie meets

on the second Tuesday of each

month at 10am at the Port Alfred

River and Ski-boat Club.

Reach for Recovery reaches out to

you. The RfR "DITTO" project

offers a Breast Prosthesis Clinic

every second Tuesday of the

month, starting July 9 at Sunshine

Coast Hospice, 1 Alfred Road,

from 2pm-4pm. Any State

Hospital patient who has had a

mastectomy, may visit the Breast

Clinic for a prosthesis fitting and

advice. "DITTO" project aims to

assist women to feel confident

again after breast surgery by

providing them with a prosthesis.

For an appointment or enquiries

call Cherryll on 072-260-8047.

Rocky Ridge Farm Market opens

every Saturday and Sunday from

9am with a variety of home made

delights, "egg-cellent" f r e e - ra n g e

eggs, honey, biltong, droewors as

well as its very popular morning

breakfast. Contact Desia Holmes

on 083-589-0765 for more

information.

Rosehill Mall Art and Crafters

Market, the first Saturday of every

month, from 9am-4pm. A true art

and craft market. Only handmade

items available by our local

crafters. Large selection of goods.

Scottish Country Dancing at Don

Powis Hall, Settlers Park, every

Wednesday from 5pm-7pm. All

welcome. For more information

please phone Mary (046) 604-

0478 or Audrey (046) 624 3179.

Scrapbook workshops and

classes: Bcreative offers monthly

workshops, night classes, social

classes and a whole lot more. Call

(046) 624-3096 to book or for

more information.

Self Drive Heritage Map: All the

historical sites in Port Alfred,

Bathurst and surrounding areas.

Available at the tourism office.

Sunshine Coast Women's Forum

meets every fourth Tuesday in the

Don Powis Hall, Settlers Park at

2.30pm. Come and join us.

Visitors welcome. For more

information contact

ToscaSpenceley (046) 624-4339.

U3A – Port Alfred Branch meets

on the fourth Thursday of every

month at 9.30 for 10am at the

Don Powis Hall, Settlers Park

village. All welcome.

Thursday October 17

PA Art Club – 10am – Catholic

Church Hall. Demo/workshop.

Follow up on monoprinting by

Cheryl Castle.

Friends with Compassion – c

aring for those who are mourning

a loved one. Presbyterian Church

Port Alfred, at 3.30pm. All

welcome – join us for a cup of tea

and a chat. Contact Cheryl (046)

624-2733/ 083-556-7562.

Saturday October 19

Lions will be supporting World

Sight Week by providing free

diabetes testing and selling

"White Cane Badges" to raise

funds to continue providing sight

related assistance in the

community. Heritage Mall at 9am.

Port Alfred Sport Shooting Club -

Sport and Hunting. Visitors with

licenced firearms also welcome.

Chairperson Jan 082-572-1516

Monday October 21

Port Alfred Ratepayers' and

Residents' Association AGM– 5

for 5.30pm - Royal Alfred Marina

clubhouse Re-registration of

existing members and registration

of new members will start at

4.45pm. Please attend and

support your association.

Tuesday October 22 to Friday

October 25

Diaz Cross Bird Club outing: A

midweek stay at Hogsback. We

will meet at (self catering) May

Lodge Cottages in Hogsback on

Tuesday after midday. Members to

make their own bookings and

travel arrangements. For more

details contact Tim Cockbain

(046) 624-8483.

Thursday October 24

PA Art Club – 9.30am – Pa i n t i n g

morning at Paddy Beeby's home at

24 Vroom Road, West Bank, Port

Alfred.

U3A Port Alfred – Jo-Anne Hilliar

will speak on "The smaller

garden".

Saturday October 26

Wesley Methodist Church Fete at

8.30am at the church.

Oktoberfest at the Pig and

Whistle.

Port Alfred Sport Shooting Club -

Open Rifle Benchrest. Visitors

with licenced firearms also

welcome. Chairperson Rudolph

083-633-1939.

Thursday October 31

PA Art Club – 9am – Enjoy a

social time. DVD and book

exchanges, tea, coffee and snacks.

Bring paintings for comment.

Friday November 1

Rotary invites you to a Rocky

Horror Party to celebrate

H a l l ow e 'en, at Harry B's, Ski-boat

Club, 7pm. Music, dancing, prizes

for fancy dress (optional), and

supper, all for R100pp. Tickets

from Sotheby's and Rotarians. Call

082-269-9909.

Saturday November 9

Settlers Park Craft Market – doors

open 8.30am. Come and do your

Christmas shopping. A large

variety of stalls to choose from.

Jewellery, glass art, baking, bottled

goods, woodwork, cards, dolls

clothes, toys and much more. Tea

or coffee with a selection of

delicious eats will be available.

Port Alfred Sport Shooting Club –

Club Champs;, Chairman Jan 082

572 1516. Visitors with licensed

firearms also welcome.

Saturday November 16

Port Alfred Sport Shooting Club -

Sport and Hunting, Chairman Jan

082-572-1516. Visitors with

licensed firearms also welcome.

Saturday November 23

Port Alfred Sport Shooting – Club

Open Rifle Benchrest. Chairman

Rudolph 083-633-1939. Visitors

with licenced firearms also

welcome.

Thursday November 28

U3A Port Alfred – Annel Kapp-

Groenewald will talk on crime

p r e ve n t i o n

Saturday November 30

Port Alfred Sport Shooting Club -

Handgun Christmas Fun Shoot,

Chairman Jonathan 066-298-

0235. Visitors with licenced

firearms also welcome.

Thursday January 23

U3A Port Alfred – John Forster

will talk about Namibia.

Thursday February 27

U3A Port Alfred AGM and Marie

Pelser will talk about Michael

S ch u m a ch e r.
---
TALK OF THE TOWN 17 October 2019 Advertising & Newsdesk: (046) 624-4356 Find us on Facebook 11

SPCA, volunteer vets

come together

26 cats, 39 dogs

sterilised in third

sterilisation day

The Port Alfred SPCA along

with veterinarians from

state vet clinics around

the Eastern Cape came together

on Friday, October 11 for the

third sterilisation day of 2019 in

which 26 cats and 39 dogs were

treated.

The vets came from Komani

(Queenstown), Craddock,

Cofimvaba, Elliot and

Makhanda (Grahamstown) and

were assisted on the day by

local vet Dr Jane Pistorius. The

vets from the state vet clinics

who worked on the day

included Sjamony van Zyl,

Phillip duPlessis,

ZandriSnyman, Brandan Cole,

Marcel Bolzli, Jason Mory. They

were ably assisted by Lisa

Nyanya who is the SPCA surgery

animal welfare assistant.

Students from 43 Air School

along with volunteers and

friends of the SPCA also assisted

on the day with the carrying of

animals back and forth, for a

true team effort.

"Everything went well and

everyone went home alive,"

said Dr Brendan Cole of the

Grahamstown State Vet Clinic.

The cost of sterilisations was

HELPING HANDS:

Volunteers and staff helping

the animals at the SPCA last

Friday, back, from left, Helen

Clohessy, Brendan Cole,

ZandriSnyman, Sjamony van

Zyl, Phillip duPlessis,

TraceySiebert, Denys Hill,

Forbes Coutts, and, front,

JoleneMitchley, Dr Jane

Pistorius and Glenda Hill all.

Not present in the photo are

vets Marcel Bolzli and

M a ro n M o r y

Picture: BRYAN SMITH

from zero to R100 per animal.

Every dog and those cats that

were not feral, left with a

blanket, collar and a parcel of

food.

Catering donations were

received from Audie Attorneys,

SuperSpar and Tash's Craft Bar

to feed the vets and volunteers

on the day.

Put a smile on faces

and help make Santa's

Seniors Shoebox

Times are tough for all of us,

but possibly worse for our

elderly with a fixed income. It

is important we remember the

many seniors in our towns over

this period of festivities and

good will.

So, to brighten up what is

often a lonely time for

struggling pensioners, Talk of

the Town is spearheading a

Santa's Seniors Shoebox

collection for Christmas.

After last year's successful

campaign we anticipate more

residents coming on-board.

Last year we received

considerable assistance from

the community to make up the

Santa's Shoe Boxes and hope

the generosity of businesses

and individuals in Ndlambe

will, once again, come to the

fore and we can make up

shoebox parcels for as many

needy seniors as possible.

We are looking for

toiletries, creams, soaps,

razors, perfume, deodorant,

socks, bed socks,

handkerchiefs, scarves,

beanies, small blankets (knee

rugs), sweets, biscuits, nonperishable

foodstuffs (tins, jam,

cup-a-soup, etc.), books,

magazines, brushes, combs,

jigsaw puzzles, writing pads,

pens, drinking bottles, mugs,

playing cards and anything else

you could think of that a

pensioner would appreciate.

We also need shoe boxes –

ready decorated or plain,

wrapping paper, ribbons,

Christmas cards or Christmas

labels.

We also need bags that we

can re-use. Monetary donations

are also welcome – we will use

it to buy goodies to make up

the parcels.

Please drop off your

donated items at the TotT

offices, and a big thank you in

advance for your support.

Let's make this year's Santa's

Shoe Box project even bigger

than last years.

SPONSORED CONTENT

No garden too big or too small for Garden Day

Garden Day on October 20

celebrates the joy and benefits

that your garden bring to you

all-year round. Garden Day was

created by Candide, a

gardening app that shares and

encourage gardens with fellow

plant-lovers, public gardens and

garden centres.

This initiative was started in

2016 and is gaining momentum

across South Africa as a day of

celebrating gardening and the

benefits thereof.

Most of the time you spend

in your garden entails work –

like planting, watering, weeding

and mulching – but Garden Day

is centred around spending time

in your garden to enjoy the

smells, sights and sounds of

your garden.

So this Garden Day invite

some friends to a tea party in

your garden, have a braai

around the pool, kick back and

let your imagination run wild

with ideas of how you can enjoy

your garden without working in

it!

Anyone can take part,

regardless of age, gardening

experience or the size of your

garden. You can even just sit

back in your garden and enjoy

your copy of Talk of the Town

while looking at the great offers

from our local nurseries to start

planning your next garden

project.

The annual Gardens of

Pride national competition

voted Eaden Young, of The

Garden of Eaden Landscaping

Nursery, for the prize for the

"most outstanding garden of its

MAKING A DIFFERENCE:

Florence Dayimane from

Cherrywood Nursery in

Kenton-on-Sea is looking

forward to welcoming and

assisting you with all your

gardening needs. A free

spekboom will be given with

all purchases

size, concept and innovative

use of plants" in the Eastern

Cape.

He achieved a third place in

SA, only pipped to the post by

two magnificent gardens in

Mpumalanga, whose areas

covered many hectares. The task

was "waterwise and affordable".

"I was honoured to even

feature in this amazing

competition, and delighted to

have won the

acknowledgement of the

renowned judges," Young said.

"Gardening is my passion

and a way of life for me. It is my

expression of art.

"In effect, there are no

gardens too large or too small.

My nursery in Bank Street is a

wonderland too."

GARDEN DELIGHTS: Sunnyside Garden Centre,

situated in Makhanda (Grahamstown), is where you

will find all you need to pull out the stops to make

your garden a haven to enjoy throughout spring and

summer

SERVICE WITH

A SMILE: Linda

Edwards, owner

of Homegrown

Nursery in

Bathurst, looks

forward to

welcoming you

to her nursery

w h e re

everything is

homegrown with

lots of love and

c a re

SUNNYSIDE GARDEN CENTRE

1 Cromwell Street, Grahamstown

Tel / Fax: 046 622 6069

sunnysidegc@telkomsa.net
---
12 Advertising & Newsdesk: (046) 624-4356 Find us on Facebook 17 October 2019 TALK OF THE TOW N

TO CONTACT US - 2871 Port Alfred / Tel: (046) 624-4356 or

(046) 624-2293 Editorial e-mail: h o u ze t j @ t i so b l a c ksta r.co. za ;

Advertising: h a n ste i n a @ t i so b l a c ksta r.co. za

Class of 2019

valedictory service

at El Shaddai

Emotional sendoff for school's grade 12s

On Tuesday October 8,

El Shaddai Christian

Academy held a

valedictory service in honour of

the Grade 12 class.

The event was hosted by the

Grade 11 Class who presented

each matric with a Bible verse

specifically chosen for the

individual, as well as a beautiful

Bible. Much fun was had as the

Grade 12's handed out

certificates to their teachers.

The slide show presentation

and Grade 12 farewell song,

brought tears to the matrics'

e ye s .

The class of 2019 are a

group of five, who the school

said were a vital part of the El

Shaddai family.

As with any family, each

member adds specific value to

the group.

Abongile Mbeda leads by

example, Ambesa Qolohle adds

the humour, Yanga Nkewana

cares for all, Hannah Naude

keeps everyone on track and

Nthato Mbabela bosses them

around and adds to the fun and

u n i t y.

EMOTIONAL FAREWELL: El Shaddai Christian Academy

principal Rene Payne, centre, receives hugs from Yanganani

Nkewana, left, and Nthato Mbabela

The message from El Shaddai

Christian Academy was the

following: "They have been the

subject of our actions, the target

of our thoughts and the

compliment of our endeavours.

"We know that they are

ready to tackle the world with

God leading the way.

"It's never easy to say

goodbye but we send them out

with the knowledge that they

are not alone, as they will

always be in God's hands."

SUDOKU - WHARF STREET FRUIT & VEG

Complete this Sudoku and be in line to win a R35 voucher from

Wharf Street Fruit & Veg in Wharf Street.Entries must be in by

3:30pm on Tuesday at the TotT office - 29 Miles St. Winner to

please collect voucher (must show ID) from TotT offices before

attempting to redeem prize. Last week's winner is Ann Reid.

Wharf Street

Name:...................................................................................................

Tel No:...................................................................................................

SOLUTION TO LAST WEEK'S SUDOKU

WIN A VOUCHER FROM HIGHLANDER PUB OR HALYARDS HOTEL

Name:.........................................................................................................................

Address:....................................................Tel No:......................................................

Entries must be

submitted by

3:30pm on Tuesday

at the TotT Office -

29 Miles Street.

Winner of last

week's crossword:

Royal St Andrews-

Camelot Spa –

J. Collins

Winner to please

collect voucher

(must show ID)

from TotT offices

before attempting

to redeem prize.
---
TALK OF THE TOWN 17 October 2019 Advertising & Newsdesk: (046) 624-4356 Find us on Facebook 13

CLASS OF

2019: From left,

El Shaddai

Christian

Academy

principal Rene

Payne, with

matrics Ambesa

Qolohle,

Abongile Mbeda,

Ya n g a n a n i

Nkewana,

Hannah Naude,

Nthato Mbabela

and teacher

Donne Birch

JUST CHILLING: Shaw Park Primary pupils, from left, Minentle Platyi, Liso Botha, Zimi Isaac and

Salimisa Kolele found a good spot in the sun

OUTDOOR FUN: The Shaw Park Primary Grade 5 adventure outing to Amakhala Game Reserve

CREATIVE TIME:

Trinity Engelbrecht,

in Grade 3 at Shaw

Park Primary, making

a hat out of papiermâché

in art class
---
14 Advertising & Newsdesk: (046) 624-4356 Find us on Facebook 17 October 2019 TALK OF THE TOW N

CLASSIFIED ADVERTISEMENTS

Errors reported before Tuesday will not be charged for. Deadline: Friday 10am

2

PERSONAL

2070

Health & Beauty

MARGIE

MORRELL

Physiotherapist

Treating Backache,

Neck-Ache, Headaches,

Joint and Muscle

Problems, Sports

Injuries, Orthopaedic

Rehabilitation,

Bladder Control.

Kenton-on-Sea

Tel: 046 648 1396

2260

Finance

INDEPENDENT

FINANCIAL

ADVISOR

Life Cover Quotes

ĞĞŵĞŶůĂŶŶŝŶŐ

ŶĞŵĞŶĚŝĐĞ

ĞĞŝůů

Theo van der Walt (BCom)

082 784 7212

theo.vanderwalt@

adviceworx.co.za

Ŷ

Žŵ

ŝŶĂŶĐŝĂůĂĞŵĞŶ

ĂĞŶ

ŽŶŚůĂĐĐŽŶ

Ğůů

ŵĂŝů

ůΛŝŵĂŐŝŶĞĐŽĂ

2240

Personal Services

If you want to drink

that's your business.

If you want to stop,

thats ours...

Baptist Church, York Road, Port Alfred

7pm - 8 pm. Every Thursday.

First Thursday of the month is open.

Has your life become

unmanageable as a result

of alcohol?

Call Alcoholics Anonymous.

076 978 7156

FAMSA

(Families SA)

ŽŶŽĮŐĂŶŝĂŽŶ

- Relationship counselling

for indiv, couples, families

- Trauma debriefing

- Premarital counseling

To book an appointment:

Netty Green:

084 5846629

FOR INFO ON SERVICES/

TRAINING:

046 622 2580

famsa@imaginet.co.za

ůĂŝĮĞĚ

ĚĞĂĚůŝŶĞŝ

ĂŵŽŶŚĞ

ŝĚĂďĞĨŽĞ

ŚĞŚĚĂ

ďůŝĐĂŽŶ

5

SERVICES & SALES

GUIDE

5090

Plumbing

5120

Building Services

MOOIFONTEIN

QUARRY

P.O. Box 2482

Port Alfred 6170

Cell: 072 075 0286

Email: info@

mooifonteinquarry.co.za

BUILDING

PLANS

DRAWN

JOB

SUPERVISION

EXPERT BUILDING

ADVICE

35 YEARS

EXPERIENCE

Call

Rob Owsley

046 675 1021 or

082 567 3651

5360

Garden Services

5360

Garden Services

5510

Kennels and Pets

34 Atherstone Road

Port Alfred, EC

Dr L de Bruyn

Dr H Brink

Dr J Krüger

Consulting Hours:

Week days

08:00 -18:00

VET NOW AVAILABLE

AT LUNCH TIME

Saturdays & Public

Holidays 09:00 – 13:00

Sundays 10:00 – 12:00

Contact us:

Tel: 046 624 1092

Fax: 046 624 1092

Emergency No:

082 566 3502

GROOMING NOW

AVAILABLE!

Expanded kennels

& Cattery

5550

Misc. Wanted

SUNSHINE COAST

HOSPICE

Require stock for their

charity shop. We accept

anything including

furniture, crockery, cutlery,

kitchen and electrical

appliances, glassware,

ĂŝŶŶŐŽŶĂŵĞŶ

linen, curtains, clothes,

toys, books, bric a brac etc.

THE SHOP IS OPEN

EVERY WEDNESDAY

AND FRIDAY

ĨŽŵŚŚĂ

ŽůĨĞĚŽĂĚŽ

ůĨĞĚTel: 046 624 4107

5570

Removals & Storage

15m 2 Unit - R700p.m

20m 2 Unit - R850p.m

Long & Short

Term.

CONTACT

TANYA

082 565 8660

For Sale

5451

QUEEN bed base

and headboard

just renovated no

mattress, for sale

at R2000. Phone:

083 565 8646

5630

Services Offered

ALL BUILDING

PLANS

Contact Hendri

046 6245289 /

0829241362

For the hiring of the

PORTABLE LED PROJECTOR,

HALL, FIELDS, CROCKERY,

TABLES, ETC. at / from

PORT ALFRED HIGH SCHOOL.

CONTACT: LAURA GUEST

084 607 6174

ŵĂŬĞŶŐΛĂŚĐŽĂ

Compu-Tutor

Computer training

in your own home

at your own pace.

Free assessment.

Call Doug

083 290 1535

5122

Home Maintenance

6

EMPLOYMENT

6150

Employment Wtd.

Alice is looking for full time

or part-time domestic

work. Phone: 078 941 9947

Babalwa is looking for full

time domestic work.

References

available.

Phone:

076 639 1494

Blessing is looking for full

time domestic work.

References available.

Phone: 064 429 1404

TANIA is looking for full

time domestic work.

References available.

Phone: 065 216 7129

ĂůŬŽŌŚĞŽŶĐŽĂ

Talk of the Town

@talkofthetownec

talk_of_the_town_ndlambe

6170

Estate Agents

RENTALS PROPERTIES

REQUIRED FOR

QUALIFIED TENANTS!

All Tenants are screened and

Credit checks are done.

We update payment profile

at the national credit bureau.

Contact us for professional

and Experienced property

management.

Contact Arlene Du Plessis

at Remax Kowie

Tel: 046 624 1110

arlene@remaxkowie.co.za

NEED EXTRA

INCOME?

WE NEED YOUR

PROPERTY!

If you would like us

to manage your

property, please call:

Ellen:

073 256 4689

Mandie:

079 266 2442

Harcourts Port Alfred

046 624 5222

rent.pa@harcourts.co.za

We have a number

Ǧ

CONTACT VIKKI SMIT

046 624 5222 or

on 082 604 2733

6151

Employment Offered

DAMANT LODGE

is looking for a

ĨůůŵĞĂĐĐŽŶĂŶ

ŽďŽĮůĞĂĂŝůĂďůĞ

ŽŶĞĞĞŶĚ

ŽĐŚŝŶĞΛ

ĚĂŵĂŶůŽĚŐĞĂĐŽĂ

ďĞĨŽĞ

ĐŽďĞ

The PAHS Governing

Body seeks to engage

the services of a

professional to join its

support staff complement.

The ideal candidate will

be a strong communicator

who can interface with a

variety of stakeholders

on a multitude of levels.

Proficiency in English

is essential and

conversational Afrikaans

and/or Xhosa would

be beneficial. Strong

administrative skills

including skills in the

human resources arena

are sought. The ability

to work in Word and

Excel is a must and

the ability to work in

Powerpoint and Publisher

An accounting or

bookkeeping qualification

plus 5 years Pastel,

including payroll is also

required.

Attention to detail and

exceptional organisational

ability would see

the ideal candidate

À

position.

Applicants to send a

letter of motivation and

a two page CV to

sgbchair@pahs.co.za by

23/10/19.

Applicants not contacted

by 30/10/19 are to assume

that their application has

not been successful.

The PAHS Governing

Body reserves the right

7

ACCOMMODATION

7020

Accomm. Off / Wtd

B & B IN WALMER,

PORT ELIZABETH.

2 Fully equipped s/c

ŐĂĚĞŶŇĂŽŶŶĞŶĂů

ďĞĂŬĨĂůŝĞĚ

ĞŶĂůŽŚŽŝĂů

ĂŝŽĂŶĚĐŚŽŽů

ŝĂĞĞŶĂŶĐĞĞĐĞ

ĂŬŝŶŐĂŝī

ŝŶŐůĞĚŽďůĞĞ

ŶŝŐŚŽŶĂĐJacky

Holm 041 581 6308 or

083 495 2690

www.jackysbnb.co.za

8

PROPERTY

8161

Business Premises

To Let

OFFICE SPACE /

CONSULTING

ROOMS TO RENT

within a

professional

environment

at Kinetic

Health Centre,

26/28 Hill Street

Port Alfred or

contact Tammy

on 046 624 4867

9

MOTORING

9070

Used Car Sales

Quality Select Used Vehicles

Tel : 046 624 8468

Cnr Bathurst Rd & High St (behind BP Garage)

We buy and

sell quality

used vehicles!

Bryan Smith - 076 817 9130 Adele Steck - 083 307 3063
---
TALK OF THE TOWN 17 October 2019 Advertising & Newsdesk: (046) 624-4356 15

Help

Guide

AWNINGS, BLINDS & CARPORTS

BICYCLES, SPARES & SERVICE

CARPET & UPHOLSTERY

CLEANING

COMPUTER & PRINTER

SERVICES

COURIER SERVICES

DENTIST

DSTV

ESTATE AGENTS

GAS SUPPLIES & SERVICES

ELECTRICIAN

HAIR STYLISTS

HOME RENTALS

TYRES

OPTOMETRIST

TREE FELLING

WATER TANK &

GUTTER CLEANING

PAINTED FACES: Enjoying their time at the Westside Community Fair on Saturday from left,

Candice Coetsee, Megan Coetsee and Anja Pieterse Picture: NTOMBI MSUTU

VACANCY

FULL TIME PHARMACIST

Based in Alexandria.

Working hours:

Monday, Tuesday, Thursday and Friday

08:30 - 17:00

Wednesday and Saturday

08:30 - 13:00

Please send CV to:

alexandriaecpharmacy@gmail.com

NDLAMBE

MUNICIPALITY

PORT ALFRED

NOTICE OF COUNCIL MEETING

In accordance with Section 19(a) of the Local

Government Municipal Systems Act No.32

of 2000 Notice is hereby given that a Full

Ndlambe Local Council meeting is scheduled

to take place on Thursday, 31 October

2019 at 10h00 in the Council Chambers,

Campbell Street, Port Alfred.

NOTICE NUMBER: 238/2019

17 October 2019 ADV. R DUMEZWENI

(Ref. 2/7/2) MUNICIPAL MANAGER

NDLAMBE

MUNICIPALITY

PORT ALFRED

NOTICE OF MUNICIPAL

PLANNING TRIBUNAL

MEETING

In accordance with the Spatial Planning

& Land Use Management Act (SPLUMA)

No.16 of 2013 and the Ndlambe Planning

Bylaw (2015), notice is hereby given that the

Municipal Planning Tribunal is scheduled to

take place on Monday, 28 October 2019

at 10H00 in the COUNCIL CHAMBER,

CAMPBELL STREET, and PORT ALFRED.

NOTICE NUMBER: 236/2019

17 October 2019 ADV R DUMEZWENI

MUNICIPAL MANAGER

Page 15, Thursday 17 October 2019 - Talk of the Town

SALE OF BUSINESS

NOTICE is hereby given in terms of Section

34(1) of the Insolvency Act, No. 24 of 1936,

as amended, that it is the intention of RULAN

HEUNIS (Identity Number 481207 5036 08 1)

and RHALDA HEUNIS (Identity Number

470723 0022 08 5), carrying on business

at ERF 1047 BOESMANSRIVIERMOND,

to dispose of the business known as

R HEUNIS PROPERTY ENTERPRISES

CC (Registration Number 2007/020316/23)

together with the business assets and

goodwill, to NOTHEMBA ROSSETTE

MLONZI who will carry on the said business

¿

¿

within thirty (30) days of publication hereof.

Dated at Port Alfred on 18 October 2019.

AUDIE ATTORNEYS

P.O. Box 247

PORT ALFRED, 6170

Ref: L ERASMUS/1493

KENNISGEWING VERKOOP VAN

BESIGHEID

KENNIS geskied hiermee ingevolge

die bepalings van Artikel 34(1) van die

Insolvensiewet, No. 24 van 1936 dat RULAN

HEUNIS (Identiteits Nommer 481207 5036

08 1) and RHALDA HEUNIS (Identiteits

Nommer 470723 0022 08 5) handeldrywend

as R HEUNIS PROPERTY ENTERPRISES

CC (Registrasie Nommer 2007/020316/23),

van voorneme is om die genoemde besigheid

te verkoop aan NOTHEMBA ROSSETTE

MLONZI 30 dae na die laaste publikasie

van hierdie advertensie, wie van voornoemde

datum die besigheid sal bedryf vir eie

rekening.

Gedateer te Port Alfred op 18 Oktober

2019.

AUDIE PROKUREURS

Posbus 247

PORT ALFRED, 6170

Verw: L ERASMUS/1493

IN THE ESTATE OF THE LATE JONATHAN

BROWN POHL, Identity Number 391208

5022 088, of 59 Settlers Park, Port

Alfred, who died on the 23rd August 2019

and who was married out of community of

property

ESTATE NUMBER 3210/2019

Creditors and Debtors of the above

deceased are hereby requested to lodge

their claims with and pay their debts to

the undersigned within 30 days of the

18th October 2019

DATED at PORT ALFRED on this the

4th Day of October 2019

N STÖTTER

Agent for the Executor

Neave Stötter Inc

37 Campbell Street

PORT ALFRED

Ref. pk/MAT9844

AMAZING TIMES: Divan Laubscher with

Twane Venter had a good afternoon at the

Community Westside Fair on Saturday

Picture: NTOMBI MSUTU

FRIDAY NIGHT AUCTION

- 18 OCTOBER 2019 AT 6PM -

- VIEWING FRI 2 - 4PM -

SEE OUR FACEBOOK PAGE FOR PICTURES

FORM K

(form of publication in terms of Section 38

of Act 47 of 1937)

LOST TITLE DEED

Notice is hereby given that under the

provisions of section 38 of the Deeds

Registries Act, 1937, I the REGISTRAR OF

DEEDS at KING WILLIAMS TOWN intend to

¿

Deed of Transfer Number T74225/2006CTN

dated 21 September 2006 passed by

THE EXECUTOR IN THE ESTATE OF THE

LATE EUSTACE VAUGHAN DENSTON

Registration Number 17761/02

To

Identity Number 390516 0053 08 5

And

RICHARD KING

Identity Number 441010 5072 08 3

Married in community of property to each other

in respect of certain

ERF 3874 PORT ALFRED

Division of Bathurst

Province of the Eastern Cape

IN EXTENT 245 (Two Hundred and Forty

¿

in writing with the REGISTRAR OF DEEDS

at KING WILLIAM'S TOWN within six weeks

¿

Gazette.

Dated at KING WILLIAMS TOWN on this

20 day of September 2019

REGISTRAR OF DEEDS

KING WILLIAMS TOWN
---
16 Advertising & Newsdesk: (046) 624-4356 Find us on Facebook 17 October 2019 TALK OF THE TOW N

WALKING TALL: Bevy Vazi had a great time walking the

runway for fun at the Westside Community Fair on Saturday

Picture: NTOMBI MSUTU

AFRICAN PRINT: Yvonne Amoaduro participated in the

beauty pageant at the Westside Country Fair on Saturday

Picture: NTOMBI MSUTU

COLOR PURPLE: Othandwayo Sithole walking the runway at

the Westside Community Fair on Saturday

Picture: NTOMB IMSUTU

ENJOYING THEIR TIME: Having a good time at the Westside Community Fair on Saturday from

left, Lilly Zhoya, Maverlous Chingwendere, Norma Ivan, and Aaron Muzanreweta

Picture: NTOMBI MSUTU

ALL SMILES:

Selling chips and

other nice treats at

the Westside

Community fair on

Saturday were

AyandaSithole, and

Barbara

M u z a re w e t h u

Picture: NTOMBI

MSUTU

PRIZE WINNER: Michele Keeton handing over a prize to Buhlebothando Sonanzi at the

Westside Community Fair Picture: NTOMBI MSUTU

INVITATION TO TENDER FOR PRINCIPAL

CONTRACTOR

DEMOLITION

ĞŶĚĞĂĞŚĞĞďŝŶŝĞĚĨŽŵŝĂďůĂůŝĮĞĚĞĞŝĞŶĐĞĚ

ĂŶĚŬŝůůĞĚĐŽŶĂĐŽŽĚĞŵŽůŝŚŚĞďŽĂŚŽĞŽŶ

The Lady Hamilton's Island on the Royal Alfred Marina.

ŶĞĞĞĚĂůŝĐĂŶŚŽůĚĂůŽĐŽŶŝĚĞŚĞĐŽŽĨĞŵŽŝŶŐ

ďďůĞŽīŚĞŝůĂŶĚ

ŽĂĂŶŐĞĂŶĂŽŝŶŵĞŶŽŝĞŚĞŝĞůĞĂĞĐŽŶĂĐŚĞ

ĂŝŶĂĸĐĞŽŶŽĂŵĂŝŶĂΛďŽĚĞĐŽĂ

ŚĞĐůŽŝŶŐĚĂĞĨŽŚĞďŵŝŝŽŶŽĨĞŶĚĞŝĐŽďĞ

THIRD PLACE: From left, Karl Vermulen of sponsor Personal Trust, with the team in third place at the Kowie Classic,

Gary Lytte, David Milne, RobbieMuzzel, Pieter Lombard and Peter Ford of the hosts, Kowie Bowling Club, at the prize

giving on Sunday Picture: NTOMBI MSUTU
---
TALK OF THE TOWN 17 October 2019 Advertising & Newsdesk: (046) 624-4356 Find us on Facebook 17

The city is renowned for its

educational institutions, for

being the national seat of

the judiciary and for its

cultural events

makhanda

festival city

with SID PENNEY

Send your news of local events

and achievements, or of any

issues you might be having to

sidp@imaginet .co.za

or call (046) 624-4356

picture © bernard mackenzie / 123RF.com

BACK ON RALLY ROADS

Tim Dold of Makhanda

(Grahamstown) and Brandon

Hattingh of Uniondale will be

taking to dirt and tar roads in the

Jeffreys Bay, Patensie and Loerie

districts on Saturday, October 19

in round five of the 2019 Algoa

Rally Club championships.

They have entered their 1984

Toyota Corolla 1800 in the classic

car category for the Fountains

Mall Rally that begins in Jeffreys

Bay and covers 200 kilometres, of

which 70km are made up of

special stages.

About 20 years ago Hattingh

(driver) and Dold (navigator) were

regular competitors in their

modified Nissan Tracker 4-wheel

drive in the national off-road

championships, competing for

eight years.

Their last race in that series was

in 2002, and the 'rally bug'

appears to have well and truly

bitten once again!

Of their return to competitive

rallying, Dold said: "It's wonderful

to be back in a race car together

again! We work very well together

and trust each other implicitly,

which in rallying is vital.

"There was a bit of nervousness

before our last event (earlier this

year) as we'd been out of the game

for so long but, once the flag

dropped, it all fell into place

again. ."

Unfortunately, mechanical

issues saw them retiring before the

end of their first rally in about 17

ye a r s .

Dold said, "The car is good,

and we are really looking forward

to the Fountains Mall event this

w e e k e n d ."

While the bulk of the field is

made up of younger crews,

Hattingh and Dold, both in their

latish fifties, are hopeful of giving

some of the young ones a run for

their money!

UNIVERSITY EXAMS LOOM

Rhodes University's

undergraduate lectures end

officially on Friday, October 18,

with Swot Week running from

October 21 to 24. End-of-year

examinations begin on Friday,

October 25 and continue until

Friday, November 22. As soon as

undergraduate students complete

their end-of-year exams, so they

proceed on vacation.

HEAD OF SCHOOL

Jonathan Shamwana has been

named the St Andrew's College

Head of School (head prefect) for

2020, with Robbie Kirkpatrick and

Matthew Schaefer named Second

Heads of School.

CRUNCH-TIME FOR THE

TEAMS

The final match in the pool stages

of the 2019 Rugby World Cup on

Sunday was an exciting one, with

much at stake – and it finished just

right for the host nation!

Now it's time for the

quarterfinals this weekend, and all

four matches will be screened live

on SuperSport channel 201.

On Saturday, England plays

Australia at 9.15am and New

Zealand meets Ireland at

12.15pm. On Sunday, Wales

comes up against France at

9.15am, and Japan plays SA at

12.15pm.

DOWN MEMORY LANE

This week we take a final look at

local personalities as contained in

the Grahamstown 1966 Directory.

Who do you remember?

The Board of Directors of the

Eastern Province Building Society,

which had its head office in

Grahamstown, comprised WA

Smit (Chairman), AK Rautenbach

(Vice-Chairman), WR Nunn, GB

Hoare, JK Creighton, GJ Krige and

Frank Harty (General Manager).

LB "B oy s i e " Green and Joe

Truter, Senior Partners, Green &

Truter Attorneys; and Mr Kyle

Stone, Senior Partner, Dold &

Stone Attorneys.

PUPIL LEADERS AT KC

Kingswood College has

announced its prefect body for

2020, and sees Destiny Mayanja

ON PARADE: Drum Major Africa Matshingana leads the St

A n d re w 's College Pipe Band during last week's retreat

ceremony, which also included the school's cadet corps, during

Balloon Week Picture: STEPHEN PENNEY/SAC

named Headgirl and Tsepo

Ponoane the Headboy. Deputy

Headgirl is Jos Morrison and

Deputy Headboy Matt Pritchard.

The prefects are: Talia Aliber,

Alex Brussow (Head of Chubb

House), Aidan Chamberlain, John

Chungu, Tristan Haller, Mihlali

Jamda (Head of Wood House),

Evert Joubert, Carina Kemp,

Mwango Kondolo (Head of

Jacques House), Liam Lacey,

Mwaka Machila, Sesame

Makgatlhe, Lukho Mbenyana,

Christopher McCune (Head of

Jagger House), Ludwe Mhlauli

(Head of Kirkby House), Neo

Mkatini (Head of Gane House),

Serena Pyle (Head of Wesley

House), Mia Scheepers, Emily

Webber and Sarah Wilhelmi.

SPRING TRIAL RUNNERS-UP

Well done to seasoned rallying

couple Neville and Susan Koch of

Makhanda who finished in second

place at the Eastern Province

Veteran Car Club's annual Spring

Trial, in and around Port Elizabeth,

in their Alfa Romeo at the

weekend.

FLASHES FROM PE

In last week's column I wondered

whether The Flashes of the 1960s

was a Grahamstown band or a

Port Elizabeth band.

Well, true to form, Errol

Fellows, former Grahamstown

bandsman in the sixties, was quick

to reply, saying The Flashes was a

PE band. He then contacted

Randy Gouws (both were

members of the award-winning

Pleasure Machine band in

Grahamstown in the 1960s) for

some names, and Randy was able

to do so, quick as a flash!

The Flashes comprised Doc

Watson (vocals), Vanny Dawson

(lead guitar), Nielson Hall (bass

guitar), Roderick Betheldo (rhythm

guitar) and Denzil Smith and

Jerome Dempsey (drums, at

different times in the band's

existence).

Now, I'm going to test the band

knowledge of Messrs Fellows and

Gouws, or anyone else for that

matter. During the early days of

The Ravens (1964), of which I was

a member, band members visited

the Boy Scout Hall in African

Street one Saturday to watch and

listen to a PE band called The

Cavaliers. They were undoubtedly

one of that city's top bands at the

time, and the name Coffee du

Randt comes to mind as one of the

members.

Over to you, Messrs Fellows

and Gouws! What do you know

about The Cavaliers?

PRIZEMONEY AND MEDALS

Apart from the R2,300 in

prizemoney to be awarded at the

Rapportryers/PJ Olivier 5km fun

run/walk on Thursday, October 24

(5.30pm), spot prizes galore will

be handed out, and medals

awarded to the first 100 finishers.

Prizemoney is R600 each for

the first male and female, R350 for

the runners-up and R200 each for

the third-placed finishers.

"The entry fee has been kept at

R20 for adults and R15 for

children to ensure mass

p a r t i c i p a t i o n ," said event coordinator

Joubert Retief.

The fun run/walk begins at PJ

Olivier at 5.30pm – registration is

from 4.30pm.

This year's proceeds will go to

PJ Olivier for the refurbishing and

resurfacing of its tennis courts.

ON BELMONT FAIRWAYS

Scoring 34 points, Allen James

won the individual stableford on

the fairways and greens of

Belmont Golf Club in Belmont

Valley on Saturday. Runner-up

was Skelly le Roux (32), and twoclubs

were achieved by Andreas

Nunez (8th and 13th) and John

Williams (5th).

Gareth Shaw and Kevin

Gornall scored 21 points apiece at

last Friday's 's u n d ow n e r '

individual stableford on the backnine,

with Shaw winning on a

countout. Morne Herselman (20)

was third and Wayne Weber (19)

fourth.

Two-clubs were recorded by N

Bowker (13th), M Herselman

(16th) and S le Roux, A Nunez

and H Cloete (all 11th).

Meanwhile, scoring 44 points,

Mark Whitehead and Rudi Marx

won the Tudgie's betterball

competition at Belmont on

Wednesday last week. Runners-up

with 42 were Dave Duncan and

Steve Gornall, while two-clubs

were achieved by Steve Gornall

(8th), Ed Wilson (8th) and

Llewellyn Poultney (11th).

VOLUNTEERING IN THE

GARDENS

Volunteers play an important role

in any sporting code and

competition, and so it was with

the faithful band of volunteers

who reported for duty, as it were,

at last Saturday's parkrun in

Makana botanical gardens.

It was the 264th staging of the

local parkrun, and attracted 136

runners, joggers and walkers on

the day.

Most of the volunteers are

regulars in the 'Bots' on parkrun

day, and last Saturday's volunteer

helpers were Richard Alexander,

Jobst Bodenstein, Samantha du

Plooy, Lawrence Ferreira, Liz

Gowans, Edward Hazell, Andrew

Hunter, Sally Price-Smith, Jacqui

Sauer, Warwick Sauer, Peter

Stockwell and Jill Wolvaardt.

First three parkrunners last

Saturday were Cee-Jay Porthen,

Sylvester Jeffries and Anathi

Kahlana, while the first three

ladies were Shumikazi Bolo,

Kimberleigh Oxenham and Caitlin

Wi l m o t .

SLOGAN TIME

Last week this column carried

local business slogans from the

mid-1960s. This week we look at

slogans of businesses and

institutions as found in a local

publication of 1995.

Rhodes University – "We 've

grown big by staying small"

Allied Bank – "When it comes

to money, there's a lot we can talk

about"

Fleur Petite Florist (Marlene

Thompson) – "Flowers of quality

for all occasions"

RET Butlers Pharmacy – "Yo u r

health is our concern"

And another one, this

appearing in an advert for

Hepburn & Jeanes Photographers

in 1980 – "Craftsmen in

P h o t o g ra p hy ".

And finally, a Connock's

Butchery advert in 1996 – "We

look forward to meating you;

Meating you will be our

pleasure".

ACTION ON SOMERSET

Graeme College's family fun fair

takes to the school's Somerset field

from 1pm on Friday, October 18,

and there will be entertainment

and food aplenty, all the way into

the evening hours.

Check out some of the action –

cross-country running, mountain

bike riding, mechanical bull, train

rides, tombola stall, go-karts, face

painting and air rifle shooting.

Food stalls include pancakes,

roosterbrood, chip 'n dip,

popcorn, hamburgers, boerewors

rolls, curry bunnies and spit braai.

Settler City Toyota staff will out

in force at the fair, offering Toyota

test drives in Toyota vehicles –

Etios Sprint, Corolla, Hilux and

Fortuner. Every test drive

undertaken on the day will earn

Graeme College R100 from Settler

City Toyota. Test drivers should

EXCITING ACHIEVEMENT: Lieutenant Colonel A Mahanjana,

Officer Commanding, First City Regiment (centre) presents the

First City Mace to Pipe Major Lucy Ter Morshuizen on behalf of

the St Andrew's College Pipe Band at the retreat ceremony

during last week's Balloon Week. The pipe band received the

mace for its achievements in 2019. The First City Sword of

Honour was awarded to the most dedicated cadet in

Makhanda, Guy Rushmere, Guard Commander of the St

A n d re w 's cadets Picture: STEPHEN PENNEY/SAC.

bring with them their driver's

licences.

BOOKS AND MORE

Brookshaw Home holds a book

sale outside Wallace's Pharmacy

in Pepper Grove Mall from 9am to

12 noon on Saturday, October 19.

CHOIR IN THE CATHEDRAL

… The award-winning Kwantu

Choir presents "The Great

Makhanda Choral Celebration" in

the Cathedral from 3pm on

Sunday, October 20 and, while

entrance is free, a retiring

collection will be taken.

The concert will serve as the

launch of fund-raising efforts for

the choir to represent Makhanda

at the World Choir Games in

Belgium in July 2020.

MARKET IN THE MORNING

… Christ Church in Speke Street

holds a morning market in its hall

across the road from the church

from 9am to 2pm on Saturday,

October 26. Besides the usual

stalls, there will be children's

games, train rides and a tea

garden.

CRUMBLING INTERSECTION

One of the busier entrances into

Makhanda is George Street,

bringing motorists and visitors

from the N2 and the R67. It'sa

very busy street indeed, trafficwise,

and yet the intersection of

George Street and Market Street

has been in a horrendous state for

the past few weeks – potholes,

crumbling tar and even a water

leak.

Despite all this, nothing

appears to have been done by the

authorities to effect repairs at the

intersection. Wonder why,

particularly when one considers

the flurry of activity in fixing

potholes around Makhanda

shortly before this year's National

Arts Festival.

TENNIS TITLES

Dylan Marx has won both the

U16 and open tennis

championships at St Andrew's

College, beating William Emslie in

the U16 final, and Dylan Bowker

in the open final. Nick Lane won

the U15 title when he beat John

Glaser in the final.

HONOURS AWARDS

Graeme College has made

Honours awards to Tristan Pullen

(Academic) and Liyoma Mafani

(Athletics). Mafani is the first

recipient of athletics Honours at

Graeme since the mid-1970s.

RURAL ALBANY BACK THEN

There were some rather unusual

and interesting names of farms in

the Albany district back in the

sixties, as contained in the

Grahamstown 1966 Directory.

Check these out, with farm

ow n e r s ' names in brackets.

Spitzkop (Austin);

Kleindoringkom (Beneke);

Schelmdrift (Bester);

Droogtevlakte (Davenport);

Slaapkrans (Du Preez); and

Boekenhoutfontein (Wilmot).

Wonder how many of these

farms were incorporated into the

huge game reserves in the district

in later years.

RETREAT IN THE RAIN

True to form, it would seem, the St

Andrew's College retreat

ceremony during Balloon Week

was held in rainy and cold

conditions. This prompted a social

media user to comment: "We 're

thinking of having a retreat

ceremony on our farm; might

bring the rain!"

HONOURS

Kingswood College academic

Honours have been awarded to

Talia Aliber, Tyler Bovey and

Mwaka Machila.

MARKET ON THE HILL

It's that time again for the annual

Grahamstown Christmas Market,

and the 2019 edition takes place

from November 27 to 30.

Opening times in the PJ Olivier

hall are 10am to 7pm on the

Wednesday, Thursday and Friday,

and from 9am to 3pm on the

S a t u r d ay.

GOOD SHOTS AT ST

ANDREW'S

The archery and air rifle shooting

championships were contested at

St Andrew's College last week,

with Dylan Streeton winning the

John Hobson Tankard in the

archery competition.

Matthew Grunewald won the

Lightfoot Tankard in the air rifle

competition, while the most

improved shooter was Timothy

Nasasira. The father and son air

rifle match was won by Jon and

Kevin Campbell.

TWO RECORDS FOR TONI

Diocesan School for Girls (DSG)

pupil Toni Rafferty set new records

in the open 400 metres and 800

metres events at the school's

athletics day last week. These

records were set by Jenni Kruse

(nee Holmes) in 1991, and she

was there last week to

congratulate Toni.

RECORDS FALL

Despite the inclement weather in

and around Makhanda, four

records were broken at

Kingswood College's annual

sports day on Wednesday last

week.

Dwayne Pharo broke both the

U16 100 metres and 200 metres

records with times of 10,95

seconds and 22,65 seconds

r e s p e c t ive l y.

Taya Trivela smashed the open

discus record by all of three

metres, while Tadiwa Chikutiro

broke the U14 80 metres hurdles

record.

NEW RECORD FOR KATE

Kingswood Junior School (KJS)

pupil Kate Wilson broke a longstanding

school record at its sports

day last week. She broke the girls'

U10 record for the 600 metres

event – the previous record was

set by A Bester in 1998.

Kate also received the Gregg

Rippon Plate for the performance

of the season. Old Kingswoodian

Rippon was a talented athlete

while at the school, and presented

KJS with the plate to acknowledge

an outstanding performance.

DEBATING CHAMBER

OPENED

In an historic and moving

ceremony last week, Mr Saki

Macozoma of Safika Holdings

opened the newly-renovated

Thomas Mapikela Debating

Chamber in the Graham House

gardens at St Andrew's College.

The Bishop of Makhanda, the

Right Reverend Ebenezer Ntlali,

blessed the building and

dedicated it to the memory of

Thomas Mapikela.

St Andrew's was honoured to

welcome members of the

Mapikela family who travelled

from Bloemfontein to share in the

celebration of the extraordinary

life of Thomas Mapikela, who was

an alumnus of the Anglican

Institution in the 1880s.

Macozoma gave a moving

oration outlining the significance

of Thomas Mapikela's role in the

establishment of the ANC, and the

organisations that preceded it.

St Andrew's Headmaster Alan

Thompson stressed the

importance of St Andrew's boys

continuing to grapple with

important current issues through

debate and conversation, much

like many of the eminent Anglican

Institution alumni had done over a

century ago.

IN THE TOP 10

Devernito du Plessis of Albany

Saints & Sinners Multi-Sport Club

finished 9th at last week's Kowie

Striders 10km road race in Port

Alfred, clocking 39 minutes 02

seconds. In 11th spot was

clubmate Melikhaya Jacobs in 40

mins 28 secs, while Johannes van

Dyk, also of Albany, was 48th in

59 mins 27 secs.

Overall winner was Mariano

Eesou of Madibaz in 31 mins 34

secs.

SELECTED

Kingswood Junior School players

selected to represent Eastern

Province U13 waterpolo teams at

interprovincial tournaments in

Johannesburg in December are

Devon Heyns (U13A), Julia

Hough (U13A), Raena Trivella

(U13A) and Amy Wilson (U13B).
---
18 Advertising & Newsdesk: (046) 624-4356 Find us on Facebook 17 October 2019 TALK OF THE TOW N

BOWLS BANTER

Port Alfred Bowling Club

Well played to the joint winners of

the Personal Trust competition last

Tuesday afternoon.

The joint winners were David

Freeme and his team of Stan

Weyer, Tony Versveld and Allen

Thompson. The prize was shared

with Colette Reid and her team of

Hilary Allen, Martin Leonard and

Rory Townsend. Third place went

to Rodney Wilson, Jim Haswell

and Bill Wragg.

The mixed drawn Fours

competition will be played for the

next few Tuesday afternoons. It is a

Knock Out competition so only

the winners go through to play the

next round.

Please put your names on the

list on the notice board should

you wish to play in the Doris Ford

competition.

Kowie held a very successful

men's classic this weekend. The

standard of bowls was very high

and a pleasure to watch. They had

32 teams competing. The winner

was Paul Spriggs and his team

from Westview, the runner up Neil

Burkitt. 3rd place went to Gary

Little from Mowbray.

We have B20 cricket bowls on

Wednesday afternoons starting at

2pm. All are welcome to join us.

Duties for the week ending

October 22 – 26: Tabs Duty - Phil

Taylor and Noeline Kirsten, Bar

Duty - Please refer to the list on

the bar.

Kowie Bowling Club

It was a dramatic week for Kowie

with thieves running rampant on

two successive nights at our tool

shed earlier in the week. While

they did not manage to budge the

sliding door they managed to

bend one corner of the steel door

and introduce a small person

through the aperture, allowing

him to steal quite a few items

before the security firm could get

there.

In spite of all this furore our

Tabs-in games were completed

TAKING SILVER: From left, Karl Vermulen of sponsor Personal Trust, with the team taking second place at the Kowie Classic, Neil

Burkett, Brian Buchanan, Rob Forbes and Peter Ford of the hosts, Kowie Bowling Club, at the prize giving on Sunday P i c t u re :

NTOMBIMSUTU

and the preparations for our big

weekend went apace between the

odd showers. While the need for

rain is paramount a dry week

before the Classic would have

been the cherry on the top for

those involved with the

preparation of the greens. And so

the great day dawned and the

organisers waited with bated

breath until everyone had clocked

in and play in the Personal Life

Kowie Classic could commence.

The building blocks of a

successful Classic are the seven Cs

– a Compatible team, Competitive

opponents without losing sight of

the spirit of Camaraderie

engendered in the game of bowls,

Consistent predictable greens,

accurate and prompt Core

Control, satisfactory

Compensation to those who

earned it, and Cordon Bleu

Catering. All these items were

satisfactorily ticked off and the

players, physically satiated,

carrying their "padkos"

(graciously supplied by KFC) were

clamouring to be included in next

ye a r 's Classic.

The quality of the greens was a

big talking point as the players

could plan shots which could only

be attempted if the playing surface

was predictable.

For the record Paul Spriggs and

his team just edged out Neil

Burkett's Personal Life Team on

shot profit. Of the Kowie teams

Eric Kent's side were unbeaten

going into the fourth round but

then came up against Paul Spriggs

and their subsequent loss pushed

them down to 11th spot which

allowed Jacques Krige's team to

squeeze in above them. The other

Kowie teams allowed their natural

hospitality instincts to prevail and

left their opponents happy.

Once again a memorable

Classic run with meticulous

planning and 100% supported by

the workers who could go home

on Sunday evening secure in the

knowledge that we were still on

top.

Last Tuesday's turnout was

good and some big score were

recorded with Bryan Burger Peter

Giblin, and Howard Oates

coming through on shot profit. On

Thursday we had another good

turnout won this time by Peter

Ford, Mike Ryan, and Roland von

G e r i ck e .

Duties for next week: Roll -

Rowlan von Gericke, Mark - Rod

Allin / Rod Gradwell, Tabs- Lyn

Allin, Bar - Roy Reynolds.

Kenton Bowling Club

A quiet week of bowls at Kenton

last week with Club Tabs-in bowls

and the Novices Challenge taking

centre stage.

Pam Bowker and her team

won last week's penultimate

round of the Dias Trips Jackpot on

Wednesday and this competition

is now heading for a grandstand

finish in November with the top

few players separated by only a

few points.

The Novice men made a

welcome return to form last Friday

to be at the top of their games and

despite a roaring comeback from

the ladies late in the afternoon,

managed to keep their noses in

front to secure a somewhat rare

double victory and reserve the

bragging rights for the week. This

mostly friendly informal challenge

amongst our Novice bowlers has

become a firm favourite and has

undoubtedly contributed to the

strong Novice showings at all

levels in the club. Great effort guys

and girls, keep it going.

The weekly attendance draw

on Friday evening was won by

Gloria Schmidt but Sandie Rule

couldn't find the Joker and it stays

hidden for at least another week

and the jackpot continues to

g r ow.

Thank you to Gert and Cecelia

for looking after members during

the week.

The Personal Trust Trips takes

place once again this Friday with

the popular Braai Evening

afterwards, all members and their

guests are welcome and we look

forward to another fun evening.

Club duties (October 14 - 20):

Tabs - Bryony Shone, Bar - Lynn

West and Pippa Swift.

Dates to remember (October 14 -

20): 16th - BessTweedie and

Kenton/Kowie at Kenton, 18th -

Personal Trust Trips at Kenton.

VOLO VIKINGS

KOWIE STRIDERS

The Pineapple Run has a positive

effect on our runners. It

encouraged some of our old

faithfuls back on the road.

Congratulations to Lucia January

for having come third in the

Ladies' Junior race.

I woke up to the daunting fact

that we have eight weeks left to

the dawning of the summer

holidays. We wish our students/

pupils all the best as they prepare

for their final exams.

Remember that exercise and

healthy diets still play an integral

part in your preparation.

Time Trial: October 10

3.8km

1. LisachulumancoTana 24:04

5km

1. Lukhanyiso Ntenga 24:45

2. Siphosetu Magwaxaza 24:48

3. Uthimna Tana 24:53

4. Damien Tsigos 24:54

5. Aphelele Fourpenny 27:25

6. Thabo Klaas27:57

7. Iviwe Matyunu 29:58

8. Bathandwa Nquwana 31:07

9. Yvonne van Breugel 32:11

10. Lucia January35:10

11. Limikhaya Klaas 35:13

12. Lunje Kristjan 35:13

8km

Athinkhosi James 33:19

Time Trial: October 8

8km Run:

Sinethemba Jilingisi 27:58

Richard Legg 35:04

Rick Betts 38:57

Shannon Kethro 44:33

Gerald Greeff 45:37

Eugene Fourie 53:24

Kayla Struwig 53:55

Ash Miller 53:58

8km Walk:

Pauline Weed 69:34

John Howden 69:34

5km Run:

Zamile Xanti 18:09

Syande Xanti 18:22

Ayabonga Saul 18:22

Siza Dayimani 19:53

Mpho Nxabazi 19:53

Sticks Stiglingh 22:37

Xolani Mbeki 22:52

Ata Klaase 23:45

Paolo Vignani 25:17

Imran Kamedien 25:39

Cullen Betts 26:01

Alan Robb 26:46

Alex Weed 26:46

Ian Robertson 26:46

Zanele Venter 28:00

Lulu Mceka 35:25

Azukile Hendele 35:25

Leah Shanks 41:45

5km Walk:

Anamarie Joubert 40;40

Charlie Joubert 41:10

Sue Robertson 45:47

Carol Evans 45:47

Lesley Futter 49:18

Floss Howden 49:18

Sean Harper 49;18

3km Run:

Lithemba Jekana 10:40

Asakhe Solwande 11:24

Mike Varela 11:30

Lubabala Sali 12:22

Lesley Theunissen 19:25

Dianne Emslie 19:25

Jo Betts 19:35

Rubin Baartman 20:22

Terry-Lee Baartman 24:05

Lynn Becker 25:47

Eddie Wepener 27:14

Eline Van Coller 28:35

3km Walk:

Dudley Emslie 24:43

Annatjie Liebenberg 25:30

Melody Greeff 33:03

Billy Futter 33:03

Alistair Blake 33:03

Sally Blake 33:03

Jenny Basson 33:03
---
TALK OF THE TOWN 17 October 2019 Advertising & Newsdesk: (046) 624-4356 Find us on Facebook 19

GOLF W E E K LY

VICTORIOUS: The winners of the Jeannette Brotherton Cup,

from left at the back, Verene Burger, Heather van Harmelen,

Anita de Bruin, Sandy Fryer, Ingrid Griffiths, and, front row,

Wendy Counihan (president), Yvonne Hill and

Ly n e t t e H a r b re c h t

NFB Private Wealth Management BetterballStableford,

with 65 players.

Results:

1st: Ian Moncur, Andries Small - 42

2nd: Jason Sharrock, Simon duPlessis - 42

3 rd : Heinz Czepluch, Mark Warren - 41

4th: Greg Shanks, Paul Fryer - 41

Two Clubs:

6th: T Tagg

8th: PLonghurst, LWasdell

Best Gross: 75 – Ian Moncur

Best Nett: 70 – Jason Sharrock

Nearest The Pins:

Fishaways – 6th: Colin Howard

Thymes 2 Catering – 8th: Peter Longhurst

The Wharf Street Brew Pub – 11th: Don McGarvie

Trellidor – 13th: Tim Shanks

Wimpy Longest Drive - #18th: Simon duPlessis

Kingsley Beverages - Nearest the Pin for 2 on the 1st: Paul Griffiths

1820s GOLF

Monday October 7: 21 players in cold strong westerly wind.

Winners on 39: Dave Page, Windsor Bagley, Eugene Erasmus, John Dell.

Moosehead on 45: Stan Weyer, Barry Scarterfield, Ram Piers, Dennis

McElwee.

Good Scores: 49 - Trevor Stötter, Nic van derMerwe, 47 - Derick van

Harmelin, John Dell, Windsor Bagley, 46 - Dave Rose.

Two Clubs: 6th Dennis McElwee.

Thursday October 10: 21 players in cool calm conditions.

Winners on 42: Dave Page, Rod Allen, Trevor Stötter, Juan Southey.

Moosehead on 48: Dave Rose, Roy Pople, Roy de Wet.

Good Scores: 48 - Stan Weyer.

LADIES' R E S U LT S

October 8

The annual matchplay competition between teams representing the lady

captain, lady president and lady vice-captain was played in sunny and

warm conditions on Tuesday afternoon with the Jeannette Brotherton

trophy at stake. There were 24 players in the field.

The team representing the lady-president was victorious with 20

points. The vice-captain's team came home second with 16 points and

the captain's team brought up the rear with 12 points.

The longest drive competitions were held on the 15th hole and struck

by Mo Marsay and Barbara Clarkson in the lower and more generous

handicap sections respectively.

Barbara Clarkson's drive was closest to Top Carpets' 6th hole, with

Shirley Heny's doing likewise on Rosehill Driving Range's8th and

GlynnisRenecle's on Wimpy's11th. Ronel Hough's second shot on

Kekkel and Kraai's13th was nearest this hole "for two".

Shirley Heny and Bridget McNelis both sank par three birdies on the

8th. The best individual nett scores were shot by Donne Piquet (68) and

Ingrid Griffiths (68). The competition on October 22 will be an

Individual Stableford sponsored by Viv Jordan.

KGB RESULTS

Tuesday October 8: Good weather and a good field

of 38 players contesting the 4-ball Betterball, two

scores to count.

Winners on nett 89 points: John Crandon, Barry

Brady, David Rose and Tom Tagg,

Two coveys coming in second on 88 points: Pa u l

Fryer, Len Bohnen, Andy Manson, Heinz Czepach

and Cliff Roberts, Don Thompson, Nick Oosthuizen

and Lyn Lake.

The Hamer en Sukkel was won on 74 points by

Derick van Harmelen, Norman Bester, Andy

Stembridge and Bob Shaw.

Best nett for the day was Don Thompson with a wellplayed

69.

Best Gross: Peter Reed 81.

Two club pool was won by Cliff Roberts and Lynn

Lake for birdies on the 8th and 6th respectively.

Friday October 11: Fantastic weather again with no

wind and a good field of 40 players teed off

contesting the BetterballStableford, two scores to

count al la Porto.

Winners on 94 points: Andy Barnes, Bob Shaw, Mike

Beaumont and Cecil Grobler.

Runners-up on 91 points: John Crandon, Peter Reed,

Nick Oosthuizen and Gavin Richards.

The Hamer en Sukkel secured on 79 points:

RodgerKidson, Matt Chattwick, HeinBarnard, and

Eugene Erasmus.

Best nett for the day: Five players with a 69 were

Tom Tagg, John Crandon, HeinBarnard, Andy

Barnes, and Cecil Grobler.

Best Gross: Nick Oosthuizen, and John Crandon on

82. There was one out of the ordinary and special

two club by Cecil Grobler with an Eagle on the 4th

and he walked away with the spoils.

TEAM ON FIRE: The Kowie United Rugby Club celebrates after beating Ndlambe Tigers in their second tournament win in a row

of the year. They are currently preparing for the Kowie United Tournament that will take place at the Station Hill sports grounds

on October 26

True feast of rugby

awaits at Station Hill

Keen interest from teams to contest Kowie United Tournament

ROB KNOWLES

Get ready for a whole lot

of entertainment at the

Station Hill sports

grounds on October 26 when

the Kowie United Tournament

will feature local teams

competing for the trophy and

the distinction of being the top

rugby side in the area.

Kowie United from Station

Hill are on fire at the moment

having played in a tournament

hosted by Ndlambe Tigers

recently, beating them in the

final by 43-0 after running in six

tries.

Before the final, Kowie

United beat Trying Stars 11-8 in

the semifinal.

This is the second

tournament win in a row for

Kowie United, having travelled

PORT ALFRED BRIDGE CLUB

Results for Thursday, 10 October 2019

Red Section (8½ tables)

N-S 1st H Clohessy & M Wesselo 60.4%

2nd R Rodrigues & A Ridderhof 60.2%

E-W 1st K Botha & N Wood 65.3%

2nd P Bailes & G Ford 56.7%

Green Section (6 tables)

N-S 1st Dianne & David long 61.7 %

2nd C Bennet & C Hill 60.4%

E-W 1st S Shaw & R Orford 59.2%

2nd J Gie & D Lang 53.3%

Board 12 Dealer W, N-S vulnerable

to King William's Town and also

winning a tournament there.

"The coaching staff and

management are very proud of

the boys and praised them for

their commitment and success,"

said Kowie United

secretary Abe

H e n d r i ck s .

"All the players

were just exceptional

this past two weeks

and the spirit in the

team is something

special at the

moment. We would

like to thank them

and the community

for their continuous

support.

"We also hope

they will carry this

commitment and

good

Competitive deals are always interesting, and this one was especially so!

A competitive auction might proceed along the following lines

¹ if you have a stronger bid available, short of a 2C

opening, use it here. ² showing a second suit and a

strong hand: (Not Gerber)

South's first bid is likely to be a six card suit and should

be above minimum values, because of the vulnerability. West, with a powerful

hand, can show it's strength and shape by jumping to 4C. North has

an excellent offensive hand, after South's 2S bid, and no defensive values

against a 5D contract; so needs to bid 4S as a minimum bid, or 5S as an

advance sacrifice, assuming that E-W will surely bid 5D. If the latter bid is

made West's decision is difficult. Can E-W make 6D? This is by no means

certain. If North bids only 4S then East can bid 5D showing extra values

above a minimum 2D raise: this may help West to bid 6D. Note that in the

Red section 5S-1 scores 2/16, for E-W; whereas 5S*-1 scores 7/16, almost

50%! The Green section should check their results compared with the Red

Section, to see the differences in the aggressiveness of the bidding.

Red Section Results 4D+1; 4S=; 5D= (2); 5D*=; 5D*+1; 5S-1; 5S*-1 (2)

Green Section Results 3D+2; 5D= (3); 5D+1; 5S-1

Full results at: www.pabridge.co.za, including details of all the hands.

form into the Kowie United

To u r n a m e n t .

"We also want to encourage

interested players to join this

winning team," Hendricks said.

"The Kowie tournament

Results for Monday, 14 October 2019

Red Section (7 tables)

N-S 1st G Renecle & G Wallace 56.9%

2nd R Wood & S Purdon 51.8%

E-W 1st J Tagg & E Jurgensen 56.9%

2nd H Clohessy & G Ford 53.9%

Green Section (8 tables)

N-S 1st C Bennet & R Orford 57.4%

1st T Versfeld & J Gie 54.8%

E-W 1st A Corrans & C Hill 67.6%

2nd P Bailes & T Border 57.1 %

Board 12 Dealer W; N-S vulnerable

hosted 10 teams in 2018 and

feedback so far indicates more

teams will register this year."

The entrance fee is R10 for

adults, R5 for children under 10

years of age and R20 for cars.

Two possible bidding sequences for these hands are;-

¹ Showing a distributional hand with at least 5:5 in the

minors

In the first bidding sequence South is taking a substantial

chance by bidding 5C, because there could be two or three

losers in diamonds in addition to the two major suit losers.

West decides that the heart Ace is likely to win a trick; so taking into account

the fact that East must have a strong hand for the jump re-bid; a double of

the vulnerable 5c bid could be profitable. (South didn't deserve the luck of

finding North with four diamonds to the King!! From a passed partner)

In the second auction everything becomes much clearer:

now West will not bid at all and N-S can find their game in diamonds.

Partnerships often play the 'unusual No Trump' to show a highly

distributional hand with both minors; even if they don't play the full range of

Ghestem type bids which can show any combination of two suited hands.

Red Results 4S=; 5C*=; 5D=; 5S*-2; 5S-1; 6D-1; 6D*=

Green Section 2S+2; 3S= (2); 4C+1; 4S-1; 4S=; 4S*=5S-2

Full results at: www.pabridge.co.za, including details of all the hands.
---
Ta l k

OF THE Tow nSPORT

Thursday 17 Oc to b e r, 20 1 9

CONTACT US WITH SPORTS NEWS: (046) 624-4356 (Jon Houzet)

Great turnout as Alex

tackles Port Alfred

Fishing 'rivalry' ongoing for 31 years in total

The last of this season's

outings for Port Alfred

Rock and Surf took

place last Saturday against

Alexandria Fishing Club in

their home fishing grounds of

Cannon Rocks.

The area was Kariega

Rocks in the east to

Rooibankies in the west.

It was a great turnout from

both clubs, with a total of

63.5kg fish being caught and

released by the two clubs.

"Weather conditions

were great with a westerly

breeze blowing and a nottoo-cold

water temperature

and the sun to add a bit of

wa r m t h ," Port Alfred Rock

and Surf chair Gary du Randt

said.

"We fished from 6am

with an amazing amount of

bigger fish being caught.

"Species that came out,

were white musselcracker,

blacktail, kob, zebra, shad –

although it is closed season

for these fish, so all of those

were released.

❝ Just goes to show

that the spirit of

fishing is high in

many clubs and we

would like to grow

the competition like

we did this year

"Also black

musselcracker, bull rays,

spotted gulley sharks, bronze

bream, so there were a

number of species that were

c a u g h t ."

Lines had to be up by

3pm and cards had to be at

the Alexandria clubhouse by

4pm for weigh-in.

After careful scrutiny by

the two captains for the day,

totals were tallied and Port

Alfred ended up as overall

winners with 37.8kg of fish

compared to Alexandria

which had 25.7kg of fish.

Andre McDonald offered

a prize for the biggest nonedible

caught-and-released

and he walked away with the

prize.

"Just out of interest, PA vs

Alex has been going for 31

years in total and only on two

occasions was it a draw, and

on one single occasion it was

not fished," Du Randt said.

"Just goes to show that the

spirit of fishing is high in

many clubs and we would

like to grow the competition

like we did this year."

Many people stayed for

the merriment afterwards,

where young and old alike

shared their fishing stories.

"I would like to say a big

thank you to Alex Club and

in particular Andre

McDonald for a very

successful day and evening

and once again thanks for

hosting us in your club.

"Till next year when we

will be fishing the Port Alfred

a r e a ," said Du Randt.

CATCH AND RELEASE: Brendan Marais

shows off the kob he caught during the

fishing competition

NICE ONE: Dion Marais with the shad he

caught during the recent rock and surf

fishing competition

BOWLING CHAMPS

● See page 18 for Bowls Banter

ON A ROLL:

Westview Bowling

Club took this

year's title of Kowie

Classic winners as

well as the R10,000

prize. From left are

Grant Hardman,

Keith Clarkson, Karl

Vermulen of

sponsor Personal

Trust, Paul Spriggs,

Aubrey Nell and

Peter Ford of the

hosts, Kowie

Bowling Club, at

the prize giving on

Sunday P i c t u re :

NTOMBI MSUTU

FISHING FELLOWSHIP: Gary du Randt, left, and Andre McDonald handed over trophies

after the Port Alfred vs Alex rock and surf fishing competition which took place ast Saturday