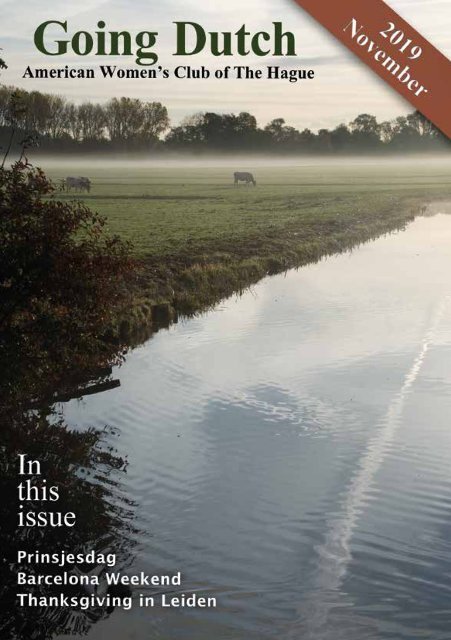 AWC Going Dutch Nov 2019
The monthly magazine of the American Women's Club of The Hague
The monthly magazine of the American Women's Club of The Hague
SHOW MORE
SHOW LESS
Create successful ePaper yourself
Turn your PDF publications into a flip-book with our unique Google optimized e-Paper software.
Going Dutch

November 2019

The Magazine of the

American Women's Club

of The Hague

Prinsjesdag

Thanksgiving in Leiden

Barcelona Weekend

6

34

45

5 Officers and Chairwomen

6 Prinsjesdag Collage

8 Message from the President

9 Annual General Meeting

10 Letter from the Editor

12 Membership

12 Clubhouse Corner

13 Newcomers

14 Ongoing Activities

19 Cologne Christmas Market

20 One-of-a-Kind Activities

22 Keeping Biodiversity

Diverse

26 Holiday Bazaar

28 November Calendar

31 AWC and the Arts

32 FAWCO Corner

33 Climate Change Collage

34 Thanksgiving Day Service

35 Thanksgiving Day Lunch

36 The Dutch Daily

37 Your Vote is Your Voice

38 Welcome Back BBQ Collage

40 Unconventional Travel:

Down Under

45 Weekend in Barcelona

48 Announcements

52 Classifieds

53 Index of Advertisers

and Ad Rates

54 Restaurant

Recommendations

NOVEMBER 2019 3
---
Editor

Alex Moore

2019-2020 AWC Officers

Committee Chairs

AWC Clubhouse

Johan van Oldenbarneveltlaan 43

2582 NJ Den Haag

Tel: 070 350 6007

info@awcthehague.org

www.awcthehague.org

Going Dutch Magazine

goingdutchmag@awcthehague.org

Clubhouse Hours

Tuesday and Thursday

10 a.m. - 2 p.m.

Monday, Wednesday and Friday Closed

Dues (Effective 2019-2020)

€ 110 per year (€ 66 after January 1)

€ 90 business, professional

€ 55 valid US military ID

€ 35 student

€ 35 Outside the Netherlands (Going

Dutch magazine not included)

Add € 15 new member registration fee

Design and Layout

Teresa Mahoney

Cover Photo

Foggy Morning by Melissa White

Photography

Greetje Engelsman, Amber Gatewood,

Audrey Goodman, Theresa Lane, Suzanne

MacNeil, Melissa Rider, Emily van Eerten,

Anne van Oorshot, Melissa White

Proofreaders

Celeste Brown, Jane Gulde, Diane Schaap,

Debbie van Hees, Melissa White

Advertising Manager & Invoicing

Theresa Lane

Contributors

Barbara Bookman, Mary Ellen Brennan,

Jane Choy, Suzanne Dundas, Greetje

Engelsman, Roberta Enschede, Jan Essad,

Amber Gatewood, Audrey Goodman, Dena

Haggerty, Jaimie Keppel, Suzanne MacNeil,

Sunita Menon, Melissa Rider, Suzi Tart, Jo

van Kalveen, Anne van Oorshot, Hilde Volle,

Melissa White

Printer

www.dwcprint.nl

AWC Bank Account Number

IBAN: NL42ABNA0431421757

KvK Den Haag

40409274

BTW or VAT: 007408705B01

Honorary President Diane Hoekstra

President Suzanne MacNeil

president@awcthehague.org

Vice President Melissa Rider

vicepresident@awcthehague.org

Treasurer Sheyla Karman

treasurer@awcthehague.org

Secretary Heather DeWitt

secretary@awcthehague.org

Club and Community Development

Amber Gatewood

community@awcthehague.org

Clubhouse Administrator

Jan Essad

clubadministrator@awcthehague.org

Communications Audrey Goodman

communications@awcthehague.org

Member-at-Large

Sunita Menon

Front Office

Liduine Bekman, Siska Datema-Kool,

Hannah Gray, Georgia Regnault, Melissa

Rider, Jessie Rodell

Activities: Open

Arts: Jane Choy

Assistant Treasurer: Teresa Insalaco

Assistant Membership: Liduine Bekman

Board Advisor: Jessie Rodell

Bookkeeper: Lore Schnebelie

Caring Committee: Naomi Keip

Chat, Craft & Cake: Suzanne Dundas

eNews: Amber Gatewood

Evening Events: Open

FAWCO: Barbara Brookman

Front Office Coordinator: Open

General Meeting Programs: Open

Heart Pillow: Jan de Vries

Historian/Archivist: Georgia Regnault

Holiday Bazaar: Jaimie Keppel-Molenaar

IT Administrator: Julie Otten

Kids' Club: Open

Library: Dena Haggerty

Lunch Bunch: Greetje Engelsman

Membership: Mary Ellen Brennan

Movie Network: Tina Andrews

Newcomers: Jo van Kalveen & Hilde

Volle

Parliamentarian: Georgia Regnault

Philanthropy: Open

Public Relations: Open

Social Media: Ceci Wong & Julie Otten

Tennis: Molly Boed

Thirsty Thursday: Open

Tours: Liduine Bekman

Volunteer Coordinator: Laurie

Martecchini

Walkie Talkies: Emily van Eerten

Webmaster: Julie Otten

Women with Dutch Partners: Michelle

Voorn

Deadlines: Submissions are due no later than the last Monday of the month preceding the publication month.

For example, for the January/February issue, submissions are due before Monday, November 25

Please Note: Articles submitted to Going Dutch will be published subject to space limitations and editorial approval.

All rights reserved; reprints only by written permission of the Editor. Please email to: goingdutchmag@

awcthehague.org

Legal Notice: Articles in Going Dutch express the views and opinions of their authors alone, and not necessarily

those of the AWC of The Hague, its Members or this publication.

4 GOING DUTCH

AWC Mission Statement

The AWC is an association formed to provide social and educational activities for American

women living in the Netherlands and to promote amicable relations among people of all nations,

as well as acquiring funds for general public interest. Membership in the club is open

to women of all nations who are friendly and welcoming to American culture. The association

does not endeavor to make a profit. The AWC is a 100% volunteer organization.

NOVEMBER 2019 5
---
Prinsjesdag Luncheon

6 GOING DUTCH
---
Message from the President

by Suzanne MacNeil

I

started this month's column in Amsterdam

where I took part in FAWCO's Region

4 meeting. This was only my second

FAWCO event as the biennial conference in

the spring in Edinburgh was my immersion

into the organization, which is something all

of you belong to as a Member of our Club.

My first FAWCO experience was overwhelming,

to say the least. I knew very few of the

attendees, wasn't sure what to expect, and

didn't know what I was supposed to get out

of the weekend. What I got was overwhelming.

The energy, the confidence, the ideas,

and the enthusiasm that emanated from the

attendees from AWCs worldwide made me a

true believer (aka FAWCO Fever).

The Amsterdam conference hosted 60

women from clubs throughout Europe, including

Moscow, not just Region 4 which

is comprised of our Club, Amsterdam,

Antwerp, Brussels, and Luxembourg. When

I walked in to the dinner the first evening it

felt like home. So many familiar faces, big

hugs, interesting conversation, and women

who share their passion about issues that

matter to them. Barbara Brookman, our

new FAWCO Representative, (see photo!)

also took part in the conference, along with

Emily van Eerten, the FAWCO President,

Mary Adams, and Laurie Brooks. Did you

know there's an offshoot of FAWCO called

FAUSA, FAWCO Alumni USA? When I repatriate

next year, I know that I'll be able to

continue to follow my heart on the issues

that matter most to me. I hope that you'll

research how you can get involved with

FAWCO.

8 GOING DUTCH

November is packed

with choices, some

are our regular

monthly activities

and others are

one-of-a-kind.

Our annual

Holiday Bazaar will

be held the weekend

of November

9 and 10 at the

Marriott Hotel

(please note this

is a new location).

Jaime Keppel is

again chairing the

Bazaar (see story

on pages 26 – 27)

and has rounded

up a number of

new vendors for

the 2019 edition.

If you haven't yet volunteered to work the

bazaar, please contact Laurie Martecchini

(volunteercoordinator@awcthehague.org).

Theresa Lane is chairing our bake sale,

look for information from her on Facebook

and eNews. The Holiday Bazaar is an

important event as we use the money raised

to help fund our philanthropic events and

activities throughout the Club year and I

hope to see you volunteering and shopping!

If Thanksgiving is giving you the blues because

you won't be able to spend it with

family, our Members are the best substitutes

for relatives as we're our own little family!

We'll celebrate with turkey, dressing, and

all the fixings after our November Annual

General Meeting on November 14 and if

you have a favorite recipe for a side, don't

hesitate to let Jan Essad or Sunita Menon

know (clubadministrator@awcthehague.

org), as they're planning the menu. Not only

are we celebrating the holiday, the meeting is

one of our most important as our Treasurer,

Sheyla Karman, will review the budget for

the current Club year and you will have the

opportunity to ask questions, and then the

Membership will vote to ratify the budget.

After the vote, Anne van Oorschot, a former

president of our Club who is now the

co-chair of FAWCO's Environment Team,

will update us on how FAWCO is working

to stem the growing climate change crisis by

sharing every day changes that can make a

difference (see page 22).

>>25

Annual General Meeting

by Suzanne MacNeil and Anne van Oorschot

The November General Meeting is one

of the most important of our Club

year. Sheyla Karman, our Treasurer,

will present the 2019-2020 budget to the

Membership for discussion and a vote. Should

you want to review the budget in advance, a

copy will be provided by emailing President@

awcthehague.org. In addition, your Board will

share information about the philanthropic

projects we've undertaken and funded in the

past 18 months. It's an impressive list!

The Problem with Plastic

Following the formal portion of the meeting,

Anne van Oorschot, a former President

of our Club who is now the Co-Chair for the

FAWCO Environment Team, will discuss

the problem with plastic. "Climate change

has been called the biggest crisis humanity

has ever faced. The causes are complicated

and varied and include the warming of the

planet due to increased methane and CO2,

deforestation, human trash, and the use of

pesticides and herbicides. While many of

these issues are beyond the influence of the

average person, one big component of human

trash is plastic, and the consumption of

plastic is within the control of the consumer,

if we are aware of it. Learn some background

information

about plastic

and the huge problem

it has become,

as well as some

practical ideas that

we as consumers

can carry out to be

part of the solution."

Potluck Lunch

Following the

meeting we will celebrate Thanksgiving

with our annual Potluck Lunch. Please look

for more information about the luncheon in

eNews and on our Facebook page.

Thursday, November 14

10 a.m. Coffee and Conversation

10:30 a.m. Club updates and news

10:45 a.m. Budget review and vote

11:15 a.m. Philanthropic overview

11:30 a.m. Presentation by Anne van

Oorschot

Potluck Lunch following the meeting

AWC Clubhouse

Guests are welcome

Sign up on awcthehague.org

Did you know that any woman who speaks English is eligible to join the

American Women's Club?

Invite your English-speaking friends, wherever they're from, to join us today!

NOVEMBER 2019 9
---
Letter from the Editor

by Alex Moore

I

don't know about the rest of you, but I'm

surprised with how fast this year is going.

I blinked and it was the end of February.

I blinked again, and it was September. The

end of 2019 is almost here which means the

end of another decade. Normally, I'd get contemplative

at this point in the letter, but I'll

save that pseudo-intellectual, semi-thoughtful

drivel for another day.

With the holidays around the corners, this

is the part where many expats get homesick.

In my experience, I have found that

Thanksgiving is one of the hardest holidays

to experience outside of the US. It's such a

uniquely American holiday rooted in tradition,

a holiday that may have some kind of

equivalent in other countries, but it's not the

same. However, I have every plan ready to

keep Thanksgiving alive in Holland. But

with the great sense of community that we

share at the Club, we expats won't be so

lonely after all. The Ceremony in Leiden and

the Thanksgiving Lunch are great opportunities

to spend time with new and old Club

Members.

Before I get too emo, I'll share an anecdote

from last year's Thanksgiving preparations.

Ladies and gentlemen, the Great Turkey

Pursuit of 2018. I went into Rotterdam to

pick up a turkey from a well-known poultry

butcher in the city. I placed my order and

had to find the nearest ATM to get cash to

pay for my turkey because I didn't have a

Dutch bank account at the time. After I paid

and left, I walked fifteen minutes or so to

the nearest metro station, which was Blaak.

I boarded the metro with a six pound turkey

in my arms during the beginning of the afternoon

rush where it was standing room only.

I finally got a seat with one stop left to go.

But the saga continues. I fumbled for my

metro card from my back pocket while trying

not to drop the albatross of a turkey in

my arms. I boarded a bus where I raced towards

the first seat I found and my tired arms

had a break. At least until I had to walk from

the bus stop to the house, where my in-laws'

Irish terrier Teddy greeted me by sniffing and

jumping on me. While I had the turkey in my

arms. If it weren't for my cat-like reflexes

and quick thinking, I might have dropped it

on her head.

By the way, I see the irony (if that's the right

word) of referring to a turkey as an albatross.

I hope no one is burdened by that detail

and by the groaner pun I just sneaked into

this sentence. Cooking the turkey itself was

easier than I thought, but it was as time consuming

as I anticipated. Especially because

Teddy kept coming into the kitchen with her

orange soccer ball begging me to play with

her. I relented briefly before livestreaming

another episode of "Alex's Ratchet Kitchen"

on Instagram which involved me basting the

turkey, telling bad jokes, and moving the

camera to show Teddy eyeing the turkey with

her soccer ball at her paws.

10 GOING DUTCH

While I'll be cooking the turkey again, I

won't have any dogs in the kitchen because

sadly Teddy went to dog heaven earlier this

year. I will, however, try to livestream again

because that was fun. I'm hoping that this

year doesn't involve going over the river and

through the concrete jungle of Rotterdam

with a turkey in my arms. But you never

know.

Alex

NOVEMBER 2019 11
---
Membership

by Mary Ellen Brennan

We are very pleased with the number

of new Members who joined and

current Members who renewed during

September! Our success has been in large

part due to the great benefits of Membership.

Prospective Members just couldn't say no

to the value that we provide as an organization.

The greatest benefit of Membership is

becoming a part of a close-knit community

of women who are interesting, diverse, supportive,

friendly, and enthusiastic.

We get many new Members through our

current Members. Please take a moment

to think about who you might reach out to

about our community and its benefits, and

invite them to join us at an upcoming event.

Remember that one doesn't need to be an

American to join! Membership is available

to women who are at least 18 years of age

and either hold a US passport, or are married

to a US citizen, or have an affinity for

Did you know we moved to the current

AWC Clubhouse location in 2012 and

our Clubhouse lease was renewed automatically

for five years on June 21, 2017? If

we choose to move, a one-year notice must

be given to the Property Owners before the

next renewal date of June 21, 2022.

the US. Let's keep our momentum going by

reaching out to potential Members!

Clubhouse Corner

by Jan Essad & Sunita Menon

Welcome New Members!

Erin Baker

Carin Elam

Beatriz Martiniez-van Erven

Summer Fisk

Hanny

Amie Hesbach

Rachel Kuppers

Joy Marino

Liesbeth Tutein Nolthenius

Newcomers

by Jo van Kalveen & Hilde Volle

One of the first images you think of

when you hear the word "Delft'

must be the world famous blue and

white porcelain tiles and ornaments – the

renowned Delft Blauwe! Join Jo and Hilde

and fellow AWC Newcomers on a trip to Delft

where you will visit the wonderful Royal

Delft porcelain factory. We will also use this

visit to travel by public transport departing

from The Hague by train and returning from

Delft by tram so it's a great opportunity to

practice using your OV-chipkaart!

Royal Delft is the only Delft manufacturer

of Delft Blue since the 17th century, and

to this day still uses the same methods of

production. We will take a tour of the Royal

Delft Experience where you learn about the

history and production process of Royal

Delftware, see live painting demonstrations,

visit the Delftware museum collection, and

walk through part of the Royal Delft factory

itself. The tour ends with a look around the

lovely gift store which stocks a huge range

of Royal Delft products. We will then walk

into the center of Delft for lunch at one of

the many restaurants there before catching

Tram 1 back to The Hague midafternoon.

Wednesday, November 20

9 a.m. – 3 p.m.

Registration Deadline: November 15

Assemble at Den Haag Centraal at

9 a.m. by Starbucks

Train to Delft Central Station (17 minutes)

Walk to Royal Delft (15 to 20 minutes)

Visit Royal Delft, audio or guided tour

Walk into Delft for lunch, at participants

own expense (20 minutes)

Tram to the center of The Hague (30

minutes)

Museum, transportation and lunch at

own expense.

Museum entrance: € 14, or € 11 with

Museumkaart.

Train from Den Haag Centraal to Delft:

€ 2,60 with OV-chipkaart

Tram from Delft back to Den Haag:

€ 2.51 with OV-chipkaart

12 GOING DUTCH

You may have heard we have formed an

ad hoc committee to look into how we use

our Clubhouse and what our future options

may be. We love our current Clubhouse and

want to make sure we are in the right place

while meeting the needs of our Membership

and our activities. Look for a survey coming

your way and if you have any questions

be sure to ask us, your Clubhouse

Administrators. In the meantime, let's enjoy

our Clubhouse. See you at the Club!

Clubhouse Corner

Did you know you can use the Clubhouse for a private event or business workshop

or meeting? Interested? Contact your Clubhouse Administrators, Sunita and Jan, at

clubadministrator@awcthehague.org for more details.

NOVEMBER 2019 13
---
Credit bookspot.n

Ongoing Activities

Book Clubs

The AWC Book Clubs are open to all readers,

and new Members are especially welcome!

There are no requirements that you

must attend every meeting or lead a discussion.

Snacks are provided by a different

Member each month. There are two Book

Clubs hosted by AWC Members: One in the

daytime and one in the evening. Questions?

Teresa Mahoney organizes the daytime

group and can be reached at bookclubday@

awcthehague.org. Dena Haggerty handles

the evening meetings and can be reached

at bookclubevening@awcthehague.org.

Happy reading!

Daytime Book Club

November Selection: Beloved by Toni

Morrison

Staring unflinchingly into

the abyss of slavery, this

spellbinding novel transforms

history into a story

as powerful as Exodus

and as intimate as a lullaby.

Sethe, its protagonist,

was born a slave and

escaped to Ohio, but 18

years later she is still not

free. She has too many memories of Sweet

Home, the beautiful farm where so many

hideous things happened. And Sethe's new

home is haunted by the ghost of her baby,

who died nameless and whose tombstone is

engraved with a single word: Beloved. Filled

with bitter poetry and suspense as taut as a

rope, Beloved is a towering achievement.

Thursday, November 21

10 a.m.

AWC Clubhouse

FREE

Daytime Book Club Recap – September

"You don't have to be a good girl to be a good

person" is the marketing tagline for City of

Girls and the theme of Elizabeth Gilbert's

entire novel. Vivian Morris, rich 19-yearold

Vassar flunkout, finds that "good girl," if

the concept exists at all, means a completely

Daytime Book Club Reading List:

December TBA: An American Princess: The

Many Lives of Allene Tew by Annejet van der

Zijl

January 23: A Strangeness of My Mind by

Orphan Pamuk

different thing among the theater folk she

finds herself living with than it means to her

staid WASP family. Gilbert clearly loves the

grit and glamour and sheer fun of the 1940

midtown NYC theater world and delights us

with producers, dancers, showgirls and actors

involved in stage productions, both ludicrous

and rollicking, that you long to have

seen. This is a book you read with a wide

smile on your face. Even the sex scenes are

masterfully unique and funny—a difficult

task to pull off even for a writer of Gilbert's

talents. There's an unusual through-line

involving clothes, costumes, fabric and

sewing that is thoroughly researched and

thoroughly enjoyable. As she ages, Vivian

becomes gauzily philosophical about life.

Some of us liked this change of tone, but

others found it bifurcated the novel and was

a little too contrived. Regardless, we highly

recommend this book with one caveat: we

think it would be an unusual man who loved

it as much as we girls did.

Evening Book Club

November Selection: Fleischman is in

Trouble by Taffy Brodesser-Akner

Toby Fleishman thought he knew what

to expect when he and his wife of almost

15 years separated:

weekends and every

other holiday with the

kids, some residual

bitterness, the occasional

moment of tension

in their co-parenting

negotiations. He could

not have predicted

that one day, in the

middle of his summer

Credit: Goodreads

of sexual emancipation, Rachel would just

drop their two children off at his place and

simply not return. He had been working so

hard to find equilibrium in his single life.

As Toby tries to figure out where Rachel

went, all while juggling his patients at the

hospital, his never-ending parental duties,

and his new app-assisted sexual popularity,

his tidy narrative of the spurned husband

with the too-ambitious wife is his sole

consolation. But if Toby ever wants to truly

understand what happened to Rachel and

what happened to his marriage, he is going

to have to consider that he might not have

seen things all that clearly in the first place.

The location changes every month, so

please contact Dena at bookclubevening@

awcthehague.org if you are interested in

attending.

Wednesday, November 13

7:30 p.m.

Location TBA

FREE

Evening Book Club Reading List:

New date December 4: Love You Hard by

Abby Maslin

January: The Bridge of San Luis Rey by

Thornton Wilder

February: Nothing to Envy by Barbara Demick

March: The Signature of All Things by

Elizabeth Gilbert

Evening Book Club Recap – September

September's Evening Book Club was extra

special. We read Buried Appearances, written

by one of our own AWC Members: Dena

Haggerty. Buried Appearances follows

Skylar, an American with Dutch roots, >> 16

14 GOING DUTCH

NOVEMBER 2019 15
---
Ongoing Activities (cont.)

Continued from page 15

who travels to Holland to uncover the mystery

surrounding her grandfather's death

during World War II. The story line is riveting,

and the main character is a strong (and

very independent) woman. Those of us who

know Dena, couldn't help but hear a bit of

her coming through the book. It's recommended

by our Book Club!

Chat, Craft & Cake

Chat, Craft & Cake is a weekly highlight

for those who enjoy crafts and camaraderie.

Whether your craft is knitting, quilting, needlepoint

or simply mending your clothes,

or whether you are a beginner or an expert,

you are welcome to join us. Fish that UFO

(Unfinished Object) out of the drawer and

get going on it again. CCandCers are always

ready with a helping hand, a lesson, or some

advice. Each week, a different Member

brings a cake―tried and true, or experimental.

Babysitting is not available and there are

lots of sharp objects about (pins, needles,

scissors and wit) so we cannot accommodate

children. Contact Suzanne Dundas at

chatcraftcake@awcthehague.org for more

information

Every Tuesday

10 a.m. – Noon

AWC Clubhouse

FREE

Heart Pillow Project

Members work together to make heartshaped

pillows designed to help support

the arms of recent mastectomy patients.

Each pillow is made with TLC, wrapped,

and comes with a note signed by an AWC

volunteer. No sewing skills are needed, as

you can cut, stuff, or wrap the heart pillows.

We are proud to provide men and women

with something both practical and comforting,

and we know our work helps because

we often receive thank-you notes and emails

from the patients who have received a heart

pillow. For more information, please contact

Jan de Vries at heartpillow@awcthehague.

org.

Tuesday, November 12

Noon – 2 p.m.

AWC Clubhouse

FREE

Visitors Welcome

Out to Lunch Bunch

Restaurant Walong (www.restaurantwalong.

nl) has been a well-known restaurant on the

Frederik Hendriklaan for years, especially

at lunchtime. You can enjoy the extensive

dim sum dishes whether they are steamed,

fried or baked. We will enjoy this special

Chinese dim sum lunch, consisting of little

bites. You can choose one of the two dim

sum lunches: meat/shrimp or vegetarian.

If you have any questions, contact Greetje

Engelsman at activities@awcthehague.org.

Thursday, November 7

Noon

Restaurant Walong.

Frederik Hendriklaan 286, Den Haag

Sign up at www.awcthehague.org

Tennis League

Players needed! The AWC Tennis Group

plays doubles every Tuesday in Warmond.

Ladies move up and down the courts according

to a ladder system. The emphasis

in on having fun! The League is available

for all levels except true beginners. Contact

Molly Boed at mollyboed@gmail.com for

more information.

Every Tuesday

>> 18

16 GOING DUTCH

NOVEMBER 2019 17
---
Ongoing Activities (cont.)

Continued from page 15

Cologne Christmas Market Trip

by Melissa Rider

(except specific holidays TBD)

1 – 3 p.m.

Dekker Tennis Court

Veerpolder 14, Warmond

€ 275 Members / € 325 nonmembers

Thirsty Thursday

Join us again for our monthly gathering.

Thirsty Thursday is a casual evening of

companionship and good conversation – a

favorite for AWC Members and prospective

Members. Two soft drinks, wine or beer,

plus snacks.

Thursday, November 21

6 – 9 p.m.

Le Quartier

Van Hoytemastraat 43 (Benoordenhout)

€ 15 for two drinks and snacks

No RSVP needed

Walkie Talkies

Whether you count your steps or just want

to walk with friends, the Monday morning

Walkie Talkies is a fun, healthy and energetic

way to start the week. The group meets in

front of the Clubhouse before heading out

to walk to various destinations in the area,

usually racking up 10,000 steps along the

way. Please check the AWC Facebook

page or contact Emily van Eerten at

walkietalkies@awcthehague.org for last

minute updates and cancellations.

Mondays

9:30 a.m.

AWC Clubhouse

Free

Sign up at www.awcthehague.org

Wassenaar Coffee &

Conversation

If you live in or north of Wassenaar, join

your neighbors for coffee and conversation

once-a-month without having to drive

to the clubhouse. One Member will host

a casual coffee at her home at 9:30 on the

first Thursday of every month. Prospective

Members are welcome too. Suzanne

Dundas coordinates these meetings and can

be reached at chatcraftcake@awcthehague.

org. Because the location changes every

month, contact Suzanne if you are interested

in attending or for more information.

Thursday, November 7

9:30 a.m.

Location TBA

FREE

Christmas Market Trip

This year's AWC Christmas Market trip will

be to Cologne, Germany from December

10-11. Feel free to just come for the day or

stay overnight, by booking your own train

transportation and accommodation. Please

contact Melissa Rider at vicepresident@

awcthehague.org for more information on

how to book this trip so you don't miss out

on all of the holiday festivities.

Dates/Times

Tuesday, December 10: Depart Utrecht

Centraal 8:37, arrive Koln 10:46

Wednesday, December 11: Depart Koln Hbf

17:46, arrive Utrecht 20:01

NOTE: You will be on the same train as

Liduine and Melissa if you book these

dates/times.

Cancellation Policy

Members may reserve a spot for an

AWC tour, activity or event in advance.

Payment is required within five

business days of the reservation or

before the deadline date (whichever

is sooner) otherwise your name

will be moved to a waitlist. It is the

responsibility of the Member to

notify the Club at vicepresident@

awcthehague.org to cancel a

reservation prior to the cancellation

deadline. Please note that there will be

NO REFUNDS (no exceptions) after the

cancellation deadline. Members may

find a substitute in lieu of cancellation

provided that arrangements are

made with the tour, activity or event

organizer. Members shall be held

responsible for their guest reservations

in accordance with this policy.

18 GOING DUTCH

NOVEMBER 2019 19
---
One-of-a-Kind Activities

by Melissa Rider

RSVP directly on www.awcthehague.org. Direct any questions to

vicepresident@awcthehague.org

Payment must be made within 5 calendar days of reserving or your name will be moved to a waitlist.

Payment can be made in the Front Office by PIN, on the AWC website (www.awcthehague.org) or by

bank transfer to the AWC account NL42ABNA0431421757.

or even bio-dynamically grown grapes. She

works with 14 grape growers who are members

of the Vignerons Indépendants (French

independent winegrowers association) who

are responsible for everything during the

production process from vineyard to sale.

Tosca's knowledge about wine means her

wines are not only delicious, they're also

considered a responsible glass of wine. Her

company, Joie de Vin, translates to the joy

of wine. Tosca will share her joy of wine at

a wine tasting event at the Clubhouse.

Saturday, November 16

4 – 7 p.m.

AWC Clubhouse

€ 20 Members or guests

Maximum 20

RSVP via our online calendar

Foodie Tour of the Haagse Markt

Come and spend your Saturday morning

exploring the Haagse Markt (The Hague

Market), one of the largest multicultural

markets in Europe. Our guide will take

us on a two-hour culinary world tour that

stimulates the taste buds. As we walk along

the rows of colorful stands, we'll stop to

taste exotic and Dutch products from a range

of vendors. Depending upon the season,

each week between 35,000 to 42,000 people

visit the market, which hosts more than 500

stands. You can find fruits and vegetables

from around the world and some of the

best fresh fish in town. Before beginning

our culinary journey, we'll meet our guide

for coffee at 10 a.m. at the Marketplace

located at Hoflandplein 17 at the end of

Herman Costerstraat on the Hoefkade side

of the market. It's easily accessible by tram

11 or 12. Contact me at vicepresident@

awcthehague.com to confirm if there is still

space.

Saturday, November 2

10 a.m. – Noon

€ 18 Members / €23 Non-members

Maximum 25

Non-refundable

RSVP via our online calendar

H. Antonius Abt Church Tour

A volunteer guide from the Friends of the

Abbot Foundation will give us a private tour

explaining the history, construction, and

interior of this church now being used for

Roman Catholic worship. While the current

building was constructed between 1925 and

1927, Count Willem V of Bavaria founded

a chapel in Scheveningen in 1357 that was

dedicated to St. Anthony the Abbot, an

Egyptian recluse from the third century. The

church interior has mosaics, stained glass

windows, and bronze work. Stations of the

Cross and Apse Mosaics is a memorial mosaic

of more than 2,150 square feet (200

square meters) of approximately 2 million

pieces of Venetian glass.

Wednesday, November 6

11 a.m. – Noon

Fee is a small donation to the Friends of

the Abbot Foundation

Maximum 15

Scheveningseweg 235, Den Haag

RSVP via our online calendar

November Lunch Bunch Outing

Following the non-denominational

Thanksgiving Service at the Pieterskerk in

Leiden (see pages 34 – 35), where the Pilgrim

story began, we will have lunch at Koetshuis

De Burcht which sits at the base of a historic

castle ruin built in the 11th century. For

more information, please contact Greetje

Engelsman at outtolunchbunch@

awcthehague.org.

Thursday, November 28

9:45 a.m. Meet at the Starbucks in Den

Haag Centraal Station

11 a.m. Ceremony begins, and then it's a

short walk to the restaurant afterwards

Free ceremony

Lunch at own expense

RSVP via our online calendar

Wine Tasting and Discussion

Need a glass of wine to share with your

partner or a friend on a Saturday? Tosca

Winters is a graduate of the Dutch Wine

Academy with her vinoloog (vinologist) degree.

French wines are her specialty and she

chooses wines that are organic and carry various

certificates for sustainability, organic,

Unique products

for entrepreneurs

Sligro The Hague Forepark is the perfect fit for you as entrepreneur.

We inspire and support you with our products and services, that will

help you with your business. Our people are always there for you

with professional and tailored advice.

sligro.nl

Linge 2, The Hague

AWC Guest Policy

Guests are welcome to participate in

AWC activities and tours on a limited

basis. As a nonmember, a guest is

limited to attend two functions per

calendar year and will be charged

an additional nonmember fee.

Only Members are entitled to use

babysitting services.

1061246

20 GOING DUTCH

NOVEMBER 2019 21
---
Keeping Biodiversity Diverse (and Alive!)

by Suzi Tart (AAWE Paris) & Anne van Oorschot (AWC The Hague)

How much do you know about biodiversity? I didn't know much until I read this interesting

and understandable article by Suzi Tart, a member of FAWCO's Environment Team.

I especially like the suggestions she gives for easy things we can do that have a positive

effect on biodiversity.

In the midst of the world's sixth mass extinction,

three birds were believed to have

gone extinct from the wild in 2018. The

year before, it was three lizards, plus a bat

and a cat. Of the 96,900 species assessed for

the IUCN's Red List, roughly one in four are

threatened with extinction (www.iucn.org/

resources/conservation-tools/iucn-red-listthreatened-species).

This is not including the

species that we have yet to identify.

Unlike the past five mass extinctions which

were the result of natural events like asteroid

strikes and volcanic eruptions, the sixth mass

extinction comes as a result of one species

in particular: homo sapiens. While many species

are witnessing their populations decline,

humans are growing in number. Combined

with our current lifestyle choices, we are the

cause of the sixth mass extinction. Some of

our more damaging activities include our

consumption of natural resources, destruction

of natural habitats, an introduction of

species into non-native environments, pollution,

and climate change.

Why is saving biodiversity

important?

The circle of life recognizes that each species,

be it an invisible microbe or a predator

at the top of a food chain, has a role to play

in the ecosystem. This enables us to have

clean air and water as well as a large variety

of crops, food, and medicines. Not only

do healthy ecosystems have greater chances

of surviving and recovering from natural disasters,

but they bring strong economic benefits.

As much as 40% of the world's economy

stems from biological resources and it is

estimated that biological resources meet 80%

of the poor's needs (http://darwin.bio.uci.

22 GOING DUTCH

edu/sustain/bio65/lec06/bio-leaf.htm). If this

isn't convincing enough, an ironic threat of

biodiversity loss is that although we are the

perpetrators, we are also the victims. Given

that each species is interconnected with other

species, each extinction has the potential to

set off a chain reaction that leads to one or

more species also going extinct, thus threatening

our very own existence.

Many experts say that the biodiversity crisis

looms just as large, if not larger, than climate

change. While the world is fortunately increasingly

turning its attention to the annual

COP (Conference of the Parties) that is held

in hopes of combating climate change, very

few people are aware of the biennial COP

for biological diversity. Halting biodiversity

loss is of global concern. It is explicitly mentioned

in Sustainable Development Goal 15,

which focuses on life on land. It is also relevant

to Sustainable Development Goal 14,

which focuses on life below water.

What can we do?

Biodiversity is much more exciting when

we're talking about the cute (think WWF's

panda bear logo), the beautiful (think the

bright blue Spix Macaw starring in the animated

film Rio), or the exotic (think animals

found in rarer ecosystems, such as elephants

living on the savanna). Yet protecting biodiversity

starts in our own backyards. Unlike

some global challenges that are easy to become

overwhelmed by, I strongly believe

that halting biodiversity loss is an achievable

goal. Just as there are many different species

threatened, there are as many different ways

we can make a difference. And no, you do

not have to join a conservation club or go

bird watching with Great Aunt Betsy, either!

Here are just a few ways we can all contribute:

Plant wildflowers: As pollinators, bees

are essential for many plants to reproduce.

According to the Food and Agriculture

Organization, as much as 75% of the crops

we harvest depend upon pollination (http://

www.fao.org/news/story/en/item/384726/

icode/). Declining bee populations in North

America and Europe are therefore of concern.

Building bee boxes for the yard is one

way of boosting bee populations, but you

don't have to risk getting stung by a bee to

make a strong impact—planting wildflowers

can have a significant positive effect,

with one study finding that wildflowers quadrupled

bees' chance of survival.

Buy and use organic produce and products:

This supports natural plant biodiversity

as the crops are not genetically modified.

It is also another easy way for us to

help rebuild bee populations. Buying organic

sends a signal to the market for farmers

to adopt sustainable, long-term farming

methods, including methods in which

bee-harming pesticides are not used. This

is especially important for those of us who

do not live in countries that use policy to

bee-friend the bees. In 2018, the EU banned

three bee-harming pesticides, with France

leading the way and banning all five that

are believed to threaten the bees' existence.

Presumably, not all countries will follow in

France's footsteps, and this is where we can

use market power to override and correct

such policy gaps.

Reduce your carbon footprint: Climate

change is one of the biggest threats to biodiversity.

Reducing the number of fossil fuels

that we consume will reduce our greenhouse

gas emissions. This will help stop the environmental

changes and increased natural disasters

that are squeezing species out of their

habitats. If you're wondering how you can

reduce your personal carbon footprint, there

is an article on the FAWCO Environment

Team website that offers several calculators

that can help you visualize where you have

the highest emissions: 2018: The Year the

Planet Earth Cried for Help Loud Enough

for Humans to Hear. (www.fawco.org/

global-issues/environment/environmentarticles/4008-2018-the-year-planet-earthcried-for-help-loud-enough-for-humans-tohear)

Participate in the circular economy: If

products get reused, repaired and upcycled,

fewer natural resources go into making

them. This means that fewer habitats get

destroyed. It also results in less waste going

into the landfill, and less pollution going

into our streams, soil, and air. This helps to

keep nature as pristine as possible, making

it easier for species to thrive.

Champion the Endangered Species Act:

My fellow Americans, this one is on us.

Since President Nixon signed the bipartisan

ESA in 1973, more than 99% of the species

listed have been kept from going extinct.

That is a remarkable victory! It is also

the strongest law worldwide for protect- >> 24

NOVEMBER 2019 23
---
Keeping Biodiversity Diverse (cont.)

Continued from page 23

Message from the President (cont.)

Continued from page 8

ing biological resources, according to the

Center for Biological Diversity. Animals

that have been saved include the bald eagle,

American alligator, whooping crane and

grizzly bear, as well as 223 other cool species.

Recently there has been talk of making

it easier to remove species from the list, and

rolling back protections for those that are

threatened, allowing wildlife corridors to

be disrupted with roads and pipelines. This

would have dire, long-lasting consequences,

reversing progress already made. As habitat

fragmentation (not just habitat loss) is

a main cause of the recent decline in biodiversity,

it's vital that we leave space in

which wildlife can roam freely. China did

this, and the result was that the number of

giant pandas increased enough that they

were removed from the endangered section

of the IUCN's Red List in 2016. As plants

and animals are unable to vote and petition

Congress, we have an ethical obligation to

be a voice for their cause—they simply can't

survive otherwise. We must make it known

how much the ESA matters. The bald eagle

is counting on us.

Our November meeting isn't the only chance

you'll have to celebrate Thanksgiving. Don't

pass up the opportunity to celebrate the holiday

on Thanksgiving Day at the Pieterskerk

in Leiden, the city where the original 100

Pilgrims lived after leaving England. Read

about the annual service in Leiden, and the

AWC Thanksgiving Day Lunch, on pages

34 – 35.

Also this month, we will have a private tour

of St. Anthony Abbot, a Catholic church

near the Clubhouse whose origins date back

to 1357. Many of the religious scenes depicted

throughout the church were made using

millions of pieces of smalti, a Venetian glass

that is considered the material of the masters.

We'll visit Royal Delft on November

20 thanks to our Newcomers Chairs, Jo

van Kalveen and Hilde Volle. We've also

added mahjong and Spanish classes on most

Tuesdays, along with our regular events and

activities. All this is to say that our Club has

something for everyone. I hope you take advantage

of at least a few of our offerings,

whether you're working from home, at an

office, or looking for a way to fill your days

and/or evenings. We are a unique group of

women with wisdom, information, tips, and

friendship. As always, if you have any questions,

ideas, or just want to catch up, I'm

available to chat either by phone or email.

Tot ziens,

Suzanne

Holly and Amber's

Farewell Lunch

October General

Meeting

24 GOING DUTCH

NOVEMBER 2019 25
---
2019 Holiday Bazaar

by Amber Gatewood

Winter is coming... and with it comes the holiday season and the AWC Holiday

Bazaar! Over two days, you can shop 'til you drop at The Hague Marriott Hotel,

taking care of all your gift-giving needs. We're also going to take care of the kids

from ages 2-8 years on both days thanks to My Gym Community Outreach. There will

be games, relays, puppets, and much more to keep them busy while you shop! As always,

we have a wide variety of seasoned vendors, and a few who are new to our Bazaar. Here's

a sampling, to get those visions of sugar plums dancing in your head:

Textielfeest, by Marieke Mijman

www.textielfeest.nl

A Book in the Hand, by Susan Garrone

org.usbornebooksathome.co.uk/bookinthehand

ADA Jewelry, by Ada Boer

www.adajewelry.com

Joie de Vin organic and biological wines, by Tosca Winters

wwwjoiedevin.nl

Holiday Bazaar Bake Sale

by Jaimie Keppel

Behind the Curtain in Santa's Kitchen – Calling All Elves

Every year at the AWC's Holiday Bazaar, Santa's elves bake and sell a yummy assortment

of cakes, cookies, and savory treats. Will you be one of the Bake Sale elves this year? Your

baked goods give our guests the energy to shop 'til they drop! Is baking not your forte? We

still need you as one of the helpers to sell the treats at the Bazaar.

Sign up to donate your baked good by filling out the form at www.tinyurl.com/

HolidayBazaar2019. You will be contacted closer to the date to confirm. Baked good

drop-off takes place at the AWC Clubhouse

on Friday, November 8. If you have any

specific questions, feel free to contact me

at holidaybazaar@awcthehague.org.

To volunteer to work at the Bake

Sale, contact Laurie Martecchini at

volunteercoordinator@awcthehague.org.

Let the Holiday Season commence and see

you at the Holiday Bazaar!

Quiltshop Andrea, by Andrea de Jong

www.quiltshopandrea.nl

Typical Dutch Art, by Peet Quintus

www.typicaldutchart.nl

Mees Essentials, by Ginny Mees

www.essentialoilsforhealth.eu

Tips From Our Own Baking Expert

Want your Christmas cookies to be the best they can be?

Here are some tips from our resident baking expert and

AWC Member Julie Otten.

First tip is not to open your eggs directly into your main

mixing bowl. Rather, open them into a separate bowl. This

way, if shells crack and fall into the eggs you won't have to

go on a fishing expedition to get them out of your dough.

See you at The Marriott!

Saturday & Sunday, November 9 & 10

11 a.m. – 5 p.m.

The Hague Marriott Hotel

Johan de Wittlaan 30, 2517JR, Den Haag

Admission: € 2 (Children FREE)

Tip number two is to sift your dry ingredients, such as flour,

salt, and baking soda. This aids in the thorough mixing of

your ingredients.

The last tip is when making cookies, refrigerate cookie

dough at least 30 minutes before cutting /spooning and baking.

This prevents your cookies from spreading resulting in

perfectly formed cookies every time. Thanks, Julie!

26 GOING DUTCH

NOVEMBER 2019 27
---
November 2019

Sun Mon Tue Wed Thu Fri Sat

1 2

Save the Dates:

December 8: Nicolaes Maes Tour

December 10 & 11: Cologne Christmas Market

December 17: Holiday Lunch Bunch

Foodie Tour of the Haagse

Market 10 a.m.

3 4

5

6

7

8 9

Walkie Talkies 9:30 a.m

Chat, Craft & Cake 10 a.m.

Spanish Conversation Noon

Mah Jong 1 p.m.

AWC Tennis 1 p.m.

H. Antonius Abbott Church

Tour 11 a.m.

Wassenaar Coffee and

Conversation 9:30 a.m.

Out to Lunch Bunch Noon

AWC Holiday Bazaar

11 a.m. – 5 p.m.

10 11

12

13

14

15 16

AWC Holiday Bazaar

11 a.m. – 5 p.m.

Walkie Talkies 9:30 a.m

Chat, Craft & Cake 10 a.m.

Heart Pillow Workshop

Noon

AWC Tennis 1 p.m.

Buddy Check 12

Evening Book Club

7:30 p.m.

Coffee 10 a.m.

Annual General Meeting

and Thanksgiving Potluck

10:30 a.m.

Wine Tasting and Discussion

4 p.m.

17 18

19

20

21

22 23

Walkie Talkies 9:30 a.m

Chat, Craft & Cake 10 a.m.

Spanish Conversation Noon

Mah Jong 1 p.m.

Newcomers Trip to Royal

Delft 9 a.m.

Daytime Book Club 10 a.m.

AWC Tennis 1 p.m.

Thirsty Thursday 6 p.m.

24 25

26

27 28

29 30

Walkie Talkies 9:30 a.m

Chat, Craft & Cake 10 a.m.

Mah Jong 1 p.m.

Pieterskerk Thanksgiving

Ceremony and Lunch in

Leiden 9:45 a.m.

AWC Tennis 1 p.m.

28 GOING DUTCH

NOVEMBER 2019 29
---
AWC and the Arts

by Jane Choy -Thurlow, AWC Member and Mauritshuis Docent

The new AWC Website is now up and running!

Please visit

www.awcthehague.org

for all of your Club-related needs:

Payment of Membership dues, registration for activities and events,

Membership directory, etc.

If you have any questions about the website, please contact

communications@awcthehague.org

Guided Tour of Nicolaes Maes -

Rembrandt's Versatile Pupil

The Mauritshuis will conclude the

Rembrandt & the Golden Age year with the

first international retrospective exhibition

about one of Rembrandt's most talented students:

Nicolaes Maes.

With his original representations of everyday

life, Nicolaes Maes was one of the most

innovative painters of the Dutch Golden

Age. His domestic scenes have been a

source of inspiration for painters such as

Pieter de Hooch and Johannes Vermeer. In

his lifelike representation of emotions, Maes

shows himself to be a fully-fledged student

of Rembrandt. He began his career by painting

Biblical stories, in which the influence

of his teacher is clearly visible. Maes was

inspired by his teacher, but at the same time

always looked for his own, new solutions.

In the following years, Maes painted intimate

scenes with women engaged in

their household duties. The

Eavesdroppers collections is

a favourite; representations

of how the lady of the house

catches her maid with a lover.

Some beautiful 'eavesdroppers'

will be on loan from

the Dordrechts Museum, the

Guildhall Art Gallery and the

Wellington Museum (both

London). Maes achieved his

greatest success, artistically

and financially, during his

life as a portrait painter. His

clients are dressed luxuriously,

or even represented in

fantasy costumes, and placed

in park-like landscapes with

antique structures and fountains.

The Eavesdropper, 1656

Wellington Museum, London

RSVP for all Arts Activities directly

on www.awcthehague.org

Direct any questions to

jechoy@me.com

Save time by buying your entrance ticket

online in advance at www.mauritshuis.nl.

Sunday, December 8

4:30 p.m.

Mauritshuis Museum

Maximum 15 / Minimum 11

€ 10 Members / € 15 non-members

Museum entrance is € 15.50, or free with

Museumkaart

Cancellation deadline: November 25

It is possible to sign up after this date if

there is space

Sign up at www.awcthehague.org

30 GOING DUTCH

NOVEMBER 2019 31
---
FAWCO Corner

by Barbara Brookman, AWC the Hague FAWCO

Representative

Federation of American Women's Clubs Overseas, a United Nations NGO with

consultative status with the UN Economic and Social Council

www.fawco.org.

Apply Now for FAWCO

Foundation Education Awards

and Development Grants

The FAWCO Foundation is the philanthropic

arm of FAWCO. Each spring, this

Member-supported organization awards

yearly Education Awards and Development

Grants.

The 2020 Education Award and

Development Grant information is available

on the FAWCO Foundation website

(www.fawcofoundation.org/programs).

This includes eligibility requirements

and terms of study for Education

Awards (www.fawcofoundation.org/

/education-awards) and nomination requirements

for Development Grants (www.

.org/programs/development-grants).

A month-by-month application timeline on

the website provides useful advice on timely

submission of your application. With deadlines

in early January, it's best to get applications

in before the holiday rush!

Education Awards

The Education Awards, each for $5,000, are

open to AWC Members and their children

in areas of arts, sciences, humanities, dual

cultural, and more. The application deadline

is in January each year. Do you have a child

who might be interested in applying for an

Education Award, a child or grandchild who

is dual cultural, or are YOU interested in furthering

your studies? If you are a member of

AWC The Hague, you and your children are

eligible to apply. The Dual Cultural Award

is also available to members' grandchildren.

Visit the Foundation website's Education

Awards page to learn more about Academic

32 GOING DUTCH

Awards for your children, Continuing

Education Awards for you and Dual Cultural

Awards for your children or grandchildren

and see how you or a family member

might qualify (www.fawcofoundation.org/

/education-awards).

Development Grants

Are you interested in applying for a

Development Grant for a specific organization

or project that the Club has been supporting?

The Development Grants, each for

$5,500, are awarded in the areas of education,

human rights, health, and the environment.

The deadline for application is in

January each year.

Visit the Foundation website's Development

Grants page for further information (www.

fawcofoundation.org/programs/).

What is the FAWCO Foundation?

The FAWCO network is made up of three

separate but related organizations: FAWCO,

the FAWCO Foundation and FAUSA,

FAWCO's alumnae organization for people

who have lived internationally and now live

in North America.

The FAWCO Foundation's sole purpose is

to put into action FAWCO's stated interest

in the global community by specifically

aiding charitable, scientific and educational

programs and supporting the rights of women

and children throughout the world.

For over 40 years, The Foundation has stayed

true to this purpose, with 100% of donations

going to support The Foundation's work.

More than $2 million has been disbursed to

benefit FAWCO clubs, individual members

and FAWCO-related initiatives.

AWC Attends the Climate Change Protests

NOVEMBER 2019 33
---
Thanksgiving Day Service

by Roberta Enschede, Coordinator

Please join us at this nondenominational service on Thanksgiving morning at the historic

Pieterskerk. There will be a Catholic priest, Protestant ministers, a rabbi, and a cantor. Our

Dutch friends, and friends from all nations and of all faiths, are welcome.

Thanksgiving at the Pieterskerk in Leiden is unique. In that church, the Pilgrims recorded

their births, marriages and deaths. They lived in its surroundings from 1609 to 1620. The Koet

family are descendants of Moses Fletcher, a Leiden Pilgrim and subsequently a signer of the

Mayflower Compact, and still live there. They are the only non-American members of the

Mayflower Society.

I felt a respect and veneration upon entering the church at Leiden.

~ Abigail Adams

On the occasion of the first visit of a sitting American President to the Netherlands, the

Pieterskerk was the chosen site for President George H.W. Bush to speak. The Bush family

trace their ancestry to Francis Cooke, also a signer of the Mayflower Compact and a Leiden

pilgrim. In fact, nine American Presidents trace their roots to Leiden. Former President Barack

Obama traces his to the Blossom family.

In Leiden, one feels how inextricably the values of the American nation are linked with the

Netherlands. A group of English dissenters were welcomed there and able to live and worship

freely, and even publish at a time when freedom of religion and the press were certainly not the

norm. It is a Dutch story, an American story, and the story of all nations that aspire to be free.

Thanksgiving Day Lunch

by Greetje Engelsman

Each year, Overseas Americans Remember (OAR) hosts a wonderful non-denominational

Thanksgiving Ceremony at the Pieterskerk in Leiden, where our Pilgrim story began.

Please see the article on the facing page, by Roberta Enschede, Coordinator for OAR.

We will meet at Startbucks in Den Haag Cenraal at 9:45 a.m., to travel to Leiden Centraal

by train (bring your OV-chipkaart). In Leiden, the group will walk from the station to the

Pieterskerk to listen to the Thanksgiving ceremony. The church opens at 10 a.m., and the

ceremony begins at 11 a.m.

After the ceremony, we will have lunch at the Koetshuis de Burcht. This restaurant sits at

the base of a historic castle ruin built in the 11th Century. It was a coach house from 1657,

until being opened as a restaurant in 1981. For more information, please contact me at

outtolunchbunch@awcthehague.org.

Thursday, November 28

9:45 a.m. – Meet at Starbucks in Den Haag Centraal

11 a.m. – Ceremony begins

FREE Ceremony (Lunch at own expense)

Registration/Cancellation Deadline: November 26

Sign up at www.awcthehague.org

The congregation will sing familiar hymns. Coincidentally, one of them, We Gather Together,

is considered by Americans to be "very American." This is actually a Dutch hymn and familiar

to Dutch people as Wilt Heden Nu Treden.

The Vice Mayor of Leiden will welcome everyone and the Honorable Pete Hoekstra, US

Ambassador to the Netherlands, will share a Thanksgiving Day message. The Choir JAKK

and the Concert Band from the American School will be there, as well as the Scouts and "The

Little Pilgrims." Children are an integral

part of the Service as they should be.

You won't forget Thanksgiving in

Leiden! Join us. Bring your friends and

neighbors.

Thursday, November 28

11 a.m.

Pieterskerk, Leiden

FREE

Carpool if possible.

Please bring some cookies for coffee

time after the service!

For more information, please contact Roberta at oarinnl@yahoo.com

Sponsored by Overseas Americans Remember (OAR)

34 GOING DUTCH

NOVEMBER 2019 35
---
The Dutch Daily

by Eileen Harloff

For the past weeks I've been closely

following the decisions of the United

Kingdom to leave the European Union

and to go it alone. At my advanced age I have

memories of the euphoria that followed the

ending in 1945 of a war which had resulted

in carnage and death throughout the world.

International organizations were gradually

set up to promote working together to solve

world and regional problems and for the

more fortunate countries to give aid for improving

conditions in poorer nations. Now

we live in next-generation times where former

world wars are but a part of history, and

the mantra is "no one else is going to tell us

what to do, we can make it on our own". In

other words, the need for international cooperation

and good will is considered to be

a form of outside interference. I don't know

what the outcome of Brexit or the changes in

international trade and other agreements of

the US with other countries will be, so I have

decided to go back in time when conditions

were really wild, namely the dinosaur age.

Who Was the Biggest Bird?

According to the British Zoology Institute

it was the Elephant Bird, which lived in

Madagascar thousands of years ago, grew

to three meters high, weighed more than

1,700 pounds (800 kilos), and was unable

to fly. Its fate was similar to that of the Dodo

Bird in Mauritius, which was wiped out

by settlers who killed it for food (it tasted

terrible) and then for sport. The Elephant

Bird did well in Madagascar for 60 million

years, until man appeared on the scene and

started to clear the forests, whereby the

birds were killed and their eggs eaten. Due

to the Elephant Bird's enormous girth, the

seeds in their defecations were spread over

the island and when the birds disappeared

there was a negative effect on the islands'

environment. The modern ancestors of the

Elephant Bird are today's ostrich.

When it All Ended

It was some 66 million years ago that a

huge rock came out of space and crashed

into the Yucatan Peninsula that is located

between Mexico and Central America. The

impact of this occurrence is estimated to

have been equivalent to 10 billion atomic

bombs simultaneously exploding. Due to

the resulting dust and debris, the Earth was

left in darkness for a long cooling period

in which plants, animals and any other living

things were unable to survive. Now, for

the first time, a level of the Earth's surface

at the time of the "big bang" has been revealed.

It was discovered earlier this year

Credit: The New Yorker

in the US state of North Dakota by paleontologist

Robert de Palma and his team, consisting

primarily of Dutch men and women.

The Earth layer contains the remains of all

kinds and sizes of animals, from microorganisms

to insects to mammals, including

part of the carcass of a Triceratop dinosaur.

According to de Palma, there has been no

other discovery on Earth where such a large

number of animals of varying ages that all

died simultaneously on the same day.

P.S. A long-necked Diplodocus, whose

bones were found in Wyoming in the 1990s,

is currently being reconstructed in the

Oertijd (Prehistoric) Museum in Boxtel.

Visitors can watch the work as it progresses

over the coming three years.

Your Vote is Your Voice

As a US citizen resident abroad, how do I register to vote

and/or apply for an absentee ballot?

Use the FPCA – the Federal Postcard Application

The FPCA is both a Registration and Absentee Ballot Request form. It

is standardized for use across all States and territories.

Credit: Independent

Credit: The New Yorker

The FVAP – Federal Voting Assistance Program encourages

the use of the FPCA each year.

To download the FPCA and to locate the address of your voting

district, go to the US government site: www.FVAP.gov

or to: www.usvotefoundation.org.

Remember! Mail the FPCA with Dutch stamps! "Postage Paid"

is only valid when mailing in the USA or US territories

36 GOING DUTCH

NOVEMBER 2019 37
---
38 GOING DUTCH

Welcome Back

BBQ
---
Unconventional Travel: Down Under

by Melissa White

In September 2018, my 18-year-old daughter

Ashlynn started a year of working as a

full-time international fashion model for

her gap year, and I started writing about my

visits with her while she was "on-stay" (when

a model stays in a city for an extended time

to meet local clients in the hope of securing

jobs). I was thrilled that it worked out to visit

her in Paris, Athens and Seoul. Two and a

half months after hugging Ashlynn good-bye

in Seoul, it was time to meet her in another

foreign land. This time I would be venturing

south of the Equator for the first time in my

life in order to visit her in Australia.

Luckily, I arrived at Schiphol three hours

before my flight as it turned out that I hadn't

done my homework and I was denied boarding.

It never dawned on me that my blue

passport would encounter any road blocks,

thus I neglected to research if I needed a

tourist visa. Nor had Cathay Pacific mentioned

the possibility during either the

booking or check-in process, so I was completely

caught off guard when I was unable

to print my boarding passes at the airport

kiosk. Imagine my shock when the agent

said I needed an urgent visa. I was very fortunate

that James had accompanied me and

helped talk me out of having a complete

meltdown. After much fumbling on his iPad

and foolishly paying twice for an urgent

40 GOING DUTCH

visa, he sweet-talked the agent into letting

me back into the front of the line where I

eventually held tightly onto my invaluable

boarding passes. Passport control was also

a madhouse where my pretty blue passport

was initially denied entry into the automated

check-out lines; after a 20-minute wait, the

same agent who had initially denied me,

rushed me into the correct line. Fortunately,

everything else went smoothly and 26 hours

later I met Ashlynn at Melbourne Airport for

the long Easter weekend.

Multiple people had told me that Melbourne

is Australia's most cosmopolitan city. We

stayed in the city center, not far from its impressive

riverfront. Melbourne is Australia's

cultural capital and second largest city with

around five million inhabitants. It is home to

the longest continuously running Chinatown

outside of Asia, with an incredible variety

of Asian restaurants throughout the city; we

had several great Thai meals and lots of delicious

takeaway sushi.

We walked a lot, including walking along the

riverfront, through the botanical gardens and

across the city to St. Kilda's to see some of

the area's 1,400 fairy penguins come ashore

at sunset. People line up along the suburb's

pier to witness the quick swimmers emerge

from the water to spend the night between

the rocks and bushes. We were fortunate to

find a great vantage point to see magic happen

before our eyes: one moment the smallest

penguins in the world were swimming

along and the next they were chattering

away while hopping around the rocks. Due

to their sensitive eyes and the high number

of human observers, flash photography

wasn't allowed so my photos aren't great.

I'm not a big fan of tour buses, but I also

had no desire to drive on the other side of

the road, so I sought out a company offering

small-sized tours for our biggest adventure:

an all-day trip to Phillip Island to see

the island's official penguin parade. Along

the way, we stopped at Moonlit Sanctuary

Conservation Park where we saw rescued

native animals, including koalas, dingoes

and wombats. We really enjoyed the opportunity

to feed kangaroos and wallabies who

freely roamed the property. Then we went to

Point Grant where we saw some beautiful

rock formations called The Nobbies due to

their dome shapes and saw fairy penguins

in the burrows amongst the rocks. Our final

stop was Phillip Island Nature Park to

see the nightly march of the penguins from

the waters of the Bass Strait to their burrows

on land. I splurged on an upgrade for

a small group tour with a park ranger who

led us down to a viewing point above the

beach to witness this magical event. We

were exceptionally lucky with the weather

as it sprinkled for just a few minutes as we

were leaving the beach, but the skies waited

to open up until after we were safely back in

the Go West Tours' mini-bus.

On Easter Monday, Ashlynn flew back to

Sydney and I flew onto Canberra, the capital

of Australia, where I spent ten days with

a friend whom I'd met in Switzerland >> 42

NOVEMBER 2019 41
---
Unconventional Travel: Down Under (cont.)

Continued from page 41

but hadn't seen in the ten years since she'd

moved home. She was passionate about

sharing her love for her city, so our days

were full of visiting museums, cycling along

the lakefront on wonderful dedicated cycle

paths, and hiking in the nearby hills where

I was ecstatic to spot kangaroos in the wild.

I'm not much of a morning person, but I

managed to wake up early enough to accompany

my friends to the annual dawn service

at the Australian War Memorial for Anzac

Day, Australia and New Zealand's National

Day of Remembrance of all who served and

died in wars and peacekeeping missions.

We also went exploring further afield including

snorkeling at the coast and hiking

in several national parks. I was thrilled that

it worked out for Ashlynn to join us by train

for one day of hiking in the beautiful Blue

Mountains outside of Sydney.

I only had eight nights in Sydney, Australia's

largest city, which was definitely not

enough. Originally, I had planned to stay

with Ashlynn in her tiny AirBnB room, but

in the time since I had booked my flights,

she had made plans to move in with a friend

and said there wouldn't be space for me. I

wasn't thrilled about the change in plans

or unexpected extra expense, but managed

to find an affordable hotel in the Potts

Point area of the city. With a free upgrade

from Booking.com, there was even a fantastic

bay view. And Ashlynn stayed with me

for all but one of the nights.

Like in the other cities where she was onstay

as a model, Ashlynn's schedule was not

her own and was highly unpredictable. The

advantage of her not working as often as she

had in Seoul was that she had lots of time

to spend with me, but we also never knew

when something would come up at the last

minute and throw our plans out the window.

On Sunday just as we were just boarding a

train to catch a ferry so we could do a coastal

walk, she got a call about a last-minute

"casting" (interview for a modeling job) for

a fashion show. We ditched our plans, went

back to the hotel to grab her heels, took a

bus across town for an hour and then walked

20 minutes to the casting. Thankfully she

got that job, so it wasn't all for nothing.

Sydney is one of the most expensive cities

in the world to live in, but I found public

transportation and restaurants surprisingly

affordable. It's also one of the most beautiful

cities I've ever visited. Although I had

seen photos of its iconic Opera House and

infamous Bondi Beach, I was completely

blown away by the natural beauty of its

breathtaking coastline consisting of 70

beaches and miles of rocky paths. When

Ashlynn was busy with castings or jobs, I

wandered through several impressive museums

as well as the botanical gardens,

all of which had free admission, and took

several coastal walks. I was also thrilled

that Ashlynn joined me twice to run with

the Sydney Thirsty Thursday Hash House

Harriers and that she continued to run with

them after I left.

Overall, Ashlynn ended up staying in Sydney

for nearly three months and thoroughly enjoyed

her time there, whether modelling,

taking a DJ class, exploring or hanging out

with new friends. She also loved that she

had the opportunity to do three photo shoots

at various beaches. Just a few days after

my departure, she walked in a fashion >> 44

Travel4U@americantravelcenter.net/www.americantravelcenter.nl/tel. +3261234901

"Our next holiday is

a safari. They do

the whole world!"

"They make booking a

holiday so easy. I just

leave it to them!"

"Every trip is

customized, just for

me! That's unique!"

42 GOING DUTCH

NOVEMBER 2019 43
---
Unconventional Travel: Down Under (cont.)

Continued from page 43

Weekend in Barcelona

by Alex Moore

show with the Opera House as the backdrop,

which I was very sad to miss. After

such a positive experience, her next stop

was a bitter disappointment:

Shenzhen, China. Although

she had planned on staying

for two months, the agency

there sent her home after

just two weeks because they

claimed she was too tall and

too blonde, and her hips

were too big. Luckily her

time in China wasn't a complete

downer as she ended

her visit with a weekend in

Hong Kong where I had arranged

for her to stay with

one of my Hash friends.

Surprisingly, she heard her

name called out while walking

through a random alley

and ended up spending the

rest of her trip with two

classmates from the British

School of the Netherlands.

So, the end of Ashlynn's year of being a fulltime

model came to an end and thus also my

year of chasing her around the globe.

The last time I went to Barcelona was in

2006 as part of a long trip to Spain that

included a two-week intensive course

in Salamanca. I was there for five weeks,

starting in Madrid before going to places such

as Toledo, Cordoba, Malaga, Segovia, and

Avila. I came back rattling off Castellano like

a pro with a Mediterranean tan to boot. Years

later, I wasn't an 18-year-old fresh-out-ofhigh-school

teen ready to take on the world,

the same one who graced the halls of El Prat

International Airport many years before. No,

this time I came back to meet with a friend,

and I wondered how I would find Barcelona.

As I walked through the airport, the first thing

that caught my attention was that it looked

the same as I remembered from 2006. Funny

the things that catch your attention initially.

I texted my friend to tell her I had arrived.

She'd come from Granada, by some stroke

of luck we were able to book our flights

fairly close to each other. I wandered to the

baggage claim to pick up the carry-on I had

to check at Schipol at the gate. As soon as I

went to the baggage claim, I heard "Alex!" I

turned around to see my Korean friend Young

waiting near the seats. I screamed, making a

fool of myself in front of other travelers before

giving her a big hug.

I met Young in 2013 when I lived in New

Zealand. I was house hunting and came

across an ad on TradeMe, a classifieds website.

The ad was for a room in a big house

in Auckland. The day I went over to see the

room and meet the landlady, Young answered

the door. After I moved in, we played a card

game with another housemate and shared

some Haribo candy together. Little did I

know that it would be the first of many memories

we'd share together, whether it was

backyard barbecues in a New Zealand summer,

brunch in Auckland, eating seafood in

Korea, karaoke in a noraebang in Busan, or a

weekend getaway to the Coromandel.

>> 46

44 GOING DUTCH

NOVEMBER 2019 45
---
Weekend in Barcelona (cont.)

Continued from page 45

We woke up early the next morning to go

to Mass at La Sagrada Familia. I didn't

know that option existed, but this is why I

travel with friends: they plan for trips much

better than I do. The Mass was in English,

Spanish, and Catalan, but because of where

we were seated, it was hard to hear much of

what the priest said. It didn't matter, though.

I found comfort in the routine of Mass, and I

think she did too.

This time we'd get to see more of La

Sagrada Familia with an audio tour. I took

as many photos as I could of the high arches,

the ornate tile pattern on the floor, the

architecture that makes the Sagrada Familia

unlike anything I'd seen before. An elevator

took us to on part of the Nativity tower

six stories high and we climbed all the way

down, takings pictures and video of the inside

of the tower and city views.

before we were

both laughing

together at our

memories in

New Zealand,

including the

potlucks that

degenerated

into dance parties,

birthday

dinners, and

celebrating holidays

together

far from home.

After Mass, we shared a margarita pizza

for brunch before going to Las Ramblas.

We wanted to go to La Boqueria, a market

I stumbled upon in 2006. I was determined

to enjoy it again, if not pick up a present

or two for Diederik. Unfortunately, La

Boqueria was closed, so we strolled up and

down Las Ramblas. We stopped for a sangria

before wandering off into a side street.

We had to be back at La Sagrada Familia for

a tour she'd booked at 3 p.m., but until then

we had the day to ourselves.

After our tour of La Sagrada Familia, she

wanted to go to a hotel bar that her nephew

recommended. He'd gone backpacking

through Europe and spent some time

in Barcelona, where he had a drink at a

hotel bar where you could see La Sagrada

Familia. Unfortunately, we made it to the

bar when it was closed because the staff

were switching shifts. We decided to find

somewhere else to have a drink and some

tapas, but not before we got someone to take

a photo of us.

The next day we went to La Boqueria for

brunch before our tour of Parc Guell in

the afternoon. I walked around this park

in 2006, but I didn't enjoy it as much as I

wanted to then because I'd gotten off a 12-

hour train ride from Malaga. I was exhausted

since I didn't sleep much on the train; a

friend and I stayed up too late being silly and

taking selfies on my Motorola Razr. As I've

learned the hard way, I have trouble sleeping

on overnight trains. Especially if they

involve overnight rides from Sighisoara to

Budapest and Eastern European border patrols

in each country wake everyone up for

passport control. But I digress.

I'm not good at saying goodbye. While this

wasn't the first time I had to say goodbye

to her, it didn't make it any easier. I don't

know when we'll see each other again, but

I hope we don't have to wait too long. She

left the next day for the long trip back to

South Korea while I went back to Holland.

We both agreed that we would come back

once La Sagrada Familia was completely

finished in a few years. I hope that it happens

sooner rather than later.

I regretted not enjoying Parc Guell as much

as I wanted to the first time because Gaudi's

artwork and craftsmanship are admirable. I

hoped that one day I could come back to

Barcelona and see it again. On a warm,

sunny afternoon, it seems I got my wish.

We strolled around Parc Guell, stopping to

take pictures and enjoying the view of the

city. We also took a break to sit in the warm

sunshine on a curved bench, the one that

Gaudi designed a certain way because he

studied human anatomy. The beautiful mosaics

seemed to reflect the afternoon sun,

and everywhere we went there was something

new to appreciate.

After Parc Guell, we went to the Gothic

Quarter to explore another cathedral and

buy souvenirs. For dinner, we ended up

at some hole-in-the-wall restaurant where

we enjoyed wine and tapas. It wasn't long

46 GOING DUTCH

NOVEMBER 2019 47
---
Announcements

Crossing Border Festival

Ever since the first edition in 1993, Crossing

Border has examined the frontiers of music

and language in the city center of The Hague.

It has expanded to become one of the most

progressive international music and literature

festivals in Europe featuring more than

100 artists ranging from renowned names to

promising upcoming talent.

Thru November 3

Various venues in Den Haag Centrum

www.crossingborder.nl

Affordable Art Fair

This four-day event presents a wide array

of contemporary art from a variety of galleries.

You can find thousands of original

paintings, prints, sculptures and photography

all under one roof, with pieces from €

100 to €7,500. The work of young, emerging

artists hangs alongside some of the biggest

household names.

Thursday, October 31 to

Sunday, November 3

De Kromhouthal

Gedempt Hamerkanaal 231,

Amsterdam

www.affordableartfair.com

Leiden Film Festival

The Leiden Film Festival (LIFF) showcases

over 100 films that examine the border

48 GOING DUTCH

between art-house and mainstream cinema

from all over the world. The festival runs

from October 31 – November 10 in various

locations in Leiden. www.liff.nl/en

IamExpat Fair in The Hague

The IamExpat Fair is designed for global

citizens with local needs. It features stands

from dozens of companies and organizations

working in housing, careers, education,

expat services, health, leisure, and

family needs. Free workshops and presentations

will take place throughout the day.

Entrance is free with online registration at

www.thehague.iamexpatfair.nl

Saturday, November 9

10 a.m. – 5 p.m.

Grote Kerk, Den Haag

GLOW Eindhoven

At this annual free festival, dozens of light

artists give Eindhoven's facades and public

spaces in the city center an entirely new face

as nightfall changes the colors and shapes

on the city's streets. The theme of GLOW

2019 is Living Colors, to explore what happens

when artists disassemble the spectrum

of light. The festival starts each evening

at 6:30 p.m. and runs from Saturday,

November 9 through Saturday, November

16. www.gloweindhoven.nl

The Arts Society Lecture

Journey of the River from Source to Sea

Waterways have long inspired artists. This

lecture will flow with the current of the river

from its beginnings as a muddy puddle to its

magnificent merging with the sea. Paintings

by artists past and present will open our

eyes to the beauty of the river. Lecturer

Alexandra Drysdale brings a unique perspective

since she is both an art historian

and an artist. Nonmember fee is € 13. www.

theartssocietythehague.org

Tuesday, November 12

Doors open at 7:30 p.m.

Lecture begins at 8 p.m.

Cultural Centrum Warenar

Kerkstraat 75, Wassenaar

Sinterklaas Arrival

Sinterklaas arrives from Spain in the

Netherlands every year on the second or

third weekend in November, visiting different

towns at various times. He will arrive

aboard the SS Madrid in Scheveningen

Harbor on Saturday, November 16. After

his arrival at 10:30, he will make his way

on his white horse, accompanied by a full

parade of Zwarte Piets, through the streets

of Scheveningen and the Statenkwartier into

The Hague Centrum. Even if you don't have

young children, this annual event is uniquely

Dutch and is quite a wonderful sight.

www.sinterklaasindenhaag.nl

International Food Fair

The Parish of the Church of Our Saviour

sponsors this large International Food Fair

every November for charity. The diverse

members of the parish community come together

to provide entertainment and to prepare

and sell their own national food specialties,

wines and pastries. There are kids'

activities, a raffle, used book sale and flea

market. The proceeds are donated to small

charitable organizations for projects such

as beekeeping, women's support and

>> 50

FAWCO Handbag Auction coming early next year!

Don't forget to save any lightly used handbags as you clean out your closets.

If you are traveling home for the holidays, please save a little space in your

suitcase to bring back donations from friends and relatives.

NOVEMBER 2019 49
---
Announcements (cont.)

Continued from page 49

children's education. In 2018, the fair raised

€ 39,950 with 100% of the proceeds dispersed

to charities around the world. www.

parish.nl

Saturday, November 16

Noon – 6:30 p.m.

Francois Vatel School

Granaathorst 20, Den Haag

Free entrance

Antique and Art Fair

PAN Amsterdam, the Netherlands' premier

art and antiques fair, is renowned for

its high-quality, international offerings by

110 galleries of paintings, furniture, maps,

prints and sculptures from the 16th century

to the present. The common denominator is

that all the objects are vetted by a group of

70 experts for authenticity, artistic quality

and condition. Prices range from € 500 to

€ 500,000. Over 40,000 visitors, from museum

curators to private art enthusiasts, are

50 GOING DUTCH

attracted to this fair every year. www.pan.nl

Sunday, November 24 through

Sunday, December 1

Amsterdam RAI Parkhal, Europaplein

St. Andrew's Charity Ball

The St. Andrew's Society hosts a yearly

charity ball in celebration of St. Andrew's

Day (the feast day of St. Andrew, the patron

saint of Scotland). A highlight will be

Scottish dancing to live music for enthusiasts

of all abilities. Bringing a dance partner

is unnecessary. The € 99 ticket includes a

four-course dinner, wine with dinner and

dancing throughout the evening. Kilts are

optional. If you want to practice a few dances

before the ball, you are welcome to join

the Reel Club which meets on Fridays in

the British School at Saffierhorst 117 in The

Hague from 8 – 10 p.m. www.standrewsnl.

wordpress.com

Saturday, November 30

6:30 p.m. – 1 a.m.

Crowne Plaza Hotel

Van Stolkweg 1, Den Haag

Happily Ever After, a Pantomime

Distinctively British, a panto is a popular

form of family entertainment incorporating

song, dance, slapstick comedy, cross-dressing

and audience participation. This holiday

season, the Anglo-American Theatre Group

(AATG) reminds us that things aren't always

as "happily ever after" as they seem.

Join them to find out what happens after the

end of a panto to see if Jack will win Jill

back after how he's behaved, or whether the

dastardly new villain will crush his dreams

instead. www.aatg.nl

Friday, December 6 through

Sunday, December 8

Theatre aan het Spui

Spui 187, Den Haag

Primal Nature: Works in Textile

Mariëlle van den Bergh uses the

TextielMuseum in Tilburg to weave and

knit her giant tapestries, often including every

imaginable material: steel, glass, wicker,

paper and ceramics.

Her many

travels, especially

to remote

areas, reinforce

her wonder

about existence

and nature and

give her images

a metaphorical

charge. Her

work Oernatuur

| Primal Nature

was created in

response to the inhospitable landscape of

Australia. Free entrance with a Museumkaart.

www.museumrijswijk.nl

Through January 12, 2020

Museum Rijswijk

Herenstraat 67, Rijswijk

Young Rembrandt

After an extensive renovation and expansion,

Museum De Lakenhal in Leiden

is presenting the exhibition Young

Rembrandt.1624-1634 in its brand new galleries.

This will be the first major exhibition

exclusively devoted to the early work

of Rembrandt Harmensz. van Rijn (1606-

1669), allowing visitors to look over the

young painter's shoulder and see how his

talent developed. Almost 400 years after

their creation works produced in Leiden by

the now internationally famous master will

return to the city of his birth. The exhibition

consists of approximately 40 paintings, 70

etchings and 10 drawings. In addition, there

will also be work by Lievens, Lastman and

Van Swanenburg. There is a €7.50 surcharge

with a Museumkaart. www.lakenhal.nl

Through February 9, 2020

Museum De Lakenhal

Oude Singel 32, Leiden

The Abduction of Proserpina by

Rembrandt, 1630, Gemaldegalerie Berlin

NOVEMBER 2019 51
---
Classifieds

Index of Advertisers

Private Pilates Lessons in

Your Own Home

I am a Certified Pilates

instructor offering mat

Pilates—tailored to your

body's specific needs.

Monday to Friday, office

hours. Women only. Private

one-on-one or small groups

of up to three possible.

Lessons in English.

The Hague, Wassenaar area

only.

Please email christina@gikas.

nl for more info.

Members: eNews Distribution

A weekly electronic newsletter

is sent to all AWC Members.

If you have not been receiving your eNews, please

contact Mary Ellen at

membership@awcthehague.org.

ACCESS

page 30

American Travel

Center

page 43

Aveda Lifestyle

Salon

Inside Cover

FRITSTAXI

Airport Service

Inside Back Cover

Happy Critters

page 19

Marcel

Vermeulen

Jewelry

page 11

Petros Eyewear

Sligro

page 11

page 21

VERHEY VAN

WIJK brilmode

page 17

Wassalon

Weissenbruch

page 15

Your Cleaning

Service

page 30

Support Fellow AWC

Members

Find links to a large

variety of businesses

owned by AWC Members

at www.awcthehague.

org/site/newcomers/

business-links

Event information, suggestions or comments

for eNews?

Please send all eNews information to

enews@awcthehague.org

no later than end of day each Friday for the

following week's eNews.

AWC is a Pet-Free Zone

As much as many of our Members love

their pets, please do leave them at home as

the AWC has a long-standing policy of no

pets in the Clubhouse. Thank you for your

understanding!

Going Dutch is Available Online

The AWC is not responsible for accidents

or injuries occurring at Club activities or

on Club property. Sports and exercise

instructors must carry their own liability

insurance.

Go to www.awcthehague.org to share the current month's issue with friends and family. You will

also find links to our annual advertisers, whose support makes this magazine possible. If you

visit or contact one of our advertisers, let them know Going Dutch sent you!

Member Privacy

Please be reminded that the AWC Membership List is for AWC Member reference only and

use of this information in any communication other than AWC official business is strictly

prohibited. Members may not share the list with anyone other than another AWC Member

in good standing and never to any third party.

The AWC takes care to protect Member information and adherence to this policy is critical to

maintain Member privacy. Members are asked to report suspected misuse of the list to any

AWC Board Member.

52 GOING DUTCH

Rates

Classified Mini-Ads:

Deadline: In general, the 1st of the month prior to the

month in which your ad will appear, although subject to

change due to holiday schedule.

AWC Member Rates:

For 45 Words

Non-Member Rates:

For 45 Words

For 25 Additional Words

Per Issue € 15 € 8

Eight Issues € 110 € 55

For 25 Additional Words

Per Issue € 10 € 5

Eight Issues € 70 € 30

How to Submit Your Ad:

Email your ad to: goingdutchads@awcthehague.org

Payment Information:

Please indicate the name of your ad on your payment so that

we are able to match up your payment with your ad.

By Bank Transfer:

ABN-AMRO 43.14.21.757

IBAN: NL42ABNA0431421757

Display Ads:

For full, half, third or quarter page commercial display ads,

email our magazine staff at

goingdutchads@awcthehague.org

NOVEMBER 2019 53
---
Restaurant Recommendations

Recommendations by Deana Kreitler & Heather DeWitt

Please send your recommendations to goingdutchmag@awcthehague.org.

1723 Voorburg

Instead of an extensive menu, this restaurant

offers one main meal each day, always different

and always fresh. High quality food

at an affordable price.

Herenstraat 98, 2271CK, Voorburg

070 201 5003

www.1723.nl

European, Dutch, Seafood

€ – €€

Tuesday – Wednesday, 4 – 11 p.m.

Thursday – Saturday, 4 p.m. – Midnight

Restaurant Villa La Ruche

The menu changes seasonally and offers

recognizable flavors in an original presentation.

Princess Mariannelaan 71, 2275BB,

Voorburg

070 386 0110

www.villalaruche.nl

French, Seafood, Dessert

€€€€

Lunch: Friday, Noon – 2 p.m.

Dinner: Tuesday – Saturday, 6 – 10 p.m.

Krishna Vilas

Authentic and memorable South Indian cuisine.

An entirely vegetarian menu!

Hooikade 56, 2514BK, Den Haag

070 887 7990

www.krishna-vilas.com

Indian, Vegetarian

€€ – €€€

Monday – Sunday, Noon – 10 p.m.

54 GOING DUTCH

NOVEMBER 2019 55