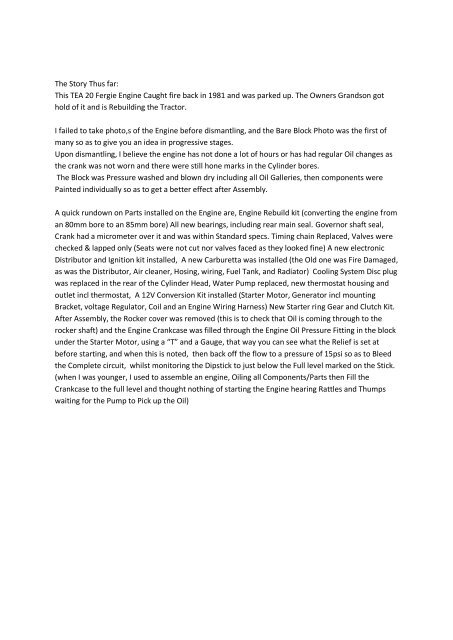 Dale Fergie Engine Rebuild Photos
Create successful ePaper yourself
Turn your PDF publications into a flip-book with our unique Google optimized e-Paper software.
The Story Thus far:

This TEA 20 Fergie Engine Caught fire back in 1981 and was parked up. The Owners Grandson got

hold of it and is Rebuilding the Tractor.

I failed to take photo,s of the Engine before dismantling, and the Bare Block Photo was the first of

many so as to give you an idea in progressive stages.

Upon dismantling, I believe the engine has not done a lot of hours or has had regular Oil changes as

the crank was not worn and there were still hone marks in the Cylinder bores.

The Block was Pressure washed and blown dry including all Oil Galleries, then components were

Painted individually so as to get a better effect after Assembly.

A quick rundown on Parts installed on the Engine are, Engine Rebuild kit (converting the engine from

an 80mm bore to an 85mm bore) All new bearings, including rear main seal. Governor shaft seal,

Crank had a micrometer over it and was within Standard specs. Timing chain Replaced, Valves were

checked & lapped only (Seats were not cut nor valves faced as they looked fine) A new electronic

Distributor and Ignition kit installed, A new Carburetta was installed (the Old one was Fire Damaged,

as was the Distributor, Air cleaner, Hosing, wiring, Fuel Tank, and Radiator) Cooling System Disc plug

was replaced in the rear of the Cylinder Head, Water Pump replaced, new thermostat housing and

outlet incl thermostat, A 12V Conversion Kit installed (Starter Motor, Generator incl mounting

Bracket, voltage Regulator, Coil and an Engine Wiring Harness) New Starter ring Gear and Clutch Kit.

After Assembly, the Rocker cover was removed (this is to check that Oil is coming through to the

rocker shaft) and the Engine Crankcase was filled through the Engine Oil Pressure Fitting in the block

under the Starter Motor, using a "T" and a Gauge, that way you can see what the Relief is set at

before starting, and when this is noted, then back off the flow to a pressure of 15psi so as to Bleed

the Complete circuit, whilst monitoring the Dipstick to just below the Full level marked on the Stick.

(when I was younger, I used to assemble an engine, Oiling all Components/Parts then Fill the

Crankcase to the full level and thought nothing of starting the Engine hearing Rattles and Thumps

waiting for the Pump to Pick up the Oil)
---
After Disassembly and on the Wash slab
---
Don't forget to Flush blocks if you your chasing a hard to find overheating issue ah! this is after the Liners were removed
---
After washing and Blowing all galleries Dry
---
Painting of components before assembly
---
All Parts and Components were undercoated and three coats of Ferguson Stoneleigh Grey
---
after Liners installed (start of Assembly)
---
My Clean Room is a 20ft Container with a Reverse Cycle Air con unit mounted in the end, plan is to install 50mm cool

room Panels to the outside and fit a Split System
---
Pressure filling the Crankcase with 20W-50 Oil
---
Water connected for a test run (Disconnected Solenoid wire from B+ on starter and fitted an Ign Switch, as well as the

voltage regulator fitted and a temporary indicator light for a Charging test)
---
Just before the Fan and Clutch Gaurds were made and fitted ( that "Duty of Care" thing) for a test run haha
---
Just before Painting the heads of bolts black and taking it outside for a test run. After Testing the Engine will be covered

and stored till the Back end has had a major.