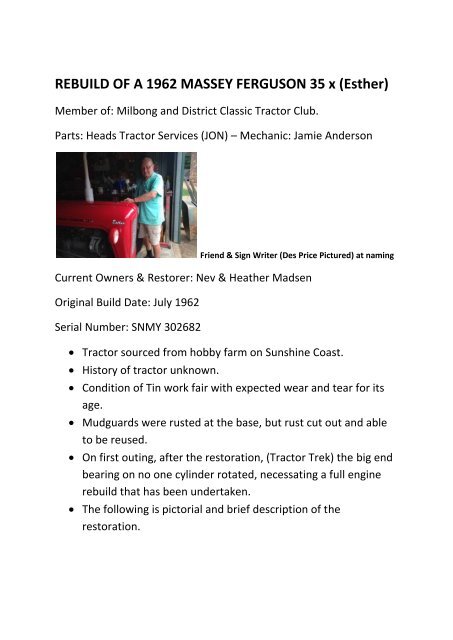 Refurbishment of 1962 Massey Ferguson 35 x
You also want an ePaper? Increase the reach of your titles
YUMPU automatically turns print PDFs into web optimized ePapers that Google loves.
REBUILD OF A 1962 MASSEY FERGUSON 35 x (Esther)

Member of: Milbong and District Classic Tractor Club.

Parts: Heads Tractor Services (JON) – Mechanic: Jamie Anderson

Friend & Sign Writer (Des Price Pictured) at naming

Current Owners & Restorer: Nev & Heather Madsen

Original Build Date: July 1962

Serial Number: SNMY 302682

Tractor sourced from hobby farm on Sunshine Coast.

History of tractor unknown.

Condition of Tin work fair with expected wear and tear for its

age.

Mudguards were rusted at the base, but rust cut out and able

to be reused.

On first outing, after the restoration, (Tractor Trek) the big end

bearing on no one cylinder rotated, necessating a full engine

rebuild that has been undertaken.

The following is pictorial and brief description of the

restoration.
---
Tractor as purchased, January 20, 2016, being unloaded off the

trailer at my friend Des's property.

Tractor after being stripped, tin work removed, new water pump

fitted, leaking gaskets replaced, and first coat of primer applied.
---
Rust cut out of mudguards, new metal welded in with mig and

patches filled ready for first coat of primer.

Bonnet and various items being repaired and prepared for first coat

of primer.
---
Mudguards with first coat of red enamel.

Bonnet rubbed back and filler added to minor dents prior to first coat

of primer.
---
Seat, rops, and fuel tank door, rubbed back and filled, prior to first

coat of primer.

Chassis masked up and ready for first coat of enamel.
---
First coat of enamel to fuel tank.

Seat back rest and dash panel first coat of enamel.
---
First coat of enamel to bonnet.

Trying to remove steering wheel with puller, without success,

evidentially used small grinder with vertical cut along shaft.
---
Fitting new clutch to flywheel.

Early in the strip down, sitting down working on clutch removal, the

clutch was a complete write off.
---
Setting the correct clearance on the clutch installation.

Various items after being cleaned and sanded, ready for first coat of

primer.
---
Bolts, tappet cover, air cleaner bowl, and grille ready for first coat of

primer.

Wheel centre, fuel tank, battery box, kingpin and hub, and foot

pedals, hanging ready for first coat of primer.
---
Chassis on blocks, cleaned and sanded, ready for first coat of primer.

Engine cleaned, masked, sanded, and ready for first coat of primer.
---
My able assistant Toby overseeing the exhaust repair and cleaning,

prior to, it being coated with high temperature extractor paint.

Foot pedals, brackets and oil breather, ready for enamel.
---
Various items after being cleaned and sanded, ready for first coat of

primer.

Front and rear rims, after rust cut out, repaired, sanded and primed.
---
Seat pan after being repaired primed and painted.

Fan cowling, after cleaning sanding and priming.
---
Battery case, air cleaner support and front axle after priming.

Front axle support cleaned sanded and primed.
---
Chassis and engine painted, injector lines, and other engine

components fitted.

Lift arms refitted after painting.
---
New seat cushion, back rest, and steering wheel fitted.

Refurbished dash, refitted with gauges and bonnet rubber.
---
Rolled out of shed for the first time after refurbishment, supervisor

in the foreground.

First show at Stanthorpe, tractor was well received and story

appeared in "The Border Post".
---
Blinkers, added prior to full road registration.

Fitted with camping carryall, swag on top, and the Engel inside.
---
Finished Tractor, great to see another Massey Ferguson Restored.

Engine Rebuild:

Unfortunately I lost my phone with the engine rebuild photos, but I

will describe the rebuild in text.

Diagnoses: After removing the head and sump, it was obvious that

the big end, on number one cylinder had rotated. (The very same

diagnosis had been made by Trevor and Murray Profke, club

members that had been with me the particular day the problem

occurred.)

Once confirmation had been established, a course of action was

decided.
---
Skim block, including sleeve recesses, ( Jamie Anderson,

Mechanic) recommendation

Grind crankshaft, 10t on mains and 20t on big ends

New sleeves

New pistons and rings

New bearings

New oil pump

Resize conrods

New head, including valves etc, existing head was retrievable

but not cost effective

New gaskets throughout

New filters, oil and fuel

New Alternator.

The next task was to rebuild the bottom end, Jamie Anderson,

assisted with this, his and advice from Heads Tractors at Logan

Village, Jon & Paul was invaluable.

Sump and rope seals next, followed by timing gears, fuel pump, and

timing cover.

Next head installed, torque down, cam followers, tappets fitted and

set.

Water pump and fan installed injector lines and filters added.

Tappet cover fitted, along with fuel tank.

The ever present workshop manual was also a great help with the

necessary clearance, and bolt torque information.

Once tappets set, and a few winds with the pump stopper out, to get

oil circulated, the A3 152 Perkins came to life.
---
Advice received was not to let engine idle to much after rebuild, as

glazing of the bore can occur, resulting in oil by passing the oil rings,

until the rings bed in properly.

The following photo with two furrow mouldboard set deep is putting

the engine under load to assist in the bedding in process.

Only 3 Hours on the Clock, early days.

Happy Restoration

Neville