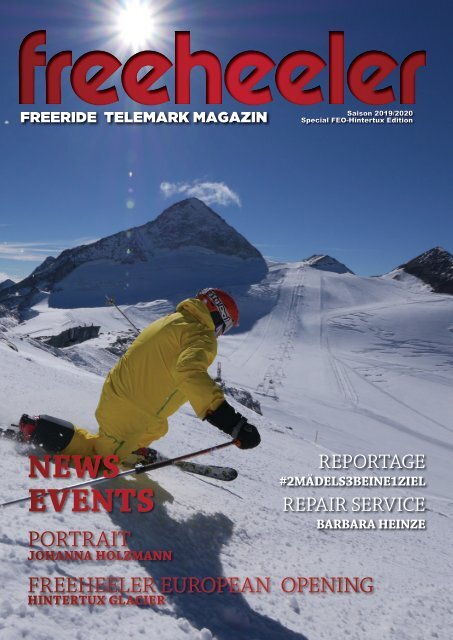 Freeheeler Saison_19_20_International_final-1
The ultimative Telemark Magazine
The ultimative Telemark Magazine
SHOW MORE
SHOW LESS
Create successful ePaper yourself
Turn your PDF publications into a flip-book with our unique Google optimized e-Paper software.
Saison 2019/2020

Special FEO-Hintertux Edition

NEWS

EVENTS

PORTRAIT

JOHANNA HOLZMANN

REPORTAGE

#2MÄDELS3BEINE1ZIEL

REPAIR SERVICE

BARBARA HEINZE

FREEHEELER EUROPEAN OPENING

HINTERTUX GLACIER
---
EDITORIAL

Die diesjährige Sonderausgabe des Freeheeler

steht voll im Zeichen des Freeheeler

European Openings vom 28.11.– 1.12.2020

Das Freeheeler-Team hat Euch ein

Bombenprogramm mit Sport, Action, Unterhaltung

und Meet&Greet zusammengestellt.

Erneut gibt es nach jahrelanger Pause, wieder

ein Telex-Cross-Rennen, das Spannung und

Unterhaltung für alle bietet.

Wir bieten ein umfangreiches Workshop-Angebot,

das natürlich Anfänger und Fortgeschrittene,

aber auch Lurkkurse und Freestyle Workshops

von unseren beiden Norwegern Per und John

beinhaltet. Auch Lena Attoresi ist wieder mit den

Kids Kursen an Bord.

Es gibt an den Abenden spannende Vorträge von

Jacqueline Fritz "Einbeinig in den Bergen" und

Midsummer Telemark auf Folge Fonna von Per

Stole.

Den neuen Film aus USA von Bevan Waite "Our

Family" zeigen wir als Europäische Premiere, der

neue Film von 75 mm Production aus der Schweiz

"Epic Flavour" wird Euch ebenfalls begeistern

und zum guten Schluß, lässt The M-Equipment

mit dem Film "Back to the Roots",die Telemark-

Herzen höher schlagen.

Beim Woman's Telemark Camp bietet

Freeheeler zum ersten Mal Telemarkerinnen die

Möglichkeit, während eines Telemark-Festivals

in den Telemarksport reinzuschnuppern. Barbara

Heinze, eine Outdoor Bekleidungsdesignerin und

Schneiderin, ist mit ihrer Nähmaschine vor Ort

und repariert Eure kaputten Lieblingsteile und

während der größten Tele-Expo könnt ihr das

neueste Material auf Herz und Nieren bis zum

Umfallen kostenlos testen.

Die "Lost Guides" mit den beiden

Telemark Legenden John Falkiner

und Bob Mazarei werden uns wieder

musikalisch begleiten und dann spät

am Freitag und Samstag-Abend nach

der Tux 1280 Bier Pong Challenge,

geht's ab in die "Kleine Tenne" und

machen dann Party, Party, Party … bis

morgen früh.

Klasse, dass Ihr alle dabei seid - Let´s

rock the Hintertux glacier!

This year's special edition of the Freeheeler

is dedicated to the Freeheeler European

Openings from 28.11. - 1.12.2020.

The Freeheeler team has put together a bomb

program with sports, action, entertainment and

Meet&Greet.

Once again, after a break of many years, there

is a Telex Cross race that offers excitement and

entertainment for everyone.

We offer a wide range of workshops, including

beginners and advanced, but also Lurk courses and

freestyle workshops from our two Norwegians Per

and John. Lena Attoresi is on board again with the

Kids courses.

In the evenings there are exciting lectures by

Jacqueline Fritz "Einbeinig in den Bergen" and

Midsummer Telemark on Folge Fonna by Per Stole.

The new film from the USA by Bevan Waite "Our

Family" will be shown as European premiere, the

new film from 75 mm Production from Switzerland

"Epic Flavour" will also inspire you and at the end

The M-Equipment with the film "Back to the Roots"

will make the Telemark hearts beat faster.

At Woman's Telemark Camp Freeheeler offers for

the first time telemarkers the opportunity to get a

taste of Telemark sport during a Telemark festival.

Barbara Heinze, an outdoor clothing designer and

dressmaker, will be on site with her sewing machine

to repair your broken favorite parts and during the

biggest Tele-Expo you can put the latest material

through its paces for free.

The "Lost Guides" with the two Telemark legends

John Falkiner and Bob Mazarei will

accompany us musically again and

then late on Friday and Saturday

evening after the Tux 1280 Beer Pong

Challenge, we'll go to the "Kleine

Tenne" and then party, party, party ...

until tomorrow morning.

Great that you're all there - Let´s rock

the Hintertux glacier!

Richard and the Freeheeler-Team wish

you a lot of fun.

Viel Spaß wünscht Euch Richard und

das Freeheeler-Team.

Richard Schürf, Herausgeber/Publisher

EDITORIAL .3

FREEHEELER.EU | PAGE
---
INHALT

30

Conny Zamernik

Reportage

SEITE 6

Kalender

SEITE 8

Telemark Händler

SEITE 10 - 24

Produkte

SEITE 26 - 27

Teamvorstellung

SEITE 30 - 32

The Entdeckerin / The Discoverer

SEITE 36 - 37

Freeheeler European Opening

Hintertux

SEITE 40 - 46

#2Mädels3Beine1Ziel

#2Girls3Legs1Goal

SEITE 48 - 50

THE NEW TELEMARK WORLD

CHAMPION

SEITE 52 - 54

Repair Service und Nachhaltigkeit

40

#2Mädels3Beine1Ziel

Reportage
---
43

The NEW TELEMARK WORLD

CHAMPION Johanna Holzmann

Reportage

TITELBILD:

Foto: Morten V.

Eriksen

Rider: Per Ståle

Grude

52

Repair Services

Reportage

IMPRESSUM

Herausgeber:

Richard Schürf (V.i.S.d.P.)

Chefredaktion:

Richard Schürf

Layout & Produktion

Matej Mervinsky

Geschäftsführung, Verlag & Anzeigen

Richard Schürf GmbH

Solothurner Str. 49

D-81475 München

Tel. +49 (0)171-148 1355,

E-Mail: richard.schuerf@freeheeler.eu

Vertrieb:

Das freeheeler Telemark Magazin erscheint auf Deutsch,

Englisch, Französisch und Italienisch. Der Season Guide

2019/2020 wird kostenlos bei Events und in Shops verteilt

und ist als E-Paper unter www.freeheeler.eu erhältlich.

Redaktion und Verlag übernehmen keine Haftung für

unaufgefordert eingesandte Text- oder Bildmaterialien.
---
The Telemark-

Event

Calender

2019/20

28.11. - 01.12.2019

Freeheeler European Opening

Österreich / Hintertux // www.freeheeler.eu

11. - 12.01.2020

Swiss Telemark Festival

Schweiz / Davos // www.swisstelemarkfestival.ch

01. - 02.02.2020

Bregenzer Telewald

Österreich / Warth/Schröcken //

www.bregenzertelewald.de

28.02. - 01.03.2020

Telemarkcamp Erzgebirge

Deutschland / Oberwiesenthal / Erzgebirge //

www.telemarkcamp.de

07. - 08.03.2020

Telemark Läif Melchsee Frutt

Schweiz / Melchsee Frutt //

www.telemark-ow.ch

14. - 15.03.2020

Teleday Belalp

Schweiz / Bealp // www.telemarkclubbelalp.ch

11. - 15.03.2020

Scufoneda

Italien / Moena // www.scufons.com

25. - 29.03.2020

Telemarkfest im Kleinwalsertal

Österreich / Riezlern // www.telemarkfest.de

03. - 05.04.2020

Gstaad Tele X Race Finale

Schweiz / Gstaad // www.telemarkgstaad.ch

11. - 13.4.2020

Scuol Freeride&Telemark Festival

Schweiz / Scuol / www.bergbahnen-scuol.ch

18. - 19. 04.2020

Andermatt Freeheel & Chill

Schweiz / Andermatt //www.freeheelers-andermatt.ch

01. - 03.05.2020

Telemark Only

Schweiz / Mürren / www.telemark-only.com

19. - 22.06.2020

Fonna Telemarkcamp

Norwegen / Fonna

FIS TELEMARK

WORLD CUPS

WWW.FIS-SKI.COM

05. - .05.2020

Teleamark FIS Race GBR Sprint

France / Les Houches

24. - 25.01.2020

FIS Telemark Weltcup

France / Les Houches

29. - 31.01.2020

FIS Telemark Weltcup

France / Samoens

06. - 08.02.2020

FIS Telemark Weltcup

Norway / Rjukan

15. -16.02.2020

FIS Telemark Weltcup

Deutschland / Hindelang/Oberjoch

06. - 07.03.2020

FIS Telemark Swiss Championship

Swiss / Melchsee Frutt

13. - 15.03.2020

FIS Telemark US Championships

USA / Chrotched Mountain / Bennington

15. - 16.03.2020

FIS Telemark Weltcup

Schweiz / Mürren

19. - 21.3.2020

FIS Telemark Weltcup Finals

Schweiz / Thyon 4 Vallées

6. EVENTS

PAGE | FREEHEELER.EU
---
Telemark Dealers

AUSTRIA

Intersport Stubaier

Gletscher

8. DEALERS

PAGE | FREEHEELER.EU

Gamsgarten

Sport Holzner Gmbh Obertauern 134

Verleih

Mountain Shop Saalfelden Verleih

Sport4you Sölden Verleih

Sporthütte Fiegl Sölden Verleih

Sport Wielander St. Johann i. Pongau Verleih

Bergfuchs

Wien

Telemark Center Zell am See Verleih

GERMANY

Condition Steigenberger

Mont K.

Outdoor Company

Aschau

Berlin

Chemnitz

Globetrotter Ausrüstung Dresden Verleih

Sport Kiefer Freiburg Verleih

Snowstars Gaimersheim Verleih

Bergzeit

Sport Bittl

Sport Conrad

Gmund am Tegernsee

München/Allach

Penzberg & Garmisch

Telemark Experts Rohrstetten Verleih

Sport Schindele

Ronsberg

Telemarkstore Thalheim/Erzgebirge Verleih

Sport Jakob

Wangen i. Allgäu

Skistadl Wertach Verleih

HOLLAND

Slee Buitensport

Utrecht

Outdoor & Travel Outfitters Roosendal Verleih

ITALY

Sportler Alpin

Bozen

Mottini Sport Livigno Verleih

Makalu Sport Rovereto Verleih

SWITZERLAND

Sport Planet

Allenwinden

Intersport Achermann Alpnach Dorf Verleih

Glycérine Sport

Gisler Sport

Sàrl Anzère/VS

Arosa

Derby Sport Bettmeralp Verleih

Trango sport nature

SA Bulle

Cactus Sport Carouge

GE

Carouge GE

Holiday Sports

Champéry

Exodus Outdoor Chur

Fullmoons Davos Platz Verleih

Okay Engelberg Verleih

Bikestopstation Ennenda

Passe Montagne Genève

SB Sport Service SA Gland

Do-Sports

SA Grimentz

Gotschna Sport Klosters

Berger Schuhe Sport Konolfingen

Sports Discount Lausanne

Yosemite

Lausanne

Passe Montagne Lausanne

Technosurf

Le Grand-Sacconex

Strubel Sport

Lenk

Telemark Lenzerheide Lenzerheide Verleih

DPM

Les Diablerets

Valaysport

Monthey

RS Equipement Morgins

Snow Line Sports Morgins

Thömus Veloshop Niederscherli

Marginal Sport & Cycles Oron-la-Ville

André Sports

Ovronnaz

Sports Aventures Romont

Sport Heinrich Scuol Verleih

Jon Sport Alpin Scuol Verleih

Face Nord

Sion

Nanuk Sport

St. Moritz

Kunz Sport - Go In Sursee

Theytaz Sports

Les Collons

Evasion Verbier Verbier

Virage Sports

Vercorin

Altmann Sports Vevey Verleih

Yosemite

Vevey

Holiday Sport

Villars sur Ollon

Central Sport

Wengen

Sporthaus Lauchernalp Wiler (Lötschen)
---
surf - skate - snow - lifestyle - factory

BIGGEST TELEMARK

SHOP IN THE ALPS!

SKIS

BOOTS

BINDINGS

75MM & NTN

INHOUSE WORKSHOP

THERMO BOOT FITTING

TEST CENTER AND EVENTS

SKI TUNING, RENTAL STATION

CLOTHING, ACCESSOIRES, SNOW GEAR

FROM TELEMARKERS FOR TELEMARKERS

LAGERPLATZ 7 - SULZER AREAL

8400 WINTERTHUR, SWITZERLAND

info@cloud-9.ch, +41 (0)52 203 99 09
---
Die Revolution im Telemark 2.0 geht weiter

"New Telemark Norm": So heisst die Revolution des Telemarks. Der bis dahin typische "75 mm Schnabel" vorne am Schuh

wird ersetzt durch das innovative "NTN"-System zwischen Schuh und Bindung, dass den Fuß im vorderen Teil blockiert.

Das heisst: Mehr Kraft und Kontrolle und eine ganz neue Art des Telemarkens! Der große Vorteil dieses innovativen Systems:

Es ist mit Skitouren/Freeridebindungen kompatibel. Am Morgen Skitour, am Nachmittag Telemark, und alles mit

dem gleichen, bequemen und präzisen Schuh. Keine Zukunftsmusik, sondern Wirklichkeit!

Alle Schuhhersteller bieten nun das NTN Schuhsystem mit den Low Tech Einsatz in der Schuhspitze an. Damit kann jeder

Telemarker einen passenden Schuh für seinen Einsatzbereich finden. Nachdem das Dynafit Low Tec System patentfrei

wurde, haben sich einige Telemarkbindungspioniere Gedanken gemacht, wie man damit die perfekte Telemarkbindung

bauen kann. Pierre Mouyade vom M-Equipment hat mit seiner Meidjo eine komplett neue Telemarkbindung mit einer

Kombination aus Low Tec Vordeteil und NTN Befestigung unter der Schuhmitte geschaffen.

22 Designs hat das Rottefella NTN System übernommen und nach den 22 Designs Vorgaben überarbeitet und mit der Outlaw

X eine sehr innovative Lösung mit StepIn Einstieg entwickelt und bringt dieses Jahr die Lynx mit Pins auf den Markt.

Rottefella, als Erfinder der "NTN Bindung" ist mit seiner Freedom und Freeride immer noch der absolute Markführer

und dominiert den Telemarkbindungsmark. Auch im FIS Weltcup gibt es keinen Athleten mehr, der keine Rottefella NTN

fährt. Moonlight aus Norwegen und TTS aus USA sind sich in Ihrer Funktion sehr ähnlich und leider in Europa eher schwer

zu bekommen. Aber dank Internet, gibt es die Möglichkeit ja direkt einzukaufen.

Telemark Ski Boots

SCOTT

MINERVA NTN

TELEMARK

FÜR FRAUEN

Der Minerva ist der robusteste Freeride-Telemark-Schuh

für Frauen von SCOTT. Dieser Schuh gleicht dem Voodoo,

nur mit einem weicheren Flex, und ist das Nonplusultra für

alle weiblichen Telemark-Fans. Zusätzlich verfügt der Minerva

NTN Schuh über Dynafit®-zertifizierte Tech-Einsätze.

Farbe: bermuda blue/white

Gewicht: 1500 gr. (24.5)

Größen: 22-27,5 Mondo size.

SCOTT

VOODOO NTN

TELEMARK

FÜR HERREN

Der Voodoo, das kraftvolle Telemark-Modell von SCOTT,

überzeugt durch einzigartige Seitensteifigkeit und einen,

progressiven Flex. Zusätzlich verfügt der Voodoo NTN

Schuh über Dynafit®-zertifizierte Tech-Einsätze.

Farbe: white/black

Gewicht: 1823 gr. (27,5)

Größen: 25-30,5 Mondo size.

www.scott-sports.com

10. PRODUCTS

PAGE | FREEHEELER.EU
---
Telemark Ski Boots

CRISPI

TX

NTN WORLDCUP

TELEMARK

Der Evo NTN Worldcup ist der Referenz-Telemarkschuh im

FIS Telemark Welt Cup. Er ist das konsequente Ergebnis einer

ständigen Fortentwicklung auf dem Telemarksektor. Der EVO

NTN erfüllt sämtliche Wünsche der Telemarker, die nur das

Beste akzeptieren können. Das macht den EVO NTN zur ersten

Wahl der Weltmeister! Schaft und Schale sind aus Pebax ® gefertigt,

das Verschlusssystem besteht aus vier mikrometrischen

Aluminiumschnallen und einem breiten Klettband als "fünfte"

Schnalle. Der Ski-/Gehmechanismus ist mittels Kipphebel

mit einem einfachen "Klick" schnell zu bedienen. Das exklusiv

durch CRISPI® patentierte "Carbon Side Support" System sorgt

für maximale Stabilität der Schale. Die revolutionäre Dual-Density-Manschette

sorgt für optimalen Halt und das "Bellow Flex

Control" System ermöglicht die volle Flex- und Vorlagekontrolle

in jeder Situation.

Größe Mondo Point: 24.5 - 30.5

Gewicht: 1815 gr

Flex: Hart

Schale: Pebax® Carbon

Sohle: CRISPI® Kogatz Evo

Schnallen: Microregulierbare Aluminiumschnallen

CRISPI

TX

NTN

TELEMARK

Der Evo NTN ist ein absolutes Spitzenprodukt mit herausragenden

Leistungsmerkmalen und lässt Sie in den 7ten Telemarkhimmel

schwingen. Baugleich mit dem EVO NTN Weltcup

aber einem etwas weicheren Flex, ist er die perfekte Powderwaffe

im Freeride.

Größe Mondo Point: 24.5 - 30.5

Gewicht: 1815 gr

Flex: Mittel

Schale: Pebax® Carbon

Sohle: CRISPI® Kogatz Evo

Schnallen: Microregulierbare Aluminiumschnallen

Innenschuh: CRISPI® Dynamic Liner

Bindungssysteme: NTN System- Low Tech Binding

CRISPI

TX

NTN SHIVER

TELEMARK

Im SHIVER NTN kommt die gesamte Erfahrung aus der EVO

Serie zum Einsatz und macht diesen Schuh zum "must have"

für alle ambitionierten Telemarker, die fortschrittliche Technologie,

Leichtigkeit und beste Performance und direkteste

Kraftübertragung suchen.

Größe Mondo Point: 24.5 - 30.5

Gewicht : 1610 gr

Flex: Weich

Schale: Pebax® Carbon

Sohle: CRISPI® Kogatz Evo

Schnallen: Microregulierbare Aluminiumschnallen

Innenschuh: CRISPI® Dynamic Liner

Bindungssysteme: NTN System - Low Tech Binding

12. PRODUCTS

PAGE | FREEHEELER.EU
---
photo: Jacob Slot - rider: Sebastien Mayer - location: St.Anton am Arlberg

XR

EVO

NTN

CRISPI ®

TELEMARK

A NEW SENSE OF STABILITY

CARBON POWER SYSTEM

• Carbon Power Insole

• Power Extension Cuff

• Carbon Side Support

• Bellow Flex Control

WWW.CRISPI.IT
---
Telemark Ski Boots

SCARPA

TX

COMP

TELEMARK

Der TX Comp ist das Top Produkt der NTN Linie und DER

Schuh für "Free Heeler", Wettkämpfer und der optimale

Partner für schwieriges Gelände. Er hat eine Schale mit

"Triple Injection Technology", eine "Power Block Tour" Geh-

Steh Mechanik, die den Flex noch verstärkt und eine direkte

Kraftübertragung dank 4 Schnallen und einem "ACTIVE PO-

WER STRAP".

Obermaterial: Pebax

Größen: 23.5 - 30.0

Gewicht: 1710g. / Gr.27

SCARPA

TX

PRO

TELEMARK

Der vielseitigste SCARPA Telemarkschuh! Die immer weiter

verbreitete NTN Technologie wird hier durch die TLT-Inserts

ergänzt und ist somit mit den neuen Bindungstechnologien

der Szene kompatibel und bietet darüber hinaus auch die Option

zum Tourengehen.

Farbe: black/mango

Obermaterial: Pebax

Größen: 24.5 - 30.0

Gewicht: 1750g. / Gr.27

SCARPA

TX

PRO W's

TELEMARK

Der vielseitigste SCARPA Damen-Telemarkschuh! Die immer

weiter verbreitete NTN Technologie wird hier durch die

TLT-Inserts ergänzt und ist somit mit den neuen Bindungstechnologien

der Szene kompatibel und bietet darüber hinaus

auch die Option zum Tourengehen.

Farbe: silver / magenta

Obermaterial: Pebax

Größen: 22.5 - 27.0

Gewicht: 1585g. / Gr.25

14. PRODUCTS

PAGE | FREEHEELER.EU
---
Foto: Giuseppe_Ghedina

TX PRO

LEICHTIGKEIT,

VIELSEITIGKEIT,

TX PRO.

Der vielseitigste SCARPA Telemarkschuh!

Die verbreitete NTN Technologie wird hier durch die TLT-Inserts

ergänzt und ist somit für die meisten Bindungstechnologien der

Szene kompatibel und bietet darüber hinaus auch dir

Option zum tourengehen.

WWW.SCARPA-SCHUHE.DE
---
Telemark Bindungen

22 DESIGNS

OUTLAW X

TELEMARK

Die Outlaw X NTN von 22Designs ist eine robuste, mit

Auf-stiegsfunktion ausgestattete NTN-Telemarkbindung.

Das Step-In System garantiert einen einfachen Ein- und

Ausstieg. Im Tourenmodus lässt sich die Bindung mit einem

Öffnungs-winkel von 50° öffnen, um höchsten Gehkomfort

zu gewäh-ren. Die Feder der Bindung ist fünfstufig

einstellbar und überzeugt mit einer hohen Robustheit.

Größen: S bis 26,0 Mondo Large: ab 26.5 Mondo.

Standhöhe: 28 mm

Gewicht: S 1525gr. L 1590 gr.

www.twentytwodesigns.com

22 DESIGNS

LYNX

TELEMARK

Ein komplett neuer Designansatz mit Composite Flexplatten,

verstellbarer Vorspannung und Aktivität. Ein Leichtgewicht

mit maximaler Stabilität. Gebaut mit CNC Aluminiumteilen,

einem einfach zu bedienendem Ski / Walk Modus und superleichten

Federn mit viel Weg. Die Lynx ist der kommende

Standard bei den leichten Telemark Tourenbindungen. Die

Tech Toe Konstruktion ermöglicht maximale Effizienz im

Anstieg und weil es eine 22Designs Bindung ist, wurde nach

wie vor alles auf Haltbarkeit und beste Abfahrtseigenschaften

gesetzt.

Mit einem Griff wird die LYNX vom Touren in den Abfahrtsmodus

umgestellt und umgekehrt.

Größen: S bis 26,0 Mondo Large: ab 26.5 Mondo.

Gewicht: S 960 gr. L 1000 gr. inkl. Steighilfe

www.twentytwodesigns.com

ROTTEFELLA NTN

FREEDOM

TELEMARK

Rottefella Freedom ist die Bindung für diejenigen, die Freiheit

und Herausforderung abseits präparierter Pisten suchen.

Das geringe Gewicht, der einzigartige leichtgängige

Gehmechanismus und großer Öffnungswinkel machen

die Bindung zum perfekten Begleiter für den Aufstieg und

den Tiefschneehang.

Gewicht: 1.500 gr. / Paar

Standhöhe 25mm

Steighilfe: 35mm und 65mm

Skistopper: Standard 110mm

Größe S: Mondopoint: 22,0 - 26,0 Größe L: Mondopoint:

26,5 -31

www.rottefella.com

ROTTEFELLA NTN

FREERIDE

TELEMARK

Die Rottefella Freeride Telemarkbindung ist ein Mix aus

Telemark- und Freeridebindung. Hier vereinen sich die Einfachheit

und Sicherheit einer klassischen Alpinbindung - die

Freeride ist einfach mit der Skistockspitze zu öffnen - mit der

nötigen Technik, um den Fersen genug Freiheit zu lassen.

Ein Fersenhebel wird dabei überflüssig und ein neues, direktes

Fahrgefühl wird möglich. Unübertroffen ist die Seitenstabilität

und die Kantenkontrolle, genauso wie der einstellbare

Flex zur unmittelbaren Energieübertragung vom Schuh auf

die Kante und die Release-Funktion zur Seite hin.

Gewicht: 1850g

Standhöhe: 30mm

Größe S: Mondopoint: 22,0 - 26,0 Größe L:

Mondopoint: 26,5 -31

www.rottefella.com

16. PRODUCTS

PAGE | FREEHEELER.EU
---
EDITORIAL .17

FREEHEELER.EU | PAGE
---
Telemark Bindungen

THE M-EQUP-

MENT

MEIDJO 2.1

TELEMARK

Die Meidjo 2.0 (Update-Version DEZ 2015) Telemarkbindung

ist kompatibel mit NTN Schuhen mit Lowtechinserts.

Performance: Meidjo ist die Lösung zwischen der abfahrtsorientierten

NTN-Bindungen (Rottefella NTN-System) und den

Vorteilen der Pinbindungen für den Aufstieg.

Optionen: Stopper, Befestigung für Dynafit Harscheisen und

Fangriemen erhältlich. Die Bindung ist in zwei Größen erhältlich:

Größe S: für Schuhhändler 22,5-26 Mondopoint

Größe L: für Schuhhändler 26,5-31 Mondopoint

Gewicht: ca.975 g pro Paar (Größe L), damit ist es eine sehr

leichte Telemarktourenbindung.

www.the-m-equipment.com

MOONLIGHT

MOUNTAIN GEAR

PUR TELE

TELEMARK

Die Pur Tele von Moonlight Mountain Gear wurde für die Saison

2016/17 komplett überarbeitet und kann mit jedem NTN

Low Tech Telemarkschuh gefahren werden

Im Tourenmodus ohne Federn und Kabel, die man beim

Losgehen einfach aushängt, beträgt das Gewicht 200 gr. Vor

dem Runterfahren, hängt man alles wieder ein und es geht

mit einer 500 gr. leichten Telemarkbindung wieder talwärts.

www.moonlightmountaingear.com

BISHOP

BMF-R

TELEMARK

Völlig neuentwickelte Telemarkbindung mit Tourenfunktion,

wahlweise mit 75 mm oder NTN Schuhaufnahme erhältlich.

Die Switch Plate Technologie ermöglicht einen schnellen Wechsel

mit mehreren Skiern. Mit Skibremse und integrierter StepIn

Funktion.

Gewicht: 2070 gr. inkl. Skibremse

Skibremse: 100, 115, or 125mm Breite

Steigehilfe: 7 und 14 Grad Steighilfe

www.bishopshreds.com

BISHOP

BMF-3

TELEMARK

Völlig neuentwickelte Telemarkbindung mit Dowhillfunktion,

wahlweise mit 75 mm oder NTN Schuhaufnahme erhältlich.

Die Switch Plate Technologie ermöglicht einen schnellen

Wechsel mit mehreren Skiern. Mit Skibremse und integrierter

StepIn Funktion.

Gewicht: 2060 gr. inkl. Skibremse

Skibremse: 100, 115, or 125mm Breite

www.bishopshreds.com

18. PRODUCTS

PAGE | FREEHEELER.EU
---
FREE TOURING TELEMARK

SO LIGHT SO EASY EVEN MORE FUN

COME TEST the Meidjo 2.1 during the MEIDJO TEST EDITORIAL TOUR .19

FREEHEELER.EU | PAGE

Find all dates on www.the-m-equipment.com
---
Telemark Bindungen

KREUZSPITZE

TELEALP

TELEMARK

Superleichte Pin Telemarkbindung mit optionaler

Möglichkeit zum Umbau zur Alpine-Bindung durch

Abnahme des Heel Fersenteils und Verwendung des

Trofeo Hinterbackens.

Dies funktioniert nur mit den Crispi NTN Telemarkschuhen.

Tourenmodus wird durch Aushängen der Federn

ermöglicht.

www.kreuzspitze-shop.com

7TM

POWER XR

TELEMARK

7TM

POWER TOUR XR

TELEMARK

Die 7tm Power XR ist die perfekte Bindung für Telemarker

mit höchsten Ansprüchen: perfekt für den

Wettkampf, eisige Pisten, Vollgasabfahrten – und alles

was dazwischen liegt! Sie bietet als weltweit einzige

Telemarkbindung eine TÜV geprüfte und DIN-genorm-te

Sicherheitsauslösung von Z 4-11. Jetzt mit stärkerer XR

Feder im Fersengehäuse und StepIn Funkti-on erhältlich.

Standhöhe: 22mm.

Schuhgröße: 4,5-12,5

Mondopoint: 24-30,5.

Z-Wert: 4-11

Gewicht: 1380 gr./Paar

StepIn Funktion

https://freeheeler.eu/shop/telemarkbindung-7tm/

Die 7tm Power Tour XR ist die einzige Telemarktourenbindung

der Welt mit TÜV geprüfter Sicherheitsauslösung.

Durch den herausnehmbaren Power Pin wird

der Drehpunkt (Pivotpunkt) nach hinten verlagert

und man bekommt deutlich mehr Zug auf die Bindung.

Dieser Zug verläuft über den Fersenhub nicht gleichmäßig,

sondern nimmt zum Ende spürbar zu. Der Po-wer

Pin lässt sich bei Bedarf leicht entfernen und er-hält

eine 7tm Tour mit 3 Pin Feeling. Die 7tm Power Tour

Power XR gibt dem Telemarker über die härtere Feder

im Fersengehäuse mehr Skikontrolle und die

Kraftübertragung wird dadurch wesentlich verbessert.

Die StepIn Funktion erleichtert das Einsteigen auch im

schwierigen Gelände ohne sich umständlich Bücken zu

müssen.

Gewicht: 1.480 gr./Paar

Z-Wert: 4-11

Standhöhe: 33 mm

Zubehör: Stopper und Harscheisen 105 mm

https://freeheeler.eu/shop/telemarkbindung-7tm/

TELLEBUDDY

BOOSTER PLATE

TELEMARK

Booster plates für fat skis – oder als 2nd ski kit

Neu: NTN/NTTN Version beinhaltet die folgenden

Bindungen:

Brands: Meidjo 2.1, TTS Telemark Tech System, Rottefella

NTN Freeride, 22designs Outlaw X, 22 designs

Lynx, Moonlight Mountain Gear, Kreuzspitze

Telealp, Bishop BMF3/R

www.telebuddy.ch

20. PRODUCTS

PAGE | FREEHEELER.EU
---
Telemark Skis

BLIZZARD

BRAHMA

TELEMARK

Der Blizzard Brahma ist ein All-Mountain-Pistenski mit einem Radius- und

Rockerprofil, das das Skifahren mit dem Brahma ein wenig einfacher macht.

Die Basis ist eine seriöse Latte mit einem Carbon Flipcore, kombiniert mit zwei

Metallschichten. Der Brahma leistet daher bei Tempo und unter wechselnden

Bedingungen gute Leistungen, bleibt aber dennoch gut manövrierfähig. Mit

88 mm unter dem Fuß ist der Brahma ein breiter Pistenski. Füge einen echten

Rocker in die Nase hinzu und Sie können auch das Skifahren abseits der Pisten

genießen.

Details:

Model Blizzard Brahma 88

Size 166 173 180 187

Tip width (mm) 127 127 127 127

Waist width (mm) 88 88 88 88

Tail width (mm) 111 111 111 111

Radius - Sidecut (m) 14 15.5 17 19

Weight per ski (g) + + + +

SCOTT

SCRAPPER

TELEMARK

SCOTT Scrapper 95 Ski Men/W's

Der neue Alltagsski für die junge Generation. Der neue Scrapper 95 wurde komplett

neu entwickelt und verfügt über dieselbe preisgekrönte Konstruktion wie

der Scrapper 105. Die Gürtellinie von 95 cm Breite und der progressive Rocker

sind für alles bereit – von Carving bis zu Backcountry mit besonders leichtem

Setup.

Key Features

• Leichte Schwungeinleitung

• Geschmeidiger Schwungübergang

• Performance-Optimierung

• Federleicht und leistungsstark

• Optimales Treiben

• Kanten Halt

178 cm 131-95-119

NEW for 2020, the mountain town ski nerds at Bishop redesigned

the Chedi using our proprietary TELEM-ARC

TECHNOLOGY. Countless iterations of computer simulations

and multiple rounds of on snow testing has resulted in

a truly unique, telemark-specific ski for our tribe.

The 2020 Chedi gives you the ultimate flex and performance

for that perfect dropped-knee turn. Instead of the "dead-zone"

of alpine skis which require a large area for mounting

fixed heel bindings, TELEM-ARC TECHNOLOGY gives the

ski a sweet, smooth flex under your boot to create a perfect

arc that ONLY the telemark turn can provide. Gone are the

days of skiing those lame "alpine specific" skis with your top

of the line telemark gear. Viva la Freeheel!

This ski is a hard-charging, fun-loving, all-mountain companion.

We combine our new TELEM-ARC TECHNOLOGY with

an early rise tip, camber underfoot, and a flat tail that makes

the Chedi a blast to ski in all conditions. A perfect balance of

float, stability at speed, and playful performance.

Details:

• TELEM-ARC TECHNOLOGY ***

• 130mm tip | 100mm waist | 116mm tail

• 184cm: 25m turn radius

• 174cm: 23m turn radius

• Designed for our 100mm ski brake

• Early Rise tip

• Camber underfoot

• Poplar woodcore-lightweight, snappy andstrong

• Dual Triaxial Fiberglass reinforcement

• Elastomeric dampening

• Carbonium top sheet

• flat tail section for skin clips

• weight per pair: 3450g (174cm), 3630g (184cm)

• Handmade in Colorado, USA.

BISHOP

CHEDI & GONZO

TELEMARK

We're not the only ones who think we designed the ultimate

all-around telemark ski for carving, bumps, and trees. Take

the Gonzo along on your longest spring tours and playground

fantasies. A progressive shape with blunted tail will

allow for both switch landings and optimum tail clip anchoring.

The perfect width and turning radius for delivering

quick carved turns, navigating tight bumps, and shredding

the trees on the dreamiest of days. We designed the Gonzo

with the help of Bishop athlete, Andreas Sjobeck.

The Gonzo is everything you've wanted in an all-mountain

ski. Pure. Fire.

DETAILS:

• 125mm tip | 90mm waist | 120mm tail

• 170cm: 14m turn radius

• 180cm: 16m turn radius

• Designed for our 90mm ski brake Camber underfoot

• Progressive twin shape for all-mountain domination

• Poplar wood core is lightweight, snappy, and strong

• Dual Triaxial Fiberglass reinforcement

• Elastomeric dampening

• Hex-Tech Premium top sheet

• Blunted Twin Tail, for optimum skin clip grip

• Weight per pair: 3100g, (170cm), 3300g (180cm)

• Handmade in Colorado, USA

• Backed by Bishop' Satisfaction Guarantee

22. PRODUCTS

PAGE | FREEHEELER.EU
---
THE ALL NEW

2020 CHEDI

WITH

PAIRED WITH

THE GOLD STANDARD

IN BADASSERY

Behold,

T Rvouo.
---
Telemark Skis

Auf der Suche nach dem einen Ski, der überall alles mitmacht,

war der Mantra schon immer in der engeren Auswahl.

Für die kommende Saison haben wir es gewagt, den Ski neu

zu konstruieren und ein hochsportives All Mountain-Freeride-Setup

zu entwickeln mit Carbon-Enden, Titanalrahmen

und voller Seitenwange. Der neue M5 Mantra ist in der Mitte

tatsächlich 4 cm schmäler als das Vorgängermodell. Die

neuen Proportionen sind um einen Multilayer Holzkern

aufgebaut mit Moderate Taper Tip- und Tail-Rocker. So lässt

sich der Ski sowohl spielerisch aber auch mit vollem Einsatz

fahren, je nach Bedarf.

• Kern: Multi Layer Woodcore

• Titanal Frame

• Carbon Tips

• Full Sidewall

• Base: P-Tex 2100

VÖLKL

MANDRA M5 &

KENDO 92

TELEMARK

Der schlanke Bruder des Mantra, gebaut für den perfekten

Kompromiss für On- und Off-Piste-Tage. Der neue Kendo mit

92 mm unter der Bindung ist mit Titanal Frame und Carbon

Tips aufgebaut. Die Titanalkonstruktion verläuft über die

gesamte Länge und verstärkt zum einen über der Seitenwange

und im Schaufelbereich den Ski für mehr Stabilität und

Dämpfung. Zum anderen aber wird der Mittelbereich unter

der Bindung gefestigt und kann gleichzeitig weicher gebaut

werden. Der Ski wird extrem lebendig und gleichzeitig laufruhig,

auch bei hohen Geschwindigkeiten.

Im Kern des Skis liegt der bewährte Multilayer Holzkern, umrahmt

von einer durchgehenden Seitenwange und P-Tex 2100

Base darunter.

• Kern: Multi Layer Woodcore

• Titanal Frame

• Carbon Tips

• Full Sidewall

• Base: P-Tex 2100

Lange (cm) Radius (m) Taillierung (mm) Gewicht / Paar

170 17,9 - 3920g

177 19,8 - 4060g

184 21,2 134-96-117 4210g

191 23,3 - 4370g

Lange (cm) Radius (m) Taillierung (mm)

170 17,9 -

177 19,8 130-92-113

184 21,2 -

MOONLIGHT

MOUNTAIN GEAR

ALL MOUNTAIN

CARBON

TELEMARK

MOONLIGHT

MOUNTAIN GEAR

ALL MOUNTAIN

CARBON RACE

TELEMARK

Light weight ski for the entire mountain.

This is our normal version of the All Mountain. It is superlight for its

size compared to all competitors.

The ski is designed around the LL rocker system that gives you superb

float in soft snow and still lots of edge contact in firm snow.

This makes the skis stable and calm in firmer snow conditions and

fun and playful in softer snow.

Because of great geometry and low weight the skis are very fast from

edge to edge and they are super fun in open terrain and in the woods.

All testers praise the All Mountain as a super good all round ski

Lenght Dimensions Weight Turn radius

169 129-103-118 1260g 26m

179 132-106-121 1370g 26m

189 135-109-124 1480g 26m

Impossible lightweight ski for the entire mountain.

This ski is so light that you have to pinch your arm to believe it when

you lift up the skis.

This is the perfect ski for the person that tour for the good snow. It

is super light. Stable and solid at speed and a real blast in the powder

snow.

You will feel the low weight in difficult snow conditions, The ski has

our nano foam core with vibration dampers to help the performance

to excel to unknown levels for such a light weight ski in hard snow.

You buy this ski to enjoy lightness on the way up and down in good

snow.

The geometry and lightness makes the skis super easy to turn were

and whenever you want it.

My all-time favorite ski.

Not for bombing cliffs but to cruise and enjoy.

Lenght Dimensions Weight Turn radius

159 126-100-115 950g 26m

169 129-103-118 1020g 26m

179 132-106-121 1100g 26m

189 135-109-124 1180g 26m

24. PRODUCTS

PAGE | FREEHEELER.EU
---
Saturday, 14 March 2020 & Sunday, 15 March 2020

TELEDAY

Belalp, Valais, Switzerland

Free Telemark Equipment Test

Beginners workshops for kids and adults

For more information, please visit:

www.teleday.ch
---
euro

Tele X Race, Testival, Workshops, Woman's Te

From November 28th to December 1st, the Hintertux Glacier

will once again the ultimative Telemark paradise. The Freeheeler

European Opening will take place for the nith time.

Three days of telemark and fun in Hintertux!

26. EVENT

PAGE | FREEHEELER.EU

This year it will be the biggest telemark gear test of the alps.

All relevant brands and their products will be available to test

for free at the festival area. Check out the Tele Expo at the

Tuxer Fernerhaus.

Also we offer different Telemark Workshops every day.

Freestyle with John Olav Folkestad Førland, Lurk telemarking

with Per Ståle Grude, Telemarkids with Lena Attorresi.

Beginners and Advanced with the Freeheeler guides. Start is

at the Testival Area at the @Tuxerferner Haus.

The first time we will offer a Woman's telemark camp, which
---
pean opening

lemark Camp, Movies, Meet&Greet and Party

will offer many skills and fun for the tele girls with an intensive

programm.

For all, which are interested in racing, they can join the

Tele X Challenge. The training and qualification will be

on Friday and the final race will be on Saturday. Even

watching the athletes in each heats will satisfy you.

After skiing we have further highlights in the evening at

Lanersbach/Tux valley.

On Thursday evening,everything get startet with the first

arrvals and we will welcome the first time at Hintertux the

Dutch Telemark Foundation.

Repair it don't waste it is the slogan from Barbara Heinze.

Bring your defekt clothing and gear and it be repaired

from Barbara at the Tux Center.

Friday evening, you will get to know the other participants

at the meet and greet in the Tux Center in Lanersbach

and can exchange ideas with them. Afterwards, you'll get

yourself in the mood for the evening with the Telemark

Band "Lost Guides" led by Bob Mazarei and John Falkiner

and the new films "Epic Flavour" from 75 mm Produktion

and "Back to the Roots" from M_Equipment, will whet

your appetite for tomorrow's Telemark Day. A presentation

of Jacqueline Fritz "With one leg into the mountain" will

also exciting you.

Saturday evening, the Tux Center is again the place to

be, which is filled with a nice and colorful program. The

crowning finale will be a new film by Bevan Waite and Ty

Dayberry called "Our family" as the exclusive European

film premiere. If that's not enough for you, DJ Tom will

heat you up at the Freeheeler Party in the "Kleine Tenne"

really early in the morning.

EVENT.27

FREEHEELER.EU | PAGE
---
Conny Zamernik

Die Entdeckerin

Für Conny Zamernik aus St. Anton ist Telemarken

mehr als nur die schönste Nebensache der Welt.

Mehr als einfach nur Skifahren, mehr als nur ein

kurzer Kick oder ein vergänglicher Pulverschneerausch.

Ihre Telemark-Ski sind für die Tirolerin ein

Tool, mit dem sie die Welt erkundet, und das ihr hilft

sie zu verstehen. Mit ihrem Partner Jacob Slot, mit

dem sie eine kleine Lodge in St. Anton am Arlberg

führt, hat sie in Kolumbien Gletscher bestiegen. In

Afghanistan hat sie Warlords beeindruckt, als sie

mit riesigem Rucksack bestückt durch die Berge des

Hindukusch wanderte. In Grönland ihre Skispuren

von Gipfeln gezogen, auf denen zuvor noch nie ein

Mensch mit zwei Brettern war. Magisch angezogen

aber fühlt sich Conny immer wieder von Patagonien.

"Ich habe auf dem Patagonischen Inlandeis das

Gefühl, dass ich in etwas hinein gehe. Wie in einem

Märchen: durch einen magischen Spiegel hin

ein in eine versteckte Welt."

Text: Christian Penning

30. REPORTAGE

PAGE | FREEHEELER.EU
---
The Discoverer

For Conny Zamernik from St. Anton, telemarking

is more than just the most beautiful minor matter

in the world. More than just skiing, more than just

a short kick or a transient powder snow rush. For

the Tyrolean, her telemark skis are a tool with which

she explores the world and which helps her to understand

it. Together with her partner Jacob Slot,

with whom she runs a small lodge in St. Anton am

Arlberg, she has climbed glaciers in Colombia. In

Afghanistan she was impressed by warlords as she

wandered through the mountains of the Hindukush,

carrying a huge backpack. In Greenland, her ski

tracks were drawn from peaks on which there had

never been a man with two boards before. But Conny

feels magically attracted to Patagonia again and

again. "On the Patagonian Ice Sheet I have the feeling

that I am going into something. Like in a fairy

tale: through a magic mirror into a hidden world."

Text: Christian Penning

Photos: Jakob Slot

32. EDITORIAL

REPORTAGE

PAGE | FREEHEELER.EU

visit our lodge at St. Anton

www.piltriquitron.com
---
THE BIG TELEMARK FAMILY

Dear Kids and dear Telemark Parents, l'm Lena, a passionate

Telemarker and Freeski lnstructor from ltaly based in Livigno.

Since 2018 l'm organizing Telemark clinics for Kids to Teens

in different ski resorts at the Europeans Alps.

After the success of last Winter l'm happy to announce

that TELEMARK KIDS PROJECT will be involved in some more festivals.

This clinics are made for kids different hours of lessons - telemark gear/boots for kids

Event Calender:

Feo Hintertux 28.11.-01.12. 2019

Davos Swiss Telemark Fest 11.-12.01 .2020

Kids Telemark Festival Gryon 07.- 08.03.2020

Piega Malenca, Val Malenco 20.- 22.03.2020

Seoul Free Spirit Telemark Festival 11.-13.04.2020

Telemark Only 01.- 03.05.2020

freeheeler
---
Vom 28.11. bis zum 01.12.2019 wird

bereits zum neunten Mal die Telemark

Saison am Hintertuxer Gletscher

in der Sportregion Tux-Finkenberg

eröffnet. Österreichs einziges Ganzjahresskigebiet

bietet Wintersportenthusiasten

an 365 Tagen im Jahr

perfekte Schneeverhältnisse und unbegrenztes

Pistenvergnügen. 60 km

bestens präparierte Pulverschneepisten,

unberührte Tiefschneehänge und

anspruchsvolle Buckelpisten lassen

das Herz jedes Wintersportlers höherschlagen.

Der norwegische Skisport Telemark

spielt für die Region Tux-Finkenberg

ebenfalls eine große Rolle. So war der

Hintertuxer Gletscher

Hintertuxer Gletscher von 2013 bis

2017 fünf Mal Austragungsort des FIS

SKI WORLD CUP OPENING TELE-

MARK. Außerdem ist der Hintertuxer

Gletscher seit 2015 Kopfsponsor des

siebenfachen Weltmeisters im Telemark

Tobias Müller, der aus persönlichen

Gründen die Disziplin gewechselt

hat und sich nun dem Skicross

widmet.

Mit Stolz ist die Zillertaler Gletscherbahn

gemeinsam mit dem Tourismusverband

Tux-Finkenberg vom

28.11. bis zum 01.12.2019 Gastgeber

des neunten Freeheeler European

Openings am Hintertuxer Gletscher.

Die Teilnehmer können sich wieder auf

ein abwechslungsreiches Programm

mit vielen interessanten Workshops,

einem unterhaltsamen Rahmenprogramm

und dem großen Telemark

Testival beim Tuxer Fernerhaus freuen,

wo jeder Interessierte den Skisport

mit der freien Ferse selbst mal

ausprobieren kann. Ein Highlight

des Freeheeler European Openings

2019 wird die Tele-X Challenge am

Samstag, 30. November, sein. Bei

diesem harten aber faszinierenden

Wettkampf brettern die Telemark-Athleten

über Buckel, durch Steilkurven

und über Sprungschanzen und sind

zudem noch der direkten Konkurrenz

ausgesetzt.

Facts & figures Hintertux Glacier

60 km of pistes, 14.6 km blue, 34.9 km red, 2.3 km

black, 8.2 km touring/backcountry

21 modern lifts (cable car: 3, gondola lift: 3, 6-seater

chairs: 2, 4-seater chairs: 1, 3-seater chairs: 1,

2-seater chairs: 2, ski lifts: 9)

Total transport capacity: 39,400 passengers per

hour

235 ha of ski slopes

Height valley station: 1.500 m

Height mountain station: Gefrorene Wand: 3,250 m

Difference in altitude: 1,750 metres above sea level

36. PORTRAIT

PAGE | FREEHEELER.EU

Special slope: 6 km long snow-covered valley run

"Schwarze Pfanne"
---
From 28.11. to 01.12.2019, the Telemark season will open for the

ninth time at the Hintertux Glacier in the Tux-Finkenberg sports

region. Austria's only all-year ski resort offers winter sports enthusiasts

perfect snow conditions 365 days a year and unlimited skiing

pleasure. 60 km of perfectly groomed powder snow pistes, untouched

powder snow slopes and challenging moguls make the heart

of every winter sports enthusiast beat faster.

The Norwegian ski sport Telemark also plays an important role for

the Tux-Finkenberg region. From 2013 to 2017, the Hintertux Glacier

was the venue of the FIS SKI WORLD CUP OPENING TELE-

MARK five times. Since 2015, the Hintertux glacier has also been the

head sponsor of the seven-time world champion in telemark, Tobias

Müller, who has changed discipline for personal reasons and is now

devoting himself to ski cross.

The Zillertaler Gletscherbahn and the Tux-Finkenberg Tourist Association

are proud to host the ninth Freeheeler European Openings

on the Hintertuxer Glacier from 28.11. to 01.12.2019. The participants

can once again look forward to a varied programme with

many interesting workshops, an entertaining supporting programme

and the large Telemark Testival at the Tuxer Fernerhaus, where

anyone interested can try out skiing with a free heel. A highlight of

the Freeheeler European Openings 2019 will be the Tele-X Challenge

on Saturday, 30 November. In this tough but fascinating competition,

Telemark athletes will race over humps, through steep bends and

over ski jumps and will also be exposed to direct competition.

EVENT .37

FREEHEELER.EU | PAGE
---
75mm production, a small company founded in 2014 specialized in the production of telemark

skiing films.

Thus, throughout the winter, surrounded by a growing community, bringing together telemarkers

from all walks of life, we are roaming the Swiss ski resorts to shoot short promotional films

called "Webisodes".

Each year, we produce a short film, tracing the whole season, intended for film festivals in our

regions. It is usually broadcast for the first time in October during a "preview" event.

The objective of this adventure is to share this passion, to promote the practice of this sport

and to break this elitist image that people have, while highlighting our beautiful regions.
---
« EPIC FLAVOUR » our latest film summarizing our

2018-2019 season.

A taste of adventure as a form of motivation,

through images punctuated by music on the same

level. Re-live the moments that count; on the

slopes, in the tight, tight forest , and on top of the

mountains, all for a taste of adrenaline. And dont

forget the unbelievable views.

This 5th edition marks a first for 75mm Production.

Part of the film shot in Japans Hakuba Valley;

a well known spot for its ever abundant snowfall,

with forests as far as the eye can see. Kodama

Lodge, managed by their Swiss friends, was the

crash spot for 8 days of powder.

The return to europe was equally interesting with

so many nice sunny days, and tons of powder that

allowed us to exploit these memorable conditions.

In short, a great adventure that recaps a wonderful

season with lots of laughter, and a couple of

falls!

Enjoy!

Under our skis, the smooth of the snow;

Beyond our eyes, beautiful landscapes;

In our noses, the smell of fir trees;

In our ears, the silence of the mountain;

And in our mouths, the taste of a delicious beer
---
#2Mädels3Beine1Ziel

WIE BITTE?

Beim "Womens Summer Festival 2018" in Ischgl sollte

ich als Moderatorin eine junge Frau interviewen. Ich sollte sie

als Guide für die Genusswanderung am nächsten Morgen vorstellen

und als Fachfrau beim Klettersteig. Sie würde die nächsten

drei Tage lang die Klettersteig Touren betreuen.

WIE – BITTE – will sie denn das machen?

Jacqueline Fritz, zierlich, schlank, knapp 30 jahre alt, kam auf

mich zu. Sie ging auf Krücken, das rechte Bein oberhalb des

Knies amputiert. Ein sportlich-knackiger halbhoher Hund

hinter ihr.

Im Lauf des Interviews, das wir vor rund 200 Teilnehmerinnen

des Womens Summer Festivals (WSF) führten, erklärte

Jacqueline, wie sie vor 10 Jahren ihr rechtes Bein verlor und die

Liebe zu den Bergen fand.

Gerne würde ich jetzt schreiben: ich staunte.

Aber es war mehr. In mir schrie es: WIE BITTE geht sie mit

Krücken und Hund Klettersteige?

Was macht sie Mit Loui, dem Begleithund, an Stellen, wo Leitern

montiert sind?

"Ach, da hänge ich mir den Loui vor den Bauch, er hat ein

extra Geschirr dafür."

Neeee, oder?

Ich hatte noch nie so unfassbar aufmerksame Zuhörer in einem

Publikum. Ich konnte sehen, daß in allen anderen Fauen

dieselbe Frage rotierte:

WIE MACHT SIE DAS?

Ganz einfach.

Jacqueline macht.

Sie ersetzt ihr fehlendes Bein mit den Krücken, als ob es immer

schon so war.

Sie kann keine Prothese tragen, da der Stumpf nach einem

Sturz auf Glatteis an einer Tankstelle komplett veschraubt wurde.

Passt auch nicht zu ihr.

Bein ab – ist halt so.

Das ersetzt Jacqueline nicht durch ein Plastikbein.

Wenn dann nur eines aus Holz, für Fasching, meine Kinder

nennen sie die "Piraten-Jacqueline".

Beim WSF kamen die Damen, die mit Loui und Jacqueline am

40. REPORTAGE

PAGE | FREEHEELER.EU

#2Girls3Legs1Goal

HOW DO YOU MEAN?

At the "Womens Summer Festival 2018" in Ischgl I was

supposed to interview a young woman as a presenter. I should

introduce her as a guide for the pleasure hike the next morning

and as an expert on the via ferrata. She would be in charge

of the via ferrata tours for the next three days.

HOW - PLEASE - does she want to do that?

Jacqueline Fritz, petite, slim, almost 30 years old, approached

me. She walked on crutches, her right leg amputated above the

knee. A sporty, crisp, half-high dog behind her.

In the course of the interview we conducted in front of about

200 participants of the Womens Summer Festival (WSF), Jacqueline

explained how she lost her right leg 10 years ago and

found love for the mountains.

I would like to write now: I was amazed.

But it was more. Inside me it screamed: HOW does she go

climbing with crutches and dog?

What does she do with Loui, the companion dog, in places

where ladders are mounted?

"Oh, I'll hang Loui in front of my stomach, he's got an extra

harness for that."

No, isn't it?

I've never had such incredibly attentive listeners in an audience

before. I could see that in all the other women the same

question rotated:

HOW DOES SHE DO THAT?

Quite simply.

Jacqueline does.

She replaces her missing leg with crutches, as if it had always

been that way.

She can't wear a prosthesis because the stump was completely

screwed down at a gas station after a fall on black ice.

Doesn't fit her either.

Leg off - that's just the way it is.

That doesn't replace Jacqueline with a plastic leg.

If then only one of wood, for carnival, my children call it the

"Pirate Jacqueline".

At the WSF the ladies who had been to the mountain with

Loui and Jacqueline came back happy and enthusiastic. Jacqueline

is encouraging. She is not a "motivation trainer" as
---
Berg gewesen waren, glücklich und begeistert zurück. Jacqueline

macht Mut. Sie ist keine "Motivationstrainerin", wie wir sie kennen.

Wer mit ihr auf den Berg geht, wird demütig. Dankbar. Sie

lenkt den Blick auf die wichtigen Dinge.

Jacqueline macht durch ihre bloße innere Stärke Mut.

Deswegen sagte ich sofort:"ja klar!", als sie im November 2018

anrief, um mich zu fragen, ob ich ihr Skifahren beibringen wolle.

Sie hätte zwar noch nie auf Ski gestanden, und den Winter möge

sie auch nicht so sehr, wegen des Schnees und des Eises, aber

sie würde doch so gern auch im Winter in ihre geliebten Berge

gehen.

Ja klar! Sie wolle übrigens nicht nur Skifahren lernen, sondern

auch Skitouren gehen.

Weitab vom Skipistenrummel.

Mir war von Anfang an klar, daß wir das schaffen, nur stie?en

wir auf etliche Kritiker.

"Mit einem Bein Skitouren gehen? So ein Quatsch. Muss das

denn sein?"

Mitte Januar 2019 starteten wir das Projekt

#2Mädels3Beine1Ziel.

Mit geliehener Skijacke und zu großen Skischuhen, also Skischuh

links, fingen wir an.

Mit einem Paar geborgter Skikrücken von Alois Praschberger,

dem Technik Guru der paralympischen Skifahrer aus dem Inntal.

"Wie kriegt man eigentlich die Krücken in Skistellung?"

Wir standen da am Übungshang, und waren beide Anfänger. Ich

als Skilehrerin auf einem Ski, und Jacqueline sowieso.

In der Ebene anschieben: Die Krücken sanken ein.

Wir scheiterten so oft an technischen Details, die wir vorher

we know her. Anyone who goes up the mountain with her becomes

humble. Grateful. She directs our attention to the important

things.

Jacqueline is courageous through her mere inner strength.

That's why I immediately said "yes, of course" when she called

me in November 2018 to ask if I wanted to teach her how to

ski.

She never would have stood on skis before, and she doesn't

like the winter so much because of the snow and ice, though

she would love to go to her beloved mountains in the winter

as well.

Yes of course! She not only wanted to learn to ski, but also to

go on ski tours.

Far away from the hustle and bustle of the ski slopes.

It was clear to me from the beginning that we would be able to

do this, but we met a number of critics.

"Going on ski tours with one leg? Such nonsense. Does that

have to be the case?

In the middle of January 2019 we started the project

#2girls3legs1target.

We started with a borrowed ski jacket and ski boots that were

too big, i.e. ski boots on the left.

With a pair of borrowed ski backs from Alois Praschberger,

the technique guru of Paralympic skiers from the Inn Valley.

"How do you get the crutches in ski position?"

We stood there on the practice slope and were both beginners.

Me as a ski instructor on a ski, and Jacqueline anyway.

Push in on the plain: The crutches sank.

We often failed because of technical details that we hadn't

thought about before. In the beginning it was more organiza-

REPORTAGE .41

FREEHEELER.EU | PAGE
---
nicht bedachten. Es war zu Beginn mehr Organisation als

Sport.

Draussen am Babyhang hatten wir es dann aber immer lustig.

Meistens alle Hunde und Kinder dabei.

"Gewöhnen an das Gerät" und "Erstes Gleiten" gelang super.

Trotzdem waren wir beide heilfroh, als mein alter Bekannter

Mario Oberlechner aus Mairach dazu stieß. Einbeiniger Skirennfahrer.

Eine Granate!

"So, jetzt, höher, und geradeaus, und los!" Kommandos von

Tiroler einbeinigem Skilehrern sind klar.

Wie bremst man eigentlich mit einem Bein?

Carvingschule hin oder her – mit einem Bein ist die Schwerkraft

anders, und der Stumpf ist ja auch noch da. Und ich, mit

dem ganzen Bein dran ohne Ski drunter, verdrehte die Hüfte

total!

tion than sport.

Outside on the baby slope we always had a good time. Mostly

all dogs and children with us.

"Getting used to the equipment" and "First gliding" was a great

success.

Nevertheless we were both very happy when my old Mario

Oberlechner from Mairach joined us. One-legged ski racer. A

grenade!

"So, now, higher, and straight ahead, and go!" Commands

from Tyrolean one-legged ski instructors are clear.

How do you actually brake with one leg?

Carving school or not - with one leg gravity is different, and

the stump is still there. And I twisted my hips totally with my

whole leg on without skis under it!

"Jacqueline, I'm going to take you between my legs in the

plough, like in the children's ski course. I'll take two skis from

"Jacqueline, ich nehm dich jetzt mal zwischen meine Beine im

Pflug, wie im Kinderskikurs. Ich nehme ab jetzt zwei Ski. Sonst

verdrehen wir die Hüfte zu sehr."

Und wir brausten zu zweit juchzend den Babyhang hinunter!

Wir freuten uns wie junge gackernde Hühner über jede 50 Meter

Abfahrt am Übungsgelände.

Nur ich schwächelte. Jacqueline schob sich kraftvoll und ausdauernd

ca 30 mal den Hang rauf, zickzack auf einem Ski. Ich

blieb dann irgendwann mit den Hunden unten stehen und dirigierte

sie in alter Skilehrerinnen Manier.

Jacquelines Ausdauer ist einfach besser.

now on. Otherwise we'll twist our hips too much."

And two of us had to go down the baby slope, cheering! Like

young cackling chickens we were happy about every 50 meter

downhill at the training area.

Only I weakened. Jacqueline pushed her way up the slope

about 30 times, zigzag on a ski. Then I stopped sometime with

the dogs below and conducted them in old ski instructors

manner.

Jacqueline's endurance is simply better.

One bend left in the run-out, one bend right in the run-out,

the next day curves in a row. Folded great.

42. REPORTAGE

PAGE | FREEHEELER.EU
---
Eine Kurve links im Auslauf, eine Kurve nach rechts im Auslauf,

am nächsten Tag Kurven aneinander reihend. Klappte

super.

Der Ablauf war wie in jedem Anfängerkurs gleich.

Täglich trainierten wir.

Und dann standen wir unten an der Talsation Christlum.

4er Sessellift mit Teppich, der während des Einstiegs nach vorne

rollt. Ich konnte Jacquelines Angst spüren. Wenn Frau nur

ein Bein hat, der Untergrund sich bewegt und die gewohnten

Krücken nicht zu Händen sind...Panik!

Also wieder zurück.

Ins Skilehrerstüberl.

Stühle aufstellen. Situation üben: Hinsetzen üben. Aufstehen

aus dem Sessellift üben. Während der Stuhl vorwärts rollt, ein

gleitender Ski und zwei ungewohnte Skikrücken als Hilfe zur

Verfügung stehen.

Diese Herausforderung war wohl eine der größten während

des ganzen Projektes.

Wir schafften es.

Aber Jacquelines ungutes Gefühl ist geblieben. Der Einstieg in

die 4er Sesselbahn bleibt ein Abenteuer.

Beim Skitraining erlebten wir Höhen und Tiefen. Stürze und

Tränen.

Tränen des Glücks und Tränen der Ernüchterung.

Aber der Zuspruch des immer hilfsbereiten Liftpersonals, der

anderen Skifahrer, von Mario Oberlechner und vielen anderen

Beobachtern richteten uns wieder auf.

Doch die Skepsis der Kritiker blieb:

"Muss das denn sein?"

Du willst mit EINEM BEIN Skitouren gehen? Wie soll das

The procedure was the same as in every beginner's course.

We trained every day.

And then we stood down at the valley station Christlum.

4-seater chairlift with carpet, which rolls forward during the

entrance. I could feel Jacqueline's fear. When a woman has

only one leg, the ground is moving and the usual crutches are

not at hand...panic!

So back again.

To the ski instructor's room.

Set up chairs. Practice the situation: Sit down and practice.

Get up from the chairlift and practice. As the chair rolls forward,

a gliding ski and two unaccustomed ski crutches are

available to help.

This challenge was probably one of the biggest during the

whole project.

We made it.

But Jacqueline's bad feeling remained. The entry into the

4-person chairlift remains an adventure.

During the ski training we experienced highs and lows. Falls

and tears.

Tears of happiness and tears of disillusionment.

But the encouragement of the always helpful lift staff, the

other skiers, Mario Oberlechner and many other observers

raised us up again.

But the scepticism of the critics remained:

"Does that have to be the case?"

You want to go skiing with ONE BEING? How is that supposed

to work?"
---
denn funktionieren?"

"Keine Ahnung", antworteten wir.

Aber wir wussten, daß wir es schaffen.

Jacquelines Leben hatte schon mehr bewältigt. Und auch meine

Schultern tragen mehr, als andere Schultern tragen können.

Da kann ich doch der 20kg leichteren Jacqueline durch die

schwierigen Passagen auf der Piste helfen. Bei Engstellen sah

ich von hinten schon immer, wie Sie sich vorher anspannte.

Jacqueline wehrte sich nie, wenn ich mal wieder im großen

Pflug hinter sie fuhr, links und rechts an der Hüfte fest packte

und durch den tiefen Sulz dirigierte. 3 Beine gleiten sicherer als

alles andere drumherum.

Schlepplift fahren bleibt auch eine anstrengende Beförderung,

da ist Tellerlift fast einfacher. Aber trotzdem körperlich extrem

fordernd.

"No idea," we replied.

But we knew we could do it.

Jacqueline's life had already done more. And my shoulders

also carry more than other people can. I can help the 20kg

lighter Jacqueline through the difficult passages on the piste.

In narrow places I could always see from behind how I was

tense before. Jacqueline never resisted when I once again drove

behind her in the big plough, grabbed firmly at the left and

right hips and directed through the deep sulcus. 3 legs glide

safer than anything else around.

T-bar lift ride also remains a strenuous ride, plate lift is almost

easier. But still physically extremely demanding.

Zurück zu unserem Ziel.

Im Lauf der Februar Tage optimierten wir Material, Schuhe,

Ski, Krückenski und Bekleidung. Die Unterstützung der Firmen

Berghaus, Tecnica Boots und Blizzard Skis war einfach

großartig!

Und wir zwei wurden ein starkes Team.

Die ersten Skitouren gingen wir in der Ebene, um für den Berg

die Handbewegungen, wie Felle aufziehen und abziehen, Bindung

umstellen, locker zu beherrschen.

Jacqueline hatte am Babyhang ja schon ohne Felle gezeigt, wie

behend und unermüdlich sie den Berg rauf geht, da war Berg-

Back to our destination.

In the course of the February days we optimized material,

shoes, skis, crutch skis and clothing. The support of the companies

Berghaus, Tecnica Boots and Blizzard Skis was simply

great!

And the two of us became a strong team.

The first ski tours we went in the plain, in order to control the

hand movements for the mountain, like pulling on and pulling

off skins, changing bindings, loosely.

Jacqueline had already shown on the baby slope without skins

how agile and tirelessly she goes up the mountain, mountain

walking with skins under her skis was a piece of cake.

Light-footed, chatting loosely, we went our first ski tour up the

44. REPORTAGE

PAGE | FREEHEELER.EU
---
FREEHEEL & CHILL

freeheelers-andermatt.ch

18. April 20

Andermatt

Switzerland

Probably the event with

the most fun factor

freeheelers-andermatt.ch
---
gehen mit Fellen unter dem Ski ja ein Klacks.

Leichtfüssig, locker plaudernd gingen wir unsere erste Skitour

die Christlum rauf. Das fühlte sich einfach super an: Den Berg

mit Ski raufzugehen, und zu wissen, wir kommen da gemeinsam

wieder gut runter.

Jeder, der mal einen Berg hinauf gewandert ist, weiß, wie heilend

jeder Schritt ist. Wie gut die Scheibe mitgebrachten trockenen

Brotes mit lauwarmen Tee schmeckt.

Mit einem Bein Skitouren gehen, hej, das ist so einfach. Man

geht wie mit zwei Beinen.

Allen Kritikern, die uns fragten:

"Wie macht ihr eine Spitzkehre?" oder: "Wie traversiert ihr

steile Passagen?" rufe ich nun lächlend zu:

Einfach machen.

Am Gipfel angekommen juchzten wir nicht.

Wir jodelten nicht vor Freude.

Wir umarmten uns und weinten leise.

Christlum. That just felt great: To go up the mountain with

skis, and to know that we can get down well together.

Anyone who has ever hiked up a mountain knows how healing

every step is. How good the slice of dry bread tastes with

lukewarm tea.

Ski touring with one leg, hey, that's so easy. You walk like with

two legs.

To all the critics who asked us:

"How do you make a hairpin turn?" or: "How do you traverse

steep passages?" I shout now with a smile:

Just do it.

Arriving at the summit, we didn't yap.

We didn't yodel for joy.

We hugged each other and cried quietly.

Saskia.

Saskia.

Dr. Saskia Groos ist 44 Jahre alt,

promovierte Politologin,

Staatl. Gepr. Schneesportlehrerin, begeisterte Telemarkerin

und lebt mit ihren zwei Söhnen und zwei

Hunden in ihrem Elternhaus in Tirol am Achensee.

Wenn sie nicht am Berg ist, unterrichtet sie in der

Montessori Schule Bad Tölz die Oberstufe.

Dr. Saskia Groos is 44 years old,

a political scientist,

State certified snow sports instructor, enthusiastic

telemarker and lives with her two sons and two dogs

in her parents' house in Tyrol at the Achensee.

When she is not on the mountain, she teaches at the

Montessori School in Bad Tölz.

46. REPORTAGE

PAGE | FREEHEELER.EU
---
THE NEW TELEMARK

WORLD CHAMPION

JOHANNA HOLZMANN
---
Nach einem schwierigen Saisonstart im FIS Telemark

Weltcup hat sich nun Johanna Holzmann bei

der Telemark Weltmeisterschaft in Rjukan/Norwegen

im letzten Winter die Krone aufgesetzt. In

einem beeindruckenden und

packenden Finallauf im Parallel

Sprint, besiegte Johanna Ihre

Dauerrivalin Amelie Wenger-Reymond

um einen Wimpernschlag.

Johanna Holzmann hat eine

steile Karierre im Telemark

Weltcup Zirkus hingelegt

und kann auf eine beeindruckende

Zeit zurück blicken.

Als Junioren Weltmeisterin hat

sie das erste Mal auf sich aufmerksam

gemacht und wurde

dann eine sehr ernst zunehmende

Konkurrentin für Amelie Wenger-Reymond,

mit der sie sich

harte Wettkämpfe geliefert hat.

Aber auch neben der Piste

macht Johanna eine gute Figur

und hat neben einigen

Modelljobs sich auch den Red

Bull Athleten Status gesichert.

Freeheeler wünscht weiterhin viel

Erfolg und vor allem Gesundheit,

damit es mit dem Telemarken weiterhin so gut läuft.

After a difficult start at the season during the

FIS Telemark World Cup, Johanna Holzmann

has now crowned herself at the Telemark World

Championship in Rjukan/Norway last winter. In

an impressive and thrilling

parallel sprint final, Johanna

defeated her long-time

rival Amelie Wenger-Reymond

by a blink of an eye.

Johanna Holzmann has a

steep career in the Telemark

World Cup Circus and can look

back on an impressive time.

As Junior World Champion,

she attracted attention

for the first time and

then became a very serious

competitor for Amelie

Wenger-Reymond, with

whom she competed hard.

But Johanna also cuts a

fine figure off the track

and has secured Red Bull

athlete status in addition

to some model jobs.

Freeheeler wishes her continued

success and above

all good health, so that

the telemarking will continue to run so well.

50. REPORTAGE

PAGE | FREEHEELER.EU
---
10 Jahre

swiss

telemark

Festival

11.01. - 12.01.2020

swisstelemarkfestival.ch
---
Neudenken Umdenken

Kleidung ist Interaktion. Sie ist Sprache. Schutz.

Individueller Ausdruck. Kleidung ist ein wichtiger

Teil des Lebens. Persönlichkeit. Kleidung macht

Spaß.

Newthinking Rethinking

Clothing is interaction. It is language. Protection.

Individual expression. Clothing is an important

part of life. Personality. Clothing is fun.

"Ein guter Wanderer hinterlässt keine Spuren"

Die lange Zeit in der Textil- und Outdoor-Industrie

machte mir klar, welchen negativen Einfluss die Bekleidungs-Produktion

auf unsere Umwelt hat. Der

Einsatz von Pestiziden und Chemikalien, ein ruinöser

Wasserverbrauch, schlechte Arbeitsbedingungen

in Textilfabriken und weite Wege rund um die Welt

sind Beispiele, die mich zu einem Umdenken bewegt

haben. Die Frage: Was kann ich tun? Die Antwort: eigenverantwortlich,

fair und ohne Kompromisse handeln.

Das bedeutet einerseits intensives Suchen nach

neuen Technologien und echten Alternativen, die

Verarbeitung natürlicher, kontrolliert biologischer

und nachwachsender Rohstoffe und der Einsatz von

Bluesign zertifizierten Kunstfasern. Materialien, die

am Ende ihrer Lebensdauer auch wieder ohne Schaden

verrotten oder sich recyceln lassen. Andererseits

gilt es Konzepte für Wiederverwertung zu entwickeln

"A good hiker leaves no trace."

The long time in the textile and outdoor industry

made it clear to me what a negative impact

garment production has on our environment.

The use of pesticides and chemicals, ruinous

water consumption, poor working conditions

und zu installieren. Wichtig ist mir dabei die Zusammenarbeit

mit fairen Produzenten mit transparenten

und nachvollziehbaren Wegen. Meine Philosophie

52. PORTRAIT

PAGE | FREEHEELER.EU

in textile factories and long distances around

the world are examples that have led me to

rethink. The question: What can I do? The answer:

act responsibly, fairly and without compromise.

On the one hand this means intensive

search for new technologies and genuine alternatives,

the processing of natural, controlled

biological and renewable raw materials and the

use of Bluesign certified synthetic fibres. Materials

that can rot or be recycled at the end of

their life without damage. On the other hand,

concepts for recycling must be developed and

installed. It is important for me to cooperate

with fair producers in a transparent and comprehensible

way. My philosophy is expressed in
---
drückt sich in der Fertigung langlebiger und vielseitig

einsetzbarer Kleidung aus. Eine handwerklich hergestellte,

schnitttechnisch ausgetüftelte Jacke mit zeitlosem

Design, die am Berg genauso passt und funktioniert

wie auf dem Rad zur Arbeit.

Damit ein Kleidungsstück wirklich funktioniert, lange

"lebt" und das hält, was ich verspreche, durchläuft

es im Atelier und draußen, am Berg, auf dem Fahrrad

oder bei Skitouren, einem langen Test. Bei den Jacken,

Pullovern und Hosen aus der Kinderkollektion haben

meine Söhne und Kinder aus dem Freundeskreis die

Testaufgabe bei harten Rutsch-, Schneeball-, Skitouren-

oder Fahrrad Erkundungstouren in der Natur

übernommen.

Kleidung, die sorgfältig verarbeitet und reparierbar

ist. Kleidung, die uns über Jahre begleitet, ohne ihre

Funktion und ihren Ausdruck zu verlieren.

the production of durable and versatile clothing.

A handcrafted jacket with timeless design, which

fits and works on the mountain as well as on the

bike to work.

So that a garment really works, "lives" for a long

time and keeps what I promise, it goes through

in the studio and outside, on the mountain, on

the bike or on ski tours, a long test. With the jackets,

sweaters and trousers from the children's

collection, my sons and children from my circle

of friends have taken on the test task during

hard slide, snowball, ski touring or bicycle exploring

tours in nature.

Clothing that is carefully processed and repairable.

Clothing that accompanies us for years

without losing its function and expression.

Repair

"Befreiung vom Überfluss, Reparieren und Instandhalten

von Dingen, die wir eh schon besitzen." Dafür

plädiert der Volkswirt Nico Paech in seiner ökologischen

Lehre. Diese Gedanken begleiten mich schon

eine Weile und ich bemühe mich, sie immer mehr in

meinen Alltag einzubauen. Als Schneiderin repariere

ich ihre Lieblingsteile und verändere sie der Mode angepasst.

Spezialisiert habe ich mich auf Reparaturen

technischer Outdoorbekleidung. Ich kümmere mich

gerne um ihre "Sorgenkinder".

54. PORTRAIT

PAGE | FREEHEELER.EU

www.barbaraheinze.com
---
mehr information: www.freeheeler.eu
---
DIE MUZTAG GTX JACKET

Die Jacke speziell für Berg- und Skisportler überzeugt mit

Einsätzen aus GORE-TEX PRO 40D an stark beanspruchten

Stellen und leichteren, gewichtssparenden Einsätzen aus

GORE-TEX Active 30D.

Die nächste Generation von Rab

WWW.RAB.EQUIPMENT