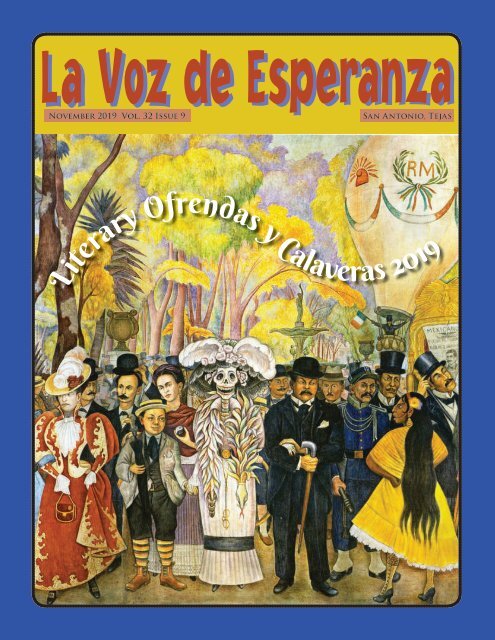 La Voz - November 2019
En su voz: Interviews with Don Moisés Espino del Castillo, El Duque de las Calaveras, by Ellen Riojas Clark, Ph.D., Professor Emerita • Literary Ofrendas para Dia de los Muertos 2019 • "Bird Island, Presente: 'We Shall Not Be Moved'" by Kamala Platt • Dia De Los Muertos 2019 • Don Calaveras, Ofrendas Y Calaveras by Enrique Sánchez • Calaveras de La Voz de Esperanza 2019 • Calaveras de la Dra. Rita • Old Timey Superstition: Death Comes in Threes, reprinted from: Appalachian Magazine, December 16, 2017 • Government Agencies Vs The Cattle Egrets Of Elmendorf Lake Park by Gloria Almaraz • Literary Ofrendas 2019 • El Ultimo Adiós • Los Restos / The Remains
En su voz: Interviews with Don Moisés Espino del Castillo, El Duque de las Calaveras, by Ellen Riojas Clark, Ph.D., Professor Emerita • Literary Ofrendas para Dia de los Muertos 2019 • "Bird Island, Presente: 'We Shall Not Be Moved'" by Kamala Platt • Dia De Los Muertos 2019 • Don Calaveras, Ofrendas Y Calaveras by Enrique Sánchez • Calaveras de La Voz de Esperanza 2019 • Calaveras de la Dra. Rita • Old Timey Superstition: Death Comes in Threes, reprinted from: Appalachian Magazine, December 16, 2017 • Government Agencies Vs The Cattle Egrets Of Elmendorf Lake Park by Gloria Almaraz • Literary Ofrendas 2019 • El Ultimo Adiós • Los Restos / The Remains
SHOW MORE
SHOW LESS
You also want an ePaper? Increase the reach of your titles
YUMPU automatically turns print PDFs into web optimized ePapers that Google loves.
November 2019 Vol. 32 Issue 9

San Antonio, Tejas

Literary Ofrendas y Calaveras 2019
---
LA VOZ de ESPERANZA • November 2019 Vol. 32 Issue 9•

2

La Voz de

Esperanza

November, 2019

Vol. 32 Issue 9

Editor: Gloria A. Ramírez

Design: Elizandro Carrington

Cover Art: Dream of a Sunday Afternoon in

Alameda Central Park /Sueño de una tarde

dominical en la Alameda Central by Diego Rivera

Contributors

Gloria Almaraz, Ellen Riojas Clark, Victor M.

Cortez, Moisés Espino del Castillo, Anel Flores,

Ashley G., Rachel Jennings, Pablo Martinez,

Dennis Medina, Adriana Netro, Kamala Platt,

Rosemary Reyna-Sánchez, Carla Rivera, Norma

L. Rodríguez, Randi Romo, María Salazar,

Annette Sánchez, Enrique Sánchez, Jeanie

Sanders, Ginny Timmons, Elva Treviño, Frank

Valdez, Marilyn Wallner

La Voz Mail Collective

Gloria Almaraz, Irasema Cavazos, Ray Garza,

Araceli Herrera, Pedro Medellin, Miriam

Medellín Myers, Adriana Netro, Ray & Lucy

Pérez, Guadalupe Segura, Sandra Torres,

Margaret F. Valdez, Helen Villarreal

Esperanza Director

Graciela I. Sánchez

Esperanza Staff

Elizandro Carrington, Yaneth Flores,

Sarah Gould, Eliza Pérez, Paul Plouf,

Kristel Orta-Puente, Natalie Rodríguez,

Imgard Akinyi Rop, René Saenz,

Susana Segura, Amelia Valdez

Conjunto de Nepantleras

—Esperanza Board of Directors—

Norma Cantú, Rachel Jennings,

Amy Kastely, Jan Olsen, Ana Lucía Ramírez,

Gloria A. Ramírez, Rudy Rosales, Tiffany Ross,

Lilliana Saldaña, Nadine Saliba,

Graciela I. Sánchez, Lillian Stevens

• We advocate for a wide variety of social,

economic & environmental justice issues.

• Opinions expressed in La Voz are not

necessarily those of the Esperanza Center.

La Voz de Esperanza

is a publication of

Esperanza Peace & Justice Center

922 San Pedro, San Antonio,

TX 78212

210.228.0201

www.esperanzacenter.org

Inquiries/Articles can be sent to:

lavoz@esperanzacenter.org

Articles due by the 8th of each month

Policy Statements

* We ask that articles be visionary, progressive,

instructive & thoughtful. Submissions must be

literate & critical; not sexist, racist, homophobic,

violent, or oppressive & may be edited for length.

* All letters in response to Esperanza activities

or articles in La Voz will be considered for

publication. Letters with intent to slander

individuals or groups will not be published.

I must confess that I'm not great at math (though,

I thought I was). I thought we were celebrating 20

years of Calaveras in La Voz this year! The first issue

of Calaveras appeared in November, 1999. The Math

says it's been twenty years (2019-1999 = 20)—but

my fingers say twenty-one! If you count the first

issue starting in 1999 and continue on your fingers

to 2019, it's 21 years of Calaveras! So we missed the

20th! Still, we must celebrate! And we are—starting

with the cover of this issue.

Diego Rivera's, Dream of a Sunday Afternoon in Alameda Central Park (Sueño de

una tarde dominical en la Alameda Central) painted circa 1947 is a massive mural,

4.8 x 15 meters, located at the Museo Mural Diego Rivera in Mexico City, next to

the Alameda Park in my favorite part of Mexico City, Centro Historico, the historic

center of Mexico. The mural depicts famous people and events in Mexico's history

from conquest to colonization and the Mexican Revolution happening all at once—as

hundreds of famous personalities stroll through or spend time at the Alameda Central

Park that was created in 1592. It is the oldest public park in the Americas! The Pilgrims

didn't arrive to the Americas until 1620! But, that's another story. You get it!

Back to the mural. The front page of this 21st edition of Calaveras shows only a

portion of the mural, maybe 20%. This portion focuses on La Catrina as depicted by

Rivera in the mural. La Calavera Catrina or La Garbancera was originally drawn by

José Guadalupe Posada in 1913 in an etching that featured only her skull in a fancy

hat. Rivera depicts her as fully dressed sporting a feather boa. She is flanked by Posada

on her left and Diego Rivera as a boy on her right. Frida and José Marti are behind

Rivera. The indigenous woman in European dress is La Malinche. The mural includes

everyone in Mexican history from Hernán Cortes to Sor Juana Inez de la Cruz, Benito

Juárez, Porfirio Diaz, the revolutionaries, the anarchists and the bourgeoise.

Though Posada died in obscurity in 1913, he is now a significant figure especially at

this time of year when his calavera drawings are reproduced in a myriad of ways. And his

Catrina, well, she became famous after this mural was completed by Rivera. And in La Voz

de Esperanza she has been featured in her full bodied self thanks to our designers. There's

more to tell...but my design person tells me there is no more room!

Join us on November 1st from 5-9 pm to celebrate Dia de los muertos at the Rinconcito

de Esperanza, 816 S. Colorado. Alla nos vemos! Gracias a todxs for 21 years of Calaveras!

—Editora, Gloria A. Ramírez

TIME IS

Too slow for those who wait

Too swift for those who fear

Too long for those who grieve

Too short for those who rejoice

But for those who love

Time is not

El Tiempo es

Muy despacio para los que esperan

Muy veloz para los que temen

Muy largo para los que afligen

Muy corto para los que recocigan

Pero para los que aman, no.

—Ginny Timmons

ATTENTION VOZ READERS: If you have a mailing address correction please send it to lavoz@

esperanzacenter.org. If you want to be removed from the La Voz mailing list, for whatever reason, please let us

know. La Voz is provided as a courtesy to people on the mailing list of the Esperanza Peace and Justice Center.

The subscription rate is $35 per year ($100 for institutions). The cost of producing and mailing La Voz has

substantially increased and we need your help to keep it afloat. To help, send in your subscriptions, sign up as a

monthly donor, or send in a donation to the Esperanza Peace and Justice Center. Thank you. -GAR

VOZ VISION STATEMENT: La Voz de Esperanza speaks for many individual, progressive voices who are

gente-based, multi-visioned and milagro-bound. We are diverse survivors of materialism, racism, misogyny,

homophobia, classism, violence, earth-damage, speciesism and cultural and political oppression. We are

recapturing the powers of alliance, activism and healthy conflict in order to achieve interdependent economic/

spiritual healing and fuerza. La Voz is a resource for peace, justice, and human rights, providing a forum for

criticism, information, education, humor and other creative works. La Voz provokes bold actions in response

to local and global problems, with the knowledge that the many risks we take for the earth, our body, and the

dignity of all people will result in profound change for the seven generations to come.
---
En su voz:

Interviews with Don Moisés Espino del Castillo

El Duque de las Calaveras

By Ellen Riojas Clark, Ph.D., Professor Emerita

Note: For thirty-years in San Antonio, between 1970-

2000, Don Moisés Espino del Castillo, composed and

published Calaveras, a collection of calaveras/verses

about prominent figures not only from San Antonio

but people known worldwide. For his poetry and

the writing of Calaveras, Don Moisés received

international recognition for work that has revived

and maintained this Día de los Muertos tradition.

Five interviews were conducted by Dr. Clark with

Don Moises with the first one in late 1999 and the

remainder in 2001. The last publication of Calaveras

that were always free was in 2000. El Duque

died in 2002 in San Antonio, TX. The following are

excerpts from those interviews.

Origen de Las Calaveras/Origin of Las Calaveras:

"Calaveras are a tradition that came from Spain."

"[Calaveras] is a custom that began when Spanish satirical poets

began complaining about the Spanish monarchy. Spain was

crumbling, and the poets were making fun [of the monarchy],

the original Calaveras were dedicated to the political elite. Later,

Calaveras became popular and included all kinds of persons who

had certain impact in the society, artists, sportsmen, musicians,

singers, teachers, anyone who attracts attention."

"After the Mexican Revolution, [Calaveras] became more

popular among the people [of Mexico]. First, the Calaveras were

tremendously satirical against politicians such as Porfirio Díaz.

The dictatorship of

Porfirio Diaz was

falling down with the

revolution and the

poets had the pleasure

of using the [situational]

context as

part of their writings.

The famous caricaturist,

José Guadalupe

Posada made Calaveras

famous with his

ridicule; with funny

and sarcastic figures

of death on a weak

horse, a skeleton, and

Don Quixote by José Guadalupe Posada

all the politicians dead and beheaded or murdered by the death"

¿Como llegaron a USA /How did they come to the US?

"Our [Mexican] compatriots that came to the U.S., as a result of

the Mexican Revolution and other political disorders, brought with

them their traditions such as Cinco de Mayo, patriotic celebrations

such as the 16 th of September, and Day of the Dead, a celebration

about the dead …accompanied by the publication

of Calaveras."

La tradición de Las Calaveras siguen vivas/The

tradition of Las Calaveras remains vivid

¿Donde publican las Calaveras? /Where [are]

las Calaveras published? "The Calavera is alive

today in many places in Mexico, mostly in the

south of the country, in places such as San Luis Potosi,

Guanajuato, Oaxaca, Chiapas, and Veracruz…"

"[Calaveras] are [also] published in Nuevo

Laredo, Mexico City, Guadalajara, Guanajuato, and

Oaxaca, the home state of our friend Posada."

"[Newspapers] such as El Mejica, from Houston;

El Sol de Tejas, from Dallas; El Heraldo, from Forth

Worth. The one in Los Angeles asked me for Calaveras to be

published in the Hispanic section. In Miami, there are a lot of

Cubans and they have asked me for Calaveras."

El gusto del mexicano [es] por la burla, la mofa/The

Mexicans' love [to] joke [and] to make fun. Las calaveras

[se usaban] como medio para preservar la lengua hispana/

Las Calaveras [were used] as a mode of preserving Spanish."

Mexican humor is very sharp, they rejoice very much in the

mockery and the [making] fun of others. [The humor is] Caustic,

jokester, spicy…"

"[Calaveras] must be presented as a literary art. They are connected

with Hispanic literature,

since [Calaveras] are

part of the epigrammatic

genre. The epigrammatic is

a burlesque genre or rather

burlista."

"The Calaveras are

not dedicated to a person

who is already dead,

because dead people

cannot reply, or defend

themselves when the

Calavera is a little bit out

of the line. That person is

already judged and it is

cowardly to mock somebody

who is already dead.

Calaveras are about people who are alive."

Las calaveras [muestran] la riqueza de la lengua española

y como [son] parte de cultura popular/ Las Calaveras [illustrate]

the richness of the Spanish language, and how they

LA VOZ de ESPERANZA • November 2019 Vol. 32 Issue 9•

3
---
LA VOZ de ESPERANZA • November 2019 Vol. 32 Issue 9•

4

form part of the popular culture

"[Calaveras] can help to remind people how rich their

language [Spanish] is and that it is a language not only for the

cultural elite, but also for popular culture."

"Calaveras have a very wide lens, to preserve our language

[Spanish] and our traditions and, at the same time, to educate

the people on how complete their language is and how many

phases it has…"

La muerte le llega a todos/Death comes for all: "Death is

a natural phenomenon experienced by [all]: rich, poor, children,

seniors, ugly people, beautiful people, fat people, thin people,

politicians and no politicians [escape it]…"

Religion/Religion: "Here [with the Calaveras] we

are not analyzing any theological point of view. There

are religions or religious sects that are completely

opposite. For example, when a person dies people

have a party with a banquet and music. This, people

say is good, for when the person dies [we celebrate]

because they go to heaven."

La burla a la gente en

el poder/The mocking

of people in power: With

the epigrammatic genre,

people enjoy making fun

of falling monarchies. Then

people in Mexico, took its

pen and paper, and began

creating jokes about those

elites in congress. This

was a way for the people

to relax, making fun of [the

powerful]. It was as a leakage

valve, since people could not

do anything against the monarch

or dictator. The people

can make fun of anything.

Tradiciones indígenas

sobre la muerte/Indigenious death

traditions: "When the missionaries or conquerors

came they found out that the indigenous

people had their rites, very their own, very

special, and where they celebrate the death with

meals, drinks, wakes in the cemeteries."

¿Cuando empezó a publicar las Calaveras?/

When did you start to publish Calaveras?

"I remember it was in 1971, in May or June. I went to visit

Don Manuel Ruiz Ibáñez at the Express, and he suggested the

idea of publishing Calaveras. I believe he got the idea because he

used to publish a cultural column in Spanish, in the Sunday edition

of the Express, and where he published some of my poems"

¿Quien publicaba Calaveras en San Antonio antes?/ Who

published Calaveras in San Antonio before [you]? "Calaveras

were published here in San Antonio before, 25 years before mine

there was a man, Feliciano Rodarte, who published calaveras in San

Antonio. He published calaveras in his own magazine. Mr. Feliciano

passed away and then there was nobody who wrote calaveras."

Gente que vino de Mexico por la Revolución/People who

arrived from Mexico after the Revolution

…"Many of those immigrants that moved because of

the Mexican revolution established themselves in San Antonio,

many others in Corpus Christi, and others in the Valley, in cities

such as McAllen, San Benito, and Mission. The Calaveras where

published there. In Corpus Christi there was a newspaper titled

La Verdad, I don't remember the name of the owner but he published

Calaveras, in his own way, and he publish them until Don

Feliciano Rodarte died and there were no more Calaveras."

Al principio la gente no entendia las calaveras, se molestaban

algunos/At first people did not understand and they were

disturbed: "In the beginning, since the Calaveras were absent

[from San Antonio] for 23 years, people did not understand them

very well. They believed it was a type of an insult or satire and

that they were being insulted. We had to give some explanations."

¿Como escogía a quien le hacia Calaveras?/How do you

chose who to write about? "People [to whom the

Calaveras were dedicated] where

chosen once they were popular, especially

politicians. Any person who

was excelling in society or had became

famous for something became

a candidate for a Calavera."

Calaveras como válvula de escape

de los pueblos/Calaveras are a

mode of escape for a community

"Calaveras have been a pressure

valve used by the people; can be used

as a form of revenge. If they have not

been able to directly attack a political

figure, at least it is a way to have their

attention. The people always tell the

truth and in their own way, they can

express it [via a calavera]."

Como hacia las Calaveras/How

do you go about writing calaveras:

"Well, first I look for the person's funny

or ridiculous side. Then I mold it to the

metrics I have already selected (eight

syllables and eight lines). If the person

is a very important figure, such as the

president of the United States, Mexico's

president or the Pope, then is possible to

extend to twelve syllables instead of only

eight."

Henry B. González, Congressman:

"For Henry B. I wrote a lot of them, for

example, he hits someone, he lands a punch

on someone who called him a communist.

So I say [in the calavera], now in the US Congress, we not

only have a Congressman but we also have boxers." …He liked

them, he always congratulated me.

He would always tell me, don't let go of this tradition of ours.

One time he reminded me that he always a defender. Listen, that's

how calaveras are, they are about what is popular [at the moment].

Once there was a problem with the raspa [snow cone] vendors

and the city and he defended them. He told the city that the

vendors were poor and they lived from their work efforts making

something that people liked and bought. That raspas [snow cones]

were a tradition of ours and that this cultural food we enjoyed..

Why were they going to deny these efforts. [The city] gave them

back the right/permission to sell the raspas downtown. For [at

first] they did not want the vendors to sell them downtown.

Habla sobre la revista, Calaveras/Talks about the magazine,

Calaveras: "Well, sometimes we printed 1000 or 2000,
---
Calaveras

Humorous Annual Spanish Publication in Verse

Editor

Moisés Espino del Castillo,

San Antonio Texas

Dr. Ellen Clark

• U.T.S.A •

A lo que digo me aferro

porque la conozco bien,

es una mujer de hierro

que se come a mas de cien;

su celo universitario

lo expresa de muchos modos,

casi casi vuela a diario

llevando un mensaje a todos;

como le gustaba el canto y el arte de corazón

por andar volando tanto un día se cayó el avión.

published November 1995

Henry B. González

• Ex-Congresista •

Honorable Congresista

de los ilustres de antes,

si le decías comunist

tesonabla con los guantes.

La calaca en un almud

lo sepultó con decoro,

en un enorme ataúd

con chapetones de oro.

Henry Cisneros

• Empresario •

Ya volvió Henry Cisneros

otra vez a San Antonio,

con mucho celo y encomio

tiene proyectos sinceros.

Con lenguaje muy correcto

le dijo a todas las masas:

"aunque no soy arquitecto

yo voy a construir casas".

La muerte, después de oír

le dijo al estar hablando:

te sepulto en San Fernando".

published November 2000

Editor's Note: Above is a sample of Don Moisés' calaveras published in San Antonio for 30 years. Sample covers of the publication are shown on p. 4. La Voz de Esperanza

began publishing a Calavera issue each November since 1999.

depending… Some years were better than others, we also depend

[financially] on sponsors and people who helped us. Because [in

the magazine] we did not publish advertising, it only included

sponsored Calaveras. The printer use

to tell me: it is going to cost this much,

around 2,000 dollars and then I know I

have to raise the money to pay him. Once

I got the money, I brought the Calaveras to

the printer, the Calaveras were already in

the order they were supposed to be printed

and the printer calculated how many pages

the magazine was going to be. He used to

tell me the magazine can be of 4, 8 and 12

pages. It was by quadruplets."

Imprenta que más uso Homer Whitt/

Whitt Printing Company: "I have been

using [many printers in San Antonio], one

time I used San Antonio Press, then Munguia,

New Braunfels, Ad Printing Company,

Cisneros owned by Rudy Cisneros, not

related with Henry Cisneros, and I used

Homer Whitt the most."

Invasion del Halloween a Mexico/

Halloween in Mexico: "In the United

States, the special celebration is Halloween,

which has nothing in common with

the Day of the Dead."

"The Calaveras are 'married' with the

A Don Moisés Espino Del Castillo, QEPD

Fue en vida, Don Moisés, Maestro de Calaveras.

Cargando la tradición que él nos enseño, de veras.

Llegó su remplazo como a cerca de las seis,

Pues, vino siriqui-siaca a llevarse a Don Moisés.

—¡Alto, paren!, No hay derecho:

No he dejado mi legado y me resta un buen trecho.

—Recoge todas tus cosas y despidete formal,

La Tiesa dijo, impaciente por llenar su gran morral.

—La persona que trajiste para tomar mi lugar

No tiene el porte de ser un tipo formal

—No me pugnes, ni me empeñes en cambiarme de opinión

Todo ésto ya está escrito y es tu último escalón.

—Transcurrió bastante tiempo fue mucha la discusión:

Al final de la batalla Don Moisés cayó silencio al dares su

petatón.

—Enrique Sánchez

pan de muerto (Dead Bread) because it is during the Day of the

Death celebrations [that Calaveras] are published.

"It is a cultural tradition from here [the U.S.] that goes to

Mexico, to the south. But the Calaveras

have arrived only here [to San

Antonio]. The dollar invasion is very

powerful, the American customs are

very strong and then the businesses

open their doors because they make

money with it [Halloween]. The kids

are getting used to buy candies and

everything for the celebration."

"First, Halloween is not authentically

from the United States it is from

the north of Europe…" so now with

this I don't mean that I am an enemy

of Halloween. I am not an enemy of

Halloween, but I do not practice it, I

am not interested in it. What I want is

that this tradition that is ours [Calaveras]

to be celebrated by Hispanics."

Bio: Ellen Riojas Clark, Ph. D.,

Professor Emerita of the Department

of Bicultural Bilingual Studies,

UTSA is author of The Calaveras of

Don Moisés Espino del Castillo, Arte

Publico Press, 2014

LA VOZ de ESPERANZA • November 2019 Vol. 32 Issue 9•

5
---
Literary Ofrendas para

LA VOZ de ESPERANZA • November 2019 Vol. 32 Issue 9•

6

Amelia Cirilo May 23, 1925—July 1, 2019

By Dennis Medina

Editor's note: Condolences to the family of

Amelia Cirilo, in particular to Dennis Medina, her

son who is one of the contributor's to Queer Brown

Voices and has been a long-time activist in Texas.

My mother exhibited a lust for life throughout

her time on this earth. She was born in 1925, in

Parks, Texas, the daughter of Constancio Cirilo and

Guadalupe Guerra; and she was raised in Weslaco

and Houston, Texas. Sometimes,

she told the story of how she got

into a fight in elementary school

because bullies made fun of her

flour-sack dresses, which she had

to wear during the Great Depression,

due to the family's poverty.

Education was her life cause.

She earned a B.S. in Education at

North Texas University in Denton,

a Master's degree at Kingsville

A&I University (Now Texas A&M University- Kingsville),

and a Ph.D. at Texas A&M University, College Station. She

taught many subjects, especially science and math, at all grade

levels from elementary, junior high, high school, adult education,

to community college and university, including a few years as a

bilingual kindergarten teacher. She also founded her own educational

consulting firm, named HERMANA (Hispanic Educational

At her open grave,

I wear a black polyester

thrift store skirt, a black blouse

from Family Dollar.

We bury my older sister

on the ridge above the river

the morning of the equinox.

She died from cirrhosis of the liver.

We leave daffodils, early phlox.

Five years on at the Methodist

Conference, activists gather

for their annual witness

at the Ordination Service.

My Sister as Persephone

In remembrance of queer

candidates denied their pastoral

calling, we wear severe black outfits

with bright rainbow stoles.

Each June, taking the black skirt

and blouse from my closet,

still without money

for anything new,

I pack my mourning clothes.

In this way, though she was not

a seminarian, her presence

in the pew a distant memory,

my sister returns late each spring

from her own dark closet,

an unpunctual Persephone.

—Rachel Jennings

Research Management and National Association),

where she served as Executive Director.

Proclaimed a "Doer" by the Corpus Christi

Caller Times newspaper, Amelia achieved many

accolades during her lifetime. At various times, she

was active in LULAC (League of Latin American

Citizens), Women's Political Caucus of Texas,

Women's Shelter of Corpus Christi, Goals for

Corpus Christi Committee, Methodist Home

for the Elderly (Weslaco), Dallas County

Adult Literacy Council, Texas Constitutional

Committee (Brazos County Advisor), Fiesta

Bilingual Toastmasters, and many, many

other organizations, too numerous to list.

She raised four children, and participated

in numerous hobbies, such as ballroom dancing,

standup

comedy, para-gliding, and

butterflies. In 1996, at age 71,

she ran as a contestant in the

Ms. Texas Senior America

Pageant in Dallas, Texas.

Amelia was cremated in

accordance with her wishes.

Her ashes will be spread

around a tree.

My sister's full name

was Julie Naomi

Jennings.

She was born on

December 14, 1962,

and she died on

March 17, 2014.

WHAT I WANT TO BE

If I could choose

What I could be,

I'd be a tree.

A beautiful, beautiful tree.

So when I'm gone,

And completely free.

Spread my ashes

Under a tree.

A beautiful, beautiful tree.

—Amelia Cirilo
---
Dia de los Muertos 2019

Fridita

Dark eyed little sister, braids woven into the crown

of a queen, fierce as a matador, your soul

brandishing its red cape daring the bullish

passes of death, to steal from you the day

Paints ground from the riotous pigments of the

Life that colors your virgin canvas giving bloody

birth to self-portraits, confirming the pulse

the breath, the heartbeat, the passions of your

body, though it betrays you, as it's eaten alive by

the famished cannibal of your perpetual pain

La Artista, Mi Hermana, Mi Gente, La Reina

fervent, ravenous, glorious, creative, woman

what dreams came, as you lay upon the altar

of your bed, what imaginings, that fed your beast

that drove your hands, to create, even as the chair

claimed you captive, how bitter the salt of your

tears, swelling your tongue, hopes dashed upon

the ground, each time your womb fell empty

Ah Fridita, cry not, for your children yet live

immortal, dressed in their glorious finery of canvas

paint and stretcher bars, niños, who will never die

—Randi Romo

Shrines

These poles with ghost bikes

trussed to them—

piles of teddy bears, cards

candles with the Virgin's

image—

flower offerings

looking like brides' bouquets—

now desiccated.

The bouquet the girls' bike rider

will never catch.

I know about some of them.

That girl whose bike's

now spray painted white

was hit by a drunk driver

as she rode out

of the University gate.

She had the right-of-way,

cold comfort now.

That was on the late news.

And the two girls—

Marigolds by Carla Rivera

graduating high school seniors,

in the spiffy new convertible—

they were hit by a truck

after they threw eggs

at the driver at 4 A.M.

One of the mothers said

"They were only having fun."

Their pole stayed festive,

gay like a Mardi Gras float

for over two years

before it was stripped clean.

Someone from the county, no doubt.

—Marilyn Wallner

La Despedida De Mi Querida Madre Maria (Neva) Mora, R.N.

By Rosemary Reyna-Sánchez, neé Martínez

Mi Mama, Neva, received her RN Nursing

Degree at 56 years young, the first in her family and

proving that no one is too old to learn. Her parents

(Apa and Ama) migrated from Mexico in the 30's;

mom was the 3 rd of 7 children, growing up in an

abusive environment, where she was "the punching

bag" for her dad as she put it. It took her many

years to share this with me. When she was 9 years

old, "Apa" decided to take the family for a drive and

wound up downtown where he parked in front of a

bar where Mi Tierra Mexican Restaurant now stands.

He instructed the family to stay in the car and not

get out, or else; while he went inside to drink with

his buddies (typical Machismo). After a couple of

hours, mom and my Tío Beto decided to sneak out

of their Model-T, despite the warning. They crawled

under the car to the other side, where there was a Christmas tree

vendor stand. When the vendor wasn't looking they snatched a

tree, dragged it underneath the car, then promptly loaded it onto

the back floorboard just as "Apa" was coming out of the bar and

heading towards them. Hijole just in time! When they got home,

they snuck the tree inside and placed it "EN LA SALA"

and started on their decorations utilizing pieces of paper,

foil, bottle caps, whatever they could find. In the morning

the kids all gathered around and admired its beauty.

Mom said that was the first and best Christmas the kids

ever had! (Nowadays, so much is taken for granted;

folks should pause and give thanks for what they have,

instead of what they don't.) After she passed away, I

found a ceramic bell in the shape of an angel among her

possessions. I brought it home and hung it securely on

our Christmas tree. Early the next morning I heard the

bell ring on its own and of course I was in denial, so I

followed the ringing to LA SALA and found the angel

on the floor by our tree, where it had fallen upright,

without breaking. Lying next to it, I found a small note

that read "Rose, I love you and will be near you no

matter the circumstances". My mom rang the bell communicating

beyond the grave to show me the note that she left for me!

Unbelievable! The Love of a Madre never dies, it transcends!

I love and miss you mom! LOVE CONQUERS ALL, LOVE

CONQUERS DEATH!

LA VOZ de ESPERANZA • November 2019 Vol. 32 Issue 9•

7
---
LA VOZ de ESPERANZA • November 2019 Vol. 32 Issue 9•

8

Aerial photo of an egret rookery on Bird Island in Elmendorf Lake on April 3, 2019.

Photo Credit: William Luther, Express-News staff photographer
---
A Bird Buffer next to a pathway at Elmendorf Lake Park.Photo Credit: David Martin Davies, Texas Public Radio

"Bird Island, Presente: 'We Shall Not Be Moved'"

By Kamala Platt

Is it inauspicious to yell "presente" for a place, before

it is gone? What constitutes the death of a place?

Who has the right to make a prognosis for the

lifespan of an island? a heronry? a barrio?

In the last 6 months, I've asked myself these

questions with increasing frequency as I have

witnessed the rhetorical and empirical attacks

on "Bird Island," Our Lady's Lake Ardeidae

Colony, the Place of White Herons, Elmendorf

Lake's tiny piece of Aztlan. Most of the summer,

my disquiet was stilled in walks around the lake,

particularly at the height of nesting, when I wouldw

descend down the bank that faces the backside of

Bird Island where the protected channel between the

island and the lake's shore hosts a "nursery." A small

Abuela tree that branched out over the hyacinth-flocked

water housed several nests where, with binoculars, I

could catch an intimate view of the goings-on between

parents and their chick children, and later between the fledglings.

Threats and speculations about the death of "Bird Island" were

diminished by egrets prancing and dancing on island's backslope.

The perils facing my city and even the planetary peril of global

warming would be placed in perspective by my engagement with a

fragment of avian ecosystem comunidad. Time would slow down

for me while I was there, a few feet from the island, engulfed in the

vibrant sounds of flourishing life, communication across generations

among birds whose family ancestry dates back to the lower

Eocene, 55 million years.

Meanwhile, on the sidewalk yards east of the island, Bird

Buffer spray wafts out of a metal box, placed by COSA Parks and

Rec. Dept.—a metronome marking time in intervals of pesticide

releases that smell of purple Kool-aid, its ingredients unrevealed,

coming on and off every 4 minutes into seeming eternity. Will the

spray from the bird buffer box installed without public knowledge

onto an aeration system in the newly renovated park in May 2017

outstay the egrets at the lake? The poison ruse of park protection

may keep wafting onto the sidewalk, the shoreside rushes and the

lake, itself, continuing through months or years of habitat destruction,

and sound and light harassment displays. Recent mitigator

estimates of the time to get rid of the birds was two or so years—

whether mitigation would continue, throughout, was unclear, as

was the basis of the estimated time. Alongside the spray, bird harassment

become an ongoing park activity chasing away vulnerable

park goers, avian and non-avian, alike, if several COSA offices and

The warning sign located in

Brackenridge Park indicates,

"Prolonged presence in this

area is not recommended."

Photo Credit: David Martin

Davies, Texas Public Radio

the USDA (that has planned the habitat destruction

and harassment) have their way. While threatened

attacks on Elmendorf Lake's cattle egrets, and,

as of late, birds in general, have been publicly

attributed to the military, JBSA, as far as I can

tell, is involved only tangentially by the bird

harassers' professed association with BASH,

(Bird/wildlife Aircraft Strike Hazard) an international

program JBSA works with to slow

bird strikes, a program that generally does not

go after barrio community parks miles from any

airfield with no tested, demonstrated, or logically

determined "bird strike risk."

"We Shall Not Be Moved," the words from the

Human/Civil Rights folk/protest song, with childhood

associations for me, plopped themselves down beside

one of Alesia Garlock's egret images on a yard sign in

my mind, as I watched Bird Island birds going about

their daily routine, one triple-digit, near-autumn day. The honorary

Great Egret, emblem of Elmendorf Lake Park, and the Audubon

Society, alike, is surely earning its place as a symbol against

displacement in San Antonio's neighborhoods that are under siege

of displacement and gentrification campaigns that are likely a large

reason for the COSA's displacing Westside egrets, as well. Posted

next to "Mi Barrio No Se Vende" signs, across the city, they would

deliver multiple messages—"All Our Relatives," all of us, are here

to stay, migrate, return, at will—we protest and protect, even as

our continents heat up, GHG-intensified storms rage, and some socalled

leaders, ignore, or worse. Not long after the yard sign image

came to me, musician friends at the Climate Strike in front of San

Fernando Cathedral gave a fabulous performance of "We Shall Not

Be Moved," in voice and drum, and I was enthralled. I announced

then, "this is just what we shall broadcast, loud and proud, at 24 th

and Commerce" if mitigation by pollution with cannon fire noise

and bright lights begins in mid-October, as currently scheduled

(despite fledgling cormorants still in nests with the harassment start

date a week away). Todos Somos Presente and We Shall Not Be

Moved. (Stay tuned— your presence may be requested!)

Bio: Kamala Platt, Ph.D., M.F.A. is adjunct profesora, artist,

independent scholar and author in South Texas and at The Meadowlark

Center, Kansas.

Note: For background information on this article, email

lavoz@esperanzacenter.org

LA VOZ de ESPERANZA • November 2019 Vol. 32 Issue 9•

9
---
LA VOZ de ESPERANZA • November 2019 Vol. 32 Issue 9•

10

Dia de Los Muertos

Dia De Los Muertos 2019

LA HUESUDA (2006)

Hoy no es un dia de:

Desfilar títeres esqueleto gigantes,

O…De algo siniestro,

Hoy es un dia para comprender,

que la muerte como parte de la vida,

es un día para recordar,

Tomar el tiempo para honrar,

Nuestros seres queridos que han fallecido,

Es hora de limpiar el cementerio,

Decora las pisos con

Flores, velas y dulces,

Altares hechos en casa,

los adornan con:

Fotos, comida y muñecos,

Iluminando el camino con velas,

Así las almas a encontrar el camino a su casa,

Omita el desfile,

Pintura de la cara,

En su lugar:

Haz una ofrenda,

Un ramo de flores recién cortadas,

Hable con su ser querido,

y

Hable de su ser querido,

Como si nunca se hubiesen ido,

Dia de los Muertos,

Se supone que debe ser el tiempo,

Cuando nuestros seres queridos regresan,

¿Alguna vez realmente nos dejan?

Están por todas partes,

que son las entidades que nos envuelven.

—Ashley G. La Voz 2015

Soy la mera, mera petatera;

unos me llaman "La Catrina" ¡Que insulto!

Otros me conocen por "La Segadora."

¡Bah! Ni que fuera yo machete.

Lo cierto es que soy la Muerte y mi lema es simple:

"A cada santo se le llega su dia." ¿De acuerdo?

Este año, como los anteriores,

he venido a recojer gente.

Mi corte es parejo.

Todos por igual.

Siempre hay sentimientos, ¡Que caray!

—Enrique Sánchez

Vuelven las Calaveras:

Año dos mil diez y nueve

¿Quien hubiera pensado que Enrique Sánchez,

hijo de Adrían Sánchez y Victoria Zapiaín de Sánchez

iba a escribir Calaveras?

La verdad es que cuando leí Calaveras por primera vez

Me facinaron tanto que decidi escribir varias.

Para mi, escribir estos versos son como un pasatiempo

Tambien un mayor interés es hacer perdurar estas palabras

y seguir una costumbre de mis antepasados.

—Enrique Sánchez

Day of the Dead

Today is not a day of:

Parading giant skeletal puppets,

Or…Of something sinister,

Today is a day understanding,

Death as a part of life,

A day of remembrance,

Taking the time to honor,

Our loved ones that have passed away,

It's time to clean the cemetery,

Decorate the floors with

Flowers, candles, and sweets,

Homemade altars,

Adorn them with

Photos, food, and dolls,

Lighting the way with candles,

So the souls find their way home,

Skip the parade,

Face painting,

Instead: Make an offering,

A fresh bouquet,

Talk to your loved one, And

Talk of your cherished one,

As if they never left,

Day of the dead,

Is suppose to be the time,

When our loved ones return,

Did they ever really leave us?

They are everywhere,

they are the entities that surround us.

—Ashley G, La Voz 2015
---
Don Calaveras

Ofrendas y Calaveras

by Enrique Sánchez

Lola y Mina

Dos cachorritas, dos perritas que alguien no quiso

y las botó en mi propiedad.

Una mañana de invierno, salí de mi casa.

Oí como que lloraba un bebé. Eran las perritas.

Estaban acurracaditas calentandose de la mañana fria.

Esto sucedio hace casi diez años;

han sido dos animales que se portan bien

No gruñen, pero sí ladran.

Ahora va la mia:

¿Que les parece una calavera para ellas dos?

Resulta que sin saber de sus principios,

una de mis hijas nombró a las perras "Lola y "Mina"

Les quedó bien sus nombres

Lola es más inteligente y muy gorda

Mina es muy agil, traviesa y le gusta comadrear,

¡Imaginense!

Mina tiene la habilidad de brincar cercas

y lo del chisme eso es cosa de ella

No piensen que me fui por otro rumbo,

acuerdense que es una calavera para dos hermanas,

¿Dos perras?

La Catrina no se fija, puede morir una chinche

o tal vez un elefante (corte parejo)

En un can(perro) las pulgas son bienvenidas

Casi me olvidé de esos insectos.

Ofrenda A Mi Barrio

Lilia Sánchez

hermana mayor de Enrique

Sánchez dejó de

existire el 23 de Julio de

2019 en San Antonio,

Texas. No sentí tristeza

cuando supe que habia

muerto Lilia. Me acordé de tiempos atrás, cuando

Lilia y yo compartíamos aventuras cuando eramos

niños. Esta véz, no me dijo, "Vamos Manito." Dios

quiera que a donde vaya y por donde vaya, sea un

gran aventura para Ella.

Presumido

Cuando era joven, me gustaba presumir

Habiendo tantas muchachas bonitas,

aunque sin dinero

No tenia ni en que caerme muerto

Me gustaba presumir.

Bueno, así es la vida. Que le vamos a hacer.

Encontré mi preferida y me casé con ella, con Isabel

Fué un regalo de Diós.

Ya estoy Viejo.

Las muchachas ni se fijan en mi. ¿ Que será de mi?

Ya no puedo presumir, nadie me hace caso.

¡Que caray! Conformate, me dicta mi consciencia

"Hay que saber perder" dice Calacas.

San Antonio fué donde nació mi padre, mi papá, diciembre 1900. Fué un hombre que vivió hasta diciembre, 1970.

Sufrió cuando su propio padre abandonó su familia. Nunca platiqué con el. ¡Que lastima!

Como me hubiera gustado saber su vida. Lo poco que se de Adrian Sánchez fué por boca de Victoria, su esposa y

mi Mamá. En la esquina de las calles Sabinas y Vera Cruz, allí vivió—mi Papá, su mamá y hermanos.

Supe tambien que mi Abuelo Jesús María Sánchez fué artista y como no habia Mercado para su arte—de su casa

fabricaba cosas de barro y los vecinos lo conocian como el señor que hacia jarros, cazuelas, etc.

Siempre nuestro barrio a sido un barrio pobre. La mayoria de a gente a sido de desendencia Mexicana. Las costumbres

y las tradiciones han sido Mexicanas tambien.

La calle Guadalupe lo dice todo. Antes, este barrio tenia todo; Los negocios pequeños

nos daban lo que necesitabamos. Teniamos escuelas, carpas, parques deportivos y

sinumeros de lugares para entretenimiento.

El arroyo nos daba agua y zacate a sus orillas, ojos de agua, que más pedir. Brotaba el

agua de los ojos de agua en Zarzamora y Laredo. Estas calles tambien estan en el barrio.

Todos los recuerdos del ayer se están perdiendo. Hubo mucho que hablar, mucho

que contra y decir. Las Viejas generacíones se están desapareciendo. Nos resta a nosotros,

Los antiguos, revivir esos recuerdos.

Adrián y Victoria Sánchez

LA VOZ de ESPERANZA • November 2019 Vol. 32 Issue 9•

11
---
LA VOZ de ESPERANZA • November 2019 Vol. 32 Issue 9•

Calaverita al

Chubby

I want YOU dear chubby fella

Love your suits and golden wig

Your trumpita looks delicious

I will eat it with a kiss.

Don't you worry about detractors

They are jealous of your fame.

They may think you're vain and selfish

Just because you're good to blame.

Haters hate all your speeches

Say you've a delusional mind

Say you're serving your own pockets

Those things, I know, you don't mind.

Don't you worry about impeachment

I 'll keep all your secrets safe

Whistleblowers and Press together

They can kiss our bones and rest.

Varenyky or Chinese dumplings

What's your appetite today?

Or if you prefer our local tacos

Keeping América rete-great!

Let's just nuke ourselves together

You will be my special dust

You will have a gold container

by my side I'll make a fuss.

How I want you chubby fella!!!

Tell me, please, that you'll be mine

In my place you'll have your "thingies"

You don't need a house so white.

—Adriana Netro

12

Calaveras

de La Voz de Esperanza 2019

Los Tres Amigos

The Three "Amigos"

No Vale La Pena

Art: Stella Marroquin

Van saliendo y entrando

Muchos por la Casa Blanca

Incluso los tres amigos

Esperando un mando

So many comings and goings

In and out of the white house door

And now, here come three amigos

Waiting for his commands and more!

Sirven a la orden de Trump

Todos son sólo titeres

Jalados por un hilo

Creyendo promesas falsas

All who serve this bad president

Are mere marionettes on a string

Whose eyes are fixed on a fake prize

Being favored by the west wing

Pronto olerán el hedor

De la tiznada que llega

Con un abrazo apretadito

Cada uno queda muertito

—Gloria A. Ramirez

Soon enough there'll arise a stench

The sooty lady, the death wench

Will give them all a strong embrace

And of them all—will be no trace!

Escribir Calaveras a politicos, ¡Que capáz!

Estoy harto de tantos pend…..

Es mejor no decir malas razones.

No sea que mi Mamá,

la cual me prometío mandarme un rayo

—si me portaba irrespetuoso.

Tiene años que Doña Victoria pasó a mejor vida.

Yo vivo con ese miedo, no le hace donde esté.

Ella cumplará ese mandato.

Me perdonan por esta vez, realmente

no valen la pena, Los Politicos.

—Enrique Sánchez

La Mordida

Para describir mordelones no es facíl.

Pore eso mismo La Catrina

viene y se los lleva a todos.

Hay mordelones y mordelonas,

¿Porque no?

Para comenzar, los politicos municipales,

estatales y sobre todos, los nacionales,

allí rifan el poder y el dinero.

Esa gente decide leyes y reglamentos

para su convenencia.

Les va muy bien disfrazado.

Es inutíl nombralos, tarde o temprano.

Darán cuenta de las mordidas.

—Enrique Sánchez, 2006
---
Art: Leopoldo

Méndez

A Don Guadalupe

Posada

Art: Mary Agnes Rodríguez

Art: Day of the Dead 1924, Diego Rivera

El Donald Trump

Y , otra vez, en la frontera un muro quiere construir

Así como Bush intentara mucho antes.

En el Barrio de San Marcos

del merito Aguascalientes

Fue donde el maestro Posada

Por primera vez abrió los ojos

Y vio las injusticias candentes

del afrancesado porfiriato ahí presentes

Una dama con prestancia, fuerza y elegante

Ya llegó para echarle al cretino el guante

Y le va romper la trompa porque ya anda encabronada

Y pa' que ya no diga babosadas que no nos llevan a nada,

Mi querida, hermosa Catrina adorada

Arrastrándolo del mechón lo va a mandar a la…. Tumba.

Y si de la tumba se sale, 'tonses si lo manda a la chingada!

—Víctor M. Cortés

Con la melena horrible y alborotada

A Chicago ese cretino se dirigió

Pero una decidida multitud ya lo esperaba

Y éste, al ver tanta gente a la que enfureció

De puro miedo en su avioncito se regresó

El Trump cara de cochino quiere cambiar el destino,

A los negros, los Chicanos e inmigrantes.

De la crisis y violencia nos culpa el endemoniado indino

Como si no supiéramos que el problema ya es de antes,

Su gran talento para la impresión y grabado

a su maestro del taller lo dejó impresionado

Su fuerte era la sátira dibujada,

la rima, como que no le acomodaba

por eso a otros se la encargaba

"Déjenlos en paz, que continúen su travesía"

Así mañana mis queridos hijos migrantes

Alejados de la represión su meta ya no será tan distante.

Calavera migrante/

la caravana

En la calle de Tacuba su taller abrió

y según dicen La Calaca Garbancera ahí nació.

Tanto quería a su coqueta huesudita

que cientos de personalidades le dio a su calaquita

incluyendo la Catrina que por el mundo viajó

Ay mis hijos inmigrantes sus anhelos son muy sanos

Y su caravana si saldrá adelante

Y aquí entre ustedes caminare como hermanos

Pero si algún loco ignorante no los deja salir avante

Con mi guadaña en mano verán que le echo el guante.

La calavera migrante

muy contenta camina con ellos,

En la frontera mexicana

Muchos los esperan con buena gana

Don Lupe entre todas sus calacas feliz estaba

Y a los rotos porfirianos con ellas los asustaba.

Pero los pobres con las huesudas se divertían

con ellas bailaban hasta que se desvanecían

y las enclenques de gusto nomas sonreían

Cuando lleguen al Rio Bravo

muchos uniformados estarán del otro lado

más no se preocupen, ya lo tengo todo controlado.

Al nefasto güero copetón ya lo tengo al tanto

Y si con ustedes se porta mal, me lo llevo al camposanto.

—Víctor M. Cortés, 2018

Art: Ravi Zupa

Al cruzar en balsas el Suchiate

los centroamericanos migrantes,

con esperanza y alegría caminan todo el día,

pero en Chiapas ya los espera la policía

y con gases lacrimógenos intenta detener la osadía.

La calavera migrante muy indignada

le reclama a la policía esa inhumana fechoría.

El maestro Posada grabando muchos años pasó

aunque con su Garbancera una vida modesta llevó

Siempre a la vista del pueblo su sátira trabajó.

Siempre rodeado de sus calacas frente al portón

hasta que en 1913 con ellas se encaminó al panteón.

—Víctor M. Cortés

LA VOZ de ESPERANZA • November 2019 Vol. 32 Issue 9•

13
---
Photo by Graciela I. Sánchez

LA VOZ de ESPERANZA • November 2019 Vol. 32 Issue 9•

14

This is Rita's 16th year writing Calaveras for La Voz!

Calaveras de la Dra. Rita

Las Tesoros en D.C.

La Paloma y Blanca Rosa

gran honor han recibido

En Washington fue gloriosa

La ocasión que han compartido

Con el Mariachi Esperanza

Comenzaron ese día

"La Negra" daba añoranza

Nuestra herencia compartían

Hablaron de sus carreras

De su pasión musical

Que ha atravesado fronteras

En un mundo patriarcal

¡Vuelen Palomita y Blanca!

Denle "Mucho corazón"

Si cantan o no "La chancla"

Suyo es ya este galardón

"—Espérennos, aquí vamos"

Dicen Perla y Doña Rita

"¡Qué bueno que las hallamos,

Ahora ya estamos juntitas!"

Espíritus y en persona

Las Tesoros se congregan

Y al mundo le proporcionan

Su corazón y su entrega

Pero como nunca falta

Va llegando la Tilica

Según ella también canta

Ya verán lo que esto implica

"—Su San Antonio Querido

a las cuatro las espera

Yo me quedo aquí, ¿entendido?

A arrasar con un cualquiera"

En San Cuilmas siguió el guato

Y felices Las Tesoros

Y a D.C. sin sindicato

La Parca mandó un meteoro.

—Rita Urquijo-Ruiz

La Quinceañera de Rita

La Doctora Urquijo-Ruiz

Quince años ha cumplido

De a Trinity contribuir

Y lograr gran cometido

Porque Rita ya hizo historia

En la uni y la ciudad

Y su larga trayectoria

Se reconoce en verdad

Urquijo-Ruiz es la primera

Profesora "full" latina

Que en esa universidad

Ha llegado hasta la cima

Ese logro no fue fácil

Para Rita y su familia

Pero siempre, ella muy hábil

Sus pérdidas reconcilia

Pues llegó como inmigrante,

Sin papeles, por un tiempo

Y ahora es representante

De nuestra gente un ejemplo

Con familia y amistades

Su novia, Sela, organizó

Gran fiesta y actividades

La Profe se conmovió

Arenys y su magia

Estaba Arenys sentada

Llorando con desesperación

Pues no sabía cómo peinarse

Para irse a su graduación

La muerte está en busca

De alguien que la pueda maquillar,

Porque se quiere ir el sábado

A una gran fiesta a bailar

Arenys como es muy buena

En el trabajo que desempeña,

Olivia, Carmen, Martina

y Teté, allí estuvieron

Con amistades muy finas

Muy alegres se pusieron

La presencia de su madre

Tod@s allí la sintieron

Y hasta apreció su padre

Orgullos estuvieron

La celebración fue en grande

con mariachi Las Alteñas

Triunfo y amores se expanden

Llegan hasta las estrellas

Pero todo allí no acaba

La Doctora es de dos mundos

Ya Hermosillo preparaba

Fiesta, escándalo rotundos

Familiares, sus hermanas,

Todo el barrio y la Tía Rita

Con orgullo la esperaban

Para una fiesta exquisita

Peina y maquilla excelentemente

Y de un gran salón será dueña

Hablo y hablo y no digo nada,

Quiero decir tantas cosas...

Como que espero en la vida

Sean todas muy famosas!

Ya con esta me despido

Abrochándome un guarachi

Y espero que más al rato

Esté llegando el mariachi

—Carmen Lorena Urquijo Ruiz

Sí fue mucho aquel argüende

Y de herencia mexicana

Pero a nadie le sorprende

Pues la Profe es campechana.

"¿A ver, a ver qué tanto hacen?"

Les gritó doña Calaca

"¡Sus gritos no me complacen"

Arre, arreglen sus petacas!

Como Catrina es muy fina

Con todo el barrio acarreó

Pero allá sin disciplina

El escándalo siguió

"¡Hora verá Doctorcita"

Sígale usted de malcriada

Aunque sea Profe, doña Rita

Me la llevo a la Chi...!

—"¡Chihuahua, Pelona, entiende

Dame chanza, voy solita

Nada de ti me sorprende

Esto se acaba ya ahorita"

La Parca y la Profesora

Emprendieron su camino

Salieron desde Sonora

A su debido destino

Con mi amor infinito para toda la

gente que celebró conmigo,

—Rita Urquijo-Ruiz
---
Old Timey Superstition: Death Comes in Threes

Reprinted from: Appalachian Magazine, December 16, 2017

The Three Deaths, an old Mexican belief

According to Mexican tradition, people die three deaths:

The first death is when our bodies cease to function,

when our hearts no longer beat of their own accord,

when our gaze no longer has depth or weight, when the

space we occupy slowly loses its meaning.

My grandfather died, then my uncle suddenly passed away

within two weeks of each other, and immediately, a feeling

of anxiety swept over the mountains of southern West

Virginia as our entire family began eyeing each other – and

some themselves – as we awaited the inevitable third death

that seemed inevitable.

Dating back to my boyhood, when I remember

attending my first "wake" all the way up to this past week,

I've heard it said a dozen times over throughout the mountains

of Appalachia — "They come in threes!"

Fortunately for our family, the unthinkable occurred

and for whatever reason that almost forgone conclusion

of a third funeral never occurred — at least not until

everyone had moved on to other things and the memory

of the two previously deceased relatives had long since

passed.

While I'll be the first to admit that those of us

who grew up in the mountains of Appalachia are privy to

some pretty wild superstitions, particularly when it comes

to death, i.e., birds singing outside one's window at nighttime

means a death is coming… as does rocking an empty

rocking chair; however, the "death comes in threes" notion

is one that I tend to believe ever the more as I grow older.

I cannot count how many times I've seen this

take place with my own eyes — Let's not forget about the

time Michael Jackson, Ed McMahon and Farrah Fawcett all

died in the same week.

But why do so many people believe this and what

are the origins of this mysterious belief?

Like a countless number of other Appalachian

beliefs and superstitions, the notion of people dying off in

threes can be traced back across the Atlantic to our European

ancestors, who, thanks to an unshakable belief in the

Trinity, began to see everything broken into sections of

threes — tragedies, births, etc.

While there remains considerable debate as to

whether folks in a community or family actually do pass

away in threes, the reality is that if you're in Appalachia,

you simply won't have to go too far to find someone who

believes this — perhaps even myself!

The second death comes when the body is lowered into

the ground, returned to mother earth, out of sight. The

third death, the most definitive death, is when there is no

one left alive to remember us.

LA VOZ de ESPERANZA • November 2019 Vol. 32 Issue 9•

15
---
Government Agencies

Vs The Cattle Egrets Of

Elmendorf Lake Park

LA VOZ de ESPERANZA • November 2019 Vol. 32 Issue 9•

16

By: Gloria Almaraz

We are coming to the end of the story

on cattle egrets. Since February 2019,

when the community surrounding Elmendorf

Lake Park was first informed

that a perceived problem existed with

the cattle egrets, the City of San Antonio,

the U. S. Department of Agriculture

(USDA), the Texas Parks and Wildlife,

and Joint-Base San Antonio-Kelly Field

(JBSA-Kelly Field) have tried their best

to convince the public that the problem

is real.

Three public meetings were held between

February and July 2019 at which

time similar presentations were made

on their concerns of the cattle egrets,

and the public was asked, time and time

again, for recommendations to prevent

the cattle egrets from flying over the Kelly

Field runway. The organizers claimed that 800 to 1200 cattle

egrets fly daily over the Kelly Field runway on their way to the

Covel Gardens Landfill for feeding and return in the evening using

the same flight path.

We were told that these birds were a hazard to air traffic at JB-

SA-Kelly Field due to possible aircraft bird strikes that could result

in loss of crew life. To support their claim of potential aircraft disasters

attributed to bird strikes, the organizers attempted to justify

their allegation by preparing a script of aircraft bird strikes that had

occurred throughout the U. S. and different parts of the world. None

Entrance to Elmendorf Park designed by Oscar Alvarado.

of the bird strikes shown occurred at Kelly

Field.

Their rationale was that if the birds are

no longer at Bird Island, then they have no

reason to fly across the runway on their

way to the Covel Gardens Landfill located

more than 5 miles south of the runway. No

matter that the numbers of egrets roosting

at Elmendorf Lake Park are much lower

than the numbers reported over the runway.

What was obvious to many in attendance

at the first meeting was that the

organizers already had a plan in mind to

displace the birds. Various methods were

discussed to which many in attendance

were opposed. The feeling we got was that

they were complying with requirements

that mandated that the issue be discussed

with the surrounding community near Elmendorf Lake Park. It appeared

that the plan they had discussed was a done deal.

The implementation of the deterrent measures scheduled for

February 2019 was thwarted by the discovery of a bird's egg on

Bird Island on February 22. By the Migratory Bird Treaty Act, a

Federal law, no relocation efforts can be undertaken during breeding

season when eggs are already present. Thus, the agencies would

have to wait until nesting season was over and the hatchlings could

be on their own –about 8 months later in October.

On August 21, 2019, the city's Government and Public Af-

Bird Island on Lake Elmendorf.
---
fairs Department released the plan to displace the cattle egrets and

claimed it contained expert advice from several environmental

agencies and concerned citizens. The plan was originally slated

to be effective in mid-September, then mid-October, and now has

been changed to mid-to-late-November; would continue through

the winter months; and would end when the new breeding season

for the cattle egrets would begin again. Interestingly, the final plan

sounded similar to the plan that was discussed at the first February

meeting.

Proposals from the community were all dismissed. Foremost

among these was the proposal for a scientific study that would determine

the movement of the cattle egrets so we would know if the

egrets from Elmendorf Lake Park were the egrets crossing the runway

or if there were egrets coming from elsewhere that contributed

to the issue.

The goal of the final plan is to modify the habitat and relocate

the cattle egrets from Elmendorf Lake Park. During November, Bird

Island will undergo a major transformation with the clearing of the

underbrush, removal of dead trees, and tree pruning.

The USDA will begin using visual and audible deterrents to displace

the birds. Being proposed are the use of a fogging/mist application

(which has been in place for over a year), propane cannons,

horns/sirens, lasers, drones, mylar balloons, effigies, and a Scary

Man electronic scarecrow. These tools would be used on a continual

basis until the desired reduction of risk to aviation safety is avoided.

Whether the use of these deterrents will discourage cattle egrets

from Bird Island, find a new home, and move to another location

remains to be seen. Birds are unpredictable. However, they are not

the only species on the island that will be affected by these birddeterrent

measures. Several other bird species also reside on Bird

Island; and they, too, will be displaced. There is also the possibility

that other wildlife, such as the ducks and swans may be scared off.

The changes may affect the lake's ecosystem and other creatures

that live there.

Additionally, the final plan does mention adjustments

to flight operations. This is the first

we hear that the military is willing to make

flight operation adjustments due to the number

of birds on the runway.

The military has alleged that the cattle

egrets might be responsible for potential bird

strikes that could result in major aircraft damage

and loss of life. Yet, data they

provided reflect

the opposite.

Between 2010 and 2019, only 10 bird

strikes were attributed to cattle egrets

from a possible 500 bird strikes

(an average of 50 per fiscal

year). None were considered

major disasters.

Information

The Noise Advisory at Elmendorf Park may be a cause

for concern.

from the Bird/Wildlife Aircraft

Strike Hazard, or BASH program,

indicates that the majority

of Kelly Field bird strikes are due

to doves, meadowlarks, grackles,

bats, falcons and, on occasion,

vultures. JBSA-Kelly Field reveals

that only 5% of bird strikes

result in damages. So why are the

cattle egrets a problem? (NOTE:

A recent bird strike occurred at

Kelly Field in September 2019

that is still under investigation.

Details are unknown at this time.)

Nine months after the problem

with the cattle

egrets of Elmendorf

Lake Park was

made known to the

community, there

continues to be dissension

among local

community groups,

environmental and wildlife organization, and concerned bird supporters,

who are not in agreement with the measures being considered

to displace the cattle egrets and, for that matter, the other birds

that will be affected.

In the area surrounding Elmendorf Lake Park, the citizens love

their birds and are not in favor of efforts to harm or displace the

cattle egrets and other species at the lake.

It doesn't help the situation to know that the city, USDA, Texas

Parks and Wildlife, and JBSA-Kelly Field have been working on the

problem for 2 years. And, it doesn't make the District 5 constituents

feel any better knowing that their councilwoman, Shirley Gonzales,

considers the cattle egrets a nuisance.

One new development recently made known by Dr. Kamala Platt

is that, due to their migratory instincts, most of the cattle egrets left

Elmendorf Lake Park by late August. The remaining

egrets are the snowy egrets and great

egrets, and most will probably leave by winter. A

good number of cormorants remain on Bird Island, along

with their maturing hatchlings; but they pose no threat to the Kelly

Field aircraft.

Questions to ponder: Will the cattle egrets return? Would they

want to return to Bird Island that will not have any foliage or trees?

Where will they nest? Once the city's efforts to displace the cattle

egrets begin, won't all the birds currently residing on the island and,

possibly, in the surrounding area also leave? All along, has it been

the intention of the City of San Antonio to rid Elmendorf Lake Park

of Bird Island?

BIO: Gloria Almaraz, a former Federal employee, is a freelance

writer who writes about community issues.

LA VOZ de ESPERANZA • November 2019 Vol. 32 Issue 9•

17
---
Literary Ofrendas 2019

LA VOZ de ESPERANZA • November 2019 Vol. 32 Issue 9•

18

By Randi Romo

Belle

In memory of 14 yr.-old Annabelle Pomeroy, murdered in 2017

with 25 others, during service at the First Baptist Church in

Sutherland Springs, TX. by Devin Patrick Kelley, using a Ruger

AR 556, a variant of the AR15. Police estimated that he fired

over 700 rounds during the massacre. There were also 20 others

who were wounded.

I was praying when he shot me, shot us

and as I lie here dying, I cannot believe

that God allowed this, to happen to me

I think others must be dying too

our screaming swirling heavenward

echoing among the rafters of this church

begging the Divine, crying for salvation

amidst an unholy sacrament of bullets

as they slam between our teeth and ricochet

a dirge that rattles through our bones

the bitter wine of our spilled blood pouring

the communion of our flesh, dying in service

worshiping as we have been commanded

yet, still he came with his gun and neither

God, Jesus, nor the Holy Ghost appeared

Prayer, pew, nor pulpit enough to deliver us

Guardian angels have all gone AWOL, and

Bibles aren't Kevlar as the apocalypse roars

spewing thirty rounds every ten seconds

as the aisles become graveyards in this

terrible altar call that is dragging from me

my very last breath, as I say my bedtime prayer

now I lay me down to sleep

I pray the Lord my soul to keep

Amen

Note: The Sutherland Springs church shooting occurred on

November 5, 2017, when Devin Patrick Kelley of New Braunfels,

Texas, fatally shot 26 people and wounded 20 others during a mass

shooting at the First Baptist Church in Sutherland Springs, Texas,

about 30 miles east of the city of San Antonio.

Pablo Martinez

June 29, 1928 –

October 27, 2017

June 29 at 10:37 PM

Today would have been my father's

91st birthday. As I've written here

before, he and I had a complicated relationship.

Still, I miss him enormously.

Dad could be unyielding and tough;

even in my adult years, I felt I could never live up to his exacting

standards. I learned so much from him, and like to think

that any time I accomplish something gratifying, anything that

helps others, it's a tribute to my Dad. He loved good writing

(though he didn't attend college, he was a voracious reader,

in English and Spanish). He adored Cantinflas and Laurel and

Hardy ("el flaco y el gordo" he always called them). He loved a

wide variety of music. He admired los tres grandes, but favored

Siqueiros, who, he said, was the only one of the three masters

who held fast to the populism the trio espoused. Though he and

his mother had an exceptionally difficult relationship, he always

insisted no one bested her cooking (he'd often say her mole was

incomparable). Above all, he loved Mexico and San Antonio's

West Side, where Henry and I scattered his ashes. (My father's

homophobia was a barrier to the end of his days: He adamantly

refused to ever meet Henry, which pained me more than I could

say.)

My father, whose name I bear, despised anyone who shied

away from hard work, which in his book meant manual labor.

He worked hard until he became too ill to do his own yardwork.

The monogrammed shirt in the photo is the one he wore

the last time he mowed his lawn. It's a cherished memento.

My father was a ball of contradictions: In his later years

he was a card-carrying Republican, though he

lamented the way his party abandoned the poor;

he was kind to strangers, but quick to belittle

family members he believed had let him--and

themselves--down.

Over the past year, as I've drafted a memoir-ish

manuscript, I've come to know him more intimately

than I ever knew him in life. I'm grateful

that he gave me my love of words. "They're all

you have," he'd tell me.

Yesterday was the birthday of my beautiful

Henry's father. These back-to-back birthdays are

reminders of Mexican American men who loved

their sons, even as they struggled to understand us

and the love that binds us.

Que en paz descanse, Dad.

—Pablo Martinez
---
El Vestido de la Comadre Clotilde

by Norma L. Rodríguez

My Comadre Clotilde loved beautiful clothes, siempre muy

a la moda, a real fashionista. She wasn't always that way, not

until her children were grown and her poor husband Polo, two

months away from retirement, passed after being struck by

a forklift that went rogue at Golpe, the humongous manufacturing

plant. He left her a rich widow por el lawsuit, and to

overcome her grief she started buying beautiful and fashionable

clothes, which before she could never afford.

" ¿Y por que no? she would say, what else am I to do with

my money? Los billes, el mortgage, las duedas, todito paid

off. Pobrecito mi Polo, no gozó más de la vida but such is

life, death can come any time. Besides, bién que trabajé en el

layaway department del maldito Valu-Mart al minimum wage,

que no era nada entonces. Les di los mejores años de mi vida."

And so Comadre's new life became amazing, taking trips

and cruises in her beautiful new clothes that she bought for

every occasion, hasta parecía modelo. Pues, some of the local

shops even asked her to model, like "The Lady's Shop, Today's

Fashions and Caro's Beautiful Dresses. By the way, Caro had

to change the name of the store. La Caro se quiso hacer muy

cutesy y lo nombró CBD for Caro's Beautiful Dresses. Nomás

vieron el nombre del shop y los marijuanos fueron corriendo

to buy la marijuana. Bueno, pues ok, she learned her costly

lesson, having to change all the store signs and paperwork

back to the original name but she does ok now with the store.

She even was honored with Latina Business Owner of the Year

award by the Hispanic Shop Owners Association. Tal vez un

dia el (Anglo) Shop Owners Association will honor her too.

Pero bueno, we'll take what we can get for now, but we women

are activistas now and with hard work and esperanza we are

Diane Soriano

enjoyed helping her sister,

Annette Sanchez, at

Peace Market. —Diane

painted peace signs on

my brown paper bags.

She would mind my

table while I shopped.

She loved this new venture that I discovered on a Black Friday

weekend. She will be dearly missed.— Diane passed away

April 28, 2019.

Diana, in a wheelchair with her sisters at Peace Market. Annette at right.

changing the world every day, paso a paso.

Well, the inevitable happened like it does for

everyone . Time passed and Comadre Clotilde

got old and sick and couldn't shop for beautiful

clothes anymore. She went to live with her

daughters and though they treated her very

well, she became bedridden and it was only

loose batas y pijamas, mucho muy matronly,

that they bought for her. Y ni siquiera bonitas.

Finally, the call came from the daughters:

Comadre Clotilde was gone. ¡Ay!

Dios, Comadrita, qué en paz descanses.

I went to the rosary a few days later. Y

allí estaba medio mundo, todos chismeando

como siempre en los velorios.

I walked up to the casket to say my

good-byes to my Comadre Clotilde

and I almost fell into the coffin. They

might as well have thrown me in, too. There she was. My

beautiful Comadrita…in the most god-awful funeral home

dress I had ever seen, complete with long flowing sleeves,

encaje en el cuello y color de mauve. Da de cuenta que era

Morticia del tv show The Addams Family.

"Por Dios! I screamed in silence, why, when you had

beautiful dresses in all styles and colors in your closet, ¿qué

no tienen juicio tus hijas? Didn't they know you hated long

flowing sleeves, lace collars and the color mauve? Didn't they

know that you would always say, when a saleslady asked if

you liked a dress not to your liking, "¡Sobre mi cadáver!"

Elijah Cummings, 1951-2019

He stood up.

He marched.

He spoke.

He served the people well.

May he rest in power.

May he Rest In Peace.

May we carry on as he inspired us to do.

Elijiah Cummings, Presente!

—Maria Salazar

LA VOZ de ESPERANZA • November 2019 Vol. 32 Issue 9•

19
---
El Ultimo Adiós

Hace 15 años fallecio Gloria Evangelina Anzaldúa

By Elva Treviño

On the 15th anniversary of Gloria

Anzaldúa's death, I recall her alive. I recall

it was the first time I met her in New York

City, outside her Brooklyn apartment alive

with the positive reviews concerning her

then new book, This Bridge Called My Back.

She called herself just a "little chicanita from the

sticks of south Texas" as she excitedly shared her thoughts

that she thought the book would be well received. It was.

Recently, I visited the Anzaldúa exhibit at

Esperanza Peace and Justice Center set up to exhibit her

drawings and outlined note charts of her writing workshop

lectures. She came alive! She is a tremendous voice for us,

the Chicanas of south Texas, that have the unique experience

of "growing up foreign" in our own country. She

struggled, created and developed a language, a vocabulary

if you will, that speaks of our political reality, we who

have been de-tongued, silenced, rendered speechless by

our country, our raza, our families.

She speaks for us, her voice, her sound of flesh

against teeth, of breath escaping, of poems and songs

that have never

been heard before

because Chicanas

are invisible in our

society. She is our

tongue, our voice,

our lives made

whole, real. Gloria

Anzaldúa, mentor

and friend, when

we met, you could

never imagine what

the world has made

of you now. ¡Gloria

Anzaldúa presente!

LA VOZ de ESPERANZA • November 2019 Vol. 32 Issue 9•

20

Rita Vidaurri, La Calandria

We lost our beloved Calandria this

year (2019) in January. But, for having

died early in the year, she, too, would

have been honored by the National

Endowment for the Arts with a Heritage

award and with an award by her

beloved City, San Antonio. When Rita

died, she received many tributes and

accolades but Graciela I. Sánchez summed it up best talking

about her "adventures" with Rita and ending with a

poignant remembrance:

Walking the streets of the Westside or downtown

suddenly is different to me because those buildings are

no longer empty. I now imagine Rita walking downtown

with her guitar by her side, climbing the stairs to the

second floor to get to one of the many clubs where she

sang. I see the Alameda and know that Rita sang there

Vernon "Spot" Barnett

San Antonio music legend and saxophone player, Vernon "Spot" Barnett, died in

his East Side home on Sunday, October 6, 2019. The height of his fame was in

the '50s and '60s, when he led the 20th Century Orchestra, the house band at the

Ebony Lounge, and played in the famed Eastwood Country Club's house band. He

performed with artists such as Ike and Tina Turner and locally is noted for helping

pioneer the musical form known as Chicano Soul or the Westside Sound defined by

artists such as Sunny and the Sunliners, the Royal Jesters and the Dell-Kings. Last

year (2018) at this time of year, he played at the Esperanza's annual Peace Market.

We were honored to have had him on our stage. QEPD, Spot. ¡Presente!

Artist: Anel Flores

as well. And I imagine the Nacional, Zaragoza and the

many other theaters she graced in San Antonio, Mexico,

Columbia and Cuba.

Thank you Rita for a wonderful

time together. Initially, it was just the

two of us figuring out how we were

going to bring you back to your adoring

fans. Now, thousands throughout

the world love and respect you and

miss you so very, very much. Keep

singing your heart out and telling your

jokes con todo los santitos y angelitos

and everyone else you meet along the

way. You never did discriminate. You

loved us all.

¡Rita Vidaurri, presente!
---
Los Restos / The Remains

Candidato para 2020

La Jijurnia se postula

For the presidential race.

20/20 is the clave

To resolve la migra haze.

Ser bilingüe está caliente,

¡Multicolor es a plus!

Know the Law? Indispensable.

¡Respetuoso es a must!

What could be her plataforma?

What the actions...what the facts?

We do need a big reforma?

No more fractions, ¡sólo paz !

At the rally she gets ready

Pays attention to the words:

Armas, health care, crime, finanzas

Hunger, safety, visas, drugs.

Almost loses la chaveta

When she reads the tweeter news

Mictecacihuatl Constructs Ofrendas

From somebody demonizing

Gente, pueblo, race and groups.

"This invasion" reads the tweeter

"Takes our privileges away"

Talk about lower salaries, paying taxes

what's the weight !!!

New routine in the horizon

Comes to make the people cry

Senseless shootings, tearful children

Padre y madre gritan: ¡AY!

I may be bones without carne

I like that you can see through me

My agenda is Law and Order

No fame, no gold... just outdo

Constitution !!!

Destitution !!!

Distribution !!!

Evolution !!!

Mictecacihuatl's view of the World is from mountain tops.

Her visions stretch for eons back before time was time.

Which makes it easy for her to recognize the smell of blood

and fear coming toward her. For she has created that mixture

with a wave of her hands as pronouncements that later

were written on stone temples. She is the Lady of the

Dead and goddess of the death's bones who had ruled

the underworld with only her quiet husband's words

sprinkled like the spice of dropped leaves.

Swollen from 1,000 years of knowing she observed

the foreigners who clanked her way. Those pale skinned

people that she found beneath her. Until they sacrificed

Calaca a mi perro

De mañana, tarde y noche

Por el boulevard husmeando corría.

En el parque lo mismo hacía sin reproche

y ya cansado, dormía el resto del día.

Cuando su amo de la chamba venía

Brincando y moviendo la cola,

día tras día el Nugget lo recibía

Tanto era su gusto que parecía que moría.

Artist: Carla Rivera

On Saturday, November 16 from 6 to 9 PM, the San Antonio

chapter of Jewish Voice for Peace welcomes everyone to

join us at the Student Engagement Center at University of

the Incarnate Word for a wonderful evening to support the

Middle East Children's Alliance (MECA)

Con los años el frío al Nugget debilitó

y junto con sus amos a Texas se marchó.

Al principio el chaparrito can no se inmutó

Y en la tierra tejana contento la pasó

Nadie pensaba que los 18 años rebasaría

Aunque ya casi no caminaba y mucho sufría

Con nadie se quejaba y su dolor cargaba

A sus amos eso les amargaba.

¡Tengo hambre de justicia

I'm so hungry! —"¡basta ya!"

Con taquitos de trumpita

My starvation pasará.

If a new one is not elected

And we feel the same dejection

And we don't see better solutions

And do not have better corrections.

Please, be aware of my fiereza

I have teeth to rip out flesh,

I will see you where the darkness

Reigns forever—what a feast!

¡Ay, qué jija, la Jijurnia!

¡Por un pelo, es elegida!

Risas, fiesta, pan and flowers

And remember...no está muerta

—Adriana Netro 2019

in her forests and sang songs against her. Crawling like ants

they were, all hairy and smelling of the things they devoured.

With amulets of marigolds woven in her hair and the smell

of many crushed flowers rubbed into her skin she pounced.

Pulled them into swamps where they died of thirst.

Boiled them in their metal casing. Starved them until with

glittering eyes they ate each other. Come here my new

little children she says. I shall decorate my chambers with

ofrendas made from your teeth, bones, and hide. Ofrendas

to the beauty of death. While the inhabitants in my

underworld Kingdom dance pulling you apart limb by

limb.

—Jeanie Sanders

El galeno de los perros con pesar lo recibió

Le sobó la pata delantera y luego se la

inyectó

Y el mejor amigo en paz dormido quedó

La lagrima del amo, enseguida sobre él cayó

Animo! La calaca al oído le predicó

Piensa en los años de lealtad que el Nugget

te brindó.

—Víctor M. Cortés

Artist: Adriana Netro

The evening will feature dinner, music, and a celebration of the beauty and diversity of

Palestinian culture, for this the 6th fundraising gala by San Antonio JVP.

Tickets for the Night of Hope are only $40

general admission and $25 for students.

Visit the Facebook event page "6th Annual Night of Hope: Fundraiser for the Children of

Gaza" or email sanantonio@jvp.org for more information and to purchase tickets.

music • dance • art and crafts • henna skin painting • poetry

LA VOZ de ESPERANZA • November 2019 Vol. 32 Issue 9•

21
---
* community meetings *

LA VOZ de ESPERANZA • November 2019 Vol. 32 Issue 9•

22

Amnesty International #127 Call

Arthur @ 210.213.5919.

Bexar Co. Green Party Call 210.

471.1791 | bcgp@bexargreens.org

Celebration Circle meets Sundays

11am @ Say Sí, 1518 S. Alamo.

Meditation: Wednesdays, 7:30pm,

Friends Meeting House,7052 Vandiver

| 210. 533.6767.

DIGNITY SA Mass, 5:30pm, Sundays

@ St. Paul's Episcopal Church, 1018

E. Grayson St. | 210.340.2230

Adult Wellness Support Group of

PRIDE Center meets 4th Mondays,

7-9pm @ Lions Field, 2809 Broadway

| 210.213.5919.

Energía Mía Call 512.838-3351.

Fuerza Unida, 710 New Laredo Hwy.

www.lafuerzaunida.org | 210.927.2294

Habitat for Humanity meets 1st

Tuesdays for volunteers, 6pm, HFHSA

Office @ 311 Probandt.

LULAC Orgullo meets @ Pride Ctr.

1303 McCullough #160, Metropolitan

Prof. Bldg @ 6:45pm, 3rd Thursdays |

info@lulac22198.org

NOW SA meets 3 rd Wednesdays. See

FB | satx.now for info | 210. 802. 9068

| nowsaareachapter@gmail.com

Pax Christi, SA meets monthly on

Saturdays | 210.460.8448

Proyecto Hospitalidad Liturgy meets

Thursdays, 7pm, 325 Courtland.

Metropolitan Community Church

services & Sunday school 10:30am,

611 East Myrtle | 210.472.3597

Overeaters Anonymous meets MWF

in Spanish & daily in English.

I would like to donate $________

each month by automatic bank withdrawal.

Contact me to sign up.

Name _________________________________________

Address _______________________________________

City, State, Zip __________________________________

For more information, call 210-228-0201

Make checks payable to the Esperanza Peace & Justice Center.

Send to 922 San Pedro, SA TX 78212. Donations to the Esperanza

are tax deductible.

www.oasanantonio.org | 210.492.5400.

PFLAG, meets 1st Thursdays @ 7pm,

University Presbyterian Church 300

Bushnell Ave. | 210.848.7407.

Parents of Murdered Children meets

2 nd Mondays @ Balcones Heights

Community Center, 107 Glenarm |

www.pomcsanantonio.org.

Rape Crisis Center, 4606 Centerview

Suite 200, Hotline: 210.349.7273

| 210.521.7273 Email:sschwab@

rapecrisis.com

The Religious Society of Friends

meets Sundays, 10am @ The Friends

Meeting House, 7052 N. Vandiver. |

210.945.8456.

S.A. Gender Association meets 1st

& 3rd Thursdays, 6-9pm @ 611 E.

Myrtle, Metropolitan Com. Church.

SA AIDS Fdn, 818 E. Grayson St.,

offers free Syphilis & HIV testing |

210.225.4715 | www.txsaaf.org.

SA Women Will March: www.

sawomenwillmarch.org | 830.488.7493

SGI-USA LGBT Buddhists meet 2nd

Saturdays at 10am @ 7142 San Pedro

Ave., Ste 117 | 210.653.7755

Shambhala Buddhist Meditation

meets Tuesdays @ 7pm & Sundays

@ 9:30am 257 E. Hildebrand Ave. |

210.222.9303.

S.N.A.P. (Survivors Network of

those Abused by Priests). Contact

Barbara at 210.725.8329.

Voice for Animals: Call 210.737.3138

or www.voiceforanimals.org

SA's LGBTQA Youth meets Tuesdays

6:30pm at Univ. Presby. Church, 300

Bushnell Ave. | www.fiesta-youth.org

Send your 2019 tax-deductible donations to Esperanza today!

I would like to send $________ each

___ month

___ quarter

___ six-months

through the mail.

Phone ____________________________

Email_____________________________

¡Todos Somos Esperanza!

Start your monthly donations now!

Esperanza works to bring awareness and

action on issues relevant to our communities.

With our vision for social, environmental,

economic and gender justice, Esperanza

centers the voices and experiences of the

poor & working class, women, queer people

and people of color.

We hold pláticas and workshops; organize

political actions; present exhibits and

performances and document and preserve our

cultural histories. We consistently challenge

City Council and the corporate powers of the

city on issues of development, low-wage jobs,

gentrification, clean energy and more.

It takes all of us to keep the Esperanza going.

What would it take for YOU to become a

monthly donor?

Or give at your work place if you work at:

San Antonio Metropolitan Area

Public Sector Campaign (SAMA) - 8022

State Employee Charitable Campaign

(SECC) - 413013

Call or come by the Esperanza to learn how.

¡Esperanza vive!

¡La lucha sigue, sigue!

FOR INFO: Call 210.228.0201 or

email: fundraising@esperanzacenter.org

Enclosed is a donation of

___ $1000 ___ $500 ___ $250

___ $100 ___ $50 ___ $25

___ $15 ___ 10

La Voz Subscription

___ $35 Individuals

___ $100 Institutions

___ Other $ _______________

I would like to volunteer

Please use my donation for the

Rinconcito de Esperanza
---
Notas Y Más

November 2019

Brief news items on upcoming community events.

Send items for Notas y Más to: lavoz@esperanzacenter.org

or mail to: 922 San Pedro, San Antonio, TX 78212.

The deadline is the 8th of each month.

On Sunday, Nov. 3rd there will be a

Solidarity Rally for Immigrant Justice at

Travis Park Plaza at 10 a.m. sponsored

by the Crystal City Pilgrimage Committee

of Oakland, California in solidarity with

SA Stands, Interfaith Welcome Coalition,

Society of Native Nations, Texas Organizing

Project, Nikkei Progressives, Dilley

Pro Bono Project, Travis Park Church,

Japanese American Citizens League

(JACL), Boat People SOS, Inc., and

RAICES. Internees and pilgrims will share

stories with our congregation at 11:15 a.m.

On Monday, Nov. 4th, 7 to 9 p.m. at the

SoL Center at University Presbyterian

Church, 300 Bushnell Ave., there will

be a panel on LGBTQ= and Spirituality

with Maria Louisa Cesar, DeAnne

Cuellar,Rev. Dr. William H. Knight, and

Miguel Ochoa. They will discuss the gifts

and challenges of living a life of faith and

spirituality as LGBTQ=persons.

230 E. Travis St. on issues related to the

migrant crisis in San Antonio and Texas

hosted by Travis Park Methodist Women,

Las Misiones District.

The Mission Marquee

Plaza Farmer &

Artisan Market

occurs every 3rd Saturday sponsored

by the City of San Antonio World

Heritage Office and Mission Marquee

Plaza at 3100 Roosevelt Ave. The

next date is Nov. 16, 10 a.m. to 2

p.m. See: www.missionmarquee.com/

The 2019 NALCAB NATIONAL

TRAINING, JUNTOS SOMOS MÁS,

will take place Nov. 18 to 21 at the

Embassy Suites Riverwalk in San

Antonio. The Training serves as a

platform to discuss and share innovative

and culturally-relevant best practices for

immediate application in the communities

that we serve. See: bit.ly/nalcab

who are still with us will take place

at Travis Park Church at 7 p.m. on

Wednesday, Nov. 20 sponsored by the

San Antonio Gender Association and the

Transgender Education Network of Texas.

The National Chicano Student Walkouts

Conference will take place at Our Lady

of the Lake University & the UTSA

Downtown Campus on Nov. 20-23. See

more at: chicanohistorytx.org

The Patchwork Healing

Blanket / La Manta de

Curación art project against

violence is set for Nov. 24th

at the Zócalo in Mexico

City. A quilt of squares from around

the world will be taken to the US

border and lifted over the wall into

the US to continue traveling. To add

squares or host the blanket, see:

patchworkhealingblanket2019@

gmail.com or go to FB.

On Saturday, Nov. 9th, from 9 a.m. until

12 p.m., there will be a plática, Immigration

and Asylum Workshop: A Community

Discussion, at Travis Park Church,

Read!

La Platica del Norte

A Chicano bi-annual periodical

published in Las Vegas, NM

Recent La Platica issues include articles on

The annual Transgender Day of

Remembrance memorial service that

honors victims slain due to anti-trans

violence and celebrates the lives of those

La Raza history, culture and tradition,

local organic growing, immigration,

neo-liberalism in the Americas, plants of

El Norte, substance abuse, and the short story

Cost of the most recent copy, if available,

is an SASE with 85¢ postage to:

Y. Zentella

P.O. Box 1515 Las Vegas, NM 87701

For more info, laplaticadelnorte@outlook.com

Canaan Fair Trade Olive Oils:

Organic & Extra Virgin with a variety

of flavors are available from www.

canaanusa.com/shop/olive-oils/

PRENTISS JEWELRY

In 1996 Martha Prentiss

printed her first catalogue featuring

over 20 years of her own designs

and jewelry. Of her work she

states: "My goal has been to create

designs that are simple, elegant

and wearable. In my work, there is

focus on contrasts between silver

and gold, between smooth and

textured between light and dark."

After 40 years of producing

and designing new work, Martha

Prentiss Jewelry designs will

live on through the JANE IRIS Collection, who has exclusive

rights for the continued manufacturing and sale of the entire

Martha Prentiss Jewelry line as it becomes available.

A portion of the profits on each currently available item

sold is to profit the Lewy Body Dementia medical research

and various local lesbian and feminist organizations. Find

her jewelry designs currently for sale through:

bit.ly/prentiss-jewelry.

LA VOZ de ESPERANZA • November 2019 Vol. 32 Issue 9•

23
---
LA VOZ de ESPERANZA • November 2019 Vol. 32 Issue 9•

Words, Images & Artifacts

A Gloria Anzaldúa Archival Exhibit

Based on:

BETWEEN

WORD AND

IMAGE,

A Gloria Anzaldúa

Thought Gallery

Exhibition

With

permission

from the

Anzaldúa

archives, Nettie

Lee Benson Latin

American Collection,

U.T. Austin.

On display until November 16th • Esperanza, 922 San Pedro

Plática & panel: Words, Images & Artifacts

Coco Magallanez, Norma Cantú,

Graciela Sánchez, Lilliana Wilson

Saturday Nov 2, 2–4pm

Nov. 5th

Texas Constitutional

Amendments Election

Noche Azul

Nov. 16

@ 8pm

Tickets

$7

más o menos

at the door

Esperanza Peace & Justice Center • 922 San Pedro SATX

Esperanza Peace & Justice Center

922 San Pedro San Antonio TX 78212

210.228.0201 • www.esperanzacenter.org

Non-Profit Org.

US Postage

PAID

San Antonio, TX

Permit #332

Haven't Haven't opened opened La Voz La Voz in a in while? a while? Prefer to read TO CANCEL it online? A Wrong SUBSCRIPTION address? E\

Prefer TO CANCEL to read A SUBSCRIPTION it online? Wrong EMAIL ad-lavoz@esperanzacenter.ordress? mail: lavoz@esperanzacenter.org CALL: 210.228.0201 CALL:

210.228.0201

Esperanza's Annual

Dia de Los Muertos

Friday, Nov. 1, 2019

5pm – 11pm

Performance Lineup

5:00pm Conjunto Heritage Taller

5:30pm Las Tesoros de San Antonio

6:00pm Community Procession

7:00pm Azul

7:45pm Calavera Readings

8:00pm Panfilo's Güera

8:45pm Alyson Alonzo

9:15pm Bene Medina y Su Conjunto Aguila

10:15pm Volcán

for more info call 210-228-0211

816 S. Colorado Street, SATX

30th Annual Mercado de Paz

• Peace Market • 2019

global to local

handmade

gifts • arte

• comidita

• hourly

raffles • live

performances

• with artists

& artisans

onsite!

Live música,

handmade

art & gifts

from local &

international

artisans

Friday and

Saturday

Nov. 29, 30

10am –6pm &

Sunday

Dec. 1

12pm–6pm

Esperanza Peace & Justice Center • 922 San Pedro Ave. SATX

www.esperanzacenter.org • call 210-228-0201 for info