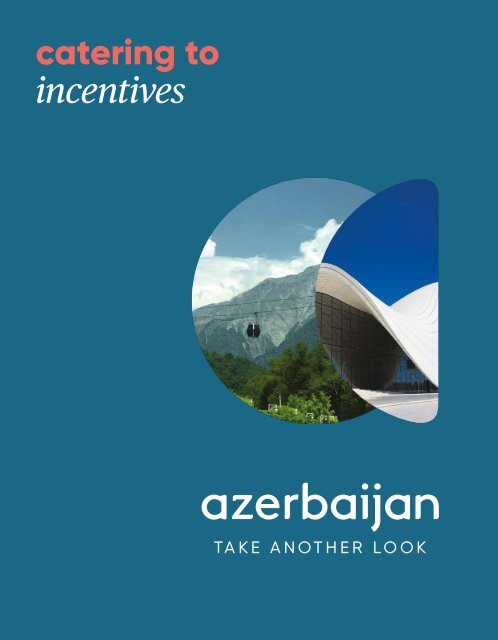 Create successful ePaper yourself
Turn your PDF publications into a flip-book with our unique Google optimized e-Paper software.
catering to

incentives
---
salam

hello

Welcome to Azerbaijan! An exciting new destination for

business events. Nestled between the Caspian Sea and

the Caucasus Mountains, Azerbaijan is a contemporary

nation crisscrossed by history with a unique blend of

cultural heritage, hospitality and modernity that is sure

to leave a lasting impression. Within these pages, you

will find everything you need to know about our worldclass

hotels, attractions and experiences, fine dining and

venues for every occasion.
---
BAKU

cosmopolitan

centre

Greetings from Azerbaijan!

The Pearl of Caucasus

and home of Karabakh

horse. Our national

animal is famed for its

speed, stamina and

intelligence — we like to

think that it represents us

well! It gallops through

an amazing landscape

of creativity, trade and

culture.

Icherisheher (Inner City)

Located in the historic centre of Baku,

Icherisheher has a history of thousands

of years and remains a symbol of

Azerbaijani statehood, having once been

the capital city of the ancient state of

the Shirvanshahs. This unique historic

ensemble has been called the Acropolis of

Baku, Old City or Icherisheher.

Flame Towers

A trio of skyscrapers — Flame Towers

dominate the skyline of Baku. Our most

visible landmark symbolises the 3 flames

from the historic logo of the capital. Over

30 stores tall, they are completely covered

with LED screens, and at night they light

up with a display of fire that we can see

from anywhere in the city.

Baku Boulevard

Beyond the Inner City, there is no better

way to get a feel for Baku's relaxed,

Mediterranean atmosphere than by

strolling along the Boulevard — the

promenade that sweeps across the

Caspian waterfront to form a gentle arc

past the length of the city centre. The

Boulevard can offer you hours of pleasant

meandering, with ever changing views

around the bay and back towards

different sections of the city. It has

national park status and year by year is

being extended along the Sea.

4 5
---
BAKU

Baku, our compact,

sunny, maritime capital

city is a testament to our

creativity and culture.

While Baku looks forward

to greeting its guests with

a cheerful and welcoming

atmosphere, one could

easily mistake it for a

Mediterranean city: it is

dynamic, colourful and

open-minded, offering the

perfect setting for anyone,

from anywhere, to relax

and enjoy their stay.

Shirvanshahs' Palace

This part of Baku's UNESCO World

Heritage Site is in fact a complex that was

constructed in stages in the highest point

of Icherisheher, from the late 12 th century

to the late 14 th century, so it exhibits a

fascinating variety of medieval Islamic

architecture.

Heydar Aliyev Centre

World-famous architect Zaha Hadid

designed the crown jewel of our

architecture. This astonishing architectural

masterpiece is likely to leave you

speechless. Not a single straight line was

used in the Centre's design. The overall

shape of the building resembles a wavelike

ascension from the ground towards

the sky followed by gradual descent down

to the earth. This is not only a tribute to

post-modern architecture, but also a

portrayal of an eternal cycle. The lines

on the building bridge the past with the

present. The harmonious link between the

Centre's exterior and interior aspires to

remove any boundaries in the building's

perception because this place is meant to

be open to anyone irrespective of gender,

race and origin, bringing people together

united by shared ideas.

6 7
---
ACTIVITY

indulge

in unforgettable experiences

Azerbaijan is world-famous

for the warm hospitality

of its people. We say that

"a guest is a flower of the

house" and have a great

tradition of respect for

visitors, instilled in us over

centuries. Today's Baku

strikes a natural balance

between high-standard

services and facilities with

charming streets in the

Old City quarter and a

friendly smile.

Aquaparks

While Baku is conveniently located on the

shore of the Caspian Sea, swimming in the

sea is not the only activity you can try —

the city is home to several aqua parks.

Shopping

Baku's malls have all the luxury brands.

But for real Azerbaijan experience, lose

yourself in the colour and bustle of a

traditional bazaar. Feel the spirit of the Silk

Road!

Paintball

The perfect stress release: sending

paintballs flying across the park

in competition with other players.

Paintballing is the perfect team-building

activity for all ages, genders, and levels of

physical fitness.

Retro Car Tours

GAZ-M20 Pobeda? GAZ-21 Volga? GAZ-

13 Chaika? Are you one for the vintage

lifestyle, interested in discovering one of

the world's most vibrant cities from one

of these retro cars? This retro car service

would be perfect for any occasion:

guided city tours, wedding ceremonies,

birthday celebrations, corporate events

and any other private-hire needs. Add a

touch of vintage chic to your memory of

our beautiful capital!

8 9
---
ACTIVITY

Jeep Tours

For the more intrepid traveller, riding

a Jeep through picturesque valleys,

ribbed hills and shallow rivers is a

more adventurous way to get to know

Azerbaijan and its natural beauty.

Crude Oil Painting

Since the 19 th century, when Baku was

the world's first oil boomtown, Azerbaijani

art has been tightly connected to oil.

Visitors are also welcome to try their

hand — professional artists will guide you

on how to use your imagination to create

something truly unique.

Luxury crafts shopping

Whether they're personal souvenirs or gifts

for loved ones at home, Azerbaijan has

unique jewellery, homewares, and fashion

to satisfy all your desires. If it's timeless

character and superb craftsmanship

you are looking for, Resm Jewellery

is your answer. If you're left wanting

more, dive into the Menzer Hajiyeva

Showroom, and discover Kelagayi — vivid

yet contemporary patterns inspired by

Azerbaijan's rich history.

Hiking

Beautiful forests, fresh air, amazing

mountain views and unique flora & fauna —

there is no better way to appreciate the

magic of rural villages than on foot. Join

eco-friendly hiking tours through villages

such as Griz, Galakhudat, Zarnava, Laza,

Khinalig and national parks such as Hirkan,

Shirvan, Absheron. Explore the majestic

landscapes of the Caucasus mountains

or the wild nature in Southern Azerbaijan.

Experienced guides will show you lakes

and waterfalls, sharing local mysteries

and traditions of the small nations

living in these villages. Experience the

unforgettable emotions and indigenous

culture for yourself.

Chovgan

Chovgan, a traditional sport played atop

a Karabakh horse that dates back 2,400

years, is an ancestor of contemporary

polo. It was once one of the most popular

sports across the Middle East and

remains one of the most loved games in

Azerbaijan today. There's no doubt that

watching a game is pure excitement —

but for a real adrenaline rush, it's the field

that thrills.

10 11
---
AMUSEMENT

let off

some steam

Situated at the crossroads

of Eastern Europe and

Western Asia, Azerbaijan

has nine of the world's

eleven climate zones

offering travellers a

European experience

at affordable prices all

year round. Azerbaijan

has an extraordinary

amount to offer by way of

entertainment for all the

family, and for travels of all

durations.

Golf

If you can spare a day for golf, it must

be spent at Dreamland Golf Club, a

stunning — and challenging — course for

golfers of all abilities that is spread out

across 330 hectares of the greenest area

of Baku. Alternatively, golfers with some

time to spare, would do well to consider

travelling out to Guba to play on the

National Federation course, if only for its

breathtaking Instagram-friendly

mountain views.

Skiing

The luxury resorts at Shahdag have worldclass

amenities, 14 well-prepared slopes

and friendly teachers and staff. For the

more advanced skiers challenging pistes

can be accessed at the black runs at

Tufandag.

Kitesurfing

For perfect conditions try your hand

at kitesurfing, look no further than the

flat-water lagoon at Shurabad, close to

Baku. After mastering the basic skills in the

shallow waters of the lake, head out to

the magnificent open Caspian.

Karting

The largest indoor karting arena in the

entire Caucasus, the Baku Karting & Event

Centre, has a special asphalt track that

covers a total area of 4000 m 2 and a

track length of 500 m — all located in the

city centre. It is also an excellent place to

catch some down-time.

12 13
---
From historic and

traditional experiences to

modern-day escapades,

there are countless paths

that each lead to untold

tales and adventure. And

no matter which path you

take, expect architectural

splendour, breathtaking

landscapes, unparalleled

hospitality, and exquisite

food and wine.

UNIQUE EXPERIENCES

natural landscapes

amazing locations

Adventure in Gobustan Rocks

Who doesn't love an "Indiana Jones"

movie full of adventure, mystery, suspense,

and of course, historical artefacts?

Gobustan, a UNESCO-listed World

Heritage Site, is truly a movie set. From

prehistoric artworks to a real treasure

trove, the past of the Azerbaijani people

comes to life in Gobustan.

The Land of Fire

The Ateshgah (Fire Temple) constructed

by the Hindu merchants trading in Baku

and Yanardag (Burning Mountain) —

two locations that earnt the nation it's

sobriquet as the Land of Fire. Let the

warmth of the flames, worshipped by

Zoroastrians for over hundreds of years,

sink into your soul.

Embracing the New from Ancient Heights

Looking for the perfect place to get a

look at Baku's Formula 1 track? Enjoy the

racing from atop the 28-metre tall Maiden

Tower — one of the city's icons. Formula 1

fans can feel the thrill of the race, admire

the panoramic view, and enjoy a chilled

glass of fine Champagne all in one

moment.

Holistic health

It is not just natural beauty that

Azerbaijan is rich in. From thermal waters

to therapeutic mud, healing salt and

curative oils, the country's abundant

natural resources make it the perfect

place for a rejuvenating getaway.

Visitors can treat their body and mind

while relaxing at one of many resorts

specialising in health and wellness.

14 15
---
ACTIVITY

nightlife

highlife

However you like to let

your hair down, you'll

find somewhere to do

it! As well as traditional

entertainments, Baku has

a thriving jazz community,

and DJs from around the

world contribute to our

lively club scene.

Clubbing

Baku is a city of contrasts, bright colours,

fire and winds… This is the city where

unhurried clerks and restless night

clubbers come together. At night, the

windy capital turns into a kaleidoscope

of dynamically changing scenes, with the

ability to attract anyone into the whirlpool

of evening entertainment.

Here, on the shores of the Caspian Sea,

you can find one of the biggest night

clubs in the region, and stars from all

around the world who flock here to

perform on the stage of the "Crystal Hall",

a venue equipped with the state-of-theart

concert technology.

Lounges

Whether international or local, make sure

you experience the best of Baku lounges.

Inside the glamorous JW Marriot Absheron

Hotel Baku, step away from the city frenzy

and immerse yourself in the magical

atmosphere of Buddha-Bar Baku. Embark

on an exciting virtual journey along the

coast of South America in the Pasifico

lounge inspired by the colours and

textures of the deep rain forest, its exotic

fauna and flora.

Hammam Experience

A place for cleansing and contemplation,

for relaxation and conversation.

Azerbaijan's hammam culture may have

waned in popularity in recent years,

but many of the city's elders recall with

nostalgia the weekly ritual of visiting the

city's public baths to relax, socialise and

share news and gossip.

16 17
---
FINE DINING

Azerbaijan's unique

geography and location

have resulted in a cuisine

influenced by its own

varied ingredients, and the

tastes of many travellers

along the Silk Road.

latest cuisine

classic dishes

Caviar and Champagne Tasting

Azerbaijan's most famous fish is the

beluga sturgeon, which don't reach

reproductive age till they are around

twenty years old. No surprise then

that beluga caviar is now one of the

world's most highly-regarded and most

expensive delicacies. And somehow, it

seems to taste even better when taking

in the marvellous sea view, a glass of our

sparkling Champagne in hand.

The Wines of Azerbaijan

We've been making wine for thousands

of years. The varied terrain of our fastimproving

wineries across the country

results in a myriad of flavours and

bouquets. The Fireland Vineyards tour,

and Enoteca Meydan in Baku's Old

City are the two most praised winetasting

experiences in Azerbaijan, where

vinicultural traditions intertwine with

modern technology right before your eyes.

Tea Tasting in Icherisheher

The pleasure of drinking good tea —

usually with wild herbs picked from the

mountains — is something of a sacred

tradition for Azerbaijanis. The small, cosy

tea houses dotted around Icherisheher

will be glad to offer you an armudu glass

of local tea with keklikotu or rose water,

complimented of course by delicious

sweets, jams and nuts.

Cookery Classes

Do you know how to stuff grape leaves

or eggplants to make some delicious

dolma? Or how long to cook rice to get

the perfect plov (pilaf)? Our local chefs

are standing by ready to divulge their

knowledge and teach you how to cook

the way their family taught them. But be

aware: after taking these master-classes,

you will be booked up for every family

dinner to come.

18 19
---
FINE DINING

local cuisine

FINE DINING

Chayki

A family atmosphere in the very heart of the city, complete with a large, green garden and a

menu that combines the old and the new.

—

Mon–Fri, 12:00–00:00; Sat–Sun, 10:00–00:00

24/1 NEFTCHILAR AVE., BAKU, +99412 504 6464

GINZA.RU/BAKU/RESTAURANT/CHAYKIRESTAURANT

Qaynana Restaurant

Authentic Azerbaijani cuisine, atmosphere and hospitality — all at a reasonable price.

—

Every day, 08:00–23:00

126 KICHIK QALA STR., ICHERISHEHER (INNER CITY), BAKU

+99470 434 0013

Pakhlava

A truly authentic tearoom that takes its name from our traditional sweet pastry. Pakhlava is

famous not only for a wide range of teas, but is also perfect for shisha lovers.

—

Every day, 12:00–02:00

14 KHOJALI AVE., BAKU

+99412 480 3223

Shirvanshah Museum Restaurant

A rare and unique experience: a museum-cum-restaurant where you can enjoy live ethnic music,

get acquainted with all the tastes of traditional dishes, and marvel the handmade crafts.

—

Every day, 9:00–00:00

86 SALATIN ASGEROVA STR., BAKU

+99412 595 0901

Sumakh

Bask in the warm atmosphere and admire the exquisite yet traditional interior, while awardwinning

chefs prepare some of Azerbaijan's most colourful and classic dishes.

—

Every day, 12:00–00:00

20/22 KHOJALI AVE., BAKU

+99412 480 2112

Art Club Restaurant

A place where fine dining does not just mean great food, but also great

artwork and superior service.

—

Every day, 12:00–23:00

9 ASEF ZEYNALLI STR., ICHERISHEHER (OLD CITY), BAKU

+99412 492 2013

Nakhchivan

The best spot in the city to try traditional Nakhchivan cuisine. The wide range of perfectly spiced

kebabs, ornate Ordubad desserts, and fifteen varieties of mouth-watering pilaf.

—

Every day, 12:00–02:00

8A PARLIAMENT AVE., BAKU

+99412 480 8585

Burc Qala

A traditional restaurant loved by its reviewers, located in front of the studio of well-known

modern artist Ali Shamsi.

—

Mon–Fri, 09:00–23:50; Sat–Sun, 08:00–23:50

15 KICHIK QALA STR., ICHERISHEHER (OLD CITY), BAKU

+99450 227 0090

Sahil

The first contemporary Caspian restaurant of Azerbaijan with the experienced kitchen team

preparing superb specialities, balancing classic flavors with creative composition.

—

Every day, 12:00–02:00

NEFTCHILER AVE., SEASIDE BOULEVARD, BAKU

+99450 285 0022

13 Restaurant

A place designed to be a true home away from home: warm lighting, unfinished wood, red brick

walls, cosy upholstered furniture. And of course, delicious, hearty food.

—

Every day, 10:00–23:00

2A MIKAYIL MUSHVIQ STR., BAKU

+99450 244 0013

20 21
---
FINE DINING

international cuisine

FINE DINING

PORT Wine & Grill

An ideal place to enjoy nature, calmness, great food and good music — just a few steps away

from the vibrant city centre.

—

Mon–Wed, 12:00–23:00; Thu–Sun, 12:00–01:00

NATIONAL FLAG SQUARE, BAKU, +99450 246 1414

PORTWINE.AZ

Mari Vanna

Authentic homecooked Russian food with a special, cosy atmosphere.

—

Mon–Fri, 12:00–00:00; Sat–Sun, 10:00–00:00

93 ZARIFA ALIYEVA ST., BAKU

+99412 404 9595

OroNero Bar & Ristorante

Step into the refined restaurant to indulge in authentic Italian cuisine.

—

Every day, 12:00–15:00, 18:00–23:00

674 AZADLIQ SQUARE, BAKU, +99412 499 8888

MARRIOTT.COM

Maya Mexicana

A lively Mexican restaurant with a spicy Latin rhythm, complete with fiery fajitas and other

sizzling national dishes.

—

Sun–Thu, 12:00–01:00; Fri–Sat, 12:00–02:00

NATIONAL FLAG SQUARE, BAKU

+99412 404 8216

M'EAT

A steakhouse serving all cuts of meat in a New York loft-inspired.

—

Every day, 12:00—00:00

25 SAMAD VURGHUN STR., BAKU

+99412 310 1919

Chio Chio San

The top spot for Japanese cuisine, including fresh sushi, sashimi, nigiri, yakitori, unagi, teriyaki

rolls and many other delicious dishes.

—

Every day, 11:30–23:30

1009 DILARA ALIYEVA STR., BAKU, +99450 655 1050

CHIO-CHIO-SAN.AZ

Masti Baku Indian & Lebanese Cuisine

Located in the White City of Baku, the restaurant's panoramic views of the city are almost as

dazzling as its Indian and Lebanese food.

—

Every day, 12:00–02:00

4C KHAGANI RUSTAMOV STR., BOULEVARD HOTEL BAKU,

+99450 442 0500

Chinar

A magnificent fusion restaurant offering the best Asian dishes and a sophisticated atmosphere.

—

Sun, 12:00–01:00; Mon, 12:00–02:00; Tue–Thu, 12:00–01:00;

Fri–Sat, 12:00–02:00

1, SHOVKAT ALAKBAROVA STR., BAKU

+99412 404 8211

Harbour Indian Cuisine

A friendly, relaxed, and cosy pub serving Indian and European dishes.

—

Mon–Fri, 12:00–01:00; Sat–Sun, 08:00–01:00

13 NEFTCHILER AVE., PORT BAKU TOWERS, BAKU

+99450 546 5500

Hard Rock Café Baku

The place where the Caucasus meets authentic American flavours: The Hard Rock Café Baku is an

iconic restaurant serving the best American burgers, salads, and signature cocktails.

—

Every day, 10:00–23:00

8 AZIZ ALIYEV STR., FOUNTAIN SQUARE, BAKU, +99412 404 8228

HARDROCK.COM/CAFES/BAKU

22 23
---
FINE DINING

Prive Steak Gallery

Conveniently located near the Boulevard and Fountains Square, Prive is one of Baku's best spots

for meat lovers, offering everything from juicy steaks to classic beef burgers.

—

Every day, 09:00–00:00

14/A KHAGANI STR. , BAKU

+994 12 598 0555; +994 50 268 7338

Mangal Steak House

An exciting gastronomic experience with a magnificent interior to match. The Mangal's meat

dishes are renowned around Baku, as is its almost endless list of beverages!

—

Mon–Tue, 12:00–01:00; Wed–Sun, 10:00–01:00

11 AYDIN NASIROV STR., BAKU

+99450 243 1011

Rodizio

A tasty Brazilian steak grill carving each joint individually at the table.

—

Every day, 12:00–00:00

5 ALLAHYAR NASIBOV STR., BAKU

+99412 404 9991

El Portalon

This iconic restaurant brings you the fiery flavours of Spain straight from streets of Andalusia.

—

Every day, 19:00–00:00

NATIONAL FLAG SQUARE, BAKU

+99412 404 8217

L'Avenue

This unique orangery-style restaurant in the heart of the Boulevard National Park is the perfect

cosy corner for a pleasant evening with your friends and family.

—

Every day, 12:00–00:00

NATIONAL FLAG SQUARE, BAKU

+99450 294 1515

24 25
---
HOTELS & ACCOMMODATION

world class service

at an affordable price

Baku can offer you any

kind of accommodation

you may desire. Your

choice can range

from luxury hotels in

cutting-edge buildings;

international and local

hotel chains; and familyrun

establishments through

to small, quaint inns and

youth hostels — and

anything in between.

The Caucasus country is currently on

the cusp of a tourism boom as it has

welcomed a record number of in-bound

visitors and Baku offers a wide range

of accommodation choices to meet

every individual's unique needs. From

luxury hotels in cutting-edge buildings,

international and local hotel chains, and

family-run establishments to small, quaint

inns and youth hostels — and anything in

between, Azerbaijan is ready to roll out

the red carpet for all visitors.

26 27
---
HOTELS & ACCOMMODATION

HOTELS & ACCOMMODATION

Four Seasons Hotel

Utter professionalism wrapped in elegant European classicism

Holiday Inn Hotel

Towering modern statement of quality and taste

Distance from

Baku airport:

25 km

Number of guest

rooms:

171

Number of

meeting rooms:

5 rooms

2 ballrooms

Largest

capacity in

theatre style:

500

Largest

capacity in

banquet style:

297

Distance from

Baku airport:

23 km

Number of guest

rooms:

223

Number of

meeting rooms:

5 rooms

1 ballroom

Largest

capacity in

theatre style:

320

Largest

capacity in

banquet style:

200

FOURSEASONS.COM/BAKU

HOLIDAYINN.COM/BAKU

JW Marriott Absheron Hotel

Business savvy with all the trimmings

Park Inn by Radisson Hotel

Reliable service in the heart of the city

Distance from

Baku airport:

24 km

Number of guest

rooms:

237

Number of

meeting rooms:

10 rooms

1 ballroom

Largest

capacity in

theatre style:

1,000

Largest

capacity in

banquet style:

600

Distance from

Baku airport:

25 km

Number of guest

rooms:

248

Number of

meeting rooms:

6 rooms

1 ballroom

Largest

capacity in

theatre style:

350

Largest

capacity in

banquet style:

150

JWMARRIOTTBAKU.COM

PARKINN.COM/HOTEL-BAKU

Fairmont Hotel

Not just a stunning, top class hotel but a unique architectural statement

Excelsior Hotel & Spa

Glitzy option near the Heydar Aliyev Centre

Distance from

Baku airport:

27 km

Number of guest

rooms:

318

Number of

meeting rooms:

9 rooms

2 ballrooms

Largest

capacity in

theatre style:

1,000

Largest

capacity in

banquet style:

600

Distance from

Baku airport:

25 km

Number of guest

rooms:

61

Number of

meeting rooms:

3 rooms

1 ballroom

Largest

capacity in

theatre style:

250

Largest

capacity in

banquet style:

150

FAIRMONT.COM/BAKU

EXCELSIOR.AZ

Boulevard Hotel, Autograph Collection

Size, space and so much seaside

Burj Sahil

Hotel does not provide banquet set up

Distance from

Baku airport:

23 km

Number of guest

rooms:

818

Number of

meeting rooms:

6 rooms

1 ballroom

Largest

capacity in

theatre style:

1,000

Largest

capacity in

banquet style:

700

Distance from

Baku airport:

27 km

Number of guest

rooms:

104

Number of

meeting rooms:

2 rooms

Largest

capacity in

theatre style:

146

Largest

capacity in

banquet style:

—

BOULEVARDHOTELBAKU.COM

QAFQAZHOTELS.COM/EN

28 29
---
HOTELS & ACCOMMODATION

HOTELS & ACCOMMODATION

Hilton

Perfect choice for business meetings in the heart of Baku's business district

Winter Park Hotel

Ultimate combination of social and business facilities in direct access to the main business areas

Distance from

Baku airport:

24 km

Number of guest

rooms:

309

Number of

meeting rooms:

18 rooms

1 ballroom

Largest

capacity in

theatre style:

720

Largest

capacity in

banquet style:

320

Distance from

Baku airport:

21 km

Number of guest

rooms:

173

Number of

meeting rooms:

2 rooms

Largest

capacity in

theatre style:

70

Largest

capacity in

banquet style:

—

HILTON.COM

WINTER-PARK.HOTELS-BAKU.COM

Hyatt Regency

From modern events spaces and meeting rooms, to state of the art catering facilities

Intourist Hotel

Perfect venue, with a fully-equipped meeting room overlooking the Caspian waterfront

Distance from

Baku airport:

24 km

Number of guest

rooms:

159

Number of

meeting rooms:

12 rooms

2 ballrooms

Largest

capacity in

theatre style:

400

Largest

capacity in

banquet style:

330

Distance from

Baku airport:

27 km

Number of guest

rooms:

150

Number of

meeting rooms:

1 room

Largest

capacity in

theatre style:

40

Largest

capacity in

banquet style:

—

HYATT.COM

INTOURISTHOTELBAKU.COM

Pullman Hotel

Business travel perfection, with a full range of outstanding conference and banqueting facilities

Bilgah Beach Hotel

Dramatic waterfront settings creating an incomparable location for meetings and events

Distance from

Baku airport:

30 km

Number of guest

rooms:

280

Number of

meeting rooms:

6 rooms

1 ballroom

Largest

capacity in

theatre style:

525

Largest

capacity in

banquet style:

350

Distance from

Baku airport:

21 km

Number of guest

rooms:

190

Number of

meeting rooms:

6 rooms

2 ballrooms

Largest

capacity in

theatre style:

600

Largest

capacity in

banquet style:

350

PULLMAN.HOTELS-BAKU.COM

BILGAHBEACHHOTEL.COM

Qafqaz City Hotel

Magnificent conference halls in the heart of the business and commercial district

Dinamo Hotel

Intimate meetings well catered to with a range of professional services

Distance from

Baku airport:

Number of guest

rooms:

Number of

meeting rooms:

Largest

capacity in

theatre style:

Largest

capacity in

banquet style:

Distance from

Baku airport:

Number of guest

rooms:

Number of

meeting rooms:

Largest capacity

in board-room

style:

Largest

capacity in

banquet style:

23 km

314

2 rooms

85

—

24 km

28

1 room

10

80

QAFQAZHOTELS.COM

DINAMOHOTELBAKU.COM

30 31
---
VENUES

Baku Convention Centre

purpose built perfection

Heydar Aliyev Centre

VENUES

The ultimate in architectural wizardry

Well connected

10 minutes to the city centre,

23 km / 25 minutes to the

international airport.

Purpose-built perfection,

Baku's very special, purposebuilt

convention centre is a

multifunctional building with

clearly structured but flexible

rooms and spacious public

areas covered by a shared,

elegantly curved shell. The

impressive, open-plan space

offers unobstructed views across

to Baku's greatest architectural

masterpiece: the jaw-dropping

Heydar Aliyev Centre. At its heart

lies the auditorium, suitable for

up to 3,500 visitors, flanked by

fifteen conference rooms and

spacious networking areas. A VIP

room on the second floor can also

accommodate up to 200 guests.

Gulustan Palace

Modern facilities with a Soviet-nostalgia cache

Unlike most of Baku's 21st-century

venues, the Gulustan Palace dates

back to the Soviet period, having

been built for a high profile visit from

General Secretary Leonid Brezhnev

himself.

While the 1980s architecture might

not have the modernist edge of its

competitors, it plays cleverly on its

history as a long-kept secret for the

mysteries of the elite. The low-slung

building sits amongst beautiful

gardens and grounds with one of the

best panoramic views of the city and

Baku Bay.

World-famous architect Zaha Hadid

designed the crown jewel of Baku

architecture. Flowing seamlessly

from the plaza around it, joining the

exterior and the interior to represent

the inclusion of everyone in a place of

shared ideas.

Business representatives and

congress-goers get to see the best

part of all: the stunning auditorium

and a series of meeting spaces that

are sure to impress even the most

cynical.

Unbeatable flexibility

3,065 sqm multifunctional

auditorium with 3,500 seats, 15

break-out rooms, 1,000 sqm of

networking area.

Excellent digital infrastructure

High availability Wi-Fi

infrastructure, 405 sqm LED

monitor.

Large in-house inventory

Light and sound equipment.

Dedicated team

From planning and

communications to execution —

the Baku Convention Centre team

will support you with experience

and ideas.

Heydar Aliyev Palace

A great choice for big, theatrical events

Entirely refurbished in 2008, this largeformat

concert-hall was constructed

in 1972 and has since hosted many

big-name concerts. Over 2000

guests can be seated in thirty rows, all

facing a stage that is equipped with

laser visual effects, advanced LED

screens, a piano and two VIP dressing

rooms. There are cloakrooms, vaulted

stairways, a welcoming foyer, and

glistening marble floors. The venue is

excellently placed in the central Winter

Park, within walking distance of all the

top hotels.

32 33
---
SPECIAL VENUES

SPECIAL VENUES

Buta Palace

Providing major events with modern facilities with a touch of traditional style

Baku Crystal Hall

Sports-hall sized arena with a little extra flair

Not far from Baku's international

airport, and 20 minutes' drive from

the city centre, the Buta Palace is a

venue that combines contemporary

banqueting facilities with traditional

Azerbaijani design: the Buta itself is

a national symbol of our Land of Fire.

The dividable main hall is styled like

an ancient Caravanserai, capable of

accommodating up to 2,000 visitors,

while the smaller hall of 650m 2 can

seat up to 400.

If you are expecting stadium-size

crowds but want an indoor arena,

then consider the Crystal Hall. Built to

host the finals of the 2012 Eurovision

Song Contest, the multi-purpose

sports and concert arena can hold

27,000 spectators. Its name comes

from the diamond-faceted exterior,

inlaid with arrays of dynamic LED lights

for an extra special light show in the

evenings.

Boyuk Saray

For a full-on festival of gilded glitz

Beyond the walls of its classical

white façade, Boyuk Saray has a

vast chandelier-lit interior that feels

like a 21st-century Versailles. While

this venue is best known for its top

celebrity weddings, it is versatile

enough to be transformed to

host concerts, fashion shows, and

conferences for up to 2,000 guests.

The complex is situated in the

Neftchiler suburb, 8 km east of the city

centre.

The International

Mugham Centre

The ultimate in architectural wizardry

The corridor around the arena's

perimeter is divided into two, with

fifteen entrances on each side, two

transportation access points and

several booths to supply food and

refreshments.

Elektra Events Hall

Modern, hip and technically top of the range

While the Elektra Events Hall is Baku's

top venue for professional live music

of various genres, it is also flexible

enough to host events of all kinds:

Body-Building, to stand-up comedy,

to DJ contests. If you're looking for a

concert-style venue with excellent

acoustics and top-of-the-range

audio-visual technology, then this may

be your best fit.

Azerbaijan's mugham music is

recognised by UNESCO as a part of

humanity's cultural heritage. Baku's

International Mugham Centre was

built as a place to perform, promote,

preserve and popularize this musical

genre. But that's not to say that this

mid-sized theatre isn't also an ideal

venue for a range of other activities!

The Centre can offer you seating for

up to 350 people facing a small stage

and an elegant in-house restaurant.

Designed in the form of two tars

(traditional instruments), this stylish,

modern building is located centrally

on the Baku Boulevard.

Elite Events Hall

Handy for horses, great for groups

What sets the Elite Events Hall apart

from its competitors is its location at

a large equestrian centre, designed

for horse races and riding lessons.

The large ballroom-style hall can

accommodate approximately 1500

people. Previous high-profile events

hosted there include as the Miss (and

Mr) Azerbaijan beauty contests. For

smaller groups, separate meeting

rooms can seat thirty, fifty or 150

people. Less than 10 minutes' drive east

of Baku's international airport, and half

an hour from the city centre, the Elite

Events Hall is also very conveniently

situated.

34 35
---
SPECIAL VENUES

The Stone Chronicle Museum

A journey through time

This unusual museum celebrates the

prehistoric stone carvings found

in Gobustan and Gala, medieval

gravestones, and handmade

sculptures by Huseyn Hagvas —

presenting its visitors with a short

journey through the history of

Azerbaijani art. What's more, all of

this is presented under the roof of an

old power station, built in 1901 by the

Siemens brothers to supply energy to

the newly developed oil fields. This

quirky setting, located close to the

Caspian just south of the Old City,

offers meeting facilities for up 200

people for banquets, and as many as

400 for cocktail parties.

Marionette Theatre

Loveable secret mini-theatre in the heart of the

Old City

Little known, even to Baku's

natives, this delightful little venue is

hidden away in a recently-restored

neoclassical stone building right in

the heart of the UNESCO-listed Old

City. Built in the 1880s primarily for

puppet shows, the 2016 restoration

has created a small stage with

comfortable rowed seating for up

to sixty people, with plenty of extra

space for drinks receptions.

Villa Petrolea

An exclusive setting with an intriguing history

Well over a century ago, long before

founding the Nobel Prizes, the Nobel

brothers played a key role in Baku's

first oil boom. The mansion that they

built for themselves in 1884 has been

preserved, restored and turned into a

fascinating museum.

Upstairs, in the style of a London

gentleman's club, is a remarkable,

highly exclusive conference venue

decked with priceless masterpieces of

Azerbaijani art. It can be set up with

rectangular seating for a hundred

guests, with two booths for interpreters,

and an integrated projection screen.

36 37
---
PRACTICAL INFORMATION

salam

Azerbaijan

4 hrs

Moscow

Country Size

86, 600 km 2

Population

10 million

4 hrs

Minsk

3 hrs

London

Frankfurt

2 hrs

Kiev

Paris

Vienna

1 hr

Madrid

Barcelona

Rome

Istanbul

Ankara

Tbilisi

Aktau

Baku

5 hrs

Tehran

New Delhi

Best time to visit

Dec–Mar: Cold, but perfect for skiing.

Apr–May: Getting warmer — try hiking

in the foothills. Take a brolly in Spring!

Jun–Aug: Very warm. Ideal for hiking

in the high mountains, or relaxing at a

Caspian Sea resort.

Sept–Oct: Perfect for walking at

medium altitudes.

Nov: Enjoy the changing foliage.

Wear layers!

Time zone

4 hrs ahead of GMT. Since 2016 , we no

longer put the clocks forward an hour

in summer, so while the time is 4hrs/3hrs

ahead of UK/Western Europe in winter,

that drops to 3 hrs/2hrs April–October.

Religion

While we are a secular country,

most of the population follow Islam.

Muslim dress code is not enforced

nor expected. Alcohol is very widely

available. All religions have somewhere

to worship in Azerbaijan.

Language

Riyadh

Our state language is

Azerbaijani, which is

similar to Turkish. Basic

English is understood by

most of the population.

A few mountain villages

have their own unique

languages.

Visa

For some nationalities

visas are available upon

arrival. For others e-visa

can be obtained within

3 days via evisa.gov.az.

We advise you to check

requirements before

booking your trip.

Exchange rates

Mastercard/Visa ATMs

are very widespread

and available in main

towns. Changing money

back is no problem.

Doha Dubai

Accommodation

We have a complete range of options,

from luxury and mid-range hotels, to rural

en-suite bungalows, provincial motels and

even private home-stays.

Transport prices

On the bus and Baku underground one

journey costs 30 qepik, taxis are also

widely available as an alternative option.

Driving

An international driving licence is advised.

Car rental is increasingly available in Baku.

Telephone

The country code is +994, the dial out

code from Azerbaijan is 00.

Internet

Most good hotels are fully equipped with

Wi-Fi connection throughout, and big

hotels will also have business centres with

at least a few computers. Major hotels

sometimes charge for Wi-Fi, but it's free

in dozens of cafés, parks and restaurants

across Baku and beyond. Mobile phone

providers offer relatively inexpensive

dongles so that you can access the web

through 3G mobile networks.

Shopping

Most international goods are available in

Baku, which has a phenomenal range of

designer boutiques. Export certificates are

only required for carpets, art and antiques.

There's a 125 g limit on exporting caviare.
---
azerbaijan.travel

Azerbaijan.Travel

experienceazerbaijan

scan qr code to download the brochure

Published by:

Azerbaijan Tourism Board

96E Nizami Street

3rd floor, Landmark I

Baku, AZ1010, Azerbaijan