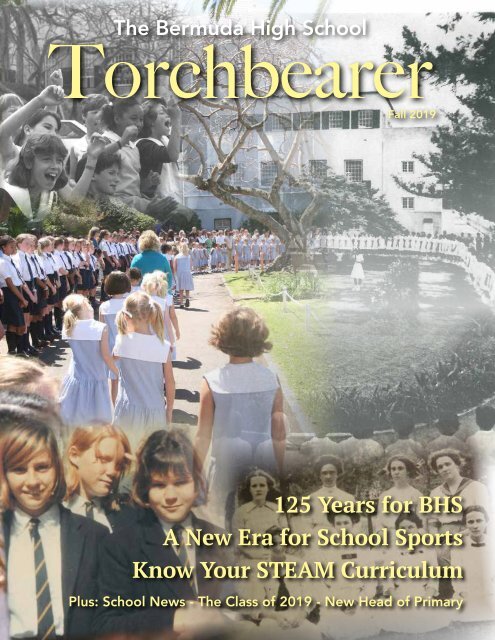 Torchbearer Fall 2019
Twice Yearly Magazine for Students, Parents and Alumni of The Bermuda High School.
Twice Yearly Magazine for Students, Parents and Alumni of The Bermuda High School.
SHOW MORE
SHOW LESS
Do you know the secret to free website traffic?
Use this trick to increase the number of new potential customers.
The Bermuda High School

Torchbearer

Fall 2019

125 Years for BHS

A New Era for School Sports

Know Your STEAM Curriculum

Plus: School News - The Class of 2019 - New Head of Primary
---
of BHS graduates

100% will go on to

tertiary education

at colleges and universities

around the world.

In the past 5 years, graduates have accepted places at:

USA

Boston University

Brown University

Cornell University

Georgetown University

Johns Hopkins

Northeastern University

Northwestern University

Princeton University

Stanford University

Wake Forest University

CANADA

Acadia University

Dalhouise University

Guelph University

McGill University

McMaster University

Mount Allison University

Mount Saint Vincent

Ontario Tech Universiry

Queen's University

University of British Colombia

University of Toronto

Courses of study include:

Art and Design, Biochemistry and Genetics, Biomedical

Sciences, Business, Chemistry, Child and Youth Studies,

Computer Science, Dance, Economics, Education,

Engineering, Environmental Science, Film Studies,

Global Politics, International Politics, Kinesiology, Law,

Liberal Arts, Marine Biology, Mechatronics, Medicine,

Microbiology and Immunology, Musical Performance,

Neuroscience, Psychology and Social Sciences, Theatre

Performance, Veterinary studies, Women's Studies and

Political Science.

Western University

Wilfrid Laurier University

York University

UK & Europe

Bangor University

David Tvildiani Medical University

King's College, University of

London

Leeds College of Art and Design

London School of Economics

Norwich University of the Arts

Oxford Brookes University

Royal College of Surgeons

in Ireland

Sciences Po, Paris

University College London

Universities of Bristol,

Durham, Edinburgh, Exeter,

Kent, Leeds, Liverpool,

Manchester, Newcastle,

Southampton, Sussex,

Warwick

Every year, BHS graduates

receive on average,

$800,000 in scholarships

and bursaries to help with

their further education.

www.bhs.bm
---
What's Inside

THE BERMUDA HIGH SCHOOL

BOARD OF TRUSTEES

Mariette Savoie, President

Janet Kemp, Vice-President

Janice Witkowski, Treasurer

Linda Parker, Head of School

and Board Secretary

Germano Botelho

Kimberley Caines-Best

Crystal Clay

Vicky Coelho

Lesley Cox

Erich Hetzel

Kevin Monkman

Kevin O'Donnell

Brian Quinn

Sara Schroter-Ross

Trudy Snaith

Chris Swan

Kevin Taylor

Stephanie Dickinson, Alumni

Co-Chair

Joy Tucker, Alumni Co-Chair

Claire Burnard, PTA Chair

Torchbearer is published by the

Advancement Office of The

Bermuda High School for the

alumni, parents, friends and

students of the School. Its purpose

is to inform and inspire the School's

community and to acknowledge

the many accomplishments of the

BHS family.

Advancement and Alumni

Affairs Office

Minta Watson,

Advancement Officer

Julie Butler,

Communications Manager

Contributors

Julie Butler '93, P'26, '30; Peter

Backeberg

Editor and Layout

Peter Backeberg, Shooter and

Scribe Productions Ltd.

5

11

10

12

School Updates

News, sports and scholarships

Taking the Mantle

Primary Department has New Head

18 Focus on Sport

New Vision for PE Department

21 125 Years of BHS

Timeline of the School's Development

26

28

16

24

Elizabeth Kitson

Tribute to Community Leader

Alumni Updates

Catch up with classmates!

19

Future Education

STEAM Curriculum Takes Hold

30 Thank you!

Annual Appeal and other Donors

Torchbearer Fall 2019

3
---
Welcome

A Brand New Year for the 125th Time

Welcome to the Fall issue of Torchbearer! We have just begun a new school year,

and it is so lovely to see the buildings come alive again with the return of staff

and students. September always brings a feeling of new beginnings, and I am

confident that this upcoming school year will be as busy, exciting and successful

as the last.

We begin this year by celebrating the 125th anniversary of BHS. Over a century of

memories live in our hallways and on our campus – from the humble beginnings

of two rooms on Reid Street, to the new Innovation Centre which has made

amazing progress over the summer. BHS has come a long way, and has always

been a leader in education for young women in Bermuda. As we firmly set our

sights on the future, it is always good to stop and remember where we came

from, so I hope you enjoy the History of BHS article.

Also in this issue, we welcome Tracy Renaud as our new Head of Primary, meet

the two new Head Students for this year, Natalie Calderon and Cerra Simmons,

and we highlight the life and legacy of a remarkable BHS alumna, Elizabeth (Betty)

Kitson who passed away earlier this year. Torchbearer also spoke to our TIES

consultant, Julie Hasjford, to get a better understanding of a STEAM education.

I hope you find it enlightening and it excites you with the direction in which BHS

is going.

Please join our Facebook (The Bermuda High School) and Instagram (@bhs1894)

pages so you can stay up to date with school news, and please send any new

contact information or news to advancement@bhs.bm. This way we can ensure

you are in our database and will receive school updates and invitations for events.

I hope you enjoy this issue of the Torchbearer magazine and we hope to see you

on campus soon.

Linda Parker '78

Head of School

Stay connected with BHS online @

and follow our blog @ www.bhs.bm

4 Torchbearer Fall 2019
---
School Reports

MARCH

Visual Art students, Makasia Baisden '19,

Zillah Welch '19 and Yassine Chentouf '19

displayed their showcase, "Went for a

walk to think" at the Masterworks Museum

of Bermuda Art.

IB1 students had an amazing experience

when they travelled to New York to attend

the UNIS-UN Conference, "Ripple

Effect:The Water Crisis". The conference

examined the role of water in relation to

sustainability and geopolitics, and looked

at how growing demands, climate change,

and increasing pollution are affecting

water security.

Kameron Young '19, who presented

her recent study on the TAS2R38 bitter

taste receptor gene and its link to sugar

preference and diabetes at the Bermuda

Principles Impact conference was offered

summer research placements in the labs of

the University of Oxford and the University

of Exeter. Kameron was also featured in

the RG Magazine's Humans of Bermuda

supplement where she talked about her

passion for Science and plans for a career in

the Medical Science field.

Y9 Business students showed off their

creative and entrepreneurial spirit at the

2019 Bizfest Festival. The market, set

up in the QEH, had food stalls serving

tacos, curry, pies, ice-cream, Italian sodas,

waffles, crépes, pizza, sorbet in addition

to stalls for hair scrunchies and bracelets.

There were even live performances by

students and staff.

35 BHS students received excellent results in

recent ABRSM Music Theory exams. There

were 6 passes, 11 merits and 18 distinctions.

The students were instructed by Music

Teachers Mr Pitman and Mrs Maule.

BHS played host to a Public Speaking

Competition with students from BHS,

Berkeley Institute, Saltus, Somersfield

and the Gray Academy from Winnipeg,

Manitoba competing in Radio Newscast,

Persuasive Speaking, After Dinner Speaking,

Impromptu, Interpretive Reading and

Dramatic Interpretation. BHS students'

results were:

Middle School Public Speaking:

After Dinner - 1st Christina deKock '23,

2nd Addy Thorpe '25

Interpretive Reading - 1st Addy Thorpe '23

Dramatic Interpretation - 1st Christina

deKock '23

Middle School Overall:

1st - Addy Thorpe '25 1st (tie)

2nd - Christina deKock '23

BHS Team 2nd

Senior School Public Speaking:

After Dinner - 1st Hailey O'Donnell '21,

2nd Linnea Kuruvilla '21

Radio - 2nd Elena Menendez-Sanchez '21

Persuasive - 1st Malsha Amarasinghe '22

Dramatic Interpretation - 1st Malsha

Amarasinghe '22, 2nd Elena Menendez-

Sanchez '21

Middle School Individual Debate:

4th - Elodie Manning '24 (tie)

5th - Marli Spriggs '23

Senior School Individual Debate:

4th - Hailey O'Donnell '21

APRIL

BHS welcomed back leadership expert

and motivational speaker, Mike Weber

of The Leadership Institute. Mr Weber

hosted "Putting the Bounce in 'Bounce

Back'" to teach parents the skills and tools

to help their children, and themselves,

navigate the stresses of 21st century life.

At Teen Services' annual Outstanding

Teen Awards Ceremony 18 BHS IB2

students were nominated in the various

categories. Recent Head Student Madison

Quig '19 won three prizes: the Leadership

Award, the Academic Achievement Award

and the Overall Outstanding Teen of

2019 Prize. Chrysda Smith '19 won the

Special Recognition Award as the Runnerup

to the Overall Outstanding Teen and

Courtney Bromby '19 won the Award for

Top Sportswoman.

BHS launched the 'I LEAD' Framework,

marking the culmination of two years of

research and planning to create an inhouse

leadership programme which will

positively impact the development of BHS

students' leadership capabilities. During

the launch, BHS welcomed inspiring

alumnae Christie Hunter Arscott '01 and

Akilah Beckles '05 to talk to the students

about using their voice and practicing

self-care; Primary staff dressed up as

inspirational women from history. Hailey

Young '22 was recognised for her design

of the I LEAD logo. EYP students stood up

Torchbearer Fall 2019

5
---
Graduates were able to see how far

they have come and younger students

were able to celebrate in the graduates'

achievement.

Y11 GSCE Art students held an Opening

Reception showcasing their portfolios

for family, fellow students and teachers

before the examiner graded their work.

JUNE

The Annual Volunteer Appreciation

Breakfast celebrated all those who

have helped out at BHS with various

endeavours that ensure our students have

a well-rounded educational experience.

Students, staff and parents took part in

the annual You Go Girl! Relay on Front

Street in Hamilton.

in front of the whole of Primary to share

the ways they plan to use their voices to

lead themselves. Samai Dunn '23 gave

an emotional talk on the impact "The

Hate You Give" had on her.

MAY

EYP-P2 students welcomed their

Grandparents and Grand Guests

to school for a chance to see their

classrooms and have lunch together.

Team Dragon took part in Relay for

Life and rocked the pink #likeagirl shirts

helping to raise money for Bermuda

Cancer and Health.

To celebrate the Global Day of Design,

Y7 students spent a busy day creating,

designing and tinkering to come up with

amazing automation projects, while the

Y8 students investigated 3D scanning

and printing.

The Mini Trebles ensemble performed

Coldplay and Y4 and Y5 students sang

on the steps of City Hall for the World

Asthma Day celebrations organised by

Open Airways.

BHS held its annual Book Fair at the

BookMart at Brown and Co. and restocked

the Primary and Secondary

libraries.

The Aloha Summer Gala raised $85,000

which will allow up to 20 students to

benefit from financial aid at BHS. The

success of the gala was due to the hard

work, dedication and enthusiasm of

many volunteers, who worked on the

event, and to those who supported it by

attending on the night.

Primary students took part in the 4th

annual Graduation Walk to celebrate

the Class of 2019 on their big day. The

BHS's Secondary musicians filled the

air with music at their Summer Concert.

Performances included Nothing But

Treble, the Mini Trebles, Indigo Adamson,

the Y7 and Y8 Extension groups, pianists

Charlotte Weinstein, Lizzie Luckashvilli

and Daina Babeckas, Cincopation, the

orchestra and the choir!

Katarina Rance '22 and Salayah Stange

'22 joined a world movement for climate

change awareness and organised a march

from City Hall to the Cabinet Building with

students from other schools. The young

activists called for the banning of singleuse

plastics, switching from fossil fuels to

renewable energy and declaring a "climate

emergency". Teachers from various local

schools, members of BEST and Be Solar

Ltd. accompanied the students. They

presented a petition about taking action

over Climate Change to Premier David

Burt and Deputy Premier Walter Roban.

6 Torchbearer Fall 2019
---
Y8 students attended the 60th anniversary

of the Theatre Boycott, a protest which

marked the beginning of the end of

segregation in Bermuda. The celebration

highlighted the various efforts made to

bring about change peacefully including

the Bermuda Suffragettes movement

which started in 1919 in Bermuda.

Eliana Kirkos, Amelie Kempe, Vintage

Lightbourne Thomas and Ava Moreno

recreated a suffragette placard to display

at the event and spoke of its importance.

EYP students spent the second to last

week of school watching chicks hatch in

Curling Cottage.

In the lead up to World Blood Donor

Day, Secondary students worked to

raise awareness at BHS for the Give and

Let Live project. They also welcomed

representatives from the KEMH Blood

Bank who gave an assembly on the

importance of giving blood.

Y1 students were visited by Bermuda

Police Service officers who demonstrated

the big fire crane and introduced them to

a police dog. The girls especially loved

seeing the female officers arrive on the

motorcycles.

BHS STEAM Week included 17

exciting projects for Secondary students

including: building solar powered gokarts

from scratch; designing a dog

training obstacle course; investigating

Sea Turtle sustainability; molecular

gastronomy and; a Bluebird Box project.

The girls used kits from The Happy Bird

Co., designed by alumnus Christin Chin-

Gurret '16, to build boxes which they

installed around campus. Students from

the Holy Innocents' Episcopal School

in Atlanta took part in STEAM Week, a

reciprocal arrangement after ten BHS

students visited Atlanta in February to

take part in STEAM activites.

BHS won the School Prize for the

End2End fundraiser which took place

in May. For the first time ever, BHS

submitted entries as a school, and had

the most entries and raised the most

money! BHS was awarded a cheque for

$5,000 which will go towards purchasing

new sports team uniforms.

Gabrielle Turchiario '24 and Leahnae

Morton Richardson '24 placed 2nd and

Vikashni Ragunathan '25 was highly

commended, in the 2019 Bermuda

Youth Library Teen Advisory Board

Poetry Competition.

Mrs Gretta O'Kelly Lynch (University

Admissions Counsellor) and Ms Tina

Harris (Head of Primary) retired at the

end of June. Collectively, they gave an

amazing 57 years of service to BHS.

Thank you!

BHS entered the Kurt Hahn Award for

the first time this year and is very proud

of the five members of the Panelled

Squared Team for their solar panel

sustainability project. Although they did

not receive the overall global award, the

IB2 team of Isabella Wright, Madison

Quig, Lauren Mendes, Grace McNamara

and Léa Grandisson reached the finals

and received commendation certificates.

SUMMER

25 students from BHS, The Berkeley

Institute and Cedarbridge Academy took

part in the SHE LEADS: A Real World

Readiness Programme organised by

BHS and HSBC in the first week of July.

They worked together for a week learning

tools, skill sets and mindsets needed for

education, employment and beyond under

the guidance of BHS alumna, Christie

Hunter-Arscott '01 who is a strategic advisor

on gender issues.

Torchbearer Fall 2019

7
---
Miniya Wainwright's '21 artwork was

selected for the Bermuda Society of Arts

Emerging Artists Show. Miniya was one of

five artists showcased in the exhibition.

Hailey O'Donnell '21 and Genevieve

Lau '21, partnered with Kate Tobin

of Somersfield Academy to form an

independent Bermuda team for the

Heart of Europe Debating Tournament

in Olomouc, Czech Republic. Hailey was

awarded the best individual speaker prize

and Genevieve the third best speaker.

Salayah Stange '22 also represented

Bermuda in the competition on the

Dynamic Debaters team.

Class of 2020 students, Gabriella Botelho,

Tamia Burgess, Lily DeCouto, Naomi

Harvey, Jaiden Herbert, Tamari Landy,

Florencia Morales and Jessica Simmons, in

collaboration with the Bermuda Society of

the Arts, created a space-themed mural

at the Bermuda Security Group's property

across from BHS. The project marked the

50th anniversary of the first moon landing

by Apollo 11 and the 50th anniversary of

the Bermuda Security Group.

BHS Sports News

MARCH

Gen Lau '21 was named the Female

Champion in the 2019 O'pen Bic

North Americans in San Diego, she

also placed 2nd overall out of 86 sailors.

BHS Students represented Bermuda on

the Junior Girls National Volleyball

Teams in Tampa, Florida. The Paradise

Hitters U14 team included of Anna

Marcotte '23, Daniella Steggman '23,

Erin Kelly '23, Hailey Moss '23, Jocelyn

Manuel '23, Natalie Gazzard '23 and

Olivia Porter '24. The U16 team included

Layla Kurt '21 and Sophia Stevens '21

while Olivia Taylor '19 represented

Bermuda on the U18 team.

APRIL

BHS Students Giada Dudley-Pun '24

and Emma Kittleson '22 represented

Bermuda in the CARIFTA Swimming

Championships. Giada won an amazing

eight medals including gold in the 11-12

age-group 200m breaststroke, 400m IM

and 100m freestyle relay. She also won

four silver medals and one bronze. Emma

swam in three relay finals in the 13-14 age

group finishing 4th in each event.

Laura Hupman '23, Millie Lewis

'23 and Ava Adams '23 represeted

Bermuda at the South American Opti

Championships in Chile. Laura was on

the Bermuda team that placed 3rd in the

Sydney Daponte '23, Gabriella Quinn-

Sirera '23, Salayah Stange '22, and

Katarina Rance '22 represented

Bermuda at the North American Bridge

Championships in July in Las Vegas.

Madison Thompson '20 completed the

three-week Future Leaders programme

with 22 other young leaders from around

the island and some overseas schools. The

programme combined academic study,

Nationals Cup. Laura was also the top

girl in the trials to represent Bermuda in

the Worlds Optimist Championship in

Antigua.

Madison Quig '19, Cree Dunn '20 and

Nisaiah Berkeley '22 represented BHS

in the All Star Basketball Competition

resulting in a Gold medal to finish the

season.

MAY

The BHS Y10 Badminton Team showed

determination in the BSSF under-16

mentorship and community service.

Sydney Daponte '23, Gabriella Quin-

Sirera '23, Salayah Stange '22 and Katarina

Rance '22 represented Bermuda in the

youth division of the North American

Bridge Championships (YNABC). Salayay

and Katarina placed 1st in their age group

in the pairs division and Sydney and

Gabriella placed 1st in their age group in

pairs also.

Badminton tournament. It was the

team's first ever competition and they

had only five lessons to prepare but

they placed 3rd overall.

BHS had many entrants in the Bermuda

Day Half Marathon Derby. Camryn

Lines '25 ran with her mom, BHS staff

member Fiona Lines, and her aunt,

Zoe Roberts '97, and placed 1st in

the Family Relay Division. Y8 students

Katie Adams, Paisley Garside, Sienna

Mnushkin and Sarah Lawrence finished

3rd in the school relay division.

8 Torchbearer Fall 2019
---
BHS student-athletes welcomed

former England International Netball

player, Tamsin Greenway, who ran a

coaching session and a Q&A for the

students in the JVSC. Tamsin ran the

pupils through some drills, teaching

them the importance of jumping,

core work, being quick on their feet,

communication, and trusting their

teammates.

JUNE

BHS Softball Teams played in the

interschool tournament. Team A went

undefeated and brought home the

championship after winning all four

games. BHS Team B had some good

plays but lost their matches against

Saltus and Whitney.

Arima Turner '26, Natalie Gazzard '23

and Taylor Hines '20 were nominated

for The 34th Annual Denton Hurdle

Awards which highlight, recognise

and reward the finest student-athletes

in Bermuda. Both Taylor and Arima

received Honorable Mention.

Five BHS Football Club players were

named to the All Star teams for the

2019 Kappa Classic Tournament held

in March. In the U9 age-group Kaya

Masucci '28, Harli Basden '27 and

Zoe Mir were selected. Sophie Jones

'25 was selected for U11s and Lara

Backeberg '22 for U15s.

SUMMER

At the Central American and

Caribbean Swimming Championships

in Bridgetown, Barbados, Giada

Dudley-Pun '24 competed in the

freestyle and medley relay. Giada's

team placed second in both events.

Giada additionally placed fifth in the

100m breaststroke.

BHS footballers represented Bermuda

in two competitions this summer with

Zorena Anderson '23 and Camryn

Lines '25, along with alumna Katelyn

Medeiros '23, selected for the Girls U14

National Team that played in the CFU

Challenge Series in Jamaica. Alumna

Lara Backeberg '22 was selected for

the Women's U20 National Team that

participated in CONCACAF Qualifiers

in Guyana.

Sophia Stevens '21, Jocelyn Manuel

'23, Natalie Gazzard '23 and Daniella

Stegman '23 represented Bermuda

in the U20 division at the Eastern

Caribbean Volleyball Championships.

Fenella Wightman '25 was chosen to

represent Bermuda at the 3rd CARIFTA

Triathlon, Aquathlon and Mixed Relay

Championships at the Jewels Resorts

in Runaway Bay, Saint Ann, Jamaica.

She placed 5th in the triathlon and 4th

in the aquathon.

Laura Hupman '23, Sophia Dias '25,

Ava Adams '23 and Millie Lewis '23

represented Bermuda at the Canadian

National Opti Championships in

Ottawa. Millie, Laura and Sophia

also took part in the Cork Invitational

Regatta in Kingston, Ontario.

Arima Turner '26 represented Bermuda in

two track meets this summer. In Canada,

she placed 11th in 100m, 7th in long jump

and 8th in the 200m and in North Carolina

she placed 6th in the 100m, 9th in long

jump and 4th in the 200m.

Torchbearer Fall 2019

9
---
Sports Days

healthy competition

Primary 1-3 Sports Day Results

1st Place - Middleton 162 points

2nd Place - Tothill 86 points

3rd Place - Hastings 77 points

4th Place - Barr 73 points

Relay Team Winner/Elsie Young Cup - Middleton

P3 Fastest Sprinter/Elizabeth Adderley Bowl - Amara Samuels

EYP Students and their parents also enjoyed the

2nd Annual EYP Sports Hour!

10 Torchbearer Fall 2019
---
Staff Profile

Meet the new Head of Primary

For the first time since 2003, BHS

has a new Head of Primary with

Tracy Renaud taking the helm

from the retiring Tina Harris '85.

Mrs Renaud, who is originally

from Canada, has been living in

Bermuda for 30 years and joined

BHS as a Y6 teacher four years ago.

She has also held roles as Primary

Assessment Coordinator and

School Leadership Coordinator,

areas she will continue to oversee

as Head of Primary.

Prior to coming to BHS, Mrs Renaud held

a number of teaching and administrative

roles at Saltus Grammar School. Her

qualifications include a Bachelor's Degree

from Queens' University and a Master of

Science Degree in Education from State

University of New York. In 2015, she

obtained a (NPQH) National Professional

Qualification for Headship.

Outside of school, she enjoys spending

time with her husband, Gary and her three

grown children, Adam, Justin and Erica, who

all live in Bermuda. She also loves boating,

travelling, reading, walking and spending

time with the family dog, Sam.

Of her new role, Mrs Renaud says she'll miss

the classroom, but is, "looking forward to

developing a deeper understanding of each

and every one of the girls in the Primary

Department and working with our team to

continually move the department forward."

Torchbearer asked Mrs Renaud to look

ahead to her first year as Head of the

Primary Department.

What are your major responsibilities as

the Head of Primary?

First and foremost, my responsibility is to

guarantee the safety and well-being of

our students and to develop partnerships

with our parents to ensure that every child

reaches their full academic potential. I also

look forward to supporting our wonderful

faculty while working closely with the

Head of School and Leadership Team to

support the School's strategic vision.

What are the main attributes that you

bring to this position?

I am very excited to bring my

enthusiasm and passion to this new role.

Understanding what it is like to be in the

"When a child feels

valued and cared for

they are more likely

to want to learn."

classroom every day will be important

for me to support our teachers on a daily

basis. I also enjoy meeting new people

and developing relationships and this is

critical when working with all stakeholders.

Most importantly, I thoroughly enjoy

supporting and engaging with children

in their learning and watching them grow

and develop.

Is there any added responsibility or

reward you feel for starting children

down their educational paths?

It is incredibly fulfilling and rewarding as

an educator and Head of Primary, to be

able to influence and mold the future of

such a large group of students. Knowing

that you can make a direct impact on their

lives and in the community makes each

day rewarding and precious. I feel truly

blessed to have this opportunity.

Tell us about the Primary staff at BHS.

At BHS, we have a fantastic group of

dedicated, nurturing, dynamic Primary

teachers who are passionate about

education and always keen to grow

and develop professionally. They work

incredibly hard to ensure their students

succeed and work many hours before and

after school planning and preparing for

their lessons.

BHS is integrating a STEAM curriculum,

what does that mean for the Primary

Department?

As a staff, we are all very excited about

the integration of STEAM at BHS. In an

ever-evolving world, it is imperative that

we provide children with the tools they

need to navigate every day challenges

and also prepare them for success after

BHS. Our students are engaged and

excited about their learning and have

enjoyed the wonderful hands-on activities

that allow them to think creatively and ask

questions. Additionally, our teachers have

been working hard behind-the-scenes to

prepare and develop new strategies to

support their students. This is an exciting

time for all of us!

Please share your personal vision for

educating Primary students?

I believe that all Primary students should

be able to learn in a safe, comfortable

and nurturing environment, where

they can take risks and learn from their

mistakes. Whilst all children are unique

and have different learning styles, they

should be provided with a stimulating

educational environment to help them

develop physically, socially, mentally

and emotionally. I feel strongly that

relationships between teachers and

students are key. When a child feels

valued and cared for they are more likely

to want to learn.

Tell us something that would surprise

people about you.

I have a great sense of humour and love to

laugh. I also enjoy listening to all types of

music. This summer, I had the opportunity

to enjoy a Lionel Richie concert at the

Hollywood Bowl in California. Such a

wonderful experience!

Are you going to get one of those

shirts that represents all the Houses or

are you going to stick with a particular

House for Sports Days?

My goal is to support all of the Houses

for Sports Days and other school events.

I would love to acquire a special shirt that

encompasses all of the Houses. Do you

know who could make one for me?

Torchbearer Fall 2019 11
---
Class of

2019

On May 28th, with family, friends, staff,

trustees and invited guests looking on, 39

BHS students tossed their graduation caps

skyward as they marked the end of their

time with the School and looked forward

to the exciting futures ahead of them.

The ceremony included a speech from 2019

graduate, Lizzie Luckashvili, musical performances

from Chrysda Smith, Marie Sophie Brackstone

and Lizzi Luckashvili, the presentation of annual

academic awards, remarks from the Head of

School, Linda Parker '78, and the keynote speech

from Dr. Stephanie Hollis Smith '08.

Stephanie first studied Biomedical Sciences at

Queen Mary University of London and then,

following completion of her undergraduate

studies, spent a year travelling and volunteering

in South America. She reluctantly returned to the

real world in 2012 to pursue her childhood dream

of becoming a doctor, studying Medicine at Kings

College London. She spoke to the graduates

about the value of her BHS experience saying

that all of her successes were rooted in her BHS

experience. "These friendships you have made

here are for life. Relationships will ebb and flow,

you will make new friends, but you never truly lose

the old relationships. The friends I made on these

grounds, my BHS family, never let me down. These

friends, this place, these are your roots."

She also spoke of the challenges that lie ahead

and encouraged the students to make their mark

in the world.

"University is a balancing act, and it should be,

because life is a balancing act! It's an uphill climb,

it's hard work. There will always be a new goal for

you to reach for," she said. "You are balanced,

perfectly poised to take on whatever life throws

your way. If the door is locked girls (and boy!) kick

it down."

Of the 39 graduates, 38 chose to sit the full IB

Diploma and achieved an average of 31 points

with Madison Quig achieving the top score

with 43 out of 45 points and will be heading to

Stanford University. Other notable scores were

Lea Grandisson who earned 39 points, Celia Harris

with 35 points and Lizzie Luckashvili, Nyla Maharaj

and Chrysda Smith all earning 34 points.

This fall, the Class of 2019 will be attending notable

universities in Canada, the US, the UK and Europe.

12 Torchbearer Fall 2019
---
Torchbearer Fall 2019 13
---
Student Leaders

Head Students reflect on BHS

This year's Head Students have

the distinction of leading the

student body during the School's

125th year. At such an important

milestone, it is notable that both

Natalie Calderon '20 and Cerra

Simmons '20 identified mentors

who are BHS staff and alumni,

illustrating the generational

wisdom that resides within the

halls of the School.

Head Students, Cerra Simmons and Natalie Calderon

Both have been at BHS since Y1 and

when asked to identify a role model for

leadership they pointed to BHS staff

members. Natalie says Head of Creative

Arts, Jane Thorpe '87, is "one of the

biggest influences" on her while Cerra

says it is her aunt, and recently retired

Head of Primary, Tina Harris '85, whom

she seeks to emulate.

The two share similar interests in the

classroom with English among their

favourite subjects while Cerra also enjoys

Geography and Natalie has an interest in

Global Politics and History.

Outside the classroom, Natalie says

her main extracurricular activity is

participating in the school play, which she

has done since Y7. Whether it be onstage

or behind-the-scenes Natalie says, "I love

creating bonds with girls in different years

and using it as a creative outlet."

Meanwhile, Cerra finds her creative outlet

through Highland Dancing and says Art is

a relaxing hobby for her, along with being

outside and "hanging out with my dog."

With the new school year upon us,

Torchbearer asked this year's Head

Students to share a little more about

themselves and their ambitions for the

school year and beyond.

Torchbearer: Describe your leadership

style.

Natalie: My leadership style is one

of approachability. Creating personal

connections allows for more honest

and open communication between all

members of the team, and it makes

working together much more fun!

Cerra: I would describe my leadership

style as quite relaxed. I prefer to get

14 Torchbearer Fall 2019
---
"I will need flexibility and resilience...

I must be able to keep trying when

something doesn't work the way I hoped."

- Cerra Simmons '20

everyone's ideas and listen before I do

anything. I also like to delegate a lot as it

gives everyone a chance to lead.

TB: What skills do you think you'll

need most to be an effective Head

Student?

Cerra: Organisation. I have a lot of

activities and responsibilities inside and

outside of school, so it will be vital for me

to stay on top of everything. Other skills

I will need are flexibility and resilience so

that I can adapt to a situation at the drop

of a hat and I must be able to keep trying

when something doesn't work the way I

hoped.

Natalie: Communication and delegation.

Having effective and open lines of

communication will be crucial to making

sure everyone is on the same page and

will allow for all ideas to be voiced.

Delegation will ensure that our tasks

get done well, efficiently and will allow

everyone to be involved in some way.

TB: Who has taught you the most

about leadership?

Natalie: Definitely Mrs Thorpe. She

tought me Drama from Y7-Y11 and we

stayed connected through the school

play. However, one of the greatest

lessons she taught me happened outside

of class. She taught me how to harness

my sensitivity and empathy, using it to

make real connections with people and

then make decisions considering the

opinions of everyone. This was at a time

when I viewed my empathy almost as a

weakness, as I was becoming personally

affected by the challenges of those

around me. She showed me how to turn

that into something that, today, I view as

one of my greatest strengths.

Cerra: My aunt, Tina Harris. She was

the Head of Primary since before I even

started at BHS and I have grown up

watching and learning from her. She has

taught me to be reliable and responsible

with my time and my team. She has also

taught me that I don't need to tear myself

apart and give everything just to make

others happy. But most importantly, she

has taught me that sometimes things just

don't work. As a leader you need to know

when to make the call when something

isn't worth it. Sometimes knowing how to

come back from a failure is more valuable

than pushing through at the expense of

your team.

TB: Please share one piece of advice

for students moving from Primary to

Senior School.

Cerra: I think the most important thing

to do is to ask for help. Secondary can

seem daunting at first and it can be

really easy to feel like you are drowning.

Everyone wants you to succeed and it is

not a weakness to ask your teachers and

friends for help.

Natalie: My biggest piece of advice

would be to enjoy it! The jump is big, and

may seem scary, but it is a challenge that

you can handle. Moving up to Secondary

School represents a brand new chapter

in your life, and the beginning of an

incredible journey.

TB: Where is your favourite place at

BHS?

Natalie: Either the QEH or Room 30

in the English department. The QEH

holds many memories for me, from the

play to eye-opening assemblies and

nerve-racking speeches! Room 30 was

my homeroom for Y10 with Mr. Walsh.

I remember all of the laughs, tears, and

moments from that classroom and that

year which greatly impacted my life.

Cerra: The time capsule in the circle. My

friends and I sat there for lunch every day

for four years, so I have a lot of good

memories there.

TB: Where do you see yourself 10

years from now?

Cerra: I can only hope that in 10 years I

am living a fulfilling life where I am happy

with the people who surround me and

the things I am experiencing.

Natalie: What a question! I get a bit

scared even thinking about graduation in

less than a year. In 10 years I would love

to be working in the U.N. or for a global

charity and using my voice to advocate

for issues of global importance. I would

also love to continue writing. One

definite goal I have for myself is that by

then I will have made it to Asia!

"She taught me how to harness my sensitivity

and empathy, something that, today, I view as

one of my greatest strengths."

- Natalie Calderon ' 20

Torchbearer Fall 2019 15
---
Global Education

Real-World Learning

Geography Lessons in Iceland

GCSE and IB Geography students took the trip of a lifetime in Iceland! They visited

the Skogafoss waterfall, climbed a glacier, went on a boat trip in a glacial lagoon full

of icebergs, stood between two tectonic plates, swam in hot springs and walked up

an incredible gorge! They also went to the black beach of Reynisfjara made even more

famous by its recent use in the filming of Game of Thrones. Students also visited the

arch of Mýrdalshreppur and saw hundreds of birds including the renowned Puffin. At

Seljalandsfoss, they walked behind the waterfalls before heading to the Lava Museum

and the crater of the dormant Kerid Volcano.

Cultural Immersion in Tanzania

"Going to Tanzania wasn't just traveling to another country - the cultural immersion was absolutely eye-opening. Helping

build the library, "smearing" the mama's house, the walk to collect water, and playing with the children - all the activities

were things I had never done before and taught me new skills and helped me see life from a different perspective. I was

given insight into a different culture and saw how privileged I am to live with running water and electricity. Learning about

how the Masai tribe lives was so intriguing and fascinating and we learned how celebrations are a very big part in their

community. Even though this community lived without many of the basic necessities we take for granted, they were still

able to smile and be grateful for what they had, and this was so impactful for me. The Tanzania trip was an experience

that I will never forget; it will remind me to be thankful for what I have and that I have met people who make this world

more diverse and beautiful." - Doireann O'Shaughnessy '22

16 Torchbearer Fall 2019
---
Community Impact in Napo Valley, Equador

"Ecuador was a very captivating experience for all of us who went. While we were in Ecuador we did

so many things, but some of the most memorable moments were meeting many different people and

learning about their lives. We also did lots of amazing activities; we tried different fruits from the Amazon,

we spent time with a local healer who is the spiritual doctor of the people in the region, and we helped

build part of a school in a small village called Los Rios in an isolated part of the Amazon. It felt really good

to know we were helping all of these students have a better education." - Gabriella Quin-Sirera '23

Spanish Influence: Y9 students visited Spain where they not only toured

historic monuments but also had to use their Spanish speaking skills in

everyday situations.

"Our first activity of the conference was house-building in Chincha. In 2007,

Peru was devastated by an earthquake and Chincha was one of the most heavily

affected areas in the country and, although 12 years have passed, many families

are still recovering from the disaster. When we were told that each "Barazza"

group would be building a house in only a day-and-a-half we were all a little skeptical about whether we

could actually do it. However once we started to work together, we found that it was not so difficult after

all. Once the house began to take shape, we were able to talk to the family who would be living in the

house and personalise it with what we painted on the walls for the children. This was the most rewarding

part of the experience as it was clear how impactful this house was on the lives of the family and how easy

it is to make a difference for others." - Hailey O'Donnell '20

Round Square

Regional Conference

in Peru

Torchbearer Fall 2019 17
---
Student Athletes

Better Athletes and Better People

There is a new energy in play for the

PE Department at BHS as the School

looks to raise the profile of its sports

and at the same time establish healthy,

active lifestyles for its students.

Stephanie Barnwell joined the BHS staff in 2018, as the Head of

Physical Education and Sport. With the help of Primary PE teacher,

Val Young, Dance specialist Jacqueline Mayor and Secondary PE

teacher, Kath Davis, she spent her first year completing a 360

degree feedback review for the department.

"We have done this through asking questions, observing and

surveying the key stakeholders," says Mrs Barnwell. "I am very

grateful that parents and students took the time to respond to

our surveys. There is a lot of support to develop sport at BHS and

we are setting appropriate goals based around the feedback."

For Mrs Barnwell, one of the key takeaways has been the clear

enthusiasm to develop the sports programme.

"There is a very positive atmosphere in sport, which is most

important in any youth development sports programme," she

says. "What is also exciting is that everyone I have worked with,

including coaches and parents, is keen to improve the

quality and range of sporting opportunities at BHS."

Mrs Barnwell explains that the PE staff have

already been able to implement several new

initiatives and, importantly, develop a theme

that will guide the overall direction of the

PE department.

"Our new vision is, 'Building Better Athletes

and Better People at BHS'", she says. "This

means that we have two goals; we pursue

winning and, even more importantly, we

teach life lessons through sports. That

way, no matter the outcome of a contest,

all children can take a valuable, enriching

experience from sports and apply it to the

rest of their lives.

"We have linked with the Positive Coaching

Alliance, a company with over 20

years of experience in the

area of 'educational athletics'.

This partnership will help us

to create and nurture a positive, character-building youth sports

culture. We will also be able to support parents, coaches, athletes

and leaders make the vision of Better Athletes, Better People a

reality for the school community."

Some of the changes taking place involve enhancements to

the curriculum such as the introduction of the EverLearner

platform in GCSE PE and ELM (Effort, Learning and Mistakes)

of Mastery Learning.

The staff have begun adding to the variety of sporting options

with the introduction of activities like Tennis, Gig Rowing and

Ultimate Frisbee for Year 10 and 11 students and Tag Rugby for

Primary and Middle School students.

The changes go beyond philosophy and curriculum with the

PE department creating enhancements to the equipment and

facilities as well as a more visible presence for sport at the school.

"We are updating the Weights Area upstairs in the JVSC (Jessie

Vesey Sports Centre) to create a new 'Fitness Suite', to be used

as a teachable space," says Mrs Barnwell. "We also installed the

first AED (defibrillator) machine in the JVSC and purchased First

Aid bags for all away matches to ensure a safe environment."

The School's social media followers may have noticed an uptick in

sports related posts and fundraising through participation

in the End2End and the Bermuda School Relay

Classic which led to the purchase of new school

team uniforms and the PTA provided a new

BHS branded tent for events.

Even within the facilities a new school

spirit can be felt with motivational

quotes, photos of athletes - past and

present and large branded decals in

the gym.

Ultimately, Mrs Barnwell says PE

is a critical part of learning for all

students, regardless of their athletic

ability, and the skills and lessons

learned through sport will carry

with them well beyond their school

years."PE not only teaches you how

to stay fit and healthy throughout

life but when used correctly it

can also serve as a way of

developing key character

skills for life."

18 Torchbearer Fall 2019
---
While attention has

been focused

on the funding,

design and build

of the new Innovation Centre

at BHS, a more subtle, but

equally important, STEAM

development is also taking

place at the School.

STEAM Update

STEAM Learning takes hold at BHS

In 2016, BHS engaged the Teaching

Institute for Excellence in STEM (TIES)

to develop a comprehensive strategy to

prepare the School's teachers to utilise the

Innovation Centre for STEAM pedagogy.

For the last two years, TIES consultant,

Julie Hasfjord, has been on campus

working directly with the staff to achieve

this goal. Ms Hasfjord, who has helped

institute STEAM in schools all over the

world, delivered the strategy for BHS in

June and spoke to Torchbearer about the

some of its key features and how STEAM

will impact learning across the School.

Perhaps the defining characteristic

of STEAM education is that it is not a

subject, or even a group of subjects,

instead it is a specific approach to

teaching and learning.

"I like to tell teachers that STEAM is not

one more thing on your plate, STEAM is

the plate," says Ms Hasfjord. "Its a way of

teaching, an approach."

Some of the key components to that

approach are developing collaboration

and problem solving skills and connecting

the subject areas in a purposeful way that

Back to School: BHS staff have also been hard at work developing the skills

and knowledge required to deliver STEAM education.

Hand-on Excellence: As part of the School's implementation of the STEAM

Strategy, Primary students have been engaged in school work that builds their

collaborative and problem-solving skills.

relates to real-world scenarios.

Interestingly, a high school experience

of Ms Hasfjord's may best illustrate how

subjects are combined for problem

solving in a STEAM-based curriculum.

Having always been interested in

Environmental Science, Ms Hasfjord

found herself ahead of the rest of her

class, so her teacher arranged for her,

and a couple of classmates, to enter a

local contest to solve a problem in their

community. The task they chose was

fixing a polluted river. It turns out the

solution lay in rerouting storm drains

through a wetland that could safely

absorb the pollution.

"This was the first time I realised I would

be using Algebra in the real-world," she

says. "That was mind-blowing for me. For

example, we had to figure out gallons of

water versus plant absorption of pollution

and I remember thinking, 'wow, this is

what learning is supposed to be!'"

Of course, like any academic institution,

BHS has established methods and

practices for teaching. Shifting them

towards STEAM pedagogy and

continuing to meet the academic goals

of the School is a critical focus of the

STEAM strategy.

To meet this challenge, Ms Hasfjord has

been engaged in a comprehensive and

phased process during her two years at

the School.

Torchbearer Fall 2019 19
---
Here to Help: Consultant Julie

Hasfjord has spent two years on

campus developing the BHS Strategy

for STEAM.

Listening and Learning was the first

phase and consisted of focus groups

for all stakeholders including parents,

students, staff and board members.

Classroom visits created a better

understanding of the culture of the

School and teaching styles, and digital

surveys collected feedback from the

School community.

From the Listening and Learning phase

a set of Design Principles, specific to

BHS, emerged. These ensure that:

STEAM opportunities are inclusive of

all students and year levels; STEAM

programming meets BHS' standards

and reputation for student success at

university level and beyond; learning

is based around the principles of

transdisciplinary and inquiry-based

teaching and; learning is connected to

the local and international community.

Ms Hasfjord says that while some of

these principles will be found in all

STEAM-based curricula, each school will

focus on unique aspects.

"For example we don't always put in this

idea of success at university level and

beyond. That's hugely important here at

BHS," she says.

With the Design Principles in place, the

Implementation Phase has begun.

For teachers and staff, this has meant

ongoing professional development that

Ms Hasfjord says was, "more than regular

professional development and required

a real commitment from the staff."

Meanwhile, Primary students have been

engaged in interdisciplinary units of

study while Secondary students have

taken part in problem-based learning

that involved multiple subject areas.

"I like to tell teachers that STEAM is not

one more thing on your plate, STEAM is

the plate."

Coding and robotics have now been

implemented for all year levels in

Primary, and Computer Science is

required for all Y7 and Y8 students.

Time within the schedule was

also created to begin the type of

transdisciplinary learning that is a

hallmark of STEAM.

"For Y7 and 8 students, we created

common planning time for the Science

and Math teachers to design integrated

units," says Ms Hasfjord. "One project

was to design gardens for Bermuda that

respected the constraints of Bermuda

like limited space, the weather, etc. The

students ended up creating a lab report

in Science from the data they analysed in

Math."

Assessments, or tests, can also be

combined so that students receive one

assessment across multiple disciplines.

With a focus on transdisciplinary

learning, teachers were given the

opportunity to visit each other's

classrooms, not so much to critique or

learn about another subject, but to see

what they can take from each other's

practices to improve.

Speaking of her experience with the

professional development programme,

Y6 Teacher Stephanie Shrubb, says:

"I've seen a lot more collaboration

and student-generated questions and

student-led learning. There is also more

comfort with the idea of failing forward

and making mistakes. The design

process, allowing students to go back

and edit their work has been important,

and the use of technology has increased

tremendously."

Moving forward, Ms Hasfjord will continue

to work remotely with the staff and

teachers. The School has identified an

Innovative Learning Coordinator in both

the Primary and Secondary Departments,

and they will be leading the process

established in the STEAM strategy.

Of course, the Innovation Centre will

provide the space needed to maximise

STEAM-based learning.

"Students will be able to spread out

and work together," says Ms Hasfjord.

"The equipment will be in place and

accessible with resources readily available

for students to do this to the best of

their ability, and BHS students love to do

things to the best of their abilities!"

Commenting on the changes and new

initiatives that have come with the

STEAM strategy, Head of Secondary,

Catherine Hollingsworth, expressed

her excitement for what lies ahead:

"We're all working towards the idea

that STEAM, or Innovation, is about

developing skills and applying them to

real-world situations. We're developing

a curriculum where students are not

taught in silos, because you'll never do

that in the workplace.

"It's more about the connections in the

different subject areas and how can we

bring that learning together to produce a

piece of work that shows what has been

learned across several different areas."

Room to Grow: With the completion of the Innovation Centre in 2020,

students will have the space and equipment to fully embrace STEAM learning.

20 Torchbearer Fall 2019
---
125 Years of Innovation and Excellence

As BHS enters its 125th

year, the School sits

on the cusp of yet

another profound

and innovative development

in its pursuit of educational

excellence. As the history below

illustrates, the new Innovation

Centre is just the latest in a long

line of bold steps taken by the

founders and caretakers of the

BHS legacy.

A School is Born

In the Spring of 1894, Mrs Grosvenor

Tucker, determined to see her six

daughters receive the very best

education, formed a committee charged

with raising the necessary funds to start

an all-girls school in Bermuda. From this

effort, The Bermuda High School for Girls

went from vision to reality.

The Committee turned to the

Headmistress of Cheltenham Ladies

College in the UK, Miss Dorothea Beale,

for advice. She suggested a colleague,

Miss Matilda Tothill, who was renowned

for her energy, efficiency and enthusiasm,

and encouraged her to take up the

position of Headmistress at BHS.

Miss Tothill arrived in Bermuda by steam

ship in early September 1894 with Miss

Millicent Strange, the teacher she had

chosen to accompany her. The committee

that started with nothing but determination,

courage and the certainty of about 30

students, opened the School to 51 students

on September 17th, 1894, in two rooms of

a rented house on Reid Street.

Still Standing: The Tucker Centre was opened in 1899 and 120 years later

it still sits at the centre of the BHS campus. The land for the campus was

donated by Mr William Barr and his wife.

School History

Leading Ladies: Mrs Grosvenor Tucker's (left) vision and determination

resulted in The Bermuda High School for Girls. Miss Matilda Tothill (right)

arrived from the UK in 1894, as the new School's first Headmistress.

Early Days

Within a year of opening its doors, the

School was growing so fast that the

committee knew they needed a bigger

space. Mr William Barr and his wife

donated the piece of land on which

the current campus sits. In June 1899,

staff and students moved into the newly

constructed school house, which, to this

day, houses the main reception area,

main hall and classrooms and is known as

The Tucker Centre, after Mrs Grosvenor

Tucker. The original oak staircase, which

has carried the footsteps of literally

thousands of aspirational young ladies,

was donated to the school by Mr Musson

Wainwright, who went on to become the

Mayor of Hamilton.

By the time Miss Tothill retired in 1900,

the school was firmly established in the

community, with its character and ideals

in place. At that time, there were 80

pupils enrolled, divided into five classes.

Miss Tothill never lost touch with the

School and kept a keen interest in its

workings, all the while maintaining a

great sense of pride that the aims and

ideals she had brought with her from

Cheltenham were being carried on at

BHS.

By 1917, the student body had reached

100 pupils, and in 1923, it was time for

the school to expand again, this time

through the Hastings Wing, funded by a

Torchbearer Fall 2019 21
---
BHS for Life: Dr Majorie Hallet went from BHS Student to School

Headmistress. She held the position for 30 years, beginning in 1934, and

introduced the Old Girls' Ceremony, today known as the Torch Ceremony.

In 1952, the Majorie Hallet Wing was completed and includes the Queen

Elizabeth Hall (QEH).

£1,000 gift from Mrs George Plimpton

in memory of her parents General and

Mrs. Hastings, who had been early

benefactors of the School.

Throughout the 1920s, BHS saw the

House System and netball introduced,

with a playing field acquired in 1927. In

1931, the first ever Field Day was held, a

tradition that still holds today, but is now

known as Sports Day.

BHS Grows

The School was soon bursting at the

seams again, and in 1932 the Rose

Gosling Wing (which today houses the

Primary Department) was constructed

and joined to the main building by the

"Covered Way".

In 1934, former student, Miss Marjorie

Hallett, became Headmistress, a position

she held for over 30 years. In 1937, Miss

Hallett introduced the first Old Girls' Day

ceremony, which this year celebrated its

82nd anniversary as The Torch Ceremony.

BHS celebrated 50 years in 1944 with

a week of celebrations, ending with a

Thanksgiving service at the Hamilton

Anglican Cathedral. During his address,

the Bishop remarked, "…it can scarcely

be doubted that some of you will live to

see a woman physician standing at your

bedside, and listen to a woman barrister

practicing in the courts, perhaps indeed

to carry the doctor's stethoscope or to

wear the barrister's gowns yourselves".

The times were changing, and BHS

graduates were ready.

By 1945, traditional roles were changing

with women entering careers which had

previously been dominated by men.

22 Torchbearer Fall 2019

BHS graduates were well prepared.

Miss Hallett noted, in a 1945 quote

that still holds true in 2019, "Today, to

a greater extent than ever before, BHS

girls are preparing themselves to enter

professional and commercial fields.

Efficient leadership is badly needed in all

spheres of life, and in the future, as in the

past, I am confident there will BHS girls

ready and equipped to fill this need."

World War II saw the role of women

evolve further, and indeed, these young

women owed their new status and rights

to many BHS Old Girls such as, Gladys

Morrell, Doris Butterfield, Marie Bluck,

Kitty Zuill, Hilda Aitken, Betty Kitson and

Rose Gosling, who were all instrumental

in the women's suffragette movement in

Bermuda.

The School Association purchased

Curling Cottage at the end of 1945 and

it served as the home for the Art and

Music Departments. By 1947, there

were 300 pupils at the school, and in

1949, Miss Hallett was awarded the

degree of Doctor of Laws from Mount

Allison University. In 1952, the Marjorie

Hallett Wing was completed including

the Queen Elizabeth Hall (QEH), which

to this day still serves as the hub for the

community life of the School.

A Modern School

Throughout the 1950s, outstanding

exam results were achieved and more

and more young women gained entry

to college and universities around the

world.

Dr Hallett had steadily steered the

School through a tumultuous time, from

World War II, at the start of her time at

BHS, to the social upheaval of the 1960s.

During this period, more and more doors

were opening for women, and BHS

ensured that its Old Girls were able to

take advantage and walk right through

them.

The 1960s saw some major changes

for the School. In 1968 the first black

pupils gained entrance to BHS; Laurita

Wilson in the kindergarten (now EYP

teacher Laurita Dill) and Deborah

Physical Expansion: In 2003, BHS opened the Jessie Vesey Sports Centre, a

state-of-the-art gymnasium to enhance the School's Phyisical Education and

Sport programme. Jessie Vesey '19 is a former BHS Head Student, School

donor and, at 102 years-old, attended the ribbon cutting for the gym.
---
Jackson in the Secondary department.

In 1972, the first male Head of School,

John Delany, joined the School to see it

through a great period of change. During

his six years at BHS, he established a

Scholarship Scheme to assist students

from the Government Primary School

system in attending BHS, and oversaw

the extension of Science, Modern

Languages and Business Studies

courses throughout the school. Perhaps

most importantly, he oversaw the

desegregation of the student body and

the staff. The Senior Years Programme

was introduced in 1974, which saw boys

back on campus, but at the end of their

educational journey this time!

BHS had started to take the shape of

the School we know today. In 1973,

the Parent Group, the precursor to the

PTA, was founded and parents took on

a more active role in fundraising for the

School. Throughout the 70s, 80s and

90s, the School expanded its footprint

and subject offerings with the opening

of the Arts Centre in 1974 (renamed the

Frances Tucker Zuill Wing in 1991), and

the start of Computer Studies in 1984.

In 1990, The Dudley G. Butterfield

Centre opened, and in 1991, BHS

made an important contribution to the

community when it leased land to The

Reading Clinic for their current home.

Education in the

New Millennium

The past two decades have seen

enormous growth at BHS.

Mrs. Eleanor Kingsbury, Head of

School from 1995 - 2000, was tasked

with finding an appropriate sixth form

programme for BHS. In 2000, under

the leadership of Mrs. Kinsgbury and

Head of School, Roy Napier (2000 -

2007), BHS became the first IB World

School in Bermuda, leading the way for

other schools to follow in its path. The

Renaissance IB Centre was completed

in 2006 and houses IB students in their

own, purpose-built facility.

In 2003, a state-of-the-art gymnasium

was built, named after donor Head Girl,

Jessie Vesey '19. At 102 years old, Mrs

Vesey was present to cut the ribbon at

the Grand Opening Ceremony.

In 2005, BHS became Bermuda's only

Global Member of Round Square,

joining a worldwide network of 200

schools in 50 countries on six continents.

The organisation enriches the lives

of BHS students through educational

exchanges, conferences and service

projects abroad, and through the six

IDEALS of Round Square that root their

education in an international context,

shaping students into global citizens well

before they leave Bermuda.

Moving Forward: Continuing its legacy for excellence in education, BHS will

open the new Innovation Centre in the fall of 2020. This purpose-built facility

will be home to BHS's STEAM-focused curriculum and allow students to

develop skills for the 21st century.

In 2007, alumna Linda (Noble) Parker

'78 became the Head of School after

four years as Head of Secondary at

BHS. She is the second Bermudian

alumna to hold this position after Mrs.

Frances (Tucker) Zuill who was Head of

School from 1965 – 1967. Mrs. Parker

has guided the School through two

international accreditations, the Council

of International Schools (CIS) in 2014 and

the New England Association of Schools

and Colleges (NEASC) in 2015. These

accreditations speak to over a century

of diligence in the pursuit of excellence,

and celebrate BHS's remarkable

commitment to a high standard of

education as well as continued growth

and self-improvement.

In 2016, Mrs. Parker oversaw the

introduction of the Early Years

Programme (EYP) when 18 four-yearolds

joined the BHS family. The BHS

EYP provides essential learning and

social skills and creative exploration

opportunities which ensures a smooth

transition into Primary School.

A School for the

Future

BHS launched its Leading the Way

Campaign for Innovation in March 2017,

and to date has raised $10.8M to build

a 14,000 square foot Innovation Centre

and renovated Arts Wing purposed fo

STEAM subjects. The ground-breaking

was held in January 2019 and is due to

be completed in the Fall of 2020.

The Innovation Centre will include

five new Science laboratories, two

Computer Science and Robotics labs, a

MakerSpace, a Learning Commons and

Library, a Leadership Centre for Girls

and a Digital Media Room. Renovations

include a Blackbox Theatre and an

Arts Wing connected to the Innovation

Centre that will house the upgraded

Music and Visual Art departments, with

an outdoor "Idea Hub" linking the Visual

Arts with the MakerSpace.

BHS has always been known as a school

that provides an excellent education,

and prepares students for wherever

life takes them. The global economy

of the 21st century needs more girls

studying STEAM subjects, and Bermuda

also requires young women with

the leadership, communication and

collaboration skills necessary to lead

companies, non-profits and indeed, the

country. By offering a higher quality and

comprehensive STEAM programme with

updated facilities, BHS is broadening

the potential for a wider educational

experience, not only for current and

future students, but also for others in the

community.

Throughout its history, BHS has evolved

with the times; growing and changing

as needed, but always staying true to its

core values in the pursuit of excellence.

On the verge of a new era, which will

bring BHS firmly into the 21st Century, it

is remarkable to look back on 125 years

of history and reflect on all the people

who have played a part in this venerable

school's history. It is with honour and

pride that alumni of BHS realise that they

too are a part of the BHS story – a story

with many exciting chapters, and many

more still to be written.

Torchbearer Fall 2019 23
---
United by the Flame

April 18th, 2019, marked the 82nd Torch

Ceremony in BHS's history, a day when alumni

of all ages gathered around the oval, along

with the staff and students, to honour the

School's history and the connection shared by

the BHS community.

Katie (Cooper) Berry '93, recipient of the

2018 Frances Tucker Zuill Award, had the

honour of carrying the Torch at this year's

ceremony, a particularly poignant moment as

her three daughters, Emilia '24, Josephine '26

and Penelope '31, were there and must have

felt a great sense of pride for their mother.

At the annual luncheon, the class of 1969

celebrated their 50th reunion and the class of

1959 celebrated their 60th. It was wonderful

to welcome the ladies back to school after so

many years.

Esther Young '83, welcomed guests and

handed out the annual Alumni Association

awards, stating: "At its heart, BHS is a family.

A family that is made up of students, teachers,

parents, grandparents, alumni and friends of

the School, with each family member doing

their part to unselfishly tend to the family

flame."

Looking ahead to next year, the newly

elected BHS Head Students expressed their

excitement for their turn to play a central role

in the tradition during the School's 125th year.

"The Torch Ceremony serves as such an

important symbol for the School, and the

message of appreciating those who come

before and serving those who are coming

behind us is quite grounding," says Natalie

Calderon '20. "Every year I find myself

appreciating it a bit more."

"Carrying the torch is so important to me,"

says Cerra Simmons '20. "I can remember my

very first torch ceremony and my awe when I

saw the 'big girls' that were allowed to carry

the torch! Since then, I have always wanted to

do it.

"It is crazy for me to think of all the Head

Students that have come before, and better

yet, the younger girls who are touching the

torch not realising that one day they will be

the one to carry it."

24 Torchbearer Fall 2019
---
The 2019 Annual Alumni Association Awardees:

(left to right)

The Doris Trott Butterfield Award is given to the alumna/

us who has demonstrated outstanding service to the

community. Recipient - Kelly Amaral Hunt '94

The Frances Tucker Zuill Award is awarded to the

alumna/us who has demonstrated outstanding and

unselfish service to the School. Recipient - Tina Harris '85

BHS Alumni Association Award is given in recognition

of consistent and dedicated service to the School by

someone who is not an alumna/us, but is a member of the

BHS family. Recipient – Lesley Mendes P'17,19

The Jubilee Scholarship is awarded to a relative of a

BHS alumna/us who has maintained a minimum average

grade of A-, has exemplary conduct, demonstrated effort,

participated in School activities and is of unquestionable

integrity. Recipient - Millie Lewis '25

Torchbearer Fall 2019 25
---
Alumni Spotlight

Elizabeth Kitson

(1918-2019)

"Its aim was to make, of Bermuda girls,

women who would inspire society

with high conceptions of character

and conduct – women who would

have a full and complete use of brains,

great love of truth, open minds, kindly

hearts, and correct ideas of wisdom,

justice and righteousness."

- General Russell Hastings, early benefactor

of The Bermuda High School for Girls

There is no doubt that General Hastings

had high aspirations for the young

women who would attend The Bermuda

High School for Girls (BHS), and one

young lady in particular, who began BHS

in 1922, would go on to embody these

ideals in every way. Elizabeth Kitson'35

died in June, 2019, at 100-yearsold,

and is remembered for being a

remarkable woman who achieved much

in her long life.

Mrs Kitson was born Betty Muriel Gorham

in 1918 at Greenbank in Salt Kettle,

Paget, the fourth of five children. Her

father was AJ Gorham who owned AJ

Gorham Import Co. on Front Street and

her mother, Muriel Masters, ran a busy,

happy home for her family. From a young

age, Betty showed signs of the strong and

determined woman she would become.

Her daughter, Susana Willingham '69,

recalls: "When her older brother Richard

started Kindergarten at BHS, she wanted

to go too and she kicked up such a stink

that her father wrote to BHS to request

that she gain early entry."

Thus Betty began BHS at 4-and-a-half and,

when she was old enough, used to ride

her bike to school as there were no cars

in those days. She finished school early at

age 16 and then headed off to Penn Hall

Junior College to study speech and drama,

where she graduated with Honours. She

then went to Northwestern University

School of Speech, but left after three years

to marry British Naval Officer, Geoffrey

Kitson, before World War II broke out.

Their first son, Kirkham was born in

1940, and when her husband was called

to England to serve, she decided to

go with the baby to England by ship,

despite the dangers. Two days into

the voyage their ship was torpedoed,

but they survived the shipwreck and

eventually made it to England.

It is hard to imagine such a situation for a

young mother to go through, but as with

everything, Betty had a "get on with it"

attitude, and this story became one of

"When her older

brother started at

Kindergarten at

BHS, she kicked up

such a stink that her

father wrote to BHS

to request that she

gain early entry.""

many woven into the fabric of her long

and incredible life.

A second son, Richard, was born in 1944

and the family returned to Bermuda after

a few years in London.

In 1947, Geoffrey opened Kitson

Insurance, and Betty opened Kitson

Real Estate, both of which are still in

operation today. Susanna was born in

1952, which was the same year that

Elizabeth noticed a house on Pitts Bay

Road which had fallen into disrepair. She

bought and lovingly restored the house

and turned "Rosedon" into a B&B, which

is now a Relais & Chateau property run

by her grandchildren, Lee Petty and Scott

Kitson. Until she died, Betty lived on the

Rosedon property, celebrating her 100th

birthday there with family last year.

For a woman in the 1940s and early

1950s, she was remarkably ahead of her

time, to be raising a young family and

have started two new businesses. When

asked where that drive came from, her

daughter has no hesitation.

"Her father. He was a businessman, and a

force to be reckoned with. In the middle

of five children, she could have gotten

lost in the shuffle, but she elected to

stand up for herself," says Susanna.

Betty's grandmother was also an

important influence on her. Her

grandfather died when her father was

only two years old. He had been a

chemist, and when he died his widow

was left to run the business, quite unusual

for a woman in that time. All throughout

her life, Betty identified with this strong

woman, never realising that she couldn't

walk, as she never saw it impact her

ability to manage the business from her

wheelchair behind the counter.

It therefore comes as no surprise to

learn that Betty was also a suffragette

who supported women's rights and the

26 Torchbearer Fall 2019
---
ight to vote and was a prolific

writer of Letters to the Editor

throughout her life, sharing her

views on various topics.

"She was not afraid to take

a stand, if she had a stand to

take!" Susanna jokes.

When her son Richard was born,

he suffered a birth injury and as

a result had learning difficulties,

which would come to define

much of Elizabeth's life work

and her ultimate legacy.

Through her support for

her son's special needs, she

became aware of the needs

of handicapped children and

their families in Bermuda. When

she learned that Richard could

be taught to read using the

Orton Gillingham multi-sensory

method, she decided she would

become a reading specialist and

enrolled at Columbia University

in New York in her late forties.

She had earlier completed her

undergraduate degree from

the University of Maryland by

correspondence, when her

children were younger. For her

M.A. Psychology of Reading

Difficulties at Columbia she

moved to New York while the

children were older.

Upon her return home, she

began working with local

children on reading assessments

and remediation in the 1960s,

out of her home, before

formally launching The Reading

Clinic in 1968. For over 20

years, Betty, her brother and her

sister would tutor students.

Susana recalls an art studio

around the back of the house:

"There was a little boy who was

nervous about the testing, so

I took him to the studio to do

some art, which I believe was

the beginning of my interest

in art therapy. My mother was

always so encouraging of my

artistic leanings."

In 1980, Betty was awarded

an MBE for her services to the

handicapped in Bermuda and

legally changed her name to

Elizabeth in preparation for

receiving her medal.

In 1991, on land leased by The

Bermuda High School, The

Reading Clinic moved into its

own space and now serves over

Many Generations: Elizabeth with her greatgranddaughter,

Scarlett Smale '26.

Bright Future: Elizabeth married British Naval Officer

Geoffrey Kitson just before World War II. The couple

founded Kitson Insurance and Kitson Real-Estate.

80 children a year. In the

same year, Elizabeth was

awarded The Distinguished

Alumni Award from

Teacher's College,

Columbia University for the

founding and establishment

of The Reading Clinic.

The following year, she

was made a fellow of the

Bermuda College.

Embodying the true BHS

spirit of service to the

community, Elizabeth

dedicated her life to

helping others. She

was Chairman of the

nonprofit organisation

Committee of Twenty

Five for Handicapped

Children for five years, a

Trustee of Friendship Vale

School until the Board

was disbanded, and a

Trustee of King Edward VII

Hospital and BHS.

Asked what she thought

her mother would say to

BHS students of today,

Susanna says: "Get your

education, but do what you

love. Find what it is you

love and follow it."

There can be no better

example of a BHS leader

than Elizabeth Kitson; a

woman who achieved

remarkable things with quiet

grace and fortitude; starting

businesses, going back to

school for higher education

with a young family, following

a cause she believed in

and forever changing the

landscape of her island home

and the lives of hundreds of

young people.

As former Headmistress

Rose Gosling said to

students in a letter for

BHS's 50th Anniversary:

"..my girls, wherever your

opportunity for service lies

– take with you that spirit

of integrity, courtesy, and

of willing and responsible

service that your old School

has striven to inculcate."

There is no doubt that

Elizabeth Kitson epitomised

that spirit and Bermuda

has been left a better place

for it.

Torchbearer Fall 2019 27
---
1970s

Ann Spencer-Arscott '77 was featured in RG Humans of

Bermuda supplement where she reflected on her career in the

non-profit sector with the Red Cross.

1990s

Alumni Updates

Kelly (Southern) Ingham '93 married Zenji Ingham on June

22nd at Coco Reef with their children, family and friends in

attendance. Kelly and Zenji have one son together, Kenji who

was three on August 15th.

June. She also won gold in T53 100m and 400m and silver in

the T53 800m at the ParaPan American Games in Lima, Peru.

Alicia Kirby '13 was one of four Bermudian academics on

an all-women panel presenting research on Bermuda at the

University of Oxford. Alicia spoke about black Bermudian history

at a discussion on racialization in (post) colonial Bermuda.

Isabelle Stone '14 was announced as the 2019 Rhodes

Scholar. Isabelle will read for a Master's degree in philosophy of

Economics at New College, Oxford.

Asha Bicarie '15 received an ABIC Education Award and is

entering her final year at University of Western Ontario, Canada,

pursuing a degree in Business Management & Organisational

Studies.

Kristin Dill '15 received an Appleby Legal Education Award and

has just begun her LLB at Queen Mary University in London, UK.

Taylor Hill '15 was one of this year's Dr. Barbara Ball Public

Health Scholarship Awardees which grants scholarships to

students studying in the fields of nursing, allied health and

social work. Taylor starts her Masters in Speech and Language

Pathology at Dalhousie University in Canada in the Fall.

Allison Parry '15 received the Bank of Bermuda Foundation,

Donald P. Lines scholarship for Scholastic achievement. Allison

is entering her final year of her Bachelor of Science with a major

in Neuroscience at Dalhousie University and hopes to enter

medical school next year to specialise in surgery.

Sara Schroter Ross '98 became the youngest member of the

Institute of Directors in Bermuda to achieve chartered Director

status.

2000s

Kelly Gilmour '08 got engaged and is planning her wedding

for 2020.

Sophie Burt '09 is getting married December 2019.

Hannah King '09 received the Bank of Bermuda Foundation, Sir

John Cox Postgraduate Scholarship. Hannah graduated with a

BA in Art and Architecture from Middlebury College, Vermont,

in 2013, and has just completed a nine-month internship as

a psychology assistant at Bermuda's holistic wellness centre,

Solstice. She will begin her Doctorate in Clinical Psychology at

Loyola University Maryland this Fall.

2010s

Jessica Lewis '11 won gold in the 200m at the Daniela Jutzeler

Memorial 2019 International IPC Track Meet in Switzerland in

Jade Weaver '16 was one of the Association of Bermuda

International Companies' Education Awards 2019 recipients and

awarded the BFIS Argo Group Scholarship for her studies of

Business at St Mary's University in Canada.

Ashley Farrington '17 was awarded the KPMG Accounting

Scholarship. She is studying Accounting and Strategic

Management at McGill University, in Canada.

Brianna Mendes '17 competed in the NatWest International

Island Games in July, placing 5th in the 1,500m.

Clara James '17 was one of 3 interns this summer at OBMI

Architecture this summer where she gained practical experience

in the arena of architecture, interior design, landscape

architecture and master planning. Clara is currently studying

Architecture at the University of Toronto in Canada.

Zoe O'Connor '18 was one of five talented young Bermudian

dancers awarded scholarships by the National Dance

Foundation of Bermuda Fund. Zoe is currently studying for a BA

in Music Theatre Performance at Sheridan College in Canada.

Freja Kermode '18 was awarded a 2019 Further Education

Award from the Ministry of Education. Freja is studying Marine

Biology in the UK.

In Memoriam

BHS wishes to express its sincere condolences to all family and friends of the deceased.

Elizabeth (Gorham) Kitson '35, Nancy Chapman '45, Esther Zuill '47,

Dianne McBeath '49, Carole (Collis) Lobb '50

We sincerely apologise for anyone omitted from the In Memoriam Section. Please notify the Advancement Office of any omissions.

28 Torchbearer Fall 2019
---
Sadia Wilson '18 received the Sir Henry Butterfield

Undergraduate Scholarship to continue her Bachelor of Science

degree in Cellular Molecular Medicine at the University of

Bristol, UK.

Andrea Wilson '18 received a Bermuda Society of Arts bursary

to continue her second year at Sheridan College in Canada.

Madison Quig '19 was named the 2019 Robert Clements

Scholarship by the Chubb Charitable Foundation. Madison

will be entering her freshman year at Stanford University in

California.

Harlee Purvey '19 was awarded the 2019 Bermuda

Government Scholarship and a 2019 Bank of Bermuda

Foundation scholarship. Harlee will be pursuing a degree in

Psychology at McMaster University in Ontario, Canada, with a

focus in Speech-Language Pathology.

Sacred Basden '19 was awarded the Minister's Exceptional

Student Scholarship. Sacred plans to pursue a degree in

Women's Studies at Mount Saint Vincent University in Halifax,

Nova Scotia as a precursor to a career in law and politics.

Chrysda Smith '19 represented Bermuda as a member of

Bermuda's Youth Parliament at a recent debate competition

held as part of the 44th Annual Conference of the Caribbean,

Americas and the Atlantic Region of the Commonwealth

Parliamentary Association. Chrysda also received the Nicholl

Scholarship and has just begun her first year at York University,

Canada and is studying for a Bachelor of Arts in Criminology.

Matilda Nicholls '19, who left BHS in 2014, continues her

success with sailing in the UK and was recently crowned World

Champion at the Laser Radial Youth World Championship in

Kingston, Ontario. Matilda also represented Great Britain in

July at the Youth Sailing World Championships in Gydnia,

Poland, where she placed 5th, and in April she was crowned

the Champion at the British Youth Nationals in the Laser

division. In June, Matilda also received the Talented Athlete

Scholarship Scheme Award for "Most Potential" as one to

watch in her sport. As well as her many sailing achievements,

she also received her Gold Duke of Edinburgh Award in May

and has just completed her A-Levels from Portsmouth High

School. She will attend Exeter University in September 2020

to read Psyschology, but is taking the next year to focus on

her sailing as a newly invited member of the British Sailing

Team, with a focus on the Paris 2024 Olympics.

Summer Alumni Social

On July 19th, over 40 young alumni who graduated between 2005 and 2019 met up at Harry's Bar in Hamilton. It was a great

chance for everyone to re-connect with each other. Some alumni were just finishing their first year at university, others were able

to talk about exciting businesses they had started, and some spoke of their wedding plans. Going forward, BHS is looking for

new and enriching ways to engage with our young alumni; through social events, mentoring and networking opportunities and

continuing education. If you have any ideas on events you would like to see, topics of discussion we could offer, or speakers to

invite, please contact jbutler@bhs.bm. We would love to hear from you.

Torchbearer Fall 2019 29
---
The 2018/19 Donations

20+ Consecutive Years 10+ Consecutive Years 5+ Consecutive Years

Donor Lists

Board Chairs Circle

$10,000+

Anonymous (5)

BHS PTA

Equilibria Capital Management

Limited

FPC Philanthropies Ltd

Jennie Lee & Kevin O'Donnell

J.T. Shaw Foundation

Mr. Richard Cunningham

The Humann Foundation

The Stempel Foundation

Vallis Educational Testamentary

Trust

Head of School's

Circle

$5000-$9999

Bermuda Container Line

Courtney & Andrew Bernstein

Cebulak Family Trust

Franck Charitable Trust

Judith & Bruce Gordon

Cheryl & Gilad Hayeem

Mr and Dr Hetzel

Mr. Paul A Leseur MBE & Mrs

Penne N Leseur

Lindo's Group of Companies

Brian & Karen McNamara

Lesley & Jessel Mendes

Justin & Nicolle O'Keefe

Linda & Roy Parker

Britt & Jonathan Reiss

Mariette Savoie & Mark Smith

Cedar Society

$2,500 - $4,999

Anonymous

Anne Carmignani & Steve

Weinstein

Natalie Luthi Chiaramonte &

Gene Chiaramonte *

Chubb Charitable Foundation

Stuart & Karen Clare

Conyers, Dill & Pearman

Lesley & David Cox

Susan & Christopher Harris

Catherine Hollingsworth

Rebecca & Terry Kuruvilla

Susannah Frith & Christian Luthi

Laura & D Campbell McBeath

D Campbell & Malcom Andrew

McBeath

Brian Quinn & Rosa Sirera-

Aransay

Sharon & James Smith

Rose Bowl Society

$1,000 - $2,400

Anonymous (2)

Tom & Heather Conyers

Mary Grosvenor M. Cook

Peggy Couper

Barbara Fullerton

Diana J Cox Heslop

Janet Kemp & Scott Hunter

Janine Lines

Rob & Sarah Marcotte

Jeanne Masters

Mr & Mrs Kevin Monkman

Orbis Investment Management

Ltd

Janet Outerbridge

Pie Crust Trust

Mrs Heather Rance

Mark Riihiluoma

Siobhan Rose

Mr Jamie Sapsford

Marian & Roger Sherratt

Beth T Vesey

Lily Society

$500 - $999

Jennifer & Kyle Adams

BF&M

Peter & Ona Babeckas

Lauren & James Botelho

Martin & Laila Burke

Donald & Dina Correia

Jamie & John Fletcher

The Gillin family

Laetitia & Andrew Hupman

Lisa & Matthew Lewis

Helen & Steven Millington

Aura & Michael Pacheco

Mr Marc Quig & Dr Myra Virgil-

Quig

Mrs Harriet Richold

Claire Smith

Dr Joanna Sherratt-Wyer & Mr

Martin Wyer

Yvonne Cooper

Century Club

$100 - $499

Joanna & Mark Allitt

Ann Beaulne

John & Hope Berg

Carol Bromby

Hazel Oakley Brown

Alan & Linda Jo Burland

Nicole Panchaud Carter &

Jonathon Carter

Sandra Collins

Vicky Stevens Conyers

Mr & Mrs C O Cooper

Carolyn & Stephen Copeland

Kristine Cornish

Lynn & Alan Cossar

Dudley & Debbie Cottingham

Nicola Cunha

Mr & Mrs Nicolas B. Dill

Elizabeth Downing

Leila Durham

Emily Ferguson

Mrs Keith Fisher

Heather Gray

Mr A & Mrs C Grant Hall

Tiffany Hayward

Diana & James Hindess

Linda Hollis

Mrs Wilbur Kempe

Heather & Jonathan Kent

Mr & Mrs David Lindo

Catherine Lymbery

Lan Li & Chonglin Mao

Heather Marshall

Mr & Mrs Roy Napier

Georgina Norsworthy-Cordon

Katherine Raphael

Kate & John Ross

Brenda Ryall

Jan-Peer Lehfeldt & Chanida

Sangngampal

Dr Danielle Simons

Joan Bradford & Jean Smith

Ana Smith

Mary Smith

Mr & Mrs Stephen Smith

Mary Sumpter

Katherine & Peter Watson

Pamela & Russell Williams

Nea Willits

Torchbearer

Up to $99

Anonymous (2)

Kimberley Caines-Best

Marianne Collier

Stephane Crucenzo & Leila

Bihina

Kristen Douglas

Charles & Barbara Grainge

Jane Morley-Davies

Aileen Morrison

Pablo Nunez & Maria Pina

Kelly Simons

Joan & Melissa Spurling

Mrs. Annette White

Sierra Yit

Matching Gift

Companies

Chubb Charitable Foundation

Partner Re

RenaissanceRe

Validus Re

In Memory/Honour of

In Memory of Kerry Petty Hollis

(1 individual gift)

In Memory of Mr. David

P Gutteridge & Mrs Jean

Gutteridge

In Memory of Diane McBeath

(11 individual gifts)

In Memory Of Carole Lobb

(3 individual gift)

Brenda Mattingly Educational

Award for Geography fund

(1 individual gift)

Great care has been taken to

recognise all donations for the

2018-19 School year and fulfilled

Capital Contributions. We

apologise if we have omitted or

misspelled any names. Please

advise the Advancement Office

of any errors so that we can

correct them.

Phone: 441-278-3004 or email:

advancement@bhs.bm

30 Torchbearer Fall 2019
---
Join today!

www.alumniatbhs.com

An easy way for you to reach out

and stay connected.

Your connection

to BHS doesn't

end when you

graduate. You

are forever part

of a network of

accomplished

alumni around

the world.

"What a great idea! Giving back and supporting young people is

so important!" McKeisha Smith '93, Senior Vice President, Butterfield Bank

Every BHS alumna/us has access

to this safe and secure online

networking platform, dedicated

to helping you build your personal

and professional networks. You

will be able to catch up with old

classmates, find and post jobs and

internships, and even mentoring

opportunities.

Easy to use directory

To register, go to www.alumniatbhs.com and sign up using

LinkedIn, Facebook or your email.
---
19 Richmond Road,

Pembroke HM 08, Bermuda

www.bhs.bm

email: info@bhs.bm

Tel: 441-295-6153

Printed by Island Press