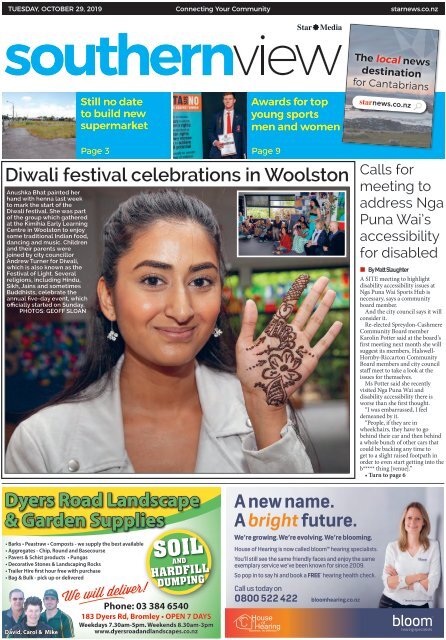 Southern View: October 29, 2019
Create successful ePaper yourself
Turn your PDF publications into a flip-book with our unique Google optimized e-Paper software.
TUESDAY, OCTOBER 29, 2019

Connecting Your Community

starnews.co.nz

The local news

destination

for Cantabrians

Still no date

to build new

supermarket

Awards for top

young sports

men and women

Page 3

Page 9

Diwali festival celebrations in Woolston

Anushka Bhat painted her

hand with henna last week

to mark the start of the

Diwali festival. She was part

of the group which gathered

at the Kimihia Early Learning

Centre in Woolston to enjoy

some traditional Indian food,

dancing and music. Children

and their parents were

joined by city councillor

Andrew Turner for Diwali,

which is also known as the

Festival of Light. Several

religions, including Hindu,

Sikh, Jains and sometimes

Buddhists, celebrate the

annual five-day event, which

officially started on Sunday.

PHOTOS: GEOFF SLOAN

Dyers Road Landscape

& Garden Supplies

• Barks • Peastraw • Composts - we supply the best available

• Aggregates - Chip, Round and Basecourse

• Pavers & Schist products • Pungas

• Decorative Stones & Landscaping Rocks

• Trailer Hire first hour free with purchase

• Bag & Bulk - pick up or delivered

David, Carol & Mike

We will deliver!

SOIL

AND

HARDFILL

DUMPING

Phone: 03 384 6540

183 Dyers Rd, Bromley • OPEN 7 DAYS

Weekdays 7.30am-5pm. Weekends 8.30am-3pm

www.dyersroadandlandscapes.co.nz

A new name.

A bright future.

We're growing. We're evolving. We're blooming.

House of Hearing is now called bloom hearing specialists.

You'll still see the same friendly faces and enjoy the same

exemplary service we've been known for since 2009.

So pop in to say hi and book a FREE * hearing health check.

Call us today on

0800 522 422

bloomhearing.co.nz

Calls for

meeting to

address Nga

Puna Wai's

accessibility

for disabled

• By Matt Slaughter

A SITE meeting to highlight

disability accessibility issues at

Nga Puna Wai Sports Hub is

necessary, says a community

board member.

And the city council says it will

consider it.

Re-elected Spreydon-Cashmere

Community Board member

Karolin Potter said at the board's

first meeting next month she will

suggest its members, Halswell-

Hornby-Riccarton Community

Board members and city council

staff meet to take a look at the

issues for themselves.

Ms Potter said she recently

visited Nga Puna Wai and

disability accessibility there is

worse than she first thought.

"I was embarrassed, I feel

demeaned by it.

"People, if they are in

wheelchairs, they have to go

behind their car and then behind

a whole bunch of other cars that

could be backing any time to

get to a slight raised footpath in

order to even start getting into the

b***** thing [venue]."

• Turn to page 6

* Terms & conditions apply.
---
2 Tuesday October 29 2019

Latest Canterbury news at starnews.co.nz

get in touch

GENERAL INQUIRIES Ph 379 7100

CLASSIFIED ADVERTISING Ph 379 1100

Star Media,

a division of Allied Press Ltd

PO box 1467, Christchurch

starmedia.kiwi

news

Kitten season

The kitten season has officially begun at the SPCA centre in

Hornby is filling up fast.

Page 6

community events

SOUTHERN VIEW

Whanau Fun Night

Check out an evening of stories at Te Hapua: Halswell Centre on

Friday from 5-6pm.

NEWS

Matt Slaughter

Ph: 021 910 788

matt.slaughter@starmedia.kiwi

ADVERTISING

Mark Sinclair

Ph: 364 7461

mark.sinclair@starmedia.kiwi

Page 13

tasty bites

Sweet and savoury

Treats from Russia and Japan are quick to prepare

and very adaptable.

Page 15

The best-read local newspaper,

delivered to 21,155 homes

every Tuesday

Spreydon, Hoon Hay, Hillmorton, Cracroft, Cashmere,

St Martins, Somerfield, Sydenham, Addington, Waltham,

Opawa, Beckenham, Huntsbury, Woolston.

• The Star

• North Canterbury News

• Selwyn Times

• Ashburton Courier

also publishing:

• Bay Harbour News

• Western News

• Pegasus Post

• Western News

BOOk YOUR

SeRvIce NOw

pHONe 338 4680

• We service all brands of outboard engines.

• Now servicing Mercury, Mercruiser and Volvo Penta.

• Qualified Mercruiser mechanic.

• New steering conversions or replacements.

• Water pump replacements.

DINGHYS &

OUTBOARDS

250 Annex Road | Phone 338 4680

www.dinghysandoutboards.co.nz

Hours: Mon-Fri 8.30-5pm and Sat 10am-1pm

Starter kits, Rebuildable

supplies, E-liquid, Accessories,

Mods & Tanks

Make the switch today!

36 London St, Lyttelton

Phone: 03 421 3591

The Vapor Box thevaporboxltd

Fall in love

with your

favourite furniture

all over again!

before

• Recover your chairs and couches

and save money!

• Excellent range of fabrics

• Quality workmanship guaranteed

• Free quotes available

• Over 30 years experience

Somerfield Upholstery Ltd

FURNITURE RECOVERY SPECIALIST

after

6/47 Sonter Road, Wigram | Ph 021 251 6200 | 349 0456

Easy Parking • Laybuy Welcome

17 Lillian Street, Halswell

03 322 4548

Open Mon-Fri 9.30am - 5.00pm

Saturday 10.00am - 1.00pm
---
SOUTHERN VIEW Latest Canterbury news at starnews.co.nz

Tuesday October 29 2019 3

News

Long wait for supermarket

• By Matt Slaughter

QUESTIONS have been raised

over why construction of a new

supermarket in Spreydon has

not started.

Foodstuffs say no date has

been confirmed for when work

will start and be completed

at the site on the corner of

Lyttelton St and Lincoln Rd.

Resource consent was granted

in November 2017 for a New

World to be built on the site

where the old Supervalue used

to be. The site has been sitting

empty since the Supervalue

building was demolished.

Spreydon-Cashmere

Community Board member

Lee Sampson said residents are

confused why the construction

of the new supermarket has not

started. He said they feel a new

one is needed in the area.

"We lost Supervalue and

people are kind of just

wondering what's going on and

I think they'd really like a New

World there to be honest.

"It's resource consented, so

all the outline plan with most

of the drawings is approved

by council, but then it's just

nothing's moved since then,

so I'm just curious to find out

why Foodstuffs aren't moving

forward with it or if they're

abandoning their plans or if

their just putting it on hold."

Said Foodstuffs general

manager of property and retail

development Roger Davidson:

"We absolutely understand

our neighbours' frustration

and uncertainty about what

will happen next on that site

– but can only go as quickly

as planning, consents and

building industry processes and

availabilities allow.

"There's not too much we

can say at this stage, other

than we are going through a

careful process to establish

how we best meet the needs of

the community all while being

fiscally and environmentally

prudent."

SLOW:

Work is yet to

start on the

construction

of a New

World on

the corner of

Lyttelton St

and Lincoln

Rd in spite of

the resource

consent being

granted in

2017.

PHOTO:

GEOFF

SLOAN

Said Mr Sampson: "I

thought they would have had

a date or a target date by now.

To be honest, I think what's

happening is because they

[Foodstuffs] have bought a

whole stave of land out in

Halswell, I wonder if they're

second-guessing the viability of

that [Lyttelton St/Lincoln Rd]

site?"

In Brief

BATTLING THE MIDGES

More than 9000 native shrubs

and trees will be planted beside

the Bromley oxidation ponds

over the next few weeks as part

of an ongoing effort to keep the

midge population down. The

trees and shrubs will create a

natural screen between the oxidation

ponds and nearby homes

to help cut down the light from

the residential area.

VEGAN MARKET

Christchurch's first Vegan Night

Mākete (Market) has started in

Phillipstown. About 14 stallholders

were at the 100 per cent

plant-based market at the Phillipstown

Community Hub. The

success of the first event means

it will return to Phillipstown

Community Hub on Saturday,

November 23, from 5-8pm.

GARDEN AWARDS

Entries are open for the

Linwood-Central-Heathcote

Edible and Sustainable Garden

Awards. The awards recognise

individuals, groups, schools,

communities and businesses

that grow their own food. There

are residential, school, and community/business

categories and

special awards including best

sustainability features and best

first-time garden. Entries close

January 20.

JOIN US NOW!

See website for details

SWANNDRI

2 for $40 tee shirts.

Plus an extra 15% off

all womenswear.

Not in conjunction

with any other offer

The revolution

in heat pumps

is here now!

The revolution in heat pumps is here now!

Say hello to Fujitsu's latest lifestyle range

The Fujitsu e3series

The brilliant

heat pumps from Fujitsu

e1 : efficiency

e2 : environment

e3 : economy

Website: www.pshc.co.nz

Finance available

NEW ZEALAND'S FAVOURITE AIR ®

Fujitsu's Catechin Filters are

approved by the Asthma and

Respiratory Foundation NZ's

Sensitive Choice ® programme.

STYLES MAY DIFFER

TO IMAGE SHOWN

TAROCASH

All 5 Sale Tees for $40

Or $14.99 each

CONVERSE

Buy one get one half

price on seasonal

footwear.

Some exclusions apply

GLASSONS

Knitwear now $15

RODD & GUNN

Selected jackets

from $99.

Sign up to Smart Deals & be in the monthly draw for a $100 Dress-Smart gift card!

FREE consultation from your local

Accredited Heat Pump Expert

Phone today: 03 381 6950

INSERT DEALER DETAILS HERE

Email: info@pshc.co.nz

Open 10am-5pm, 7 Days 03 349 5750

CHRISTCHURCH 409 Main South Road, Hornby

www.dress-smart.co.nz
---
4 Tuesday October 29 2019

Latest Canterbury news at starnews.co.nz

News

Longer pool

hours confirmed

for summer

LONGER HOURS for Halswell's

public swimming pool have

been confirmed for a trial period

following pressure from the

community.

The Te Hapua: Halswell Summer

Pool will now open on

November 16 until March 29.

From Monday to Thursday it

will be open from 6.30am until

7pm, while on Friday it will open

from 6.30am until 9pm, and on

Saturday and Sunday from 10am

until 7pm.

The new hours have been

welcomed by the Halswell

community but residents are

being urged to make the most of

the trial.

Halswell Residents' Association

secretary David Hawke said he

was happy with the new hours.

"But I think the thing that has

to happen now is people have to

use the pool," he said.

The opening hours have been

extended after the Halswell-

Hornby-Riccarton Community

Board decided to increase funding

for the pool from $35,000 to

$50,000. In July, four options for

extending the pool hours were

presented to the board by city

council staff.

The entry fees are $6.20 for an

adult and $3.60 per child, while

hydroslide entry will be $2.

Work soon on Ferrymead cycleway

CONSTRUCTION WILL soon

begin on the last stretch of a

cycleway connecting Ferrymead

with other suburbs.

Already linking the central city

with The Tannery in Woolston,

the Heathcote Expressway will

soon continue out to Heathcote.

Once complete, it will provide

a key commuter route as well as

easy access by bike to Ferrymead

Heritage Park.

Work is also due to commence

on two other sections of

Christchurch's cycleway

network.

The South Express cycleway,

which was consulted on last year,

will run from the CBD through

Riccarton, Sockburn and

Hornby, to reach Templeton.

The third cycleway soon to be

on the map is the Nor'West Arc,

which will connect nine schools

as it runs across the west of the

city.

"These new routes are not

only for the benefit of people

on bikes," said city council's

planning and delivery transport

manager Lynette Ellis.

"Motorists and pedestrians

will also enjoy improved safety

and lighting at intersections,

plus we'll be repairing damaged

infrastructure as we go."

As more of the cycleways link

together, it becomes easier for

people for give cycling a go, Ms

Ellis said.

"People who are new to biking

feel comfortable using the new

cycleway and current riders are

more likely to make different

trips, like cycling with a child to

school."

The co-owner of Action

Bicycle Club, Ken Ching, is

finding the cycleways are not just

providing a safe and pleasant

pathway to different parts of the

city.

"The infrastructure is more

than just about transport," he

said.

"It's improving our public

space and social cohesion. It's

helping create a liveable city."

Said Alice Terrien, of Bellbird

Bakery: "The cycleways are great;

direct and safe. Biking is the

fastest, easiest, most hassle-free

way for me to get to work."

Her bakery uses a cargo-bike

to make deliveries and run

errands around the central city.

"We didn't want to purchase a

second delivery van. Compared

to a car, the cargo-bike is more

convenient to use, is often faster,

and it's fun."

Ms Terrien believes the

cycleway network makes the city

more appealing to locals and

visitors alike.

"I can't see why Christchurch

couldn't become the Amsterdam

SOUTHERN VIEW

POPULAR:

Cycleways,

such as this one

between Linwood

and Sumner, are

connecting the city

with the suburbs.

of the south," she said.

As the infrastructure for

Christchurch's bicycles continues

to develop, so too does the city's

biking culture.

Biketober, the annual, monthlong

festival of the cycle, is

on now and offers a diverse

programme of events, from

guided rides to workshops,

competitions to seminars, for all

ages. The full programme can be

found at biketoberchch.nz

•Learn more about

Christchurch's cycleways,

and the best ways to bike

around town, at ccc.govt.nz/

cycleways.

LET US HELP YOU MAKE

YOUR DREAM COME TRUE

•DRIVEWAYS •EXCAVATION

•DRAINAGE •FENCING

•ASPHALT & CONCRETE

•HOUSE FOUNDATIONS

021 870 725

Accepted here.

LENDING CRITERIA, FEES, TERMS

AND CONDITIONS APPLY.

info@stylescivil.com | www.stylescivil.com

KTs HaircuTs LimiTed

Prices FrOm

Kids 12 and under . ...................... $14

(lollipops and glitter spray available)

teenage boys 13-17 years . .............. $17

teenage girls 13-17 years . .............. $20

Clipper Cuts . ........................... $14

Clipper fades . .......................... $17

Men's . ................................... $20

WoMen's Cuts . .......................... $29

restyle WoMen . ........................ $35

Men's 65 plus . ........................... $16

WoMen's 65 plus . ....................... $23

Colours/foils . .................... froM $50

Open Hours

tuesday, Wednesday, friday

thursday

saturday

9am - 5.30pm

9am - 6pm

9am - 3pm

239 b Colombo street

No appointments

needed for cuts, just

come on in.

appointments can be

made for colours on

Tuesdays, Fridays and

saturdays.

all our friendly staff are

fully qualified and have

many years experience.

Making yesterday's

best performance into today's

new baseline is how legends

roll. Never settle. Never stop.

No one in New Zealand is

selling more houses than us!

#teamcameronbailey

Residential Sales Person

of the Year for Volume 2019
---
SOUTHERN VIEW Latest Canterbury news at starnews.co.nz

Tuesday October 29 2019 5

News

Vote next month for board chair

• By Matt Slaughter

THE QUESTION of who

will run for the chairperson

and deputy chairperson

roles beckons for the newlook

Spreydon Cashmere

Community Board.

Its members will vote on who

will fill these roles at the board's

first meeting next month, with

one member already saying

she will be gunning for the top

position.

Re-elected board member

and last year's chairwoman

Karolin Potter said she will be

going for the role again this year,

as she has the experience and

unfinished business she wants to

attend to.

"I'll be standing for chair

again. Just because I like

chairing, I'm good at it, I'm a fast

person."

She said she has things she

wants to continue pushing for

including improving disability

accessibility at Nga Puna Wai

(see story on page 1).

"There are other things

I'd like to do as well including

making the board more flexible

and more mobile in terms of

its decisions etc," said Ms

Potter.

Fellow returning board

Karolin Potter

'I'll be standing for chair

again. Just because I like

chairing, I'm good at it, I"m

a fast person'

– Karolin Potter

member Lee Sampson said it is

too early for him to reveal if he

will be standing for either of the

chairperson positions. He said

he will discuss this with other

board members before making

his decision.

"We sit down as a corcous

and discuss that as a collective,

so I would do that first before I

conveyed that to you," said Mr

Sampson.

Keir Leslie Callum Stewart-Ward Lee Sampson

Newly-elected Cashmere

Ward board member Keir Leslie

said he was still thinking about

putting his name forward for

either of the positions, but felt

Ms Potter had done a good job

as chairwoman over the last

three years.

"Obviously, I'm not ruling

anything in or out but I think

Karolin's [Potter] done a great

job, I think we've got some

really strong people like Lee

Sampson around the table as

well, so we'll be sitting down to

have those conversations," said

Mr Leslie.

Spreydon Ward newcomer

Callum Stewart-Ward said he

does not plan to go for either of

the roles.

"I think at this stage I

probably won't. I kind of want to

get my head around the board

101 stuff before I jump for any

of that."

•HAVE YOUR SAY: Who

do you think would be best

to fill the chairperson and

deputy chairperson roles

on the Spreydon-Cashmere

Community Board? Send

your thoughts to matt.

slaughter@starmedia.

kiwi

Heathcote River

photos on show

at exhibition

THE HEATHCOTE River is the

focus of a new photo exhibition.

The River Network's World Rivers

Day Photographic Competition

Exhibition will be held from now

until Friday at South Library.

The exhibition showcases

selected photographs taken by the

finalists of the annual competition

from both the open and school

divisions.

The judging panel includes photographer

Inez Grim, city council

ecologist Andrew Crossland,

ecologist Cynthia Roberts and

chair of the Christchurch West

Melton zone committee Arapata

Reuben.

Said Mr Grim: "There was a

high quality of entries with some

evocative views of the river, which

led to lengthy discussion between

the judges."

The prize for the winner will be

a meal at Gatherings. Winners in

each of the open division categories

will have their photos printed

on a large canvas from Hanafins

camera store and runner-ups will

receive a subscription to New Zealand

Geographic.

Student finalists will receive

prizes from the city council

including vouchers for swimming

pools.

•Heathcote River weed, p7

Shop

Win

& Relax

One bedroom

serviced Apartment

FAMILY GETAWAY TO HANMER SPRINGS

2019 Southern View Winner

FRANK HELLER & IVY LANGE

Seldom available - beautiful one bedroomed apartment

with views of the port hills has become available.

Also available is a spacious care suite where you can receive

up to hospital level care surrounded by your own personal

furnishings. Our rest home offers respite care so remember to

book your loved one in early for your Christmas and summer

holidays. We welcome enquires on 03 332 7323,

Frank and his daughter Ivy, receiving their voucher from

Southern View advertising representative Mark Sinclair.

Thank you to everyone who entered this competition

Proudly supported by

"Located in the heart of

St Martins / Opawa,

set in tranquil surroundings"

Phone: 332 7323

60 Hawford Road

www.chatswoodretirement.co.nz
---
6 Tuesday October 29 2019

Latest Canterbury news at starnews.co.nz

SOUTHERN VIEW

News

Obscured views for some users

•From page 1

She said for wheelchair users

there is "no seating near other

people where you can see the

pitch. You have to go up to the top

of the grandstand where no one

sits."

A meeting is necessary to

discuss ways to address issues like

these, said Ms Potter.

Halswell-Hornby-Riccarton

chairman Mike Mora said he was

not aware of disability accessibility

issues at Nga

Puna Wai until

Ms Potter raised

them. He said he

will be happy to

take part in a site

meeting if one is

organised.

David Bailey

"I think it's a

brilliant idea but

that's something that our board

will have to consider but personally,

I would say that if there is a

problem we're obliged to look at

fixing it."

Said city council manager of

recreation and sports services

David Bailey: "We are happy to

facilitate site visits at Nga Puna

Wai for the community boards

with staff support as requested.

Both community boards have

visited Nga Puna Wai during the

planning, construction phases

and at the blessings and opening

ceremonies.

"We are committed to ensuring

all of our sport and recreation

ACTION: Karolin Potter will

try to organise a site meeting

at Nga Puna Wai Sports

Hub to showcase disability

accessibility issues at the

venue.

facilities comply with current

accessibility standards.

"The Nga Puna Wai Sports Hub

complies with current standards.

The project team designed and

built a facility that would enable

disability access for athletes and

spectators," said Mr Bailey.

Southern View reported at the

start of this month a wheelchair

user told Ms Potter some of the

disability seating has an obscured

view of the fields with little shelter

from the elements.

Mr Bailey responded to these

concerns saying the

city council's current plans to

improve accessibility at Nga

Puna Wai will involve installing

"improved signage directing

wheelchair users to the accessible

viewing stands."

FURRY FRIENDS: The SPCA's Christchurch centre has 68 kittens in its care and this number is

expected to increase. ​

Kitten cuteness at SPCA

KITTEN SEASON has begun at

the SPCA's Christchurch centre.

The centre in Hornby has 68

kittens in its care, either at the

centre in intensive care or with

foster families.

This number will continue to

rise in the coming weeks.

The summer months are

often nicknamed kitten season

because of the high number of

kittens that are born at this time.

However, an SPCA spokeswoman

said it typically finds

that kitten season starts as early

as September and the Christchurch

centre is already gearing up

for one busy summer.

She said some of the most recent

kittens in the Christchurch

centre's care came from the

SPCA's Ashburton branch and

two had their lives saved when

they were rescued.

"A member of the public called

our team and staff went out to

help after the lady heard cries

coming from under the spa pool

in her garden.

"The gap between the ground

at the spa pool was so small

that staff had to get a spade to

dig a hole to get to the kittens.

They were both tiny, and one

was cold and appeared lifeless.

Fortunately, they were rushed

to the centre for intensive care

and both are now doing well,"

she said.

A musical tribute to

Dame Vera Lynn

Monday 4 November, 2.30pm

Essie Summers Retirement Village

Join New Zealand entertainer, Vicki Lee,

for a nostalgic journey filled with warmth

and professionalism.

Endorsed by Dame Vera Lynn herself, this

show will include a wonderful selection of

songs and war stories followed

by refreshments.

Tickets are just $10 per person.

Hear the songs

and memories

of the Force's

Sweetheart

To purchase your ticket please

contact Michelle on 337 6500

by Friday 1 November

222 Colombo Street, Beckenham

1487
---
SOUTHERN VIEW Latest Canterbury news at starnews.co.nz

Tuesday October 29 2019 7

Spray to be used to

clear Heathcote weed

INVASIVE weeds clogging

the Heathcote River and

taking over its banks will

soon be targeted in a weed

spraying programme.

The programme is due to

start early next month, but

the work is weather and

tide dependant.

The weeds are covering

the riverbanks and will

eventually wipe out native

species. Some are also

restricting flood flows and

increasing the amount of

sediment in the river.

"The weeds are starting

to impact on the river's

ecosystem and capacity so

they need to be removed,''

said city council land

drainage manager Keith

Davison.

"We have bank stabilisation

and planting work

happening along the

Heathcote River as part of

our flood mitigation programme

in the area and we

need to get rid of the weeds

before we progress this

work any further," he said.

The chemical herbicide

glyphosate will be used to

target the weeds.

"The council has been

trying to reduce its use

• By Kim Thomas

JUNIOR PUPILS at

Oaklands School in

Halswell has moved

into a renovated and

expanded junior block –

the first completed stage

of the school's campus

redevelopment.

A new $180,000 junior

school playground funded

by the board of trustees

and PTA has also just been

installed.

The school is in the middle

of a $5-million-plus

redevelopment that is part

of the Ministry of Education

rebuild programme

following the earthquakes.

Oaklands School principal

Margaret Trotter said

she is thrilled students

in their first two years of

school have a lovely new

area to learn in.

A new extension links

two existing junior blocks

to create a dedicated junior

school area.

The extension is light and

airy and has exposed timber

beams in the ceiling,

she said.

It has window seats and

looks out over a native

garden under development

with students input.

Mrs Trotter said the

block also features covered

private decks for the use of

TAKING OVER: A spraying programme will aim to

remove invasive weeds from the Heathcote River ​

junior school pupils, and a

wet area for experimental

learning.

Because Oaklands School

buildings held up well in the

earthquakes, the completed

campus will be a unique

mix of new buildings and

refurbished existing long

'Canterbury'

blocks from when the

school was opened in the

1960s, Mrs Trotter said.

Work is under way to

build a new office and

of glyphosate and in our

parks and reserves we are

using organic fatty acid

alternatives to combat

weeds.

"Unfortunately, the

organic fatty acid alternatives

that are available are

not safe to use around

waterways because of their

toxicity to aquatic invertebrates.

"We can't physically remove

all the weeds in and

along the Heathcote River

so our best option is to use

glyphosate, which becomes

inactive in soil and sediment,

so safe to use around

water,'' Mr Davison said.

Mr Davison said the

contractors will follow

strict protocols when

spraying with glyphosate

to minimise the impact on

the surrounding environment

and to avoid the

risk to people travelling

through the area.

"The areas that have

been sprayed will be

clearly marked with

warning tape and signage

to keep people and their

dogs out until the spray has

dried," he said.

School buildings renovated

THUMBS UP: Oaklands School junior pupils outside

their newly-completed classroom. (From left) –

Brieana, Clyde, Felix, Marcus, Lacey, Wallace, Myrah,

Maddison and Zyan. ​

a new flexible learning

block as well as the refurbishment

of an existing

building to create a stateof-the-art

hub for year 7

and 8 pupils.

This work will be finished

by the end of this

year, Mrs Trotter said.

Next year refurbishment

of the two Canterbury

blocks will take place, and

the development of an outside

courtyard where the

whole school can gather.

Digital Technology Brings

Huge Benefits to Denture Wearers

Not ones to follow the pack, Duchenne Denture

Specialists have always been a company of firsts:

– First to bring to you Duchenne's DigiCare Denture System

– First to introduce suction dentures to New Zealand

– The only state-of-the-art laboratory of its kind in New Zealand

– The only company in Christchurch that processes their dentures

with injection moulding – for greater strength and a superior fit

Why is Duchenne DigiCare better?

• Faster, simplified

process

• Added strength

and comfort

These are all fantastic advances

which the company are very

proud of – and with good reason.

But when it comes to dentures,

there are only four things that

really matter – appearance, fit,

strength and comfort.

And Duchenne Denture

Specialists' new Advanced

DigiCare Technology offers major

improvements in all these areas.

Appearance

This new technology allows

us to make adjustments and

changes that are more precise

than before for a better, more

natural appearance.

Fit

Duchenne can now also measure

the final fit in microns, there is

no shrinkage and you can try out

your denture before it is finished

– all helping to ensure a better,

more accurate fit.

• Easy

replacements

• Shorter

wait times

For a free consultation, call Duchenne on 0800 866 8448

Dentures not fitting properly?

Ill-fitting dentures can affect your teeth &

mouth, make eating difficult, & just plain hurt!

Using Duchenne's exclusive DigiCare system,

we can reline your dentures for optimal fit

and comfort, and you'll be surprised how

quick and convenient the entire process is.

• Locally

produced

• Finest quality

products

Strength

Thanks to the technology's

unique bridging system, there

is significantly less chance of

dentures breaking or fracturing.

Comfort

Even the best technology

is no use if dentures aren't

comfortable, and again digital

dentures show their superiority

here, as they are crafted from

a much denser acrylic so

are thinner and lighter.

However, Duchenne still

believe it is the human touch

that matters most. "The most

satisfying thing is the personal

contact, and relationships

we build with our clients,"

explains Duchenne's owner,

John Batchelor.

Call 0800 866 8448

now to book your

FREE consultation

at 1 of our 7 clinics

throughout Christchurch

duchenne.co.nz
---
Advert: fcsv2910

Newspaper: Southern View

8 Tuesday October 29 2019

Latest Canterbury news at starnews.co.nz

SOUTHERN VIEW

28 th October – 3 rd November 2019

Jazz Apples

Loose

$

3 50

kg

$

1 50

ea

Large Hass Avocados

Country Fresh

Carrots 1.2kg

$

2 00

bag

Fresh Cut Asparagus

250g Bunch

$

3 00

ea

Meadows

Mushrooms White,

Brown or Sliced

Button Mushrooms

200-250g

$

3 50

pk

Fresh Cut

Broccoli

$

1 80

ea

Sweet

Sensation

Tomatoes

500g

$

4 00

pk

$

1 50

ea

Telegraph Cucumbers

Get these deals and

more delivered to you!

Shop online now at

FreshChoiceYourWay.co.nz

Barrington

Open 7am – 11pm, 7 days a week.

City Market

Open 7am – 9pm, 7 days a week.

FreshChoiceNZ

OWNED &

OPERATED BY

LOCALS

fcsv2910

Prices apply from Monday 28th October to Sunday 3rd November 2019, or while stocks last at FreshChoice City Market & Barrington only. Limits may apply.
---
SOUTHERN VIEW Latest Canterbury news at starnews.co.nz

Tuesday October 29 2019 9

Celyn caps stellar year with award

• By Jacob Page

CANTERBURY'S top secondary

school sportsmen and women

were honoured at the 29th Zonta

Awards at the Hornby Working

Men's Club on Thursday night.

Hillmorton High School

para-swimmer Celyn Edwards

continued his award-winning

streak by claiming the award

for the most outstanding

achievement by a young

sportsman with a disability.

The 18-year-old, who was the

supreme award winner at the

Hillmorton Sports Awards a

fortnight ago had another stellar

year in the pool.

Edwards competed at the

world championships in London

last month where he finished

sixth in the 100m backstroke,

eighth in the 100m butterfly and

14th in the 100m breaststroke.

This came on the heels of some

top national performances in

June where he was first in the

100m breaststroke, second in the

50m butterfly, 100m backstroke

and 200m individual medley

respectively and then third in the

100m freestyle.

29th Zonta Sports Awards

winners

•Category one: The

award for the most valued

contribution to a team by

a young sports woman or

sportsman who is not eligible

for nomination in Categories

4 or 6.

Women: Grace Fissenden,

Rangi Ruru Girls' School,

netball, athletics

Highly Commended Amber

Williams, Rangi Ruru Girls'

School, rowing

Men: Jimmy Williamson,

Middleton Grange, basketball

Highly commended: George

Rutledge, St Andrew's College,

rowing

SPORT

SUCCESS: Hillmorton High School para-swimmer Celyn

Edwards was a big winner at the 29th Zonta Awards on

Thursday night.

PHOTO: LEE MALZARD

•Category two: The award

for contribution to sports

administration by a young

woman and a young man in

a position of umpire, referee,

coach or tutor

Women: Kate Baird, St

Margaret's College,

badminton

Highly Commended:

Gemma Harris, Papanui High

School, netball

Men: Nathan van Slooten,

Burnside High School, hockey

Highly commended: James-

Paul Mountstevens, Burnside

High School, hockey

•Category three: The award

for the most outstanding

achievement by a young

sports woman and a young

sportsman with a disability.

Women: Ella Benn, Rolleston

College, swimming

Men: Celyn Edwards,

Hillmorton High School, para

swimming

•Category Four: The award

for the most outstanding

individual achievement by a

young sportswoman and a

young sportsman specialising

in one sport.

Women: Sami Donnelly,

Burnside High School, track

cycling

Highly Commended: Macey

Fraser, Rangiora High School,

football, Charlotte Darry, St

Margaret's College, rowing.

Gabrielle Rennie, Rangiora

High School, football, Olivia

Sloan, Christchurch Girls'

High School, archery, Ashley

Strawbridge, Rangi Ruru Girls'

School, hockey, Marisa van

der Meer, Middleton Grange

School, football, Sally Wylaars,

Avonside Girls' High School,

rowing.

Men: Lawrence Pithie,

Christchurch Boys' High School,

cycling

Highly Commended:

Celyn Edwards, Hillmorton

High School, para swimming,

Kazuma Kobori, Rangiora High

School, golf

•Category five : The awards

for the most outstanding team

of young sportswomen and

sportsmen or mixed team.

Women: St Margaret's

College, rowing under 18 eight

Highly Commended:

Christchurch Girls' High School,

hockey, Rangiora High School,

futsal

Men: Christchurch Boys' High

School, rowing, Maadi eight

Highly Commended:

Christchurch Boys' High School,

cycling under 20 Team Time

Trial, Papanui High School,

cross country, St Andrew's

College, swimming relay, St

Thomas of Canterbury College,

futsal

Mixed Winner: St Andrew's

College, adventure racing

Highly Commended:

Burnside High School, table

tennis, St Andrew's College,

swimming

•Category six: The award

for the best all round young

sportswoman and young

sportsman who has achieved

in more than one sporting

code.

Women: Millie Thompson,

Lincoln High School, hockey,

touch, equestrian, ki-o-rahi

Men: Louis Clark, Christ's

College, water polo, surf

lifesaving, swimming

Highly Commended Wil

Gualter, Lincoln High School,

touch, rugby, volleyball

Study with Vision

CHOOSE FROM OUR CERTIFICATES, DIPLOMAS & DEGREES!

WE OFFER:

• ULTIMATE FOUNDATION SKILLS

• EARLY CHILDHOOD EDUCATION AND

CARE

• SECURITY AND FORCES TRAINING

COURSE

• BUSINESS ADMINISTRATION AND

TECHNOLOGY

• COUNSELLING

• WEB DEVELOPMENT AND DESIGN

AND SOFTWARE DEVELOPMENT

WWW.VISION.AC.NZ | 0800 834 834

50 Hazeldean Road, Addington, Christchurch
---
10

Tuesday October 29 2019

Latest Canterbury news at starnews.co.nz

SOUTHERN VIEW
---
SOUTHERN VIEW Tuesday October 29 2019

Latest Canterbury news at starnews.co.nz

11
---
12 Tuesday October 29 2019

Latest Canterbury news at starnews.co.nz

SOUTHERN VIEW
---
SOUTHERN VIEW Latest Canterbury news at starnews.co.nz

Tuesday October 29 2019 13

The first Friday Whānau

Fun Night: An evening

of stories, family and

fun will be held at Te

Hāpua: Halswell Centre

on Friday from 5pm until

Email matt.slaughter@starmedia.kiwi by

6pm. The whole whānau

5pm each Wednesday

is invited. Go along

for a short storytime

Halswell Community Market use one of the library's desktop

followed by fun, handson

activities to do as a

Sunday, noon

computers if you need help.

Check out the variety of

Te Hapua: Halswell Centre and

family. The event will

stalls, games for kids, food, Spreydon Library

involve building, making,

entertainment and singing on

and exploring at Te

the lawns.

Hāpua: Halswell Centre.

St John of God Halswell and

Create some family

The Granada Centre, 26 Nash Rd

memories and get your

weekend off to a fun

start.

JP Clinic

Tuesday, 10am-1pm

A justice of the peace will

be available to witness

signatures, certify documents,

take oaths, declarations,

affidavits, affirmations,

applications for citizenship and

rates rebates.

South, Linwood and Te Hapua:

Halswell Centre libraries

Technology Help Sessions

Tuesday, 10.30-11.30am, at

Spreydon, 2-3pm, at Halswell,

and Wednesday, 11am-noon, at

Spreydon

These free drop-in sessions

will help you with specific issues,

such as using email, searching

the internet, library catalogue

or electronic resources and any

other general computer-related

queries. Go along with your

laptop, tablet, smartphone or

Citizens Advice Bureau

Tuesday, 11am-2pm

The Citizens Advice Bureau

provides free and confidential

advice. It takes the time to

listen to you and equip you

with information, options and

support.

Linwood Library

Makerspace

Tuesday, 3.30-4.30pm, at the

South Library, and Monday,

3.30-4.30pm, at Spreydon

Drop-in for some fun

activities every week at the

Makerspace. There will be a

variety of activities for all ages.

Free.

South and Spreydon libraries

Mainly Music

Wednesday, 10-11.30am, and

9.45-11.15am

Go along for some fun

and learning with music for

mums with children aged up

to five. The first visit is free

and $4 per family after this.

Morning tea provided.

St Johns Anglican Church,

corner of St Johns St and Ferry

Rd, Woolston, and St Martin's

Anglican Church ($3), 50 Lincoln

Rd

South Library Book

Discussion Group

Wednesday, 7.15-8.15pm

This group is for people who

love reading and want to share

in a discussion with other booklovers.

Free.

South Library

Knit 'n' Yarn

Wednesday, 10.30am-1pm, at

Linwood, Thursday, 1-3pm, at

Halswell, and 1.30-3.30pm, at

South Library, Saturday, 1-3pm,

at Halswell

Head along for a craft corner

session. Take your knitting,

crochet or other craft projects.

Free and beginners are welcome.

Linwood, Halswell and South

libraries

Friendships and Chats

Thursday, 10am-12.30pm

Join in the fun with a

decent cuppa at the Cashmere

New Life Church. There will be

home-made scones served on

Royal Albert and fine china.

Take a friend. $3 donation.

St Saviour's Anglican Church –

Parish of South Christchurch, 200

Colombo St, Sydenham

Rummikub Club

Thursday, 10am-noon

Join in a game of rummikub,

a tile-based game for two to

four players, which combines

elements of the games rummy

and mahjong.

Linwood Library

Game Zone

Thursday, 3.30-4.30pm

Go along and play Minecraft,

charades, Connect Four,

Pictionary and more. Take

your friends or meet some new

ones. All children aged eight

to 13 welcome, no bookings or

payment needed.

Linwood Library

Creative Writing on Sundays

Sunday, 1-3pm

Group leaders work with

members to craft, create and

develop their own work.

Take along your pens, paper

and ideas.

Linwood Library

Otago Daily Times

Your trusted

source of news

from across

the South

AVAILABLE FROM 7.30AM AT BP CONNECT:

FENDALTON

1 Memorial Ave

BUSH INN

330 Riccarton Road

MOOREHOUSE

144 Moorehouse Ave

DALLINGTON

712 Gloucester St

RUSSLEY RD

661 Russley Road

ROLLESTON

1705 Main Road

EDGEWARE

712 Edgeware Road

QEII

308 Travis Road

MARSHLANDS

432 Marshlands Road
---
14 Tuesday October 29 2019

Latest Canterbury news at starnews.co.nz

SOUTHERN VIEW

WHERE THERE'S SMOKE, THERE'S FLAVOUR

www.bbqsdirect.co.nz

Ranger Portable

Pellet Grill

$899.99

FREE accessory pack

Worth over $200

4x Bags of pellets

1x Drip Tray Pack

1x Ranger Cover

BBQ KITCHENS

& COMBOS

Premium barbecues, as well as

fridges and kitchen modules

that you can physically lay out

to design the perfect outdoor

entertainment area.

We'll custom a package

price for you.

BUSCHBECK

BBQ FIREPLACES

Choice of 6 models

From $1,999

FREE PIZZA BOX

INSERT WORTH

$499

PIT BARREL

COOKER

Hook 'n' hang or slow grill .

BEST VALUE SMOKER

PACKAGE

$699

PRO 575 PELLET

GRILL PACKAGE

Incl front shelf and BBQ cover

SAVE $130

$1,699

OKLAHOMA

JOE'S BRONCO

DRUM SMOKER

All day smokes

or hot charcoal grill.

HOT PRICE!

$699

Receive a FREE

7.2KG Bag

of Kingsford

Charcoal

BBQ

gear

Smoker Box

Stainless steel, V-shaped

Usually $26.99

$5.99

Stuff A burger Set

Stainless Steel

Usually $29.99

$9.99

Kick Butt Hickory

BBQ Rib Rub

GREAT PRICE!

$16.99

Sugar Lips Glaze

Sweet & Spicy

Kiss of Flavour

$19.99

Kingsford Charcoal

Briquettes

7.2kg

$32.99

Hotplate Mate

Non-stick BBQ

Hotplate Liner

$9.99

BBQs DIRECT

36 Stanley Street, Sydenham, Christchurch

Phone: 03 365 0212 or 03 341 8700

SHOWROOM HOURS:

Mon - Fri 9:00am - 5:00pm,

Sat & Sun 9:00am - 3:00pm
---
SOUTHERN VIEW Latest Canterbury news at starnews.co.nz

Tuesday October 29 2019 15

Tasty Bites

Sweet and savoury

dishes of the world

These sweet and savoury treats from Russia and Japan are quick to prepare

and very adaptable

Russian apple cake

Serves 8-10

Ingredients

6 large apples (granny smiths are

perfect for this)

3 large good-quality eggs, at

room temperature

1 cup sugar

1 tsp vanilla

1 cup flour

Pinch cinnamon

Directions

Grease an 18cm round cake

tin with removable bottom. Line

with greaseproof paper.

Prepare the apples by peeling

and removing core. Cut the

apples into small chunks and

place directly into prepared cake

tin.

Using an electric mixer, whisk

the eggs with the sugar and

vanilla until thick and airy and

ribbons form on the surface.

Sift in the flour and fold

through until just combined.

Pour over the apples – the egg

mixture should end up level with

the apples. Bake in a pre-heated

oven for 40-45min or until a

skewer comes out clean. Cool for

10min in the tin then remove and

cool. This cake is delicious warm

or cold.

Okonomiyaki pancake

Makes 4 large or 8 small

Ingredients

½ small cabbage, very thinly

sliced

4 carrots, julienned or sliced as

thinly as possible

½ red onion, sliced thinly

4 leaves kale, cavolo nero, stalks

removed and sliced very thin

1 tsp salt

6 eggs, lightly beaten

½ cup flour or rice flour

Oil for frying

To serve

2 spring onions, sliced thinly

Japanese mayonnaise

Okonomiyaki sauce

Directions

Toss all the prepared vegetables

and salt together in a large bowl.

Mix through the eggs and flour

until evenly combined.

Heat a large fry pan on

medium-high heat. Coat the

bottom of the fry pan with oil.

When hot, add pancake

mixture.

Make either four large or eight

small. These pancakes should

be thick (½cm) and full of

vegetables.

If making the large ones you

may only be able to cook one at

a time. If this is the case, you can

refresh them in a warm oven.

Cook them until golden and

crispy (3min).

Carefully flip and continue

cooking until golden on the other

side. When cooked, remove and

keep warm. Serve with sauces

squiggled over the top and

sprinkle with spring onions.

Optional toppings are pork

belly slices or shrimps.
---
16 Tuesday October 29 2019

Latest Canterbury news at starnews.co.nz

SOUTHERN VIEW

Micro SD Cards

from only $5

14" Laptop CF0079TU +

4GB RAM, 1TB HHD, Intel®

Celeron® processor,

& Windows 10 Home.

available in

16GB, 32GB, 64GB & 128GB

14"

$ 699

less

than

Save

$ 200

$ 9

per

week #<

8KG WASHING

MACHINE UNDER

$800!

STOREWIDE

BLOWOUT

Get sorted for summer early

with these massive deals

Weekender 4

Burner BBQ +

$ 529

Save

$ 70

less

than

Deluxe 3.0 Gazebo Blue

$

MPG-D30B-C 299

Pictured with Portico Tent 3.0

Save

attachment MPGO-TP30-A

$

sold separately for RRP $219) 90

+

per

$ 8 week #<

8KG Washing

Machine

WMY8046LB2 +

$ 748

less

than

Now

per

$ 10 week #<

55"

Delhi 3 Piece Outdoor Setting +

These gorgeous outdoor chairs combine a modern

look with the comfort and durability of traditional

wicker material.

$ 649

less

than

Save

$ 200

$ 9

per

week #<

STAY

PROTECTED

FROM THE

ELEMENTS

Merida

Umbrella +

Great Price

$ 149

$ 2799

55" 4K Smart UHD TV

55RU7400

$ 1494

less

than

Now

per

$ 16 week #<

Vienna Fabric Corner Suite

With Built In Recliners

Accessories not included

Save

$ 1200

less

than

per

$ 15 week #>

Easy repayments with affordable finance, EVERYDAY!

24 months

interest free

on everything $499 & over *

50 months

interest free

on furniture & beds $999 & over *

OUR PRICE

PROMISE

Find a lower pirce

and we'll match it †

Applies to identical product.

Life made easy. Helping Kiwis feel at home since 1918

Not all products are available in all stores but are available online and for order. Please call us on 0800 764 847 to check for availability at your local store. All offers in this ad are valid Wednesday 30th October

until Tuesday 5th November 2019 while stocks last or unless otherwise stated. *Apple products, selected computers, game consoles, gift cards, clearance items and some promotional items are not available

in conjunction with interest free offers. Flooring available on a maximum of 18 months interest free. Exclusions, fees, terms, conditions and credit criteria apply. Available in-store only. Equal instalment amounts

include one-off booking fee of $45.00, annual fees of $45.00 p.a., and security registration fee of $8.05, and exclude insurance. Current interest rate of 23.95% applies to any unpaid balance after expiry of (any)

interest free period. See in-store or visit smithscity.co.nz for details. Discount is off our full retail price, not available in conjunction with any other off, excludes clearance. †For full Price Promise terms and conditions

visit smithscity.co.nz/price-promise.

JTWK1SB

550 Colombo Street | Cnr Belfast and Radcliffe Road Northwood

smithscity.co.nz
---
SOUTHERN VIEW Latest Canterbury news at starnews.co.nz

Tuesday October 29 2019 17

REAL ESTATE

Modern magnificence

237 Mt Pleasant Road, Mount Pleasant

Auction: Thur 7 Nov at 4pm, on site (unless sold prior)

3 Bedrooms, 2 bathrooms, 2 car garaging | Listing Number OPA24823

Impeccably crafted and executed, this

spectacular brand new property overlooks

outstanding scenery, combining striking

visual form with the utmost convenience to

comfortably accommodate modern family

living.

Newly constructed to the latest

specifications, this build will provide peace

of mind, the architectural finish satisfying an

appetite for elegance.

Bold black cedar and Rockcote over

Integra panel cladding complements

the oak flooring indoors where designer

detailing include a David Trubridge feature

light, quality McKenzie and Willis window

furnishings and an exquisite kitchen.

Magnificent ocean and estuary views with

the sensational mountain views out to the

Kaikoura's provide a sense of serenity, and

the glistening city lights ensure your outlook

is idyllic, even by night.

The intelligent layout places a strong

emphasis on lifestyle, which will appeal

to both families and couples who adore

entertaining.

Anchoring the open plan living is the chic

kitchen, complete with island bench, walk-in

pantry, high-end tiling and appliances. Eco

and hardwood decking effortlessly extends

from the home to provide outdoor living

areas across both floors, with a level lawn and

landscaped garden the perfect private setting

for socialising.

Excellent in-built storage options, and

contemporary convenience with partial

underfloor heating, two heatpumps, LED

lighting, gas fire, superior insulation and

double-glazing heightening comfort levels.

Three bedrooms accompanied by two

tiled bathrooms, the master enjoying a walkin

robe and ensuite. A second area can be

utilised in many ways: extra living, study or

even a media room if required.

Flat drive-on access and double internal

access garaging is a bonus for any hillside

home, while zoning for Mt Pleasant and

Redcliffs Primary Schools represent yet

another advantage.

This property will appeal to seekers

of a post-quake new build exuding lowmaintenance

luxury and design excellence.

Open Homes Wednesday 11:30-12:00pm

and Saturday and Sunday 3:30-4:00pm.

See you at an open home or call Simon

and Paula of Ray White Ferrymead on 0274

304 691 to arrange a private viewing.

Simon and

Paula Standeven

Licensee Salespersons

(REAA 2008)

Ray White Ferrymead –

Prier Manson Ltd.

www.bigbrothersbigsisters.org.nz
---
18 Tuesday October 29 2019

Latest Canterbury news at starnews.co.nz

SOUTHERN VIEW

If you want more information about an item or to contact a

seller, visit www.postanote.co.nz and search the ID#

Toyota Hilux

1954 MG TF T-Car Mk II Replica

Aluminium Boat & Trailer

NZ-made Fishing Rod

1952 Morris Oxford Mo

Mercury Bottom End & Stern Leg, 115hp

$6,350

ID 31782

$2,000

ID 31547

$2,500

ID 28339

$120

ID 31793

See Seller

ID 31604

See Seller

ID 26262

Lunar Freelander Caravan 524

4 Old Crocks

Toyota Avensis Wagon 2.0 Auto

Victorian Rocking Basinet

1994 Toyota Starlet

Portable Antique Gramophone

$20,500

ID 31745

$130

ID 31788

$7,999

ID 31664

$250

ID 31806

$1,850

ID 28172

$125

ID 31804

Eurotech Oil Heater

2005 Lexus GS300

1997 Toyota Starlet

Antique Milking Brass Bucket

Tidy VY SS Commodore

2015 Yamaha MT-09 ABS

$5

ID 31546

$10,000

ID 31728

$3,500

ID 31594

$150

ID 31743

$14,750

ID 31800

$8,500

ID 25296

Free Piano

Antique Milking Brass Bucket

1996 Toyota RAV4

42" Viera Panasonic TV

Petrol Waterblaster

Rover Lawnmower

FREE!!

ID 31744

$150

ID 31743

$2,600

ID 28333

Reasonable Offers

ID 31761

$250

ID 31419

$250

ID 31417

Murray Yard-King Ride-on Mower

Thumper 4x4 Air Compressor

Nissan Navara D21 Kingcab

Yakima Rocketbox Pro 12

Nissan Navara TD27t Manual

Chook House

$1,150

ID 31329

$130

ID 31238

$3,500

ID 29769

$350

ID 31731

$3,550

ID 30707

$700

ID 26913

3 Elephants

Antique Furniture

Bentwood French Rocker

1998 Honda Accord

Foot joy DNA Golf Shoes

Teardrop Camper

$25

ID 31758

See Seller

ID 31724

$350

ID 31714

$2,500

ID 31476

$50

ID 31732

$6,000

ID 31257

2004 Ford Courier With Dog Box

Three-piece Lounge Suite

Romess Potbelly Stove

Mercedes Benz C230

Old Scales

Nomad Nifty Awning

$12,000

ID 31327

$1,250

ID 31733

$500

ID 31184

$8,500

ID 31191

$30

ID 31182

$800

ID 31751

1019h14chch
---
SOUTHERN VIEW Latest Canterbury news at starnews.co.nz

Tuesday October 29 2019 19

Classifieds Contact us today Phone our local team 03 379 1100

Car Parts

TYRES Secondhand,

most szs from $30 - $70

fitted, Also batteries, 217

Waltham Road, 027 476

2404

Curtains

www.curtainfabric-outlet.com

Fashion Designs & Colours

Discontinued Designs

End of Lines Bargain Prices

Call at Our Shop

CURTAIN FABRIC OUTLET

71 Hawdon St Sydenham

Ph 366-5026

Gardening

& Supplies

A GARDEN OR

LANDSCAPING TIDY

UP? Shrub, hedge &

tree pruning, Lawns,

Gardening, consistently

reliable general property

upkeep, Dip. Hort. 10

yrs experience, One off

tidy ups or on-going

service. Nick's Garden

Maintenance. Keeping

your garden beautiful.

Free Quote. Ph. 942-4440

& 022 264 7452

Holiday

Accommodation

Australia QLD

SUNSHINE

COAST

RESORT

AlEXAnDRA hEADlAnD

All Units Have Ocean Views.

Heated Pools, Spa & Sauna,

Free Wifi, Tennis &

Mini Golf.

ChECk OuR gREAT

SpRing/SummER

SpECiAlS

www.mandolin.com.au

0061 7 5443 5011

ADD SOME

COLOUR

TO YOUR ADVERT!

• New homes

• Extensions

• Renovations

Trades & Services

Builder

• Light Commercial

• Repairs and

Maintenance

Brandon Taw

Phone 027 370 2572

enquiries@tawbuilders.co.nz

www.tawbuilders.co.nz

DRIVEWAYS

Exposed Aggregate

Stamped Concrete Plain

Concrete Resurfacing

Things we offer...

Competitive/affordable pricing

Attention to detail

Professional service

free quotes/insurance scopes

Cell 0278 145 848

www.drivecrete.co.nz

YOU COULD

BE HERE

Let us help take

your business to

new heights

Advertise your business in our

Trades and Services column.

For assistance contact Vicky

Phone 03 364 7419 or email

vicky.sayers@starmedia.kiwi

Trades & Services

PAINTING & TILING

• PAINTING • TILING

• PLASTERING

• WALLPAPERING

Phone Kevin Steel

• Interior/Exterior

• New Homes & Repaints

• Quality workmanship assured

• Correct preparation always undertaken

• 20+ years experience

• Earthquake repairs

(Painting/Plastering/Wallpapering/Tiling)

Ph 381 7417 or 027 216 8946

www.facebook.com/kevinsteelpainters&decorators

plumbING AND GAS

• Gas fitting – servicing, new, renovations

• Gas hot water installs

• Gas cookers and gas fires

• Kitchen / Bathroom renovations

• Backflow testing and installs

• Filtration – whole house, kitchen tap

• Domestic maintenance

Email: james@plumbingandgashq.co.nz

Text: 021 174 9265

0800 H20 LPG

Trades & Services

HOUSE

CLEARING

Are you

moving house

or trying to

downsize?

Call All Clear

Canterbury. We work

with you to recycle,

sell and dispose of

unwanted items.

Ph: 03 260 0934

or 021 078 4553

raewynlcooke@gmail.com

www.allclearcanterbury.co.nz

4 2 6 5 7 4

DISCOUNT FOR

SUPER GOLD CARD

HOLDERS!

FREE QUOTES

Trades & Services

FOR ALL YOUR

★Garden Clean-ups

★Pruning

★Lawn Mowing

★Garden Maintenance

Call us today for a FREE quote

PH 0800 4 546 546

(0800 4 JIMJIM)

Trades & Services

ROOF

PAINTING

Rope & harness

a speciality,

no scaffolding

required,

30 years of

breathtaking

experience.

FREE QUOTES

Exterior staining,

exterior painting,

moss and mould

treatment and

waterblasting

Phone Kevin

027 561 4629

rooF

painting

Book now for

Summer and

receive 20%

discount.

Rope and harness

a speciality.

No scaffolding

required.

30 years

experience.

Free quotes,

call Craig

021 060 2392

BEST BATHROOMS

full renovations

specialists, LBP builder,

free quote, all building

property maintenace ph 03

383 1927or 027 245 5226

ciey@xtra.co.nz

BRICKLAYER

George Lockyer. Over

40 years bricklaying

experience.Uk trained.

Insurance work, EQC

repairs. Heritage

brickwork & stonework

a speciality. No job too

small. Governers Bay.

Home 329 9344. Cell

027 684 4046. E mail

georgelockyer@xtra.co.nz

CARPET LAYING

Exp. Repairs, uplifting,

relaying, restretching.

Phone John on 0800

003181, 027 240 7416

jflattery@xtra.co.nz

Trades & Services

CARPETLAYER

35yrs experience. Special

rates for seniors. Prompt

service. Ph 021 046 0231

PAINTING

Indoor / Outdoor, over 30

yrs exp, same day quotes,

ph Steve 021 255 7968

PAINTER

50 yrs combined exp.

New, older homes, int ,ext.

Locals working for locals.

We stand by Canterbury.

Ph Wayne 027 274 3541 /

385 4348

SPOUTING CLEANING

Spouting Unblocked,

Cleaned Out and Flushed

Out. Call Trevor 332 8949

or 021 043 2034

STUMP GRINDING

Best price guarantee Tony

0275 588 895

T.V. SERVICE

CENTRE

Repairs, tvs, microwaves,

audio amps, soundbars.

.Aerial & satellite

installations, kitsets, 480D

Moorhouse Ave, ph 03 379

1400

VHS VIDEO TAPES

& all camera tapes

converted to DVD, video

taping special occasions,

www.grahamsvideo.co.nz

ph 03 338-1655

ADVERTISE YOUR

BUSINESS HERE

Phone for further details

Wanted To Buy

CASH FOR

STAMPS,

COINS &

GOLD

Free Appraisals

Call Matt at

The Stamp and

Coin Exchange

134a Riccarton Rd

0800 39 24 26

We can come to you.

Call today.

Wanted To Buy

AAA Buying goods

quality furniture,

Beds, Stoves, Washing

machines, Fridge Freezers.

Same day service. Selwyn

Dealers. Phone 980 5812

or 027 313 8156

CASH/CASH for any

unwanted vehicles, ph

347 9354 or 027 476 2404

TOOLS Garden,

garage, woodworking,

mechanical, engineering,

sawbenches, lathes, cash

buyer, ph 355-2045

(03) 379 1100

We're for

local

EVENTS

From Kaikoura,

to Christchurch,

to Ashburton,

we have it covered
---
20 Tuesday October 29 2019

Latest Canterbury news at starnews.co.nz

SOUTHERN VIEW

Your kitchen & bathroom

renovation specialists in

Christchurch

Did you know that Aspiring Kitchens

& More offer so many ways to

transform your kitchen?

Kitchen Refresh

Keeping the cabinets, we

replace the doors, drawerfaces

& décor panels, fitting

German-made soft-close

hinges to give a fantastic newkitchen

look!

Kitchen Remodel

Where we carry out a

Kitchen Refresh plus

adding any custom-made

cabinetry for that extra

storage you've always

wanted.

New Kitchen

Aspiring Kitchens & More

have state of the art 3-D

VR software, experienced

designers & expert installers

to give you the most beautiful

kitchen of your dreams!

Call us now for a no-obligation consultation to

discuss your kitchen ideas

Phone: 0800 202 171 www.AspiringKitchens.co.nz

Visit our showroom! 2/7 Halswell Road, Hoon Hay