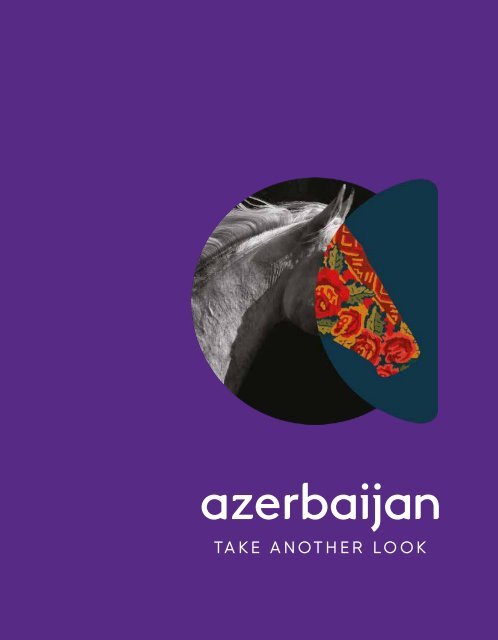 Create successful ePaper yourself
Turn your PDF publications into a flip-book with our unique Google optimized e-Paper software.
salam

hello

Content

History2

Activities4

Culture6

Food8

Landscape10

Architecture12

Baku14

One country, millions of flavours 16

Experience Azerbaijan18

City experience 20

Culture experience 22

Welcome to Azerbaijan, home of the Karabakh horse.

Our national animal is famed for its speed, stamina and

intelligence – we like to think that it represents us well!

It gallops through an amazing landscape of creativity,

trade and culture. Ride with us as we take you on a

journey to a land you'll never forget.

Wellness experience 24

Nature experience 26

Practical Information 28

1
---
HISTORY

contemporary nation

criss-crossed by history

Our land shows evidence

of the earliest civilisations.

But the Great Silk Road

brought a constant stream

of travellers, all leaving

traces of their passing.

And our history is still being

rewritten today, giving us

a never-ending supply of

fascinating stories.

Gobustan

Rising out of the semi-desert here is the

UNESCO Cultural Landscape of more than

6,000 rock engravings, which go back

40,000 years. You can also see graffiti by

a Roman legionary - the furthest east it

has ever been found..

Ateshgah

The fire-worshipping Zoroastrians left

their mark at Ateshgah, where the Fire

Temple amazes visitors with its spouts of

flame. The present temple only dates from

the 19th century, though, as the site was

adopted by the Hindu merchants trading

in nearby Baku.

Shamkir and Goygol

There's no better place to see the

influence of the Great Silk Road than

the towns of Shamkir and Goygol, where

German settlers lived in the 19th century.

The beautifully restored Germanic streets,

and Lutheran churches, make this a mustsee

destination.

Black Gold

In the first years of the 20th century,

Baku supplied half of the entire world's

oil production, making the fortunes of

the Rothschilds, the Nobel brothers, and

the Taghiyevs. Thanks to the oil barons of

Baku, a new city was born out of the old,

and it's fascinating to discover the stories

behind every façade.

Today

Modern Azerbaijan is a thriving

contemporary nation, with cutting-edge

cultural, leisure and business facilities.

Our hospitality is as warm as ever, and

our history is still being shaped by our

many guests.

2

3
---
Azerbaijan has the perfect

landscape for every kind

of holiday you can think

of, from the relaxation of

a spa or beach, to more

energetic pursuits.

ACTIVITIES

land of leisure

buzzing with energy

Kitesurfers

You'll find perfect conditions to learn

kitesurfing at the flat-water lagoon at

Shurabaad, close to Baku. Once you've

mastered it in the shallow waters of

the lake, take your board out into the

open Caspian.

Beach

It's not far from Baku to the Amburan

Beach Club, one of the best resorts and

beaches in the area, where you can get

a splendid view of the Caspian from the

comfort of a poolside lounger.

Golf

If you'd rather spend the day avoiding

the sand, Baku has a challenging and

enjoyable course close to the city centre,

or you can travel to Quba to play on the

National Federation course, which has

breathtaking mountain views.

Hiking

The views in the mountains are stunning

in summer, especially the area of Qakh.

Ilisu village was once its very own tiny

sultanate, and you can hike from the

photogenic ramparts to amazing

viewpoints and spectacular waterfalls.

Skiing

The classy resort at Shahdag has firstclass

amenities, 14 well-prepared slopes

and friendly and accommodating

teachers and staff. For more challenging

pistes, try the black runs at Tufandag.

Sport

From Chovqan, a traditional Karabakh

horse-riding game, to freestyle wrestling,

we've always prided ourselves on staying

healthy and strong. We're into gymnastics,

boxing, futsal, and football. But we also

host events, from the 1st European

Games in 2015 to Formula 1, the UEFA

Europa League Final 2019, and the UEFA

European Football Championships 2020.

Our beautiful sports venues are well

worth visiting!

4

5
---
CULTURE

modern art

traditional masterpieces

From the latest cultural

experiences, to traditions

that haven't changed

in hundreds of years,

our country shows the

influence of all the artists

that have passed through

and called it home.

Art

The collections at the Heydar Aliyev

Centre and Yarat Contemporary Art

Centre show the incredible diversity and

energy of Azerbaijani art today. We've

always been famed for decorative arts

like weaving, silverwork and metalwork.

But Faig Ahmed has taken carpets to a

new level with his mindbending designs!

Fashion

The traditional Kelaghayi silk scarf is still

a strong expression of our cultural identity.

But these days, we're at the forefront of

contemporary chic, with our own fashion

week in its seventh season, and our style

even providing the inspiration for Leonie

Mergen's "Karabakh" collection at Berlin

fashion week.

Music

Here, we love to sing, dance and play

music. The classic form of Azerbaijani

music, the mugam, is so good it

represented World Music on the Voyager

space probe! Our jazz mixes mugam

with blues, African music and modern

Western styles. But our new favourite is

the Eurovision Song Contest. We started

competing in 2008, and it only took us

until 2011 to win! You may have seen it in

2012, when it was broadcast from Baku.

6

7
---
Azerbaijan's unique

geography and location

have resulted in a cuisine

influenced not just by its

own varied ingredients,

but the tastes of many

peoples travelling along

the Silk Road. So it's full

of surprising flavours and

combinations!

FOOD

latest cuisine

classic dishes

Plov

Our favourite dish is plov - rice served with

meat, fish or fruit. Every family has its own

recipe - there are books with 40 different

versions in! There is even an International

Plov festival.

Pakhlava

Pakhlava, symbolizing stars in the sky,

is a festive dish made for Novruz, the

traditional celebration of the coming

of spring. Our classic pakhlava is cut

into diamonds, but in Sheki they have

halva, which comes in squares, while

in Gabala it is triangular and called

"uchgulag" (3 ears).

Wine

We've been making wine for thousands

of years. The varied terrain of our fastimproving

wineries across the country

results in a myriad of flavours and

bouquets. Our most famous are Caspian

Coast, Fireland Vineyards, Yarimada,

Hacihetemli, Savalan, Hillside, and Agsu

pomegranate wine.

Caviar and Fish

Caspian fish has its own special taste

and is best served with narsherab

(pomegranate sauce). Our most famous

fish is the Beluga sturgeon, which don't

reach reproductive age till they are

around 20 years old. No surprise then that

beluga caviar is now one of the world`s

most expensive delicacies.

Caravanserai

The ultimate way to experience traditional

Azerbaijani food is at a caravanserai.

These were the hotels of the medieval

merchants travelling on the Silk Road,

and now offer sumptuous banquets.

8

9
---
LANDSCAPE

summer hillsides

winter slopes

If you are imagining any

one kind of terrain, you'll be

surprised! The Azerbaijan

climate has 9 distinct zones,

and every kind of geography,

from the mountains and

plateaus to the lowlands

and coast.

Sand

It's not just in the desert! The shores of

the Caspian sea have plenty of excellent

beach clubs to enjoy, from the Absheron

Peninsula resorts, which are easily within

reach of Baku, to the water sports

at Shuraabad.

Snow

Azerbaijan is nearly surrounded by

mountains, so we get great summer hiking

and winter skiing. Our best ski resorts are

at Shahdag and Gabala, while in the

summer you can get up to Khinalug, which

is so isolated it has its own language!

Fire

You'll be amazed by Yanar Dag, which is

a hill that has been blazing away with a

10 metre wall of flame since the time of

Marco Polo. It's no wonder people here

used to worship fire!

Mud

We have about half of the world's

discovered mud volcanoes - 400 of them!

Dashgil area is wonderfully lonely and

atmospheric, unsigned and unfenced.

There's a good variety of regularly active

but gentle features including many high

plopping mud nozzles and a bubbling

mud pool.

Flowers and trees

The flora of our country is impressive

all year round thanks to the variety of

habitats. Wild flowers are particularly

impressive in late spring, with massed

poppies giving a splash of colour to the

young, emerald green corn fields. In June

it's the turn of the mountains to bloom.

The Lankaran forest has even been the

inspiration for a perfume made from the

native ironwood tree.

10

11
---
The buildings of Azerbaijan

are a glorious mixture

of styles, reflecting

the cultural shifts and

changing trends of

hundreds of years. From

minarets to mosaics,

medieval to modern,

every corner reveals

something different.

ARCHITECTURE

fluid simplicity

intricate details

Momine Khatun Mausoleum

The dramatic, semi-desert mountain

landscapes of the Nahkchivan

Autonomous Republic stretch from

brooding Mt Aghri to the historic town

of Ordubad. This stunning 25-metre high

decagon of red brick and turquoise

enamelled tiles is the finest example of

the Nakhchivan architectural tradition.

Shirvanshakh Palace

You can see a fascinating variety of

medieval Islamic architecture in this part

of Baku's UNESCO World Heritage Site,

because the complex was built gradually,

over the course of centuries.

Haydar Aliyev Centre

World-famous architect Zaha Hadid

designed the crown jewel of our

architecture in central Baku. It flows

seamlessly from the plaza around it,

joining the exterior and the interior to

represent the inclusion of everyone in

a place of shared ideas. A museum,

exhibition halls and an auditorium are

housed together in this single eternally

flowing shape.

Ganja Bottle House

This astonishing two-storey house in

Azerbaijan's second city was completed

in 1967 by Ibrahim Jafarov, and is made

of 48,000 glass bottles of different colours

and sizes. Unusual, even for Azerbaijan!

Sheki Khan Palace

Our craftsmen are famed for their

shebeke - a mosaic of coloured glass set

in a wooden latticework and assembled

without nails or glue. The round-form

shebeke of Sheki Khan Palace is unique,

making it a real visual feast!

12 13
---
BAKU

modern life

ancient city

From the modern elegance

of the Flame Towers

standing proud above,

to the medieval World

Heritage site at its core,

there is something for

everyone in stunning Baku.

A constantly evolving

tapestry of life and energy

from bazaar to penthouse.

Prepare to be astounded!

Flame Towers

These three skyscrapers dominate the

skyline of Baku. They're over 30 storeys tall,

and completely covered with LED screens.

At night they light up with a fire display

that's visible from anywhere in the city.

Maiden Tower

The Maiden Tower is so old, we can't tell

what it was originally meant for. It may

have been a Zoroastrian fire temple, an

observatory, or a fortress. Maybe it was a

watchtower, as it certainly gives incredible

views across Baku and the Caspian Sea!

Nightlife

However you let your hair down, you'll

find somewhere to do it here. As well as

traditional entertainments, Baku has a

thriving jazz community, and DJs from

around the world come to contribute to

our lively club scene.

Carpets

In 2010 the Azerbaijani carpet was

proclaimed a Masterpiece of Intangible

Heritage by UNESCO, and this museum

has the largest collection in the world.

Of course, this is Azerbaijan, so these

traditional crafts are housed in a modern

building, shaped like a rolled-up carpet!

Shopping

The malls of Baku have all the luxury

brands. But for a real Azerbaijan

experience, lose yourself in the colour and

bustle of a traditional bazaar. Feel the

spirit of the Silk Road!

Games

We love games, but it's not just old men

playing backgammon in the street! The

Crystal Hall in Baku has hosted both

the 42nd Chess Olympiad and the 6th

e-Sports World Championships.

14

15
---
one country

millions of flavours

We are as varied as the colours of the carpet, or the

fruits of the bazaar. A basket of herbs and spices,

made up of more than 20 ethnicities and nationalities.

Harmony in diversity, a dazzling collection of opposites.

A collection of stories ready to amaze you at every turn.

Come visit us in the land of contrasts.

Azerbaijan. Take another look.

16 17
---
GEORGIA

RUSSIA

3

EXPERIENCE AZERBAIJAN

one journey

many roads

5

Sheki

4 7 4

Shahdag

5

Shabran

Shamkir

Ganja

Mingechevir

Gabala

Ismailli

8

Shamakhi

2

Shurabad

3

5

4

Goygol

1

Naftalan

3

1

Baku

2

Gobustan

Shusha

6

2

CASPIAN

SEA

Nakhchivan

Key

IRAN

Lerrik

1

Lankaran

City experience

Culture experience

Wellness experience

Nature experience

18 19
---
GEORGIA

RUSSIA

CITY EXPERIENCE

eastern city

western outlook

Ganja

Sheki

Gabala

Gobustan

Baku

Baku is an exceptional combination of antiquity and novelty

CASPIAN

SEA

Nakhchivan

Places to go

IRAN

Lankaran

Nariman Narimanov M

1 Icheri Sheher (Inner City), the pearl

of Azerbaijan's cultural heritage, has

a history of thousands of years and is

located in the historic centre of Baku, the

capital city of the ancient state of the

Shirvanshahs and symbol of Azerbaijani

statehood. This unique historic ensemble

has been called the Acropolis of Baku, Old

City or Icheri Sheher. It was the famous

Norwegian adventurer and ethnographer

Thor Heyerdahl who noted that Icheri

Sheher and its surrounding areas may

have been one of the first centres of

human civilization.

2 Maiden Tower is so old, we can't tell

what it was originally meant for. It may

have been a Zoroastrian fire temple, an

observatory, or a fortress. Perhaps it was a

watchtower, as it certainly gives incredible

views across Baku and the Caspian Sea.

Climb it to gaze out across the Caspian –

maybe dressed up in one of the available

traditional costumes. Along the shore of the

Caspian Sea in Azerbaijan can be found

different ancient towers built in this way.

3 Shirvanshakh's Palace This part of

Baku's UNESCO World Heritage Site is

in fact a complex that was constructed

in stages in the highest point of Icheri

Sheher, from the late 12th century to

the late 14th century, so it exhibits a

fascinating variety of medieval Islamic

architecture.

4 Baku Boulevard Beyond the Inner

City, there is no better way to get a

feel for Baku's relaxed, Mediterranean

atmosphere than by strolling the

Boulevard, a sweep of Caspian waterfront

promenade that forms a gentle arc past

the whole length of the central city area.

The whole sweep offers potentially hours

of pleasant strolling with ever changing

views around the bay and back towards

different sections of the city. It has

national park status and year by year is

being extended along the Sea.

5 Flame Towers are a trio of skyscrapers

that dominate the skyline of Baku. Our

most visible landmark symbolises the

3 flames from the historic logo of the

capital. Over 30 storeys tall, they are

completely covered with LED screens, and

at night they light up with a display of fire

that we can see from anywhere in the city.

6 Heydar Aliyev Centre World-famous

architect Zaha Hadid designed the crown

jewel of our architecture. This astonishing

architectural masterpiece is likely to leave

you speechless. Not a single straight

line was used in the Centre's design. The

overall shape of the building resembles

a wave-like ascension from the ground

towards the sky followed by gradual

descent down to the earth. This is not only

a tribute to post-modern architecture, but

also a portrayal of an eternal cycle. The

lines on the building bridge the past with

the present. The harmonious link between

the Centre's exterior and interior aspires

to remove any boundaries in the building's

perception because this place is meant to

be open to anyone irrespective of gender,

race and origin, bringing people together

united by shared ideas.

7 Carpet Museum In 2010 the Azerbaijani

carpet was proclaimed a Masterpiece of

Intangible Heritage by UNESCO, and the

National Museum of Carpets has one of

the largest collections in the world. These

traditional works of art are housed in a

modernist building that itself resembles

a rolled-up carpet. While visiting the

museum you will be able to read our

history and heritage from the symbols

indicated on the carpets.

The Maiden Tower offering

spectacular views of the Caspian sea.

Baku Boulevard is very pleasant with

great views of the city..

The sweeping curves of the Heydar

Aliyev Centre.

The modern and unusual exterior of

the Carpet Museum.

Nizami M

Icharishahar M

5

1

3

Baku Metropolitan CJSC M

7

2

Jafar Jabbarli M

Sahil M

Ganjlik M

CASPIAN

SEA

6

4

Khatai M

20

21
---
CULTURE EXPERIENCE

colourful glass

scorched hills

Visit the fascinating sites that tell the story of Azerbaijan's diverse culture

RUSSIA

Places to go

1 Gobustan Rising out of the semi-desert

of central Azerbaijan is an outstanding

collection of more than 6,000 rock

engravings bearing testimony to 40,000

years of rock art. Designated a Cultural

Landscape by UNESCO, here we can also

find the most easterly known inscription by

a Roman legionary.

2 Ateshgah The fire-worshipping

Zoroastrians left their mark at Ateshgah,

where the Fire Temple amazes visitors

with its spouts of flame. The present

temple only dates from the 17-19th century,

though, as the site was adopted by the

Hindu merchants trading in nearby Baku.

3 Yanardag Just 20 minutes drive from

Ateshgah you might notice a strange

orange glow rising from the hillside near

the low pass. That's because the hill itself

is on fire. Gas escaping from subterranean

flues has been burning incessantly for

decades and now attracts the curious

from all over the world.

4 Shamkir and Goygol We can clearly

see the trading history of the Silk Road in

the towns of Shamkir (formerly Annanfeld)

and Goygol (formerly Helenendorf), which

show the presence of German settlers in

the 19th century. The beautifully restored

Germanic streets, and Lutheran churches,

make this a unique destination.

6 Momine Khatun Mausoleum The

splendid mausoleum is Nakhchivan's

icon and focus. With dramatic, semidesert

mountain landscapes Nahkchivan

Autonomous Republic stretches from the

looming shadow of Mt Aghri to the historic

town of Ordubad. This stunning 25-metre

high decagon is representative of the

city's architectural tradition, typified by its

use of brick and turquoise enamelled tiles.

7 Old Gabala and Nij History hunters

have plenty to do seeking out the

archaeological reminders of the oncegreat

kingdom of Caucasian Albania.

That state's 4th-century capital was some

20km west of Gabala, a site that's now

a beautifully set, rural archaeological

site with a splendid new museum. In

the nearby village of Nij, the population

still speaks an otherwise 'lost' dialect

that's essentially the same as that of

the mysterious Caucasian Albanians.

8 Lahij Less than 2 hours' drive from

Gabala, via a geologically spectacular

canyon, the pretty little village of Lahij

woos visitors with its antique copperware

workshops, white-cobbled streets, stone

houses and plethora of craft shops. It's

a great place to unwind in relatively cool

summer air and hike a series of accessible

mountain trails to the crumbling remnants

of half-forgotten fortresses.

Gobustan's rock engravings, depict

life from thousands of years ago.

The 17-19th century Zoroastrian fire

temple delights visitors to Ateshgah.

GEORGIA

5

Sheki

Shamkir

Mingechevir

Ganja

4

Naftalan

Goygol

Shusha

6

Nakhchivan

7

Gabala

Ismailli

8

Shahdag

Shabran

Shurabad

Shamakhi

1

Gobustan

3

Baku

2

CASPIAN

SEA

5 Sheki Khan Palace The lavish decoration

of the Palace at Sheki is a visual feast.

The facade is covered with shebeke - a

mosaic of coloured glass set in a wooden

latticework and assembled without nails

or glue. The round-form shebeke of Sheki

Khan Palace is unique. The descriptions

come to life through the expert

commentary of the guides. Afterwards to

prolong your relaxation you can enjoy the

exquisite Sheki cuisine of local chefs.

The beautifully hand crafted

coloured glass of the Sheki Khan

IRAN

Lerrik

Lankaran

Lahij's cobbled streets and craft

sellers make for an intriguing visit.

22

23
---
WELLNESS EXPERIENCE

liquid mud

crystal salt

Feel the benefit of our natural cures at these stunning destinations

RUSSIA

Places to go

1 Naftalan city is a well-known petroleum

spa resort, the centre of medical tourism

in Azerbaijan and is located near Ganja,

the second largest city in the country.

The unique Naftalan oil has no equivalent

anywhere in the world. The curative

properties of the oil are particularly

helpful in the treatment of musculoskeletal

system diseases, as well as neurological,

urological, gynaecological, skin and other

ailments. While unforgettable as a one off

experience, for the full effect you will need

a ten-day course.

2 Duzdagh is one of the oldest salt

deposits in the world. According to French

and Azerbaijani scientists, the exploitation

of this mine began as early as 4,500 years

ago. Salt deposits here are so abundant

that its production is still active, and one

of the salt mines was specially equipped

for patient treatment. Nowadays Duzdagh

is transformed into an asthma treatment

spa and hotel complex.

4 Chenot Palace Surrounded by the

silence and tranquillity of the magical

pine woods, and overlooking the peaceful

Nohur lake, the new Chenot Palace Hotel

in Gabala represents a new class of

health wellness retreat in the heart of a

breathtaking forest. The Chenot Palace

Gabala is a perfect getaway retreat, far

from the hustle and bustle of congested

cities, where you can recharge your

batteries and gather new strength to

replace the energy that daily life drains

out of us.

5 Galaalti Hotel & SPA "Galaalti's

sanatorium" is a medical and recreational

resort complex, new, unique in

architectural style and its treatment

programme, resting in the settlement

of Shabran in 120 kilometres from Baku.

The complex of various improving and

all-strengthening programmes offers

benefits for many organic conditions

and promotes increased life expectancy.

The Oil of Naftalan is famous for its

curative properties.

Chenot palace provides a peaceful

place for a relaxing break.

GEORGIA

Shamkir

Ganja

Sheki

Mingechevir

1

Naftalan

Goygol

4

Gabala

Ismailli

Shahdag

5

Shabran

Shurabad

Shamakhi

3

Gobustan

Baku

3 Mud volcanoes Azerbaijan is home to

about half of the world's discovered mud

volcanoes, and we can easily visit many

of them from Gobustan. These geological

oddities bubble and burp constantly,

producing endless streams of liquid mud.

Volcanic clay and mud are used in the

treatment of diseases related to the

nervous system, skin and rheumatism.

2

Nakhchivan

Shusha

CASPIAN

SEA

The bubbling mud of the Gobustan

mud volcanoes.

Lerrik

Lankaran

IRAN

Gabala's tranquil forests make for

the perfect setting for Chenot Palace

24

25
---
NATURE EXPERIENCE

dramatic mountains

placid lakes

Enjoy the natural landscapes of Azerbaijan at these amazing locations

RUSSIA

Places to go

1 Hirkan National Park Being one of the

pearls of Azerbaijani nature, is located in

the south of the country, in the heart of

the Talysh Mountains. This region can be

easily compared to a botanical garden.

The Hirkan Ironwood tree, which is specific

to this area, not only survived the ice

age but indirectly became one of the

reasons for the oil boom in Azerbaijan.

Not many know that back in the day,

the Nobel brothers were looking to buy

a large quantity of ironwood for their

weapon production facilities. Luckily,

transportation proved too expensive and

the brothers decided to invest instead

into the oil business.

2 Shuraabad Surely one of the Caucasus'

most beautiful stretches of seaside lies

close to the small town of Shuraabad,

around an hour's drive north of Baku. This

very special location combines idyllic

beaches accessing the open Caspian

Sea, with a limpid area of protected

lagoon. Here, reliable winds yet shallow

calm waters combine to create the ideal

spot for learning kiteboarding or paddleboarding

with professional coaching

and top-quality gear rental available.

Alternatively, just relax and enjoy the

sunshine at the pool, cocktail bar and

Italian restaurant of the peaceful on-site

beach complex.

4 Gabala is one of Azerbaijan's foremost

resort towns, counterpointing a beautiful

landscape with an exceptional array

of upmarket yet great value hotels.

Activities abound – quad biking, skiing,

hiking, skating, paintball, bowling, horse

rides, spas, shooting and several great

swimming pools. Kids love the Qabaland

Theme Park while classical music lovers

can attend the prestigious annual

International Music Festival. Mountain

waterfalls, large forests and magnificent

Caucasian mountains make Gabala an

ideal place for relaxation in summer, while

during the winter Gabala offers active

sport tourism full of adrenaline with skiing

and snowmobiles.

5 Goygol district, located in the western

part of Azerbaijan, is one of the most

picturesque regions of the country.

Celebrated in Azerbaijani poetry, painting

and song, Goygol is the country's best

loved mountain lake, set beneath the

dramatic rocky beak of Mt Kyapaz and

ringed by thick green forests that turn

golden in autumn. Nearby Maral Gol is

arguably even lovelier.

The Hirkan National Park has a vast

variety of fauna and flora.

Shahdag ski resorts and their stateof-the-art

snow guns ensure great

GEORGIA

Shamkir

Ganja

5

Goygol

Shusha

Nakhchivan

Sheki

Mingechevir

Naftalan

4

Gabala

Ismailli

3

Shahdag

Shabran

2

Shurabad

Shamakhi

Gobustan

Baku

CASPIAN

SEA

3 Shahdag The rapidly expanding

Shahdag resort sits on a glorious shoulder

of green mountain turf, offering a fine

range of summer hiking options across

shepherd pastures towards the dramatic

crags above. Or you might take an easier

path into the gloriously set village of

Laza surrounded by strings of waterfall.

These freeze into ice climbs in winter when

snow turns Shahdag into one of the most

spectacular ski resorts imaginable. Piste

quality is ensured by state-of-the-art

snow guns and accessed by a brand

new network of world-class cable-cars

and ski-lifts.

The magnificent Caucasian

mountains perfect for a relaxing

Goygol's beauty is celebrated

through poetry, painting and song.

IRAN

Lerrik

1

Lankaran

26

27
---
PRACTICAL INFORMATION

salam

Azerbaijan

Country Size

86, 600 km 2

Population

9.4 million

4 hrs

Moscow

4 hrs

Minsk

3 hrs

London

Frankfurt

2 hrs

Kiev

Paris

Vienna

1 hr

Madrid

Barcelona

Rome

Istanbul

Ankara

Tbilisi

Aktau

Baku

Best time to visit

Dec-Mar: Cold, but perfect for skiing.

Apr-Jun: Getting warmer - try hiking in

the foothills. Take a brolly in Spring!

Jul-Aug: Very warm. Ideal for hiking

in the high mountains, or relaxing at a

Caspian Sea resort.

Sept- Oct: Perfect for walking at

medium altitudes.

Nov: Enjoy the changing foliage.

Wear layers!

Time zone

4 hrs ahead of GMT. Since 2016 , we no

longer put the clocks forward an hour

in summer, so while the time is 4hrs\3hrs

ahead of UK\Western Europe in winter,

that drops to 3 hrs\2hrs April-October.

Religion

While we are a secular country,

most of the population follow Islam.

Muslim dress code is not enforced

nor expected. Alcohol is very widely

available. All religions have somewhere

to worship in Azerbaijan.

Language

Our state language is

Azerbaijani, which is

similar to Turkish. Basic

English is understood by

most of the population.

A few mountain villages

have their own unique

languages.

Visa

For some nationalities

visas are available upon

arrival. For others e-visa

can be obtained within

3 days via evisa.gov.az.

We advise you to check

requirements before

booking your trip.

Exchange rates

Mastercard\Visa ATMs

are very widespread

and available in main

towns. Changing money

back is no problem.

Accommodation

Tehran

We have a complete range of options,

from luxury and mid-range hotels, to rural

en-suite bungalows, provincial motels and

even private home-stays.

Transport prices

On the bus and Baku underground one

journey costs 30 qepik, taxis Doha are also Dubai widely

available as an alternative option.

Driving

Riyadh

An international driving licence is advised.

Car rental is increasingly available in Baku.

Telephone

The country code is +994, the dial out code

from Azerbaijan is 00.

Internet

Most good hotels are fully equipped with

WI-FI connection throughout, and big

hotels will also have business centres with

at least a few computers. Major hotels

sometimes charge for WI-FI, but it's free

in dozens of cafes, parks and restaurants

across Baku and beyond. Mobile phone

providers offer relatively inexpensive

dongles so that you can access the web

through 3G mobile networks.

Shopping

Most international goods are available in

Baku, which has a phenomenal range of

designer boutiques. Export certificates are

only required for carpets, art and antiques.

There's a 125 g limit on exporting caviar.

28
---
azerbaijan.travel

info@tourismboard.az

Azerbaijan.Travel

experienceazerbaijan

Published by:

Azerbaijan Tourism Board,

96 E Nizami Street,

3rd floor, Landmark I

Baku AZ1010, Azerbaijan