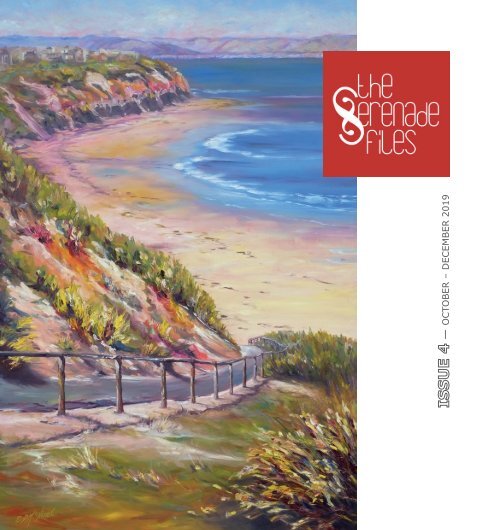 Issue 4 - The Serenade Files
Issue 4 includes articles about renewal, from an interview with Cassidy Rae Gaiter, an artist who plans to pursue her artistic goals in a new country, to a feature about Michaela Burger, an artist who has found healing from within. James Murphy goes beyond his State of Mind column to interview Lisa Bishop, the General Manager of Music SA, about the issue of pay in the Australian live music industry, Paul Sinkinson musically directs the Elder Conservatorium's first musical, Andreas Bukhardi delivers part four of his short story Strange Acquaintances, and we give you insight into the work of artist Erica McNicol who is our cover artist for this quarter.
Issue 4 includes articles about renewal, from an interview with Cassidy Rae Gaiter, an artist who plans to pursue her artistic goals in a new country, to a feature about Michaela Burger, an artist who has found healing from within. James Murphy goes beyond his State of Mind column to interview Lisa Bishop, the General Manager of Music SA, about the issue of pay in the Australian live music industry, Paul Sinkinson musically directs the Elder Conservatorium's first musical, Andreas Bukhardi delivers part four of his short story Strange Acquaintances, and we give you insight into the work of artist Erica McNicol who is our cover artist for this quarter.
SHOW MORE
SHOW LESS
You also want an ePaper? Increase the reach of your titles
YUMPU automatically turns print PDFs into web optimized ePapers that Google loves.
— OCTOBER – DECEMBER 2019
---
"The mind is a tree. Ideas branch

out from it. It must be watered and

nurtured in order for it to thrive and

bear fruit."

Jennifer Trijo
---
Cherry Plum Tree | photo by Jennifer Trijo
---
Take Me to the Beach

"My aim was to invite the viewer visually

to the unique beaches of Adelaide. It

was an incredibly satisfying painting

to create and I feel that my many

hours spent studying the beach and its

machinations have helped me capture it

in my own style."

Erica McNicol, artist
---
have a stronger foundation and you can hit

the ground running on the first of January.

More importantly, find time to reflect on what

you've accomplished so far and be present in

the moment. Literally, and figuratively, make

time to stop and smell the roses.

Issue 4 includes articles about renewal, from

an artist who plans to pursue her artistic

goals in a new country to one who has found

healing from within. James Murphy goes

beyond his State of Mind column to interview

the General Manager of Music SA about the

issue of pay in the Australian live music

industry, Andreas Bukhardi delivers part four

of his short story Strange Acquaintances, and

we give you insight into the work of artist

Erica McNicol who is our cover artist for this

quarter.

#4. Welcome

Spring is my favourite season. Aside from

being the season that I was born in, it is

symbolic of renewal.

I recently published Spring cleaning for the

creative mind on the blog as a reminder to be

kind to myself. Job offers have been coming

in for 2020 and I have had to give each one

careful consideration to avoid mental fatigue.

I will only choose the ones that will enhance

my skills as a freelance creative.

Thank you to everyone who has read,

contributed to, and financially supported our

first three issues. I'll be spending these final

months of 2019 planning bigger things for

the magazine and I hope that you can be a

part of it in the near future. Keep reading,

keep creating, and stay inspired.

Sincerely,

Jennifer Trijo

Founder and Editor

As we have reached the final quarter of

2019, it is a crucial time for setting goals

for 2020. Most new year's resolutions don't

last because they're made on a whim. If you

take some time to plan your goals now, you'll

WELCOME
---
Contents

OCTOBER – DECEMBER

2019

5. Welcome

Accento

8. Does the Australian live music

industry pay in more than just

exposure?

10. Spring Awakening, the Elder

Conservatorium of Music's inaugural

musical

State of Mind

12. Michaela Burger spends four years in

a Tibetan temple

Bravo

16. Cassidy Rae Gaiter's sights are set

on Nashville

Dolce

20. Five tips to stay booked and blessed

22 Always an artist

Libretto

24. Strange Acquaintances – part 4
---
Founder & Editor

Jennifer Trijo

Artist — Cover Artwork

Erica McNicol

Logo Designer

Jakub Gaudasinski

Graphic Designer

Jacek Gaudasinski

Contributors

James Murphy

Erica McNicol

Andreas Bukhardi

Contact us

PO Box 59

Greenacres

South Australia 5086

Instagram: @the_serenade_files

Facebook: @Jennifer.Trijo.TSF

The Serenade Files is published four

times a year by Jennifer Trijo and is

proudly based in South Australia. Views

expressed by authors are not necessarily

those of the publisher.

All rights reserved. No part of this

publication may be reproduced without

the prior written permission of the

publisher.

Copyright © 2017 – 2019 Jennifer Trijo
---
ACCENTO

Spring Awakening, the

Elder Conservatorium

of Music's inaugural

musical

Jennifer Trijo

Musical director and repertoire coach,

Paul Sinkinson, took time out from

his busy schedule to chat about his

experience working as part of the staff

for the Bachelor of Music Theatre course

at the University of Adelaide. Their first

production opens on 21 November at the

Space Theatre, Adelaide Festival Centre.

As musical director for this premiere

production how are you feeling

leading up to opening night?

As the inaugural production for the

Bachelor of Music Theatre course at the

Elder Conservatorium, I feel privileged

and humbled to be entrusted with

music directing Spring Awakening. With

opening night just shy of a month away,

I can confidently say that the show is in

the very best of hands with George at

the helm. The attention to detail from

the production team and the students

shows how much of a success everyone

involved wants the show to be.

Briefly describe your training and

how you arrived at this point in your

career?

Musical theatre has been a relatively

new passion of mine, having come from

a music composition background and

then a film and television undergraduate

degree. Experience working in the

theatre at a community and professional

level cemented that musical theatre is

where I feel at home, and having the

chance to meet and work with so many

passionate people told me I was in the

right field. Having completed my Master

of Teaching, being part of the staff at the

Elder Conservatorium is rewarding as I

am working with the next generation of

performing artists and it allows me to

continue to hone my skills as a theatre

musician.

This is the first year that the

Bachelor of Music Theatre degree

has run in Adelaide. What has your

experience been so far?

Being part of a new degree has been

incredibly exciting. The course has

settled really comfortably into the

Conservatorium environment and feels

at home. Practise rooms and teaching

spaces are being shared with classical,

jazz, and pop students and I think we

ACCENTO
---
have become

accepted into

the "music

community".

Gone are days

when passersby

do double

takes when a

BMT student

practises their

tap routine on

the lawn or belts

out a Golden

Age show tune

next door to

a trumpeter

dutifully playing

their scales.

Spring Awakening is an edgy,

youthful choice for an inaugural

show. What can audiences expect

from the first year students of this

production?

The show contains many controversial

themes that were taboo over a hundred

years ago when the original play that

the production is based on was written;

yet its content is still just as relevant

and somewhat controversial today.

Today's 'age of information' brings up

issues about how much information

we give to our children and what can

happen when that is restricted. This first

year cohort are fresh and raw and their

performances will mirror the realness

and vitality that Spring Awakening

embodies.

In Issue 1 of our magazine, we

interviewed George Torbay, Head of

Music Theatre. What's it like to work

with him in your capacity as musical

director?

George is a true professional in his field

and has been an amazing colleague

and mentor. His attention to detail and

drive is next to none and it has been an

absolute pleasure being able to work

alongside him throughout the year. As

a director, George's vision for Spring

Awakening has been crystal clear from

day one and having him communicate

this every step of the way has helped me

sculpt what I have wanted musically.

What advice would you give to

anyone who aspires to work as

a musical director or work as a

musician in music theatre?

Be yourself 100 per cent of the time.

Put all your cards on the table and don't

pretend to be someone you're not.

People want to work with others who are

genuine, friendly and willing to put in the

hard work. Always be prepared to keep

learning and developing your skills.

Thank you so much for your insight

Paul and Chookas!

Spring Awakening will run from

21 – 24 November at the Space

Theatre, Adelaide Festival Centre.

Visit https://www.bass.net.au/

events/spring-awakening/ for more

information.

ACCENTO
---
Does the Australian live

music industry pay with

more than exposure?

By James Murphy

As the frontwoman of Afro-Caribbean

eight-piece NUVO, Music SA General

Manager Lisa Bishop is no stranger

to dividing up a band gig payment

into measly portions that barely cover

costs. While we know, anecdotally, that

surviving as a contemporary musician

is tough, Music SA, along with fifteen

other peak industry bodies, is seeking

to quantify just how hard it is, through

the Australian Music Industry Network

National Survey On Live Music Pay.

Since rising to

the helm of Music

SA, General

Manager Lisa

Bishop has steered

the organisation

to new heights

by bringing the

eastern states

to town each

year for the AIR

Awards and Indie-Con, launching the

immensely successful Umbrella Winter

City Sounds Festival, and by successfully

campaigning to have our city declared

a UNESCO City of Music, amongst other

achievements.

Her success in the role, in part, has been

due to her two decades' experience as

a company director, but also because

she has brought insights gleaned from

her time spent on stage as a vocalist;

she can empathise with the plight of

musicians seeking to earn a living from

performing, because she has been there

too, as she explains.

"I've done gigs myself where I will go

out for the night, do a gig, there's seven

people in the band so we'll get 70 bucks

each, and it barely covers petrol, the car

parking, the new pair of stockings that I

had to buy and a drink."

"I've had many occasion where we've

gone into a rehearsal studio and at the

end of the night you've had to cough up

five bucks for the hire of the room and

you see some of the guys who are like

'ah can someone pay my share this week

because I don't have five bucks' because

people are really on the bone trying to

make it as a contemporary musician."

If you are receiving hard currency in

exchange for your musicianship, though,

you are probably doing better than

many, Lisa says, but we can't be quite

sure.

"The evidence is anecdotal, we don't

have the evidence to answer what

they're getting paid, are they getting

paid at all, how often are they being

asked to perform because it's good

exposure, are they being paid in alcohol-

I often hear stories about that. A lot of

ACCENTO
---
the younger musicians are very health

conscious, they're vegans, or they just

don't want to be paid in alcohol."

"There was one band that said they were

going to get paid in cocktails, so I said to

them 'why don't you ask them how much

it's going to cost them to make those

cocktails and if they tell you it's going to

be 500 bucks then why don't you say I'll

take the cash?'"

By distributing the National Survey to

100,000 Aussie contemporary musicians,

Lisa, along with other Music Industry

Network members, hopes to convert

such anecdotes into hard data. Once

armed with that information, Lisa

explains that the goal will not be to

use it to push for regulation and the

imposition of red tape, but rather to

build awareness.

"I think just generally we need some

evidence so the industry can start

advocating. I don't think having

regulated awards rates to ensure better

pay for contemporary musicians is the

answer because venues will just not

have live music if there are just more

costs because they are already under

strain with all the costs that they have to

cover."

You can have your say, and go into

the running to win some great prizes

in the process.

Visit http://www.musicsa.com.au.

The survey closes on 13 November.

Artist Kelly Menhennett | photo by Helen Page

ACCENTO
---
STATE OF MIND

Michaela Burger's four

years in a Tibetan

temple

James Murphy

A decade and half ago, Helpmann

Award nominated cabaret dynamo

Michaela Burger found herself at the

crossroads, professionally and spiritually.

Living in London, recently married

and newly graduated, Michaela was

struggling to crack the notoriously

competitive West End musical theatre

market, and, consequently, was finding

it tough to make ends meet.

Amidst this turmoil, she had a chance

encounter with a Tibetan Buddhist nun

which led to an unplanned four year

stay at Lerab Ling, a Buddhist temple

near Montepellier in the south of France,

founded by Dzogchen lama Sogyal

Rinpoche. As she prepared to fly to

India to mourn the death of her spiritual

guide, Michaela speaks about her years

of inward journeying and how it has

shaped her life as a performer.

Eastern spirituality, in the form of

Buddhist meditation and yogic asanas,

have been integral components of

Michaela Burger's self-care routine

since her days studying at the Adelaide

Conservatorium, but it hasn't been

something that she has openly discussed

until recently, as she explains.

"I haven't spoken about it before. It's

part of my life. It's like brushing the

teeth in the morning, studying Buddhism

and practising Buddhism."

"I was so into yoga. It really helped

my singing. Even just opening up the

diaphragm and stretching the body for

ten minutes helps the voice to settle."

"I remember that sick feeling of having

to perform and then doing yoga and

then it dissipated into your body, the

nervous energy, and then you could use

the energy in a better way instead of

being taken over by it."

By channelling her energy into her

performances, Michaela attained

immediate success, winning the

inaugural Adelaide Cabaret Festival

scholarship in 2002 and then supporting

STATE OF MIND
---
international musical theatre icon Jason

Robert Brown the following year. When

she tried to replicate her success at

home in one of the world's toughest

musical theatre markets, though, she hit

a wall, as she explains.

"I'd been studying in London and I was

doing a masters in musical theatre,

and I'd finished my training and started

auditioning and was finding it really

difficult. I was nannying, just to make

ends meet, and when you're in London,

if you don't make some money, it's quite

difficult to even survive."

During this time of desperation, she

received a call.

"A nun from this temple rang me and

said that she needed assistance because

they were going into this three-year

retreat, which is a tradition in Tibetan

Buddhism. My husband and I had only

just gotten married and she said 'bring

him too.'"

"It was a timing thing I think. We both

said 'let's do this'. We were both very

unhappy in London, it was very hard, so

we just left our little jobs and gave away

all our stuff and moved to France."

"We were only supposed to go for six

months and as we arrived, we were like

'we're not leaving'. We just had this real

sense that we needed to be there then."

Despite having devoted much of her life

to singing and music, giving it up, at the

time, was not a difficult decision, she

explains.

"I didn't have any trouble walking away

from it which was very interesting.

I felt like I had a very rich life, not

financially [laughs], but I felt that my

life was full of great friendships and a

wonderful marriage and I never felt like

I needed my singing or my performing

to complete me, you know, so leaving it

was very easy."

The urge to sing and create eventually

re-emerged while living in the temple,

though, she says, but not in the same

way as she had been in London.

"I wrote a lot [of music] while I was

young and then I never pursued it and

that's what started to happen while I

was at the temple, and that's when I

STATE OF MIND
---
got the sense of not singing more, but

creating more, which was very fulfilling

for me."

Michaela was also often invited to sing to

the sangha, or congregation, too, which,

she says, was yet another evolutionary

step for her as a performer.

"I can say that a lot of the fears

dropped away when I was singing in

the temple, because often I was singing

in front of 2000 people, often in front

of my teacher. It was a different kind

of nerves; he knew how to work with

me and I think he gave me a different

confidence that I didn't have before and

self-belief, which is the most important

thing when you're performing."

to trust and I'm just going to keep going

because there's something in this."

Michaela's faith was repaid in

abundance, with her acclaimed cabaret

show Exposing Edith winning the

International Cabaret Contest in 2015

and was nominated for a Helpmann in

the following year. While she continues

to tour her follow up, A Migrant's

Son, which was also nominated for

a Helpmann, Michaela says that her

spiritual journey will form the narrative

of her next cabaret work. Until then,

though, Michaela has begun sharing her

insights on wellbeing and performing

through a Facebook page entitled The

Peaceful Performer.

After four years in Lerab Ling, Sogyal

Rinpoche gave Michaela his blessing

to return to the world of music; it was

her gift to the world. When she arrived

back in Australia as a singer-songwriter,

though, her resolve was tested, but with

the training that she had received, she

was ready.

"When I left Australia I was an opera

and cabaret singer and a musical theatre

performer and so it was very challenging

when I came back; nobody knew me, it

took me years to get an audition and I

was on the singer songwriting circuit for

a while and it's very challenging to make

a living in that at the level that I was at,

and [the temple] just gave me the tools

to keep going. [I thought] I'm just going

STATE OF MIND
---
BRAVO

Cassidy Rae Gaiter

has her sights set on

Nashville

Jennifer Trijo

Adelaide artist, Cassidy Rae Gaiter has

trained in the performing arts since the

age of five. She has been surrounded

by many musical styles but country

music is her favourite genre. She has

been travelling between Australia and

the United States of America over the

past few years to establish herself as

an artist, and she recently made the

important decision to pursue her music

career overseas.

What made you first fall in love with

country music?

Well my family are all from the country

and my mum is a huge country music

fan. So you could say I was born

destined to sing country music! It's a

running joke in my family that I was

literally born to the music of Shania

Twain's The Woman In Me album

because its all my mum would listen

to at the time! I love the honesty and

storytelling of country music. You put

your heart on your sleeve every time you

write and then again when you perform

your songs.

photo by Jeremy Dylan

When did you write your first song

and what inspired it?

I grew up writing songs in my head you

could say, I was always putting words

and poetry to a tune but at that stage I

didn't play an instrument so I feel like

they don't really count as full songs! It

wasn't until I went to Nashville for the

first time in 2013 that my words were

put to music! Since then I've learnt to

play guitar and have been writing songs

daily ever since!

BRAVO
---
Give us an overview of your training

in music and performance.

I've had singing, acting and dance

lessons since I was about 5 years old

and then after high school, I auditioned

for the Australian Institute of Music in

Sydney and graduated with a Bachelor

of Music (Music Theatre) in 2015! My

course was an accelerated two-year-long

Bachelor and it was the hardest but most

rewarding few years of my life!

You released an EP 'Shake it Don't

Fake it' in 2017 which has received

great reviews. How do you feel

about this as a singer/songwriter?

'Shake It Don't Fake It' was such a huge

achievement for me! Although that

sound is not exactly the kind of artist

I want be now and I made some naive

decisions along the way, I think as artists

and musicians you will always cherish

your first record/music you put out into

Cassidy Rae Gaiter | photo by Boeme
---
Cassidy Rae Gaiter | photo by Boeme

the world! I got to record the whole EP

in Nashville, in a studio that so many

amazing country artists had recorded in

before me and it went to Number 1 on

iTunes which was pretty amazing!

Nashville is the iconic home of

country music, tell us about your

plans to move to the USA to pursue

your music career

Nashville is the most inspiring city I

have ever been to! I knew the moment I

stepped off that plane 6 years ago that it

was the place I needed to be. I've been

travelling back and forth since then,

spending 3 months at a time writing

and building a network and it's just

got to a point where I need to make it

more permanent! So, about a year ago I

started the visa process and we are now

on the home stretch! I'm hoping to move

early next year!

While studying at the Australian

Institute of Music, you've been

able to perform some great roles

BRAVO
---
namely, Elle Woods (Legally Blonde)

and Gabriella Montez (High School

Musical). You've just performed the

role of Sophie Sheridan in Mamma

Mia! Is musical theatre something

you will still pursue overseas?

Yes definitely! That's actually been

one of the huge struggles I've had

throughout my career, balancing my love

of music theatre and being a recording

artist.

I'm constantly being told I need to

choose one or the other. But I love them

both completely equally and I believe I

can do both!

Nashville actually has an amazing

theatre scene and I plan on attending as

many auditions as I can, either in New

York or regionally!

How do you go balancing your

personal and professional life?

It can be difficult! The nature of my life

at the moment is so much travel, so

it's hard to have roots anywhere if that

makes sense! This industry is very hard

to make enough money to live off, so

you need to have other odd jobs as well,

and when you travel as much as I do,

finding places that are willing to give you

the time off is super difficult!

Also, things like having enough time to

spend with your family and friends when

you are home so little of the time can

be really emotionally draining but I'm

hoping it will all be worth it in the end!

What are some challenges that

you've faced working in the

entertainment industry? And

how have you overcome these

challenges?

I think the hardest thing is knowing

who to trust. I've been misled already

so many times because I put my trust

in people I shouldn't have. So, its just

being really aware of what people want

and demand from you and whether they

are wanting whats best for you and your

career.

Is there any advice you could give

to people who hope to work as

performers or songwriters?

Believe in yourself. That's something

I've struggled with my whole life but

I've found the moments I stop and think

'hey, you're great and you're worth it',

things actually started to go my way!

That's the power of positive thinking. But

also, write as much as you can, there

is inspiration everywhere and find what

you wanna say and tell the world. Don't

try and be like someone else! Be you!

Thank you so much for your insight

and all the best for your move to

Nashville.

BRAVO
---
Five tips to stay booked

and blessed

Jennifer Trijo

Your personal brand is everything

when you are a freelance creative. In

such a business model, you are the

product and service so it is important

to conduct yourself with the utmost

professionalism with every project. If

you want to get booked for projects and

stay booked then take the time to work

on your personal brand.

Your reputation can precede you when

meeting with a potential client. It is

easy to overlook this if you operate as

a sole trader. The business name under

which you operate, whether it's your real

name or something else, is what people

carefully consider when booking you. In

the same way that a person compares

brands when they go shopping, clients

will compare your personal brand with

those who have a similar product or

service.

I remember one of the band managers

I once worked for in Sydney saying

"you're only as good as your last gig",

and she's right. I've sat on audition

panels where my colleagues would

choose one talent over another based

on how easy it is to work with that

person because of their can-do attitude.

Talent gets you so far but you shouldn't

underestimate the significance of your

work ethic and attitude on every project.

More importantly, people talk to one

another about their experiences and

they will sooner endorse a person who

offered a quality service than someone

who came up short.

Here are five tips to set you up so that

you can remain booked.

1. Create and maintain a professional

online presence

2. Keep your CV and headshots up to

date

3. Proactively network within your

industry

4. Accept only the number of projects

you can handle and do them well

5. Be kind and courteous to everyone

Word-of-mouth marketing and positive

testimonials lead to referrals for future

projects. Once you don't have to actively

advertise your services and the bookings

are frequently coming in then you are

on to a good thing. Keep working on

your personal brand and your business

prospects will flourish.

DOLCE
---
Always an artist

Erica McNicol

When you have a lifelong passion for

something you will always find a way

to feed that passion and for me this is

creating Art. It sustains me.

Originally a farm girl from the lower

lakes in South Australia I've lived and

painted in locations ranging from the

Coorong to the Adelaide Hills to the

Northern Rivers of NSW and now living

and creating in my studio at Flagstaff

Hill, Adelaide. At every one of these

beautiful locations I have actively applied

to develop my skills and sought out

Galleries to represent my artwork.

I found it less convenient to paint when

my children were young so I adapted

and learnt to embroider, creating original

work in a new medium but I've always

returned to painting. The future would

find me drawing, painting, teaching

embroidery at TAFE and for a couple of

years even renting studio space in the

Hahndorf Academy.

teachers, all the time continuing my own

art practice from home. Feeding that

passion!

In 2010 I realised a long held ambition

and commenced enamelling tuition with

John Richardson resulting in me creating

and exhibiting my enamel jewellery

in many galleries since. Much of the

enamelling techniques I employ are

vastly different from what I was taught

and are of my own design making them

completely individual and unique.

A recent project has been creating

rope and fabric vessels which finds me

returning to my second love, textiles,

but oil painting will always be my first

and I'm currently doing just that in

readiness for my next exhibition.

Visit https://artisanbyem.weebly.

com/ for more information.

For many years my other job has been

support for Art Teachers in schools.

This has meant that I've have been

able surround myself with creativity,

the latest art trends and materials and

has enabled me to share my skills and

experience with both the students and

DOLCE
---
DOLCE
---
STRANGE ACQUAINTANCES Part 4

Andreas Bukhardi
---
Upon a dimly lit street in a sleepy

dimly lit town, a pub with its doors

wide open, on a warm summer night,

stood tall with dim yellow light pouring

out of its windows. At a table just

outside, by the road, flanked ever so

uncomfortably by the gutter and a beer

barrel chute, sat four individuals, their

features somewhat obscured from a

distance… all except two.

He was a man of middle years,

uncomfortable-looking and dressed

plainly but altogether not unpleasant,

meaning perhaps that he tried ever-sohard

to fit in, unable as he felt to make

his existence seamless. He was darting

around as if anxious to speak but not

knowing exactly what to say.

Opposite him was a woman, but

otherwise with no distinguishing

features, and much like the other two

individuals either side of the table,

they all sat awkwardly, stiffly, and with

a degree of stillness that one would

deem unnatural. Their clothes were

neither stylistically, temporally, nor as

a function of resting on a single person,

fitting. Imagine, for a moment, a person,

someone random that you've seen on

the street perhaps, and then imagine

that they're wearing items that could

only be acquired from a Chinese twodollar

shop. This was his company.

And much like his company, the pub

itself felt lifeless. Sure, the light was

on, but no one seemed to be alive. The

band in the corner, sat behind their

instruments, was staring into space.

The bartender stood behind the bar, as

well he should, frozen mid-way through

polishing a schooner the way you'd see

done in a John Wayne Western, waiting

for some pilgrim to happen by. The

patrons likewise, strewn about the place,

positioned haphazardly this way and

that.

The three people sat about the table

outside were looking at the man. Oddly,

their faces were blank. While they did

have eyes, noses, lips, all of the usual

parts one would expect to find on a

face, these were unfinished, angular,

as if ripped out of a Terry Gilliam film

and edited by a child to avoid copyright

infringement. He finally spoke. The

woman sitting opposite him was ever-soslightly

more defined, but not by much.

Man: I'm glad you could all make

it. I'm sorry about the state of the

place. I've tried to clean up but there

is so much on my mind right now so I

hoped against hope that you wouldn't

mind. I realise that none of this is

finished.

He pointed awkwardly at a wad of paper

on the table in front of him.

Man: I realise also that this state of

flux may be… well… uncomfortable

for you all, but I shall seek a remedy

for this immediately.

Hanging from his shirt was a pair of

reading glasses that he put on and

LIBRETTO
---
proceeded to rummage with no clear

goal through the papers in front of him.

Man: The reason I'm here is because

I've made… many mistakes, and I'm

sorry to say that this time I really

do not know how to undo them. It

seems that the secret is out, as the

adage goes, and unfortunately it's

not just me who's involved. I'm not

exactly sure how this happened… but

it DID happen, and so I have come

here so I can sit down and maybe fix

this.

He flicked through the pages quickly,

backtracking several times and making

quick edits with a pencil, ground to

almost a nub as it was. He looked at the

pencil.

Man: Ha! You see, this was one of

my better choices. A pencil… a pencil

while everyone else has a pen.

The angular-faced woman across the

table from him returned a blank stare.

She didn't move, as much as he wanted

her to.

Man: I mean, of course you don't

see. How could you? That's another

mistake, that I only have one of

these, and as you can all see we

are... running out of pencil. I'm sorry,

I cannot fill in the details now. But if

all goes well, I will come back and do

so…

He looked at the angular, near-polygonal

face of the woman in front of him and

paused.

Man: … and then we can pretend like

this has never happened. I have to

go. The show is about to start. I love

you.

He stole a moment more and looked at

her, then darted at his watch and quickly

turned the wad of papers over to the

first page. With a single broad stroke he

crossed the page out, and just like that

the sleepy street in a sleepy dimly lit

town was no more.

The five minute bell rang.

Clutching the wad of papers under his

arm, he ran up the stairs of the Opera

House. The doorman, adept at his

vocation, swung the large ornate doors

open for him, ushering him in.

::

Doorman: You have four minutes

more, Mr. Bukhardi, no need to

hurry! Enjoy the show, sir!

He tore through the near-empty lobby

towards the main hall door manned by

another doorman.

Nearing the door to the hall, he yelled to

the doorman…

Man: Andreas Bukhardi!!! I have a

season pass!!!

The doorman would not even dream of

checking the ticket and opened the door

just as a voice from the corner of the

lobby called out.

Woman: Sir!

Libretto
---
He stopped and turned around, startled

as he was, letting a few remaining

patrons push past him through the door.

The woman in the corner of the lobby

was young, shaggy and dishevelled, with

a wild glint in her eyes and a shock of

crazy light-brown curly hair.

Andreas: Marin! I'm sorry! there is no

time!

Marin: Stop!

Andreas: It's complicated! I have to

go!

He turned around towards the door,

the doorman opening it for him once

again. Behind the door he glimpsed the

splendour of the grand concert hall, just

the way he remembered it. In between

him and the hall, however, was Thaddeus

Pintz, now slowly but deliberately

approaching.

Andreas: Mr. Pintz! I wasn't expecting

you.

Thaddeus: You seem to know me,

sir, but I don't think I have had the

pleasure.

The doorman closed the door once

again. The bell rang once more.

Thaddeus was now in the lobby and

Andreas was flanked from both sides.

Andreas: I know this sounds strange,

but please do not waste any more

time!

Entering the lobby from the adjacent

restroom was an older woman in pre-war

dress and a slanted hat; Monica. Behind

her Reba Martenot.

Monica: Ah, I see all the guests have

come to the party! Welcome, Mr.

Bukhardi. Don't worry, you won't

miss the show.

Andreas darted towards the door

and the doorman standing beside

it, who now stood perfectly still, his

face ill-defined and cubist. Andreas

stood there and suddenly his arms

went weak, and the papers he so

attentively held until now fell to the

floor.

Andreas: [despondently] Why?

Monica: Why? WHY??? Mr. Bukhardi,

you of all people should know what

the common thread here is. You of all

people should have expected this.

Andreas: [looking around] What

about them? They don't know!

Monica: Oh, they know. They know

Libretto
---
very well. I've made sure of that.

Really, strictly speaking, the only one

who knows but doesn't seem to care

is that idiot Jeffrey. Remember him?

As for the rest of us, we do care, and

we are a little concerned.

Andreas: It's all my fault.

Thaddeus: What is?

Andreas: All this. [points at paper

on floor] All this. I didn't know how

else to build a world where she

would… where she would love me.

I've created something so wonderful,

so perfect, so real. And I was able to

describe its every facet. It was the

way I would love someone if only I

would ever meet her.

Marin: Who is it?

Andreas: It's no one.

They all looked at him closely.

Andreas: It's all of you. All of

you carry something of me and

something of what I thought she

should be. I never filled in the details.

I've described a world that she would

love, friends that we would have,

adventures we would go on. And

all of you were there, in your own

stories, ready to go, waiting for us.

Thaddeus: I did wait for you, and

so did Marin, but you never came.

Instead a woman called Angela Briar

tipped us off about you. That's why

we are here.

Reba: I did wait for you, but you

never came. Instead a man called

Arthur Kleis told me about you.

That's why I am here.

Monica: And I have waited for you,

Mr. Bukhardi. I have waited for you to

return me back to my original story,

but you never did. Admittedly you

were a very careful writer, but not

careful enough. You see, everybody,

Mr. Bukhardi here wrote the rest of

his story into my story. This, all this,

is MY STORY! What he didn't know is

that I would then take his writing and

rewrite it myself. Check mate, Mr.

Bukhardi.

Monica produced a wad of folded sheets

from her pocket, and watching Andreas

slowly collapse to the floor, she unfolded

it and held up the topmost page.

Monica: Here is where you describe

this very Opera House, complete with

that idiot Jeffrey.

Andreas looked at her with an air of

resignation. With a single swift move,

LIBRETTO
---
Libretto
---
she produced a pen from her pocket

and ran it across the top paragraph.

The carpets turned black, half the lights

turned off, the popcorn machine fell to

the floor.

Monica: You wrote us all into a

story that we do not belong in, Mr.

Bukhardi. You've dumped us into

a world that we do not belong in.

An unfinished, poorly constructed

shadow of a reality that no one cares

about, and where our only common

goal is to serve you in your quest for

love! Well I say to hell with you and

your elusive love, Mr. Bukhardi!

Monica took another page from the stack

and tore it into bits. The walls turned

dark.

Monica: To hell with you and your

story!!!

She took yet another page off the top of

the stack and…

::

learned of the story and the inclusion

of the other characters who were to

aid in the construction of an entirely

different world became aware that

the anachronisms created are in fact

evidence of something greater.

It has been agreed that pens, paper,

and any other implementation of writing

within the stories has to be carefully

considered lest another rogue attempts a

similar transgression.

This is Andreas Bukhardi. I apologise for

the inconvenience.

I'm writing this as an afterthought,

having long considered what I have

done and what caused the chaos that

ensued, leading ultimately to the

unravelling of the Opera House and

the story surrounding it. I am happy to

report that the only story that suffered

was in fact the story of the Opera House

where a secret exchange between two

wartime spies, code name Operation

Black Butterfly, was to occur, but

ultimately never did. Monica, having
---
the Serenade Files

— OCTOBER – DECEMBER 2019

Mount Lofty Botanic Gardens | photo by Jennifer Trijo