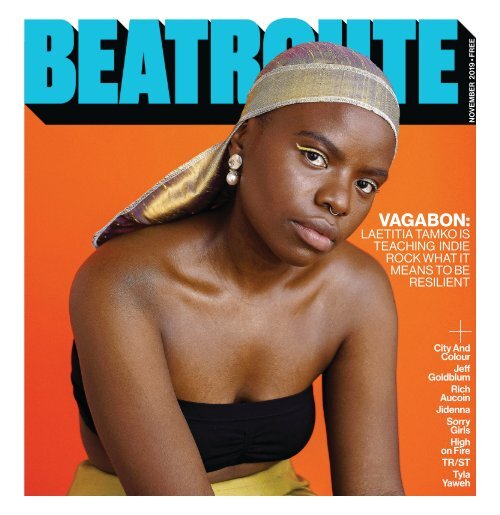 BeatRoute Magazine ON Edition - November 2019
BeatRoute Magazine is a music monthly and website that also covers: fashion, film, travel, liquor and cannabis all through the lens of a music fan. Distributed in British Columbia and Alberta, Ontario edition coming Thursday, October 4, 2019. BeatRoute's Alberta edition is distributed in Calgary, Edmonton, Banff and Canmore. The BC edition is distributed in Vancouver, Victoria and Nanaimo. BeatRoute (AB) Mission PO 23045 Calgary, AB T2S 3A8 E. editor@beatroute.ca BeatRoute (BC) #202 – 2405 E Hastings Vancouver, BC V5K 1Y8 P. 778-888-1120
BeatRoute Magazine is a music monthly and website that also covers: fashion, film, travel, liquor and cannabis all through the lens of a music fan. Distributed in British Columbia and Alberta, Ontario edition coming Thursday, October 4, 2019. BeatRoute's Alberta edition is distributed in Calgary, Edmonton, Banff and Canmore. The BC edition is distributed in Vancouver, Victoria and Nanaimo. BeatRoute (AB) Mission PO 23045 Calgary, AB T2S 3A8 E. editor@beatroute.ca BeatRoute (BC) #202 – 2405 E Hastings Vancouver, BC V5K 1Y8 P. 778-888-1120
SHOW MORE
SHOW LESS
Create successful ePaper yourself
Turn your PDF publications into a flip-book with our unique Google optimized e-Paper software.
NOVEMBER 2019 • FREE

VAGABON:

LAETITIA TAMKO IS

TEACHING INDIE

ROCK WHAT IT

MEANS TO BE

RESILIENT

+

City And

Colour

Jeff

Goldblum

Rich

Aucoin

Jidenna

Sorry

Girls

High

on Fire

TR/ST

Tyla

Yaweh
---
COME PLAY WITH US!

DISCOVER THE ULTIMATE GATHERING PLACE TO LET

GO, BE PLAYFUL AND DISCOVER SOMETHING NEW.

Plan your visit at TheRecRoom.com

The Rec Room Toronto Roundhouse

255 Bremner Blvd., Toronto, ON

The Rec Room Mississauga Square One

Unit #1-705, 100 City Centre Drive, Mississauga, ON
---
Contents

BEATROUTE

BEATROUTE

BEAT

ROUTE

BR

BRLIVE

BRYYZ

Music

4

7

21

23

The Guide

City and Colour gets out

of his head on A Pill for

Loneliness.

Artist Features

Louise Burns, Tyla Yaweh,

Jeff Goldblum, Jidenna,

(Sandy) Alex G, Rich

Aucoin, Manila Grey, High

On Fire, Sorry Girls.

The Playlist

All the singles we can't stop

listening to this month.

Album Reviews

TR/ST, Corridor, Woolworm,

Sudan Archives, The Dreadnoughts,

Little Scream,

Cursive, Leif Vollebekk,

Mount Eerie, Pelada, Beat

Happening.

Cover Story

16

VAGABON:

LAETITIA TAMKO IS

TEACHING INDIE

ROCK WHAT IT

MEANS TO BE

RESILIENT

Vagabon

Indie artist Laeticia Tamko

reigns vulnerable on

sophomore album, Vagabon.

NOVEMBER 2019 • FREE

+

City And

Colour

Jeff

Goldblum

Rich

Aucoin

Jidenna

Sorry

Girls

High

on Fire

TR/ST

Tyla

Yaweh

Screen Time

29 Everybody's Everything shines

introspective lens on the life of

Lil Peep. Edward Norton channels

some of the jazz greats

for his latest role in Motherless

Brooklyn.

LifeStyle

32

34

Travel

We bask in the warm glow of

the hot Arizona sun during the

action-packed HOCO festival.

Style

Music and fashion merge

explosively in King Of Hearts'

vivid designs.

Jessie Reyez, Oct. 21, 2019 at Winter

Garden Theatre. Read our review of this

and more online at beatroute.ca

YYZ

38

39

40

42

YYZ Agenda

Pop music choreographer

Todrick Hall throws the ultimate

haus party.

Bend It Like Beckham

Director Gurinder Chadha brings

her silver screen smash hit to

centre stage. Plus Regent Park

Film Fest focuses on unity while

the Toronto Sound Fest keeps

experimenting.

Stars: Together

Indie Pop icons, Stars celebrate

20 years of success with their

first foray into theatre. Plus Hot

Docs Podcast Festival and Día de

los Muertos.

Cheat Sheet

BeatRoute brings you the

essential shows for November in

Toronto.

MARIA GOVEA

28

Live Reviews

Jessie Reyez and

more online!

Dear Rouge

Play It Loud:

Style page 34

NOVEMBER 2019 BEATROUTE 3
---
RENÉE RODENKIRCHEN

UpFront

NOVEMBER

City and Colour's large-scale

intimate experience By CODY CAETANO

D

espite

the unknown cold snaps,

seasonal affective disorders,

and other come-what-mays

that usher in the first dark days

of winter, City and Colour's sixth LP, A

Pill for Loneliness, is a dose of insight

for our changing times.

From the opening Fruit-Rollup

licks and spacey riffs of "Living with

Lightning" and the apocalyptic parade

into a "Difficult Love" to the uncanny

keys that prop up "Lay Me Down,"

the album offers 53 minutes of Dallas

Green's company.

"It's about trying to find a way in

this clouded 24/7, 365-day-a-year

world where you don't need to shut

things off if you don't want to," Green

says of the album, speaking to BeatRoute

before soundcheck for his

first of two shows in New York. "It's

nice to be with just your thoughts

sometimes," he says.

APFL is currently the number one

record in Canada on the Canadian Albums

Chart and Green is twenty days

into his North American Tour with

Ben Rogers, Ruby Waters, and Jacob

Banks. Despite his high profile and

success, he still squares with those

original intentions from his Sometimes

years.

"When I first started writing, I realized

I could write to get myself out of

my own head and into a melody, and

then maybe into a song that somebody

else might be able to take something

from," he reflects on his early

days. "That's all I have ever wanted

and still want to do. And whether it

led me to where it led me today, or it

led me to just singing and playing in

coffee shops in St. Catherines, I would

still be doing it."

Saturday, Nov. 9 // Pacific Coliseum (Van)

Tuesday, Nov. 12 //Scotiabank Saddledome (Cgy)

Friday, Nov. 22 // Scotiabank Arena (Tor)

BEATROUTE

Publisher

Julia Rambeau Smith

@beatroutemedia

Editor in Chief

Glenn Alderson

Creative Director

Troy Beyer

Managing Editors

Josephine Cruz

Melissa Vincent

Contributing Editors

Sebastian Buzzalino

Dayna Mahannah

Contributors

Ben Boddez • Dora Boras

Cody Caetano • Lauren Donnelly

Alessia Dowhaniuk •

Fraser Hamilton

Courtney Heffernan

Albert Hoang • Brendan Lee

Cam Lindsay • Dave MacIntyre

Maggie McPhee • Pat Mullen

Sean Orr • Jibril Osman

Adam Piotrowicz • Lamar Ramos

Yasmine Shemesh • Sumiko Wilson

Drew Yorke • Aurora Zboch

Contributing Photographers

Lance Bang • Lindsey Blane

Baron S. Cameron

Renée Rodenkirchen

Pamela Evelyn • Maria Govea

Noa Grayevky • Anna Maria Lopez

Scott Munn • Thomas Neukum

Lara Olanick • Sela Sheloni

Reto Sterchi • Mel Yap

Joseph Yarmush

Coordinator (Live Music)

Darrole Palmer

Advertising Inquiries

Glenn Alderson

glenn@beatroute.ca

778-888-1120

Distribution

BeatRoute is distributed in

Vancouver, Victoria, Calgary,

Edmonton, Winnipeg,

Saskatoon and Toronto

Contact Us

26 Duncan Street,

Suite 500,

Toronto ON,

M5V 2B9

e-mail:

editor@beatroute.ca

@beatroutemedia

beatroutemedia

beatroute.ca
---
musical

instruments

gift

cards

lessons

Shop

online

give the gift of music this season

Best selection. Best price.

Holiday shopping made easy.

6 BEATROUTE NOVEMBER 2019

With 32 stores in Ontario including

925 Bloor Street W • 416.588.7886

2777 Steeles Avenue W • 416.663.8612

1133 Markham Road • 416.439.8001
---
MUSiC

It's such a great

moment for pop

music. I'm just really

excited by all of the

songwriting and

production I'm

hearing.

LOUISE

BURNS

RETURNS

TO HER POP

ROOTS

By CAM LINDSAY

W

hen a musician says they're

returning to their roots, it's

rarely in reference to a teenage

pop group that was signed by

Madonna and released a music

video starring peak period Lindsay Lohan.

But this is the life of Vancouver's Louise

Burns.

"It sounds kinda cheesy. When most

people say that they mean folk or punk or

DIY, but for me it means corporate pop,"

she says with a laugh. "I've been embracing

all of the lessons I learned from when I

started out as a kid in Lillix. I was like, 'Fuck

it. I'm just gonna write the most saccharine

melodies I can and say some really emotional

things." Because I've never really

been that open before with my lyrics."

Since leaving Lillix, Burns has made

music on her own terms. Her first three

solo albums were all well-received collections

of synth-y indie pop, but when it

came time to record number four, Burns

felt a change needed to be made. She

wanted to make unapologetic pop

music again.

"It's such a great moment for pop

music," Burns says. "I'm just really

excited by all of the songwriting and

production I'm hearing. I think I was

getting a bit bored of myself. I think

CONTINUED ON PG. 8 k

NOVEMBER 2019 BEATROUTE 7
---
JENNIFER LATOUR

MUSiC ARTIST INTERVIEW

LOUISE

BURNS

k CONTINUED FROM PG. 7

that happens to a lot of people. I definitely

honour what I did in the past, it's been very

good to me. But a lot of these new sounds

have come from me being more open to

embracing my pop side, especially in the

world of electronic music."

Album number four, Portraits, feels like

a giant creative leap forward for Burns in

all respects. With its slinky rhythms, neon

synths, raw lyrical admissions and breezy

sax solos (Burns is a massive Roxy Music

fan), she has entered that mature pop

niche, alongside artists like Christine and

the Queens, Shura and Carly Rae Jepsen

that she always seemed destined for. A big

part of this process was letting down her

guard and exploring her emotions through

lyrics.

"This record I did focus more on my

lyrics, which I think is a huge part of pop

music right now," Burns admits. "As a

non-emotional person, I found it to be a

pretty crazy exercise to actually explore

that side of my writing, rather than just hide

behind a wall of reverb, lots of guitars or

crazy drums. I was just trying to put myself

into this position of, almost discomfort, so I

could try and grow."

One way in which she found the courage

to do this was in returning to the city where

it all started for her: Los Angeles, where

she lived during the Lillix years.

"A lot of it was closure for me," she

explains. "There have been some weird

wounds I've had since that time, which goes

with being a teenager I think. Everyone has

their shit that they hold on to throughout

their adulthood. But for me a lot of the insecurities

and neuroses were really put under

a microscope in LA when I was a teenager

and I still had the same perspective in a lot

of ways ever since. So I figured I'd go back

to that city where I began my career and

make amends with it, to see if I could move

forward and have a healthy relationship

with my past instead of trying to hide it or

be so self-deprecating."

It was also there in Los Angeles where

Burns connected with producer Damian

Taylor (Arcade Fire, Björk), who previously

worked on her 2017 album, Young Mopes.

This time, however, Burns invited Taylor

into her songwriting process, another first

for her.

"Damian is amazing. I call him my guru,"

she says avidly. "He knows how to push

me and get the best work out of me. The

way we talk about music, I just always learn

from him. I'm so lucky that this was my first

real collaborative experience because he

paved the way for it to be a positive thing

for me. This record wouldn't have existed

if it weren't for him. I feel like with him, I put

more work into my songwriting, getting the

sounds I wanted, and deciding what I want

to do as an artist." ,

8 BEATROUTE NOVEMBER 2019
---
MUSiC ARTIST INTERVIEW

TYLA

YAWEH

The Florida Rapper is a rockstar – and

he's known it since the fourth grade.

By DREW YORKE

T

he Florida-born artist initially

shocked his mother and teachers

when he started dressing in all-black

and painting his nails. "They thought

I was worshipping the devil, but I just

loved the way they dressed—Marilyn

Manson, My Chemical Romance, The Used,"

the blue-haired rapper recounts from his

Toronto green room. He is in town to open

for his friend, the massively popular, Grammy-nominated

Post Malone, at a venue that

holds almost 20,000 people. For most that

would sound like a daunting task - but this is

just another day in Yaweh's life.

He came up in the grimy Florida rap

renaissance alongside the likes of Lil Pump,

Ski Mask the Slump God, Smokepurpp,

XXXTentacion and even performed at

the very first Rolling Loud festival. "Tariq

[Cherif] and Matt [Zingler] used to manage

me, I used to sleep on their couch. I

never signed with them but they're my

homies until the day I die. They've put me

on a bunch of their shows. It's actually

crazy, it started off as a couple of small

shows and evolved into the festivals you

see around the world now."

Yaweh credits a childhood of Fuse

TV and Warped Tour videos as well as

breakdancing functions and his sister's

band for pushing him into pursuing

music. "My sister was in a band,

it was like Destiny's Child mixed with

2Pac. It was cool, they had signed

to a publishing company. She was

doing hella shows and I saw that

whole lifestyle." His music and

passion lead him to moving to Los

Angeles and catching the atten-

I loved

Degrassi –

that was my

favourite show.

I wanted to move

to Canada

because of that.

It seemed lit.

tion of Post Malone and Dre London,

eventually becoming the first signee to

their London Entertainment company.

"It really opened my eyes. Post has this

video of Ozzy Osbourne he puts on the

screen when he performs 'Take What

You Want.' My manager was at Ozzy's

house when they were filming it. He was

sending me videos of him and it was so powerful,

like this is really the Prince himself."

While it may be his first time performing in

Toronto, Yaweh has a deep connection with

the city via his favourite television show, Degrassi:

"I was just talking to Drake about this.

I think that whole Degrassi wave was crazy. I

loved Degrassi; that was my favourite show. I

wanted to move to Canada because of that,

it seemed lit. And it really is lit, I'm not gonna

lie. It's like one big Degrassi show out here."

In addition to being pals with Drake, he's also

good friends with 12AM, a rising Canadian

artist (under the same management)

of whom he speaks very

highly. "12AM, that's my dawg,"

Yaweh says. "My managers,

they been helping him out.

That kid is next up. He's got

a new song with Lil Keed

that's not out yet that's fire.

Trust me, he's about to blow

up. I love that kid."

A quick glance at Yaweh's

Instagram shows a life of

high energy—goofy antics

on a rockstar journey from

city to city. He insists that

he maintains a healthy

balance but when asked

about taking a vacation,

he instantly proposed

throwing a concert. "We

just did a whole tour out

there but I want to go back

and do nothing," he says. "I

was thinking about throwing

a small, private show and

tell people to pull up for

free. I want to be that type of

person that has a presence.

When I'm in the room you

know I'm here."

Opening for Post Malone on

tour would be a dream-cometrue

for many and while Yaweh

maintains that he has a long

way to go, he acknowledges

the absurdity of the moments

that occur when you're a rising

rapper. "We were out in the

middle of Nebraska in a cornfield,

me and my road manager,

making funny videos with some

masks," he says. "We didn't even

show where we were, just in the

cornfield. An hour later, 50 kids

are outside my bus in this random

town. It's really crazy what

phones can do." ,

NOVEMBER 2019 BEATROUTE 9

NOA GRAYEVKY E
---
VEGAN

VOGS

(GOODY GOODY TWO SHOES)

JOHN FLUEVOG TORONTO 4 TRINITY ST 416·583·1970 686 QUEEN ST W 416·581·1420

JOHN FLUEVOG OTTAWA 61 WILLIAM ST 613·244·1970

FLUEVOG.COM

fluevog_veganvogs_beatroute20191025.indd 3 2019-10-25 16:41
---
MUSiC ARTIST INTERVIEW

JAZZY

JEFF

Jeff Goldblum cut his teeth as a

pianist in Pittsburg before hitting

the silver screen By LAUREN DONNELLY

J

eff Goldblum is calling from

a "luxuriously roomy little

closet" inside his home in

Los Angeles. He only has

15 minutes for an interview,

but he'll spend at least five

of those minutes singing

jazz songs. Sometimes the music says

it best.

Asked about his first memories of

jazz, he sings the trumpet line from

Herb Alpert's instrumental 1965 album,

Whipped Cream and Other Delights.

Considering the relevance of jazz in

an era of distrust and corruption, he

reprises a moment from an appearance

on The Colbert Show, talk-singing

Irving Berlin's "Let's Face the Music and

Dance" in his velvet voice.

"Soon we'll be without the moon,

humming a different tune, and then

there may be teardrops to shed," he

rushy-stop sings. "But while there's

moonlight, music, and love and romance,

let's face the music and dance."

He ends the song doing both vocal

parts in crescendo. He takes a breath,

letting the lyrics sink in.

"I think that has something to do with

our time," he concludes. "That gives me

a little lift — it gives me a lift and chills

too. It's a chilling time we live in."

The father, husband, legendary

charmer, and gregarious character best

known for iconic acting performances

in films like Jurassic Park, The Big Chill,

The Fly, and The Life Aquatic, is also a

passionate jazz pianist. I Shouldn't Be

Telling You This is Goldblum's sophomore

album with his band the Mildred

Snitzer Orchestra.

Nostalgic and fun, the album features

Any time

where general

stupidity and

backwardness and

darkness can befall

us, music of all

sorts can lift our

spirits

a mix of renditions of classics like

"Let's Face the Music and Dance," and

delightful mashups of standards like

"Sidewinder" with the Sonny and Cher

hit, "The Beat Goes On."

These aren't stale covers of the

same classics. Goldblum's music is

as enigmatic and enthusiastic as his

acting performances. Looking back,

he says that as an actor he sometimes

over-prepared to get to the right emotional

place for the scene. But music

was different.

"As you started to play it, whether it

was a sad song, or a happy song, [the

music] sort of provided," Goldblum

explains. "Trying to render the song

and the story, and communicating it

somehow gave you all the feeling that

you needed."

Music came before acting success

did. He cut his teeth as a pianist growing

up in Pittsburgh. Though he wasn't

educated at a jazz institution, he took

lessons, learning chords and exercising

his improvisational muscles with the

standards in fake books. That set his

course.

After years of playing weekly gigs in

L.A., Goldblum and the Mildred Snitzer

Orchestra released their live album

debut in 2018. The Capitol Studio

Sessions topped the charts

in the UK, U.S., Germany and

Australia, and received a

warm critical welcome. It

was only a matter of time

before a sequel was in the

making.

Skills that make Goldblum

a captivating actor—improvisation,

curiosity, and generosity

towards —also serve him well as

a jazz musician.

After making his film debut 45 years

ago, Goldblum has captured Hollywood's

elusive holy grail: longevity. Duets on I

Shouldn't Be Telling You This feature

a diverse range of collaborators from

Gregory Porter and Miley Cyrus, to Fiona

Apple and Sharon Van Etten. A contagious

sense of joy is palpable throughout

the record. Transposing songs from

bygone eras, Goldblum's album serves a

powerful counterpoint to the foreboding

doom of the current political climate.

It's not surprising that people are still

clamoring to work with him given his joie

de vivre, but where does he draw his

enthusiasm from?

"Any time where general stupidity and

backwardness and darkness can befall

us, music of all sorts can lift our spirits,"

he says. "[It can] be relevant to our healing

and an upliftment toward our better

angels. But on this album specifically..."

He's mid-sentence when something

strikes him.

"Ooooh," he rumbles in his excited,

somewhat sinister-sounding baritone.

"Ooooh, wait a minute, wait a minute,

well..."

He starts singing again.

"Make someone happy —make just

one someone happy, then you'll be

happy too," that Gregory Porter sings

[on the new album]. "Ooooh, that has

something to do with a nice credo, you

know?"

I Shouldn't Be Telling You This is released

globally on November 1, 2019. ,

NOVEMBER 2019 BEATROUTE 11

SELA SHELONI
---
MUNACH IOSEGBU

MUSiC ARTIST INTERVIEW

W

hile you might not

expect someone

born in Wisconsin

to have an immigrant

story, Jidenna

Theodore Mobisson does. He was born in the small

city of Wisconsin Rapids, but returned to his parents'

home country of Nigeria soon after, spending the first

six years of his life there. When he returned to America

a few years later, instead of a joyous homecoming, the

six-year-old Jidenna experienced something different.

"Coming to America, number one, I was a foreigner;

two, I was an African; and three, apparently, I was

black, in that order," he recalls to BeatRoute of his

early years, shortly before his headlining show at The

Phoenix Concert theatre in Toronto.

"That's kind of how the kids tease you. That's the

first thing you realize: 'I'm different.' And I think that

quieted me as a kid. It made me very observant. It

made me feel like I had to assimilate into American

culture and I did that. I tucked my foreignness away,

my Africanness away, [and] even when I was really

young – tucked my Blackness away."

Any children of immigrants will identify with

J I

D E

N

N A

From 85 to Africa

and back again:

Jidenna Theodore

Mobisson's journey to

finding himself

By JIBRIL OSMAN

Jidenna's upbringing and the focus on hard

work and schooling that came with it. "My

family really didn't have a lot of money

growing up, and education was the way that

we were taught that we could get out of being

on the lower spectrum of income," he

shares.

"Now, I wasn't poor because I've seen real

poverty and I would never claim that, but I

grew up in working class neighborhoods.

My parents were both educated, but they

both came from small towns, small villages.

They literally taught me that education

is the way out, and that's why I have such a

strong emphasis on education."

Jidenna would eventually get into Harvard,

but decided to attend Stanford University

instead, graduating with a Bachelor

of Arts Degree in 2008. Before his big break,

Jidenna unexpectedly became a teacher. "I

never wanted to be a teacher in my life and

I hated it when I was in it. I was just good at

it and it involved music. Sorry to disappoint

you and anybody who's reading this, but the

truth of the matter is I was a broke artist and

needed a job."

But the job brought its own knowledge.

"In the program we taught history through

hip-hop and did test prep through hip-hop,"

he explains. "The reason I can honestly perform

now as an artist is because of the kids.

They were getting up in the morning and

listening to me talk about futile systems;

that's the toughest audience you'll ever perform

at."

After leaving teaching and working on

music for a few years, Jidenna struck gold

with his 2015 single, "Classic Man," eventually

signing with Janelle Monae's Wonderland

Records. Jidenna—a believer in speaking

things into existence—wasn't surprised

at his success. For him, it was finally his

moment.

"It was a relief because I've imagined

most of this," he says. "I'm not one of those

artists that's surprised. I think this is how

the universe works—you write down what

you want, you imagine it, you visualize it

and then it happens. So all of it was a relief

that everything came true."

After the success of "Classic Man," Jidenna

would release his debut album, The Chief,

in 2017, as well as an EP, Boomerang, in the

same year. But he would spend the next two

years evolving as both an artist and a person.

Part of his self-discovery meant returning

to Africa, which resulted is his new album,

85 To Africa — finally, that foreignness, Africanness,

and Blackness that he tucked away

as a child, was free to flourish and thrive.

"I wanted that growth and evolution, and

that's what has happened to me with this album,"

Jidenna reflects. "This album is the

rest of my life; it's what I've always been

about." ,

12 BEATROUTE NOVEMBER 2019
---
TONJE THILESEN

go with

your gut

Talking with lo-fi legend (Sandy) Alex G about instinct,

obligations and interviews (like this one) By DORA BORAS

F

or

(SANDY) ALEX G

Saturday, Nov. 2

The Imperial (Vancouver)

Tuesday, Nov. 12

many, (Sandy)

Alex G is a beloved

bedroom

rock superstar

who just

released his eighth "studio"

album to warm acclaim. To

some members of right wing

and conservative Facebook

pages, he's also known as a college-age

Beto O'Rouke who's just peed his jeans

– he was recently misidentified as such

in a photo posted to a Facebook group

titled "Dignified Patriot."

To clarify, Alex had only spilled a beer

onto himself. One of the last people

you'd expect to be in the media, let

alone for something political, this hiccup

seems to be the most visible the young

songwriter has ever been in the press.

The Opera House

(Toronto)

Because of his muted online presence

– besides on Bandcamp where he grew

his reputation – many regard Alex and his

music like a secret. His sound is dreamy,

distinct and sometimes bizarre. His slow

and still-shielded presence grew softly

– you had to know where to go online

to come across his music. When Alex

G's music began popping up on blogs

around 2010, the idiosyncrasy of his

music felt largely ahead of its time and

yet simple, not unlike the late icon Daniel

Johnston.

"There's the charm of being known but

still unknown. I can put out this music

without having pictures of myself," he

says. "I enjoy talking to [the media], but it

Tix:$23-$25, eventbrite.ca

can take away from the music

sometimes."

His new album, House of

Sugar, is darling and gossamer.

What enchants his

admirers is his ability to remain

largely consistent throughout

each album, and his effortless

yet artful approach is the key

to maintaining this quality. "I was thinking

about everything I normally think about,"

he says.

This album, much like the rest of his

discography, is a hum of gauzy and intimate

sounds. His girlfriend, Molly Germer, plays

violin throughout the album. "The only

tricky part, is because I'm so comfortable

with her, I'll be more direct about what I'm

thinking."

On the topic of visuals inspiring his music,

he refers to Alex Garland's Annihilation

(2018) was a huge inspiration for the visual

aspect of House. "It does a really good job

of mixing really beautiful visuals with really

grotesque visuals. I like that a lot." House of

Sugar, with its bitter inflections, is another

masterful invitation into his friendly surreality.

Between the conservative bathroom-humour

blunder and his uncomplicated writing

and recording techniques, it seems as

though Alex's story writes itself. He has few

contemporaries or artists that could easily

fit a touring bill based on sound alone.

"Music is 100 per cent instinct," he says.

"I don't know any technical theory about

music or anything, so I have to refer to my

gut." ,

NOVEMBER 2019 BEATROUTE 13
---
MUSiC CONCERT PREVIEWS

GET

RICH

QUICK

Rich Aucoin made an album

about death by celebrating life

By COURTNEY HEFFERNAN

SCOTT MUNN
---
B

est known for his vibrant

electronic albums and

confetti-filled live shows,

Rich Aucoin's fascination

with death seems

incongruous. However,

reconciling these ideas

is central to the Halifax-based

musician's

creative process.

His upcoming Death

Tour this fall will be a celebration

of life and his dazzling new album,

Release, is a colourful exploration of

ideas around existence and mortality.

"I knew I wanted to make a record

on death," says Aucoin, matter-of-factly,

as he sits back in his

chair in a bright café in downtown

Toronto. "And I wanted a lot of colour

so it wasn't this dark connotation of

death and was more in line with my

view of the celebration of life until it's

over."

To talk to Aucoin is to understand

how seemingly disparate interests

come to cohesion. In conversation,

Aucoin is animated and engaging;

he smiles and laughs a lot, using his

hands when he talks. He speaks as

passionately about the art he creates

with friends and collaborators as he

does about existential philosophy.

"The whole album is about looking

at how we build our foundations for

viewing existence," says Aucoin. He

talks about philosophical concepts

with a warmth that makes even the

most obscure ideas accessible.

Release was inspired by Aucoin's

reading of The Denial of Death by Ernest

Becker, a psychological text that

harkens back to Aucoin's philosophy

and contemporary studies in university.

One of the themes from Aucoin's

reading that resonates through the album

is the idea of being present. "And

presence being fuelled by a healthy

awareness of death," he says.

It's a fitting topic for Release,

which is the last in a trilogy of albums

rounded out by We're All Dying to Live

(2011) and Ephemeral (2014). Aucoin's

Death Tour marks an end to a creative

trajectory that was nearly 10 years in

the making. Though the albums are

thematically connected, Aucoin acknowledges,

"I didn't have it planned

out so much. They all just seemed to

focus around death in different ways.

Now that I've fully made the record I

know this is a trilogy and it's over."

On album opener "The Base,"

Aucoin uses audio from Sam Harris'

talk, Death in the Present Moment. "I

thought it was a nice way to start the

mindfulness of the record I was trying

to make," he says. "It really puts in

perspective how quickly the mind can

be racing towards

future

anxieties."

He intends

to promote

mindfulness

through his

live show by

interspersing

his performance

with

RICH AUCOIN

Friday, Nov. 1

Queens (Nanaimo)

Saturday, Nov. 2

Lucky Bar (Victoria)

Saturday, Nov. 30

Commonwealth Bar &

Stage (Calgary)

Tix:$14.50-$20, eventbrite.ca

ideas from philosophers, further

expanding on the ideas of each song.

"I want to have the show be almost a

meditation through the themes of the

record," he says.

Injecting a heady dose of colour to

otherwise dark themes around death

and dying, Aucoin is synchronizing his

Release live shows to Disney's Alice in

Wonderland. The dreamlike imagery,

as well as the concept of Wonderland,

resonates with Aucoin.

"Wonderland is a metaphor for our

own ideas and beliefs of the world,"

Aucoin says. "Alice is just going

deeper inside her own beliefs until it's

the end of her. That's our journey too,

to keep figuring out how we want to

view everything and redefining our

foundations of beliefs."

Aucoin equates the process of

shaping and defining our beliefs to

a game of Jenga. "When we're kids,

it's just as simple as setting up the

pieces," he says. "In order to grow,

you need to keep taking pieces out

and adding more – even if it makes

your whole foundation of the way you

view existence teeter back and forth.

Nevertheless, you have to keep going

if you want to keep growing."

Though existentialism is an intense

subject, it certainly isn't Aucoin's

intention to bring the mood down.

When asked how he wants his audience

to feel after one of his shows,

he says, "Really stoked on life," insisting

that his Death Tour will still offer

the party atmosphere that has made

Aucoin's live shows renowned.

In a lot of ways, Aucoin has created

an immersive "choose your own

adventure" experience, where he

brings together philosophical themes

nurtured throughout the trilogy of

albums while making his audience

feel like they're part of a celebratory

community.

"Some people really enjoy thinking

about philosophy, some enjoy the

celebration of joy and the communal

aspect of the party," Aucoin says.

While he's content with an audience

that just wants to feel the vibe,

he admits, "I'm happy if people take

away the philosophy that's been

laboured over as part of the show as

well." ,

Happy Hour

3 - 6pm everyday

$3.50 GUINNESS

YOUR GO TO SPOT FOR

ALL THINGS SPORTS

MONDAY

DC MONDAY NIGHT FOOTBALL

TUESDAY

GAMES NIGHT

WEDSNESDAY

POOL AND PING PONG

TOURNAMENT

THURSDAY

DART TOURNAMENT

FRIDAY

LADIES NIGHT

SATURDAY & SUNDAY

SHENANIGANS AND HOCKEY

NIGHT IN DC

SUNDAY

DC SUNDAY TICKET

TORONTO

JOIN US AT 250 ADELAIDE ST W, TORONTO

WWW.DUBLINCALLING.COM @DUBLINCALLINGTO

NOVEMBER 2019 BEATROUTE 15
---
BR

BR

BR

BR

BR

BR

BR

BR

BR

BR

BR

BR

BR

BR

BR

BR

BR

BR

BR

BR

BR

BR

BR

BR

BR

BR

BR

BR

BR

BR

BR

BR

BR

BR

BR

BR

BR

BR

BR

BR

BR

BR

BR

BR

BR

BR

BR

BR

BR

BR

BR

BR

BR

BR

BR

BR

BR

BR

BR

BR

BR

BR

BRYYZ

YYZ

YYZ

YYZ

YYZ

YYZ

YYZ

YYZ

YYZ

YYZ

YYZ

YYZ

YYZ

YYZ

YYZ

YYZ

YYZ

YYZ

YYZ

YYZ

YYZ

YYZ

YYZ

YYZ

YYZ

YYZ

YYZ

YYZ

YYZ

YYZ

YYZ

YYZ

YYZ

YYZ

YYZ

YYZ

YYZ

YYZ

YYZ

YYZ

YYZ

YYZ

YYZ

YYZ

YYZ

YYZ

YYZ

YYZ

YYZ

YYZ

YYZ

YYZ

YYZ

YYZ

YYZ

YYZ

YYZ

YYZ

YYZ

YYZ

YYZ

YYZ

YYZ

BR

BR

BR

BR

BR

BR

BR

BR

BR

BR

BR

BR

BR

BR

BR

BR

BR

BR

BR

BR

BR

BR

BR

BR

BR

BR

BR

BR

BR

BR

BR

BR

BR

BR

BR

BR

BR

BR

BR

BR

BR

BR

BR

BR

BR

BR

BR

BR

BR

BR

BR

BR

BR

BR

BR

BR

BR

BR

BR

BR

BR

BR

BRCOVERSTORY

COVERSTORY

COVERSTORY

COVERSTORY

COVERSTORY

COVERSTORY

COVERSTORY

COVERSTORY

COVERSTORY

COVERSTORY

COVERSTORY

COVERSTORY

COVERSTORY

COVERSTORY

COVERSTORY

COVERSTORY

COVERSTORY

COVERSTORY

COVERSTORY

COVERSTORY

COVERSTORY

COVERSTORY

COVERSTORY

COVERSTORY

COVERSTORY

COVERSTORY

COVERSTORY

COVERSTORY

COVERSTORY

COVERSTORY

COVERSTORY

COVERSTORY

COVERSTORY

COVERSTORY

COVERSTORY

COVERSTORY

COVERSTORY

COVERSTORY

COVERSTORY

COVERSTORY

COVERSTORY

COVERSTORY

COVERSTORY

COVERSTORY

COVERSTORY

COVERSTORY

COVERSTORY

COVERSTORY

COVERSTORY

COVERSTORY

COVERSTORY

COVERSTORY

COVERSTORY

COVERSTORY

COVERSTORY

COVERSTORY

COVERSTORY

COVERSTORY

COVERSTORY

COVERSTORY

COVERSTORY

COVERSTORY

COVERSTORY

VAGAB

LAETITIA VAGAB

LAETITIA VAGAB

TAMKO

IS BORN

AGAIN ASVAGAB

AGAIN ASVAGAB
---
the release of

her sophomore album,

the Cameroon-born,

ONWith

Brooklyn-based indie

artist reflects on finding

identity in an alias and

how this album served

as the soundtrack to

her self-discovery

By SUMIKO WILSON

I

n many ways, it's not a stretch to compare

creating an album to giving birth:

the conception, the waiting, the pain, and

the fear of how your creation will fare in

the world. On the day Laetitia Tamko released

her self-titled sophomore album

as Vagabon, that fear was eclipsed by excitement

anchored with a sense of calm.

"Because it's my second album, release

day is exciting but it's really about the year." she

explains in a phone conversation with BeatRoute

CONTINUED ON PG. 18 k
---
VAGABON

k CONTINUED FROM PG. 17

initially came from a place of pain,

Tamko now sees them as "songs of

triumph." "In their conception they

were powerful in the freedom I felt

being that vulnerable. Now, they're

powerful because they remind me of

what I've learned through performing

them," she elaborates.

On Vagabon, Laetitia Tamko stepping

into herself is multifaceted. In

addition to handling all of the production

on the album, there's another

subtle difference in the liner

notes. Vagabon is being distributed

under a self-titled LLC: an independent

imprint through which she will

take greater responsibility over the

album's commercial distribution, but

also reap the rewards more abundantly.

In essence, this serves as a

sign that Tamko is inching towards

ultimate artistic independence, befrom

Los Angeles, days before joining

Angel Olsen on the North American

leg of her upcoming tour.

Her tone is soft-spoken, but

self-assured, and she stretches the

word "year" to reflect the long-game

that awaits. "I'm not worked up or

anything," she continues. "I just feel

glad that it's available. I think that's

the most exciting part — seeing what

kind of life this child of mine will

make for itself."

At 13, Tamko migrated to New

York City from Cameroon, speaking

limited English. She got her start as

a multi-instrumentalist when her

parents gifted her a guitar from Costco

in her teens. After high school,

Tamko opted for a full-time career in

computer and electrical engineering

while gestating her artistic alter-ego,

Vagabon, through playing DIY indie

shows in Brooklyn after work.

When she eventually made the

decision to leave her engineering career

and make music full-time, Vagabon

was born. Since then, she has

released three critically-acclaimed

projects, toured internationally with

indie icons like Courtney Barnett and

Tegan and Sara, and headlined a Tiny

Desk concert that has amassed nearly

100,000 views.

Where the face of indie rock so

rarely deviates from its norm, Tamko

offers a refreshing take on the genre

beyond face-value.

Over the phone Tamko's confidence

bleeds into her tone, which

echoes her singing voice; strong and

steady, but never ascending to a roar.

Clocking in at just under 40 minutes,

over Vagabon's ten tracks, Tamko delivers

an evolved sound that is more

revelatory and honest than ever.

She opens up about an overwhelming

love on "Flood" ("I know even if

I run from it I'm still in it/I know I'll

hold you so close") and addresses

her position as an indie outlier on

"Wits About You" ("I was invited to

the party/ They won't let my people

in/Well then never mind, never mind,

never mind/We don't wanna go to

your function/I want it all for my

own").

On tracks like "Every Woman" and

"In a Bind," Tamko leans into her

indie roots, pairing gently ascending

strings, rising tension, and a straightforward

song structure, similar to Bill

Callahan or Cat Power. "Water Me

Down" and "Flood," depart from her

signature sound, and instead opt for

edgy, impossibly danceable synths, to

amplify the raw power of her vocals.

At moments, Vagabon plays like a

meditative sound bath, particularly

on "Home Soon." Sonically, it flows

with the rest of the album by fusing

her airy vocals with disjointed, symphonic

instrumentals, but there is

no chorus, verse, beat or melody to

follow. This track transcends the

conventional song structure with no

apologies, just as Tamko rejects society's

conventions and comes into her

own throughout the course of the LP.

While Tamko's journey to self-realization

plays out over the course

of the album, it started while she

was touring her debut album Infinite

Worlds. She opened Infinite Worlds

with the punchy mid-tempo track

"The Embers," where she sang about

being a small fish and getting gobbled

up by sharks. While touring her last

album, she recalls "being directly in

tune with the transformation from

songs deriving from feeling weak and

feeling tired.

Over time, her lyrics took on new

meaning and grew to be mantra-like,

setting the foundation for the growth

that would play out in her 2019 follow-up.

Rediscovering and redefining

her debut album prompted a comingof-age

for Tamko. "To perform these

songs over and over and over and

find such confidence in reiterating

this message to myself, the timeline,

everything in between, just reshaped

those songs for me.

"In turn," Tamko says, "it reshaped

me."

Though the songs on Infinite Worlds

Having the

record be self-titled

just felt appropriate.

It was really an act of

discovering ones-self

and discovering the

powers within me.

yond the bounds of expression.

This transition was by design. "I

want people to remember that I am

self-reliant. That's most important

to me," Tamko says. "I have

taught myself all these instruments,

I produced my own

record, and I engineered on

my record."

On Vagabon, she accomplished

this goal. "I actually

found myself impressive at several

moments of this album-making

process." She specifically cites

her work behind the boards as a feat

that has stuck with her.

"Making a song like 'Water Me

Down' is something where I sat back

at the end of it and thought 'How the

fuck did I make that?' Actually being

able to say nice things about my music

instead of downplaying it, or minimizing

myself." Still, she is secure

enough to ask for help. "I just want to

be an all-encompassing well that can

still outsource help," she says.

The self-titled debut project has

been a long-standing, cross-genre

tradition with roots so deep that

the concept's origin is impossible

to peg. When Diana Ross split from

The Supremes and released her first

solo album in 1970, it was self-titled

to distinguish herself from her former

group. In 2013, when Beyoncé's

self-titled her fifth solo album, it was

to herald a new era of creative independence.

Similarly, Vagabon used

her sophomore album title to assert

her identity under a self-appointed

alias.

"Having the record be self-titled

just felt appropriate for this [album],"

she explains. "It was really

an act of discovering ones-self and

discovering the powers within me.

So in that journey it felt right to reintroduce

myself. It was time to put a

face to the name."

On one of the album's standouts,

"Every Woman," Tamko exudes affirming

security with lyrics like: "I

belong to no one" and "I won't ask

permission from you. In a press

statement ahead of the album's release,

Tamko referred to this track as

Vagabon's "thesis."

In her own words and on her own

terms, Tamko has shed the skin of

uncertainty and insecurity in order

to tell the story of her settling into

herself. On Vagabon, she is the story's

narrator and its hero. In just two albums

and one EP, Tamko has solidified

her presence as an indie-rock

force and has truly lived up to her

name. ,

18 BEATROUTE NOVEMBER 2019
---
Artist to Watch

MANILA

GREY'S

FILIPINO PRIDE IS

TAKING THEM

AROUND THE

WORLD

By JOSEPHINE CRUZ

I

t's been ten years MANILA GREY biggest tour yet, The

since childhood Friday, Nov. 15 Silver Skies Tour, which

friends Neeko Commonwealth (Calgary) will take them to 10

and Soliven

Friday, Nov. 22 cities across Asia and

first started

Fortune Sound Club

Canada.

experimenting (Vancouver)

The decade of

with making their own

music, and three since

they officially formed

Manila Grey and decided

Friday, Nov. 29

Toybox Nightclub

(Toronto)

preparation is evident in

their output, which is as

polished as any other

mainstream R&B or

to make a serious go at their

career. Since then their journey

has resulted in a number of big

wins, including streaming numbers

well into the tens of millions

and a handful of overseas shows.

Now, the Vancouver-based duo

hip-hop and sounds perfectly at

home on a playlist alongside other

top-tier talent like The Weeknd,

Bryson Tiller, 6lack and others.

But it's the way Manila Grey incorporate

their Filipino heritage into

their music and brand that's set

ling them onto the global stage.

Pay close attention and you'll

notice references in their lyrics, imagery

in their videos, and even the

are about to embark on their them apart, and now it's propel- inclusion of an indigenous Tagalog

ad_HolidayRebate2019_BeatRoute_QuarterPg.qxp_Layout 1 2019-10-08 2:15 PM Page 1

script Baybayin in some of their

graphics. It's subtle enough that

it doesn't feel like a gimmick, and

yet prominent enough to make a

statement. For Filipinos around the

world, it's the type of genuine

representation they've craved—

and frankly, deserved—for

years, and Manila Grey is here

to deliver.

BEATROUTE.CA

Get even closer

to the music.

Visit the all-new

beatroute.ca

Photo : Darrole Palmer

NOVEMBER 2019 BEATROUTE 19
---
HIGH

OCTANE

METAL

the project of Pike and bassist

Jeff Matz, following the departure

of founding member Des Kensel

earlier this year) had already spent

over two decades helping build and

fortify the foundation of contemporary

metal.

It's not shocking that Electric

Messiah would bring the band

wide-spread attention. The album

is a high-octane gun show; utilizing

the familiar mechanics of oldschool

death metal with a heavy

dose of speed to emphasize the

band's unyielding dexterity.

But despite their obvious success,

2019 has been mired

with challenges. In early

January, as an active

measure to prevent

the amputation

of Pike's big toe,

derived from a

diabetes-related

complication, he

was ordered off

his feet and they

Matt Pike's High on

Fire aren't resisting

a slow-burn

By MELISSA VINCENT

E

ight months

after High on

Fire won the

Grammy Award

for the Best

Metal Performance for their song

"Electric Messiah," a palpable

sense of surreality still remains

for the Denver-born, now Portland-based

musician, Matt Pike,

known for his gregarious swagger,

and for launching two

of America's most critically

beloved metal bands as the

frontman of High on Fire,

and the guitarist in Sleep.

"I didn't expect to win a

Grammy," Pike muses over

the phone from Amsterdam

before soundcheck.

"Wins like that don't

happen that often, you

know what I mean?"

Long before

the recognition,

High on

Fire (now

had to postpone their tour.

"It's just been a rollercoaster

ride," he recalls, now on the mend

and in the middle of their rescheduled

tour. "I spent more time at

home this year than I had in a long

time. I'm not good at not doing anything.

I just played a lot of guitar,

and did research on weird-ass shit

that I get into."

Pike pauses, then has a revelation:

"I should just write a book."

When probed on the subject

matter, he's already been ruminating

on the contents. "I'm thinking

about it, but I might get sued

ten different ways, given my big

mouth," he laughs. If he did, Pike

might consider a memoir of sorts

("my life's pretty trippy") or a sci-fi

book. He considers blending both,

which wouldn't be a departure from

his typical songwriting style. "That's

what I do lyrically. Same thing, only

more words, and less

hi-hat."

For this tour, Pike

is rewiring what it

means to be on the

road and learning

how to take care of

himself. Without the

aid of whisky and hot

toddies, a method he's

been using for years to warm up

HIGH ON FIRE

Sunday, Nov. 24

Danforth Music Hall

(Toronto)

Monday, Dec. 2

Rickshaw Theatre

(Vancouver)

his voice, he's had to get creative.

"My singing warmup on the way to

practice is Soundgarden's "Badmotorfinger,"

and I'm like 'yeah if I

can hit those notes,' even if I sound

like an idiot in the car, my pipes are

pretty warmed up."

For the formerly high-flying

frontman, infamously known for

a larger-than-life personality, and

a lifestyle to match Pike's new

approach to touring rings of an

approach to self-sustainability

that

feels universally

applicable. Like

everyone else,

he benefits

from

Tix: $30 - $35, ticketmaster.com

following a schedule of his own

design that now includes reading

before a show, or catching up

with any friends he has in that

city.

He's changed his pace,

rather than slowing down, and is

figuring out how to be his own

center of gravity while navigating

the rigors of working while

recovering. Pike has pivoted: "I

don't party like I used to and I do

better when I have

a routine. I take it

easy."

After wrapping

their 2019 tour with

Power Trip and Devil

Master, next year will

bring another rare

moment of pause for

Pike, his first significant

break in years. "I'm taking a

lot of that year off of touring and

I'm gonna put it into just creative

thought. I'm taking some time

to just write, and move forward

with High on Fire. Probably take

some vacations for inspiration."

A week before our phone

call, Pike's granddaughter was

born. Thousands of miles away,

and through a scratchy phone

connection, his voice softens

and curls around the corners.

"Shit feels crazy," he says with

a laugh. "I'm a cool grandpa. I

wanna teach her guitar and

survival skills.

"One of my favourite

things to do is to just shut

my shit off, go to the hills,

and shoot things. When

she's old enough I want to

take her into the forest. I

don't want her to have a cell

phone before she can learn

how to be a human.",

JEN ROSENSTEIN

20 BEATROUTE NOVEMBER 2019
---
MUSiC PREVIEWS

LARA OLANICK

SORRY GIRLS

Montreal duo Sorry Girls make love songs for introverts

By CAM LINDSAY

D

ylan Konrad Obront

likely shouldn't be picking

up a phone to do

an interview. About 12

hours beforehand, the

producer/songwriter of

Montreal's Sorry Girls

was pedalling his bike

to a friend's house when

something got stuck in

his tire. He was thrown

from his ride, but lived to tell the tale.

"I got a concussion, but I'm totally

fine," he says with a groggy tone.

"I was wearing a helmet but I hit my

face pretty good and lost a tooth. It's

all a blur, to be honest."

Luckily for him, Obront had his

bandmate Heather Foster Kirkpatrick

by his side, waiting in the hospital

for the all-clear. That support

for one another has been there for

the past decade, since the two met at

Concordia University, after they both

relocated to Montreal from Toronto.

In the beginning, music wasn't

much of a priority for the pair. But

nestled in Montreal's flourishing

arts scene, it was tough not to get

involved.

"Everyone we were hanging out

with was a musician," explains Fitzpatrick.

"But Dylan and I didn't start making

music until after we graduated."

They formed Sorry Girls as a duo

in which they shared responsibilities:

Fitzpatrick wrote the lyrics, Obront

produced the music. When they were

ready they self-released an eponymous

EP on Bandcamp in 2016, without

any real expectations.

"We got way more attention than

we thought we would," Fitzpatrick

says. "We didn't really have a plan.

We didn't even totally consider ourselves

a band. It was more like, 'Well,

we've made six songs. Let's see if

anyone cares.' Then we put it out and

a bunch of things happened that we

didn't put forth any effort to achieve.

It was then we thought people might

be into what we were doing."

A plan was put into place when Sebastian

Cowan, Arbutus Records' label

boss and founder, came knocking.

He emailed them "out of the blue" to

ask about releasing some of their new

music.

"After that, we said, 'Maybe we

should get serious about this and write

an album,'" admits Fitzpatrick. "We

were still writing music at the time, but

I feel like it was pretty unfocused. Him

contacting us made it more of a concrete

decision

to focus more

on music. I'm

not sure if we

would have

made an album

without

him."

Mixed by

SORRY GIRLS

Friday, Nov. 8

The Imperial

(Vancouver)

Tix: $9.50, eventbrite.ca

Saturday, Nov. 16

Paradise (Van?)

Tix: $21.34, ticketweb.ca

David Carriere (TOPS), their debut

album, Deborah, is an evolution from

the sound they first introduced on

the EP, which they describe as the

blueprint. "We developed a sound of

our own, but the album is more about

polishing it, and honing in on what we

want to do musically."

This sound, somewhere along the

line, was christened "blob pop," which

Fitzpatrick describes as music "for

introverted people, indoor people, really

trying to reach out." But Deborah

(named after a close friend) runs far

deeper than blob. This is an album of

dreamy, romantic pop music.

"I would say it's an album of love

songs," says Fitzpatrick. "That's a

huge thread from the EP to the album.

It's also about self-discovery,

but I think that's part of love as well."

Deborah sounds as though it could

have originally come out in 1984 and

shared the Top 40 with Cyndi Lauper

and Corey Hart thanks to such

affecting bops like "Dirty Laundry,"

"One You Want," and "Something's

Gotta Give." But Sorry Girls don't

feel an 80s influence is as prevalent

as others.

"When we started, at least for me,

the 80s wasn't my favourite era of

music," explains Fitzpatrick. "But I

love a hook. I love a melody. I love

a strong vocal. I love thinking about

drums and rhythms. When we figured

out our sound, we gravitated

more towards that kind of music

than ever before."

"Historically we've been way more

into music from the 50s to the 70s,

like Roy Orbison or Fleetwood Mac,"

adds Obront. "But even Roy Orbison

made music in the 80s that was rooted

in 50s pop, which is what really

resonates with us. I think the whole

synth thing is the technology around

us. I do really like ambient synth

stuff. The Twin Peaks soundtrack is

a good example. I think it was just all

of these things coming together. But

how the album sounds is not what we

pictured ourselves being. It just feels

beyond anything I would have imagined.

It's exciting to me." ,

NOVEMBER 2019 BEATROUTE 21
---
The Playlist:

BEATROUTE

1

BEATROUTE

BEAT

ROUTE

BR

BRLIVE

BRYYZ

5

3

7

10 songs in heavy rotation at the BR offices right now

1 Caribou

Home

Indietronica veteran Dan Snaith

returns for the first time since 2015

with a jazzy track heavy on live

percussion that weaves around

an old-school soul sample from

Gloria Barnes. A melting pot of

genres that moves through about

four different acts in two and a half

minutes, it's all centred by Snaith's

calming falsetto.

2 Pusha T

Puppet (Ft. Nicholas Britell)

In one of the unlikeliest teamups

of the year, Pusha T links up

with Academy Award-nominated

film composer Nicholas Britell

(Moonlight, 12 Years a Slave) for

a short but hard-hitting track for

the new HBO show Succession.

Like always, King Push makes

every syllable count as he offers

short bursts of flow, the orchestra

behind him a worthy match for his

dramatics.

3

Bishop Briggs

Jekyll & Hide

Bishop Briggs' fusion of driving

rock and roll instrumentals and

powerful vocals coming straight

from a background in gospel

music always makes for something

intriguing, and she returns with

a track that's just as eerie as the

story that lent it its name. Based

around a clever play on words,

Briggs' quickly whispered vocals

explode into a distorted instrumental

chorus.

Travis Scott

4 Highest In The Room

Has Travis Scott suddenly

become the world's

biggest rapper before

our eyes? This sounds

like a track that would

have fit right in on

his monster album

Astroworld, and it's recent

debut at #1 on the

Billboard Hot 100 shows

that Scott's woozy,

psychedelic

trap sound is

the current

cultural zeitgeist.

Writing

another

smash hit is

simple for

him.

4

6

5

Jessie Reyez

Remember To Breathe

One of the most unique and immediately

recognizable singing voices

out there right now, the Canadian

rising star dials up the production

value, letting her sharper tones sink

into some warm piano chords instead

of being the main focus. But

don't worry, her refreshingly blunt

lyricism hasn't gone anywhere.

6

Sturgill Simpson

Show Me Love

Outlaw country and southern rock

artist Sturgill Simpson's latest

album's artwork depicts a

car driving away from a

massive explosion. That's

just about how cool the

bassline groove of this

track makes you feel, as

he seemingly sings about

calming yourself down to

successfully pull off some

sort of crime. This is one

for dark shades and latenight

joyrides.

8 9

7

The Damned

Black Is The Night

Who says you can't still be punk

in your 60s? Nearly 40 years

into a storied career, the UK

legends keep on rolling with the

gothic material they're known for.

Frontman Dave Vanian's deep and

resonant voice is perfect for the

spooky fall season as he sings of

ghosts emerging from their crypts

at twilight.

10

Wolf Parade

8 Against The Day

Montreal group Wolf Parade, now

a trio, offer the first taste of their

upcoming fifth album with a buzzy

synth-rock jam session that sees

the band's two vocalists both

singing on the track for the first

time in over a decade. Anchored by

a catchy synth line, it's driven home

when it's answered by the guitar

playing the same riff.

9

Summer Walker

Playing Games

(Ft. Bryson Tiller)

The year's biggest breakout star

in the world of R&B offers her own

spin on a classic, flipping Destiny's

Child's "Say My Name" into a

modern, laid-back groove calling

out commitment-adverse dudes …

before Bryson Tiller hops on the

back end of the track and offers his

side of the story.

10

Free Nationals

Eternal Light

(Ft. Chronixx)

Anderson .Paak's longtime backing

band continues to step into

their own spotlight with another

high-profile single release, infusing

their usual funky rhythms with

some syncopated reggae flavour

from Chronixx. An ode to "positive

vibes," this track makes you envision

beach weather in November.

22 BEATROUTE NOVEMBER 2019
---
Reviews

ALBUM

TR/ST

The Destroyer - Part 2

Grouch/ House Arrest

Arriving as the twin flame to The Destroyer

released earlier this year, The

Destroyer - Part 2 is the second album

of 2019 by Toronto darkwave outfit TR/

ST and functions as its necessary sequel.

In the five years since the release

of 2014's Joyland, the project's anchoring

member Robert Alfons has taken

inventory of himself by deconstructing

the concept of shame, and addressing

it head on.

The result is an exploration into

interiority, emotion and memory told

through lo-fi vocals with an emphasis

on atmosphere. The Destroyer - Part 2

establishes a new landscape from its

predecessor by masterfully emphasizing

ambiance and control. It's a collection

of contemplative, energetic, and

sometimes sparse tracks that unfold

like micro vignettes.

Though consistent, the album features

similar thematic audio cues, like

the repetitive use of slow, echoing, and

hypnotic keys. "Enduring Chill" serves

as an overture to the album, and exists

as a wash of sound hinting at the peaks

and troughs of the album's sonic ambition.

Elsewhere, "Darling" is dark and

beautifully harrowing, providing lyrical

robustness, and a spirit of experimentation.

The slow-moving interlude "Cor"

is held together with an almost-idiosyncratic

melody.

"Iris," however, is the album's

electro-pop standout. Executed as a

hopeful, multi-layered track, it's fitted

with plenty of spacey synth lines that

burst with energy and glimmer like

confetti. You want to dance, but maybe

by yourself.

The dynamic range of tracks on

the album feels intentional. Together,

they offer a vivid lens to understand

the complexities of the album's titular

theme and contrasting emotions. On

Part 2, Alfons refuses to shy away from

the reality of these experiences, but

attempts to explore how they often

function together.

Best Track: Iris

Dora Boras
---
24 BEATROUTE NOVEMBER 2019

WWW.PARTEEPUTT.COM @PARTEEPUTT 26 DUNCAN ST, TORONTO
---
MUSiC ALBUM REVIEWS

Interview

CORRIDOR TAKE

UNPRECEDENTED LEAP

OF FAITH ON JUNIOR

CORRIDOR

Junior

Bonsound/Sub Pop

The rapid rise of Montreal-based

quartet Corridor can be likened

to contemporary rock folklore,

even if the story is a familiar one.

After the band's tour agent sent

the iconic Seattle label Sub Pop

their four-song demo, representatives

who attended their

show in New York a month later

promptly sent them a record deal

within days of the performance.

It's an impressive trajectory.

The four-piece consisting of

Dominic Berthiaume (vocals/bass),

Jonathan Robert (vocals/synth/

guitar), Julian Perreault (guitar) and

Julien Bakvis (drums) are the first

francophone band to sign with Sub

Pop, and the first Montreal band

since Wolf Parade in 2004.

Chatting to BeatRoute over

drinks at Notre Dame Des Quilles a

quaint, cozy cocktail bar in Montreal's

Little Italy district, Berthiaume

says their third album and Sub Pop

debut, Junior, maintains the songwriting

approach its predecessor,

Supermercado (2017), while dialing

up the production.

"Our first EP and the first two

records sounded more lo-fi," he

says. "Junior still has this warmth

and analog feel, but it feels like a

bigger production."

Berthiaume explains that the

album focuses more on how songs

feel rather than what sonic category

they fall under. "All of the songs

came out of jams and improvisation,

and then we structure it. We

don't think about genre or anything,

because this is where you restrict

yourself."

"I think one of the things that

we have [throughout] our three

albums is a unity in the songs, but

it's really diverse too. That Corridor

signature has to be somewhere,

but the point is, if it's a good song,

it's a good song. We don't mind the

rest."

While the band took their time

constructing previous albums, Le

voyage éternel (2015) and Supermercado

(2017), they had no such

luxury with Junior.

In January, Sub Pop told them

that they needed to submit their

masters by mid-May if they wanted

a fall release. By March, they had

begun writing and recording the album's

six remaining songs, finishing

by late April. Berthiaume describes

the sessions as "intense," spending

a month and a half recording six

days a week. "For every song, we

kept it really simple: one, two or

three riffs," he explains of the process.

"[We] just keep on repeating

them, adding layers and creating

something more hypnotic," he says.

"Our producer and engineer

would never bounce anything off

in the studio, so we never listened

at home to what we were doing,"

he continues. "Every day, we did

something new, and never

looked back. It was exciting,

but at the same time, it was

weird doing that at such a quick

pace."

The result is carefully crafted

melage of indie rock, post-punk,

shoegaze and even dance-punk

sprinkled throughout — plus

plenty of reverb, lush harmonies

and call-and-response vocals.

By the end of 2019, the

band will tour throughout

North America and in Europe.

Although the language they sing

in is a hotter topic with media

outlets in Quebec and France,

Berthiaume says that their audiences

in English markets don't

tend to focus on language as

much, instead letting the music

speak for itself.

"When we go to the U.S., or

the U.K., or even Germany, it's

not really a subject. They're

more focused on music than

anything else," he says. "We

put effort in writing lyrics, but

the most important thing is just

that we play music, and we're a

band."

Best Track: Agent Double

Dave MacIntyre

WOOLWORM

Awe

Mint Records

Woolworm is Icarus. The Vancouver

quartet soar so close to

the boundaries of Brit-Pop tinged

shoegaze and hardcore infected

power pop they almost get burned.

Awe, the band's third LP, is a

terrifying balancing act between

hopeful and heavy, cool and kitsch,

merry and morose. The result is

a delicate tension of sensible vox

anchored to the ground by earth

angering rhythm. It's a palpable

tension as they fly neither too high

nor too low.

Nowhere on the album is this

tension more prevalent than

on "Hold the Bow," the album's

first single. Inspired by Marina

Abramović's performance art piece,

Rest Energy, where Abramović's

partner holds a bow with an arrow

pointing at her heart for four whole

minutes. It's a perfect visual metaphor

for the songs message of

total trust and unconditional love.

It's clear Woolworm has carved

out a unique space for themselves,

one that simultaneously lands them

gigs with Orville Peck and hardcore

legends, Integrity. Perhaps that's

why Awe seems to find the band

more open-minded and impulsive,

more varied and less symmetrical,

and even more playful. Maybe it's

that same restless hubris that led

Icarus too close to the sun.

Best Track: Hold the Bow

Sean Orr

NOVEMBER 2019 BEATROUTE 25
---
MUSiC ALBUM REVIEWS

SUDAN ARCHIVES

Athena

Stones Throw Records

THE DREADNOUGHTS

Into the North

Stomp Records

LITTLE SCREAM

Speed Queen

Dine Alone

CURSIVE

Get Fixed

15 Passenger

LEIF VOLLEBEKK

New Ways

Secret City Records

On her debut full-length, themes of

duality break open Brittney Parks'

(AKA Sudan Archives) lyrical prowess.

The unearthly Athena embodies

everything the rising violinist/

songwriter stands for: understated

feminism, electric sexuality, and rebellious

vulnerability are delivered

by her sultry voice.

Parks harnesses her full power

as an artist with skill and spontaneity,

dancing from acoustic soul to

sensual R&B to experimental hiphop,

all wrapped generously in her

hypnotizing violin loops and West

African-inspired rhythms.

Unfolding like a cinematic score,

Athena is celestial yet relatable,

hitting universal notes on the

complexities and dichotomies of

being human. Lo-fi acoustics and

smooth vocals tempt on "Did You

Know?" "Confessions" swoops in

with ecstatic Sudanese-centric

fiddle beats and robust lyrics about

the compromises of following

a dream. The album swells with

orchestral-like elements and slips

into glitchy electronic riffs as Parks'

voice takes on a spooky tone, like

in "Green Eyes."

The dramatic Athena rounds off

in moody jazz ensconced with a

voice of liquid gold dripping onto

sun-baked earth.

Parks pulls us from one side of

the coin to the other, both soothing

and energizing us all the while.

Best Track: Confessions

Dayna Mahannah

Gather round the table and hold

yer frothy drink up high, the Dreadnoughts

are back with their most

vigorous, heartfelt album yet. The

15-song collection of modernized

sea-shanties speaks to a different

time, where it's often forgotten that

something as simple as a strong

accordion-backed harmony can fill

a room to the brim.

Based out of Vancouver's Downtown

Eastside, the six-piece ragtag

crew of folk-punkers continue to

carry the torch for a genre that celebrates

the misfit. After dedicating

their previous album to World War I,

Into the North feels less focused in

one direction and more tapped into

what the band does best: gathering

folks together to drink, dance, and

be merry at all costs. More often

than not, the songs start stripped,

leading with singer, Nicholas

Smith's deep, echoing vocals, leaving

the flute, accordion, and violin

no choice but to follow suit.

The album varies throughout,

ranging from cheerful to somber

and all notes in between, yet

boasts a substantial weight at its

center. With Into the North, the

Dreadnoughts continue sailing, no

matter the height of the waves, all

the while singing their jaunty song.

Best Track: Northwest Passage

Brendan Lee

Montreal-based singer, songwriter

and multi-instrumentalist Laurel

Sprengelmey returns with her

third studio album, Speed Queen,

picking up where she left off with

Cult Following and The Golden

Album to propel her dancy rock into

new thematic realms of justice and

geopolitics.

The album's name refers

to a washing machine, which

Sprengelmey describes as the

ultimate token of the american

dream — "you know you've made

it if you've got your own washing

machine," she says.

On hyper-political opener "Dear

Leader" she addresses climate

change, the migrant crisis and the

prison industrial complex, flitting

from subject to subject like a social

media newsfeed. Sprengelmey

matches the scope of content

covered with an impressive range

of instruments, from horns, to violin,

to synth, accordion, xylophone and

even a gong.

Little Scream tackles complex

compositions with confidence

amidst masterfully crafted orchestration.

The crisp percussion and lush

instrumentation redeem the record,

building rhythms with the same

heart-racing excitement as Arcade

Fire at their most anthemic while

Sprengelmey's electric guitar hits

with ferocity.

Little Scream's optimistic rockpop

ultimately sparkles like an 80s

prom night, nostalgic and wistful

and Pepto-Bismol pink.

Best Track: One Lost Time

Maggie McPhee

Cursive have always stood tall

among their emo rock peers since

emerging from the depths of Omaha,

NB in the early 2000s.

Following the critically acclaimed,

The Ugly Organ (2003),

vocalist Tim Kasher and a rotating

cast of comrades were keeping a

notably low profile until their 2018

comeback offering, Vitriola, which

showed the band reinvigorated and

ready to fight. That momentum continues

on Get Fixed, an album as

sharp and cutting as the scissors

dawning the album art.

As on Vitriola, Kasher continues

full force with his blunt views on

society, clearly frustrated with the

state of his America today.

Songs like "Marigold" and title

track "Get fixed" sound like a haunting

orchestra musical, while "Horror

is a Human being" and "Content

Conman" bring back their post

hardcore roots with its distortion

and tantrum filled drumming.

Cursive have a way of presenting

both ugly and beautiful at the same

time, while offering plenty of food

for thought. Even if you don't fully

vibe with its dark subject matters,

Get Fixed retains a unique charm

in Kasher's jaded vocal delivery on

top of playful and inventive musical

arrangements.

Best Track: What's Gotten into You?

Lamar Ramos

If Leif Vollebekk's record Twin

Solitudes in 2017 was a personal,

self-reflective journey tinged with

heartbreak and an existential

yearning for meaning, New Ways is

distinctively more tender, still personal—

but now for someone else.

The Montreal songwriter creates

scenes, poetic memories, and

whispered conversations that

depict moments and stories that

we are not a part of but listening to

as they unfold.

Vollebekk's reverent attention to

the small details has always been

the softly shining star of his work,

and here they not only bring his

lyrics to technicolour vibrancy, they

also equally share the stage with

the figures of his songs.

"Lightning evening in the holy

highlands/Down in the hall up

against the wall/I know you're

struggling what to call it/Why you

gotta call it anything at all?" he observes

during a quiet conversation

in "Hot Tears," making the setting

just as significant as the dialogue.

As he sings about past experiences

with longing and affection,

pain and joy, his words are warm.

There are no traces of bitterness

in his soulful voice. In "Never Be

Back," he is no jilted lover, only

wistfully honest: "She's my woman

and she loved me so fine/She'll

never be back."

Much like the record's namesake,

Vollebekk remembers these

moments and sees them differently,

"looking at the sun through my

eyelids." He's sees them in new

ways.

Best Track: Never Be Back

Albert Hoang

26 BEATROUTE NOVEMBER 2019 OCTOBER 2019 BEATROUTE 26
---
MOUNT EERIE

Lost Wisdom pt. 2

P.W. Elverum & Sun

On Lost Wisdom pt. 2, Mount Eerie

is looking towards the future and

the world around him. Whether it's

bleak, warm or a mix of the two,

he's looking forward nonetheless.

Songwriter Phil Elverum's latest

album is a sequel to an earlier

collaboration with Canadian singer

Julie Doiron titled Lost Wisdom.

Part 2 focuses mainly on Elverum's

tumultuous past year, still recovering

from the death of his wife,

his remarriage, and subsequent

divorce from actress Michelle

Williams.

Like his lyrics, Lost Wisdom Part

2's production is mostly simple, quiet

and far from frivolous. Backed by

mainly just an acoustic guitar and

piano, it's the words we're needing

to focus on here. What follows is

a heartbreaking yet somewhat

hopeful collection of songs that

confirm how effective Mount Eerie

is at confessional songwriting.

Doiron's accompanying vocals

provide a shoulder of support

to these confessions. You can

almost imagine them holding hands

throughout the recording of the album.

"I believed in love and I still do.

I'm not going to seal up my heart"

they both sing together in "Belief

pt. 2". It's nice to know that together,

they're still looking forward.

Best Track: Belief

Fraser Hamilton

PELADA

Movimiento Para Cambio

PAN102

Known for its tendency to draw

attention to some of the most

unconventional sounds in contemporary

music, Bill Kouglias'

decision to release Movimiento Par

Cambino, the debut album by Montréal-based

duo Pelada is far from

a surprise. It's a natural addition to

his eclectic and impeccably-curated

Berlin-based PAN imprint.

The playful interaction of vocalist

Chris Vargas and producer Tobias

Rochmann throughout the album's

10 dancefloor-ready tracks flows

seamlessly between house, techno,

hip hop, Latin dance music, gabber,

UK bass, rave music and IDM

without getting bogged down in a

singular aesthetic.

Vargas' vocal delivery ranges

from gentle singing and spoken

word to barking yells and grunts

bearing a distinctly hardcore punk

energy. And the lyrics, delivered

in an urgent Spanish, deconstruct

notions of privacy, gender and

sexuality against a backdrop of

state surveillance and "big data"

information practices by global

corporations.

Producer/multi-instrumentalist

Tobias Rochmann constructs a

positively globetrotting rhythmic

accompaniment to Vargas' chant

that invokes the spirit of classic

electronic label Raster Noton as

much as it does the cumbia music

of Columbia. Elsewhere, icey

synths and decisive kicks complemented

by flavourful rhythmic

diversity that bounces between

genres with every track while remaining

universally accessible.

Hard-house-future-flex-funk-club

is the vibe —DJs take note.

Best track: Ajetreo

Adam Piotrowicz

THEY ARE

BEAT HAPPENING

B

eat Happening have always

been the score for outsider

punks.

Maybe it's the way Calvin

Johnson's voice rolls in with that

first "yeeeeaaaah" on "I Dig You;"

how the song becomes, all-atonce,

a groovy ode to every crush

you've ever had, and a droning

backing track to many solo bedroom

dances. It makes sense that

all the weirder, funkier punks were

identifying with a band who, in

essence, rejected the abject aggro

notions and aesthetics of hardcore,

but who still expertly claimed

and interpreted the underground.

After playing their first gigs in

Japan, Olympia's Beat Happening

later toured the UK, fostering an

alliance to kindred spirits alongside

groups like The Vaselines

and The Pastels, and shocking

fans when they toured with iconic

Washington D.C. punk outfit Fugazi.

Percussionist Heather Lewis

notably borrowed drums at gigs,

and oftentimes created makeshift

drum sets out of any bangable

materials at hand.

With a stripped-down sound and

a gentler DIY ethos, Beat Happening,

consisting of Johnson, Heather

Lewis and Bret Lunsford, created a

space in punk scenes everywhere

for a larger scope of identities,

presentations, and overall weirdo-types

to feel like they belonged

in underground music communities.

"At the time, there was no one to

do it for you. So you just did it yourself,"

Johnson says over the phone.

"The whole concept of punk,

from the beginning, was to be

original and express yourself in

your own unique way. In that sense

I just felt like I was following in the

tradition of iconoclastic artists," he

continues referring to Patti Smith

and Television.

The much-anticipated reissue

of their entire catalogue, We Are

Beat Happening, will be released

on Nov. 29 on Domino and arrives

during a period where DIY, though

still meaningful, means something

largely different. Given that

millennial musicians have access

to SoundCloud and GarageBand,

interacting with analog media is a

stylistic choice rather than a community

necessity. And underground

music lovers of today are used to

exploring bands in a less catalogued

way.

Type "Beat Happening" into

YouTube and you receive a less

cohesive experience of the band,

with each song or album re-uploaded

separately and sporadically.

You can pick and choose what you

want to hear instead of playing a

tape or EP all the way through. It

doesn't negate the experience of

experiencing underground music.

But it's certainly different.

The reissue, which features seven

LPs, was remastered at Abbey

Road Studios by Frank Arkwright.

It's the first time in a decade

that all of their work has been in

one place, including their 1985

self-titled debut, which Johnson

describes as their "ultimate statement"

as a band, and feels like

the most "potent" representation

of their work. It serves as both an

accessible journey through Beat

Happening's evolution, and categorical

relic of the underground.

There is something about Beat

Happening's anarchic approach

to humour, tenderness and punk

that's outlived its expiry date. Their

ability to weave homemade percussion

and sparing guitar chords

into a longing, innocent narrative

of adoration is easy to love.

Johnson notes that the band

always had a clear idea about their

sound.

"We were attempting to write

classic pop songs. Hopefully we

were successful." When asked

if timelessness was always the

intention for the band's sound, he

affirms with the same casual drawl

he's made his signature, "mhm."

Best Track: Fourteen

Alessia Dowhaniuk

We Are Beat Happening is available

Nov. 29 via Domino Recording Co.

LANCE BANG

NOVEMBER 2019 BEATROUTE 27
---
MARIA GOVEA

Live

MUSiC

Toronto

JESSIE REYEZ

Oct. 21, 2019

Winter Garden Theatre

R&B-pop princess Jessie Reyez

blessed her hometown with a wildly

intimate show on Oct. 21 to close

the 2019 Red Bull Music Festival.

She both surprised and beguiled a

sold-out crowd at the Winter Garden

Theatre with a dramatic production

start to finish.

The spectacle began with actors

portraying a doctor and medical team

rolling out Reyez in a straitjacket.

She belted "Shutter Island" to set off

back-to-back, hard-hitting tracks including

favourites "Imported," "Apple

Juice," "Gatekeeper," and "Fuck Being

Friends."

"Are you entertained?" she asked,

though not before moaning "Oh

Toronto, oh Toronto!" to the sold-out

venue.

Reyez took fans along on an

emotional rollercoaster across an extensive

range of influences. For every

vulgarity, she displayed a moment of

vulnerability. Actors accented a story

for nearly every song and the Toronto

Symphony Orchestra also joined the

backing band with lush arrangements.

She also debuted a new song about

family love, with talk of an upcoming

full-length album.

The show hit an emotional and personal

climax when a local Latin ensemble

joined Reyez for a dedicated

part of her set in Spanish, including a

dramatic performance of "Far Away"

complete with a reenactment of a

family separation at southern borders.

Before performing her biggest hit,

"Figures"—which she has also called

her saddest—she likened performing

such tracks to poking a wound with

needles. She thanked fans for "doing

the most" to support her and left

them wishing for more room and time

to dance.

Jessie Reyez proved she's continuing

a volatile trajectory, and she's

got plenty of hometown fans who are

here to ride or die.

Aurora Zboch

28 BEATROUTE NOVEMBER 2019
---
SCREEN

TIME

JAZZING

IT UP: THE

MUSIC OF

MOTHERLESS

BROOKLYN

In conversation with Edward

Norton about how jazz is

the backbone of his new film

Motherless Brooklyn

By PAT MULLEN

E

dward

Norton juggles riffs and

rhythms as actor, writer, and director

of Motherless Brooklyn. The film, a

passion project 20 years in the making,

stars Norton as Lionel Essrog, a

detective with Tourette syndrome navigating

the criminal underworld of 1950s Brooklyn.

Motherless Brooklyn adapts Jonathan Lethem's

novel of the same name as Lionel uncovers

a case of racial discrimination in the city's

housing market, touring through jazz clubs

and political rallies while investigating the

death of his mentor and falling in love with

an activist named Laura (Gugu Mbatha-Raw).

Fuelled by the jazzy rhythms of the city, the

film is a symphony of racial tensions and altered

scales.

Norton, speaking with BeatRoute at Toronto

International Film Festival, says he adapted

Lethem's 1990s-set novel for the 50s to

increase the audience's empathy for Lionel.

"The novel is really about the experience of

being inside this character's brain, knowing

him, and feeling empathy as you watch him

navigate this painful and funny affliction,"

says Norton.

The beat and syntax of Jazz help put the

audience inside Lionel's head. "One of the arguments

for acting and directing was knowing

I could experiment with the condition,

but also sculpt the balance of the performance

in the editing room," explains Norton.

The rhythms of jazz lend Lionel's spastic tics

a certain musicality as Norton's performance

evokes a musician riffing on the scales and

echoes the drum beats and trumpet toots of

Daniel Pemberton's score.

The film makes the connection

between jazz and Tourette's explicit

when Lionel encounters a

trumpet player at a club. "I feel

about Lionel the way the trumpet

player communicates

to him saying, 'I know that

headspace.' It's a gift, but

it's a brain affliction just the

same," explains Norton.

"Lionel says back

to the trumpet

player, 'But you

have a way to

push it out

and make it

sound pretty.'

If I laugh lots of times, I feel lucky to have

a vehicle for it. If the dial got turned up a little

bit, it could be a paralyzing mental state."

Norton's empathetic performance draws

upon Lionel's unavoidable awkwardness

without making light of it.

Motherless Brooklyn further evokes Lionel's

struggle through an original song, "Daily Battles"

by Thom Yorke. "Thom expresses this

duality of longing in the heart, but also psychic

terror, fracture, and dissonance," says

Norton. "Musically, he expresses Lionel's

headspace perfectly for me."

"Daily Battles" echoes throughout

the soundtrack with classic and contemporary

variations, including

one by Pulitzer Prize-winning

trumpeter Wynton Marsalis,

"You have to pick yourself

up and out of your personal

struggles and engage

with the bigger fights."

who curated the jazz selections in the club

scenes. "When Laura reaches out and is so

empathetic to Lionel, senses his distress, and

helps calm him down, I was nervous about

using a known jazz ballad," explains Norton.

"The last thing you want to do is take people

out of that moment if they recognize the song

or get distracted. Wynton did this beautiful

arrangement of Thom's song and played it

like a Miles Davis ballad from the Birth of the

Cool era."

Norton says that Yorke's ballad captured

the essence of the story so strongly that it inspired

a revision to the script. "I put it in the

scene when Lionel complains about his condition

and Laura says, 'We all have our daily

battles.'

"Laura is a Black woman who's a lawyer in

the 50s and everyone only sees her as a secretary,"

explains Norton. "You have to pick

yourself up and out of your personal struggles

and engage with the bigger fights." ,

NOVEMBER 2019 BEATROUTE 29
---
UPCOMING SHOWS

ALLEN STONE

NOVEMBER 3

DOORS: 7PM

19+

JEFF MARTIN

NOVEMBER 9

DOORS: 7PM

19+

SEEFEEL

NOVEMBER 11

DOORS: 7PM

19+

AGNEZ MO

NOVEMBER 20

DOORS: 7PM

19+

TEEBS

NOVEMBER 21

DOORS: 7PM

19+

NOV

29

RITTZ &

DIZZY WRIGHT

DOORS: 7PM

19+

DEC

8

ERIC

D'ALESSANDRO

DOORS: 7PM

19+

/ADELAIDEHALLTO

@ADELAIDEHALLTO

@ADELAIDEHALLTO

TICKETS AVAILABLE AT ADELAIDEHALLTO.COM
---
SCREEN TIME

EVERYBODY'S

EVERYTHING

REMEMBERS

THE LIFE AND

STRUGGLES

OF LIL PEEP

By PAT MULLEN

"T

his isn't a normal

artist who just wanted

to make a hip-hop

video, with common

tropes, and make

money," says director Ramez

"Mezzy" Silyan on emo-rapper/

hip-hop artist Lil Peep. "He wanted

to express himself and move the

needle forward."

Silyan profiles his late friend Gus

Åhr, aka Lil' Peep, in Everybody's

Everything, directed with Sebastian

Jones. The documentary chronicles

the brief period in which Lil'

Jack Womack (grandfather) and

Lil Peep (Gustav Åhr) at Peep

Show tour April, 2017

Peep became an international

sensation until an accidental drug

overdose ended his career at age

21 in 2017. The film captures Lil'

Peep's ambition, style, and swagger

with an electrifying collage that

keeps his voice alive.

Silyan says he first met Åhr

when making the video for the

single "Girls" and was approached

to be Peep's live-in documentarian.

"When I got that phone call, I asked

to take it one step at a time," says

Silyan. "It felt invasive, so I went

on tour in Europe and Russia with

Gus." Much of this footage appears

in Everybody's Everything to chronicle

Åhr's unexpected reach and

struggles with addiction.

Jones says the proper feature

began with his mentor, filmmaker

Terrence Malick, an executive

producer on the film and a close

friend of Åhr's grandfather, Jack

Womack, and mother Liza. "After

Gus died, Liza called Terry and

wanted to put together a documentary.

I was pretty much an outsider,"

add Jones, who worked on Malick's

Voyage of Time, Knight of Cups,

and was lead film editor on 2019's

A Hidden Life.

Jones recalls seeing Lil' Peep's

perform live three days before

his death and being struck by his

authenticity. "What he brings to

the table is so emotionally naked

and honest. There's no bullshit," he

says. "For young people, that's a

voice you can trust."

Everybody's Everything draws

upon Åhr's disorienting and

empowering method with an

intricate collage of professional

video, iPhone shoots, social media

stories, and fuzzy VHS tapes. "Gus

had so many videographers around

him all the time, so there was an

embarrassment of riches," says

Jones, adding that Åhr's mother

recovered countless videos from

his computer and from VHS tapes

that survived Hurricane Sandy. The

tapestry speaks the language with

which Peep reached his audience

through social media and Soundcloud.

The archival collage has echoes

of Amy, Asif Kapadia's Oscar-winning

portrait of Amy Winehouse,

who died at 27. Jones says that

no film influenced Everybody's

Everything but cites Brett Morgen's

kaleidoscopic Kurt Cobain film

Montage of Heck as a music doc

that fired him up.

Silyan thinks that Everybody's

Everything and Amy, while different,

share philosophies. "Amy made

you feel like you knew her on an

intimate level," observes Silyan. "It

wasn't really about her music. It

was about demystifying her. I hope

people feel like they got to know

Gus. Not Peep, but Gus."

Both directors agree their

subject, like Cobain or Winehouse,

remains unique when social media

offers someone their 15 minutes of

fame every day. "The reality is that

there's never going to be another

Lil' Peep, just like there's never

going to be another Kurt Cobain,"

says Silyan. "These are once in a

lifetime artists." ,

Everybody's Everything is screening

Nov. 14 at the Danforth Music Hall

(Toronto)

JIMMY EAT WORLD

THE NEW ALBUM

SURVIVING

AVAILABLE NOW

JIMMYEATWORLD.COM

RCARECORDS.COM

31 BEATROUTE OCTOBER 2019

NOVEMBER 2019 BEATROUTE 31
---
TRAVEL

TUCSON, ARIZONA

EXPLORING THE VIBRANCY

OF THE SUN-BAKED

SONORAN DESERT

By MELISSA VINCENT

ALL PHOTOS: JEANINNE KAUFER

32 BEATROUTE NOVEMBER 2019

I

f you've never encountered

the hyper-specific experience

of inhaling Arizona's

infamous dry heat, it's

difficult to describe to Canadians

accustomed to life

on the periphery of great

bodies of water. In short, it's clear,

oxidizing, and a blunt reminder

you're now in cowboy country, so

buckle up.

In so many ways Tucson is

an example of a city in flux with

unique interest in the weird and

spectacular. Initially the ancestral

home to many nations of indigenous

people, including the Tohono

O'Odham and Pascua Yaqui, the

city experienced its first big boom

in the early 20th century when, for

a split second, it was larger than

Phoenix.

Due to its shape shifting identity,

in 2019 Tucson is a bunch

of things at once: It's moderate

climate finds it reaching to be an

international conference hub; and

its stunning landscape, vibrant

art scene, and affordable housing

makes it attractive for both new

artists, and young locals who

have made their way around the

world before deciding to land back

home.

Each February, Tucson plays

host to the Gem, Mineral, and Fossil

showcase, one of the biggest in

the world. And for the last several

years, HOCO Festival has brought
---
How Sweet It Was

424 E 6th St.

Founded in 1974, How Sweet It Was

Vintage has curated its selection

for around a single mission: imagine

the way specifically found items can

have "meaning, soul, and a story."

With racks organized by both era

and style, expect a blend of timeless

ready-to-wear finds, single-wear

show-stoppers pulled from America's

sun-baked west, and matching

sets with prints inspired from just

south of the Mexican border.

Owl's Club

236 S Scott Ave.

When this 86-year-old funeral

home was remodelled to make way

for the Owl's Club, the idea was

to retain the glamour of the early

20th century. Walking up the super

lush, palm tree-lined corridor to

the doorstep of Owl's Club feels

like an apt reflection of their menu

of "complex original" cocktails and

"Old world" wines. But don't let

Owl's swanky interior fool you, one

night during HOCO Festival this

year saw Deaf Kids and Vancouver

noise destroyers Minimal Violence

take the stage at the location of

the former pulpit and shake the

venue to its core.

ANDI BERLIN

Taqueria Pico De Gallo

2618 S 6th Ave.

Ordering from the takeout counter,

the menu is concise and, with most

tacos priced less than $2, the

menu is equally cost-conscious.

But what really makes these tacos

stand out are the tortilla shells,

thick and viscous rolled from a ball

of corn masa flour, and the sweet

and salty tamarind raspados.

The Boxyard

238 N 4th Ave.

Possibly one of Tucson's most

unique local dining spots, the 10

intentionally painted shipping

containers feature four restaurants,

two bars and a courtyard to

connect everything together. From

Bronx-inspired BBQ to Vietnamese

fare, this dog-friendly new addition

to the city's downtown strip boasts

dynamic open-air seating, capable

of withstanding Arizona's many

changing climates.

RECORD STORES

Odds and Ends/ Don't Forget This

some of the most forward-thinking

artists on the continent

including Dean Blunt, S.H.I.T.,

Bbymutha, and Omar Apollo to

the historic Hotel Congress.

But Tucson is much more than

a college town, or a sleepy place

to retire. It's a community with an

underdog spirit, wrestling with its

newest period of development

while also making itself amenable

to inviting guests from outside,

squarely on their own terms.

DESTINATIONS

Hotel Congress

311 Congress St.

The folklore around the Hotel

Congress is largely derived from its

proximity to a crucial part of American

western history, and a tangled

relationship with supernatural.

Built in 1918, the Hotel Congress

first rose to national attention

when it became the site of capture

for the infamous criminal John

Dillinger, and almost 60 years later

when it acquired an in-house ghost

as a result of a death by suicide on

the premises in the early 90s.

Now named as a federally recognized

historic building, the Hotel

boasts an award-winning music

venue, Club Congress; two dining

spots, The Cup Cafe and Maynards;

and an impressive roster of

year-round programming including

as home base for HOCO fest.

Tucson Museum of Art

140 N Main Ave.

Located in the city's Presido district,

the Tucson Museum of Art is

more than an impressive showcase

for Latin, Western, and Contemporary

art, it's become a crucial

cultural epicenter of the ongoing

redevelopment of Downtown

Tucson. Comprised of an entire

74,000-square-feet historic block,

what sets the museum apart is its

clearly considered social mission

reflected in both the programming

and the structure of the space.

Throughout the year they offer

public lectures on the subject of

border politics and indigeneity, and

while the museum is undergoing

construction, they're offering a pay

what you can model for all patrons.

Gates Pass

You can't say you've been to

Tucson if you haven't visited the

mountains that frame the Sonoran

Desert. Featuring a unique blend

of flora and fauna found nowhere

else in the world, from a distance,

the hills seem covered in grass

until you move closer and realize

that towering Saguaro cactus

populate the mountain's highest

peaks. Walk, don't run, or you'll

miss it.

EATS AND DRINKS

Boca's Tacos

533 N 4th Ave.

Recognizable by a puckering set

of lips adorned on both outside

the restaurant and on every menu,

Boca's Tacos have been celebrated

by the New York Times and

the Food Network. Both open

late and conveniently located on

the historic and artsy 4th Avenue,

expect the usuals like pulled pork

and camaron tacos executed at

the highest level, their trademark

tri-colour tortilla chips, and truly

imaginative creations like the AM

taco topped with a hash brown

and fried egg.

Exo Roast Co.

403 N 6th Ave.

Bustling, laptop-ridden, co-working

cafe space by day, and smoky, live

music bar by night, Exo Roast. Co

is housed in a repurposed warehouse

with massive floor to ceiling

windows and mismatched rustic

furniture. But calling Exo a coffee

shop would do a disservice to

their ambitious event roster, which

includes Wednesday hatha yoga

classes on the patio, and Mezcal

tastings followed by traditional

cumbia and Mexican ballads on

Thursday.

NIGHTLIFE

191 Toole

What was once Skrappy's, a

DIY-music scene devoted to

uplifting Tucson's at-risk youth, was

renamed 191 Toole in 2013 with a

renewed effort to exist as one of

the few places in the city to regularly

host all-ages shows. A weirdly

angled venue, the stage is actually

on a diagonal, providing fantastic

sightlines for artists as diverse as

Cass McCombs and Gatecreeper,

to Chastity Belt and Maxo Kream.

Che's Lounge

350 N 4th Ave.

Che's states that they've been

located in Tucson since "forever,"

which seems hard to argue with

since its open from 12 pm to 2 am

every day of the year. From the

well-stocked bar stationed in the

centre of the room, to a gorgeous

back patio featuring live music and

the tallest and cheapest pour of

whisky on ice, this is your spot to

come early and stay late.

Wooden Tooth Records

426 E 7th St.

Depending on the night, Wooden

Tooth might be the place where

you stumble across a new Boris reissue,

or bear witness to a wild and

riotous in-store performance by

any of the city's impressive group

of rising local artists. This year, the

record store levels up its ambition

as one of the city's newest and

best record stores by hosting the

first annual Woodenstock, which is

exactly what it sounds like.

YOGA Annex

439 N 6th Ave.

When it comes to taking a yoga

class in a new city, comfort is key.

Newly opened, YOGA Annex is

the place where "the music goes

up and the lights go down." The

vinyasa flow class we attended led

by Gabriela Pintado, featured live

electro-acoustic drumming by local

multi-disciplinary artist Quiahuitl,

and an intentionally malleable set

of poses. Both heart-pumping,

deliberately gentle and ultimately

restorative, the class was a necessary

reprieve from the hot desert

sun.

NOVEMBER 2019 BEATROUTE 33
---
Style

PLAY IT LOUD

34 BEATROUTE NOVEMBER 2019
---
Music and Fashion

Merge Explosively

In King Of Hearts'

Vivid Designs

Amber Mariel lives life in full saturation

and the young designer's fashion line,

King Of Hearts, screams it from every

colour-soaked seam.

England born-and-bred, Mariel

infuses deliciously impractical yet

soulfully necessary pieces with the

musical subcultures of her British

heritage. As she says, "Who would the

Mods have been without The Kinks?"

It's no wonder, then, that Mariel's

loud and proud designs (boasting an

undeniable performative calibre) are

finding their way onto the bodies and

into the hearts of intrepid musicians.

Danielle McTaggart of Vancouver rock

duo Dear Rouge has performed in

numerous KOH outfits. "I don't like to

be shy about style," McTaggart says.

"People come to see an honest expression

of you and your music. Loud

is me and that's what I try to wear."

Learning to sew from a mother who

encouraged her at a young age to

alter clothing from local shop's sales

sections in order to fit her (and the

family budget) ignited Mariel's ardour

for design.

Later, despite years of experience

in the creative industry, she was

unqualified to attend a fashion course

at a prestigious university. She tucked

her dream away. But when Mariel unearthed

her sewing machine to make a

costume for Pride festivities one year,

people gushed. Ambition stirred anew;

King of Hearts was born.

The fashion line is a celebration

of expression and, less obviously, of

health. Depicting King Charles VII's

descent into 'madness', the playing

card of choice represents a battle with

mental illness — something personal

for Mariel, an advocate of mental

health awareness. The heart imagery

reflects ideals of environmental and

ethical consciousness, as well as

shape and gender inclusivity.

Most importantly, King Of Hearts

embodies fun. "There's always

a tongue-in-cheek aspect to my

designs," Mariel says, who takes

seemingly dull or overlooked subjects

to alter how they are perceived,

and combines a love of satire with

"neck-breaking, eye-popping prints

and colour!"

By DAYNA MAHANNAH

Photos by LINDSEY BLANE

RHINESTONE

COWBOY

This canary yellow-andblue

sequin-and-rhinestone

suit is an uncanny nod to

the work of Nudie Cohen,

creator of the "Rhinestone

Cowboy." With over 300

rhinestones hand-applied

to the two-piece ensemble,

Dani rocked this eye-popping

outfit during Dear

Rouge's performance at the

Calgary Stampede.

NOVEMBER 2019 BEATROUTE 35
---
Style

PLAY IT LOUD

CROCODILLY

BLUES

Hand-picked on Dani's travels,

this lustrous blue crocodile

print fabric was brought to life

by Mariel. The retro-mod crop

top and coordinating dress

shorts express versatility and

noticeability. Worn separately,

they amp up an outfit. Together,

they are unstoppable.

36 BEATROUTE NOVEMBER 2019
---
BOBBY

DAZZLER

Inspired by the strategic

'dazzle camouflage' used

in WWI on battleships to

disorient enemy ships, the

Bobby Dazzler print throws

passers-by off-balance and

may cause lost-train-ofthought

syndrome. Custom

created in collaboration

with graphic designer

Adam Gaucher, the draped

sleeves and cape-like

shape give the wearer

superhero confidence.
---
YYZ

11.19

TODRICK:

HAUS PARTY TOUR

By MELISSA VINCENT

If you've been paying attention to Taylor Swift in the last few years,

you've likely seen Todrick Hall in her music video for "Look What You

Made Me Do" or picking up a co-producing credit— and an American

Music Award—for her "inclusion epic," "You Need To Calm Down."

As a former contestant on American Idol, and both a coach and

judge on RuPaul's Drag Race, the multi-hyphenate has made

his name as one of pop music's go-to choreographers,

even landing the lead role of Lola in the Broadway

production of Kinky Boots.

But despite the many entry points, it's possible

that many fans might know him through his

wildly popular YouTube channel which currently

sits neatly at just over over 3 million subscribers

and features a series of mega-glam, high-production

music videos which blend an even tone of camp,

humour, and heart into bite-sized extravaganzas.

His newest tour, Todrick: Haus Party, named after his

recently released EP of the same name, brings the spirit of his

videos, to the stage through a multi-media, hyper-sensory performance

where a group of back-up dancers, and a massive

stage set-up sets its ambition high.

Now brushing up against commentary from both within

the community and out, Hall arrives in Toronto during a

period when the drag scene in Toronto is as vibrant as

ever. With grassroots events happening around the city,

a growing list of Drag Race viewing parties, and slew

of performances from high-profile queens like Naomi

Smalls, Sasha Velour, and Trixie Mattel, the Haus

Tour feels like a natural fit. Earlier this year, it was

even announced that RuPaul's Drag Race was

finally receiving a Canadian adaptation.

With an ever-growing audience, and a

moment when drag culture has become more

accessible as ever before the question

remains: which Todrick will we see when he

brings his party to Toronto?

Todrick: Haus Party Tour will stop in Toronto

on Nov. 5 at the Phoenix Concert Theatre.

TORONTO'S ESSENTIAL NOVEMBER HAPPENINGSk

38 BEATROUTE NOVEMBER 2019
---
11.19YYZAGENDA

Gurinder Chadha Scores

Bringing Bend It Like Beckham from Stage to Screen

By PAT MULLEN

Sonja (Sofie Mikhaylova)

Toronto Sound

Festival Puts

Experimental

Sounds in the

Spotlight

Gurinder Chadha doesn't hesitate

when asked if she prefers Bend It

Like Beckham as a stage musical

or film. "The movie is great," says

Chadha. "But the musical is a much

richer and deeper experience."

Chadha returns to adapt her

2002 film in which 18-year-old

Jesminder defies her Sikh parents

to play soccer. The sleeper hit

launched the careers of Keira

Knightley and Parminder Nagra

and the musical debuted in

London in 2016. The Bluma Appel

Theatre December's production

marks Beckham's North American

premiere.

The musical celebrates diversity

through a fusion of western musical

theatre, Indian bhangra dancing,

and mad soccer skills. "The idea of

making Bend It Like Beckham in the

first place was to have images of

women being powerful and athletic.

Regent Park Film

Festival unites us all

For the last 16 years the Regent Park Film Festival has delivered programming

that poses a powerful counter-narrative to dated perceptions

of which stories deserve our attention, and who gets to be in the

director's chair while telling them.

This year continues the festival's tradition of thoughtful, forward-thinking

programming that directs a critical lens at the conversations

leading our zeitgeist like "Our Dance of Revolution" the story

of four decades of black queer activism in Toronto, and "Life Without

Basketball," the story of Bilqis Abdul-Qaadir, the first Division I athlete

to play basketball while wearing a hijab.

According to the festival's executive director Angela Britto, while

the festival has remained devoted to creating accessible spaces for

film and media arts to their core audience—"BIPOC (Black, Indigenous

and People of Colour) and low-income communities— the

festival has started to attract a larger group of curious viewers.

"I think what's changed over time is that much of our audience

increasingly lives outside of Regent Park, and so we welcome people

from all over the city to experience our programs," she explains.

The 2019 Regent Park Film Festival runs Nov. 20 to Nov. 23.

The dancing shows that."

When asked about finding songs

to enhance her prior work, Chadha

compares Beckham to her recent

film Blinded By the Light. "With

Blinded, I had Bruce Springsteen's

catalogue to play with," says Chadha.

"I spent a lot of time poring

over different songs and lyrics to

see what worked narratively with

Javed's story. In a musical, it's the

opposite. We get to create songs,

music, and sentiments that fit the

story, tone, and style that we want."

When asked what's changed

most since the 2002 film, Chadha

points to herself and her 12-yearold

twins. "Horror of horrors, I've

now become the mum of Bend It

Like Beckham!" laughs Chadha. "I

started off as the girl and now I'm

the mum telling them off for not

learning their language or how to

cook Indian food."

Life Without Basketball

By JOSEPHINE CRUZ

If sound design, synthesizers

and drum machines are your

thing, there's a festival just for

you happening in Toronto this

month. While music festivals

are certainly no new concept,

a sound festival is much less

common.

Instead of putting musicians

on stages to perform, the twoday

Toronto Sound Festival

celebrates the process behind

the music by examining music

production techniques, synthesis,

and the business behind it.

And instead of being geared

around a fan experience, this

festival is organized specifically

for, and by, musicians.

The immersive talks and

workshops will cover a variety

of topics relevant to sound

enthusiasts including mixing

and mastering your own music;

sound design ideas for film and

media; building your own DIY

synth; and synthesis 101. Label

owner Sonja (Sofie Mikhaylova)

will also lead a workshop on

what it takes to run your own

independent label covering

topics including financing,

digital versus physical formats,

and marketing. If you've ever

wondered about a different side

of the music industry, this would

be an excellent place to start.

Toronto Sound Festival /

November 23-24 // $45,

torontosoundfestival.com

NOVEMBER 2019 BEATROUTE 39
---
STEVE McGILL

11.19YYZAGENDA

STARS' NEW MUSICAL

SHOWCASES 20 YEARS OF

STRUGGLE AND SUCCESS By AURORA ZBOCH

After 20 years playing music together, Montreal-based

band Stars are about to embark on an

audacious engagement with Crow's Theatre in Toronto.

The semi-fictional autobiographical musical,

Stars: Together, will both celebrate and lament upon

their two decades together. Starting November

26, the six members play as themselves to recount

the ups and downs they experienced across eight

albums and various romances, in what they call a

"tragicomic fantasia" of their lives.

"I found love in something I left," Amy Millan, lead

singer of Stars, says over the phone on a blustery

day in Montreal. Both she and Torquil Campbell

began as actors before finding a path in music with

Stars.

"I'm not playing a part, really. I'm playing myself,"

says Millan, who has a BFA in theatre. 'It's actually

the hardest part I've ever played."

Crow's Artistic Director Chris Abraham and Zack

Russell co-created the show to star Millan, Campbell,

and bandmates Chris Seligman, Evan Cranley,

Pat McGee, and Chris McCaron.

"We were interested in what it was like to be in this

band after twenty years and how they are now,"

says Abraham. He previously worked with Campbell

YYZAgenda

on True Crime three seasons ago. But it

was while listening to Stars on shuffle that

he thought of doing this "part-documentary,

part-play, part-concert."

The play offers whole-hearted perspectives

on the Canadian musical institution

that is Stars, with a script that features

dialogue from real conversations and

interviews. There are new instrumental

songs and some without the leading duo

of Millan and Campbell to allow every voice

to shine.

They will also release a compilation entitled

LaGuardia as a sonic retrospective of their eight

albums in December on Arts & Crafts.

Millan says that even after all these years,

Stars truly works as a unit. "We all

share publishing on every single

song that we've written. Most

bands aren't like that. The fact

that we just agreed the music

we'd be making was together,

is what has kept us together."

Stars: Together // Nov. 26 to Dec.

8 // Guloien Theatre // $30-$55

DÍA DE LOS MUERTOS

IS VERY MUCH ALIVE

While the "sugar skull" has gained newfound popularity as a choice Halloween

costume, Día de los Muertos is so much more than just "Mexican Halloween." In

fact, the "Day of the Dead" is one of Mexico's oldest cultural celebrations of life,

heritage, and family histories.

Harbourfront Centre hosts an annual Día de los Muertos celebration, and this

year celebrates its 16th installment. The free, two-day festival is Toronto's longest

running celebration of the holiday, and this year will focus on the evolution

of the ofrenda through the lens of local and international Mexican artists.

Día de los Muertos // Nov. 9 and 10 // Harbourfront Centre // Free

Hot Docs Podcast

Festival Celebrates

Thriving Podcast

Community

By JOSEPHINE CRUZ

Podcasts have been steadily rising in popularity

over the last five years, and since audio

storytelling as a medium isn't going away

any time soon, the time is now to hop

on the bandwagon, either as a listener or

creator.

Luckily for you, the upcoming Hot Docs

Podcast Festival is back for a fourth year

and regardless of whether you're pod-sessed

or a casual listener, there's something

for everybody across its six days, including

live events from some of the most acclaimed podcasters

and shows in the world.

Some of the hosts due to appear include

best-selling British author, journalist and screenwriter

Jon Ronson, who will present a live show

based on both of his acclaimed podcasts, The

Butterfly Effect and The Last Days of August;

Toronto native Sean Rameswaram with

Vox's irreverent daily news show Today,

Explained; and Pulitzer Prize-winning

journalist Wesley Morris alongside

Jenna Wortham and their wildly

popular pod, the New York Times'

Still Processing. If you have a soft

spot for Canadian content then

be sure not to miss the variety

show, Sounds of the Six, which

will highlight the best local

podcasts that are making waves

right now.

Another integral part of the

Festival is the three-day Creators

Forum that will feature industry

panels, masterclasses

and workshops led by some

of the biggest names in the

industry including executives

from Slater, Stitcher, CBC,

Gimlet and more.

Hot Docs Podcast Festival // November

6-11 // hotdocscinema.ca/podcast

40 BEATROUTE NOVEMBER 2019
---
11.19YYZMUSIC

SOUR KEY:

KEEPING IT

OFF-KILTER

Toronto has a knack for generating bands with an ear for

distortion.

Sharing members with hardcore, metalcore-adjacent

band Real World, Sour Key is a deliberate change of pace

to try their hand at etheral pop, filtered through the lens

of reverb laden riffs. With Luciano Castilo-Oliva on vocals

and guitar, Lia Lepre on drums, and Noah Aviles-Betel on

bass, Sour Key deliver more than Dinosaur Jr. worship with

a healthy dose of dreamy shoegaze. The band pull from a

melange of eras of alternative rock to ground their sound

in something intimately familiar, while leaving the edges

jagged enough to experiment with off-kilter melodies.

At once, Sour Key are warm and dissonant; perpetually

laid back and purposefully shadowcast, then teeming with

ambition, and gently teasing just enough bright moments

to make out the sun draped behind the clouds.

Perhaps what makes Sour Key so compelling is the

fleeting era they recall; a very specific moment in the

early 2010s when a tiny battalion of people believed in the

groundbreaking capacity of bands like Merchandise and

Milk Music.

Right now, the only way to hear the band is through a

live performance posted on YouTube of the now closed

but beloved punk performance space and record store,

Faith/Void, but stay tuned.

LOCAL ARTIST

SPOTLIGHT

MAIRA TRONCOSO

AN ONSLAUGHT OF DANK DEATH METAL

AND STONER HORROR THAT WIELDS RIFFS

LIKE WEAPONS. THIS IS ANOTHER NEW

HIGH FOR CANNABIS CORPSE.

COMING NOV. 1 ON DIGIPAK CD, LTD.

LP, DIGITALLY & MORE.

1349 are back with 'The Infernal

Pathway,' their latest offering of aural

hellfire that is sure to set you ablaze with

a fiery collection of true Norwegian

black metal.

Out now on Deluxe CD box, Digipak

CD, Ltd. 2LP, digitally & more.

NECRONOMICON

UNUS

Vicious, ultramodern death metal

that harnesses the dark magick of

their name.

See them on tour now with

SUFFOCATION & BELPHEGOR

Out now!

CLOAK

THE BURNING DAWN

'The Burning Dawn' melds the

gothic nuance of its predecessor

with a more aggressive and

vehement spirit.

Out now!

VOYAGER

COLOURS IN THE SUN

A vivid, uplifting, and

exhilarating album of their

self-pro claimed "epic electro

progressive power pop metal"!

Coming Nov. 1

NOVEMBER 2019 BEATROUTE 41
---
11.19YYZMUSIC

The Cheat Sheet BR PICKS THE 5 ESSENTIAL LIVE MUSIC SHOWS

ALT

1

WHOOP-SZO AND FET.NATROCK

Sat, Nov. 2 at The Rec Room

A seismic double bill of homegrown

bands—one relentlessly sludgy, and

the other crafters of dense monochromatic

noise-pop—advocating

for a revision of genre and form.

2

black midi

Fri, Nov. 8 at Lee's Palace

For serving up expertly-executed

post-punk of the highest, they've

earned the worldwide buzz they've

received. It's probably the last time

you'll see them at a venue this size.

3

HISS GOLDEN MESSENGER

Tues, Nov. 12 at The Horseshoe Tavern

Is there a better way to ward off the

winter than with unapologetically

luminescent country-folk that wraps

drippy guitar licks with open-hearted

lyricism? Nope.

4

FKA TWIGS

Sun, Nov. 17 at REBEL

A lynchpin of all mediums of

performance, for every moment of

delicacy, Talua Debrett Barnett doubles

down on a grating industrialism

that's both affecting and elegant.

5

DEVENDRA BANHART

Sun, Dec. 1 at The Danforth Music Hall

The sustaining whimsey of Devendra

Banhart is an easy sell, but

come early for Black Belt Eagle

Scout, who deliver a similar rework

of the genre with generous levity.

HEAVY

HIPHOP

1

BAD BREEDING

Fri, Nov. 15 at See-Scape

Urgent UK anarcho-punk of the highest

order docking in North America

for the first time, propped by

Hamilton's Sadie and Wives who are

leading the pack in their own right

2

SHOW ME THE BODY

Sun, Nov. 17 at The Garrison

Known for ramming elements of industrial

rap and the spirit of power

violence into a Death Grips-shaped

food processor. Dinner's served!

3 MORTIFERUM

Mon, Nov. 18 at See-Scape

After delivering one of the most

merciless (and impressive)

genre-amophous black metal

demos of 2018, the Olympia, Washington

four-piece arrive to deliver a

verifiable stress test

4

FULL OF HELL AND

CATTLE DECAPITATION

Thur, Dec. 4 at The Opera House

Twin overlords of the death metal

and grindcore variety team up to

pose an eternal question: "Can you

keep up, baby boy, make me lose

my breath."

5 LUNGBUTTER

Fri, Dec. 6 at The Baby G

Submerged in a web of metallic reverb,

the Constellation Records band

bridge the gap between irreverent

no wave, and harsh noise, bound

together with a clear ear for melody.

1 DAVE

Thur, Nov. 14 at The Phoenix

Tues, Oct. 15 at Rivoli

One of Britain's brightest young

stars returns to Toronto amid the

success of his starring role on

Topboy to tour his Mercury Prize

winning opus, Psychodrama.

2

DANNY BROWN

Wed, Nov. 20 at The Phoenix

The zany artist who came up in the

heydey of blog-rap is known for his

rapid rhymes and quirky style.

3

BABY KEEM

Thur, Nov. 14 at Adelaide Hall

The TDE affiliate comes to Toronto

for the first time on the wave of

viral success of his debut, DIE FOR

MY BITCH.

4 BROCKHAMPTON

Fri, Nov. 29 at Coca Cola Coliseum

This multi talented crew redefined

the "boyband" for the 21st century

with their top-to-bottom creative

control and introspective rap songs.

5

SAINT JHN

Tues, Nov. 19 at Toybox

Rising to prominence as a songwriter

for artists like Jidenna,

Usher, and Beyonce, Saint Jhn is

forging his own path of silky-sweet

trap music.

R&B

DANCE

POP

1

SUMMER WALKER

Mon, Nov. 25 at REBEL

R&B's current It Girl goes on

what she says will be her first

and last tour, in support of her record-breaking

debut album, Over It.

2 CHER

Fri, Nov. 29 at Scotia Bank Arena

The Goddess of Pop and certified

living legend will treat fans to hits

spanning her 60-year (!!!) career.

3

SNOH AALEGRA

Tues, Nov. 26 at The Danforth

This Swedish songstress has

been pushing her heart-wrenching

brand of soul for over five years

but in 2019 she's finally got everyone

in their FEELS.

4

KIM PETRAS

Mon, Nov. 25 at The Phoenix

If you ever find yourself yearning

for the days of late 90s/early 00s

pop, look no further than this German

viral star who is carrying on

the traditions laid by Britney, Xtina

and the like.

5

ALLAN RAYMAN

Sat, Nov. 30 at Queen Elizabeth

Theatre

We've filed him under R&B but

truth be told, Allan Rayman's music

is a perplexing and addicting blend

of influences ranging from R&B to

vintage rock to grunge.

1 TRANSMISSION

Sat, Nov 9/16 at Location TBA

Two Saturdays in a row of latenight

immersions that will feature a

diverse lineup of some of Toronto's

underground dance music figureheads

in two rooms.

2 MSTRKRFT

Sat, Nov. 29 at CODA

The dance-punk-electro-house pioneers

have been releasing a single

every month on their ORO Records

imprint this year.

3 CHROMEO

Fri, Nov. 8 at CODA

The childhood best friends and

musical virtuosos pass through Toronto

to drop a DJ set undoubtedly

dripped in synths, riffs and reverb.

4 OBJEKT

Fri, Nov. 16 at 163 Weston Road

Fans of both music and mathematics

will want to check out Mixmag's

reigning DJ of the Year as he

shows off his bold, genre-hopping

style and trademark polyrhythmic

mixing.

5

NINA KRAVIZ

Thur, Nov. 21 at The Concert Hall

Expertly curated selections of

house, techno and adjacent genres

have turned this Siberian star into

one of the most in-demand selectors

in the world today.

42 BEATROUTE NOVEMBER 2019
---
new album includes "strangers" & "astronaut"

out now

canadian tour

11.08 — victoria, bc @ save on foods memorial centre

11.09 — vancouver, bc @ pacific coliseum

11.10 — kelowna, bc @ prospera place

11.12 — calgary, ab @ scotiabank saddledome

11.13 — edmonton, ab @ rogers place

11.15 — regina, sk @ brandt centre

11.16 — winnipeg, mb @ bell mts place

11.19 — sudbury, on @ sudbury arena

11.20 — windsor, on @ the colosseum at caesars windsor

11.22 — toronto, on @ scotiabank arena

11.25 — ottawa, on @ canadian tire centre

11.26 — kingston, on @ leon's centre

11.28 — moncton, nb @ molson canadian centre at casino new bruswick

11.29 — halifax, ns @ scotiabank centre

each ticket purchased online includes a CD or digital copy of the new album

$1 from each ticket will be donated to MusiCounts & Indspire cityandcolour.com

NOVEMBER 2019 BEATROUTE 43
---
CANADA'S LARGEST INDEPENDENT CONCERT PROMOTER

UPCOMING SHOWS

JAY PARK

Nov 12 - Rebel

JESSE MALIN

& SPECIAL GUESTS

Nov 7 - Lee's Palace

THE CINEMATIC

ORCHESTRA

Nov 10 - Danforth Music Hall

THE EAST POINTERS

& SPECIAL GUESTS

Nov 14 - Lee's Palace

AGNEZ MO

& SPECIAL GUESTS

Nov 20 - Adelaide Hall

TEEBS

& SPECIAL GUESTS

Nov 21 - Adelaide Hall

IN FLAMES

& SPECIAL GUESTS

Nov 27 - Phoenix Concert Theatre

RIA MAE

& SPECIAL GUESTS

Nov 28 - The Opera House

RITTZ & DIZZY WRIGHT

& EKOH & WHITNEY PEYTON

Nov 29 - Adelaide Hall

SAID THE WHALE

& SPECIAL GUESTS

Dec 14 - Phoenix Concert Theatre

44 BEATROUTE NOVEMBER 2019 TICKETS ARE AVAILABLE AT MRGCONCERTS.COM