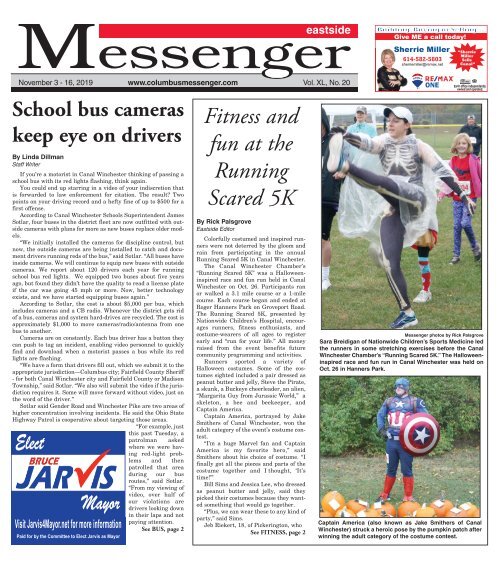 Eastside Messenger - November 3rd, 2019
You also want an ePaper? Increase the reach of your titles
YUMPU automatically turns print PDFs into web optimized ePapers that Google loves.
eastside

Building, Buying or Selling...

Give ME a call today!

Sherrie Miller

614-582-5803

sherriemiller@remax.net

"Sherrie

Miller

Sells

Canal"

November 3 - 16, 2019 www.columbusmessenger.com Vol. XL, No. 20

School bus cameras

keep eye on drivers

By Linda Dillman

Staff Writer

If you're a motorist in Canal Winchester thinking of passing a

school bus with its red lights flashing, think again.

You could end up starring in a video of your indiscretion that

is forwarded to law enforcement for citation. The result? Two

points on your driving record and a hefty fine of up to $500 for a

first offense.

According to Canal Winchester Schools Superintendent James

Sotlar, four buses in the district fleet are now outfitted with outside

cameras with plans for more as new buses replace older models.

"We initially installed the cameras for discipline control, but

now, the outside cameras are being installed to catch and document

drivers running reds of the bus," said Sotlar. "All buses have

inside cameras. We will continue to equip new buses with outside

cameras. We report about 120 drivers each year for running

school bus red lights. We equipped two buses about five years

ago, but found they didn't have the quality to read a license plate

if the car was going 45 mph or more. Now, better technology

exists, and we have started equipping buses again."

According to Sotlar, the cost is about $5,000 per bus, which

includes cameras and a CB radio. Whenever the district gets rid

of a bus, cameras and system hard-drives are recycled. The cost is

approximately $1,000 to move cameras/radio/antenna from one

bus to another.

Cameras are on constantly. Each bus driver has a button they

can push to tag an incident, enabling video personnel to quickly

find and download when a motorist passes a bus while its red

lights are flashing.

"We have a form that drivers fill out, which we submit it to the

appropriate jurisdiction–Columbus city; Fairfield County Sheriff

- for both Canal Winchester city and Fairfield County or Madison

Township," said Sotlar. "We also will submit the video if the jurisdiction

requires it. Some will move forward without video, just on

the word of the driver."

Sotlar said Gender Road and Winchester Pike are two areas of

higher concentration involving incidents. He said the Ohio State

Highway Patrol is cooperative about targeting those areas.

"For example, just

this past Tuesday, a

patrolman asked

where we were having

red-light problems

and then

patrolled that area

during our bus

routes," said Sotlar.

"From my viewing of

video, over half of

our violations are

drivers looking down

in their laps and not

paying attention.

Visit Jarvis4Mayor.net for more information

See BUS, page 2

Paid for by the Committee to Elect Jarvis as Mayor

Fitness and

fun at the

Running

Scared 5K

By Rick Palsgrove

Eastside Editor

Colorfully costumed and inspired runners

were not deterred by the gloom and

rain from participating in the annual

Running Scared 5K in Canal Winchester.

The Canal Winchester Chamber's

"Running Scared 5K" was a Halloweeninspired

race and fun run held in Canal

Winchester on Oct. 26. Participants ran

or walked a 3.1 mile course or a 1-mile

course. Each course began and ended at

Roger Hanners Park on Groveport Road.

The Running Scared 5K, presented by

Nationwide Children's Hospital, encourages

runners, fitness enthusiasts, and

costume-wearers of all ages to register

early and "run for your life." All money

raised from the event benefits future

community programming and activities.

Runners sported a variety of

Halloween costumes. Some of the costumes

sighted included a pair dressed as

peanut butter and jelly, Steve the Pirate,

a skunk, a Buckeye cheerleader, an alien,

"Margarita Guy from Jurassic World," a

skeleton, a bee and beekeeper, and

Captain America.

Captain America, portrayed by Jake

Smithers of Canal Winchester, won the

adult category of the event's costume contest.

"I'm a huge Marvel fan and Captain

America is my favorite hero," said

Smithers about his choice of costume. "I

finally got all the pieces and parts of the

costume together and I thought, 'It's

time!'"

Bill Sims and Jessica Lee, who dressed

as peanut butter and jelly, said they

picked their costumes because they wanted

something that would go together.

"Plus, we can wear these to any kind of

party," said Sims.

Jeb Riekert, 18, of Pickerington, who

See FITNESS, page 2

Each office independently

owned and operated.

Messenger photos by Rick Palsgrove

Sara Breidigan of Nationwide Children's Sports Medicine led

the runners in some stretching exercises before the Canal

Winchester Chamber's "Running Scared 5K." The Halloweeninspired

race and fun run in Canal Winchester was held on

Oct. 26 in Hanners Park.

Captain America (also known as Jake Smithers of Canal

Winchester) struck a heroic pose by the pumpkin patch after

winning the adult category of the costume contest.
---
PAGE 2 - EASTSIDE MESSENGER - November 3, 2019

CW Library Branch

The Canal Winchester Branch of the

Columbus Metropolitan Library, 115

Franklin St. (located in the rear portion of

the former school at 100 Washington St.),

is open Monday through Thursday from

noon to 7 p.m. and Friday and Saturday

from noon to 6 p.m.

Fall will arrive soon

Contact us NOW for your

Furnace Tune-Up!

(614) 836-9119

OH License #20692

Drug Drop Box

The Madison Township Police

Department provides an opiate prescription

"Drug Drop Box" for the community.

This drop box is located in the lobby of the

Madison Township Police Department,

4567 Madison Lane, and is accessible to

the public Monday through Friday 8 a.m.

to 5 p.m. Any person can walk-in and dispose

of new or old pills, including prescription

medications, or any other illegal substances

and place them into this box with

no questions asked.

BUS

Continued from page 1

I would assume they are looking at an electronic

device."

The basic rules for approaching a slowing

or stopped bus are the same as

approaching a stoplight. When lights are

blinking yellow, a driver should slow down

and stop in their lane when lights are

blinking red.

If the bus is stopped on a street or road

which has fewer than four lanes, all traffic

approaching the bus from either direction

must stop at least 10 feet from the front or

rear of the bus and remain stopped until

the bus begins to move or the bus driver

signals motorists to proceed.

"Even if the bus lights are not working,

an officer could ticket a driver who doesn't

stop," Sotlar said.

FITNESS

Continued from page 1

attends OSU-Newark and is a member of

the Army ROTC there, won the men's division

of the Running Scared 5K with a time

of 20:02. Molly Prochaska, 14, who attends

Bishop Flaget in Chillicothe, won the

women's division of race with a time of

21:48.

"It's a great course to run," said Riekert

of the Running Scared 5K course. "It's nice

and flat. It lets you see your opponents from

front and back so you know how fast to run."

Of the chilly, rainy weather on the day

of the race, Riekert said, "It's beautiful

weather for running. It's nice and cool. The

rain cools you down."

Prochaska said the Running Scared 5K

course is one of her favorite courses.

"It's different and diverse," said

Prochaska. "There's nice trees and it's interesting

to run through the neighborhoods."

An interesting aspect of the race is that

participants had the option of carrying a

pumpkin as they ran or walked. They got

to keep the pumpkin if they successfully

carried it across the finish line. The pumpkins

were good sized and some racers were

wary of the weight while others embraced

the challenge.

Visit www.canalwinchester.com for

information about the Canal Winchester

Chamber of Commerce.

www.columbusmessenger.com

Jeb Riekert, 18, of Pickerington (left),

won the men's division of the Running

Scared 5K with a time of 20:02. Molly

Prochaska, 14, (right) won the women's

division with a time of 21:48.

Runners at the start of the Running

Scared 5K included "Steve the Pirate"

among other costumed racers.

Bill Sims (left) and Jessica Lee (right)

participated in the one mile walk costumed

as peanut butter and jelly.
---
www.columbusmessenger.com

Theater season set to begin

By Linda Dillman

Staff Writer

Fall is a season of many colors, but for

Canal Winchester High School thespians,

it begins a production season that starts in

November and does not stop until daffodils

lose their sunny brightness in the spring.

On Nov. 22 and 23 at 7 p.m., the high

school actors will perform their annual Fall

Shorts Festival in the Oley Speaks

Auditorium, located at 100 Washington St.

in Canal Winchester

"This is based on the 'Evolution of

Theater,' highlighting eight different plays

and their representative styles from Greek

tragedy to 'Modern Theater of the

Absurd,'" said Canal Winchester High

School Drama Director Abbey Phillips.

The styles include Shakespeare, realism

and the avant garde, as well as the both

comedic and thought-provoking. More than

45 students will be on stage.

"We really want to take the opportunity

to educate both our students and audience

in the history of theater," Phillips said.

"There are so many wonderful plays to be

taken in historical context that the average

high school theater goer and participants

are unaware of. Contemporary theater

does not exist in a bubble. It is built on centuries

of comedic and dramatic works. The

format of the play will be similar to walking

in on a college Theatre 101 class."

The 2020 Madrigal will take the stage

and areas throughout the high school cafetorium

Feb. 15 and 16, featuring a dinner

theatre production of William

Shakespeare's "Much Ado About Nothing."

"It's been about a decade since we produced

'Much Ado About Nothing,'" said

Canal Winchester High School Theatre

Director Todd Phillips. "We first performed

it in 2000, just in time for the millennium

change. It was our Y2K Madrigal. This will

be our 31st Madrigal production."

The comedy, first published in 1600,

includes intrigue, royalty, would-be lovers,

Canal Winchester High School actors

rehearsing for a performance from a

previous year.

plot twists, a masterful deception to stop a

marriage, a masked ball and more. Tickets

for the madrigal go on sale in January.

The annual spring musical, yet to be

announced, will be April 24 and April 25.

Tickets go on sale the beginning of April

2020.

Tickets can be pre-ordered for the Fall

Shorts through any student or by calling

the Canal Winchester Performing Arts box

office at 614-920-2680, or by emailing

CWHSdrama@gmail.com. Tickets are $5

for students and seniors, and $7 for adults.

Tickets for the Madrigal Dinner and

spring musical can be purchased through

the same contacts.

Visit cwperformingarts.info for information

about the Canal Winchester High

School performing arts programs.

Natural gas aggregation

Madison Township's current natural

gas aggregation is up at the end of

November 2019. Consultant Scott

Belcastro from Trebel has been monitoring

rates as they hit an all-time low the end of

August, then started rising slightly in

September.

Belcastro shared information with the

Madison Township trustees on a new contract,

which allowed the township to lock

in a fixed rate for 24 months, beginning

Dec. 1, 2019. The new rate is $.3749/Ccf

and will remain with Volunteer Energy

Services of Ohio.

According to the Madison Township

trustees, the current contract is a fixed

adder of $.01281 plus the NYMEX price

(which could vary each month). At the

time we secured our Dec. 1, 2017 contract

the price was $.4241/Ccf.

There is no cost to join, no switching

fees and budget billing is available by calling

Columbia Gas at 1-800-344-4077.

Information will be sent to residents in

late October and they will have two weeks

to opt-out of the program, as with previous

contracts. To participate in the program,

nothing needs to be done by the resident.

A follow-up postcard/letter will be sent by

Columbia Gas which notifies the customer

they will be switched (to the new program).

This is a "second chance," just in case they

didn't want to participate in the new program.

This step helps prevent door-to-door

and phone solicitors from switching

accounts without authorization of the resident.

Specific questions may be directed to

Trebel LLC at 1-877-861-2772.

It can be difficult to trust someone with your pets and

home... We know! With us, you will be trusting your pet

and home with someone who genuinely cares.

Contact us to

schedule today!

614-309-1385

Find us on Facebook

November 3, 2019 - EASTSIDE MESSENGER - PAGE 3
---
PAGE 4 - EASTSIDE MESSENGER - November 3, 2019

Cookies and candy

Groveport United Methodist Church,

512 Main St., Groveport, will host its

annual Christmas Cookie/Candy Sale on

Dec. 7 from 9 a.m. to noon. Homemade holiday

cookies and candy will be available

for purchase.

columbusmessenger.com

eastside

Messenger

(Distribution: 13,559)

Rick Palsgrove................................Eastside Editor

eastside@ columbusmessenger.com

Published every other Sunday by

The Columbus Messenger Co.

3500 Sullivant Ave., Columbus, Ohio 43204-1887

(614) 272-5422

BIRTHDAY • ENGAGEMENT • WEDDING • ANNIVERSARY

• GRADUATION • RETIREMENT

IN MEMORIUM • ARMED FORCES

Say it with an announcement ad in

the Messenger and spread the word.

You can download the appropriate form from

our Web site or stop by our office

Monday-Thursday, 8:30 a.m.-5 p.m.

Friday, 8:30 a.m.-2 p.m.

Columbus Messenger

3500 Sullivant Ave.

614-272-5422

www.columbusmessenger.com

Winchester

Dental

Call us today to schedule

an appointment.

Winchester Square

Shopping Center

614.834.1834

Ladan Pourmoghadam

D.D.S.

Now offering our

'Smile Plan' to our

non-insured patients

Views of Columbus through artists' eyes

By Hannah Poling

Staff Writer

Two artists, Mike Fields and Jim Siemer, are

collaborating to create an art exhibit celebrating

the city of Columbus.

Fields is a portrait artist and Siemer does landscape

art. They will bring their different artistic

perspectives together in one exhibit titled "The

People and Places of Columbus."

Both artists were born and raised in Columbus.

Fields grew up on the eastside and Siemer on the

westside. In their high school years, both pursued

a love of sports, and it did not cross their minds

that they would one day have a career in the arts.

Siemer went to Bishop Ready. His first art

teacher was Sister Marie Miller. She taught him

how to paint with water color. She pushed him

into the arts.

"I won an art competition and she kept pushing

me," said Siemer. "I kept taking watercolor classes

and drawing classes. Then she got me a scholarship.

I didn't even ask her to. I had nothing to

do with it at all. She submitted my work to

Columbus College of Art and Design, and the next thing I knew, I

had a full scholarship."

Fields' first influence into the art world was similar. Artist

Aminah Brenda Lynn Robinson was the first person to tell Fields

that he had talent as an artist. Fields said that they used to have

summer programs in Columbus at recreation centers that would

feature sports as well as arts and crafts. Robinson was one of the

playground leaders at the summer program.

"She entered a piece of my art into a competition. It was a high

school contest," said Fields.

He was only about 10 years old and his art work placed in the

competition.

Fields didn't take art seriously until college. He attended

Bowling Green State University and had taken a fashion class and

for that class, you had to draw. He was told by many that his

drawings were good, but he was under the assumption that anyone

could draw. He took an art class and his professor told him

that not just anyone can draw and that he had talent.

Columbus College of Art and Design was the next step for

Fields. He only stayed at the college for 10 days. Fields took in his

portfolio and everyone swore he had previous training. They did

not believe he was a self taught artist with

no prior experience. His tipping point of

Look Great

Feel Great

Sleep Great

Providing Gentle,

Caring Dentistry

In a Comfortable

Setting.

Accepting New Patients

Most Insurances Accepted

leaving the college came down to a freshman

class.

"The statement that bothered me was

'That no one here is good enough to get an A

or B,' and I said I'm out because that is not

what art is about to me. Because to me, if

something is good its good. It doesn't matter

who, what, when or where. You either like it

or you don't, but to tell me right off of the

bat that it's not going to be good, I was totally

against it," said Fields.

Siemer, on the other hand, got a scholarship

to Columbus College of Art and Design

right out of high school.

"I was 18 years old, and I was not ready

for the rigamarole of art. Here I was, a jock

who every now and then painted, and they

wanted you to spend 18 hours a day on art

and at that time I was not ready for that

commitment," said Siemer.

Siemer dropped out of college and got

involved in politics. Through his involvement

in politics, he moved to Washington

DC and worked for a professor at

Georgetown University. It was at that time

Siemer decided to move back home and go to

Impressionistic Columbus watercolor painting by Jim Siemer.

www.columbusmessenger.com

"The People and Places of Columbus" exhibit

will be held at the James A. Rhodes State Office

Tower, 30 E. Broad St. in Columbus, Nov. 4-29. It

will be open from 8 a.m. to 5 p.m Monday through

Friday. There will also be a reception held at the

Lincoln Cafe, 740 East Long St. in Columbus from

6 to 8 p.m. Nov. 7. There will be light refreshments

served and a live performance by Otis Davenport.

college. He got a degree in philosophy from Ohio University.

While at Ohio University, he started taking water color classes

that rekindled his passion for painting.

Siemer decided to organize an art exhibit as a fundraiser for

President Barack Obama and that is how he met Fields. They had

an exhibit at The Blue Stone and had about 50 different artists

involved in the fundraiser. The pair clicked because they had

extreme differences in their ideas of how to be professional artists.

"We could talk about the business of art and there would be

very lively conversations because we came from two different

angles, and even to this day we are still doing different things,"

said Fields.

Fields and Siemer come from different perspectives and that's

what makes their collaboration unique.

Fields captures paintings of iconic athletes, musicians, old time

hollywood actors and more.

Through the portraits, he wants viewers to remember something

- a character from a movie or the popcorn you were eating

while you were watching it.

"Thats what art is supposed to do. It's supposed to make you

feel," said Fields.

Siemer has a similar reasoning behind the landscapes and

architecture he captures in Columbus.

"People want a painting of a particular place or a particular

event that they have a fond memory of," said Siemer.

"The People and Places of Columbus" exhibit will be Fields and

Siemer's first collaboration together. The exhibit will be held at

the James A. Rhodes State Office Tower, 30 E. Broad St. in

Columbus, Nov. 4-29. It will be open from 8 a.m. to 5 p.m Monday

through Friday.

The exhibit includes about 60 images, 30 from each artist.

There will also be a reception held at the Lincoln Cafe, 740 East

Long St. in Columbus from 6 to 8 p.m. Nov. 7.

There will be light refreshments served and a live performance

by Otis Davenport.
---
www.columbusmessenger.com

Veterans Day in Canal Winchester

The city of Canal Winchester, with Canal

Winchester Senior Citizens, Inc. and VFW Post 10523,

will host a Veterans Day celebration on Nov. 9. The

public is invited to join veterans, local leaders, and distinguished

guests for this patriotic event set in historic

downtown Canal Winchester.

Pancake breakfast for veterans

A complementary pancake breakfast for veterans

and their families will be held from 8:30-10 a.m. at the

Frances Steube Community Center, 22 S. Trine St.

The breakfast will be served by volunteers headed by

Canal Winchester Senior Citizens club members, with

food arrangements by the family of the late Fred

Bivens, U.S. Air Force veteran and long-time club

member. Other breakfast volunteers will include

youth from Canal Winchester's Boy Scout Troop 103

and Girl Scout Troop 2053.

Veterans March and Ceremony

The Veterans March begins at 10 a.m. at the

Frances Steube Community Center's 22 S. Trine St.

and travels west down East Waterloo Street, turning

at South High Street to end at Stradley Place (located

next to Canal Winchester Municipal Office Building at

36 S. High St.). A traditional Veterans Day ceremony

will be held at Stradley Place immediately following

the Veterans March.

Marching veterans will be joined by military vehicles

provided by Motts Military Museum. The ceremony

includes remarks from Canal Winchester Mayor

Mike Ebert and VFW Post 10523 Commander Rick

Williams, as well as a patriotic keynote address by Dr.

Dana Robinson-Street, a U.S. Navy veteran who

served during the 1991 Gulf War. Other highlights

Messenger photo by Rick Palsgrove

Veterans marching down High Street in last year's

Veterans Day parade in Canal Winchester.

include a performance of the "National Anthem" by

Canal Winchester City Councilman Mike Walker,

patriotic selections by the Canal Winchester High

School Marching Band and Select Vocal Ensemble, a

21 gun salute, and the playing of "Taps."

Photo exhibit

A photo exhibit honoring veterans will be on display

at the Canal Winchester Municipal Building.

Visit www.canalwinchesterohio.gov or call 614-834-

9915 for information.

CW leaf pick up

November 3, 2019 - EASTSIDE MESSENGER - PAGE 5

The city of Canal Winchester will conduct curbside leaf collection

through Dec. 13. To avoid water backup in the event of rain,

leaf piles must be placed behind the curb along the street. Leaf

piles may contain leaves only, as sticks, grass trimmings and

other yard waste can cause damage to leaf collection equipment.

Regular yard waste will continue to be picked up by Waste

Management during scheduled trash collection.

Lung Cancer?

Asbestos exposure in industrial,

construction, manufacturing jobs, or the

military may be the cause. Family in

the home were also exposed.

Call 1-866-795-3684 or email

cancer@breakinginjurynews.com.

$30 billion is set aside for asbestos

victims with cancer. Valuable settlement

monies may not require filing a lawsuit.
---
PAGE 6 - EASTSIDE MESSENGER - November 3, 2019

www.columbusmessenger.com

Fairfield County Board of Elections

Liberty Center

951 Liberty Drive

Lancaster, OH 43130

Phone: 740-687-7000 or 614-837-0765

Fax: 740-681-4727

http://www.electionohio.com/fairfield/

Office hours: 8 a.m. - 4 p.m.

Monday-Friday

I firmly believe Canal Winchester is a great

place to call home.

Quality people create a quality community,

and a quality community is a place people want to

call home. Canal Winchester's success has

brought many benefits, but the city also faces significant

challenges. Because so many people

want to live here, a well-planned infrastructure is

critical.

When I was elected as your Mayor, economic

times where bleak and the majority of our days

were spent balancing finances while providing a

high level of service. From the dirt floors of our

Street Department garage to the moldy offices of

boards of elections

Franklin County

Board of Elections

1700 Morse Road

Columbus, OH 43229

Phone: (614) 525-3100

Fax: (614) 525-3489

Open Monday-Friday 8 a.m. to 5 p.m.

vote.franklincountyohio.gov/

PAID ADVERTISING

Re-elect Mayor Mike Ebert

our safety services, we worked as a team to make

things better.

Through the years as your Mayor, I have

emphasized the importance using tax dollars

wisely and being fiscally responsible when planning

new infrastructure. This is one of my guiding

principles.

The city has never been better off financially

than it is now.

With the positive state of our city, it is time to

build on our strengths and address challenges and

opportunities. That is why I feel now is the time

to propose several quality of life enhancements

that will benefit everyone.

Editorial note: These are not endorsements

The Messenger newspapers would like to

clarify that the candidates and issues featured

in this advertising section are published

as paid political advertisements.

The Columbus Messenger Company does

not make any political endorsements of candidates

or issues.

Make Election Day go smoothly

These tips can help voters prepare for

Election Day.

•Confirm your polling location. Voters

can contact their local board of elections or

visit www.Vote411.org to confirm the correct

polling locations.

•Bring photo identification. Voters who

bring along a driver's license or state identification

card may get in and out of the

polling place more quickly than those who

do not.

•Confirm registration. Voters can confirm

that they have registered to vote by

contacting their local board of elections in

advance of Election Day. Sometimes voters'

names may not appear on the registration

list when they arrive to vote, even if

they previously registered. Poll workers

can help voters who find themselves in

such situations. But voters who want to

avoid such hassles on Election Day can

confirm their registration beforehand.

•Be familiar with the candidates and

issues on the ballot. Voting is a privilege

and a responsibility, so voters should

familiarize themselves with the candidates

and issues on the ballot in the weeks leading

up to Election Day. In addition to

national or statewide candidates and

issues, voters should learn about local

issues that may have a more direct impact

on their daily lives. The more voters learn

about the candidates and issues in

advance, the more quickly they can cast

their votes and get to work or return home.

Voting on Election Day is a privilege

that voters should not take lightly. Taking

certain steps in the weeks ahead of

Election Day can make it easier for voters

to cast their ballots.
---
www.columbusmessenger.com November 3, 2019 - EASTSIDE MESSENGER - PAGE 7

Village of Lithopolis

Downtown

Spotlight

Lithopolis events

The following community events

will btake place in the village of

Lithopolis in the coming months. See

you in Lithopolis!

•Dec. 14: Simply Christmas

events (facebook: Simply Christmas

in Lithopolis).

Open Late 'Til 8!

See you in Lithopolis for Open

Late 'til 8 on the second Thursday,

(Nov. 14 and Dec. 12). Enjoy, shopping,

restaurants and live entertainment

as we head into the holidays.

Village Council

Lithopolis Village Council meets

the second and fourth Tuesdays

every month at 7:30 p.m. at 11820

Lithopolis Road NW, Lithopolis. Visit

www.lithopolis.org for information.

On the ballot

Lithopolis voters will consider the following

candidates and issues on the Nov. 5

ballot (information provided by the

Fairfield County Board of Elections):

•Lithopolis mayor (vote for one): Eric P.

Sandine and John W. Stertzer, Sr. (writein).

•Lithopolis village council (vote for two):

Amy S. Brown and Amber Daniels (write-in).

•Bloom-Carroll board of education (vote

for two): D. J. Chapman, Jimmy Johnson,

Matt Kidwell, and Jen Sherman.

•Lithopolis village income tax: A proposed

0.5 percent increase for public infrastructure,

safety, and parks.

History of Wagnalls

Learn about the history of The Wagnalls

Memorial, 150 E. Columbus St., Lithopolis,

from its founder herself, Mabel Wagnalls

Jones. Librarian and Wagnalls historian

Carol Gaal, will dress as Mabel and give

tours of the building from Mabel's perspective.

Learn about Mabel's family, her

famous friends (such as Harry Houdini and

the author O. Henry), and why she wanted

to gift the city of Lithopolis with the

library. You will even visit the "tower

room." which is usually off-limits to library

guests.

Tours are the second Wednesday of

every month at 7 p.m. They are free of

charge and open to the public. If you have a

Fairfield County's "Best Kept Secret"

larger group that would like a private tour

outside of the public tour times, email

smayzum@wagnalls.org or call 614-837-

4765 ext 126 to make arrangements.

Wagnalls Memorial Library

Wagnalls Memorial Library, 150 E.

Columbus St., Lithopolis, is open Monday -

Thursday: 10 a.m. to 8 p.m., Saturday: 10

a.m. to 2 p.m. and closed on Friday and

Sunday. For information call (614) 837-

4765 or visit www.wagnalls.org.

Lithopolis Garden Club

Lithopolis Garden Club meets the first

Tuesday each month at 1 p.m. in the

Community Building at Wagnalls

Memorial in Lithopolis. Anyone interested

in gardening and meeting other gardeners

are invited to attend the meetings.

Game of Soups -

A recipe competition

You are invited to be a connoisseur of

the finest local soup dishes at the Wagnalls

Memorial, 150 E. Columbus St., Lithopolis,

on Nov. 9 from noon to 2 p.m. You will have

a plethora of tastes to experience and

judge. To be a taste-tester at this event is

free, however, donations are appreciated.

Do you think your soup is so divine it

couldn't possibly lose? There will be first

place, second place, and third place prizes

for winners. To sign up, see the front desk

at The Wagnalls Memorial Library for

details. The final day to sign up is Nov. 7.

Dog Tales

Well-behaved canine friends are here to

read with your kids at The Wagnalls

Memorial, 150 E. Columbus St., Lithopolis.

Registered therapy dogs offer young readers

a fun environment to learn and mater

their reading skills.

Why read to dogs? They create a relaxed

environment for the kids. They listen

attentively. They do not judge, laugh, or

criticize. They allow your kids to read at

their own pace. They are less intimidating

than peers. It's fun!

Children ages 6-12 may sign up at the

children's desk for a one-on-one, 15 minute

session with a furry friend. After three sessions,

receive a free book.

Dog Tales meets every Wednesday from

6-7 p.m. in the Children's area. Contact

The Children's Department to sign up for a

15 minute session at 614-837-4765 ext. 118.

UFOs

A discussion on the UFO phenomenon,

both past and present, hosted by Cameron

Jones, will be held at Wagnalls Memorial

Library, 150 E. Columbus St., Lithopolis, at

1 p.m. on Nov. 16.

The presentation will look at the best

evidence and most amazing encounters.

For information call (614) 837-4765 or visit

www.wagnalls.org.

www.OldeCountryStoreLithopolis.com

Family Owned and

Operated Since 1926

36 East Columbus Street

Lithopolis, OH 43136

(614) 837-4705

Eileen Law Benson & Kathlynn Benson Moling

Proprietors

Faler Feed

Store, Inc.

Serving Central Ohio Since 1936

4360 Cedar Hill Rd. P.O. Box 277

Lithopolis, Ohio 43136

(P) 614-837-4494

(F) 614-837-3273

Falers4360@sbcglobal.net

FalerFeedStore.com

www.pedregalrestaurant.com

44 E. Columbus Street, Lithopolis, OH 43136

Hours:

Mon.-Thur. 11:00 AM - 10:00 PM

Fri. & Sat. 11:00 AM - 10:30 PM

Sun. 11:00 AM - 9:00 PM

Phone: 614-829-2394 Fax: 614-829-2396

DAILY SPECIALS

HAPPY HOUR 4PM-8PM EVERYDAY

&

Hours:

Mon-Thursday 4-10

Friday 4-1am

Saturday 2-1am

Sunday 2-10

9 E. Columbus St.

Lithopolis, OH 43136

(614) 829-3186

Envy

Nail Spa

614.829.2428

Providing professional

nail & waxing services

87 E. Columbus St., Lithopolis, OH 43136

Walk ins welcome, Appointment Preferred

Mon.-Fri. 10-7 Sat. 10-5 Sun. 11-4

Mention ad and receive

10% OFF

The Pump House

Pizza & Burgers

Spirits

614-837-6823 • 614-837-9306

Dine In and Carry Out

17-21 E. Columbus St. Lithopolis, OH 43136

Mon. - 4pm-11pm

Tues.-Sat. 11am-11pm

www.facebook.com/thepumphouse2017

Yesteryear's

Antiques, LLC

614-266-3418

Always buying antiques &

collectibles, odd and unusual

70 E. Columbus St., Lithopolis, OH 43136

Open 7 Days a Week 11am to 6pm

Please "Like & Follow" us on Facebook

Your Local Realtor celebrating 20 years of

helping Home Buyers and Sellers!

Tammy Roof Elliott

614-226-6953 (mobile)

TammyRoofElliott.com

PLEASE SUPPORT THESE BUSINESSES!
---
PAGE 8 -- EASTSIDE MESSENGER - November - 3, 3, 2019 2019

pets of the week

www.columbusmessenger.com

BETHANY

LUTHERAN

CHURCH, LCMS

1000 Noe-Bixby Rd. Columbus, OH 43137

614-866-7755

Traditional Worship Service: 9:00 a.m.

Sunday School: 10:30 a.m.

Thanksgiving Eve Service: 9:00 a.m.

Be a Part of Our Local Worship Guide

Our Worship Guide is geared toward celebrating faith and helping readers

connect with religious resources in our community. Make sure these readers

know how you can help with a presence in this very special section distributed

to more than 18,000 households in the Eastside area.

Contact us today to secure your spot in our Worship Guide.

614.272.5422 • kathy@columbusmessenger.com

eastside

Please visit the

Southeast Church

of your choice.

List your Worship

Services here.

For info. call 614-272-5422

Melody came to the

county shelter after a

divorce broke up her

family. She's been at the

shelter since August and

is ready to find her forever

home. She should

probably be the only dog

in the home as she can

be reactive to other dogs and has been muzzled

in playgroup. Do you have the right home

for Melody? She is available at the Franklin

County Dog Shelter.

FYI: 614-525-3647 or www.franklincountydogs.com

Wink and Blink -

Wink, a one-eyed 6-

month-old boy was a

rescued stray along

with his sister, Blink.

Blink wasn't as fortunate

as Wink as she

lost both of her eyes.

The sixth annual Run Your 'Stache Off

5K run/walk and 1K kid's run will be held

Nov. 19 at 9 a.m. at Canal Winchester

High School, 300 Washington St. The event

is a Fairfield County Sheriff's Office

fundraiser (that has raised more than

$20,000 to date) with 100 percent of the

funding benefitting St. Jude Children's

Run Your 'Stache Off

Wink and Blink came to rescue with severe

eye infections when taken from the streets.

But they're the lucky ones as their other siblings

didn't survive. Come meet these

adorable siblings at the Colony Cats adoption

center.

FYI: www.colonycats.org

Mamas is still at the

shelter. She is a very

sweet girl who loves to

snuggle. She loves

everyone she meets

and likes to play fetch.

Mamas must be the

only pet in the household

as she is the

Queen Bee and does

not like to share attention.

Come meet her at the Franklin County

Dog Shelter.

FYI: 614-525-3647 or www.franklincountydogs.com

Research Hospital. The race is open to all

who wish to participate regardless of age or

mustache growing ability. Race day registration

is from 8-9 a.m. with the 1K for

kids age 10 and under at 9:05 a.m. and the

5K run/walk at 9:15 a.m. For information

visit the Run Your 'Stache Off 5K - FCSO

Facebook page.

CLASSIFIED ADS

Deadlines: Southeast and West editions, Wednesdays at 5 p.m., • East, Southwest, Madison editions, Tuesdays at 5 p.m.

All editions by phone, Tuesdays at 5 p.m. • Service Directory, Tuesdays at 5 p.m. • Main Street Mailbox, Tuesdays at 5 p.m.

xAdult Care

Betty's In-Home Care

Has an opening for

Elderly Care In

My Private Home.

Reas. Rates, Years of Exp. w/References

Hot Meals, Laundry,

Visiting Physicians & Home Health Nurses

& Also work with Hospice!

614-777-5850

We offer AFFORDABLE Care

for our Senior Citizens!

Adult Daycare Also Available

Adult Care

Welcome

Carolyn's

Cottage

Private Assisted Living

3036 Woodgrove Dr.

Grove City, OH

Michelle Preston - Owner

614-991-0652

614-376-9761

ASSOCIATION ADS

Elminate gutter cleaning

forever! LeafFilter, the

most advanced debrisblocking

gutter protection.

Schedule a FREE

LeafFilter estimate today.

15% off and 0%

financing for those who

qualify, PLUS Senior &

Military Discounts. Call

1-855-402-0373

IMPORTANT

NOTICE

The following states: CA,

CT, FL, IA, IL, IN, KY,

LA, MD, ME, MI, MN,

NE, NC, NH, OH, OK,

SC, SD, TX, VT and WA

requires seller of certain

business opportunities to

register with each state

before selling. Call to

verify lawful registration

before you buy.

HARRIS 5 MINUTE

BED BUG KILLER!

Fast, Effective Treatment.

Available: Hardware

Stores, Home Depot,

homedepot.com

Wants to purchase minerals

and other oil and gas

interests. Send details to

P.O. Box 13557, Denver,

CO. 80201

xCraft Shows/Bazaars

Groveport Recreation Center

Fall Crafter's Bazaar

Saturday, November 9th

9am-2pm

7370 Groveport Rd.

$1.00

Shoppers Admission

Craft Shows/Bazaars
---
www.columbusmessenger.com

November 3, 2019 - EASTSIDE MESSENGER - PAGE 9

CLASSIFIED ADS

Deadlines: Southeast and West editions, Wednesdays at 5 p.m., • East, Southwest, Madison editions, Tuesdays at 5 p.m.

All editions by phone, Tuesdays at 5 p.m. • Service Directory, Tuesdays at 5 p.m. • Main Street Mailbox, Tuesdays at 5 p.m.

xEmployment

WORK

With us

Gap Inc. NOW HIRING

SEASONAL WAREHOUSE

WORKERS

● Competitive Pay and Incentives

● Ability to transition to Full Time

● Generous Employee Discount

● Safe and Clean Work Environment

Apply in person:

Monday - Saturday 9 AM - 4 PM

6001 Green Pointe Dr. S, Groveport, OH 43125

ASSOCIATION ADS

Two great new offers from

AT&T Wireless! Ask how

to get the Next Generation

Samsung Galaxy S10e

FREE. FREE IPhone with

AT&T's Buy one, Give

One. While supplies last!

CALL 1-866-565-8452 or

www.freephonesnow.com/

/cadnet

VIAGRA & CIALIS! 60

pills for $99. 100 pills for

$150 FREE shipping.

Money back guaranteed!

1-844-596-4376

CARS/TRUCKS WANT-

ED!!! All Makes/Models

2002-2018! Any Condition.

Running or Not. Top $$$

Paid! Free Towing! We're

Nationwide! Call Now: 1-

888-985-1806

ASSOCIATION ADS

SELL YOUR ANTIQUE

OR CLASSIC CAR.

Advertise with us. You

choose where you want

to advertise. 800-450-

6631 visit macnetonline.

com for details.

Attention all Homeowners

in jeopardy of Foreclosure?

We can help stop

your home from foreclosure.

The Foreclosure

Defense helpline can help

you save your home. The

Call is absolutely free.

1-855-516-6641

ASSOCIATION ADS

SELLING YOUR OWN

PROPERTY? Need to

advertise it in your local

paper and others like it?

We have the placement

services to help you.

Contact MACnet MEDIA

@ 800-450-6631 or online

at MACnetOnline.

com

Get NFL Sunday Ticket

FREE w/ DIRECTTV

Choice-All Included Package.

$59.99/month for 12

months. 185 Channels

PLUS Thousands of

Shows / Movies On Demand.

FREE Genie HD

DVR Upgrade. Call 1-855-

781-1565 or satellitedeal

now.com/cadnet

ASSOCIATION ADS

GENERIC VIAGRA and

CIALIS! 100 Pills $99.00

FREE Shipping! 100%

guaranteed. 24/7 CALL

NOW! 888-889-5515

Portable Oxygen Concentrator

May Be Covered by

Medicare! Reclaim independence

and mobility

with the compact design

and long-lasting battery of

Inogen One.

Free information kit! Call

888-609-2189

ASSOCIATION ADS

DISH Network $59.99 For

190 Channels. Add High

Speed Internet for ONLY

$14.95/month. Best Technology.

Best Value. Smart

HD DVR Included. FREE

Installation. Some restrictions

apply. Call 1-855-

837-9146

Lung Cancer? Asbestos

exposure in industrial, construction,

manufacturing

jobs, or military may be the

cause. Family in the home

were also exposed. Call 1-

866-795-3684 or email

cancer@breakinginjurynews.com.

$30 billion is

set aside for asbestos victims

with cancer. Valuable

settlement monies may not

require filing a lawsuit.

Employment

ASSOCIATION ADS

DISH TV $59.99 FOR 190

Channels + $14.95 High

Speed Internet. Free Installation,

Smart HD DVR

Included, Free Voice Remote.

Some restrictions

apply. Call 1-855-270-

5098

DENTAL INSURANCE

from Physicians Mutual

Insurance Company.

NOT just a discount

plan, REAL coverage for

(350) procedures. Call 1-

877-308-2834 for details.

www.dental50plus.com/

cadnet 6118-0219

NOW HIRING!

Local High Volume Pharmacy

Immediate 1st, 2nd & 3rd shift positions available

for Pharmacy Clerks and Technicians.

$

1000 SIGN ON BONUS

Looking for energetic associates

in a fast pace environment.

NEW Starting rate: $11.50 per hour

Shift differential $1.50 an hour

Please apply at: jobs.kroger.com

Use Zip Code 43217

Must be 18 years of age & have high school diploma or GED.

Call 614-333-5012 for more details.
---
PAGE 10 - EASTSIDE MESSENGER - November 3, 2019

www.columbusmessenger.com

xEmployment

BE YOUR OWN BOSS!

INDEPENDENT

CONTRACTORS

WANTED

If you have a reliable

car and would like to

earn extra money,

then why not deliver?

UNCOVER

YOUR FUTURE

Apply Online:

jobs.manheim.com

MANHEIM HIRING EVENT

in Grove City, Ohio!

Apply Online: jobs.manheim.com

Search Keywords: Grove City, OH

Wednesday, November 6th; 10a-2p

3905 Jackson Pike, Grove City, OH

Drivers (Full-Time / Part-Time), Automotive Inspectors,

Maintenance Technician (Facilities), and Vehicle Photographer

• Deliver 1 or 2 days a week

• Flexible delivery hours

• Work close to home - often

in or near your neighborhood

CONTACT US

1-888-837-4342

www.thebag.com

• Deliver 7 days a week

• Delivery before dawn

• Work close to home - often

in or near your neighborhood

CONTACT US

614-461-8585

www.dispatch.com/delivery

Manheim is North America's leading provider of vehicle remarketing services,

connecting buyers and sellers to the largest wholesale used vehicle marketplace and

most extensive auction network.

Join our team today!

Cox is an equal opportunity employer

Employment

COME &

GET IT!

COME &

GET IT!

COME &

GET IT!

COME AND GET IT

Deadlines are Tuesdays by 5 pm.

Call For Publication Schedule 614-272-5422

Need to Get Rid of Something Fast - Advertise It Here For FREE!

FREE Garden Straw for gardens or bedding. Call for appointment for

pickup. Circle S Farms, 9015 London-Groveport Road, Grove City,

43123

Grove City - 614-878-7980

FREE for Pickup Hospital Bed, Electric, Temper-Pedic Hospital Mattreee,

ISheets Included. In perfect working order. Will need truck.

DS - Colulmbus 43235 - 614-457-2654

ATTENTION: Come & Get It will be ending

in our 11-17-19 issue and will resume in

April 2020. Thanks to all that used it!

. Come and Get It! is a bi-weekly column that offers readers an opportunity to pass

along surplus building materials, furniture, electronic equipment, crafts, supplies,

appliances, plants or household goods to anybody who will come and get them - as

long as they're FREE. NO PETS! Just send us a brief note describing what you want

to get rid of, along with your name, address and phone number. Nonprofit

organizations are welcome to submit requests for donations of items.

Send information to The Columbus Messenger, Attention: Come and Get It, 3500

Sullivant Ave., Columbus, OH43204. Deadline is Tuesdays by 5 pm for following

Mondays publication. Messenger Newspapers is not responsible for any

complications that may occur. Please contact us when items are gone. 272-5422

ASSOCIATION ADS

[WANTED] CARS/

TRUCKS WANTED!!!

All Makes/Models 2002-

2018! Any Condition. Running

or Not. Competitive

Offer! Free Towing! We

are Nationwide! Call Now:

1-888-368-1016

CASH PAYOUT? 70

years old and kids are

grown? Do you need that

life insurance or is a big

life settlement cash payout

smarter? Call Benefit

Advance. 1-877-332-9643

READER

ADVISORY

The National Trade Association

we belong to has

purchased the following

classifieds. Determining

the value of their service

or product is advised by

this publication. In order

to avoid misunderstandings,

some advertisers do

not offer "employment"

but rather supply the

readers with manuals, directories

and other materials

designed to help

their clients establish mail

order selling and other

ASSOCIATION ADS

businesses at home. Under

NO circumstance

should you send any

money in advance or give

the client your checking,

license ID or credit card

numbers. Also beware of

ads that claim to guarantee

loans regardless of

credit and note that if a

credit repair company

does business only over

the phone it's illegal to request

any money before

delivering its service. All

funds are based in US

dollars. Toll Free numbers

may or may not

reach Canada. Please

check with the Better

Business Bureau 614-

486-6336 or the Ohio Attorney

General's Consumer

Protection Section

614-466-4986 for more

information on the company

you are seeking to

do business with.

HEAR AGAIN! Try our

hearing aid for just $75

down and $50 per

month! Call 800-426-

4212 and mention 88272

for a risk free trial! FREE

SHIPPING!

ASSOCIATION ADS

Cross Country Moving,

Long distance Moving

Company, out of state

move $799 Long Distance

Movers. Get Free

quote on your Long distance

move 1-844-452-

1706

Applying for Social Security

Disability or Appealing a

Denied Claim? Call Bill

Gordon & Assoc., Social

Security Disability Attorneys,

1-855-498-6323!

FREE Consultations. Local

Attorneys Nationwide

[Mail: 2420 N St. NW,

Washington DC. Office:

Broward Co. FL (TX/NM

Bar.)]

Earthlink High Speed Internet.

As low as $14.95/

month (for the first 3

months.) Reliable High

Speed Fiber Optic Technology.

Stream Videos,

Music and More! Call

Earthlink Today 1-855-

520-7938

Call Empire Today® to

schedule a FREE inhome

estimate on Carpeting

& Flooring. Call

Today! 1-855-404-2366

INFORMATION

INFORMATION

Congratulations

To Our Gift Card Winner

For OCTOBER 2019

Mike Enderle

From

The Columbus Messenger

Newspapers

ASSOCIATION ADS

Become a Published Author.

We want to Read

Your Book! Dorrance

Publishing-Trusted by

Authors Since 1920.

Book manuscript submissions

currently being

reviewed. Comprehensive

Services: Consultation,

Production, Promotion

and Distribution. Call

for Your Free Author's

Guide 1-877-626-2213

HELP WANTED

NOW HIRING

Commercial

Janitorial

All Shifts

Full and Parttime

Call Now

614-804-1256

11/24 W/SW/M
---
www.columbusmessenger.com

xAuctions

PUBLIC AUTCTION OF REAL ESTATE & PERSONAL PROPERTY

Date: Saturday, November 23, 2019

Time: 9:00 A.M. (Personal Property) ~~ 12:00 Noon (Real Estate)

Location: 10441 Alspach Rd. NW, Canal Winchester, Ohio 43110

Open House Dates:

Sun., Nov. 3rd @ 2-4:00 PM Sun., Nov. 10th @ 2-4:00 PM

Auctioneer's Note: Beautiful Ranch Home with 2.37 Acres in Fairfield County, Bloom

Township, Canal Winchester School District, with (2) Large Detached Garages, (1-Heated);

Blacktop Driveway. Home has Beautiful Woodwork & Kitchen Cabinets, a Walk-out

Basement Entry through the Sunroom; several Updates including (2) newer Furnaces, new

Hot Water Tank, Alarm & Camera System, Well & Septic (Aeration). Roof is approx. 10 years

old. Plenty of Storage Space here, with many possibilities! A Must See! (Minimum Bid of

$365,000.00) Complete ad with Description & Terms of Sale can be viewed at

www.auctionzip.com (Auctioneer ID # 10471) and/or www.OhioRealEstateAuctions.com

and/or www.tqueenauctions.com.

Sale Conducted By: Terryl A. Queen, Auctioneer/Realtor

Associate of Ohio Real Estate Auctions, LLC

Mr. Barry Baker, Broker

Call: 740-969-2983 or 740-412-3608 (Cell)

Email: taqueenauctions@aol.com

Auctioneer is licensed by Department of Agriculture and bonded in favor of State of Ohio Recovery Fund.

xInformation

NOVEMBER GIVEAWAY

Place a prepaid classified line ad in our paper

during the month of NOVEMBER

and be registered to win a

$50 Gift Card from

The Columbus Messenger

Newspapers.

All ads received by mail, in person, e-mail or

phone will be included in the drawing.

Drawing will be held November 27, 2019

and the winner will be notified and published

in our December 1st, 2019 issue .

GOOD LUCK TO EVERYONE!!!!

Information

Auctions

HELP WANTED

HOBBY LOBBY

Now Hiring

Seasonal Help

Flexible Hours

Apply within the store at

4219 Buckeye Parkway

Grove City

Home Health Aides

$13.00/hr. after 90 days

$15.00/hr. Premium Shifts

Performance Bonus and

Paid Time Off after 1 yr.

One yr. experience working

for an employer in a caregiver

11/10 A&M

role is required.

To apply, please visit

v-angels/galloway/employment

WANT TO BUY

We Buy Cars & Trucks

$300-$3000.614-308-2626

WANTS TO Purchase

minerals and other oil &

gas interests. Send details

to: P.O. Box 13557,

Denver, CO 80201

WANT TO BUY

We Buy Junk Cars &

Trucks. Highest Prices

Paid. 614-395-8775

MISCELLANEOUS

FOR SALE

Large Selection of

Chandeliers to

choose from.

All in working condition.

Going Out of Business!!

614-271-2469

RENTALS

Property Management

We are always available!

40 yrs. exp in

Certified Property Mgmt.

Reas. Fees. Call Now!

614-783-7464

VACATION RENTALS

Englewood, Florida

Palm Manor Resort

Within minutes of white

sand Gulf beaches,

world famous Tarpon

fishing, golf courses, restaurants/shopping,

Bush

Gardens. 2 BR 2 BA

condos with all ammenities,

weekly/monthly, visit

www.palmmanor.com

or call 1-800-848-8141

November 3, 2019 - EASTSIDE MESSENGER - PAGE 11

xClassified Services

APPLIANCE REPAIR

Washer, Dryer, Stove &

Refrig. Repair 875-7588

BASEMENT

WATERPROOFING

Walker's Basement

Waterproofing. BBB

Accredited 614-359-4353

BLACKTOP

SANTIAGO'S

Sealcoating & Services LLC

Quality Materials Used

Driveway Seal

& Repairs Fall Special

11/10

A&M

Top Seal Cracks

Commercial & Residential

Fall Clean-Ups

Mowing, Mulching, Edging

"Ask for whatever you need"

BBB Accredited

FULLY INSURED

Call or text for Free Est.

614-649-1200

CARPET CLEANING

DIRT BUSTERS

Any 5 areas $75. Home

Specializing in Pet Owners

Annuity 10% Bonus

Tax Free. 614-805-1084

CLEANING

HOLIDAY SPECIAL

Cleaning-$5 Off for Srs. 20

yrs exp Judy 614-946-2443

CONCRETE

D.J. & DAD KIMMLE

CUSTOM CONCRETE

11-24

All Types E/SE

Free Estimates

All Work Guaranteed

614-206-0158

EDDIE MOORE

CONSTRUCTION

Quality Concrete Work

Lt. Hauling & Room Add.,

Block Work & Excavation

Stamp Patios,

Bsmt. Wall Restoration

37 Yrs Exp - Lic & Ins.

Free Ests. 614-871-3834

AJ's Concrete,

Masonry

Good Work - Fair Prices

Block Foundations

Driveways • Sidewalks

Epoxy/Overlay Floors

Bonded-Ins. • Free Ests.

Now Accepting Credit Cards

614-419-9932

INFORMATION

ONLY

$50.00

For This Ad In Our

East & Southeast

For Info Call

272-5422

11/24 A

GUTTERS

EPP

Seamless Gutters

Mikey 614-927-9132

licensed/bonded/insured

Low Price-Great Service

5 & 6" Seamless gutters,

covers, siding, gutter clng.

Bill 614-306-4541

HAULING

DEAN'S HAULING

614-276-1958

HEATING

HEATING

Complete System Clean & Check

$49.95

Free Carbon

Monoxide Testing

Gas-Oil-Electric Heat/Pumps

All Makes • All Models

43 yrs exp. • Sr. Discount

614-351-9025

HOME

IMPROVEMENTS

C&JHandyman

Services LLC

Minor Plumbing &

Electric

Install Hot Water Tanks,

Dishwashers & Disposals

Also Fencing &

Interior/Exterior Painting

Free Est. ~ 18 Yrs. Exp.

614-284-2100

SINCE 1973

Phil Bolon Contr.

Windows & Siding

Decks, Kitchens, Baths

Room Additions,

Flooring, Roofing

Bsmt Waterproofing

Deal With Small Non-Pressure Co.

45 Yrs. Exp. - Refs. Avail.

Lic.-Bond-Ins.

11-24

A/M

Free Est. - Financing Avail.

Member BBB Of Cent. OH

O.C.I.E.B. ID #24273

614-419-3977

or 614-863-9912

CandC

See The Difference

Plumbing & Electric

Install Hot Water Tanks,

Dishwashers & Disposals

Also Fencing & A

Interior/Exterior Painting

No Job Too Big Or Too

Small - We Do It All

614-702-3691

11-24 A

11-24 A

11-24

HOME

MAINTENANCE

TABBY'S

HOME MAINTENANCE

SERVICE

614-935-1466

JOE'S HOME MAINT.

Home Repairs, Roofing,

Siding, Gutters, Soffits,

Misc. Int. Repairs

Int. Painting

Call Joe 614-778-1460

37 Years Exp.

LAWN CARE

LET US MAINTAIN

YOUR LAWN & GARDEN

FOR YOU

Summer, Spring,

Winter or Fall

WE DO IT ALL!!!!

Lawn Cuts, Edging,

Trees & Shrubs, Garden,

Mulching, Hauling,

Garden Pond &

Home Maint.

Free Ests. Low Rates

$20 & Up

Kevin - 614-905-3117

MOVING

Aaron Allen Moving

Local Moving Since 1956

Bonded & Insured

614-299-6683, 263-0649

Celebrating 60 yrs in business

A Complete

Moving

Reasonable, Reliable

No Job Too Small

PUCO #150692-HG

Free Estimate

614-878-1179

PAINTING

Painter Over 30 Yrs Exp.

Free Est. Reas Rates

Daniel 614-226-4221

A Job Well Done Again

A lic. General Contractor

Some Skilled Services

Incl: Painting • Stucco,

Repair•Carpentry•Exterior

Drainage & Home Maint.

Call Today! 614-235-1819

Walker's Interior Painting

Free Est. 614-359-4353

PLUMBING

All About Drains & Plumb.

Will snake any sm drain

$125 + tax. 614-778-2584

ALL IN ONE

PLUMBING LLC

"One Call Does It All"

$25 OFF LABOR

With This Ad

A

614-801-1508

All Major Credit Cards Accepted

POWER WASHING

MRS. POWERWASH

Any house wash $149 + tax

Single deck $69 + tax

2 Tier deck $99 + tax

Best Wash In Town

Over 45,000 Washes

Ashley, 614-771-3892

Classified Services

11/24 A&M

11/10

ROOFING

Robinson roofing & repairs

30 yrs. exp. Lifetime Cols.

resident. Lic./bonded/Ins.

Reas rates. Member of

BBB. Dennis Robinson

614-330-3087, 732-3100

SEWING MACHINE

REPAIR

REPAIR all makes 24 hr.

service. Clean, oil, adjust

in your home. $39.95 all

work gtd. 614-890-5296

TOP SOIL

Alexander Hauling

Driveways topped w/new

limestone. We also deliver

Topsoil - comtil - sandmulch.

Specializing in

residential. 614-491-5460

Bobcat Service Avail.

TREE SERVICES

11/27

E/SE

A&M

Fast Tree Service

Tree Removal,

Stump Grinding

Free With Access,

Pruning, Shaping

Insured, Free Est.

Payment Plans Avail.

614-837-8367

614-863-1522

TROTT

TREE & LANDSCAPE

Tree Trimming

& Removal

11/10

A

Also Stump Removal

Free Est. - Fully Ins.

Call 614-235-3791

Cell 614-738-0682

BURNS TREE SERVICE

Trimming, Removal &

Stump Grinding.

614-584-2164

Brewer & Sons Tree Service

• Tree Removal

• Tree Trimming 11-24

A&M

• Stump Grinding

• Bucket Truck Services

Best Prices • Same Day Service

614-878-2568

INFORMATION

NEED

SOMETHING

DONE THIS

FALL?

CHECK OUT OUR

CLASSIFIED

SERVICES!

FOR

ADVERTISING

INFO. CALL

(614) 272-5422

THE COLUMBUS

MESSENGER
---
PAGE 12 - EASTSIDE MESSENGER - November 3, 2019

entertainment

www.columbusmessenger.com

A whole lot of nothing in "Countdown"

There I was, perched on the edge of my

seat as the newly released horror film

"Countdown" neared its final act. I had

been that way for a while by then, coiling

tighter and ready to spring apart. What

had brought me to that state was not a fullbodied

engagement of the viewing experience

but rather an overwhelming desire to

escape this nightmare of a movie.

As someone who loves the horror genre,

I have seen my fair share of unremarkable

films and I have to say that "Countdown" is

right up there with the worst of them.

Despite its semi-interesting premise, there

is a whole lotta nothing going on in this

film, so much so that it was hard to find

even a sliver of entertainment value.

It follows a young nurse named Quinn

(Elizabeth Lail) who befriends a patient

slated for surgery. She assures the nervous

teen that he is in good hands at the hospital

but he insists he is going to die during

the operation. After some prompting, he

tells her he learned the date of his death

through an app called Countdown and only

has hours to live.

Thinking him silly for believing such a

thing, she once again reassures him that

The Reel Deal

everything will be OK

and then promptly

tells her coworkers

about the app so they

can download it for

themselves. Turns out

she drew the short end

of the app stick as

she only has days

whereas they have

decades.

As the hours pass,

Quinn slowly starts

Dedra

Cordle

We are left with paint-by-thenumbers

spectral hauntings that

make little sense upon minor

reflection.

to become more freaked out and tries to

delete the app from her phone. This makes

the app unhappy and it starts to give frequent

prompts of when she is going to die.

Thinking she can outsmart the app, she

gets a new phone but it installs itself onto

her new device. Then she starts seeing

shadowy figures that become more aggressive

as the clock counts down.

With the help of a hot stranger with

similar app problems, a surly younger sister

with similar app problems and a hip

priest with inexplicable knowledge of similar

app problems, the quartet set out to

cheat death by technological advancement.

There were only a few ways the resolution

of the film could go — human app creator

who stalks in real life rather than data

mines and sells your information for profit

for life versus curses and demons — and you

can be assured it does not travel the less

worn route. Had writer/director Justin Dec

decided to take the horror path less travelled

perhaps it would have been a smidge

more entertaining. Alas, it does not happen

and we are left with paint-by-the-numbers

spectral hauntings that make little sense

upon minor reflection.

The advancing technological world is

ripe for the picking in the horror genre, and

this cursed app is just the latest example of

them tapping into the growing sense of

unease. Due to a lack of originality,

"Countdown" doesn't truly work in that

sense though it does try to skim the surface

from time to time. It never lingers long in

those depths, however, preferring to go for

the obvious jump scares instead of allowing

the brief commentary on selling aspects of

ourselves for popular trends to sink in.

Grade: L for Lame

Dedra Cordle is a Messenger staff writer

and columnist.

Messenger holiday

publication schedule

The Messenger will alter its print

publication schedule for the upcoming

holiday season. The Messenger

print publication and delivery dates

for the remainder of 2019 will be:

Nov. 3, Nov. 17, Dec. 1, and Dec. 15.

After that, print publication will

resume every other week following

the holidays on Jan. 12. Thank you

for reading the Messenger!

THURSDA AY

November 21

8 am - 5 pm

PRE-BLA

CK FRIDA

Y

BLOW

OUT

Savings!

o3-D

3-D ays

f Crazy

FRIDAY

November 22

8 am - 5 pm

SATURD

TURDAY

November 23

9 am - 2 pm

T ENTER

O WIN

Family 4-Pack Tickets to

Trans-Siberian Orchestra**

HUGE DISCOUNTS on ALL

Water-

er-Trea

eatment Equipment and Supplies!

at Nationwide Arena

THURSDA AY

DEC. 26

*T

rans-Siberian Orc hestra returns to Nationwide

Arena for 2 shows (Thursday,

December 26 a t 3pm & 8pm)

of the new production of Christmas Eve and Other Stories. Ticket are on sale now at

www.nationwidearena.com.

Entries accepted at the Canal Winchester,

OH location only during sale.

9765 Basil W estern Rd.

Canal Winches

ter

, OH 43110

800-444-1387

www.kineticocolumbus.com