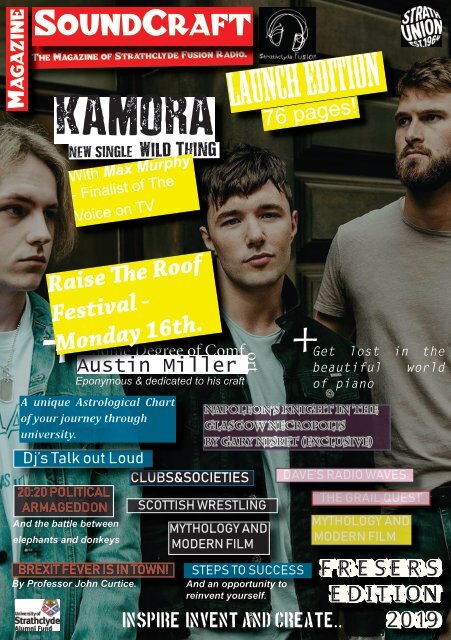 Fusion Magazine - SINGLE PAGES - Adobe PDF (Interactive) test 4
Do you know the secret to free website traffic?
Use this trick to increase the number of new potential customers.
Magazine

SoundCraft

The Magazine of Strathclyde Fusion Radio.

KAMORA

NEW SINGLE Wild Thing

Some Degree of Comf ort+

Austin Miller

Eponymous & dedicated to his craft

A unique Astrological Chart

of your journey through

university.

Dj's Talk out Loud

CLUBS&SOCIETIES

20:20 POLITICAL

ARMAGEDDON SCOTTISH WRESTLING

And the battle between

elephants and donkeys

With Max Murphy

- Finalist of The

Voice on TV

Raise The Roof

Festival -

Monday 16th.

BREXIT FEVER IS IN TOWN!

By Professor John Curtice.

MYTHOLOGY AND

MODERN FILM

Launch edition

STEPS TO SUCCESS

And an opportunity to

reinvent yourself.

76 pages!

inspire, invent and create..

+Get lost in the

beautiful world

of piano

Napoleon's Knight in the

Glasgow Necropolis

BY GARY NISBET (EXCLUSIVE)

DAVE'S RADIO WAVES

THE GRAIL QUEST

MYTHOLOGY AND

MODERN FILM

Fresers

Edition

2019
---
luxury student living in glasgow

ALL UTILITY BILLS INCLUDED &

CLOSE TO LOCAL UNIVERSITIES

HAVANNAH HOUSE

ON-SITE

GYM

INCLUDED

COMMUNAL

STUDY

ROOM

GAMES &

CINEMA

ROOM

ROOF

TERRACE

BASE GLASGOW

ON-SITE

GYM

GAMES

ROOM

BOOK A VIEWING WITH US TODAY

0333 363 8864 | PRESTIGESTUDENTLIVING.COM

2 Fusion Radio Magazine
---
Welcome to fusion

Hello to all our Fresher's (and returning students) - This is our launch

edition of the SoundCraft Magazine and we hope it will guide you to

some of the exciting stuff which is happening in Fusion Radio and

around campus.

We have a tremendous amount of talent in our students and thought

that a magazine would help share a bit of that with you.

Most of the articles are written by students who have run/are running

shows with us. You too could be running your very own show and be

part of our vibrant community.

We are more than just a run of the mill music channel as we give live

time to politics, health and wellbeing, and much more.

We are located right in the heart of campus on the 14th Floor of Livingstone

Tower and we transmit throughout the week and weekend.

If you would like to review a band, write an article for our magazine

or deliver a show we would be love for you to get in touch for a chat.

Don't forget our "Raise The Roof " festival on Monday 16th Sept in

the Rottenrow Gardens and level 8 (Vertigo) of the Student Union.

Many of the bands, dj's and societies in this magazine will be there

too!

The Fusion Radio Team

Student Radio Never Sounded So Good

3
---
INSIDE

FEATURES

Megan Black

Singer, Songwriter - her

quest for BBC stardom.

KAMORA

Max talks about the release

of the new single Wild Thing

Austin Miller

Reflects on his journey as a solo

artist into the mould of a band.

Listen to the Music

Robert - on the search for that

missing something.

PASSIONS

insight

Dj's Talk out Loud

Seamus on being more than just a

music fan.

20

19

Robert Kokarev aka Polar Bob on

music to help humanity.

TECHNO TOWERS

TB Snook - It all started in a field

one day..

4 Fusion Radio Magazine

8

7

12

21

16

DAVE'S RADIO WAVES

From a hobby to my greatest adventure..

The ARTS

RADIO AIRSHIP

Everything from chatting to live

performances.

HIBIKE STRATHCLYDE

Onee-san presents J-Pop and Anime

to Kimonos!

MYTHOLOGY AND

MODERN FILM

Niall has crafted an eye opening

analysis of gods, superheroes and

legendary adventures.

POLITICS CORNER

20:20 POLITICAL

ARMAGEDDON

24

28

32

Dan, our North Americal Correspondent

lays out the battle between

Elephants & Donkeys.

BREXIT FEVER IS IN TOWN!

22

26

Professor Curtice lays out the nailbiting

months thay lie ahead.

36
---
CLUBS&SOCIETIES

"Spreading the Icing on the Cake"

Why They're Great

Kalya Burns, VP Communities, is

our official Head Of Fun !

Strathclyde Piano

Zhun Tang, How one can get lost

in the Beautiful World of Piano.

BANDS AT STRATHCLYDE

Rory - A haven for anyone with a

passion for music.

SPORT AT STRATHCLYDE

Maddie Watson VP Sports, with

everything from aikido to Water

Polo.

SCOTTISH WRESTLING

A sporting pod cast with a twist.

LOST ( An Illustration)

A unique story about finding the

magic in the forest!

THE GRAIL QUEST

38

39

Gary Kidgell on the Symbolism of

Myth, Legend and Fairy Tales.

A CHART OF SUN ASTROLOGY

48

40

42

45

46

52

Kim McKayed reveals the astrological

chart of your journey through

university.

THE MATURE STUDENTS

ASSOCIATION

Gerry McDonnell - Study , relax

and enjoy it's unique services.

STEPS TO SUCCESS

Raj Jeyaraj, First year and an opportunity

to reinvent yourself.

HOW THE RIPPLES FUZED

WITH THE STRATOSPHERE

La'King deals with the Postgraduate

world of tongue-twisting jargon.

REFLECTIONS

64

Caleb Gambrah shatters the idea

that Christian music is boring!

WHY YOU NEED MASSAGE

IN YOUR LIFE!

58

60

Caroline Robertson explains why

massage can be a life saver!

NAPOLEON'S KNIGHT IN THE

GLASGOW NECROPOLIS

Gary Nisbet unveils a world exclusive,

here for you, that spans

across centuries and continents -

which has a surprising connection

with Strathclyde University.

www.strathclyderadio.wordpress.com

Student Radio Never Sounded So Good

62

66

5

68
---
Radio is a part of everyone's life,

whether you're actively listening

to your favourite features,

shows and presenters, or absent-mindedly

humming to that song you heard

when your cab driver turned it on to

diffuse your awkward silence.

That's the beauty of radio; it's as little

or as much as you want it to be, whether

you're listening to it or creating it.

But when you get involved in the making

of radio, it becomes more and more

obvious how broad it is, allowing you

to find your own (or make your own)

space to be able to do what you want

to do.

At the Student Radio Association, we

aim to encompass all this and more

by championing the work that student

radio stations around the country are

doing to include students regardless

of their background and interests,

and trying to make a place for everyone

that wants one. We're very lucky

to have stations like Fusion Radio as

part of our network to help make this

happen. In championing student-created

content and offering current and

prospective members to grab hold of

opportunities that are both useful and

fun to do alongside your studies, as

well as giving members a taste of the

6 Fusion Radio Magazine

broadcast industry, we want student

radio to give everyone their own

unique experience.

Every station is different and has its

own identity, whether in the student

or professional radio world. Not only

does any radio experience you have

give you insight to the broadcasting

industry, but also allows you to

explore areas you may never have

thought are connected to radio, including:

Playlisting, PR, Events,

Social Media, Marketing, Design,

Production, Management, Finance,

Sales, HR, Sports, Culture, News and

Journalism. This isn't even the extent

of the things you could get a taste of

whilst at your student radio station.

As well as prompting personal

growth, a gain of skills and increasing

confidence, radio is a great community

to be part of at student, national

and global level. As part of

the SRA, you'll have the opportunity

to meet and communicate with student

radio members and organisers

all over the UK, and giving you the

ability to attend national events and

regional training days together.

No matter how seriously you want

to take it, joining your student radio

station [Fusion] is a fantastic opportunity,

and is not one to be missed.
---
Megan Black is a young

musician and vocalist

from Livingston, Scotland.

Megan's musical influences

tend to derive from 70s blues rock

and early jazz. Bringing this into

the modern day, Megan tends to

base her songs on her own experiences,

political views, and what is

currently present in the world at

the moment.

Along with musical influences,

Megan also finds style inspiration

from many different artists and

tries to create more of a concept

within her stage persona, taking

away gender and a sense of familiarity,

and focusing more on how

she feels comfortable presenting

herself.For example, Megan's song

'Fur Coat Queen' is based around

Megan familiarising herself more

with her own sexuality and as a result

of that, finding empowerment

from other women – both in the

music industry and in her day-today

life. This helps for Megan to

speak freely about her views regarding

feminism and the LGBTQ+

community and brings a fresh view

on an older style of music; connecting

different generations of people

and helping to create more awareness

for important issues in today's

society.

Link for the BBC Singer Songwriter

Award - Use the QR code to

vote for Megan, who will be singing

at the Raise The Roof Festival

on Monday 16th Sept, and voting

closes on Friday 20th!

The BBC Singer Songwriter Award

is a new award to celebrate the talented

singer songwriters within

Scotland. The top 10 are chosen by

a group of industry professionals,

which is what Megan is in. It then

goes to a public vote to decide the

top 4. After that there will be a finale

at St Lukes in Glasgow where the

judges; Fran Healy, Geoff Ellis, Karine

Polwart, Dee Bahl and Horse

McDonald will decide the winner.

Student Radio Never Sounded So Good

7
---
KAMORA

"He has worked

under massively

influential mentors

such as Ricky Wilson

& Kylie Minogue."

8 Fusion Radio Magazine
---
@WEAREKAMORA

Since advancing to the finals on

BBC's 'The Voice' as a teenager

in 2014, lead singer Max

has developed dramatically as a

Singer & Writer. Max grew up with

a passion for music at an early age

& started off playing his original

songs on the streets of Glasgow.

Influenced heavily by Johnny Cash

& Elvis, he aims to bring the Depth

& Energy of that era to the modern

stage. Max's talents run far & wide

having represented Great Britain in

the Youth Olympics as a promising

young Judo athlete. He has worked

under massively influential mentors

such as Ricky Wilson & Kylie

Minogue. His strong, enchanting

voice has unquestionable potential.

Piano & Guitar // Chris Edwards

Chris trained as a pianist from a

very young age but, with the help

of his father & elder brother, decided

to convert to & focus on the

Guitar by the age of 12. Growing

up just streets away from fellow

friends & now successful artists

such as Blackmill & Rachel Sermanni,

Chris was spoilt for choice

with exposure. However, it wasn't

until he moved to Glasgow in 2016

and met Max that he truly opened

up creatively as a songwriter. Since

they met in August 2016, Max &

Chris have spent all their free time

songwriting together.

"The rest of the band

refer to the drumming

expert as 'The Human

Metronome' or 'One

Take Tony'."

Drums // Tony Corio

Tony is a Sicilian from the hilltop

city of Agrigento on Sicily's southwest

shore. Tony has been playing

drums for many years & moved

to Scotland to pursue a career in

music. Tony is involved in a few

projects but believes greatly in Kamora's

potential. His impressive

technical ability has heightened the

band to new levels especially during

live performances & in the recording

studio. The rest of the band

refer to the drumming expert as

'The Human Metronome' or 'One

Take Tony'.

Guitar // Taylor Callaghan

Since the arrival of 21 year old, lead

guitarist Taylor, the band has created

a more enhanced & atmospheric

sound that has caught the attention

of all audiences at gigs. Taylor's

ability to hold down a banging rock

riff or take a more minimalist approach

in songs with his intricate

Student Radio Never Sounded So Good

9
---
W

i

l

d

-

t

h

i

n

g

KAMORA

"The word 'Kamora' is

recognised in many spellings

and cultures and holds a

variety of meanings across

the world."

10 Fusion Radio Magazine
---
use of pedals has brought much

colour and depth to the band. His

ability to adapt from song to song

and strong use of note selection

contributes greatly to Max's vocal

melodies & overall sound of the

band.

"the band has created a

more enhanced & atmospheric

sound that

has caught the attention

of all audiences at gigs."

As the 'new kids on the block', Kamora

aim to establish a new wave of

music coming out of Glasgow that

can rival that of the rest of the UK.

The word 'Kamora' is recognised

in many spellings and cultures and

holds a variety of meanings across

the world. The actual origin of the

word is unknown therefore the

band could be many things or perhaps

nothing at all. You can decide

for yourself.

You can check out Kamora on Instagram

& Facebook at @wearekamora

Look out for the band's new single

'Wild Thing', releasing this October

Student Radio Never Sounded So Good 11
---
12 Fusion Radio Magazine
---
A USTIN

M

I

L

L

E

R

I'm Austin Miller a guitarist and singer/songwriter from Glasgow.

For the majority of my life I've played guitar and written

music. Whether that's playing classical guitar or more recently

performing my own songs. It's something I've always done and

will always do for as long as I'm physically able to. A couple years

ago I started a solo project, a 5 track EP called 'Some Degree of

Comfort' it came from a of collection songs I'd written over the

space of around 9 months picking out 5 songs that worked the

best together as an EP. when I recorded the EP I sang and played

almost all the instruments myself (which don't get me wrong,

was a lot of work!) but after recording and playing a few solo gigs

I wanted to bring the songs to life in a live setting as I never really

wanted to be labelled as an acoustic "singer/songwriter". So then

came the band.

Student Radio Never Sounded So Good 13
---
First to join was my good friend

Chris McVinnie, who I met at

The Royal Conservatoire of Scotland

where we both studied at the

junior department. He played cello

on the EP and to my surprise also

played piano! we played a few gigs

together along with a few other of

my friends that played drums, bass

and guitar but the line up was forever

changing. Now we finally have

a couple dedicated members Chris

and Julian Pombo (who I also met

at the Conservatoire) but unfortunately

still no drummer. A few

months after the EPs release we

played our first Headline show at

the Hug and Pint in Glasgow with

Drummer Stuart Donnachie and

live guitarist Gary Coulter. This

was one of the best gigs all of us

have ever played. The energy in the

room was something that none of

us had ever experienced before. (either

that or it was the red bull I had

before I went on?) though's how

didn't make it, I can assure you that

you missed out on a great show!

Since then I've moved to Manchester

where I study classical guitar at

the Royal Northern college of music

with Chris also moving there

to study cello this year. We've still

been playing shows throughout the

year around the UK. along with a

14 Fusion Radio Magazine
---
headline show in Manchester back in March

which went down a treat with the new audience.

In January of this year after a rather strange gig

at the Oran Mor in Glasgow we met Tiderays

an alt rock band from Dumfries. We've gone

onto play many gigs with them and just recorded

a few absolute bangers down at there local

studio. Along with Cameron Duff on drums

we've just recorded some of the best stuff we've

put together in a long time. bringing us into the

next era of whatever this solo project/band is

going to be. This is just the beginning.

To keep a look out for the new songs and shows

you can check us out on -

website:

https://www.austinmillermsc.com

bandcamp:

https://austinmillermusic.bandcamp.com

facebook:

https://www.facebook.com/austinmillermsc

Instagram:

https://www.instagram.com/austinmillermsc/

Streaming:

'Some Degree of Comfort' available on all

streaming platforms.

Student Radio Never Sounded So Good 15
---
"LISTEN TO THE MUSIC"

Listen to the music By Robert McCracken

Robert is Chief Engineer at Fusion Radio

16 Fusion Radio Magazine

"The artists become the

pretty face showing off

the formulaic peace of

work that the record labels

have created."

With the constant growth

of the music industry,

it can be hard to

find songs and bands with that

missing...something. What is that

'something' that's missing from the

music that we hear on the radio in

our cars? It's something that can't

be quantified.

With the backing of major record

labels for most artists, these musicians

can have very little say into

what goes into their songs. A majority

of these artists may not even

write the songs that they perform.

The artists become the pretty face

showing off the formulaic peace

of work that the record labels have

created.

Now theres nothing wrong with

formula in a composition, in fact

it's very common in music to take

inspiration from another piece of

work. Whether its taking a chord

progression and using it as your

own (Check out Axis of awesome's

four chord song as a great example

of this.), a beat or an ensemble of

instruments used on a

track. However, if all you

are doing is copying someones

style without any of your own

soul into this composition, you

may have a lifeless track. The problem

with the record

labels is they stick to the formulas

that make the most money. Up

until somebody breaks the mould,

and shows success. Then every other

label jumps on the band wagon.

Since Adel's Rolling in the Deep

we've had plenty of artists getting

back at their ex's. With Daft

Punk's Get Lucky we've had more

than enough f u n k

inspired songs.

W h o

Know's? Maybe

with Lewis Capaldi

b e -
---
coming more popular, we may see

an increase in average Scottish lads

on the radio! Looks like I may still

have a chance! It is very clear that

there is a lot more music out there

than the majority of people believe

there to be. How do we find

that music? Well we are listening

to music regularly, even without

intent. Ok, you may put on the mu-

"Well... I can't think of a

time I've put on a movie

just to see if they have a

good sound track."

sic channel or open up Spotify to

find music you like. These are great

ways to find new music, but what

do I mean without intent? Well anytime

you watch a TV show, movie,

or playing video games you are digesting

new music without intent.

Well.... I can't think of a time I've

put on a movie just to see if they

have a good sound track. However,

I have found some of my favourite

bands from the previously mentioned

forms of entertainment.

My favourite album is currently

Act II: The Father of Death by The

Protomen,

which I found from

watching a Youtube drama. There

"Then you can get some

that make you want to

put cotton wool in your

ears, like whenever they

recommend a country

track."

you go, you're already finding new

bands! Which brings me nicely to

my next topic.

Word of mouth is also a viable way

of getting new music. It very much

depends on how well your pals

know you. You can get some great

recommendations from friends.

Then you can get some that make

you want to put cotton wool in

your ears, like whenever they recommend

a country track. That may

be a bit extreme, I hope nobody is

recommending country tracks. I

may be a bit Biased though. Word

of mouth is one of the most powerful

tools for advertisements. Because

nobody is being paid to tell

you they are good, It's an honest

opinion from someone you may

trust. So ask your music pals for

recommendations in any genre;

you may find that they have some

good tracks for you to listen to.

There's another way to find music,

which is probably oldest way of

finding new music. Going to see a

Student Radio Never Sounded So Good 17
---
and live. Especially in Glasgow,

there are plenty of live music venues

to choose from. With choices

such as King Tut's Wah Wah Hut,

Broadcast, Stereo and the

Barrowlands, there's always a venue

to go to. With a huge range of

musical genres played at these

places, theres plenty of a time to be

enjoyed. Ross McCann voiced his

thoughts on the live music scene

by saying "One of the best. Seeing a

band live that you've never heard of

before is like getting to experience

their music in the greatest form,

"Seeing a band live that

you've never heard of

before is like getting to

experience their music

in the greatest form,

and when you commit

to being a fan and hearing

that music again on

record it gives it a whole

new angle."

and when you commit to being a

fan and hearing that music again

on record it gives it a whole new

angle. I've found so many artists

I've loved from catching them as

support acts or as part of a festival

18 Fusion Radio Magazine

"There are many great

acts that need our support

as well. Make sure

you are buying the albums

instead of streaming

them.."

etc." Ross has been part of the music

industry for the past ten years,

he is the drummer for MILK and

also the writer/producer for Hessian

Renegade. Ross also went on

to say how Youtube suggestions can

be surprisingly accurate for finding

new music. There are plenty of

ways to find new music to listen to.

There are many great acts that need

our support as well. Make sure you

are buying the albums instead of

streaming them, but that's a whole

other topic to cover. Whether you

are going out to live venues, asking

your friends, or checking discover

weekly on your Spotify account.

Make sure you are always looking

for new music to keep the tunes

you listen to right now from growing

stale. Give the smaller bands

their place; there would be no music

without them.

Robert will be playing, with his

band, at the "Raise The Roof Festival."
---
PASSIONS

Seamus is DJ'n at Raise the Roof

I

never expected to be playing

music in front of anything more

than an audience of one when I

first asked to borrow a small controller

from a friend's partner. The

first time I played in front of a few

pals in Room 2 at Tunnels, I had

already gone further than I ever

thought I would. I can't identify

a single moment where I decided

that "I want to DJ", but it came from

a desire to share music that I enjoy,

and after I started playing out, to

try and add to a music scene which

I enjoy so much. Being a music fan

first is the key, and I still love the

buzz of finding new artists to share

their work. Many people like the

image of being "a DJ" and as such

you're never more than 6 feet from

one. You can always tell if someone

will stick with it if they still

have the basic need to keep discovering,

rather than play what

everyone else is playing. Music

is such a creative outlet for

me, which is so important in

the time after graduating where

I'm finding my feet as adult. I've

had so many chances that I would

have never had otherwise, and met

friends who share the same pas-

sions. That's been the best part.

Here's one of my fave tracks to

sweeten up your day.

Phil Fuldner - Take Me

Student Radio Never Sounded So Good 19
---
insight

Robert

An

essential element of music for

me is its capability of bringing

people together and closer to themselves.

What I mean by this is that the person

experiencing the music can contemplate

their emotions, thoughts, experiences

and be in touch with something that

is perhaps inaccessible with any other

means than these shiver-inducing vibrations

beating on their eardrums. The

different states into which various genres

and styles of music can put people

into, are often universal for all people.

These subjective experiences

which connect and bring people

together, work as a social glue

for us. This makes it easier for

us to be with one another

and simultaneously

ourselves. This is

because we naturally

feel positively

about belonging to

a group of people.

KOKAREV aka

POLAR-BOB (prev. Rojomako)

has flown in specially

from Finland to headline the

Raise the Roof Festival

By understanding one another through

these shared feelings, people can, have

and will break barriers caused by people's

prejudices and attitudes towards

one another.

In this way, music can create a demographic

of people whom love the same

kind of music due to which they also experience

similar moments of bliss, love,

sadness or anger. This can help people

connect with others as well as their inner

selves. This therapeutic attribute of

music is one of the

main reasons why I

personally am fascinated

by music

and its potential

for helping

humanity.

20 Fusion Radio Magazine
---
TECHNO

TOWERS

TB SnoOK

A

few months ago while idly

scrolling through my feed I

noticed that MAD RADIO

were doing an internet radio thing

on a regular basis. I had been to a

couple of their night several years

ago and they are pretty well known

in the Glasgow club scene and those

of a certain age know that they've

been around long enough to know

the really good stuff.

So I made up my mind to find out

what was going on with that, found

out that it was a student internet

radio station and I got in touch to

ask if they had any spots free. As it

turns out they did, and that's how

I started doing 'Techno Towers' a

few months ago.

I'm a vinyl DJ (and an unapologetic

snob about it) who has been

collecting and playing out since

around 2000. I started in Tokyo.

I met some people by chance in a

field one day (around 2007) who

were setting up a big sound system.

They told me if I went home and

got my records I could have a shot.

Now I know a lot of DJ's from that

scene and lots of them don't play

clubs or other events other than

parties for their friends but there is

"I met some people by

chance in a field one day

(around 2007) who were

setting up a big sound

system. They told me if

I went home and got my

records I could have a

shot."

a lot of talent there. They're just not

really into promotion or all the other

stuff that goes along with putting

on 'nights'.

So the basic idea of Techno Towers

is that each month I get one or

two of them to join me in a longish

session (usually about 5-6 hours)

where we take turns on the decks

and play records that don't get as

much notice as they should. I'm

thinking in the future we might also

include some live-sets from people

using synths and drum machines.

It gives those people a chance to be

heard by a slightly wider audience

and it's something interesting to do

on a Saturday night.

Student Radio Never Sounded So Good 21
---
Dave's Radio Waves

Bio : By David McKenna

I

started my love of music

through the vibrant and energetic

club scene in Glasgow in

my early teens. I decided to source

my own PA kit including a set of

decks /mic an amp and a mixer and

this was the start of my Dj adventure

as I then promoted myself on

gumtree which I received a couple

of phone calls which from that

moment in time I haven't looked

back. I then start my own Friday

night residency in a pub in Hamilton

and started my own business

as a part time Dj for function /parties

and events hire which is now

my own vibrant business out with

day job. Securing my first gig at my

residency was the starting point -

talk about goosebumps wondering

what song to play first - thats what

I call exciting when people are tapping

their feet and hands on the table

to your music

Some people might call it a hobby

but I call it my greatest adventure. I

have my own show every Wednesday

on Strathclyde Fusion Radio

Station called Dave's Radio Waves.

I have established myself as an artist

on Spotify and released to the

masses my own track called Dance

22 Fusion Radio Magazine

With Me.

I am a great believer in giving the

people what they want but also letting

people know who I am and

where it all happened as you need

the belief in yourself to achieve

your goals as only you can shape

your future.

I hope you have enjoyed reading

my story and I have attached my

links to my business page for you

to have a look at the content and

what I have posted and been up to

over the past few years.

https://www.facebook.com/twisteddmk/
---
FEEL FREE TO POP UP TO THE STATION TO DISCUSS

ANY IDEAS YOU HAVE FOR A SHOW!

OR SEND US A MESSAGE ON OUR FACEBOOK PAGE..

facebook.com/strathfusion/

Also check out our website on:

www.strathclyderadio.wordpress.com

Student Radio Never Sounded So Good 23
---
RADIO

AIRSHIP

BY

Douglas

Devichinskij

My time as part of Fusion Radio at

Strathclyde University has been

a very interesting one. I originally

started out alone, playing my favourite

songs through the station. I never expected

to have the opportunity to experience something

so new, and it really allowed me to

open up and try something I wouldn't normally

do. Fusion Radio is a great thing to

be a part of for those who are interested in

challenging themselves with being creative.

"I never expe

opportunity to exp

new, and it really a

and try something I

24 Fusion Radio Magazine
---
cted to have the

erience something so

llowed me to open up

wouldn't normally do.''

After broadcasting alone for a while,

I invited my friends to join me, forming

the group 'Airship Radio' where

we would everything from chatting

to live performances! This was all due

to the freedom Fusion Radio allowed

us, and was an experience very useful

for myself. Me and my friends gradually

took over more responsibility for

the show, and it became very exciting!

Running something that more people

got to know was a very interesting experience,

and I can honestly say that

Fusion has been one experience that I

will never forget!

Student Radio Never Sounded So Good 25
---
Hibike

S

t

r

a

t

h

c

l

y

d

e

Hi, I'm David, aka Part-time

Onee-san. I present Hibike

Strathclyde on Fusion Radio,

a show playing J-Pop and anime music.

I got into anime and J-Culture later

than most of my friends. Of course,

I grew up watching and influenced

by franchises such as Pokemon, but

as time went on and the only shows

available appeared to be long-winded

action dramas, I lost what little interest

I had and stuck with Western media.

It wasn't until my late 20s, when

a friend introduced me to an anime

called Lucky Star that this began to

change. It was, by its own admission,

a show about nothing. No plot, just a

group of characters going about and

talking about their daily lives. I found

myself unexpectedly enthralled by

this strange slice-of-life genre.

After this initial introduction, it

snowballed. Watching more shows

and branching into other genres,

such as romantic comedy, I completely

fell in love with the unique

character-driven method of storytelling.

From the absurd comedy of

Nichijou to the beautiful love story

of Your Name. Eventually, all this led

to attending conventions in Glasgow

and further afield, such as MCM and

26 Fusion Radio Magazine
---
Rai-Con. Cosplaying, the hobby of

dressing as your favourite characters

for these events, soon became one of

my passions.

I also expanded my interests beyond

anime and gaming, in particular to

fashion, learning from a friend the

intricacies of what makes an authentic

kimono, and even getting my own

yukata (a light, cotton kimono worn

at summer festivals), and organising

my own "kawaii" outfits for J-Fashion

shows.

But possibly my favourite aspect of

Japanese media is its music. While

western, and in particular, British

music seems dominated by moody

lovesick ballads by the likes of Adele

and Sam Smith, J-Pop features upbeat,

optimistic tunes. Event without

understanding a word of most of the

lyrics, my commuting playlists are

dominated by idol music. I've even

learned and performed dances to

some of these songs (as best I can,

anyway) at events. When I was first

offered the chance to present a show

as an alumnus, I knew immediately I

wanted to centre the show around Japan

and Japanese music. I hope if you

listen to the show, you'll find a song or

two you can hum along to, and maybe

even a love of J-Pop music yourself.

Student Radio Never Sounded So Good 27
---
MYTHOLOGY AND MODERN fILM..

By Niall Love

Before the invention of TV

and movies, before theater

and over 1000 years before

Homer told the story of Troy and

the wooden horse, the ancestors

of Iraq listen to the Epic of

Gilgamesh, the first recorded

and oldest story in

the world. A legendary

adventure of an ancient

king who was two thirds

god one third man, the Gods

resent him and his selfish rule and

send the wild man Enkidu to kill

Gilgamesh, but he fails and the two

w i n d up becoming

friends. Later

the two embark on a journey to the

Cedar Forest to retrieve its magical

trees. There they must fight the giant

Humbaba. Gilgamesh wins by

slitting Humbaba's throat. However

shortly after returning home

with the magic trees Enkidu

dies, and Gilgamesh grieves

for both his friend and that

he will die someday. Gilgamesh

travels across the

world to Mashu the giant scorpion

guarded mountain, to a heavenly

garden and finally to

the underworld itself all

in search of the secret

to eternal life. There Gilgamesh

finally learns that

28 Fusion Radio Magazine
---
physical immortality is impossible.

However when he returns home he

learns that he while he will die his

legacy and heroics will live on after

his death, the closest thing anyone

can get.

This Epic may sound strange to us,

but on closer examination we can

see it shares many plot points with

other modern day adventure movies.

Gilgamesh hating Enkidu then

benfrending him and teaming up

with him to kill the baddie, is many

movies. Such enemy turned friend

relationships are big plot points

in much of modern pop culture.

For example Han hating Luke

then joining him

against the Empire

in Star Wars, Commissioner

Gordon seeing Batman as another

crook before becoming his partner

against crime. Or in the Princess

Bride after Westley foils Vizini's

plot to kidnap Princess Buttercup,

tricks him into comitting suicide

and defeqats his henchmen Fezzik

and Inigo, the latter later team up

with Weastly to again rescue Buttercup

from Prince Humperdink

and avenge the death of Inigo's father

at the hands of Count Rugan.

This is just one example, just think

of how many epic movies involve

characters leaving their boring

home to go to an exotic local full of

danger and wonder.

For adventure movies, high fantasy,

Student Radio Never Sounded So Good 29
---
space operas and superhero

flicks are but the modern

eversion of the epics and legends

of old. Superman is as much

a modern day Haraclues as he is

a metaphor for Jesus. Just as modern

audiences watch movies like

King Kong and Godzillia where

monsters wreak havoc the Greeks

listen to how Haracleus fought the

Hydra and Persus fought Medusa.

Likewise as people watch Game

of Thrones to see a war between

kingdoms dynastic houses dragons

and ice zombies. The ancient

Babaloyians listen to the Enuma

Elish where war erupts between

the old gods and new gods over

the comos. The Great Sun Marduk

fights monsters like the Sphinx the

Mad Dog Scorpion Man Kingu and

the powerful dragon Tiamat. Of

course its not all scary monsters

and world domination.

Many ancient tales have ele-

ments of social justice and the

strong protecting the weak.

Like Robin Hood defending

the poor from being robbed

Prince John, is just like Spider-man

protecting New Yorkers from the

grand thefts of Electro and Doc Oct.

As we can see from all these stories

despite having widely different settings

and set peices. They all maintain

many of the same tropes and

archetypes and ultimately serve

the same purpose. And that is not

just to entertain us but to enrich us

with raw escapism away from our

boring lives into a world of excitement

and wonder where lessons

are learned not in a text book but

shown to us so we don't just learn it

but experience it. And that is why

these stories exist and we return

to them again and again. At the

end of the tale they help us better

ourselves to make us fix the world

which we used the story to escape

from at the start.

30 Fusion Radio Magazine
---
Student Radio Never Sounded So Good 31
---
20:20

Political

Elephants

vs

Donkeys

Armageddon

By Dan Donahue

I've always considered myself a

student of American politics.

Having been born in 1988, I

remember the elections of 1996

and 2000. By 2004 as a teenager

I was holding a John Kerry

sign in my hometown as

cars passed by. Then in

2008, I proudly volunteered

for the Obama/

Biden campaign. That all

being said, I had thought

that I knew most of what

there was to know about American

politics, particularly American

Presidential politics, but man

was I wrong. In this article I'll sum

up what happened in 2016, and

provide to you an idea of the state

of the 2020 Democratic primary

race, and what the Democratic

nominee will have to do to defeat

Trump in 2020. For full disclosure

however, it should be noted that

32 Fusion Radio Magazine

I've always voted for the Democratic

party, and have been a volunteer

for Democratic Party campaigns in

the past, most recently for Obama

in 2008.

As aforementioned, 2016 completely

through me for a loop.

All throughout the Republican

primary of 2015/2016,

Trump often said many

controversial things. At so

many points I thought to

myself that his campaign was

doomed. From saying negative

things about Mexicans, women,

and even war hero's, at each juncture

I thought it was over. But surely

enough he won the Republican

primary to become the Republican

nominee.

The rest is history which you obviously

know, he went on to win

the presidency in November of

2016. But how? To be honest that's

a question with many answers.
---
"Trump often said many

controversial things.

At so many points I

thought to myself that

his campaign was

doomed. From saying

negative things about

Mexicans, women, and

even war heroes,"

But in my opinion, the key thing

to realize about Trumps victory in

2016 is voter turnout in key battle

ground states. Trump won Pennsylvania

by less than 67,000 votes,

and Michigan by less than 11,000!

It can be said that one of the factors

as to why this happened was

because Democrats and independent

swing voters simply didn't turn

out to the

polls.

B u t

enough about the past, let's talk

about the fu- t u r e .

R i g h t

now, the

Democratic

Party

is in the

process of

deciding who will be their nominee

in 2020. Right now, there are over

24 candidates vying to become the

Democratic nominee for 2020. It's

a very diverse field with men and

woman from various backgrounds,

political experience, and age. The

really interesting thing to me as a

political enthusiast is to examine

the political divide that currently

exists within the Democratic Party,

that being the divide between the

moderate wing of the party and the

more liberal wing of the party.

I think it's a good thing that the field

is big because its facilitating good

conversation that the party needs

to have. The numbers though will

no doubt dwindle significantly.

As it stands in the polls, there

are really only a few candidates

that will probably remain deep

into the end of the year, due to

poll numbers and of course cash

o n hand. In my opinion

those candidates will be

Student Radio Never Sounded So Good 33
---
former Vice

President

Joe Biden,

S enator

Kamala

Harris,

Senator

Cory

Booker, Sena- tor Michael

Bennet, Senator Bernie Sanders,

Senator Elizabeth Warren, Representative

Tulsi Gabbard, former

Colorado Governor John Hickenlooper,

and former Secretary of

Housing and Urban Development

Julian Castro. As I mentioned

there are really two wings of the

Democratic party, the moderates

represented chiefly by Joe Biden

and others like Michael Bennett,

and the more far left liberal wing

represented by Elizabeth Warren,

Bernie Sanders, and New York

City Mayor Bill De Blasio.

On the one hand, I think this

is a good thing for debate purposes

within the party, and

will help us come up with

an effective platform by

the convention in the

summer of 2020. But on

the other hand, I must admit I do

fear the prevalence of the far left in

the Democratic Party. Now don't

get me wrong, I really do like both

Bernie and Warren, but like many

Americans I'm neither far left or far

right. I'd consider myself a center

left liberal, and despite the hype

of the far left and far right, most

Americans in my opinion are really

moderates gravitating between the

center left and center right largely

having to do with what region of

the country that they're from.

So that being said, a far left candidate

could turn off many moderate

to center right voters that we must

pick up to win the next election. So,

for that reason, and because I just

personally admire his service and

dedication to the United States,

I have officially endorsed former

Vice President to be the Democratic

nominee for president. If in fact

he is the nominee, I hope that Kamala

Harris is chosen to be the VP.

If that were to happen, I think the

Biden/Harris ticket would win

easily. They would be able to

reach out to voters in rural

areas like the

34 Fusion Radio Magazine
---
"I must admit I do fear

the prevalence of the far

left in the Democratic

Party''

Mid-West who were lost in the last

election, as well as excite people in

urban and suburban areas who we

also need to show up to the polls

in large numbers. Another benefit

is that in my opinion, a Biden/

Harris ticket could create a 16-

year dynasty if Biden serves two

terms, and then Harris succeeds

him and serves two as well. To me

as a supporter of the Democratic

Party, that's an exciting prospect

that shouldn't be ignored. In any

case the first Democratic primary

contest will be this coming January

in Iowa, followed by contests in

New Hampshire, South Carolina,

and the rest of the country. So, I

would say the world should know

who the Democratic nominee is by

next May at the latest. One thing is

for sure though, I'll be voting for

whatever candidate that the Democrats

nominate, and if you're a

U.S. citizen of eligible voting age,

I'm hoping that you will too!

(Dan ran a show in 2017/18 and

has since travelled back to the USA

to teach.)

Would you like to write

an article for the next

Fusion Radio's

SoundCraft

Magazine

Well, we would love to see it!

The magazine exists because we are

happy publishing articles for students

by students.

Our magazine is also distributed

across campus so your article will be

read by thousands!

Just contact the station either at our

offices on Livingstone Tower Floor 14

Room 02 or through our Facebook

Page.

NO EXPERIENCE NECESSARY!!

Student Radio Never Sounded So Good 35
---
Brexit Fever is in Town!

By Professor Sir John Curtice.

In theory, there should be no

chance of another UK general

election during the course of

this academic year.

Back in 2011 Parliament ended the

right of a Prime Minister to call a

general election at a time of their

own choosing. Instead it said that

elections should take place on a

fixed timetable every five years.

However, it allowed for a couple

of exceptions. The first was that

an election could be called

if two-thirds of MPs voted

for one. Because the

Labour opposition were

also willing to back the

idea, it was that provision

that enabled Theresa

May to call an early election

in 2017.

The second exception was that a

general election could be called

if a majority of MPs indicated in

a formal vote that they no longer

had confidence in the government.

However, even if such a vote were

to be passed (and that last happened

forty years ago) an election

would not take place if in the next

fortnight a new government was

formed that does have the confidence

of MPs.

There has been considerable spec-

36 Fusion Radio Magazine

ulation that one or other provision

may be invoked in the coming

months.

The current Conservative government

does not have a majority in

the Commons. It is reliant on the

support of ten Northern Irish MPs

who belong to the Democratic Unionist

Party. More importantly the

Conservatives are seriously divided

about Brexit.

It was these divisions that sealed

Theresa May's fate when

she was unable to secure

MPs' support for the EU

withdrawal treaty that

she had negotiated.

And it is those same

divisions that have led

to speculation that some

Conservative MPs might vote

against Boris Johnson in a vote of

confidence should his government

attempt to leave the EU without a

deal.

Should they do so – and no alternative

government can be formed

in the next 14 days – the UK would

be tipped into an early election.

But equally there is speculation

that Mr Johnson himself might try

to call an election by getting twothirds

of MPs to vote in favour of

one. Most likely this would happen
---
"It is quite possible that

any election would produce

another 'hung'

parliament in which no

single party has an overall

majority."

after October 31st - if the UK has

managed to leave the EU by that

date and the Conservatives were

enjoying a subsequent boost in

their popularity in the polls.

However, Mr Johnson might find

that, like Mrs May, he too is unable

to deliver Brexit because of obstruction

by MPs. In that event, he

might decide it would be best to

try and get voters to end the Brexit

impasse by calling for a general

election.

There is, though, no guarantee that

another election would result in a

House of Commons that was able

to agree on what to do about Brexit.

It is quite possible that any election

would produce another 'hung' parliament

in which no single party

has an overall majority.

The last few months has witnessed

a revival in the fortunes of the

Liberal Democrats and the emergence

of a new Eurosceptic party,

the Brexit Party headed by Nigel

Farage. While neither is likely to

perform as well in a general election

as they did in the European

Parliament election in May, when

they shared first and second place

between them, the polls suggest

both parties would fare relatively

well in a general election.

True, the Brexit Party might, like

UKIP before it, struggle to turn

votes into seats. But the Liberal

Democrats could well emerge as

a substantial parliamentary force

once again.

Meanwhile, the SNP still dominate

politics north of the border and

are favourites to win most Scottish

seats once again.

There could well be over 100 MPs

in the next House of Commons

representing parties other than

Conservative or Labour. That inevitably

makes it quite difficult for either

of those two parties to win an

overall majority.

Maybe if Boris Johnson does deliver

Brexit he will be able to win

a post-Brexit majority by winning

over Brexit Party supporters.

Equally, however, he faces the risk

in the next few months of a split in

his party that might yet bring him

down and give Jeremy Corbyn a

chance to become Prime Minister.

Perhaps despite all the speculation

there will not be an election in the

next few months. But if there is be

careful where you place your bet!

Student Radio Never Sounded So Good 37
---
Clubs and societies:

Why they're great!

by Kalya Burns VP Community

Calling all freshers and returning

students; I have a

world of fun and opportunities

for the year ahead – the

world of clubs and societies!

I am Kayla Burns, your VP

Community for the upcoming

year. My job is to be the official

Head Of Fun at StrathUnion

and my boss is you: the

students. During my first

year I was "that" student. I

signed up to any and every

club/society during freshers,

and I couldn't be more grateful

that I did. I made new

friends, learnt new skills, progressed

to be a society president,

and eventually wound up

here as an elected student officer.

Now I can't wait to see

you get involved, too!

Whether you're looking to

make new friends, spruce up

your CV, or just want to get

the most out of student life,

there's a club or society for

you. Here at StrathUnion we

have over 200 clubs and societies,

offering everything from

activism to acting, from media

to music, and from culture to

38 Fusion Radio Magazine

course-based

adventures, so

you'll be able

to find something to

suit your taste.

Uni can be a nerve wracking

experience, especially if you've

moved away from home. Societies

were home away from

home for me. And they can

be that for you too, placing

you in a community of people

with common interests, and

allowing you to explore your

interests with a safety net.

You might have the chance to

explore the country and further,

start a social movement,

or try something you've always

wanted to try. The best

bit of it is: EVERYONE IS IN

THE SAME BOAT!

So have no fear. Sign up to

something you're "bad at" or

are afraid to give a go. Come

and find your herd so that

when exams come around, or

home is feeling far away, you

can rely on it to de-stress

and enjoy yourself. University

is about so much more than

your grades and your books, so

come and be a part of it!
---
Strathclyde Piano

By Zhun Tang

As a member of the Strathclyde

Piano Society for 2

years, I have been really

enjoying every single second spent

with friends I met in this society.

Regular meetings are held every

second Wednesday where pianists

play their beloved pieces. All skills

levels accepted. It is such a valuable

opportunity to embrace pure melody.

We basically chill, chat and

relax.

The Piano Society is literally one of

the best places for us to share piano

performing experiences and

exchange brilliant piano sheets.

To promote both our society and

piano playing, we hold concerts

every semester for free at RC471,

Assembly Hall. Food, drinks are

provided. Our society concerts

always receive glowing reviews.

Apart from regular meetings

and society concerts,

we attend official concerts.

We are all fervent fans of

the RSNO (Royal Scotland

National Orchestra).

Attending concerts

as a group is another

popular pastime for

us. One can get lost in

the beautiful world of

piano music and it's a just escape

from academic pressure or life

stress in general.

I volunteered at the society and was

appointed treasurer last year and

am now the current president.

Being part of the committee not

only enriches my working experience

but also helps me develop

people, communicating and corporating

skills.

I am more than lucky and honoured

to work with other committee

members. There are not many

of us, but we are always very zealous,

creative, dedicated and united.

Not only are we workmates, but we

are also friends who support each

other as much as we can.

I do cherish the opportunity to be

part of our Strathclyde Piano Society.

In the future, we hope more

and more people are willing to join

us - to embrace the pure music

w o r l d together!

Student Radio Never Sounded So Good 39
---
By Rory

Performing every Tuesday

evening in The Priory, Bands

At Strathclyde Society is a

haven for anyone with a passion

for music (and pints)!

Whilst classic and indie

"This is a perfect place

to practice and get used

to playing, singing and

performing music with

other musicians, socialise,

have fun and drink!"

40 Fusion Radio Magazine
---
"This is a perfect place to

practice and get used to

playing, singing and performing

music with other

musicians, socialise,

have fun and drink!"

rock are the most popular genres to

perform, any style and instrument

is welcomed with open arms by the

society and its members.

A three-hour open mic/set is available

to anyone willing to get up

and have a jam, with a vast variety

of styles performed. Several times

each semester the society has a

dedicated music night

where differ- e n t

styles of music are pre-selected

for the evening, such as acoustic/

folk, blues, jazz, 80s and more! We

pride ourselves on being a society

open to every newcomer and those

who are seeking a casual performing

outlet. This is a perfect place

to practice and get used to playing,

singing and performing music with

other musicians, socialise, have

fun and drink! Come along with

friends or on your own, all you

need is a love of music.

Even if you don't play any music

b u t love hearing it, come

along for a chat, a pint and few

covers of your favourite songs!

Tues- day evenings

5-8pm in the

union level 6

(The Priory).

Student Radio Never Sounded So Good 41
---
Sport at Strathclyde

What's it all about?

By Maddie Watson

Here at Strathy we pride

ourselves on our huge

sporting community of 53

sports clubs, 2500 members and

300 volunteers! We have everything

from aikido to water polo and a

whole spectrum of recreational

and competitive sports in-between.

Our mission is to make sure that

sport is for everyone whether that's

being a first timer or having played

a sport since you could walk,

we really do have something

to suit everyone.

But why should you take

up a sport?

A recent study by British

University and College

Sport (BUCS) found that inactivity

is as dangerous to a person's

health as smoking and nearly twice

as many deaths can be attributed to

physical inactivity as obesity, terrifying

right?! But fear not whether

you want to fit some relaxed sessions

in around your classes or

commit to a competitive weekly regime,

Strath Sports has it all, not to

mention the stress-relieving benefits

for your mental health!

To help you along, we have recently

opened up our brand, spank-

42 Fusion Radio Magazine

ing new £32million facility! This

gym truly is the best in the business

boasting a 25m pool with

Olympic standard diving

blocks, a dedicated

weight lifting room

with 10 platforms and

a turbo-boosted class

timetable with all your

high energy favourites!

Alongside the countless

health benefits sport can offer you,

it can also do wonders for your social

life. Most clubs have fit to bursting

social agendas with Wednesday

nights being the big event of the

week after all fixtures are played

on a Wednesday afternoon. These

will often be themed or be linked

up with other clubs so you soon

begin to feel like you're part of a

real community! Then you've got

the sports union organised social

events, these really are some
---
"..inactivity is as dangerous

to a person's health

as smoking and nearly

twice as many deaths can

be attributed to physical

inactivity as obesity."

Sports Fair in the University Centre

opposite the Union on Wednesday

18th September to meet all of our

fantastic clubs for yourself and see

why they love sport at Strath!

of the best nights of the year with

the Captain's Dinner, bus crawl and

most importantly Sports Ball itself,

there is always something to get

hyped for!

If all this is still not enough for you

(as is the case with many of our

members) then you can run for

committee roles to help shape the

future of your sports clubs. These

roles can be a great opportunity

to learn new skills and gain valuable

experiences which you can

take into the world of work. With

roles to compliment all degree disciplines

these can be a huge boost

to your CV. The BUCS survey

found that 65% of active students

were fairly or very confident that

they would be employed within 6

months of graduation compared to

only 54% of inactive students.

So whether your thing is competitive

sport, physical activity to destress

from the day or simply a good

night out then Strath Sports is the

place for you! Come along to our

Student Radio Never Sounded So Good 43
---
Hi there, I'm Maddy and I'm

your new Vice President of

sport here at the University

of Strathclyde. Sport has always

been a huge part of my university

experience and since first year I've

jumped at every opportunity to get

involved in the sports union, competing

for both the cross country

and the horse-riding team. In addition

to this, from second year onwards

I have sat on three committees

every year including the sports

union executive and awards committee.

I was elected club captain of

athletics and cross-country in my

third year and went on to become

Vice President of the Sports Union

in my fourth. As my degree came

to a close I felt like I still hadn't

had my fill of sport at Strathclyde

and it felt like the natural progression

to run for the Sports President

role. I was thrilled to be elected and

now two months in I'm living the

dream; eating, sleeping and breathing

student sport!

44 Fusion Radio Magazine
---
SCOTTISH

WRESTLING

Looking for a podcast that puts

a different twist on wrestling?

Then look no further as there

is one right here in Glasgow.

Founded in 2017, Eat Sleep Suplex

Retweet got it grass routes right here

at Strathclyde University and since

became one of Scotland's most popular

sources for wrestling media.

Wrestling truly is going through a

unique period in the current dayand-age.

With so much variety at

the moment, it is more important

than ever to get the best possible

analysis of the sport as a whole. Us

here at Suplex Retweet strive to do

this with everything we produce.

With new shows released weekly,

the team tackle a range of topics

on the sport. From look-backs at

old WWE events to PPV reviews

and career retrospectives. Suplex

Retweet has something to cater

to any form of wrestling

fan, including

interviews with stars

from the US as well as

the up-and-comers from right here

in Scotland.

Manager of the podcast, Steven Wilson

said: "Wrestling is so much different

from other sports. Given this,

fans can easily relate to individuals

who take genuine enjoyment in it

when they listen to reviews of the

past and present. Eat Sleep Suplex

Retweet has a large team of passionate

fans who love nothing more

than delving into the big topics and

having a laugh about wrestling with

each other on a weekly basis - an experience

that reflects well with our

listeners."

So if you want to learn more about

Scottish wrestling promotions, or

enjoy some nostalgia on the days

when you first started watching,

then Suplex Retweet is the podcast

for you.

Subscribe now on the podcasting

platform of your choosing to catch

all Suplex Retweet content, old and

new.

suplexretweet.com/subscribe

Student Radio Never Sounded So Good 45
---
46 Fusion Radio Magazine
---
Student Radio Never Sounded So Good 47
---
THE GRAIL QUEST

The Attainment: The Vision of the Holy Grail to Sir Galahad, Sir Bors, and Sir

Perceval (also known as The Achievement of the Grail or The Achievement of Sir

Galahad, accompanied by Sir Bors, and Sir Perceval) by Sir Edward Burne-Jones

1895-96, Birmingham Art Gallery via Wikimedia Commons

By Gary Kidgell

The symbolism found in

myth, legend and fairy tale

can be interpreted in different

ways. In relating this to the

psychology of Carl Jung, it may

be stated that these are symbolic

representations of archetypes or

'divine ideas,' evolutionary pattersn

which underlie human life.

Shakespeare famously stated 'All

the worlds a stage, And all the men

and women merely players.'1 Our

lives follow archetypal patterns or

'scripts' which manifest in our lives

in existential ways.

The famous 20th century student

of myth Joseph Campbell outlines

three stages relating to the 'nuclear

unit of the monomyth': Separation;

Initiation; and Return.2 Campbell

illustrates how the heroes of myth

48 Fusion Radio Magazine

"Shakespeare famously

stated 'All the worlds a

stage, And all the men

and women merely players."

respond to the 'call to adventure' as

they go forth into distant and dangerous

lands to fulfil the requirements

of their quest. When this has

been realised they then return to

the rank and file of humanity to offer

the lessons of their illumination

to others as an act of service.

As I illustrate in my work The Inner

Journey: Pathways to the Higher

Self, 3 the symbolism of the hero

quest symbolically depicts the process

of spiritual transformation. I

shall now demonstrate, through
---
"You are 'questing' within

the mythic landscape

of student life and many

adventures lay ahead

before the opportunities

conferred by the attainment

of your degree present

themselves to you."

the symbolism related to the Grail

Legend of how the hero quest

also relates symbolically to your

own 'mythic adventure' within the

realms of academia.

The Vulgate Queste del Saint Graal

(The Quest for the Holy Grail) describes

how the knights are seated

for supper at the Round Table when

the Grail appears. Each knight

vows to leave behind their noble

and honourable life at Camelot to

quest for the sacred vessel. In doing

so, they each enter the Forest

Adventurous by their own chosen

path.

As a matriculating student you have

enrolled upon your own particular

'chosen path' i.e. your course at university.

This is in accordance with

your 'vision' of the Grail of academic

achievement. You are 'questing'

within the mythic landscape of

student life and many adventures

lay ahead before the opportunities

conferred by the attainment

of your degree present themselves

to you. This is the Separation stage

of Campbell's hero's journey as you

venture beyond the secure confines

of your current environment into a

new way of life.

In terms of psycho-spiritual development,

the Forest Adventurous

represents one's subjective psyche

within which one seeks to attain

the Grail of the Soul or higher Self.

Your own 'Forest Adventurous' relates

to your experiences upon your

course: your halls of residence; your

lectures; the relationship with your

tutors; your extra-curricular activities

including the valuable and

fulfilling relationships which you

establish with your fellow students.

These constitute your adventures;

challenges; sources of inspiration;

and rewards as you pursue your academic

Grail.

"The Grail knight Perceval

is tempted by a beautiful

maiden who seeks

to deflect him from his

quest."

The Grail knight Perceval is

tempted by a beautiful maiden who

seeks to deflect him from his quest.

He overcomes her temptation

when he glances at his sword which

Student Radio Never Sounded So Good 49
---
eminds him of his quest. Similarly,

during the course of your undergraduate

studies there will be various

distractions and experiences

where one-pointed focus upon the

objective of attaining your degree

is paramount. Galahad arrives at

the Castle of Maidens where

he must overcome

the seven Knights of

Darkness to release the

symbolic virtues which

the maidens represent.

Likewise, your study and

discipline will enable you to

overcome the obstacles of selfdoubt

and fear as you cultivate

and 'release' your talents and

gifts.

"Upon attaining

the Grail, the successful

knights

are then required

to take the sacred vessel to

the mystical island of Sarras."

Upon attaining the Grail,

the successful knights are then required

to take the sacred vessel to

the mystical island of Sarras. The

attainment of the Grail represents

the Initiation stage described by

Campbell whilst the transportation

of the Grail to Sarras represents the

Return stage. In psycho-spiritual

50 Fusion Radio Magazine

terms this represents the initiate

or enlightened person offering

the lessons of their experience to

humanity. Similarly, the 'Grail' of

your degree, allied to the talents

and psychological growth which

you have obtained throughout the

duration of your

course, must be

given application

in the form of expression

in your

chosen career.

I wish you

every success upon

your 'mythic quest.'

I am in no doubt

that your experiences

within the

'Forest Adventurous'

of university

life — both academic

and social

— will be both enrichening

and rewarding whilst

serving to equip you for negotiating

further 'quests' in your career

and personal life.

1. William Shakespeare, As You Like

It, Act II Scene 7.

2. Joseph Campbell, The Hero with

a Thousand Faces. London: Fontana

Press, 1993.

3. Gary Kidgell, The Inner Journey:

Pathways to the Higher Self. Llandysul,

Wales: Claregate Publications,

2015.
---
Student Radio Never Sounded So Good 51
---
A chart interpretation of Sun sign of astrology

You can't stop the waves from crashing down, but you can learn to surf.'

Jon Kabat-Zinn

On the surface astrology

may seem to operate like

magic. It is in fact an extremely

practical psychological

tool for one's psyche learning to

surf, particularly during turbulent

times. Any person with a thirst for

knowledge will make an attempt

to connect their experience of life

with the wider universe. This is essentially

what astrology does – to

relate our actions, reactions, emotions

and thought processes to the

universe. Just as our DNA contains

genetic code on our physiology,

our natal charts contain blue

prints of our psychological make

up governed by the placement of

the planets at birth. The harmony

between astrophysics and biomolecular

physics was first highlighted

by Hermes "trice great" Trismegistus

on The Emerald Tablet

-"As above, so below".

As we enter together into a new

academic year, this writing wishes

to share with the students of 2019

52 Fusion Radio Magazine

"The collective astrological

chart has been

drawn for the term

commencing on 11th

September 2019 at noon

located at the University

of Strathclyde"

a study of their Sun sign astrology.

The collective astrological chart

has been drawn for the term commencing

on 11th September 2019

at noon located at the University

of Strathclyde, Glasgow, Scotland

4 degrees 15 minutes West, 55 degress

53 minutes North. Furthermore,

an analysis of each individual

sun sign has been interpreted in

relation.

The Sun represents the soul journey

that we are brought on with

our minds and bodies in this lifetime.

It is our individually, will

and our headways for significance

through the conscious side of our
---
"As we enter together

into a new academic

year, this writing

wishes to share with

the students of 2019 a

study of their Sun sign

astrology.''

personality, allowing us to reach for

our true destinies. The Sun is the

primary indicator of when we are

trying to achieve the best versions

of ourselves. It is the active life

force used lovingly and attentively,

trying to use all potentials to develop

all available resources naturally

given to us at birth as we grow into

adulthood. Through our solar journey

or energy we find our creative

urges to fulfill our heartfelt hopes

for the present and the future. It is

truly our focused sense of destiny

on Earth.

The twelve heavenly houses are

often called "Places of the Sky".

At birth each planet is in a zodiac

sign, and both planet and sign are

posited in a heavenly house. Each

house governs a certain area of societal

life. Chiron here is present in

the fourth house signifying that the

deepest healing, will come from a

connection with the roots of students

individually. The experience

of the first three houses – knowing

who I am, finding a way to strongly

connect myself and discovering

how to integrate myself – is taken

through to the fourth house containing

Chiron. Where here in the

fourth house the student must heal

her or his deepest roots to discover

who they truly are. Chiron itself

rules ecology, the healing of the

body/soul, and it's in the depth of

the rootedness of the fourth house

that the true nature of the Chiron

healing seed that can be sown. This

signifies perhaps the most important

teaching of our times, amongst

much of the chaos in our modern

day society. Each person who finds

in herself or himself the will, and

creative force to heal themselves

striding towards happiness, will indeed

help heal our world simultaneously.

With Virgo energy this academic

year you never cease to learn, never

cease to win improvements in your

work and environment. Happiness

comes with each step each student

feels is successful, all the while as a

collective you go on towards further

steps to create perfection.

Kim McKayed

Student Radio Never Sounded So Good 53
---
Aries March 21st – April 19th

Inspiration leads you to seek new worlds to conquer through adventuring

into this new life phase in third level academia. Happiness lies in a

victory over the constraints placed upon you. The conquest of university

life and study will lead to your greatest source of happiness. With this in

mind, changing course mid stream for an Aries is all too easy, therefore

doing so will slow down progress in university life and the prospect of

'winning', so Aries students try take care here. Once the accomplishment

of your studies is finally complete, you will seek a new challenge in life

and get the best of it to develop your inner self continuing on your soul

journey cheering.

Taurus April 20th - May 20th

You are quite steadfast in your view of happiness. To win and hold on

to an ideal cherished life mate, to rear a family of whom you can be

proud, to hold valuable property and have a solid savings account are all

in the nature of happiness for you. University life will present you with

many opportunities to branch off into and explore new territories for the

ego. Yes home is where the heart is, and it is here where your happiness

will lie. Have faith in your ability to provide good advice to friends and

family whilst keeping good intention at the fore. Decide wisely and slowly

as you progress through the academic year, as you are happy when you

feel your life is secure through benefits you have won. Giving up on a subject

is less likely that other signs, so if an inclination persists it is usually

good reason to seek a counselor.

Gemini May 21st - June 21st

You're dual nature gives you the ability to switch thinking and solve

problems ingeniously. It will help to have faith and remember during

difficult times when options feel closed or boxed in, to fly with your

thoughts and find your freedom. Hermes once ruled the Gemini sign with

his wings. Your eloquence to charm is a valuable asset to progress your

career later in life. Being busy keeps you happy, finding more variation

in what you do will lend to even greater happiness. Keep good company

in this. Within group projects don't hesitate to seek opportunity in using

your talents. Safe guard your self during assignments and exams by sticking

to the boring facts and enjoy a brilliant education.

54 Fusion Radio Magazine
---
Cancer June 22nd - July 22nd

Your most essential pleasure lies in finding happiness at home and in

family based conditions. You can have a second family in university

too by applying these caring feelings to your close circles whether your residing

at home or on campus. Good friends and frequent entertainment in

your new home adds to happiness. Use this responsibly to create a strong

base that can later springboard your academic and professional career.

Making meals and sharing is good practice and food for the soul. Taking

part in societies and community events will fill you with happiness. Any

in decision with subject choices warrants serious discussion with a vocation

counselor, otherwise changes of a good degree are excellent.

Leo July 23rd - Aug 23rd

high leadership position in a society or class representative, somewhere

that places you center stage can bring about happy delight

A

for you. Finding love in what you do comes with your ability to manage

things and be an authority in them. Moreover, a warm generosity will

allow you to help many and this will gratify your need for happiness. Its

nice to be important, but more important to be nice. User your talents to

keep group work entertaining and win praise that will ultimately support

the success of your projects.

Virgo August 24th – September 23rd

You are happy when reading informative material that supports your

achievement of academic goals. Happiness in indeed a straight forward

aspect and will never become stagnant while you make effort to

evolve your ego and inner-self, for even happiness itself can become monotonous

for an unchallenged Virgo. While fame does not attract you,

there is much praise for your capabilities and tireless efforts of a hardworking

nature. This in itself will bring quiet happiness and joy.

Worry will upset the Virgo stomach, so don't worry and be happy.

Student Radio Never Sounded So Good 55
---
Libra September 24th – October 23rd

You enjoy using artistic talents or talking about art with people in the

know. Try remembering this passion can offer creative insights to

technical designs too. Advanced ideas please you and a good conversation

about them makes you happy. These in turn make you a natural asset

in any project team. A natural diplomat, use this trait to settle disputes

among friends and colleagues to enrich your qualities as a prominent

team player for your later career. Real happiness is achieved finally by

active work and results that are admired. Never bury or hide your talents.

Take special care on procrastination during exam periods, love life and

social affairs are particularly important to Librans, only by retaining balance

and good results be achieved.

Scorpio October 24th – November 24th

You are a natural force in the world, bring with you to university splendid

skills and mentality to all that you do. You are worker, happy

while busy with worthwhile tasks. Take care in how you decide to win

confidence of others, where you like to feel a sense of power over things

in your environment. While working alone pleases you, there is a formidable

opportunity for growth in bringing out your personality at group

work; this will win you the greatest happiness in your endeavors.

Try not to be reluctant to talk about your financial situation if the need

for help should arise.

Sagittarius November 23rd – December 21st

You are happy in mental encounters with others, in discussing high issues

and ideas you feel stimulating. If your degree or circle of friends,

don't offer such an opportunities, try finding a suitable society or club to

join. While you enjoy changes to spice up your life, take care not to let that

interfere with your subject choices or progress on projects. To be socially

popular and attending glittery affairs delights you, so feel free to enjoy

your time at university. Impulsive travel pleases you so keep yourself free

from repeat exams during summer to make the most of this lust in life.

You're work must be happy, meaning variety and challenge to your ingenuity

must be involved. Time spent abroad or on an exchange program

can be particularly beneficial for you if the right opportunity arises.

56 Fusion Radio Magazine
---
Capricorn December 22nd – January 19th

Rewards you receive from devoted effort make you happy. You like to

show an unusual capacity for work of a worthwhile type. Using this

passion on group projects in proficient way will certainly gain you praise,

just take care not over commit or provide. Modesty is key. You like to feel

in charge, a person of authority, being a constructive project leader will

bring happiness. You maybe a zealous worker for community improvement,

if so try volunteering if an opportunity arises. Giving your concern

to public matters and being recognized for your value brings happiness.

Take care not to underestimate your ability and achievements in and outside

of academia, as self-depreciation can be a common theme among

young Capricorns. You are amazing.

Aquarius January 20th – February 18th

You are happiest when needed by others and being successful with

helping them. Use your time in university to develop a benevolent

self in such endeavors as Aquarians like to sponsor causes for freedom

and equality, help make it possible for all people to know the good things

of life. Working towards a career in which you can alleviate bad conditions

will make you happy. Aquarians can be idealistic with large dreams,

and certainly have the uniqueness to achieve as such. Just take care to remember

happiness can be found in the small things life has to offer too.

At university Aquarians do well to choose subjects that will particularly

support them in their career later in life.

Pisces February 19th - March 20th

If you already have partner on board then passion will be high, and

important decisions could be made. The winter period, especially with

regard to January and February 2020, is excellent to recover a love relationship

as well as connect at a deeper level with your amazing loving self.

Get out, visit new places and tighten new friendships. Family affairs will

also be greatly improved. Keep yourself physically active with sports and

mobility. You will find a renewed interest in your studies and will learn

better, quicker and at a deeper level than before. Seek to catch as much

sun as you can as its light can reinvigorate your spirit and alertness. When

you are in tune you will be blessed by the loss of forgetfulness.

Student Radio Never Sounded So Good 57
---
The Mature Student's Association

By Gerry McDonnell

A

huge MSA welcome to all

new and returning mature

students at the University

of Strathclyde. The MSA is a representative

group which caters for

the large numbers of the university's

mature students. A mature student

is defined as a student who is

21 years or older on

the day their course starts.

The original MSA was set up in

the early 1990s and was based in

St. Pauls Annexe, in the old chaplaincy

opposite the Student Union

Building on John Street. In 2012 it

was decided to close the old chaplaincy

with no alternative accommodation

being offered. Following

dialogue with Estates a stay of execution

was granted for one year. A

campaign for new premises was initiated

and the issue was raised with

the Principal, Sir Jim McDonald, at

Stu- dent Congress. Sir Jim came to

the old MSA in February 2013 and

offered us two rooms in the Livingstone

Tower*, and a budget to refurbish

the rooms as we wished.

We moved to our present location

(LT202) in August 2013, with one

common room and one PC Lab.

Just four short years later we have

two common rooms with fridges,

58 Fusion Radio Magazine

microwaves, kettles, printer etc.,

three PC labs, and four quiet/group

study rooms with access to a further

four in the evenings. We also

provide 'red cards' to students who

wish/require to study when the

building is in 'lockdown' and in the

last year we issued over six hundred

(a new record).

The aims of the MSA are to provide

all mature students with a peer

support network of friends as well

as somewhere to study or relax.

Peer support is especially of vital

importance to the hundreds of new

'widen- ing access' mature students

who come to Strathclyde University

every year, as it helps to make

the transition to higher education

easier.

Our membership spans all faculties,

ages and backgrounds. We are

all on a journey through learning,

and at the MSA we pride ourselves

on drawing on all of our experiences

and learning together. We

also endeavour to ensure that every

member feels as welcome and as

equal as the next. The MSA provides

support independent of the

university to those students who

may not be following the typical

student path.

Our student population is becom-
---
ing much more diverse. During the

academic year 2016/17 the MSA

had members from over eighty different

countries registered online.

This greater diversity in the MSA

is to be welcomed, as it serves both

to improve the educational student

experience for all of our members,

and also to provide the basis for a

more diverse and enriched society.

The social interaction and integration

of our members is of huge

importance to the MSA as it helps

with: retention rates, student persistence,

and a students' chance of

completing a degree. The idea of

belonging to a community of mature

students also helps to instil in

our members a sense of belonging

to the University of Strathclyde, as

it is the institution who have thankfully

provided us with the space in

which we operate.

The MSA is open to all mature students

of any background and accordingly,

the MSA and its members

shall not discriminate against

any individual(s) for reasons of:

age, colour, disability, gender identity

or expression, national or ethnic

origin, race, religion, sex, or

sexual orientation. No one can defend

the indefensible by claiming

that acts of discrimination, inequality

or injustice are just banter.

If you are a victim or witness to

any of the aforementioned please

#SPEAKOUT (see poster in all

MSA rooms) and the perpetrators

will be dealt with.

Over the past four years the MSA

has faced the challenge to manage

and deliver change. Hundreds of

written and verbal testimonies from

students who have either passed

through the MSA, or new students

who have graduated at different

institutions, are proof enough that

the facilities we provide

are second to none. The MSA also

represents its members (the student

voice) in numerous ways to

continually improve the facilities

and services that we provide. We

also work closely with members of

the Student Union Executive on a

regular basis to highlight academic

issues that our members have

raised, and we

to do this.

In conclusion, we wish every success

to all our members for the

future. Its members are the MSA's

greatest resource, and there is always

someone available to discuss

problems or experiences. So, if you

want to join the MSA, or if you are

already a member who has any

ideas or queries please email: ussa.

msaconvenor @strath. ac.uk

(*Livingstone Tower is in the heart

of campus)

Student Radio Never Sounded So Good 59
---
STEPS TO SUCCESS..

By Raj Jeyaraj, Managing Director, SMOOVEmedia Ltd.

New room, new friends,

new beginnings. First-year

of University is your opportunity

to reinvent yourself, test

your preconceptions, and become

the person you've always wanted to

be.

Say hello to everyone! Everyone

may seem like they know what they

are doing and have groups friends

already. Don't let that fool you.

Everyone feels a little lost and are

looking for someone to introduce

themselves. A simple "Hi, I'm Pat,

What's your name?" Will go a long

way.

Make friends with people from

other countries, with different interests,

learn a few new words in

other languages. People appreciate

that you have taken the effort!

Be yourself. You've heard it repeatedly.

That's because it's true. People

can sense when you're "fronting"

and "flexing" and no one likes that.

Put your best self forward. Honesty,

transparency, and vulnerability

are cornerstones of great communications

and friendships.

Get involved with everything. The

first two weeks is a time that you

might have less sleep and fueled by

adrenaline. Believe me, it's worth it!

60 Fusion Radio Magazine

That's a foundation of

havin great year(s)

at university.

But get as much rest

and sleep you can

throughout the day.

Surviving on 3 hours

of sleep a day will burn you out by

day 3. Learn to take naps. Thay will

save your student life.

Try new things that you might never

have tried before, get involved

in societies you might never have

gotten involved in before! Get involved

in the pokemon society, try

joining the dance society, pick up

a martial art, do a new sport. The

possibilities are endless!

The dishes are the biggest reason

for fallouts among flatmates.

Please follow simple

house etiquettes!

Don't leave food to

collect mould

in the fridge,

communicate

a n d

decide

who is go- ing to hover

and take out the trash, organise a

flat dinner party together at your

earliest opportunity.
---
Watch your money! Create a budget

for social activities, take cash when

going out, leave your debit card at

home, don't buy a 4K HD TV with

your student loan/ SAAS and live

on beans on toast for the rest of the

year. Spread costs of essentials and

food by buying in bulk and sharing

with housemates.

Watch your energy. Calculate and

care- fully distribute your

energy every

day.

Watch your

time. Just

like energy

and

money - treat

them like finite

resources, because

they are, that you

should always keep an account.

Take care of your diet. Research

and find a diet that's healthy for

your brain, body, and wallet. Plan

your meals every month, reduce

food waste, freeze food - these

are things that would have

saved me a lot of money in my

first years.

Learn outside the classroom!

Transferable skills like communications,

teamwork, time management,

project management, and

leadership skills are best found and

developed outside the classrooms

in student societies, class representation,

and other student union

activities. - Plus they are highly

coveted by employers!

Redefine yourself. First-year is all

about learning self-management,

independent living, healthy habits,

goal setting, and personal development.

Ask for help early. Part of your journey

of being a new student is being

lost, or not knowing how things

work, not just in your studies but

simple things like understanding

your rights as a tenant, knowing

where to go when you're in financial

constraints, the counselling services

when you might need them, etc.

Your Students Union, Class reps,

lecturers, society committee members,

and university staff members

are there to help you. You might

find that not all the information

you need is even online!

Finally, GO TO CLASS! You might

be hungover, you might be tired,

but just pick yourself up and go to

class. Listen, take notes, highlight

things that you might need to revisit.

Induction and introduction

lectures are packed with the essential

information that you will need

in your student life!

(Raj was student President at Strathy

in 2017)

Student Radio Never Sounded So Good 61
---
How the R.I.P.P.L.E.S

fused with the

Strath-osphere?

February 13th every year is

the eve of Valentine's day, but

also celebrated as World Radio

day. For the radio lovers, that's

two days of pure bliss. For me it

was triple bliss with icing last year

when I turned in the proposal for

my long brooded webcast to the

guys at Strathclyde Fusion studio; it

was submitted on the 13th, accepted

on the 14th and I had a tour of

studio facilities on the 15th!

R.I.P.P.L.E.S, an acronym for Research

Impacts Presented in Plain

Language for Everyone's Sake

(Phew! defo a mouthful...) hit the

airwaves a week later and aired on

Mondays 7 – 8pm for the next 6

months. The show was unique in

content, delivery, audience reception

and achievement, compared to

other shows hosted by the station or

elsewhere. RIPPLES identified and

eulogised research breakthroughs

and experiences at the University

of Strathclyde, frantically communicating

these innovations in

ways accessible to the general public.

Guest researchers were invited

weekly to discuss their research devoid

of jargon, to foster public engagement

and provide a platform

62 Fusion Radio Magazine

"RIPPLES identified and

eulogised research breakthroughs

and experiences

at the University of

Strathclyde"

for the researchers to disseminate

their work and practice outreach

activities behind the 'pseudo-anonymity'

our cosy studio provided.

By concerted efforts at successfully

avoiding floccinaucinihilipilification

of research and being

less bothered about how electroencephalography

helps to detect

pneumonoultramicroscopicsilicovolcanokoniosis

(hahahaa…), RIP-

PLES highlighted how researchers

at Strathclyde were leading the

way in research innovation, cutting

across health and wellbeing,

energy, advanced materials, enabling

technologies, Fintech and

policy among others (you should

see: https://www.imagesofresearch.

strath.ac.uk/2018/gallery.php).

If there is any commonality stringing

webcast and research as delivered

by @RIPPLEStrath for

research strides in an ambitious,

impactful and innovative institution

as Strathclyde, it would probably

be well captured by this humble

quote from Guy Gugliotta: "delivered

so much while initially promising

so little." By Emmanuel Salifu.
---
Student Radio Never Sounded So Good 63
---
REFLECTIONS.

By Caleb Gambrah aka DJ Kwiksilva

(Host of "The Sunday Experience")

Doing radio was one of

the things I had always

thought would be cool to

do. But for a long time it was just

that…a thought. I hadn't necessarily

made any significant efforts

to pursue it. I guess it was one of

those things that I was waiting for

the universe to drop an opportunity

on my lap. Fast-forward to

fresher's week, from the corner of

my eye, I see a guy, clad in overalls,

eclectic pair of sunglasses and a fitted

baseball cap to boot approach

our church stand. We had a chat

for a few minutes, found out he was

actively involved in the running of

the university campus radio station

(thank you universe, I said silently

to myself). I expressed my desire

to do radio, talked some more and

voila! I had a show.

Ok so I had a show,

now what next?

"I guess it was one of

those things that I was

waiting for the universe

to drop an opportunity

on my lap."

One thing I knew for certain was

that the show would be an extension

of my Christian faith. The next

thing I needed to figure out was the

best medium of conveying such

message. I've always been a fan of

music and music is well known to

be a powerful tool of disseminating

information. However a huge

misconception, especially amongst

young people, is that Christian music

tends to be boring and bland.

My quest to present the love of God

in a more relatable manner resulted

in the decision

64 Fusion Radio Magazine
---
"However a huge misconception,

especially

amongst young people,

is that Christian music

tends to be boring and

bland."

to incorporate music with words

of hope, inspiration and God's love

laced over the soulful tones of RnB,

the funky up-tempo beats of hiphop,

and the soothing sounds of

jazz. This birthed the weekly contemporary

-gospel

music show dubbed "The Sunday

Experience".

Hosting a radio show

was a personally rewarding

experience.

Through

the show I

w a s able to have honest

conversations

with persons who hitherto, had

misconceptions and strong negative

thoughts towards Christianity.

Winning an award for "Community

broadcaster of the year" was icing

on the cake. Developing a good

show however no bed of roses; it

requires a lot of planning and research.

I had to constantly research

into the right kind of music that fits

"This gave me the opportunity

to discover underground

artists and music

which was seemingly

hidden in plain sight."

the ideology of the show. This gave

me the opportunity to discover underground

artists and music which

was seemingly hidden in plain

sight. With that being said getting

involved with Strathclyde Fusion

radio is something I would strongly

recommend.

Student Radio Never Sounded So Good 65
---
WHY YOU NEED

MASSAGE IN YOUR LIFE

Caroline Robertson

Massage Therapist and Presenter.

Why? Because it helps

with your health on a

deeper level, more than

just physical or mental, it helps

emotionally and spiritually, helping

to rebalance and relax, relieve pain,

discomfort, anxiety, stress, improve

sleep, amongst many more

positive aspects. Massage can be,

for many people, quite literally,

a life saver. It not only

helps to

Why wouldn't you want this in

your life? We live in such a stressful

environment these days: noise, pollution,

work, family, that we leave

very little at

the end

alleviate

pain and discomfort, it

makes you more self aware of your

own body. You learn to understand

it more, see the signs when something

is wrong or right with it and

you do what you can to keep it in

optimum health by making changes

and seeing people who can help

keep it healthy.

66 Fusion Radio Magazine
---
" Massage can be, for

many people, quite

literally, a life-saver! ''

of the day to ourselves and with

massage, not only do you get some

'me time', some relief from the discomfort

you are in, you also get to

escape from the worries of this

world for a short time. Being

stressed,

worried,

tired is

not good

for your

health

long-term

– it can aggravate

and promote

poor health

and contribute

to chronic conditions

like poor sleep,

bad skin, digestive issues,

headaches and more.

Wherein massage is part of the

culture and daily life of the middle

east and far east countries and

has been for many years, Westerners

still see massage as a 'treat' but

slowly we are coming around to the

benefits of it and many more people

are having massage on a regular basis.

This is a good thing as we need

to understand that the body is a

wonderful, fascinating, complex

biological machine that needs

more than we give it – it needs to

be taken care of and massage can

help us keep it healthy, happy and

balanced.

"Wherin massage is part

of the culture and daily

life of the middle east

and far east countries,

and has been for centuries,

Westerners still see

it as a 'treat'.."

As an experienced massage therapist,

I have regular clients who,

after experiencing the benefit of

regular massage, have learned

more about themselves and their

bodies.

They ask questions, for after care

advice and make changes to their

lifestyles, realising they need to

take care of their body more.

Please be aware that massage is

not a cure to all ailments – it is

one of many aids, to help improve

your health.

We only have one body – so let's

look after it.

Student Radio Never Sounded So Good 67
---
Napoleon's Knight in the

Glasgow Necropolis

By Gary Nisbet

It is not generally known that

there is a veteran of Napoleon's

Grande Armée buried in the

Glasgow Necropolis. This was

François Joseph Foucart (1793-1862),

who settled in Glasgow after the end

of the Napoleonic Wars and became a

celebrated fencing master and teacher

of gymnastics at the University of

Strathclyde.

Foucart had served in Napoleon's infantry,

and was a veteran of the Russian

campaign of 1812, and the battles

of Leipzig and Waterloo. At some

point he was appointed a Knight of the

légion d'honneur, which is represented

by a finely carved replica of the medal

on the front of the monument which

stands over his grave in the Necropolis.

Until recently little was known about

his early life and his years in the army,

and why he should have settled in

Glasgow after the Napoleonic Wars

ended in 1815. New information has

come to light, however, which enables

us to clarify and confirm many of these

missing details, and to correct some of

the erroneous information about him

that is recorded on his monument. The

most important of these is his birth

year, which is recorded on the monument

as 1781, when in fact his bap-

68 Fusion Radio Magazine

Foucalt's Légion d'honneur.

tismal and military records state that

he was born in 1793. It is clear from

the dedicatory inscription, together

with his own written recollections and

military records, that Foucart was

not only a man of great courage and

determination to survive his military

service and many wounds, but also to

escape from the post-war persecution

of Bonapartist sympathisers in France

and flee to the United Kingdom as a

political refugee.

It turns out that his decision to move

to Scotland was an entirely happy one,

and he became a prosperous and much

loved character and contributor to the

life of the city, and to the University

of Strathclyde in particular, where

he taught fencing and gymnastics in
---
Andersonian University, Glasgow.

the 1830s (when it was known as the

Andersonian University). After this

he established a fencing school and

gymnasium in West Nile Street and

became celebrated in his day as one of

the finest fencing masters in Scotland,

and is recognised today as the 'Father

of physical fitness in Glasgow'. But his

story also has a far greater dimension

that links his family name, via his sons

Auguste and Dr. Louis Foucart, and

his granddaughter, Alice, to other important

historic events at home and

abroad.

Foucart was born on in the fortress

town of Valenciennes in the North of

France, on 11 August 1793, the son of

Louis Foucart, a brewer and former

soldier, and Celestine Flamand. His

military career began in 1808, when

he volunteered as a teenager in the

National Guard of the North, then

entered the 44th Regiment of the Line

as a corporal in 1809. He later transferred

to the Walcheren Regiment

(later 131st Regiment) as a sergeant

in 1810, and eventually moved to the

22nd Regiment in 1814. During this

time he fought in the siege of Flushing,

where he received shrapnel wounds

to his thighs, and followed Napoleon

into Russia in 1812. After surviving

the epic retreat from Moscow, Foucart

was present at the battles of Wurtzen,

Bautzen, Jüterbog, and Leipzig, where,

with the help of 40 grenadiers, he delayed

the enemy at the Elster bridges

and enabled Napoleon's defeated army

to escape annihilation and to return

to France. It was for this action that

he was cited for the legion d'honneur

and a field promotion but he received

neither until much later. He was also

present at Napoleon's final battle, at

Waterloo in Belgium, in 1815, where

Trailleur of the Imperial Guard.

he fought the Prussians as a sergeant

of tirailleurs (skirmishers) in the Imperial

Guard at Plancenoit, and was

wounded in the chest by a lance and in

the leg by a bullet. Subsequently, after

Student Radio Never Sounded So Good 69
---
70 Fusion Radio Magazine

Napoleon's exile to St. Helena, he became

a sergeant in the 6th Regiment of

the Royal Guard. However, after voicing

his support for Bonaparte, he was

imprisoned and sentenced to transportation

to the French penal colony

at Cayenne (later known as Devil's

Island) in South America. Before being

sent there, he escaped to Belgium

and the Netherlands before travelling

to England and then Scotland, around

1823-4, where he founded 'The Glasgow

Fencing, Gymnasium and Orthopaedia

Institution'. He is listed in

the Glasgow Post Office Directory as

a fencing master for the first time in

1825.

He later became a Professor of Fencing

and Gymnastics at the Andersonian

at 178 George Street, where he rented

a large room in the university's Old

Grammar School building (on the site

of the present Royal College). Foucart

is mentioned in the university's Minute

Book covering the period 1832-39,

in which the matters concerning him

were of a relatively trivial nature, such

as arranging to have his gymnasium

whitewashed, the amount of rent he

was required to pay for the room (£18

per annum, or £15 if he couldn't quite

afford the higher sum) and the number

of pupils attending his classes in

fencing and gymnastics. By 1837 they

numbered 58 young men and women

from the best families in Glasgow and

the surrounding districts. He appears

for the last time in the university's records

in February 1839, by which time

he was involved in establishing a new

fencing academy and gymnasium in

the recently built Victoria Baths Building

at 106 West Nile Street, which still

Victoria Building, West Nile St.

stands today.

This was a time when sword fencing

was a much more popular sport

than it is today, and when swordsmanship

was regarded as an art to

be taught as part of a young gentleman's

education. Foucart was particularly

successful in popularising

this branch of the martial arts and

regularly held public demonstrations

of his own and his pupils'

swordsmanship to great acclaim in

the town's Assembly Rooms in Ingram

Street. These 'assaults' as they

are called, always attracted 'brilliant

assemblages' of fashionable society

eager to be thrilled and entertained

by Foucart's skill with the rapier
---
and sabre, and they were rarely disappointed

by the spectacles he mounted.

For the winner of his pupils' bouts, a

light sword donated by Foucart would

be their prize.

The press, too, were delighted by his

displays, which became a highlight of

the sporting calendar of both Glasgow

and Edinburgh, and they reported enthusiastically

on the events and the excitement

they generated. The assault

held for the anniversary meeting of

Foucart's pupils on 18 April 1829 was,

according to The Glasgow Herald,

'one of the finest ever witnessed'. In

Edinburgh he participated in the annual

assaults presented by Monsieur

George Roland, another French émigré

who established the finest fencing

academy in the capital. In February

1830, Foucart and Roland's duels mesmerised

their audience, with Foucart

being reported as giving 'more reason

than ever to admire his irresistible impetuosity'.

Two decades later, having

become firmly established in the city

and in the hearts of his pupils and

friends, a testimonial was presented

to him in the form of a silver cup, in

1847.

By 1852, with his business now a great

success, and with his son, Auguste, as a

partner and instructor, Foucart assiduously

promoted the health-enhancing

aspects of his work and introduced

new equipment devised by his doctor

son, Louis, with which to facilitate the

results in improving bodily strength

and alleviating physical infirmities in

both sexes. In the Glasgow Herald of

29 October 1852, they announced:

'Messrs Foucart have resumed their

courses of practical instruction to ladies

and gentlemen in the art of training

and developing the human frame,

and in preventing and correcting bodily

distortions, and promoting health

by their system of gymnastic exercises.

Messrs Foucart have also much pleasure

in announcing that they have added

to their stock of apparatus, and will

give instructions in proper the use of

Dr [Louis] Foucart's newly registered

Spinal Rectifier and Chest Expander,

which instrument has been patronised

by the royal family, and received

the approval and recommendation of

the leading [London] surgeons. The

institution is under the inspection of

the most eminent of the medical profession

in Glasgow…'

Foucart's popularity amongst the higher

echelons of Scottish society is best

exemplified by his participation in the

famous Eglinton Tournament of 1839.

A spectacular recreation of medieval

pageantry and jousting which involved

the crème of Scottish knightly nobility

as participants and spectators, as well

as thousands of onlookers from the

general public. Foucart would have

been required to don medieval attire

and give his best performance in the

displays of swordsmanship that were

intended to enthral his audience and

remind them of the chivalric glories of

Student Radio Never Sounded So Good 71
---
ages long past.

Foucart must have been quite a character

in his day and he was certainly

popular amongst his students and the

public alike. Amongst his students

were the poet William Motherwell and

the dramatist James Sheridan Knowles,

who modelled the hero of his Monsieur

de l' Épée on him in 1838 (both

writers are also buried in the Necropolis).

It is also claimed that he was the

inspiration for the hero of Alexandre

Dumas' romance 'Le Maître d'Armes'

in 1840, although it is now known that

this was actually Dumas' own fencing

teacher, Augustin Grisier.

Foucart's life in Scotland was by all accounts

indeed happy and prosperous,

and he was blessed with a long marriage

and loving family. He and his

Belgian-born wife, Lambertine Levelly

(1791-1877), were married in London,

in the church of St John the Evangelist,

Westminster, on 26 July 1818.

They had at least four children: Louis,

who was born in France during a brief

return to Foucart's homeland in 1820;

Virginie and Milenie, both of whom

were born in Ireland; and Auguste,

who was born in Glasgow in 1833, and

who followed his father's profession as

a fencing master.

The family lived at various addresses

in central Glasgow. As early as 1826,

the Foucarts lived in a 'Cottage Style'

house on the east side of Portland

Street. The house and land were put up

for sale and advertised as 'admirably

adapted for building' in the 'Subjects

To Be Sold' section of The Glasgow

Herald for 1 May 1826. The house

and garden have long since vanished,

presumably having been redeveloped

soon after they were sold.

The Foucarts had by then moved to

239 George Street, where they lived

throughout the 1830s. They later

moved to 5 St Vincent Place, staying

there for a decade from 1842. At this

time the family home also doubled as

a doctor's surgery, which was run by

Foucart's son, Louis, who had recently

graduated in medicine and surgery

at Glasgow University. The census returns

for the street in 1851 reveal that

they were wealthy enough to employ

a live-in house servant, Sarah Stewart.

After Louis left home to practice

in London, the family finally settled

down at Falkland Place, 4 St George's

Road, in 1853.

François Foucart died at his home

on 26 June 1862, of acute bronchitis,

which he had suffered for about a

month. He was buried in the Glasgow

Necropolis at 2pm on 1 July, in lair 60

of the cemetery's Petra section, which

was purchased for £16, the funeral being

undertaken by Wyllie & Lochead.

Since then, and due to a subsequent

reconfiguration of some of the Necropolis'

layout in the 20th century, his

lair was incorporated into the nearby

Upsilon section, which is where most

modern historians have stated that he

is buried.

72 Fusion Radio Magazine
---
His last Will and Testament, of 7

March 1862, offers evidence of his

prosperity. To his beloved wife he left

£5,557.9d, the value of which included

shares in the Clydesdale Bank, the

Bank of Scotland and the Glasgow

Gas Company, as well as a collection

of silver plate. A year later, in 1863,

the high esteem in which he was held

amongst his friends and former pupils

was attested to when they erected the

monument that stands over his grave

today.

This was produced by J. & G. Mossman,

the celebrated Glasgow-based

firm of monumental and architectural

sculptors. It is in the form of an obelisk,

15 feet tall (4.57m). As well as

the carving of Foucart's Légion d'Honneur

on its front, a long eulogy was inscribed,

which was composed by James

Sheridan Knowles, and taken from his

play 'Monsieur de l' Épée':

'Talk you of scars? – That Frenchman

bears a crown!

Body and limb his vouchers palpable;

For many a thicket he has struggled

through

Of briery danger, wondering that he

Came off with even life, when right

and left

His mates dropp'd thick beside him. A

true man,

His rations with his master gone – for

he

Was honor's soldier, that ne'er changes

sides.

He left his country for a foreign one

To teach his gallant art, and earn a

home.

I knew him to be honest, generous,

High soul'd, and modest, every way a

grace

To the fine martial race from whence

he sprang.'

The dedicatory inscription recording

Foucart's personal details on the obelisk's

pedestal was almost as effusive

as the eulogy cut on its shaft. This,

however, has been completely obliterated

by the passage of time and the

elements. Thanks to an account of

the monument which appeared in the

Glasgow Herald on Wednesday, 24

June 1863, soon after it was erected,

we know the inscription's exact wording:

Francois Foucart

Born At Valenciennes, 1781.

Died At Glasgow, 1862.

An Officer In The Imperial Guard Of

France

During The First Empire,

Knight Of The Legion Of Honour,

Professor Of Fencing, Royal Academy,

Paris,

And Afterwards For Forty Years In

This City.

This Monument Has Been Erected

By Some Of His Pupils, To Mark The

Friendship They

Entertained For Him,

And To Designate The Spot Where The

Remains Of A

Brave And Gallant Soldier Rest.

1863.

Student Radio Never Sounded So Good 73
---
Foucart's Monument,

Glasgow Necropolis

This was not, however, the end of Foucart's

enterprise in promoting health

and fitness, or the fame garnered to his

family's name. His son, Auguste, later

left the city to set up gymnasiums in

Liverpool, Inverness and Sydney, Australia,

where his brother, Louis, had

set up as a doctor. Louis, having already

established his medical credentials

in Scotland, later moved to London,

where he became indelibly linked

to the life and death of one of Britain's

greatest Prime Ministers, Sir Robert

Peel. His association with him was

brief, however, but of the utmost importance

and renown, as it was Louis

who happened to be close-by when

Peel was thrown from his horse and

very badly injured on the evening of 29

June 1850. He attended to Sir Robert

until he died in the evening of 2 July.

Later, Dr Louis Foucart moved to Sydney,

Australia, where he became the

Government Medical Officer of Health

and Quarantine Officer at Port Jackson

(Sydney Harbour). He lived in

Rozelle, and owned land in the appropriately

named district of Waterloo.

He eventually retired to England,

where he died at Lucan House

in Ripon, Yorkshire, on 25 March

1899. Before this, however, Louis'

daughter, Alice, had married the

son of Colonel Henry Pulleine, who

has gone down in history as being

responsible for the worst defeat of a

modern British army at the hands of

spear wielding warriors at the Battle

of Isandlwana in the Zulu War

of 1879 (a century later, in the film

'Zulu Dawn', the role of Pulleine was

played by the actor Denholm Elliot).

Foucart Legion d'Honneur

Back in Australia, it was Louis who

was responsible for notices of his father's

death appearing in Australian

newspapers in 1862, such as The Sydney

Morning Herald and The Argus in

Melbourne. This meant that François

Foucart became as well known in the

74 Fusion Radio Magazine
---
Southern Hemisphere as he was in

Scotland at the time of his death. There

is even a Foucart Street and Foucart

Lane in Sydney. Although these were

named after Louis, they also continue

the association with his father and the

great era of Napoleon and his Knight

who rests thousands of miles away in

the Glasgow Necropolis.

However, by the present day, Francois

Foucart had been completely forgotten

in France and Scotland until this

research into his military service and

later teaching career was undertaken.

This has been greatly assisted by Foucart's

own descendants, Peter Eden

and his family, who live in Portugal,

and who are the guardians of not only

the memory of their illustrious forebear,

but also of many of his surviving

personal items, such as his legion

d'honneur, and a sword that Napoleon

is said to have owned and presented to

Foucart for saving the life of Marshal

Ney during the retreat from Moscow.

They also have Foucart's fob watch

and the silver cup that his pupils in

Glasgow presented to him as a testimonial

to his popularity as a fencing

master and as an individual.

Of the greatest importance amongst

these personal items is the copy of a

letter which Foucart sent to Napoleon

III in 1852, which details his

military career in his own words and,

surprisingly, includes a request for the

sergeant's back pay that had been owed

him from his time in Russia forty years

earlier. The letter is the closest thing we

have by way of a written memoir of his

time serving under Napoleon I, and its

contents are certainly of great value in

illuminating hitherto unrecorded incidents

during and after the war as experienced

by one of its forgotten protagonists.

It is especially enlightening with

regard to the treatment of the emperor's

supporters by the French Royalists after

Waterloo and their later rehabilitation

in 1820, when they were pardoned by

royal decree on the birth of the Duke of

Bordeaux.

In Scotland, where he settled and flourished

in the land of his former foes, Foucart

is also now becoming better known

as a historical figure in his own right,

and might now be described as 'the most

fascinating Frenchman who ever settled

in Glasgow', as well as the 'father of

physical fitness' in the city. In addition

to this, it is to be hoped that his connection

to the University of Strathclyde in

particular, will someday be commemorated

by a plaque erected to his memory

and sporting achievements in the university's

new sports centre in Cathedral

Street.

Student Radio Never Sounded So Good 75
---
76 Fusion Radio Magazine