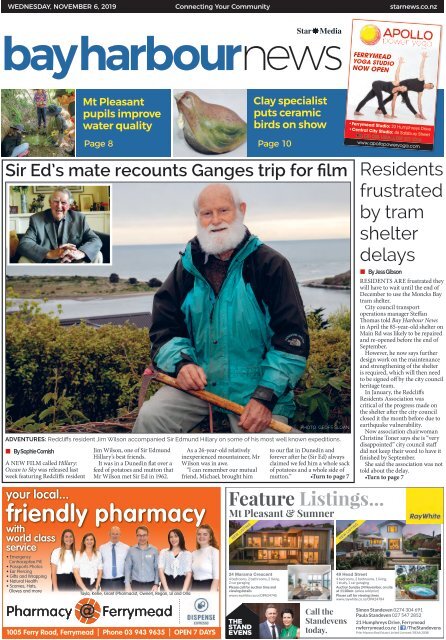 Bay Harbour: November 06, 2019
Create successful ePaper yourself
Turn your PDF publications into a flip-book with our unique Google optimized e-Paper software.
WEDNESDAY, NOVEMBER 6, 2019

Connecting Your Community

starnews.co.nz

FERRYMEAD

YOGA STUDIO

NOW OPEN

• By Sophie Cornish

A NEW FILM called Hillary:

Ocean to Sky was released last

week featuring Redcliffs resident

your local...

with

world class

service

• Emergency

Contraceptive Pill

• Passports Photos

• Ear Piercing

• Gifts and Wrapping

• Natural Health

• Scarves, Hats,

Gloves and more

Mt Pleasant

pupils improve

water quality

Page 8

Sir Ed's mate recounts Ganges trip for film

ADVENTURES: Redcliffs resident Jim Wilson accompanied Sir Edmund Hillary on some of his most well known expeditions.

Jim Wilson, one of Sir Edmund

Hillary's best friends.

It was in a Dunedin flat over a

feed of potatoes and mutton that

Mr Wilson met Sir Ed in 1962.

friendly pharmacy

Tayla, Kellie, Grant (Pharmacist, Owner), Regan, Lil and Orla

As a 26-year-old relatively

inexperienced mountaineer, Mr

Wilson was in awe.

"I can remember our mutual

friend, Michael, brought him

Feature Listings...

Mt Pleasant & Sumner

New listiNg

Clay specialist

puts ceramic

birds on show

Page 10

24 Marama Crescent

4 bedrooms, 2 bathrooms, 2 living,

2 car garaging

Please call for auction time and

viewing details

www.raywhite.co.nz/OPA24745

PHOTO: GEOFF SLOAN

to our flat in Dunedin and

forever after he (Sir Ed) always

claimed we fed him a whole sack

of potatoes and a whole side of

mutton." •Turn to page 7

•Ferrymead Studio: 23 Humphreys Drive

•Central City Studio: 46 Salisbury Street

Ph: 021 055 1884 or 027 227 2026

New listiNg

www.apollopoweryoga.com

Residents

frustrated

by tram

shelter

delays

• By Jess Gibson

RESIDENTS ARE frustrated they

will have to wait until the end of

December to use the Moncks Bay

tram shelter.

City council transport

operations manager Steffan

Thomas told Bay Harbour News

in April the 85-year-old shelter on

Main Rd was likely to be repaired

and re-opened before the end of

September.

However, he now says further

design work on the maintenance

and strengthening of the shelter

is required, which will then need

to be signed off by the city council

heritage team.

In January, the Redcliffs

Residents Association was

critical of the progress made on

the shelter after the city council

closed it the month before due to

earthquake vulnerability.

Now association chairwoman

Christine Toner says she is "very

disappointed" city council staff

did not keep their word to have it

finished by September.

She said the association was not

told about the delay.

•Turn to page 7

49 Head street

4 bedrooms, 2 bathrooms, 1 living,

1 study, 1 car garaging

Auction Sunday 24 November, on site

at 11:00am (unless sold prior)

Please call for viewing times

www.raywhite.co.nz/OPA24784

1005 Ferry Road, Ferrymead | Phone 03 943 9635 | OPEN 7 DAYS

Call the

Standevens

Simon Standeven 0274 304 691

Paula Standeven 027 547 2852

21 Humphreys Drive, Ferrymead

rwferrymead.co.nz | /TheStandevens

today. Prier Manson Real Estate Limited Licensed ( REAA 2008)
---
PAGE 2 Wednesday November 6 2019

BAY HARBOUR

Latest Canterbury news at starnews.co.nz

get in touch

from the editor's desk

GREAT MEMORIES today from Jim

Wilson (see page 1) of his time with Sir

Edmund Hillary.

Jim, shares some top yarns with reporter

Sophie Cornish which coincides with the

just released movie Hillary: Ocean to Sky.

Jim, a mountaineer himself, recalls being in a Dunedin flat

when he met Sir Ed.

"I can remember our mutual friend, Michael, brought him to

our flat in Dunedin and forever after he (Sir Ed) always claimed

we fed him a whole sack of potatoes and a whole side of mutton,

but he was exaggerating, it was only a quarter of mutton.

"We were hugely in awe of Ed, but he just immediately put us

at ease. He was a lovely, friendly man."

It sums them all up, really.

– Barry Clarke.

GENERAL INQUIRIES Ph 379 7100

CLASSIFIED ADVERTISING Ph 379 1100

Star Media, a division of Allied Press Ltd

PO box 1467, Christchurch

starmedia.kiwi

NEWS

Jess Gibson

Ph: 021 914 169

jess.gibson@starmedia.kiwi

ADVERTISING

Jo-Anne Fuller

Ph: 364 7425

jo.fuller@

starmedia.kiwi

Rob Davison

Ph: 021 225 8584

rob.davison@

starmedia.kiwi

news

Police after man with bow and arrow

Reports of a man with a bow and arrow on the Port Hills may be

linked to a lamb being fatally shot with a crossbow bolt.

Page 5

community events

Halloween fun and costumes

Support local craft-makers on Saturday at the Mt Pleasant

Community Centre from 9.30am-12.30pm.

Page 15

tasty bites

Ultimate banana bread

Freeze a loaf for when unexpected visitors arrive – it is moist and

doesn't crumble.

Page 18

The best-read local newspaper, delivered to

10,514 homes, RDs and farms every Wednesday

Brookhaven, Heathcote, Ferrymead, Redcliffs, Mt Pleasant, Sumner,

Lyttelton, Diamond Harbour, Governors Bay, Akaroa.

Need a local

landscape

design and

construction

team?

Call Tom on

03 328 9965 or

027 420 2466

www.gunndesign.co.nz

All your breakfast cereal

requirements - no sugar,

low sugar and

gluten free options

Healthy cracker bark,

muesli bars and the

'not for breakfast'

savoury granola.

Dried fruit and nuts,

Australian Almonds $20.

Bring your own containers.

Now accepting your

unused glasses.

A Lions Ferrymead initiative

for the Pacific.

2/2 Soleares Avenue

Open every Wednesday 10am - 4pm

or any time there is a bike outside!

Inquiries to Rose at 027 329 1818

Order to Tim at tim@mummab.co.nz

YOUR LOCAL

ACCOUNTANT

I COME

TO YOU

Financial Statement Preparation

Tax Preparation & Compliance

Xero & MYOB Specialist

Steven Clarke Ltd. 7 Margot Lane

Mount Pleasant, Christchurch

Phone 03 384 4633 Cell 021 677 670

steven@sclarke.co.nz

RELOCATION

HANDYHIRE HAVE RELOCATED NEXT

TO MITRE 10 MEGA FERRYMEAD

We deliver Dumping available Free courtesy trailer

Open 7 days

4 WATERMAN PLACE PHONE 03 373 6551 WWW.HANDYHIRE.CO.NZ
---
Wednesday November 6 2019

News

Latest Canterbury news at starnews.co.nz

BAY HARBOUR

PAGE 3

Peden to head community board

• By Jess Gibson

TORI PEDEN has been sworn

in as the new chairwoman of the

Banks Peninsula Community

Board.

The Little River resident of 18

years is "nervous and excited"

to take on a range of projects

coming up over the next three

years.

The main issue she wants to

push hard for is establishing a

destination management plan

that ensures communities are

looked after during tourism

seasons.

Ms Peden was elected to the

position during an inaugural

meeting on Monday, with

Tyrone Fields re-elected to serve

as deputy chairman for another

term.

She will fill the shoes of former

chairwoman Pam Richardson,

who retired from the position

last term along with four other

board members.

Ms Peden is one of three to

return to the community board,

along with Mr Fields and Deputy

Mayor and city councillor

Andrew Turner.

She believes continuity and

experience helped secure her

spot as chairwoman over

newcomers Howard Needham,

Jamie Stewart and Nigel

Harrison. She said she is excited

to learn the dynamics of the new

community board.

"New personalities come on

board and also new strengths,

which we are looking forward to

working with," she said.

The community board

had three women last term

but now Ms Peden is the only

female representing Banks

Peninsula.

However, she said having

three women in the "fantastic"

governance team will help to

balance it out.

The Linwood-Central-

Heathcote Community Board

also has its inaugural meeting on

Monday.

Sally Buck has been

unanimously re-elected as

chairwoman and Alexandra

Davids will take on the role of

deputy chairwoman for the first

time.

Governors Bay jetty likely to sell today for $1

• By Jess Gibson

THE GOVERNORS Bay Jetty is

scheduled to be sold today for $1.

The historic, 300m wooden

structure has been closed since

2011 after a post-earthquake

inspection found it to be unsafe.

•HAVE YOUR SAY: What do you make of the newly-elected chair and deputy chairs? Email your

views to jess.gibson@starmedia.kiwi

FRESH: (From left) – Banks Peninsula Community Board

members Howard Needham, Reuben Davidson, deputy

chairman Tyrone Fields, Nigel Harrison, Jamie Stewart, Deputy

Mayor and city councillor Andrew Turner and chairwoman Tori

Peden had their inaugural meeting on Monday.

PHOTO: NEIL MACBETH

Now the Governors Bay Jetty

Restoration Trust is buying it

from the city council to enact an

agreement and take ownership of

the jetty so it can start its repair

project.

Deputy Mayor and city councillor

Andrew Turner will be at

the jetty today to officiate the sale

during a ceremony set to be held

at 11am.

Due to the deteriorated state of

the piles, the sub-structure needs

replacing.

The trust will raise the deck

height by 1m to allow for

sea-level rise caused by climate

change.

Over the years, money to

rebuild the jetty has been raised

by the community in many

ways – including music festivals,

calendar sales, art sales and

Christmas gift packs.

In Brief

RESCUES DURING TRAINING

Twelve rescues were made by

lifeguards from the Sumner Surf

Life Saving Club on Sunday.

Three of the rescues were made

during a lifeguard course, where

25 new members were being

trained for the season to gain

their lifeguard award. Nine

rescues were then made by

lifeguards who were in inflatable

rescue boats training to complete

their IRB driver award.

MILITARY EXERCISE

The New Zealand Defence Force

will be conducting an exercise in

the Port Hills from Tuesday to

Friday next week. The exercise

will involve up to 120 personnel

from Burnham Military Camp. It

will start at Halswell Quarry with

overnight stops at Mt Vernon,

Taylors Mistake and Godley Head

and will finish at Sumnervale

Reserve. For more information,

phone Major Aaron Williamson

on 021 920 375.

PLANTING DAY

A community planting day will

be held as part of the Mahoenui

bush restoration project on

Saturday. Mahoe-nui is a patch of

forest in one of the gullies above

Sumner Valley. If you wish to get

involved, meet at 9am next to the

netball courts by Sumner School,

Colenso St. Equipment and

morning tea will be provided

tree trouble?

call us 384 9630

www.fourseasonstreecare.co.nz

t h e t r e e p e o p l e

f o u r s e a s o n s t r e e C a r e

Starter kits, Rebuildable

supplies, E-liquid, Accessories,

Mods & Tanks

Make the switch today!

36 London St, Lyttelton

Phone: 03 421 3591

The Vapor Box thevaporboxltd

Perfect Investment Opportunity + Gst (if any)

Unit 14 - 27 Waterman Place, Ferrymead

3 1 2

Investors here is an opportunity to purchase a

130m2 home and business with tenants already in place until March 2020.

Thinking of selling?

List with us and

you willsave

thousands

Why pay 2.95-4% commission to sell your property

We offer a powerful Marketing Advantage

•Free Appraisals

•Full Service

Contact...

Debra

Hakaraia

Mob 0275 620 420 | Office 03 384 8600 | www.smartrealestate.co.nz

Licenced under the Real Estate Agents Act 2008

THIS FORTNIGHT'S

SUPER SPECIALS

Jameson

1 Litre

Gordons

1 Litre

Codys 7%

12pk 250ml Cans

Rua

Pinot Noir

750ml

Speights

24pk Bottles

Heineken

15pk Bottles

$

49 99

each

$

37 99

each

$

19 99

pack

$

21 99

each

$

36 99

pack

$

27 99

pack

9 Humphreys Drive, Ferrymead (down Kite Lane, opposite Casual & Country) | Phone: 03 376 5002 | OPEN 7 DAYS

Prices valid Wednesday

Nov 6 – Tues Nov 19
---
PAGE 4 Wednesday November 6 2019

BAY HARBOUR

Latest Canterbury news at starnews.co.nz

NEW RELEASES

GREAT

Spring

READS

INSTORE!

GREAT NEW READS INSTORE

The Dark Island

Leprosy in New Zealand and the Quail Island

Colony by Benjamin Kingsbury

From 1906 to 1925 Quail Island, in Lyttelton Harbour, was the site

of New Zealand's leprosy colony. The colony began by accident, as it

were, after the discovery of a leprosy sufferer in Christchurch. As further

patients arrived from across the country, it grew into a controversial

and troubled institution – an embarrassment to the Health Department,

an object of pity to a few, a source of fear to many.

This remarkable narrative reveals a little-known aspect of New

Zealand's past, shedding light on the treatment of some of society's

most marginal, unfortunate and isolated people. Written in lucid,

compelling prose, The Dark Island heralds the arrival of a significant

historical voice.

Me Elton John

Sir Elton John, CBE, is a multi-award winning solo artist who has achieved

38 gold and 31 platinum or multi-platinum albums, has sold more than

300 million records worldwide, and holds the record for the biggest-selling

single of all time, 'Candle in the Wind 1997'. In August 2018 Elton was

named the most successful male solo artist in the Billboard Hot 100 chart

history, having logged 67 entries, including nine Number 1s and 27 Top

10s. Elton launched his first tour in 1970 and since then has performed

over 4,000 times in more than 80 countries. When not recording or

touring, Elton devotes his time to a number of charities, including his own

Elton John AIDS Foundation, which has raised over $300 million and

funded programmes across four continents in the twenty-four years it has

existed. He is married to David Furnish, and they have two sons. Me is his

first and only official autobiography.

The Fabulous Bouvier Sisters

The Tragic and Glamorous Lives of Jackie and Lee

by Sam Kashner: Conversation Starters

Jackie was more traditional, private and quiet, while Lee explored

the modern and experimental. Lee was the flirtatious, outgoing and

fun-loving sister who loved to be in the limelight. The irony was that

it was Jackie who became the famous one and Lee was relegated as

the lady-in-waiting. Lee was original in her style, Jackie copied from

her and took the credit from the applauding international media, which

made Lee even more jealous. The Fabulous Bouvier Sisters peeks into

the private and public lives of these two women, showing their close

yet complicated relationship marked by rivalry and jealousy. The book

is written by Sam Kashner and Nancy Schoenberger who also wrote

about other famous personalities in their books A Talent for Genius

and Furious Love. Kirkus Reviews lauds the book's "explorations of the

truths and fictions of Camelot [that] continue to mesmerize."

Big Ideas for Small Houses

By Catherine Foster

A look at a range of small houses around New Zealand, and the

strategies the owners used to get a toehold in the tight housing market.

From building a secondary dwelling on an existing family section, to

tiny houses on pocket handkerchief pieces of land, these approaches

to housing will give ideas and inspiration to all wondering how it can

be possible to own a first home in the twenty-first century. Each entry

begins with a statement about the strategy the owner used to achieve a

home of their own. The houses range in size from 100 square metres

right down to a very cosy 34 square metres! Beautifully photographed,

and including plans and costs, the houses presented are in Puhoi,

west and north Auckland, Raglan, Tamahere, Taupiri, Whanganui,

New Plymouth, Wellington and Christchurch.

Home Work

A Memoir of My Hollywood years by Julie Andrews

In this follow-up to her critically acclaimed and bestselling memoir

Home, the enchanting Julie Andrews picks up her story with her arrival

in Hollywood, sharing the career highlights, personal experiences and

reflections behind her astonishing career, including such classics as

Mary Poppins, The Sound of Music, Victor/Victoria and many others.

Told with her trademark charm and candour, Julie Andrews takes us

on a rare and intimate journey into an astonishing life that is funny,

heartbreaking and inspiring.

1005 Ferry rd

Ph 384 2063

while stocks last (see instore for terms and conditions)

Barry & kerry
---
Wednesday November 6 2019

Latest Canterbury news at starnews.co.nz

BAY HARBOUR

PAGE 5

News

Man with bow and arrow

sought after lamb shot

• By Jess Gibson

POLICE WANT to know

whether reports of a man

seen carrying a bow and

arrow on the Port Hills

are linked to an incident

involving a lamb being shot

with a crossbow bolt.

Two people were driving

on Summit Rd near

Godley Head Park when

they found a lamb with an

arrow through the front of

its body on October 23 – it

was euthanised the following

day.

Following the incident,

the SPCA launched an

investigation and has since

received a call from someone

who has seen a man

in the area carrying a bow

and arrow.

An SPCA spokeswoman

said the caller reported

having seen the man on "a

couple of occasions," most

recently at the beginning of

September.

The SPCA's inspectorate

alerted police to the complaints.

Said Senior Sergeant Roy

Appley: "The police are

very concerned about this

sort of activity and if the

'The police are very

concerned about this

sort of activity'

– Roy Appley

two are linked we would

want to know about it immediately."

He said if anyone has any

knowledge of the incident

or sees any person carrying

a bow and arrow in the

vicinity of the Port Hills, to

phone police straight away.

SERIOUS:

Police and

the SPCA

are seeking

information

relating to a

lamb which

was shot by

an arrow on

the Port Hills.

"We would treat the

carriage of any weapon in

a public place as absolutely

serious and would respond

immediately."

If you see any person

carrying a weapon on

the Port Hills, phone 111

immediately.

•If you have any

information to report

regarding the incident,

phone the SPCA on

349 7057 or police on

the non-emergency

number, 105.

TELL US

what you think!

Fill in our online

survey and be in to

WIN a $50 Four

Square Gift Card!

Head to FourSquare.co.nz/survey

Whittakers

Destination

or Artisan

100g Range

$

3 69 ea

Farrahs Wraps 6 Pack

GIFT

CARD$50

$

4 99 ea

What's your view on:

Removing the requirement

for on-site car parking for new

developments in the Lyttelton

Commercial Zone

Let us know your views on the Proposal to use

section 71 of the Greater Christchurch Regeneration

Act 2016 to make this change to the Christchurch

District Plan.

The Proposal, developed by Christchurch City Council, has been

submitted to the Associate Minister for Greater Christchurch

Regeneration who is seeking your views.

Pams Fresh

Iceberg Lettuce

Product of New Zealand

Pascall

Confectionery

150-180g

$

1 99 $

3 99

(excludes Thick & Creamy

ea and Divine Desserts)

pk

$

2 49 Fresh NZ Quality

$

12 99

ea

Meadow Fresh

Yoghurt 6 Pack

Mark Prime Beef

Mince

kg

Anyone can make a written comment – they must be received by

5pm on Thursday, 14 November 2019.

The Proposal can be viewed and written comments made online at:

www.dpmc.govt.nz/lyttelton-parking

Also, the Proposal can be viewed and written comment forms are

available at Christchurch City Council service centres and libraries

and the main office of Selwyn and Waimakariri District Councils

during normal business hours.

DPMC0611BHNa

www.foursquare.co.nz

facebook.com/FourSquareNZ

Specials available South Island only from Monday 4th November until Sunday 10th

November 2019 or while stocks last. Wine and beer available at stores with an off

licence. Wine and beer purchases restricted to persons aged 18 years old and over.
---
PAGE 6 Wednesday November 6 2019

BAY HARBOUR

Latest Canterbury news at starnews.co.nz

+ SUPER DEALS

IN STORE &

ONLINE

Fairview Recliner

WAS $599

SUPER DEAL!

NOW

$

399

Tahiti

Cantilever Umbrella

WAS $649

SUPER DEAL!

SUPER DEAL!

NOW

$

399

Majorca

Queen Mattress

NOW

WAS $699

$

499

Get set for

Capri 3 Seater WAS $ 1299

NOW $

1099

Capri Single Seater WAS $ 729

NOW $

599

Summer!

ALL OUTDOOR ON SALE!

Venus Coffee Table WAS $ 499

NOW $

429

Miami Round Dining

Set with Lazy Susan

WAS $2430

NOW $

2022

Bali Sunlounger

WAS $499

NOW $

425

Buy now , pay in

2021!

Credit criteria, exclusions, fees, terms & conditions apply.

SUMMER LOVING STOREWIDE SALE ON NOW! ENDS 25.11.19!

Shop

Online

Nationwide

Delivery

Finance

Options

Cnr Blenheim & Curletts Rds, Christchurch

Ph: 0800 TARGET (0800 827438)

targetfurniture.co.nz

Offers and product prices advertised here expire 25/11/19.

Sale excludes Manchester and Accessories.
---
Wednesday November 6 2019

Latest Canterbury news at starnews.co.nz

News

'It was the highlight of our lives'

BAY HARBOUR

PAGE 7

•From page 1

"But he was exaggerating, it

was only a quarter of mutton,"

Mr Wilson said.

"We were hugely in awe of Ed,

but he just immediately put us

at ease. He was a lovely, friendly

man. We were mountaineers and

he was the first mountaineer who

had made the first ascent of Everest

(1953). He was very famous."

The very next year the pair,

who soon became close friends,

embarked on their first expedition

together to Nepal – Sir Ed's

schoolhouse expedition.

"He would persuade young

mountaineers to come with him

to Nepal. Well, he didn't persuade

us, he invited us and we would

leap at the chance."

The movie, starring both Mr

Wilson and Sir Ed, showcases

and recounts their most dangerous

expedition, navigating the

length of the Ganges, a 2500km

river which flows through India

and Bangladesh, then climbing a

peak above the river's headwaters.

But it's not the first time

film-maker Michael Dillion has

explored the subject. In 1979,

Dillion released From the Ocean

to the Sky, based on the experiences

he and the crew had in

1977 during Sir Ed's Ocean to

Sky expedition.

The re-made film weaves in the

original footage, while the men

still alive from the expedition,

now in their 60s, 70s and 80s,

recount the events.

When approached by Dillion

about the re-make, Mr Wilson,

now 82, admits he thought Dillion

was crazy.

"He interviewed all us survivors,

I thought it was a crazy idea.

We old folk can hardly remember

our names, let alone what happened

43 years ago. But when

prompted, I could remember

virtually everything. It was the

highlight of our lives, with Ed,

driving jet boats up this sacred

river in India," Mr Wilson said.

With barely any training, Sir

Ed took Mr Wilson as one of the

HIGHLIGHTS: Jim Wilson

(driving boat above) on

the Ganges River with

expedition members

including Sir Edmund

Hillary. (Left) – Mr Wilson

and Sir Ed at a ceremony

to recognise the deaths

of Sir Ed's wife and

daughter who were

killed in a plane crash.

Catch Hillary: Ocean to

Sky at Alice Cinema & Film

Specialists, Hollywood

Theatre and Town Hall

Cinemas

jet boat drivers for the trip.

"Only Ed would decide it was a

good idea to take a novice jet boat

driver. Ed liked to have some of

his mates along, rather than just

experts. Despite the fact nine

years before I had sunk a boat

of his in Nepal, he still chose me

again. He was very loyal."

Nine years earlier Mr Wilson

had misread a wave and drove

one of Sir Ed's jet boats into the

river bed, causing it to overturn.

"That halved the fleet and put

the whole expedition at risk.

Feeling very sheepish, I crawled

up the riverbank and went to

apologise to Ed and all he said

was: 'C'est la vie.' Not a word of

incrimination."

The movie also features scenes

of Sir Ed visiting the crash site

where his wife Louise and daughter

Belinda were killed in a plane

crash near Kathmandu in 1975.

Sir Ed blamed himself for the

disaster.

Mr Wilson has lived in

Redcliffs for 54 years with his

wife Ann. He is now retired and

spends his time with his grandchildren,

playing tennis and

e-biking. "It's a wonderful period

of life," he said.

•HAVE YOUR SAY: What do

you think about the progress

on the Moncks Bay tram

shelter? Email your views to

jess.gibson@starmedia.kiwi

Long wait for

Moncks Bay

shelter repairs

•From page 1

Said Ms Toner: "We would

like it to be given priority. It's a

precious piece of equipment and

one of the few historic treasures

we have left on the waterfront.

Said Linwood-

Central-Heathcote

Community Board

member Darrell

Latham: "It is

desirable that the

public is kept in

the loop when the

tram shelter is due

for opening.

Christine

Toner

"If for whatever reason there is

a change of time line, it is much

better to keep them informed."

Meanwhile, there are concerns

a 97-year-old tram shelter in

Sumner has become a safety

hazard. City council staff will

consult with the community

board and other interested

parties on whether to remove or

repair the structure at the corner

of Main Rd and Nayland St.

Depending on which option is

chosen, funding for work would

need to be requested in the next

Long Term Plan.

Sculpture on

the Peninsula

What's your view on:

Hagley Oval

Nov 2019 – 8, 9, 10

Tickets on sale now

Let us know your views on the Proposal to use

section 71 of the Greater Christchurch Regeneration

Act 2016 to make changes to the Christchurch District

Plan relating to Hagley Oval.

Contemporary work

from over 70 artists +

– Wander and enjoy the sculptures in the

beautiful setting of Loudon farm

– Good coffee, cafe food and wine on-site

– Or bring a picnic to share with family & friends

– Plus live entertainment all weekend

These changes include:

• permitting six permanent light poles and structures to be erected

• increasing the number of permitted match days.

The Proposal, developed by Regenerate Christchurch, has been

submitted to the Associate Minister for Greater Christchurch

Regeneration who is seeking your views.

Anyone can make a written comment – they must be received by

5pm on Wednesday, 20 November 2019.

The Proposal can be viewed and written comments made online at:

www.dpmc.govt.nz/hagley-oval

sculpturenz.co.nz

Loudon Farm

Teddington

Banks Peninsula

Proceeds to the Cholmondeley Children's Centre.

Alison Erikson

Also, the Proposal can be viewed and written comment forms are

available at Christchurch City Council service centres and libraries

and the main office of Selwyn and Waimakariri District Councils

during normal business hours.

DPMC0611BHNb
---
PAGE 8 BAY HARBOUR

Latest Canterbury news at starnews.co.nz

Wednesday November 6 2019

News

Environmental

award for

Black Cat Cruises

BLACK CAT Cruises has scooped

a new award for its focus on the

environment.

The Akaroa and Lyttelton based

business received the newly-introduced

award for Conservation

from the Department of Conservation

at the annual New Zealand

Tourism Awards.

DOC director-general Lou

Sanson said Black Cat has been

"leading the way for conservationfocused

tourism activities in

Akaroa and Lyttelton Harbour for

34 years."

The new award recognises

environmentally sustainable

and financially successful

tourism.

Black Cat Cruises' work to protect

the environment over those

years has included campaigning

for hector's dolphins and advocating

for Banks Peninsula's rich

marine life.

The business aims to protect, restore

and enhance New Zealand's

natural environment and biodiversity,

and engages with their

staff, visitors and communities on

the importance of caring for the

environment.

The Conservation Award was

the fourth New Zealand Tourism

Award win for Black Cat Cruises

since 2002.

more homeS

wanted for Strong

buyer demand!

Spring is the time of plans and projects!

If your plans include buying or selling a

home/investment then I am ready to help.

Demand is high for As Is Where Is properties to brand new

family homes - if you want to know the latest value of your

home call Chris today for a free appraisal and market update.

Chris moores Licensed Sales Consultant REAA 2008

Harcourts Grenadier Ferrymead, 1020 Ferry Road

P: 03 384 7950 | m: 027 588 4440

e: chris.moores@harcourts.co.nz

LESSONS: Environmental scientist Kirsty Brennan gives

Mt Pleasant School pupils Matthew Marshall and Holly

Crooks directions on how to survey the stream.

Pupils learn about aquatic eco-systems

• By Jess Gibson

MT PLEASANT School pupils got

stuck in during a project to help

improve water quality at Drayton

Reserve Stream.

Groups in years 5 and 6 headed

out with teachers and EOS Ecology

staff last week to carry out

a comprehensive survey of our

stream under the "nature agents"

programme.

The initiative aims to provide

schools and children with the

tools and the knowledge to understand

aquatic eco-systems in their

areas.

GRENADIER

Preliminary results from the

survey, which was held over

Wednesday and Thursday, were

mixed.

Good aspects included water

temperature, pH levels, canopy

cover and bank and riparian vegetation

cover.

The poor ones included water

clarity, variety and numbers of

aquatic invertebrates, algae bed

cover, aquatic plants, silt bed cover,

silt depth and water velocity.

Pupils will now analyse

results and produce conclusions

and suggestions for stream

improvements.

Dyers Road Landscape

& Garden Supplies

• Barks • Peastraw • Composts - we supply the best available

• Aggregates - Chip, Round and Basecourse

• Pavers & Schist products • Pungas

• Decorative Stones & Landscaping Rocks

• Trailer Hire first hour free with purchase

• Bag & Bulk - pick up or delivered

David, Carol & Mike

ENGAGED: Aquatic ecologist Nick Hempston assists the

pupils in analysing water samples for invertebrates.

PHOTOS: GEOFF SLOAN

We will deliver!

SOIL

AND

HARDFILL

DUMPING

Phone: 03 384 6540

183 Dyers Rd, Bromley • OPEN 7 DAYS

Weekdays 7.30am-5pm. Weekends 8.30am-3pm

www.dyersroadandlandscapes.co.nz

Visit our new website: www.min.nz

With thriving communities and

picturesque views,

the bays are truly spectacular

COASTAL REAL ESTATE SPECIALISTS

We'll help you live the dream.

Min Sarginson Real Estate Ltd. specialises in homes, sections and

rental properties in the spectacular Lyttelton Harbour bays, and

coastal suburbs of Christchurch, New Zealand.

We'll make it so easy for you. All our sales consultants live in the

area – we can give you valuable insights into life in our thriving

coastal communities.

This is an exciting time; of promise, optimism, and opportunities

never anticipated pre-quakes. Beachfront, or hillside with

grandstand views, find the property of your dreams:

Lyttelton | Diamond Harbour | Governors Bay | Cass Bay

Charteris Bay | Church Bay | Purau Bay | Port Levy | Northshore

Southshore | New Brighton | Heathcote | Sumner | Redcliffs

Scarborough | Mount Pleasant | Clifton

Call Min Sarginson Real Estate Ltd. for free, no-obligation advice. Lyttelton: 03 328 7273, lyttelton@min.nz or Church Bay: 03 329 4161, churchbay@min.nz
---
Wednesday November 6 2019

Latest Canterbury news at starnews.co.nz

BAY HARBOUR

PAGE 9

free luxury

underlay

idaho/iowa

• 50 oz

• Polyester

• Cut Pile

• Extra Heavy Duty

• 2 Colours

with

FREE

UNDERLAY

installed for xmas guaranteed

UNDERLAY

grange Fell

• 50 oz

• Solution Dyed Nylon

• Cut Pile

• Extra Heavy Duty

• 5 Colours

with

FREE

$109.00 per metre

$139.90 per metre

Windsor twist

/cable bay

• 36oz • Solution Dyed Nylon

• Cut Pile • Extra Heavy Duty

• 11 Colours

with

FREE

UNDERLAY

Parklife

• 48oz

• Cut Pile • Extra Heavy Duty

• 100% Wool

• 1 Colour

with

FREE

UNDERLAY

$119.90 per metre

$119.90 per metre

½ Price carpet Remnants

Hundreds of small to large lounge

size pieces available

South island's

largest Stockist

Of vinyl

before

garage carpet

6m by 6m

fully installed

only

$850

after

Conditions apply

lancaster

Park

Railway line

312 Wilsons Road North, Waltham Phone 366 0070

Open Monday to Friday 8am-5pm and Saturday 10am-1pm

q card Finance

Available

Alpine ice

Skating

ASk FOR OuR FREE NO ObligAtiON MEASuRE ANd quOtE SERvicE
---
PAGE 10 BAY HARBOUR

Latest Canterbury news at starnews.co.nz

Wednesday November 6 2019

News

SCULPTOR Christine Davey was

born and raised in Governors

Bay and has always loved its

prominent birdlife.

That love has inspired a display

of ceramic birds titled Feathers

in Focus which will be exhibited

alongside photographs at Stoddart

Cottage Gallery in Diamond

Harbour throughout November.

Her home environment influences

Davey's art, whether it is

the clay she uses, the design, or

the firing process which may involve

seaweed, shells or saltwater.

Davey is a 'raku' clay specialist

as it suits her sculptural forms.

Said Davey: "I enjoy the excitement

of the firing where your

pieces are removed at a thousand

degrees centigrade from a special

kiln and placed into combustibles.

At this stage the piece is so

hot it is translucent, like molten

glass.

"The metallic results are unpredictable

but sometimes stunning,

which keeps you returning to try

for perfection."

One of her raku pieces was

purchased by the Canterbury

Museum in 2010.

Davey is a former member of

Mount Pleasant Pottery Group

ON DISPLAY:

Christine Davey's

ceramic birds

titled Feathers

in Focus will be

exhibited alongside

photographs

at Stoddart

Cottage Gallery in

Diamond Harbour

throughout this

month. ​

Ceramic birds on display

and current member of Halswell

Pottery Group.

She helped establish a small

pottery group in Governor's Bay

which has been running for 20

years.

Davey has entered several exhibitions

and has many pieces in

private collections, including the

Peninsula Art Auction 2019.

Stoddart Cottage Gallery at 2

Waipapa Ave is the birthplace

of well-known Canterbury

impressionist Margaret Stoddart.

It is open to the public every

Friday, Saturday and Sunday

from 10am-4pm.

Avoid vehicle travel

and do your bit

for the environment

The Redcliffs

Residents

Association

has launched

an ecovillage

initiative in

response to

the climate

and ecological emergency.

Member Dave Bryce

encourages awareness of

sustainable recreation

TO ADDRESS the climate and

ecological emergency, we all

need to reduce the extent of

fossil fuel-assisted recreational

pursuits and increase the extent

of "natural powered" recreation.

We will also need to reduce

activities which adversely impact

on the environment and ecosystems

in other ways.

These actions will also give

us a cleaner environment, more

exercise, and will be better for

our general health and probably

easier on expenses.

The range of options is still

large and can include walking,

tramping, running, orienteering,

geocaching, climbing, kayaking,

paddling, rowing, sailing, surfing

and swimming, to name a

few.

A tip is to think about how you

travel to do your sport – is it possible

to avoid driving to the start

of the activity?

Maybe you can walk or bike,

or perhaps car pool so that

the emissions per person are

reduced.

Biking to your local gym

or tennis court can be a great

warm-up activity.

If you are going for a walk,

run, bike etc, perhaps you can

design a loop from your home

and even via your friends' houses

so that no emissions occur for

the exercise.

Also, consider events which

start and finish at the same

place, rather than different

places, so that extra vehicle travel

can be avoided.

Seven retirement villages

in Canterbury

JOIN US NOW!

See website for details

• Halswell • • Rangiora •

• Mairehau •

STYLES MAY DIFFER

TO IMAGE SHOWN

CONVERSE

Buy one get one half

price on seasonal

footwear. Some

exclusions apply

HALLENSTEINS

$199 suit with a free

shirt and tie. Selected

styles

K&K

Stock sell out.

Tops & pants now

from $10.

Conditions apply

ANDREA BIANI

Last pairs of ladies

clearance shoes now

$49.90 and under.

T&Cs apply. While

stocks last

RODD & GUNN

Selected linen shirts

$79. Shorts from $69

• Beckenham • • Riccarton • • Papanui • • Hornby •

www.rymanhealthcare.co.nz • 0800 000 290

Sign up to Smart Deals & be in the monthly draw for a $100 Dress-Smart gift card!

Open 10am-5pm, 7 Days 03 349 5750

CHRISTCHURCH 409 Main South Road, Hornby

www.dress-smart.co.nz
---
Wednesday November 6 2019

Latest Canterbury news at starnews.co.nz

BAY HARBOUR

PAGE 11

South Pacific Expo

Island Night.

House of Travel Ferrymead.

We would like to invite you to our exclusive in store South Pacific holiday expo

extravaganza on Tuesday 19 November at House of Travel Ferrymead.

Immerse yourself in the islands and visit booths on the following destinations so that

when the deals come out in January you will know exactly where you want to go!

When: Tuesday 19 November

Time: starts at 6.00pm

Where: 987 Ferry Road, Ferrymead

Be inspired with brief 5 minute

presentations at separate booths

outlining all that South Pacific has

to offer.

• Cook Islands

• Tahiti & New Caledonia

• Samoa & Tonga

• Fiji

• Vanuatu

• Queensland & the Tropical North

• Hawaii

• Bali

• Cruising – Close to Home

Don't miss out!

REGISTER

TODAY!

Spaces are

limited.

Catering will be provided along with spot prizes and giveaways!

RSVP TO ferrymead@hot.co.nz by 15 November

BETTER TOGETHER

987 FERRY ROAD, FERRYMEAD VILLAGE I 03 376 4022 I FERRYMEAD@HOT.CO.NZ
---
PAGE 12 Wednesday November 6 2019

BAY HARBOUR

Latest Canterbury news at starnews.co.nz

Your Local Views

Answering your questions about boating safety

Navigational safety officer

Gary Manch responds to

readers' feedback and

offers up some safety

advice

IN MY LAST article, I asked for

feedback about boating and it

was great to hear from you.

One question was sent

in on the identification of

vessels under the operating

requirements of the Navigation

Safety Bylaw 2016, relating to

belonging to a sporting body as

approved by the harbourmaster.

The sporting clubs are listed on

the Environment Canterbury

website as required by the bylaw.

It's probably appropriate at this

stage to remind you that your

boat does require identification,

as per the bylaw.

For those of you with

Pirate's Corner

powerboats on a trailer,

including jet skis, you will

require the registration number

of your trailer on either side of

the vessel above the waterline

visible to the naked eye from

50m away and the size of the

lettering must be at least 90mm

high. See clause 20 of the

Navigation Safety Bylaw 2016 for

more specific details or email me

with your questions.

Another reader found the title

of my column offensive due to its

name 'Pirate's Corner' because

pirates are not very nice people

A postcard quality day out

YOU REALLY have to love

spring in Christchurch.

Beyond the fact it's such a

relief to see the colour green

after weeks of living under

the world's biggest summer's

"coming soon" sign, that is

Christchurch, there is a lot more

to do in the city.

On Monday, Laura and I

took advantage of the perfect

sunshine and temperature to

take Vittoria to the Big Band

Picnic in Victoria Square.

We had taken her last year and

the music moved her before she

could even walk. She held herself

up on her pram and started, for

want of a better word, twerking.

So we were confident she

would enjoy it and were not

disappointed.

There were so many jazz hands

and sways being thrown about

from Vittoria that Laura and I

could eat an entire pizza without

fending off the hungering

mouth.

Possibly the fact that it was

a mushroom pizza may have

helped, but I doubt it.

Her dance moves and obvious

enjoyment were super cute.

The music and the atmosphere

even stopped her running off, in

spite of her normal tendencies,

whenever we want to sit down

and relax in a public area.

The only thing that distracted

her from the music for any

length of time were a couple of

dogs, her new favourite animal.

To celebrate how well it was all

going, we decided to take part

in a century-old Christchurch

tradition and get a treat from Ice

Cream Charlie.

So far we'd managed to

tick off two big ticket items from

the list of stuff to do in the city

VITTORIA

& Matt

IN SYNC:

Vittoria

busting out

the moves at

the Big Band

Picnic.

when it's sunny. To round out

the day we made the daring

call to skip Vittoria's afternoon

nap and head to the Sign of the

Takahe to get the trifecta. And

a coffee. Fortunately the gamble

paid off and the wee trooper

held her own on all of 10

minutes of pram-sleep, lasting

through the coffees and even a

walk up to the nearby lookout.

•Former Bay Harbour

News journalist Matt

Salmons has become a

stay-at-home dad. We

follow his journey weekly.

If you have a boating

question, email

gary.manch@ecan.govt.nz

and cause all sorts of mayhem

and harm.

So where do I go with this?

Do we change the name of the

column or keep it as it is? When

I named the column, I was

looking for a light-hearted title

that would draw attention, and

to be honest, I have never heard

of a pirate giving safety advice

before, so it was intended to be

a bit tongue-in-cheek. However,

please email me if you think

the title should stay the same or

change, I am happy to open it up

to discussion.

Lastly, during November, there

are two nationwide initiatives

from Maritime New Zealand

to promote boating safety –

Water Safety Month and Safer

Boating Week. These promotions

have the full support of ECan's

harbourmaster's office. The

purpose of these promotions

is to bring home the fact that

being on or in the water has its

own risks. We want to remind

people to make sure they think

about the risks when boating and

ensure they have the appropriate

safety gear for the task at hand.

This might seem like a simple

message, but sadly we have had

18 recreational boating deaths

this year and we don't want any

more. So remember: Prepare

your boat, check your gear and

know the rules – get home safe

this summer.

•To view the Navigation

Safety Bylaw 2016,

visit ecan.govt.nz/homesafe.

Why pick Linwood College?

Heathcote Ward

city councillor

Sara Templeton

writes about

the Linwood

College rebuild

and making it the

secondary school of choice

in the area

I WAS APPALLED to hear about

the arson at the Linwood College

site on Aldwins Rd last week.

While there has been no

disruption to classes, the fact

someone would set fire to the

old school will have absolutely

impacted students and staff.

Just a few days before, I had seen

the principal, Dick Edmundson,

speaking at the Future Sumner

meeting about the school, the

students and its plans. The school

is currently operating from at

the old Avonside Girls' High site,

while Linwood is demolished and

completely rebuilt.

It's an exciting time and

everyone I talk to is impressed

by the fact it is being designed

by Architectus, the same firm

behind Tūranga. The project is

fully school and ministry-led, not

a public or private partnership,

and the school has also chosen to

take a midway approach between

the old-style classrooms and the

newer, open plan learning spaces.

This will give a familiar feel

to the spaces, but still cater for

modern learning and technology.

Two years ago, after walking

around open nights at various

schools, we enrolled our eldest

child at Linwood. Few parents

from our area made the same

choice, so there were some raised

eyebrows and I have had many

conversations with parents about

how it has gone since then.

It wasn't easy for her to

choose a school that none of

her friends were going to and

I'm so proud she did. She is

enjoying her high school years

and she is thriving. At end of

year Music Extravaganza, I

watched students show enormous

empathy and support for each

other as they performed their

NCEA assessment pieces,

some performing in front of an

audience for the first time.

I'm really looking forward

to seeing how Linwood

College progresses under Mr

Edmundson's leadership, and

how the rebuild takes shape and

the community around it grows

strong.

WWW.GERALDINEFESTIVAL.CO.NZ

Sick of late night tenant phone calls and being on call 24/7?

Tenants not paying their rent on time?

Can't find a tenant for your vacant property?

15-24 NOV 2019

Katrina Green

Operations Manager

027 606 0030

Ray Hastie

Property Manager

027 448 8225

16 NOV 2019

PERFORMANCES @ THE GERALDINE DOMAIN

15-17 NOV 2019

Support your favourite musicians as they do battle

to win great prizes! Keep updated on Facebook

www.facebook.com/The Geraldine Festival/ 15-16 NOV 2019

We are local experts with

Canterbury-wide knowledge

providing professional Property

Management services with a

personal approach

Let us take the stress out of owning a rental property.

Contact us for a free no obligation chat today.

Morris & Co Property Management - Professional Property Management Services with a Personal Approach.

Ray White Morris & Co Property Management Limited

03 331 6755 morrispm.nz@raywhite.com

canterburypm.co.nz
---
Wednesday November 6 2019

Latest Canterbury news at starnews.co.nz

BAY HARBOUR

PAGE 13

STOREWIDE BLOWOUT

Get sorted for summer early with these massive deals

HURRY, Limited Stock

65"

$ 1299

Save

$ 900

Now

$ 1988

Max Fabric 5 Seater Lounge Suite

Available in Navy Blue (pictured) and Light Blue.

less

than

per

$ 8 week #>

65" 4K Smart UHD TV

65RU7400

less

than

$ per

21 week #<

COMPACT SIZE

PERFECT FOR

SMALLER CAVITY

SPACES

Available in Blue,

Black, Red and White.

HOT

PRICE!

LIMIT 2 PER

CUSTOMER

EP On-Ear

Headphones

$ 98

Save

$ 61

Heritage Vogue 4 Slice Toaster &

1.8L Heritage Vogue Kettle combo

RHT54 & RHK32 Available in Black and Red.

Combo Price

$ 139

15.6"

SELECTED

BEDS

233L

Now

$ 599

15.6" A6 Laptop

DB0182AU

$ 899

Save

$ 300

50% OFF *

Available in single to

californian king!

233L Bottom Mount

Fridge Freezer HRB227W

less

than

per

$ 8 week #<

8GB RAM, 256GB SSD,

AMD A6-9225 Dual-Core

processor, Windows 10

Home 64 operating system.

less

than

$ 11

per

week #<

50 months

interest free

on furniture $999 and over #

24 months

interest free

on everything $499 and over #

Easy repayments

with affordable finance,

EVERYDAY!

Proudly New Zealand owned, helping Kiwis feel at home since 1918

Some products on display in selected stores only – please call your local store to check for availability. All offers in this mailer are valid Wednesday 6th until Tuesday 12th November 2019, while stocks last or unless otherwise stated. *Discount is off our full retail price and not in conjunction with any other offer. #Apple products,

selected computers, game consoles, gift cards, flooring, clearance items and some promotional items are not available in conjunction with interest free offers. Carpet available on a maximum of 18 months interest free. Exclusions, fees, terms, conditions and credit criteria apply. Equal instalment amounts over finance period

of 36 months (unless otherwise stated) and exclude insurance. Booking fee $45.00, Annual fees $45.00 P.A., Security registration fee $8.05. Current interest rate of 23.95% Applies to any unpaid balance after expiry of (any) interest free period. See in-store or visit smithscity.co.nz/terms-conditions for details.Instalment amount based on a 50 month finance period.

AAWK28

550 Colombo Street | Cnr Belfast and Radcliffe Road Northwood, CHRISTCHURCH MEGASTORES
---
PAGE 14 Wednesday November 6 2019

BAY HARBOUR

Latest Canterbury news at starnews.co.nz

Every

$

20 spent

= 1 sticker*

BEER

GLASSES

RRP $34.90

FREE PAIR FOR

25 stickers

OR CASH TOP UP

10 stickers

+ $ 10 00

CHAMPAGNE

GLASSES

RRP $39.90

FREE PAIR FOR

30 stickers

OR CASH TOP UP

12 stickers

+ $ 10 00

WHITE WINE

GLASSES

RRP $39.90

FREE PAIR FOR

30 stickers

OR CASH TOP UP

12 stickers

+ $ 10 00

RED WINE

GLASSES

RRP $39.90

FREE PAIR FOR

30 stickers

OR CASH TOP UP

12 stickers

+ $ 10 00

WHISKEY

GLASSES

RRP $49.90

FREE PAIR FOR

35 stickers

OR CASH TOP UP

14 stickers

+ $ 10 00

LONGDRINK

GLASSES

RRP $49.90

FREE PAIR FOR

35 stickers

OR CASH TOP UP

14 stickers

+ $ 10 00

*Promotion runs from 4 November 2019 – 12 January 2020 or while stocks last. One sticker will be issued for every $20 or more spent in one transaction in store or online (product exclusions apply). Bonus stickers will be issued for every qualifying bonus

product or bonus product bundle purchased. Each pair of Spiegelau Glasses requires a full set of stickers, which are not cumulative. Cash Top Up option available when redeeming stickers for Spiegelau Glasses in store only. Visit newworld.co.nz for full terms and conditions.
---
Wednesday November 6 2019

Latest Canterbury news at starnews.co.nz

BAY HARBOUR

PAGE 15

Email jess.gibson@starmedia.kiwi by

5pm each Wednesday

Knit 'n' Yarn

Today, 10am-noon

Take your knitting, crochet or

other portable craft project and

enjoy time at knit 'n' yarn. Free,

no bookings required.

Lyttelton Library

Redcliffs Lawn Bowls

Coaching

Tuesday 10.30-11.30.am,

Friday, 5-6.30pm.​, Sunday 9.30-

10.30am

Free lawn bowls coaching

has started and is open to

anyone over the age of 10. Bowls

equipment is provided and soled

shoes are required. From the first

Wednesday of November, after

work ladies sessions will begin.

For more information, email

redcliffsbowls@xtra.co.nz or visit

www.redcliffsbowls.co.nz.

Mt Pleasant Bowling club, 9

James St

Indoor Bowls at Tui Club

Monday, 12.45-3.45pm

Go along for a fun and

inclusive environment at indoor

bowls. The first day is free and is

$3 thereafter. All equipment is

supplied. No previous experience

necessary as coaching is given.

Soft-soled shoes should be worn.

Phone Sue on 389 1849.

Woolston Club, 43 Hargood St

Woolston

Shoreline Toastmasters

Monday, 7.30-9pm

Nervous about speaking? Go

along to gain confidence by

practising speaking, listening,

learning and laughing – in a

warm, friendly non-threatening

environment. For information

shoreline@toastmasters.org.nz

Mt Pleasant Yacht Club, 21

Main Rd

Diamond Harbour Bridge

Club

Tuesday, 1.30, at the rugby

club, Wednesday, 6.40pm, at the

bowling club

New players welcome. For

more information phone Pauline

on 329 4414 or 027 363 6302.

Diamond Harbour Bowling

Club, 20 Purau Ave, Diamond

Harbour Rugby Club, 2a

Waipapa Ave

JP Clinics

Tomorrow, 11am-12.30pm, at

Little River, and Saturday, 10amnoon,

at Sumner

A justice of the peace will

be available to members of

the community to witness

signatures and documents,

certify document copies, hear

oaths, declarations, affidavits

or affirmations, as well as sign

citizenship, sponsorship or rates

rebates applications. There is no

charge for this service.

Go along and support your local crafts people every second Saturday of the month at the

Mt Pleasant Art and Craft Market. Browse with a coffee and pastry from the farmers' market

running outside the Mt Pleasant Community Centre from 9.30am-12.30pm.

Little River Library and

Matuku Takotako: Sumner

Centre

A Very Pleasant Playgroup

Tomorrow, 9.30-11.30am

This drop-in playgroup is for

pre-schoolers and their grownups.

Stay for the whole session or

drop-in when it suits.

Mt Pleasant Community

Centre

Tai Chi

Friday, 7-8.30pm

This is a gentle exercise for

people of all ages and fitness

levels, bringing many health

and other benefits. All are

welcome to attend this weekly

class. Phone Lucida for more

information on 022 697 7420.

105 Bridle Path Rd

Happy Hour

Friday, 4-6 pm

Join the inaugural happy hour

at the Port Hills Uniting Parish.

Drinks and nibbles provided.

Everyone of the not so young

variety is welcome.

Redcliffs Church hall, 4

Augusta St

Mt Pleasant Walking

Group

Tuesday and Thursday,

9.30am

A mix of flat and hill walks for

people with a medium level of

fitness. Walks are in nearby areas

and further afield. There will be

car pooling with shared costs.

Phone Judy on 384 1269.

Various locations
---
2

PAGE 16 BAY HARBOUR

Latest Canterbury news at starnews.co.nz

Wednesday November 6 2019

[Edition datE]

keep it local

and support businesses in your community

Finn's Fudge

and Mary Gray

Confections

THERE'S nothing more satisfying than sinking your teeth

into a decadently smooth and creamy piece of fudge and

savouring the flavour as it melts in the mouth.

That's exactly how it is with Finn's Fudge. It's exquisite and

one could admit it's almost impossible to stop at just one piece

and even more difficult to share!

"Our fudge has a wonderful mix of rich flavour and

luxurious texture that is made right here in Ferrymead from

natural ingredients and contains no preservatives or gluten,"

said Gary Price, co-owner.

But it is not only the ingredients that are important in

making such delicious fudge. The process plays a major role

in creating the right amount of flavour and achieving the

right texture. Exact timing and temperature requirements are

essential to providing a consistent and high quality product

and the team at Finn's in Ferrymead are proud their handmade

process meets this standard.

"Because everything is precisely prepared and carefully hand

poured we are able to produce a traditional homemade style

fudge that ensures a beautiful 'melt-in-the-mouth' experience.

One piece is never enough!

They are also individually wrapped for freshness."

"We sell boxes, bars and individual treats and, due to the

high quality of our products, our fudge is used for both

fundraising and Corporate Gifts," said Gary.

As well as their wide selection of fudge comprising of

Chocolate, Choc Coconut, Choc Mint, Russian, Caramel Sea

Salt, Ginger, Manuka Honey, and NZ Kiwifruit, Finn's Fudge

produce a range of boiled lollies and is also the home of highly

respected Mary Gray Confections.

Finn's Fudge is currently available at New World, Fresh

Choice, Caltex and Mobil Garages and is served on Air New

Zealand regional flights. However you can also buy their

products direct, either online at www.finnsfudge.co.nz or visit

the Factory Shop in Ferrymead. The Factory Shop is open

every Friday from 11am - 2pm. Sorry no EFTPOS, cash sales

only.

Finn's Fudge is a favourite treat for any occasion. Once tried,

nothing else will satisfy!

Finn's Fudge and Mary Gray Confections Factory Shop,

Unit 9, 27 Waterman Place. Phone 03 376 4455.

DOES

YOUR CHILD

NEED SOME HELP?

ENROL THEM TODAY!

DOSSIER 1

FERRYMEAD

FACTORY SHOP

OPEN FRIDAY 11AM-2PM

LOOSE TREATS

LOLLIES

BARS

GIFT BOXES

SECONDS

SORRY NO EFTPOS. CASH SALES ONLY.

UNIT 9, 27 WATERMAN PLACE

PHONE 03 376 4455

• Mathematics

• Reading

• Spelling

• English

• Sciences

• NCEA Subjects Y11-13

• Preparation for school

entrance test

StyliSh EuroPEan

SummEr StylES

Full Leather. Made in Turkey.

from $159

FREE

AssEssmEnt

Unit 1/27 Waterman Place, Ferrymead

(just off Ferry Rd) | Phone 384 1188

www.kipmcgrath.co.nz

47c Garlands Road, Woolston

Phone 389 3431

www.thefootwearfactory.co.nz

Give your trees the care they

deserve. Free no-obligation quote.

Work from large tree removals

to fruit tree pruning and hedge

trimming by an experienced arborist.

●INSURED ●QUALIFIED

●PROFESSIONAL

PH 021 062 4463

david@specialbranchtreecare.co.nz

www.specialbranchtreecare.co.nz

Aviation Automotive

Maritime Rail Military

Artwork, books, models and more.

Lyttelton Framing

Quality Picture Framing by UK qualified conservation

framer. Very competitive prices and all work is guaranteed.

32 London Street, Lyttelton | Ph. 03 328 7350

E. anchorfinearts@xtra.co.nz

Advertising enquiries Jo Fuller | Ph: 027 458 8590 | jo.fuller@starmedia.kiwi
---
Wednesday November 6 2019

Latest Canterbury news at starnews.co.nz

BAY HARBOUR

PAGE 17

What should you expect

from your agent?

Placing your property in the hands of a real estate agent

can be, and in fact should be, a huge decision. Your

property, whether its your family home or an investment

property, is often your number one asset. Consequently

there is a lot at stake so it's not unreasonable to anguish

over who you should entrust with the responsibility of not

only presenting your home to the market, but who you

feel will provide a high level of service and is most likely

to achieve the best result. Without wanting to focus on

the negative, there's a lot that can go wrong. The current

post-quake environment is still throwing a few curve

balls in regard to reports, repairs, and the expectations

and demands of insurers. Your agent needs to be well

versed and equipped with the knowledge and skills to

deal with this. Of course buyers also have an expectation

of full disclosure and transparency when it comes to

matters that may affect a decision to purchase. However,

above all, communication is still

the number one expectation of a

vendor/seller relationship. Or more

specifically, a lack of communication

is usually the biggest cause of

complaint. Sometimes things don't

go quite as planned; some agents will shy away from

delivering bad news, afraid of letting their vendor down or

perhaps not wanting to own up to a mistake. As much as

we want everything to go well when a property is on the

market, sometimes it just doesn't. Therefore, if you are

in the process of selecting an agent it's probably a good

question to ask in the early stages, "when and how often

will you communicate with me?" and "What can I expect

from you regarding communication?"

Jan Edlin

027 433 8025

Patricia Van der bent

027 296 1408

Pip Sutton

027 224 9524

Top Sales

for October

The Standevens

Ferrymead Office

Feature Properties

Eddie Spry

021 156 5884

Marie Malone

027 489 8349

Molly Ferdinand

027 594 7427

We are hiring!

Eleanor Corston

027 435 2415

In your career there is ALWAYS room for

change, is this your opportunity for 2019?

49 Head Street, Sumner

- The Standevens -

✓ A fresh approach

✓ A fresh look at your business

✓ A fresh start

Mark Gardner

021 633 669

If you have a current real estate license, or you are in the

process of completing one, come and talk to us, have a

coffee, and ask us some questions!

Contact Craig Prier anytime!

Ph: 027 434 5299 or 384 4179

Email: craig.prier@raywhite.com

Confidentiality assured

Ray White Ferrymead

Anna Loader

027 272 7128

Bronny Clifford

021 272 7718

Matt Clayton

021 223 3998

What people are saying

about us:

9 Castleview Lane, Heathcote

- Rod Cross & Rosamund McDonald -

Simon Standeven

027 430 4691

Paula Standeven

027 547 2852

Daisy Foldesi

021 328 059

About Simon Standeven:

"I found Simon very easy to deal with.

Communication was excellent and when I asked

questions they were dealt with promptly."

About Pip Sutton:

"Very efficient, personable, and caring."

About Eddie Spry:

"Eddie was very good in providing prompt replies to

any queries leading up to the auction.."

78c Reserve Terrace, Lyttelton

- Daisy Foldesi -

Rosamund McDonald

021 026 56149

Bev Prout

027 495 9586

21 Humphreys Drive, Ferrymead and 47b London Street, Lyttelton

Phone (03) 3844 179 | rwferrymead.co.nz | /RayWhiteFerrymead

Rod Cross

021 763 763

James Shepherd

027 554 5046
---
PAGE 18 BAY HARBOUR

Latest Canterbury news at starnews.co.nz

Wednesday November 6 2019

Tasty Bites

This amazing banana

bread doesn't crumble,

stays moist and freezes

well. It's also the perfect

way to top off gnudi with

asparagus, which makes

for a tasty meal any time

of the day

Banana bread brilliance

Makes 14-15 slices

Ingredients

270g self-raising flour

½ tsp baking soda

1 tsp ground cinnamon

¼ tsp ground cloves

80g butter, melted

140g dark cane sugar

3 large eggs, size 7

1 tsp vanilla extract

450g very ripe bananas, weighed

without skin, mashed (4-5 large

bananas)

Directions

Preheat the oven to 170 deg C

on bake.

Sift the flour, baking soda,

cinnamon and cloves into a large

bowl and stir well to combine.

Set aside.

Put the melted butter, dark

cane sugar, eggs and vanilla

extract into a medium-sized

bowl and beat together for

several minutes on high speed

until thick and creamy.

Reduce the speed and

gradually add the mashed

bananas, beating until well

combined. Make a well in the

centre of the dry ingredients and

stir in the banana mixture a third

at a time, mixing well after each

addition.

Tip into the prepared tin

(either loaf tin or cake tin) and

smooth the top.

Bake until golden brown – it

should be firm to the touch

and a skewer inserted into the

centre should come out clean

(about 50-55 minutes). You may

need to cover the bread with

baking paper for the last 15min

of cooking if it is browning too

much.

Remove from the oven and

cool on a wire rack for about

20min. Slide a knife between

the side of the tin and the bread

to loosen it. Invert the tin on to

a wire rack, remove the baking

paper, turn right way up and

leave to cool.

To serve the loaf, cut it into

thick slices and toast if you wish.

Cuts into 14-15 slices.

To serve as a cake, use ice

with lemon icing or leave plain.

Without the icing, the banana

flavour is more pronounced.

Cuts into 16-20 slices.

Gnudi with asparagus

Serves 4

Ingredients

400g ricotta

2 eggs

1 egg yolk

120g freshly grated parmesan,

plus extra for serving

100g flour

1 tsp salt

freshly ground pepper

semolina flour

2 bunches asparagus, woody

Baking the ultimate banana bread

ends removed and cut into 3cm

pieces

50g butter

4 sprigs of thyme, marjoram or

basil

juice of ½ a lemon,

Directions

In a large bowl, mix together

ricotta, eggs, egg yolk, flour,

seasoning and parmesan cheese.

Mix to combine. Put into a

piping bag with large plain

nozzle.

Dust a tray heavily (5mm)

with semolina and pipe 2cmwide

tubes the length of the tray.

Continue until all the mix is used

and gently roll the tubes in the

semolina.

Chill for as long as possible (an

hour or overnight).

Bring a large pot of salted

water to the boil.

While the water is coming

to the boil, heat a large fry pan

with butter, add the herbs and

asparagus and cook until the

asparagus becomes tender (about

4min).

Cut the gnudi into 4cm

lengths, cook in boiling water.

When it rises to the top (about

3-4min) remove and drain.

Add them to the asparagus,

season, grate over plenty of

parmesan cheese and enjoy

immediately.

HEAT PUMP

SALE NOW ON!

Amazin' Spring Specials!!

• We will offer you the best quality brands and

option of heat pump for your home/business

• Providing Heat Pump solutions for over 17 years to Cantabrians

• We personally guarantee all our products & installs for 5 years

(providing annual maintenance has been completed)

Phone us today for your free consultation & quote

41A SHAKESPEARE RD, WALTHAM

PHONE 03 366 0525

www.enviromaster.co.nz

"A local team for local people"

style

noun

elegance and sophistication.

synonyms: flair, grace, poise,

polish, suaveness, urbanity,

chic, finesse, taste, class,

comfort, luxury, affluence,

wealth, opulence, lavishness.

Discover Christchurch's

best pet

accommodation

• Daycare - all breeds

• Long stay/short stay

Call now to

book in your

fur baby,

inspections

welcome

anytime!

ALAMEDA

KENNELS & CATTERY

271 Dyers Road | Ph 384 1297

www.alameda.nz

oN sAle Now!

MAGAZINE

STYLE.KIWI

Easy Parking • Laybuy Welcome

17 Lillian Street, Halswell

03 322 4548

Open Mon-Fri 9.30am - 5.00pm

Saturday 10.00am - 1.00pm

Now only

$35.80

Plus $5 P&H per copy

AvAilAble from stAr mediA:

Level One, 359 Lincoln Road

Addington, Christchurch

Phone 379 7100
---
Wednesday November 6 2019

Latest Canterbury news at starnews.co.nz

BAY HARBOUR

PAGE 19

BUSES

Celebrate.

Free

Buses.

DEPARTING

EVERY 15

MINUTES!

BACK TO CHRISTCHURCH CASINO

AFTER THE RACES.

Tue 12 Nov

ADDINGTON RACEWAY & EVENTS

5.30 - 7.30PM

Sat 16 Nov

RICCARTON PARK RACECOURSE

4.30 - 6.30PM

30 Victoria St | Dress Code Applies

christchurchcasino.co.nz
---
PAGE 20 Wednesday November 6 2019

BAY HARBOUR

Latest Canterbury news at starnews.co.nz

REAL ESTATE

Mt Pleasant, delight

2 / 54 Bellview Terrace, Mt Pleasant

Enquiries over $469,000

2 bedrooms | 1 bathroom | 1 kitchen | 1 living/dining room

1 car-garage | 1 off-street carpark - Listing Number: TBA

Welcome to an absolute winning

combination that can be so hard to

find. The lucky new owners will quickly

appreciate the north positioned location

capturing the all-day sunshine with

superb views over our Pacific Ocean to the

Kaikoura Mountains and Bay Harbour.

This spacious renovated 110m 2 Belleview

address incorporates all day sunshine and

views which literally take your breath away.

The floor plan offers a variety of options

with open plan living. For the chef of the

family, a lovely new kitchen awaits you!

The layout of the living area captures the

moment our beautiful sun rises from the

ocean and welcomes the day.

Living spaces lead themselves to

entertaining with a fabulous flow to the

outdoor decking area and landscaped

private grounds of approximately 310m 2 .

Tuck yourself away from the easterly winds.

The home's inherent warmth is completed

by partial double glazing, a cosy heat pump,

and under tile heating in the bathroom.

The layout comprises two double

bedrooms, the main bedroom is a real

treat and captures ocean views. The second

bedroom overlooks the back yard.

The home's generous dimensions are

complemented by the established grounds.

The gardens feature a contemporary

scheme that complements the house.

Easy drive on access to the single internal

accessed garage plus storage and parking

space.

Ideal location for professionals, elderly

wanting a smaller home with views.

The exciting Ferrymead shopping

precinct is based at the bottom of the

hill with a multitude of cafes and new

businesses opening.

Outdoor enthusiasts can take advantage

of the walking, running and mountain

biking trails and the proximity to the city.

Mt Pleasant Primary School is a short walk

along with the bus stop close by.

Please call Debra Hakaraia

Smart Real Estate

Call 0275620420 or 033848600

Smartrealestate.co.nz

Licensed Agent Reaa 2008

www.bigbrothersbigsisters.org.nz
---
Wednesday November 6 2019

Latest Canterbury news at starnews.co.nz

BAY HARBOUR

PAGE 21

Every Day is Open Day

At the heart of our city since the founders laid the

first roads and planted the first trees, St Michael's

has held dear those early aspirations and visions,

while unleashing our own dreams for a lofty future.

Indeed, for 168 years, St Michael's has been

educating and nurturing the visionaries and

dreamers who

continue to shape our

city and the world

beyond. For our

young pupils have

limitless potential

to lead exciting and

generous lives, and we

have the responsibility

to educate and inspire

them, to encourage

every child to flourish

in mind, body and

spirit.

St Michael's is a prep

school for girls and boys in Years

1-8. 'Prep' as in preparation for

secondary school, a foundation

for a fine life. For at the heart of St

Michael's are the essential values of

Christian faith and good citizenship:

respect, integrity, community, faith,

hope and love.

An independent school education

at the primary level is a great gift.

Our classes are small, with year-groups of 20 pupils,

ensuring your child is an individual, well known by

staff and fellow pupils alike.

Traditional foundations in English and Maths are

assured. This academic rigour then underpins

our wider curriculums in History, Geography,

Science and Spanish.

IT literacy is taught,

not assumed, and

computer use is

measured. We like

teaching and talking to

our pupils!

A prep education

offers balance. St

Michael's cultural and

sports' programmes

further develop

your child's

foundation, as

creativity and

problem-solving

come in many

forms. Specialist

art and music

classes are enjoyed

weekly. We have

three choirs,

and most pupils

participate in

instrumental or

speech & drama

lessons with our

ten itinerant staff.

Located in the

heart of the city,

opposite the

new Riverside

Farmers' Market,

our extended

campus is

spectacular:

the Art Gallery

and Museum,

Tūranga, our new

central library,

and Hagley Park

are frequent

haunts.

Many of our parents now work in the thriving city

centre or Lincoln and Riccarton Road hubs, but

they live city-wide. They comment on the benefit of

knowing their children are in school nearby and the

convenience of popping over for an hour to catch a

performance or watch a race. With the new central

exchange only a block away, senior children arrive

by bus from all corners of the city.

You and your child are warmly welcome to discover

our purposeful, wholehearted and inclusive prep

school. Every day is open day, so please contact

registrar, Bec Hitchcock, to book your personal

tour: 03.379.9790.

St Michael's School

Your school at the heart of the city

✓ Co-educational, Years 1-8

✓ Small classes

✓ Specialist teachers

✓ Musical excellence

✓ Christian values

✓ Traditional classrooms; academic rigour

✓ Before & after school care: 7.30am - 5.30pm

✓ Central city location; easy access

Taking enrolments for 2021.

Some places available for 2020.

Every day is Open Day.

www.saintmichaels.school.nz 249 Durham Street Phone (03) 379 9790 to book your tour.
---
PAGE 22 BAY HARBOUR

Latest Canterbury news at starnews.co.nz

Wednesday November 6 2019

High comfort levels in Honda CRV

CARS ARE always a great

conversation starter.

The other day a former

work colleague came into the

office meeting up with old

acquaintances. We had a bit of a

chat and he asked me what I had

driven lately, I responded, and

then asked what he was driving.

He answered by saying he was in

a company-supplied sport utility

vehicle but was anxious that it

would be replaced soon with a

sedan. He said he liked the SUV

and felt that a traditional sedan

wouldn't measure up – literally.

That's part of the reason why

the SUV market is so buoyant,

they are practical, functional and

mostly car-like to drive, it's easy

to become attached to that type of

transport.

One of the models that kickstarted

the SUV revolution was

Honda's CRV, that was around

1996, and since then it has gone

through several life-cycles and

facelifts. The CRV has just been

upgraded and there is now the

choice of a seven-seat version

which will excite the traditional

CRV buyer who has occasionally

craved for extra seats.

The CRV lands here in several

Motoring

Ross Kiddie

variations – starting at $33,990 and

ending at $48,990. Interestingly,

the five-seat S model, as evaluated,

gets a 2-litre, single-camshaft,

naturally-aspirated engine, and

while that's not unusual in an

SUV, what is surprising is that

it is the only model in the range

that doesn't get Honda's new

turbocharged 1.5-litre engine that

has gained quite a reputation in

this part of the market.

As opposed to the four-wheeldrive

system of its stablemates,

the entry-level model is also

front-drive only, yet that would

suit me, I'm not big on off-theseal

travel, and if you treat it with

respect it will provide most of

the fundamentals mid-size SUV

buyers are looking for.

As you would expect from the

Honda manufacturing process, the

CRV is clinical in terms of interior

design, comfort and function. The

trim elements are high grade and

the specification level is high.

The CRV S is rated at 113kW

and 189Nm. Honda also claims

a 7.6-litre per 100km (37mpg)

combined cycle fuel usage rating.

That's a healthy target and is

indicative of the Honda goal of

reducing fuel use. I saw that as

HONDA CRV: Several engine and driveline options.

a benchmark during my time

with the test car, and instead

of exploring power outputs I

concentrated on trying to meet

that average fuel use figure. I

couldn't, but I did get close at

8.2l/100km (35mpg) with a

6l/100km (47mpg) figure sitting

at the 100km/h legal limit. The

engine is turning over at just

1800rpm at that speed, which isn't

working hard, and that contributes

to the thrifty way in which it

operates.

Drive is channelled through a

continuously variable automatic

transmission. It allows the engine

to work at the area of maximum

efficiency, it draws on as much

torque as it can so that the engine

isn't loaded unnecessarily.

Of course, there are drive modes

which the driver can choose for

each given journey. The default

mode is normal, but eco and sport

modes can be selected at will.

As mentioned, I didn't explore

sport mode other than a short

highway burst, and it will stimulate

the engine so that it feels peaky

and responsive. The opposite

applies in eco mode, the throttle is

numb and dull; however, if you are

prepared for that, fuel savings in

that mode are generous.

I took the test car west, cruising

the long straight roads between

Coalgate and Dunsandel, the

CRV feels lithe yet involving

from behind the wheel. In S

specification it rides on 235/65

x 17in Good Year tyres and they

help contribute to the strong

steering feel and accurate corner

turn-in.

The CRV sits high at almost

1.7m so there is a bit of

gravitational movement over the

suspension, but as a by-product

of having a four-wheel-drive

• Price – Honda CRV S,

$33,990

• Dimensions – Length,

4596mm; width,

1855mm; height, 1679mm

• Configuration – Fourcylinder,

front-wheeldrive,

1998cc, 113kW,

189Nm, continuously

variable automatic.

• Performance –

0-100km/h, 8.8sec

• Fuel usage – 7.6l/100km

option, even the front-drive CRV

gets a fully independent set-up

underneath, and that has both ride

and handling benefits. Comfort

levels are extraordinarily high,

the suspension willingly absorbs

bumps and ruts, just floating over

uneven surfaces. This is one aspect

that the CRV excels in, it simply

has a magical ride.

Honda has had to work hard

to keep the CRV a desirable

purchase. There's so much

competition in the mid-size SUV

market, but I'm pleased to report

that it is still a front-runner and

will constantly please those who

relate to all that it represents.

There's also a model for all

budgets and each has significant

presence. Regular readers will

recall I'm not a big leather trim fan

and the cloth seat covering of the S

model really appeals to me. It's that

ability to cater for all tastes that

will keep the CRV ticking over the

market for many years to come.
---
Wednesday November 6 2019

Latest Canterbury news at starnews.co.nz

BAY HARBOUR

PAGE 23

Curtains

www.curtainfabric-outlet.com

Fashion Designs & Colours

Discontinued Designs

End of Lines Bargain Prices

Call at Our Shop

CURTAIN FABRIC OUTLET

71 Hawdon St Sydenham

Ph 366-5026

ADD SOME

COLOUR

TO YOUR ADVERT!

Classifieds Contact us today Phone our local team 03 379 1100

Classic Cars & Motorcycles

Towing

For safe, damage free

car transportation

call Ashley's Tow Taxi

Special care for special cars

ASHLEY'S TOW TAXI

Breakdown & Relocation

0800 TOW TAXI • 0800 869 8294

Gardening

& Supplies

A GARDEN OR

LANDSCAPING TIDY

UP? Shrub, hedge &

tree pruning, Lawns,

Gardening, consistently

reliable general property

upkeep, Dip. Hort. 10

yrs experience, One off

tidy ups or on-going

service. Nick's Garden

Maintenance. Keeping

your garden beautiful.

Free Quote. Ph. 942-4440

& 022 264 7452

GARDENER Need your

home or commercial

garden tidied up or

renovated or require long

term assistance. Phone

Ruth 326 6663 or 021 272

0303

Holiday

Accommodation

Australia QLD

SUNSHINE

COAST

RESORT

AlEXAnDRA hEADlAnD

All Units Have Ocean Views.

Heated Pools, Spa & Sauna,

Free Wifi, Tennis &

Mini Golf.

ChECk OuR gREAT

SpRing/SummER

SpECiAlS

www.mandolin.com.au

0061 7 5443 5011

Trades & Services

DIRTY

TILES &

GROUT?

Our unique restoration processes will make your

tiled areas look BRAND NEW again!

We provide cost effective makeovers for showers,

bathrooms, kitchens or any other tiled areas.

Tiled Shower Makeovers

Professional Tile & Grout Cleaning

Re-Colouring of existing Grout

Tile/Grout Sealing

Tile/Grout Repairs

Silicone Replacement

Garage Carpet Installation

For your FREE no obligation quote contact

DARRYL

To Let

RENT ME!

Ideal as an extra

bedroom or office.

no bond required

Fully insulated and double glazed for warmth.

Three convenient sizes from $70 a week:

Standard 3.6m x 2.4m

Large 4.2m x 2.4m | Xtra-large 4.8m x 2.4m

0800 882 772

darryl.p@groutpro.co.nz

PLUMBING &

DRAINAGE

SERVING

CHRISTCHURCH

AND WIDER

CANTERBURY REGION

WITH QUALITY

WORKMANSHIP

AND SERVICE.

Trades & Services

Landscape

and Garden

Services

Need help with

your garden?

We provide a quality

service for all your

Garden Maintenance

(hedges, lawns,

line trimming, weeding)

and Landscaping needs,

(fencing, paths, drives,

retaining and earthworks).

Full Arborist Service

Ph 021 272 0303

Visit our website

www.justcabins.co.nz

for display cabin locations

www.justcabins.co.nz

PHONE HAMISH BALDWIN

027 636 3499

Trades & Services

Your local professional

FOR ALL YOUR

PLUMBING,

GAS &

DRAINAGE

• Bathroom repairs

• Renovations

• Leaks

• Blocked drains

• Gas and drainage

Carol and Chris

Phone 376 5322 or email

chcheast@laserplumbing.co.nz

Trades & Services

ROOF

PAINTING

Rope & harness

a speciality,

no scaffolding

required,

30 years of

breathtaking

experience.

FREE QUOTES

Exterior staining,

exterior painting,

moss and mould

treatment and

waterblasting

Phone Kevin

027 561 4629

BRICKLAYER

George Lockyer. Over

40 years bricklaying

experience.Uk trained.

Insurance work, EQC

repairs. Heritage

brickwork & stonework

a speciality. No job too

small. Governers Bay.

Home 329 9344. Cell

027 684 4046. E mail

georgelockyer@xtra.co.nz

BUILDER

Qualified, licensed, and

insured. jmhbuilders.co.nz

Ph 020 400 96143

CARPET LAYING

Exp. Repairs, uplifting,

relaying, restretching.

Phone John on 0800

003181, 027 240 7416

jflattery@xtra.co.nz

Trades & Services

Trades & Services

CONCRETE CUTTING

Affordable Concrete

Cutting with Quality, and

removal work. Free quote.

No job to small. Phone 027

442-2219, Fax 359-6052

a/h 359- 4605

CRYSTAL CLEAR

WINDOW CLEANING

Free no obligation quote.

Call Greg 027 6160331

or 384 2661.Im local with

over 10 years window

cleaning experience

ELECTRICIAN

JMP Electrical.

Experienced & registered..

Expert in all home

electrical repairs &

maintenance.Call James

027 4401715

LAWNMOWING

You Grow I Mow. Free

quotes. Ph / text Chris 021

252 1801

PAINTING SERVICES

Mature, reliable,

conscientious &

experienced, reasonable

rates, no job too small!,

call Ron 027 434-1400

PAINTING

DECORATING

All types of int/ext

painting undertaken. 30 +

yrs exp. Ph Michael 027

665 4654

PLASTERING

INTERIOR

no job too big or too

small, specialise in repair

work & new houses, free

quotes given, over 20 yrs

plastering experience, ph

Peter 027 221-4066 or

384-2574

YOU COULD

BE HERE

Let us help take

your business to

new heights

Advertise your business in our

Trades and Services column.

For assistance contact Vicky

Phone 03 364 7419 or email

vicky.sayers@starmedia.kiwi

Public Notices

Consultation on two proposed mātaitai

bylaws for Lyttelton Harbour

Tangata Tiaki/Kaitiakai for the Whakaraupō Mātaitai and the Rāpaki Mātaitai have proposed

bylaws that would; reduce recreational daily limits for a number of local fish and shellfish

species, close two small areas to cockle harvest to allow enhancement to occur, and prohibit

taking seaweed except karengo and wakame (Undaria).

The Whakaraupō Mātaitai and the Rāpaki Mātaitai, between them, cover most of Lyttelton Harbour.

The proposals follow surveys conducted by Te Tiaki Mahinga Kai (a customary research

and monitoring team based at the University of Otago) which indicate risk of decline and

overharvesting in these mātaitai. The bylaws relate only to recreational fishing as commercial

fishing is already prohibited with the mātaitai.

The proposed bylaws may be inspected at the MPI offices, Sir William Pickering Drive,

Christchurch and the Rāpaki Marae Office at 39 Rāpaki Drive, Governor's Bay.

Or, on the Fisheries New Zealand web site:

www.mpi.govt.nz/fisheries-consultations

You can make submissions on either or both proposed sets of bylaws by emailing

fmsubmissions@mpi.govt.nz

Please put "Mātaitai bylaws proposal" in the subject line of your email.

While we prefer email, you can also post your written submission to:

Manager Inshore Fisheries

Fisheries New Zealand

Private Bag 1926

Dunedin 9054

Submissions open on Friday 1 November 2019 and will close at 5:00pm on

Friday 13 December 2019.

Tuition

PIANO LESSONS

Catherine Bracegirdle

DipABRSM ATCL AIRMT

12 Ridgeway Pl, Richmond Hill, Sumner

PH. 021 044 5102

www.pianoandtheory.co.nz

catherine.bracegirdle@gmail.com

Situations Vacant

DRIVETECH LTD

"TRAINING TOMORROWS DRIVERS TODAY"

HEAVY TRAFFIC CLASSES 2, 3, 4 & 5

FROM FULL CAR (Class 1)

TO FULL TRUCK (Class 2) in 2 days

(Road code & pre-assessment driving training provided)

FORKLIFT ENDORSEMENT (F & OSH)

CAR DRIVING LESSONS

Train with a knowledgable, experienced assessor that will work with you

through your theory and practical steps.

Driving Related Health & Safety Training

Passenger, Logbook & Load Security Training

OTHER COURSES/LICENCES & ENDORSEMENTS AVAILABLE ARE:

Vehicle Recovery, Wheels, Tracks, Rollers & Dangerous Goods

Courses in Christchurch, Invercargill,

Cromwell & Mosgiel daily.

Other areas by arrangement

INTEREST FREE TIME PAYMENTS

(Terms & Conditions apply)

FREEPHONE 0508 2 37483

or 03 348 8481, 027 510 0684

info@drivetech.co.nz / www.drivetech.co.nz

ADVERTISE YOUR

BUSINESS HERE

Phone for further details

(03) 379 1100

Public Notices

Sumner

RFC

AGM

Monday 11 TH

November

- 7:30pm -

Sumner Rugby

Football

Clubrooms

Wanted To Buy

fridge freezers. Same day

service. Selwyn Dealers.

Phone 980 5812 or 027

AAA Buying goods

quality furniture, beds,

stoves, washing machines,

313 8156
---
PAGE 24 Wednesday November 6 2019

BAY HARBOUR

Latest Canterbury news at starnews.co.nz

L O O K B O O K + S T Y L E G U I D E

F L O O R I N G X T R A | L O O K B O O K + S T Y L E G U I D E V O L U M E 4 . www.flooringxtra.co.nz

FERRYMEAD

Unit 1/950 Ferry Rd, Ferrymead, Christchurch | 03 376 4974 | ferrymead@flooringxtra.co.nz

www.flooringxtra.co.nz
---
Wednesday November 6 2019

Latest Canterbury news at starnews.co.nz

BAY HARBOUR

PAGE 25

Lap up this Lifestyle

Mt Pleasant 78 Cannon Hill Crescent

4 4 2

+ 1 bedroom flat

Auction: Thursday 14 November 2019 (unless sold prior)

View at: www.harcourts.co.nz ID#SM0241

Open homes: Saturday and Sunday, 3:15pm - 4pm, Wednesday 5pm - 6pm

Grenadier Real Estate Ltd MREINZ. Licensed Agent REAA 2008.

Alison Carter

P 0274 318 960

E alison.carter@harcourts.co.nz

W alisoncarter.harcourts.co.nz
---
PAGE 26 Wednesday November 6 2019

BAY HARBOUR

Latest Canterbury news at starnews.co.nz

Upsize Your Family and Garage!

Heathcote 19 Laing Crescent

3 2 1 1 4

Auction: Thursday 14 November 2019 (unless sold prior)

View at: www.harcourts.co.nz ID#SM0260

Open homes: Wednesday, Saturday and Sunday, 1pm - 1:45pm

Grenadier Real Estate Ltd MREINZ. Licensed Agent REAA 2008.

Alison Carter

P 0274 318 960

E alison.carter@harcourts.co.nz

W alisoncarter.harcourts.co.nz
---
Wednesday November 6 2019

Latest Canterbury news at starnews.co.nz

BAY HARBOUR

PAGE 27

Gardener's Paradise

Heathcote 34 Laing Crescent

4 2 1 1.5

Price: $599,000, Deadline Sale (all offers presented 4pm, 19th November, 1020 Ferry Road)

View at: www.harcourts.co.nz ID#SM0278

Open home: Saturday and Sunday, 12pm - 12:45pm

Grenadier Real Estate Ltd MREINZ. Licensed Agent REAA 2008.

Alison Carter

P 0274 318 960

E alison.carter@harcourts.co.nz

W alisoncarter.harcourts.co.nz
---
PAGE 28 Wednesday November 6 2019

BAY HARBOUR

Latest Canterbury news at starnews.co.nz

Steal the Deal!

Mt Pleasant 17 Mandalay Lane

4 2 2 2

Auction: Thursday 21 November 2019 (unless sold prior)

View at: www.harcourts.co.nz ID#SM0275

Open homes: Saturday and Sunday, 2:15pm - 3pm

Grenadier Real Estate Ltd MREINZ. Licensed Agent REAA 2008.

Alison Carter

P 0274 318 960

E alison.carter@harcourts.co.nz

W alisoncarter.harcourts.co.nz