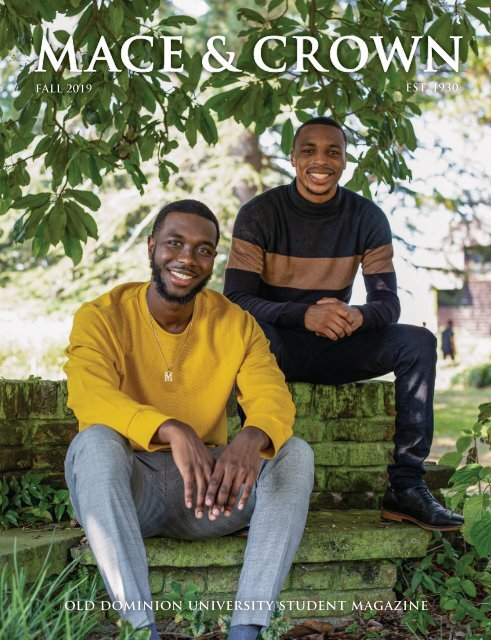 Fall 2019
Fall 2019 Mace and Crown Newsmagazine
Fall 2019 Mace and Crown Newsmagazine
SHOW MORE
SHOW LESS
Create successful ePaper yourself
Turn your PDF publications into a flip-book with our unique Google optimized e-Paper software.
MACE & CROWN

FALL 2019 EST. 1930

old dominion university student magazine
---
EDITORIAL BOARD

EDITOR-IN-CHIEF

Brooke Nicholson

COPY EDITOR

James Finney

NEWS EDITOR

Natalie Hockaday

A & E EDITOR

Fatima Rivera

TECHNOLOGY EDITOR

Kyle Winfield

SPORTS EDITOR

Siera Goard

PHOTO EDITOR

Tayla Mallory

DIGITAL EDITOR

Kieran Rundle

GRAPHIC DESIGNER

Edward Thomas

SOCIAL MEDIA EDITOR

Christiana Potts

DISTRIBUTION MANAGER

Sean Fitzpatrick

FRONT COVER +

CONTENTS PHOTO

Thomas Island

Mohamed Rebeiz

Alexander Evans

Jorge Zamudio

Nicholas Clark

CONTRIBUTING MODELS

The Nu Theta Chapter of

Alpha Phi Alpha

Unparalleled Models

CONTRIBUTING WRITERS

Gabriella Bishop

Paula Phounsavath

Ashley Mazza

Annastasia Bimler

James Onuska

Rivers Raye Middleton

Leah Onosato

Tyler Eddins

CONTRIBUTING

PHOTOGRAPHERS

Nicholas Clark

Keith Lucas

Jorge Zamudio

SPECIAL THANKS TO

Trey Lyon & Jada Carson

Alpha Phi Alpha

Dr. Joyce Hoffmann

Anthony Whitaker

Mace & Crown is a student-run magazine written and published for the students of ODU. Originally

founded in 1930 as The High Hat, the paper became The Mace and Crown in 1961. Mace & Crown

is primarily a self-supporting magazine, maintaining journalistic independence from the university. All

views expressed in this collegiate magazine are those of the author, not of the university, Mace &

Crown or the editors.
---
CONTENTS

FALL 2019, ISSUE 8

ARTS & ENTERTAINMENT

NEWS

SPORTS

4 Student Entrepeneurs

11 Hunter House Victorian Museum

15 Auntie's Restaurant Review

18 Joker Movie Review

19 Alpha Phi Alpha

31 Taking Initiative

33 Player Profile: Lala Davis

35 Interview with Bobby Wilder & Keion White

TECHNOLOGY

37 Interview with Dr. Moberly

41 Hey, I See You

43 Four Freaky Metrovania's

45 Psychology of Terror

CREATIVE ENCLAVE

46 I Am Saving You

47 Sleepwalking Cliche

49 Jack O Lantern Tale

51 Real Life

53 How Do You Spell Epiphany
---
EDITOR'S NOTE

Boo."

- Chucky

Campus buzzes back to life once the summer is over and fall rolls

around. The trees shed their leaves, turn brighter, and leave

remnants of the hotter season behind. Break out that dusty

cardigan, comfy sweater, and tailgate attire. It is my absolute favorite

time of the year, spooky season - autumn.

Even though the season brings joy to those who are tired of the

beach and long for the somber scenery, it is a sadder time of the

year for me. This fall semester marks the last few months I will be the

Mace & Crown's Editor-in-Chief, and this magazine is the last to be

produced with me in the office.

I didn't know who I was, or even if I deserved a place somewhere -

anywhere - on campus when I came in as a freshmen in 2014. The

world was too big, overwhelming, and seemingly impossible to break

into. When I randomly walked into a Mace & Crown general interest

meeting one day in 2015, I never imagined myself ending up here.

The Mace has brought myself and so many others opportunities we

never thought were possible.

It wasn't just about the joy being in this position brought me, but it

was seeing the writers' faces when they saw their published articles

for the first time, when someone found out they were going to grace

the cover, or how others felt comfortable enough to share their uncomfortable

story with creativity and courage.

It was about the ODU student entrepreneurs, those moving mountains

in Greek life, the woman who develops tools to help others, and

the rest of the student body that kicked ass to bring this altogether.

The past year has been about challenges, facing the impossible, not

being afraid to go outside and beyond the box, and creating something

special just for you. I cannot wait to see how the Mace continues

to grow, encourage, and support those willing to share who they

are within our pages. For now, please enjoy our special fall edition of

the Mace & Crown.

Brooke Nicholson | Editor-in-Chief

3 | maceandcrown.com
---
ARTS & ENTERTAINMENT

STUDENT

ENTREPRENEURS

PROVE TO BE

MATCHED

Fall 2019 | 4
---
BROOKE NICHOLSON

Photos by Nicholas Clark

ODU has certainly seen its share of student entrepreneurs

grow within its community. From the new student

store on Monarch Way that has expanded to a small

store in Webb Center, to students growing their own businesses

individually, ODU is not shy when it comes to having the students

display their products and services. One student, Anthony

Whitaker, is proving to his peers that with a little hard work and

dedication, up and coming students who want to pursue entrepreneurship

are able to do just that once they put their mind to it.

Anthony Whitaker is the founder and CEO of Unparalleled, LLC,

an up-and-coming clothing brand designed for anyone and everyone.

Anthony, along with his two friends, CFO and COO, they have

been able to expand Unparalleled, with Anthony being the clothing

brands' main designer. The Mace was able to ask Whitaker some

questions about his business, what his plans for his clothing brand

Unparalleled is, and what students should expect from other students

when they start their own businesses.

5 | maceandcrown.com
---
What was the inspiration for

Unparalleled?

To start off I would have to say my mom. One night

my father (DeMon), my mother (Nadine) and my

sister (Asia) were all sitting around table in the

kitchen and my mom simply said, "we have 6 kids

one of yall need to make us some money" and I

said why not start my own brand. From there the

inspiration for Unparalleled stemmed from my own

motivation to want to be better in every aspect of

my life. I started thinking about ways to motivate

myself and others to be the best in their own walk

of life. After some self-reflection I realized the only

way to be the best was to not worry about what the

next person was doing, or being "Unparalleled" to

everyone else. The only competition is myself.

Did you look at other clothing

brands before starting your own

for ideas?

Originally, I did not look at any other brands before

developing my designs and ideas. I taught myself

how to use photoshop and began freestyling

from there and I discovered that I had some hidden

talents. Later on, I began researching and looking

into other brands and I began following Kith which

is now my favorite brand and where I get a lot of

my inspiration. Also, Its founder Ronnie Fieg. On

a smaller scale I follow brands like WrldInvsn, For

The Leaux, Macc, and Catharsis Apparel. By looking

at these smaller companies it helped me understand

the focus and grind that you have to have to

get a brand/clothing business off the ground.

How has the reception to

Unparalleled been with the ODU

community?

Within the ODU community we are shown nothing

but love and encouragement. The students understand

our message and we couldn't be happier with

the support we have been given through the school.

This has been shown through the amount of purchases

we have had at the monarch way store and

an ample amount of inquiries about being a brand

ambassador.

Fall 2019 | 6
---
7 | maceandcrown.com
---
Fall 2019 | 8
---
Is the clothing brand doing well,

and what kind of feedback have

you seen come from it?

The clothing brand is doing extremely well for

starters, but we know we can always be doing better,

we want more for ourselves and this brand.

There have been some road blocks, but we continue

to work through them as a team. The feedback

given has been constructive. This is definitely

a learning curve, with that comes trial and

error. The setbacks we did have happened for a

reason and allowed us to come back even harder.

How we overcame these issues was simply living

through our brand. When you "Retrieve Your

Reflection" anything is possible.

What should students know about

student entrepreneurs' clothing

brands?

People should know that this is not an easy task,

juggling a business and academics takes a lot of

self-discipline and organization. We do this to

help other people more than ourselves. We want

everyone around us to make an impact, that's the

true heartbeat of unparalleled.

What might some misconceptions

be?

We do not make as much money as people think,

this is a marathon not a race. All profits at this

current time go back into the business. You have

to learn how to delay gratification in this game

we call life and especially when starting a clothing

brand without any major Investors.

9 | maceandcrown.com
---
What are some plans for the

brands' future?

We would like to build this company into a multipurpose

organization. This will be more than

just a brand, we will be the expectation for what a

business truly is, having our hands in more buckets

than one. We plan to transform Unparalleled

LLC into a Marketing/Management Company

similar to how Roc Nation operates, but instead

tapping into every industry we can get a hold on.

We will also continue selling and developing apparel

and we plan to dive deeper into the athletic

industry by making athletic wear that's Unparalleled

to any other.

What might you do differently?

Continue to be different from the rest. Making

sure we stay unrivaled, unmatched, and Unparalleled

in everything we do. We are always going

to change it up and do what people won't expect.

Being Unparalleled is untraceable, you will never

know what is coming next.

You can find Unparalleled apparel at

the student stores on Monarch Way and

in the Webb Center, as well as :

unparalleledlegac.com

@unparalleledlegac

Fall 2019 | 10
---
ARTS & ENTERTAINMENT

TAKE A TOUR THROUGH

The

Hunter House

Victorian Museum

Annastasia Bimler

Nestled between the modern world and a cobble stone street in the

Historic District of Norfolk, sits The Hunter House Victorian Museum.

The home was built for the Hunter family in 1894 and turned

into a museum in 1988. James Wilson Hunter was a successful Norfolk

merchant, banker, and civic leader. Lizzie Ayer Barnes Hunter

placed a condition upon their marriage that defied tradition. James

Hunter was responsible for providing for the family, but it was Lizzie

who was in charge of the family finances. At the time the home

was built, it was estimated to cost twenty-thousand dollars. Today,

the figure would rise to just over half a million.

11 | maceandcrown.com
---
The couple had three children,

James W. Hunter, Jr. (1878-1940),

Harriett Cornelia (1880-1958),

and Eloise Dexter (1885-1965). None of

the children married or had children.

James W. Hunter, Jr. went on to serve as

a medic in World War I and later became

a successful physician in cardiology and

radiology. The sisters remained active in

several local, state, and national patriotic

and genealogical societies. All except

James Jr. passed away in the home. Upon

request, the home was turned into a museum

after the passing of the last family

member with the home containing ninety-five

percent of its original contents. Today,

it is cared for by a wonderful group

of staff member's and docent's that have

fallen in love with its Victorian charm.

Upon entering the house through the

large glass door, it's as though you have

stepped into another place in time. The

floors creek and moan in acknowledgement

of your arrival. Passing through the

front parlor, lies a wicker casket used for

viewing purposes prior to burial. The parlor

is slightly curved, with draperies hung

from top to bottom that puddle on the

floor. Our lovely tour guide, Patty, said

"this was a way for Victorian's to say they

could afford to waste this material." The

fireplace is large, equipped with its beautiful

original ceramic tile. Each fireplace

on the first floor contains an image on

the tile. One image is that of three women,

known as "The three muses." On the

mantel lie another original piece; a clock.

Although the clock stopped working

decades ago, one staff member, Renee,

claims that when alone with the clock,

it will start ticking until they take their

leave.

Up next we move to the green back parlor

and dining room where original books

and china remain on the shelves. Patty explains

how during the Victorian era, the

green dye came from arsenic. This dye

could be poisonous to those who wore

green clothing. Thus, women in green

were considered beautiful but deadly.

There is a donated 148-year-old taxidermy

owl, lovingly named Mr. Owl, that is

thought of as the guardian to the home.

It is claimed Mr. Owl roams the home

at night as the staff will find one of his

feathers where it should not be. On the

dining table lie the original Ouija board

that was found in the attic. According to

Fall 2019 | 12
---
the staff, the Hunter's did hold seances

and were interested in making contact

with the deceased. Clairvoyant readings

in the home state that the reason contact

with the family has not been made is because

the planchet is not original to the

board. Readings have also indicated the

spirits of the family are still attached to

the home which accounts for the unexplained

noises heard by the staff.

Up the curved staircase is a small

landing area, Patty explains a

common phrase used during that

time called "come hat in hand." This is

where potential suitors or visitors would

sit the bench, just under a stained-glass

window and small fireplace, their hat must

remain in their hands at all times. Further

up the stairs you will find the bedrooms

of the family. In Victorian times, it was

common for the husband and wife to have

separate bedrooms. At the top of the landing

was Mrs. Hunter's rooms. On the wall

next to Mrs. Hunter's bedroom is a call

button that she would use to call up her

live-in servants. Her bedroom contains

the original oak bed frame with a ninetythree-inch

headboard. It also contains a

sitting area in front of a large window, and

a large vanity. On the vanity sits mourning

pins and a hair jar. When women would

brush their hair, they would take fallen

out strands, place them in the jar and

when they had enough, they would send

the hair away to be weaved into broaches

or chains for a watch or other tokens. The

final item in the room is a marriage cabinet.

The custom was to gift this cabinet to

a newly married couple, and they would

have to put it together themselves. This

was probably the first real test of how well

their marriage would go.

Moving into another room connected to

Mrs. Hunter's was her morning room.

This is where she would spend a great

deal of her morning at her desk going

over correspondence and other responsibilities

for the day. The desk contains

all of its original contents. Opened envelopes,

reading glasses, books, and

more. Although the papers are too fragile

to handle, you get a sense of how she

spent her day. Off to the side is a large

wardrobe, a donated Victorian sewing

machine, and an early Victorian metal

mannequin. Just a few feet further are

the washroom that connects the morning

room and James Hunter Jr's office. The

13 | maceandcrown.com
---
washroom is tiny, only containing the

tub and sink. On the sink are the washroom

belongings of James Hunter Jr. The

Victorians still had not moved the toilet

into the home, so it is located in the outhouse

in the backyard.

Transitioning into the office of Dr.

James Hunter Jr. you will find

many wonderful objects. On his

desk remains all of his papers, letters,

writing materials, and more. Above the

fireplace are pictures of James Hunter Jr.,

his diploma's, and an atomizer. The atomizer

was used with water and carbolic acid

in "sick rooms" so help kill the germs. One

of the best pieces in the house is one of

the first EKG Machines that belonged to

him, along with its original instruction

book and a couple of x-rays. Across the

hall from the office is Dr. James Hunter

Jr's. bedroom, formerly Mr. Hunter's bedroom.

Here you find his oak bed, dresser,

and a Victorian recliner. On the dresser

remains a few of his items such as collars,

a handheld mirror, and hairbrush.

Lastly, down the hall from James Jr's.

bedroom, you will find the servants entrance

and the children's bedroom. Only

a few items remain that belonged to

the children. In the room is small shop

where you can purchase teas, stationary,

mugs, and more.

The Hunter House Victorian Museum is

a wonderful place to visit. They are open

April to December and offer a large variety

of fundraising events that correspond

with the season. For the month of October,

the house is in mourning so every

Wednesday is a fundraising event where

you can get a fifteen-minute psychic

reading for $35. Additionally, throughout

October, they host events called Enchanted

Fall where you can experience a

murder mystery, have an evening of Poe,

experience a carnival cult and more. For

event details, pleawese visit their Facebook,

Hunter House Victorian Museum.

The desk of James Jr.

Photos by

Annastasia Bimler

Fall 2019 | 14
---
ARTS & ENTERTAINMENT

Auntie's

Brings the Island Life near Campus

15 | maceandcrown.com
---
Paula Phounsavath

Photos by Anthony Evasco

A

few blocks away from campus and alongside Colley Ave,

stands a small Filipino-Hawaiian fusion restaurant called,

Auntie's Tiki Bar and Restaurant. The restaurant is based

in Virginia Beach, where it all began when Doddie Braza and his brother,

Raymond, opened the restaurant out of deep admiration for the Filipino

and 1960's Tiki culture in 2018.

Looking forward to today, Auntie's has been very successful in the Virginia

Beach area. Braza decided to open Auntie's Norfolk in mid-2019,

and it has been just as successful as the original restaurant.

The restaurant itself was relatively small but cozy. The inside was dimly

lit, with the exception of the afternoon light. The walls were painted

pink and black to mimic palm tree leaves. Laughter and loud chatter

filled the place, as patrons with their drinks chatted at the bar as well

as the outside patio area.

Like any other restaurant, when seated, the waitress will be able to

greet customers with water, along with the option of another drink.

Though there was only one waitress on a steady Saturday night at

Auntie's, she was very patient with customers ordering and took a

generous amount of time to come back to take orders.

Because Auntie's is a fusion restaurant, the menu had a smaller amount

of choices to choose from. However, the menu is still growing with

more Filipino/Hawaiian dishes. The restaurant's head chef, Abrizl Levantino--former

chef at Bad Saint, is always being innovated at perfecting

their craft; oftentimes, Auntie's menu has a section of limited time

dishes. If the dish is favored by customer reviews, then usually it will be

added to the menu as a permanent item.

The word, "Sisig" originated back in the 18th century, it

comes from the full word, "sisigan" which is an old Tagalog

dialect for, "to make it sour." With such strong influence by

the Spanish, a friar named Diego Bergaño initially defined

sisig as a, "Salad, including green papaya, or green guava eaten

with a dressing of salt, pepper, garlic, and vinegar."

Lumpia are a Filipino take on fried spring rolls, since the Chinese had influenced the

Philippines. Lumpia are a staple to any Filipino party, street vendors and of course,

a perfect appetizer.

Fall 2019 | 16
---
Starters

For starters, I had the vegetable lumpia and spam musubi.

Lumpia

The vegetable lumpia came in within 15-20 minutes perfectly crispy.

While hot, the taste was airy and salty from the minced vegetables,

but also tangy from the sweet and sour dipping sauce.

Spam Musubi

The spam musubi came shortly after the lumpia. The appetizer came

in four spam musubis, enough to fill anybody's stomach. The spam

musubi was just as airy and light from the perfectly steamed rice.

The sesame seeds and the light drizzle of teriyaki gave the spam

musubi an umami flavor. The spam and white rice that stacked

on top of each other had an amazing combination of grilled and

steamed along with the smooth, salty taste of the seaweed.

Entrees

Moving on to the entrees, there were the spicy sisig and loco moco.

Spicy Sisig

The spicy sisig may sound quite intimidating because of the word,

"spicy." On the contrary, the dish was far from what it may taste

like as stated on the menu. The spicy sisig was served on a sizzling

platter filled with grilled, pulled-pork, a bed of perfectly-steamed

rice and topped off with a sunny-side-up egg covered in coleslaw.

Though the pork was not spicy, it had a delicious tangy kick to the

dish. The pork was very juicy, as the egg's runniness made the dish

feel like an island breakfast.

Loco Moco

The loco moco came in a hot bowl with a sunny side up egg and

minced beef covered in gravy, with a bed of white rice. Though the

gravy was pretty salty, it was fairly sweet from the perfectly steamed

rice. The dish was absolutely tasty and would go flawlessly as a perfect

Hawaiian meal.

Final Thoughts

Dinner: 8/10

The Filipino-Hawaiian atmosphere was very much alive. Auntie's

food was on point, the service was as steady and accommodating

as they possibly could. Ideally, the restaurant can be a good recommendation

for a big party of people on a Saturday evening. Overall,

eating a night on the town at Auntie's was pretty good as it is a

great place for patrons to socialize, for groups of people to come

together and enjoy the Tiki culture.

Originating from Hawaii, spam musubi was created by a nutritionist Barbara

Funamura. During World War Two, spam was often eaten by troops. Because

of such a large military presence, it became a local adoption leading to the

creation of spam musubi.

17 | maceandcrown.com
---
ARTS & ENTERTAINMENT

JOKER

CRAZY, INSANE AND UNEXPECTED

Fatima Rivera

One of the most anticipated films of

the year, "Joker" officially hit theaters

on Oct. 4, making audiences praise and

stir up discourse about the newest

adaptation to the famous comic book

character.

Joaquin Phoenix stars as Arthur Fleck,

an entertainment clown who aspires

to be a stand up comedian. At the very

beginning of the film, Fleck is rotating

a sign on the streets of Gotham city

where a group of boys take his sign and

lead him on a foot chase, where it ends

in Fleck being jumped. Once hearing of

the situation, his coworker hands him a

gun to use for protection.

Fleck's life consists of going to work,

meeting with his social worker and

taking care of his sick mother Penny

(Frances Conroy) whom he lives with.

After he brings his gun to the children's

hospital, Arthur is immediately fired and

his fast descent into complete madness

begins.

The music in the beginning establishes

the time period the movie will take

place. It has old time elements and

sounds somewhat like a show tune. This

gives an insight to what direction the

film could be going, and at times the comedic

timing did fit with the scene, but

it also throws off where things are going

as the movie gets darker and crazier as

it goes. Warner Bros. has been pushing

for a "dark" universe since the release

of " Batman vs. Superman." That film was

a failure among fans, but "Joker" is a film

that can be a model for the dark tone

they want to achieve. As the character

itself is one of the most villainous people

in the D.C universe, focusing on villian's

origins or exploring the storylines

outside of the regular heroes to expand

the cinematic universe.

Many media outlets and fans voiced their

concerns with how the movie glamorizes

mental illness and the portrayal

could only bring more negative attention

to the discussion of mental health.

The portrayal in the movie held truth as

it coincided with real life situations that

are out of someone's control. Fleck's

diagnosed with a neurological problem

which is addressed a few times in the

film and is seen taking medication and

attending sessions with a social worker.

It attributes to how Fleck becomes the

Joker and refers back to early parts in

the movie which points out things one

missed throughout its entirety.

Phoenix stated that he did not take inspiration

from previous jokers to model

his, but there were parallels in the movie

that many related to other actors, from

the late Cesar Romero to Heath Ledger.

Details can be pointed out and reminded

of those, which is a perfect choice to

the new adaptation.

Conclusion

"Joker" is a must see for everyone as

no person would look at it the same.

The psychological-horror element is

strong and Phoenix's performance

was realistic to the character and has

reimagined the origins of the villain

to be open-ended and incite discussion

for many people, almost like it

was intended to do.

Rotten Tomatoes critics have rated it

at 69% but audience score is at 90%

and a 9/10 in IMDb.

Courtesy of Warner Bros. Pictures

Fall 2019 | 18
---
NEWS

LPHA ALPHA P

ALPHA ALPHA

I ALPHA ALPHA

CHANGING THE PERCEPTION OF GREEK LIFE

19 | maceandcrown.com
---
HI ALPHA ALP

PHI ALPHA AL

PHI ALPHA A

Fall 2019 | 20
---
Bella Bishop

Photos by Jorge Zamudio and Nicholas Clark

There is more than what meets the eye

when it comes to greek life on Old Dominion

University's campus, especially when it

comes to the NPHC fraternity, Alpha Phi

Alpha (Alphas). Beyond the strolls, probates,

and colors they are men who seek to make

a difference in themselves and the community

around them. The brotherhood of these

men is a deep rooted life-long relationship

that they will carry beyond the yard of

ODU's campus.

Joining a fraternity is making a lifetime commitment

to brotherhood, the community,

and empowerment within yourself. Contrary

to the partying stereotypes of fraternities,

the Alphas hold themselves to a

higher standard beyond just having a good

time. They believe in representing themselves

with strong character, honor and authenticity.

For a large group of young men

to have the equivalent strength of willingness

to learn, to never forget their deep

rooted brotherhood, and to hold each

other accountable to a higher standard as

human beings, is an incredible and honorable

accomplishment as a fraternity and as a

member within it. But having such a sturdy,

long lasting connection from generation to

generation all starts with a strong history.

The Alphas first originated in 1906 as a social

club for African American students at

Cornell University who were alienated from

attending their college classes. The professors

would do everything in their power

to restrict African American students from

attending classes or lectures. Seven students

then formed a social club to help each other

with school work, uplift one another to

pursue their dreams of getting an education,

and formed a strong bond to uplift their

community. The fraternity officially founded

a chapter on Old Dominion University's

campus in 1977 and still upholds to this day

the same work ethic, humbleness, and loyalty

that it placed in the very beginning.

"I joined this fraternity because I wanted

to be a mentor for other people, and this

fraternity gave me an opportunity to channel

that. Last semester we did a weekly

mentorship and partnered with "Brother

to Brother" where young black men were

taught how to cook. We as the Alphas would

come in and speak to these kids that did

not really care about school or college. By

having them see us in our suits, being in

college and making a difference maybe it

would change their outlook on what they

are capable of," said D'Andre Jones, Chapter

President. The Alphas feel it is important to

set an example to other black men and children

and encourage them to be their best

self. They do this by implementing outreach

programs where they work with the community

to set a positive example on being

successful. One of the programs the Alphas

host is "Go to high school, go to college".

The purpose of this program is to educate

the youth about the opportunities they can

have after high school whether it is pursuing

a college degree, going to trade school, or

joining the military. The Alphas take pride in

having an influence and giving back to their

community.

"Being black I would say we definitely have

an obligation to put on a good image for

other black men to follow so they can be

leaders like us and that is a fundamental part

of our foundation [as an organization]," said

Mohamed Rebeiz, Intake Coordinator.

Each individual in the organization seeks to

have a leadership position in order to positively

influence the people around them.

They seek to lead by example and not get

distracted by the hysteria and stereotypical

greek life reputation.

"To impact other people is important. One

year we had a football camp for kids and

after they would play football outside, they

would go inside and learn about science and

technology, another year we went to feed

the homeless. We held a lot of programs

last year, one of them was informing others

on knowing their rights in circumstances

that may have you be encountered with

law enforcement. I did whatever I could to

get people to come out to that program

because I feel people do not know exactly

what their rights are. The main purpose of

these programs are to see how any piece of

my knowledge that I have can change your

life," said Marcus Lee, Recording Secretary.

"I joined this organization because it gives

a platform to advocate for things you care

about… We have a responsibility to make

others strive for greatness."

The Alphas are always on the move, constantly

striving to have a positive impact and

inform the campus community about political

and ethical issues," said Negus Assefa,

Vice President. The brothers of Alpha Phi

Alpha seek to uphold their duty as a male

fraternity to strongly support women on

campus with their annual " Mrs. Black and

Gold Pageant". The pageant is a scholarship

opportunity for women at Old Dominion

University and strongly uplifts every woman

taking part in it. Scholarship pageant as an

extension of the fraternity. The contestants

are strong women who are active in the

community, successful students and uphold

the characteristics and traits of the fraternity.

Their main goals for young women is

not necessarily to win, but to develop confidence

in themselves, building character, and

to develop a strong sense of women-hood

for themselves and others around them.

Former pageant winners come back to help

the new contestants with their walks, give

them advice from their previous experience,

and to incorporate a strong sense of uplifting

each other as women.

"The pageant is actually really beautiful. One

thing a lot of girls don't realize about the

pageant in the beginning is what they gain

from it. Some girls come in super shy and

soft spoken, but going through the pageant

they gain confidence and build character. By

the end of the pageant you won't even know

what woman that is," said Mohamed Rebeiz.

The pageant is also an opportunity for Alphas

to get a better understanding and perspective

to learn some of the struggles and

experiences that women face, and to help

the women participating in the pageant conquer

those insecurities or struggles in a respectful

and safe environment.

It would be a disservice to boil this group

of men down to just a fraternity label. From

the outside looking in, it can be seen as an

exclusive group of men who parade around

in colors and greek letters not knowing

21 | maceandcrown.com
---
Fall 2019 | 22
---
23 | maceandcrown.com
---
Fall 2019 | 24
---
25 | maceandcrown.com
---
Fall 2019 | 26
---
27 | maceandcrown.com
---
Fall 2019 | 28
---
29 | maceandcrown.com
---
Fall 2019 | 30
---
NEWS

TAKING

INITIATIVE

Drink tester initiative on ODU's campus

Natalie Hockaday

29 | maceandcrown.com
---
Sonya Williams, a student at Old Dominion University

is planning on bringing drink testing tablets to the

campus. As a member of the Student Government

Association (SGA) she is working along with other

members to provide these tablets in order to increase

safety for students and faculty around the university

community. When these tablets are dipped in a drink it will

be able to detect traces of drugs that may be in the drink.

Sonya was inspired to bring this product to the campus

when the former SGA senate speaker, Jasmin Carmon

shared information about the product as an idea for the

organization to look into. Sonya's own story inspired her

to really make this idea a reality of the campus.

Like any other young adult in their twenties, Williams

went out for a night with her friends to a bar to have a

good time. Her friends had insisted in going to a poetry

event that was inside a bar, but Sonya was not so much

interested in the poetry and more the party. Her friends

went to grab some drinks and have a fun night while

Sonya got a mocktail made up of sweet tea and other

juices. Sonya chose not to drink that night because she

was the designated sober friend of the evening but she

still wanted to fit in with her friends having fun and pretty

drinks.

"While I'm still at the bar, I drop my bag on the floor

and I lean down pick up my clutch and put it back on the

counter of the bar area and I keep drinking my drink…

time passes, I'm not sure exactly how long but next thing

you know my legs gave out and I'm bucking trying to

stand up and I urinated on myself… I was telling my arms

to catch myself, but my hands were not responding… it

was like my brain was disconnected with my body… A guy

from base had seen me handpicked me up and threw me

over his shoulders and took me to the emergency room

[where they] pumped my stomach. [The doctor's] asked

if I knew why I was [in this condition]… the police [later]

came in and told me I was roofied and that I had a large

amount in my system. I filed a police report and months

later I was contacted by the police that this was an actual

case and they found the guy who did it and I guess he

had done it to multiple other women and some of them

weren't as lucky as I was to see have seen me and take me

to the hospital," said Williams.

"Some people would say that I'm blessed and I am and I

do view it as that, but in a sense it's like you have no idea

how bad it could have been," said Williams.

Sonya is motivated to seek justice and provide preventative

resources for students and faculty. She wants to provide a

space for people to feel comfortable and speak up about

their experiences. She plans to implement this initiative

across the campus and has the support from various

organizations and students around the university.

"It seems like a secret that no one want to confront and

I'm tired of feeling like it's a secret. It's a part of my story

and if other people have a way tolerate then let's talk

about it," said Williams.

When Sonya first started the initiative to bring

drink testers to the campus she spoke to

students to get an idea of how students would

approve and react to it. Williams received an influx of

approval and heard stories and testimonials from men

and women about their experiences.

"I think [not as many people come out and talk about

their experience] has a lot to do with people not knowing

if it happened like the confusion. People second guess

themselves thinking about what they did but you didn't

do anything but it took me a while to face that," said

Williams.

Fall 2019 | 30
---
SPORTS

PLAYER PROFILE:

LALA DAVIS

Siera Goard

Photo by Keith Lucas

In the past year, Old Dominion Universities

football program has received

an abundance of attention. After the

2018-19 season the football program lost

a few key players on their roster. Players

like Elijah (Lala) Davis have helped Old

Dominions program continue to remain

promising during the current 2019-20

season.

The Redshirt Freshman from Lynchburg,

Va has contributed to ODU's team stats

since first stepping on the field in 2018.

Lala played in only four games last season

at the running back position contributing

131-yards along and four touchdowns

with 35 carries overall.

Davis was a three-star recruit while being

ranked the No. 30 recruit in Virginia and

No. 97 running back overall in the country.

Lala attended Heritage High school

where he rushed 6,690 yards. While helping

create the opportunity for his team

to see a State Championship he rushed

for 229 yards along with one touchdown

during the game while earning first-team

All-Area honors and All-Area Offensive

Player of the Year.

Until Davis's senior year of high school he

did not receive any offers for football. On

February, 7 2018, Lala signed his letter of

intent and committed to Old Dominion

University. "I haven't fully established myself

but I think the goals I'm shooting for

along with the teams goals are able to be

achieved." said Davis

Elijah Davis plans to commit himself to

Old Dominions Football Program while

continuing his success as not only an athlete

but also a student. The ODU fan base

is valuable to Davis and he expresses that

the community can expect a player that is

hungry, fun and a "people person."

One of Davis's goals is to prove himself

and his game to the ODU community. "In

the future, exciting things are coming."

33 | maceandcrown.com
---
Photo by Keith Lucas

Davis carries the

ball against VT

Sept. 7th 2019

Fall 2019 | 34
---
SPORTS

BUILDING A

WINNING FOUNDATION

AN INTERVIEW WITH COACH BOBBY WILDER & KEION WHITE

35 | maceandcrown.com

Photo by Keith Lucas
---
JAMES ONUSKA

The ODU football program is in its 10th season and it continues

to build a winning program with excellent recruiting

by Head Coach Bobby Wilder and staff. The Monarchs are

looking for a chance at a Conference USA Championship and a return

to a bowl game which they achieved back in 2016; they played

in the Popeye's Bahamas Bowl and defeated Eastern Michigan with

a winning score of 24-20.

This year the offense is led by Redshirt Senior running back Kesean

Strong, who has showed his versatility with running the ball efficiently

and catching the ball out of the backfield. The dual threat

quarterback Stone Smartt will add to the offensive explosiveness

with his progression in the passing game and his ability to break the

pocket for positive yards. The defense ranks in top two in rushing

defense and total defense in Conference USA, giving up an less than

90 yards on the ground. When Mace & Crown had the opportunity

to sit down with Coach Wilder and defensive end Keion White several

questions were answered about the direction of the program,

The first goal every year is getting Bowl eligible which includes winning

a Conference Championship. Playing power five schools like

University of Virginia and Virginia Tech has allowed for the program

to receive positive recognition and will help in the football

team's growth during the process. With Virginia Tech, University of

Virginia, and University of North Carolina on their schedule over

the next few seasons this will influence the local talent to stay put

and dawn the slate blue, silver, and light blue uniform.

The talent stretches throughout the Hampton Roads and as the football

program continues to grow so does the caliber of player who

elects to enroll at Old Dominion University. Coach Wilder expresses

how imperative it is that the team takes on a 1-0 mentality, this requires

the team to approach each week with winning that one game

by finding a way to win.

The Mace & Crown was also able to find a food favorite of Coach

Wilder. The Monarch's Head Coach was born in Madison, Maine,

and attended the University of Maine where he was a highly recruited

quarterback. After that Coach Wilder held multiple coaching positions

at Boston College and University of Maine before taking the

Head Coaching position in 2007 for ODU.

"We take pride in the 11 letters across our

chest that say Old Dominion."

- Coach Bobby Wilder

expectations for the team, and some personal food favorites.

Last year Keion White played tight end and lead the team with receptions

at that position. This year Keion made the move to defensive

end and had to acclimate to a different role. When Keion was

asked about the challenges of switching to the defensive side of the

ball Keion replied with "playing defense allows for me to play more

freely and able to make plays".

Keion also hinted at the possibilities of a few plays Offensive Coordinator

Brian Scott may have that would require his experience

down in the red zone back at the tight end position. When Keion

isn't playing football, he enjoys playing basketball down at the student

recreation center and checking out local places to eat in Norfolk.

A local food favorite is the Greg Brady Burger over at Jack

Brown's on Granby Street. This burger is topped with house-made

Mac N' Cheese,

American-Cheddar blend cheese and Martin's BBQ potato chips, a

sandwich built for man in hot pursuit of a quarterback on a routine

basis. Keion is a Real Estate Major and aspires to buy and restore

desolated homes in Norfolk and then make them available for low

income families in the area. The ferocious defensive end wants to

continue building on his remarkable year where he has already been

named C-USA Defensive Player of the Week after his performance

against University of Virginia.

With the heart of the schedule left to be played, it is vital for ODU

students to get out and support the football program. When asked

what it means for students to come out and support the program

Coach Wilder responded "I tell the players that those are your classmates

and to thank them for supporting us. We take pride in the 11

letters across our chest that say Old Dominion".

When asked if he was a New England clam chowder or a

she-crab soup kind of guy Coach Wilder replied "I would

take a bowl of clam chowder with every meal. Breakfast,

lunch, and dinner I can eat New England clam chowder all day".

The clam chowder sounds good, but the ODU football team is in

pursuit of something else that would fill all fans and players appetite.

The coaching staff and team put emphasis on winning all conference

home games and a few on the road. If the Monarchs accomplish this,

they could see themselves playing for their second Bowl game in

the program's short history. The new stadium has been consistently

selling out with a large student body population.

Quarterback Stone Smartt continues to improve every week at

the position. The defense shows tremendous speed and effort that

demonstrates unity. Shut down corner back Kaleb Ford-Dement

endlessly demonstrates why the opposing quarterback shouldn't

throw in his direction. This defense is stacked with pass rushers like

Jordan Young and Keion White leaving quarterbacks running for

cover.

With the additional seating and the added leg room for fans, the

home games are the ideal place to spend your Saturdays. The stadium

has also upgraded their impressive new state- of-the-art video

board and ribbon scoreboards that line the west, south, and east

sides of the stadium. Don't forget the increase numbers of concession

items sold at S.B. Ballard Stadium.

Crab cake sliders, tacos, Philly style cheesesteaks, and nacho builders

add to the reason to come route for your Old Dominion football

squad. This team continues to improve every week and with conference

play heating up, it could make for a recipe for success for the

ODU Monarchs football program.

Fall 2019 | 36
---
TECHNOLOGY

LEVEL

UP

Interview on

ODU's Game Studies & Design

Major with Dr. Moberly

Tyler Eddins

37 | maceandcrown.com
---
Dr. Kevin Moberly is the Associate

Professor spearheading the new Game

Studies & Design (B.S.) degree here at

ODU.

Mace & Crown staff writer Tyler Eddins

sat down with Dr. Moberly to discuss the

ins and outs of the new program. Below

is a portion of their conversation.

What's your background in

gaming?

Dr. Moberly: I've always been interested

in gaming. My brother and I grew up in

Portsmouth… I remember we went to

a mall in Newport News, we were very

young and saw our first video arcade. We

immediately on the way home were like

'How can we make one of these things?'

So, we were thinking like strings and like

screws and all the things to make Pac-

Man move around. So, I've always been

sort of interested in games… I've always

been interested in how games draw people

in, how they construct experiences,

how they reward people, how they punish

people all of that kind of stuff.

What are some of your favorite

games?

Dr. Moberly: Some of my favorite games

are 'Borderlands 2', 'Portal'. Some early

games, 'Star Flight', 'Star Flight 2'. The

genre of games I really like are games

like 'Oblivion', 'Skyrim', 'The Witcher',

these medieval themed roleplaying

games… The types of games I like are

these just kind of enormous epic things

where you as a character go into these

worlds and you feel like your completely

overwhelmed and then you little by little

unlock the world and unlock the puzzles

and things like that. I also do really like

casual games just for how they can put

a lot of gameplay in five-minute sessions.

I'm always looking at games.

This Game Studies and Design

degree that you're bringing to

the school, was there something

similar in place or is this new to

the university?

Dr. Moberly: This is new to the university,

but this is the second attempt. I've

been working for five years to get this

started. It grew out of the Video Game

Design and Development Club. I've

been teaching for the past five or six

years a class called Gaming and Rhetoric.

I've always advertised the class

to a wide swath of students and I had

some students in the first or second

year I taught it say 'We came here and

we would like a major' and 'How do

we start with a major?', and things like

that. So, Avi Santo and I started an initiative

with a gaming company idea that

students at ODU would work for private

and public clients creating games

as a kind of internship and then they

would have something for their portfolios.

That one we did good work, but it

didn't work out because of some issues

at the time. This is not me just doing

this program. It's Andrew Kissel in Philosophy,

Marc Ouellette in English and

Virginia Tucker in IDS.

You mentioned the Game and

Rhetoric Course, are there any

new courses in the program?

Dr. Moberly: All of the game courses

are new... GAME 201 introduces the

students to the 4 core areas. The

two explicit areas of the degree and

the two hidden, or Easter egg areas.

The two main ones are Design and

Development. Design being art,

levels, sound, story, that kind of thing.

Development being programming.

But there's also a strong emphasis on

entrepreneurship because the gaming

industry is a creative industry, and

if you're going to go into a creative

industry you need to have a portfolio.

"We want to produce

thoughtful, mindful game

designers."

You need to know how to market

your ideas. You need to know how to

sell your ideas. You need to be able

to come up with innovative ideas and

recognize opportunities. The other

piece is the criticism piece.

We want to produce thoughtful,

mindful game designers. We want

to produce game designers who can

analyze games to say, not just what

looks good and what doesn't, what's

fun and what's not fun, but also to

sort of come up with games that

reach broader audiences. Games that

are more politically conscious. Games

as art… We want are students to

distinguish themselves and to work

in the industry. But also, to say I have

this ability to think in new ways and

different ways. To see opportunities

where other people didn't see

opportunities… Then we have GAME

240 which is a class that is all about

reading games and about the critical

angle of games. It's about how to

evaluate games.

Fall 2019 | 38
---
"I love games. I'd love to have this program

help make Norfolk a kind of a

center for games."

Because I think game designers and

game developers need to know

how games communicate messages.

How games are at once the same

as cinema, fiction, sports and other

things, but also different… It's about

critically playing games. We have a

GAME class on the books that's all

about world building… We have a

class on mechanics of course and

balance and all that kind of stuff. Then

a lot of the skills-based classes, since

it's an IDS degree the programming

classes are in computer science. I

put an English class on the books for

creative writing for games. The art

classes are in the art department

and we have some communications.

So, what we are trying to do is take

what's already there, the expertise

that the university has and then tie

these together with a core.

Is there a way that you're

planning on integrating games

in your course like how the film

courses integrate movies?

Dr. Moberly: Every day I have the students

play games. You know, it would

be silly to have a Shakespeare class and

not read Shakespeare. In the GAME 240

class I'm going to assign games that students

will play, and we'll talk about these

games. Also, a strong emphasis on creating

games. The final project for GAME

201 is the students will create games.

Right now, they're coming up with game

ideas and then they're going to design

and then program things because we

think it's important for people working

in the gaming industry to not be an expert

in every aspect but know how the

aspects fit together and work together.

Again, we're trying to teach people an

entrepreneurial way of figuring out, ok,

this is a game I want to make. Being able

to evaluate whether or not this game

will be marketable. If you want to make

serious games for education whether it

will be effective and then figuring out,

ok these are what the assets I need to

create for the games. These are where

the resources are, and this is what I need

to teach myself and this is what I already

know. Then putting all that together in

a way that creates a final package… The

gaming industry is constantly changing

and constantly evolving… We want to

prepare our students to be able to come

to terms with those changes and not

get stuck in a rut… One of the primary

ideologies is new, better, faster, brighter.

Every game tends to be better faster

brighter than the other game, and that

requires a certain mindset.

How many students have

expressed interest or committed

to following this new degree

program?

Dr. Moberly: I think we have about… 20

majors right now. 20 majors, but I've just

met with a student earlier today about

it. I have an email from another student

who wants to meet with me. So, I think

there's a ton of interest.

As of right now is it strictly a

major or is there a minor as

well?

Dr. Moberly: It's a major right now. We

want to eventually get a minor, but in

order to get a minor we need to be

able to offer all the courses that are required

for the minor in one semester.

This semester we are only offering one

game class. Next semester we're offering

GAME 201, GAME 240 and English

355… Then hopefully next fall we'll be

offering more but we're just trying to

ramp our ourselves up… Just building

up speed. Just gauging interest because

we don't want to build all this infrastructure

and then have it go to waste.

But at the same time, we don't want to

underestimate the demand either

What kind of jobs and internships

can students who follow this degree

program expect to get? Are

you focusing more on just the development

side or are there going

to be later iterations dealing with

game marketing and other areas?

Dr. Moberly: Yeah. Right now, we're just

primarily focused on design and development

because we took a look at the

job ads out there... Eventually we would

like to branch into business for games,

game marketing and the other way we'd

like to branch into is education games

and things like that. We're still working

for internship opportunities and still trying

to identify those with local people

around and nonprofits and things like

that. So, yeah that's what we're aiming

for. But right now, we're just going for

what the job ads kind of tell us.

39 | maceandcrown.com
---
Is there some sort of student involvement

where they're telling

you what they would like to see

course wise?

Dr. Moberly: Right now, it's informal

through informal feedback but eventually

I'd like to put together a student advisory

group and also a faculty advisor group.

So it's having students say this is what

our feedback is and the classes and you

get the students involved because, like I

said, this from its genesis was the Game

Design Club coming to me and saying we

really want to study this thing and there's

no program. I mean George Mason has

a program, but that's four hours away...

So, it's been kind of student driven from

the beginning.

Are you looking to eventually

move into a portfolio system of

progression for the degree like

the art programs?

Dr. Moberly: Yeah. We are doing that.

The first assignment for this class is an

invention challenge. Basically, how to

come up with ideas for games and each

step, but the last thing is to culminate a

mini game proposal which they will publish

on their WordPress portfolio site.

I don't see this as being a test or quiz

based major. I see this being a major like

art, like creative writing in which the primary

way that students are going to get

jobs is that they have a portfolio. One

thing we know in design is that nobody

gets design right the first time around.

It's a lot of stops and starts, going forwards

and backwards and so portfolios

allow for that to happen versus thou

shalt submit, you know?

Where do you want the

program to go?

Dr. Moberly: I want it to be one of

the leading programs in the nation. I

want people to come out of state and

from out of country to ODU to study

games. A lot of programs I see are either

in development or design they're

not in both. I don't see any having the

entrepreneurship. Focus. I don't see

many having the criticism focus. Another

area we want to expand is to

prepare students to go to graduate

school in games and games studies

and stuff like that… In the near term

what my vision is we're going to, I

think it might be too soon to say this

but I think we've talked with the administration,

have a stand-alone lab

which we can teach classes in but

then students can also come in and

work on their own projects and programs.

Also, to have a gallery space

so we can show of the games that

students make. Work with the local

community with Pixel Fest and some

of the other things to encourage gaming

in the area and Norfolk, Virginia…

I love games. I'd love to have this program

help make Norfolk a kind of a

center for games. We're halfway between

Washington D.C. with Bethesda

and then Raleigh so we're in this

area which is kind of sandwiched between

these two major areas of production.

You know, I just want it to

have a reputation for employers to

say if you hire an ODU student from

this program the student will not just

know the fundamental skills but be

self-motivated or be able to take on

projects without having to look over

their shoulder. Will be innovative and

a good communicator and that kind

of thing. That's what my vision is.

Fall 2019 | 40
---
TECHNOLOGY

HEY, I

RECOGNIZE

YOU

41 | maceandcrown.com
---
Kyle Winfield

Cameras are everywhere. Traffic cameras

catch someone speeding or running a red

light. Surveillance cameras can act as a deterrent

from stealing in a store, or any number

of things. Police wear them on their

bodies. You have one in your pocket. At this

point, they are just another part of everyday

life. They have become so commonplace that

we do not even notice them anymore. But

what if these cameras could recognize you?

Facial recognition software is the technology

that is able to recognize and identify

an individual from still images or a video

frame. They work by selecting certain facial

features and then matching those against

a database of other faces. The technology

has been around for longer than one would

think, getting its start in the 1960's.

The original software, developed by Woody

Bledsoe, Helen Chan, and Charles Bisson,

worked by manually picking out various aspects

of human faces and then compared

against other faces in a database in order

to determine the identity of said face. This

technology would evolve from having humans

manually enter faces and the distances

between features, to involving AI learning.

Since then, facial recognition has been used

in a variety of circumstances. The most

common instance is on smartphones. Replacing

the old PINs, passwords and fingerprint

scanners is facial recognition which

has emerged as a new way to unlock your

phone. All that's required is the phone owner's

face and a front facing camera. The software

stores an image of the owners face

and then scans their face against the stored

image whenever they open up their phone.

Another usage of this technology is in the

world of medicine. Similar to how smartphones

will unlock by scanning the user's

face, some hospitals dispense medicine by

scanning the face and matching it with a prescription.

While those former uses seem relatively benign,

there are some other uses, and flaws,

of this technology that should raise some

serious eyebrows.

Using facial recognition software to catch

criminals sounds like something out of a science

fiction film. It conjures images of grainy

camera footage zooming in on a crowd,

where it singles out the perp's face, scans it,

and then enhances the image to a sharper

clarity. The police then do their job, and the

case is solved.

Or it could go in a different direction, where

the software misidentifies a suspect, and the

police arrest the wrong man. These fears

were shared by many in the field of facial

recognition software who feel that this

would give the police and other government

organizations too much power in monitoring

the populace.

While the software has the potential to

be used to make breakthroughs in missing

persons cases, or track criminals, it is still

not perfect. This would lead to mistakes and

false positives being used as the basis for

making arrests. Or even worse abuses.

This has led to companies who produce the

software refusing to sell it to law enforcement

agencies, and even calls to congress

to limit the uses of this technology. Brian

Brackeen, CEO of Kairos, a company that

produces facial recognition software, expressed

his concern for the potential uses

of this software, saying "It's not too late for

someone to take a stand and keep this from

happening."

Brackeen's concerns comes from the software's

lack of ability to differentiate faces

of people who have darker complexions.

This concern was also noted in a New York

Times article, which detailed the success

rate that these technologies had in terms of

differentiating between lighter skinned faces

and darker skinned faces.

Steve Lohr, the writer of the New York

Times article, noted that in the cases of

the software trying to identify white males,

"the software was right 99 percent of the

time." Contrast this with the software's success

in identifying darker skinned women

which was "35 percent for images of darker

skinned women."

These disparities were documented by M.I.T.

Media Lab researcher Joy Buolamwini, who

demonstrated that biases can creep into artificial

intelligence, due to what kind of data

is fed to it in order to train it.

When the AI is given more images of white

male faces, it will be better able to differentiate

which face belongs to who with a much

higher rate of success. The inverse is true, in

that when given less faces of African American

women, the lower the rate of success

will be in terms of differentiating between

them.

Think back to how this could be used in

the field of law enforcement. If a law enforcement

agency purchases a software

that was trained disproportionately to

identify white men with a higher rate of

success when compared to black women,

the chances of the latter group being

wrongfully misidentified and targeted will

drastically increase.

Or, consider how the technology has been

used by law enforcement abroad in places

like Hong Kong. While political protestors

fill the streets of Hong Kong, the police

have taken to using facial recognition tied

to surveillance cameras and phones to target

individuals who lead the protests in order

to arrest them. This has led to protestors

covering their faces in order to avoid

being targeted by the increasingly aggressive

police tactics.

The same goes for protestors, who have

taken to using facial recognition apps to

target undercover police who have tried

to infiltrate said protests. One protestor,

Colin Cheung who was wrongfully arrested,

defended the use of the apps, saying in a

New York Times article "If law enforcement

officers don't wear anything to show their

identity, they'll become corrupt."

These are just some of the ways that facial

recognition software can be used. While

there are some positive uses, there can be

just as many negative uses that could ultimately

harm a society and it's people.

Fall 2019 | 42
---
TECHNOLOGY

Indie Games to play this Halloween

Konami

Team Cherry

Castlevania : Symphony of the Night

This article couldn't exist without mentioning

this one. It's, like, THE one. I mean,

Metroid gets you with its tone, the atmosphere

all lonely and oppressive, and you

can get killed by big aliens - but you play as

a vampire in Castlevania. And think about

what else defines traditional horror. Frankenstein's

monster? I'm pretty sure this has

that. Werewolves. They're hanging out in

there too. Whips? Oh, of course. But, I know,

I'll admit – the game isn't all that creepy. Yet

I give it a pass because of the legacy. It's in

the freaking name of the genre. Halloween

is around the corner, too, the fetid musk of

zombies and other ghouls wafting in. So,

Symphony of the Night is worth mentioning

for the thousandth time. The game did

some great things for Metroidvania combat,

no doubt inspiring Blasphemous and Hollow

Knight's swordplay, with those deft horizontal

swings. Then there's the map, which

is brilliant for many reasons, but especially

so for the big flip, I mean, big twist. It's a

map that's pulling double duty. Still, while

there is so much more that could be talked

about, it is my imperative to use this final

sentence as a reflection on this game's burning

question: the question which reverberated

throughout the decades following its

raucous disquisition: "What is a man? A

miserable little pile of secrets. But enough

talk… Have at you!"

Hollow Knight isn't permeated by horror, but

it is certainly touched by it. Everything in the

game is dark and it makes sense. I mean,

the game is underground. At least 90% of it,

anyway, is underground (and no, not in the

sense of the word that most indie games are

underground). What's underground, then?

A lot of things, and a lot of those things are

animated by a want to kill you. There's levity

here and cuteness there, but it seems a proclivity

to perturbance runs deep, where long,

serrated bugs unfurl out of caverns and into

deeper, and darker, pits. The game is something

to be marveled, as a game, where the

sense of progression is strong, and the length

of the core experience is gloriously exhaustive

and touched by all the right kinds of lore in

that it doesn't tell you anything, ever, without

Hollow Knight

a question lingering as to the past. Why

are all these buggy monsters trying to kill

you? What happened to this great, decrepit

empire? Where did everybuggy go? Most

players won't ever know and that's half the

beauty of it and half of what makes me

squirm.

43 | maceandcrown.com
---
Sean Fitzpatrick

Metrovanias are some of the best indie games, especially during the Halloween

season. Let's take a look at some of the scary stuff.

Thomas Happ Games LLC

Axiom Verge is very strong, with satisfying

map traversal and combat, its inspirations

loud and emblazoned, from Metroid

(of course) and, interestingly enough, from

Contra, and it's creative in drawing attention

to its medium, too, as the player character

glitches through walls and defrags swirling

fractals. Yet at the outset, Axiom Verge appears

to be a far cry from the macabre, with

its typical assortment of hostile alien fauna

and laser guns. However, upon further inspection,

science fiction gives way to something

nasty, writhing just beneath the skin. It's

the heart of what makes it special, as well as

what makes it relevant this time of year: it's

pulsating and disturbing. Walls breath, complete

with many deep mouths and blushing

veins, rippling with life. A young man purses

Axiom Verge

a cycle of life and death, as he is birthed and

rebirthed endlessly by a pimpled egg. And

most fun of all are the Rusalki - giant, dubious

mechanoids grafted to chamber walls

and sometimes lumbering through their

open spaces, tubes jutting out the backs of

their heads while neck tendons hang in the

open air. The game's like Metroid if it leaned

more into the whole H.R. Giger thing,

The Game Kitchen

This one is open about its, erm, tastes. It may

even be over-the-top - but it's done in such a

way that I can't help but take to it. Blasphemous

is manic about pain and it is obsessed

with penitence taken to gruesome extremes.

In metroidvania fashion, the player needs to

traverse, but what characterizes this world,

exactly? It's the literal mountain of dead

bodies. It's the pathways marked by blood-

soaked iconographic monoliths. Blasphemous'

world is tainted by some oxymoronic

force that is, at once, loved but feared,

gentle but brutish. By the zealous force of

some anachronistic and unnamed religion,

there is endless self-flagellation and endless

blood, that seemingly must go into conical

helmets. It's gripped with this kind of thing

and thank god, right? It's wonderful looking.

Blasphemous

Gameplay-wise, it's great. Dodge, and hit,

good movement, etcetera. This may help the

reader understand, but it will come at a great

price. I will now commit the cardinal sin of

game editorials and say that Blasphemous is

the Dark Souls of metroidvanias. I am aware

this is a silly thing to say, but, oh well. Now I

must be punished!

Fall 2019 | 44
---
TECHNOLOGY

The

sychology

of

error

HOW HORROR GAMES MESS WITH YOU

BROOKE NICHOLSON

Horror games and movies are a Halloween

staple when it comes to wanting to get into

the spooky mood, and people love to scare

the crap out of themselves. While we know

horror movies employ the use of certain

techniques such as blue tones, use specific

instruments like the apprehension engine,

and do not use a normal amount of lighting

when filming, horror games use a variety of

other individual, unique techniques in order

to make sure the person playing the game

is able to get into a petrified state, all in the

name of fun.

One of the first ways horror games project

the feeling of dread onto its players is the

same as horror movies - the use of lighting.

Horror games, like the movies, create

a sense of unknowingness when they force

their players into a dark forest alone, or

through a seemingly never-ending hallway

loop. Being afraid of the dark has been a

common phobia for as long as humans have

roamed the Earth, and is an easy way for

developers to hide a creature in, or to play

an inhumane noise to echo in the distance.

This darkness gives players the false hope of

thinking that if they just keep moving forward,

that eventually they will see light at

the end of the tunnel.

Have you noticed that when you play a horror

game, there usually aren't that many

other people around besides your main

character? Developers do that on purpose.

Most people tend to gather up some courage

when they know they have someone

else by their side who might be able to help

them. Having another person beside you in

tough situations brings out certain characteristics

such as pride and false bravery, but

once you're by yourself, there is no one else

there to judge you by your actions. This tactic

works especially well with horror games;

unlike horror movies, where the camera

decides where you look and the director

chooses what will happen to the main character

and you're guaranteed an ending, horror

games force you to make those decisions

for yourself, and if you don't make the

correct ones, then you may not make it out.

The fear of the unknown and being cast

into unfamiliar territories and situations

is wired into the human brain, and horror

games do us justice by messing us up when

it comes to its crazy environments. When

anything is taken to the extreme and wildly

out of context like religion, emotions,

and even children, we as humans do not

know how to handle situations that deviate

far from the norm. Developers of horror

games use that weakness against use in order

to explore what it would be like if we

had to suddenly fight off a extremist cult, or

wander through environments that do not

exist in real life, or handle a child who constantly

disappears/reappears again with the

concept of murder on their mind. Because

the concept of horror and terror are not

what we normally experience in day-to-day

life, we are forced to revert back to basic

survival instincts in the game and would do

anything just to make the nightmare end.

Courtesy of Hideo Kojima

45 | maceandcrown.com
---
CREATIVE ENCLAVE

I Am

Saving

You

Leah Onosato

You take my hand and your hand is cold.

Cold, but not like ice. It is not wet, or uncomfortable.

No, it is like marble. Smooth and

soothing.

I think, this is not bad. This is nice.

I think, to myself, what is everybody so afraid

of? This is nice.

I wonder again why I came out here tonight. I

wonder aloud, and you answer me.

You say, 'To find me, of course.'

And I, of course, agree. I don't know if you

are right, but I agree.

The woods are a strange place. There are

bugs chirping and leaves rustling. The wind

cools the earth and the branches dance to

unheard music. The stars glisten from between

tree-heads. The moon peers down at

me like a cyclops. You sit beside me on the

tree trunk, in silence.

I've yet to ask you your name, but I know who

you are. Because you are right. I did come

out here seeking you.

And now I've found you.

I've toyed with the idea of meeting you for

quite a while now. I just never had the stomach

to follow through with it till tonight.

I couldn't tell you why tonight seemed like

a good idea to meet you, because I am still

trying to figure that out myself. I vaguely remember

a reason. Maybe. Maybe not. I'm not

sure anymore. My brain feels like it is filled

with fog and clouds. Every moment spent out

here in the still of night with you is making

my memories and processing so rusty, it

feels like I haven't tried to think in a century.

My heart is beating so hard. It is alive. I am

all emotion, no logic.

I have no proof, of course, but I think it is

because of you. I think you are changing me.

I'm becoming simple again. You are bringing

me back to childhood, to infanthood. I am

falling apart, but coming together.

What are you doing to me?

I do not dare say it aloud, but you seem to

hear me, and answer.

You say, 'I am saving you.'

And I agree.

Is that not exactly what I sought you out to do

for me? To save me?

But you speak again, with a voice so soft, like

a whisper. But you are not whispering, you

are speaking aloud. You say, 'I will save you.'

I nod my head.

'I will save you, but you will not like how I

do it.'

You are confusing me. I came here perfectly

aware of who you are. I know what you will

do. I know how you will save me. Why should

I not like it?

Granted, I did not think it would be pleasant,

but I knew what I was getting into. It annoys

me to think that you thought I came here

when I was not yet ready.

I am ready.

Very ready.

I would not be here if I were not ready.

To meet you.

I say none of this, but again you hear me.

Your voice slips into my ear, like a comforting

endearment. Your voice is very beautiful,

like your flawless pale complexion. It is poetic

and rhythmic. The rhythm is slow and the

poem a tragedy. But it is beautiful.

You say to me, 'You must go home tonight.

Tonight is not your night to go home with

me.'

Your words sting my heart.

Why not? Why? I came here to meet you. To

go home with you. Tonight.

'Not tonight,' you say. 'Tonight is not your

night. Come back to me, later, and I will take

you home to be mine. But not tonight.'

Then you let go of my hand, and I panic.

I reach for you, but you are already out of

reach. Don't go. Don't go. I cry aloud, but

you do not come back. You slowly drift away

from me, shaking your pretty face. You are

so cold, you are marble. I cry out, what are

you doing? Where are you going? Why are

you leaving me?

You say, your voice becoming the wind. Becoming

the murmur of night. You say, 'I am

saving you.'

I want to run after you, but you are already

gone. I am left alone, saved you say. I do not

feel saved. No, I feel forsaken.

I wish you would come back. I think of falling

and night and falling stars. I remember falling

in an effort to run after you. I am a mess,

a puddle of grief that tragically shimmers

with moonlight of hope.

You are still in my head. Telling me 'go home,'

whispering in my head, 'to tomorrow.' This is

not how I wanted to be saved. I wanted to

forget every shade of tomorrow.

I cannot.

The moment is lost.

You have taken it from me.

I cannot tell, Death, whether you have saved

me or left me broken beyond repair.

Fall 2019 | 46
---
CREATIVE ENCLAVE

Sleepwalking Cliché

Ashley Mazza

47 | maceandcrown.com
---
My inflections quiver like, like, like

It hurts. I- I want you to understand that it hurts.

I'm having trouble sleeping

Having trouble eating

Having trouble thinking

I push against the broken door

Hoping the frame will cave in on me

It doesn't.

I want to move forward

Shear will won't fix anything

They are heavy

Like, like, like

Fuck, I wish I could think.

Like, the rain during a hurricane

I cling to… I can't decide which word would be better

More conveniences are consumed.

I'm not afraid.

Like, like, like androphobia

Tell my non schizophrenic brain "I'm fine."

Like, like, like the exhaustion is temporary. Normal.

Whispers cascade, tumble down my brain

I'm having trouble thinking

Having trouble eating

Having trouble sleeping

Sit alone, sit with the uneasy, uncomfortable

Heart death

Air suffocates my waterlogged lungs

Like, like, I can't find the words to explain

Petrification of body numb silence

Screech into my mind

I will never hear you

We all die here.

Feeling light in the head

My bed is more comfortable than your friendless concern

Like, like, like

Relaxing more than just my suicidal self loathing

I don't know how to- shhhhh.

Fall 2019 | 48
---
CREATIVE ENCLAVE

Jack O Lantern Tale

By Rivers Raye Middleton

49 | maceandcrown.com
---
Time to carve the jack-o-lantern!

Sister and brother sat down to watch.

Father had been very stern;

Do not eat any butterscotch.

She looked back to her parent

To tell them he was stealing

But she couldn't see where they went

And she got a funny feeling

"We will hollow you as your mother

Hollowed us! Just stay right where

You are don't be a bother."

They dance in a circle around the pair.

Brother had taken some

Only for sister to get blamed.

Anger made sister numb

For she had been framed!

Use a knife to carve

Eyes a mouth and nose

Make sure it has a good curve

And the teeth cut in spiky rows

The Pumpkins seem to squeeze tighter

Around the children their wicked eyes

Seem to glow a little brighter

Jack-o-lantern is the demon's guise

Sister crossed arms and put down her

head.

Sister could not carve a jack-o-lantern;

She would much rather go to bed,

Instead she watched the candles burn.

She wished brother were gone,

Or never born then she could

Carve the pumpkin; it was wrong

She pulled her head into her hood.

Scraping scraps scratching

Seeds and pumpkin splat

Scratching scraps scraping

Thinking about the little brat.

Pumpkins pumpkins pumpkins

Hollowed out inside

Pumpkins pumpkins pumpkins

Crushed to make pumpkin pie

Sister looked up across the streets

A ring of the hollowed out things

And in the middle a bowl of treats

Butterscotch and hard candy on strings

Jack-o-lanterns soon to be

Pumpkins pumpkins pumpkins

That is what once they were; free

Pumpkins pumpkins pumpkins

Brother followed to get more sweets

And sister got a little bit mad

And tore off his ghostly sheets

Tears sprung from the lad

Scoop out the seeds

Scoop scoop scoop

Pull out the pumpkin; juice bleeds

Scoop scoop scoop

Sister finally noticed something

Something something endless

What she finally noticed was something

That made her feel helpless

A face blank; oranged

Horrendous expressions cut across

Evil expression madman deranged

Just a head lying in the moss

A hundred of them in a circle

Gathering around brother and sister

Fear was monumental

For this could not occur

Put in a candle light the candle

A light flickering monstrously behind

A spark of madness few can handle

More human than a simple rind

Sister was unsure what to do

Brother was shaking uncontrollably

All around the children they grew

There was no room to flee;

Pumpkins pumpkins pumpkins!

Glowing evilly in the night

Pumpkins Pumpkins Pumpkins!

Cackling in fiery delight

Everywhere the children turn

Pumpkins Pumpkins Pumpkins

Pairs of eyes into their hearts burn

Pumpkins Pumpkins Pumpkins

They seem to come in closer closer

Hovering around the children in the

ring

A little candy performed the lure

And now all those raucous pumpkins

sing

Pumpkins pumpkins pumpkins

Pumpkins pumpkins pumpkins

What a death to die by pumpkins

Pumpkins pumpkins pumpkins

The Jack-o-lanterns cut off brothers

head

And hollowed it and made teeth

He was a Jack-o-lantern now; dead

Now she looked at her body nothing

beneath

This was impossible to swallow

No one could hear her plea

She had become a hollow

She was nothing; empty

Scream scream scream

Jack-o-lanterns nightmare

Dream dream dream

Her mother brushing her hair

So sister finally awoke

She had fallen asleep. "Brother?"

The tears stung and choke

Sister ran and hugged brother.

She knocked the jack-o-lantern off

The table on her way. "Sister! Why,

You knocked our jack-o-lantern off!"

And the sister just laughed then sighed.

Fall 2019 | 50
---
CREATIVE ENCLAVE

Real Life

Leah Onosato

I always liked horror films. I liked to go to the movies

with my buddies and get myself scared out of my pants.

The scarier the better, ya know? Bloodier, darker, more

shocking. Or whatever. I'm just saying that I liked that

stuff, okay?

But only because I guess I thought it wasn't real. Or at

least not real for me. Never me. No one does, you know.

No one thinks that that mess would happen to them. The

ones who do are the ones who 'don't like horror movies.'

For others, for me, it was never real. It didn't happen in

real life.

I didn't realize how easily it could happen.

To me.

I guess maybe I should've seen it coming? I had always

been the outsider within our friend group. I use that

term as an understatement, to be polite. I was part of the

group, I guess, but I was the one who'd be told to take the

trays to the trash and be left behind at the cafeteria when

I did. I was the one who'd they have run errands, like buy

the drinks. And then get the drinks poured on me and

have to go back to get more. All in jest, of course. As a

hilarious joke, of course. Of course.

I guess I should've seen it coming. I was living it after

all. I guess I just thought it was better than being alone.

I thought that if it meant I belonged, if it gave me a place

to be from or of, what did it matter? If putting up with all

the jests would keep me from being alone…. Of course,

look at what it's come to. I'm alone after all.

Alone in a dark tunnel covered in graffiti. Is it sad that

it has to be such a cliché setting? Do you wish it was a

bit more original? Like... but that's the problem. Horror

movies are cliché anywhere. They've used up all the

good places: abandoned sheds, sewers, fortune-teller

lairs, carnivals, woods. Nowhere is not cliché, so it really

doesn't matter, okay? I mean, don't you think?

It smells bad in here. Really odd combination of smells.

I wonder how many things are coming together to produce

this specific opposite-of-cliché odor. I wonder why

I sound so detached, even in my head. Coping method, I

guess? My psychology professor could maybe tell me. Not

that I'll be seeing him anytime soon.

The day started out so normal. I mean, something

like this takes a lot of preparation so I guess it

should seem normal for a perfect crime. I went to

class, a little tardy, I guess, but that's an inconsequential

deviance from the norm. Wouldn't you

say? Happens to anybody, anytime, without meaning

bloody anything.

As usual on Fridays, a call to go out tonight was

sent to the group chat. As usual, it was sent by Aria,

a criminal justice major, and the only girl among

us, so the only one with access to parties in the

first place. This was normal. Usual. A pretty much

weekly thing that I was expecting. Completely normal.

Nothing suspicious or out of order or implicating.

Completely normal. What did I have to worry

about?

Don't you see? It was the perfect precedent, the

perfect setting, for a crime, for a perfect crime, far

better than any of the cheesy horror movies I used

to love so much.

I used to love them. I really did. Horror was my favorite

movie genre. It really was. Until it became

real. Until it happened to me.

I was there though, you know. It was my own damn

life. In hindsight, the signs were everywhere. The

subliminal hate and mockery and rage. How did I

not see it coming? Why did I pretend it wouldn't

happen, wouldn't come?

As usual, I was the DD. Everyone crammed into my

car and I drove for some frat house, which just so

happened to have a shortcut through a dark tunnel,

where my car just so happened to break down.

It's old and battered, so this is normal too. It usually

broke down once a night whenever we went out

as a group.

So many things had to line up, you see. For the perfect

setting to a perfect crime to a perfect horror

story. But they lined up so easily. All the necessary

checkpoints were made.

The car stopped. I got out. I dug out my toolbox. I

perform a thorough engine check. One by one they

came out to help, each getting their turn. It was one

against 5, 2 of 'em D2 athletes. Done so beautifully,

really. Most efficiently. The goriest way possible

to get all the shock factor points in for the horror

movie that was being enacted. In real life. So fitting.

Such a perfectly executed crime.

I should have seen it coming. I should have, don't

you think? I should have known the horror stories

are real and that they can happen to anyone, anytime,

anywhere, by anyone. All six of us should've

known.

How weak life is. How fragile. How bloody death is.

My hands are covered in blood. So much, so much

blood. It's everywhere, and it smells bad.

So this is what death, what murder looks like in

real life. It's pretty messy. And actually kinda

slow. Took forever. Much longer than I thought. Of

course, it was 5 people, going one at a time.

51 | maceandcrown.com
---
So, so much blood.

Everywhere.

On my hands.

On my car.

On my toolbox

On the ground.

All over my friends.

Am I still allowed to call them my friends?

So much blood.

So sad.

So much life lost.

I should've known it would happen.

All the signs were there.

I guess I just didn't think I would be brave enough.

Or that I would succeed.

But it was just so easy, too easy.

I knew I had it in me to be a murderer, but I guess

I still thought it didn't actually happen in real life.

Goes to show you huh.

Fall 2019 | 52
---
CREATIVE ENCLAVE

How Do You Spell Epiphany

Brooke Nicholson

The walk did more

than nothing.

The reds and blues -

and greens -

were inked on

by a creature wanting more

than this.

The faded colors over

the crooked bridge,

the one whose boards were not

held together well and manifested

the personality of its surroundings,

beheld another whose primary purpose

was unknown.

But, despite the ominous beauty of it,

the look on his face says it all.

The black cloak

and ghostly head could not contain

the feeling, the thought,

that the environment, nor the outfit can be seen

as the burden that gouged the hole on his face -

into a scream.

53 | maceandcrown.com Courtesy of Public Domain
---
WE LIKE YOU.

COME JOIN OUR TEAM.

HOWEVER YOU'D LIKE TO ADD TO THE MACE & CROWN STAFF, WE HAVE A

PLACE FOR YOU. CONTACT OUR EDITOR-IN-CHIEF

AT EDITORINCHIEF@MACEANDCROWN.COM

TO GET STARTED.

facebook.com/maceandcrown

M&C

est. 1930

www.

@maceandcrown

@maceandcrown

maceandcrown.com
---
show up | sign up | step up

You can leave your mark on campus if you...

Show Up | Get out there and try something new, whether

it's cheering on the Monarchs at a Football game or attending

a student organization event. Put that event on

your calendar and bring a friend along with you!

Sign Up | Put your name down on the mailing list for

that organization, sport club, or leadership development

program. Pick something that you're interested in and

give it a try!

Step Up | By taking on leadership roles in your

organization, volunteering to help unexpectedly, or

pursuing an on-campus job, you'll develop valuable skills

and build relationships that you can take with you when

you graduate from ODU!