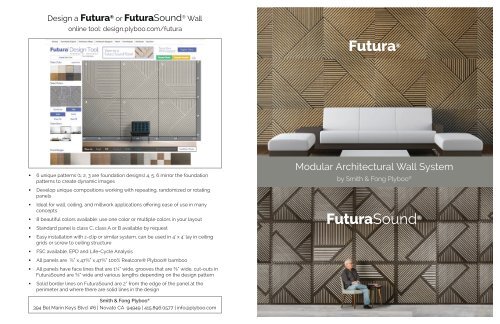 FUTURA FLYER 2019
Information about the Futura Product Line from Plyboo
Information about the Futura Product Line from Plyboo
SHOW MORE
SHOW LESS
Do you know the secret to free website traffic?
Use this trick to increase the number of new potential customers.
Design a Futura ® or FuturaSound ® Wall

online tool: design.plyboo.com/futura

Futura ®

• 6 unique patterns (1, 2, 3 are foundation designs) 4, 5, 6 mirror the foundation

patterns to create dynamic images

Modular Architectural Wall System

by Smith & Fong Plyboo ®

• Develop unique compositions working with repeating, randomized or rotating

panels

• Ideal for wall, ceiling, and millwork applications offering ease of use in many

concepts

• 8 beautiful colors available: use one color or multiple colors in your layout

• Standard panel is class C, class A or B available by request

FuturaSound ®

• Easy installation with z-clip or similar system, can be used in 4' x 4' lay in ceiling

grids or screw to ceiling structure

• FSC available, EPD and Life-Cycle Analysis

• All panels are ¾" x 47¾" x 47¾" 100% Realcore® Plyboo® bamboo

• All panels have face lines that are 1¼" wide, grooves that are ⅝" wide, cut-outs in

FuturaSound are ⅝" wide and various lengths depending on the design pattern

• Solid border lines on FuturaSound are 2" from the edge of the panel at the

perimeter and where there are solid lines in the design

Smith & Fong Plyboo ®

394 Bel Marin Keys Blvd. #6 | Novato CA 94949 | 415.896.0577 | info@plyboo.com
---
"

48" Modular Panels allow for easy installation

Accoustically rated panels with .67 NRC rating

Futura® FuturaSound® Accoustically rated panels with .67 NRC rating

Color: Greige Noir

Color: Greige Noir

1¼" face line

⅝" groove

47 ¾"

1¼" face line

⅝" groove

⅝" cut-out

2" solid borders

47 ¾"

47 ¾"

47 ¾"

Amber Bitterwood Crema Fog Greige Mist Noir French Noir

Amber Bitterwood Crema Fog Greige Mist Noir French Noir