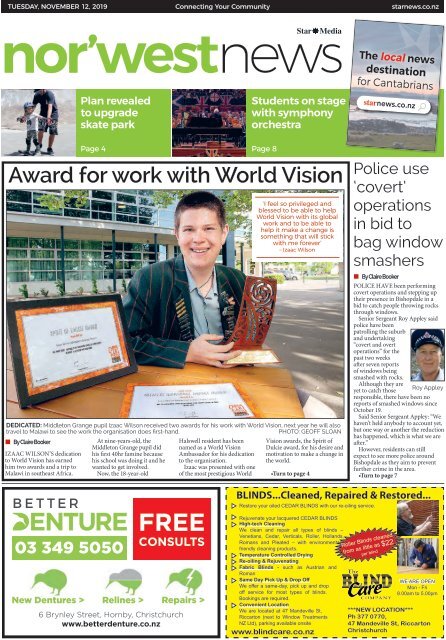 Nor'West News: November 12, 2019
Create successful ePaper yourself
Turn your PDF publications into a flip-book with our unique Google optimized e-Paper software.
TUESDAY, NOVEMBER 12, 2019

Connecting Your Community

starnews.co.nz

The local news

destination

for Cantabrians

Plan revealed

to upgrade

skate park

Students on stage

with symphony

orchestra

• By Claire Booker

IZAAC WILSON'S dedication

to World Vision has earned

him two awards and a trip to

Malawi in southeast Africa.

Page 4 Page 8

Award for work with World Vision

DEDICATED: Middleton Grange pupil Izaac Wilson received two awards for his work with World Vision, next year he will also

travel to Malawi to see the work the organisation does first-hand.

PHOTO: GEOFF SLOAN ​

At nine-years-old, the

Middleton Grange pupil did

his first 40hr famine because

his school was doing it and he

wanted to get involved.

Now, the 18-year-old

Halswell resident has been

named as a World Vision

Ambassador for his dedication

to the organisation.

Izaac was presented with one

of the most prestigious World

'I feel so privileged and

blessed to be able to help

World Vision with its global

work and to be able to

help it make a change is

something that will stick

with me forever'

– Izaac Wilson

Vision awards, the Spirit of

Dulcie award, for his desire and

motivation to make a change in

the world.

•Turn to page 4

Police use

'covert'

operations

in bid to

bag window

smashers

• By Claire Booker

POLICE HAVE been performing

covert operations and stepping up

their presence in Bishopdale in a

bid to catch people throwing rocks

through windows.

Senior Sergeant Roy Appley said

police have been

patrolling the suburb

and undertaking

"covert and overt

operations" for the

past two weeks

after seven reports

of windows being

smashed with rocks.

Although they are

yet to catch those

Roy Appley

responsible, there have been no

reports of smashed windows since

October 19.

Said Senior Sergeant Appley: "We

haven't held anybody to account yet,

but one way or another the reduction

has happened, which is what we are

after."

However, residents can still

expect to see more police around

Bishopdale as they aim to prevent

further crime in the area.

•Turn to page 7

03 349 5050

free

CONSULTS

New Dentures > Relines > Repairs >

6 Brynley Street, Hornby, Christchurch

www.betterdenture.co.nz

BLINDS...Cleaned, Repaired & Restored...

Restore your oiled CEDAR BLINDS with our re-oiling service.

Rejuvenate your lacquered CEDAR BLINDS

High-tech Cleaning

We clean and repair all types of blinds –

Venetians, Cedar, Verticals, Roller, Hollands,

Romans and Pleated – with environmentally

friendly cleaning products.

Temperature Controlled Drying

Re-oiling & Rejuvenating

Fabric Blinds - such as Austrian and

Roman

Same Day Pick Up & Drop Off

We offer a same-day, pick up and drop

off service for most types of blinds.

Bookings are required.

Convenient Location

We are located at 47 Mandeville St,

Riccarton (next to Window Treatments

NZ Ltd), parking available onsite

www.blindcare.co.nz

Roller Blinds cleaned

from as little as $22

per blind

WE ARE OPEN

Mon - Fri

8.00am to 5.00pm

***NEW LOCATION***

Ph 377 0770,

47 Mandeville St, Riccarton

Christchurch
---
2 Tuesday November 12 2019

Latest Canterbury news at starnews.co.nz

NOR'WEST NEWS

news

get in touch

GENERAL INQUIRIES Ph 379 7100

CLASSIFIED ADVERTISING Ph 379 1100

Star Media,

a division of Allied Press Ltd

PO box 1467, Christchurch

starmedia.kiwi

Entertainer becomes local hero

Kathleen Hood has been making rest home residents smile

for 40 years.

Page 5

tasty bites

Fats and oils to stay healthy

Our bodies need stable fats, try our recipes which avoid 'yellow

oils'.

NEWS

Claire Booker

Ph: 021 911 576

claire.booker@starmedia.kiwi

Page 13

community events

ADVERTISING

Monique Maynard

Ph: 364 7474

monique.maynard@

starmedia.kiwi

Rodd Gray

Ph: 982 9308

rodd.gray@

starmedia.kiwi

Create your own Xmas cards

Go along to the Shirley Library on Tuesday from 9.30 to 11am

for an adult creative Christmas card workshop.

Page 15

The best-read local newspaper,

delivered to 15,890 homes

every Tuesday

Harewood, Burnside, Bishopdale, Bryndwr, Fendalton,

Merivale, St Albans, Mairehau, Papanui, Casebrook, Redwood,

Regents Park, Styx Mill, Northwood, Belfast, Strowan.

• The Star

• North Canterbury News

• Selwyn Times

• Ashburton Courier

also publishing:

• Bay Harbour News

• Southern View

• Pegasus Post

• Western News

Selling delicious, original Kiwi cuisine, baking fresh daily.

See in store for our baked Christmas goodies!

EDGEWARE VILLAGE 1066 Colombo St, Ph. 365 0802

BISHOPDALE VILLAGE MALL 135 Farrington Ave, Ph. 359 1020

OPEN 7 DAYS 7.00AM - 5.30PM

Discover Christchurch's

best pet

accommodation

• Daycare - all breeds

• Long stay/short stay

Call now to

book in your

fur baby,

inspections

welcome

anytime!

ALAMEDA

KENNELS & CATTERY

271 Dyers Road | Ph 384 1297

www.alameda.nz

'CEREC' & cosmetic dentistry

Wisdom tooth removal

Painless, high quality dentistry

Sedation dentistry

Experienced, conscientious team

Experienced hygienists

OPEN SATURDAYS

355 9380

144 Cranford Street

www.stalbansdentalcentre.co.nz

Very slick and experienced, and left no stone

unturned. Great marketing! Harcourts gold

Papanui and Cameron's team runs like a well

oiled machine, no wonder it is so successful.

9D CHAMPION STREET, EDGEWARE

CAMERON BAILEY
---
NOR'WEST NEWS Latest Canterbury news at starnews.co.nz

Tuesday November 12 2019 3

News

•HAVE YOUR SAY: What do you make of the newly-elected chairs and deputy chairs? Email

your views to claire.booker@starmedia.kiwi

Board chair goes to Norrish

• By Claire Booker

EXPERIENCED member

Emma Norrish will take over

as chairwoman of the Papanui-

Innes Community Board after

former-chairwoman Ali Jones

decided not to run for the role.

The third term board member

was deputy

chairwoman

last term to Ms

Jones, and was

unanimously

voted in last

week to lead

the board for

the next three

Emma Norrish

years.

Ms Jones

was not at the meeting last week,

but she had already informed the

board members she did not want

to be considered for the role of

chairwoman, and the board had

discussed that Ms Norrish would

be a good fit for the role.

Said Ms Jones: "I wasn't prepared

to put my name forward

for the role. My personal earthquake

claim needs to be my top

priority at the moment."

Ms Norrish said her good local

knowledge and experience as a

deputy chairwoman will serve

her well in the new role.

"Being the deputy for the last

term has equipped me well to

serve in this role," Ms Norrish

said.

The challenge for deputy chair

was close, with community

board newcomers Simon Britten

and Emma Twaddell both nominated

for the role.

Mr Britten won the vote

3-2, and said he looks forward

to bringing his experience in

working collaboratively and his

experience with chairing other

boards to the role.

The Fendalton-Waimairi-

Harewood Community Board

will be led by experienced fourterm

member David Cartwright.

But Mr Cartwright plans on

stepping down after about a year

in the role to allow a younger

board member to take on the

role.

He hopes the initiative to

change chairs catches on in other

boards across the city.

Bridget Williams may be just

the right fit to step into the role

of chair in a year's time, and

she was unanimously elected

NEWLY-ELECTED:

Fendalton-

Waimairi-Harewood

Community Board

members (rear,

from left) councillor

Aaron Keown, Mike

Wall, councilor

Sam MacDonald,

Jason Middlemiss.

(Front) councillor

James Gough,

Shirish Paranjape,

David Cartwright

(chairman), Bridget

Williams (deputy

chairwoman) and

Linda Chen at their

inaugural meeting

last week.

as deputy chairwoman at the

meeting.

Said Mr Cartwright: "[The

plan is that] I will remain chair

and allow Bridget to understand

the intricacies and ins and outs

of the details and commitments

of the chair and deputy chair."

Mr Cartwright hopes to play

a part in getting a tree policy,

which relates to safe removal and

maintenance of the city's trees

brought into action, which has

been sitting in a draft format for

about 17 years.

In Brief

FIREARMS COLLECTION

Prohibited firearms and parts

can be taken to police-operated

events at 545 Wairakei Rd,

Burnside, on Wednesday and

Thursday from 10am-7pm. The

nationwide buy-back will end

on December 20, and there will

be no extension to this date.

Prohibited firearms or parts

must be handed in before this

date. Anyone prosecuted will

lose their firearms and face

a penalty of up to five years

imprisonment.

SPEED LIMITS IN PLACE

The new 30km/h signs are

in place near the Northlands

Shopping Centre. The signs were

installed last week on Sisson

Dr, Langdons Rd, Restell St and

Winston Ave. The speed zone

changes were approved by the

Papanui-Innes Community

Board in September.

BOARD MEETING

The Fendalton-Waimairi-

Harewood Community Board

will hold its first ordinary

meeting on Monday at 4.30pm.

Newly-elected board members

will meet at the boardroom in

the Fendalton Service Centre to

go over the first agenda set by

the city council since October's

elections. The meeting is open

for the public to attend.

Pataka

Christmas

shoP!

oPEN 7 days

10am - 4.30pm

768 Marshland Road (North End)

FREE BARISTA

COFFEE

with every cooked breakfast

in November 7am-11am

With

34 on

site car

OPEN 7 DAYS

parks!

254 Cranford Street, St Albans

P: 03 355 6921 E: cafe@kiddscakes.co.nz

www.kiddscakes.co.nz

Baking fresh each day since 1986

Belfast

Community Trust

Applications open on 18 November

2019 to appropriate charitable

organisations in Belfast. The grant

is for the purpose of benefiting the

residents of Belfast.

For more info and to apply, please

refer to our website:

https://www.perpetualguardian.co.nz/

philanthropy/grants-and-scholarships

Dentures not fitting properly?

Ill-fitting dentures can affect your teeth &

mouth, make eating difficult, & just plain hurt!

Using Duchenne's exclusive Digicare system,

we can reline your dentures for optimal fit

and comfort, and you'll be surprised how

quick and convenient the entire process is.

Completed forms are due no later

than 5pm Friday 13 December 2019. The revolution

in heat pumps

is here now!

The Fujitsu e3series

The brilliant

heat pumps from Fujitsu

e1 : efficiency

e2 : environment

e3 : economy

FREE consultation from your local

Accredited Heat Pump Expert

Phone today: 03 381 6950

INSERT DEALER DETAILS HERE

Call 0800 866 8448

now to book your

FREE consultation

at 1 of our 7 clinics

throughout Christchurch

duchenne.co.nz

The revolution in heat pumps is here now!

Say hello to Fujitsu's latest lifestyle range

Website: www.pshc.co.nz

Finance available

NEW ZEALAND'S FAVOURITE AIR ®

Fujitsu's Catechin Filters are

approved by the Asthma and

Respiratory Foundation NZ's

Sensitive Choice ® programme.

Email: info@pshc.co.nz
---
4 Tuesday November 12 2019

Latest Canterbury news at starnews.co.nz

News

Plan revealed to fix worn

out Bishopdale skate park

PLANS TO revamp one of the

largest suburban skate park's in

the city have been revealed.

Bishopdale Park's worn out

skate area on Leacroft St will

undergo a makeover to make it

more suitable for beginner and

intermediate skaters.

The total area of the skate park

will increase from 1197sq m to

almost 1300sq m.

The city council is asking for

feedback on a series of proposed

improvements to the park.

Specialist skate park

designer Richard Smith was

commissioned to create a

landscape plan.

The proposed skate park

would feature a pump bump, low

pyramid, roll-overs, and a jersey

barrier, blended into a roll-over

finger, as well as bench seating

and a picnic table. The existing

concrete slabs would be resealed

and the quarter-pipe replaced

with a granite ledge and smaller

half pipe.

Said city council head of parks

Andrew Rutledge: "Bishopdale

Park is close to a number of

schools and is very popular with

local families. Improving the existing

skate area will make it even

more appealing to young people

in the area and provide them

There will be an opportunity to discuss the revamp plans

for the Bishopdale Park skate area with city council staff on

November 24 at the park between 11am and 2pm

PLANS: The proposed upgrade of the Bishopdale Park skate

area includes a new half-pipe and granite ledge, as well as

bench seating and a picnic table.

with some good challenges."

About 500 information leaflets

have been delivered to nearby

properties and key stakeholders

last week. Suggestions for the

design were collected from last

year's Bishopdale Skate Jam

event.

•Feedback on the plans

can be made before

December 9 at https://

ccc.govt.nz/the-council/

consultations-andsubmissions/haveyoursay/

show/275

Malawi visit next year

•From page 1

He also received the Greatest

Individual Impact Award, for

almost single-handedly raising

$14,000 for World Vision.

"These awards highlight my

passion to help as well as the huge

amount of work that the school

has encouraged us to do over the

years to support World Vision,"

he said.

Said Izaac on raising the

$14,000: "I started to email celebrities

across the globe ranging

from Graham Norton, Ellen De-

Generes, multiple different actors

and celebrities overseas and also

many famous New Zealanders."

Izaac did not get many responses

but heard back from

Prime Minister Jacinda Ardern,

Nico Porteus, some All Blacks

and other New Zealand artists.

From there, he had the idea to

host an art auction, which raised

$12,000, he then door-knocked

NOR'WEST NEWS

and approached family members,

which raised another $2000.

Next year, Izaac will travel to

Malawi with four other World

Vision Ambassadors and see

where the funds from the 40hr

famine will go.

"This is a long way from home,

making it an exciting adventure

for myself and the other four

ambassadors going on the trip. I

feel excited but ready for the challenge,"

he said.

Once he returns from Malawi,

he will visit schools across the

country to assist with fundraising

for World Vision, and he said

one of his key goals is to increase

participation in the famine across

Christchurch.

"I feel so privileged and blessed

to be able to help World Vision

with its global work and to be

able to help it make a change is

something that will stick with me

forever," he said.

HUMANITARIAN:

When Izaac

Wilson goes to

Malawi next year,

he will witness

first-hand the

work World

Vision does,

such as helping

communities

access clean

water.

JOIN US NOW!

See website for details

As local MP, there's nothing more

satisfying than working alongside

local residents in advocating

for the important things in our

community. At my over 60s'

coffee morning in Belfast recently,

Colleen and Frank raised

concerns about young children

crossing the railway line from

Thompsons Road to get to Belfast

School. I organised a meeting

for them with the New Zealand

Transport Agency (NZTA). Colleen

and Frank were thrilled to hear

that NZTA will build a crossing

over the railway line with warning

bells and an automatic gate, to be

completed by the middle of next

year. This will also help the elderly

with mobility scooters to cross

safely to get to the Northwood

Supa Centre.

I joined our Canterbury MPs in

celebrating our Indian community

at the Diwali Festival. The Festival

of Lights is a great way for us

to share in Indian culture and

acknowledge the contribution of

our migrants.

With over 23 schools in the

electorate, it's a busy time with

a number of school prizegivings

being held. Last week I

joined Kaiapoi High School in

acknowledging their seniors at the

end of year prizegiving. I enjoy

these opportunities to engage

with our young people.

Last week saw the last of my

over 60s' coffee mornings for

this year and a huge thank you

to all who attended. It has been

enormously valuable to me to

hear your views.

I wish everyone a great

Canterbury Show Day. It's a

highlight on Canterbury's calendar

and many of us have great

memories as children enjoying

the rides, candyfloss and animals.

Please do stop and say hello if

you're attending.

STYLES MAY DIFFER

TO IMAGE SHOWN

Sign up to Smart Deals & be in the monthly draw for a $100 Dress-Smart gift card!

Open 10am-5pm, 7 Days 03 349 5750

CHRISTCHURCH 409 Main South Road, Hornby

www.dress-smart.co.nz

ASICS

Buy 1 get the 2nd item

half price on all clothing.

Second item to the

same or lesser value.

TIMBERLAND

Buy 1 get the 2nd item

half price storewide.

Second item to the

same or lesser value.

ICEBREAKER

Friends & Family sale

event. 60% - 70% off

RRP storewide.

14-18 Nov only.

YD

Spend and Save. Spend

$150 Save $50, Spend

$300 Save $100

SCRIBER & MARKS

Get a FREE Shirt and

Tie with any Merino Suit

purchase from $299 and

up. T&Cs apply.

While stocks last.
---
NOR'WEST NEWS Latest Canterbury news at starnews.co.nz

Tuesday November 12 2019 5

News

Entertainer honoured with local hero award

• By Matt Slaughter

KATHLEEN HOOD has spent 40

years putting smiles on the faces of

Christchurch's elderly.

The 86-year-old entertains

residents at Elmswood Retirement

Village, Bryndwr, and Middlepark

Rest Home, Upper Riccarton, and

has previously done so at The Princess

Margaret Hospital.

This volunteering work has

earned her a Kiwibank New Zealand

Local Hero of the Year Award,

which she and other Christchurch

local heroes will receive at a ceremony

on December 3.

Mrs Hood tells jokes, reads poetry

and runs a quiz each time she

visits retirement homes.

She said this brings joy to their

residents and the quizzes include

historic questions, which bring back

memories and often start nostalgic

conversations between them.

"It's really good because the questions

I ask are relevant to their age

and their experiences in life. They

do really enjoy it."

Mrs Hood said her favourite thing

about what she does and the reason

she has been doing it for so many

years is it brings happiness to people

who sometimes need it most.

"The best thing for me is giving

to these older people. Some of

them have had very lonely lives

and when they come into the rest

home they're a wee bit nervous.

She said when she entertains

residents "there's a lot of laughter, I

can even tell a few risque jokes and

they enjoy all that."

Mrs Hood said not even health

issues were able to stop her volunteering

for long.

"I did have two challenges with

cancer but I have had surgery and

I'm really fine now, everything's all

good.''

She said she was back in front

of retirement home audiences "as

soon as I could get back behind the

wheel."

Mrs Hood is proud to receive a

local hero award this year.

"I never ever expected it and

when it came everybody around

me, my family and my friends

were all saying well deserved. It's

very humbling and it will be to be

among people who have done marvellous

things in the community on

the night of the awards."

But Mrs Hood said winning

awards is not why she volunteers

her time.

"If you ask any volunteer, it's not

for accolades or recognition, you

don't do it for that, it's just for the

love of doing it, I suppose."

She hopes her efforts will inspire

her children, grandchildren and

great-grandchildren to volunteer in

their communities.

Kiwibank Local Hero

winners:

Kenneth Clearwater,

Ahmed Tani

Ian Thomas

Jan Murphy

Michelle Sharp

George Wright

Paul Chamberlain

Susan Foster-Cohen

Gabrielle Huria

Elle Perriam

Yvonne Hiskemuller

Bridget Kelly

Timothy David Baker

Alexandra Poetsckhe

Gavin Reed

Marlene Ingram

Paul O'Brien

Gamal Fouda

Jo Johnson

Paul Munnerley

Anna Manson

Kimberli Schuitman

Zhiyan Basharati

E Wen Wong

Hayley Guglietta

Kathleen Hood

Peter Zhou

INTERACTING: Kathleen

Hood has received a

Kiwibank New Zealand

Local Hero of the Year

Award for providing

entertainment to retirement

home residents.

PHOTO: GEOFF SLOAN ​

LAUNCH YOUR FUTURE -

ENROL NOW!

STUDY

CHRISTCHURCH CAMPUS

ENROL NOW FOR 2020

ª Automotive &

Collision Repair

ª Makeup Artistry

ª Construction

ª Electrical

ª Refrigeration & Air

Conditioning

ª Hairdressing

ª Project Management

ª Sport, Exercise &

Recreation

www.sit.ac.nz

0800 TO STUDY
---
6 Tuesday November 12 2019

Latest Canterbury news at starnews.co.nz

REAL ESTATE

Owners Committed - Relocating to Hamilton

25 Ambleside Drive, Burnside

5 bedroom | 2 bathroom | 1 lounge | 2 toilet | 2 garage | 6 off street | www.harcourts.co.nz | Listing #PI59133

NOR'WEST NEWS

A value proposition is offered in the sought-after

suburb of Burnside - five bedroom, two bathroom

210m2 family home with modern kitchen,

generous living, good heating and a very large

section (1282m2 on two titles). Our current family

has loved living here for the past six years and

they are only leaving due to work commitments

in the North Island.

Conveniently positioned for years of schooling

with Burnside Primary, Roydvale Primary, Cobham

Intermediate and Burnside High School a short

bike ride down the road, families stop right here!

Behind the gates of this understated 1970's

home, lies a park-like setting where children can

roam, run, play cricket and kick a ball is a very rare

treat these days.

This renovated home is complete with modern

kitchen, conveniently positioned scullery/laundry

which cleverly blend as a visual extension of the

kitchen. Sun-drenched living spaces, with ranch

slider to outdoors, Yunca log burner, heat pump

and underfloor heating in the hallway, providing

comfort for all the seasons. Two bathrooms to

speed everyone happily on their way in the

mornings and with five bedrooms there's a

bedroom for everyone, including visiting family

or friends.

Internal access garaging garage with a home

office, wood sheds and garden shed to house

those extra things. Easily accessible and just a

stroll away are the Kendal Ave shops, with buses

stopping close by. This home is a must see

and you will be impressed - it makes absolute

economic sense!

For definite sale, this home will be sold on or

before Auction day! Be quick to view!

Auction: Thursday 28 November 2019 from 12.00

noon (unless sold prior) Gold Auction Rooms, 471

Papanui Road

Viewing: Thursday 1.45pm - 2.30pm

Sunday 12.00 pm - 12.30pm

Contact:

Kaye Caddick, Licensed Agent REAA 2008

027 622 7555 or 03 352 6166

kaye.caddick@harcourtsgold.co.nz

www.kayecaddick.harcourts.co.nz

Gold Real Estate Group Limited

Licensed Agent REAA 2008

One size and one shape definitely

does not fit all. One weekend recently,

I had the pleasure of joining a tour of

architectural homes which championed

the principles of energy awareness and

conservation, amongst other things.

Style over size was evident amongst all

the individual and specific architectural

signatures, as was the variation of

spatial configurations, and this has

caused me to reflect on the increasing

popularity of smaller properties and

the acceptance of different ways of

doing things.

Firstly, size. Not small, as in 'let's fit your entire

life into a caravan', but small as in compact,

thoughtful and clever, is enjoying an increase in

popularity throughout our region. The restraint

required to 'live smaller' would be too much for

me and it's no secret that I have a maximalist

rather than a minimalist approach, but I can

definitely appreciate why this trend is gaining

momentum nationally and internationally.

Millennials wanting a chance to get onto the

property ladder are considering alternatives

to the types of properties their parents might

have started with, and size features strongly in

this equation, whilst retirees are wanting to turn

things on their head and look to a similar lifestyle

and property, but smaller, having been there and

done that.

One of the reasons for considering a smaller

dwelling is obvious: energy efficiency. A smaller

house should be easier to heat, and this flows

The BIG trend

of going SMALL

directly on to a reduced cost. A smaller ecological

footprint, helping both your pocket and our

planet. Solar-powered options feature, as do

passive heating methods based around a house's

orientation and construction. Excess materials,

color choices and furniture are all pared back, and

clever storage options become all-important.

The other notable element in choosing to live

like this is that your community and your city

surroundings take on a whole new meaning, and

with 'intimate' (my word for 'tiny'!) garden spaces,

you can see the merit in this. The park next-door

acts as your garden and the city, your backyard –

and potentially a scooter replaces your car.

For me, it seems like the easiest time to make a

decision to commit to this lifestyle would be when

you first start out and don't have much or later

when you have so much that you think, 'I now want

less'. That middle period with kids, cars, bikes and

all the other stuff that comes with life would make

it too hard for some, but as the tour I've referred to

has taught me, not everyone feels this way. Therein

lies the beauty of the times we live in and the

choices we have.

One size certainly doesn't fit all – nor is it expected

too – and it just so happens that there are

architects, builders, developers and designers

thinking the same way. It makes for an engaging

and interesting era.

Lynette McFadden

Harcourts Gold Business Owner

Harcourts NZ Inspirational Women Ambassador

Ph. 0274 320 447

lynette.mcfadden@harcourtsgold.co.nz

FOLLOW US ON...

Jackie

Youngman

HEAD OF HARCOURTS GOLD

PROPERTY MANAGEMENT

"I'm thrilled to be leading the gold

property management division.

It's a pleasure to work with a

wonderful and dedicated team

and a privilege to be a part of the

wider gold company, delivering the

service they are renowned for."

P (03) 352 6454 M 027 411 1233

E jackie.youngman@harcourtsgold.co.nz

CONTACT JACKIE

FOR EXCEPTIONAL

SERVICE WITH A

COMMON SENSE

APPROACH
---
Montre

Dur

Caledonian Rd

Colombo St

Sherborne St

Ma

NOR'WEST NEWS Latest Canterbury news at starnews.co.nz

Tuesday November 12 2019 7

News

St Andrew's music teacher honoured

• By Claire Booker

DUNCAN FERGUSON has

been teaching at St Andrew's

College for 10 years and last

week he was named New

Zealand's Music Teacher of the

Year.

The head of music was in

Wellington last week with a

group of students on a field trip,

and he said it was very special to

have the students with him as he

accepted the Tui award.

Mr Ferguson plans to display

it on his desk at school, and said

he was very humbled to win the

award.

Said Mr Ferguson: "To even

be nominated was special.

While winning an award is no

motivation for what I do, it is

gratifying to see that the long

hours and hard work I put in has

been recognised at a national

level.

"My amazing students provide

the biggest motivation to do a

good job. I am lucky to be their

teacher," he said.

Mr Ferguson was the only

South Island finalist, with the

others being Jane Egan, of

Gisborne, and Auckland's Sue

Banham.

At St Andrew's, Mr Ferguson

manages 30 co-curricular

groups across all genres of

'My amazing students

provide the biggest

motivation to do a good

job. I am lucky to be their

teacher' – Duncan Ferguson

music, which more than 140

students are involved in. He

did not expect to win the award

but was quietly confident in his

chances.

"If I didn't win I would

naturally have been

disappointed, but at the same

time still super proud that I was

a finalist," he said.

Mr Ferguson said the award

will not change the way he

works or how his students and

colleagues view him.

"The main reason why I won

the award is that I am constantly

questioning my practice and

figuring out new ways of better

serving my students from year

to year. That will continue to

happen.

"The work I do on a national

level training teachers and

providing them with resources

will [also] continue as I want

to see all young musicians and

composers in New Zealand

empowered by the music

education system," Mr Ferguson

said.

DEDICATED: St Andrew's College head of music Duncan

Ferguson was named New Zealand Music Teacher of the Year

last week in Wellington. PHOTO: VANESSA RUSHTON ​

•HAVE YOUR SAY: Do you think

an increased police presence

will help reduce crime in

Bishopdale? Email your views to

claire.booker@starmedia.kiwi

More police

patrolling

Bishopdale

•From page 1

Concerns have been raised on

the Bishopdale Community Group

Facebook page after two thefts were

reported last weekend.

A woman had her handbag stolen

from her home on Mooray Ave and

$1000 was spent on her credit card

at Bishopdale Village Mall.

"This highlights people need to

be constantly thinking about their

personal safety. If we make it harder

[for potential thieves], these events

may be less likely to happen," Senior

Sergeant Appley said.

A 16-year-old male also had his

bike stolen by a group of four men

thought to be in their late teens or

early 20s. The men cut the young

cyclist off in a silver sedan, then

rugby tackled him off the bike

before physically assaulting him and

taking the bike. He was not seriously

injured and was able to walk

home to phone police.

Senior Sergeant Appley was not

aware of any increase in crime in

the north-west, but said police will

continue to closely monitor the area.

Brand new apartments available

Open Home 11am-3pm

Sun 17, Mon 18

& Tues 19 Nov

Merivale

Abberley

Cres

Our fabulous new apartments are underway and will be ready soon! Pop in

to our open home and enjoy complimentary Barista-made coffee & muffins.

We offer a social, welcoming community lifestyle with brand new 2-bedroom apartments providing

quality interiors, contemporary open-plan features and a choice of floorplans for you to view. If you need

a little more support day to day, we also offer serviced studios from $230,000* and serviced apartments

from $340,000*. So pop along to our open home, enjoy our hospitality and take a tour of our wonderful

community while you're here! For more info call Vena on 366 1824 or 021 905 778. *Licence to Occupy.

St Albans

Papanui Vict

41 Caledonian Road, St Albans, Christchurch.

Email sales@stalbansretirement.co.nz

www.stalbansretirement.co.nz

Bealey Ave

Park
---
8 Tuesday November 12 2019

Latest Canterbury news at starnews.co.nz

News

IN CONCERT: Polly Lee and Chloe Jiang performing with the

Christchurch Symphony Orchestra at the town hall.

Girls show 'poise and

grace' on stage with CSO

TWO YOUNG musicians got

the chance to play with the

Christchurch Symphony

Orchestra at the town

hall last week.

Rangi Ruru Girls'

School year 7 music

scholar Polly Lee and

Cathedral Grammar

year 8 student and 2020

music scholar Chloe

Jiang were soloists at the

CSO's Last Night of the

Proms concert.

The pair played the

piano duet solo in three

movements from Saint-

Saëns' Carnival of the

Animals – Aquarium,

Fossils, and The Swan.

Rangi Ruru director

of music Janet

Kingsbury said it was a

wonderful concert, and

the girls performed with "poise

and grace."

"Polly and Chloe are very

accomplished pianists and

violinists," said Mrs

Kingsbury:

"The fact that these

young women are playing

alongside much older

musicians is a clear

indication of the high

calibre of some of our

current and future music

students.

Chloe Jiang

"All credit to them, their

talent and their incredible

focus and drive."

Last Night of the

Proms was Polly's third

performance as a soloist

with the CSO. She has

previously been a violin

soloist.

Polly and Chloe are

Polly Lee taught by Christchurch

pianists and teachers

Melanie Lina and Michael

Endres.

Big future for young filmmakers

• By Claire Booker

FREYA CHAMPION had acted

in one short film before her

fellow Christchurch Girls' High

School classmates recruited her

for their media studies project.

But last week her talents were

recognised at the Ara School

Shorts Screen Festival, where she

was named best actress.

The film Lured was made by

CGHS students Louise Kim and

Georgie Baddeley, who created it

in their media studies class.

Freya played the leading role of

Liz, a young woman investigating

the sudden disappearance of

her best friend.

Louise, who lives in

Halswell, wrote the

script for the film

after researching

pseudo-religion

and finding

out about

multiple

historic

cult-related

murders.

Lured

was one of

19 films

showcased

at the

competition

final at The

Palms. The

short films

were screened

at Reading Cinemas.

Said Louise: "It was one of the

most exciting moments of my

life to have our film screened in

an actual cinema and having an

audience to watch it."

Freya was surprised to take out

best actress, and said it was a real

honour.

Her passion for acting has

flourished over the past few

years as she has been involved

in theatre sports and small

productions.

"As I have only starred in one

other film, I wasn't quite sure

what would tick the boxes for

the judges, so I was

NOR'WEST NEWS

pleasantly surprised to receive

the award," she said. The 18-yearold

also has a passion for politics

and earlier this year attended the

Youth Parliament as the Youth

MP for Christchurch Central

Labour MP Duncan Webb. ​

Freya said the highlight of

being involved in the film was

working with her two best

friends.

"Georgie and Louise had a

great vision for the film, and

because of our friendship, we

were able to easily communicate

ideas and this allowed us to film

in a good environment," she said.

Next year, Freya, Georgie and

Louise will go their separate

ways to study, but will

continue to develop their

skills and passion in

film.

CREATIVE: CGHS

friends (from

left) Connie

Fitzgerald, Anna

Champion,

Louise Kim,

Freya Champion

and Georgie

Baddeley

celebrate the

release of the

short film, Lured,

for which Freya

won a 'best

actress' award.

Fantastic selection

of quality gifts

affordable for any budget

INTERPRETERS NEEDED

We are recruiting now for our Canterbury Introductory

Interpreting course starting in 31 January 2020.

Complete the course, pass the assessment and become

a paid interpreter with us.

You must be proficient in English and one of the

following languages:

Amharic, Arabic, Bangla, Cantonese, Dari, Farsi,

German, Korean, Mandarin, Nepali, Oromo, Samoan,

Somali, Tagalog, Tamil, Thai, Tigrinya, Urdu.

For info about how to enroll, training and working with us

go to our website:

https://interpret.org.nz/become-an-interpreter.html.

Applications Close 10 January 2020

COURSE DATES:

Fridays 6:00 p.m. - 8:30 p.m.

Saturdays 9:00 a.m. - 4:30 p.m.

31 Jan & 1 Feb

14 & 15 Feb

28 & 29 Feb

13 & 14 March

27 & 28 March

Participants must attend all 5 sessions.

Phone Maria: 027 493 1122

maria.fresia@interpret.org.nz

www.interpret.org.nz

Enrol now: www.interpret.org.nz/become-an-interpreter.html

Free

luxury gift

wrapping

Bishopdale Pharmacy

37 Bishopdale Court, Bishopdale Village Mall

Phone 03 359 8302 www.bishopdalepharmacy.co.nz

Follow us on facebook

Canterbury February 2019.indd 1

MAinLAnD

StOcKcAR

tEAMS chAMpS

+ SUpER nitES

SAt 16 th nOvEMBER

6.30pM StARt

ADULTS $20 Seniors $10

FAMILY PASS $40

Children $5 Under 5yrs free

(2 adults & up to

4 children 15yrs & under)

9/10/2019 9:05:16 AM

DOUBLEDAYS ROAD KAiApOi

infOLinE 03 327 6117

www.wOODfORDgLEn.cO.nz
---
NOR'WEST NEWS Latest Canterbury news at starnews.co.nz

Tuesday November 12 2019 9

HARCOURTS GOLD

FOR REVENUE PER SALES CONSULTANT

2013-2019

MEET OUR...

TOP PERFORMERS

HARCOURTS GOLD TOP CONSULTANTS FOR OCTOBER 2019

1 2 3 4 5

CAMERON BAILEY

PAPANUI

MARY TURNBULL

PAPANUI

MARK O'LOUGHLIN

REDWOOD

ASH SUTHERLAND TODD

PAPANUI

MICHELL FU

PAPANUI

10

6 7 8 9 10

DEBBIE SOPER

PAPANUI

KAYE CADDICK

PAPANUI

MILENA BARTLETT

NEW BRIGHTON

CALEB GRIFFIOEN

PARKLANDS

LEEANN MARRIOTT

PAPANUI

When your brand includes the top Harcourts office out

of 900 around the world, it's clear that you've got an

extraordinary team.

So for these consultants to earn the position of one of the top

ten real estate sales consultants at Harcourts gold is truly a

remarkable achievement.

They are phenomenally good at what they do; highly skilled,

highly trained and dedicated to delivering exceptional results for

property owners. I am extremely proud to work with these real

estate professionals.

JOHN MCFADDEN

BUSINESS OWNER HARCOURTS GOLD

John McFadden

Business Owner,

HARCOURTS GOLD AREINZ

Lynette McFadden

Business Owner,

HARCOURTS GOLD AREINZ

Chris Kennedy

General Manager,

HARCOURTS GOLD AREINZ

Left to Right: Kyle Sutherland Executive Manager, HARCOURTS GOLD PAPANUI

Margaret Danzer Sales Manager, HARCOURTS GOLD REDWOOD

Nikila Creagh Sales Manager, HARCOURTS GOLD EASTSIDE

Doug Soper Liaison Manager, HARCOURTS GOLD AREINZ

Jackie Youngman

HEAD OF HARCOURTS GOLD PROPERTY MANAGEMENT

"I'm thrilled to be leading the gold property

management division. It's a pleasure to work with

a wonderful and dedicated team and a privilege to

be a part of the wider gold company, delivering the

service they are renowned for."

CONTACT JACKIE

FOR EXCEPTIONAL

SERVICE WITH A

COMMON SENSE

APPROACH

P (03) 352 6454 M 027 411 1233 | E jackie.youngman@harcourtsgold.co.nz

PAPANUI 352 6166 International Division (+64) 3 662 9811

REDWOOD 352 0352 PARKLANDS 383 0406 NEW BRIGHTON 382 0043

FOLLOW US ON
---
10 Tuesday November 12 2019

Latest Canterbury news at starnews.co.nz

NOR'WEST NEWS

BIRTHDAY SALE

UP

50%

TO

OFF

Other Sizes & Models Available In-store!

Swisstek

Range

Chiropractic

Range

Now From

$

2,999

Queen Size Mattress & Base

Now From

$

1,699

Queen Size Mattress & Base

Serenity

Range

Sanctuary

Range

Now From

$

1,799

Queen Size Mattress & Base

Now From

$

3,999

Queen Size Mattress & Base

BEDS R US CHRISTCHURCH

166 Moorhouse Ave, (Next To Noel Leeming)

Ph: 03 379 5110
---
NOR'WEST NEWS Latest Canterbury news at starnews.co.nz

Tuesday November 12 2019 11

Basketball's best to play in all-star game

• By Jacob Page

THE BEST secondary school

basketball players in Canterbury

will get their chance to impress

in respective boys and girls

all-star games before the New

Zealand Breakers game at

Horncastle Arena next month.

The Breakers will host the

South East Melbourne Phoenix

on December 20.

Christ's College's Josh Book

and Mason Whittaker, St Bede's

Walter Brown, Papanui's Izzy

Orr and St Andrew's Mac

Stodart will all take part in the

games.

The girls game will tip off at

2.10pm and the boys game will

tip off at 3.50pm followed by the

Breakers and Phoenix at 7.30pm.

The high school games come

after the Thomson and Whelan

Trophy season as well as strong

national campaigns where

Cashmere High School finished

fourth in the boys competition

and Christchurch Girls' High

School finished eighth in the

girls' grade.

Organiser, Joe Hammond said

the plan was to split the squads

into two even teams to produce

two even encounters.

He said squads were picked

by the top six high school boys

coaches and former Canterbury

Wildcats coach Lori McDaniel.

"It's been a couple of years

since the game was held, but I

SPORT

think it's a great way to recognise

the effort and achievements of

the players throughout the season,"

Mr Hammond said.

There are also plans to

livestream the two games.

"The Breakers have said the

team will try to watch the concluding

stages of the games so

hopefully it will give the kids a

big buzz.''

Canterbury high school

all-star boys squad

Josh Book (Christ College),

Mason Whittaker (Christ

College), Noa Price (Rangiora

High School), Lachie McFarlane

(Rangiora High School), Walter

Brown (St Bedes College), Ah-

Li Fenika (Middleton Grange

School), Ben Carlile-Smith (Middleton

Grange School), Trey Te

Awa (Middleton Grange School),

Jimmer Williamson (Middleton

Grange School), Zach Hannen

(Middleton Grange School), Mac

Stodart (St Andrews College),

Tanae Lavery (St Thomas College),

Benji Freeman (St Thomas

College), Greg Rodger (Shirley

Boys High School), Loyal

Patelesio (Shirley Boys High

School), Tom Webley (Cashmere

High School), Finn Barclay

(Cashmere High School), Louis

Oskam (Cashmere High School),

Riley Sa (Ashburton College),

Cody Wareham (Lincoln High

School), Kaleb Chamberlain

(Shirley Boys High School), Oki

Tilaia (Cashmere High School) &

Quinn Lavery (St Thomas)

Canterbury high school

all-star girls squad

Helen Matthews (Kaiapoi

High School), Molly Cockburn

(Kaiapoi High School), Sammy

Arnold (CGHS), Courtney Godinet

(CGHS), Mia Abercrombie

(CGHS), Violet Eaton (CGHS),

Sophia Harrison (Rangi Ruru),

Ashlee Strawbridge (Rangi

Ruru), Millie Knight (Rangi

Ruru), Abby Kneebone (CGHS),

Sophie Adams (Ashburton College),

Katie Jo Van Den Bogaert

(Middleton Grange), Maia Williamson

(Middleton Grange),

Annabel Lapworth (Middleton

Grange), Stella Porter (Rangiora

High School), Izzy Orr (Papanui

High School), Brooklyn Powhare

(Avonside High School), Kyla

Lynch-Brown (Avonside High

School), Kate Herman (Lincoln

High School) and Sila Morris

(Burnside).

TALENT: Christ's College's

most valuable player Josh

Book will take part in a

Canterbury high school

all-star game when the

Breakers play in Christchurch

on December 20. ​

LET US HELP YOU MAKE

YOUR DREAM COME TRUE

•DRIVEWAYS •EXCAVATION

•DRAINAGE •FENCING

•ASPHALT & CONCRETE

•HOUSE FOUNDATIONS

021 870 725

Accepted here.

LENDING CRITERIA, FEES, TERMS

AND CONDITIONS APPLY.

info@stylescivil.com | www.stylescivil.com

"Easiest to

find Denture

Clinic in

Christchurch"

For repairs, relines

and additions

contact us now!

233 Riccarton Road

Phone 341 5419

www.flexdentures.co.nz

Look the part

this Show Week…

Our fully qualified stylists can get you looking

your very best for this years Show Week events

Loyalty Card: every

8th haircut is FREE

Pensioner and

student discounts

Open 7 Days - no appointment necessary

South City 555 Colombo St. Ph 03 366 0619

Bush Inn Cnr. Riccarton & Waimairi Rds. Ph 03 348 7008
---
12 Tuesday November 12 2019

Latest Canterbury news at starnews.co.nz

NOR'WEST NEWS

TOWER

JUNCTION

CRAFT

RELAUNCH

100s OF

NEW

PRODUCTS

INSTORE

NOW!

CRAFT SENSATIONS SPECIALS

DESIGN PADS

15x30cm

24 sheets with

2 x 12 Designs

$

6 .99 each

Mix & Match

30 Designs

$

4 .99 each

Mix & Match

30 Designs

$

4 .99 each

Mix & Match

30 Sheets with

2 x 15 Designs

$

14 .99 each

Double

Sided Print

24 Sheets with

2 x 24 Designs

$

12 .99

each

STAMP

SETS

$

7 .99

each

CREATE

YOUR OWN

CARDS

24 sheets / 3 x 8 designs

$

7 .99

each

FANTASTIC NEW BRANDS

INSTORE NOW!

DECO

RIBBON

4.2m

$

5 .99

each

CLEAR

STAMPS

$

3 .99

each

EVERYDAY PROMOTIONS

SCRAPBOOKING

PAPERS

BUY 5,

GET THE 6TH

FREE!

PEELCRAFT

STICKERS

4 FOR

$

10
---
NOR'WEST NEWS Latest Canterbury news at starnews.co.nz

Tuesday November 12 2019 13

Tasty Bites

Let's talk about fat, baby

Fats and oils which are

stable, nutritious and

easily used by our bodies

are what we need to stay

healthy and ensure our

bodies function well after

every meal. These simple

recipes will help you avoid

unhealthy 'yellow oils',

such as canola, rice bran

and sunflower

Balsamic strawberries with

rocket and whipped goat's

cheese

Pesto (vegan friendly)

Ingredients

1kg fresh strawberries

⅓ cup balsamic vinegar

2 Tbsp cold pressed extra virgin

olive oil

10cm sprig of thyme

1 block goat's cheese

2 cups rocket

Directions

Wash the strawberries and

remove the stems.

Cut into quarters, lengthways

Place in a bowl with the

balsamic vinegar, olive oil, and

thyme. Set aside.

Place goat's cheese in a

bowl and beat with an

eggbeater until smooth.

Spread the cheese on the base

of a plate.

Top with the rocket, then pile

the strawberries on top.

Finally, season with a light

dusting of fresh ground pepper

(less is more). Enjoy.

Roasted purple carrots

with pesto and hemp

seeds

Ingredients

1kg purple carrots

2 Tbsp coconut oil, ghee, or

dripping

Salt and black pepper

2 Tbsp pesto (see below)

Directions

Preheat the oven to 180 deg

C and line a baking tray with

baking paper. Place carrots in the

sink and cover with cold water.

Scrub with a vegetable brush.

Place the cleaned carrots in

the baking dish along with

your cooking fat of choice, and

season generously with salt and

pepper. Bake for 1hr 10min and

then allow to cool slightly.

Toss with the pesto. Put on a

plate. Top with hemp seeds and

serve immediately.

Ingredients

½ cup of nuts (like walnuts or

almonds)

1½ cups fresh herbs (parsley,

basil, or coriander)

⅓ cup olive oil

½ clove of fresh garlic

Juice of 1 lemon

Salt and pepper to taste

1 Tbsp nutritional yeast

(optional)

Directions

Add all ingredients into a food

processor and blitz to the desired

consistency.

Use the pulse function if

possible to get a rougher chop.

Store in a jar in the fridge.

Study with Vision

CHOOSE FROM OUR CERTIFICATES, DIPLOMAS & DEGREES!

WE OFFER:

• ULTIMATE FOUNDATION SKILLS

• EARLY CHILDHOOD EDUCATION AND

CARE

• SECURITY AND FORCES TRAINING

COURSE

• BUSINESS ADMINISTRATION AND

TECHNOLOGY

• COUNSELLING

• WEB DEVELOPMENT AND DESIGN

AND SOFTWARE DEVELOPMENT

WWW.VISION.AC.NZ | 0800 834 834

50 Hazeldean Road, Addington, Christchurch
---
14 Tuesday November 12 2019

Latest Canterbury news at starnews.co.nz

NOR'WEST NEWS

PRICE BLITZ

STARTS WEDNESDAY 13 TH

AirPods

2 with

Charging

Case. +

$ 249

Save

$ 30

SPILL-

PROOF

SAFETY GLASS

SHELVES

50"

MY HOME

SCREEN 3.0

ENDLESS ACCESS

TO YOUR

FAVOURITE

CONTENT

221L

221L Top Mount Fridge

Freezer HRF220TW

UNBELIEVABLE!

$ 499

less

than

$ 7

per

week *<

50" Full HD Smart TV

TH-50FS500Z

$ 844

less

than

Now

per

$ 10 week *<

17.3"

Medley

Fabric 5 Seater Recliner Lounge Suite +

Two colour options.

Accessories not included. Limited Stock.

$ 2499

less

than

Save

$ 1700

$ per

13 week *>

17.3" Ryzen 5 Laptop

CA1004AU +

8GB RAM, 128GB SSD + 1TB HDD,

Ryzen5 3500U (2.1 GHz base clock,

up to 3.7 GHz max boost clock,

6 MB cache, 4 cores).

$ 1399

less

than

Save

$ 450

$ per

15 week *<

40-60% OFF *

Kettles & Toasters

Excludes Alinea & New York Copper Collection

Charlie

4 Piece Bedroom Suite +

Includes Queen Slatbed, Dresser and Two Bedside Tables.

Accessories & mattress not included.

$ 1999

less

than

Save

$ 1297

$ 11

per

week *>

50 months

interest free

on furniture $999 and over #

24 months

interest free

on everything $499 and over #

Easy repayments with affordable finance, EVERYDAY.

Some products on display in selected stores only – please call your local store to check for availability. Offers in this ad are valid Wednesday 13th until Tuesday 19th November 2019, while stocks last or unless otherwise stated. *Discount is

off our full retail price and not in conjunction with any other offer. #Apple products, selected computers, game consoles, gift cards, flooring, clearance items and some promotional items are not available in conjunction with interest free

offers. Carpet available on a maximum of 18 months interest free. Exclusions, fees, terms, conditions and credit criteria apply. Equal instalment amounts over finance period of 36 months (unless otherwise stated) and exclude insurance.

Booking fee $45.00, Annual fees $45.00 P.A., Security registration fee $8.05. Current interest rate of 23.95% Applies to any unpaid balance after expiry of (any) interest free period. See in-store or visit smithscity.co.nz/terms-conditions for

details.Instalment amount based on a 50 month finance period. †For full Price Promise terms and conditions visit smithscity.co.nz/price-promise.

OUR PRICE PROMISE

Find a lower pirce

and we'll match it †

Applies to identical product.

smithscity.co.nz

JTWK28

550 Colombo Street | Cnr Belfast and Radcliffe Road Northwood, CHRISTCHURCH MEGASTORES
---
NOR'WEST NEWS Latest Canterbury news at starnews.co.nz

Tuesday November 12 2019 15

Knit 'n' Yarn

Tuesday, 1-3pm, at Bishopdale,

Wednesday, 1-2.30pm, at

Redwood, Thursday, 1.30-

3.30pm, at Fendalton.

Take your knitting, crochet or

other craft projects and have fun

with a social group. This is a free,

drop-in event.

Bishopdale, Redwood and

Fendalton libraries

Digital exhibition: He Rau

Mahara

Every day except Friday, all day

Go along to this digital

exhibition which pays homage

to the unsung heroes of Ngāi

Tahu and shares the stories

of their role in World War 1.

The exhibition will run until

November 30.

Bishopdale Library

Housie

Wednesday, 7.15pm

Go along for a social night out

and play housie as a fundraiser

for the Christchurch United

Football Club. Food and drink

available for purchase.

Papanui League Clubrooms, 53

Sawyers Arms Rd

SeniorNet

Wednesday, 10am

SeniorNet Garden City will

host a class for seniors (65-

plus) to learn about all things

Email claire.booker@starmedia.kiwi by

5pm each Wednesday

technology. Learn how to use

your smartphone, tablet or

laptop and the mysteries of the

internet. Phone 348 4499.

3 Brake St, Upper Riccarton

Loopy Tunes – Music &

Movement

Wednesday, 10.30am

Go along to the loopy tunes

music and movement special

event at Empower Church.

Morning tea is provided, but

attendees are asked to make a

gold coin donation. For more

information phone 027 555 6269.

140 Springfield Rd, St Albans

Rummikub

Thursday, 1-2.30pm at

Fendalton, Monday, 1-3pm at

Bishopdale

Play Rummikub – an exciting,

interactive strategy game. Free,

drop-in event.

Fendalton and Bishopdale

libraries

Games at Papanui

Thursday, 2.30-4.30pm

If you love games, head

along and choose from a wide

selection, including the classics,

at this fun and social event. Free

for all ages to enjoy.

Papanui Library

GenConnect

Tuesday, 12.15-12.45pm

If you have questions about

your Ipad, smartphone or tablet,

head down to GenConnect

where Papanui High School

students will help you for free.

Papanui Library

Makerspace

Tuesday, 3.30-4.30pm.

Join in the fun tech activities at

these Makerspace sessions.

Redwood Library

Scrabble

Tuesday, 10.30-noon, at

Redwood, Wednesday, 1-3pm, at

Bishopdale, and 1.30-3.30pm, at

Shirley

Play Scrabble with a friendly

group. Head along when you

can. No bookings required. All

materials supplied. Free event.

Redwood, Bishopdale and

Shirley libraries

Bolivia card game

Thursday, 1-3pm

Learn a new game. Cards and

cardholders are supplied. Phone

941 7923 for more information.

Bishopdale Library

Senior men's exercise

group

Friday, 11- 11.45 am

Low impact exercise classes

designed for seniors. Wear

something comfortable and

turn up – no registrations

required. Participants are asked

to bring a $3 koha as a donation.

Phone 375 0850 for more

information.

Northcity Church, 95a Sawyers

Arms Rd, Papanui.

JP Clinics

Tuesday, 10am-1pm, at

Papanui and Shirley, Wednesday,

10am-1pm, at Bishopdale,

Saturday, 10am-noon, at

Fendalton

A justice of the peace

will be available to witness

signatures and documents,

certify document copies, hear

oaths, declarations, affidavits

or affirmations, as well as sign

Go along to Shirley

Library on Tuesday from

9.30-11am for an adult

creative Christmas card

workshop. Create your

own greeting cards to

give to friends and family

during the festive season.

Ph 941 7923 to register. ​

citizenship or rates rebates

applications.

Papanui, Shirley, Bishopdale

and Fendalton libraries

Mahjong

Saturday, 1-3.30pm at Shirley,

Monday, 2-4pm at Papanui

Go along if you are interested

in playing or learning about

mahjong. Free. Register for the

Shirley Library event.

Shirley and Papanui libraries

Super Saturday Storytimes

Saturday, 11-11.45am

Encourage learning

through stories. This is an

interactive programme with

stories, songs, rhymes, craft and

play. Free.

Shirley Library

Tabletop Games

Monday, 11am-5.15pm

Play some tabletop board

games. Free event, no bookings

required.

Shirley Library

345 sTANMORE ROAD, RICHMOND

261 BuRwOOD ROAD, BuRwOOD

288 MAIN NORTH ROAD, REDwOOD

All sites open 7 DAYs, 5Am-11pm

WaSH 2 Mink

BLanketS or

DuvetS

For onLY $8

Hot Water &

extra LarGe

WaSHerS

avaiLaBLe

liquiD

SeLF Service

LaunDroMatS

Dry up to 14kg from

$4 in only 25 minutes!

Save time &

electricity

WaSH & DrY

aLL Your

LaunDrY in

unDer 1 Hour

from

$

4.00 WASH $ 4.00 DRY

• Fast Dryers

• Sports Gear

• Duvets

• Mink Blankets

• Bedding

• Washers

• Domestic Laundry

over 75 locations nationwide

Other Locations: Sydenham • Hornby • Hoon Hay • Woolston • Aranui

• Rangiora • Ilam • Kaiapoi

www.liquidlaundromats.co.nz

New store opening soon

UNIT 3, 355 RIccaRToN Road

Fashionable • Functional • Footwear

Unit 3, 355 Riccarton Road, Upper Riccarton, christchurch 8041

P. (03) 929 0927 E. info@theshoeroom.co.nz W. theshoeroom.co.nz

We're for

local

voices

From Kaikoura,

to Christchurch,

to Ashburton,

we have it covered
---
2

16 Tuesday [Edition datE] November 12 2019

Latest Canterbury news at starnews.co.nz

AUTOMOTIVE PROFESSIONALS

NOR'WEST NEWS

Specialised machines used to

identify auto electrical problems

Auto electricAl specialists, roses

Auto electrical, are experts in repairing

and maintaining all aspects of the

electrical and electronic componentry

found in today's highly sophisticated

commercial and passenger vehicles.

Their cranford Street workshop

boasts a suite of highly specialised

diagnostic machines, which enable the

team to quickly identify any electrical or

electronic problems in most makes and

models of vehicle and repair them, saving

time for the technicians and cost for the

customer.

roses Auto electrical offer a full range

of electrical services including batteries,

(they are a Battery town agent), which

are fitted free of charge. They also provide

free battery, alternator and starter checks

and install and repair car stereo systems,

alarms, air conditioning, ASB brake

systems and traction control systems.

A recent acquisition for roses Auto

electrical was the Autologic european

Diagnostics machine

This specialised and highly

sophisticated equipment is used to

diagnose most (if not all) electrical and

electronic faults in european vehicles.

The machine's digital interface interacts

PARKER

AUTOMOTIVE

All Automotive Repairs and

Servicing including 4WD

Suspension Brakes & Cambelts

WOF, Tyres, Batteries

23B Birmingham Drive,

Middleton

Ph 03 982 4268

Mobile 027 331 0382

Email: parkerauto89@yahoo.com

with the vehicle's active components,

programming and coding. Depending

on the model of the vehicle, it reads

and clears all Diagnostic trouble codes

(Dtcs) to identify the faults. it also

reads live vehicle data such as engine

temperature, engine speed, vehicle

speed and suspension height data. Plus,

roses Auto electrical have the back-up a

worldwide european support base.

The Autologic european Diagnostics

machine covers vehicles from 1995

onwards, so for owners of out-of-warranty

european vehicles, it ensures all their

auto-electrical repair and replacement

needs can be ascertained and catered for.

The customer comes first for the

friendly, professional team at roses

Auto electrical, and by having their

vehicle serviced there motorists can have

confidence in its performance.

free

Roses Auto Electrical are located

at 518 Cranford Street, Papanui.

Phone 352 5090 to book in for

service for repairs, or visit their

website www.roseselectrical.co.nz

for more information.

vonhead

utomotive

A A

6 months roadside assist

with any vehicle servicing

• automatic transmission

flushing service

• Wof • tune-ups • suspension

• batteries • neW tyres • oil &

lube service • courtesy cars

• full mechanical repairs

oPen 6 days (sat until 1pm)

126 racecourse road

Ph 342 7123 or 027 495 6600

Your LoCAL

TYrE SPECIALIST

New & Quality Used Second-hand Tyres

Alloy Wheels

Replacement Rims

Puncture Repairs

s

m

a

r

t

mall

edium

• Panel beating

• Spray painting

Smart repairS (NZ) Limited

automotive refinishers

272 Lichfield St (Fitzgerald Ave end)

Ph 377-0409

NEW

LOCATION

95 Gasson St

Fast

turnaround

utomotive

epair

echniques

European

Car Owners

NEW DIAGNOSTIC EQUIPMENT!

We can identify ANY electrical

fault & reduce repair work

with our NEW European Car

Specific Diagnostic Equipment

ROSES

AUTO ELECTRICAL

Enquiries welcome

CH 352 5090

The Automotive Lamp Specialists

www.jcmdirect.co.nz

8c Birmingham Drive,

Middleton

Next to Addington Raceway

343 0099 or 027 22 63 805

New and Used Lamps for Cars, Trucks,

Vans, 4WD and Motorhomes

PH 0800 225 483 | 95 Gasson Street, CHRISTCHURCH
---
NOR'WEST NEWS Latest Canterbury news at starnews.co.nz

Tuesday November 12 2019 17

REAL ESTATE

Mt Pleasant, delight

2 / 54 Bellview Terrace, Mt Pleasant

Enquiries over $469,000

2 bedrooms | 1 bathroom | 1 kitchen | 1 living/dining room

1 car-garage | 1 off-street carpark

Welcome to an absolute winning

combination that can be so hard to

find. The lucky new owners will quickly

appreciate the north positioned location

capturing the all-day sunshine with

superb views over our Pacific Ocean to the

Kaikoura Mountains and Bay Harbour.

This spacious renovated 110m 2 Belleview

address incorporates all day sunshine and

views which literally take your breath away.

The floor plan offers a variety of options

with open plan living. For the chef of the

family, a lovely new kitchen awaits you!

The layout of the living area captures the

moment our beautiful sun rises from the

ocean and welcomes the day.

Living spaces lead themselves to

entertaining with a fabulous flow to the

outdoor decking area and landscaped

private grounds of approximately 310m 2 .

Tuck yourself away from the easterly winds.

The home's inherent warmth is completed

by partial double glazing, a cosy heat pump,

and under tile heating in the bathroom.

The layout comprises two double

bedrooms, the main bedroom is a real

treat and captures ocean views. The second

bedroom overlooks the back yard.

The home's generous dimensions are

complemented by the established grounds.

The gardens feature a contemporary

scheme that complements the house.

Easy drive on access to the single internal

accessed garage plus storage and parking

space.

Ideal location for professionals, elderly

wanting a smaller home with views.

The exciting Ferrymead shopping

precinct is based at the bottom of the

hill with a multitude of cafes and new

businesses opening.

Outdoor enthusiasts can take advantage

of the walking, running and mountain

biking trails and the proximity to the city.

Mt Pleasant Primary School is a short walk

along with the bus stop close by.

Please call Debra Hakaraia

Smart Real Estate

Call 0275620420 or 033848600

Smartrealestate.co.nz

Licensed Agent Reaa 2008

www.bigbrothersbigsisters.org.nz
---
18

Tuesday November 12 2019

Latest Canterbury news at starnews.co.nz

NOR'WEST NEWS

If you want more information about an item or to contact a

seller, visit www.postanote.co.nz and search the ID#

Nissan Maxima

Pink Chair

Toyota Caldina

Mahogany Dining Table & 6 Chairs

Eurotech Oil Heater

Chesterfield Arm Chair

$900

ID 21212

$10

ID 32081

$2,300

ID 32035

$800

ID 32128

$5

ID 31546

See Seller

ID 31916

Toyota Avensis Wagon

2015 Yamaha MT-09 ABS

2011 Toyota Hilux

Great Fishing Boat

Jet Boat - Jet 44 Invader Hull

Solid Kauri Colonial Desk

$7,999

ID 31664

$8,500

ID 25296

$24,0000

ID 32107

$55,000

ID 31132

$5,950

ID 32073

$350

ID 31909

Metal Easel

Aluminium Boat & Warranted Trailer

Large Model Plane

Three Plush Teddies

2004 Honda Fit For Sale

Leather 3-seater Sofa

$200

ID 32071

$2,500

ID 28339

$150

ID 31913

$10

ID 32102

$3,700

ID 31057

$390

ID 31305

Solid Rimu Desk by Gavin Cox

1993 Toyota Estima Emina

1896 Roper Steam Bicycle Replica

Housetruck/Sleepout

NZ New Corolla Wagon

Victorian Porcelain

$550

ID 31910

$3,800

ID 31970

$65,000

ID 31942

$8,000

ID 31888

$4,700

ID 31967

$350

ID 31848

1992 Gibson Firebird V, Mint Mazda MX-5

Small Dehumidifier

Bell Decanters

Tidy VY SS Commodore

Coffee Table - Recycled Hardwood

$3,000

ID 31883

$10,990

ID 26396

$50

ID 31875

$75

ID 31865

$14,750

ID 31800

$375

ID 31869

Ryobi Hedge Cutter

AMW Heavy Duty Scooter

Samsung Fridge/Freezer

FREE Piano

Alloy Jet Boat

Fish Tank, Cabinet & Equipment

$50

ID 31826

$2,995

ID 28336

$225

ID 31746

FREE

ID 31744

$8,000

ID 28259

$300

ID 31653

Couch

Suzuki

2005 Nissan Tiida Latio

Kawasaki ER 650N

Sofa Bed

Leather Recliner

$150

ID 31705

$1,200

ID 31703

$4,000

ID 31840

See Seller

ID 31693

$185

ID 31687

$110

ID 31666

1119h01chch
---
NOR'WEST NEWS Latest Canterbury news at starnews.co.nz

Tuesday November 12 2019 19

Classifieds Contact us today Phone our local team 03 379 1100

Crafts & Hobbies

Trades & Services

Trades & Services

Trades & Services

Wanted To Buy

1119h06

Cushla's Village Fabrics

Pop-Up Shop

HAREWOOD CHCH

Canterbury Anniversary Weekend

Friday 15 Nov 11am-5pm

Saturday 16 Nov 10am-3pm

St James Church Hall, Harewood

with plenty of parking at the rear of the hall,

just off the roundabout by the airport.

www.cushlasvillagefabrics.co.nz

Eftpos available

Community Events

ALCOHOLICS

ANONYMOUS, If you

want to have a drink that's

your business. If you want

to stop, we can help. Phone

0800 229-6757

Gardening

& Supplies

A GARDEN OR

LANDSCAPING TIDY

UP? Shrub, hedge &

tree pruning, Lawns,

Gardening, consistently

reliable general property

upkeep, Dip. Hort. 10

yrs experience, One off

tidy ups or on-going

service. Nick's Garden

Maintenance. Keeping

your garden beautiful.

Free Quote. Ph. 942-4440

& 022 264 7452

Holiday

Accommodation

Australia QLD

SUNSHINE

COAST

RESORT

AlEXAnDRA hEADlAnD

All Units Have Ocean Views.

Heated Pools, Spa & Sauna,

Free Wifi, Tennis &

Mini Golf.

ChECk OuR gREAT

SpRing/SummER

SpECiAlS

www.mandolin.com.au

0061 7 5443 5011

Trades & Services

Trades & Services

HOUSE

CLEARING

Are you

moving house

or trying to

downsize?

Call All Clear

Canterbury. We work

with you to recycle,

sell and dispose of

unwanted items.

Ph: 03 260 0934

or 021 078 4553

raewynlcooke@gmail.com

www.allclearcanterbury.co.nz

ROOF

PAINTING

Rope & harness

a speciality,

no scaffolding

required,

30 years of

breathtaking

experience.

FREE QUOTES

Exterior staining,

exterior painting,

moss and mould

treatment and

waterblasting

Phone Kevin

027 561 4629

Trades & Services

BATHROOM

Renovations, complete

service from start to finish,

free quotes, ph Dave 027

334 4125

PRO-CON NZ Ltd.

EST. 1998 NZCN 933020

for PROJECT CONTROL

& Co-ordination

Specialising in Commercial, Industrial & Domestic

FREE Job Appraisal

Police Vetted

• Waterblasting: fences, paths, decks & equipment etc

• Equipment installation, removal

• Importing & Customs Clearing

• Process machinery installation

• Something else? Please call

027 433 8575

No job too small, we consider them all.

DO IT ONCE, DO IT WELL.

IT'S NOT A PROBLEM!

• New homes

• Extensions

• Renovations

Builder

• Light Commercial

• Repairs and

Maintenance

Brandon Taw

Phone 027 370 2572

enquiries@tawbuilders.co.nz

www.tawbuilders.co.nz

concrete & paving

• Driveways

• Earthquake repairs

• New Home Specialists

• Patios & Paths

tel: 0508 873 7483

email: sales@affordableconcrete.co.nz

www.affordableconcrete.co.nz

DRIVEWAYS

Exposed Aggregate

Stamped Concrete Plain

Concrete Resurfacing

Things we offer...

Competitive/affordable pricing

Attention to detail

Professional service

free quotes/insurance scopes

Cell 0278 145 848

www.drivecrete.co.nz

YOU COULD

BE HERE

Let us help take

your business to

new heights

Advertise your business in our

Trades and Services column.

For assistance contact Vicky

Phone 03 364 7419 or email

vicky.sayers@starmedia.kiwi

house and garden

home

cleaning

PAINTER

Michael Kelly Painters

Locally owned and

operated family

business.

25+ years Experience

• Painting • Wallpapering

• Interior • Exterior

Free Quotes

gardening

services available

throughout

christchurch

your one stop shop for home services

www.anextrapairofhands.co.nz

info@anextrapairofhands.co.nz

0800 535 355

Phone

Michael 0212 649 492

michaelkellypainter@hotmail.co.nz

Trades & Services

BEST BATHROOMS CARPET LAYING

full renovations Exp. Repairs, uplifting,

specialists, LBP builder, relaying, restretching.

free quote, all building Phone John on 0800

property maintenace ph 03

003181, 027 240 7416

383 1927or 027 245 5226

jflattery@xtra.co.nz

ciey@xtra.co.nz

ELECTRICIAN

BRICKLAYER

George Lockyer. Over Prompt & reliable

40 years bricklaying registered electrician

experience.Uk trained. with 24 years experience

Insurance work, EQC for all residential and

repairs. Heritage commercial work, new

brickwork & stonework housing and switch board

a speciality. No job too replacements. Phone Chris

small. Governers Bay. 027 516 0669

Home 329 9344. Cell ELECTRICIAN

027 684 4046. E mail

REGISTERED

georgelockyer@xtra.co.nz

electrical installation and

BUILDER

repairs, Gorbie Electrical,

HANDYMAN

ph 021 026 73375 or 03

No job too small. Install

heat transfers, repair/

322 4209

replace fences, floor LAWNMOWING

boards, decks. Russ Push mow & Ride On.

027 884 2330. Liability Fully insured. Ph John or

insurance.

Jo on 021 027 99392

PLUMBER

NEED A PLUMBER

Call us now for fast friendly service.

Get your problems sorted out

quick smart - on time!!

Phone for a

FREE

quote now.

Trades & Services

Phone 03 377 1280 | Mobile 021 898 380

PAINTER

50 yrs combined exp.

New, older homes, int ,ext.

Locals working for locals.

We stand by Canterbury.

Ph Wayne 027 274 3541 /

385 4348

PAINTER QUALIfIED

local professional, int/

Ext,roofs,wallpaller, call

or text Corban 027 846

5033

PEST CONTROL

Qualified & licensed

applicator. Spiders, flies,

ants. Ring Bob 0800

387369

PLASTERER

Gib Stopping, Small

job specialty. 30 + years

experience. Ring 0800

387-369

ROTARY HOEING.

Vege gardens, new

sections. Ph Dave 382

5779

SHOE REPAIRS

Belfast engraving. Shoe

repairs, key cutting &

engraving. (10 yrs exp)683

Main North Rd, ph 027

3113423

SPOUTING

CLEANING

Spouting Unblocked,

Cleaned Out and Flushed

Out. Call Trevor 332 8949

or 021 043 2034

STUMP GRINDING

Best price guarantee Tony

0275 588 895

TILING

Flooring - Splashbacks -

Wall incl tile removal, reg

master tiler, ph Dave 027

334 4125

TILER/CARPENTER

35 years exp, no job

too small. Ph Ross 027

4311440.

T.V. SERVICE CENTRE

Repairs, tvs, microwaves,

audio amps, soundbars.

.Aerial & satellite

installations, kitsets, 480D

Moorhouse Ave, ph 03 379

1400

VHS VIDEO TAPES

& all camera tapes

converted to DVD, video

taping special occasions,

www.grahamsvideo.co.nz

ph 03 338-1655

CASH FOR

STAMPS,

COINS &

GOLD

Free Appraisals

Call Matt at

The Stamp and

Coin Exchange

134a Riccarton Rd

0800 39 24 26

We can come to you.

Call today.

Wanted To Buy

fridge freezers. Same day

service. Selwyn Dealers.

Phone 980 5812 or 027

fridge freezers. Same day

service. Selwyn Dealers.

Phone 980 5812 or 027

AAA Buying goods

quality furniture, beds,

stoves, washing machines,

313 8156

AAA Buying goods

quality furniture, beds,

stoves, washing machines,

313 8156

TOOLS Garden,

garage, woodworking,

mechanical, engineering,

sawbenches, lathes, cash

buyer, ph 355-2045

Vehicles Wanted

CASH/CASH for any

unwanted vehicles, ph

347 9354 or 027 476 2404

Public Notices

WINDOW TINTING

99% uv block

fade protection

heat control

reduce glare

25 Years Experience

Trades & Services

tintawindow

advanced film solutions

privacy films

frosting designs

non-darkening films

Workmanship Guaranteed

Lifetime Warranties on Most Films

UV

block

Free Quotes Canterbury and Districts

03 365 3653 0800 368 468
---
20 Tuesday November 12 2019

Latest Canterbury news at starnews.co.nz

NOR'WEST NEWS

We love

what we do

Congratulations to our Top 20 Consultants

for October 2019

It's an unquestionable truth – the success of our clients is

directly tied to the success of our people. We are inspired

every day by our clients' stories and it's why we love doing

what we do.

Congratulations to our top performers for their passion and

dedication, their unique expertise and exemplary service.

Top

02

03

04

RICHARD DAWSON

Ilam 2

CHRIS LEWIS

Fendalton

PAUL NICHOLS

Fendalton

CORINA GREY

Ilam

05

06

07

08

JENNI ROLTON

St Albans

TIM HARRIS

Merivale

LIMO SONG

Ilam 2

JANINE LANEY

Ilam 2

09

10

11

12

HENRY COCHRANE

Ilam

CHRIS CAMPBELL

Merivale

ZANI POLSON

Ilam 2

PHILIP WATKINS

Ilam 2

13

14

15

16

EMMA LUXTON

Ilam 2

FIONA NANKIVELL

Fendalton

SIMON WATSON

Ilam 2

MITCHELL MACDONALD

St Albans

17

18

19

20

JOHN MORRISON

Ilam

DUNCAN MCGREGOR

Merivale

BRIDGET PERRY

St Albans

KEVIN CONYERS

Ilam

Contact one of our top performers today:

FENDALTON

03 355 6116

ILAM

03 351 6556

ILAM 2

03 351 3002

MERIVALE

03 355 6677

ST ALBANS

03 377 0377

holmwood.co.nz
---
NOR'WEST NEWS Latest Canterbury news at starnews.co.nz

Tuesday November 12 2019 21

Summerset at Wigram serviced apartment resident, Alma with daughter Maree

Serviced apartments,

the best of both worlds

Discover how Summerset living allows

Alma to stay active and thrive

SUM1852_FC1
---
22 Tuesday November 12 2019

Latest Canterbury news at starnews.co.nz

NOR'WEST NEWS

" Since Mum's been here,

she's just blossomed"

From growing up in a big family in Christchurch to being happily married for 63 years, Alma's had

plenty of company throughout her whole life.

So, when the option to move to a Summerset serviced apartment came up, Alma and daughter

Maree were naturally a little nervous it might be a bit on the quiet side for her. But, since the move,

they've discovered it's been anything but quiet.

"I don't think you'd ever need to feel lonely here. It's just like a big family and there's always

something going on," remarks Alma.

When she first arrived at her serviced apartment, Alma had her husband by her side. Sadly, he

passed away shortly after due to on-going health issues. "I thought it might take her a little while to

deal with the loss of dad and… the new surroundings, but it was quite amazing really how quickly

she settled, and I think that was down to the staff," recalls daughter Maree.

Alma with Maree as a toddler

While the move was a big decision, the whole family feel that Alma has "blossomed" since and

has become more herself again.

" She's involved herself in things that she hadn't done for years, Choir. Exercising.

She's just taken it with both hands, made friends and it's all been just amazing."

Maree and Alma both admit that the stigma of retirement living put them off for longer than it

needed to. "I think mum was just so delighted when she came here and realised how welcoming

and how well-run [the place was] and what care was here for her. I think it was an eye-opener, really."

Having Alma living at home with her would have been a dream for Maree, but with the reality of

working all day, she worried her mum would be very bored. But Alma hasn't had time for boredom

at all since moving to Summerset. "There's so much to keep you occupied. Music. Happy Hour, little

outings. It's a lovely place to be."

Alma also fills her time with a cheeky bit of cleaning, even though she doesn't need to lift a finger.

"I don't think she leaves a lot for the staff to clean, but that's mum," laughs Maree.

"It's a relief for us to know that she's taken care of. Dad would be so pleased to see she's in a

place like this. It's just been a godsend."

To hear Alma's full story, visit summerset.co.nz/servicedapartments

Alma and Maree enjoy quality time

together at Summerset at Wigram

Serviced apartments pre-selling*

now at Summerset on Cavendish!

View our show home, plans and pricing today!

Summerset on Cavendish

147 Cavendish Road, Casebrook

*Licence to occupy.
---
NOR'WEST NEWS Latest Canterbury news at starnews.co.nz

Tuesday November 12 2019 23

Love serviced apartment living

The best of both worlds: Independent retirement living with support on hand

Summerset serviced apartments are modern, purpose-built homes designed for the over 70s. Serviced apartments are light and

spacious with open plan living, a kitchenette and a separate double bedroom with a large ensuite.

Move in and make it your own

You can furnish it as you like and there's plenty of room to entertain family and friends.

Summerset serviced apartments, offer:

• Some of the largest serviced apartments in Christchurch

• Patio or balcony homes offering amazing indoor-outdoor flow

• Open plan living

• Located in the heart of the village, close to all the facilities.

You're welcome to take a tour of our stunning show home, view plans and pricing at a time that suits you, we're open 7 days!

For more information visit summerset.co.nz/casebrook, or call 0800 SUMMER (786 637)

Artist Impression

Artist Impression

View our show home, plans and pricing today!

Summerset on Cavendish

147 Cavendish Road, Casebrook

SUM1852_DPS
---
24 Tuesday November 12 2019

Latest Canterbury news at starnews.co.nz

NOR'WEST NEWS

Serviced apartments pre-selling* now!

Artist Impression

Artist Impression

Discover Summerset

on Cavendish

Apartment living in the heart of our community

Summerset serviced apartments are located in the heart of our village,

close to all of the facilities.

With options for couples and singles, serviced apartments are designed

to create the perfect balance between independence and support to suit

your needs.

Our homes are low maintenance, free from all the hassles of upkeep.

It's all about stress-free living, where time is yours to live the life you choose.

Serviced apartments

pre-selling* now

View our stunning show home,

plans and pricing today!

Summerset on Cavendish

147 Cavendish Road, Casebrook

Take bus route 28 straight to our gate

*Licence to occupy.

As a Summerset on Cavendish resident, you'll have access to a range of community facilities, including;

Divine Café

Exercise room

Communal vegetable

gardens

Hair and beauty

Residents' bar

All-weather bowling green

Residents' workshop

Swimming pool and/or

spa pool

To find out more about Summerset on Cavendish serviced apartments,

visit summerset.co.nz/casebrook or call 0800 SUMMER

SUM1852_FC4