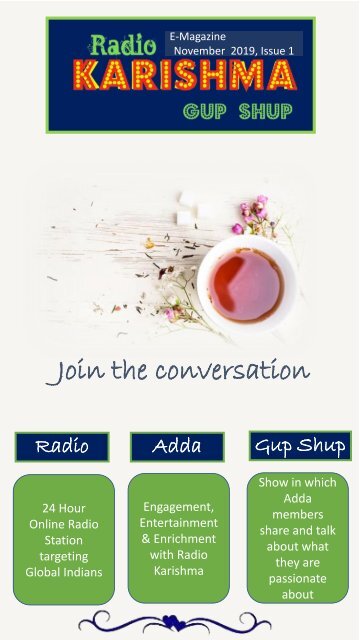 RK ADDA newsletter 11 November issue
Monthly E-Magazine for the listeners of Radio Karishma. Download the Radio Karishma app to get this magazine every month.
Monthly E-Magazine for the listeners of Radio Karishma. Download the Radio Karishma app to get this magazine every month.
SHOW MORE
SHOW LESS
You also want an ePaper? Increase the reach of your titles
YUMPU automatically turns print PDFs into web optimized ePapers that Google loves.
E-Magazine

November 2019, Issue 1

Join the conversation

Radio

Adda

Gup Shup

24 Hour

Online Radio

Station

targeting

Global Indians

This Photo by Unknown Author is licensed under CC BY-NC-ND

Engagement,

Entertainment

& Enrichment

with Radio

Karishma

Show in which

Adda

members

share and talk

about what

they are

passionate

about
---
E-Magazine

November 2019, Issue 1

Se

With RJ Karishma

Its been wonderful 9 years running Radio

Karishma. Over the years you, as my listerner

have reached out to me and given me so much

love and respect that I am eternally grateful to

you. Spread across 150+ countries Radio

Karishma is unarguably one of the largest

platforms to bring the Global Indians together.

As regular listeners of this online radio, you

will know better than anyone else that we don't

believe in Bollywood centric –rinse and repeat

template for entertainment. Our endeavor has

always been to provide wholesome

entertainment, engagement and enrichment

though eclectic variety of content. RK Adda

and RK Gup Shup (the E-Magazine and the

show) is our new initiative to build a closer knit

community as well as give platform to people

and issues that need our attention.
---
E-Magazine

November 2019, Issue 1

Meet Your RJs

Sapna Rana : Dil ki bat aap ke

sath : Tuesday 1 pm

Rajeev kulkarni : Kannadavani;

Sunday 1pm and Cine Chat on

Wednesday at 10:00 am

Shilpa Lele : Suprabhat Mon-

Wed and Friday morning 7am

to 8am

Moushomi Bose : Food Fundas

Sunday : 11 am

Not Just Water Boys ; Manpal ,Munraj Bal and Abhi Dhumpala :

Sunday 4 Pm
---
E-Magazine

November 2019, Issue 1

Radio Karishma Adda

Engagement, Entertainment and

Enrichment

Become part of Radio Karishma Adda and

become part of one of its kind club –that will

enable and empower you and your business.

The Adda ( as we like to call it) was launched on

8 th October with 20 members on board.

With member networking events, educative

workshops and fun & de-stress time – this is a

place like no other. Radio Karishma is committed

to nurture its adda with all its offline and online

prowess and grow it into a force to reckon with

amongst the global Indian community.

Checkout the Radio Karishma Adda page on our

website regularly to see the upcoming

events/workshops.

And of course don't forget to sign up for the

Adda.

We meet twice a month atleast, once for get

together and once for workshop/skill building

Sign up for Adda
---
E-Magazine

November 2019, Issue 1

Radio Karishma Adda

Launch Party

Radio Karishma Mithai

Exchange Party

Sign up for Adda
---
E-Magazine

November 2019, Issue 1

Radio Karishma Gup Shup

What are you passionate about? An

art form? A Vocation? A Cause?

Whatever it is that you are passionate about, you

care about, feel strongly about, RK Gup Shup is

the platform provided to you to share your talent,

voice your opinion and make your opinion matter.

Participation is only by invitation and RK Adda

members get to be part of one Gup Shup show of

their choice as part of their annual membership

perk. The 30 minute show will be simulcast on

radio and Facebook Live.

If as a listener you would like us to cover a certain

topic, skill or issue on Gup Shup, write to us at

info@radiokarishma.com

Stay tuned for the first episode

of RK Gup Shup on 1 st

December 2019
---
E-Magazine

November 2019, Issue 1

Join The Conversation

Download Radio Karishma App to receive this E-

Magazine every month. Link at the bottom of this

page.

Stay tuned to everything that's happening in the RK

universe. Get a chance to feature on RK radio, facebook

or E-Magazine.

Download iOS App

Download Android App

Sign up for RK Adda

Engagement, Entertainment and Enrichment –is what

you get when you become and RK Adda member.

Offline events open right now to Dallas folks. Any City

with 50+ Adda members can start their own Offline

Adda with approval from Radio Karishma. Online

events/workshops open to worldwide members. For

more details email: info@radiokarishma.com
---
RK ADDA –Meet the members

Sandhya is very passionate about home decor, Interior designing, baking,

entertaining and loves travelling. She is a keen learner of Ikebana and dabbles a

bit in Oshibana, Zentangle and Cyano.Sandhya is a seasoned and successful e-

commerce entrepreneur. She is reachable at 702-827-9393 and her email

address sdevas@gmail.comHer three online stores:

1.www.backdropsource.com - For printing banners, backdrops and display

stands for events, conferences , photography and many more. (Presence in 6

countries).

FB : https://www.facebook.com/BackDropSource/

Instagram : @backdrop_source

2. www.zuyyu.com - Travel site where you can book taxis for your trips or tours.

(Present in over 15 countries)

Instagram : @zuyyu_

3. www.kumbly.com - Handmade handcrafted home and fashion goods.

FB : https://www.facebook.com/kumblythestore/

Instagram : @kumblythestore

Sandhya Devas

Shilpa Lele

Shilpa is the mother of two beautiful daughters and a wife to a

wonderful husband, she is the lead singer for the Radha Krishna

Temple also takes care marketing and advertising for Radha Krishna

temple -recording advertisements, recording festive videos .She also

sings for Sounds of Isha , Isha FoundationShe is extremely passionate

about special needs individuals. Her motto of life is - Creation thrives

from the root of positivity"Shilpa was a successful placement

professional for home staff for like nannies, personal managers and

home managers currently She is a radio host for Radio Karishma where

she does suprabhat show with legendary ancient stories from our

scriptures explaining the importance of our festivals to keep awareness

of spiritual teachings as alive as the festivities themselves.

Sapna is a beautiful, vivacious human being who happens to

possess equally beautiful voice. She emanates warmth and

kindness and you are engulfed in it as soon as you meet her.

Not surprising that she has a dedicated fan following – people

who love her voice and people who value her kindness. Her

passion is to read, write and cook. She is a motivational

speaker and in order to continue motivating and inspiring the

world with her words, she hosts "Dil Ki Baat Apke Saath" on

Radio Karishma. Her motto and . aim in life is to spread

happiness and positivity around. Sapna is an an educator.. She

possesses Masters in education from Rockford college Illinois.

She has nurtured young minds for about two decades as a

teacher and has no transitioned into a business owner who

runs a preschool. She is into professional development and

training teachers in addition to being a CPR and first aid

instructor. You can find more information about her on her

website www. Sapnarana.com

Sapna Rana
---
RK ADDA –Meet the members

Sunita is a Financial Service Professional and Sales & Marketing Head For

3Charms Media & Radio Karishma. She believes in educating women about the

financial health of their family. She firmly believes that just as we schedule and

take care of each family members' needs we should take care of the finances as

well . Don't be afraid of learning about finance/Investment. Just as you invest

your heart in your family, learn to manage the finances the same way, so that no

one can take advantage of you. She loves meeting, educating and promoting

products, services and solutions that can help clients to reach next level in their

business and she is able to leverage her passion for sales and marketing to

enable and empower their businesses. She is a firm believer of the fact that if

you are passionate about your products/services then you can reach heights of

success. She takes ownership of clients' businesses. She is not afraid to work

beyond her means and take new challenges and once she accepts them, she

gives it my 200%. She is mother of a 9 years old who keeps her busy with his

activities and makes her life full of joy. Her success in both professional and

personal sphere is because of her Hubby Arun whose unflinching support and

inspiration drives her towards perfection. She thanks God for his blessing upon

her and her family every day. She believes that our Financial Intelligence

Compounds Like Money. It is the One Investment You Can Never Lose.

Sunita is reachable at 214- 449-3949

Sunita Tanwani

Anjali Nandwani is an IT professional and works as VP & Head

of Software Testing Services managing Americas region for an

IT service provider, Tech Mahindra. Her job involves selling,

business development and providing solutions for the

Software Testing service line for her company to various clients

across US, Canada and LATAM. She likes her job as it let's her

interact with new teams and clients across the Americas

region and is a great learning experience.

She stays in Frisco with her husband and son - husband, an IT

professional too and son is a junior student in Reedy High

School. Her travels over the week for work and then taking

care of the domestic chores takes up pretty much all the time.

She loves making friends and socializing . and networking but at

times due to the busy work schedules is not able to spend as

much time for that. Thanks to Radio Karishma Adda she has

got to know so many members! That's one of the core reason

she enjoys being part of this community.

She is very fond of Indian music specifically old Hindi Songs.

She loves listening to and also tries to sing (never learnt but

just like that...) - that's one of the reasons (amongst many

others) she connected with Karishma and Radio Karishma so

well. Love the music Radio Karishma team plays. Other than

that she loves cooking and also traveling. She also tries to

learn cuisines that she has not tried before. She loves taking

vacations whenever possible and exploring new destinations.

Anjali Nandwani
---
RK ADDA –Meet the members

Abha Ahuja is passionate about mindful living and being kind

to all sentient beings. She is a Reiki practitioner and a

vegan.She equates passion to where she puts her efforts. She

values living introspectively with a general conscious

awareness of her own responsibility to cultivate love,

compassion and kindness towards all sentient beings. She is

passionate about practicing her spiritual path, which provides

meaning, purpose, and a great sense of fulfillment and joy to

her life. Abha is also the creator of a very versatile, nutrition

rich and tasteful brand of Gluten

.

free flour called Metta Atta.

Metta means loving-kindness in Pali. Love for family, children,

tradition, and the need for taste and texture in gluten free

eating is what inspired Abha to start on her journey of

creating Metta Atta. She loves spending her free time creating

and trying out new and exciting recipes with Metta Flour.You

can check them out her recipes with Metta Atta

here:https://mettaatta.com/recipes/ Once you have tasted

her gluten free delicacies, you will not want to go back to

eating anything else. Ask Shilpa Lele.

Abha Ahuja

Saloni Jivnani

Saloni Jivnani : owner of Saloni boutique : A Master

tailor ; no one stitches and alters like her . love for

clothes and fashion and beauty has kept her in this

field for over 30 years now .Originally from Gujrat

India , came to USA to make it big and she did !

Started as a small tailoring shop and now owner of a

full fledged boutique in the heart of plano .. a

success story of a woman of grit and passion . Saloni

is a loving wife to a equally loving and supportive

husband and very loving mother of two grown up

children and peoples person who loves to dance

,sing and party . After being an ardent listener of

Radio Karishma ever since has now joined ADDA for

the very same reason where she is looking forward

to meet new people and create some fun memories

.
---
RK ADDA –Meet the members

Revive Med Spa

Revive Med Spa in Murphy, Texas is a facility for

your health and beauty needs all under one roof!

We offer many different services such as medically

supervised weight loss programs, hormone

replacement therapy, growth hormone

replacement therapy using sermorelin for men and

women, minimally invasive aesthetic and cosmetic

solutions such as Botox, dermal fillers, body

sculpting, laser hair removal, HydraFacial as well as

Microneedling with PRP. Using the latest in

cosmetic and laser technology we can target and

address many skin conditions that are typically

associated with premature aging and sun exposure.

In addition to aesthetic services Revive Med Spa

also provides a wide range of gynecologic services

for women of all ages, from adolescence through

menopause, in a soothing spa like environment.

Whether your needs are medical, cosmetic or

aesthetic; our team is here to help you be the best

version of yourself!

V4 Travel Services is a ONE STOP shop for all your

travel needs conveniently located in Plano, TX.

They specialize in Expedited & Regular renewal of

Passports & processing Visas to over 25

Countries. Instant pictures that comply with

stringent specifications/size for U.S. and

International Passports, NICOP, Green Card,

Canadian PR are their forte. They also assist in

processing applications for OCI & the success rate

of getting it approved has been perfect so far! An

added feather to their cap has been the

integration of Airline Ticketing and Hotel booking

services this year thus making V4 a true one stop

shop for all your travel needs. For more

information please call 214-396-8120 or visit

their website www.v4travelservices.com

V4 Travel Service
---
Newsletter

November 2019, Issue 1

Become a Contributor

Allow us to give you a launch platform

If you or someone you know has a talent that

deserves audience – writing, singing, poetry,

embroidery, painting, anything exceptional and

unique you can think of, then get in touch with us.

If your work/creation makes it through with our

editorial team – it will be featured in this

newsletter, radio and our social media assets.

For any questions, feel free to reach out to us at

info@radiokarishma.com

Download Radio Karishma App to receive this E-

Magazine every month

Download iOS App

Download Android App

Editor's Note: This issue is more of an

introduction of how we are going about building

and connecting RK community globally through

this E-Magazine. December onwards, you can

look forward to more content rich issues. Shweta