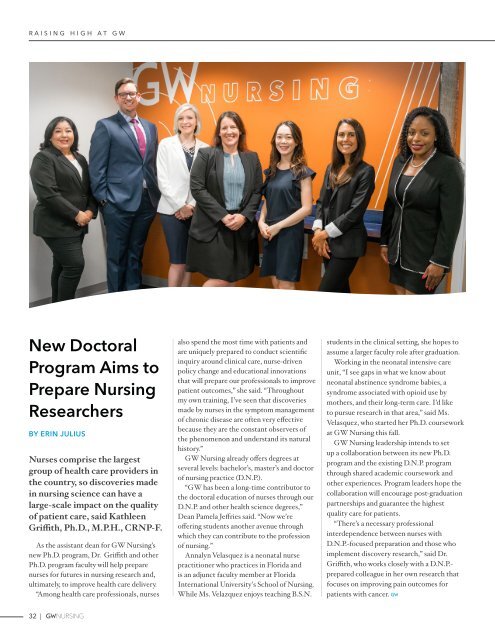 GW Nursing Magazine Fall 2019
GW Nursing is a publication of the George Washington University School of Nursing. The magazine tells the story of GW nurses and their endeavors in the areas of education, research, policy and practice.
GW Nursing is a publication of the George Washington University School of Nursing. The magazine tells the story of GW nurses and their endeavors in the areas of education, research, policy and practice.
SHOW MORE
SHOW LESS
Create successful ePaper yourself
Turn your PDF publications into a flip-book with our unique Google optimized e-Paper software.
aising high at gw

awards included Clinical Education

Associate Professor Kathleen

Instructor Jennifer Walsh (the

Griffith and Clinical Associate

Awards, Honors, &

Accomplishments

school's first annual Daisy Award,

a national honor that recognizes

extraordinary nurses); Assistant

Professor Billinda Tebbenhoff

Professor Mark Tanner were invited

to join the inaugural GW Academic

Leadership Academy. The academy

was designed to facilitate cross-

Awards

Associate Professor Mayri Leslie

received an award for best research

presentation at the annual meeting

of the American College of Nurse-

Midwives in Washington, D.C., in

May 2019.

(Civility Award); Clinical Assistant

Professor Anne-Marie O'Brien

(Excellence in Undergraduate

Student Mentoring); Assistant

Professor Carol Braungart

(Excellence in Graduate Student

Mentoring); Clinical Assistant

Professor Catherine Reisenberg

institutional networking among

academic leaders while building

leadership capacity for the

participating schools and units.

Professor Y. Tony Yang was selected

by the AcademyHealth Education

Council Executive Committee to

New Doctoral

Program Aims to

Prepare Nursing

Researchers

BY ERIN JULIUS

Nurses comprise the largest

group of health care providers in

the country, so discoveries made

in nursing science can have a

large-scale impact on the quality

of patient care, said Kathleen

Griffith, Ph.D., M.P.H., CRNP-F.

As the assistant dean for GW Nursing's

new Ph.D. program, Dr. Griffith and other

Ph.D. program faculty will help prepare

nurses for futures in nursing research and,

ultimately, to improve health care delivery.

"Among health care professionals, nurses

also spend the most time with patients and

are uniquely prepared to conduct scientific

inquiry around clinical care, nurse-driven

policy change and educational innovations

that will prepare our professionals to improve

patient outcomes," she said. "Throughout

my own training, I've seen that discoveries

made by nurses in the symptom management

of chronic disease are often very effective

because they are the constant observers of

the phenomenon and understand its natural

history."

GW Nursing already offers degrees at

several levels: bachelor's, master's and doctor

of nursing practice (D.N.P.).

"GW has been a long-time contributor to

the doctoral education of nurses through our

D.N.P. and other health science degrees,"

Dean Pamela Jeffries said. "Now we're

offering students another avenue through

which they can contribute to the profession

of nursing."

Annalyn Velasquez is a neonatal nurse

practitioner who practices in Florida and

is an adjunct faculty member at Florida

International University's School of Nursing.

While Ms. Velazquez enjoys teaching B.S.N.

students in the clinical setting, she hopes to

assume a larger faculty role after graduation.

Working in the neonatal intensive care

unit, "I see gaps in what we know about

neonatal abstinence syndrome babies, a

syndrome associated with opioid use by

mothers, and their long-term care. I'd like

to pursue research in that area," said Ms.

Velasquez, who started her Ph.D. coursework

at GW Nursing this fall.

GW Nursing leadership intends to set

up a collaboration between its new Ph.D.

program and the existing D.N.P. program

through shared academic coursework and

other experiences. Program leaders hope the

collaboration will encourage post-graduation

partnerships and guarantee the highest

quality care for patients.

"There's a necessary professional

interdependence between nurses with

D.N.P.-focused preparation and those who

implement discovery research," said Dr.

Griffith, who works closely with a D.N.P.-

prepared colleague in her own research that

focuses on improving pain outcomes for

patients with cancer.

Professor Joyce Pulcini received

the 2019 Towers Pinnacle Award

from the American Association of

Nurse Practitioners at its annual

conference in June 2019. The

award is presented annually to

an individual whose outstanding

contributions through policy,

practice or education, have

resulted in increased national

recognition for nurse practitioners.

Assistant Professor Sherrie

Wallington received the Robert

Wood Johnson Foundation New

Connections Award in the peer

mentor category. The award

recognizes a network member who

repeatedly served as a mentor,

adviser and/or sponsor for peer

colleagues and offered their time

and service to peers to support the

professional development of other

underrepresented researchers.

In May, the 2019 faculty

and staff awards were announced

during the GW Nursing Annual

Appreciation Luncheon. Faculty

(Excellence in Undergraduate

Teaching); Assistant Professor

Rhonda Schwindt (Excellence in

Graduate Teaching); Professorial

Lecturer in Nursing Cathy Kopac

(Excellence in Teaching in a Part-

Time Appointment).

Staff award recipients included

Community Manager Joké

Ogundiran (Citizenship Award);

Program Assistant Matthew Hess

(Civility Award); Senior Instructional

Designer Nikki Gebara (Civility

Award); Community Coordinator

Josh Mannix (Excellence in

Service); Director of Operations

Joseph Velez (Impact Award).

Honors

Professor Jean Johnson was

given the status of professor

emerita of nursing by the George

Washington University Board of

Trustees upon her retirement in

May 2019.

serve on the council. In this role,

which began in June 2019, he

shares his insights in developing

strategies and programs for

professional development in

health services and policy research,

assessing the field's current and

future needs, and selecting topics

and faculty for the AcademyHealth

Annual Research Meeting career

development sessions.

Dean Pamela Jeffries was named

president-elect of the Virginia

Association of Colleges of Nursing,

which aims to advance the quality

of undergraduate and graduate

nursing education in Virginia and

improve health care. Her term

began in April 2019.

Assistant Professor Carol Lang

was selected to serve two years

on the Sustaining Technical and

Analytic Resources (STAR) Program

Committee of the Consortium

of Universities on Global Health.

With the United States Agency

for International Development

(USAID), the five-year, $94 million

32

|

nursing.gwu.edu | 33