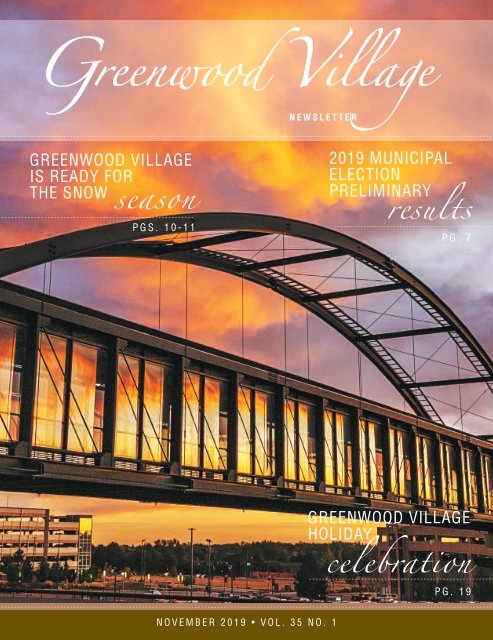 You also want an ePaper? Increase the reach of your titles
YUMPU automatically turns print PDFs into web optimized ePapers that Google loves.
Greenwood Village

N EEW S LLE ET TTE ER

GREENWOOD VILLAGE

IS READY FOR

THE SNOW season

P G S . 1 0 - 1 1

HEADLINE GOES

here P G . X

2019 MUNICIPAL

ELECTION

PRELIMINARY

results

P G . 7

HEADLINE

HERE P G . X

HEADLINE

HERE

P G . X

HEADLINE

here P G . X

GREENWOOD VILLAGE

HOLIDAY

celebration

P G . 1 9

N O V E M BO EN RT H2 0Y 1E9 A • R VI OS SL . U E 3 5#

N O . 1
---
GOVERNMENT

MAYOR RON reports

TRANSITION

Life is composed of transitions. Kindergarten to grade school.

Being single to married. By the time you read

this I will be about to transition from being

Mayor to private citizen status.

Shortly I will hand over the gavel to our

presumptive Mayor George Lantz. He has

devoted many years of service to the Village:

City Council, Planning and Zoning, and Board

of Adjustments and Appeals, to name a few of

his efforts. I ask that you give him the same

support I received from you.

At this point in retirement remarks, the speaker

Ron Rakowsky

rrakowsky@ usually would recite a litnay of statistics. I will

greenwoodvillage.com note the Village has no short-term, long-term,

303-486-5741 or pension debt, and ample reserves for

unexpected contingencies. Furthermore, we

have funds for future capital improvements.

We have seen spectacular buildings added to our tax base:

CoBank, Spectrum, Granite, and my favorite AMG National

Trust Bank. The Village's new Maintenance and Parks

building will be finished in early 2020. The Curtis Center for

the Arts expansion was particularly important to me. Our

Park improvements, with significant assistance from the

Arapahoe County Open Space Fund, are the envy of many of

our neighboring jurisdictions.

As great as our 47 miles of trails and nonpareil snow removal

operations are, the special asset of this Village are the people

of Greenwood Village. The residents, businesses, schools,

religious organizations, and the people who populate them

have been great to work with. They are the essence of this

Village. My frequent interaction with other Mayors tells me

how fortunate I have been not to face the issues that have

confronted my peers.

I am the 13th Mayor of Greenwood Village. My predecessors

left a magnificent legacy for me to add my stewardship to

their accomplishments.

The Mayors Pro tem with whom I have served were all very

special in their own way. The Village benefited from their

dedicated service.

COUNCILMEMBERS

I have often said I have been blessed to have had Blue

Ribbon City Councils. Of particular note have been the

female colleagues. Both present and past ladies on the City

Mayor Ron Rakowsky and Mayor Pro tem George Lantz.

Council brought the actions of the body to a noteworthy

level that might not have been otherwise reached.

At this point in retirement remarks, speakers frequently decry

the succeeding generation. I will not do so as I am excited

about their capabilities. The future is in good hands.

Kenneth, Emily, Joey, Ethan, Molly, Spencer, Grayson, Sean

Patrick, Joseph Paul, Nick, Abbie, Troy, Lori, Katie, and Jon

are just a few of those young leaders in our Greenwood

Village community I have had the privilege of meeting that

will take our Village, community, region, and world to new

heights.

My most unshakable opinion of greatness centers around the

Greenwood Village staff. The depth of talent is truly

remarkable. I have learned much from virtually all of them.

Take the time to listen. You will all benefit from hearing their

thoughts. Your tax dollars are being well spent.

I hope my tenure would be measured by a quote from

Secretary of Defense James Mattis: "You have a role to play

for a little while, play it well, but don't let it go to your

head."

Serving as your Mayor for almost nine years has been a

singular honor and special privilege.

As I always said at the end of my Village Showcase program

on GVTV 8 and YouTube, that's a wrap. GV

PG. 2 GV NEWSLETTER | NOVEMBER 2019
---
GOVERNMENT

CITY council

NOT SURE WHO YOUR

ELECTED OFFICIALS ARE?

Obtain a list of your state and national government

representatives at www.arapahoevotes.com

DISTRICT 1 DISTRICT 2 DISTRICT 3 DISTRICT 4

Dave Bullock

dbullock@

greenwoodvillage.com

303-804-4137

Anne Ingebretsen

aingebretsen@

greenwoodvillage.com

303-804-4135

Steve Moran

smoran@

greenwoodvillage.com

303-804-4133

Judith Hilton

jhilton@

greenwoodvillage.com

303-804-4131

Jerry Presley

jpresley@

greenwoodvillage.com

303-804-4138

Dave Kerber

dkerber@

greenwoodvillage.com

303-804-4136

George Lantz

glantz@

greenwoodvillage.com

303-804-4134

Tom Dougherty

tdougherty@

greenwoodvillage.com

303-804-4132

NEW HIGH LINE

CANAL MAP

AVAILABLE

Stop by the Parks, Trails,

and Recreation

Department at City Hall

to pick up your copy of

the new High Line Canal

Map, while supplies

last. Also the new

Guide to the High Line

Canal (which includes

the new trail map) is also available.

The 253-page full-color trail guide includes

navigational tips and highlights of the Canal's

history and nature, featuring access points,

landmarks and connecting trails.

NOVEMBER 2019 | GV NEWSLETTER PG. 3
---
GOVERNMENT

ENHANCING OUR

community

SMALL CELL

WIRELESS

FACILITIES

COMING TO

GREENWOOD

VILLAGE

WHAT RESIDENTS

NEED TO KNOW

Greenwood Village has received

multiple requests from wireless

carrier companies to install "Small

Cell" technology in the public

right-of-way.

To learn more, visit

greenwoodvillage.com/2517/Wirel

ess-Communications-Facilities-

Map. Information has been

provided on our Website including

Frequently Asked Questions, and

a Small Cell Facility Map that

includes approved and proposed

Small Cell applications for

facilities in the public right-of-way

in the Village.

For more information, please call

Community Development at

303-486-5783 or email

comdev@greenwoodvillage.com.

PG. 4 GV NEWSLETTER | NOVEMBER 2019
---
VILLAGE CALENDAR

Visit

WWW.GREENWOODVILLAGE.COM

for more information

Information is subject to change

december 2019

SUNDAY MONDAY TUESDAY WEDNESDAY THURSDAY FRIDAY SATURDAY

1 2

3

4 5

6 7

City Council

Study Session

6 p.m.

Meeting

7 p.m.

City Hall

P&Z Commission

7 p.m.

City Hall

★ SINGLE FAMILY HOUSEHOLD RECYCLING ★

8 9 10

11 12

PTR Commission

7 p.m.

City Hall

BOAA Meeting

6:30 p.m.

City Hall

13 14

15 16

17

18

19

20 21

City Council

Study Session

6 p.m.

City Hall

GVAHC Meeting

6:30 p.m.

Curtis Center

★ SINGLE FAMILY HOUSEHOLD RECYCLING ★

22 23 24

25

Christmas

Eve

Village Facilities

Closed

Christmas

Day

Village Facilities

Closed

26

27 28

Trash And Recycling Holiday Reminder:

With Christmas and New Year's Days falling on

Wednesdays, there will be a one-day delay in

service for those weeks following the holidays.

29

NO TRASH SERVICE

30 31 1

New Year's

Day

2

3 4

Village Facilities

Closed

★ SINGLE FAMILY RECYCLING ★

NO TRASH SERVICE

★ SINGLE FAMILY RECYCLING ★

NOVEMBER 2019 | GV NEWSLETTER PG. 5
---
GOVERNMENT

Greenwood Village

Don't have Comcast cable?

You can watch GVTV 8 programs on the

Village Website at greenwoodvillage.com

or on The City of Greenwood

Village Channel on YouTube.

AVAILABLE ON COMCAST CABLE IN GREENWOOD VILLAGE, GVTV CHANNEL 8 IS AVAILABLE 24 HOURS A DAY,

SEVEN DAYS A WEEK PROVIDING PROGRAMMING REGARDING IMPORTANT LOCAL, STATE AND NATIONAL TOPICS.

NEW IN NOVEMBER!

GV BUSINESS CONNECTIONS — Check out some of the new

businesses in town.

VILLAGE SHOWCASE — A special tribute to Mayor Ron Rakowsky

and his service to the Greenwood Village community.

SAFETY MATTERS WITH PUBLIC SAFETY BROS —

The dynamic duo is back and ready to share some pertinent back

to school safety tips to keep your children safe.

GV KIDS, INK! ® NEWS — FALL FEST

The Village is kicking off the fall season with its spooktacular

Halloween event for the entire family.

VILLAGE EATS — See what host Kristin Markey and the

Goldsteins are cooking up for the holidays.

GV KIDS, INK! ® NEWS — FALLOWEEN

Fall is officially here and so is the first Falloween Festival, hosted

by the Village and the Arapahoe Libraries.

DOG RULES

AND LAWS IN

GREENWOOD

VILLAGE

RESIDENTS ASKED TO

COMPLY WITH RESPECT

FOR NEIGHBORS

Animal Control of the Police

Department is here to help people and

animals live harmoniously together in

their community. Nevertheless, there

are times when certain behaviors

disrupt residents' peaceful enjoyment

of their homes and property and is

prohibited in Greenwood Village. It is

the responsibility of all pet owners to

comply with all local laws at all times.

For more information or to report any

violation of dog rules and laws in the

Village, please call the Police

Department at 303-773-2525.

LICENSING

Greenwood Village no longer requires

citizens to register their dogs. The

Village does recommend that all pets

have an identification tag on their

collar in case the pet was to get lost.

LEASH LAW

There are no off-leash facilities/parks

in Greenwood Village. Pet owners are

required to follow the Village leash law

requiring all dogs to be secured with a

pet leash in public areas of Greenwood

Village.

DOG FECES

It is illegal for pet owners to leave their

pet waste on public property in

Greenwood Village. Leaving your pet's

waste in the grass or on the trail is not

only discourteous to others, but is very

harmful to public health and the

environment. Dog feces, is not

fertilizer, not biodegradable, and

cannot be flushed down the drain.

Trash receptacles are provided at all

Village parks and along trails. If there

is no trash receptacle nearby, keep a

bag with you and dispose of it when

you get home.

NUISANCE ISSUES

A penalty assessment notice may be

issued to a person charged with a

violation of Village Code related to

animals, including running at large;

disturbing the peace; and removal of

dog feces. GV

PG. 6 GV NEWSLETTER | NOVEMBER 2019
---
GREENWOOD VILLAGE

MUNICIPAL

election

GOVERNMENT

MAYOR

DISTRICT 1

DISTRICT 3

Dave Bullock

Jerry Presley

Libby Barnacle

Donna Johnston

DISTRICT 2

DISTRICT 4

George Lantz

Anne Ingebretsen

Dave Kerber

Tom Dougherty

Judith Hilton

2019 MUNICIPAL

ELECTION RESULTS

NEW MAYOR AND

CITY COUNCILMEMBERS

ELECTED

The following are the preliminary

results for the 2019 Greenwood

Village Election for candidates. There

are still a few ballots that need

attention after the election. The

County has until November 13, 2019

to finish counting all ballots. The

types of ballots that may be delayed in

counting are those which may have

discrepancies, missing signatures, and

those ballots cast from an Oversea

Voter. The official and final results will

not be completed until the County

canvasses the election.

Villagers elected eight City Council

members and one Mayor. Elected

Councilmembers will each serve a

two-year term and the elected Mayor

will serve a four-year term. Your new

Mayor and City Councilmembers are:

Mayor

George Lantz

District 1

Jerry Presley

Dave Bullock

District 2

Dave Kerber

Anne Ingebretsen

District 3

Libby Barnacle

Donna Johnston

District 4

Tom Dougherty

Judith Hilton

As this publication went to press, the

close race in District 3, did not meet

the threshold of a mandatory recount.

The Councilmembers will take office

on Monday, November 18, 2019, at

7 p.m. in the Council Chambers at

City Hall. Look for more information

about the new City Council in an

upcoming issue of the Greenwood

Village Newsletter and on the Village

website at greenwoodvillage.com.

The Village also had a referred

question 2C which asked the voters to

authorize the Village to provide all

services and facilities restricted since

2005 by Title 29, Article 27 of the

Colorado Revised Statutes, described

as "advanced services," "telecommunication

services," and "cable television

services," including improved high

speed bandwidth services based on

new technologies, either directly or

indirectly with public or private sector

partners, including utilizing existing or

new community owned infrastructure,

to potential subscribers that may

include telecommunications service

providers, residential, or commercial

users within the boundaries of

Greenwood Village without raising

taxes. This question passed.

For complete election results,

visit the Village's website at

www.greenwoodvillage.com or for

more information about the 2019

Election, please call City Clerk Susan

Ortiz at 303-804-4113, or email

sortiz@greenwoodvillage.com. GV

NOVEMBER 2019 | GV NEWSLETTER PG. 7
---
GOVERNMENT

ENSURING A SAFE

community

HOLIDAY SHOPPING

SAFETY TIPS

With the holidays upon us, the Village

would like everyone to have a safe

holiday season. Provided below are

some safety tips of which to be aware

and practice when doing your holiday

shopping.

• Be aware of your surroundings at

all times.

• When shopping, try to park in a

well-lit portion of the parking lot

or street.

• When you park your car, secure the

valuables that you have left in your

car by placing them in the trunk.

Do not leave cellular phones,

purses, CD cases, laptops, or any

other item of value in your parked

car where they can be seen. It is

better not to leave valuables in

the car at all. Make sure you close

your windows, lock your doors and

activate your car alarm, if you have

one.

• Do not leave purchased

merchandise in your parked car

where it can be seen. Put these

items in your trunk, or conceal

them inside the vehicle.

• Keep your purse on your body, not

left in a cart or in the car. If you

carry a small purse, carry it over

your shoulder under your coat.

Do not carry all of your credit cards

with you. Leave your unneeded

documents at home.

• Always be aware of the location of

your personal items. Know where

your purse, cellular phone, wallet,

packages, etc. are at all times. Do

not leave them unattended. Do not

overburden yourself with packages.

• When you are finished shopping,

have your keys in your hand before

reaching your car door. Take notice

of your surroundings. If you see

that someone is watching you and

that you may be a potential victim,

return to the store immediately, and

call security or the Police

Department at 9-1-1.

• Do whatever you need to keep safe,

even if it means asking a security

guard or a police officer to escort

you to your car. It is always better

to be safe than sorry.

If you have any questions or need

assistance, please call the Greenwood

Village Police Department at

303-773-2525 or call 9-1-1. GV

DO NOT BECOME A VICTIM OF MAIL THEFT

Many people do not realize that the once

simple convenience of putting outgoing

mail in an unsecured curbside mail box

and lifting the red flag to notify the

postman has also become a signal to

mail thieves that there is outgoing mail.

This represents easy access to credit

card information, tax payments and other

types of personal information to be used

for fraudulent activity. Mail thieves are

aware that it may take some time before

a victim realizes that something is amiss.

When outbound letters vanish, it may

take weeks before it is discovered that

the mail did not reach its intended

destination. At the same time, the

disappearance of inbound mail can easily

go unnoticed; the first sign of fraud

might come as quickly as the next credit

card or bank statement.

What can you do to minimize exposure to

mail theft?

• Make sure your personal mailbox is

secure and can lock at all times.

• Use the letter slots at your post office

to mail letters, or give them to a letter

carrier.

• Pick up your mail promptly after

delivery. Don't leave it in your mailbox

overnight.

• Don't send cash in the mail.

• Ask your bank for "secure" checks that

can't be altered.

• Tell your post office when you will be

out of town so they can hold your

mail.

• If you don't receive a check or other

valuable mail you are expecting,

contact the issuing agency

immediately.

• Check your credit reports regularly. If

you find accounts that don't belong to

you or other incorrect information,

follow the instructions for disputing

those items. Visit

www.consumer.gov/idtheft for step-bystep

advice about what to do if you're

a victim of identity theft.

For more information or if you believe

your mail was stolen, please call the

Police Department at 303-773-2525.

PG. 8 GV NEWSLETTER | NOVEMBER 2019
---
GOVERNMENT

VEHICLE THEFTS INCREASE

DURING COLD WEATHER

POLICE WARN CAR OWNERS

OF DANGERS OF 'PUFFERS'

Vehicle theft is a major problem in our community, and

every driver is a potential victim. Protect yourself by being

smart and informed. By taking a few simple precautions, you

can drastically reduce the likelihood of having your vehicle

stolen.

SAY NO TO 'PUFFERS'

Never leave

your vehicle

running while

unattended

even for a

quick stop or

to warm up

your car

during the

winter season. Not only is it illegal to leave your car running

unattended, it creates an easy opportunity for thieves to steal

your car.

KEYS

Be smart with your car keys. Carelessness with vehicle keys

is the cause of more than 50 percent of all automobile

thefts. An unlocked vehicle is easy to get into and get away

with. It's even easier when the keys are left in the vehicle.

Don't keep the spare set hidden in your vehicle.

Experienced thieves learn where spare keys are most likely

to be hidden.

PARKING

Most cars are stolen while they are left unattended. Protect

your car by exercising caution as you park. When selecting a

spot, look for areas that are well lit, depriving potential thieves

of the cover of darkness. When possible, park in attended lots,

or in areas of high foot traffic; a car that's surrounded by

witnesses is less likely to be stolen. Always double-check to

make sure that all windows have been closed and all doors

properly locked. If you have a home garage, use it.

AVOID LEAVING ANY

VALUABLES IN SIGHT

Do not leave

accessories, valuables or

personal documents in

your vehicle. Insurance

cards, registration and

title can provide

personal information to

criminals for other

uses.

ALARMS AND

SECURITY

An audible car alarm is a simple yet effective way to ward off

most crooks. If you do utilize an alarm system, bear in mind

that the warning decals that come with it may be just as

effective a deterrent. Most of the criminals that would flee at

the sound of an alarm will pass your vehicle by completely if

they know about the alarm beforehand.

For more information, please call the Greenwood Village

Police Department at 303-773-2525. GV

WHY DO POLICE CARS STAY RUNNING WHILE OFFICERS ARE NOT IN THEIR VEHICLES?

At the Greenwood Village Police Department, there is a reason why you may find a police vehicle running without a police officer occupying

the vehicle while they are on a patrol or during a traffic stop.

Every police vehicle has a significant amount of

electronic equipment inside - laptop, dash cameras,

and radios that use large amounts of power. Every time

the vehicle is shut down, an officer has to turn off all

the equipment and run the risk of draining the vehicle's

battery power. When the officer gets back inside

his/her vehicle, they must wait minutes to reboot their

equipment before they can proceed. In an emergency

situation, several minutes can delay our response time

to critical calls for service. In addition, K-9 vehicles are

kept running to manage the climate and ensure the

safety of the K-9s.

For more information, please call the Police

Department at 303-773-2525.

NOVEMBER 2019 | GV NEWSLETTER PG. 9
---
GOVERNMENT

GET READY FOR winter

GREENWOOD VILLAGE IS

READY FOR THE SNOW SEASON

The Village is ready for the snow season. The Snow and Ice

Program ensures roadways and trails are safe and accessible

during and after snow events. Snow and Ice operations

consist of three elements: snow plowing, application of

materials for traction and ice control, and snow and/or ice

removal if safety or accessibility have been jeopardized.

ROADWAYS

All roadways in the Village are classified into either first or

second priority. The first priority routes include the high

volume roadways that connect major sections of the

community, all school bus routes, and residential roadways

which connect the neighborhood to higher volume roadways.

Heavy snow accumulations may require repeated passes over

first priority roadways before second priority roadways are

plowed. Operations are repeated until the storm stops and all

roadway surfaces are cleared.

SNOW AND ICE REMOVAL IN

RESIDENTIAL, COMMERCIAL

AND RETAIL AREAS

VILLAGE CODE IN PLACE TO ENSURE

PEDESTRIAN ACCESS AND SAFETY

Residents or tenants in possession or control of any singlefamily

residential property having a sidewalk abutting the front

or, in the case of a corner lot, the front and side of a residence

shall maintain the sidewalk in a condition free from snow or ice

and shall remove any accumulation of snow or ice from such

sidewalks within forty-eight (48) hours after its accumulation.

This responsibility does not extend to driveways or walkways

leading from the sidewalk to the residence nor to sidewalks or

trails abutting the rear property of a residence.

ICE MITIGATION

There are certain locations in Village neighborhoods that are

prone to ice formation due to shade or poor drainage. Once ice

forms, it is difficult to remove without damage to equipment or

infrastructure. Be on the lookout for snow and ice operators

moving snow piles from the shade to sun-exposed locations in

order to minimize ice build-up.

Snow and ice control operations begin in secondary areas

(residential neighborhoods) after first priority roadways have

been cleared. Snow is plowed and piled to an area that does

not block traffic flow. Snow cannot be piled in the center of

the roadway because thaw/freeze conditions will cause ice on

the roadway. Residential roadways are not plowed from edge

to edge to avoid covering sidewalks or blocking driveways.

Removal of snow piles will only occur when safety or

accessibility has been jeopardized. If possible, remove

vehicles from the roadways during storms for better clearing

of snow.

SNOW SHIFT HOURS

Village personnel who perform road and park maintenance

during the summer months conduct snow and ice control

operations in the winter. A weather service Skyview Weather,

provides information regarding weather conditions. Snow

shifts are activated when a snowstorm begins. The typical

shift hours are 5 a.m. to 1 p.m., 1 p.m. to 9 p.m. and 9 p.m.

to 5 a.m., all days of the week, including holidays.

USE CAUTION WHEN DRIVING

NEAR SNOWPLOWS

When driving near a snowplow, slow down and use caution.

Give plow drivers plenty of room so they can do their job

efficiently and safely.

Business owners and property managers are required to

remove snow and ice from their sidewalks within 24-hours

after accumulation. This requirement also prohibits any deposit

of snow or ice from any property onto any sidewalk, street, or

roadway in the Village.

For more information or to file a complaint, please call

Neighborhood Services at 303-486-5783 or email us at

nso@greenwoodvillage.com.

PG. 10 GV NEWSLETTER | NOVEMBER 2019
---
GOVERNMENT

EQUIPMENT

The Village owns and maintains a

variety of vehicles to ensure effective

snow and ice control operations.

Equipment includes 12 plow trucks,

one anti-icing truck, one slide-in

tanker, one grader, and one loader for

snow and ice operations on roadways.

In addition, there are three All-Terrain

Vehicles (ATVs), six pickup trucks

with plows and many hand-held

snowblowers and shovels used to clear

the trails, sidewalks and parking lots.

In order to ensure that all equipment

is operational, mechanics are available

at all times during snowstorms to

handle any equipment problems.

MATERIALS

The Village applies solid and liquid

materials for traction and ice control

to improve traveling conditions during

snow and ice events. Staff monitors

each storm to determine the

appropriate application of materials

depending on the weather conditions.

Additionally, materials are continually

evaluated to identify the most effective

products with the least amount of

environmental impact.

CONCRETE/ASPHALT

TRAILS, SIDEWALKS

AND PARKING LOTS

The Village plows snow from concrete

and asphalt trails, and some sidewalks

and parking lots. First priority trails

are those leading to and from schools.

The parking lot at Village Greens Park

is the responsibility of the Village

along with snow control operations on

STEP CAREFULLY

Thaw/freeze conditions can cause new

ice on trails, sidewalks and parking

lots; always use caution when walking

on these during periods of freezing

weather.

sidewalks and parking lots at City

Hall, Curtis Center for the Arts and

the Maintenance Facility. The parking

lots of these facilities are also first

priority for snow plowing and are

cleared simultaneously with the first

priority trails. The parking lots in

other Village owned parks are then

cleared. During the average

snowstorm, it takes about eight hours

to clear trails, sidewalks and parking

lots. Crews often start as early as

5 a.m. Trail crews periodically check

trails for problem areas if the

temperature remains below freezing

for extended periods of time.

QUESTIONS OR

TO REPORT SNOW

AND ICE ISSUES

For more information regarding snow

and ice operations in the Village,

please call the Maintenance Facility at

303-708-6100. GV

NOVEMBER 2019 | GV NEWSLETTER PG. 11
---
GOVERNMENT

THANK YOU

MAYOR RON

RAKOWSKY

FOR YOUR

CONTRIBUTIONS

TO GREENWOOD

VILLAGE!

PG. 12 GV NEWSLETTER | NOVEMBER 2019
---
GOVERNMENT

NOVEMBER 2019 | GV NEWSLETTER PG. 13
---
GOVERNMENT

GREENWOOD VILLAGE

SHREDDING EVENT IN SEPTEMBER

PG. 14 GV NEWSLETTER | NOVEMBER 2019
---
GOVERNMENT

PUBLIC OPEN HOUSE

NEW XCEL ENERGY NATURAL GAS

PROJECT COMING TO GV

Residents in the area of Xcel Energy's new proposed

Southeast Metro Natural Gas Project are being notified of a

public open house on Tuesday, November 19 from

5:30-7:30 p.m. at the DoubleTree by Hilton Denver Tech

Center, 7801 E. Orchard Road in the Mandarin Marquis

and Granita Lime rooms on the second floor.

Attendees of the open house will learn more about Xcel

Energy's proposal to install, operate and maintain

approximately five miles of new 20-inch-diameter steel

natural gas pipe along and through the western side of

Cherry Creek State Park. This project will allow Xcel Energy

to continue providing the safe, reliable natural gas service its

customers expect.

The project begins near the intersection of South Yosemite

Avenue and East Hampden Avenue in Denver and ends near

the intersection of East Caley Avenue and South Troy Circle

in Centennial. Project work will occur in parts of Greenwood

Village, unincorporated Arapahoe County, Aurora,

Centennial, Cherry Creek State Park and Denver.

Construction could start as soon as summer 2020 and could

be complete by the end of 2021. Project planning and route

selection began in fall 2018 and is currently in the permitting

phase. Project schedules are subject to change.

The open house will have Xcel Energy staff on hand to

answer questions. The event will feature informational boards

covering route selection, purpose, need, schedule,

construction impacts, safety, and public outreach. There also

will be detailed maps showing those residential areas

impacted by the project.

If you are unable to attend the open house, the event

materials will be available on the project's website on

November 21 at XcelEnergySEMetroGasProject.com. You

also can sign up to receive periodic project status emails on

the website. Questions can be emailed to

info@XcelEnergySEMetroGasProject.com or left on the

project information line at 866-267-7419. Xcel Energy will

reply by the next business day. GV

NOVEMBER 2019 | GV NEWSLETTER PG. 15
---
BUSINESS

BUSINESSspotlight

TECH CENTER COMPUTERS & RECYCLING

6823 South Dayton Street • 303-792-3516 • www.techcentercomputers.com

Monday-Friday 8 a.m.-5 p.m. and Saturday 10 a.m.-3 p.m.

Looking for affordable, high-quality refurbished or new

custom computer equipment, or quick service and repairs?

Search no further than Tech Center Computers & Recycling,

conveniently located off Arapahoe Road in Greenwood

Village. Since 1999, they have supplied the Village

community and surrounding area with more than just

desktops, laptops, servers, parts and pieces. A reliable

business partner backed by a solid guarantee, fast and

friendly service, and incredible sourcing capabilities, Tech

Center Computers is your one-stop resource for your

individual or business needs.

Tech Center Computers originally started as a wholesale

computer supplier in 1999. The current owner, Adam Kelly,

has been with the business since 2001 and purchased the

company in 2017 when the former owner decided to retire.

According to Kelly, "Our mission is to listen to our client's

specific needs and deliver high performance products through

continuous product innovation and operational excellence."

They carry refurbished equipment from Dell, HP, and

Lenovo, and can custom-build Intel and AMD-based desktop

systems to your specifications. If you need a new computer

but want to keep the data, Tech Center Computers can

remove photos or data from your computer and will certify

the data destruction of sensitive material. Inexpensive

refurbished computers are available starting at $99. This is a

fantastic option for families needing multiple computers or

laptops.

Tech Center Computers offers reasonably priced service and

repair with quick turn-around time — usually less than 72

hours. Are you unsure if your computer is worth repairing?

This company offers a free five-minute diagnosis to

determine if repair or replacement is the best financial

decision. Kelly states, "Most computers are made to last and

can be upgraded to prolong their life." If your computer is

running slow, upgrading to more memory or faster storage

may solve your hardware problems. Virus cleaning or

operating system reloads are also available.

Tech Center Computers also provides reasonable upgrades if

you no longer have support for your old operating system.

If you are searching for hard-to-find parts for older

equipment that you need to keep running, they have

excellent sourcing capabilities to locate needed parts.

They can also provide at-home support through their

business partners.

Corporate and individual electronic recycling is also available

across all of the Front Range, from Castle Rock to Brighton,

including drop-off or pickup. Tech Center Computers is an

EPA Certified Recycler of computer and electronics waste.

They are licensed with the State of Colorado as a large

quantity handler of universal waste for electronic recycling.

You may contact them to schedule a pickup of your unused

electronics. They will take everything, including furniture,

and none of the equipment gets put in a dumpster — it all

continued on page 17

PG. 16 GV NEWSLETTER | NOVEMBER 2019
---
BUSINESS

business spotlight

continued from page 16

has a place to go. Businesses can get free recycling if items

can be refurbished or there is a nominal charge for items that

cannot be reused.

Tech Center Computers' newly remodeled showroom is

conveniently located at 6823 South Dayton Street, one block

south of Arapahoe Road. They are open Monday through

Friday 8 a.m. to 5 p.m. and Saturday 10 a.m. to 3 p.m. Join

their mailing list to be the first to hear about new products,

upcoming sales, and special discounts. For more information,

visit www.techcentercomputers.com or contact them by

telephone at 303-792-3516. GV NOVEMBER 2019 | GV NEWSLETTER PG. 17

MONDAY

12-23-19

5:30 PM
---
ARTS AND RECREATION

RECREATION programs

Register online at

www.greenwoodvillage.com/rec

FALL YOUTH AND ADULT RECREATION

Greenwood Village's recreation programs offer a variety of fun experiences for youth, teens and adults. Come play with us!

View our current and upcoming classes by visiting www.greenwoodvillage.com/rec.

For questions regarding any of our programs, feel free to call 303-486-5773.

IT'S STORYTIME

Girls and boys enjoy story

time and more with your

favorite Frozen characters!

There will be dancing,

singing and photo

opportunities for everyone.

Greenwood Village City Hall

6060 S Quebec St

Day and Date: Friday, December 20

Ages: 1-4 years old

Time: 10:30 -11:30 a.m.

Fee: No cost! However space is limited to 12

participants

Resident Registration: November 25-December 6

All Others: December 7-until filled

HOLIDAY PARENTS NIGHT OUT

Calling all Parents!

Whether it's date night

or holiday shopping,

take a few hours for

yourself. Bring the

kids over for games,

crafts and pizza!

Campus Middle School

4785 South Dayton

Street

Day and Date: Friday, December 13

Ages: 6-12 years old

Time: 6-8:30 p.m.

Fee: $10 per participant

RECREATION REIMBURSEMENT

DEADLINE

WEDNESDAY, JANUARY 15, 2020

FOR ALL 2019 RECEIPTS

The end of the year is quickly approaching so please take a few minutes

this busy holiday season to gather your 2019 activity receipts to submit

for reimbursement.

The deadline for submitting your 2019 recreation reimbursement

requests is January 15, 2020. Please note there are no exceptions to this

deadline.

Things To Know:

• All activities paid for in 2019, including those taking place in 2020,

must be submitted as part of your 2019 reimbursement request.

Exception: see annual membership information below.

• Annual memberships (12 months paid in advance) at qualifying

recreation facilities that are paid in December to take advantage of a

membership sale for the following calendar year must be applied to

the following year.

• To qualify for reimbursement an agency must be a public recreation

entity (parks and recreation district, metropolitan district, municipal

golf course) or a nonprofit youth sports agency in the Denver Metro

Area.

• Private entities such as 24 Hour Fitness and for-profit youth sports

agencies are not reimbursable.

• All receipts must be itemized showing the name of the organization,

activity, date and the amount paid.

• Only the activity itself is reimbursable; fees for golf carts, skate

rentals, team jerseys, etc. are not reimbursable.

A recreation reimbursement form will be included in the December

Newsletter or you may access online at greenwoodvillage.com/

recreimbursement or stop by City Hall. Reimbursement forms may be

dropped off at City Hall Monday-Friday, 8 a.m. to 5 p.m. or mailed to:

City of Greenwood Village, Attn: Parks, Trails and Recreation,

6060 South Quebec Street, Greenwood Village, Colorado 80111.

For more information about the program, please call Debbie Armstrong at

303-486-5759 or darmstrong@greenwoodvillage.com.

PG. 18 GV NEWSLETTER | NOVEMBER 2019
---
ARTS AND RECREATION

NOVEMBER 2019 | GV NEWSLETTER PG. 19
---
ARTS AND RECREATION

FALL FEST 2019

PG. 20 GV NEWSLETTER | NOVEMBER 2019
---
ARTS AND RECREATION

FALLOWEEN

Over 1,500 community members gathered at

Curtis Park to celebrate the fall season with

the first ever Falloween. The City of

Greenwood Village partnered with Arapahoe

Libraries to present this community event.

Attendees enjoyed food trucks, inflatable

corn maze, crafts, storytelling, a book patch

and music from Bowregard, this year's

winner of the Telluride Bluegrass Festival.

NOVEMBER 2019 | GV NEWSLETTER PG. 21
---
ARTS AND RECREATION

ART programs

Register online at

www.greenwoodvillage.com/art

Curtis Center for the Arts | 2349 East Orchard Road | Greenwood Village, CO 80121 | 303-797-1779

ART CLASSES AT THE CURTIS CENTER FOR THE ARTS

Greenwood Village's cultural arts center offers a variety of art classes for preschoolers, children, teens and adults.

We have something for all ages and all artistic levels. Come and create with us!

View our current and upcoming classes at the Curtis Center for the Arts by going to www.greenwoodvillage.com/art.

For questions or more information about art classes at the Curtis Center call 303-797-1779.

ALTERED BOOKS

Create incredible expressive sculptures out of

books! In this workshop we will deconstruct

books and create our own dimensional art.

Students will learn how to create secret

boxes, pull outs and pop ups! We will also

experiment with folding techniques, collage,

embossing metal and found objects.

This is a wonderful workshop for students to

bring in supplies that they can add to their

artwork. Nothing is off limits! Explore art

through the power of words and

deconstruction. You will never look at a book

the same way again!

Books will be provided, and students are

welcome to bring their own books to use.

When: Saturday, November 23

Time: 9 a.m. to 4 p.m.

Fee: $120

All supplies provided

10% senior discount

Instructor: Maggie Stewart

Age Requirement: 16 and older

COFFEE & CANVAS:

PUMPKINS AND MUMS

MIXED MEDIA

In this fall workshop, students will learn

acrylic painting techniques as well as

collage skills to create this vibrant

Autumn art to freshen up your walls.

You'll be guided through blending and

layering acrylic paints, ripping and

arranging handmade natural papers, and

adding collage elements to your art.

These techniques can be applied to your own inspirations after the workshop.

Day and Date: Saturday, November 16

Time: 10 a.m. to 3:30 p.m.

Fee: $75 — All supplies, gourmet coffee and yummy treats provided

10% senior discount

Instructor: Renee Reese

Age Requirement: 16 and older

COCOA & CANVAS

Come and join us at the Curtis Center

this holiday season with your family and

friends to create this memorable

keepsake. Participants will be painting

the Charlie Brown tree featuring a

message from the beloved story.

There will be step-by-step instruction

from start to finish using acrylic paints

and texture paste to create this magical

holiday scene. No drawing or painting

experience is necessary. Cocoa, yummy

treats and holiday music will make this a

fun holiday event!

Day and Date: Saturday, December 14

Time: 10 a.m. to 12 p.m.

Fee: $50 — All supplies, cocoa and yummy treats provided

10% senior discount

Instructor: Renee Reese

PG. 22 GV NEWSLETTER | NOVEMBER 2019
---
ARTS AND RECREATION

ART programs

Register online at

www.greenwoodvillage.com/art

Curtis Center for the Arts | 2349 East Orchard Road | Greenwood Village, CO 80121 | 303-797-1779

HOLIDAY ART PROGRAMS FOR KIDS

Happy Holidays! Kids are invited to the Curtis Center for the Arts during the holiday season to

create colorful and whimsical holiday themed art projects with special guests Arts on Fire.

Oh, and they get to enjoy cookies and punch while they create!

CERAMIC TURKEY

PAINTING

Day and Date:

Wednesday, November 6

Time: 4:30 to 5:30 p.m.

Ages: 3 to 5 years old — with adult

Fee: $15

Limit: 12 students

PENGUIN GLASS

FUSED ORNAMENTS

AND HOLIDAY

PLATTER DECORATING

Day and Date:

Tuesday, December 10

Time: 4:30 to 6 p.m.

Ages: 6 to 9 years old

Fee: $25

Limit: 15 students

SILK PAINTING

Get ready for the holidays and bring color into your winter wardrobe! In this popular

workshop students will learn how to paint on silk using vibrant dyes to decorate their

own pillowcase and scarf. Students will

also learn the batik technique of using wax

as a resist for the dye. This is a wonderful

workshop to experiment with beautiful

colors that are similar to watercolor but

with permanent dye.

All pieces will be steamed, and the

instructor will notify students when the

silk pieces will be ready for pick up at the

Curtis Center.

Days and Dates: Saturday, December 7

Time: 9 a.m. to 4 p.m.

Fee: $120 — All supplies provided

10% senior discount

Instructor: Maggie Stewart

Age Requirement: 16 and older

STACKED SNOWMAN

ORNAMENTS

Day and Date:

Wednesday, December 11

Time: 4:30 to 5:30 p.m.

Ages: 3 to 5 years old — with adult

Fee: $15

Limit: 12 students

MIXED MEDIA

SNOWMAN PAINTING

Day and Date:

Friday, December 13

Time: 4:30 to 6 p.m.

Ages: 9 to 12 years old

Fee: $25

Limit: 15 students

NOVEMBER 2019 | GV NEWSLETTER PG. 23
---
6060 South Quebec Street

Greenwood Village, Colorado 80111-4591

PRSRT STD

US POSTAGE

PAID

ENGLEWOOD, CO

PERMIT #799

ARTS AND RECREATION

ART events

GALLERY HOURS

Monday-Friday 8:30 a.m.-4:30 p.m.

Saturday 10 a.m.-4 p.m.

CURTIS CENTER FOR THE ARTS • 2349 EAST ORCHARD ROAD, GREENWOOD VILLAGE, CO 80121 • 303-797-1779

RUNNING

FOX PARK

SCULPTURE

PUBLIC

MEETING

On Monday, December 9, the Greenwood

Village Arts and Humanities Council will host a

public meeting to provide information regarding

the acquisition and placement of a sculpture in

Running Fox Park. The meeting will take place

from 6 to 7 p.m. in the Community Room at

Greenwood Village City Hall, 6060 South

Quebec, Greenwood Village, Colorado 80121.

The GVAHC put out a call to any artists living

in Colorado. The GVAHC received 29

submissions from 18 Colorado artists. A selection

committee was formed to review the proposals

and choose a piece to recommend to the Arts

Council. The public can view the proposed

sculpture and will be able to provide input to the

Arts Council.

PG. 24 GV NEWSLETTER | NOVEMBER 2019